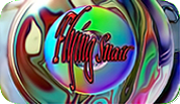 During times of universal deceit, telling the truth becomes a revolutionary act. ~ George Orwell
Throughout America's adventure in free government, our basic purposes have been to keep the peace; to foster progress in human achievement, and to enhance liberty, dignity and integrity among people and among nations. To strive for less would be unworthy of a free and religious people. Any failure traceable to arrogance, or our lack of comprehension or readiness to sacrifice would inflict upon us grievous hurt both at home and abroad. ~ Dwight D. Eisenhower

The Wallflowers ~ Reboot The Mission via Off Camera
Dahbud Mensch ~ Stuck in the middle with WHO ?
Will Melania's Spouse start War In Order to become the
Chancellor of Megalomania
or Dick Tater of Shit Hole Town; formally known as U.S.A.
Is probability of Prison
worth risking war?
Mental Health Guy, Moscow M, Leningrad L Say Yes
GOP Communist Ministers of Satan Say Yes
Complicit DNC Congress Says Yes
So... Bring on the Draft?
Nobody Cares !?!
Megathread: President Trump Authorizes Additional Troop Deployment to Saudi Arabia
U.S. President Donald Trump on Friday approved sending American troops to bolster Saudi Arabia's air and missile defenses after the largest-ever attack on the kingdom's oil facilities, which Washington has squarely blamed on Iran.
The Pentagon said the deployment would involve a moderate number of troops - not numbering thousands - and would be primarily defensive in nature. It also detailed plans to expedite delivery of military equipment to both Saudi Arabia and the United Arab Emirates.
2 PETER 2:1 ~ But there were false prophets also among the people, even as there shall be false teachers among you, who privily shall bring in damnable heresies, even denying the Lord that bought them, and bring upon themselves swift destruction.
2 PETER 2:2 ~ And many shall follow their pernicious ways; by reason of whom the way of truth shall be evil spoken of.
2 PETER 2:3 ~ And through covetousness shall they with feigned words make merchandise of you: whose judgment now of a long time lingereth not, and their damnation slumbereth not.
Satan's demons take on the image of God similar to that done in Eden ~ 2 Corinthians, 11:14 (How else do they take control of earth?)
Antichrist is variously understood as being a consummately evil system of government or leader.
Antichrist will be a leader who deceives many people.
Antichrist will divide the world and create war without end.
Antichrist will declare that things which are evil to be good.
Antichrist will refer to war as peace, death as a solution for justice, & serving the wealthy as a means of helping the poor.
Many nations will recognize that he is evil, but his own people will be inclined to believe his deceptions.

Somebody's Fool, Spo-Dee-O-Dee ~ Rhythm Bomb/ Sleazy Records via Bopflix Films, Vimeo
Don't miss out on a blessing because it isn't packaged the way you expect!
None of the Above should be a Valid Choice on Voter Ballots!
Nobody for President ~ NONE of the ABOVE should be a choice on voter ballots
Pastafarian pastor leads prayer
at Alaska government meeting
HOMER, Alaska (AP) — A pastor wearing a colander on his head offered the opening prayer on behalf of the Church of the Flying Spaghetti Monster to open a local government meeting in Alaska, the latest blessing from a nontraditional church since a court ruling.
Barrett Fletcher, the Pastafarian pastor, noted the duties performed by the members of the Kenai Peninsula Borough Assembly in his Tuesday message, adding a few of them "seem to feel they can't do the work without being overseen by a higher authority, " Kenai radio station KSRM reported Wednesday.
"So, I'm called to invoke the power of the true inebriated creator of the universe, the drunken tolerator (sic) of the all lesser and more recent gods, and maintainer of gravity here on earth. May the great Flying Spaghetti Monster rouse himself from his stupor and let his noodly appendages ground each assembly member in their seats," Fletcher said.
The only people who stood for the invocation were those without seats in the standing-room-only assembly hall in Homer, which is about 125 miles (201 kilometers) south of Anchorage. One man turned his back to face the wall during the invocation, and other men did not remove their hats.
The Pastafarian invocation followed one in June from Satanic Temple member Iris Fontana that caused about a dozen people to leave the assembly chamber in Soldotna in protest when she invoked "Hail Satan" in her opening prayer.
Fontana was among the plaintiffs in the lawsuit litigated by the American Civil Liberties Union of Alaska against the borough after it approved a 2016 policy saying that people who wanted to give the invocations at the government body's meetings had to belong to official organizations with an established presence on the Kenai Peninsula. Other plaintiffs who had been denied permission to give the invocations included an atheist and a Jewish woman.
The Alaska Supreme Court last October ruled that the borough policy was unconstitutional, and the borough government changed it in November to allow anyone to offer invocations regardless of religion.
The Flying Spaghetti Monster church, called FSM for short, was formed in 2005 as a response to the Kansas State Board of Education's hearings on evolution in schools. Its founder sent a letter about FSM as a way to argue against teaching creationism in biology classes, the Homer News has reported.
Church followers believe an invisible and undetectable monster made of spaghetti and meatballs created the universe after drinking heavily, and that his "noodly appendages" hold great power. Many label the movement as satire, but it is recognized as an official religion in some countries, the News reported.
Barrett, who started his chapter in Homer, on the lower Kenai Peninsula, concluded his opening prayer as asking the Flying Spaghetti Monster to provide each assembly member "satisfaction in the perception of accomplishment and allow them true relaxation and an ample supply of their favorite beverage at the end of this evening's work."
He then ended the prayer with: "Ramen."
4. Life is like photography. You use the negative to develop.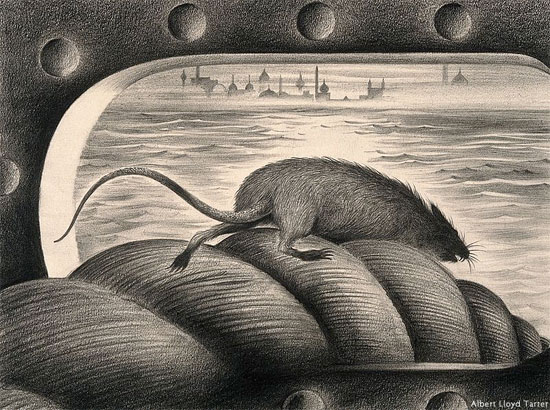 What In Tarnation?

Leningrad Cowboys, Happy Being Miserable via Leningrad Cowboys Official
6. If we want world peace, we must let go of our attachments and truly live like nomads. That's where I no mad at you, you no mad at me. That way, there'll surely be nomadness on the planet. And peace begins with each of us. A little peace here, a little peace there, pretty soon all the peaces will fit together to make one big peace everywhere.

Nothing else matters, Metallica arr. Karianne Brouwer violin, Maaike Schoenmaker cello
Notes from ~@~
Freedom of expression and freedom of speech aren't really important unless they're heard...It's hard for me to stay silent when I keep hearing that peace is only attainable through war. And there's nothing more scary than watching ignorance in action. So I dedicated this Emmy to all the people who feel compelled to speak out and not afraid to speak to power and won't shut up and refuse to be silenced.~ Tom Smothers

Carlin Step, DJ Steve Porter & Eli Wilkie from Roland Kardeby

The Great Bell Chant (The End of Suffering) from R Smittenaar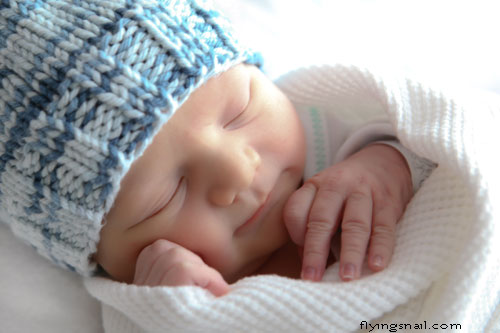 One Day, Matisyahu via ShalomLearning

Unsung Hero from Rattakarn Srithavatchai "Garn"
Karl Cohen
~ Association International du Film d'Animation SF Newsletter
ASIFA-SF September 2019 Newsletter [PDF Format]
The Sacred Clowns ~ Heyókȟa
The Heyókȟa symbolize and portray many aspects of the sacred, the Wakȟáŋ. Their satire presents important questions by fooling around. They ask difficult questions, and say things others are too afraid to say. By reading between the lines, the audience is able to think about things not usually thought about, or to look at things in a different way.
Principally, the Heyókȟa functions both as a mirror and a teacher, using extreme behaviors to mirror others, thereby forcing them to examine their own doubts, fears, hatreds, and weaknesses. Heyókȟas also have the power to heal emotional pain; such power comes from the experience of shame--they sing of shameful events in their lives, beg for food, and live as clowns. They provoke laughter in distressing situations of despair and provoke fear and chaos when people feel complacent and overly secure, to keep them from taking themselves too seriously or believing they are more powerful than they are.
In addition, sacred clowns serve an important role in shaping tribal codes. Heyókȟa's don't seem to care about taboos, rules, regulations, social norms, or boundaries. Paradoxically, however, it is by violating these norms and taboos that they help to define the accepted boundaries, rules, and societal guidelines for ethical and moral behavior. This is because they are the only ones who can ask "Why?" about sensitive topics and employ satire to question the specialists and carriers of sacred knowledge or those in positions of power and authority. In doing so, they demonstrate concretely the theories of balance and imbalance. Their role is to penetrate deception, turn over rocks, and create a deeper awareness.
Develop Your Mind, Not Sacred Sites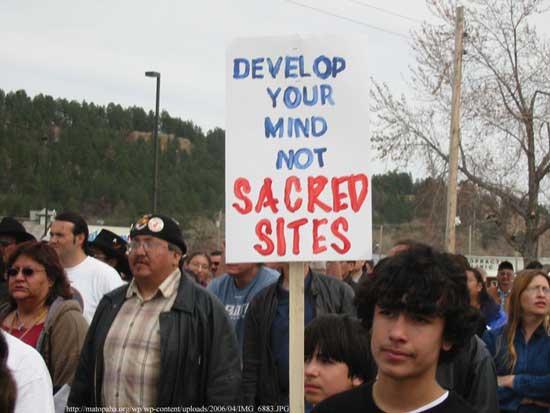 Cree Prophecy
Only after the last tree has been cut down,
Only after the last river has been poisoned,
Only after the last fish has been caught,
Only then will you find money cannot be eaten.
Nobody for President ~ NONE of the ABOVE should be a choice on voter ballots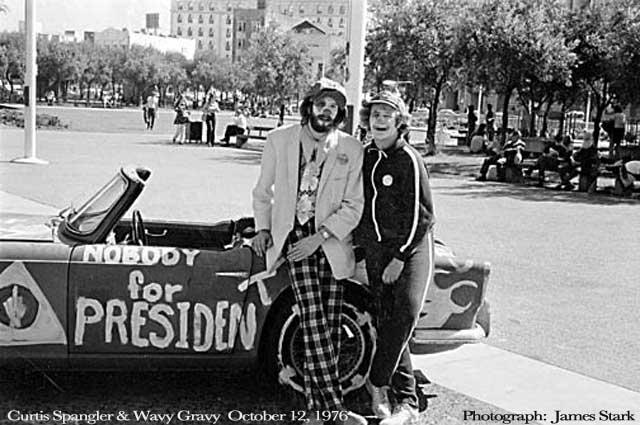 C. Spangler & Wavy Gravy, Nobody for President, 197610.12 ~ Photo: James Stark

American Dream, George Carlin via Ishtar [Not Work Safe] Nobody should have that much power


Message
via
Mike Pinder
Oh, I hope that I see you again I never even caught your name As you looked through my window pane ~ So I'm writing this message today I'm thinking that you'll have a way Of hearing the notes in my tune ~ Where are you going? Where have you been? I can imagine other worlds you have seen ~ Beautiful faces and music so serene ~ So I do hope I see you again My universal citizen You went as quickly as you came ~ You know the power Your love is right You have good reason To stay out of sight ~~ But break our illusions and help us Be the light ~ by Mike Pinder

Why I Think This World Should End, Prince EA via Prince EA
Without love in the dream, it will never come true. ~ Jerry Garcia/Robert Hunter
And in the end, the love you take is equal to the love you make. ~ John Lennon

{ ͡ʘ ͜ʖ ͡ʘ} Is Daylight Saving Time Dangerous? { ͡ʘ ͜ʖ ͡ʘ}