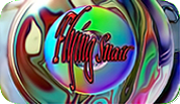 During times of universal deceit, telling the truth becomes a revolutionary act. ~ George Orwell

Throughout America's adventure in free government, our basic purposes have been to keep the peace; to foster progress in human achievement, and to enhance liberty, dignity and integrity among people and among nations. To strive for less would be unworthy of a free and religious people. Any failure traceable to arrogance, or our lack of comprehension or readiness to sacrifice would inflict upon us grievous hurt both at home and abroad. ~ Dwight D. Eisenhower
1961 POLITICS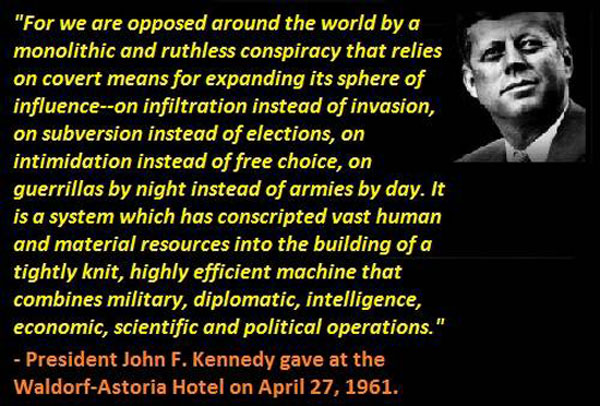 ...still happening Today?
For we are opposed around the world by a monolithic and ruthless conspiracy that relies on covert means for expanding its sphere of influence--on infiltration instead of invasion, on subversion instead of elections, on intimidation instead of free choice, on guerrillas by night instead of armies by day. It is a system which has conscripted vast human and material resources into the building of a tightly knit, highly efficient machine that combines military, diplomatic, intelligence, economic, scientific and political operations. ~ President John F. Kennedy, Waldorf-Astoria Hotel, April 27, 1961 [President Kennedy was murdered November 22, 1963]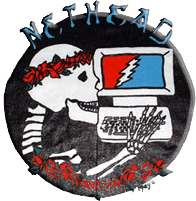 Without love in the dream, It will never come true.
J. Garcia / R. Hunter
Grateful Dead Story ~ Egypt 1978

In 1978, when I got fired from Hustler, Ken Kesey had invited me to come to Egypt with the Merry Prankster, where the Grateful Dead would be playing at the pyramids. Now, Cairo was buzzing with pedestrians--some barefoot, others wearing platform shoes from the Third World Dumping Ground Bazaar. Automobiles were busy trafficking in anarchy, and taxicab drivers hailed you. Donkeys were pulling carts, bicyclists were avoiding goats, and kids were playing soccer on dirt roads in front of stores selling gold souvenirs.

The same merchants who were suspicious that Israel's Six Day War had been a convenient way of testing U.S. weapons would gladly sell you a bomb casing which had been engraved with hieroglyphics and was now an umbrella stand for your foyer. And the same tourists who swatted away beggars trying to sell simulated scarabs for pennies were quite willing to pay a few bucks for a glass of 7-Up.

Suddenly an incongruous quartet of semi-trailer trucks invaded the rhythm of the city. They were bearing sound equipment lent by the Who to the Dead. Kesey's Day-Glo sneakers were peeking out from under his galabea--a long skirt-like piece of clothing worn by Egyptian men. We each chose our own fabric. Kesey described rock impresario Bill Graham's fabric as "the wallpaper on the upper rooms in the old Fillmore." I had a resistance to buying a galabea but I stood reluctantly on the measuring table.

"Okay," I said, "I'll get one to wear here in Egypt, but I'm definitely not gonna walk down Castro Street with it on."

So there we were, the Merry Pranksters and the Grateful Deadheads, a roving gang of professional weirdos in tie-dye T-shirts, foreigners in our own country yet serving now as unofficial good will ambasadors while, simultaneously, Jimmy Carter was bringing Anwar Sadat and Menachem Begin together at Camp David. But we had our own agenda--to make the Sphinx smile.

This trip was a personal vision of the Dead's manager, Richard Loren, who had been to Egypt five times. He had read the Koran thoroughly and had built this musical pilgrimage from the bottom up, just the way the Pyramids themselves were originally constructed, with a foundation held together by a combination of sweat, manure and dedication.

Bob Weir looked up at the Great Pyramid and cried out, "What is it!"

Actually, it was the place for locals to go on a cheap date. The Pyramids were surrounded by moats of discarded bottlecaps. The Dead were scheduled to play on three successive nights at an open-air theater in front of the Pyramids, with the Sphinx looking on. A bootleg tape of Dean Martin and Jerry Lewis doing filthy schtick was being used for a preliminary sound check. Later, an American general would complain to stage manager Steve Parish that the decadence of a rock'n'roll band performing here was a sacrilege to five thousand years of history.

"Listen," Parish said, "I lost two brothers in 'Nam, and I don't wanna hear this crap."

The general retreated in the face of those imaginary brothers. But there were a couple of real injured veterans. Grateful Dead drummer Bill Kreutzmann had fallen off a horse and broken his arm. The horse was unscathed but recommended that Kreutzmann be shot. However, he would still be playing with the band, using one drumstick. Or, as an Arabian fortune cookie might point out, "In the land of the limbless, a one-armed drummer is king."

Basketball star and faithful Deadhead Bill Walton's buttocks had been used as a pincushion by the Portland Traiblazers so that he could continue to perform on court even though the bones of his foot were being shattered with pain he coudn't feel. Having been injected with painkilling drugs to hide the greed rather than heal the injury, he now had to walk around with crutches and one foot in a cast under his extra-long galabea. Maybe Kreutzmann and Walton could team up and enter the half-upside-down sack-race event.

The proceeds of the three concerts would go to the Department of Antiquities and Madame Sadat's Faith and Hope Society, a charity for handicapped children. The official program had an Arabic translation of Grateful Dead biographies. An air of incredible excitement permeated the first night. Never had the Dead been so inspired. Backstage, Jerry Garcia was passing along final instructions to the band.

"Remember," he said, "play in tune."

The music began with Egyptian oudist Hamza el-Din, backed up by a group tapping out ancient rhythms on their 14-inch-diameter tars--pizza-like drums--sooned joined by Mickey Hart, a human butterfly with drumsticks, then Garcia ambled on with a gentle guitar riff, then Kreutzmann, then Phil Lesh, Donna, Keith, and as the Dead meshed with the percussion ensemble, basking in total respect of each other, Bob Weir segued into the opening chords of Buddy Holly's "Not Fade Away."

"Did you see that?" Kesey said. "The Sphinx's jaw just dropped!"

Sound engineers John Cutler and Dan Healy had attempted to wire the Pyramid for a special echo effect. They set up an FM transmitter on top of the Sphinx, a battery-operated receiver on top of the Great Pyramid, and ran cable around two sides and into the King's Chamber where the acoustics were most favorable. But it didn't work. One theory was that the permission of the gods had not been sought, but Cutler blamed it on tourists who had trampled on the cables.

"I'm a total realist," he said. "I don't believe in any magic or supernatural power ascribed to the Pyramids. I know it's an unpopular attitude around here, but I paid no attention to Pyramid power. Maybe next year."

I had heard that the sound of the universe was D-flat, so that's the note I chanted while sitting in the tub-like sarcophagus at the center of gravity in the Great Pyramid after having ingested liquid LSD that a Prankster had smuggled into Egypt in a plastic Visine bottle. It was only as I breathed in deeply before each extended Om that I was forced to ponder the mystery of those who urinate there.

Outside, I interviewed a camel named R2D2 after the Star Wars character.

Q. What's your theory on who goes in there to urinate?
A. I don't know. And what's more, I don't gve a dung.

Q. Why are you so bitter?
A. Well, if you must know, my testicles still hurt. My master squeezed my scrotum between a pair of bricks.

Q. Jeez, what a terrible accident.
A. Accident, my hump! He did it on purpose so that in my painful response I would skwoosh up enough water to last for twenty days. The lazy bastard!

Q. Wow, I guess it's not easy being a camel.
A. You ain't kidding, pal. These Pyramids may represent the cradle of civilization to you, but to me they are simply reminders of 5,000 years of oppression.

Q. Things haven't improved much for you, huh?
A. We have always been the victims of human chauvinism. Did you know that the first interuterine birth control devices were used in camels? My great-grandmother had pebbles put into her uterus to prevent her from getting pregnant on long journeys.

Q. Well, at least it wasn't permanent sterilization. I mean you're here, right?
A. Yeah, and I have the freedom to piss wherever I want.

Q. Except inside the Pyramid.
A. Listen, you seem like an okay guy, so I'll answer your question. It ain't sacrilegious visitors who take a leak inside the dead king's temple, it's just jaded guides. Hey, you wanna go for a ride now?

Q. Sure, why not?
A. [Singing] I'll never be your beast of burden....

Every morning, my Prankster roommate, George Walker, climbed to the top of the Pyramid. He was in training. It would be his honor to plant a Grateful Dead flag on top of the Great Pyramid. He attached it to a wooden pole at the peak of the pyramid where the stone block that should've been the final piece was missing. It was a thrill to see that flag waving in the breeze. Athough the skull-and-lightning-bolt image was now an international symbol, the Dead remained a purely American band--they had performed at benefits for the San Francisco Diggers, the Black Panther Party, the anti-Vietnam-war movement--and so now the planting of this flag was our Iwo Jima.

* * * * *

There was something especially magical about the third concert on Saturday. I had a strong feeling that I was involved in a lesson. It was as though the secret of the Dead would finally be revealed to me, if only I paid proper attention. Kesey had arranged for a full eclipse of the moon, and Egyptian kids were running through the streets shaking tin cans filled with rocks in order to bring it back.

"It's okay," I assured them, "the Grateful Dead will bring back the moon."

And, sure enough, a rousing rendition of "Ramble On Rose" would accomplish that feat. The moon returned just as the marijuana cookie that Bill Graham gave me started blending in with the other drugs. Graham no longer wore two wristwatches, one for each coast. He now wore one wristwatch with two faces.

There was a slight problem with an amplifier, but a sound engineer said that it was "getting there."

"Getting there ain't good enough," Jerry Garcia replied. "It's gotta fuckin' be there."

His sense of perfectionism was matched by his sense of absurdity.

Between songs, I said to him, "I'm from the Jewish Defense League, and we demand equal time. Never again!" Garcia looked puzzled, so I added, "Well, maybe sometimes?"

He shrugged and said, "Once in a while."

This was a totally outrageous event. The line between incongruity and appropriateness had disappeared along with the moon. The music was so powerful that the only way to go was ecstatic. That night, when the Dead played "Fire On the Mountain," I danced my ass off with all the others on that outdoor stage as if I had no choice.

"You know," Bill Graham confessed, "this is the first time I ever danced in public."

"Me too," I said.

That was the lesson.

The next day, a dozen of us had a farewell party on a felucca--an ancient, roundish boat, a kind of covered wagon that floats along the river. Garcia was carrying his attache case, just in case he suddenly got any new song ideas. There were three guides who came with our rented felucca: an old man whose skin was like corrugated leather; a younger man who was his assistant; and a kid whose job was to light the "hubbly-bubbly"--a giant water pipe which used hot coals to keep the hashish burning.

We were all completely zonked out of our minds in the middle of the Nile. The Egyptians kept us dizzy on hash and we in turn gave them acid. The old man mumbled something--our translator explained, "He says he's seeing strange things"--and he gave me the handle of the rudder to steer, which I managed to do in my stoned stupor. The felluca was now the vehicle of our cultural exchange.

My psyche had become a study in paradox on this trip. While I was still unwinding from my experience at Hustler, I was simultaneously adapting to Egyptian consciousness, where a woman had to be clothed from head to foot with a chador so that only her eyes were showing. The mere sight of her flesh was officially barred because it could create anxiety and excitement in a man. A woman was not permitted to worship with men because her presence would serve as a distraction from Allah.

Although I had never driven a car by choice, if I were a Moslem woman, I wouldn't even be permitted to learn. I would be allowed to walk, but it would have to be several feet behind a man. While the men in my family were enjoying a hearty meal in the dining room, my place would remain--literally--in the kitchen. I would not be allowed to vote, let alone run for office. If I wanted to go shopping, I would not only have to be accompanied by a man who would make the purchase, but I would also have to keep my gaze down because eye contact might upset the shopkeeper.

The women in our group were indpendent, though. I went to a hashish parlor with Mountain Girl and Goldie Rush, and the men there stared in disbelief because this was usually an exclusively male stronghold. Nikki Scully decided to walk around the streets of Cairo wearing chador. She said that the non-verbal message she kept getting from her eye contact with Egyptian women was: We are one! We are one! We are one! Of course, she might well have been projecting her own feminist attitude.

Coincidentally, Ruth Carter Stapleton was visiting Egypt. She had been conducting prayer meetings and inner healing sessions. When Washington Post reporter Rudy Maxa told her I was in Cairo, she asked him to invite me to meet with her.

"After all," she said, "mine is supposed to be a ministry of reconciliation, isn't it?"

But when Maxa wrote in the Post, "Only the inability to determine Krassner's whereabouts saved him from a dose of inner healing at the base of the Pyramids that afternoon," he had no idea that I'd been tripping on acid and chanting inside the Pyramid that same afternoon.

On the return flight from Egypt, many of us ate whatever dope was left, and we had an extremely pleasant trip. I joined the Mile High Club, making love with Mobilia Growlight in the airplane bathroom.

"This," said Mobilia, "is really flying United."

Back in the States, I wrote to Ruth Carter Stapleton, expressing my surprise that she wanted to meet me inasmuch as she had previously asked Larry Flynt to fire me. She phoned in response to my letter.

"I want to apologize," she said. "I had been advised that you were not the correct individual to change the image of Hustler, but I shouldn't have judged you before I met you. I don't usually judge people before I meet them."

"Well, if you were a true Christian," I teased, "you wouldn't judge me even after we had met."

She laughed graciously. Then we talked about the blatant contrast between Hustler and Egypt.

"I went from one extreme to the other," I told her. "It was like getting out of a hot sauna and jumping into the freezing snow."

"How do you mean that?"

"Well, I had gone from showing pink to wearing chador."
Tainted News:
The lie can be maintained only for such time as the State can shield the people from the political, economic and/or military consequences of the lie. It thus becomes vitally important for the State to use all of its powers to repress dissent, for the truth is the mortal enemy of the lie, and thus by extension, the truth becomes the greatest enemy of the State. ~ Joseph Goebbels
Tomi Lahren should fight addiction and not have to step on "used heroin needles" to get high?

Saluting the Heroes of the Coronavirus Pandumbic The Daily Show w/Trevor Noah via Joey deVilla
740,000+/-
U.S.A. HUMANS DEAD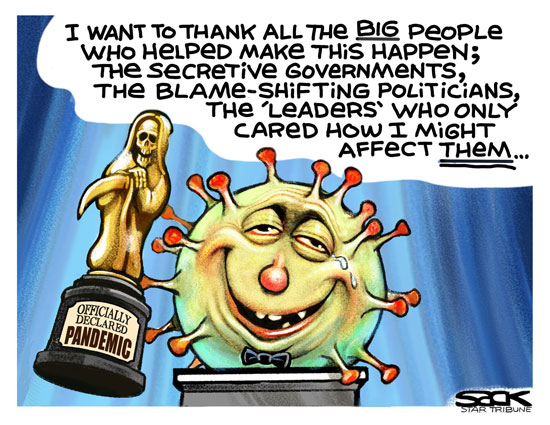 I want to thank all the BIG people who helped make this happen; the secretive governments,
the blame-shifting politicians, the 'leaders' who only cared how I might affect THEM...
Cartoon by Steve Sack @ Star Tribune https://en.wikipedia.org/wiki/Star_Tribune
Murdered by Political Incompetence ?
begging the question: WAS TAINTED NEWS ACCESSORY TO MURDER ?
[ Stats links removed due to accuracy arguments ~ search for: +Covid-19 +stats ]
Forget the politicians. They are irrelevant. The politicians are put there to give you the idea that you have freedom of choice. You don't. You have no choice! You have OWNERS! They own you! They own everything. They own all the important land. They own and control the corporations. They've long since bought, and paid for the Senate, the Congress, the state houses, the city halls, they got the judges in their back pockets and they own all the big media companies, so they control just about all of the news and information you get to hear. ~ George Carlin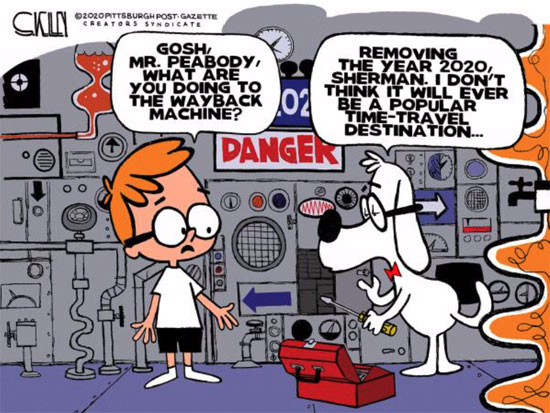 Sherman: Gosh, Mr. Peabody, what are you doing to the WayBack Machine? Mr. Peabody:
Removing the year 2020, Sherman. I don't think it will ever be a popular time-travel destination...
Cartoon by Steve Kelley @ Pittsburgh Post-Gazette https://en.wikipedia.org/wiki/Pittsburgh_Post-Gazette
Whenever any Form of Government becomes destructive of these ends, it is the Right of the People to alter or to abolish it, and to institute new Government, laying its foundation on such principles and organizing its powers in such form, as to them shall seem most likely to effect their Safety and Happiness. ~ Declaration of Independence
Heads Up Folks!
Bacteria from respiratory droplets spread by one sneeze,
singing one minute, talking one minute, & two coughs via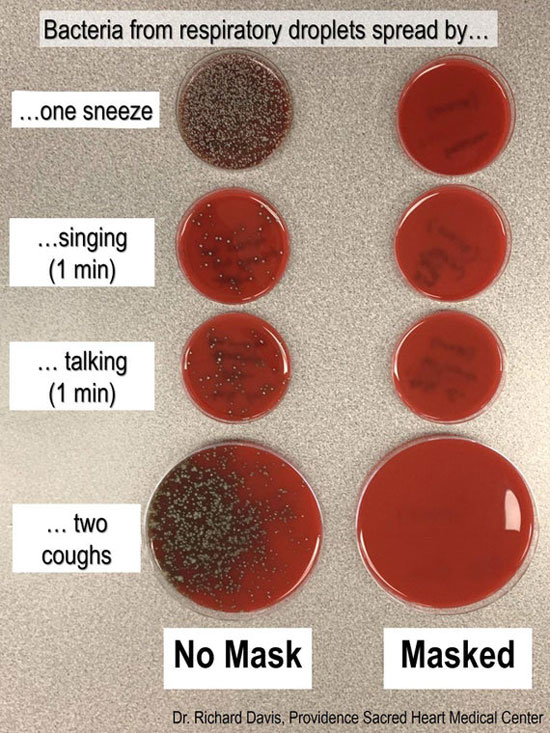 Dr. Richard Davis, Providence Sacred Heart Medical Center
Boptime ~ w/Even Steven Leech
~ Saturday Mornings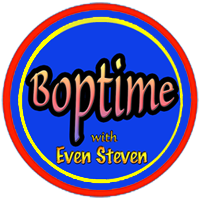 We begin with an hour of oldies back to back to back starting at 6am (EDT) Saturday on Boptime. At 7am (EDT) in The Early Hour we present some of the symphonic work of James P. Johnson, the American pioneer of the stride piano who played a role in the transition from ragtime to jazz. At 8am (EDT) Larry Williams returns as we meet on Clifford's Corner to play some choice jazz sides and rare R&B. ~ Steve
BOPTIME: Saturday, 6 AM Eastern, 3 AM Pacific time
Go To: http://www.wvud.org/?page_id=24
Click on a listening link below the WVUD logo:


Boptime available locally in DE on WVUD-FM 91.3, Shoutcast [Search: WVUD], and TuneIn
Notes from ~@~
Freedom of expression and freedom of speech aren't really important unless they're heard...It's hard for me to stay silent when I keep hearing that peace is only attainable through war. And there's nothing more scary than watching ignorance in action. So I dedicated this Emmy to all the people who feel compelled to speak out and not afraid to speak to power and won't shut up and refuse to be silenced.~ Tom Smothers

Carlin Step, DJ Steve Porter & Eli Wilkie via Roland Kardeby

The Great Bell Chant (The End of Suffering) via R Smittenaar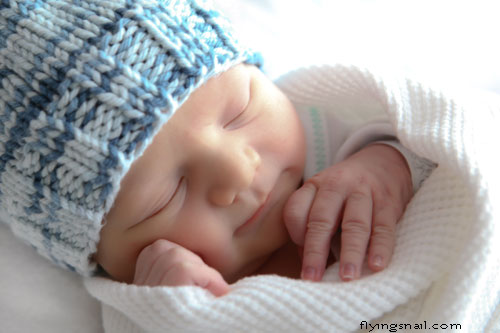 One Day, Matisyahu via ShalomLearning

Unsung Hero via Rattakarn Srithavatchai "Garn"
The Sacred Clowns ~ Heyókȟa
The Heyókȟa symbolize and portray many aspects of the sacred, the Wakȟáŋ. Their satire presents important questions by fooling around. They ask difficult questions, and say things others are too afraid to say. By reading between the lines, the audience is able to think about things not usually thought about, or to look at things in a different way.
Principally, the Heyókȟa functions both as a mirror and a teacher, using extreme behaviors to mirror others, thereby forcing them to examine their own doubts, fears, hatreds, and weaknesses. Heyókȟas also have the power to heal emotional pain; such power comes from the experience of shame--they sing of shameful events in their lives, beg for food, and live as clowns. They provoke laughter in distressing situations of despair and provoke fear and chaos when people feel complacent and overly secure, to keep them from taking themselves too seriously or believing they are more powerful than they are.
In addition, sacred clowns serve an important role in shaping tribal codes. Heyókȟa's don't seem to care about taboos, rules, regulations, social norms, or boundaries. Paradoxically, however, it is by violating these norms and taboos that they help to define the accepted boundaries, rules, and societal guidelines for ethical and moral behavior. This is because they are the only ones who can ask "Why?" about sensitive topics and employ satire to question the specialists and carriers of sacred knowledge or those in positions of power and authority. In doing so, they demonstrate concretely the theories of balance and imbalance. Their role is to penetrate deception, turn over rocks, and create a deeper awareness.
Develop Your Mind, Not Sacred Sites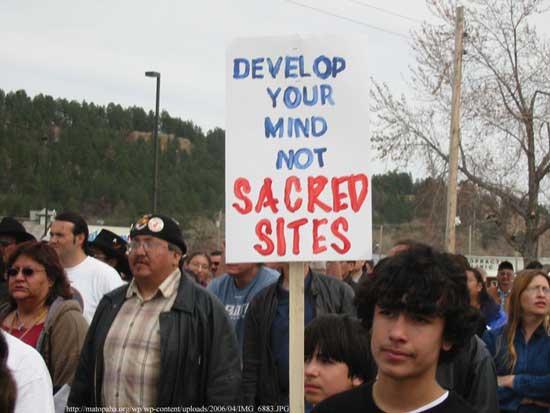 Cree Prophecy
Only after the last tree has been cut down,
Only after the last river has been poisoned,
Only after the last fish has been caught,
Only then will you find money cannot be eaten.
Nobody for President ~ NONE of the ABOVE should be a choice on voter ballots!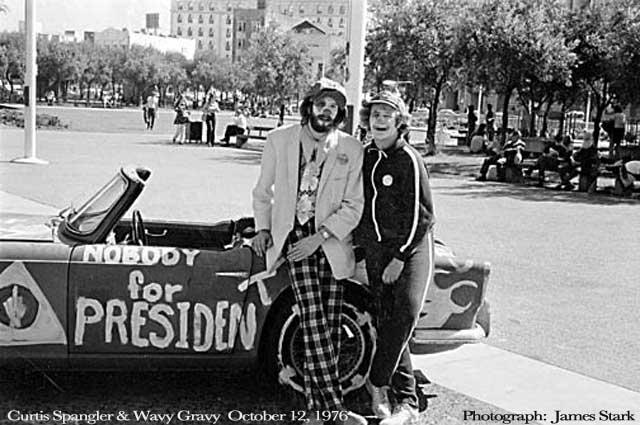 Curtis Spangler & Wavy Gravy, Nobody for President, 197610.12 ~ Photo: James Stark

American Dream, George Carlin via Ishtar [Not Work Safe] Nobody should have that much power
NOBODY should have that much power!
Nobody is eternal, perfect, has all the answers, ended war,
will love you forever, brought peace to our time, fixed global
warming, fed the hungry & destitute, knows, cares, shives a
git about you, loves you when you're down & out, if elected
will not lie to, or steal from, 'the people', &, bakes apple pie
better than Mom; begging a question, What's NOTA's entry
fee ...more lies that lead to mass murder or human sacrifice?
Message
via
Mike Pinder
Oh, I hope that I see you again I never even caught your name As you looked through my window pane ~ So I'm writing this message today I'm thinking that you'll have a way Of hearing the notes in my tune ~ Where are you going? Where have you been? I can imagine other worlds you have seen ~ Beautiful faces and music so serene ~ So I do hope I see you again My universal citizen You went as quickly as you came ~ You know the power Your love is right You have good reason To stay out of sight ~~ But break our illusions and help us Be the light ~ by Mike Pinder

Why I Think This World Should End, Prince EA via Prince EA
Without love in the dream, it will never come true. ~ Jerry Garcia/Robert Hunter
And in the end, the love you take is equal to the love you make. ~ John Lennon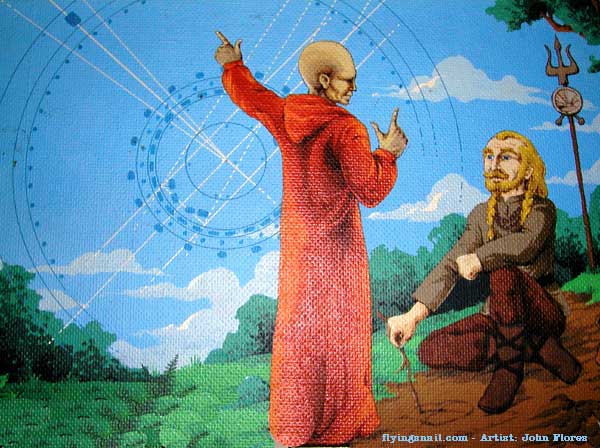 ---
---

Some search sites have been banned from scanning local content since 2012.
Please use DuckDuckGo.com (above) or Bing.com to search FlyingSnail.
{ ͡ʘ ͜ʖ ͡ʘ} Is Daylight Saving Time Dangerous? { ͡ʘ ͜ʖ ͡ʘ}