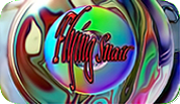 During times of universal deceit, telling the truth becomes a revolutionary act. ~ George Orwell
Notes from ~@~
Throughout America's adventure in free government, our basic purposes have been to keep the peace; to foster progress in human achievement, and to enhance liberty, dignity and integrity among people and among nations. To strive for less would be unworthy of a free and religious people. Any failure traceable to arrogance, or our lack of comprehension or readiness to sacrifice would inflict upon us grievous hurt both at home and abroad. ~ Dwight D. Eisenhower

Corruption is Legal in America via Doku Mentor
None of the Above should be a Valid Choice on Voter Ballots!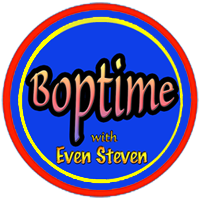 Boptime begins at 6am (EST) with an hour of oldies back to back to back. At 7am (EST) it's Rockabilly Ridge with Michael Ace. At 8am (EST) we'll bop back to this day in 1957 with the times, the music, the #1s. We stay with the heart of rock n' roll when we play tunes from this day in 1959 starting at 9am (EST). The music didn't die in 1959, it got better. ~ Steve
BOPTIME: Saturday, 6 AM Eastern time, 3 AM Pacific time
Go To: http://www.wvud.org/?page_id=24
Click on a listening link below the WVUD logo:

Boptime available locally on WVUD-FM 91.3,
Shoutcast [Search: WVUD], and TuneIn
Dahbud Mensch ~ Stuck in the middle with WHO ?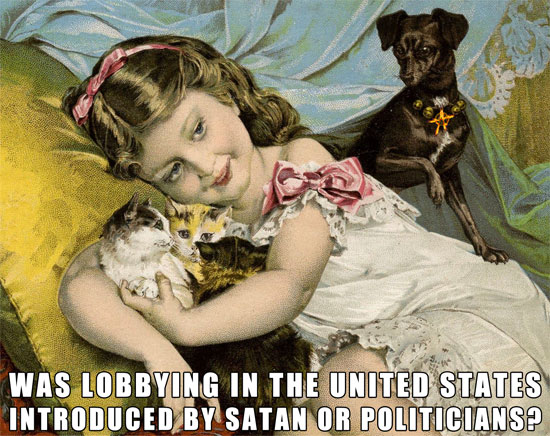 Lobbying in the United States describes paid activity in which special interests hire well-connected professional advocates, often lawyers, to argue for specific legislation in decision-making bodies such as the United States Congress. It is a highly controversial phenomenon, often seen in a negative light by journalists and the American public, with some critics describing it as a legal form of bribery or extortion. While lobbying is subject to extensive and often complex rules which, if not followed, can lead to penalties including jail, the activity of lobbying has been interpreted by court rulings as constitutionally protected free speech and a way to petition the government for the redress of grievances, two of the freedoms protected by the First Amendment of the Constitution. Since the 1970s, lobbying activity has grown immensely in the United States in terms of the numbers of lobbyists and the size of lobbying budgets, and has become the focus of much criticism of American governance. [Continue reading at Wikipedia, the free encyclopedia]
Question: What's the difference between a
politician and lying big tobacco executive?

Big Tobacco executive "Nicotine Is Not Addictive" via joe
Answer: The word politician!
Nobody tells the truth all the time & should be President!
None of the Above should be a Valid Choice on Voter Ballots!
Mike Wilhelm
~ Charlatans, Flamin' Groovies, Loose Gravel
, and more
KPFZ 88.1 FM


Lake County Community Radio
Needs Your Financial Support

KPFZ Spring On-the-Air Fund Drive April 13 ~ April 19th
Submitted by Ellen H on Thu, 04/11/2019 - 11:25

It is that time of year...time for the KPFZ Spring on-the-air Fund Drive! This year's fund drive starts on April 13 and runs through April 19th. Listen, visit, volunteer! According to AMARC, "community radio means radio in the community, for the community, about the community and by the community. There is a wide participation from regular community members with respect to management and production of programs." That description certainly fits KFPZ. Our programmers and other volunteers are community residents.

Their shows are designed for Lake County and feature topics of interest for Lake County residents. Take time during the Fund Drive to support KPFZ. You can call 707/263.3640 to become a member or donate. Or join online at kpfz.org via PayPal. Come down to the station - 149 North Main Street in Lakeport - and meet the programmers or take a tour of the station. Volunteers are needed to answer phones during the fund drive. To volunteer, contact Station Manager Andy Weiss at 707/263.3640. Looking forward to taking your membership information soon!

CyberSoulMan: A conversation with Jerry Garcia
Lake County News Reports ~ Posted on Saturday, 14 March 2009 21:44 by T. Watts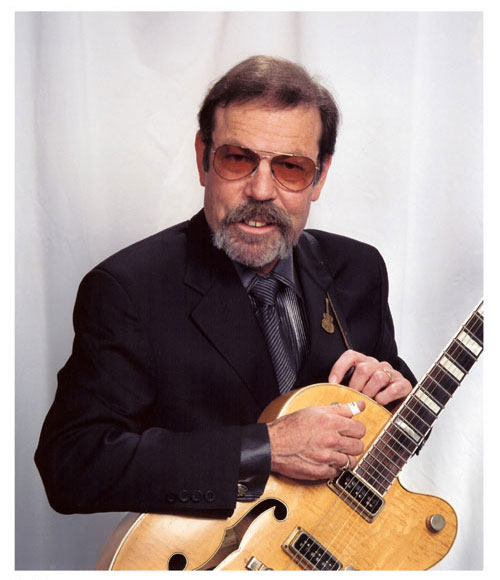 Mike Wilhelm lives in Lake County these days,
but he was a fixture in the Bay Area music scene in the 1960s.
Written by T. Watts, Sunday, 15 March 2009
http://lakeconews.com/index.php/news/7788-cybersoulman-a-conversation-with-jerry-garcias-favorite-guitarist
Earlier this week I was surfing for vinyl on Ebay and I came across a collectible copy of the Flamin Groovies album entitled "Now" from 1978. Packed away in my CyberSoulMan arsenal of facts is the knowledge that the Groovies were No. 4 on the San Francisco Chronicle's Top 100 Bay Area Bands, a list which was published in the Chron's pink section at dawn of the new millennium. I actually have a copy of that article in my personal archives.
Virtuoso musician Mike Wilhelm, former lead and rhythm guitarist of the group, as some of you well know is a Lake County resident. Wilhelm also played in one of San Francisco's first psychedelic bands, The Charlatans. This is the man that Jerry Garcia of the Grateful Dead proclaimed was his favorite guitar player way back in uh, nineteen and sixty-seven. I've been privileged to become gradually acquainted with him over the last couple of years. Recently he gave me several tracks of music he produced for air play at KPFZ.
So, as kind of a favor in return, I called up Wilhelm to let him know that a nice copy of some of his recorded work was available for bid on Ebay. Just in case there was a gap in his archives. We music aficionados have to stick together you know.
Brother Wilhelm has his stuff together. He already has two copies of "Now." But the call set the stage, if you will, for a very cool musical dialogue that I would like to share with you.
When I finally realized we were talking some deep cultural Americana information and started taking notes, we were knee deep in a conversation about the great Johnny Otis. Johnny Otis has had an extraordinary music career also. Bandleader, composer, producer -- you name it in the world of rhythm and blues, Mr. Otis has done it. He discovered (Little) Esther Phillips, Etta James, Sugar Pie DeSanto and a host of other huge names in R&B. Though he was of Greek ancestry, Johnny Otis always purveyed an African-American persona.
Wilhelm talked about growing up in L.A. and watching the Johnny Otis television show every Friday night in his home. Reminiscing about the rich diversity present in Southern California in his childhood, Wilhelm recalled the other King of Western Swing, Spade Cooley. Cooley had a big band and a Saturday night TV show. Cooley had become an actor through his association with Roy Rogers and parleyed that into a very successful TV show. Throw in Lawrence Welk's TV show in conjunction with Wilhelm's parents' classical music collection and stuff he sought out on radio, Mike Wilhelm couldn't help but be exposed to a lot of great music.
Wilhelm and David Crosby were tight before Crosby joined the Byrds. This was during the pre-rock folk scene days. Crosby was with Les Baxter's Balladeers at the time.
Wilhelm spoke of playing a gig as a Charlatan at the Fillmore with Arthur Lee & Love. Arthur Lee & Love were once upon a time L.A.'s biggest rock band. Lee wouldn't tour outside the West Coast. He brought Jim Morrison and the Doors to Elektra Records who soon became L.A.'s biggest band.
The most moving part of Wilhelm's dialogue was his sharing of how Blues legend Brownie McGee gladly taught Wilhelm licks on the guitar that have continued to further his playing and appreciation of the blues to this day.
Wilhelm told hilarious anecdotes about finally moving to San Francisco' Japantown in about 1963. Upper crusty white neighborhood on one side, black neighborhood on the other. A mysterious mixture of no man's land in between.
He said that most of the time, he chose to live in the black neighborhoods as the rent was more affordable and it was infinitely easier to rehearse your band in the 'hood. People wouldn't call the police if you were too loud. They'd simply knock on your door if you were bothering them.
In Wilhelm's words, "I functioned well in that milieu. It wasn't until the rents in the ghetto got as ridiculous as they were in the nice neighborhoods that I moved out. I survived no problem. People would come up and say, 'Hey, gimme 50 cents.' I'd say, 'I ain't got nothin' but trouble.' They'd say, 'I heard that' and leave me alone. They didn't want any of that! I get by that way. Carry a walkin' stick and dress sharp. People would ask me, 'How can you live down there?' I'd tell 'em, it's just like any other neighborhood. You just get to know your neighbors a little bit and it's probably better in some respects. If you're rehearsing your band in your dining room and your neighbor's got to get up in the morning and go to work, he'll just come over and communicate that to you and let you know when a cool time would be."
Not wanting to be all take and no give, I told Wilhelm my Percy Mayfield story.
Percy Mayfield was the legendary songwriter and artist who wrote and sang some killer rhythm and blues hits for himself and people like Ray Charles. I stood with him in the alcove of a nightclub one morning from 2 a.m. to 5 a.m. at his behest until his irresponsible booking agent of a ride showed up. I still remember his plaintive plea. "Don't leave me, little brother." It was like, my blues duty.
Finally, Wilhelm told me his Jimmy Reed story. It was like two stories in one.
The first was about how Wilhelm had observed Jimmy Reed in a bout of creative professionalism, told the audience he was having technical difficulties. Reed left the stage to relieve himself and returned a few moments later and announced the technical difficulty solved. He then proceeded to wow the crowd.
The second part of the story was near the end of Reed's performing career. He was sober from booze. Reed was playing and singing magnificently. Between sets, Wilhelm and his friend asked Jimmy Reed to play a certain tune. Reed replied, "I can't find a recording of that."
Wilhelm's friend asked, "What do you mean?"
The blues great replied, "Ever since I quit drinking, I can't remember my tunes. I've had to relearn all my material off records. If I can get that record, I'll be glad to do it for you next time."
There it is. The case of the gap in the archives. It's like a Dr. John song. Right place, wrong time!
Keep prayin', keep thinkin' those kind thoughts! -- T. Watts is a writer, radio host and music critic.
THE STONE
The End of Satire
The toxic disinformation of social media has rendered traditional forms of humor quaint and futile.
By Justin E.H. Smith
Mr. Smith is a philosophy professor and author.
April 8, 2019 ~ via Paul Krassner
https://www.nytimes.com/2019/04/08/opinion/the-end-of-satire.html [ * graphics located at link]
*[Detail from an exhibit of children's drawings sent to the Charlie Hebdo office after the 2015 terrorist attack. CreditCreditFrancois Guillot/Agence France-Presse — Getty Images]
PARIS — In January 2015, not long after I arrived here to live and teach philosophy, terrorists assassinated 12 people, including four cartoonists, in an attack on the offices of the French satirical newspaper Charlie Hebdo. This act brought to the surface and seemingly galvanized a view about censorship I had long held. I spent considerable energy in the weeks and months after defending the absolute right of satirists to keep doing what I saw as their sacred work, and criticizing many of my former friends, who found it more important at that moment to speak out against offending the sensitivities of religious communities, for their moral cowardice in the face of nihilistic violence.
After the assassinations, with the perpetrators quickly killed in their turn, the rest of the year seemed to play out as a long public trial of satire itself. In April, when the writers' organization PEN granted Charlie Hebdo a freedom of expression award, American progressives roundly condemned the decision, saying that it played into an American imperialist agenda, and that the death of the cartoonists at the hands of terrorists did not diminish the implicit Islamophobia of rewarding a magazine for its offensive caricatures.
In general the most facile and uninterested articulations of what satire is and of how it works satisfied both parties to the controversy. Both sides missed, in particular, that satire is a species of humor that works through impersonation: taking on the voices of others, saying the sort of things they would say, using one's own voice while not speaking in one's own name. It is not surprising that this craft is so often misunderstood, for when satirists do their job convincingly, when they get too close to their target, it is easy to hear them not just as the channelers of the views expressed in the satire, but as defenders of these views as well. It is at such moments that critics like to exclaim that a satirist has "gone too far," while it would be more correct to say that the satirist has only done his job too well.
Today, with the pollution that new technologies have brought to our information ecosystem, this distinction is no longer so easy to make. And this is the real problem, and danger, of satire: not that it mocks and belittles respect-worthy pieties, not that it "punches down," but that it has become impossible to separate it cleanly from the toxic disinformation that defines our era.
To see how things have changed, let's go back even further than the Charlie Hebdo attack. In 2002 a satirical article in The Onionannounced that "Congress Threatens to Leave D.C. Unless New Capitol Is Built." The target here, obviously, were the petulant professional sports teams holding American municipalities at ransom by threatening to leave if they do not get a greater share of local taxes. This was lost, however, on the editors of the Beijing Evening News, who took the story as a straightforward sign of the decline of American democracy. I can recall my smirking attitude when the same Chinese newspaper acknowledged soon after that it had been fooled. "Some small American newspapers," the paper chided, "frequently fabricate offbeat news to trick people into noticing them, with the aim of making money."
Today it is no longer publications like The Onion that are driving the proliferation of satire. Nor is it the palliative care for liberals offered up by Stephen Colbert and the other the late-night talkers, or by "Saturday Night Live," now into its fifth decade of tedium. It is rather the culture of social media, often coming from obscure or anonymous sources. Here by comparison all other sources of humor, including professional comedians, seem quaint and futile.
In early 2018 the Twitter account known as PixelatedBoat offered what it claimed was an excerpt from Michael Wolff's recently published Trump exposé, "Fire and Fury." It was related that upon arriving at the White House, the new president complained that the television options there did not include what he called "The Gorilla Channel." So the staff began transmitting gorilla documentaries from a makeshift tower outside his window, until he complained that these were boring, that the gorillas were not fighting enough. So they edited the documentaries down to the fight scenes, at which point the president was appeased, and knelt in front of the TV from morning until night.
This was excellent satire: just believable enough to be entertained as true. I myself believed it for about five minutes, and I was indignant when I realized I had been fooled. I thought of the stiff functionaries in Beijing who had also reacted poorly to getting played. I realized they were right.
The Gorilla Channel was to become one small skirmish in the never-ending American culture war. Some on the right charged that PixelatedBoat had contributed to the overall quantity of disinformation flowing around, and was therefore no less part of the problem of fake news than were the distortions and lies that the right had been condemned for propagating in the lead-up to Trump's election. And those who made this charge were right, too.
Throughout the satire trials of 2015 I had resisted the idea that one person's satire is another's propaganda. I insisted that satire was speech in something like a grammatical mood of its own, as different from the declarative as the declarative is from the interrogative, and that it was therefore subject to its own rules. But in this judgment I was mostly considering established print media, venues such as Charlie Hebdo that practically announced their own satirical nature as a disclaimer.
By the following year, however, I began to notice the way in which new media blur the line between satire and propaganda. Alt-right personalities were now gleefully acknowledging that their successes in meme warfare relied precisely on the inability of media consumers to distinguish between the sincere and the jocular, between an ironic display of a swastika and a straightforward one.
At the same time artificial intelligence was increasingly producing texts and images that, whether overtly political or not, contributed to the general sense that we cannot possibly know the ends for which media content is being churned out. There are for example Facebook accounts that do nothing but show images of celebrities with deadpan captions mistaking them for other celebrities: Betty White for Queen Elizabeth, Samuel Jackson for Kofi Annan. Are these satire? No one is called upon to say. They may well be generated by bots, and you cannot possibly discern the intentions of machines that have no intentions. Their cumulative effect, anyhow, is to make media consumers less certain of their grasp on reality.
Lurking in the darker shadows beyond these strange new phenomena, there are porn sites with the faces of celebrities grafted onto the bodies of others; and there are, or will be soon, deep fakes of politicians accepting another sort of graft. There are distortions at a level of intensity and verisimilitude that we could not possibly have imagined in 2002, all being generated, in the end, in the aim of gaining notice and money.
Over the past few years I have been made to see, in sum, that the nature and extent of satire is not nearly as simple a question as I had previously imagined. I am now prepared to agree that some varieties of expression that may have some claim to being satire should indeed be prohibited. I note this not with a plan or proposal for where or how such a prohibition might be enforced, but to acknowledge something I did not fully understand until I experienced it first hand — that even the most cherished and firmly-held values or ideals can change when the world in which those values were first formed changes. 
I hate to have to say this, and I feel that while it is an admission necessitated by the changing times, it also could not come at a worse time. The madness of 2015 has not subsided. In an astounding article in the British newspaper The Independent in February, Sean O'Grady attempted to stoke the decades-old fatwa against Salman Rushdie for his satirical take on the life of Muhammad in "The Satanic Verses." "Rushdie's silly, childish book," the columnist writes, "should be banned under today's anti-hate legislation. It's no better than racist graffiti on a bus stop." O'Grady proudly admits that he has never read the book, and in this he is just like the Ayatollah Khomeini before him.
Is my own belated acknowledgment of the need to regulate satire an unwitting discovery of common cause with the likes of O'Grady? I certainly hope not. O'Grady belongs to what seems to be an increasingly common species of moral coward, a dupe of totalitarians, spiritual brother of the Charlie Hebdoassassins, whereas I am only trying to respond to the real threats of hitherto unimagined technologies. "The Satanic Verses," I tell myself, is literature, where free play of the imagination is the rule of the game and the inalienable right of the creator. Twitter is, well, something else.
But the truth is I am not at all sure of this distinction. The truth is that the nature and proper scope of satire remain an enormous problem, one that is not going to get any easier to resolve in the political and technological future we can all, by now, see coming. 
Justin E.H. Smith is a professor of history and philosophy of science at the University of Paris 7, Denis Diderot, and the author of the "Irrationality: A History of the Dark Side of Reason."
Dahbud Mensch ~ Stuck in the middle with WHO ?

The Staple Singers - Respect Yourself (from Soul Train) via Domo
The GOD of Christians, Muslims, and Jews said,
Thou Shalt Not Kill, Steal, Commit Adultery, Covet Thy Neighbors Wife, Bear False Witness Against Thy Neighbor, amongst other things, and...
Jesus extended this concept when he said...
Christians are to no longer execute sinners, so they should not wage carnal war, but spiritual warfare ~ (John 18:36; 2 Corinthians 10:1-6; Ephesians 6:10-18; 1 Timothy 1:18-20; 6:11-14; 2 Timothy 2:3-5; 4:6-8)
Christians must be peacemakers forgiving those who do them harm treating their enemies with love and not seeking revenge ~ (Matthew 5:9, Romans 14:19), (Ephesians 4:29-32; Colossians 3:12-14; Matthew 6:9-15; Mark 11:25-26), (Luke 6:27-36) (Romans 12:17-21; 1 Peter 3:8-12)
Hatred, which is the same as murder, is unforgiving, vengeful and hostile towards one's enemies ~ (1 John 3:15)
but y'all seem hell-bent on creating a עֵגֶּל הַזָהָב ...begging the question, "WTF is wrong with you?"
2 PETER 2:1 ~ But there were false prophets also among the people, even as there shall be false teachers among you, who privily shall bring in damnable heresies, even denying the Lord that bought them, and bring upon themselves swift destruction.
2 PETER 2:2 ~ And many shall follow their pernicious ways; by reason of whom the way of truth shall be evil spoken of.
2 PETER 2:3 ~ And through covetousness shall they with feigned words make merchandise of you: whose judgment now of a long time lingereth not, and their damnation slumbereth not.
Satan's demons take on the image of God similar to that done in Eden ~ 2 Corinthians, 11:14 (How else do they take control of earth?)
Antichrist is variously understood as being a consummately evil system of government or leader.
Antichrist will be a leader who deceives many people.
Antichrist will divide the world and create war without end.
Antichrist will declare that things which are evil to be good.
Antichrist will refer to war as peace, death as a solution for justice, & serving the wealthy as a means of helping the poor.
Many nations will recognize that he is evil, but his own people will be inclined to believe his deceptions.

Somebody's Fool, Spo-Dee-O-Dee ~ Rhythm Bomb/ Sleazy Records via Bopflix Films, Vimeo
Don't miss out on a blessing because it isn't packaged the way you expect!
4. Life is like photography. You use the negative to develop.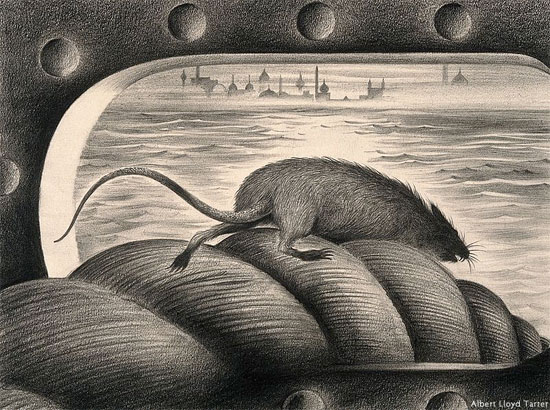 What In Tarnation?

Leningrad Cowboys, Happy Being Miserable via Leningrad Cowboys Official
6. If we want world peace, we must let go of our attachments and truly live like nomads. That's where I no mad at you, you no mad at me. That way, there'll surely be nomadness on the planet. And peace begins with each of us. A little peace here, a little peace there, pretty soon all the peaces will fit together to make one big peace everywhere.

Nothing else matters, Metallica arr. Karianne Brouwer violin, Maaike Schoenmaker cello
Notes from ~@~
Freedom of expression and freedom of speech aren't really important unless they're heard...It's hard for me to stay silent when I keep hearing that peace is only attainable through war. And there's nothing more scary than watching ignorance in action. So I dedicated this Emmy to all the people who feel compelled to speak out and not afraid to speak to power and won't shut up and refuse to be silenced.~ Tom Smothers

Carlin Step, DJ Steve Porter & Eli Wilkie from Roland Kardeby

The Great Bell Chant (The End of Suffering) from R Smittenaar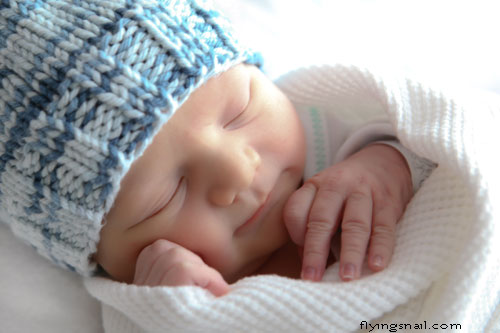 One Day, Matisyahu from 100%

Unsung Hero from Rattakarn Srithavatchai "Garn"
Karl Cohen
~ Association International du Film d'Animation SF Newsletter
ASIFA-SF April 2019 Newsletter [PDF Format]

An article by Karl Cohen @ cineSOURCE Magazine

Karl Cohen is an animator, educator and director of the local chapter of the International Animation Society 
Heyókȟa
~ Sacred Clowns
Sacred Clowns: The Heyókȟa symbolize and portray many aspects of the sacred, the Wakȟáŋ. Their satire presents important questions by fooling around. They ask difficult questions, and say things others are too afraid to say. By reading between the lines, the audience is able to think about things not usually thought about, or to look at things in a different way.
Principally, the Heyókȟa functions both as a mirror and a teacher, using extreme behaviors to mirror others, thereby forcing them to examine their own doubts, fears, hatreds, and weaknesses. Heyókȟas also have the power to heal emotional pain; such power comes from the experience of shame--they sing of shameful events in their lives, beg for food, and live as clowns. They provoke laughter in distressing situations of despair and provoke fear and chaos when people feel complacent and overly secure, to keep them from taking themselves too seriously or believing they are more powerful than they are.
In addition, sacred clowns serve an important role in shaping tribal codes. Heyókȟa's don't seem to care about taboos, rules, regulations, social norms, or boundaries. Paradoxically, however, it is by violating these norms and taboos that they help to define the accepted boundaries, rules, and societal guidelines for ethical and moral behavior. This is because they are the only ones who can ask "Why?" about sensitive topics and employ satire to question the specialists and carriers of sacred knowledge or those in positions of power and authority. In doing so, they demonstrate concretely the theories of balance and imbalance. Their role is to penetrate deception, turn over rocks, and create a deeper awareness.
Develop Your Mind, Not Sacred Sites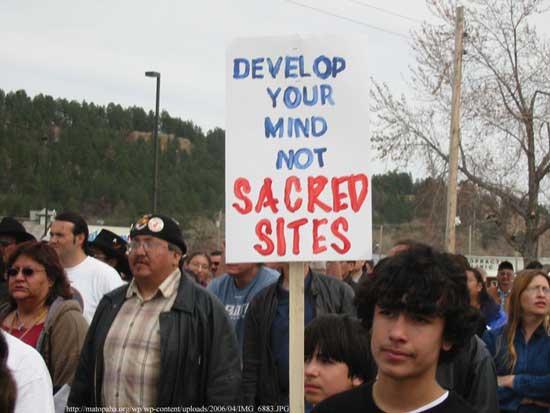 Cree Prophecy
Only after the last tree has been cut down,
Only after the last river has been poisoned,
Only after the last fish has been caught,
Only then will you find money cannot be eaten.
Nobody for President ~ NONE of the ABOVE should be a choice on voter ballots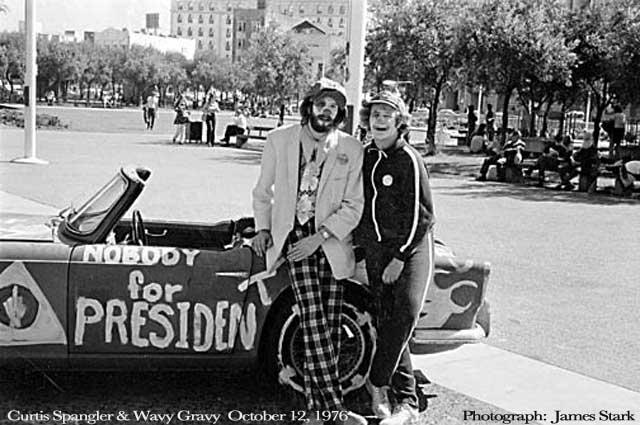 Curtis Spangler & Wavy Gravy, Nobody for President Rally, 197610.12 ~ Photo: James Stark

Bruce Springsteen & Tom Morello ~ The ghost of Tom Joad via Guitar Music
Nobody for President via Tom Morello ~ Tom's Home Page ~ Nobody will love you forever!

American Dream, George Carlin via Ishtar [Not Work Safe] Nobody should have that much power


Oh, I hope that I see you again I never even caught your name As you looked through my window pane ~ So I'm writing this message today I'm thinking that you'll have a way Of hearing the notes in my tune ~ Where are you going? Where have you been? I can imagine other worlds you have seen ~ Beautiful faces and music so serene ~ So I do hope I see you again My universal citizen You went as quickly as you came ~ You know the power Your love is right You have good reason To stay out of sight ~~ But break our illusions and help us Be the light ~ by Mike Pinder

Why I Think This World Should End, Prince EA via Prince EA
Without love in the dream, it will never come true. ~ Jerry Garcia/Robert Hunter
And in the end, the love you take is equal to the love you make. ~ John Lennon

{ ͡ʘ ͜ʖ ͡ʘ} Is Daylight Saving Time Dangerous? { ͡ʘ ͜ʖ ͡ʘ}