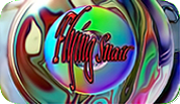 During times of universal deceit, telling the truth becomes a revolutionary act. ~ George Orwell
The party told you to reject the evidence of your eyes and ears. It was their final, most essential command. ~ George Orwell
Throughout America's adventure in free government, our basic purposes have been to keep the peace; to foster progress in human achievement, and to enhance liberty, dignity and integrity among people and among nations. To strive for less would be unworthy of a free and religious people. Any failure traceable to arrogance, or our lack of comprehension or readiness to sacrifice would inflict upon us grievous hurt both at home and abroad. ~ Dwight D. Eisenhower

Words of Wonder/Get up Stand up via Playing For Change
Whenever any Form of Government becomes destructive of these ends, it is the Right of the People to alter or to abolish it, and to institute new Government, laying its foundation on such principles and organizing its powers in such form, as to them shall seem most likely to effect their Safety and Happiness. ~ Declaration of Independence
Nobody for President ~ Republican & Democrat Inside Traders/Traitors
Regarding: Republican & Democrat Inside Traders/Traitors
Let Martha Stewart be the Judge & Set the Sentence
& never forget They/Them!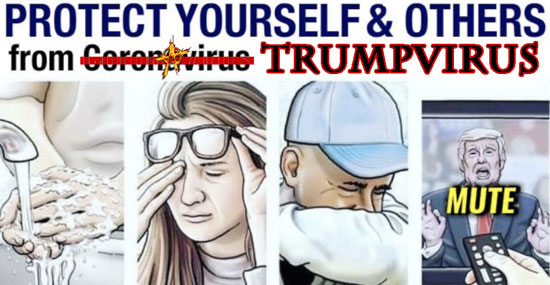 Protect Yourself & Others from Coronavirus TRUMPVIRUS! via coastercupcakeYT1
IMPOTUS Speak
https://twitter.com/barubin/status/1240068436354568194
https://www.youtube.com/watch?v=xfPk1HIBLfM&feature=youtu.be
January 22: "We have it totally under control. It's one person coming in from China. It's going to be just fine."
February 2: "We pretty much shut it down coming in from China."
February 24: "The Coronavirus is very much under control in the USA… Stock Market starting to look very good to me!"
February 25: "CDC and my Administration are doing a GREAT job of handling Coronavirus."
February 25: "I think that's a problem that's going to go away… They have studied it. They know very much. In fact, we're very close to a vaccine."
February 26: "The 15 (cases in the US) within a couple of days is going to be down to close to zero."
February 26: "We're going very substantially down, not up."
February 27: "One day it's like a miracle, it will disappear."
February 28: "We're ordering a lot of supplies. We're ordering a lot of, uh, elements that frankly we wouldn't be ordering unless it was something like this. But we're ordering a lot of different elements of medical."
March 2: "You take a solid flu vaccine, you don't think that could have an impact, or much of an impact, on corona?"
March 2: "A lot of things are happening, a lot of very exciting things are happening and they're happening very rapidly."
March 4: "If we have thousands or hundreds of thousands of people that get better just by, you know, sitting around and even going to work — some of them go to work, but they get better."
March 5: "I NEVER said people that are feeling sick should go to work."
March 5: "The United States… has, as of now, only 129 cases… and 11 deaths. We are working very hard to keep these numbers as low as possible!"
March 6: "I think we're doing a really good job in this country at keeping it down… a tremendous job at keeping it down."
March 6: "Anybody right now, and yesterday, anybody that needs a test gets a test. They're there. And the tests are beautiful…. the tests are all perfect like the letter was perfect. The transcription was perfect. Right? This was not as perfect as that but pretty good."
March 6: "I like this stuff. I really get it. People are surprised that I understand it… Every one of these doctors said, 'How do you know so much about this?' Maybe I have a natural ability. Maybe I should have done that instead of running for president."
March 6: "I don't need to have the numbers double because of one ship that wasn't our fault."
March 7: "We'll hold tremendous rallies...I'm not concerned at all."
March 8: "We have a perfectly coordinated and fine tuned plan at the White House for our attack on coronavirus."
March 9: "This blindsided the world."
March 10: "Our CoronaVirus Team has been doing a great job. Even Democrat governors have been VERY complimentary!"
March 11: "I am fully prepared to use the full power of the Federal Government to deal with our current challenge of the CoronaVirus!"
March 12: "108 countries are dealing with the CoronaVirus problem, some of which we are helping!"
March 13: "To this point, and because we have had a very strong border policy, we have had 40 deaths related to CoronaVirus. If we had weak or open borders, that number would be many times higher!"
March 13: "Today I am declaring a national emergency. Two very big words."
March 13. "No, I don't take responsibility at all. Because we were given a set of circumstances, given rules, regulations, and specifications from a different time. It wasn't meant for this kind of an event, with the kind of numbers that we are talking about."
March 13. "We have very strong emergency powers under the Stafford Act ... I have it memorized, practically, as to the powers in that act. And if I need to do something, I'll do it. I have the right to do a lot of things that people don't even know about."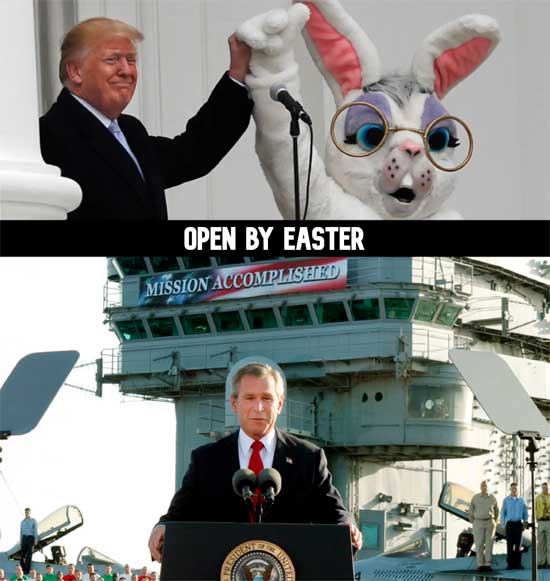 Open By Easter via rightisleft512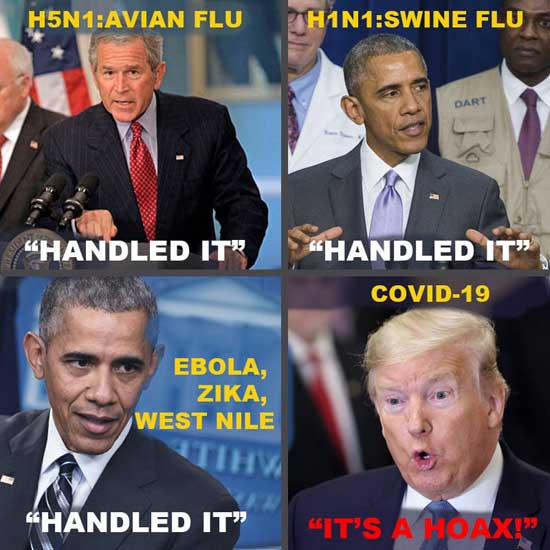 "Handled It" vs. "It's A Hoax!" via elbunts
Whatever happens, you're responsible.
If it doesn't happen, you're responsible.



November 8, 2013, Source
Trump struggles to explain why he disbanded his global health team
It was two years ago when Trump ordered the shutdown of the White House National Security Council's entire global health security. ~ Source
Here Are 17 Ways the Trump Administration Bungled Its Coronavirus Response
[This list doesn't include Donald Trump Jr.'s claim that Democrats wanted the virus to spread and kill Americans.]
(9). In 2018, the Trump Administration cut 80 percent of CDC funding used to fight global pandemics. The funding support, which went to training local health professionals and bolstering emergency response across 49 countries, was reduced to just 10 nations. China wasn't included in the revised list. ~ Source
(10). Last October, the Trump Administration opted to discontinue a Bush-era program expanded under Obama—called "Predict"—that monitored the threat of animal-born diseases to humans, the possible origin point of the novel coronavirus. The program was behind the discovery of more than 1,000 viruses, including an Ebola strain. ~ Source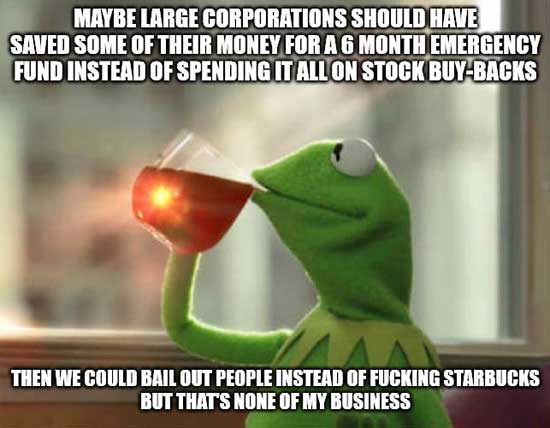 Bail Out People Not Corporations via NelvisAlfredo
Cult
From Wikipedia, the free encyclopedia ~ Source
The term cult usually refers to a social group defined by its religious, spiritual, or philosophical beliefs, or its common interest in a particular personality, object or goal. The term itself is controversial and it has divergent definitions in both popular culture and academia and it also has been an ongoing source of contention among scholars across several fields of study.[1][2] In the sociological classifications of religious movements, a cult is a social group with socially deviant or novel beliefs and practices,[3] although this is often unclear.[4][5][6] Other researchers present a less-organized picture of cults saying that they arise spontaneously around novel beliefs and practices.[7] Groups said to be cults range in size from local groups with a few members to international organizations with millions.[8]
Beginning in the 1930s, cults became the object of sociological study in the context of the study of religious behavior.[9] From the 1940s the Christian countercult movement has opposed some sects and new religious movements, and it labelled them as cults for their "un-Christian" unorthodox beliefs. The secular anti-cult movement began in the 1970s and it opposed certain groups, often charging them with mind control and partly motivated in reaction to acts of violence committed by some of their members. Some of the claims and actions of the anti-cult movement have been disputed by scholars and by the news media, leading to further public controversy.
The term "new religious movement" refers to religions which have appeared since the mid-1800s. Many, but not all of them, have been considered to be cults. Sub-categories of cults include: Doomsday cults, personality cults, political cults, destructive cults, racist cults, polygamist cults, and terrorist cults. Various national governments have reacted to cult-related issues in different ways, and this has sometimes led to controversy. ~ [Continue Reading]
"I think Nobody knows the
system better than I do"
"Nobody in the history of this country has ever known so much about infrastructure as Donald Trump"
"There's Nobody who understands the horror of nuclear more than me"
"There's Nobody bigger or better at the military than I am"
"There's Nobody that feels stronger about the intelligence community and the CIA than Donald Trump"
"There's Nobody that's done so much for equality as I have"
"There's Nobody that has more respect for women than I do"
"I would build a great wall, and Nobody builds walls better than me, believe me"
"I am going to save Social Security without any cuts. I know where to get the money from. Nobody else does"
"Nobody respects women more than I do"
"And I was so furious at that story, because there's Nobody that respects women more than I do"
"Nobody respects women more than Donald Trump"
"She can't talk about me because Nobody respects women more than Donald Trump"
"Nobody has more respect for women than Donald Trump"
"Nobody has more respect for women than I do"
"Nobody has more respect for women than I do. Nobody"
"Nobody reads the Bible more than me"
"Nobody loves the Bible more than I do"
"Nobody does self-deprecating humor better than I do. It's not even close"
"Nobody knows more about taxes than I do, maybe in the history of the world"
"Nobody knows more about trade than me"
"Nobody knows the (visa) system better than me. I know the H1B. I know the H2B. Nobody knows it better than me"
"Nobody knows debt better than me"
3. The most powerful tool on the planet today is Tell-A-Vision. That is where I tell a vision to you, and you tell a vision to me. That way, if we don't like the programming we're getting, we can simply change the channel.

Distant Relatives [Patience] via nabil elderkin
4. Life is like photography. You use the negative to develop.

Leningrad Cowboys, Happy Being Miserable via Leningrad Cowboys Official
5. It is true. As we go through life thinking heavy thoughts, thought particles tend to get caught between the ears, causing a condition called truth decay. So be sure to use mental floss twice a day. And when you're tempted to practice tantrum yoga, remember what we teach in Swami's Absurdiveness Training class: *Don't get even, get odd*.

Beethoven's 5 Secrets ~ OneRepublic ( Cello Cover) ~ ThePianoGuys via mzeyimateos
6. If we want world peace, we must let go of our attachments and truly live like nomads. That's where I no mad at you, you no mad at me. That way, there'll surely be nomadness on the planet. And peace begins with each of us. A little peace here, a little peace there, pretty soon all the peaces will fit together to make one big peace everywhere.

Nothing else matters, Metallica arr. Karianne Brouwer violin, Maaike Schoenmaker cello
Notes from ~@~
Freedom of expression and freedom of speech aren't really important unless they're heard...It's hard for me to stay silent when I keep hearing that peace is only attainable through war. And there's nothing more scary than watching ignorance in action. So I dedicated this Emmy to all the people who feel compelled to speak out and not afraid to speak to power and won't shut up and refuse to be silenced.~ Tom Smothers

Carlin Step, DJ Steve Porter & Eli Wilkie from Roland Kardeby

The Great Bell Chant (The End of Suffering) from R Smittenaar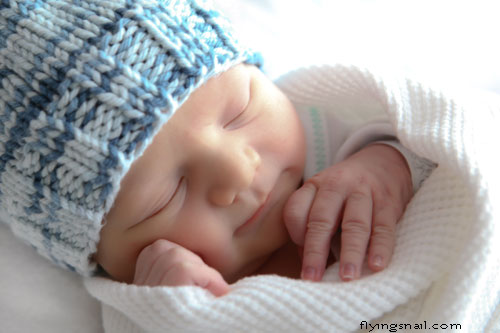 One Day, Matisyahu via ShalomLearning

Unsung Hero from Rattakarn Srithavatchai "Garn".....
The Sacred Clowns ~ Heyókȟa
The Heyókȟa symbolize and portray many aspects of the sacred, the Wakȟáŋ. Their satire presents important questions by fooling around. They ask difficult questions, and say things others are too afraid to say. By reading between the lines, the audience is able to think about things not usually thought about, or to look at things in a different way.
Principally, the Heyókȟa functions both as a mirror and a teacher, using extreme behaviors to mirror others, thereby forcing them to examine their own doubts, fears, hatreds, and weaknesses. Heyókȟas also have the power to heal emotional pain; such power comes from the experience of shame--they sing of shameful events in their lives, beg for food, and live as clowns. They provoke laughter in distressing situations of despair and provoke fear and chaos when people feel complacent and overly secure, to keep them from taking themselves too seriously or believing they are more powerful than they are.
In addition, sacred clowns serve an important role in shaping tribal codes. Heyókȟa's don't seem to care about taboos, rules, regulations, social norms, or boundaries. Paradoxically, however, it is by violating these norms and taboos that they help to define the accepted boundaries, rules, and societal guidelines for ethical and moral behavior. This is because they are the only ones who can ask "Why?" about sensitive topics and employ satire to question the specialists and carriers of sacred knowledge or those in positions of power and authority. In doing so, they demonstrate concretely the theories of balance and imbalance. Their role is to penetrate deception, turn over rocks, and create a deeper awareness.
Develop Your Mind, Not Sacred Sites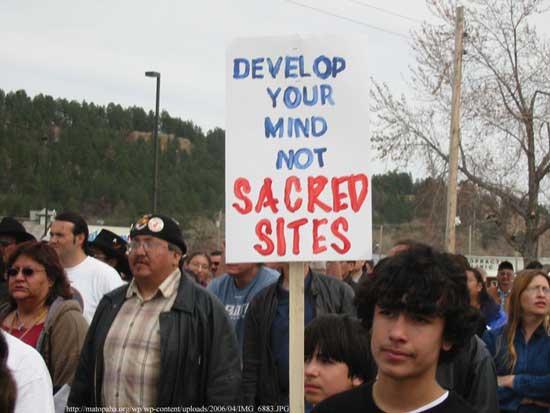 Cree Prophecy
Only after the last tree has been cut down,
Only after the last river has been poisoned,
Only after the last fish has been caught,
Only then will you find money cannot be eaten.
Nobody for President ~ NONE of the ABOVE should be a choice on voter ballots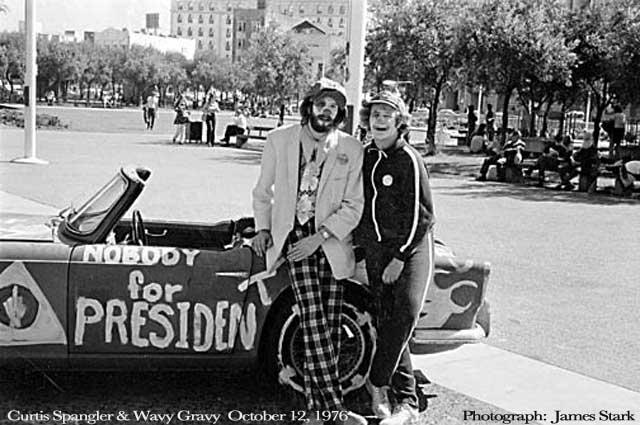 Curtis Spangler & Wavy Gravy, Nobody for President, 197610.12 ~ Photo: James Stark

American Dream, George Carlin via Ishtar [Not Work Safe] Nobody should have that much power


NOBODY should have that much power!
NONE of the ABOVE
should be a choice on voter ballots!
Message
via
Mike Pinder
Oh, I hope that I see you again I never even caught your name As you looked through my window pane ~ So I'm writing this message today I'm thinking that you'll have a way Of hearing the notes in my tune ~ Where are you going? Where have you been? I can imagine other worlds you have seen ~ Beautiful faces and music so serene ~ So I do hope I see you again My universal citizen You went as quickly as you came ~ You know the power Your love is right You have good reason To stay out of sight ~~ But break our illusions and help us Be the light ~ by Mike Pinder

Why I Think This World Should End, Prince EA via Prince EA
Without love in the dream, it will never come true. ~ Jerry Garcia/Robert Hunter
And in the end, the love you take is equal to the love you make. ~ John Lennon
{ ͡ʘ ͜ʖ ͡ʘ} Is Daylight Saving Time Dangerous? { ͡ʘ ͜ʖ ͡ʘ}