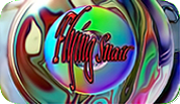 During times of universal deceit, telling the truth becomes a revolutionary act. ~ George Orwell
The Republican Party is now clearly an authoritarian party. It embraces, condones, accepts and promotes political violence, and does not accept electoral defeat. Their glorification of January 6 proves that they're okay with a violent seizure of power. If they can't win elections fairly, they'd rather end democracy. ~ Steven Levitsky, Professor of Political Science, Harvard University
Albeit Science (sic) Faction,
you were warned!
For we are opposed around the world by a monolithic and ruthless conspiracy that relies on covert means for expanding its sphere of influence--on infiltration instead of invasion, on subversion instead of elections, on intimidation instead of free choice, on guerrillas by night instead of armies by day. It is a system which has conscripted vast human and material resources into the building of a tightly knit, highly efficient machine that combines military, diplomatic, intelligence, economic, scientific and political operations. ~ President John F. Kennedy, Waldorf-Astoria Hotel, April 27, 1961, assassinated, November 22, 1963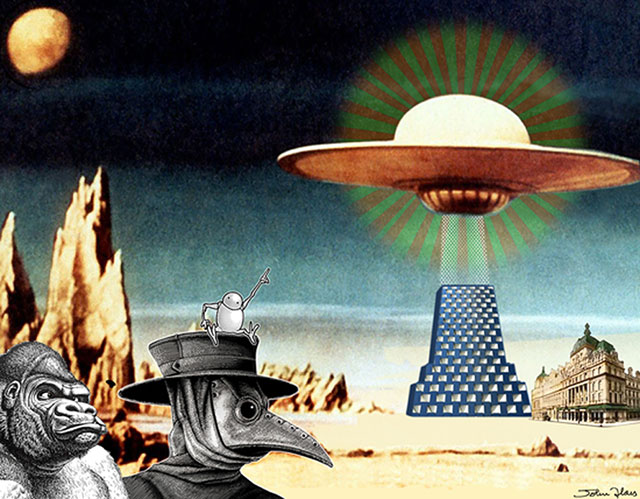 For an example of "science faction," consider "From the Earth to the Moon" by Jules Verne. People at that time could not believe a trip to the moon was possible, ...until there was NASA's Apollo 11.
UFO tape, 1974, MP3
http://flyingsnail.com/Podcast/UFO-1974.mp3
Rebirth of Evil, 1975, MP3
http://flyingsnail.com/Podcast/RebirthOfEvil.mp3
United States Civil War, John Titor
http://www.johntitor.com/Pages/CivilWar.html
I remember 2036 very clearly. It is difficult to describe 2036 in detail without spending a great deal of time explaining why things are so different.
In 2036, I live in central Florida with my family and I'm currently stationed at an Army base in Tampa. A world war in 2015 killed nearly three billion people. The people that survived grew closer together. Life is centered on the family and then the community. I cannot imagine living even a few hundred miles away from my parents.
There is no large industrial complex creating masses of useless food and recreational items. Food and livestock is grown and sold locally. People spend much more time reading and talking together face to face. Religion is taken seriously and everyone can multiply and divide in their heads.
Life has changed so much over my lifetime that it's hard to pin down a "normal" day. When I was 13, I was a soldier. As a teenager, I helped my dad haul cargo. I went to college when I was 31 and I was recruited to "time travel" shortly after that. Again, I suppose an average day in 2036 is like an average day on the farm.
There is a civil war in the United States that starts in 2005. That conflict flares up and down for 10 years. In 2015, Russia launches a nuclear strike against the major cities in the United States (which is the "other side" of the civil war from my perspective), China and Europe. The United States counter attacks. The US cities are destroyed along with the AFE (American Federal Empire)...thus we (in the country) won. The European Union and China were also destroyed. Russia is now our largest trading partner and the Capitol of the US was moved to Omaha Nebraska.
One of the biggest reasons why food production is localized is because the environment is affected with disease and radiation. We are making huge strides in getting it cleaned up. Water is produced on a community level and we do eat meat that we raise ourselves.
After the war, early new communities gathered around the current Universities. That's where the libraries were. I went to school at Fort UF, which is now called the University of Florida. Not too much is different except the military is large part of people's life and we spend a great deal of time in the fields and farms at the "University" or Fort.
The Constitution was changed after the war. We have 5 presidents that are voted in and out on different term periods. The vice president is the president of the senate and they are voted separately. ~ [John Titor, Continue Reading?][Ed Note: Under Science Faction historical events cannot be stopped; however, time lines can be modified, and historical events can be postponed, but, they, will eventually happen.
Sometimes people don't want to hear the truth because
they don't want their illusions destroyed. Friedrich Nietzsche
Notes from ~@~ == HyperNormalisation

HyperNormalisation
From Wikipedia, the free encyclopedia ~ Source
HyperNormalisation is a 2016 BBC documentary by British filmmaker Adam Curtis. In the film, Curtis argues that since the 1970s, governments, financiers, and technological utopians have given up on the complex "real world" and built a simple "fake world" that is run by corporations and kept stable by politicians. 
The term "hypernormalisation" is taken from Alexei Yurchak's 2006 book Everything was Forever, Until it was No More: The Last Soviet Generation, about the paradoxes of life in the Soviet Union during the 20 years before it collapsed. A professor of anthropology at the University of California, Berkeley, he argues that everyone knew the system was failing, but as no one could imagine any alternative to the status quo, politicians and citizens were resigned to maintaining a pretence of a functioning society. Over time, this delusion became a self-fulfilling prophecy and the "fakeness" was accepted by everyone as real, an effect that Yurchak termed "hypernormalisation".
Chapters ~ The film consists of nine chapters.
1975
The fiscal crisis in New York City and the emergence of the idea that financial systems could run society; shuttle diplomacy between then-US Secretary of State Henry Kissinger and Middle Eastern leaders in the Arab-Israeli dispute and the subsequent retreat by Hafez al-Assad of Syria; and the onset of hypernormalisation in the Soviet Union.
The Human Bomb
How, following the United States' involvement in the 1982 Lebanon War, a vengeful al-Assad made an alliance with Ruhollah Khomeini of Iran. They planned to force the US out of the Middle East by encouraging civilians to carry out suicide bombings on American targets in the region, thereby avoiding reprisals. In February 1984, the U.S. withdrew all its troops from Lebanon because, in the words of then-US Secretary of State George P. Shultz, "we became paralysed by the complexity that we faced".
Altered States
By the mid-1980s, banks and corporations were joining up through computer networks to create a hidden system of power, and technological utopians whose roots lay in the counterculture of the 1960s also saw the internet as an opportunity to make an alternative world that was free of political and legal restraints.
Acid Flashback
John Perry Barlow's vision of cyberspace as the 1990s equivalent of the Acid Tests. Barlow, who had been part of the LSD (also known as "acid") counterculture in the 1960s and founded the Electronic Frontier Foundation, wrote a manifesto called A Declaration of the Independence of Cyberspace. Addressed to politicians, it declared "the global social space we are building to be naturally independent of the tyrannies you seek to impose upon us". Two computer hackers—Phiber Optik and Acid Phreak—knew that in reality corporations were using the internet to exert more control over the lives of people than governments had done in the past, and they demonstrated that hierarchies did exist online by obtaining Barlow's credit record from TRW Inc. and posting it on the internet.
The Colonel
This chapter describes the Reagan administration using Muammar Gaddafi as a pawn in their public relations (PR) strategy of creating a simplified, morally unambiguous foreign policy by blaming him for the 1985 Rome and Vienna airport attacks and the 1986 Berlin discotheque bombing that killed US soldiers, both of which European security services attributed to Syrian intelligence agencies. Gaddafi is described as playing along for the sake of increasing his profile in the Arab world as a revolutionary. The 1986 United States bombing of Libya, 10 days after the disco bombing, is described as an operation carried out mainly for PR reasons, because attacking Syria would have been too risky.
The Truth Is Out There
[See also: Paul Bennewitz and Mirage Men]
This chapter begins with a montage of unidentified flying object (UFO) sightings recorded by members of the public in the United States. It argues that the phenomenon surrounding UFOs in the 1990s was born out of a counter-intelligence operation designed to make the public believe that secret airborne high-technology weapons systems the US military tested during and after the Cold War were alien visitations. Top secret memos forged by the United States Air Force Office of Special Investigations were allegedly leaked to ufologists who spread the manufactured conspiracy theory of a government cover-up to the wider public. The method, called perception management, aimed to distract people from the complexities of the real world. American politics are described as having become increasingly detached from reality. Curtis uses the collapse of the Soviet Union at the end of the 1980s as an example of an event that took the West by surprise because reality had become less and less important. A Jane Fonda workout video is shown to illustrate that socialists had given up trying to change the real world and were instead focusing on the self and encouraging others to do the same. The video is intercut with footage of Nicolae Ceaușescu and his wife, Elena, being executed by firing squad and buried following the Romanian Revolution in 1989.
Managed Outcomes
Ulrich Beck is identified as a left-wing German political theorist. After the collapse of the Soviet Union, he saw the world as too complex to change, and Beck asserted that politicians should merely keep the West stable by predicting and avoiding risks. Curtis looks at Aladdin, a computer that manages about 7% of the world's financial assets, analysing the past to anticipate what may happen in the future; and how anti-depressant drugs and social media both stabilise the emotions of individuals.
A Cautionary Tale
The start of this chapter is about the flaws of trying to predict the future by using data from the past. Curtis tells the story of how a card counter named Jess Marcum was recruited by Donald Trump to analyse the gambling habits of Akio Kashiwagi at his casino, the Trump Taj Mahal, in Atlantic City, after Trump had lost millions of dollars to Kashiwagi. In an effort to avert the impending bankruptcy of the casino, Marcum devised a model that predicted a way of recouping the money from Kashiwagi, who lost US$10 million. However, before he could pay, he was killed by yakuza gangsters, and the casino went bankrupt, with Trump having to sell many of his assets to the banks.
Attention turns back to the Middle East and the Lockerbie Bombing in 1988. Curtis says that immediately after the bombing, journalists and investigators blamed Syria for carrying out the attack on behalf of Iran in revenge for the shooting down of Iran Air Flight 655 by the United States Navy. It was generally accepted as true until US security agencies announced that Libya was behind the attack. Some journalists and politicians believed that the West had made the volte-face to appease Syria's leader, whom the US and the United Kingdom required as an ally in the coming Gulf War.
He focuses on the spread of suicide bombing tactics from Shia to Sunni Islam and the targeting of civilians in Israel by Hamas during the 1990s. The resulting political paralysis led to a stalling of the Israeli–Palestinian peace process. It is described as an unintended consequence of Israel's response to the 1992 killing of an Israeli border guard.
A montage is shown of clips from pre-9/11 disaster films in which New York City landmarks are variously destroyed by alien invaders, meteorites, and a tsunami. Curtis argues that such films were characteristic of a mood of uncertainty that pervaded the United States at the end of the 20th century.
Curtis shows how Muammar Gaddafi was turned into the West's "new best friend."
A World Without Power
The effect of the Iraq war wreaks havoc on the American psyche and the people retreat into cyberspace. Judea Pearl creates Bayesian networks that mimic human behavior. Judea's son, Daniel Pearl is the first American to be beheaded on a video uploaded to YouTube.
Meanwhile, social media algorithms show information that is pleasing to its users and hence doesn't challenge previously held beliefs. Despite this, Occupy Wall Street emerges in an attempt to disrupt the system by imitating the leaderless system that the internet was once imagined to become. Using a similar method, the Egyptian revolution of 2011 commenced.
Britain, France and the U.S. turn their backs on Muammar Gaddafi once the people rise up against him. The U.S. drops bombs with drones, and then footage of Gaddafi being captured by rebels is shown.
Neither Occupy Wall Street, nor the Arab Spring turn out very well for the revolutionaries.
In Russia, Vladimir Putin and his cabinet of political technologists create mass confusion. Vladislav Surkov uses ideas from art to turn Russian politics into a bewildering piece of theater. Donald Trump used the same techniques in his presidential campaign by using language from Occupy Wall Street and the extreme racist right-wing. Curtis asserts that Trump "defeated journalism" by rendering its fact-checking abilities irrelevant.
The American Left's attempt to resist Trump on the internet had no effect. In fact, they were just feeding the social media corporations who valued their many additional clicks.
Syria's revolution becomes more vicious and violent. The technique of suicide bombing that Curtis argues Hafez al-Assad introduced in order to unite the Middle East has instead torn it apart. Russia uses Surkov's concept of "non-linear warfare" to keep Syria destabilized. Russia claims to leave Syria, but doesn't.
Abu Musab al-Suri in Syria argues terrorists should not carry out large scale attacks such as Osama Bin Laden did, but should instead carry out random small-scale attacks throughout the West to create fear and chaos, that would be more difficult to retaliate against. This destabilization of the West's psyche leads to the passing of the Brexit and the popularity of Donald Trump.
The film closes with a montage, played over a Barbara Mandrell performance.
Don't help me set the table
Cause now there's one less place
I won't lay mama's silver
For a man who won't say grace
If home is where the heart is
Then your home's on the street
Me, I'll read a good book
Turn out the lights and go to sleep
— "Standing Room Only" from This Is Barbara Mandrell

Nobody for President, Union Square, San Francisco, CA, 1980
Synergetic Images, Inner City Visions (TV), Test Tube (PBS)
via Dwight Dolliver, Jon Johnson, and Curtis Spangler
Nobody's "Birthday Party" provided an easy, cost-effective, way to restore political balance:
None of the Above
should be a valid choice on voter ballots.
Unfortunately, a jaded two party system rejects this simple fix because Nobody has all the answers and believes if a majority of citizens voted for None of the Above, rather than lesser of evils, voters would have to find someone competent to lead them !!! The media said, "Nobody could argue with that logic."
(1) Put "None of the Above" on voter ballots.
(2) Change requirements for President:
(a) Extremely hard civil service exam.
(b) Top scores compete in Prezolympics.
(c) Top 10 winners become candidates.
(d) Election winner becomes President.
(e) Gets device implanted in brain that explodes if a lie is told.
(3) Hire a Ribbon Cutter for President.
(a) Saved money pays off national debt.
(4) Declare election day a holiday.
(a) Voting receipt required for pay.
(5) Tie election participation to jury duty.
(a) Those who don't vote go on jury rolls.
Notes from Erb

Stormy Weather via Jeff Reiter
SATAN'S DEMONS TAKE
ON THE IMAGE OF GOD
similar to that done in Eden (II Corinthians, 11:14).
How else do they take control of earth?
Ministers of Satan are variously understood as being a consummately evil system of government; or leader... Ministers of Satan are liars who will deceive many people... Ministers of Satan want to divide the world and create war without end... Ministers of Satan will declare things which are evil are good, will refer to war as peace, death as a solution for justice, and serving the wealthy as a means of helping the poor. Many nations will recognize they are evil, but their own people will be inclined to believe their deceptions.

The Staple Singers ~ Respect Yourself (from Soul Train) via Domo
Christians are to no longer execute sinners, so they should not wage carnal war, but spiritual warfare ~ (John 18:36; 2 Corinthians 10:1-6; Ephesians 6:10-18; 1 Timothy 1:18-20; 6:11-14; 2 Timothy 2:3-5; 4:6-8), Christians must be peacemakers forgiving those who do them harm treating their enemies with love and not seeking revenge ~ (Matthew 5:9, Romans 14:19), (Ephesians 4:29-32; Colossians 3:12-14; Matthew 6:9-15; Mark 11:25-26), (Luke 6:27-36) (Romans 12:17-21; 1 Peter 3:8-12), and Hatred, which is the same as murder, is unforgiving, vengeful and hostile towards one's enemies ~ (1 John 3:15)

Turtles All the Way Down by Sturgill Simpson via Mankind Film
2 PETER 2:1 ~ But there were false prophets also among the people, even as there shall be false teachers among you, who privily shall bring in damnable heresies, even denying the Lord that bought them, and bring upon themselves swift destruction.
2 PETER 2:2 ~ And many shall follow their pernicious ways; by reason of whom the way of truth shall be evil spoken of.
2 PETER 2:3 ~ And through covetousness shall they with feigned words make merchandise of you: whose judgment now of a long time lingereth not, and their damnation slumbereth not.

Leningrad Cowboys, Happy Being Miserable via Leningrad Cowboys Official
There is nothing which I dread so much as a division of the republic into two great parties, each arranged under its leader, and concerting measures in opposition to each other. This, in my humble apprehension, is to be dreaded as the greatest political evil under our Constitution. John Adams

Doom and Gloom via Rossana Podestá Massa
Forget the politicians. They are irrelevant. The politicians are put there to give you the idea that you have freedom of choice. You don't. You have no choice! You have OWNERS! They own you! They own everything. They own all the important land. They own and control the corporations. They've long since bought, and paid for the Senate, the Congress, the state houses, the city halls, they got the judges in their back pockets and they own all the big media companies, so they control just about all of the news and information you get to hear. George Carlin

Undone Lullaby, by dj schmolli via Dave
NONE of the ABOVE should be a valid choice on voter ballots!
ASIFA-SF, Karl Cohen
~ Association International du Film d'Animation, SF Newsletter

ASIFA-SF December 2023 Newsletter [PDF]
Boptime ~ w/Even Steven Leech
~ Saturday Mornings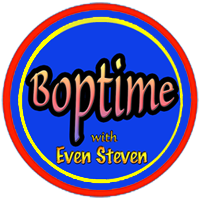 Boptime begins at 6am (EST) on Saturday December 16th with oldies back to back to back. ~ Steve
BOPTIME: Saturday, 6 AM Eastern, 3 AM Pacific time
Go To: http://www.wvud.org/?page_id=24
Click on a listening link below the WVUD logo:



Boptime available locally in Delaware on:
WVUD-FM 91.3
Shoutcast = [Search: WVUD] || TuneIn
Neckerworld ~ A Computer Vision Game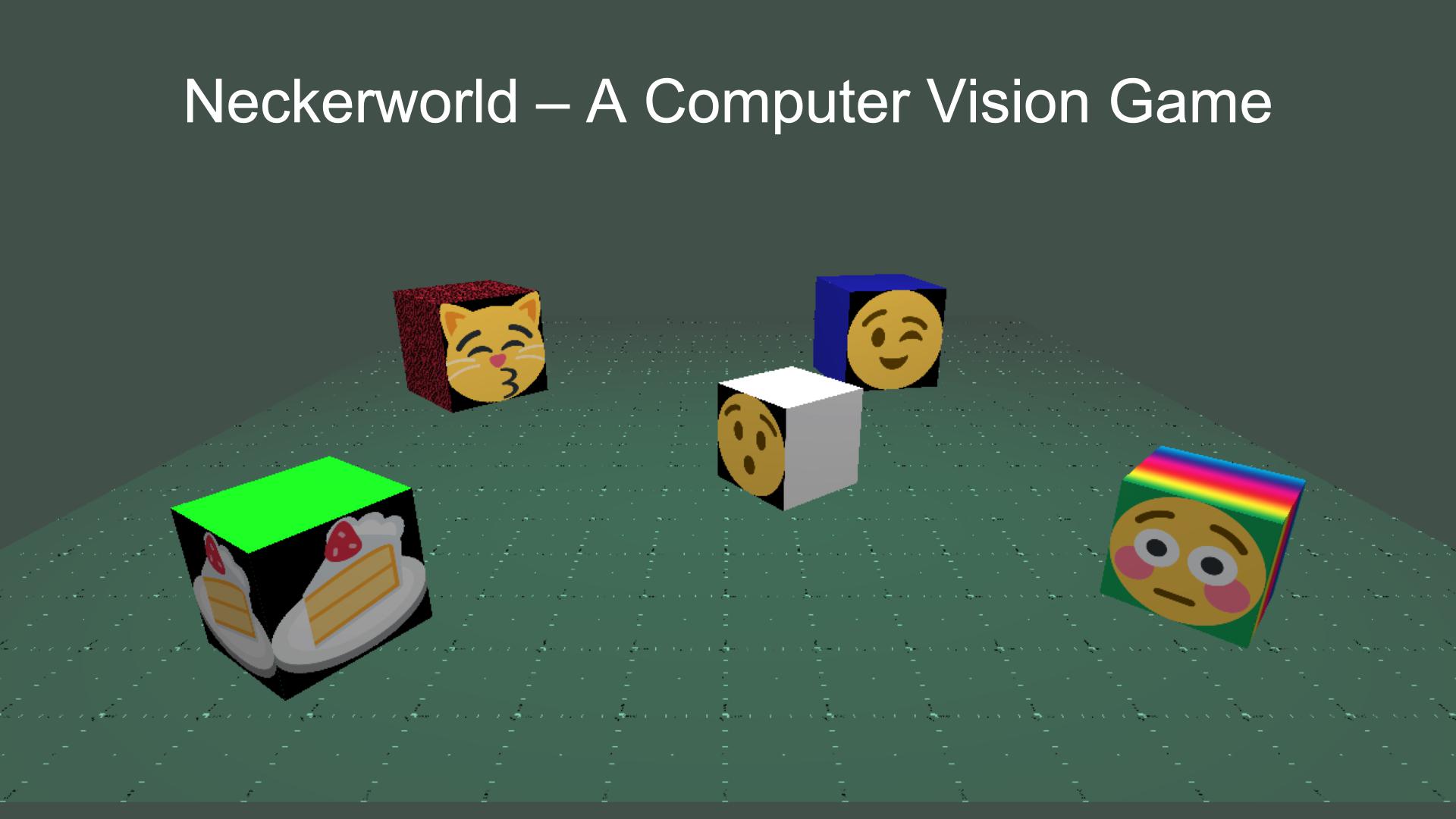 Neckerworld ~ A Computer Vision Game, by hankster/Dr. Hank Magnuski
Overview
Neckerworld is a computer vision game designed to teach students about human and computer vision systems, object detection and identification, visual field construction, autonomous movement and strategy.
All players and resources in the game are cubes. The cube players are guided solely through autonomous computer vision programs. No human manual control or input is permitted during gameplay.
To successfully play the game requires a competent program to do object detection and identification, playing field knowledge representation and strategic decision making.
Background
The Necker Cube Illusion (first published as a rhomboid in 1832 by Swiss crystallographer Louis Albert Necker) is a well known example of a perceptual illusion where the orientation of the cube is unstable and easily flips between two states. Serious study and research into why we perceive multiple states leads to a set of questions about the very nature of our vision. [continue: http://neckerworld.com]
Notes from ~@~
Freedom of expression and freedom of speech aren't really important unless they're heard...It's hard for me to stay silent when I keep hearing that peace is only attainable through war. And there's nothing more scary than watching ignorance in action. So I dedicated this Emmy to all the people who feel compelled to speak out and not afraid to speak to power and won't shut up and refuse to be silenced.  Tom Smothers

Carlin Step, DJ Steve Porter & Eli Wilkie via Roland Kardeby

The Great Bell Chant (The End of Suffering) via R Smittenaar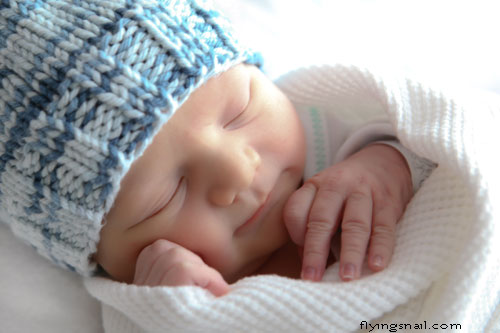 One Day, Matisyahu

Unsung Hero via Rattakarn Srithavatchai "Garn"
The Sacred Clowns ~ Heyókȟa
The Heyókȟa symbolize and portray many aspects of the sacred, the Wakȟáŋ. Their satire presents important questions by fooling around. They ask difficult questions, and say things others are too afraid to say. By reading between the lines, the audience is able to think about things not usually thought about, or to look at things in a different way.
Principally, the Heyókȟa functions both as a mirror and a teacher, using extreme behaviors to mirror others, thereby forcing them to examine their own doubts, fears, hatreds, and weaknesses. Heyókȟas also have the power to heal emotional pain; such power comes from the experience of shame--they sing of shameful events in their lives, beg for food, and live as clowns. They provoke laughter in distressing situations of despair and provoke fear and chaos when people feel complacent and overly secure, to keep them from taking themselves too seriously or believing they are more powerful than they are.
In addition, sacred clowns serve an important role in shaping tribal codes. Heyókȟa's don't seem to care about taboos, rules, regulations, social norms, or boundaries. Paradoxically, however, it is by violating these norms and taboos that they help to define the accepted boundaries, rules, and societal guidelines for ethical and moral behavior. This is because they are the only ones who can ask "Why?" about sensitive topics and employ satire to question the specialists and carriers of sacred knowledge or those in positions of power and authority. In doing so, they demonstrate concretely the theories of balance and imbalance. Their role is to penetrate deception, turn over rocks, and create a deeper awareness.

Develop Your Mind, Not Sacred Sites
Only after the last tree has been cut down, Only after the last river has been poisoned, Only after the last fish has been caught, Only then will you find money cannot be eaten. ~ Cree Prophecy
Nobody for President ~ NONE of the ABOVE should be a choice on voter ballots!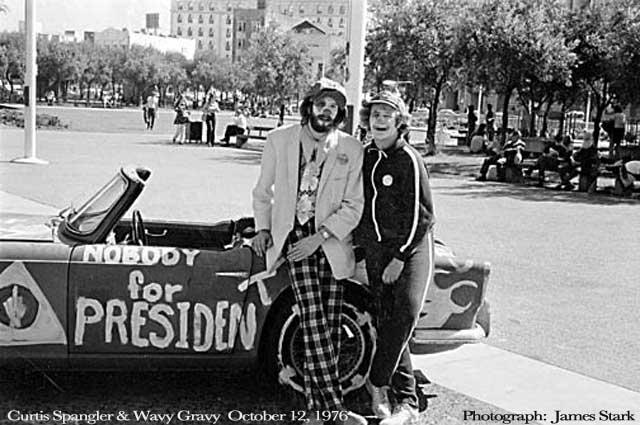 Curtis Spangler & Wavy Gravy, Nobody for President, 197610.12 ~ Photo: James Stark
Nobody bakes apple pie better than Mom, is eternal, perfect, has all the answers, ended war, will love you forever, brought peace to our time, fixed global warming, fed the hungry & destitute, knows, cares, shives a git about you, loves you when you're down & out, and if elected will not lie to, or steal from, 'the people'; ...begging a question, What's NOTA's entry fee ...more lies that lead to mass murder or human sacrifice, when Nobody says why not try love again?

American Dream, George Carlin via Ishtar [Not Work Safe] Alternative source with text
NOBODY should have that much power!
NONE of the ABOVE should be a valid choice on voter ballots!
Message
via
Mike Pinder
Oh, I hope that I see you again I never even caught your name As you looked through my window pane ~ So I'm writing this message today I'm thinking that you'll have a way Of hearing the notes in my tune ~ Where are you going? Where have you been? I can imagine other worlds you have seen ~ Beautiful faces and music so serene ~ So I do hope I see you again My universal citizen You went as quickly as you came ~ You know the power Your love is right You have good reason To stay out of sight ~~ But break our illusions and help us Be the light. Mike Pinder

Why I Think This World Should End, Prince EA via Prince EA
Without love in the dream, it will never come true. ~ Jerry Garcia/Robert Hunter
And in the end, the love you take is equal to the love you make. ~ John Lennon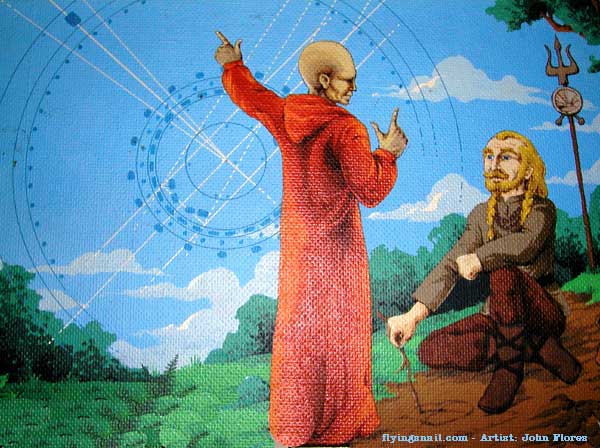 ---
---

Some search sites have been banned from scanning local content since 2012.
Please use DuckDuckGo.com or Bing.com for search.
{ ͡ʘ ͜ʖ ͡ʘ} Did politicians lie about Daylight Saving Time? { ͡ʘ ͜ʖ ͡ʘ}