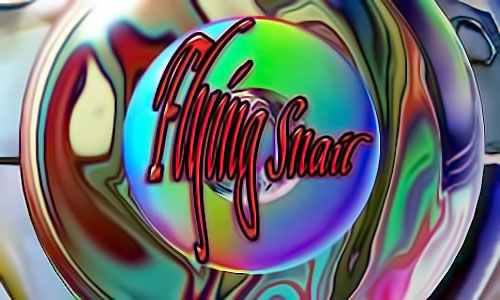 Wanderers ~ a short film by Erik Wernquist
[Ed. Note: Watch 'Full Screen' by clicking: https://vimeo.com/108650530]

Wanderers is a vision of humanity's expansion into the Solar System, based on scientific ideas and concepts of what our future in space might look like, if it ever happens. The locations depicted in the film are digital recreations of actual places in the Solar System, built from real photos and map data where available.
Today's Secret Question Is:

If U.S. politicians made Spyware illegal, sans the Patriot Act, what is this iPhone Spyware, ...Apple had to make an emergency fix for ?

Remember Kids, every time you hear Vulnerabilities, Scream Real Loud:

"WFT"

...and, if one believes in honesty, maybe it is worthwhile knowing about this?
[Brought to you by Illusion; a Not What You See, but What You Think reality]

Pole shift & animals from Sarah Livesey Dip M.T ~ https://vimeo.com/19808478
Paul Krassner ~ The Realist, Writer, Comic, Investigative Satirist
Three (3) daughters of groundbreaking comedians, Lenny Bruce, Richard Pryor & George Carln. ~ pk


Daughters of Comedy Godfathers: Kelly Carlin, Rain Pryor, & Kitty Bruce
via TheFIREorg ~ https://youtu.be/2MIzDQwWkf4
Sprung ~ Harley-Davidson® Springer® Enthusiast

Ride Free II from Paul Bokhari ~ https://vimeo.com/60233269
Notes from ~@~

Carlin Step, DJ Steve Porter & Eli Wilkie
from Roland Kardeby ~ http://vimeo.com/21162532


The Great Bell Chant (The End of Suffering)
from R Smittenaar ~ http://vimeo.com/6518109


One Day, Matisyahu
from 100% ~ http://vimeo.com/11520225


Unsung Hero ~ Still Anonymous
from Rattakarn Srithavatchai "Garn" ~ http://vimeo.com/90853494
---
---
Freedom of expression and freedom of speech aren't really important unless they're heard...It's hard for me to stay silent when I keep hearing that peace is only attainable through war. And there's nothing more scary than watching ignorance in action. So I dedicated this Emmy to all the people who feel compelled to speak out and not afraid to speak to power and won't shut up and refuse to be silenced. ~ Tom Smothers
---
---
Cree Prophecy
Only after the last tree has been cut down,
Only after the last river has been poisoned,
Only after the last fish has been caught,
Only then will you find money cannot be eaten.

Where Have All the Flowers Gone?

[From Word Worlds, Where simplifying complexity becomes art]: The Heyókȟa symbolize and portray many aspects of the sacred, the Wakȟáŋ. Their satire presents important questions by fooling around. They ask difficult questions, and say things others are too afraid to say. By reading between the lines, the audience is able to think about things not usually thought about, or to look at things in a different way.

Principally, the Heyókȟa functions both as a mirror and a teacher, using extreme behaviors to mirror others, thereby forcing them to examine their own doubts, fears, hatreds, and weaknesses. Heyókȟas also have the power to heal emotional pain; such power comes from the experience of shame--they sing of shameful events in their lives, beg for food, and live as clowns. They provoke laughter in distressing situations of despair and provoke fear and chaos when people feel complacent and overly secure, to keep them from taking themselves too seriously or believing they are more powerful than they are.

In addition, sacred clowns serve an important role in shaping tribal codes. Heyókȟa's don't seem to care about taboos, rules, regulations, social norms, or boundaries. Paradoxically, however, it is by violating these norms and taboos that they help to define the accepted boundaries, rules, and societal guidelines for ethical and moral behavior. This is because they are the only ones who can ask "Why?" about sensitive topics and employ satire to question the specialists and carriers of sacred knowledge or those in positions of power and authority. In doing so, they demonstrate concretely the theories of balance and imbalance. Their role is to penetrate deception, turn over rocks, and create a deeper awareness.
Nobody for President ~ NONE of the ABOVE should be a choice on voter ballots
I Read It On Internet, So It Must Be True?

TIL: Hillary Clinton is a psychotic murderer who suffers from syphilis, is months away from death, and her chief of staff is a secret Muslim terrorist at: the Guardian

---


A 75 year old speech in the 21th century
from Bertrand Thomas ~ https://vimeo.com/90663890


Where are the real presidential candidates? ...This isn't funny anymore!
NONE of the ABOVE should be a choice on Voter Ballots ~ Nobody for President


China launches quantum satellite for 'hack-proof' communications (to protect people)
United States launches illegal Patriot Act (where) Republicans and Democrats hope to
eliminate citizen rights, in an attempt to destroy liberty & freedom (?), with significant
corporate & military applications, & (why) NOTA should be a choice on Voter Ballots!

Patriot Act Controversy
From Wikipedia, the free encyclopedia

The USA PATRIOT Act has generated a great deal of controversy since its enactment.

Opponents of the Act have been quite vocal in asserting that it was passed opportunistically after the September 11 attacks, believing that there would have been little debate. They view the Act as one that was hurried through the Senate with little change before it was passed. (Senators Patrick Leahy and Russell Feingold proposed amendments to modify the final revision.)

The sheer magnitude of the Act itself was noted by Michael Moore in his controversial film Fahrenheit 9/11. In one of the scenes of the movie, he records Congressman Jim McDermott alleging that no Senator had read the bill and John Conyers, Jr. as saying, "We don't read most of the bills. Do you really know what that would entail if we read every bill that we passed?" Congressman Conyers then answers his own rhetorical question, asserting that if they did it would "slow down the legislative process". As a dramatic device, Moore then hired an ice-cream van and drove around Washington, D.C. with a loud speaker, reading out the Act to puzzled passers-by, which included a few Senators.

However, Moore was not the only commentator to notice that not many people had read the Act. When Dahlia Lithwick and Julia Turne for Slate asked, "How bad is PATRIOT, anyway?", they decided that it was "hard to tell" and stated:

The ACLU, in a new fact sheet challenging the DOJ Web site, wants you to believe that the act threatens our most basic civil liberties. Ashcroft and his roadies call the changes in law "modest and incremental." Since almost Nobody has read the legislation, much of what we think we know about it comes third-hand and spun. Both advocates and opponents are guilty of fear-mongering and distortion in some instances.

One prime example of a controversy of the Patriot Act is shown in the case of Susan Lindauer.

Another is the recent court case United States v. Antoine Jones. A nightclub owner was linked to a drug trafficking stash house via a law enforcement GPS tracking device attached to his car. It was placed there without a warrant, which caused a serious conviction obstacle for federal prosecutors in court. Through the years the case rose all the way to the United States Supreme Court where the conviction was overturned in favor of the defendant. The court found that increased monitoring of suspects caused by such legislation like the Patriot Act directly put the suspects' Constitutional rights in jeopardy.

The Electronic Privacy Information Center (EPIC) has criticized the law as unconstitutional, especially when "the private communications of law-abiding American citizens might be intercepted incidentally" while the Electronic Frontier Foundation held that the lower standard applied to wiretaps "gives the FBI a 'blank check' to violate the communications privacy of countless innocent Americans". Others do not find the roving wiretap legislation to be as concerning. Professor David D. Cole of the Georgetown University Law Center, a critic of many of the provisions of the Act, found that though they come at a cost to privacy are a sensible measure while Paul Rosenzweig, a Senior Legal Research Fellow in the Center for Legal and Judicial Studies at the Heritage Foundation, argues that roving wiretaps are just a response to rapidly changing communication technology that is not necessarily fixed to a specific location or device.

The Act also allows access to voicemail through a search warrant rather than through a title III wiretap order. James Dempsey, of the CDT, believes that it unnecessarily overlooks the importance of notice under the Fourth Amendment and under a Title III wiretap, and the EFF criticizes the provision's lack of notice. However, the EFF's criticism is more extensive—they believe that the amendment "is in possible violation of the Fourth Amendment to the U.S. Constitution" because previously if the FBI listened to voicemail illegally, it could not use the messages in evidence against the defendant. Others disagree with these assessments. Professor Orin Kerr, of the George Washington University school of law, believes that the ECPA "adopted a rather strange rule to regulate voicemail stored with service providers" because "under ECPA, if the government knew that there was one copy of an unopened private message in a person's bedroom and another copy on their remotely stored voicemail, it was illegal for the FBI to simply obtain the voicemail; the law actually compelled the police to invade the home and rifle through peoples' bedrooms so as not to disturb the more private voicemail." In Professor Kerr's opinion, this made little sense and the amendment that was made by the USA PATRIOT Act was reasonable and sensible.

The USA PATRIOT Act's expansion of court jurisdiction to allow the nationwide service of search warrants proved controversial for the EFF. They believe that agencies will be able to "'shop' for judges that have demonstrated a strong bias toward law enforcement with regard to search warrants, using only those judges least likely to say no—even if the warrant doesn't satisfy the strict requirements of the Fourth Amendment to the Constitution", and that it reduces the likelihood that smaller ISPs or phone companies will try to protect the privacy of their clients by challenging the warrant in court—their reasoning is that "a small San Francisco ISP served with such a warrant is unlikely to have the resources to appear before the New York court that issued it."They believe that this is bad because only the communications provider will be able to challenge the warrant as only they will know about it—many warrants are issued ex parte, which means that the target of the order is not present when the order is issued.

For a time, the USA PATRIOT Act allowed for agents to undertake "sneak and peek" searches. Critics such as EPIC and the ACLU strongly criticized the law for violating the Fourth Amendment, with the ACLU going so far as to release an advertisement condemning it and calling for it to be repealed.

After suspected abuses of the USA PATRIOT Act were brought to light in June 2013 with articles about collection of American call records by the NSA and the PRISM program (see 2013 mass surveillance disclosures), Representative Jim Sensenbrenner, Republican of Wisconsin, who introduced the Patriot Act in 2001, said that the National Security Agency overstepped its bounds. He released a statement saying "While I believe the Patriot Act appropriately balanced national security concerns and civil rights, I have always worried about potential abuses." He added: "Seizing phone records of millions of innocent people is excessive and un-American."

[All 2016 Presidential candidates support this illegal Patriot Act which Nobody attempts to protect voters from ...because an obsolete Two Party System continues to resist NONE of the ABOVE as a choice on Voter Ballots ~ Click to continue reading]

CAUTION: Vehicle may be Transporting Political Promises! ~ License Plate: POO PMPR


B Movie, Gil Scott-Heron from Alex Benson ~ https://vimeo.com/10139610

Well, the first thing I want to say is…"Mandate my ass!"

Because it seems as though we've been convinced that 26% of the registered voters, not even 26% of the American people, but 26% of the registered voters form a mandate – or a landslide. 21% voted for Skippy and 3, 4% voted for somebody else who might have been running.

But, oh yeah, I remember. In this year that we have now declared the year from Shogun to Reagan, I remember what I said about Reagan…meant it. Acted like an actor…Hollyweird. Acted like a liberal. Acted like General Franco when he acted like governor of California, then he acted like a republican. Then he acted like somebody was going to vote for him for president. And now we act like 26% of the registered voters is actually a mandate. We're all actors in this I suppose.

What has happened is that in the last 20 years, America has changed from a producer to a consumer. And all consumers know that when the producer names the tune…the consumer has got to dance. That's the way it is. We used to be a producer – very inflexible at that, and now we are consumers and, finding it difficult to understand. Natural resources and minerals will change your world. The Arabs used to be in the 3rd World. They have bought the 2nd World and put a firm down payment on the 1st one. Controlling your resources will control your world. This country has been surprised by the way the world looks now. They don't know if they want to be Matt Dillon or Bob Dylan. They don't know if they want to be diplomats or continue the same policy - of nuclear nightmare diplomacy. John Foster Dulles ain't nothing but the name of an airport now.

The idea concerns the fact that this country wants nostalgia. They want to go back as far as they can – even if it's only as far as last week. Not to face now or tomorrow, but to face backwards. And yesterday was the day of our cinema heroes riding to the rescue at the last possible moment. The day of the man in the white hat or the man on the white horse - or the man who always came to save America at the last moment – someone always came to save America at the last moment – especially in "B" movies. And when America found itself having a hard time facing the future, they looked for people like John Wayne. But since John Wayne was no longer available, they settled for Ronald Reagan – and it has placed us in a situation that we can only look at – like a "B" movie.

Come with us back to those inglorious days when heroes weren't zeros. Before fair was square. When the cavalry came straight away and all-American men were like Hemingway to the days of the wondrous "B" movie. The producer underwritten by all the millionaires necessary will be Casper "The Defensive" Weinberger – no more animated choice is available. The director will be Attila the Haig, running around frantically declaring himself in control and in charge. The ultimate realization of the inmates taking over at the asylum. The screenplay will be adapted from the book called "Voodoo Economics" by George "Papa Doc" Bush. Music by the "Village People" the very military "Macho Man."

"Company!!!"
"Macho, macho man!"
" Two-three-four."
" He likes to be – well, you get the point."
"Huuut! Your left! Your left! Your left…right, left, right, left, right…!"

A theme song for saber-rallying and selling wars door-to-door. Remember, we're looking for the closest thing we can find to John Wayne. Clichés abound like kangaroos – courtesy of some spaced out Marlin Perkins, a Reagan contemporary. Clichés like, "itchy trigger finger" and "tall in the saddle" and "riding off or on into the sunset." Clichés like, "Get off of my planet by sundown!" More so than clichés like, "he died with his boots on." Marine tough the man is. Bogart tough the man is. Cagney tough the man is. Hollywood tough the man is. Cheap steak tough. And Bonzo's substantial. The ultimate in synthetic selling: A Madison Avenue masterpiece – a miracle – a cotton-candy politician…Presto! Macho!

"Macho, macho man!"

Put your orders in America. And quick as Kodak your leaders duplicate with the accent being on the dupe - cause all of a sudden we have fallen prey to selective amnesia - remembering what we want to remember and forgetting what we choose to forget. All of a sudden, the man who called for a blood bath on our college campuses is supposed to be Dudley "God-damn" Do-Right?

"You go give them liberals hell Ronnie." That was the mandate. To the new "Captain Bly" on the new ship of fools. It was doubtlessly based on his chameleon performance of the past - as a liberal democrat – as the head of the Studio Actor's Guild. When other celluloid saviors were cringing in terror from McCarthy – Ron stood tall. It goes all the way back from Hollywood to hillbilly. From liberal to libelous, from "Bonzo" to Birch idol…born again. Civil rights, women's rights, gay rights…it's all wrong. Call in the cavalry to disrupt this perception of freedom gone wild. God damn it…first one wants freedom, then the whole damn world wants freedom.

Nostalgia, that's what we want…the good ol' days…when we gave'em hell. When the buck stopped somewhere and you could still buy something with it. To a time when movies were in black and white – and so was everything else. Even if we go back to the campaign trail, before six-gun Ron shot off his face and developed hoof-in-mouth. Before the free press went down before full-court press. And were reluctant to review the menu because they knew the only thing available was – Crow.

Lon Chaney, our man of a thousand faces - no match for Ron. Doug Henning does the make-up - special effects from Grecian Formula 16 and Crazy Glue. Transportation furnished by the David Rockefeller of Remote Control Company. Their slogan is, "Why wait for 1984? You can panic now...and avoid the rush."

So much for the good news…

As Wall Street goes, so goes the nation. And here's a look at the closing numbers – racism's up, human rights are down, peace is shaky, war items are hot - the House claims all ties. Jobs are down, money is scarce – and common sense is at an all-time low with heavy trading. Movies were looking better than ever and now no one is looking because, we're starring in a "B" movie. And we would rather have John Wayne…we would rather have John Wayne.

"You don't need to be in no hurry. - You ain't never really got to worry. - And you don't need to check on how you feel. - Just keep repeating that none of this is real. - And if you're sensing, that something's wrong, - Well just remember, that it won't be too long - Before the director cuts the scene…yea."

"This ain't really your life, - Ain't really your life, - Ain't really ain't nothing but a movie."

[Refrain repeated about 25 times or more in an apocalyptic crescendo with a military cadence.]

"This ain't really your life, - Ain't really your life, - Ain't really ain't nothing but a movie."


American Dream, George Carlin
from Ishtar ~ https://vimeo.com/20452708 ~ [Not Work Safe (language)]

Nobody should have that much power
---
---
Oh, I hope that I see you again I never even caught your name As you looked through my window pane ~ So I'm writing this message today I'm thinking that you'll have a way Of hearing the notes in my tune ~ Where are you going? Where have you been? I can imagine other worlds you have seen ~ Beautiful faces and music so serene ~ So I do hope I see you again My universal citizen You went as quickly as you came ~ You know the power Your love is right You have good reason To stay out of sight ~~ But break our illusions and help us Be the light ~ The Promise by Mike Pinder
---
---
Without love in the dream, it will never come true. ~ Jerry Garcia/Robert Hunter
And in the end, the love you take is equal to the love you make. ~ John Lennon