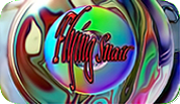 During times of universal deceit, telling the truth becomes a revolutionary act. ~ George Orwell
Throughout America's adventure in free government, our basic purposes have been to keep the peace; to foster progress in human achievement, and to enhance liberty, dignity and integrity among people and among nations. To strive for less would be unworthy of a free and religious people. Any failure traceable to arrogance, or our lack of comprehension or readiness to sacrifice would inflict upon us grievous hurt both at home and abroad. Dwight D. Eisenhower, the last Decent/Respectable Republican President

---

For we are opposed around the world by a monolithic and ruthless conspiracy that relies on covert means for expanding its sphere of influence--on infiltration instead of invasion, on subversion instead of elections, on intimidation instead of free choice, on guerrillas by night instead of armies by day. It is a system which has conscripted vast human and material resources into the building of a tightly knit, highly efficient machine that combines military, diplomatic, intelligence, economic, scientific and political operations. ~ President John F. Kennedy, Waldorf-Astoria Hotel, April 27, 1961, assassinated, November 22, 1963

Curtis's Ashbury Street Computer Studio, 27 September 1984 by Chris W Nelson
A 1984 photo of me is featured on Chris's 2024 Calendar, email if you want a copy ~@~
ABOUT PATCHWORKS FILMS

With 20+ years' experience, and 9 years working in Cuba, PatchWorks tells intimate stories that invoke complicated questions about family, faith, and identity. Their 6 award-winning features and numerous shorts have broadcast worldwide and screened at festivals, schools, organizations, and community venues, facilitating complicated community conversations, enriching curriculum, and sometimes impacting legislation. Their most recent feature, Los Hermanos/The Brothers, won the Best Documentary Award at its Woodstock Film Festival premiere.

Their previous Cuban feature, Havana Curveball screened in six countries, winning Best Documentary awards at the Boston and Seattle Children's Film Festival, a special juror award at the Olympia Festival in Greece and a spot on School Library Journal's "Best of 2014" list. Their previous film, Speaking In Tongues, aired on PBS, won the Audience Award at the San Francisco Film Festival, and remains a catalyst for changing language education worldwide. Previous films include the ITVS-funded Born in the U.S.A., which aired on Independent Lens and was hailed as the "best film on childbirth" by the former director of maternal health at the World Health Organization, and several shorts. ~ Visit: http://www.patchworksfilms.net

Ken Schneider, ACE | Producer/Director/Editor

Ken Schneider is a Peabody- winning producer/director who has also edited nearly 40 feature documentaries for PBS, HBO, Showtime and Al-Jazeera, and others. He received a Peabody as Co-producer and editor of Soft Vengeance. He edited the Oscar-nominated Regret to Inform, described by the New York Times as "unforgettable ... exquisitely filmed, edited and scored." Other films he edited have earned multiple Emmys, a Columbia-Dupont, three Peabodys, an Indie Spirit and top awards at the Sundance Film Festival. Ken is drawn to stories of war and peace, human rights, artists, American history, contemporary social issues, and Cuba.

Ken has taught at NYU-Tisch, Chapman University, and San Francisco City College, and lectured at the SF Art Institute, University of San Francisco, and Harvard. He has been a panelist for the National Endowment for Humanities, the Emmys, and various film festivals. Other projects include: Soft Vengeance: Albie Sachs and the New South Africa (Peabody), Have You Heard From Johannesburg (Emmy winning series), The Judge (TIFF), In Football We Trust (Emmy, Sundance), Orozco: Man of Fire, Ralph Ellison: An American Journey (PBS' American Masters), Mankiller, Store Wars, School Colors (PBS' Frontline), Bolinao 52 and Ancestors in the Americas. Ken directs and edits in both English and Spanish.

Marcia Jarmel | Producer/Director/Writer/Impact Producer

Marcia Jarmel has produced and directed a slate of award-winning films for PatchWorks Films. She also works as a consultant and impact strategist on a broad range of films, including the Oscar nominee Last Day of Freedom and HBO's Emmy-nominated 50 Children.

Marcia has taught both undergrad and graduate film courses at NYU and Chapman University and been honored with residencies with Working Films, the Fledgling Fund, SFFilm, the Kopkind Colony, and BAVC Media Maker. She has served as a juror for the Emmys, BAVC MediaMaker, and many film festivals.

Other credits include co-editing the Academy Award nominee, For Better or For Worse, and assistant producing the Academy Award nominees, Berkeley in the Sixties and Freedom on my Mind. Prior to founding PatchWorks, Marcia directed and produced The Return of Sarah's Daughters (Women in the Director's Chair, DocuWeek, Cinequest, APT) and The F Word (Living Room Festival, AFI's VideoFest and the Judy Chicago film series at the Brooklyn Museum of Art).
Nobody for President
~ Nobody offers another solution for a problem Politicians refuse to use?
WHY SHOULD 'THE PEOPLE' be forced to pay
for a billionaire's PROTECTION, when
this could be legitimately used:
Former Presidents Act
to REMOVE:
"Secret Service protection"?

From 1965 to 1996, former presidents were entitled to lifetime Secret Service protection, for themselves, spouses, and children under 16. A 1994 statute, Pub. L.Tooltip Public Law (United States) 103–329, limited post-presidential protection to ten years for presidents inaugurated after January 1, 1997. Under this statute, Bill Clinton would still be entitled to lifetime protection, and all subsequent presidents would have been entitled to ten years of protection. On January 10, 2013, President Barack Obama signed the Former Presidents Protection Act of 2012, reinstating lifetime Secret Service protection for his predecessor George W. Bush, himself, and all subsequent presidents.

Convicted Crook, Republican President Richard Nixon relinquished his Secret Service protection during 1985 !!!

Article Two of the United States Constitution

The President, Vice President and all civil Officers of the United States, shall be removed from Office on Impeachment for, and Conviction of, Treason, Bribery, or other high Crimes and Misdemeanors.

NONE of the ABOVE should be a valid choice on voter ballots!
LIAR SAYS WHAT?
"I have no agenda to try to overrule Casey"

Mrs Feinstein questions liars (below) about their agenda to overrule Casey.

Video: US Supreme Court Appointment Hearings, Roe vs. Wade via redditortan
Samuel R. Caldwell
~ America's First Victim of Marijuana Prohibition
~ Republican 'War on Drugs"

Samuel R. Caldwell, ~ America's First Victim of Marijuana Prohibition began
four years hard labor for selling 2 joints on October 08, 1937 via NORML

---


Turtles All the Way Down by Sturgill Simpson via Mankind Film

---

You want to know what this [war on drugs] was really all about? The Nixon campaign in 1968, and the Nixon [GOP Republican] White House after that, had two enemies: the antiwar left and black people. ...You understand what I'm saying? ... John Ehrlichman

We knew we couldn't make it illegal to be either against the war or black, ...but... by getting the public to associate the hippies with marijuana and blacks with heroin, and then criminalizing both heavily, we could disrupt those communities. We could arrest their leaders, raid their homes, break up their meetings, and vilify them night after night on the [Corporate Media] evening news. Did we know we were lying about the drugs? ...Of course we did. ... John Ehrlichman, Assistant to the President for Domestic Affairs under President Richard Nixon
Nobody's "Birthday Party" provided an easy, cost-effective, way to restore political balance:

None of the Above
should be a valid choice on voter ballots.

Unfortunately, a jaded two party system rejects this simple fix because Nobody has all the answers and believes if a majority of citizens voted for None of the Above, rather than lesser of evils, voters would have to find someone competent to lead them !!! The media said, "Nobody could argue with that logic."

(1) Put "None of the Above" on voter ballots.

(2) Change requirements for President:

(a) Extremely hard civil service exam.
(b) Top scores compete in Prezolympics.
(c) Top 10 winners become candidates.
(d) Election winner becomes President.
(e) Gets device implanted in brain that explodes if a lie is told.

(3) Hire a Ribbon Cutter for President.

(a) Saved money pays off national debt.

(4) Declare election day a holiday.

(a) Voting receipt required for pay.

(5) Tie election participation to jury duty.

(a) Those who don't vote go on jury rolls.

Nobody brought peace to our time, lowered taxes, balanced the budget, fed the hungry & destitute, established a corporate death penalty, created free health care, ordered Congress & Senate to use same benefits as "The People," reminded everybody Jesus said, "Love one another" (NOT murder or maim), and ...bakes apple pie better than Mom!
Are Insurrectionists Living in


a Federalist GOP partisan Supreme Court Paradise?

terrorist, noun & adjective [attributive]: person who uses unlawful violence and intimidation, especially against civilians, in the pursuit of political aims.

insurrectionist, noun & adjective [attributive]: person who commits violent uprising and armed insurrection against an authority or government.

If you are an insurrectionist,
you are a terrorist?

"If you harbor terrorists insurrectionists, you are terrorists. If you train or arm a terrorist an insurrectionist, you are a terrorist. If you feed a terrorist an insurrectionist or fund a terrorist an insurrectionist, you're a terrorist, and you will be held accountable by the United States and our friends." ~ GOP, Republican: George W. Bush, WMD Liar ~ NY Times 11/22/2001

I can't see why Leftists
call us Terrorists


Whataboutism Hypocrisy, meme of Chris Britt cartoon @ creators.com
via Tom Wellborn ~ original cartoon here via The Ghost of Elizabeth Shue

Ginni Thomas's texts offer a window
into a dark and conspiratorial mindset.

A Glimpse Into a Fearful, Angry, Imaginary World

By Peter Wehner @ The Atlantic

P01135809's chief of staff, Mark Meadows, and the right-wing political activist Virginia "Ginni" Thomas, the wife of Supreme Court Justice Clarence Thomas, texted each other at least 29 times in the aftermath of the 2020 presidential election. Their purpose was not to lament the result; it was to encourage efforts to overturn it. [continue reading]

In a World of Rich & Poor, Will Ginni Get
Away With Sedition & January 6 Violence?
Notes from Erb
SATAN'S DEMONS TAKE
ON THE IMAGE OF GOD
similar to that done in Eden (II Corinthians, 11:14).
How else do they take control of earth?
Ministers of Satan are variously understood as being a consummately evil system of government; or leader... Ministers of Satan are liars who will deceive many people... Ministers of Satan want to divide the world and create war without end... Ministers of Satan will declare things which are evil are good, will refer to war as peace, death as a solution for justice, and serving the wealthy as a means of helping the poor. Many nations will recognize they are evil, but their own people will be inclined to believe their deceptions.

Christians are to no longer execute sinners, so they should not wage carnal war, but spiritual warfare ~ (John 18:36; 2 Corinthians 10:1-6; Ephesians 6:10-18; 1 Timothy 1:18-20; 6:11-14; 2 Timothy 2:3-5; 4:6-8), Christians must be peacemakers forgiving those who do them harm treating their enemies with love and not seeking revenge ~ (Matthew 5:9, Romans 14:19), (Ephesians 4:29-32; Colossians 3:12-14; Matthew 6:9-15; Mark 11:25-26), (Luke 6:27-36) (Romans 12:17-21; 1 Peter 3:8-12), and Hatred, which is the same as murder, is unforgiving, vengeful and hostile towards one's enemies ~ (1 John 3:15)
Dahbud Mensch

~ Stuck in the middle with who?
~ "State capitalism" is just capitalism

Beck ~ Where it's at *Stage graphics via Drew Tyndell

The Left says corrupt billionaires are the problem...
The Right says corrupt government is the problem. And I'm here like...
You do realize corrupt billionaires are running the corrupt government, right?

"State capitalism" is just capitalism (i.redd.it) via Dependent-Mission999


5FDP vs. Billy Idol ~ Rebel Yell Over It, DJ Schmolli via SrvTech

NONE of the ABOVE should be a valid choice on voter ballots!
Boptime ~ w/Even Steven Leech
~ Saturday Mornings
Boptime begins at 6am (EDT) on Saturday October 7 with oldies back to back to back. ~ Steve

BOPTIME: Saturday, 6 AM Eastern, 3 AM Pacific time
Go To: http://www.wvud.org/?page_id=24
Click on a listening link below the WVUD logo:

Boptime available locally in Delaware on:
WVUD-FM 91.3
Shoutcast = [Search: WVUD] || TuneIn
Notes from ~@~
Freedom of expression and freedom of speech aren't really important unless they're heard...It's hard for me to stay silent when I keep hearing that peace is only attainable through war. And there's nothing more scary than watching ignorance in action. So I dedicated this Emmy to all the people who feel compelled to speak out and not afraid to speak to power and won't shut up and refuse to be silenced.  Tom Smothers

Carlin Step, DJ Steve Porter & Eli Wilkie via Roland Kardeby

The Great Bell Chant (The End of Suffering) via R Smittenaar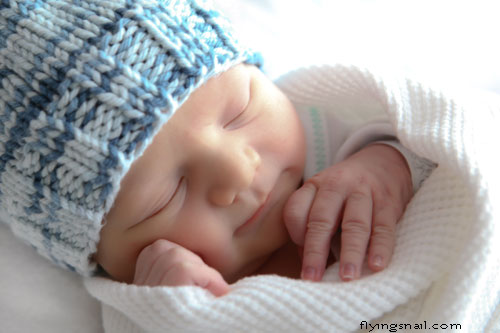 One Day, Matisyahu

Unsung Hero via Rattakarn Srithavatchai "Garn"
The Sacred Clowns ~ Heyókȟa
The Heyókȟa symbolize and portray many aspects of the sacred, the Wakȟáŋ. Their satire presents important questions by fooling around. They ask difficult questions, and say things others are too afraid to say. By reading between the lines, the audience is able to think about things not usually thought about, or to look at things in a different way.
Principally, the Heyókȟa functions both as a mirror and a teacher, using extreme behaviors to mirror others, thereby forcing them to examine their own doubts, fears, hatreds, and weaknesses. Heyókȟas also have the power to heal emotional pain; such power comes from the experience of shame--they sing of shameful events in their lives, beg for food, and live as clowns. They provoke laughter in distressing situations of despair and provoke fear and chaos when people feel complacent and overly secure, to keep them from taking themselves too seriously or believing they are more powerful than they are.
In addition, sacred clowns serve an important role in shaping tribal codes. Heyókȟa's don't seem to care about taboos, rules, regulations, social norms, or boundaries. Paradoxically, however, it is by violating these norms and taboos that they help to define the accepted boundaries, rules, and societal guidelines for ethical and moral behavior. This is because they are the only ones who can ask "Why?" about sensitive topics and employ satire to question the specialists and carriers of sacred knowledge or those in positions of power and authority. In doing so, they demonstrate concretely the theories of balance and imbalance. Their role is to penetrate deception, turn over rocks, and create a deeper awareness.

Develop Your Mind, Not Sacred Sites
Only after the last tree has been cut down, Only after the last river has been poisoned, Only after the last fish has been caught, Only then will you find money cannot be eaten. ~ Cree Prophecy
Nobody for President ~ NONE of the ABOVE should be a choice on voter ballots!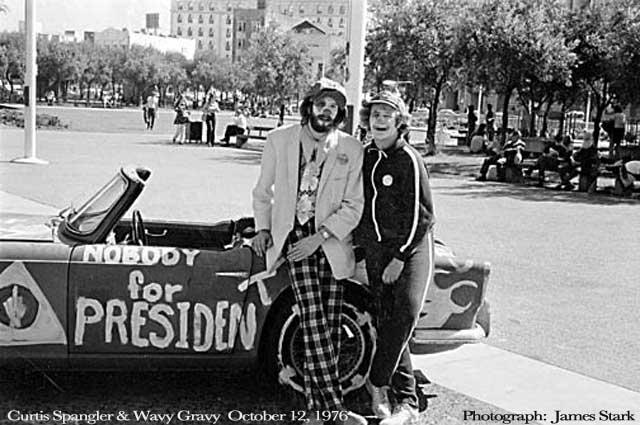 Curtis Spangler & Wavy Gravy, Nobody for President, 197610.12 ~ Photo: James Stark
Nobody bakes apple pie better than Mom, is eternal, perfect, has all the answers, ended war, will love you forever, brought peace to our time, fixed global warming, fed the hungry & destitute, knows, cares, shives a git about you, loves you when you're down & out, and if elected will not lie to, or steal from, 'the people'; ...begging a question, What's NOTA's entry fee ...more lies that lead to mass murder or human sacrifice, when Nobody says why not try love again?

American Dream, George Carlin via Ishtar [Not Work Safe] Alternative source with text
NOBODY should have that much power!
NONE of the ABOVE should be a valid choice on voter ballots!
Message
via
Mike Pinder
Oh, I hope that I see you again I never even caught your name As you looked through my window pane ~ So I'm writing this message today I'm thinking that you'll have a way Of hearing the notes in my tune ~ Where are you going? Where have you been? I can imagine other worlds you have seen ~ Beautiful faces and music so serene ~ So I do hope I see you again My universal citizen You went as quickly as you came ~ You know the power Your love is right You have good reason To stay out of sight ~~ But break our illusions and help us Be the light. Mike Pinder

Why I Think This World Should End, Prince EA via Prince EA
Without love in the dream, it will never come true. ~ Jerry Garcia/Robert Hunter
And in the end, the love you take is equal to the love you make. ~ John Lennon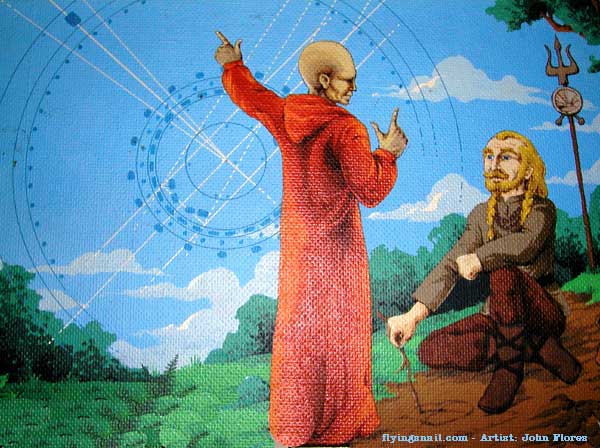 ---
---

Some search sites have been banned from scanning local content since 2012.
Please use DuckDuckGo.com or Bing.com for search.
{ ͡ʘ ͜ʖ ͡ʘ} Did politicians lie about Daylight Saving Time? { ͡ʘ ͜ʖ ͡ʘ}