#3 TELL-A-VISION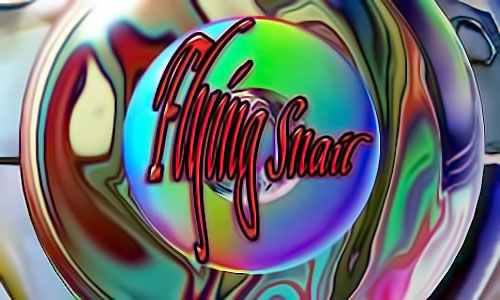 Freedom of expression and freedom of speech aren't really important unless they're heard...It's hard for me to stay silent when I keep hearing that peace is only attainable through war. And there's nothing more scary than watching ignorance in action. So I dedicated this Emmy to all the people who feel compelled to speak out and not afraid to speak to power and won't shut up and refuse to be silenced. - Tommy Smothers


Speaking in Tongues
PatchWorks Films is delighted to announce the premiere of our documentary, Speaking in Tongues, in competition at the prestigious San Francisco International Film Festival. The film follows four diverse students and their families as they experience the delights and challenges of becoming fluent and literate in two languages.
If you are in the Bay Area, please join us:
Saturday, May 2, 2000 at 3:30 PM - (+ PANEL DISCUSSION)
Thursday, May 7, 2009 at 2:30 PM
Sundance Kabuki Cinemas, San Francisco
PatchWorks Films is a San Francisco based production and distribution company. We specialize in films that explore contemporary social issues through intimate character stories, and innovative partnerships with the constituencies working with the issues are films explore. Our award-winning documentaries have been broadcast worldwide and have screened at museums, film festivals, schools, universities, and libraries. Speaking in Tongues is PatchWorks' third feature documentary.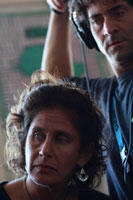 The filmmakers will be present with special guests at all screenings.
Watch film trailer & Learn more about the film, Please Visit:
http://www.patchworksfilms.info/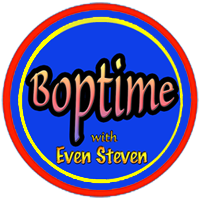 Boptime - Saturday Morning
6 AM East -- 3 AM Pacific -- 1000 UTC
Click: Listen On-Line for Even Steven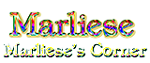 Underground Hour
Tuesdays - 7 to 8 pm
http://ksfs.sfsu.edu/
Music by MiKo
Tuesdays - 8 to 11 pm
Paper Mill Creek Saloon - Forest Knolls, CA - Free
Marliese's Corner - San Francisco Events


ASIFA-SF NEWSLETTER
Association International du Film d'Animation
(International Animated Film Association)
May 2009 by Karl Cohen
"SITA SINGS THE BLUES," THE GREATEST BREAK-UP STORY EVER TOLD, AT THE RED VIC MAY 8 – 12 Help spread the word. Help the world discover her wonderful film. Her distributor and the theater can only do so much; we can also help keep the seats warm. Nina says, "I am thrilled that Sita is going to be at the Red Vic, one of my f! avorite SF theaters… I feel so triumphant!" - So help this short run in SF become a triumph for Nina.
NINA PALEY HAS BEEN INVITED TO CREATE THE POSTER FOR INTERNATIONAL ANIMATION DAY 2009 This is quite an honor as the poster is used in 30 or 40 countries around the world to honor animation. The official announcement that said Nina has accepted the invitation came from Juliette Crochu of the French Animated Film Association (AFCA). They are France's ASIFA chapter (the national organization was founded prior to the organization of ASIFA in 1960). ASIFA chapters around the world honor this annual event with celebrations in late October that range from individual programs to weeklong animation festivals.
EMMY WINNER CHARLIE CANFIELD HAS RECEIVED HIS THIRD EMMY NOMINATION He has provided animation for a series of documentaries on the rebuilding of the Bay Bridge. All three episodes have been nominated for regional Emmy awards for his animation. Charlie won an Emmy for the first part, "A Bridge So Far, a Suspense Story.'" David L. Brown, the series producer, also won the best documentary award. This year "A Span in Time" has been nominated both for its animation and as a documentary. The awards ceremony is May 9. The films first aired! on KQED 9.
CHELSEA WALTON IS PROVIDING ANIMATION FOR A REALLY UNUSUAL DOCUMENTARY She says, "I'm working on animation for a locally produced documentary called The Beard Club by Laura J. Lukitsch, Director and Producer. [Continue Reading]
Spring Is Here.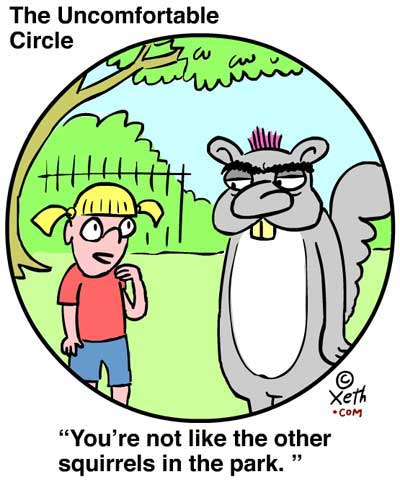 "You're not like the other squirrels in the park."
The Uncomfortable Circle by Xeth - http://www.xeth.com/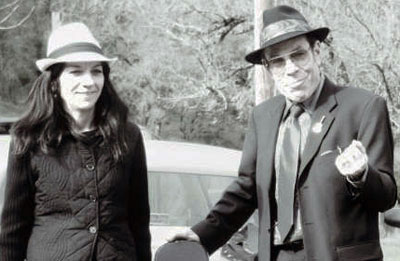 Mike Wilhelm & his Bottle Rock Blues & Rhythm Band featuring Neon Napalm
Tune of the week: Got My Mojo Workin' - Click to Listen
Visit Mike Wilhelm's Page - Free iTunes Subscription - MP3 Podcast
Seismic Data On Line
Amateur Radio Public Seismic Network
Information: ARPSN -- Complete Progress Log -- Heliplots -- Current Progress Log


Click above image for large picture of recent RAW seismic activity.
UTC and Pacific time located lower left corner correspond with weather picture below.
How's the Weather?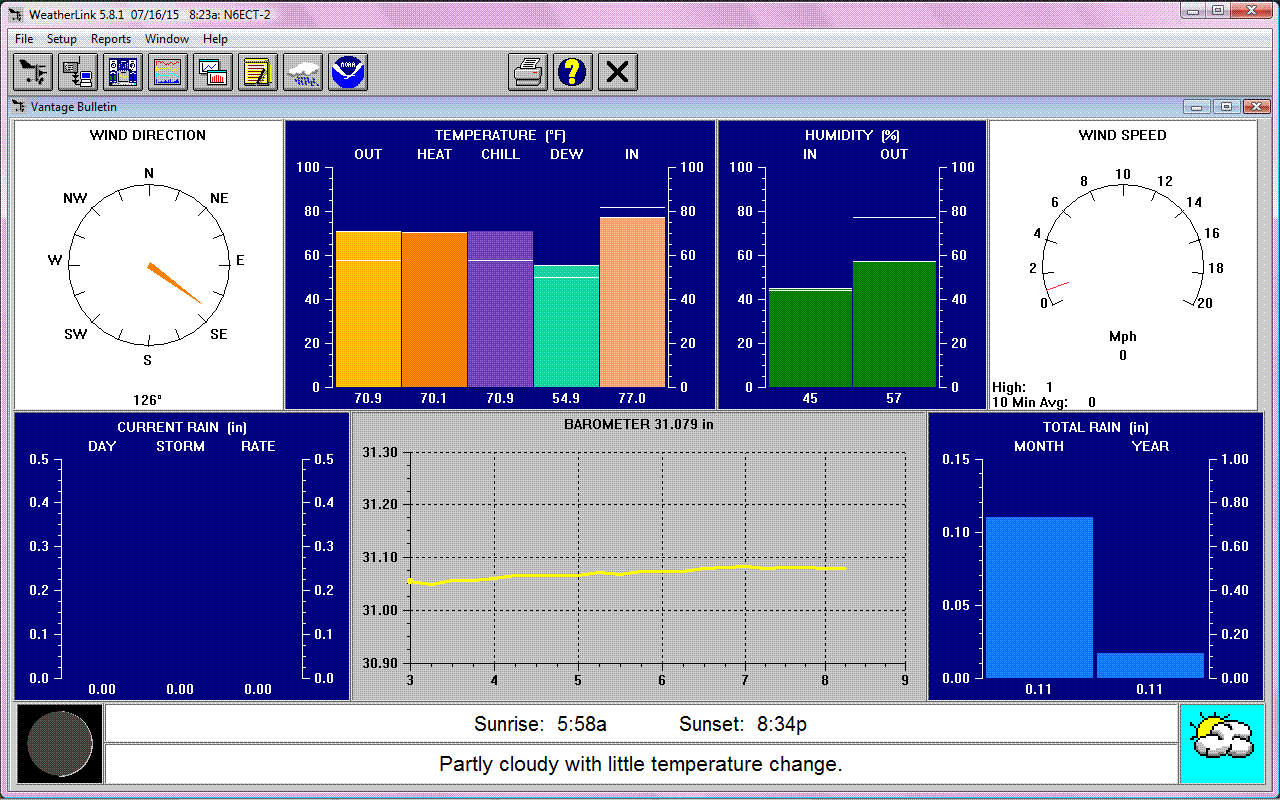 Click above image for large picture of Local Weather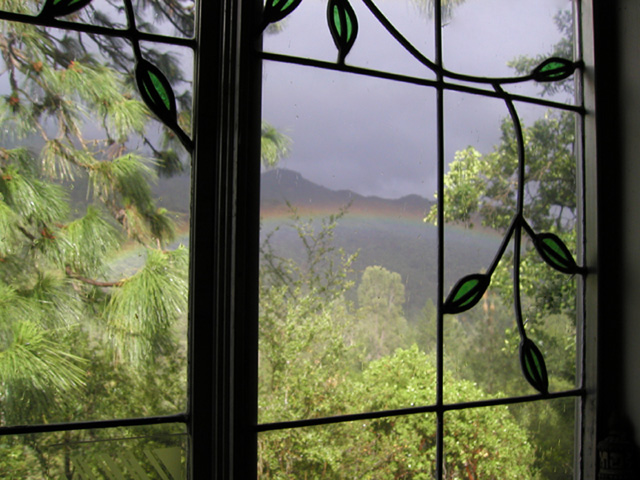 'State of the Air' report ranks Lake County No. 3
nationwide for cleanest air.
Written by Elizabeth Larson
Saturday, 02 May 2009
Lake County News
LAKE COUNTY – Lake County's air has received recognition once again from the American Lung Association.
The association's 2009 State of the Air report, released this week, gave Lake County an "A" rating.
The report ranked Lake County as having the lowest small-particulate concentrations in California and third-lowest airborne small-particulate concentrations in the entire United States. Nationally, Lake County was right behind Gallatin, Mont., and Laramie, Wyo., which tied for best air. Last year the county was ranked No. 9.
It's the best ranking the county has received since the American Lung Association began doing the reports several years ago, according to , said county Air Pollution Control Officer Doug Gearhart.
Lake was the only California county to rank in the top 10 cleanest counties in the United States for particulate matter, and was one of only 12 counties that did not have any days of ozone air pollution levels in the unhealthful range, Gearhart said. Among the top 25, the only other California counties to be ranked were Mendocino, Inyo and Nevada.
The report looked at the years 2005, 2006 and 2007, said Gearhart. During those three years, zone and small particles in the air never exceeded allowable levels.
Information on 2008, which saw Lake County skies clouded by thick smoke from wildland fires, wasn't included, he added.
"We're in our 20th year of clean air attainment in Lake County," said Gearhart.
He credited the program's success to strong community support and cooperation of local agencies, the local fire protection districts, Cal Fire, the local agricultural community and industry.
That community support, Gearhart added, has enabled the county to comply in full with Federal Clean Air Standards and the more rigorous California standards for ozone and other air pollutants for the past 20 years.
The clean air rankings have become controversial in recent years, with some area residents saying that they don't believe the county's high air quality rankings are representative of the true state of the air.
Gearhart explained that the county has three separate particulate monitoring stations in the county – in Lakeport, the Glenbrook/Cobb area and Anderson Springs – but is only required to have one.
Over the years, the county has established a burn ban beginning on May 1 and running through the fall, which is credited as another way of keeping the local air clean.
Gearhart said illegal burning still happens, but it's becoming less frequent, with only about 2 percent of the local population being found illegally burning. He said educating people about burning rules, and making sure they understanding that the rules are there to protect them and their neighbors, has helped reduce the activity.
"The biggest challenge that we typically have is keeping people educated," said Gearhart. "A lot of people don't remember what it took to get here."
Lake's air basin gets help from coastal breezes, which can push out smoke and other particulate, but Gearhart doesn't think that factor is a major one in determining local air quality. He pointed to Mendocino and Sonoma counties, which are on the coast but whose air quality isn't as good as Lake County's.
The Lake County Air Quality Management District, which has four full-time staffers and several part-timers, monitors air quality year-round, said Gearhart.
The majority of the district's funding coming from permits – especially industry such as geothermal and gas stations. Gearhart said the district also receives funding from the state to enforce state air toxic control measures with a small amount of funding from the Environmental Protection Agency for specific monitoring.
"Our resources are fine," he said. "We're not feeling the same pinch that most agencies are feeling. We're just feeling delays when we deal with the state, but our funding sources are still there, are still present."
http://lakeconews.com/content/view/8459/764/
4th Amendment Traitors
Still Up to Illegal Tricks?
FAQ: Why you're still paying early termination fees
by Marguerite Reardon
It's been almost a year since a judge in Alameda County, Calif., ruled that Sprint Nextel's early termination fees are illegal, and yet Sprint and every other major U.S. wireless operator still charges customers a fee for canceling their services before a contract expires.
So what gives? Why are these pesky early termination fees still around if they are against the law?
That's a good question and one that many readers have asked me over the past year. Because I get so many questions about these fees, I decided to put together this FAQ to help people understand what the recent court decisions mean for them and to provide some information about where cell phone early termination fees stand today.
Let's start with the most obvious question:
What did the court decide in the cell phone early termination fee case in Alameda County Superior Court in California?
In July 2008, the judge in the case found in a preliminary ruling that Sprint Nextel's early termination fees were unlawful. In December, the court issued its final judgment upholding that preliminary ruling in favor of the plaintiffs.
Does this mean that the people involved in the class will get some money?
Well, the case is still being appealed by Sprint. But as it stands now, it is unlikely that anyone in the class will get money. And here is why. The court ruled in favor of the class members and ordered Sprint to pay damages of about $74 million. But before the judge's ruling, a jury had upheld Sprint's contract. And the jury found that members of the class had violated their Sprint contracts. As a result, the jury awarded Sprint about $226 million in damages. In the end, members of the class still ended up owing Sprint about $150 million. But Sprint waived its right to collect the money, so the net result was that no one gets any money.
But the court in California found that the Sprint early termination fees are illegal. Does this mean that I don't have to pay an early termination fee if I decide to leave Sprint now?
No, it doesn't. For one, the class involved in the lawsuit was only certified for members in California. So for anyone living outside of California, the ruling means nothing, because the court doesn't have jurisdiction.
What if I am a cell phone subscriber in California? Do I still have to pay an early termination fee?
Yes, cell phone subscribers in California still have to pay the early termination fee specified in their original contract. The reason is that the judgment in this case only took into consideration the specific facts involved in this particular case. It was not a blanket decision that all early termination fees are illegal. Rather, the court ruled that this specific type of early termination fee imposed by Sprint is unlawful in its current form.
In short, this means that cell phone companies can continue to charge early termination fees. And if they are challenged in court--even in Alameda County or anywhere in California--the court might decide something different based on the specific facts in that case. So technically, it's not accurate to say that early termination fees are illegal anywhere. Instead, the early termination fee Sprint charged to consumers in the manner and for the time specified in this case was deemed unlawful. That's all.
What's more, the jury in this case deemed Sprint's contract valid, which means that anyone who doesn't pay their early termination fee is breaking their contract and subject to the terms of that contract.
A Sprint representative has clarified the company's position:
"Sprint will continue to enforce contracts with current customers," said Matt Sullivan, a Sprint Nextel spokesman. "The court in its ruling did not prevent Sprint from charging an Early Termination Fee when a customer terminates his contract early."
Weren't there other lawsuits over early termination fees? What was the outcome of these cases?
Yes, there have been a few other cases. Verizon Wireless was also being sued in California over early termination fees, but the company settled the case in July 2008, agreeing to pay $21 million to former subscribers, who argued that the company's ETF was unfair and excessive.
Sprint is also defending itself in another class action lawsuit that is certified for a nationwide class. The case is being handled in New Jersey, but will cover plaintiffs from former Sprint subscribers in every state, except California. A Sprint spokesman said that the company is close to a settlement in this case and that the terms are similar in scope to the ones in the settlement that Verizon Wireless agreed to last year. A settlement in this case would also lay to rest all other cases against Sprint for early termination fees, except for the case in California, which is still in litigation.
So it seems like all these class action lawsuits haven't really had much of an effect on the industry since I still have to pay an early termination fee. Is that true?
Well, not really. The lawsuits and consumer outrage over these fees, likely prompted Congress and the Federal Communications Commission to take notice, which resulted in some public hearings regarding early termination fees. The FCC had even considered regulating early termination fees to establish a national policy. But the agency decided to back off, because the industry was taking action on its own.
What have cell phone operators done to change their early termination fees?
Over the past few years, all four of the major wireless operators in the U.S. have begun prorating their cell phone contracts.
Verizon Wireless was the first to adopt a pro-rated policy in 2006. And now almost every Verizon subscriber has a prorated early termination fee as part of their contract. AT&T was next. As of May 25, 2008, all new AT&T subscribers have had their termination fees prorated over the life of their contract. For both Verizon and AT&T subscribers, the early termination fee starts at $175 and is reduced by $5 every month over the life of the one- and two-year contracts.
T-Mobile USA began prorating its early termination fees on June 28, 2008. Since then, new customers with a one-year or two-year contract have seen their early termination fees drop from $200 to $100 if they end their contract with 91 to 180 days remaining on their agreement. If they end a contract with fewer than 91 days left on it, they pay a termination fee of $50. Customers who terminate their service in the last 30 days of their contract either pay the $50 fee or their standard monthly charge, depending on which one is cheaper.
Sprint Nextel was the last of the four major wireless operators to offer a prorated contract. As of November 2, 2008, Sprint adopted a policy that drops the $200 early termination fee by $10 increments beginning in the sixth month of the contract. This means that by the 15th month of the contract, the ETF is down to $100. The new policy applies to both new customers and those who are renewing service agreements, so long as they signed up or renewed their contract after November, 2, 2008.
How can I avoid signing a contract with my wireless provider and avoid an early termination fee altogether?
All four major wireless carriers offer customers alternatives to contracts. There are prepaid services that allow customers to pay in advance and do not require a contract. Most of the providers also offer the option to buy a handset at full retail price without committing to a contract. Of course, this also means that customers have to pay full retail price and cannot get a free or subsidized phone. Customers then pay service charges on a month-to-month basis.
A few consumer advocacy groups have recently asked the four major wireless operators to waive their early termination fees for people who have been laid off and can't afford to pay their cell phone bills anymore. Are any of them considering doing this?
No, but wireless operators aren't completely heartless. Most of them allow customers to downgrade their plans to save money without restarting the clock on their contracts or incurring penalties.
But what if I can't afford my pricey data plan anymore? Can I get rid of that and downgrade to a voice-only service?
This is a tricky one. And before you decide to do anything you should check with your carrier about their policy.
Verizon spokesman Tom Pica said that the company deals with these types of issues on a case by case basis. Customers who are having trouble paying their bills can talk to Verizon customer service to work out a solution. But Pica advises people who are struggling to contact customer support sooner rather than later.
A Sprint spokesman said that if a customer with a separate data plan wants to drop that plan and go to a voice only plan or go to a lower data monthly plan, there is no early termination fee. But, if the customer has a BlackBerry device, which requires a BlackBerry data plan, the customer must swap out his handset to avoid an early termination fee. If the customer buys a new handset, the two-year contract clock restarts, but if he activates a handset he already owns, there is no early termination fee.
A customer with a phone and separate 3G wireless data card for his laptop who cancels his data service will be charged an early termination fee for the data card service. The easiest way to think of it is that the early termination fee goes with the equipment.
Marguerite Reardon has been a CNET News reporter since 2004, covering cell phone services, broadband, citywide Wi-Fi, the Net neutrality debate, as well as the ongoing consolidation of the phone companies.
http://news.cnet.com/8301-1035_3-10232089-94.html
Friends, colleagues remember veteran defense attorney
Stephen Tulanian
Written by Elizabeth Larson
Monday, 04 May 2009
Lake County News
LOWER LAKE – One of Lake County's best known criminal defense attorneys has died.
Stephen Tulanian, a one-time candidate for judge who was known for taking on some of the toughest criminal defense cases in the local courts, died suddenly on May 2. He was 58 years old.
Tulanian's untimely death left friends and fellow attorneys stunned.
Steve Elias, who has worked as a co-counsel with Tulanian, said he had seen him on Friday night during a get-together with friends at Tulanian's Lower Lake home.
Elias said Tulanian, who he said seemed like "the healthiest guy alive," was his usual energetic, vital self on Friday, so his death the next day was a shock. Lake County News has not been able to confirm his exact cause of death.
Lakeport attorney J. David Markham is handling Tulanian's cases, according to a message left for those who call Tulanian's Lower Lake office.
Supervisor Rob Brown, who owns a bail bonds business, was friends with Tulanian.
Tulanian was fierce in his defense of clients, and anyone going against him in court had to be on their game, said Brown. "Both sides had a lot of respect for him."
Tulanian graduated from the University of California, Berkeley, in 1972, going on to get his law degree in 1976 from the University of San Francisco School of law, according to the resume on his Web site.
He went into private law practice in 1977 in Napa County, after achieving an impressive feat – passing the bar exam on the first try.
Tulanian's criminal law practice in Lake County began in 1981.
During his decades of practice his work wasn't limited to the local courts. His Web site states that he appeared in courts in more than 15 Northern California counties, including the United States District Court in San Francisco. His nearly 32 years of practice encompassed more than 200 jury trials, with a focus on criminal cases.
Stephen Carter, who along with wife Angela Carter heads Lake Legal Defense, which handles the county's public defender's contract, said he's known Tulanian since coming here 15 years ago.
"He was a really fine person and a fine lawyer," said Carter, who noted that he and his wife were saddened by the news because they thought so highly of Tulanian.
Elias called Tulanian a "remarkable trial lawyer" who he used to sit and watch in court out of admiration for his legal technique.
"I never saw anybody as good as him," said Elias.
Tulanian used those skills to win acquittals in high profile cases, such as the first "Three Strikes" case in Lake County.
But perhaps his most notable victory was in defending Charles "Eddy" Lepp, a marijuana activist who became the first person to be arrested and tried under California's Compassionate Use Act, Proposition 215, which Californian's approved in 1996.
In 1996, the Lake County Narcotic Task Force eradicated 131 mature marijuana plants that Lepp said he had a doctor's recommendation to grow, and charged Lepp with cultivation of marijuana and possession of marijuana for sale, according to a synopsis of the case on Tulanian's Web site.
With Tulanian acting as his defense attorney, Lepp became the first person to be acquitted under the law. Since then Tulanian has been regularly featured in resource lists of the state's medical marijuana defense attorneys.
Lepp, who was at an event on Sunday, could not be reached for comment.
"He was very passionate about marijuana as medicine," said Elias, calling that stance "a major expression" of Tulanian's politics.
In such a lengthy and varied law practice, defeats are part of the territory, and Tulanian had his share.
In 2000, he ran for judge of Lake County Superior Court's Department 4, losing out to Stephen Hedstrom.
A year later, Tulanian appeared in court to defend a Valencia man in a high-profile murder case.
Tulanian and fellow attorney Judy Conard represented Jeffrey Duvardo, who was accused of killing his elderly parents, Donald and Mary Ann Duvardo of Nice, in March of 1999.
Despite Tulanian's and Conard's expert defense, Duvardo – prosecuted by then-Chief Deputy District Attorney Jon Hopkins – was convicted and sentenced to life in prison without the possibility of parole.
When he wasn't practicing the law, Tulanian had a passion for guitars, said Elias.
"He has an incredible collection of guitars," said Elias, noting that Tulanian also played music.
Corvettes were another longtime love, although Elias said he hadn't ever been out for a ride with Tulanian in one of his beloved cars.
Carter said Tulanian always had the latest Corvette, and it was a passion he took seriously – going to Corvette driving schools to learn how to get the most out of his cars. He also loved technology and gadgets.
Tulanian had an inquisitive mind and an "excited intellect," said Carter. "He brought that both to his practice of law and life in general."
Carter said Tulanian had talked – "off and on" – about retiring. But, like a lot of veteran defense attorneys, he had trouble letting go of his work. Carter said that's because being a defense attorney is a profession in which you can see "on a daily basis the good work you do."
Unfortunately, he didn't get the chance to retire. But, Brown added, "He liked his job."
Carter said Tulanian, who was often seen with a friendly smile to match his sense of humor, has been an important figure in the county's legal system.
"He's going to be really missed," said Carter.
http://lakeconews.com/content/view/8478/764/
Dinosaur Demolition Derby


-- Dedicated to the Memory of Tom Kennedy --
In nocturnal halls of natural history,
Free from the schoolboys' heckling boister,
Far from the scholars' pensive cloister,
In the dreams of drowsing docents,
By some magic, by some mystery,
Stir the fossils of the ancients.
Just beyond the velvet rope's confines
by the faint green light of exit signs
Mighty vertebrae undulate in turn,
Claws outstretch, ribs heave and churn.
In cacophony jaws open, snap and close!
Behold! petrifaction at last unfroze!
Discontent in endless slumber,
Great skeletons creak and lumber.
They awake to claim their fate,
So the dinosaurs transmutate
Out of their forms primordial
Into machines of chrome and steel.
Molten are the massive bones glowing
Red with sweeping contours flowing
outlined in chrome and fitted with glass,
Eyes form headlights, the skull a hood:
A gleaming Buick gluttonous for gas
Idles where Diplodocus once stood.
Where Tyrannosaurus Rex Roared,
it echoes through the piston stroke,
With burning oil and billowing smoke,
As a hopped up Deuce Coupe Ford
Growling, snarling revs its V-8 Engine
Like the hungry tyrant trapped within.
The hot rod and the vintage classic,
Both monsters of the age Jurassic,
Did they hear a prehistoric starting gun?
Fired long ago when life begun?
Why forsake the repose of extinction
To run a race of doom and demolition?
Their throttles suddenly open wide,
Tearing out of the Mesozoic atrium,
Buick straining, Ford in hot pursuit,
Racing through the deserted museum
Tires screeching as they crash and collide
with hapless exhibits of priceless loot!
Pity the Neanderthal clan made of wax,
Their spears are broken beneath the wheels
Buick tail spins to miss T-rex attacks.
The Ice Age hunt tableaux is scattered,
The deadly mammoth tusk all shattered
By the melee of battling automobiles.
Into the Golden Age they race top speed
To civilization's progress they pay no heed.
Bronze idols are all smashed and bent,
Prometheus at last unbound by accident!
His liver roasting on the radiator grill
As the jealous eagle cries forlorn and shrill.
Through renaissance portraits the cars careen
Popes and kings are humbled and set ablaze
Torn from the walls of this gilded maze.
Deuce Coupe gunning its screaming machine
While Buick's polished sauropodal girth
breaks old dogma and shakes the earth!
In the final stretch of their course,
Every age is destroyed without remorse,
They barrel down the path to modernity,
Naturally indulging antediluvian enmity
They reach their limit and crash in fire,
Predator and prey locked together to expire.
Insurance adjusters dread the scene
Patrons hysterically vent their spleen
Shocked curators believe their eyes not
To see such savage havoc oddly wrought!
What monster or machine could destroy so superbly?
It could only be a dinosaur demolition derby.
I wrote this poem, "Dinosaur Demolition Derby", in honor of my late friend, Tom Kennedy. I read it last night at Tom's memorial in Oakland, and am now sharing it. If you'd like more info on the origin of this poem please visit my blog.
David Normal - http://www.normal-design.com/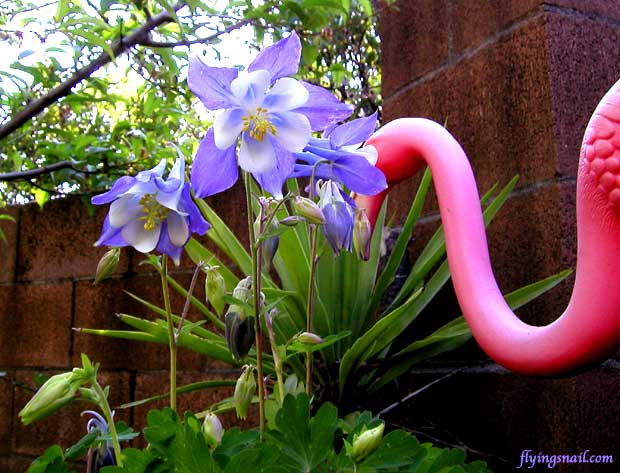 Where Have All the Flowers Gone?
Reflections on the Spirit and Legacy of the Sixties
http://www.fritjofcapra.net/articles120102.html
by Fritjof Capra - December 1, 2002
The 1960s were the period of my life during which I experienced the most profound and most radical personal transformation. For those of us who identify with the cultural and political movements of the sixties, that period represents not so much a decade as a state of consciousness, characterized by "transpersonal" expansion, the questioning of authority, a sense of empowerment, and the experience of sensuous beauty and community.
This state of consciousness reached well into the seventies. In fact, one could say that the sixties came to an end only in December 1980, with the shot that killed John Lennon. The immense sense of loss felt by so many of us was, to a great extent, about the loss of an era. For a few days after the fatal shooting we relived the magic of the sixties. We did so in sadness and with tears, but the same feeling of enchantment and of community was once again alive. Wherever you went during those few days - in every neighborhood, every city, every country around the world - you heard John Lennon's music, and the intense idealism that had carried us through the sixties manifested itself once again:
You may say I'm a dreamer, but I'm not the only one. I hope some day you'll join us and the world will live as one.
In this essay, I shall try to evoke the spirit of that remarkable period, identify its defining characteristics, and provide an answer to some questions that are often asked nowadays: What happened to the cultural movements of the sixties? What did they achieve, and what, if any, is their legacy?
expansion of consciousness
The era of the sixties was dominated by an expansion of consciousness in two directions. One movement, in reaction to the increasing materialism and secularism of Western society, embraced a new kind of spirituality akin to the mystical traditions of the East. This involved an expansion of consciousness toward experiences involving nonordinary modes of awareness, which are traditionally achieved through meditation but may also occur in various other contexts, and which psychologists at the time began to call "transpersonal." Psychedelic drugs played a significant role in that movement, as did the human potential movement's promotion of expanded sensory awareness, expressed in its exhortation, "Get out of your head and into your senses!"
The first expansion of consciousness, then, was a movement beyond materialism and toward a new spirituality, beyond ordinary reality via meditative and psychedelic experiences, and beyond rationality through expanded sensory awareness. The combined effect was a continual sense of magic, awe, and wonder that for many of us will forever be associated with the sixties.
questioning of authority
The other movement was an expansion of social consciousness, triggered by a radical questioning of authority. This happened independently in several areas. While the American civil rights movement demanded that Black citizens be included in the political process, the free speech movement at Berkeley and student movements at other universities throughout the United States and Europe demanded the same for students.
In Europe, these movements culminated in the memorable revolt of French university students that is still known simply as "May '68." During that time, all research and teaching activities came to a complete halt at most French universities when the students, led by Daniel Cohn-Bendit, extended their critique to society as a whole and sought the solidarity of the French labor movement to change the entire social order. For three weeks, the administrations of Paris and other French cities, public transport, and businesses of every kind were paralyzed by a general strike. In Paris, people spent most of their time discussing politics in the streets, while the students held strategic discussions at the Sorbonne and other universities. In addition, they occupied the Odéon, the spacious theater of the Comédie Française, and transformed it into a twenty-four-hour "people's parliament," where they discussed their stimulating, albeit highly idealistic, visions of a future social order.
1968 was also the year of the celebrated "Prague Spring," during which Czech citizens, led by Alexander Dubcek, questioned the authority of the Soviet regime, which alarmed the Soviet Communist party to such an extent that, a few months later, it crushed the democratization processes initiated in Prague in its brutal invasion of Czechoslovakia.
In the United States, opposition to the Vietnam war became a political rallying point for the student movement and the counterculture. It sparked a huge anti-war movement, which exerted a major influence on the American political scene and led to many memorable events, including the decision by President Johnson not to seek reelection, the turbulent 1968 Democratic Convention in Chicago, the Watergate scandal, and the resignation of President Nixon.
a new sense of community
While the civil rights movement questioned the authority of white society and the student movements questioned the authority of their universities on political issues, the women's movement began to question patriarchal authority; humanistic psychologists undermined the authority of doctors and therapists; and the sexual revolution, triggered by the availability of birth control pills, broke down the puritan attitudes toward sexuality that were typical of American culture.
The radical questioning of authority and the expansion of social and transpersonal consciousness gave rise to a whole new culture - a "counterculture" - that defined itself in opposition to the dominant "straight" culture by embracing a different set of values. The members of this alternative culture, who were called "hippies" by outsiders but rarely used that term themselves, were held together by a strong sense of community. To distinguish ourselves from the crew cuts and polyester suits of that era's business executives, we wore long hair, colorful and individualistic clothes, flowers, beads, and other jewelry. Many of us were vegetarians who often baked our own bread, practiced yoga or some other form of meditation, and learned to work with our hands in various crafts.
Our subculture was immediately identifiable and tightly bound together. It had its own rituals, music, poetry, and literature; a common fascination with spirituality and the occult; and the shared vision of a peaceful and beautiful society. Rock music and psychedelic drugs were powerful bonds that strongly influenced the art and lifestyle of the hippie culture. In addition, the closeness, peacefulness, and trust of the hippie communities were expressed in casual communal nudity and freely shared sexuality. In our homes we would frequently burn incense and keep little altars with eclectic collections of statues of Indian gods and goddesses, meditating Buddhas, yarrow stalks or coins for consulting the I Ching, and various personal "sacred" objects.
Although different branches of the sixties movement arose independently and often remained distinct movements with little overlap for several years, they eventually became aware of one another, expressed mutual solidarity, and, during the 1970s, merged more or less into a single subculture. By that time, psychedelic drugs, rock music, and the hippie fashion had transcended national boundaries and had forged strong ties among the international counterculture. Multinational hippie tribes gathered in several countercultural centers - London, Amsterdam, San Francisco, Greenwich Village - as well as in more remote and exotic cities like Marrakech and Katmandu. These frequent cross-cultural exchanges gave rise to an "alternative global awareness" long before the onset of economic globalization.
the sixties' music
The zeitgeist of the sixties found expression in many art forms that often involved radical innovations, absorbed various facets of the counterculture, and strengthened the multiple relationships among the international alternative community.
Rock music was the strongest among these artistic bonds. The Beatles broke down the authority of studios and songwriters by writing their own music and lyrics, creating new musical genres, and setting up their own production company. While doing so, they incorporated many facets of the period's characteristic expansion of consciousness into their songs and lifestyles.
Bob Dylan expressed the spirit of the political protests in powerful poetry and music that became anthems of the sixties. The Rolling Stones represented the counterculture's irreverence, exuberance, and sexual energy, while San Francisco's "acid rock" scene gave expression to its psychedelic experiences.
At the same time, the "free jazz" of John Coltrane, Ornette Coleman, Sun Ra, Archie Shepp, and others shattered conventional forms of jazz improvisation and gave expression to spirituality, radical political poetry, street theater, and other elements of the counterculture. Like the jazz musicians, classical composers, such as Karlheinz Stockhausen in Germany and John Cage in the United States, broke down conventional musical forms and incorporated much of the sixties' spontaneity and expanded awareness into their music.
The fascination of the hippies with Indian religious philosophies, art, and culture led to a great popularity of Indian music. Most record collections in those days contained albums of Ravi Shankar, Ali Akbar Khan, and other masters of classical Indian music along with rock and folk music, jazz and blues.
The rock and drug culture of the sixties found its visual expressions in the psychedelic posters of the era's legendary rock concerts, especially in San Francisco, and in album covers of ever increasing sophistication, which became lasting icons of the sixties' subculture. Many rock concerts also featured "light shows" - a novel form of psychedelic art in which images of multicolored, pulsating, and ever changing shapes were projected onto walls and ceilings. Together with the loud rock music, these visual images created highly effective simulations of psychedelic experiences.
new literary forms
The main expressions of sixties' poetry were in the lyrics of rock and folk music. In addition, the "beat poetry" of Allen Ginsberg, Lawrence Ferlinghetti, Gary Snyder, and others, which had originated a decade earlier and shared many characteristics with the sixties' art forms, remained popular in the counterculture.
One of the major new literary forms was the "magical realism" of Latin American literature. In their short stories and novels, writers like Jorges Luis Borges and Gabriel García Márquez blended descriptions of realistic scenes with fantastic and dreamlike elements, metaphysical allegories, and mythical images. This was a perfect genre for the counterculture's fascination with altered states of consciousness and pervasive sense of magic.
In addition to the Latin American magical realism, science fiction, especially the complex series of Dune novels by Frank Herbert, exerted great fascination on the sixties' youth, as did the fantasy writings of J. R. R. Tolkien and Kurt Vonnegut. Many of us also turned to literary works of the past, such as the romantic novels of Hermann Hesse, in which we saw reflections of our own experiences.
Of equal, if not greater, popularity were the semi-fictional shamanistic writings of Carlos Castaneda, which satisfied the hippies' yearning for spirituality and "separate realities" mediated by psychedelic drugs. In addition, the dramatic encounters between Carlos and the Yaqui sorcerer Don Juan symbolized in a powerful way the clashes between the rational approach of modern industrial societies and the wisdom of traditional cultures.
film and the performing arts
In the sixties, the performing arts experienced radical innovations that broke every imaginable tradition of theater and dance. In fact, in companies like the Living Theater, the Judson Dance Theater, and the San Francisco Mime Troupe, theater and dance were often fused and combined with other forms of art. The performances involved trained actors and dancers as well as visual artists, musicians, poets, filmmakers, and even members of the audience.
Men and women often enjoyed equal status; nudity was frequent. Performances, often with strong political content, took place not only in theaters but also in museums, churches, parks, and in the streets. All these elements combined to create the dramatic expansion of experience and strong sense of community that was typical of the counterculture.
Film, too, was an important medium for expressing the zeitgeist of the sixties. Like the performing artists, the sixties' filmmakers, beginning with the pioneers of the French New Wave cinema, broke with the traditional techniques of their art, introducing multi-media approaches, often abandoning narratives altogether, and using their films to give a powerful voice to social critique.
With their innovative styles, these filmmakers expressed many key characteristics of the counterculture. For example, we can find the sixties' irreverence and political protest in the films of Godard; the questioning of materialism and a pervasive sense of alienation in Antonioni; questioning of the social order and transcendence of ordinary reality in Fellini; the exposure of class hypocrisy in Buñuel; social critique and utopian visions in Kubrik; the breaking down of sexual and gender stereotypes in Warhol; and the portrayal of altered states of consciousness in the works of experimental filmmakers like Kenneth Anger and John Whitney. In addition, the films of these directors are characterized by a strong sense of magical realism.
the legacy of the sixties
Many of the cultural expressions that were radical and subversive in the sixties have been accepted by broad segments of mainstream culture during the subsequent three decades. Examples would be the long hair and sixties fashion, the practice of Eastern forms of meditation and spirituality, recreational use of marijuana, increased sexual freedom, rejection of sexual and gender stereotypes, and the use of rock (and more recently rap) music to express alternative cultural values. All of these were once expressions of the counterculture that were ridiculed, suppressed, and even persecuted by the dominant mainstream society.
Beyond these contemporary expressions of values and esthetics that were shared by the sixties' counterculture, the most important and enduring legacy of that era has been the creation and subsequent flourishing of a global alternative culture that shares a set of core values. Although many of these values - e.g. environmentalism, feminism, gay rights, global justice - were shaped by cultural movements in the seventies, eighties, and nineties, their essential core was first expressed by the sixties' counterculture. In addition, many of today's senior progressive political activists, writers, and community leaders trace the roots of their original inspiration back to the sixties.
Green politics
In the sixties we questioned the dominant society and lived according to different values, but we did not formulate our critique in a coherent, systematic way. We did have concrete criticisms on single issues, such as the Vietnam war, but we did not develop any comprehensive alternative system of values and ideas. Our critique was based on intuitive feeling; we lived and embodied our protest rather than verbalizing and systematizing it.
The seventies brought consolidation of our views. As the magic of the sixties gradually faded, the initial excitement gave way to a period of focusing, digesting, and integrating. Two new cultural movements, the ecology movement and the feminist movement, emerged during the seventies and together provided the much-needed broad framework for our critique and alternative ideas.
The European student movement, which was largely Marxist oriented, was not able to turn its idealistic visions into realities during the sixties. But it kept its social concerns alive during the subsequent decade, while many of its members went through profound personal transformations. Influenced by the two major political themes of the seventies, feminism and ecology, these members of the "new left" broadened their horizons without losing their social consciousness. At the end of the decade, many of them became the leaders of transformed socialist parties. In Germany, these "young socialists" formed coalitions with ecologists, feminists, and peace activists, out of which emerged the Green Party - a new political party whose members confidently declared: "We are neither left nor right; we are in front."
During the 1980s and 1990s, the Green movement became a permanent feature of the European political landscape, and Greens now hold seats in numerous national and regional parliaments around the world. They are the political embodiment of the core values of the sixties.
the end of the Cold War
During the 1970s and 1980s, the American anti-war movement expanded into the anti-nuclear and peace movements, in solidarity with corresponding movements in Europe, especially those in the UK and West Germany. This, in turn, sparked a powerful peace movement in East Germany, led by the Protestant churches, which maintained regular contacts with the West German peace movement, and in particular with Petra Kelly, the charismatic leader of the German Greens.
When Mikhail Gorbachev came to power in the Soviet Union in 1985, he was well aware of the strength of the Western peace movement and accepted our argument that a nuclear war cannot be won and should never be fought. This realization played an important part in Gorbachev's "new thinking" and his restructuring (perestroika) of the Soviet regime, which would lead, eventually, to the fall of the Berlin Wall, the Velvet Revolution in Czechoslovakia, and the end of Soviet Communism.
All social and political systems are highly nonlinear and do not lend themselves to being analyzed in terms of linear chains of cause and effect. Nevertheless, careful study of our recent history shows that the key ingredient in creating the climate that led to the end of the Cold War was not the hard-line strategy of the Reagan administration, as the conservative mythology would have it, but the international peace movement. This movement clearly had its political and cultural roots in the student movements and counterculture of the sixties.
the information technology revolution
The last decade of the twentieth century brought a global phenomenon that took most cultural observers by surprise. A new world emerged, shaped by new technologies, new social structures, a new economy, and a new culture. "Globalization" became the term used to summarize the extraordinary changes and the seemingly irresistible momentum that were now felt by millions of people.
A common characteristic of the multiple aspects of globalization is a global information and communications network based on revolutionary new technologies. The information technology revolution is the result of a complex dynamic of technological and human interactions, which produced synergistic effects in three major areas of electronics - computers, microelectronics, and telecommunications. The key innovations that created the radically new electronic environment of the 1990s all took place 20 years earlier, during the 1970s.
It may be surprising to many that, like so many other recent cultural movements, the information technology revolution has important roots in the sixties' counterculture. It was triggered by a dramatic technological development - a shift from data storage and processing in large, isolated machines to the interactive use of microcomputers and the sharing of computer power in electronic networks. This shift was spearheaded by young technology enthusiasts who embraced many aspects of the counterculture, which was still very much alive at that time.
The first commercially successful microcomputer was built in 1976 by two college dropouts, Steve Wosniak and Steve Jobs, in their now legendary garage in Silicon Valley. These young innovators and others like them brought the irreverent attitudes, freewheeling lifestyles, and strong sense of community they had adopted in the counterculture to their working environments. In doing so, they created the relatively informal, open, decentralized, and cooperative working styles that became characteristic of the new information technologies.
global capitalism
However, the ideals of the young technology pioneers of the seventies were not reflected in the new global economy that emerged from the information technology revolution 20 years later. On the contrary, what emerged was a new materialism, excessive corporate greed, and a dramatic rise of unethical behavior among our corporate and political leaders. These harmful and destructive attitudes are direct consequences of a new form of global capitalism, structured largely around electronic networks of financial and informational flows. The so-called "global market" is a network of machines programmed according to the fundamental principle that money-making should take precedence over human rights, democracy, environmental protection, or any other value.
Since the new economy is organized according to this quintessential capitalist principle, it is not surprising that it has produced a multitude of interconnected harmful consequences that are in sharp contradiction to the ideals of the global Green movement: rising social inequality and social exclusion, a breakdown of democracy, more rapid and extensive deterioration of the natural environment, and increasing poverty and alienation. The new global capitalism has threatened and destroyed local communities around the world; and with the pursuit of an ill-conceived biotechnology, it has invaded the sanctity of life by attempting to turn diversity into monoculture, ecology into engineering, and life itself into a commodity.
It has become increasingly clear that global capitalism in its present form is unsustainable and needs to be fundamentally redesigned. Indeed, scholars, community leaders, and grassroots activists around the world are now raising their voices, demanding that we must "change the game" and suggesting concrete ways of doing so.
the global civil society
At the turn of this century, an impressive global coalition of nongovernmental organizations (NGOs), many of them led by men and women with deep personal roots in the sixties, formed around the core values of human dignity and ecological sustainability. In 1999, hundreds of these grassroots organizations interlinked electronically for several months to prepare for joint protest actions at the meeting of the World Trade Organization (WTO) in Seattle. The "Seattle Coalition," as it is now called, was extremely successful in derailing the WTO meeting and in making its views known to the world. Its concerted actions have permanently changed the political climate around the issue of economic globalization.
Since that time, the Seattle Coalition, or "global justice movement," has not only organized further protests but has also held several World Social Forum meetings in Porto Alegre, Brazil. At the second of these meetings, the NGOs proposed a whole set of alternative trade policies, including concrete and radical proposals for restructuring global financial institutions, which would profoundly change the nature of globalization.
The global justice movement exemplifies a new kind of political movement that is typical of our Information Age. Because of their skillful use of the Internet, the NGOs in the coalition are able to network with each other, share information, and mobilize their members with unprecedented speed. As a result, the new global NGOs have emerged as effective political actors who are independent of traditional national or international institutions. They constitute a new kind of global civil society.
This new form of alternative global community, sharing core values and making extensive use of electronic networks in addition to frequent human contacts, is one of the most important legacies of the sixties. If it succeeds in reshaping economic globalization so as to make it compatible with the values of human dignity and ecological sustainability, the dreams of the "sixties revolution" will have been realized:
Imagine no possessions, I wonder if you can, no need for greed or hunger, a brotherhood of man. Imagine all the people sharing all the world...You may say I'm a dreamer, but I'm not the only one.I hope some day you'll join us and the world will live as one.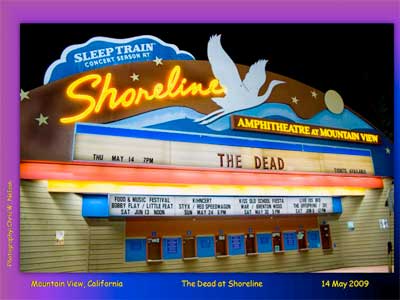 The Dead - Shoreline - Mountain View, CA - 14 May 2009
Photographic Slide Show by Chris Nelson


Dial-up denies Pursuit of Happiness, eliminates Net Equality, and created a disgruntled dial-up 'tweet' called Bitter...
---
200905.01 - 11:25 UTC
Wonder of wonders, as if by magic our dial-up connection slowly started to improve yesterday and I almost fell off my chair last night when my average speed returned a blazing 3.4 KB/s during a ten megabyte upload. Normally, we're lucky to get a 1.7 to 2.2 KB/s average, so ? thanks AT&T. Now about that broadband...
Currently setting up May pages.
---
200904.30 - 13:13 UTC
Currently roasting coffee and uploading work data.
14:25 UTC
Waiting for espresso machine to warm up before I go back to 'fire watch'.
In answer to, "Why UTC?", I feel everybody should be on the same clock, & use UTC because of this, disapprove of Daylight Savings Time, believe it should be eliminated in favor of Standard Time, and if given choice, would implement UTC a.k.a. GMT.
Under Standard time, I rise at 3:00 AM, do my chores, and am finished by 7:00 PM; giving me one hour to either play or catch up on 'piles of to-do stuff' which surround my workstation.
Animals seem to understand Standard time and will not adjust to Daylight Savings Time. I always have to remember to subtract an hour during DST when feeding and caring for them.
Everybody in the United States must have heard the following at least once: "SPRING Ahead, FALL Behind;" meaning, set clocks ahead one hour in the Spring, and set them back an hour in the Fall (Autumn).
Under Daylight Savings Time, I am actually getting up at 2:00 AM, which breaks my conditioning of getting up at 3:00 AM, and am finished by 8:00 PM, or later. I see no "Savings" here and it takes until the end of May for me to adjust to DST. During Fall re-adjustment begins again.
My father said DST was instituted by government during a period of time when Children were used for farm labor and by Corporations (Child Labor).
Daylight Savings Time is no longer necessary and confusing to humans and animals.
For the 'time challenged', we are on PDT, at the moment, and 14:25 UTC is 07:25 PDT, or 7:25 AM.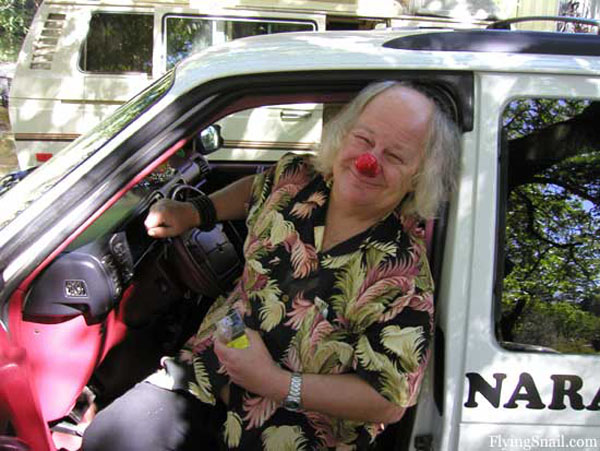 Happy 73rd Birthday Wavy(May 15th) Gravy
Love FlyingSnail & Friends
Long Live People's Park!
Showdown in the Counterculture Corral
By RON JACOBS, May 23, 2003
[snip]
About half an hour before the University had commanded the new pay parking lot to open, a bus from the Hog Farm commune that they called the Asp drove up. While some of the parks swarthier defenders removed the machines demanding parking fees from the earth, the Asp's inhabitants began handing out balloons and tying a string of them around the park. Those of us in the park smiled a little, our tenseness eased a bit by the Hog Farmers' antics. As I watched the officers across the street however, I noticed that their apprehension didn't seem to change. Indeed, their desire to attack only seemed to be enhanced by the Hog Farmers' lightheartedness.
As the defining moment approached, Salty, a member of the park's organizing and maintenance committee, spoke on the phone to the mayor, Communist Party member Gus Newport. The Hog Farmers continued to distribute balloons. Somebody, maybe it was Wavy Gravy, was playing Reveille on a kazoo. While the Farmers were finding plenty of takers among the citizens in the park and those who came to park, they couldn't even pay one of the cops to take one. [Continue Reading]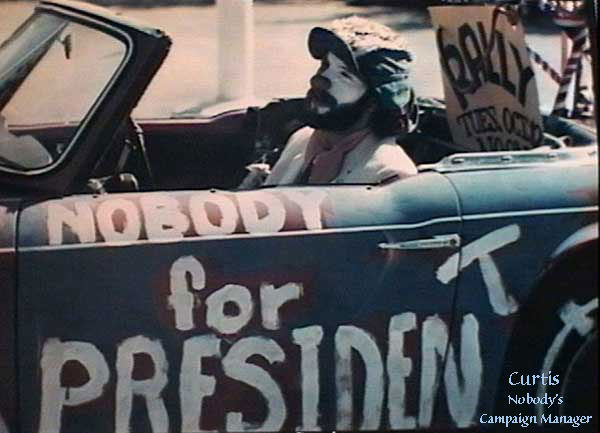 Activism
What is being defended?
by ~@~
With exception of getting exposed to Berkeley during 1964, Cody's Books, Mario Savio, Free Speech Movement, Sexual Freedom League, KPFA, and later attending a few demonstrations Veterans took part in against U.S. involvement in Vietnam, I ended up into Peace & Love.
I am a Veteran, with honorable discharge and recommendation, who volunteered to serve our country during war [or what we were led to believe was war]:
"We of the Kennedy and Johnson administrations who participated in the decisions on Vietnam acted according to what we thought were the principles and traditions of this nation. We made our decisions in light of those values. Yet we were wrong, terribly wrong. We owe it to future generations to explain why." Democrat Appointed Secretary of Defense Robert S. McNamara, Republican War Criminal

It took 30 years before McNamara admitted: he could have ended the war years earlier, he caused a half million injuries and deaths, he lied to United States people about the war, he failed to grasp political and military realities.
and ended up becoming more of a Hippy because I was over-educated, liked history, knew none of what was tried in the past worked without people getting hurt, and realized progress was directed in reviewing alternatives to 'History Repeating Itself'.
Leading up to the following picture story it is very important to remember I was not an activist or in anyway involved with activism (period). I was too busy having fun being a Hippy and writing some of the first major computer systems used on an IBM 360/20(period).
May 15, 1969 - Bloody Thursday
Republicans Authorize Murder of Students:
Orders issued by Richard M. Nixon and Ronald W. Reagan
Parents Sacrifice Children - Democrats Take Murder Off Table
[digg] - You have probably seen the above title posted here, over the years, and here is why. Early on Thursday morning May 15, 1969, after returning from an Angels of Light party with Allen Ginsburg, who was into his "home, home, home" harmonium "Blake" phase, a friend and I drank what we thought was a half bottle of orange juice someone had left in the refrigerator.
Just as we were 'downing' the last gulp of juice, the boyfriend of one of the women at the house came into the kitchen and said, "Where did you get that juice from?"
As it turned out, the orange juice contained a quarter ounce of mescaline sulfate and we were on our way to being thoroughly dosed.
Seeing it was going to be one of those sunshine daydream mornings, we headed down Telegraph Ave. to UC Berkeley, where we would take a right at the clock tower, and walk up to Tilden Park to hang out at the lake for the day.
About one half block from the campus we heard, what sounded like, gun shots and saw a large group of screaming people running toward us. Not knowing what to do, we began running South, with the crowd.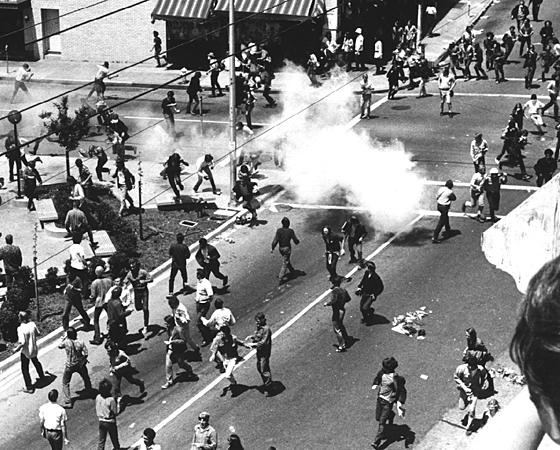 Photo: Kathryn Bigelow
Source: http://www.peoplespark.org/69gall4.html
Needless to say, we were not involved with these politics, this experience was horrible, and all we wanted to do was 'get out of there'. We ran back down Telegraph Avenue, towards Dwight Way, and as we are in front of a little bookstore called "Ma's Revolution", the police started shooting ..and I hear a woman screaming from the roof, "You've killed him!" This is when James Rector died and Alan Blanchard lost his sight.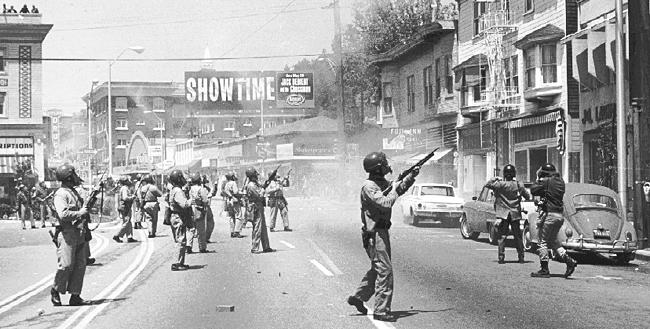 Photo: Ron Stinnett
Source: http://www.peoplespark.org/69gall6.html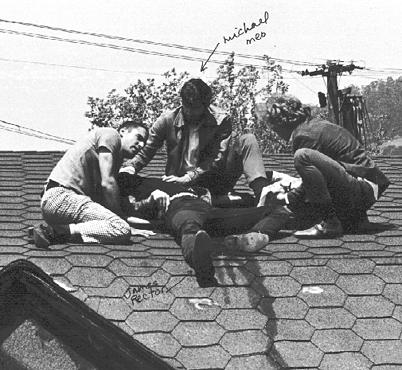 Photo: Kathryn Bigelow,
"about two minutes after James Rector was shot"
Source: http://www.peoplespark.org/69gall6.html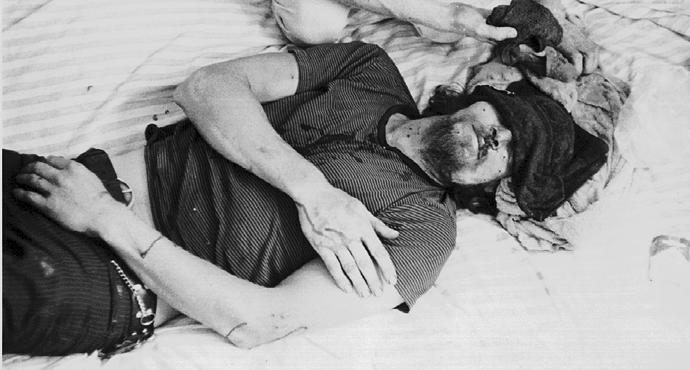 Photo: Kathryn Bigelow.
About 20 minutes after Alan Blanchard was shot.
Source: http://www.peoplespark.org/69gall6.html
We continued running south and stopped a little past Dwight Way in front of a 'finish it yourself' furniture store to collect our thoughts. As we stood there, we saw the police setting up what looked like a big gun on a tripod, which turned out to be a pepper gas cannon. As the police were starting to point it at the crowd, something happened, causing the cannon to trigger and fire some sort of explosive.
Whatever it fired, it hit a car about 10 feet away from us, in the back window and exploded, causing the car to burst into flames.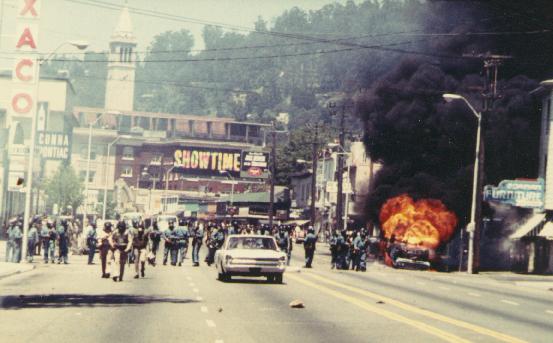 Photo: Ed Krishner
Source: http://www.peoplespark.org/69gall4.html
We ran around the corner on Dwight Way and headed East, but no matter which way we headed, the police forced us back to Telegraph Avenue.
As we were running south on Telegraph Avenue, again, we passed a used car lot and I remembered there were stairs in the back of the lot that led to the next street.
We ran up the steps and along side of the large apartment building (below picture). When we got to the street, we saw more police headed our way, so we ducked into the garage of that large apartment building, went to the back, and hid underneath a large panel truck.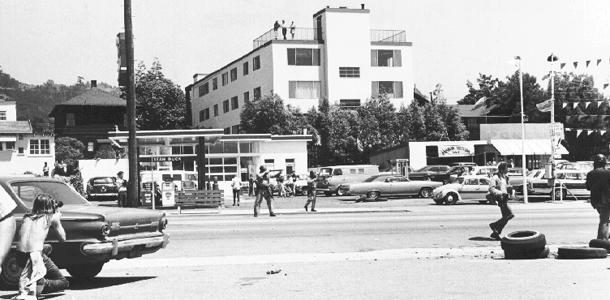 Photo: Ron Stinnet
Source: http://www.peoplespark.org/69gall5.html
We lay on the cement floor, for hours, waiting for the darkness of night and the effects of the 'orange juice' to wear off.
When it got dark, we snuck through backyards, back to the house from where we had started, and I will never forget my 'imposed' May 15, 1969 People's Park experience; it caused me to become "active".
For those who know me, it should be easy to locate me in this picture, taken on May 19, 1969... "By this time THEY had pissed me off and I put my body on the line!"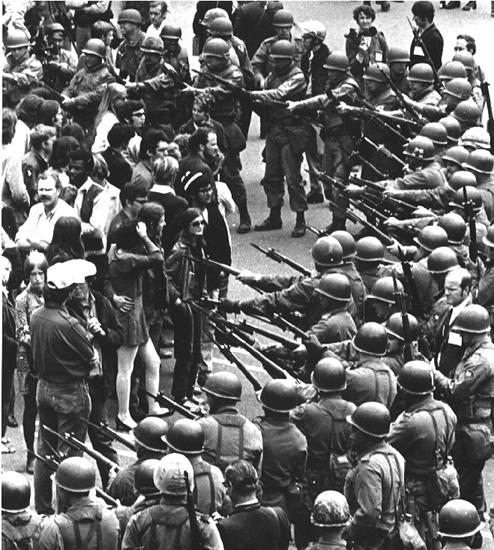 Photo: Dick Corten
Source: http://www.peoplespark.org/69gall8.html
Clicking here will take you to the beginning of the pictorial history of "People's Park" starting with, "Making the Park - May 1969".
Reference: Welcome to a Celebration of People's Park Source: http://www.peoplespark.org/ [click to visit].
History Page: http://www.peoplespark.org/history.html [click here].
During 1970 the murders at Jackson State [click to read] & Kent State [click to view picture story] occurred.
May 4, 1970, Kent State Massacre
The Kent State shootings, also known as the May 4 massacre or Kent State massacre,[2][3][4] occurred at Kent State University in the city of Kent, Ohio, and involved the shooting of unarmed college students by members of the Ohio National Guard on Monday, May 4, 1970. The Guardsmen shot into the crowd 67 times for 13 seconds, killing four students and wounding nine others, one of whom suffered permanent paralysis.[5]
Some of the students who were shot had been protesting against the American invasion of Cambodia, which President Richard Nixon announced in a television address on April 30. However, other students who were shot had merely been walking nearby or observing the protest from a distance.[6][7]
There was a significant national response to the shootings: hundreds of universities, colleges, and high schools closed throughout the United States due to a student strike of eight million students, and the event further divided the country, at this already socially contentious time, along political lines.
At 12:22 PM,[1] a number of guardsmen at the top of the hill abruptly turned and fired their M1 Garand rifles at the students. The guardsmen directed their fire not at the closest students, who were on the Taylor Hall veranda, but at those on the grass area and concrete walkway below the veranda, at those on the service road between the veranda and the parking lot, and at those in the parking lot. Bullets were not sprayed in all directions; instead, they were confined to a fairly limited line of fire leading from the top of the hill to the parking lot. Not all the soldiers who fired their weapons directed their fire into the students. Some soldiers fired into the ground, while a few fired into the air. In all, 29 of the 77 guardsmen claimed to have fired their weapons, using a final total of 67 bullets. The shooting was determined to have lasted only 13 seconds, although a New York Times reporter stated that "it appeared to go on, as a solid volley, for perhaps a full minute or a little longer." The question of why the shots were fired remains widely debated.
The shootings killed four students and wounded nine. Two of the four students killed, Allison Krause and Jeffrey Miller, had participated in the protest, and the other two, Sandra Scheuer and William Knox Schroeder, had been walking from one class to the next at the time of their deaths. Schroeder was also a member of the campus ROTC chapter. Of those wounded, none was closer than 71 feet to the guardsmen. Of those killed, the nearest (Miller) was 265 feet away, and their average distance from the guardsmen was 345 feet.
http://en.wikipedia.org/wiki/Kent_State_shootings
May 14-15, 1970, Jackson State Murders
The Jackson State killings occurred on Thursday/Friday May 14-15, 1970, at Jackson State College (now Jackson State University) in Jackson, Mississippi. A group of student protesters were confronted by city and state police. The police opened fire, killing two students and injuring twelve.[1] This happened 10 days after National Guardsmen killed four students in similar protests at Kent State University in Ohio, which first captured national attention.
A group of around a hundred African-American students had gathered on Lynch Street (which at the time bisected the campus) on the evening of Thursday, May 14. By around 9:30 p.m. the students had started fires and overturned vehicles, including a large truck. Firefighters dispatched to the scene quickly requested police support.
The police responded in force. At least 75 Jackson Mississippi Police units from the city of Jackson and the Mississippi Highway Patrol[citation needed] attempted to control the crowd while the firemen extinguished the fires. After the firefighters had left the scene, shortly before midnight, the police moved to disperse the crowd now gathered in front of Alexander Hall, a women's on-campus dormitory.
Advancing to within 50 to 100 feet (15 to 30 m) of the crowd, at roughly 12:05 a.m., police opened fire. The exact cause of the shooting and the moments leading up to it are unclear. Authorities claim they saw a sniper on one of the building's upper floors, and were also being sniped in all directions, this despise the fact that no policemen were injured. The students say that the police were not provoked.
The crowd scattered and a number of people were trampled or cut by falling glass. Phillip Lafayette Gibbs, 21, a junior, and James Earl Green, 17, a student at nearby Jim Hill High School, were killed and twelve others were wounded. Gibbs was killed near Alexander Hall by buckshot, while Green was killed behind the police line in front of B. F. Roberts Hall, also with a shotgun.
The President's Commission on Campus Unrest investigated this event and also held public hearings at Kent State, in Los Angeles, and Washington. There were no arrests in connection with the deaths at Jackson State.
The University has memorialized the tragic occurrence by naming the area of the shootings Gibbs-Green Plaza.[2] The Plaza is a large, multi-level brick and concrete patio and mall on the eastern side of the JSU campus that blocks off J. R. Lynch Street and links Alexander Hall to the University Green. A large stone monument in front of Alexander Hall near the plaza also pays tribute to the two victims. Damage to the façade of Alexander Hall caused by rounds fired by the police is still visible.
http://en.wikipedia.org/wiki/Jackson_State_killings
In my opinion, the People's Park, Jackson State, and Kent State student murders, by Republicans, were what caused "War Babies" to retreat to the safety of their middle class, parental, Victorian, upbringing.. the same ones who later evolved into a 'Prozac Nation' [click to read].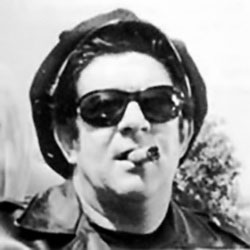 Eric Von Zipper did not say, "You Denialists!"
Please Ask Your Doctor How To Stop Taking Corporate Drugs!
They Were Intended For Short Term Use While Undergoing Therapy!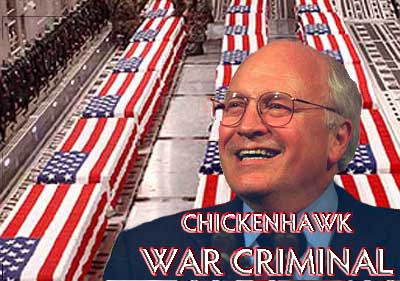 When Dick Cheney Farts, Does Wyoming Listen?
Nobody believes Dick Cheney employed Alien technology from Area 51 to stop his heart attacks.
Nobody believes Dick Cheney helped plan Anthrax Attacks on U.S. Citizens during Secret Energy Meetings.
Nobody believes Dick Cheney ordered the Air Force to 'Stand-down' on 9/11.
Nobody believes Neocons had something to do with 9/11.
Nobody believes Nancy Pelosi could have prevented torture by leaving Impeachment ON The Table.
Nobody has all the answers!
Chickenhawk's Halliburton Illegal War Profits?
Rush Limbaugh Arrested On Drug Charges
[Bush] Defense Department Official Charged With Espionage Conspiracy
Fondren Worked for Hoover Institution Distinguished Visiting Fellow,
Dirty-D Rumsfeld
May 13, 2009
WASHINGTON, May 13 /PRNewswire-USNewswire/ -- A Defense Department official has been charged with conspiracy to communicate classified information to an agent of a foreign government, David Kris, Assistant Attorney General for National Security; Dana J. Boente, Acting U.S. Attorney for the Eastern District of Virginia; and Arthur M. Cummings, II, Executive Assistant Director of the FBI's National Security Branch, announced today.
A criminal complaint unsealed today in the Eastern District of Virginia alleges that, from approximately Nov. 2004 to Feb. 11, 2008, James Wilbur Fondren, Jr., while serving as an employee of the Defense Department, unlawfully and knowingly conspired with others to communicate classified information to another person who he had reason to believe was an agent or representative of a foreign government. [Continue Reading]
Does the Hoover Institution Hate Vietnam Veterans?


Martin Rowson
Sweet Condi & the Asspirate Neocon Band sing:
"We're Gonna Give Christianity A Bad Name"
encore with Dirty-D Rumsfeld: "Hail, Stanford, Hail"
According to a Senate Intelligence Committee Memo, George Bush's National Security Adviser, Condoleezza Rice, was the first person to verbally approve torture during July 2002. Then there was the following question and answer from the 9/11 cOmmission proving a Republican Bush Administration knew of the Inside Job known as 9/11, in advance, and perhaps were part of the problem? Remember George struggled with reading a Children's book for over eighteen minutes while the United States was under attack. How many more lies need to be revealed before Denialists accept something is very wrong with United States Government and that Nobody is fixing it? How about this for a reminder?
BEN-VENISTE: Isn't it a fact, Dr. Rice, that the August 6 PDB warned against possible attacks in this country? And I ask you whether you recall the title of that PDB?
RICE: I believe the title was, "Bin Laden Determined to Attack Inside the United States [using planes]."
Human Sacrifice, Cannibalism,
Shooting Friends in the Face, Economy Rape
War Criminal Cheney's Secret Energy Meetings?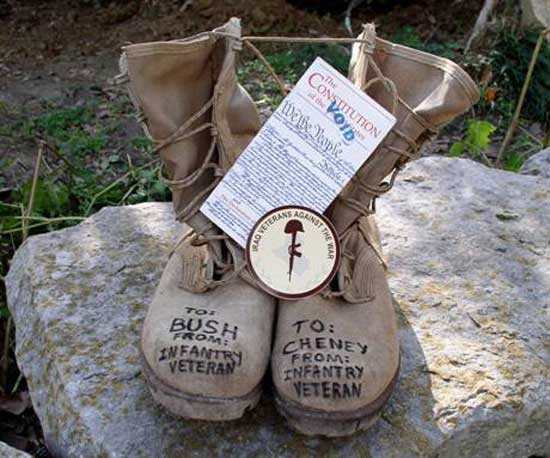 Photo of boots by Ward Reilly, member VVAW, VFP, Advisor to IVAW.
via rainbowpuddle.com and Dahbud Mensch
CIA to Cheney and Pelosi:
Stop Torturing Us!
May 14, 2009
What a day out at Langley.
First, the CIA hit back at House Speaker Nancy Pelosi (D-Calif.) after she charged agency officers lied to her in 2002 about waterboarding a top terrorist. Then, they shot down a request by ex-Vice President Dick Cheney to declassify more torture memos that would supposedly justify all of Team Bush's wet work. - Read more: "Mouth Of The Potomac - NY Daily News"
Beyond Ups and Downs


A sine wave can be used to represent human "Ups and Downs".
In this example a line with "Point of Ascension" is located below the lowest point of the wave which reaches above the highest point of the up and down wave; a "Point Beyond Ups and Downs", which is attainable by using the Control (phrase): "There's that one again." and personal experience. [More?]
Paul Krassner - July Mini-Tour

Yes, I know this posting is way in advance, but Paul wrote saying he will be doing a Mini-Tour during July in the Bay Area and that is exciting to me. Here are the tour dates and locations:
July 15, Wednesday
Reading: "Who's to Say What's Obscene:
Politics, Culture & Comedy in America Today,"
With a Foreword by Arianna Huffington
City Lights Bookstore
261 Columbus Ave. at Broadway, San Francisco
7 p.m. For info, call (415) 362-8193

July 16, Thursday
Panel about Censorship & Entertainment
Commonwealth Club -- San Francisco
Address, Phone & Time to come

July 17, Friday
Stand-Up Performance
Opening Act: Roy Zimmerman, satirical troubadour
Freight & Salvage Coffeehouse
1111 Addison St., Berkeley
8 p.m. Doors Open at 7:30 For info, call (510) 548-1761

July 18, Saturday
Reading: "Who's to Say What's Obscene"
Back Room Wines in Downtown Napa
1000 Main St. (Entrance on First)
5 p.m. For info, call (707) 226-1378
Poetic Justice:
Anita Hill for Supreme Court

Magnitude 3.4 - THE GEYSERS, CALIFORNIA - 2009 May 18 - 11:40:34 UTC via ARPSN
Free Eddy Lepp
California NORML Release 5/18th
EDDY LEPP RECEIVES 10 YEAR MANDATORY MINIMUM FOR MEDICAL MARIJUANA
SAN FRANCISCO - May 18th. US District Judge Marilyn Patel sentenced Eddy Lepp to ten years mandatory minimum for having grown over 1,000 marijuana plants for a medical marijuana garden in Lake County.
Patel called the sentence "excessive," but said she had no choice under federal law. In addition, she sentenced Lepp to five years of supervised release with drug testing. She invited Lepp to file for a rehearing in case the law should change.
Lepp called it "very, very sad" that the government showed no compassion, saying"I've broken no laws of the state in which I reside." He asked that he be allowed to surrender himself voluntarily, noting that he had met every court date over the seven years of his case and that his daughter had health problems.
US attorney Dave Hall opposed the request, arguing that the government had new evidence of Lepp's involvement in a marijuana grow that was traced to a neighbor's property last week. Lepp's friends staunchly deny that he had any involvement in the grow.
Patel granted Lepp's request and set a surrender date of July 6th, while inviting the government to submit any additional incriminating evidence it might have to demand an earlier surrender.
Patel ruled that Lepp was ineligible for the "safety valve" exemption to the mandatory minimum on two grounds. First, the evidence showed that Lepp had been a leader or organizer of other people in his activity. Secondly, the government claimed that he had failed give a full and truthful account of his activities. At his trial, Lepp had testified that he did not grow any marijuana, but simply let his land be used for cultivation by other patients. The government had asked Lepp to recant this claim and admit that he grew the marijuana.
Lepp refused, saying he had testified truthfully.
"I've never seen a man work harder to get time in prison than Mr. Lepp," remarked Mr Hall.
"I would rather do ten years and be able to look myself in the eyes than never be able to look myself in the eyes again," said Lepp.
The courtroom burst into gasps and sobs as Patel pronounced her sentence.
Lepp's attorney, Michael Hinckley, called it an "incredible sentence." Patel responded, "Incredible is what the law requires."
Patel noted that Lepp's driving passion appeared to be legalizing marijuana. "Maybe you want to be a martyr for the cause," she said.
California NORML coordinator Dale Gieringer commented: "This case sadly illustrates the senselessness of federal marijuana laws. The last thing this country needs is more medical marijuana prisoners. Hopefully, we can change the law and get Eddy out of jail before he completes his sentence."
Source: http://www.canorml.org/ via RainbowPuddle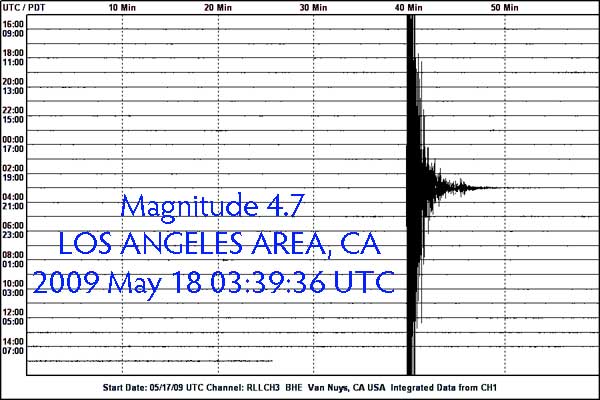 Magnitude 4.7 - LOS ANGELES AREA, CALIFORNIA - 2009 May 18 03:39:36 UTC via PSN
Uncle Sam's Human Lab Rats
They say government scientists messed with their minds. Now, veterans of secret psychedelic tests want answers. [Ed. Note: AFT!]
by Bruce Falconer
Mon May 18, 2009 5:00 AM PST
Their stories are a staple of conspiracy culture: broken men, suffering hallucinations and near-total amnesia, who say they are victims of secret government mind-control experiments. Think Liev Schreiber in The Manchurian Candidate or Mel Gibson in Conspiracy Theory. Journalists are a favorite target for the paranoid delusions of this population. So is Gordon Erspamer—and the San Francisco lawyer's latest case isn't helping him to fend off the tinfoil-hat crowd. He has filed suit against the CIA and the US Army on behalf of the Vietnam Veterans of America and six former American soldiers who claim they are the real thing: survivors of classified government tests conducted at the Army's Edgewood Arsenal in Maryland between 1950 and 1975. "I get a lot of calls," he says. "There are a lot of crazy people out there who think that somebody from Mars is controlling their behavior via radio waves." But when it comes to Edgewood, "I'm finding that more and more of those stories are true!"
That government scientists conducted human experiments at Edgewood is not in question. "The program involved testing of nerve agents, nerve agent antidotes, psychochemicals, and irritants," according to a 1994 General Accounting Office (now the Government Accountability Office) report (PDF). At least 7,800 US servicemen served "as laboratory rats or guinea pigs" at Edgewood, alleges Erspamer's complaint, filed in January in a federal district court in California. The Department of Veterans Affairs has reported that military scientists tested hundreds of chemical and biological substances on them, including VX, tabun, soman, sarin, cyanide, LSD, PCP, and World War I-era blister agents like phosgene and mustard. The full scope of the tests, however, may never be known. As a CIA official explained to the GAO, referring to the agency's infamous MKULTRA mind-control experiments, "The names of those involved in the tests are not available because names were not recorded or the records were subsequently destroyed." Besides, said the official, some of the tests involving LSD and other psychochemical drugs "were administered to an undetermined number of people without their knowledge."
Erspamer's plaintiffs claim that, although they volunteered for the Edgewood program, they were never adequately informed of the potential risks and continue to suffer debilitating health effects as a result of the experiments. They hope to force the CIA and the Army to admit wrongdoing, inform them of the specific substances they were exposed to, and provide access to subsidized health care to treat their Edgewood-related ailments. Despite what they describe as decades of suffering resulting from their Edgewood experiences, the former soldiers are not seeking monetary damages; a 1950 Supreme Court decision, the Feres case, precludes military personnel from suing the federal government for personal injuries sustained in the line of duty. The CIA's decision to use military personnel as test subjects followed the court's decision and is an issue Erspamer plans to raise at trial. "Suddenly, they stopped using civilian subjects and said, 'Oh, we can get these military guys for free,'" he says. "The government could do whatever it wanted to them without liability. We want to bring that to the attention of the public, because I don't think most people understand that." (Asked about Erspamer's suit, CIA spokeswoman Marie Harf would say only that the agency's human testing program has "been thoroughly investigated, and the CIA fully cooperated with each of the investigations.")
Erspamer's involvement in the case is deeply personal. His father was a government scientist during Operation Crossroads, a series of nuclear tests conducted at Bikini Atoll in the Pacific in the summer of 1946; he was present aboard a research vessel for the "Baker" test, during which a 21-kiloton thermonuclear bomb was detonated 90 feet below water. The blast resulted in massive radioactive contamination. Erspamer's father and the rest of the ship's crew, he says, all died in middle age from radiogenic diseases. Erspamer makes his living in the field of energy litigation, but has twice before argued class action suits for veterans—one for soldiers who, like his father, were exposed to radiation during nuclear tests (a case he ultimately lost in a 1992 appellate decision) and more recently one on behalf of Iraq and Afghanistan veterans denied treatment for post-traumatic stress disorder. The case is on appeal in California's 9th Circuit. "Nobody out there is doing these types of cases," he says. "It's really sad because the veterans are left holding the bag, and it's not a very pretty bag."
One of those vets is Frank Rochelle. Unlike those of other test veterans, portions of his heavily redacted medical records have survived, providing a rare, if incomplete, account of his experiences. In 1968, while posted at Virginia's Fort Lee as a 20-year-old Army draftee, he saw a notice calling for volunteers for the Edgewood program. Among the promised incentives were relief from guard duty, the freedom to wear civilian clothes, three-day weekends, and, upon completion, a medal of commendation—all for participation in experiments that, according to the notice, would help the military test a new generation of equipment, clothing, and gas masks. Upon his arrival at the testing facility in Maryland, he says he was asked to sign a series of documents, including a release form and a secrecy agreement. The tests would be risk free, he says he was told, and any drugs given would not exceed normal dosage. Over the next two months, however, he was subjected to three rounds of experiments that, Rochelle says, left him permanently damaged. His medical records indicate that he was exposed to nonlethal incapacitating agents like DHMP and glycolate, both of which act as sedatives that produce hallucinations. In the latter case, Rochelle says he was taken into a gas chamber and strapped to a chair by two men in white lab coats, who affixed a mask to his face and told him to breathe normally. He quickly lost consciousness. According to Erspamer's complaint, "Over the next two to three days, Frank was hallucinating and high: he thought he was three feet tall, saw animals on the walls, thought he was being pursued by a 6-foot-tall white rabbit, heard people calling his name, thought that all his freckles were bugs under his skin, and used a razor to try to cut these bugs out. No one from the clinical staff intervened on his behalf…"
Medical records indicate that Rochelle went through a third round of testing, but he has no memory of it. For years he's been having nightmares about the Edgewood tests and now suffers from anxiety, memory loss, sleep apnea, tinnitus, and loss of vision, all of which he claims are direct results of the experiments. Still, he didn't inform his doctor of the tests until 2006, believing that he was still bound by the oath of secrecy he swore in 1968. (The government finally released human test subjects to speak to their physicians about the tests in June 2006, under the condition that they not "discuss anything that relates to operational information that might reveal chemical or biological warfare vulnerabilities or capabilities.")
Rochelle's story is similar to those of Erspamer's other plaintiffs, all of whom claim to be suffering debilitating health effects stemming from the experiments. Of course, substantiating these claims is a challenge, given that most of the medical records were destroyed upon completion of the program. Rochelle's records remain intact, but for "others we have less information," says Erspamer. "We spent a great deal of time on that topic, and we are confident that the plaintiffs are who they say they are, were where they said they were, and got what they said they got," in terms of exposure to experimental chemicals. "Who bears the burden on that issue when the defendants destroyed the evidence?" Erspamer asks. "They've put all that stuff through the shredder."
Compensation for injuries sustained during human testing of chemical and biological agents is not unprecedented. Last year, more than 350 servicemen who served as test subjects at Porton Down, a secret military research facility where the British government conducted its own series of mind-control experiments, were granted nearly $6 million in compensation in an out-of-court settlement with the UK's Ministry of Defence. Likewise, in 2004, the Canadian government began offering $18,000 payments to eligible veterans of experiments at its testing facilities. Nevertheless, says Erspamer, "No American soldiers have ever been compensated." The CIA and the Army "just hope they're all gonna die off, and they will unless somebody does something."
Mother Jones: http://www.motherjones.com/politics/2009/05/uncle-sams-human-lab-rats
via RainbowPuddle

Jesus said: Love One Another
Not Beat'em Unmercifully While Unconscious In Alabama
http://www.indybay.org/newsitems/2009/05/20/18596301.php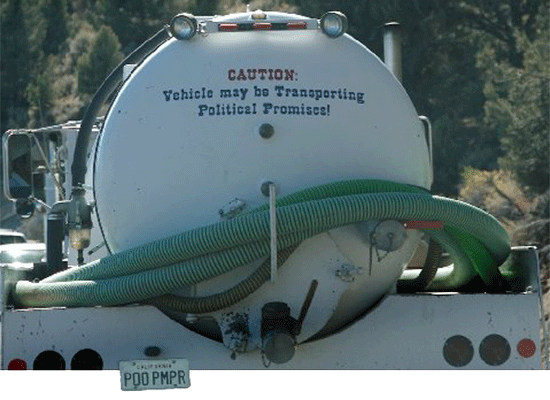 Caution: Vehicle may be Transporting Political Promises!
None of the Above
Should Be On Voter Ballots
Nobody for President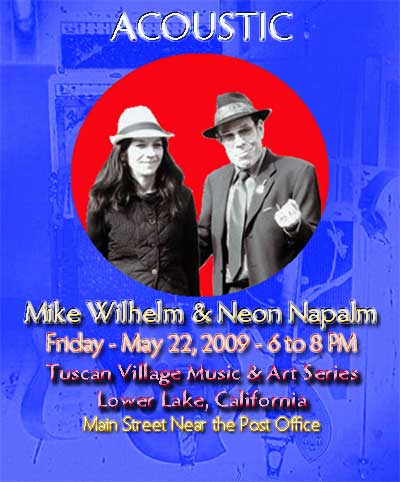 Mike Wilhelm & Neon Napalm - May 22, 2009
6 - 8 PM - Tuscan Village, Main St., Lower Lake, CA
Come to the LaySir MyKö Eclectic Nostalgia
Music Evening at the Lodge in West Marin!
Tuesday, May 26, 8-11PM Free Live Music
Papermill Creek Saloon 415 488-9235
1 Castro St., Forest Knolls, CA 94933
At Forest Knolls intersection, between San Geronimo
and Lagunitas. Visible from Sir Francis Drake.
Thought for the day: No matter how much you push the envelope, it'll still be stationery.
Happy Trails........... >>>>>>>>>>Michael<<<<<<<<<<<<<<<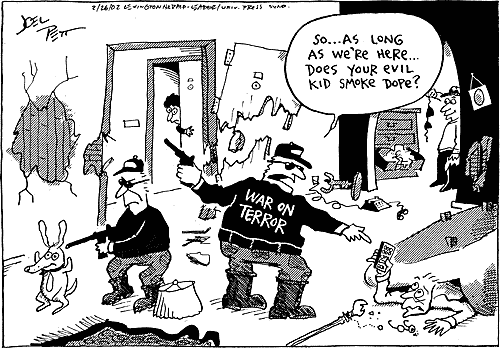 If con is the opposite of pro, is Congress the opposite of Progress?
AT&T May Have Swayed 'Idol' Results
By EDWARD WYATT, The New York Times
LOS ANGELES — AT&T, one of the biggest corporate sponsors of "American Idol," might have influenced the outcome of this year's competition by providing phones for free text-messaging services and lessons in casting blocks of votes at parties organized by fans of Kris Allen, the Arkansas singer who was the winner of the show last week.
Representatives of AT&T, whose mobile phone network is the only one that can be used to cast "American Idol" votes via text message, provided the free text-messaging services at two parties in Arkansas after the final performance episode of "American Idol" last week, according to the company and people at the events.
There appear to have been no similar efforts to provide free texting services to supporters of Adam Lambert, who finished as the runner-up to Mr. Allen.
Since then, angry supporters of Mr. Lambert have flooded online chat boards with messages claiming irregularities in the competition's voting.
Officials of Fox Broadcasting declined to discuss the situation. In a statement issued Tuesday, a spokesman for AT&T said, "In Arkansas, we were invited to attend the local watch parties organized by the community. A few local employees brought a small number of demo phones with them and provided texting tutorials to those who were interested."
Details of the voting support were first reported last week in an article in The Arkansas Democrat-Gazette.
Representatives of AT&T helped fans of Mr. Allen at the two Arkansas events by providing instructions on how to send 10 or more text messages at the press of a single button, known as power texts. Power texts have an exponentially greater effect on voting than do single text messages or calls to the show's toll-free phone lines. The efforts appear to run afoul of "American Idol" voting rules in two ways. The show broadcasts an on-screen statement at the end of each episode warning that blocks of votes cast using "technical enhancements" that unfairly influence the outcome of voting can be thrown out.
And the show regularly states that text voting is open only to AT&T subscribers and is subject to normal rates.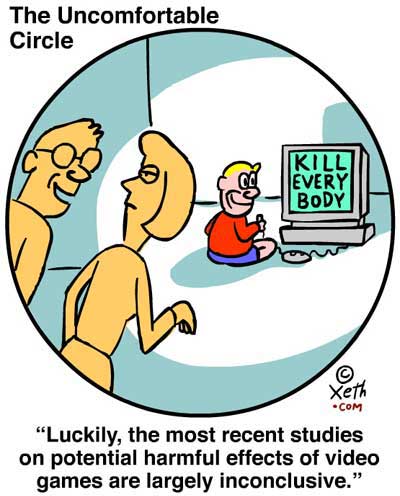 "Luckily, the most recent studies on potential harmful
effects of video games are largely inconclusive."
The Uncomfortable Circle by Xeth - http://www.xeth.com/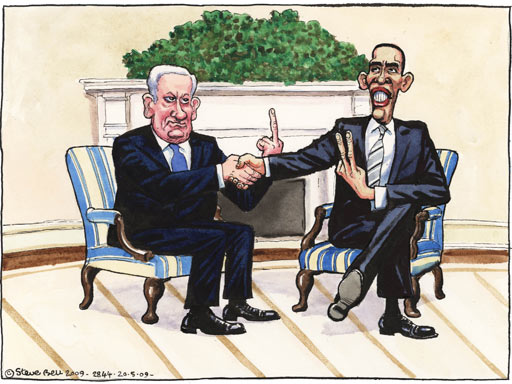 Obama and Netanyahu: up close and personal - Steve Bell
Israel defies US on settlements growth
Construction will continue in east Jerusalem and West Bank, official says, despite Hillary Clinton's call to stop - Rory McCarthy in Jerusalem - guardian.co.uk, Thursday 28 May 2009 11.51 BST
"Every time we do something you tell me America will do this and will do that . . . I want to tell you something very clear: Don't worry about American pressure on Israel. We, the Jewish people, control America, and the Americans know it." - 3 October 2001 - Israel Prime Minister, Ariel Sharon
If it looks, acts, and smells like a terrorist, then it is a terrorist! - Dahbud Mensch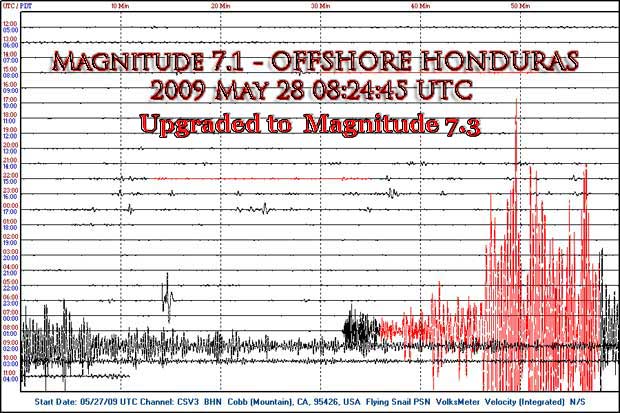 Magnitude 7.1 - OFFSHORE HONDURAS - 2009 May 28 08:24:45 UTC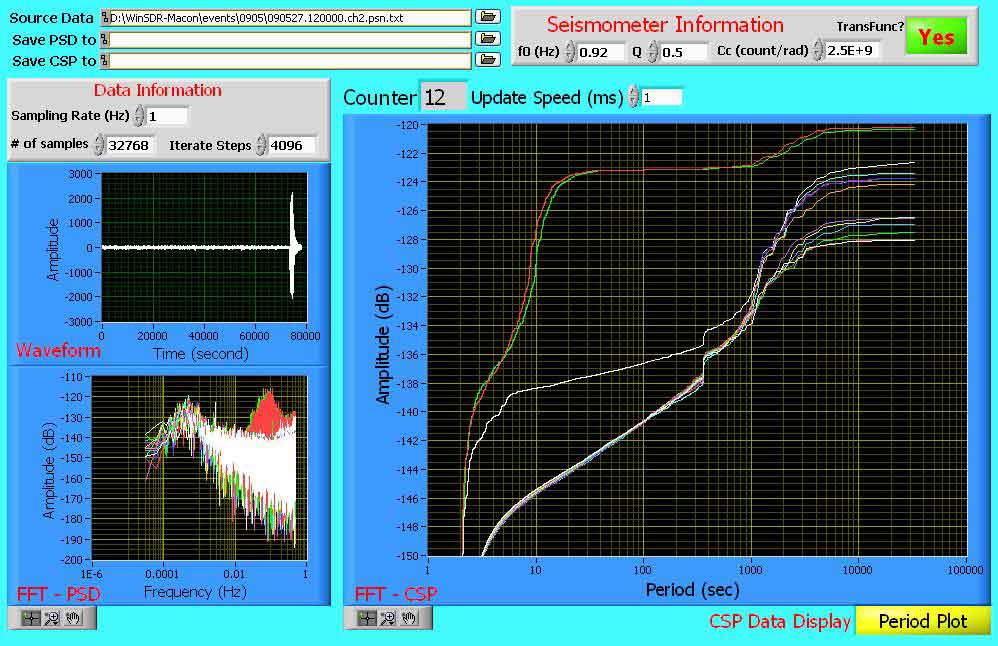 Macon, GA FFT-CSP Plot of 7.1 Honduras Quake by Randall Peters - Large Image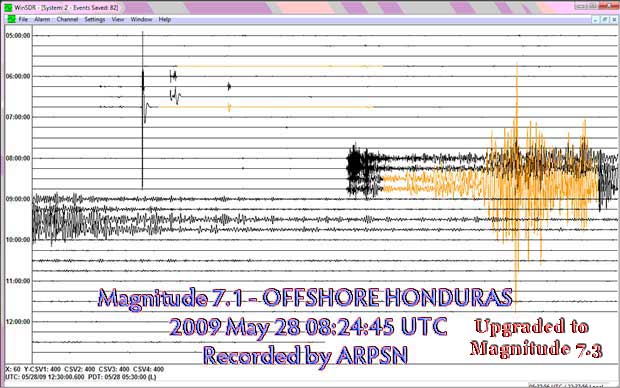 Magnitude 7.1 Offshore Honduras - Recorded by ARPSN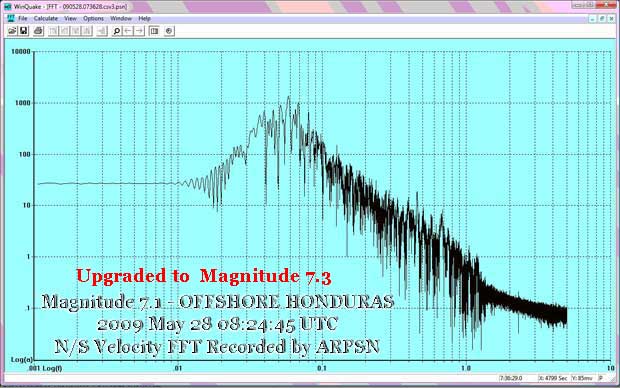 Honduras M7.1 N/S Velocity FFT recorded by ARPSN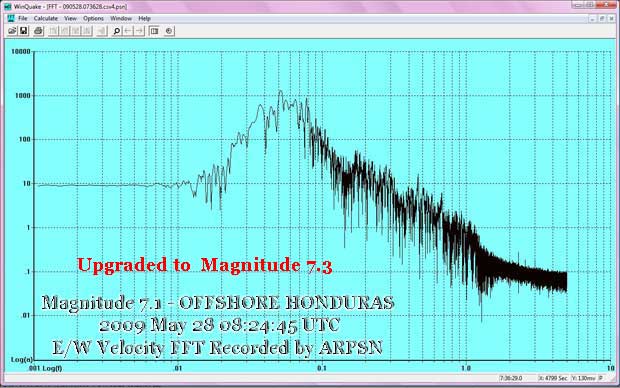 Honduras M7.1 N/S Velocity FFT recorded by ARPSN
Seismic FFT- CSP Animation Experiment [Complete]
February 01 - May 22, 2009 - Cobb (Mountain), CA
North/South Complete - http://flyingsnail.com/AmateurRadio/cobb-ch1-complete.html
East/West Complete - http://flyingsnail.com/AmateurRadio/cobb-ch2-complete.html
February 01 - May 22, 2009 - Macon, GA - Pier
North/South Complete - http://flyingsnail.com/AmateurRadio/macon-ch2ns-complete.html
East/West Complete - http://flyingsnail.com/AmateurRadio/macon-ch1ew-complete.html
February 01 - May 22, 2009 - Redwood City, CA - PSN
North/South Complete - http://flyingsnail.com/AmateurRadio/redwoodcity-ch1-complete.html
February 01 - May 22, 2009 - Comparison - Cobb, Macon Pier, Redwood City
Complete - http://flyingsnail.com/AmateurRadio/cspcompare.html - [Large file: 22 MB]
Archived Seismic Animation
FFT-CSP Animation Archive - http://flyingsnail.com/AmateurRadio/seismicanimationarchive.html
Homeland Security to scan fingerprints
of travellers exiting the US
By Brett Winterford
29 May 2009 05:53AM - via iTnews
The US Department of Homeland Security is set to kickstart a controversial new pilot to scan the fingerprints of travellers departing the United States.
From June, US Customs and Border Patrol will take a fingerprint scan of international travellers exiting the United States from Detroit, while the US Transport Security Administration will take fingerprint scans of international travellers exiting the United States from Atlanta.
Biometric technology such as fingerprint scans has been used by US Customs and Border Patrol for several years to gain a biometric record of non-US citizens entering the United States.
But under the Bush Administration, a plan was formulated to also scan outgoing passengers.
Michael Hardin, a senior policy analyst with the US-Visit Program at the United States Department of Homeland Security told a Biometrics Institute conference today that the DHS will use the data from the trial to "inform us as to where to take [exit screening] next."
"We are trying to ensure we know more about who came and who left," he said. "We have a large population of illegal immigrants in the United States - we want to make sure the person getting on the plane really is the person the records show to be leaving."
The original exit scanning legislation planned by the Bush administration stipulated that airlines would be responsible for conducting the exit fingerprints.
But after much protest, Hardin said the new Obama administration re-considered this legislation two weeks ago and is "not as sold that private sector should be agency for exit fingerprints."
"The new administration feels that perhaps it is more appropriate that Government should take that role."
Mulling mobile biometrics
The exit fingerprint scanning is one of several fronts in which the DHS is using biometric technology to secure its borders.
Every day, the US-VISIT scheme uses fingerprint scans to enrol or verify the identity of 86,400 visitors to the United States.
These scans are conducted on a purpose-built, cube-shaped fingerprint scanner.
"We specified to vendors, it had to be no more than 6 x 6 x 6 inches - it had to fit on counter and light enough to walk around with," Hardin said. "We also told them the reader light had to be green - people tend to think red is hot to touch."
The DHS is testing whether it can adapt the same biometric technology to enrol or veify identities from remote locations using wireless connectivity.
Hardin said the DHS is seeking an identity verification system for the US Coast Guard, which tends to operate in a difficult environmental conditions.
"We'll do this the way we did the Cube at customs - we will go to the industry with some specifications and say, if you build it we'll buy it."
RF identity cards trial on track
The DHS is also set to go-live with a trial of RF-enabled biometric identity cards on June 1, aimed at securing the border between the United States and Canada.
U.S. and Canadian citizens will be authenticated to travel between the two countries using identity cards fitted with radio-frequency embedded chips.
Hardin said Americans and Canadians have traditionally been able to travel between the two nations with little fuss.
But since the September 11 attacks on New York and Washington, the DHS has insisted on the use of a passport, passport card, drivers license or some other form of documentation approved by U.S. States or Canadian provinces to verify identity.
As of June 1, travellers crossing the border will be asked to carry an RF-enabled card which transmits a passport photo image and information about the traveller to border control staff systems, who can then check that photograph against the physical appearance of the traveller or their vehicle.
Editors Note - This story originally contained a representation that the biometrics trial in Atlanta and Detroit included the fingerprint scanning of US citizens. This has since been proved to be incorrect and the story has been modified - only non-US citizens will be expected to provide a biometric record.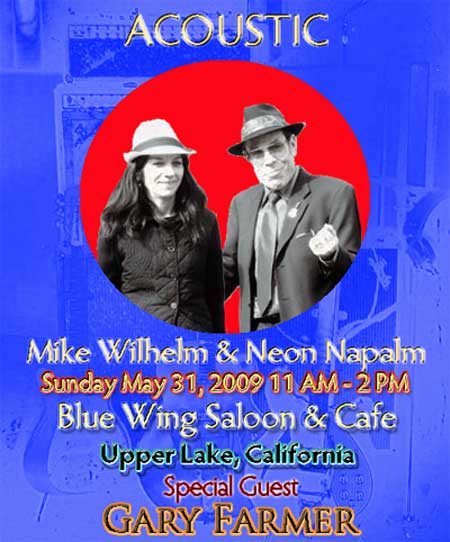 Mike Wilhelm & Neon Napalm
Special Guest Star: Gary Farmer
Sunday May 31, 2009 - 11 AM - 2 PM
Blue Wing Saloon & Cafe - Upper Lake, CA
Gary Farmer
[Note: Did Not Make It to Upper Lake]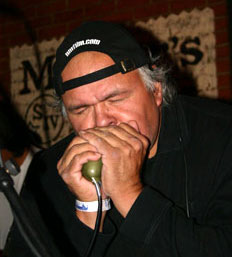 GARY FARMER SINGS THE BLUES
GARY FARMER & THE TROUBLEMAKERS
"A seasoned group of 6 musicians and performers committed to blues and jazz standards of BB King, Etta James, Keb Mo, Dr. John, Ella Fitzgerald, John Lee Hooker, Willie Dixon. The Troublemaker's first CD, "Love Songs and Other Issues", was released in April 07'.
Based in Albuquerque and Santa Fe, New Mexico, the musicians include, Star Nayae on vocals, Nick Mendoza on guitar and vocals, Daniel Garcia on keyboards, John Longbow on bass, Robert Deane on drums and Gary Farmer on vocals, harmonica and washboard tie.
Gary Farmer and the Troublemakers are currently taking the Native Music Industry by storm with noted performances in the short time they have been together. They have performed at the Native American Music Festival in Toppenish, WA; Santa Fe Indian Market, Santa Fe, NM; Navajo Nation Fair, Window Rock, AZ; Gathering of Nations, Albuquerque, NM; and upcoming at Muscogee Creek Nation Fair in Muscogee, OK. These successful performances have lead to the recording of their CD with reinterpreted blues standards not often performed by Native American bands.
Wilhelm, Knepalm perform May 31 in Upper Lake
Written by Katherine Morgenstern, Lake County News
UPPER LAKE – Guitarist and vocalist Mike Wilhelm and vocalist percussionist Neon Knepalm will give a brunch concert in the courtyard of the Tallman Hotel/Blue Wing Saloon in Upper Lake on Sunday, May 31, from 11 a.m. until 2 p.m.
Appearing as their very special guest will be the award-winning American Indian actor, musician and activist Gary Farmer who will supply harmonica and vocal.
Knepalm was formerly lead singer with Gary Farmer and the Troublemakers whose current tour brings Farmer to Northern California.
A few highlights from his long film career include 2006's "Disappearances" with Kris Kristofferson, "Adaptation," "Smoke Signals," "The Score," "Ghost Dog," "Dead Man," "Dark Wind" and "The Brave."
This combination of musicians and personalities is a truly rare event well worth experiencing.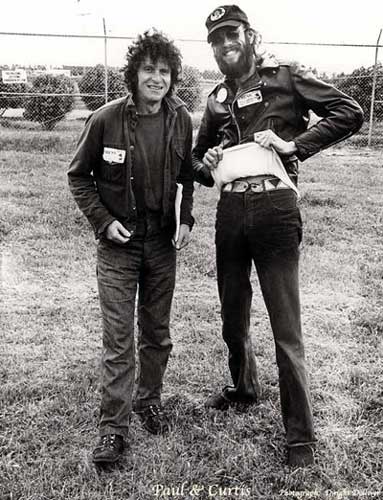 Nothing Will Ever Be the Same
by Paul Krassner, September 15, 2001
"In the dark times, will there still be singing? Yes, there will be singing. There will be singing about the dark times." --Bertolt Brecht
--From now on, everything will be divided between what happened Before the events of September 11 and what happened After.
Lane Sarasohn got caught in the middle. He is an editor of Ironic Times, an online weekly which satirizes the news, always leading off with apocryphal headlines marching along a ticker. On Monday, September 10, their new edition came out, and this was one of the jokes on the ticker: Taliban: No more Mr. Nice Guys...
Sarasohn told me that, in the wake of the utter devastation committed the next day by suicide pilots and their hijacker crews, the editors decided to excise that joke from their Web site. Otherwise, since the Taliban has been sheltering prime suspect Osama bin Laden, that particular headline would have been misperceived as insensitive.
What made the reference sardonic in the first place was that--having just put eight aid workers on trial for allegedly attempting to convert Muslims to Christianity, a crime that could be punishable by death--the fundamentalist Taliban ruling party in Afghanistan had not exactly been Mr. Nice Guys previously. They gave fanatics a bad name, and when it came to human rights, they made China look like angels.
Under the Taliban theocracy, females are not allowed to appear in public without being covered from head to toe, they are forbidden to leave the house without being accompanied by a male family member, they are not permitted to attend school, they cannot be treated by male doctors, and they are banned from practicing medicine or any profession.
Taliban zealots have destroyed a gigantic statue of Buddha, and they have declared it compulsory for all non-Muslim inhabitants of Afghanistan to wear a piece of cloth attached to their pocket to indicate that they are not Muslims. Shades of Nazi Germany.
And yet, on May 17, 2001, the United States presented the Taliban rulers with $43 million. Hey, wasnt the American revolution about taxation without representation? And Ill bet that darned old Taliban didnt even have to submit a business plan. Five days later, syndicated columnist Robert Scheer wrote:
Enslave your girls and women, harbor anti-U.S. terrorists, destroy every vestige of civilization in your homeland, and the Bush administration will embrace you. All that matters is that you line up as an ally in the drug war. The gift, announced by Secretary of State Colin Powell, in addition to recent aid, makes the U.S. the main sponsor of the Taliban and rewards that rogue regime for declaring that opium growing is against the will of God.
Never mind that Osama bin Laden still operates the leading anti-American terror operation from his base in Afghanistan, from which, among other crimes, he launched two bloody attacks on American embassies in Africa in 1998. Sadly, the Bush administration is cozying up to the Taliban regime at a time when the United Nations, at U.S. insistence, imposes sanctions on Afghanistan because the Kabul government will not turn over bin Laden. The war on drugs has become our own fanatics obsession and easily trumps all other concerns.
Most of the farmers who grew the poppies will now confront starvation. Thats because the Afghan economy has been ruined by the religious extremism of the Taliban, making the attraction of opium as a previously tolerated quick cash crop overwhelming. For that reason, the opium ban will not last unless the U.S. is willing to pour far larger amounts of money into underwritng the Afghan economy.
As the DEAs Steven Casteel admitted, The bad side of the ban is that its bringing their country...to economic ruin. Nor did he hold out much hope for Afghan farmers growing other crops such as wheat, which require a vast infrastructure to supply water and fertilizer that no longer exists in that devastated country. Theres little doubt that the Taliban will turn once again to the easily taxed cash crop of opium in order to stay in power.
Its bad enough that the United States helped sponsor state-sponsored terrorists against itself, but on top of that, American taxpapers will not be getting any refunds this time around.
For the past few days, Ive been reading the newspapers, then checking the Internet to see what was left out of the papers, and then channel-surfing, from CNN (with their Americas New War logo, reassuring viewers that its not a rerun) to MTV (where one of the Beastie Boys advised: The last thing the terrorists want is for us to work together).
On the Fox News Network, Edward Peck, former ambassador to Iraq, was an unusually outspoken guest. He said the terrorists acted as they did not because America is a freedom loving country, but because they feel the U.S. has been treating them the same way throughout the years--bombing Iraq for the last ten years whenever they felt like it--and adding to the list (Take Panama, take Haiti, take Cambodia) before he was cut off and dismissed.
Back in May 1996, on 60 Minutes, Lesley Stahl confronted UN Ambassador Madeleine Albright: We have heard that a half-million children have died [because of sanctions against Iraq]. I mean, thats more children than died in Hiroshima and, you know, is the price worth it? Albright replied, I think this is a very hard choice, but the price--we think the price is worth it.
None of this is one nano-iota of solace for the mass anguish that is taking place in shell-shocked America. So much human suffering, for the sake of our nations karma. But everybody perceives every occurrence through their own subjective filters. And so it was incredibly cruel of televangelists Jerry Falwell and Pat Robertson to agree on TV that:
God continues to lift the curtain and allow the enemies of America to give us probably what we deserve. The abortionists have got to bear some burden for this because God will not be mocked. And when we destroy 40 million little innocent babies, we make God mad. I really believe that the pagans, and the abortionists, and the feminists, and the gays and the lesbians who are actively trying to make that an alternative lifestyle, the ACLU, People For the American Way--all of them who have tried to secularize America--I point the finger in their face and say, You helped this happen.
The pious pair became such pathetic parodies of their own fundamentalist agenda that I thought it was a hoax, despite the fact that it was published in the Washington Post.
In the face of all the platitudes and rhetoric of politicians, professors and pundits--those who speak of unspeakable horror and then, when thanked by their TV host, reply, My pleasure--the original impact of this ongoing tragedy was summed up concisely by a random teenager being interviewed by Tom Brokaw on NBC. She had been awakened by her mother on that tragic Tuesday morning and brought into the living room to see what was happening on television. The girl recalled, I was like Whoa! And then she added, It will probably be in the history books.
Meanwhile, Ironic Times has decided to run a best-of edition for the week beginning September 17--something that will hopefully cheer you up, subscribers will be notified, and give us time to cheer up as well. An editor, Matt Neuman, tells me, Were we publishing a regular edition next week, our ticker might start: Bin Laden cancels all public appearances...
Of course, by the time you read this, bin Laden may already have been taken out, and I dont mean to dinner and a movie.
This is the first thing I have written After the events of September 11, 2001, a dividing line which must be acknowledged here. Everything else in this book was written during the few years Before.
Oh, I hope that I see you again I never even caught your name As you looked through my window pane -- So I'm writing this message today I'm thinking that you'll have a way Of hearing the notes in my tune -- Where are you going? Where have you been? I can imagine other worlds you have seen -- Beautiful faces and music so serene -- So I do hope I see you again My universal citizen You went as quickly as you came -- You know the power Your love is right You have good reason To stay out of sight -- But break our illusions and help us Be the light - "Message" by Michael Pinder
Link Text:
Gallery d'Ann - Blender Animation - Animation for the Appliance Challenged Gallery - Hackers - Missing BBS Files - Sprung - Harley-Davidson Springer Enthusiast - Flying Snail Studios Podcasts - Rubbermaid (Band) = Amateur Radio - Amateur Radio Public Seismic Network - ARPSN/Cobb Weather and Seismic Heliplots - United State Cafe - Haight/Ashbury - Apple/Mac Tech with a little GNU Linux - Brokedown Coffee - Hunger and Shame by Dr. Mary Howard and Dr. Ann V. Millard - Sailing on the Flying Snail - Emmy - ALERTS, Notes from ~@~ - Flying Snail Archive - Browsing Tips - Captain Crunch - John Draper - CASHCPR - Citizen's Against Second Hand Cellular Phone Radiation - NCast Dancing Frogs at YouTube - Disclaimer - Ira Cohen - Karl Cohen - Keith Lampe - Links - Marliese's Corner - Mike Wilhelm - Mobile page for Phones and Pods - NCast - Paul Krassner - Remnant of Paradise - Site Map: flyingsnail.com - Steven Leech - WVUD-FM Streaming Audio - THEY Have Returned - H.323 - Pacific Packet Radio Society - PPRS intorduced wireless digital communications to the United States - Nobody for President = Put NONE OF THE ABOVE on voter ballots