The Patriot Act Is A Crime Against U.S. Citizens
[FLASH] ~ John Ashcroft's Patriot Act Summer Tour ~ [FLASH]
by Mark Fiore (Flash format)

It is alleged the first major Spying on US Citizens was specifically done on media personnel & politicians previous to Bush becoming president during 2000. The Patriot Act, that was never read by politicians, was established October 26, 2001.
The PATRIOT ACT excretes on the fourth amendment. Simply, anyone doing anything "criminal" can be treated as a "terrorist." Sounds innocuous until you realize that speeding on the highway, on your way to work, is considered to be "criminal."
THE PATRIOT ACT
Brought to you by Republicans,
Supported by Democrats,
&
Nobody Read It
The Patriot Act Is Not About Terrorism,
It Is About Control of United States Citizens.
---
---
Secret Patriot Act II Destroys
Remaining US Liberty

Total Police State Takeover The Secret Patriot Act II Destroys What Is Left of American Liberty

by Alex Jones, www.infowars.com ~ 2-11-3

http://rense.com/general34/takeover.htm

Congressman Ron Paul (R-Tex) told the Washington Times that no member of Congress was allowed to read the first Patriot Act that was passed by the House on October 27, 2001. The first Patriot Act was universally decried by civil libertarians and Constitutional scholars from across the political spectrum. William Safire, while writing for the New York Times, described the first Patriot Act's powers by saying that President Bush was seizing dictatorial control.

On February 7, 2003 the Center for Public Integrity, a non-partisan public interest think-tank in DC, revealed the full text of the Domestic Security Enhancement Act of 2003. The classified document had been leaked to them by an unnamed source inside the Federal government. The document consisted of a 33-page section by section analysis of the accompanying 87-page bill.

*Note: On February 10, 2003 I discovered that not only was there a house version that had been covertly brought to Hastert, but that many provisions of the now public Patriot Act II had already been introduced as pork barrel riders on Senate Bill S. 22. Dozens of subsections and even the titles of the subsections are identical to those in the House version. This is very important because it catches the Justice Department in a bald-faced lie. The Justice Department claimed that the secret legislation brought into the House was only for study, and that at this time there was no intention to try and pass it. Now upon reading S. 22, it is clear that the leadership of the Senate is fully aware of the Patriot Act II, and have passed these riders out of their committees into the full bill. I spent two hours scanning through S. 22 and, let me tell you, it is a nightmare for anyone who loves liberty. It even contains the Our Lady of Peace Act that registers all gun owners. It bans the private sale of all firearms, creates a Federal ballistics database, and much more.

The bill itself is stamped 'Confidential ö Not for Distribution.' Upon reading the analysis and bill, I was stunned by the scientifically crafted tyranny contained in the legislation. The Justice Department Office of Legislative Affairs admits that they had indeed covertly transmitted a copy of the legislation to Speaker of the House Dennis Hastert, (R-Il) and the Vice President of the United States, Dick Cheney as well as the executive heads of federal law enforcement agencies.

It is important to note that no member of Congress was allowed to see the first Patriot Act before its passage, and that no debate was tolerate by the House and Senate leadership. The intentions of the White House and Speaker Hastert concerning Patriot Act II appear to be a carbon copy replay of the events that led to the unprecedented passage of the first Patriot Act.

There are two glaring areas that need to be looked at concerning this new legislation:

1. The secretive tactics being used by the White House and Speaker Hastert to keep even the existence of this legislation secret would be more at home in Communist China than in the United States. The fact that Dick Cheney publicly managed the steamroller passage of the first Patriot Act, insuring that no one was allowed to read it and publicly threatening members of Congress that if they didn't vote in favor of it that they would be blamed for the next terrorist attack, is by the White House's own definition terrorism. The move to clandestinely craft and then bully passage of any legislation by the Executive Branch is clearly an impeachable offense.

2. The second Patriot Act is a mirror image of powers that Julius Caesar and Adolf Hitler gave themselves. Whereas the First Patriot Act only gutted the First, Third, Fourth and Fifth Amendments, and seriously damaged the Seventh and the Tenth, the Second Patriot Act reorganizes the entire Federal government as well as many areas of state government under the dictatorial control of the Justice Department, the Office of Homeland Security and the FEMA NORTHCOM military command. The Domestic Security Enhancement Act 2003, also known as the Second Patriot Act is by its very structure the definition of dictatorship.

I challenge all Americans to study the new Patriot Act and to compare it to the Constitution, Bill of Rights and Declaration of Independence. Ninety percent of the act has nothing to do with terrorism and is instead a giant Federal power-grab with tentacles reaching into every facet of our society. It strips American citizens of all of their rights and grants the government and its private agents total immunity.

Here is a quick thumbnail sketch of just some of the draconian measures encapsulated within this tyrannical legislation:

SECTION 501 (Expatriation of Terrorists) expands the Bush administration's "enemy combatant" definition to all American citizens who "may" have violated any provision of Section 802 of the first Patriot Act. (Section 802 is the new definition of domestic terrorism, and the definition is "any action that endangers human life that is a violation of any Federal or State law.") Section 501 of the second Patriot Act directly connects to Section 125 of the same act. The Justice Department boldly claims that the incredibly broad Section 802 of the First USA Patriot Act isn't broad enough and that a new, unlimited definition of terrorism is needed.

Under Section 501 a US citizen engaging in lawful activities can be grabbed off the street and thrown into a van never to be seen again. The Justice Department states that they can do this because the person "had inferred from conduct" that they were not a US citizen. Remember Section 802 of the First USA Patriot Act states that any violation of Federal or State law can result in the "enemy combatant" terrorist designation.

SECTION 201 of the second Patriot Act makes it a criminal act for any member of the government or any citizen to release any information concerning the incarceration or whereabouts of detainees. It also states that law enforcement does not even have to tell the press who they have arrested and they never have to release the names.

SECTION 301 and 306 (Terrorist Identification Database) set up a national database of "suspected terrorists" and radically expand the database to include anyone associated with suspected terrorist groups and anyone involved in crimes or having supported any group designated as "terrorist." These sections also set up a national DNA database for anyone on probation or who has been on probation for any crime, and orders State governments to collect the DNA for the Federal government.

SECTION 312 gives immunity to law enforcement engaging in spying operations against the American people and would place substantial restrictions on court injunctions against Federal violations of civil rights across the board.

SECTION 101 will designate individual terrorists as foreign powers and again strip them of all rights under the "enemy combatant" designation.

SECTION 102 states clearly that any information gathering, regardless of whether or not those activities are illegal, can be considered to be clandestine intelligence activities for a foreign power. This makes news gathering illegal.

SECTION 103 allows the Federal government to use wartime martial law powers domestically and internationally without Congress declaring that a state of war exists.

SECTION 106 is bone-chilling in its straightforwardness. It states that broad general warrants by the secret FSIA court (a panel of secret judges set up in a star chamber system that convenes in an undisclosed location) granted under the first Patriot Act are not good enough. It states that government agents must be given immunity for carrying out searches with no prior court approval. This section throws out the entire Fourth Amendment against unreasonable searches and seizures.

SECTION 109 allows secret star chamber courts to issue contempt charges against any individual or corporation who refuses to incriminate themselves or others. This sections annihilate the last vestiges of the Fifth Amendment.

SECTION 110 restates that key police state clauses in the first Patriot Act were not sunsetted and removes the five year sunset clause from other subsections of the first Patriot Act. After all, the media has told us: "this is the New America. Get used to it. This is forever."

SECTION 111 expands the definition of the "enemy combatant" designation.

SECTION 122 restates the government's newly announced power of "surveillance without a court order."

SECTION 123 restates that the government no longer needs warrants and that the investigations can be a giant dragnet-style sweep described in press reports about the Total Information Awareness Network. One passage reads, "thus the focus of domestic surveillance may be less precise than that directed against more conventional types of crime."

*Note: Over and over again, in subsection after subsection, the second Patriot Act states that its new Soviet-type powers will be used to fight international terrorism, domestic terrorism and other types of crimes. Of course the government has already announced in Section 802 of the first USA Patriot act that any crime is considered domestic terrorism.

SECTION 126 grants the government the right to mine the entire spectrum of public and private sector information from bank records to educational and medical records. This is the enacting law to allow ECHELON and the Total Information Awareness Network to totally break down any and all walls of privacy.

The government states that they must look at everything to "determine" if individuals or groups might have a connection to terrorist groups. As you can now see, you are guilty until proven innocent.

SECTION 127 allows the government to takeover coroners' and medical examiners' operations whenever they see fit. See how this is like Bill Clinton's special medical examiner he had in Arkansas that ruled that people had committed suicide when their arms and legs had been cut off.

SECTION 128 allows the Federal government to place gag orders on Federal and State Grand Juries and to take over the proceedings. It also disallows individuals or organizations to even try to quash a Federal subpoena. So now defending yourself will be a terrorist action.

SECTION 129 destroys any remaining whistleblower protection for Federal agents.

SECTION 202 allows corporations to keep secret their activities with toxic biological, chemical or radiological materials.

SECTION 205 allows top Federal officials to keep all their financial dealings secret, and anyone investigating them can be considered a terrorist. This should be very useful for Dick Cheney to stop anyone investigating Haliburton.

SECTION 303 sets up national DNA database of suspected terrorists. The database will also be used to "stop other unlawful activities." It will share the information with state, local and foreign agencies for the same purposes.

SECTION 311 federalizes your local police department in the area of information sharing.

SECTION 313 provides liability protection for businesses, especially big businesses that spy on their customers for Homeland Security, violating their privacy agreements. It goes on to say that these are all preventative measures ö has anyone seen Minority Report? This is the access hub for the Total Information Awareness Network.

SECTION 321 authorizes foreign governments to spy on the American people and to share information with foreign governments.

SECTION 322 removes Congress from the extradition process and allows officers of the Homeland Security complex to extradite American citizens anywhere they wish. It also allows Homeland Security to secretly take individuals out of foreign countries.

SECTION 402 is titled "Providing Material Support to Terrorism." The section reads that there is no requirement to show that the individual even had the intent to aid terrorists.

SECTION 403 expands the definition of weapons of mass destruction to include any activity that affects interstate or foreign commerce.

SECTION 404 makes it a crime for a terrorist or "other criminals" to use encryption in the commission of a crime.

SECTION 408 creates "lifetime parole" (basically, slavery) for a whole host of crimes.

SECTION 410 creates no statute of limitations for anyone that engages in terrorist actions or supports terrorists. Remember: any crime is now considered terrorism under the first Patriot Act.

SECTION 411 expands crimes that are punishable by death. Again, they point to Section 802 of the first Patriot Act and state that any terrorist act or support of terrorist act can result in the death penalty.

SECTION 421 increases penalties for terrorist financing. This section states that any type of financial activity connected to terrorism will result to time in prison and $10-50,000 fines per violation.

SECTIONS 427 sets up asset forfeiture provisions for anyone engaging in terrorist activities.

There are many other sections that I did not cover in the interest of time. The American people were shocked by the despotic nature of the first Patriot Act. The second Patriot Act dwarfs all police state legislation in modern world history.

Usually, corrupt governments allow their citizens lots of wonderful rights on paper, while carrying out their jackbooted oppression covertly. From snatch and grab operations to warantless searches, Patriot Act II is an Adolf Hitler wish list.

You can understand why President Bush, Dick Cheney and Dennis Hastert want to keep this legislation secret not just from Congress, but the American people as well. Bill Allison, Managing Editor of the Center for Public Integrity, the group that broke this story, stated on my radio show that it was obvious that they were just waiting for another terrorist attack to opportunistically get this new bill through. He then shocked me with an insightful comment about how the Federal government was crafting this so that they could go after the American people in general. He also agreed that the FBI has been quietly demonizing patriots and Christians and "those who carry around pocket Constitutions."

I have produced two documentary films and written a book about what really happened on September 11th. The bottom line is this: the military-industrial complex carried the attacks out as a pretext for control. Anyone who doubts this just hasn't looked at the mountains of hard evidence.

Of course, the current group of white collar criminals in the White House might not care that we're finding out the details of their next phase. Because, after all, when smallpox gets released, or more buildings start blowing up, the President can stand up there at his lectern suppressing a smirk, squeeze out a tear or two, and tell us that "See I was right. I had to take away your rights to keep you safe. And now it's your fault that all of these children are dead." From that point on, anyone who criticizes tyranny will be shouted down by the paid talking head government mouthpieces in the mainstream media.

You have to admit, it's a beautiful script. Unfortunately, it's being played out in the real world. If we don't get the word out that government is using terror to control our lives while doing nothing to stop the terrorists, we will deserve what we get - tyranny. But our children won't deserve it.
---
---
No mercy in Ashcroft's brand of justice
[Broken Link, Copy Below]
Ashcroft's Power Grows In Terrorist Witch Hunt
by Helen Thomas, August 16, 2003
WASHINGTON -- Attorney General John Ashcroft doesn't have enough to do, hunting down terrorists.
With the help of a rollover Congress, he now has a new and bigger club to go after federal judges who impose lighter sentences in criminal cases than he would like.
As a faithful lord high executioner of the administration's much touted "compassionate conservatism," Ashcroft wants to clamp down on those judges.
At issue are the sentencing guidelines laid down by a federal commission that Congress created in 1984. Under pressure from Ashcroft, Congress voted in April to restrict the flexibility of federal judges to depart from the guidelines.
The new law also makes it easier for prosecutors to appeal more cases when they don't like the court-imposed prison sentences.
As it stands now, the attorney general must report within 15 days to Congress the identity of any federal judge who deviates from the rules and the reasons why. And the department must report within five days whether it intends to appeal.
The empowered attorney general then issued an order on July 28 to federal prosecutors, directing them to report all "downward departure" sentencing decisions in criminal cases.
Previously, the prosecutors were required to report to the Justice Department only those sentences that they had objected to and wanted to appeal.
The overall effect is to give Ashcroft more control and the final say on whether to appeal a sentence. And it reduces the powers of the prosecutors in the field, the people who know more about the defendant and the circumstances of the case than does anyone in Washington.
It looks to me as if Ashcroft has designed a new program to intimidate federal judges.
Sen. Edward Kennedy, D-Mass., accused Ashcroft of an "ongoing attack on judicial independence" and said he was requiring federal prosecutors to establish a "black list" of judges who diverge from the guidelines.
Department lawyers say the new rules are in the interest of uniformity. But Ashcroft obviously was miffed that some judges weren't handing out the tough sentences that he wanted.
The sentencing commission has statistics showing that 35 percent of the sentences handed down in federal court in the 2001 fiscal year fell below the guidelines.
Many of those sentences were the results of plea-bargaining and had the approval of the prosecutors.
Jonathan Turley, a George Washington University law professor, said many judges have denounced the guidelines for producing "unduly long sentences" and hampering the courts' ability to fashion punishments to fit the crimes.
Ashcroft wants judges to treat defendants as "statistics rather than individuals," Turley added. In all fairness, Congress shares the blame for giving him even more power to do so.
In his new order to the prosecutors, Ashcroft cited a May 5 speech by Chief Justice William Rehnquist who acknowledged that it was up to Congress to establish guidelines on sentencing policies.
But Ashcroft conveniently failed to mention that Rehnquist also used the same speech to criticize the sentencing restrictions as "an unwarranted and ill-considered effort to intimidate individual judges in the performance of their official duties."
Rehnquist also complained to Sen. Patrick J. Leahy, D-Vt., the top Democrat on the Senate Judiciary Committee, that limiting judicial discretion "would seriously impair the ability of courts to impose just and reasonable sentences."
In a speech last Saturday to the ABA convention in San Francisco, Supreme Court Justice Anthony Kennedy, a moderate conservative, criticized mandatory minimum sentencing and said prison terms were too long. He told the lawyers "our resources are misspent, our punishments too severe, our sentences too long."
He branded the guidelines as "not wise, not just."
An even more dramatic protest against the guidelines came from U.S. District Judge John S. Martin. He quit the bench in Manhattan in June and charged that Congress was attempting "to intimidate judges."
U.S. District Judge Irene M. Keeley of Clarksburg, W.Va., who heads the ABA's National Conference of Federal Judges, supports the critics of the guidelines.
She said the jurists would continue to "evaluate each sentence on a case-by-case basis." A study of the facts will show there is no evidence that judges have been bending the sentencing rules, she said.
Obviously Ashcroft's sense of justice is not the kind that is touched by the quality of mercy.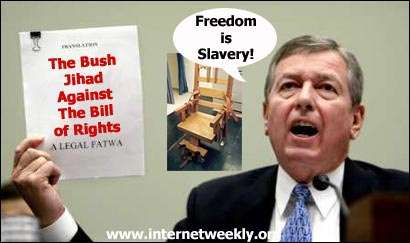 Ashcroft holds a sign saying, "The Bush Jihad Against The Bill of Rights" and says,
Freedom is Slavery!
Target: 'Narco-Terror' [Broken Link. Was:
http://abcnews.go.com/sections/us/WorldNewsTonight/victory_act030820.html]
ABCNEWS.com has obtained a draft of the Vital Interdiction of Criminal Terrorist Organizations Act of 2003, or VICTORY Act, which could be introduced to Congress this fall, and which appears to have been prepared by the office of Sen. Orrin Hatch, R-Utah, the chairman of the Senate Judiciary Committee.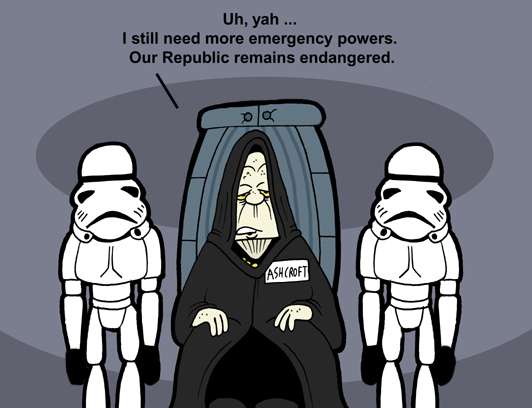 Ashcroft says, Uh, yah ... I still need more emergency powers. Our Republic remains endangered.
Provisions in the draft would:
Raise the threshold for rejecting illegal wiretaps. The draft reads: "A court may not grant a motion to suppress the contents of a wire or oral communication, or evidence derived therefrom, unless the court finds that the violation of this chapter involved bad faith by law enforcement."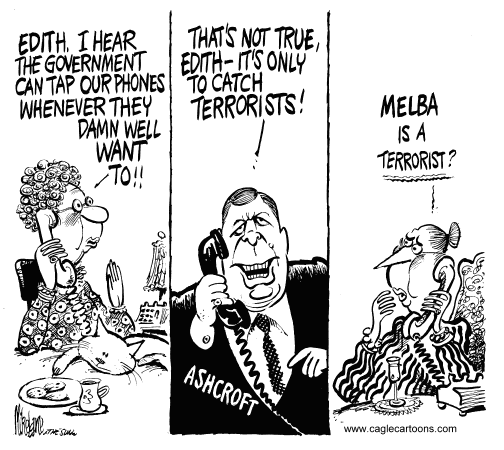 Melba says, Edith, I hear the Government can tap our phones whenever they damn well want to!!!
Ashcroft who is illegally listening to the conversation says, That's not true, Edith-It's only to catch terrorists!
Edith questions by asking, Melba is a terrorist?
Extend subpoena powers by giving giving law enforcement the authority to issue non-judicial subpoenas which require a person suspected of involvement in money laundering to turn over financial records and appear in a prosecutor's office to answer questions.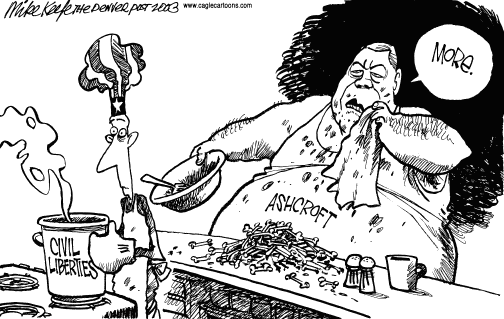 Ashcroft, while devouring United States Citizens' CIVIL LIBERTIES, demands MORE.
Extend the power of the attorney general to issue so-called administrative "sneak-and-peak" subpoenas to drug cases. These subpoenas allow law enforcement to gather evidence from wire communication, financial records or other sources before the subject of the search is notified.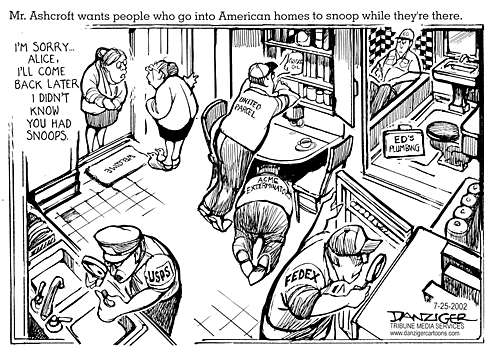 Mr. Ashcroft wants people who go into American homes to snoop while they're there.
~ USPS, FEDEX, UNITED PARCEL, ACME EXTERMINATORS, & ED'S PLUMBING are depicted ~
At the door a woman says, I'm sorry Alice, I'll come back later I didn't know you had snoops.
Allow law enforcement to seek a court order to require the "provider of an electronic communication service or remote computing service" or a financial institution to delay notifying a customer that their records had been subpoenaed.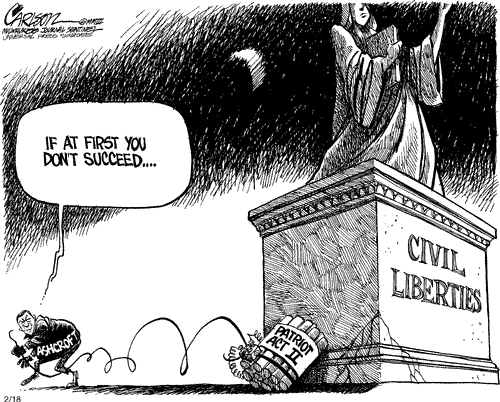 Ashcroft says, IF AT FIRST YOU DON'T SUCCEED.... and is about to blow-up American CIVIL LIBERTIES
"This bill would treat drug possession as a 'terrorist offense' and drug dealers as 'narco-terrorist kingpins,' " the aide argued. "To say that terrorist groups use a small percentage of the drug trafficking in the United States to finance terrorism may be a fair point, but this bill would allow the government to prosecute most drug cases as terrorism cases."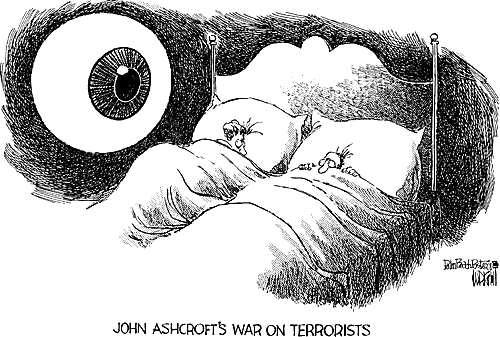 John Ashcroft's War on Terrorists ~ A large eye watches a couple in bed, who are trying to sleep.
Concluded the aide: "It really seems to be more about a political agenda to jail drug users than a serious attempt to stop terrorists."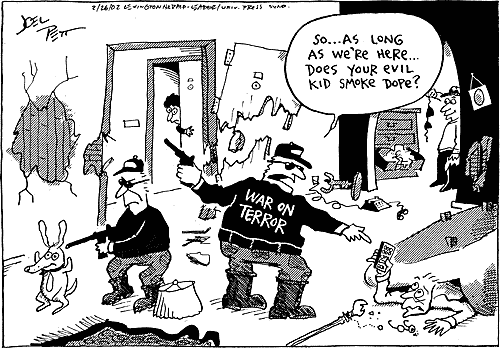 WAR ON TERROR thugs destroy a home, hold a gun on a dog, and look at women's
underwear during a raid. Not finding anything terror related, one thug says,
So...As long as we're here... Does your evil kid smoke dope?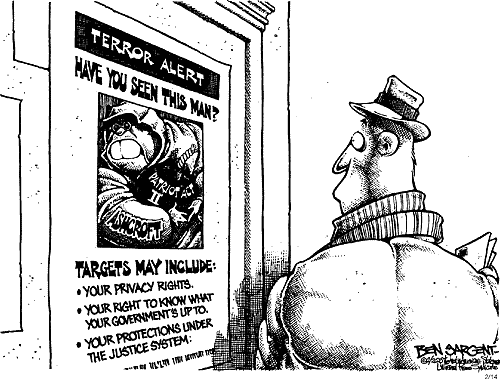 Terror Alert ~ Have You Seen This Man (Ashcroft)? Targets May Include:
* Your privacy rights * Your right to know what your government's up to
* YOUR PROTECTIONS UNDER THE JUSTICE SYSTEM:
Ashcroft's Little Secret
Ashcroft's Little Secret
[Broken Link - copy below]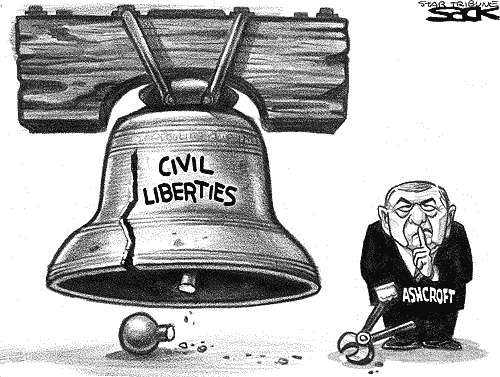 Ashcroft cuts the bell ringer off a Liberty Bell with CIVIL LIBERTIES written on it,
while shushing Americans.
Quite simply, Ashcroft's campaign and leadership PAC broke the law by giving and receiving a contribution that exceeded the federal contribution limit by at least 10 times and possibly by more than 200 times, and by failing to disclose the contribution in the first place.
ARTICLE COPY:
Alliance for Democracy v. FEC
Is Our Chief Law Enforcement Officer a Criminal?
by Lisa Danetz, August 28, 2003
As the top law enforcement officer of the federal government, the Attorney General of the United States has a moral duty to act with honesty and integrity, and to guard his reputation as a law-abiding citizen. This means the Attorney General must -- at the very minimum -- make sure the political committees connected to him follow the nation's campaign finance rules. Respect for the law demands no less.
So why is John Ashcroft stonewalling about charges that his 2000 Senate campaign broke the federal campaign finance law?
A coalition of voters and campaign finance reform groups filed a complaint in March 2001 with the Federal Election Commission (FEC), alleging that Ashcroft's leadership PAC, "Spirit of America," illegally contributed a fundraising list of 100,000 donors to his 2000 Senate campaign in Missouri. Neither the PAC nor the campaign committee reported the contribution.
Spirit of America developed the list of donors between 1997 and 1999 at a cost of more than $2 million, according to a press report. Upon receiving the list at no charge, the Ashcroft campaign allegedly rented the list out and made over $100,000.
If this is true, Ashcroft's PAC and campaign are in hot water on a number of counts. PACs are prohibited from contributing more than $10,000 to federal candidates in an election cycle, and campaigns are likewise prohibited from receiving such contributions. That limit includes the non-monetary donations, like the fundraising list. Further, all PAC contributions must be reported by both the contributing PAC itself and the recipient campaign committee.
Quite simply, Ashcroft's campaign and leadership PAC broke the law by giving and receiving a contribution that exceeded the federal contribution limit by at least 10 times and possibly by more than 200 times, and by failing to disclose the contribution in the first place.
Two and a half years later, the FEC has not resolved the matter, and its file remains secret -- but Ashcroft could ask to open the file to the public. Almost a year ago, a Washington federal judge ruled that plaintiffs could seek consent from Ashcroft's campaign and his leadership PAC to unseal the FEC file. If they agreed, the FEC could release the file.
The plaintiffs wrote letters asking for written consent to allow the documents in the FEC file to be released. They were ignored. Mr. Ashcroft's office also ignored numerous inquiries from the media. In response to a follow-up phone call two months after the letters were sent, Mr. Ashcroft's office confirmed he had received the letter, but again refused to respond.
A month ago, the same federal judge ordered the FEC to explain its delay in handling the matter. The judge's order sets the stage for the case to finally move forward.
Even when the issue is resolved, though, the vast majority of the FEC's file will remain secret unless the Ashcroft groups provide written consent for disclosure. Recognizing this harm, a coalition of campaign reform groups has once more called on the Attorney General to authorize the release of the FEC file. But -- no surprise here -- they, too, were ignored.
If Ashcroft is truly loyal to the rule of law, he will direct his campaign committee and Spirit of America to allow the FEC file to see daylight. Unless, of course, he has something to hide.
© 2003 Lisa Danetz
Lisa Danetz is a staff attorney at the National Voting Rights Institute and the lead counsel for the plaintiffs in Alliance for Democracy v. FEC, a case challenging the Federal Election Commission's failure to act on campaign finance violations committed by political committees controlled by Attorney General Ashcroft.
Is this criminal Ashcroft in Jail?
OF COURSE NOT, HE'S A POLITICIAN !
---
23 September 2004
We Interrupt This Page To Let You Know What THEY Are Doing TODAY!
House May Revive Parts of Patriot Act II
[Broken Link - Copy Below]
By JESSE J. HOLLAND
ARTICLE COPY:
WASHINGTON (AP) - House Republicans plan to revive portions of the Justice Department's ``Patriot Act II'' draft in legislation to address the Sept. 11 commission's recommendations to strengthen America intelligence capabilities, The Associated Press has learned.
In a draft of the House GOP legislation obtained by The Associated Press, many of the provisions were similar to the draft copy of the ``Domestic Security Enhancement Act of 2003'' that a nonprofit group said had leaked out of the Justice Department in January 2003.
The Justice Department said then that they had made no final decision on the legislation, and never submitted it to Congress.
But many of the anti-terrorism provisions of that draft show up in the the House discussion draft section on terrorism prevention and prosecution that part of the proposed House legislation.
Among the provisions are measures on the deportation of aliens who become members of or help terrorist groups, required pretrial detention for terrorism suspects, warrants against non-citizens even when a target can't be tied directly to a foreign power, and enhanced penalties for threats or attempts to use chemical or nuclear weapons against the United States, including attacks through the mail system.
A spokesman for House Majority Leader Tom DeLay, R-Texas, said Wednesday that House members were still working on a final version of the legislation. A Justice Department spokesman said they had not seen the House draft.
Republicans have hailed the Patriot Act as a critical tool in the post-Sept. 11 war on terrorism, while many Democrats charge it authorizes heavy-handed infringements on civil liberties.
On Monday, a group of 9/11 widows went door to door trying to get lawmakers to sign a pledge to keep Patriot Act material out of the legislation, saying the politically explosive material could doom the measure.
The House is expected to begin marking up the far-reaching bill next week.
The Senate version concentrated on creating a national intelligence director and a national counterterrorism center and plans to add other 9/11 commission recommendations when the bill reaches the floor. But the House's draft deals with many facets of the intelligence and national security structure up front.
The Sept. 11 commission contended the nation's 15 military and civilian intelligence agencies' failure to cooperate precluded an effective defense that could have prevented the 2001 terror attacks on New York City and Washington. The panel recommended creation of a national intelligence director to control and coordinate all the agencies.
In addition, the commission called for more safeguards at home, such as setting national standards for issuance of drivers' licenses and other identification, improving ``no-fly'' and other terrorist watch lists and using more biometric identifiers to screen travelers at ports and borders.
House leaders are expected to take the White House's suggestions on creating a national intelligence director who would control the nation's 15 intelligence agencies. The House plan would let the intelligence chief coordinate nonmilitary spy agencies, but would limit the director's hiring and budgetary control - making that position weaker than envisioned by the 9/11 commission and the Senate.
The House draft also addresses the other recommendations by instituting tighter controls on birth certificates and creating an electronic birth and death registration system, tightening up driver license requirements and requiring states to link their license databases for get federal grants.
The draft obtained by the AP also shows House Republicans want increased border security and customs agents and crackdowns on illegal immigration, including fines of up to $10,000 and possible prison time for illegal immigrants, and penalties for states who don't allow their local law enforcement agents to help with immigration enforcement.
The Bush Administration Has Been Less Than Honest With American People ... Take Ashcroft for Example:
Library responds to Ashcroft
[Broken link: Copy Below]
Ashcroft Mocks Librarians and Others Who Oppose Parts of Counterterrorism Law
By ERIC LICHTBLAU
Published: September 16, 2003
Attorney General John Ashcroft today accused the country's biggest library association and other critics of fueling ''baseless hysteria'' about the government's ability to pry into the public's reading habits.
In an unusually pointed attack as part of his latest speech in defense of the Bush administration's counterterrorism initiatives, Mr. Ashcroft mocked and condemned the American Library Association and other Justice Department critics for believing that the F.B.I. wants to know ''how far you have gotten on the latest Tom Clancy novel.''
The association, which has argued for months that the government's new antiterrorism powers risk encroaching on the privacy of library users, took some satisfaction from the broadside.
'If he's coming after us so specifically, we must be having an impact,'' said Emily Sheketoff, executive director of the library association's Washington office.
Mark Corallo, a spokesman for the department, said the speech was intended not as an attack on librarians, but on groups like the American Civil Liberties Union and politicians who he said had persuaded librarians to mistrust the government.
The American Librarian Association ''has been somewhat duped by those who are ideologically opposed to the Patriot Act,'' Mr. Corallo said.
Mr. Ashcroft's remarks, he said, ''should be seen as a jab at those who would mislead librarians and the general public into believing the absurd, that the F.B.I. is running around monitoring libraries instead of going after terrorists.''
Mr. Ashcroft's speech was his 17th in the last month in defense of the sweeping counterterrorism act passed after the Sept. 11 attacks and under increasing criticism for those who contend that it gives the government too much power.
But in departing from his usual remarks, Mr. Ashcroft dwelled today much more expansively on the government's powers under the legislation to demand access to library records in searching for terrorists.
That issue has helped galvanize opposition to the act from libraries nationwide and from some 160 communities that have protested the law as too far-reaching.
It is not known how many times federal agents have actually used the law to gain access to library records because that information is classified. Even the association said it did not know because libraries served with demands for such records are bound by a gag order.
Mr. Ashcroft said critics had tried to persuade the public that the F.B.I. was monitoring libraries to ''ask every person exiting the library, 'Why were you at the library? What were you reading? Did you see anything suspicious?' ''
The Justice Department, Mr. Ashcroft said, ''has no interest in your reading habits.''
''Tracking reading habits would betray our high regard for the First Amendment,'' he said. ''And even if someone in government wanted to do so, it would represent an impossible workload and a waste of law enforcement resources.''
FBI checks out library records of terrorist suspects
University of Illinois conducted a survey of 1,020 public libraries in January and February and found that 85 libraries had been asked by federal or local law enforcement officers for information about patrons related to Sept. 11.
9 Reasons Wired Readers Should Wear Tinfoil Hats
By David Kravets, November 24, 2011, Article Source

The FBI's Digital Collection System connects FBI offices and telecom providers around the
country to coordinate collection of phone taps for investigations of all sorts.
There's plenty of reason to be concerned
Big Brother is watching.
We're paranoid not because we have grandiose notions of our self-importance, but because the facts speak for themselves.
Here's our short list of nine reasons that Wired readers ought to wear tinfoil hats, or at least, fight for their rights and consider ways to protect themselves with encryption and defensive digital technologies.
We know the list is incomplete, so if you have better reasons that we list here, put them in the comments and we'll make a list based off them.
Until then, remember: Don't suspect a friend; report him.
Warrantless Wiretapping
The government refuses to acknowledge whether the National Security Agency is secretly siphoning the nation's electronic communications to the National Security Agency without warrants, as the Electronic Frontier Foundation alleges. The lawsuit was based on evidence provided by a former AT&T technician Mark Klein that showed that AT&T had installed a secret spying room in an internet hub in San Francisco. The spying got so bad that Attorney General Ashcroft threatened to resign over it.
When a federal judge said a lawsuit on that issue could go forward, Congress passed legislation stopping the case in its tracks. Two American lawyers for an Islamic charity did, however, prevail in their suit that they were wiretapped without warrants, but the Administration is appealing. Much of the program was legalized in 2008 by the FISA Amendments Act.
The FBI has also built a nationwide computer system called the Digital Collection System, connected by fiber optic cables, to collect and analyze wiretaps of all types, including ones used in ultra-secret terrorism investigations.
Warrantless GPS Tracking
The Obama administration claims Americans have no right to privacy in their public movements. The issue surfaced this month in a landmark case before the U.S. Supreme Court to determine if law enforcement agents should be required to obtain a probable-cause warrant in order to place a GPS tracking device on a citizen's car. The government admitted to the Supreme Court that it thinks it would have the power to track the justices' cars without a warrant.
The invasive technology allows police, the FBI, the Drug Enforcement Administration and other agencies to engage in covert round-the-clock surveillance over an extended period of time, collecting vast amounts of information about anyone who drives the vehicle that is being tracked. The Justice Department has said that law enforcement agents employ GPS as a crime-fighting tool with "great frequency," and GPS retailers have told Wired that they've sold thousands of the devices to the feds.
Tracking Devices in Your Pocket
That mobile phone in your pocket chronicles almost everything. Once-secret software developed by a private company pretty much chronicles all you do on your smartphone and sends it to the carriers. The carriers themselves keep a wealth of information, such as text messages, call-location data, and PINs -- though none of them disclose to their customers what data they store or how long they keep the data.
Law enforcement can get at much of that historical data -- and often get real-time tracking information without proving probable cause to a judge.
Fake Cell Phone Towers
You make a call on your cellphone thinking the only thing standing between you and the recipient of your call is your carrier's cellphone tower. In fact, that tower your phone is connecting to just might be a boobytrap set up by law enforcement to ensnare your phone signals and maybe even the content of your calls.
So-called stingrays are one of the new high-tech tools that authorities are using to track and identify you. The devices, about the size of a suitcase, spoof a legitimate cellphone tower in order to trick nearby cellphones and other wireless communication devices into connecting to the tower, as they would to a real cellphone tower.
The government maintains that the stingrays don't violate Fourth Amendment rights, since Americans don't have a legitimate expectation of privacy for data sent from their mobile phones and other wireless devices to a cell tower. While the technology sounds ultra-new, the feds have had this in their arsenal for at least 15 years, and used a stingray to bust the notorious hacker Kevin Mitnick in 1995.
The Border Exception
The Fourth Amendment doesn't exist along the U.S. border. You know that if you're a close supporter of WikiLeaks or a friend of alleged WikiLeaks leaker Bradley Manning. You're no doubt very familiar with the U.S. government's laptop border search policy, which allows Customs and Border Protection agents to seize and search a laptop belonging to anyone crossing a border into the U.S.
Agents can search through files on a traveler's laptop, phone or other mobile device, read e-mail or view digital snapshots to uncover incriminating evidence, and they don't need any reason to do so.
The government argues, and the 9th U.S. Circuit Court agrees that searching through a person's laptop for copyright violations is no different than looking through their suitcase for cocaine -- and thus fits squarely with what is known as the 'border exception' to the Fourth Amendment. That means a border agent doesn't need reasonable suspicion, probable cause or even a hunch to open your laptop, seize it and make copies of your data.
At least three supporters of WikiLeaks, including security researcher Jacob Appelbaum. have been subject to the policy and had devices seized and searched as they re-entered the U.S. from foreign trips. U.S. Customs and Border Patrol seem to particularly like searching Appeblaum's devices and questioning him, despite the fact that Wikileaks has never been charged with a crime in the U.S..
The "6 Months and It's the Government's" Rule
If you're already not wanting a dose of Prozac, consider that the law allows the government to obtain Americans' e-mails, without a warrant, if it's stored on some other company's servers for more than six months. The Electronic Communications Privacy Act, adopted in 1986, turned 25 this year. When written, the law assumed e-mails left on a server for that long were abandoned.
In the age of Gmail, that's simply ridiculous. A proposal to demand a court warrant for any and all e-mail never got a Senate hearing and was opposed by the Obama administration.
The Patriot Act
No paranoia list would be complete without including the Patriot Act, the now 10-year-old law adopted in the wake of September 11. The act, which has remained largely the same since former president George W. Bush signed the legislation six weeks after 9/11, gives the government, among other things, the power to acquire phone, banking and other records via the power of a so-called "national security letter," which does not require a court warrant.
National security letters, perhaps the most invasive facet of the law, are written demands from the FBI that compel internet service providers, financial institutions and others to hand over confidential records about their customers, such as subscriber information, phone numbers and e-mail addresses, bank records and arguably websites you have visited.
The FBI need merely assert, in writing, that the information is "relevant" to an ongoing terrorism or national security investigation. Nearly everyone who gets a national security letter is prohibited from even disclosing that they've received one. More than 200,000 letters have been issued by the FBI, despite a series of stinging reports from the Justice Department's internal watchdog, who found FBI agents weren't just routinely sloppy; they also violated the law.
Moreover, a decade after Bush's signature, information is sketchy about how the law is being used in practice. For instance, Sen. Ron Wyden (D-Oregon) claims the government applies a far broader, and classified, legal interpretation of the Patriot Act's power to let the government seize most anything it deems relevant to an investigation (Section 215).
"We're getting to a gap between what the public thinks the law says and what the American government secretly thinks the law says," the Senate Intelligence Committee member said in a recent interview with Wired. "When you've got that kind of a gap, you're going to have a problem on your hands."
Government Malware
It's little known, but governments have their own malware/spyware that it deploys against suspected lawbreakers. The FBI's version, the last time we checked, was called CIPAV. Once an FBI agent convinced a target to install it (by clicking an e-mail attachment or link on the web), the spyware reports back everything that computer does online.
German states recently came under fire for misusing a similar program that reportedly could turn on a computer's camera and take screenshots. And a recent Wall Street Journal story catalogs a surveillance software company which trumpeted its ability to infect users via a fake iTunes update. The company sells its wares to governments around the world.
Known Unknowns
Former Secretary of Defense Donald Rumsfeld took an unfair amount of abuse for his deployment of the phrase "known unknowns." And it's these known unknowns that might be the most disturbing part of the list. For instance, does the government think the Patriot Act allows it to force Google to turn over information about anyone who has searched for certain keywords using orders that come with a gag order? Is the NSA sucking up everything we say on our phones and that we do online, under the theory it pushed in a court case that it's not a search until a human actually looks at the data? How often do police investigating a crime ask wireless providers to give them a list of all the people whose phones were in use in the area when they think a crime was committed? What kind of sweeping surveillance orders have been issued under the 1998 law that Congress passed to legalize much of the warrantless wiretapping of Americans? And finally, how long is the government storing all this data, and how can we be sure that our future governments won't start using this data to target Americans based on activities protected by the First Amendment?
And no -- a tinfoil hat won't help you at all.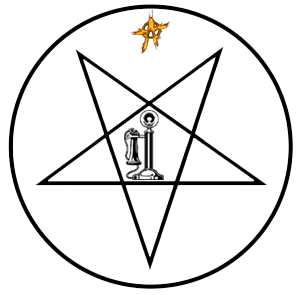 Closing Argument
Drop Dead ~ Telecom Crimes ~ Denialist ~ He Said It ~ Rethinking 9/11 ~ Are you better off?
Alan Shore: When the weapons of mass destruction thing turned out to be not true, I expected the American people to rise up. Ha! They didn't.
Then, when the Abu Ghraib torture thing surfaced and it was revealed that our government participated in rendition, a practice where we kidnap people and turn them over to regimes who specialize in torture, I was sure then the American people would be heard from. We stood mute.
Then came the news that we jailed thousands of so-called terrorists suspects, locked them up without the right to a trial or even the right to confront their accusers. Certainly, we would never stand for that. We did.
And now, it's been discovered the executive branch has been conducting massive, illegal, domestic surveillance on its own citizens. You and me. And I at least consoled myself that finally, finally the American people will have had enough. Evidentially, we haven't.
In fact, if the people of this country have spoken, the message is we're okay with it all. Torture, warrantless search and seizure, illegal wiretapping's, prison without a fair trial - or any trial, war on false pretenses. We, as a citizenry, are apparently not offended.
There are no demonstrations on college campuses. In fact, there's no clear indication that young people seem to notice.
Well, Melissa Hughes noticed. Now, you might think, instead of withholding her taxes, she could have protested the old fashioned way. Made a placard and demonstrated at a Presidential or Vice-Presidential appearance, but we've lost the right to that as well. The Secret Service can now declare free speech zones to contain, control and, in effect, criminalize protest.
Stop for a second and try to fathom that.
At a presidential rally, parade or appearance, if you have on a supportive t-shirt, you can be there. If you are wearing or carrying something in protest, you can be removed.
This, in the United States of America. This in the United States of America. Is Melissa Hughes the only one embarrassed?
*Alan sits down abruptly in the witness chair next to the judge*
Judge Robert Sanders: Mr. Shore. That's a chair for witnesses only.
Alan: Really long speeches make me so tired sometimes.
Judge Robert Sanders: Please get out of the chair.
Alan: Actually, I'm sick and tired.
Judge Robert Sanders: Get out of the chair!
Alan: And what I'm most sick and tired of is how every time somebody disagrees with how the government is running things, he or she is labeled un American.
U.S. Attorney Jonathan Shapiro: Evidentially, it's speech time.
Alan: And speech in this country is free, you hack! Free for me, free for you. Free for Melissa Hughes to stand up to her government and say "Stick it"!
U.S. Attorney Jonathan Shapiro: Objection!
Alan: I object to government abusing its power to squash the constitutional freedoms of its citizenry. And, God forbid, anybody challenge it. They're smeared as being a heretic. Melissa Hughes is an American. Melissa Hughes is an American. Melissa Hughes is an American!
Judge Robert Sanders: Mr. Shore. Unless you have anything new and fresh to say, please sit down. You've breached the decorum of my courtroom with all this hooting.
Alan: Last night, I went to bed with a book. Not as much fun as a 29 year old, but the book contained a speech by Adlai Stevenson. The year was 1952. He said, "The tragedy of our day is the climate of fear in which we live and fear breeds repression. Too often, sinister threats to the Bill of Rights, to freedom of the mind are concealed under the patriotic cloak of anti-Communism."
Today, it's the cloak of anti-terrorism. Stevenson also remarked, "It's far easier to fight for principles than to live up to them."
I know we are all afraid, but the Bill of Rights - we have to live up to that. We simply must. That's all Melissa Hughes was trying to say. She was speaking for you. I would ask you now to go back to that room and speak for her. ~ Boston Legal ~ Stick It ~ Season 2 ~ Episode 19 ~ [Video at link] ~ Written by David E. Kelley & Janet Leahy ~ Directed by Adam Arkin.
One Can Lead A Horse To Water, But ....
Until there is a solution for this, where one solution has been provided, Nobody will bring Peace to Our Times, feed the hungry, care for the sick, and bake apple pie better than Mom. (otoh) If None of the Above was on voter ballots, it would be a huge step towards recovering U.S. political control, and Nobody gets it.

American Dream ~ George Carlin/L.I.L.T ~ http://vimeo.com/72719973


---