Freedom of expression and freedom of speech aren't really important unless they're heard...It's hard for me to stay silent when I keep hearing that peace is only attainable through war. And there's nothing more scary than watching ignorance in action. So I dedicated this Emmy to all the people who feel compelled to speak out and not afraid to speak to power and won't shut up and refuse to be silenced. - Tommy Smothers
The Life and Times of the Red Dog Saloon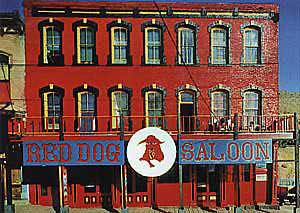 The Life and Times of the Red Dog Saloon will be screened Friday, April 2, at the Museum of Performance & Design, 401 Van Ness Avenue, San Francisco, CA 94102 (415) 255-4800, Doors open at 6 pm and show time is 7 pm, as part of the current exhibition Somethin's Happening Here: Bay Area Rock 'n' Roll 1963-1973.
The screening will include a conversation with the film's director, Mary Works and musicians Peter Albin (Big Brother and the Holding Company), Stephen Ehret (The Wildflower) and Mike Wilhelm (The Charlatans).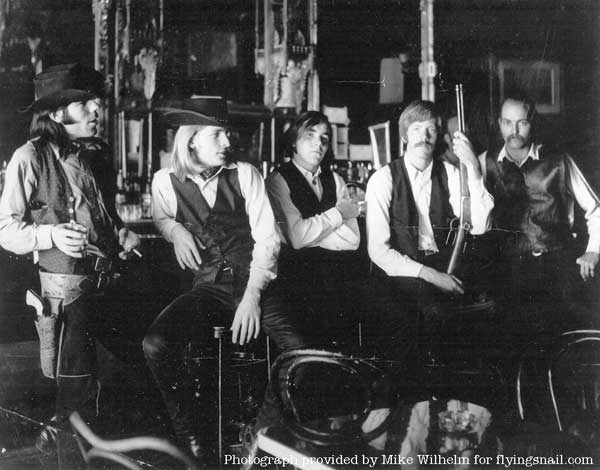 Mike Wilhelm, George Hunter, Richie Olsen, Dan Hicks, Mike Ferguson
The Charlatans at the Red Dog Saloon, Virginia City, Nevada
If the psychedelic sixties were born in the dancehalls of San Francisco, then they were conceived in a saloon in Virginia City, Nevada. The Life and Times of the Red Dog Saloon is the story of the Red Dog Saloon and the unique extended family that grew out of those wild times. It is told with intimate interviews, woven together with music, poster art, photographs, and rare archival footage. The Red Dog was the first of the dancehall venues, a place where the Wild West was enacted on a daily basis and a new kind of rock 'n' roll was being played.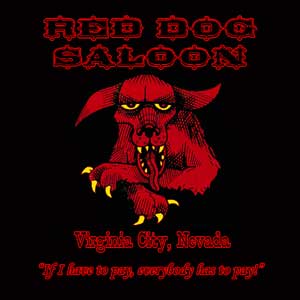 The film focuses on the music, the art and the lifestyle that made the culture of the sixties possible. This documentary presents a missing piece of Nevada history and a uniquely American story. Principally photographed in Nevada at the 25-year reunion of the Red Dog Saloon, the film features footage of Big Brother and the Holding Company, The Great Society, The Wildflower, The Charlatans and other seminal bands of the era. The filmmaker is the daughter of one of the Saloon's founders and was the only person entrusted with access to their lives and attics.

George Hunter, Dan Hicks, Mike Wilhelm, Mike Ferguson, Richie Olsen
The Charlatans, 1964, at the Golden Gate Park Conservatory
Visit Mike Wilhelm's page - Special Thanks to: Marliese, Karen Lyberger, and Curtis
Iceland Vocanic Activity
Eyjafjallajökull frá Þórólfsfelli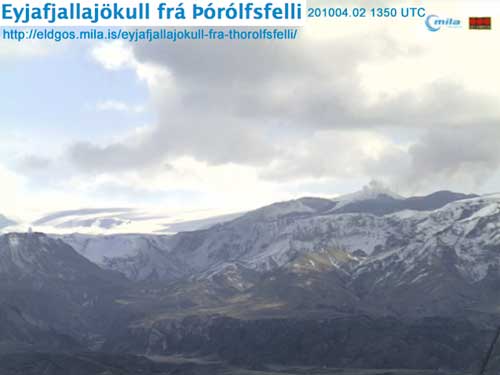 http://eldgos.mila.is/eyjafjallajokull-fra-thorolfsfelli/
Iceland - Útsýni frá Fimmvörðuhálsi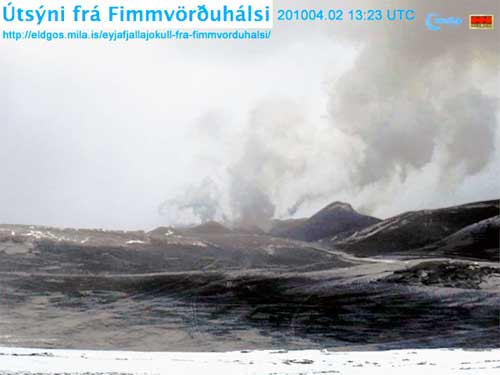 http://eldgos.mila.is/eyjafjallajokull-fra-fimmvorduhalsi/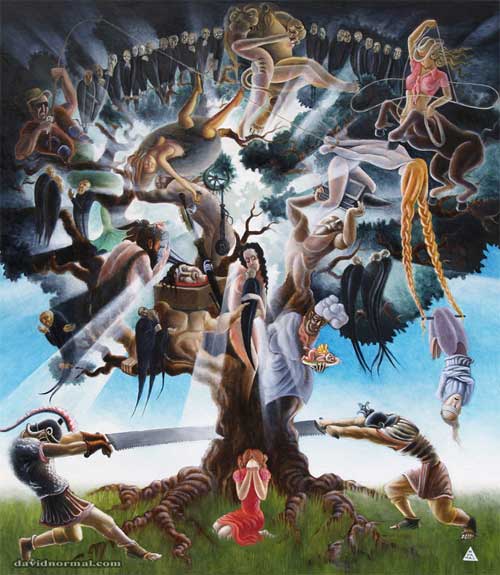 The Human Tree
The image of this tree, filled with strange figures, being sawed down has become emblematic to me of the experience of quitting painting. I stopped painting in 1994, and resumed in 2009. Ironically, the completion of this painting has come to represent, not the cessation of artistic activity, but the renewal. It is as though it were a film played in reverse, and the Roman soldiers by working their saw are not felling a tree, but causing a fallen tree to be rejoined, stand up, and grow once again.
"The Human Tree", Oil on Panel, 64.1 x 55.8 cm (25.2″ x 22″), 2010 - To see more details from this painting you can visit my blog. - Prints of this painting (and others) can be ordered here - Portfolio - Best wishes, David Normal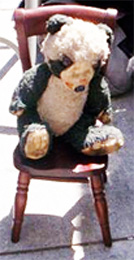 Rocky the Bear Stands Against Sit/Lie in San Francisco
The March Archive has an announcement for an event titled: San Francisco Stands Against Sit/Lie. Click to view photo album of that 'fun' filled day.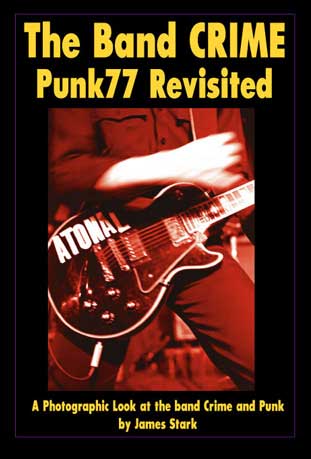 The Band Crime - Punk77 Revisited by James Stark
I did a radio interview about the new book on Pirate Cat radio Tuesday, James Stark - Audio link:
http://neatneatnoise.blogspot.com/
After months of waiting "The Band Crime - Punk77 Revisited" has been printed and is available for sale. The printers did a great job of printing the photographs with excellent black and white reproduction. "The Band Crime" places an emphasis on the photographs with a minimum of text. For view some pages and more information go to:
http://www.jamesstark.com/crime/crime-book.htm
Photographs "The Band Crime" were taken from 1976 to the 1979 with the majority taken in 1977. For the first couple of years I was with the band a lot taking photographs, some for publicity, some for myself and some to document what was going on around me. When we started no one had any idea where things would end. After the first show things just exploded, one day you're hanging out in a South of Market rehearsal space and the next you are part of a assault on the Rock 'n' Roll music establishment with a wall of noise.
It is published by Last Gasp, http://www.lastgasp.com/d/34598/. Be a part of history & tell your friends and the world.
Crime - San Quentin Prison - July 4, 1984

sound by: ~@~

201004.03 16:00 UTC
"I'm Lookin' For My Friends" - Sid
Question:
Wandering down the short path of life one encounters another being traveling a similar path and there is familiarity. Why?

Click to continue
USGS: Northern CA temblor unrelated to Baja quake
SAN FRANCISCO — A geophysicist with the U.S. Geological Survey says an earthquake recorded Sunday afternoon in Northern California was not related to a quake that hit south of the U.S.-Mexico border earlier in the day.
The USGS says the Northern California quake, with a magnitude of 4.0, hit about 25 miles north of Santa Rosa at 3:49 p.m.
Geophysicist Rafael Abreu described the Northern California quake as "typical seismic behavior" for the area.
A dispatcher with the Sonoma County Sheriff's Department, in Santa Rosa, says he didn't feel the temblor and the department hasn't received any calls for service related to the quake.
Santa Rosa is about 50 miles north of San Francisco.
THIS IS A BREAKING NEWS UPDATE. Check back soon for further information. AP's earlier story is below.
SAN FRANCISCO (AP) — An earthquake with a preliminary magnitude of 4.0 has been recorded in Northern California.
The U.S. Geological Survey says the quake hit at 3:49 p.m. Sunday about 25 miles north of Santa Rosa. Santa Rosa is about 50 miles north of San Francisco.
The area frequently experiences small earthquakes, and there was no indication the earthquake was an aftershock from the larger quake that struck in Baja California, Mexico, on Sunday afternoon.
A dispatcher with the Sonoma County Sheriff's Department in Santa Rosa said he didn't feel the quake and that the department had not received any calls for service after the quake.
ARPSN-1 Cobb [Mountain] CA Seismic Heliplots
20100404 22:48:09 UTC - 15:48:09 PDT

ARPSN-1 Cobb [Mountain] CA 95426 Raw Data 20100404 22:48:09 UTC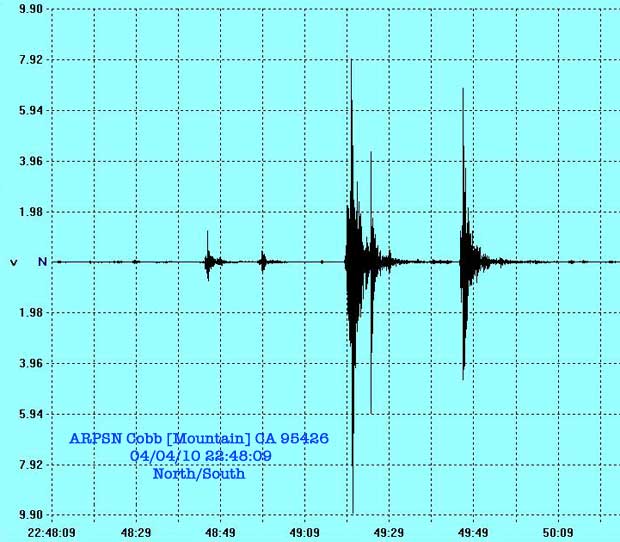 ARPSN-1 Cobb [Mountain] CA 95426 North/South 20100404 22:48:09 UTC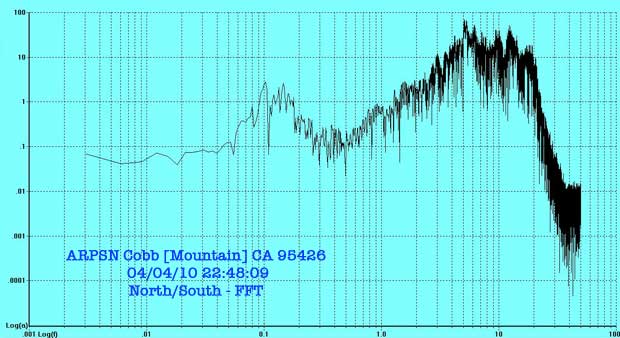 ARPSN-1 Cobb [Mountain] CA 95426 North/South FFT 20100404 22:48:09 UTC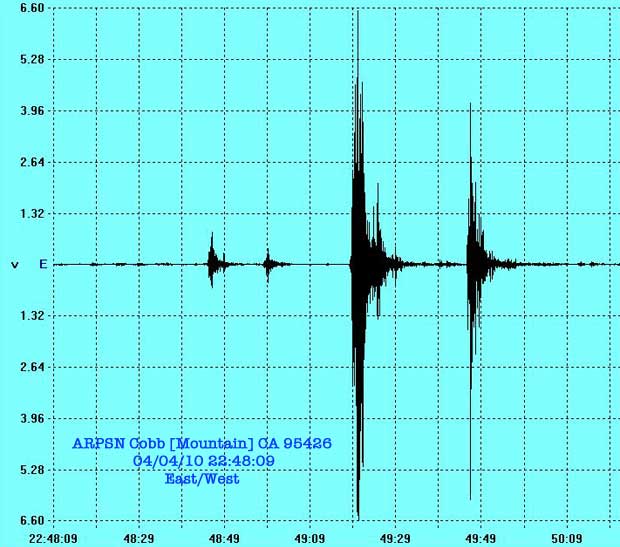 ARPSN-1 Cobb [Mountain] CA 95426 East/West 20100404 22:48:09 UTC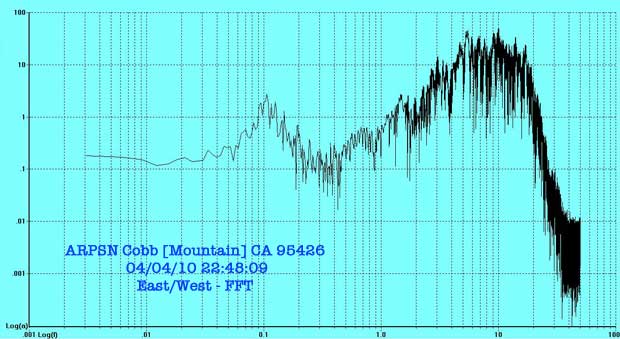 ARPSN-1 Cobb [Mountain] CA 95426 East/West FFT 20100404 22:48:09 UTC
ARPSN sensors are connected to (individual) Garmin GPS. Logs show 9 satellites "(L)ocked" during the above L15B recordings and the (imo) 'more interesting' VM-II sensor recordings are not available on-line, at this time.
USGS says NorCal quake report wrong after review
THE GEYSERS, Calif. — Seismologists have canceled a report of a magnitude-4.0 earthquake in Northern California after a review of the data.
Seismologist Susan Potter says a preliminary report from the U.S. Geological survey showed that a quake struck about 25 miles north of Santa Rosa in the hour after a much larger quake shook Mexico and Southern California, but the report was deleted hours later.
It was not immediately clear why the false report was generated, but large temblors can often produce faulty readings in distant areas.
Potter says a swarm [Something I call: floating swarm.] of small earthquakes has shaken the area, but none have been larger than magnitude-2.3. - Copyright © 2010 The Associated Press. All rights reserved.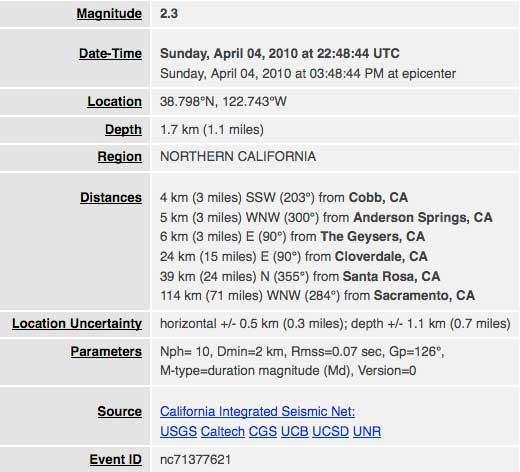 USGS - Cobb, CA 2010/04/04 22:48:44 UTC - 201004.10 Downgraded to 2.2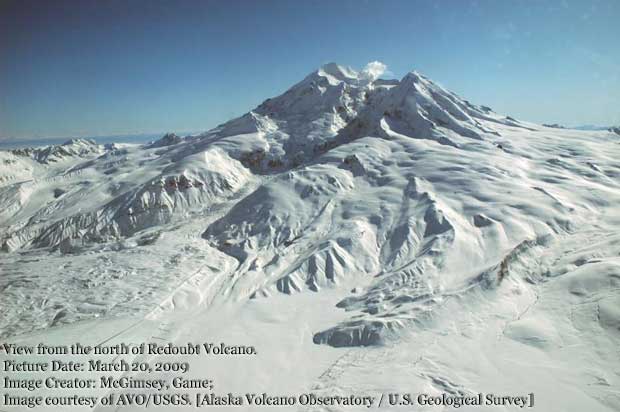 Redoubt Volcano Latest Observations
Alaska Volcano Observatory - Ashfall advisories
Redoubt Activity - Color Code YELLOW : Alert Level ADVISORY
Redoubt Volcano WebCams: Redoubt-Hut - Redoubt-CI - Redoubt-DFR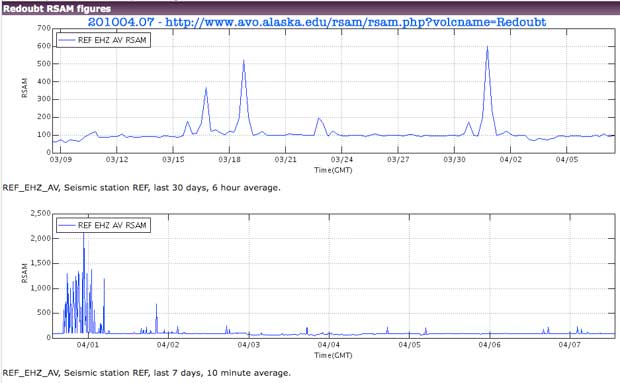 http://www.avo.alaska.edu/rsam/rsam.php?volcname=Redoubt
Visit: Erik Klemetti's Eruptions Blog for Excellent Details
Local 2009 Report on Redoubt Volcano *** Local 2010 Report on Eyjafjallajökull Volcano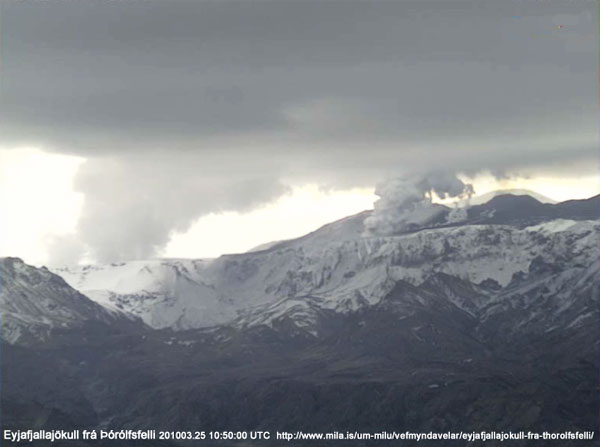 Eyjafjallajökull frá Þórólfsfelli, Iceland
Visit: Erik Klemetti's Eruptions Blog for Excellent Details
Iceland Volcanic Activity - 201004.07 13:45 UTC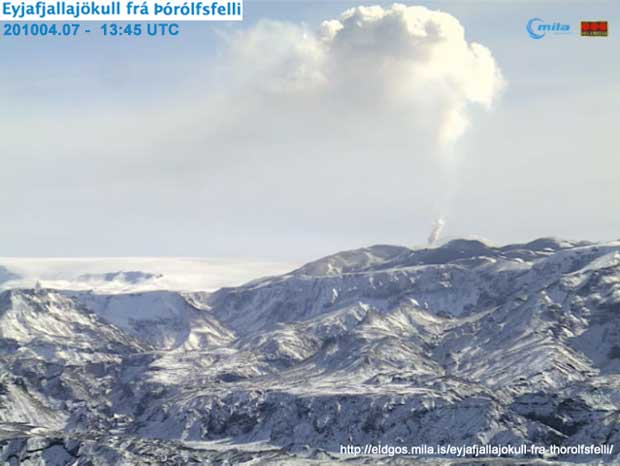 http://eldgos.mila.is/eyjafjallajokull-fra-thorolfsfelli/


Mike Wilhelm & his Bottle Rock Blues & Rhythm Band
Konocti Vista Casino - Friday, April 9, 2010, 8pm
2755 Mission Rancheria Road, Lakeport, 95453-9612
Konocti Vista Casino Bar from 8 pm til midnight. - free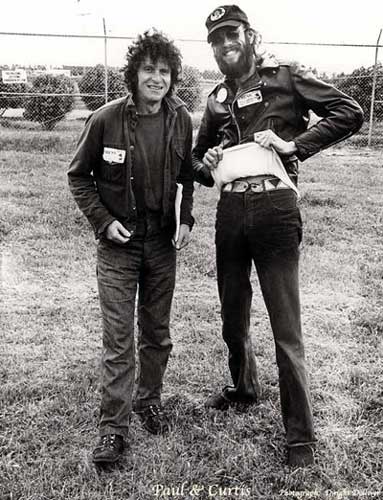 Photograph by Dwight Dolliver
Happy 78th Birthday Paul - April 9
Much Love from Flying Snail and Friends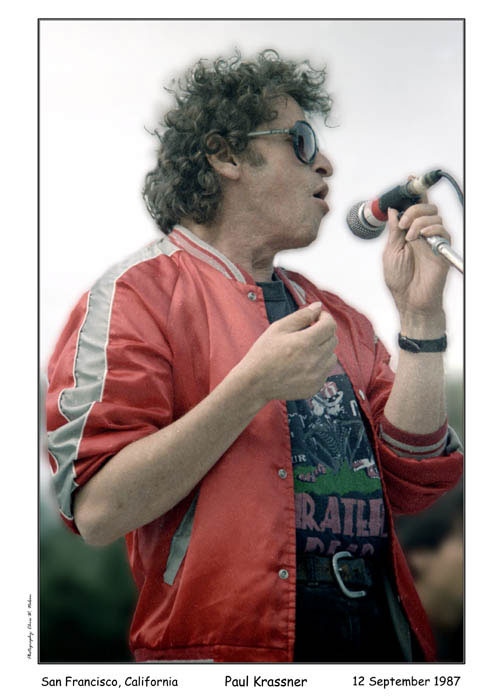 Photograph by Chris Nelson
A New Excerpt from Paul Krassner
First Los Angeles Times columnist Gregory Rodriguez wrote, "The excesses of the '60s gave rise to a conservative counterrevolution. Abbie Hoffman begat Ronald Reagan..." Then New York Times columnist Frank Rich wrote that local politician Ned Lamont wasn't "easily slimed as a reincarnation of Abbie Hoffman or an ally of Osama bin Laden." Strange bedfellows? The difference between them is that Bin Laden wanted an airplane to crash into the Pentagon and Hoffman merely wanted to levitate it.
Now Abbie has been coupled with another cartoon character, Glenn Beck, media monument to manic-depression, reeking with mean-spirited disinformation, and author of Common Sense. In Salon.com, Michael Lind wrote, "The tea partiers are the hippies of our time. In Glenn Beck, the countercultural right has found its own Abbie Hoffman." Expanding on that theme, New York Times columnist David Brooks wrote: "Differences between the New Left and the Tea Partiers...One went to Woodstock, the other is more likely to go to Wal-Mart."
Fortunately, to the rescue of truth comes Alexander Zaitchik, former editor of the New York Press, and author of Common Nonsense: Glenn Beck and the Triumph of Ignorance. "The Tea Party that worships Sarah Palin and screams for Barack Obama's birth certificate doesn't merit comparison to positive social movements of the 1960s," he writes in Alternet. "The Tea Partiers, it is becoming fashionable to argue, are the heirs not just of the John Birch Society and the young Barry Goldwater, but also of Students for a Democratic Society and the young Abbie Hoffman....
"The differences between Woodstock and Wal-Mart are not exactly minor. There is a vast and defining gulf separating the acts of screwing in the mud on acid, and bargain shopping for a new plasma screen on which to watch Fox News. Brooks is clearly proud of his term 'Wal-Mart Hippies' but the phrase is oxymoronic. There is little meaningful commonality between a youth movement based on the quest for authenticity, beauty and release, and a largely geriatric one based on anger, ignorance and fear."
Zaitchik asked me for a comment to include in his article. I wrote: "Whereas the Yippies saw through the propaganda machine, the Teabaggers are soaked in it. We were active in a time of abundance, they are active in a time of economic catastrophe; so we fought villains and they fight scapegoats. Abbie Hoffman was a seeker of justice; Glenn Beck rationalizes injustice. Abbie was hysterically funny; he made people laugh and think simultaneously. Beck promulgates hysteria; he exploits the fear that he helps create. To link Hoffman and Beck as part of the same tradition is '60s-bashing at worst, and sloppy journalism at best."
I neglected to mention that Beck is a raving, unconfined nut (exactly what the FBI once called me). His function on Fox is to make Bill O'Reilly look sane. "It takes the heat off me," O'Reilly admits. "I tell him, 'Be as crazy as you want.'" But, to be fair and balanced, Abbie and I each experienced our own peculiar paranoid freakout.
In my psychotic episode, I convinced myself that the man sitting in front of me on a bus was a CIA operative. I had to let him know I was onto his game. I took out my ballpoint pen, clicking the button again and again as if it were a telegraph key and repeatedly saying, "Paul Krassner calling Abbie Hoffman," just loud enough for the CIA guy to hear. Meanwhile, Abbie was on the lam, with a false identity, but he screamed "I'm Abbie Hoffman!" over and over In a Las Vegas hotel room, where that sort of thing wasn't unusual. In turn, I told Abbie about the bus incident. "Oh, yeah," he said. "I got your call, only it was collect, so I couldn't accept it."
The full story behind Krassner losing his mind is included in the expanded edition of his autobiography, Confessions of a Raving, Unconfined Nut: Misadventures in the Counterculture, available at paulkrassner.com. - Click for Local Paul Krassner Page
Remembering Kurt Vonnegut
by Paul Krassner
Months before Timothy Leary died, he told me, "I watch words now. It's an obsession. I learned it from Marshall McLuhan, of course. A terrible vice. Had it for years, but not actually telling people about it. I watch the words that people use. The medium is the message, you recall. The brain creates the realities she wants. When we see the prisms of these words that come through, we can understand."
Hysteria over the word "Communist" was the forerunner of current hysteria over the word "terrorist." The attorney general of Arizona rejected the Communist Party's request for a place on the ballot because state law "prohibits official representation" for the Communists and, in addition, "The subversive nature of your organization is even more clearly designated by the fact that you do not even include your zip code." Alvin Dark, manager of the Giants, announced that "Any pitcher who throws at a batter and deliberately tries to hit him is a Communist." And singer Pat Boone declared at the Greater New York Anti-Communism Rally in Madison Square Garden: "I would rather see my four daughters shot before my eyes than have them grow up in a Communist United States. I would rather see those kids blown into Heaven than taught into Hell by the Communists."
In a foreword to one of my books, Kurt Vonnegut wrote: "Paul Krassner in 1963 created a miracle of compressed intelligence nearly as admirable for potent simplicity, in my opinion, as Einstein's e=mc2. With the Vietnam War going on, and its critics discounted and scorned by the government and the mass media, Krassner put on sale a red, white and blue poster that said FUCK COMMUNISM.
"At the beginning of the 1960s, FUCK was believed to be so full of bad magic as to be unprintable. In the most humanely influential American novel of this half century, The Catcher in the Rye, Holden Caulfield, it will be remembered, was shocked to see that word on a subway-station wall. He wondered what seeing it might do to the mind of a little kid. COMMUNISM was to millions the name of the most loathsome evil imaginable. To call an American a communist was like calling somebody a Jew in Nazi Germany. By having FUCK and COMMUNISM fight it out in a single sentence, Krassner wasn't merely being funny as heck. He was demonstrating how preposterous it was for so many people to be responding to both words with such cockamamie Pavlovian fear and alarm."
On the evening of March 14, at about 8:15, Vonnegut was sitting on the stoop in front of his house--smoking a cigarette, of course. When he stood up, he lost his balance and fell. Although he was supposedly brain dead at the precise moment his head hit the steps, he was kept on life support for the next few weeks. When it became clear that he could never be revived, the decision was made to remove life support, as he had requested.
The news of his actual death on April 11 was, in the words of a close friend, "merely a postscript--a relief, actually--which is not to say it was so easy to process. I'd equate it to losing a family member, albeit one who had a long, incredible life--one who changed the lives and world-view of countless people who had never met him, and who remained entirely lucid and kept his miraculous sense of humor to the very end."
Vonnegut loved to make people laugh at his own despair over the way the American dream has morphed into the American nightmare. The obituaries all seemed to stress how depressed he was, never failing to mention his failed attempt at committing suicide. So naturally I was surprised when such a pessimist told me that my satire made him feel hopeful.
"You made supposedly serious matters seem ridiculous," he explained, "and this inspired many of your readers to decide for themselves what was ridiculous and what was not. Knowing that people were doing that, better late than never, made me optimistic."
The first time I met Vonnegut was at a memorial for Abbie Hoffman, whom he referred to as "the holy anti-war clown." The last time I saw him was at a panel on humor and satire at the Ethical Culture Society of New York. The panelists were Vonnegut, the late columnist Art Buchwald, stand-up comic Barry Crimmins, and myself. Of course, Vonnegut talked about the hellishness of living on earth. So, later that evening, my wife Nancy handed him a parody Monopoly card showing the rich-guy logo jumping away from flames, with this caption: "Get Out of Hell Free." A year-and-a-half later, he finally accomplished that goal.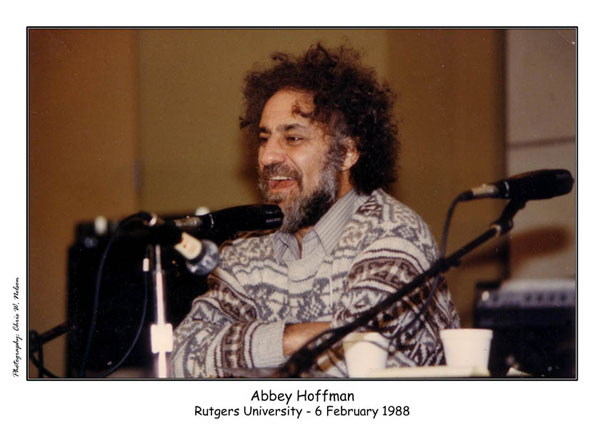 Photograph by Chris Nelson
FCC Evacuated for Bomb Threat
UPDATED: 04.08.2010 by Deborah D. McAdams, Radio World
WASHINGTON: FCC headquarters was evacuated this morning [Thursday April 8, 2010], due to a bomb threat, a source within the commission confirmed. Speculation regarding the threat emerged as events were canceled. Notification went out around 11:20 a.m. Eastern that a round table on consolidated licensing was postponed.
Further speculation sped through various Twitter feeds, though nothing initially appeared on the FCC's Web site nor its own Twitter page. The source within the Portals said some meetings were held on the grass before staff was dispatched.
"Several buildings cascaded into the threat warning," the source said.
Details about the nature and timing of the threat were unavailable, though the source said staff was out for about two hours--the "longest ever," and that bomb-sniffing dogs were dispatched. E-mail releases from the commission resumed mid-afternoon.
Bomb threats in Washington, D.C. are something of a regular occurrence. WTOP-FM reports that the Pentagon City Metro station was shut down briefly April 3 for a bomb threat. Another was reported at World Bank headquarters in January.
201004.10 - Magnitude - 3.1 The Geysers


Magnitude - 3.1 The Geysers - April 10, 2010 - 5:26:26 AM PDT - USGS


ARPSN-1 Cobb [Mountain] CA 95426 - 201004.10 12:24:58 UTC - Raw Data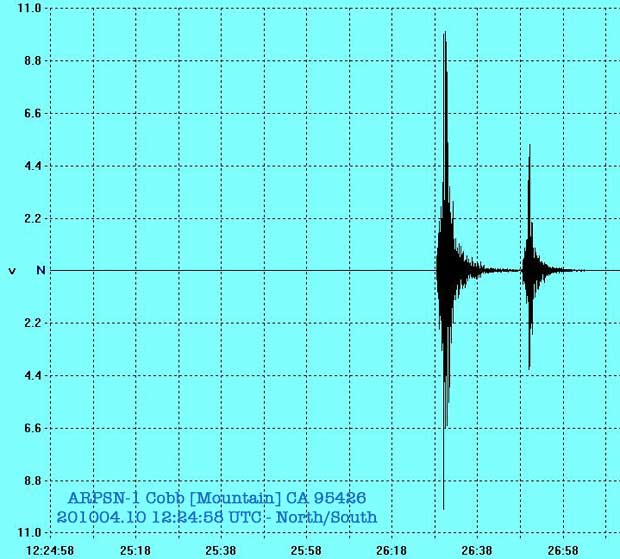 ARPSN-1 Cobb [Mountain] CA 95426 North/South 201004.10 12:24:58 UTC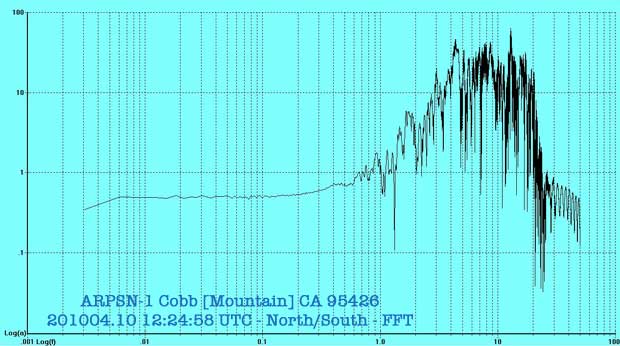 ARPSN-1 Cobb [Mountain] CA 95426 North/South 201004.10 12:24:58 UTC - FFT
Friend of the Dead, Is A Friend of Mine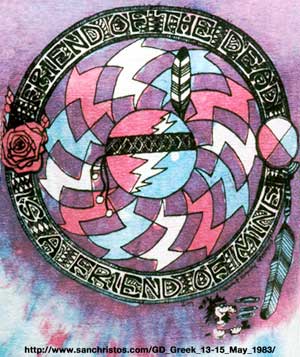 Grateful Dead, Greek Theater Show, Berkeley, CA, May 13-15, 1983
View Chris Nelson's Greek Theater Show Photography Album w/music

Time Travel Evidence! Physics Proves Existence of Parallel World
Our concepts of cause and effect will fly out the window. People will -- for various reasons -- try to fix the past or escape into the future. But we may never notice these effects, if the universe actually diverges. Maybe somebody already has invented a time machine and our history is being constantly altered, but we don't notice the kinks in our path through time. - Ben Bova, Science Fiction Author
Time Travel Evidence! Physics Proves Existence of Parallel – This is really an interesting news Time Travel Evidence! Physics Proves Existence of Parallel. Could this be the key to unlock our past and future? California scientist's claims that a quantum state is now observable with the human eye and considering its implications: Time travel may be possible. Doc Brown the character from the movie "Back to the Future" would be real proud, if he hears that new research brings that vehicle, time machine one step closer to reality.
At the University of California Santa Barbara, a physicist says he has Time Travel Evidence! Physics Proves Existence of Parallel. What the physicist means was that an object you can see in front of you may exist simultaneously in a parallel universe. A multi-state condition that has scientists theorizing that traveling through time may be much more than just the plaything of science fiction writers. This all began with the piece of small metal called a "paddle", an item that is incredibly small but still something you can see with the naked eye, about the width of a human hair.
UC Santa Barbara's Andrew Cleland cooled that paddle in a refrigerator, dimmed the lights and, under a special bell jar, sucked out all the air to eliminate vibrations. He then plucked it like a tuning fork and noted that it moved and stood still at the same time. nearly impossible to understand if your last name isn't Einstein. The thing he experimented on is a fact that's at the heart of quantum mechanics. When you observe something in one state, one theory is it split the universe into two parts, trying to explain how there can be multiple universes and we can see only one of them.
Cleland's breakthrough lies in taking that hard-to-grasp yet true fact about the atomic particle and applying it to something visible with the naked eye. Cleland has proved that quantum mechanics scale to slightly larger sizes. The next challenge is to learn how to control quantum mechanics and use it for even larger objects. Do so, and we might be able to warp to parallel universes just by manipulating a few electrons.
The multi-verse theory says the entire universe "freezes" during observation, and we see only one reality. You see a soccer ball flying through the air, but maybe in a second universe the ball has dropped already. Or you were looking the other way. Or they don't even play soccer over there. - Source - Cleland Group - UCSB Physics - Bova Quote.
Spain hit by 6.3 magnitude earthquake
Sunday, April 11, 2010, Wikinews
The USGS has reported a 6.3 magnitude earthquake in Spain. It had a depth of 616.7 kilometers. The epicenter was located 25 kilometers northeast from Granada, 106 kilometers northwest of Málaga and 341 kilometers south of Madrid. It occurred on Monday at 00:08:10 local time (22:08:10 UTC).
People posted via Twitter that the earthquake was felt in Cádiz, Málaga, and Murcia.
CNN reports there are no immediate reports of deaths, injuries or damages. "An earthquake with that depth means little damage is likely," seismologist Susan Potter told CNN. "When an earthquake is deeper, the seismic energy is absorbed by the Earth, so there will be less damage expected in the epicenter area," she said too.
Meanwhile, almost a month ago, on March 1, the Spanish Geologist Luis Eugénio Suarez, said that the Granada area could suffer an earthquake within the short term, and with an intensity similar to that of the February 27 Cauquenes, Chile earthquake. Suárez commented that "Spain is not like Chile," because the latter is located on a high seismic frequency area, but also noted that "once every hundred years, a destructive earthquake is produced in the peninsula."
The last earthquake in Spain was in Arenas del Rey, in Granada, 126 years ago, and reached a magnitude of 6.6, leaving between 750 and 900 dead, thousands injured and material destruction.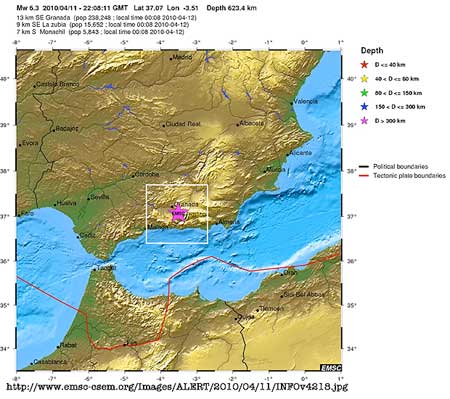 Click for large image
Centre Sismologique Euro-Méditerranéen
European-Mediterranean Seismological Centre
http://www.emsc-csem.org/index.php?page=home
2010-04-11 22:08:11.5 37.07 N 3.51 W 623 Mw 6.3 SPAIN
Magnitude 6.3 - SPAIN - 2010 April 11 22:08:10 UTC - USGS
Historic Earthquakes Spain - USGS
1954 March 29 UTC - Magnitude 7.9 - Near the south of Spain.
This earthquake caused property damage at Malaga. Felt at Madrid, Granada and Cadiz, Spain; Tangier, Spanish Morocco, and Casablanca, French Morocco. The depth was 640 kilometers. - Abridged from United States Earthquakes, 1954.
HISTORICAL EARTHQUAKES IN THE SOUTH OF SPAIN
Instituto Andaluz de Geofísica - Period 880 - 1999 - English Translation
Recent [IAG] earthquakes felt in Andalusia [2010] - English Translation
Personal Interest Regarding this Earthquake:
Depth = 623 km (387.1 miles)
Permalink:
http://www.flyingsnail.com/AmateurRadio/arpsnquakerecord2010.html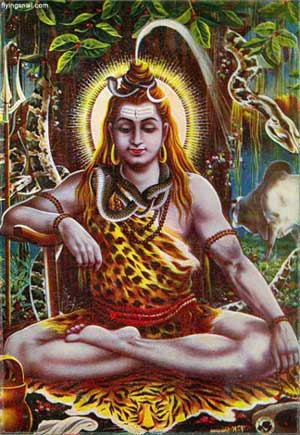 Adobe Flash evangelist: 'Go screw yourself Apple'
by Josh Lowensohn, April 9, 2010 4:10 PM PDT
http://news.cnet.com/8301-27076_3-20002188-248.html
A blog post by Adobe Flash platform evangelist Lee Brimelow has brought more fire to what's become a very public fight between Apple and Adobe over the inclusion of Flash and other Adobe technologies in Apple's portable devices.
In it, Brimelow highlights the differences between the two companies, and compares Apple's recent decision to bar third-party APIs from app development to a game of chess, where Apple is using developers as "pawns" in a "crusade against Adobe." He goes on to say that he plans not to purchase another Apple product until someone else is in charge of the company.
Brimelow points out that the two companies have shared a close history with one another, but that the changes to the SDK agreement highlight the main difference in how the two look at the developers who use their tools:
Adobe and Apple has had a long relationship and each has helped the other get where they are today. The fact that Apple would make such a hostile and despicable move like this clearly shows the difference between our two companies. All we want is to provide creative professionals an avenue to deploy their work to as many devices as possible. We are not looking to kill anything or anyone. This would be like us putting something in our SDK to make it impossible for third-party editors like [Flash Development Tool] to work with our platform. I can tell you that we wouldn't even think or consider something like that.
Brimelow also assuaged fears that Apple's moves would lead to Adobe pulling out of developing software, including the company's upcoming CS5 suite, which is being released next week. "We are not looking to abuse our loyal users and make them pawns for the sake of trying to hurt another company," he said.
The post is capped off by saying "go screw yourself Apple," though Brimelow was careful to note that he said this not as a representative of Adobe.
In case you haven't been keeping track of the spat--and it's recent elevation, Apple's CEO Steve Jobs has made some very negative, and public comments about Adobe's Flash over the past few months, primarily about its performance.
This came to a head during Thursday's iPhone OS 4.0 preview, where Jobs took several digs at Flash while introducing the iAd platform, which uses HTML5 to serve up interactive elements inside of applications. Shortly thereafter, blogger John Gruber discovered that the legal language within the iPhone SDK agreement had been expanded to keep non-approved APIs, including Adobe's Flash Compiler, from being used in app development. For more on that, read my colleague Stephen Shankland's story: Did Apple just exile Adobe from iPhone OS 4.0?
Josh Lowensohn writes for Webware.com, CNET's blog about Web applications and services. E-mail Josh, or follow him on Twitter at:
http://www.twitter.com/Josh.
[Ed. Note, local article: Am I Being Held Hostage by Adobe? - November 2008]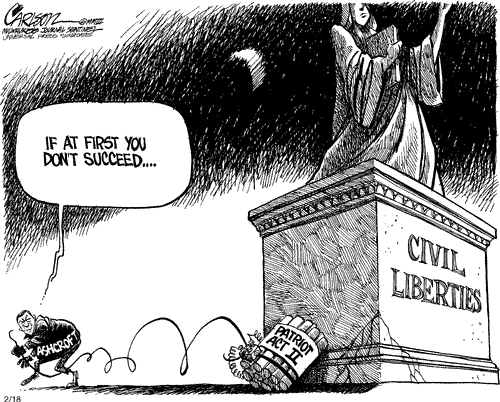 Death Of The Internet:
Unprecedented Censorship Bill Passes in UK
by Steve Watson
Global Research, April 11, 2010
Infowars.net - 2010-04-08
A draconian Internet censorship bill that has been long looming on the horizon finally passed the house of commons in the UK yesterday, legislating for government powers to restrict and filter any website that is deemed to be undesirable for public consumption.
The Digital Economy Bill was rushed through parliament in a late night session last night after a third reading.
In the wake of the announcement of a general election on May 6, the government has taken advantage of what is known as the wash-up process, allowing the legislative process to be speeded up between an election being called and Parliament being dissolved.
Only a pitiful handful of MPs (pictured below) were present to debate the bill, which was fully supported by the opposition Conservative party, and passed by 189 votes to 47 keeping the majority of its original clauses intact.
The bill will now go back to the House of Lords, where it originated, for a final formal approval.
The government removed a proposal in clause 18 of the bill, which openly stated that it could block any website, however it was replaced with an amendment to clause 8 of the bill which essentially legislates for the same powers.
The new clause allows the unelected secretary of state for business, currently Lord Mandelson, to order the blocking of a location on the internet which the court is satisfied has been, is being or is likely to be used for or in connection with an activity that infringes copyright.
Opposing MPs argued that the clause was too broad and open ended, arguing that the phrase likely to be used could be used to block websites without them ever having been used for activity that infringes copyright. Other MPs argued that under the bill, whistleblower websites, such as Wikileaks, could be targeted.
The legislation will also allow the Home Secretary to place "a technical obligation on internet service providers" to block whichever sites it wishes.
Under clause 11 of the proposed legislation "technical obligation" is defined as follows:
A "technical obligation", in relation to an internet service provider, is an obligation for the provider to take a technical measure against particular subscribers to its service.

A "technical measure" is a measure that — (a) limits the speed or other capacity of the service provided to a subscriber; (b) prevents a subscriber from using the service to gain access to particular material, or limits such use; (c) suspends the service provided to a subscriber; or (d) limits the service provided to a subscriber in another way.
In other words, the government will have the power to force ISPs to downgrade and even block your internet access to certain websites or altogether if it wishes.
The legislation is part of an amplified effort by the government to seize more power over the internet and those who use it.
For months now unelected Secretary of State Lord Mandelson has overseen government efforts to challenge the independence of the of UK's internet infrastructure.
The Digital Economy Bill will also see users' broadband access cut off indefinitely, in addition to a fine of up to £50,000 without evidence or trial, if they download copyrighted music and films. The plan has been identified as potentially illegal by experts.
The legislation would impose a duty on ISPs to effectively spy on all their customers by keeping records of the websites they have visited and the material they have downloaded. ISPs who refuse to cooperate could be fined £250,000.
As Journalist and copyright law expert Cory Doctrow has noted, the bill also gives the Secretary of State the power to make up as many new penalties and enforcement systems as he likes, without Parliamentary oversight or debate.
This could include the authority to appoint private militias, who will have the power to kick you off the internet, spy on your use of the network, demand the removal of files in addition to the blocking of websites.
Mandelson and his successors will have the power to invent any penalty, including jail time, for any digital transgression he deems Britons to be guilty of.
Despite being named the Digital Economy Bill, the legislation contains nothing that will actually stimulate the economy and is largely based on shifting control over the internet into government hands, allowing unaccountable bureaucrats to arbitrarily hide information from the public should they wish to do so.
Mandelson began the onslaught on the free internet in the UK after spending a luxury two week holiday at Nat Rothschild's Corfu mansion with multi-millionaire record company executive David Geffen.
Over 20,000 members of the public have written to their MPs in the last week to lobby against the bill being rushed through, however, their concerns have fallen on deaf ears and the government has been allowed to deal a devastating blow to the last real vestige of free speech in this country.
The Wider Agenda Of Internet Control
The Digital Economy Bill is intrinsically linked to long term plans by the UK government to carry out an unprecedented extension of state powers by claiming the authority to monitor all emails, phone calls and internet activity nationwide.
IN 2008, the government announced its intention to create a massive central database, gathering details on every text sent, e-mail sent, phone call made and website visited by everyone in the UK.
The programme, known as the Interception Modernisation Programme, would allow spy chiefs at GCHQ, the government's secret eavesdropping agency, the centre for Signal Intelligence (SIGINT) activities (pictured above), to effectively place a "live tap" on every electronic communication in Britain in the name of preventing terrorism.
Following outcry over the announcement, the government suggested that it was scaling down the plans, with then Home Secretary Jacqui Smith stating that there were absolutely no plans for a single central store of communications data.
However, as the climbdown was celebrated by civil liberties advocates and the plan was replaced by new laws requiring ISPs to store details of emails and internet telephony for just 12 months, fresh details emerged indicating the government was implementing a big brother spy system that far outstrips the original public announcement.
The London Times published leaked details of a secret mass internet surveillance project known as Mastering the Internet (MTI).
Costing hundreds of millions in public funds, the system is already being implemented by GCHQ with the aid of American defence giant Lockheed Martin and British IT firm Detica, which has close ties to the intelligence agencies.
A group of over 300 internet service providers and telecommunications firms has attempted to fight back over the radical plans, describing the proposals as an unwarranted invasion of people's privacy.
Currently, any interception of a communication in Britain must be authorised by a warrant signed by the home secretary or a minister of equivalent rank. Only individuals who are the subject of police or security service investigations may be subject to surveillance.
If the GCHQ's MTI project is completed, black-box probes would be placed at critical traffic junctions with internet service providers and telephone companies, allowing eavesdroppers to instantly monitor the communications of every person in the country without the need for a warrant.
Even if you believe GCHQ's denial that it has any plans to create a huge monitoring system, the current law under the RIPA (the Regulation of Investigatory Powers Act) allows hundreds of government agencies access to the records of every internet provider in the country.
In publicly announced proposals to extend these powers, firms will be asked to collect and store even more vast amounts of data, including from social networking sites such as Facebook.
If the plans go ahead, every internet user will be given a unique ID code and all their data will be stored in one place. Government agencies such as the police and security services will have access to the data should they request it with respect to criminal or terrorist investigations.
This is clearly the next step in an incremental program to implement an already exposed full scale big brother spy system designed to completely obliterate privacy, a fundamental right under Article 8 of the European Convention on Human Rights.
Death Of The Internet In Europe, Australia, New Zealand and the U.S.
Similar efforts to place restrictions on the internet are unfolding in Australia where the government is implementing a mandatory and wide-ranging internet filter modeled on that of the Communist Chinese government.
Australian communication minister Stephen Conroy said the government would be the final arbiter on what sites would be blacklisted under "refused classification."
The official justification for the filter is to block child pornography, however, as the watchdog group Electronic Frontiers Australia has pointed out, the law will also allow the government to block any website it desires while the pornographers can relatively easily skirt around the filters.
Earlier this year, the Wikileaks website published a leaked secret list of sites slated to be blocked by Australia's state-sponsored parental filter.
The list revealed that blacklisted sites included online poker sites, YouTube links, regular gay and straight porn sites, Wikipedia entries, euthanasia sites, websites of fringe religions such as satanic sites, fetish sites, Christian sites, the website of a tour operator and even a Queensland dentist.
The filter will even block web-based games deemed unsuitable for anyone over the age of fifteen, according to the Australian government.
In neighbouring New Zealand, the government has quietly implemented an internet filter and is urging the leading ISPs in the country to adopt the measure, in a move that would give the authorities the power to restrict whichever websites they see fit.
The New Zealand Department of Internal Affairs (DIA) reportedly turned on the internet filter on February 1st without making any announcement, prompting critics to charge that the measure had been activated in stealth.
It was no coincidence that around the same time the government's Internet filter went live, Infowars began receiving notification from readers in New Zealand that their access to Alex Jones' flagship websites Infowars.com and Prisonplanet.com had been suddenly blocked.
The broad attack on the free internet is not only restricted to the UK, New Zealand and Australia.
The European Union, Finland, Denmark, Germany and other countries in Europe have all proposed blocking or limiting access to the internet and using filters like those used in Iran, Syria, China, and other repressive regimes.
In 2008 in the U.S., The Motion Picture Association of America asked president Obama to introduce laws that would allow the federal government to effectively spy on the entire Internet, establishing a system where being accused of copyright infringement would result in loss of your Internet connection.
In 2009 the Cybersecurity Act was introduced, proposing to allow the federal government to tap into any digital aspect of every citizen's information without a warrant. Banking, business and medical records would be wide open to inspection, as well as personal instant message and e mail communications.
The legislation, introduced by Senators John Rockefeller (D-W. Va.) and Olympia Snowe (R-Maine) in April, gives the president the ability to "declare a cybersecurity emergency" and shut down or limit Internet traffic in any "critical" information network "in the interest of national security." The bill does not define a critical information network or a cybersecurity emergency. That definition would be left to the president, according to a Mother Jones report.
During a hearing on the bill, Senator John Rockefeller betrayed the true intent behind the legislation when he stated, "Would it have been better if we'd have never invented the Internet," while fearmongering about cyber attacks on the U.S. government and how the country could be shut down.
Watch the clip below.
The Obama White House has also sought a private contractor to crawl and archive data such as comments, tag lines, e-mail, audio and video from any place online where the White House maintains a presence – for a period of up to eight years.
Obama has also proposed scaling back a long-standing ban on tracking how people use government Internet sites with cookies and other technologies.
Recent disclosures under the Freedom Of Information Act also reveal that the federal government has several contracts with social media outlets such as Youtube (Google), Facebook, Myspace and Flickr (Yahoo) that waive rules on monitoring users and permit companies to track visitors to government web sites for advertising purposes.
The U.S. military also has some $30 Billion invested in it's own mastering the internet projects.
We have extensively covered efforts to scrap the internet as we know it and move toward a greatly restricted internet 2" system. All of the above represents stepping stones toward the realisation of that agenda.
The free internet is under attack the world over, only by exposing the true intentions of our governments to restrict the flow of data can we defeat such efforts and preserve what is left of the last vestige of independent information.
Permalink: http://www.flyingsnail.com/Dahbud/telecrimepunish.html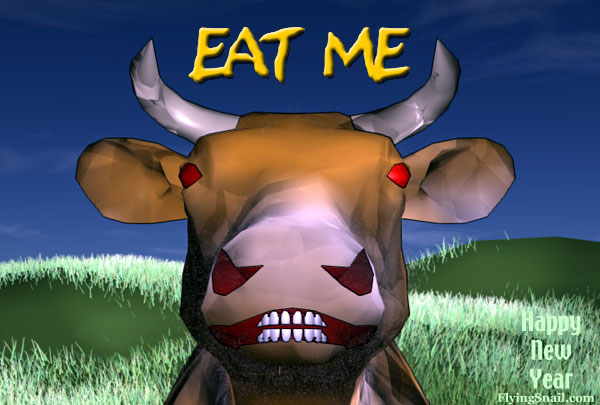 Why do cows have their ups and downs?
A new study shows that the longer a cow has been lying down, the more likely it is to stand up, but the reverse is not true. Once up, you cannot predict how soon a cow will lie down again
Marc Abrahams, guardian.co.uk, Monday 12 April 2010 17.00 BST, Article history, Series: Improbable research
A new study called Are Cows More Likely to Lie Down the Longer They Stand? adds to our knowledge of what cows do and why they do it.
Some researchers succumb to temptation – hazarding unprovable guesses as to cows' intentions, motivations and desires. Five scientists in Scotland, though, took a careful path, methodically measuring a very specific part of the what, and not guessing too wildly at the why.
Bert Tolkamp, Marie Haskell, Fritha Langford, David Roberts and Colin Morgan, based at the Scottish Agricultural College, published their monograph in the journal Applied Animal Behaviour Science.
It builds upon a large body of work by other researchers. Some of the earlier reports have almost poetical titles. The best in that respect is (in my opinion, at least) a Swedish report called Effects of Milking Frequency on Lying Down and Getting Up Behaviour of Dairy Cows. Its authors, Sara Osterman and Ingrid Redbo of the Kungsängen Research Centre in Uppsala, argue that milking thrice a day – rather than twice – "contributes to increased comfort in high-producing dairy cows".
The Scottish team focused on questions that stem indirectly from that Swedish study.
Tolkamp, Haskell, Langford, Roberts and Morgan set out to test two hypotheses – two educated guesses – about the nature of cowhood.
First, they hypothesized that the longer a cow has been lying down, the more likely it soon will stand up. After gathering lots of what-did-the-cows-do data, they report that yes, this is exactly what happens. Generally speaking, you can't keep a good cow down, not for long, not if the cow is healthy.
Their second hypothesis looked at things the other way round. They predicted the longer a cow has been standing up, the more likely it is to lie down. Here the cows gave them a surprise.
After ruminating over their results, the team decided that no, their expectation was wrong. The truth, they conclude, is that once a cow has stood up, you can't easily predict how soon it will lie down again.
This kind of experiment, if it is to produce trustworthy results, requires a series of careful technical decisions. How many cows should you watch, under what circumstances, and for how long? How can you reliably monitor whether and when each cow has officially stood up or flopped down?
The scientists examined three groups of cows. They attached an electronic sensor to each animal, to automatically note and record the cow's ups and downs. They then validated some of the findings, by watching video recordings of some cows and comparing what they saw with what the sensors had said.
Some mysteries persist. "The question of why some cows had total daily resting times less than half of those achieved by other cows in the same experiment, as well as many other questions", says the report, "remain to be addressed in future research."
(Thanks to Richard Wassersug for bringing this to my attention.)
Marc Abrahams - http://www.guardian.co.uk/education/2010/apr/12/improbable-research-cows-lying-down
• Marc Abrahams is editor of the bimonthly Annals of Improbable Research and organiser of the Ig Nobel prize
Straight people made the world bad?


Doctor Who's acid test
For popular culture, a dash of the psychedelic can be truly inspirational. When it comes to high art, drugs are pernicious
Nicholas Lezard, guardian.co.uk, Tuesday 13 April 2010 21.00 BST, Article history, Article source
It is 1966. The Beatles' Revolver has just been released, and the most popular group in the world have been introducing their listeners to, among other things, the effects of LSD. Specifically, in the song She Said, She Said and, most unambiguously, in the sonic dreamscape of Tomorrow Never Knows. Nothing like it has ever been heard before in the popular arena. Unless you count the unearthly music created by the BBC's Radiophonic Workshop for their new, hugely successful show, Doctor Who.
But there have been problems with that show: its star, William Hartnell, is in poor health, and relations with the new production team are not at their best. The show must go on, but the lead actor has to be replaced. At around the same time John Lennon is turning his blown mind into permanent song, an idea of simple genius is hit upon: the doctor can regenerate, which in practical terms means that any actor of sufficient charisma and talent can take on the role. But for the audience to assent to this, it has to be taken seriously, the implications of what such a change might mean to a creature such as the doctor taken on board.
An internal memo describing the transformative process – now made available on the BBC archive website – puts it like this: "The metaphysical change which takes place over 500 or so years is a horrifying experience – an experience in which he relives some of the most unendurable moments of his long life, including the galactic war. It is as if he has had the LSD drug and instead of experiencing the kicks, he has the hell and dank horror which can be its effect."
Although the memo has all the hallmarks of having been written in haste – never mind the repetition of "experience"/"experiencing", the previous paragraph, equally brief, uses the words "horror" or "horrifying" three times in two lines – it seems as if the author of the memo knows whereof he speaks. If he has not had a bad trip, he knows or has read about someone who has had one. Or has certainly been following the sensationalist literature on the subject.
But transformation was certainly in the air – or on the air, in the case of Hartnell's metamorphosis into Patrick Troughton. Is it any accident, I wonder, that LSD had, vicariously or not, such a regenerative effect on the two most popular British cultural phenomena of the time, to the extent that people are still listening to the Beatles today, and millions are still going to be tuning into Doctor Who next Saturday?
It is tempting to think that it is the case. Doctor Who always was pretty trippy – it's not just that the mise-en-scène generously allows for a certain expansion of the mind at the point of creation, but at the point of reception, too. Many a student, I suspect, during one of those breaks from their studies that they very occasionally allow themselves, has relaxed to an old Doctor Who video or DVD while under the influence of psychotropic drugs (I freely admit that I have, and can still recall, from the fringes of my consciousness, someone asking where I was, and hearing the reply, "he's on Planet Zog", which at the time I found rather funny).
As to whether any of the show's writers or creators dreamed up any of its zanier flights of fancy while under the influence of anything stronger or more illegal than you could get in the Television Centre canteen, that would be to traduce the powers of the imagination, and unless the BBC archives available to us become even more frank than they are already, must remain a matter of speculation; but drugs must have had something to do with the change that turned the Britain of the 1950s – the most boring country on earth, as David Hare described it in his memoirs – into the Britain of the 1960s: one of the most interesting, if not the most.
This is not to minimise the dangers of using hallucinogens as a means of producing or appreciating art (the stoned do appreciate a lot of rubbish). To take the most visible example among countless invisible ones, Syd Barrett wouldn't have destroyed himself without LSD – but then we wouldn't have The Piper at the Gates of Dawn either. No great loss, you say?
Listen to it again. It's the best thing Pink Floyd ever did, in not only my humble opinion. But when it comes to composing high art or literature the effects of the pharmacopoeia are, almost without exception, pernicious. Hunter S Thompson could get away with it; and his example inspired no one to anything good that I can recall.
But when it comes to producing popular culture, a dash of the psychedelic can be truly inspirational, and something in our readiness to be amazed connects to this, whether we're under the influence or not. You don't have to partake of the drugs in order to enjoy their effects second hand, as millions of clear-headed Doctor Who (or indeed Beatles) fans can attest. This week's episode, I gather, involves Winston Churchill hiring Daleks to fight the Nazi menace, and Spitfires in space. I'm not saying anyone was off their head when they came up with that idea. But now that memo is in the public arena, I can't help thinking that they should have been.
[Ed. Note, local related articles: The P In SPAT && The P In SPAT Addendum- The only folks who will understand these pages are those who took psychedelics before they were made illegal. [SPAT = Spiritual, Psychedelic, Already There.]
Eyjafjallajökull Volcano, Iceland, Erupts [Reference]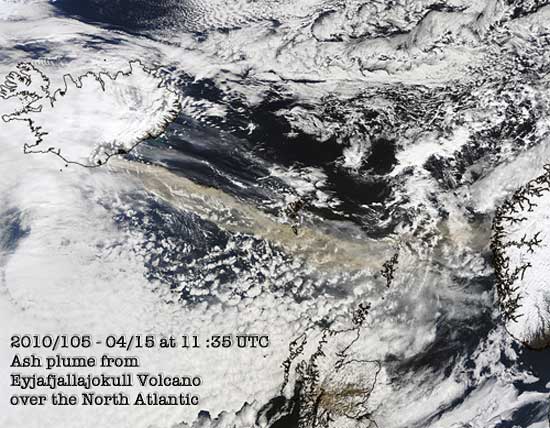 2010/105 - 04/15 at 11 :35 UTC Ash plume from Eyjafjallajokull Volcano over the North Atlantic - Large Image
Mýrdals- og Eyjafjallajökulsvöktun 2010
http://hraun.vedur.is/ja/Katla2009/
Iceland Volcano Erupts Under Glacier, Triggers Floods
Ker Than
for National Geographic News
Published April 14, 2010
After a brief respite, an Iceland volcano has erupted for a second time, but from a different, glacier-covered vent. Melting ice spurred an emergency nighttime evacuation of hundreds of people in the flood zone.
About 800 people living nearby were evacuated as a precautionary measure at the first signs of the second eruption, said Páll Einarsson, a geophysicist at the University of Iceland's Institute of Earth Sciences. There are no reports of casualties so far.
But initial reports suggest glacial melt from Iceland's Eyjafjallajökull volcano, located about 75 miles (120 kilometers) from Reykjavik, has raised local rivers by as much as ten feet (three meters).
A major road has been closed and, as of press time, water continues to gush into the ocean.
Iceland Volcano Still Active
Eyjafjallajökull first erupted on March 20, 2010, in a fiery display that sent fountains of lava shooting high into the air and ribbons of lava flowing down cliff faces. (See pictures of the initial Iceland volcano eruption.)
That eruption, the volcano's first in nearly 200 years, opened up new vents nearby and built a 27-story-tall cone of magmatic rock.
After an initial evacuation of nearby villages in March, flooding fears subsided and the Iceland volcano quickly became a popular tourist attraction. (Iceland Volcano Pictures: Eruption Sparks Tourist Boom.)
As of April 13, Eyjafjallajökull's eruption seemed to be quieting down. But just hours later another eruption broke out on another part of the volcano.
"It's still going on, and probably still increasing at the moment," Einarsson said.
Steep Volcano = Fast Floodwaters
The initial series of eruptions did not trigger flooding, because the active vents were in a mostly ice-free part of the landscape, Einarsson explained. (See aerial pictures of the Iceland volcano.)
By contrast, the current eruption started beneath a 650-foot-thick (200-meter-thick) block of ice. Heat from the eruption quickly transformed the glacier into a fast-flowing torrent of water.
"The volcano is quite steep, so the floodwater comes down rather powerfully in a short time," Einarsson said. "We were nervous that we would not be able to evacuate people in time, but this was quite successful."
Another danger associated with Eyjafjallajökull's eruption is that it could agitate a neighboring volcano, called Katla, which sits about 12 miles (20 kilometers) away.
"Historically," Einarsson said, "the eruption of [Eyjafjallajökull] has triggered the eruption of Katla."
http://news.nationalgeographic.com/news/2010/04/100414-iceland-volcano-erupts-evacuate-flooding/#content -- Permalink

Remembering Marla Ruzicka
To have a job where you can make things better for people? That's a blessing. Why would I do anything else? - Marla Ruzicka
Marla Ruzicka (December 31, 1976 -- April 16, 2005) was an activist-turned-aid worker. She believed that combatant governments had a legal and moral responsibility to compensate the families of civilians killed or injured in military conflicts. She and her Iraqi translator, Faiz Ali Salim, were killed by a suicide car bombing on Airport Road in Baghdad on April 16, 2005.
In 2003, Ruzicka founded the Campaign for Innocent Victims in Conflict (CIVIC), an organization that counted civilian casualties and assisted Iraqi victims of the 2003 US invasion of Iraq.
Born in Lakeport, California, Ruzicka attended Long Island University's Friends World Program, and spent four years traveling throughout Costa Rica, Kenya, Cuba, Israel/Palestine, and Zimbabwe. After graduating in 1999, Ruzicka volunteered for the San Francisco-based organizations Rainforest Action Network and Global Exchange. [Continue Reading]
ASIFA SF presents: SLOVAK IMPACT,
Awesome Animated Shorts made by Slovak Authors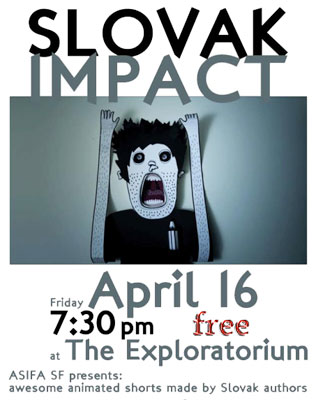 The Exploratorium, Friday, April 16, 7:30 pm - free
THIS IS THE FLYER FOR OUR AMAZING APRIL EVENT CALLED "SLOVAIK IMPACT" - POWERFUL IMAGES FROM SLOVIKIA - IT DOES MAKE AN IMPACT HOPE YOU CAN JOIN US FOR A VERY SPECIAL EVENING.
In the April newsletter I will run the following brief article:
ASIFA'S APRIL EVENT IS A SCREENING OF BRILLIANT SURREAL ANIMATION BEING CREATED IN SLOVAKIA TODAY and JAN SVANKMAJER ISN'T THE ONLY EXCEPTIONAL TALENT FROM EASTERN EUROPE
Meet one of the animators, Michaela Copikova and discover her short About Socks and Love, along with work by many other award winning artists. Michaela is in the US till July thanks to a Fulbright Scholarship. She brought with her a DVD of remarkable award winning work, and when I previewed it I was amazed at how fresh and exciting it is and how unlike it is from current work being made in the US or western Europe.
It isn't easy to describe the work we will see, but you will meet killer birds, evil shoes, food that bites back and dozens of other memorable images. The shorts employ numerous styles and techniques (oils, pastels, 3-D paper collages, stop-motion, pixilation, drawings, digital compositing, etc.) to create them. They often display a unique form of beauty and sometimes they are wicked and sly. At times you will be delighted by unusual humor like a pair of shoes that refuses to be worn or socks with teeth. At other times there are reminders of the gritty world around us. Come and be prepared to be surprised.
As for Michaela, I learned from a Google search that when she won the Young Animators Award at the Stuttgart Festival of Animation, the jury said of her film About Socks and Love, the everyday issue of the male sock is hilarious and wonderfully drawn, a truly intimate piece. At the Aubagne International Film Festival it won the Best Animated Short Prize and on March 18, 2010 it was announced her film has received a nomination for a SUN award from the Slovak Film and Television Academy. The film was shot in 35mm in 2008 and made at the Academy of Music and Performing Arts in Bratislava, Slovakia.
List of movies and directors:
Dnes mám prvé randevú / Today is my first date - Boris Šíma
Chyťte ho! / Catch Him! - Boris Šíma
Hladina / Surface - Daniela Krajèovièová
Hra / Joker - Joanna Kozuch
V konzerve / In a Can - Alica Gurínová
Birds of Prey - Peter Budinský
My First Last Line - Andrej Kolenèík
Èmuchal a sviòa zasahujú / Busy - body and Boar Strike Again - Andrej Kolenèík
Vir / Virus - Andrej Kolenèík
About Socks and Love - Michaela Èopíková
Viliam - Veronika Obertová
Mafia - Lukás Sigmund
G - Peter Skala
Join us Fri. April 16, 7:30 pm at The Exploratorium, public invited, free, Karl Cohen
My article on The Secret of Kells is now online.
I think The Secret of Kells is a remarkable handmade feature and I hope you enjoy reading about it. My article, mostly an interview with the director, has lots of illustrations from the feature. It can now be seen at AWN.COM. Visit their homepage at awn.com or click here to go directly to it.
This Oscar nominated film (for Best Animated Feature) has just opened in NYC, Phili, Boston. and in a few other places. It opens in the Bay Area and LA April 2. - Karl Cohen

Heyókȟa
The Heyókȟa symbolize and portray many aspects of the sacred, the Wakȟáŋ. Their satire presents important questions by fooling around. They ask difficult questions, and say things others are too afraid to say. By reading between the lines, the audience is able to think about things not usually thought about, or to look at things in a different way.
Principally, the Heyókȟa functions both as a mirror and a teacher, using extreme behaviors to mirror others, thereby forcing them to examine their own doubts, fears, hatreds, and weaknesses. Heyókȟas also have the power to heal emotional pain; such power comes from the experience of shame--they sing of shameful events in their lives, beg for food, and live as clowns. They provoke laughter in distressing situations of despair and provoke fear and chaos when people feel complacent and overly secure, to keep them from taking themselves too seriously or believing they are more powerful than they are.
In addition, sacred clowns serve an important role in shaping tribal codes. Heyókȟa's don't seem to care about taboos, rules, regulations, social norms, or boundaries. Paradoxically, however, it is by violating these norms and taboos that they help to define the accepted boundaries, rules, and societal guidelines for ethical and moral behavior. This is because they are the only ones who can ask "Why?" about sensitive topics and employ satire to question the specialists and carriers of sacred knowledge or those in positions of power and authority. In doing so, they demonstrate concretely the theories of balance and imbalance. Their role is to penetrate deception, turn over rocks, and create a deeper awareness.

Apple QuickTime Movie
Flash Size: 884,499 * QuickTime Size: 5,843,059



Apple QuickTime Movie
Flash Size: 1,255,402 * QuickTime Size: 6,870,078



Apple QuickTime Movie
Flash Size: 1,829,485 * QuickTime Size: 7,380,531
Source: http://eldgos.mila.is/eyjafjallajokull-fra-valahnjuk/
[Ed. Note: When I sit down to do the 'stuff' one sees here, I turn on iTunes music in the background, which is set for random play. The first tune to come up was "Eruption" by (early) Van Halen and that inspired the above short videos.]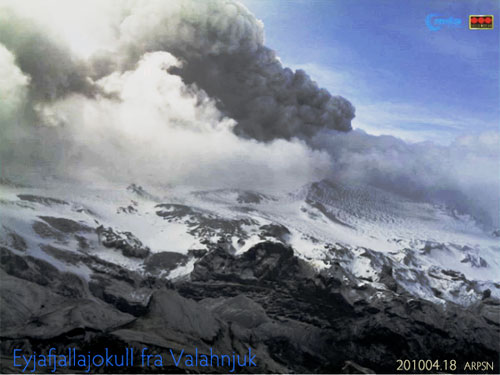 Eyjafjallajökull Volcano - Local History
March 04, 2010 - Eyjafjallajökull - Earthquake Swarms and Possible Volcanic Activity
March 21, 2010 - Iceland volcano eruption triggers fears for glacier
March 22, 2010 - The steam-and-ash plume from Eyjafjallajokull in Iceland
March 25, 2010 - Eyjafjallajökull Volcano Web cam image
April 02, 2010 - Eyjafjallajökull Web cam images
April 07, 2010 - Eyjafjallajökull Web cam images
April 14, 2010 - Eyjafjallajökull Volcano, Iceland, Erupts
The Eyjafjallajökull volcano activity was an observation that had nothing to do with prediction!
My main interest is, 'early detection' of earthquakes, and my secondary interest is Swarms related to volcanic activity; more specifically, [what I call] "Floating Swarms," that have nothing to do with volcanic activity. My other interests are, currently, teleseismic events and HUM.
Floating Swarms suggest a possible path to 'early detection' based on 'specific sets' of eigenmode frequencies appearing in 'specific patterns' and this link will provide 'some' information, regarding research, on this project.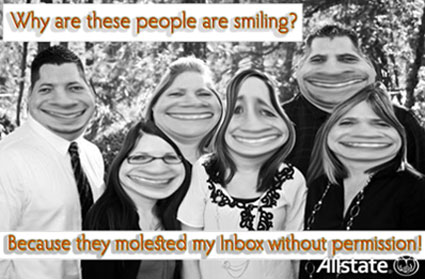 Why there's cash in the ash cloud
Some businesses have had good reason to celebrate the Act of God blowing in from Iceland
Posted by John Crace, Tuesday 20 April 2010 19.15 BST, The Guardian
One person's disaster is another's business opportunity. While thousands of travellers have been stranded abroad and airlines have seen profits tumble as layers of volcanic ash stubbornly refuse to leave our skies, plenty of others have been thanking the Act of God that has sent free money blowing in from Iceland.
Unsurprisingly, the travel operators have been the first to cash in. Eurostar responded to allegations of excessive profiteering by announcing a fixed one-way price between Paris and London of £89 until this Sunday (previously, passengers had been hit for the walk-on price of £179). But with 30,000 passengers and 33 extra services, it should still be doing nicely.
Car-hire firms are also not complaining. The Avis branch in Frankfurt has reported a four-fold rise in its expensive one-way car hire, where you drop the car at a different location, though it and Hertz have since eased their rental agreements. Cabbies have also been doing well from the likes of John Cleese, who are prepared to pay almost anything to make it home. A cab ride from London to Frankfurt will set you back £1,500.
There have also been claims of profiteering within the hotel industry. Australians stranded in Singapore found themselves stiffed for £195 above the normal going rate at one hotel. Our own hotels have treated those stranded in Britain rather more ethically – totally unrelated to the fact that most of them are empty, of course – though various UK travel operators have been launching a PR offensive of the best available deals at home.
An extramarital dating agency has claimed the volcano has caused more people to use its – ahem – services. "Boredom and frustration mean that those stuck in airports across the world will be looking for the most exciting thing they can get away with on their mobile," says Adam Scott, CEO of Illicit Encounters. "And what's more exciting than the idea of having an illicit affair?" What indeed?
It gets worse. Cosmetics retailers are sending press releases proclaiming ash-grey eyeliner is the new black. One music promoters is even selling its gigs with the promise of "Music for a Volcano-Induced-Void?" It seems it really is an ill wind that blows no good.
http://www.guardian.co.uk/money/blog/2010/apr/20/cash-in-the-ash-cloud


Broken Turtle Blog
LITERATURE AND POLITICS FROM A MICROCOSM CALLED DELAWARE. HERE ALL THE MULTIFACETED PLAYERS ACROSS THE GREAT CAPITALIST CONTRADICTION ARE REDUCED TO A FEW ACTORS: A HANDFUL OF BANKING AND CHEMICAL OLIGARCHS SQUATTING IN CHÂTEAUX, A STABLE OF ARTISTS DOWNWIND WHO EITHER TAKE INSPIRATION FOR AMNESIA AND ROSES OR TAKE A STAND, CHALLENGING THE LIVING TO REPAIR A POLLUTED WORLD.
Earl Turner's Ghost
Last week I found myself re-reading The Turner Diaries after almost 25 years. I can't say I meant to. Something about the more extreme Tea Party rhetoric brought it to mind. And the anniversary of the Oklahoma City bombings is this month. I just wanted to check on a few quotes I thought I remembered and wound up reading the whole thing. Not the two most productive hours of my life, that's for sure.
The book was pretty much as I remembered it. (Although the electronic version I first started reading was heavily abridged, with some of the more detailed descriptions of illegal activity, such as the bombing of an FBI building, removed.) As with a lot of propaganda, Andrew Macdonald's (aka William Pierce) writing is clunky and stilted. However, it gets almost gleefully gory towards the end when describing scenes of mass genocide. I still think the Diaries contains the most hateful passage in American letters: Earl Turner's fictional entry for August 1, 1993, the "Day of the Rope", which relates in stomach churning detail the mass hangings of so-called "race criminals" in Los Angeles.
The Turner Diaries was written in the late 70's and, for the most part, seems amazingly dated. Only two groups fuel Earl Turner's righteous anger: Jews, who in spite of their inferior status, somehow manage to control everything from the banks to the dreaded Equality Police and Blacks, who function as their incompetent subhuman henchmen. There's only a passing mention of illegal immigrants, homosexuals and feminists. The mass media mostly ignore Earl Turner and his fellow guerilla patriots until its too late. There's no equivalent of the talk radio echo chamber or Fox News to stoke the fires and give free publicity.
On the other hand: there are plenty of screeds about Second Amendment Rights. In fact, it is the fictional Gun Raids of 1989 that precipitate Earl Turner's descent into crime and terrorism.
Once again I wondered just what was it about this hastily written book that inspired so many people to try to live it, often with tragic consequences. After all, it's only words — and not particularly eloquent ones at that.
***
I have a theory about evil. I believe we all have the capacity for it; it rests in us like some sleeper virus waiting for a trigger. In most of us, it stays asleep a good part of the time. Thankfully, very few of us are born without any capacity to resist it.
But sometimes our resistance falters, the virus stirs and begins to multiply. One of the things that can drop our resistance in a heartbeat is a life-changing trauma. For Earl Turner, it's the raid on his apartment and his subsequent arrest. The arrest leads to the loss of his job and his stable, ordinary life as an electrical engineer with latent racist tendencies. For a while he is able to coast, taking contracting jobs with some local electronics firms, but soon his deepening involvement with the racist underground leads him to a place where he's poised to pass the point of no return.
"Now everything is chaotic and uncertain," he writes. "When I think about the future, I become depressed. It's impossible to know what will happen, but it's certain that I'll never be able to go back to the quiet, orderly kind of life I had before."
In other words, Earl Turner has lost his center and realizes he's in danger of losing his sanity. He commits to writing the diary to regain his psychological footing, but also to rationalize the evil he's done so far, to become "reconciled" to his new way of life. This fateful decision to reconcile allows the evil in Turner to really blossom. With each violent act, his tolerance for atrocity grows, until he becomes a person who can shoot people in cold blood and find solace in the death of thousands.
***
Our nation has gone through several life-changing traumas in this young century. The first, of course, was 9-11. What? You mean we're not invincible? This was followed quickly by the collapse of Enron and WorldCom. You mean I can work my whole life, be a loyal employee and all, and lose everything in a day? Then, Katrina. We let a city drown while the whole world watched? And finally the housing bubble burst, which eventually led to the Great Recession we're in now. That whole American Dream thing was one big lie?
To add to all the heartache, there is the sinking feeling things will never truly go back to the way they were. We can try to patch things up, but we all know they really won't be fixed. The changes needed now are so far outside of our consensus thinking that when we try to imagine the future, all we can see is a black hole.
There are plenty of people in this country who are hurting and looking for a way to quiet their pain. Some will merely squelch it with antidepressants; others will start looking for someone or something to blame. Maybe it's the Socialist Republic of Obama bin Biden. Maybe it's all those illegal immigrants who stubbornly refuse to speak English. Maybe it's Obamacare. Maybe a few of them will listen to Rush Limbaugh or Glenn Beck and be inspired to "do something" — or, God forbid, stumble on a link to the online version of The Turner Diaries and plan to blow something up. They say an idle mind is the devil's workshop, but so is a shattered heart.
Earl Turner made a personal decision to descend into evil, but he never would have gotten that far without his fellow racist warriors to egg him on. Words have power — and when people are hurt, vulnerable and standing at the crossroads that power is infinitely multiplied.
Those who use violent or hateful language to "fire up the base" might as well be playing Russian Roulette. Most of the time you'll escape with your life. But then again: there's always that chance you'll get the bullet.
POSTED BY FRANETTA MCMILLIAN AT 9:37 AM 0 COMMENTS LINKS TO THIS POST
LABELS: DOMESTIC TERRORISM, HATE SPEECH, RACISM, TEA PARTY, TURNER DIARIES
http://brokenturtleblog.blogspot.com/
Mike Wilhelm & Hired Guns
Friday, April 23, 2010, 8 pm til midnight - free
Konocti Vista Casino
2755 Mission Rancheria Road, Lakeport, 95453-9612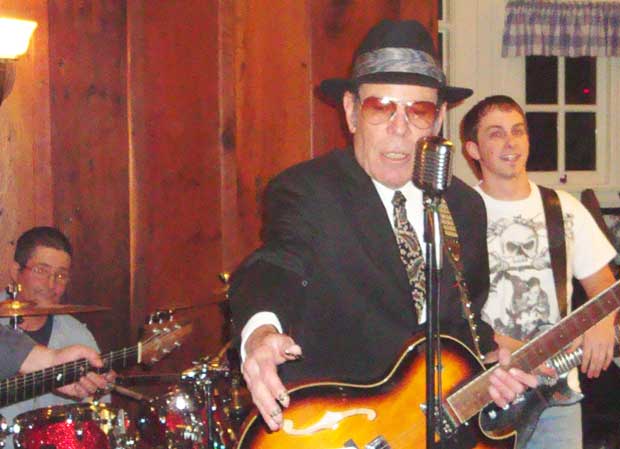 Photo by H. C. Anderson. Mike Wilhelm, center flanked by Mark Phillips and Eric Roach
Howdy all...Greetings from scenic Lake County, California.
Please note that our regular bass player John Beckwith is back with us having returned from a pocket tour with Nick Gravenites. Press release follows:
April 17, 2010
FOR IMMEDIATE RELEASE:
Hired Guns: R&B and Rock 'n' Roll
By Alex Johns
LAKEPORT – Veteran blues/rock guitarist Mike Wilhelm plays Konocti Vista Casino's expanded Point Bar with his band Hired Guns this Friday from 8 pm until midnight. The recently formed band has already proven its ability to keep people boogying on the dance floor with its potent mix of Rhythm & Blues and Rock 'n' Roll spiced with harmony vocals.
Friday's line-up has Wilhelm on guitar and vocal; John Beckwith, bass; Mark "Street Dog" Phillips, drums and vocal; the smoky vocals of Kathie Kent; plus the honking sound of Jim "Jimmy the Lion" Leonardis on tenor sax.
Konocti Vista Casino is located at 2755 Mission Rancheria Road, Lakeport CA 95453. Further information is can be found at www.konocti-vista-casino.com. For information about Mike Wilhelm go to www.flyingsnail.com/Scrapbook/Mike_Wilhelm.html. For bookings call (707) 277-7912 or email guit_blue@yahoo.com.
Yours in music, Mike Wilhelm - "May the baby Jesus shut your mouth and open your mind." - Family Dog motto.
MP3 Sample: New Old Pawnshop Blues by Mike Wilhelm
Did Apple call the cops on Gizmodo?
Posted by Philip Elmer-DeWitt
In a piece posted Monday, Yahoo News' John Cook comes close to accusing Apple — and indeed, Steve Jobs himself — of orchestrating the probe based on the fact that Apple is one of 25 companies that sit on the steering committee of the police task force.
"Which raises the question," he writes, "as to whether Apple, which was outraged enough about Gizmodo's $5,000 purchase of the lost iPhone for CEO Steve Jobs to reportedly call Gawker Media owner Nick Denton to demand its return, sicked its high-tech cops on Chen." [Continue]
Cops raid Gizmodo editor's home over lost iPhone,
raise questions of legal search upon journalist
Posted by Sam Diaz
The Warrant:
All records and data located and/or stored on any computers, hard drives, or memory storage devices, located at the listed location including digital photographs and/or video of the Apple prototype 4G iPhone, email communications pertaining to the sale of photographs of the prototype phone and/or the sale of the physical prototype 4G Apple iPhone, internet history, cache files, and/or Internet pages pertaining to searches and/or research conducted on Apple employee Gray Powell, call records, contact lists, text messages related to the sale of photographs of the prototype iPhone and/or physical prototype iPhone and indicia that identifies the owner and/or operators of the computer or electronic device. [Continue]
Understanding the legal issues that are clouding
the Gizmodo iPhone raid
Posted by Sam Diaz
Margaret Russell, a constitutional law and first amendment expert, said that even in circumstances where a journalist is suspected of committing a crime, there are protections against "newsroom searches," which is essentially what happened at Chen's home last Friday because he also uses it as an office. The better solution would have been for authorities to issue a subpoena, not a search warrant, so that Chen could hand over the property - or at least argue in front of a judge about why he should not have to hand it over.
She further noted that the government needs to be particularly careful about its next steps and will need to be able to show it had a compelling reason to break in and take possession of Chen's property. She quotes from a U.S. statute that's filled with exceptions:
Notwithstanding any other law, it shall be unlawful for a government officer or employee, in connection with the investigation or prosecution of a criminal offense, to search for or seize any work product materials possessed by a person reasonably believed to have a purpose to disseminate to the public a newspaper, book, broadcast, or other similar form of public communication, in or affecting interstate or foreign commerce; but this provision shall not impair or affect the ability of any government officer or employee, pursuant to otherwise applicable law, to search for or seize such materials, if— (1) there is probable cause to believe that the person possessing such materials has committed or is committing the criminal offense to which the materials relate: Provided, however, That a government officer or employee may not search for or seize such materials under the provisions of this paragraph if the offense to which the materials relate consists of the receipt, possession, communication, or withholding of such materials or the information contained therein… or (2) there is reason to believe that the immediate seizure of such materials is necessary to prevent the death of, or serious bodily injury to, a human being. [Continue]
iPhone Leak Investigation Pauses
As DA Ponders Gizmodo Shield Law Defense
by Jason Kincaid
I just spoke to Stephen Wagstaffe, Chief Deputy at San Mateo County District Attorney's Office, who told me that nobody has yet been charged in the case, and at this point it is "just an investigation". He says the investigation is "looking at any hand that touched or had something to do with this phone" but that the investigation is not currently targeting either Gawker or the person who originally found the phone — rather, police are collecting every fact they can to present to the DA, who will then make a decision. [Continue]
Did Israel Crack the iPad Too?
"Following the completion of intensive technical scrutiny [on the iPad, the Israeli iPad Ban was lifted]." - Israel Minister of Communications Moshe Kakhlon
"Indeed, it is worth noting that Apple's Israeli distributor, iDigital, is run by Chemi Peres, the hyper-entrepreneurial son of Israeli President Shimon Peres.
Clearly, iDigital wants its lucrative cut of every iPad brought into the country - which it will undoubtedly receive when a modified European version of the iPad is approved for import over the next two or three months." - Aharon Etengoff, Israeli journalist, TG Daily
AT&T's iTAP Network and Telecom Crimes
Violation of the Fourth Amendment to the Constitution
Violation of the First Amendment to the Constitution
Unlawful electronic surveillance or disclosure or use of information obtained by electronic surveillance in violation of 50 U.S.C. §1809.
Unlawful interception, use or disclosure of Class communications in violation of 18 U.S.C. § 2511
Unlawful solicitation and obtained disclosure of the contents of communications in violation of 18 U.S.C. § 2702(a)(1) or (a)(2)
Unlawful solicitation and obtained disclosure of non-content records or other information in violation of 18 U.S.C. § 2702(a)(3)
Violation of the Administrative Procedures Act
Violation of the constitutional principle of separation of powers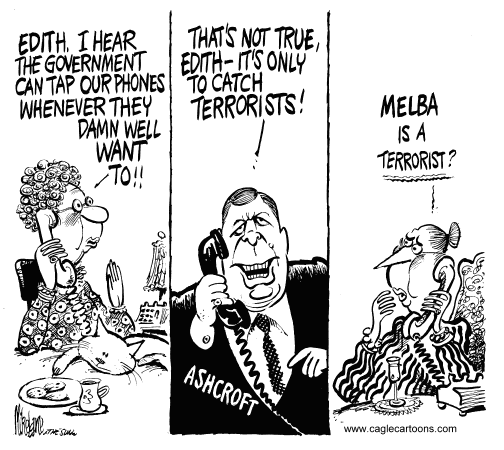 iTelecom Punishment
Congress votes to immunize lawbreaking telecoms, legalize ...
Jul 9, 2008 ... It plainly violates the Fourth Amendment." EFF, the other non-profit organization behind the telecom lawsuits, announced the same, ...
The Democratic-led Congress this afternoon voted to put an end to the NSA spying scandal, as the Senate approved a bill -- approved last week by the House -- to immunize lawbreaking telecoms, terminate all pending lawsuits against them, and vest whole new warrantless eavesdropping powers in the President. The vote in favor of the new FISA bill was 69-28. Barack Obama joined every Senate Republican (and every House Republican other than one) by voting in favor of it, while his now-vanquished primary rival, Sen. Hillary Clinton, voted against it. John McCain wasn't present for any of the votes, but shared Obama's support for the bill. The bill will now be sent to an extremely happy George Bush, who already announced that he enthusiastically supports it, and he will sign it into law very shortly. [Continue Reading]
http://www.salon.com/opinion/greenwald/2008/07/09/fisa_vote/
Senate Approves Telco Amnesty, Legalizes Bush's Secret Spy Program ...
That amendment got 57 votes, but due to an agreement by Senate Majority ..... It's also not in violation of the constitution, as it only applies to non-citizens. ..... 4th. Every law that alters the legal rules of evidence, and receives ... [Continue Reading]
http://blog.wired.com/27bstroke6/2008/02/senate-approves.html
Wiretapping, Telecom Companies, and You | The Legality
Feb 20, 2008 ... Discussion of warantless wiretapping, telecom immunity, ... Warrantless wiretaps violate the Fourth Amendment guarantee of freedom from ...
The telecom companies have a powerful ally in the U.S. federal government: officers of the federal government who approved wiretaps without a warrant may face widespread civil or criminal liability if any wrongdoing comes out in court. The law takes abuse of power very seriously, and under 50 U.S.C. § 1809, an agent of the government who monitors an illegal wiretap or uses information obtained from unlawful surveillance can be punished with a fine of $10,000, five years in jail, or both. [Continue Reading]
http://www.thelegality.com/archives/26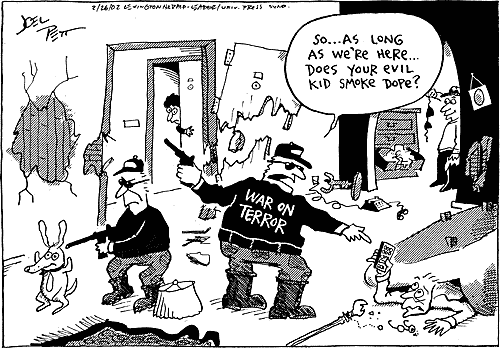 iPhone 3G S, Excusively from AT&T and Apple
CASHCPR
Citizens Against Second Hand Cellular Phone Radiation
Have You Ever Considered Cellular Phones May Be Harmful To Your Health?
Camel cigarettes had the largest booth at American Medical Association's 1948 convention; boasting, "More doctors smoke Camels than any other cigarette." which is a splendid example of "Profits Not People" and should be a 'Wake Up Call' for HONEST Evaluation of the Dangers and Hazards from Cellular Telephones and effects of amplified microwave frequencies emitting from Cellular repeater sites. - "It's A Matter of Trust" Citizen's Against Second Hand Cellular Phone Radiation (CASHCPR), 2004, 2005, 2006, 2007, 2008, 2009, 2010 - Inspired by "edge Wireless", member of the [Criminal] AT&T Wireless Network.
More Doctors Smoke Camels
Than Any Other Cigarette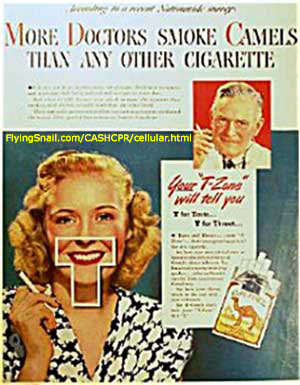 Your T-Zone will show you Corporatists and Politicians Support:
Profits Not People
Campaign To End Second Hand Radiation
Ever since amateur radio operators started using 70cm (440 MHz) there has been an ongoing conversation on 'fried brain or not'.
Understanding the workings of this digital octopus starts with Cellular Telecommunications and Internet Association who hired former Rep. Steve Largent (R) of Oklahoma as its president during 2003. [Continue Reading]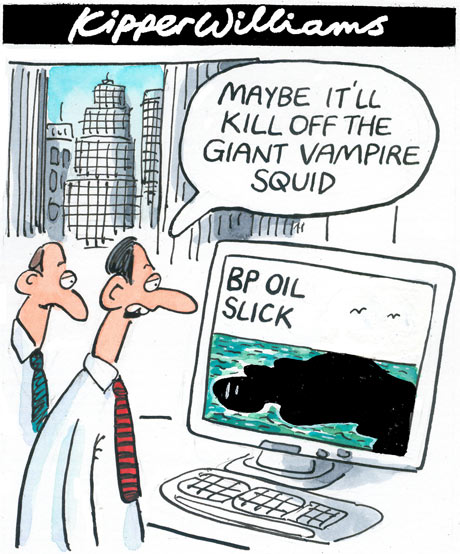 Kipper Williams cartoon - Gulf oil spill 'five times' larger than estimated by Adam Gabbatt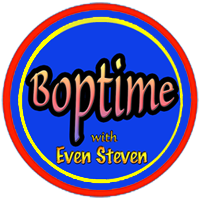 Saturday Morning - USA, 6 AM East - 3 AM West - Listen-On-Line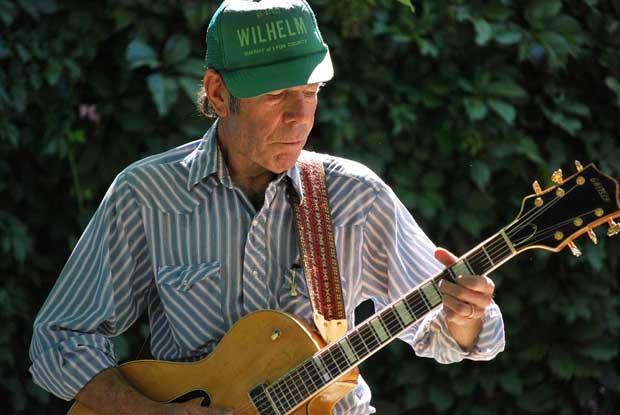 Photograph by Richard Hoyt
Mike Wilhelm & Hired Guns
Monday, May 3, 2010, 6:30-9:00 pm
Blue Wing Saloon & Cafe
9520 Main St., Upper Lake, CA.
FOR IMMEDIATE RELEASE: By Wellman Moody

UPPER LAKE – Mike Wilhelm & Hired Guns will play Monday from 6:30 pm until 9:00 at the Blue Wing Saloon & Cafe. The Blue Wing is located at 9520 Main St., Upper Lake. Reservations are recommended for parties of six or more. The telephone number is 707-275-2233. For more information about the Blue Wing or performance schedule go to www.BlueWingSaloon.com.
Kent State Anniversary Blues
In my book, Magic Mushrooms and Other Highs: From Toad Slime to Ecstasy, Freddy Berthoff described his mescaline trip at a Crosby, Stills, Nash and Young concert in the summer of 1970 when he was 15. "Earlier that spring," he wrote, "the helmeted, rifle-toting National Guard came up over the rise during a peace-in-Vietnam rally at Kent State University. And opened fire on the crowd. I always suspected it was a contrived event, as if someone deep in the executive branch had said, 'We've got to teach those commie punks a lesson.'" Actually, President Nixon had called antiwar protesters "bums" two days before the shootings. While Freddy was peaking on mescaline, CSNY sang a new song about the massacre:
Tin soldiers and Nixon coming
We're finally on our own
This summer I hear the drumming
Four dead in O-hi-o…
Plus nine wounded. Sixty-seven shots – dum-dum bullets that exploded upon impact -- had been fired in 13 seconds. This incident on May 4, 1970 resulted in the first general student strike in U.S. history, encompassing over 400 campuses.
Arthur Krause, father of one of the dead students, Allison, got a call from John Ehrlichman, Assistant to the President for Domestic Affairs, who said, "There will be a complete investigation." Krause responded, "Are you sure about that?" And the reply: "Mr. Krause, I promise you, there will be no whitewash."
But NBC News correspondent James Polk discovered a memo marked "Eyes Only" from Ehrlichman to Attorney General John Mitchell ordering that there be no federal grand jury investigation of the killings, because Nixon adamantly opposed such action.
Polk reported that, "In 1973, under a new Attorney General, Elliot Richardson, the Justice Department reversed itself and did send the Kent State case to a federal grand jury. When that was announced, Richardson said to an aide he got a call from the White House. He was told that Richard Nixon was so upset, they had to scrape the president off the walls with a spatula."
Last year, Allison Krause's younger sister, Laurel, was relaxing on the front deck of her home in California when she saw the County Sheriff's Deputy coming toward her, followed by nearly two dozen men. "Then, before my eyes," she recalls, "the officers morphed into a platoon of Ohio National Guardsmen marching onto my land. They were here because I was cultivating medical marijuana. I realized the persecution I was living through was similar to what many Americans and global citizens experience daily. This harassment even had parallels to Allison's experience before she was murdered."
What if you knew her
And found her dead on the ground
How can you run when you know?
Now, 40 years later, Laurel, her mother and other Kent State activists have been organizing the "2010 Kent State Truth Tribunal" (see http://bit.ly/8AD8TQ) scheduled for May 1-4 on the campus where the slaughter of unarmed demonstrators originally occurred. The invitation to participate in sharing their personal narratives has been extended to 1970 protesters, witnesses, National Guardsmen, Ohio and federal government officials, university administrators and educators, local residents, families of the victims. The purpose is to uncover the truth.
Laurel was 0nly 15 when the Kent State shootings took place. "Like any 15-year-old, my coping mechanisms were undeveloped at best. Every evening, I remember spending hours in my bedroom practicing calligraphy to Neil Young's 'After the Goldrush,' artistically copying phrases of his music, smoking marijuana to calm and numb my pain." When she was arrested for legally growing marijuana, "They cuffed me and read my rights as I sobbed hysterically. This was the first time I flashed back and revisited the utter shock, raw devastation and feeling of total loss since Allison died. I believed they were going to shoot and kill me, just like Allison. How ironic, I thought. The medicine that kept me safe from experiencing post-traumatic stress disorder now led me to relive that horrible experience as the cops marched onto my property."
She began to see the interconnectedness of those events. The dehumanization of Allison was the logical, ultimate extension of the dehumanization of Laurel. Legally, two felonies were reduced to misdemeanors, and she was sentenced to 25 hours of community service. But a therapist, one of Allison's friends from Kent State, suggested to Laurel that the best way to deal with the pain of PTSD was to make something good come out of the remembrance, the suffering and the pain. "That's when I decided to transform the arrest into something good for me," she says, "good for all. It was my only choice, the only solution to cure this memorable, generational, personal angst. My mantra became, 'This is the best thing that ever happened to me.' And it has been." That's why she's fighting so hard for the truth to burst through cement like blades of grass.

Laurel Krause, sister of slain Kent State University student Allison Krause
---------------------------------------------------------------------------------------------------------------------------------------
Paul Krassner's latest book is an expanded edition of his 1993 autobiography, Confessions of a Raving, Unconfined Nut, available at paulkrassner.com.
Only after the last tree has been cut down, Only after the last river has been poisoned, Only after the last fish has been caught, Only then will you find money cannot be eaten. - Cree Prophecy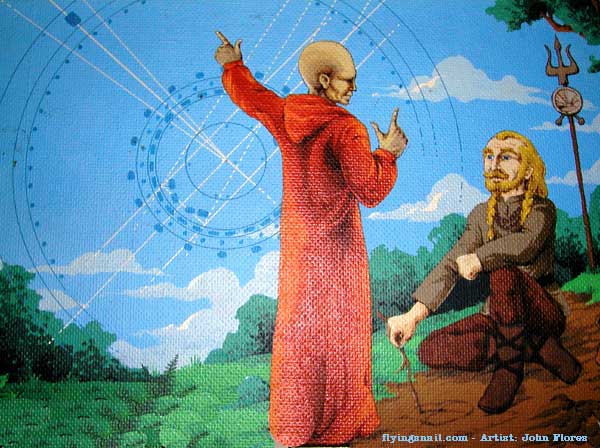 The man whispered, "God, speak to me" and a meadowlark sang. But the man did not hear. So the man yelled "God, speak to me" and the thunder rolled across the sky. But the man did not listen. The man looked around and said, "God let me see you" and a star shined brightly. But the man did not notice. And the man shouted, "God show me a miracle" and a life was born. But the man did not know. So the man cried out in despair, "Touch me God, and let me know you are there" Whereupon God reached down and touched the man. But the man brushed the butterfly away and walked on.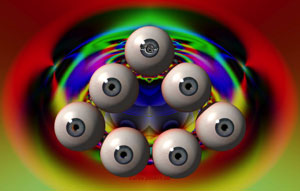 Don't miss out on a blessing because it isn't packaged the way you expect.