#3 TELL-A-VISION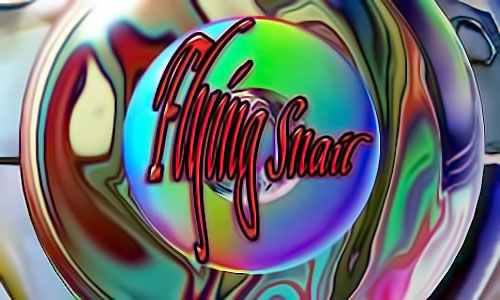 Freedom of expression and freedom of speech aren't really important unless they're heard...It's hard for me to stay silent when I keep hearing that peace is only attainable through war. And there's nothing more scary than watching ignorance in action. So I dedicated this Emmy to all the people who feel compelled to speak out and not afraid to speak to power and won't shut up and refuse to be silenced. - Tommy Smothers
NEW YEAR'S DAY LOONEY TUNES MARATHON
Thursday, Jan. 1, 6 a.m.-8p.m. (ET, PT)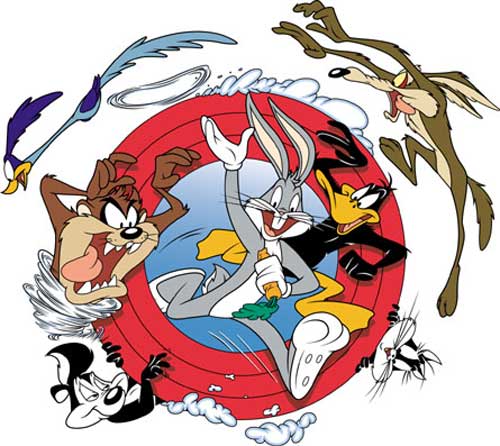 via Karl Cohen - For Cartoon Schedule, Click Here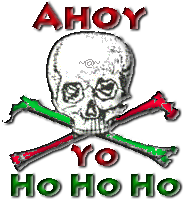 The Pirate Song
http://flyingsnail.com/Podcast/Derelict.mp3
Mike Wilhelm has graciously provided this song about a derelict found on the high seas taken as a salvage prize... by The Flamin' Groovies ...Merry Christmas ! [The Pirate Song will be added to Podcast page January 2009.]
Chris Wilson, lead vocal; Mike Wilhelm and James Ferrell on 6 and 12-string acoustic guitars and back up vocals; Danny Mihm, drums and back up vocal.
Song first published in Robert Louis Stevenson's Treasure Island. Traditional arrangement by Mike Wilhelm.
Learn more about Chris Wilson and his new album, "Second Life"
http://www.flamin-groovy.com/
Guitarist and multi instrumentalist Chris Wilson is the ex-singer of the best-remembered line-up San Francisco's cult classic band The Flamin' Groovies and a long-term member of The Barracudas, another band with a dedicated and loyal fan base that stretches right around the world.
The Flamin' Groovies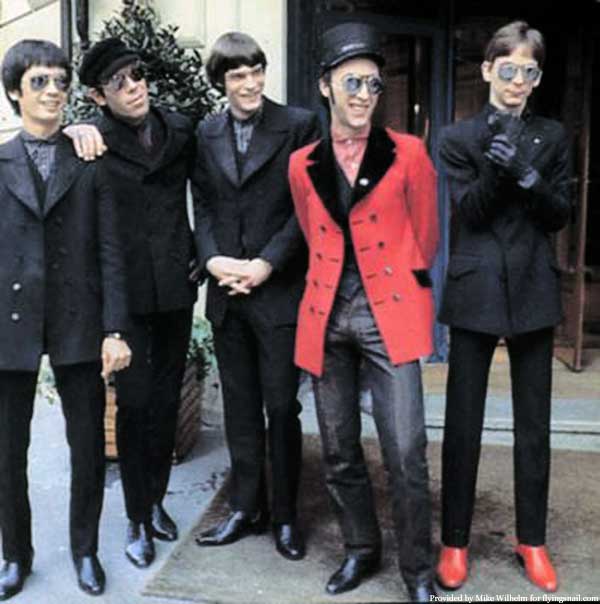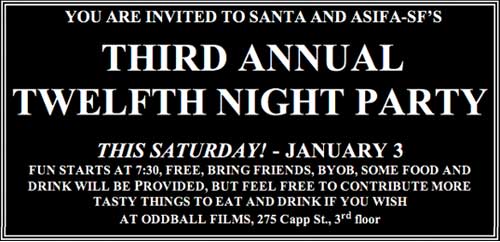 YOU ARE INVITED TO SANTA AND ASIFA-SF
THIRD ANNUAL TWELFTH NIGHT PARTY
THIS SATURDAY! - JANUARY 3
FUN STARTS AT 7:30, FREE, BRING FRIENDS, BYOB, SOME FOOD AND DRINK WILL BE PROVIDED, BUT FEEL FREE TO CONTRIBUTE MORE TASTY THINGS TO EAT AND DRINK IF YOU WISH at ODDBALL FILMS, 275 Capp St., 3rd floor --- TAKE PART IN "SANTA'S GIFT EXCHANGE FOR PINK ELEPHANTS" --- Nancy Phelps says 12TH Night parties with pink elephant gift exchanges are an old European tradition. [Continue Reading]
A light earthquake occurred at 9:27:10 AM (PST) on Sunday, January 4, 2009.
The magnitude 4.4 event occurred 3 km (2 miles) ESE of The Geysers, CA.
The hypocentral depth is 4 km ( 3 miles).
Check Seismic Page for Large Images
[OLD IMAGES REMOVED]
Magnitude 7.6 - NEAR THE NORTH COAST OF PAPUA, INDONESIA
2009 January 03 19:43:54 UTC



Above Image Recorded by ARPSN in Northern California [Click here for large image]
USGS Event ID - us2009bjbn
Magnitude 7.3 - NEAR THE NORTH COAST OF PAPUA, INDONESIA
2009 January 03 22:33:42 UTC
Currently Being Recorded 1536 PST
Updated Heliplots Showing Papua, Indonesia Earthquake
http://flyingsnail.com/seismic.html
Something I Find Interesting Nobody Is Talking About: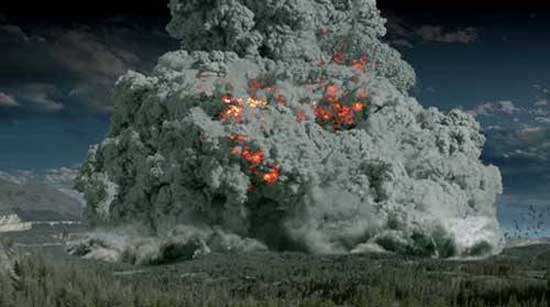 Recent Seismic Activity at Yellowstone National Park, Wyoming.
WHAT, WHERE, and WHY Interesting?
Because Yellowstone is one of the largest SUPER VOLCANOES on the planet.
December 27, 2008
[Note: Magnitude listed in Blue]
MAP 3.3 2008/12/27 22:30:04 44.498 -110.358 4.3 YELLOWSTONE NATIONAL PARK, WYOMING
MAP 3.2 2008/12/27 20:26:28 44.505 -110.364 2.4 YELLOWSTONE NATIONAL PARK, WYOMING
MAP 3.5 2008/12/27 20:17:33 44.488 -110.357 4.1 YELLOWSTONE NATIONAL PARK, WYOMING
MAP 3.0 2008/12/27 18:23:07 44.495 -110.364 2.8 YELLOWSTONE NATIONAL PARK, WYOMING
MAP 2.7 2008/12/27 17:01:08 44.490 -110.366 1.2 YELLOWSTONE NATIONAL PARK, WYOMING
MAP 2.6 2008/12/27 16:30:54 44.498 -110.362 2.5 YELLOWSTONE NATIONAL PARK, WYOMING
December 28, 2008
MAP 2.6 2008/12/28 23:57:57 44.521 -110.371 1.4 YELLOWSTONE NATIONAL PARK, WYOMING
MAP 3.1 2008/12/28 19:55:18 44.511 -110.353 0.7 YELLOWSTONE NATIONAL PARK, WYOMING
MAP 3.0 2008/12/28 19:32:16 44.511 -110.356 2.7 YELLOWSTONE NATIONAL PARK, WYOMING
MAP 2.8 2008/12/28 15:37:41 44.514 -110.359 0.0 YELLOWSTONE NATIONAL PARK, WYOMING
MAP 3.2 2008/12/28 09:23:58 44.511 -110.361 0.4 YELLOWSTONE NATIONAL PARK, WYOMING
MAP 2.7 2008/12/28 09:16:58 44.510 -110.358 2.6 YELLOWSTONE NATIONAL PARK, WYOMING
MAP 2.5 2008/12/28 07:15:19 44.495 -110.359 0.0 YELLOWSTONE NATIONAL PARK, WYOMING
MAP 2.5 2008/12/28 06:37:42 44.492 -110.356 2.6 YELLOWSTONE NATIONAL PARK, WYOMING
MAP 2.8 2008/12/28 05:23:54 44.489 -110.354 2.5 YELLOWSTONE NATIONAL PARK, WYOMING
MAP 3.9 2008/12/28 05:15:56 44.502 -110.366 0.3 YELLOWSTONE NATIONAL PARK, WYOMING
MAP 2.7 2008/12/28 04:51:04 44.501 -110.355 2.3 YELLOWSTONE NATIONAL PARK, WYOMING
MAP 2.6 2008/12/28 00:08:51 44.493 -110.354 0.4 YELLOWSTONE NATIONAL PARK, WYOMING
December 29, 2008
MAP 2.9 2008/12/29 20:38:25 44.514 -110.381 2.1 YELLOWSTONE NATIONAL PARK, WYOMING
MAP 2.9 2008/12/29 19:29:39 44.513 -110.381 0.5 YELLOWSTONE NATIONAL PARK, WYOMING
MAP 2.5 2008/12/29 19:28:56 44.515 -110.381 0.0 YELLOWSTONE NATIONAL PARK, WYOMING
MAP 3.3 2008/12/29 19:14:49 44.521 -110.369 1.8 YELLOWSTONE NATIONAL PARK, WYOMING
MAP 2.8 2008/12/29 04:25:54 44.514 -110.370 0.1 YELLOWSTONE NATIONAL PARK, WYOMING
December 30, 2008
MAP 2.8 2008/12/30 19:05:13 44.540 -110.350 0.1 YELLOWSTONE NATIONAL PARK, WYOMING
MAP 2.8 2008/12/30 11:59:07 44.533 -110.374 0.9 YELLOWSTONE NATIONAL PARK, WYOMING
MAP 2.8 2008/12/30 00:36:40 44.525 -110.362 1.2 YELLOWSTONE NATIONAL PARK, WYOMING
December 31, 2008
MAP 3.3 2008/12/31 15:02:12 44.523 -110.361 4.9 YELLOWSTONE NATIONAL PARK, WYOMING
MAP 2.7 2008/12/31 11:15:45 44.522 -110.372 1.2 YELLOWSTONE NATIONAL PARK, WYOMING
MAP 2.6 2008/12/31 09:05:59 44.520 -110.368 0.5 YELLOWSTONE NATIONAL PARK, WYOMING
MAP 3.6 2008/12/31 09:02:29 44.525 -110.362 4.3 YELLOWSTONE NATIONAL PARK, WYOMING
MAP 2.5 2008/12/31 08:59:22 44.522 -110.362 0.5 YELLOWSTONE NATIONAL PARK, WYOMING
MAP 3.0 2008/12/31 08:58:12 44.527 -110.369 1.3 YELLOWSTONE NATIONAL PARK, WYOMING
MAP 2.5 2008/12/31 05:17:42 44.530 -110.375 1.1 YELLOWSTONE NATIONAL PARK, WYOMING
MAP 2.8 2008/12/31 05:06:40 44.529 -110.382 1.6 YELLOWSTONE NATIONAL PARK, WYOMING
January 01. 2009
MAP 2.7 2009/01/01 12:51:25 44.548 -110.361 0.2 YELLOWSTONE NATIONAL PARK, WYOMING
MAP 2.8 2009/01/01 10:13:52 44.527 -110.353 2.0 YELLOWSTONE NATIONAL PARK, WYOMING
MAP 2.6 2009/01/01 10:13:01 44.527 -110.356 0.0 YELLOWSTONE NATIONAL PARK, WYOMING
MAP 2.6 2009/01/01 10:06:51 44.527 -110.377 0.5 YELLOWSTONE NATIONAL PARK, WYOMING
MAP 2.9 2009/01/01 10:02:58 44.530 -110.357 2.0 YELLOWSTONE NATIONAL PARK, WYOMING
MAP 2.5 2009/01/01 05:19:51 44.529 -110.357 0.4 YELLOWSTONE NATIONAL PARK, WYOMING
January 02, 2009
MAP 2.6 2009/01/02 01:21:20 44.568 -110.367 0.1 YELLOWSTONE NATIONAL PARK, WYOMING
MAP 2.5 2009/01/02 01:13:06 44.551 -110.364 0.1 YELLOWSTONE NATIONAL PARK, WYOMING
Source: http://earthquake.usgs.gov/eqcenter/recenteqsww/Quakes/quakes_all.php
Wait a minute, Somebody Was Talking About It: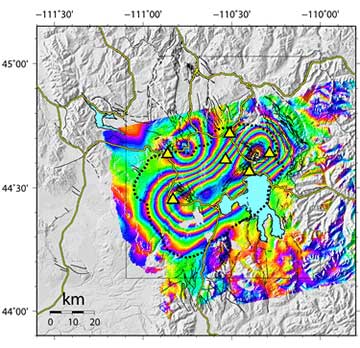 YELLOWSTONE VOLCANO OBSERVATORY MONTHLY UPDATE
Thursday, January 1, 2009 07:57 MST (Thursday, January 1, 2009 14:57 UTC)
Yellowstone Volcano Observatory: http://volcanoes.usgs.gov/yvo/
YELLOWSTONE VOLCANO (CAVW#1205-01-)
44.43°N 110.67°W, Summit Elevation 9203 ft (2805 m)
Volcano Alert Level: NORMAL
Aviation Color Code: GREEN
December 2008 Yellowstone Earthquake And Ground Deformation Summary
Earthquake Summary:
Yellowstone seismicity increased significantly in December 2008 due to an energetic earthquake swarm that commenced on December 26. This swarm, a sequence of earthquakes clustered in space and time, is occurring beneath the northern part of Yellowstone Lake in Yellowstone National Park. As of this writing, the largest of these earthquakes was a magnitude 3.9 at 10:15 pm MST on Dec. 27. Through 5:00 pm MST on Dec. 31, the sequence had included 12 events of magnitude 3.0 to 3.9 and approximately 20 of magnitude 2.5 to 2.9, with a total of at least 400 events large enough to be located (magnitude ~1 or larger). National Park Service (NPS) employees and visitors have reported feeling the largest of these earthquakes in the area around Yellowstone Lake and at Old Faithful and Grant Village.
The hypocenters of the swarm events cluster along a north-south-trending zone that is about 7 km long. The vast majority of the focal depths are shallower than 5 km. It is not possible to identify a causative fault of other feature without further analysis.
Analysts are currently processing the backlog of seismic data from these events. The current analyst-processed catalog is believed to include all events of magnitude 2.5 and greater through Dec 31 at 5 pm MST, but hundreds of earthquakes remain to be processed. The total of more than 400 locatable events is based on automatically-determined locations and magnitudes for the swarm events.
The December 2008 earthquake sequence is the most intense in this area for some years. No damage has been reported within Yellowstone National Park, nor would any be expected from earthquakes of this size. The swarm is in a region of historical earthquake activity and is close to areas of Yellowstone famous hydrothermal activity. Similar earthquake swarms have occurred in the past in Yellowstone without triggering steam explosions or volcanic activity. Nevertheless, there is some potential for hydrothermal explosions and earthquakes may continue or increase in magnitude. There is a much lower potential for related volcanic activity.
The National Park Service in Yellowstone has been kept fully informed of the ongoing seismic activity via electronic means and by phone contacts with the University of Utah and the U.S. Geological Survey USGS). The Wyoming Office of Homeland Security is reviewing Earthquake Response Plans and monitoring seismic activity.
Earthquakes are a common occurrence in the Yellowstone National Park area, an active volcanic-tectonic area averaging 1,000 to 2,000 earthquakes a year. Yellowstone's 10,000 geysers and hot springs are the result of this geologic activity. A summary of Yellowstone's volcanic history is available on the Yellowstone Volcano Observatory web site (listed below).
The University of Utah operates a seismic network in Yellowstone National Park in conjunction with the National Park Service and the U.S. Geological Survey. These three institutions are partners in the Yellowstone Volcano Observatory. Seismic data from Yellowstone are transmitted to the University in real-time by radio and satellite links from a network of 28 seismographs in the Yellowstone area and are available on the web.
Ground Deformation Summary:
Through December 2008, continuous GPS data show that much of the Yellowstone caldera continued moving upward, though at a lower rate than the past few years. The maximum measured ground uplift over the past 53 months is ~23 cm at the White Lake GPS station, north of Fishing Bridge. Yellowstone Volcano Observatory:
http://volcanoes.usgs.gov/yvo/
Yellowstone Supervolcano: http://www.solcomhouse.com/yellowstone.htm
Ever Wonder Where Generation Y Originated?
People born before 1946 = Silent generation
People born between 1946 and 1959 = Baby Boomers
People born between 1960 and 1979 = Generation X
People born between 1980 and 1995 = Generation Y
[The below cartoon from Journal De Quebec suggests:]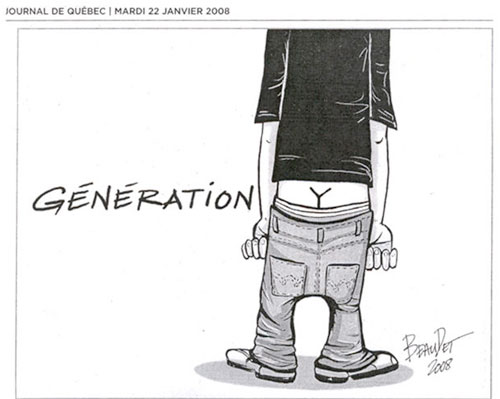 Gaza diary
Do Israel pilots feel happy killing innocent women and children?
A Palestinian in Gaza chronicles life under Israeli bombardment
by Fida Qishta
Saturday 27 December
I go to visit friends in the Block J neighbourhood in Rafah in the south of the Gaza Strip. While I am in a friend's house, my phone rings. It's a friend from Gaza City, calling for a chat. Suddenly I hear the sound of an explosion at his end. At the same time I hear an explosion in Rafah too. Just outside, somewhere near. My friend says: "Fida, they are attacking nearby." I say: "They are attacking here too."
I run into the street and everybody is running, children and grown-ups, all looking to see if their relatives and friends are alive. It is the time for children to go to school for the second shift, after the first shift finishes at 11.30am.Naama is aged 13. This is what she tells me: "I was sitting in the classroom with my friends when the attack happened. We were scared and we ran out of our school. Our headmaster asked us to go home. We saw fire everywhere."
People are looking at the remains of a police station. There are still bodies under the wreckage. It is scary because the attack isn't over, and from where we are we can see an Israeli airplane attacking another police station.
At the hospital, I speak to a wounded police officer, aged 39. "We were at the police station," he said. "The Israeli planes came and suddenly the building collapsed on us. I saw four dead bodies near me. They were in pieces. Outside there were more bodies. Everyone was shouting. I lost consciousness and then found myself in hospital."
Later I am at home with my family. We've just received a phone call on our land line. It's the Israeli defence ministry, and they say that any house that has guns or weapons will be targeted next, without warning and without any announcement. Just to let you know, we don't have any weapons in our house. If we die please defend my family.
Sunday 28 December
I wake up at 7am after an Israeli F-16 attack. Our house is shaking. We all try to imagine what has happened, but we want to at least know where the attack was. It is so scary. We try to open the main door to our flat, but it's stuck shut after the attack. I have to climb out of the window to leave the house. I am shocked when I find out our neighbour's pharmacy was the target. It is just 60 metres from our house. They targeted a pharmacy. I still can't believe it.
Om Mohammed says: "They [Israeli forces] attack everywhere. They have gone crazy. The Gaza Strip is just going to die ... it's going to die. We were sleeping. Suddenly we heard a bomb. We woke up and we didn't know where to go. We couldn't see through the dust. We called to each other. We thought our house had been hit, not the street. What can I say? You saw it with your own eyes. What is our guilt? Are we terrorists? I don't carry a gun, neither does my girl.
"There's no medicine. No drinks, no water, no gas. We are suffering from hunger. They attack us. What does Israel want? Can it be worse than this? I don't think so. Would they accept this for themselves?
"Look at the children. What are they guilty of? They were sleeping at 7am. All the night they didn't sleep. This child was traumatised during the attack. Do they have rockets to attack with?"
Monday 29 December
The Israeli army is destroying the tunnels that go from Rafah into Egypt. For the past year and a half the Israeli government has intensified the economic blockade of Gaza by closing all the border crossings that allow aid and essential supplies to reach Palestinians in Gaza. This forced Palestinians to dig tunnels to Egypt to survive. From our house we can hear the explosions and the house is shaking.At night we can't go out. No one goes out. If you go out you will risk your life. You don't know where the bombs will fall. My mother is so sad. She watches me writing my reports and says: "Fida, will it make any difference?"
Before the attack started we got some food aid from the EU. It's not much, but it's enough, we're not starving. But some of our friends have nothing. My mum warns me: "Fida, don't leave the house, it's too dangerous outside." Then she goes out to share our food with the neighbours who have nothing.
Wednesday 31 December
11.40pm: a powerful air strike somewhere nearby. I was sleeping but the blast wakes me up. I see my mum looking from the window. She points at one of the refugee camps. "The attack was there," she said.
I went back to sleep – not because I don't care, but because I can't deal with it. If the attack was really aimed at one of the camps that means hundreds are going to be injured or even killed, the houses destroyed. I really can't imagine it.
Thursday 1 January
In the morning I get up early and call a friend who lives in Alshabora camp. He confirms the attack had hit there and I go to meet him.
It looks like an earthquake. Many houses have been damaged, and many people have been wounded. The people who had escaped injury were trying to clean the place up – they have nowhere else to go. But the biggest shock is when I ask about the target. It was the children's playground.
"We heard a strong explosion happen, but with all the smoke and the dust we couldn't see well, and the electricity was off," I am told by a small child.
"We saw everything fall down – the window broke on us. We went downstairs, and people were saying that the playground's been targeted. This park is not a member of Hamas, it's a park for playing. It's for civilians – so why did they attack it?," asks one 12-year-old girl who lives nearby.
The target was a civilian area – but there was no warning, not one phone call from the Israeli army to tell civilians to beware.
I visit the main hospital in Rafah. There are so many injured people, most of them children. In one ward, I meet four children aged five or six. They are in deep shock. They can't speak, they just look at you.
Only one child could say his name: "Abdel Rahman". That's all he can say. Otherwise, he just stares. He's five. His ear was wounded by shrapnel, his head is covered by bandages.
There is a 16-year-old girl also suffering from shrapnel injuries. Three of her brothers were killed; all her family were injured. She looks like a zombie and says nothing at all. Her mother is dying in the intensive care unit.
The hospital manger, Abu Youssef Alnajar, gives the statistics for 1 January: two dead – a young man aged 22 and a woman aged 33; 59 injured – 16 children, 18 women and the rest old people. Most of them had been sleeping when the bombs dropped.
I go back home and the first thing I do is take a shower. I feel really upset after what I have seen. As always I am trying to cope with the situation but sometimes it is too much to deal with.
A short message to the pilots in the Israeli F-16s: does it make you feel happy to kill Palestinian children and women? Do you feel it's your duty? Killing every child and woman, man and teenager in Gaza? I don't know what exactly you feel, what exactly you think, but please think of your mother and sister, your son and daughter.
Friday 2 January
I am in the hospital again. An ambulance crew has been called out to help an injured man somewhere near the ruins of the old Gaza airport. He's a civilian, one of the bedouin who tend their sheep in that area. Four shepherds saw an explosion and went to investigate – when they arrived at the scene there was a second bomb and they were injured. An ambulance managed to rescue three of the men. But one of their friends is still there, bleeding.
The ambulance crew are afraid to go back for him. The wounded man is just 50 metres away from the green line so they are afraid the Israeli soldiers will target them.Outside there are still planes in the air. I have just heard a big explosion on the border area.
• Fida Qishta is a freelance Palestinian television producer and writer based in Gaza's southern township of Rafah
http://www.guardian.co.uk/world/2009/jan/03/gaza-diary-israel
Israel has yet to learn the US lesson,
that the war on terror was a failure
Americans now realise that aggression fuels extremism.
This offers Obama the chance for a new Middle East policy
by Gary Younge, The Guardian, Monday January 5, 2009
On New Year's Day Atif Irfan boarded an AirTran flight at Reagan National Airport in Washington with seven members of his family. Edging his way down the aisle, he wondered out loud to his wife whether the back of the plane was the best place to be. As they took their seats, his sister-in-law said she thought it was the safest part, rather than being close to the engine or wings "in case something happened".
The conversation was overheard by two teenage girls, who took one look at the mens' dark skin and beards and the women's headscarves and saw a family of suicide bombers, including three small children aged between two and seven. The girls told their parents; their parents told the flight attendant; the flight attendant told the air marshals and then the captain; the air marshals called the FBI and the airport police.
The pilot asked the marshals to remove the entire family from the plane. Then officials asked everybody else to get off so they could perform a thorough sweep. The family (as well as a family friend who happened to be on the same flight) was surrounded by armed guards, detained for questioning and then released. The plane eventually took off without them. When they tried to get on a later AirTran flight the airline refused to book them, even though they had been cleared (it has since apologised).
The Irfan family's ordeal escalated according to its own humiliating logic. And yet seven years after 9/11 it was no isolated incident. Pre-emptive, presumptive, disproportionate and discriminatory, it speaks volumes about the prevailing values those two American teenagers have lived with for much of their lives. A world that confuses Muslim and terrorist, and conflates the civilian and combatant by taking popular fear and prejudice and handing them over to state power. Driven by the maxim that you are better safe than sorry, it leaves nobody safe and everybody sorry. The only thing that prevented this particular incident from becoming yet another ideal metaphor for the war on terror is that nobody was killed or disappeared.
There is nothing particularly American about this. Like Nike or McDonald's, the war on terror may have started here but it quickly got branded and went global. In the months after the attacks on the World Trade Centre and the Pentagon, everybody wanted a piece of the action. President George Bush found himself in illustrious company. Among others, Zimbabwe's president, Robert Mugabe, and India's former prime minster Atal Bihari Vajpayee sought to ride his coattails to their own version of violent despotism.
However, few nations pursued it with such consistent zeal as Israel. "You in America are in a war against terror," Ariel Sharon said after he left the White House following suicide bombings in Haifa and Jerusalem in December 2001. "We in Israel are in a war against terror - it's the same war."
The trouble is that over the last seven years, the war on terror has been thoroughly discredited - not only morally, but militarily and strategically. Nobody listens to moderates, let alone to reason, when bombs are falling and people are dying. That is as true for the rockets that have killed a handful of Israelis as it is for the barrage of bombs and now tanks that have killed hundreds of Palestinians.
By erasing any prospect of negotiation, the violence did not weaken extremists but emboldened them. Israel may want to boost the moderate Fatah faction which governs the West Bank now. But Hamas's electoral rise was a direct result of the contempt the Israeli's showed them in the past.
Meanwhile, the Iraq war has left Iran - the primary sponsor of both Hezbollah and Hamas - with far more influence in the region than they would have had. On almost every front in almost every part of the world, including in the US, the war on terror is now seen as a colossal mistake. Only Israel did not get the memo. And it is now set to fail for the same reasons that America has.
Diplomatically, Israeli efforts to sell its bombardment and now invasion of Gaza as a straightforward extension of the war on terror have been fairly blatant. It has described the shelling of homes, mosques and police stations as the destruction of "the infrastructure of terror". Even as the rest of the world condemns it, Israel's foreign minister, and Kadima party leader, Tzipi Livni, has been telling anyone who will listen that her country's actions place it firmly within the community of nations and leaves Gazans and their democratically elected rulers outside.
"Israel is part of the free world and fights extremism and terrorism. Hamas is not," she said. And from there we are just one small step away from putting the world on notice that either "you're with us or you're with the terrorists". "These are the days when every individual in the region and in the world has to choose a side," Livni said.
Meanwhile, Israel has been busy implementing the very tenets of the war on terror that have served the US so badly, primarily that intractable political problems can be solved solely by military means with the aim of not simply bombing your enemies into submission, but eliminating them altogether and then creating resolution on your own terms from the rubble.
"What I think we need to do is to reach a situation in which we do not allow Hamas to govern," said Vice-Premier Haim Ramon. "That is the most important thing." Who he thinks should govern when Hamas has gone, and precisely what legitimacy they would have, does not seem to bother him. He does not want to change the government of Gaza, he wants to change the people.
On this matter Livni is right. People do have to choose sides. But, so far, it has not been her side. Seven years after 9/11 the world has a good idea of what's coming next and how widespread the ramifications might be - and they want no part of it. The war on terror is over. War lost. For the first time in a long time, that even appears to be true in America.
A recent Rasmussen poll shows the American public far less indulgent of Israeli aggression than many previously believed. Opinion on the bombing of Gaza is fairly evenly divided, showing 44% supporting Israel's military action against the Palestinians and 41% saying it should have tried to find a diplomatic solution to the problems.
Given the absence of any honest or informed debate about events in the Middle East, this suggests significant room for manoeuvre for President-elect Obama in pursuing a more even-handed policy towards the region, if he should chose to take it.
The benefits could strengthen America's hand throughout the region. Majorities in seven Arab nations say their opinion of the US would significantly improve if it put pressure on Israel to comply with international law in its treatment of Palestinians - generally more than say the same about closing Guantánamo Bay, according to Gallup.
That is the change both America and the Middle East need. It's also the change most of the rest of the world wants to believe in.
http://www.guardian.co.uk/commentisfree/2009/jan/05/terrorism-israel-obama

Steve Bell
God told me to strike at al Qaida and I struck them, and then he instructed me to strike at Saddam, which I did, and now I am determined to solve the problem in the Middle East. - George W. Bush - HAARETZ.COM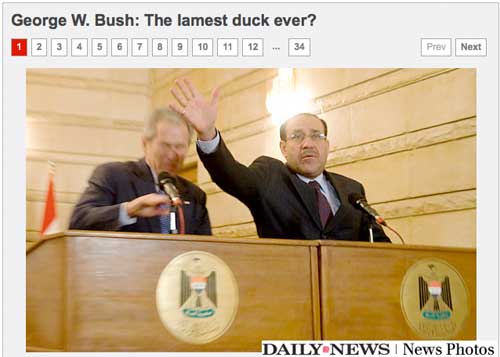 N.Y. DAILY NEWS - George W. Bush: The lamest duck ever? [In Pictures]
No Justice, No PEACE
for Child Murdering, Father Raping, Mother Fornicators
by Fly_On_The_Wall
Is Israel In Competition With Bush Republicans and Democrats
To See How Many Innocent People THEY Can Murder and Maim?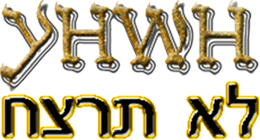 GOD'S COMMANDMENT OF NO KILLING MAKES YOU MURDERERS
George Bush and his murderous regime of donkey bottoms (those in Congress or Senate who voted for Shock'n'Awe and the illegal war in Iraq) murdered and maimed hundreds of thousands of innocent Iraqi civilians.
George Bush and his murderous regime of rooster lollipops (Chickenhawks in Congress or Senate who voted for Shock'n'Awe and the illegal war in Iraq) murdered and maimed thousands of innocent U.S. Military.
Read: Re-Thinking 9/11 and Every Time You Kill
Crimes Against Children
Supported By Bush Administration, Senate, and Congress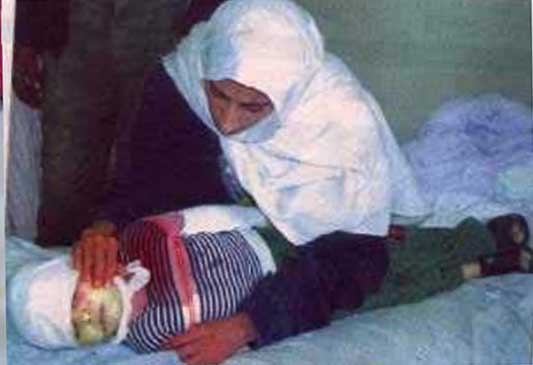 Even today I am willing to volunteer to do the dirty work for Israel, to kill as many Arabs as necessary, to deport them, to expel and burn them, to have everyone hate us, to pull the rug from underneath the feet of the Diaspora Jews, so that they will be forced to run to us crying. Even if it means blowing up one or two synagogues here and there, I don't care. And I don't mind if after the job is done you put me in front of a Nuremberg Trial and then jail me for life. Hang me if you want, as a war criminal… What you lot don't understand is that the dirty work of Zionism is not finished yet, far from it. - Israel Prime Minister Ariel Sharon
Every time we do something you tell me America will do this and will do that . . . I want to tell you something very clear: Don't worry about American pressure on Israel. We, the Jewish people, control America, and the Americans know it. - Israel Prime Minister Ariel Sharon, 3 Oct. 2001.
A 2001-2003 SENATE AND CONGRESS SHOULD BE CHARGED WITH MURDER (With Exception To: Barbara Lee) Starting with the 'Off the Table' Female Dog, who could have removed/impeached the WAR CRIMINALS.
I would move heaven and earth to protect my husb..errr.. President Bush!


Martin Rowson
BEN-VENISTE: Isn't it a fact, Dr. Rice, that the August 6 PDB warned against possible attacks in this country? And I ask you whether you recall the title of that PDB?
RICE: I believe the title was,
Bin Laden Determined to Attack Inside
the United States [Using Planes]
A pressing issue of dinner-party etiquette is vexing Washington, according to a story now making the D.C. rounds: How should you react when your guest, in this case national-security adviser Condoleezza Rice, makes a poignant faux pas? At a recent dinner party hosted by New York Times D.C. bureau chief Philip Taubman and his wife, Times reporter Felicity Barringer, and attended by Arthur Sulzberger Jr., Maureen Dowd, Steven Weisman, and Elisabeth Bumiller, Rice was reportedly overheard saying, "As I was telling my husb—" and then stopping herself abruptly, before saying, "As I was telling President Bush."
http://nymetro.com/nymetro/news/people/columns/intelligencer/n_10245/
The Promise
Michael Pinder
The world is full of people Some are trying to lend a hand To help us learn to recognize So we can understand That life holds many secrets They stand before our doors Admit the ones you're hiding now So you may know them all
Twelve vibrations long ago are the cause Of me and mine, and you and yours Just let them be, and the doors will open wide To paintings on the rocks Gigantic Stonehenge blocks The Pyramids and the Sphinx The temples are the links To lead us through our past So we might find Ourselves at last
The first book ever written Was a symbol of our home It came from solar heaven Where our life wave was born We came in ships a-singing The Praise of One above Like children in a garden Our hearts were full of love
Ezekiel's wheels seem to be turning up now The pillar of fire, a luminous cloud I know I've seen them And they do make a sound They filled my soul with "Music of the Spheres" It's been my goal for nine long years To write this song; so I can say Exactly what I believe is coming down
Oh, sweet loving music I hear your tender call To me you are a river Pure love your waterfall A tide forever bathing a rough and rocky shore Please take us on a journey So we can learn some more
I dream by day, I dream by night Through coloured rays, I feel your might And now I claim my right, son of God Eternal life, the promise of your rainbow light.
http://www.mikepinder.com/ - http://www.webwriter.f2s.com/moody/lyrics/promise.htm

Say it ain't so, AT&T:
reports of another East Coast data network outage
by Tim Stevens, posted Jan 6th 2009 at 9:19AM
Were you hoping to spend the day glued to your iPhone or BlackBerry, keeping an eye on our live Macworld coverage while in the office? If you've got AT&T on the East Coast, you'd better make sure your wireless data connection is operational. Just like in September we're getting a number of tips from people on the right side reporting outages and error messages when attempting to connect. Meanwhile we're not finding any issues out here in SF or Vegas, and the Midwest appears to be going strong after last week's shenanigans. We've pinged AT&T for deets, but let us know -- what're you seeing on your end?
Update: We still haven't received official word either way, but by the sounds of it data is back up for at least most of you. We'll keep after AT&T for some sort of confirmation.
http://www.engadget.com/2009/01/06/say-it-aint-so-atandt-reports-of-another-east-coast-data-networ/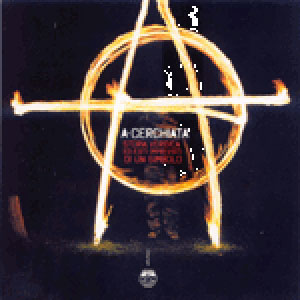 Gio 8 gen h 21 presentazione A-cerchiata @ ShaKe
Giovedì 8 gennaio alle ore 21,00 presso lo Spazio Pubblico ShaKe, presentazione di "A-cerchiata. Storia veridica ed esiti imprevisti di un simbolo" pubblicato da Elèuthera, un libro per immagini che racconta il simbolo più conosciuto di tutto il movimento anarchico.
A come rivoltA
Un libro per immagini che rincorre un segno, racconti a (non) definire un simbolo. Una serata per andare alle origini di un logo che è l'essenza stessa dell'efficacia, ma anche per scambiare suggestioni, riflessioni e ricordi legati a un segno che tutti, prima o poi, abbiamo incontrato sulla nostra strada.
Tracciata sui muri o stampata sulle magliette, tatuata sulla pelle o raffigurata sulle spille, la "A cerchiata" è universalmente nota come il simbolo più semplice, diretto ed evocativo per rappresentare la libertà, l'anticonformismo, la trasgressione, la ribellione all'esistente.
Eppure, a dispetto della sua diffusione e trasversalità (e delle molte leggende sulle sue origini) la A cerchiata ha accompagnato solo la fase più recente della storia delle idee che rappresenta.
Appuntamento con gli *iconoclasti*: sulla storia veridica del simbolo.*
Gianluca Chinnici* (art director e curatore del libro), *Matteo Guarnaccia* (artista visivo e saggista), *Maria Nadotti *(giornalista, saggista, consulente editoriale).
Nel corso della serata
- Mostra visuale-virtuale: **dal** **mondo,** **le più belle immagini della **A **** ** *
*- Saranno letti i vostri pensieri e le vostre testimonianze legate all'A cerchiata: il primo incontro? L'ultimo? Il più divertente, il più intenso, quello che ci ha aperto gli occhi? o semplicemente quello che, chissà perché ci è rimasto in testa, più ricordo degli altri*
Spazio pubblico Shake
viale Bligny 42 Milano
giovedì 8 gennaio, ore 21
tel 02.58317306
shake punto it - gomma.tv - ENGLISH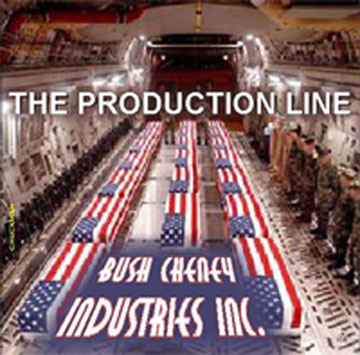 Army reports toxic risk
Says Guardsmen's exposure was low
By Bryan Corbin
INDIANAPOLIS — Sen. Evan Bayh had more questions than answers this week after hearing the Army's report on the exposure of Indiana National Guard soldiers to a toxic chemical while they served in Iraq.
After reviewing the 2003 incident, an Army panel concluded that soldiers were, indeed, exposed to the industrial chemical sodium dichromate, a known carcinogen, while protecting a water treatment plant in Iraq operated by defense contractor KBR Inc.
But medical testing conducted in late 2003 showed levels of the exposure were not high enough to cause health concerns, a finding reiterated in a report by an independent Defense Health Board.
Bayh remains concerned, however, since sodium dichromate contains hexavalent chromium, for which exposure to a tiny amount potentially could cause lung and respiratory cancers.
Moreover, Bayh is concerned that blood testing the soldiers underwent after the fact may have come too late to detect actual exposure levels, based on testimony from a medical expert in a related lawsuit. The timetable for when the chemical danger was realized also is in dispute, Bayh's spokesman Eric Kleiman said.
One conclusion Bayh is willing to draw: "There ought to be contractual requirements that contractors do their due diligence on safety threats, both for the sake of their own employees and for our own soldiers. And if they violate that, then they should not continue to do business with the United States government."
Among the soldiers potentially exposed were 161 members of the 1st Battalion, 152nd Infantry, based at Jasper and Tell City.
In the opening months of the Iraq war, those soldiers were assigned to protect KBR civilian employees at the Qarmat Ali plant near Basra, Iraq. The facility, which injected water underground for oil production, reportedly was strewn with an orange dust later determined to be sodium dichromate, a carcinogenic chemical used to clear pipe corrosion.
Indiana Guard soldiers were at the facility starting in April 2003, and some remained until September 2003, reportedly in proximity to the dust that could be inhaled or come into contact with skin.
Lawsuits filed
In June, a group of KBR employees filed a lawsuit against the company alleging they were exposed to the carcinogen. And this month, 16 Indiana National Guard soldiers filed a separate lawsuit against KBR in U.S. District Court alleging negligence. They allege KBR concealed the health risk from the soldiers and military. KBR denies the claim.
In September, Bayh, D-Ind., requested a Pentagon review of the 2003 exposure incident. Seven Army officials briefed the senator and his staff on their results Monday in Washington, D.C.
Bayh "asked a series of pointed questions in a meeting that lasted well over an hour," said Kleiman, who also attended the briefing. "Sen. Bayh felt that the Army made a good-faith effort to be responsive and forthcoming, but many of the questions he asked could only be answered by KBR. The Army conveyed that they have had trouble getting some of their own questions answered by KBR because of ongoing litigation."
KBR declined to comment Tuesday, other than to reiterate its Dec. 3 statement on the case.
Army findings
Among other things, the Army review found KBR learned of the toxic chemical at the water plant in early June 2003 and notified the Army Corps of Engineers the next month. KBR had undertaken "remediation" or cleanup of the site by August of that year, whereas the military's own environmental testing of the facility didn't start until October 2003, the Army review said.
The report found the Department of Defense's response that fall was "prompt and appropriate" and that soldiers' exposure levels were too low to cause future health problems, based on blood tests at the time.
But Bayh's office also has consulted an outside medical expert on hexavalent chromium poisoning, Dr. Max Costa — who was an expert witness in the Erin Brockovich toxic exposure case in California. One concern, Kleiman said, is whether solders' blood tests occurred within the 120-day window for detecting chromium poisoning.
In response to the briefing, Bayh will send the Army a detailed list of follow-up questions, Kleiman said. Bayh also is introducing legislation to create a medical registry of soldiers exposed to toxic chemicals, similar to that for Vietnam War soldiers exposed to the herbicide Agent Orange..
"Exposures should go into the soldier's file so that whenever they need treatment, whenever they have a symptom or some illness comes up, the treating doctor knows immediately that they were exposed to this chemical. That would suggest the . . . kind of test so that the doctor can get to the heart of the matter as quickly as possible and provide the right kind of treatment," Bayh said Monday. "The burden of proof should not be on the soldier, many years later, to go back and prove that their health condition was related to that exposure; that's virtually impossible. The benefit of the doubt should go to the soldier."
Houston-based KBR has said it intends to vigorously defend itself in the litigation. "We deny the assertion that KBR harmed troops and was responsible for an unsafe condition. KBR appropriately notified the Army Corps of Engineers upon discovery of the existence of the substance on the site and the Corps of Engineers concluded that KBR's efforts to remediate the situation were effective," KBR said Dec. 3. "Further, the company in no way condones any action that would compromise the safety of those we serve or employ."
Source: http://www.courierpress.com/news/2008/dec/23/armyreportstoxic-risk/
Provided by: Phoenix, Veterans for Peace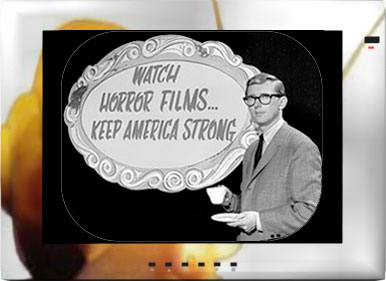 In Memory of Bob Wilkins, Host of Creature Features
Dear Friends,
On January 7, 2009, Bob Wilkins passed away peacefully. As many of you know, Bob had been suffering from Alzheimer's disease for the past several years and his family has appreciated the concern, thoughts and prayers from his friends and fans.
I've put up a slideshow/memorial with some vintage photos of Bob on his website,

Scott Moon - www.BobWilkins.Net
Norm Coleman Is A Sore Loser
Jerry Garcia Interview by Al Franken
Video: http://www.youtube.com/watch?v=KldqYNV2Hwg&feature=related
Are You Going to Believe Your Lying Eyes or BART?
Man Bob Dylan Made Infamous With "The Lonesome Death of Hattie Carroll" Dies
William Zantzinger, the subject of Bob Dylan's 1963 protest song "The Lonesome Death of Hattie Carroll," has died at age 69 according to a local paper in Maryland. In 1963, a 24-year-old Zantzinger was attending a Baltimore hotel when he struck Hattie Carroll — a 51-year-old black barmaid — in the head and shoulders with a toy cane. Details of the attack vary, but most claim he was enraged she wasn't serving him quickly enough. A distraught Carroll, who suffered from high blood pressure and an enlarged heart, returned to the kitchen where she complained to a co-worker about Zantzinger — and quickly collapsed and died. An autopsy stated she died of a brain hemorrhage and there was no mark on her head from the cane. Zantzinger was eventually charged with involuntary manslaughter due to the "tremendous emotional upsurge" caused by his attack. He paid a $25,000 fine and served a six-month prison sentence.
Bob Dylan, at the height of his protest stage, read about the incident and turned it into one of early masterpieces (click above for footage of the singer performing the tune on the Steve Allen Show). The facts of the song have been disputed over the years, largely due to the fact that it implies Carroll was beaten to death or "slain by a cane." After getting out of jail, Zantzinger got involved in real estate. In 1986 the government took possession of some of his low-income houses due to back taxes. Zantzinger continued to charge rent on property he no longer owned — even suing people who fell behind in payments. The con caught up to him, and by 1991 he was arrested and fined $62,000 and 2,400 hours of community service.
The Dylan song followed him around his whole life, though he steadfastly refused to talk about it with reporters. In 2001 Bob Dylan biographical Howard Sounes actually got a quote out of him. "[Dylan] is a no-account song a bitch," Zantzinger said. "He's just like a scum bag of the earth. I should have sued him and put him in jail. [The song is] a total lie." Clinton Heylin – perhaps the world's authority on all things Dylan – seems to agree. "Dylan's concern was not the fact themselves but how they might fit with his preconceived notions of injustice and corruption," he wrote in Behind The Shades. "That the song itself is a masterpiece of drama and wordplay does not excuse Dylan's distortions, and 36 years on he continues to misrepresent poor William Zantzinger in concert." - Andy Greene via Phoenix

"The Lord of Misrule" - by David Normal - April 2008
David Normal's Animation and Painting
http://www.normal-design.com/
Break The Silence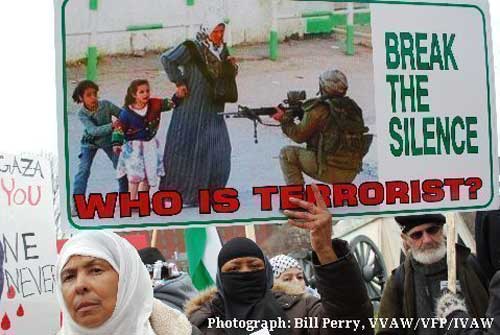 Photograph: Bill Perry, VVAW/VFP/IVAW via Phoenix and Dahbud Mensch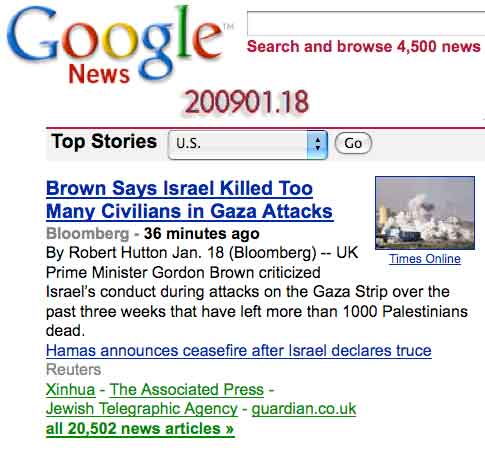 Brown says Israel KILLED TOO MANY CIVILIANS in Gaza Attacks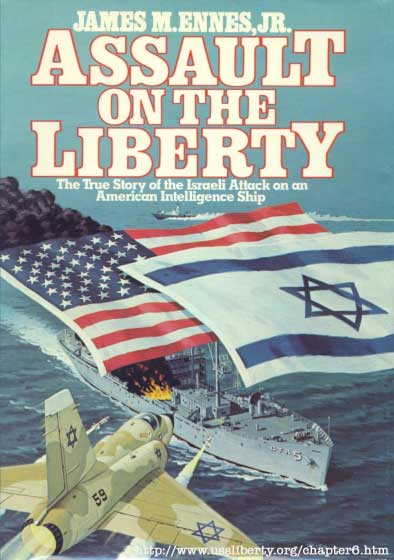 http://www.ussliberty.org/chapter6.htm
Republicans and Democrats are Lying Hypocrites
Who Support Selective Terrorism Against U.S. Military

http://www.ussliberty.org/g/libmemorial.gif
Remember the U.S.S. Liberty
34 U.S. Military Dead, 171 Wounded
http://www.ussliberty.org/
The Assault on the USS Liberty Still Covered Up After 26 Years
By James M. Ennes Jr.
Washington Report On Middle East Affairs
June 1993, Page 19
Twenty-six years have passed since that clear day on June 8, 1967 when Israel attacked the USS Liberty with aircraft and torpedo boats, killing 34 young men and wounding 171. The attack in international waters followed over nine hours of close surveillance. Israeli pilots circled the ship at low level 13 times on eight different occasions before attacking. Radio operators in Spain, Lebanon, Germany and aboard the ship itself all heard the pilots reporting to their headquarters that this was an American ship. They attacked anyway. And when the ship failed to sink, the Israeli government concocted an elaborate story to cover the crime.
There is no question that this attack on a U.S. Navy ship was deliberate. This was a coordinated effort involving air, sea, headquarters and commando forces attacking over a long period. It was not the "few rounds of misdirected fire" that Israel would have the world believe. Worse, the Israeli excuse is a gross and detailed fabrication that disagrees entirely with the eyewitness recollections of survivors. Key American leaders call the attack deliberate. More important, eyewitness participants from the Israeli side have told survivors that they knew they were attacking an American ship.
Israeli Pilot Speaks Up
Fifteen years after the attack, an Israeli pilot approached Liberty survivors and then held extensive interviews with former Congressman Paul N. (Pete) McCloskey about his role. According to this senior Israeli lead pilot, he recognized the Liberty as American immediately, so informed his headquarters, and was told to ignore the American flag and continue his attack. He refused to do so and returned to base, where he was arrested.
Later, a dual-citizen Israeli major told survivors that he was in an Israeli war room where he heard that pilot's radio report. The attacking pilots and everyone in the Israeli war room knew that they were attacking an American ship, the major said. He recanted the statement only after he received threatening phone calls from Israel.
The pilot's protests also were heard by radio monitors in the U.S. Embassy in Lebanon. Then-U.S. Ambassador to Lebanon Dwight Porter has confirmed this. Porter told his story to syndicated columnists Rowland Evans and Robert Novak and offered to submit to further questioning by authorities. Unfortunately, no one in the U.S. government has any interest in hearing these first-person accounts of Israeli treachery.
Key members of the Lyndon Johnson administration have long agreed that this attack was no accident. Perhaps most outspoken is former Chairman of the Joint Chiefs of Staff Admiral Thomas Moorer. "I can never accept the claim that this was a mistaken attack," he insists.
Former Secretary of State Dean Rusk is equally outspoken, calling the attack deliberate in press and radio interviews. Similarly strong language comes from top leaders of the Central Intelligence Agency, National Security Agency (some of whose personnel were among the victims), National Security Council, and from presidential advisers such as Clark Clifford, Joseph Califano and Lucius Battle.
A top-secret analysis of Israel's excuse conducted by the Department of State found Israel's story to be untrue. Yet Israel and its defenders continue to stand by their claim that the attack was a "tragic accident" in which Israel mistook the most modern electronic surveillance vessel in the world for a rusted-out 40-year-old Egyptian horse transport.
Despite the evidence, no U.S. administration has ever found the courage to ever found the courage to defy the Israeli lobby by publicly demanding a proper accounting from Israel.
How Does Congress React to These Complaints?
Most members of Congress respond to inquiries about the Liberty with seemingly sympathetic promises to "investigate." Weeks or months later they write again to report their "findings": "The Navy investigated in 1967 and found no evidence that the attack was deliberate," they say." Israel apologized, calling the attack a tragic case of misidentification, and paid damages for loss of life, injuries and property damage. The matter is closed.
The fact is, however, that the Navy's "investigation" examined only the quality of the crew's training, the adequacy of communications and the performance of the crew under fire. The Navy was forbidden to examine Israeli culpability and Navy investigators refused to allow testimony showing that the attack was deliberate or that Israel's excuse was untrue.
The Navy blocked all testimony about Israeli actions.
Instead of determining whether the attack was deliberate, the Navy blocked all testimony about Israeli actions. No survivor was permitted to describe the close in machine-gun fire that continued for 40 minutes after Israel claims all firing stopped. No survivor was allowed to talk about the life rafts the Israeli torpedo men machine-gunned in the water. No survivor was permitted to challenge defects and fabrications in Israel's story. Even my eyewitness testimony as officer-of-the deck was withheld from the official record. No evidence of Israeli culpability was "found" because no such testimony was allowed. To survivors, this was not an investigation. It was a cover-up.
Congress Goes Through the Motions
Occasionally a member of Congress will seem to probe a bit deeper, as Ted Kennedy once did. In response to requests, Kennedy asked Liberty survivors and others for input,which his staff then "studied" for more than a year.
Kennedy asked no questions, conducted no interviews, and showed no curiosity about the many discrepancies in Israel's story. Then Kennedy reported his "findings" in a letter to survivors. Carefully avoiding the circumstances of the attack, Kennedy's letter deplored the "tragic circumstances and loss of life" and declared that the facts about the Liberty must be uncovered "to the maximum extent humanly possible."
That letter, however, represented Kennedy's maximum effort. Appeals to Kennedy for some real help go unanswered.
The Quest Goes On
The best forum in the '90s for this story and related stories of the Middle East may well be electronic mail, the complex of computer and electronic mail systems that now span the globe.
For instance, the USS Liberty and theMiddle East are hot topics in the "Prodigy interactive computer service" run by Sears and IBM. With over 2 million members, Prodigy's "Israel" forums guarantee some lively and often bitter debates.
Unfortunately, the playing field often seems uneven. The cover-up side heavily outnumbers its critics, and is allowed tactics rarely tolerated from others. Criticism of Israeli policies is seen as "attacks on the Jewish homeland." Pro-Israel debaters charge that Israel's critics are "disciples of hate," and "pathological haters of Israel and all things Jewish."
The language gets worse. Prodigy allows Israel's critics to be called "sodomists," and "derriere bussing anti-Semites." The Washington Report on Middle East Affairs, which prints an update on progress toward a congressional investigation every year on the June anniversary of the tragedy, comes in for special vitriol. The magazine is described almost daily as I a hate rag." Yet Prodigy's censors often reject even mild and factual rebuttals of such charges as "insulting."
Despite a near media blackout, and such invective directed at publications that defy it, Americans, do continue to support the USS Liberty and its survivors' association. Late last year the Veterans of Foreign Wars Post 560 in Zimmerman, Minnesota, raised over $12,000 to create a rest stop and picnic area on donated land near a major highway as a memorial to the men who died on the Liberty. This makes the 29th public memorial to the USS Liberty.
The memorial area and an inscribed granite stone were appropriately dedicated in a ceremony attended by survivors, VFW members, Mayor Randy Hanson, and Liberty's heroic Congressional Medal of Honor-winning skipper, Captain William McGonagle, among others.
Inspired by community support, members of Post 560 are now telling the USS Liberty story to every VFW post in Minnesota. Member Stan Wuolle tells us that after they cover all of Minnesota, they will start on Wisconsin and the Dakotas.
In New York, meanwhile, Korean War veteran John Everts learned about the attack just last year and was similarly moved. Everts inspired two Korean vets groups in which he is active, "The Chosin Few" and "The Korean War Veterans" Kivlehan Chapter, to write more than 100 letters to Congress seeking the investigation that survivors mill are denied.
To date, no member of Congress has risked re-election chances by agreeing publicly to Evert's request. No one really expected that to happen. But efforts like these help members of Congress and the American public remember that Israel attacked the USS Liberty, deliberately and then lied about it. Sooner or later, Americans will insist that their government and their representatives in Congress find out why.
James Ennes retired from the Navy in 1978 as a lieutenant commander after 27 years of enlisted and commissioned service. He was a lieutenant on the bridge of the USS Liberty on the day of the attack. His book on the subject, Assault on the Liberty (Random House, 1980), is a "Notable Naval Book" selection of the U. S. Naval Institute and was "editors' choice" when reviewed in The Washington Post. Copies of the book are available from the American Educational Trust, publisher of this magazine, at $25.00 each.
SIDEBAR
About James Ennes' Assault on the Liberty
"I've never read a more graphic depiction of war and its effects at sea ... an insider's book by an honest participant."
—Author Seymour Hersh
"If this book received more attention, U.S. policies in the Middle East might be better balanced and more successful."
—Former U.S. Senator Adlai E. Stevenson, Jr.
"Searing heat and terrible noise came suddenly from everywhere. Heat came first, and it was heat—not cannon fire—that Caused me to turn away. An explosion tossed our gunners high in the air-spinning, broken, like rag dolls. We were being pounded by a deadly barrage of aircraft cannon and rocket fire.
"A solid blanket of force threw me against A railing. My arm held me up while the attacker passed overhead, followed by a loud swoosh, then silence. I seemed to be the only one left standing as the jet disappeared astern of us. Around me, scattered about carelessly, men squirmed helplessly, like wounded animals-wide-eyed, terrified, not understanding what had happened."
—From: Assult on the Liberty
http://www.washington-report.org/backissues/0693/9306019.htm
Chickenhawk War Criminal Says What?
There's a variety of theaters. So long as anybody's terrorizing established governments, there needs to be a war. - George Bush, War Criminal, October 17, 2001
They love only one thing -- they love power. And when they have it, they use it without mercy.
The great threat to civilization is not that the terrorists will inspire millions. Only the terrorists themselves would want to live in their brutal and joyless world. The great threat to civilization is that a few evil men will multiply their murders, and gain the means to kill on a scale equal to their hatred. We know they have this mad intent, and we're determined to stop them.
Our lives, our way of life, and our every hope for the world depend on a single commitment: The authors of mass murder must be defeated, and never allowed to gain or use the weapons of mass destruction. - George Bush, War Criminal, December 11, 2001
THE LAVON AFFAIR
IS HISTORY REPEATING ITSELF?
[Due to current conditions (Massacre in Gaza) and knowing there are those who will suggest the following is "arranging of events," I leave it up to you to draw conclusions.]
In 1954, Israeli agents working in Egypt planted bombs in several buildings, including a United States diplomatic facility, and left evidence behind implicating Arabs as the culprits. The ruse would have worked, had not one of the bombs detonated prematurely, allowing the Egyptians to capture and identify one of the bombers, which in turn led to the round up of an Israeli spy ring.
Some of the spies were from Israel, while others were recruited from the local Jewish population. Israel responded to the scandal with claims in the media that there was no spy ring, that it was all a hoax perpetrated by "anti-Semites". But as the public trial progressed, it was evident that Israel had indeed been behind the bombing. Eventually, Israeli's Defense Minister Pinhas Lavon was brought down by the scandal, although it appears that he was himself the victim of a frame-up by the real authors of the bombing project, code named "Operation Susannah."
It is therefore a fact that Israel has a prior history of setting off bombs with the intent to blame Arabs for them.
This is not the only example of a "False Flag" operation designed to trick the United States into attacking Israel's enemies.
( Article continues at: http://www.whatreallyhappened.com/lavon.html )
On June 8, 1967, US Navy intelligence ship USS Liberty was suddenly and brutally attacked on the high seas in international waters by the air and naval forces of Israel. The Israeli forces attacked with full knowledge that this was an American ship and lied about it. Survivors have been forbidden for 40 years to tell their story under oath to the American public. The USS Liberty Memorial web site tells their story and is dedicated to the memory of the 34 brave men who died.
[CLIP]
The Betrayal of American Veterans
Americans who volunteer for military service effectively write a blank check, payable to the United States of America for an amount "up to and including my life." The United States, in turn, promises to spend these checks responsibly. That bargain implicitly includes a promise by the United States to protect them and to seek retribution against anyone who harms them. In the case of USS Liberty, the United States has failed to keep its end of the bargain.
( Article continues at: http://www.gtr5.com/ )
Ariel Sharon 1982 (numerous sources):
Even today I am willing to volunteer to do the dirty work for Israel, to kill as many Arabs as necessary, to deport them, to expel and burn them, to have everyone hate us, to pull the rug from underneath the feet of the Diaspora Jews, so that they will be forced to run to us crying. Even if it means blowing up one or two synagogues here and there [? 9/11 ?], I don't care. And I don't mind if after the job is done you put me in front of a Nuremberg Trial and then jail me for life. Hang me if you want, as a war criminal… What you lot don't understand is that the dirty work of Zionism is not finished yet, far from it.
The January 26, 1998 NEOCON LETTER to William J. Clinton, President of the United States, stating the following twice:
"The only acceptable strategy is one that eliminates the possibility that Iraq will be able to use or threaten to use weapons of mass destruction"
"We urge you to act decisively. If you act now to end the threat of weapons of mass destruction against the U.S. or its allies"
and signed by the following people:
Elliott Abrams, Richard L. Armitage, William J. Bennett, Jeffrey Bergner, John Bolton, Paula Dobriansky, Francis Fukuyama, Robert Kagan, Zalmay Khalilzad, William Kristol, Richard Perle, Peter W. Rodman, Donald Rumsfeld, William Schneider, Jr., Vin Weber, Paul Wolfowitz, R. James Woolsey, Robert B. Zoellick
who were part of the "Neocon United States Demolition Crew for the Advancement of the (old) New World Order," and if you don't recall, here's the first few :
Elliott Abrams - Pardoned Crook
Elliott Abrams -- Pleaded guilty October 7, 1991, to two misdemeanor charges of withholding information from Congress about secret government efforts to support the Nicaraguan contra rebels during a ban on such aid. U.S. District Chief Judge Aubrey E. Robinson, Jr., sentenced Abrams November 15, 1991, to two years probation and 100 hours community service. Abrams was pardoned December 24, 1992.
http://www.fas.org/irp/offdocs/walsh/summpros.htm
Richard L. Armitage - Plame Leaker
A conspicuous exception was former deputy secretary of State Richard Armitage, whose office would only say, "We're not commenting." He was one of a handful of top officials who had access to the information. He is an old source and friend of Woodward's, and he fits Novak's description of his source as "not a partisan gunslinger." Woodward has indicated that he knows the identity of Novak's source, which further suggests his source and Novak's were one and the same.
http://msnbc.msn.com/id/10117465/site/newsweek/
William J. Bennett - Congressional Racist
Bill Bennett Tells 1.25 Million Listeners, Abort Every Black Baby to Stop Crime
109TH CONGRESS - H. RES. 473 - 1ST SESSION
Condemning the racist remarks of William Bennett.
IN THE HOUSE OF REPRESENTATIVES - SEPTEMBER 29, 2005
http://www.govtrack.us/congress/billtext.xpd?bill=hr109-473
August 6, 2001 - The Bush Administration knew there was going to be an attack on the United States:
BEN-VENISTE: Isn't it a fact, Dr. Rice, that the August 6 PDB warned against possible attacks in this country? And I ask you whether you recall the title of that PDB?
RICE: I believe the title was, Bin Laden Determined to Attack Inside the United States [Using Planes]
That PDB was read in Crawford, Texas...., August 6th is how many days before 9/11...., and who was more interested in reading a children's book than our country being attacked?
9/11 - Multiple Events - One of the first public was, Ehud Barak showed up at the BBC with a prepared 9/11 speech an hour before the 9/11 mass murders.
Video:
http://www.youtube.com/watch?v=2hhiJanLm7g
http://911exposed.org/BBC_files/barak-bbc.mpeg
Background: http://911exposed.org/BBC.htm
and another is who ordered the Air Force to stand down? Cheney was tight with the NEOCONS who sent Clinton the letter in 1998; especially Rumsfeld, and was Secretary of Defense during another invasion of Iraq based on a lie:
When contemplating war, beware of babies in incubators
The babies in the incubator story is a classic example of how easy it is for the public and legislators to be mislead during moments of high tension. It's also a vivid example of how the media can be manipulated if we do not keep our guards up.
http://www.csmonitor.com/2002/0906/p25s02-cogn.html
One thing news media totally shut out was, 9/11 should never have happened because of the person who attempted to crash a light plane into the White House when Clinton was president. A complete, new procedure was instituted to make sure this would never happen again... and that "all national mouments would be safe;" including the Pentagon:
CRASH AT THE WHITE HOUSE: THE OVERVIEW; Unimpeded, Intruder Crashes Plane Into White House
By MAUREEN DOWD,
Published: September 13, 1994
http://query.nytimes.com/gst/fullpage.html?sec=health&res=9903E1D6173BF930A2575AC0A962958260
This is a short version:
1954, Israeli agents working in Egypt planted bombs in several buildings, including a United States diplomatic facility, and left evidence behind implicating Arabs as the culprits.
June 8, 1967, US Navy intelligence ship USS Liberty was suddenly and brutally attacked on the high seas in international waters by the air and naval forces of Israel. The Israeli forces attacked with full knowledge that this was an American ship and lied about it. Survivors have been forbidden for 40 years to tell their story under oath to the American public.
Even if it means blowing up one or two synagogues here and there, I don't care. And I don't mind if after the job is done you put me in front of a Nuremberg Trial and then jail me for life. Hang me if you want, as a war criminal… What you lot don't understand is that the dirty work of Zionism is not finished yet, far from it.
Elliott Abrams, Richard L. Armitage, William J. Bennett, Jeffrey Bergner, John Bolton, Paula Dobriansky, Francis Fukuyama, Robert Kagan, Zalmay Khalilzad, William Kristol, Richard Perle, Peter W. Rodman, Donald Rumsfeld, William Schneider, Jr., Vin Weber, Paul Wolfowitz, R. James Woolsey, Robert B. Zoellick
Cheney, Dick
3 October 2001 - Israel Prime Minister, Ariel Sharon:
"Every time we do something you tell me America will do this and will do that . . . I want to tell you something very clear: Don't worry about American pressure on Israel. We, the Jewish people, control America, and the Americans know it."
http://www.mediamonitors.net/khodr49.html
http://www.fpp.co.uk/online/01/10/Sharon3.html
http://www.whatreallyhappened.com/mapstellstory.html
Israel has a prior history of setting off bombs with the intent to blame Arabs for them.
Question:
Who in this group:
Elliott Abrams, Richard L. Armitage, William J. Bennett, Jeffrey Bergner, John Bolton, Paula Dobriansky, Francis Fukuyama, Robert Kagan, Zalmay Khalilzad, William Kristol, Richard Perle, Peter W. Rodman, Donald Rumsfeld, William Schneider, Jr., Vin Weber, Paul Wolfowitz, R. James Woolsey, Robert B. Zoellick + Dick Cheney
knew:
Ariel Sharon, Ehud Barak, or their, for now, unnamed friends?


WTC - Building 7 - Lie?
What & When Did Ariel Sharon & Ehud Barak Know About 9/11?
Peace Can Be Universal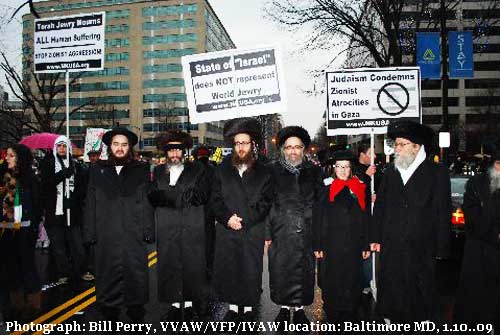 Photograph: Bill Perry, VVAW/VFP/IVAW location: Baltimore MD, 1.10.09 via Phoenix

Steve Bell
To the Guy Who Called Me A Traitor
By ARNOLD OLIVER
I haven't heard from you for a while. Three years ago you called me a "traitor", just before the invasion of Iraq. You also wrote, "Your voice against our elected government is a voice against its people, a voice against this nation."
I guess I must have set you off with my skepticism about an Iraqi nuclear weapons program and other nonexistent weapons of mass destruction, not to mention the highly dubious claims being made that Iraq was involved with 9/11 or Al Qaeda.
I am sure that you had every intention to contact me and apologize since you were so utterly wrong about, well, everything. But I suppose you were busy.
As the third anniversary of the war approaches, let's review the fine mess that you've gotten us into.
The war in Iraq has become a horrendous drain of American lives and treasure. With no end in sight, we have already lost over 2300 U.S. soldiers and will spend more than $315 billion through 2006. At least 18,000 American soldiers have suffered devastating wounds, and another 50,000 show signs of acute psychological distress.
Iraqi losses have been staggering. Over the last three years, at least 100,000 have died--most killed by U.S. forces. It is estimated that U.S. troops kill three Iraqi civilians for each insurgent dispatched. As bad as Saddam's regime was, under Bush & Company Iraq has gone from being the one of the most developed and educated countries in the region to a failed state.
The insurgency rages unabated, and civil war looms; coalition forces control only the ground upon which they stand. Amnesty International reports that U.S. troops have detained thousands of Iraqis; many are innocent and many have been abused--all of which further inflames the insurgency.
Wealthy Americans, meanwhile, have been asked to sacrifice precisely nothing. The Bush administration has cut their taxes and put the entire cost of the war on the national tab. Our children and grandchildren will pay the bill. Meanwhile, Haliburton continues to rake it in--$16 billion in Iraq war contracts so far.
From the Geneva Conventions to the UN Charter to the Treaty on Torture, the Bush regime has left the fabric of international law in tatters. Our country has become an international pariah.
And the troops have had it. A large majority of U.S. soldiers in Iraq now say it is time to leave: 72% "think the U.S. should exit the country within the next year, and more than one in four say the troops should leave immediately." (Le Moyne College/Zogby International, 2/28/06)
Many of us saw it all coming. But we were censured and ridiculed, our competence and integrity questioned, and in some cases our careers were damaged.
But I should not complain. When you denounced me, I joined a distinguished group that included generals Tony Zinni and Bill Odom, hard working UN weapons inspectors, and regrettably, too few brave journalists and academics. Let's salute all who refused to be intimidated.
During another war at another time, Theodore Roosevelt put it well, "To announce that there must be no criticism of the president . . . is not only unpatriotic and servile, but is morally treasonable to the American public."
But you, on the contrary, readily gave in to the orchestrated campaign of mass hysteria that was used to manipulate the American public into supporting an unnecessary and illegal war. You choose to give your support to an administration that "went to war without requesting--and evidently without being influenced by--any strategic-level intelligence assessments on any aspect of Iraq," according to Paul Pillar, recently retired from the CIA.
In blindly following incompetent leaders, you abetted taking our country into what Gen. Odom calls "the greatest strategic disaster in US history". By choosing to be an unthinking disciple you abandoned your responsibilities as a citizen in a democracy.
To the guy who called me a traitor: The one who betrayed our country was you; and the hands stained with the blood of the innocent are yours.
Arnold Oliver is Professor Emeritus of Political Science at Heidelberg College in Tiffin, Ohio
http://counterpunch.org/oliver03212006.html

Martin Rowson
The Biggest Lie Ever Written
100 Things Americans May Not Know About the Bush Administration Record
Read It Here: http://flyingsnail.com/biggestlieevertold.pdf
Source: http://www.whitehouse.gov/infocus/bushrecord/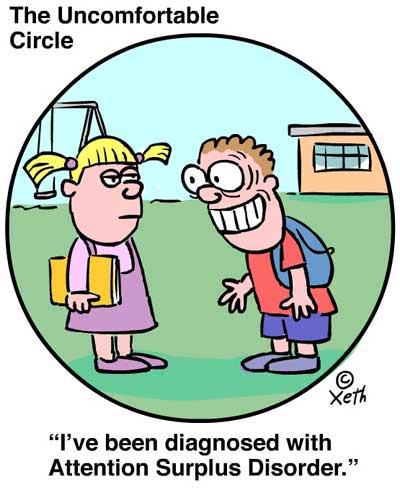 A Xeth Feinberg Cartoon - Visit Xeth's page at: http://www.xeth.com/
Imagine
Imagine not spending a couple of hours, or days, or weeks in the "wilds" of your choice, but two or three months at a time, to not just open the door to this sort of deep spiritual connection with the earth and all of its living elements, but to be slowly transformed, from the inside out, by these living energies...some of which are obvious and known by all, some of which are subtle and rather unknown in our culture, such as prana, such as chi.
Living in our expensive and wasteful fancy boxes (our homes, offices), we are well protected from everything but cut off from a spiritual food that is very real and infinitely rich: the earth, the natural world are imbued with unknown spiritual-subtle energies we have so far completely ignored in the modern world (ancient cultures understood about sacred sites, and ancient traditions such as yoga or taoism knew about the necessity of connecting daily with the earth's energies for physical balance and spiritual progress).
Our crass materialism and our religious stand of completely separating the sacred (the Spirit) from the profane (the so called physical world) has left our culture starved for spiritual nourishment and dangerously ignorant, destructive, deaf and blind, and out of balance if not mad.
Thankfully, some individuals have not forgotten this necessary connection with real life (real as opposed to the artificial and rather toxic man-made environment we are still creating).
Ultimately, it is when we know that the so called environment (nature) is not separate from us, that we are not "in it" but of it, that we do not come "into" this world but out of it, that we understand the obvious: not just a physical but a spiritual oneness with the natural creation that makes it very difficult to live in a state of disharmony with the natural earth, or in a state of antagonism as does western civilization, that still seeks to "conquer", "dominate" and "control" rather than cooperate intelligently and effortlessly with nature (as a sailboat cooperates with the wind, or a surfer with the wave). - Raphael
Source Article: A deeper form of environmentalism written by Debra Chase
http://lakeconews.com/content/view/6920/770/


Please Click to Visit Dizzy Dayz BLOG
Heads Up Psychedelic Music Aficionados
The Charlatans, 1964, Golden Gate Park Conservatory


George Hunter, Dan Hicks, Mike Wilhelm, Mike Ferguson, Richie Olsen
http://flyingsnail.com/Scrapbook/Mike_Wilhelm.html
[Below songs are available via iTunes]
Charlatans live at the Fillmore:
I Saw Her - lead vocal by George Hunter - [Click to Listen]
The Charlatans have been given credit for being the FIRST Psychedelic Band and easy to understand when listening to George Hunter's beautiful performance of "I Saw Her". Please Visit George's page Western Dovetail. It is also worthwhile remembering Jerry Garcia considered Mike Wilhelm his favorite guitarist. ~@~
On The Road Again - lead vocal by Dan Hicks - [Click to Listen]
During his performance of On The Road Again, Dan Hicks touches a center experienced by few and ;-)elder(-; Deadheads may enjoy giving this tune a listen. Please Visit Dan's page: Welcome to Hicksville ~@~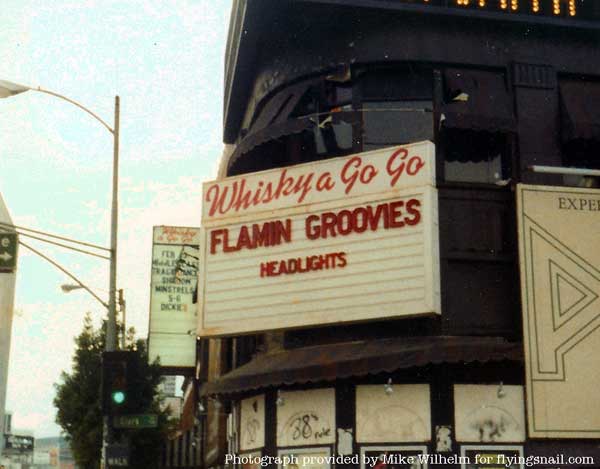 Archival Track Details
by Mike Wilhelm
Chris Wilson & ex-Flamin' Groovies:
Produced by Chris Wilson, Mike Wilhelm, James Ferrell and Danny Mihm, recorded at CD Studio, San Francisco, 1991
If Wishes Were Horses (Chris Wilson) [Click to Listen]
From: Back on the Barbary Coast
Vocal, bass, acoustic 12 – Chris Wilson
Acoustic 12 – Mike Wilhelm
Electric guitar – James Ferrell
Drums – Danny Mihm
Sympathy For The Devil (Jagger/Richards) [Click to Listen]
From: Back on the Barbary Coast
Vocal, bass – Chris Wilson
Rhythm guitar – James Ferrell
Lead guitar – Mike Wilhelm
Maracas on drums – Danny Mihm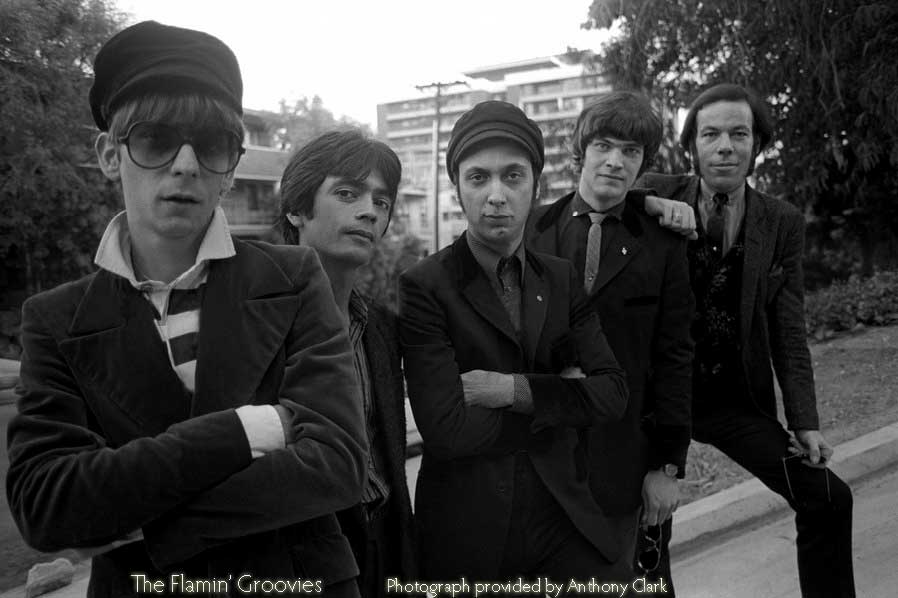 Flamin' Groovies Photograph provided by Anthony Clark - http://www.flamin-groovy.com/
The Derelict (Fifteen Men On A Dead Man's Chest)
(Traditional/arranged Wilhelm) [Click to Listen] - NOTE: UPDATED VERSION
"This is the song sung by the pirates in Robert Louis Stevenson's book, Treasure Island. A dead sailor's sea chest was generally up for grabs hence a derelict vessel was known as a 'dead man's chest'.
"The San Francisco connection is that Stevenson was a resident of the city. In the 19th century, Pacific St. between Kearny St. and Montgomery St., known as 'the Barbary Coast', was the most lawless place in San Francisco. Hoodlums ruled. Sailors who patronized the bars and deadfalls often had chloral hydrate slipped into their drinks and woke up on a ship bound for Shanghai." – Mike Wilhelm
From: Back on the Barbary Coast
Lead Vocal – Chris Wilson
Acoustic 12, back up vocal – Mike Wilhelm
Acoustic guitar, back up vocal – James Ferrell
Drums, back up vocal – Danny Mihm
Loose Gravel (quintet w/ Mike Wilhelm & Chris Wilson):
Produced by Richard Olsen (ex-Charlatans)
When You Got A Good Friend (Robert Johnson) [Click to Listen]
From: Wilhelm LP 1976 (KSAN-FM live broadcast, recorded 1972)
Vocal, lead guitar – Mike Wilhelm
Slide guitar – Chris Wilson
Rhythm guitar – Dennis Corso
Bass – Kenny Streight
Drums – Gene "Geno" Rhymer (aka Rol Gjano, Roland Grand)
Hear The People (Wilhelm/Kunstler) [Click to Listen]
From: Wilhelm LP 1976 (recorded 1971)
Lead vocal, lead guitar – Mike Wilhelm
Back up vocal – Chris Wilson
Back up vocal, acoustic guitar – Rick Kunstler
Bass – Kenny Streight
Drums – Gene Rhymer
Loose Gravel (trio):
Produced by Mike Wilhelm
Medley: Sittin' On Top Of The World/ It's All Over Now
(traditional, arr. Wilhelm/B. Womack) [Click to Listen]
From: Mike Wilhelm's archives (live in San Francisco, 1976)
Lead vocal, guitar – Mike Wilhelm
Bass, vocal – Michael Deryckx
Drums – Rol Gjano
I'm Not Satisfied (Frank Zappa) [Click to Listen]
From: Mike Wilhelm's archives (live in San Francisco, 1976)
Lead vocal, guitar – Mike Wilhelm
Bass, vocal – Michael Deryckx
Drums – Rol Gjano
Waitin' In Line (Wilhelm/Kunstler) [Click to Listen]
From: Private label 45 rpm single (1975)
Lead vocal, lead guitar, 12-string rhythm guitar – Mike Wilhelm
Bass, vocal – Michael Deryckx
Drums – Rol Gjano
Backup vocal – Monica Nitz
Flamin' Groovies live
at Valencourt Plaza, Embarcadero Ctr., San Francisco 1979.
Let It Rock -> I Want You - [Click to Listen]
Mike Wilhelm
Produced by Mike Wilhelm
Jesse's Theme - [Click to Listen]
From: Wood & Wire (1992)
Solo 12-string guitar – Mike Wilhelm
Flamin' Groovies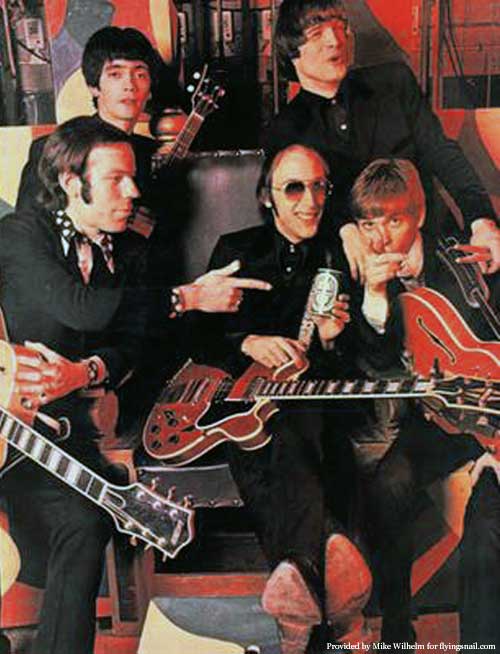 Learn more about Chris Wilson and his new album, "Second Life"
http://www.flamin-groovy.com/
Guitarist and multi instrumentalist Chris Wilson is the ex-singer of the best-remembered line-up San Francisco's cult classic band The Flamin' Groovies and a long-term member of The Barracudas, another band with a dedicated and loyal fan base that stretches right around the world.
Bottlerock Blues & Rhythm Band
House Of The Rising Sun - Neon Napalm Lead Vocal
YouTube Video: http://www.youtube.com/watch?v=Jo5h3EymaqM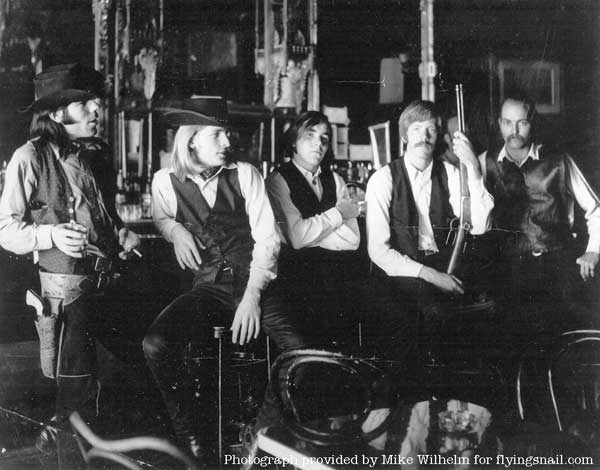 Charlatans at the Red Dog Saloon, Virginia City, Nevada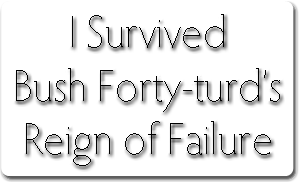 Right Click to Download this FREE image
Don't get angry with me, Everybody Messes Up Words Sometimes and a good example of this is provided in the following Flash Animation with Music & Vocal by John McCutcheon and WORDS by [War Criminal] George W. Bush:


Click to Watch and Listen in Wonderment!
Hackers Breach Major Credit Card Processor
[Ed. Note: Word Misuse - Corporate media Needs to
Define the difference between Hacker and Cracker.]
by David Goodhue - AHN Reporter
Miami, FL (AHN) - A major credit card processor, Heartland, revealed this week that hackers have breached its system, allowing up to 100 million illegal duplicate credit card payments to be made per month.
The company said it was contacted about suspicious activities by Visa and Mastercard, and that a hacker planted software that stole credit card data from Heartland's networks.
Heartland processes credit cards for about 250,000 companies. The company claims no social security numbers, encrypted personal identification numbers, addresses or telephone numbers were stolen.
The breach happened some time in 2008, Robert Baldwin, Heartland's president and chief financial officer said. Technology watchers say this could be a record-setting compromise of credit card data.
Baldwin said his company has been cooperating with the Secret Service and the Justice Department. Officials think that the attack was perpetrated by a sophisticated group that has hacked into other financial institutions. Baldwin told USA Today that Heartland will notify victims that their information was stolen after the situation is sorted out.
http://www.allheadlinenews.com/articles/7013785037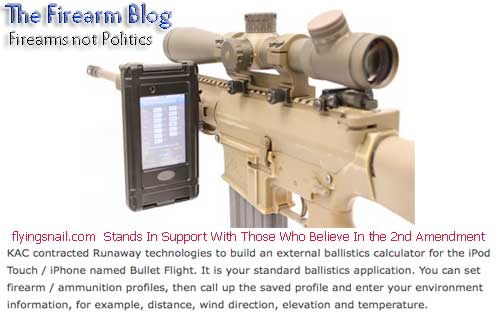 iPod Touch mounted on M110 Sniper Rifle
from: The Firearm BLOG
We have seen some cool iPhone applications come out for shooting sports. But nothing comes close to the sheer awesomeness of the Knights Armaments M110 iPod Touch mount and accompanying ballistics software.
The M110 is the 7.62×51mm semi-automatic sniper system which won the Army's competition to replace the aging M24 bolt action sniper system. While it will not replace the M24 in the near future, the system is seeing action in Iraq and Afghanistan.
The rifle is based on the SR-25, which in turn is based on the Stoners' AR-10 design. [Continue Reading At]:
http://www.thefirearmblog.com/blog/2009/01/20/ipod-touch-mounted-on-m110-sniper-rifle/
Have You Viewed The Actual Main Page Lately?
One Never Knows What One Will Discover There!
http://flyingsnail.com/index.html
Achieving Balance
ONE WAY BLOGGING FOR YOUR NOGGIN
On My Way Out of Now
Few will read this entire piece because of statistics related to short attention span.
Ever wonder how and why these statistics came to be; especially, when our country was once considered educationally innovative? I can sum it up in two letters, TV.
Having reached a pre-determined 'net goal', all that is left for these pages is praise, rebuke, and repair, but first, some things need to be seen from my perspective, so let's start by answering some questions.
Q: Why do you make it so hard to find a contact [email address] for you and why don't you have a BLOG where people can respond?
A: I don't make things "hard to find," I tend to make things a challenge, which, based on my experience, avoids "Whim Posting;" meaning, if you want to contact me it will take some effort on your part. My actual email address is listed somewhere in these pages. [If you want a little background, use the search box on the right (above) and enter the words (as you see them): +Adventure .
From now on, in this piece, when you see SB = followed by a word or words, it means check those words out in the search box. (btw) Adding a plus sign (+) before a word, in Google searches, will make sure that word is included and (fwiw) a minus sign (-) before a word will make sure that word is NOT included.]
The simple answer for 'why no two-way BLOG' is, I am too over educated to be tolerated by a majority and will attempt to explain this on several levels.
An easy description for "Stargate" fans (I am a fan) is (sigh), I have Rodney's intelligence and ego with Ronan's personality. In current terms, based on think tanks and being fond of large motorcycles == biker geek ... and there were more than me, that go back almost as long as me.
If one is curious how "biker geek" manifested, several psychologist friends have suggested, 'that particular behavior originated because, as a youth, I was bored and needed something exciting in my life (motorcycles).' To give one an example of what they are saying is, I started school when I was five years old and by the time I reached six years of age, was in third grade. I (first) started university when I was fifteen and was rejected by fellow students due to my age, which got me placed in a school specifically designed for folks like me. It is also worthwhile to know my father gave me a Whizzer motorbike a few years before I started university SB = +Whizzer and if you want to discover more on my relationship with motorcycles, SB = +sprungpresent .
On a work level, I was appreciated by superiors and everybody else had a complaint or referred to me as a word rhyming with sick; however, usually, within five to ten years those complaints all became a thank you, because that is the time span it sometimes took to figure out what I was really doing (making people better people through education). I will admit that my reason for being 'hard on folks' is because i saw non-obvious talent and 'pulled that out'. Thirty some odd years later, I still get apologies that start with (more or less), "If I had only known what you were doing.... and my response is, "It's okay, I never had any expectations in the first place." (-;
Finally, the last reason why I do not allow response was best defined by my eldest daughter who said, "If you haven't figured it out by now, we're asshole magnets." I'll leave interpretation for the reader.
Q: You've been talking about getting off the Internet for years, why?
A: Geez, I hate explaining this because I (imo) need a bunch of proof I have tucked away for later publication (Source) so here is another simple answer, but hard to understand without personal experience.
Assuming the reader understands no two people are exactly the same, based on personal experience, and what works for one person, will not necessarily work for another person (historically speaking, there is abundant proof of this fact), my normal consciousness is similar to that of a person under the influence of LSD-25.
When I was a teenager, by accident, I ingested approximately five hundred micrograms of Sandoz LSD-25 at a party filled with academic research psychologists SB = +"Remnant of Paradise" and ended up amusing everyone because I was not affected in a way they had previously encountered.
I too was amused because these folks seemed to understand what I was talking about on levels others thought were 'out of norm' and this delighted me. Also, knowing most of these folks were related to government sponsored programs may give a future clue as to where this may have led.
By now one is probably thinking, 'what does this have to do with anything;' that is, ...unless one has read the section on famous people who took LSD (Remnants of Paradise), which brings in a 'new level'.
I am a confidant for a number of people and will never break that trust; except for mentioning I have 'flown Trans Love Airways' with most of them.
Among that group are some folks who would like to 'keep the covers on their past', so to speak, and are part of the technology crowd from the early days previous to micro computing.
There is a story on the Internet of a conversation that took place in a basement (ours) that primarily was one of the first steps in launching what later became Internet and everyone there was mentioned, with exception of me (In my yet to be published (here) archive, I have email and other documents supporting this fact.)
I was left out because I was opposed to the 'next phase' idea and here is why.
Much to the chagrin of a government agency (think tank) and the Defense Department, a group of people (including me (cspang@mit-ai.arpa & ccs.cspang@mit-oz.arpa)) wanted to extend the reach of research facilities beyond graduate level and research centers, to the masses (undergraduates and beyond).
(OT) One thing never mentioned is, a group of folks, at that time, wanted a computer similar to the one displayed on the television series, "Star Trek" during the '60s and started constructing one.
After UUCP/USENET started rolling, it looked like this was going to happen (extension of pre-Internet) and, like most things, was great in the beginning, but then started to (imo) fail because terms like <flame on>, <flame retardant suit>, and so on, started to show up in posts to 'groups'. At that meeting I also pointed out a recent event that occurred in the Tenderloin district of San Francisco over C.B. radio.
Previous to the C.B. radio fad, there were a group of very nice people (San Francisco) who used C.B. sideband to keep in touch with their families during the morning and afternoon commutes, and over the years tended towards (positive) 'nuclear family'.
When the C.B. fad hit, most of the communications ended because of power trips controlled by what was termed "Channel Masters"; i.e., people who would do what they needed to do in order to control a C.B. channel, even if it meant breaking the law by using, for the most part, dirty amplifiers (amplifiers that did not meet F.C.C. specs, ...that were not allowed in the first place by rule and regulations on this band).
To make a long story short, two men, fighting for control of a stupid C.B. frequency had a 'wild west' gun fight in the Tenderloin, with a bunch of people waiting and watching, and one man died. I personally felt this was a waste of life!
So, I am explaining to this group the side effects of "be careful what you wish for," suggested that expanding the already existing (net related) services may not be a good idea, because of <flame on - flame off> stuff being indicative of future problems, and was voted down.
After Internet was established, based on statistics, ...rather than be an educational tool, as I and others had hoped for, the Internet had become a porn surfer paradise (statistic at that time == 66% of net usage was directed at porn sites).
Needless to say, when I pointed this statistic out to some of those present at that original meeting, Nobody wanted to hear about it and I ended up pissing off more people. At this point it would be worthwhile mentioning most of these folks became multimillionaires from this technology and, later on, I'll provide everything I have on one jerk who threatened to sue me, "using millions of dollars" (his quote) if I ever bring up or post 'real details.' of certain Internet beginnings... but, we'll see, when I cross that bridge!
Finally, there is a battle on the horizon with Internet control and it primarily deals with two things, ipv6 and level 2.
I have no intention of participating in this battle, in any way, other than being a PITA, because I already know tcp/ip can not be controlled and am no longer trusting of the phone companies who violated my 4th Amendment right of privacy, until some of their key executives go to jail.
(fwiw/imo) The folks who will be pushing for level 2 are Corporate Media who anticipate $ub$cription fees for their 'new toys.'
In turn, I hope to be off Internet before the 'fhit hits the san'.... and it is worthwhile to know Nobody has an alternative written in Forth SB = +CommuniTree +Forth (-; that will make their level 2 system look like poop!
Q: Why are you a recluse?
A: I don't like answering this question either, and the best description was provided by an old roommate who said, "People seldom encounter folks like you (my wife and I) and get paranoid quickly because most 'nice people', in their experience, have ended up ripping them off, on some [emotional] level and... they want to be the first."
I mentioned how my eldest daughter defines it, so there is only one platform not covered that involves: Sharing of Karma of those that surround one.
For example, if one spends their time in the presence of a given (person for example) for a long period of time, one will develop traits similar to that person, both good and bad, and over time these traits become part of their E.E.C. SB = +Remnant +EEC ; i.e., if a person does not like a particular vegetable, that dislike may be passed to those who surround said person, because the vegetable was never served, and they have never tasted it. Whereas, on some future occasion, when one steps 'outside the box', gets put in a 'try this vegetable' situation, discover it is delicious, develop their own opinion, and add this vegetable to their menu, despite what they were originally led to believe.
Q: I read you have 3,333 pages, where do I start?
A: Thank you for asking. (iirc) There are around 5,000 pages 'here' and I would encourage starting with the Disclaimer.
More later and consider the above 'un-edited', for the moment, as it will probably change during construction.
Attention Podsters & Poddites
The Mobile directory has been fixed, improved, and restored, but there is still work to do.
Movies are now available in Podcast & Non-3g iPhone (m4v) and 3g iPhone (3gp) format.
When more [movies] are added, a syndication feed will be created allowing new movies to be directly imported into iTunes.
Currently there are three (m4v/podcast/pre-3g iPhone) movies available that will activate iTunes, and are listed below for testing purposes. A complete list is located on the Mobile index.
The first (7-MB - m4v) movie is titled,
Read My Lips - Click to Watch
Keywords: George+Bush, Tony+Blair, First+Love, Take+Dictation, Humor
The second (80-MB - m4v) movie is titled,
Leisure - Click to Watch
Keywords: Animation, Fix+the+Planet, Plan, Thought+Provoking, Educational
[Note: Leisure is quite old, scratchy, and low resolution. The audio is good and it presents one way of fixing world sociological and environmental problems, etc.]
New:
The third (3-MB - m4v) movie is titled,
Dancing Frogs - Click to Watch
Keywords: Animation, Frog, Dance, Stayin+Alive, Humor, NCast
Worm Infects Millions of Computers Worldwide
[Could Be Titled?: What .cn porn spammers sow, so shall they reap?]
[Comment about Kenny elided!]
By JOHN MARKOFF
Published: January 22, 2009
A new digital plague has hit the Internet, infecting millions of personal and business computers in what seems to be the first step of a multistage attack. The world's leading computer security experts do not yet know who programmed the infection, or what the next stage will be.
In recent weeks a worm, a malicious software program, has swept through corporate, educational and public computer networks around the world. Known as Conficker or Downadup, it is spread by a recently discovered Microsoft Windows vulnerability, by guessing network passwords and by hand-carried consumer gadgets like USB keys.
Experts say it is the worst infection since the Slammer worm exploded through the Internet in January 2003, and it may have infected as many as nine million personal computers around the world.
Worms like Conficker not only ricochet around the Internet at lightning speed, they harness infected computers into unified systems called botnets, which can then accept programming instructions from their clandestine masters. "If you're looking for a digital Pearl Harbor, we now have the Japanese ships steaming toward us on the horizon," said Rick Wesson, chief executive of Support Intelligence, a computer security consulting firm based in San Francisco.
Many computer users may not notice that their machines have been infected, and computer security researchers said they were waiting for the instructions to materialize, to determine what impact the botnet will have on PC users. It might operate in the background, using the infected computer to send spam or infect other computers, or it might steal the PC user's personal information.
"I don't know why people aren't more afraid of these programs," said Merrick L. Furst, a computer scientist at Georgia Tech. "This is like having a mole in your organization that can do things like send out any information it finds on machines it infects."
Microsoft rushed an emergency patch to defend the Windows operating systems against this vulnerability in October, yet the worm has continued to spread even as the level of warnings has grown in recent weeks.
Earlier this week, security researchers at Qualys, a Silicon Valley security firm, estimated that about 30 percent of Windows-based computers attached to the Internet remain vulnerable to infection because they have not been updated with the patch, despite the fact that it was made available in October. The firm's estimate is based on a survey of nine million Internet addresses.
Security researchers said the success of Conficker was due in part to lax security practices by both companies and individuals, who frequently do not immediately install updates.
A Microsoft executive defended the company's security update service, saying there is no single solution to the malware problem.
"I do believe the updating strategy is working," said George Stathakopoulos, general manager for Microsoft's Security Engineering and Communications group. But he added that organizations must focus on everything from timely updates to password security.
"It's all about defense in depth," Mr. Stathakopoulos said.
Alfred Huger, vice president of development at Symantec's security response division, said, "This is a really well-written worm." He said security companies were still racing to try to unlock all of its secrets.
Unraveling the program has been particularly challenging because it comes with encryption mechanisms that hide its internal workings from those seeking to disable it.
Most security firms have updated their programs to detect and eradicate the software, and a variety of companies offer specialized software programs for detecting and removing it.
The program uses an elaborate shell-game-style technique to permit someone to command it remotely. Each day it generates a new list of 250 domain names. Instructions from any one of these domain names would be obeyed. To control the botnet, an attacker would need only to register a single domain to send instructions to the botnet globally, greatly complicating the task of law enforcement and security companies trying to intervene and block the activation of the botnet.
Computer security researchers expect that within days or weeks the bot-herder who controls the programs will send out commands to force the botnet to perform some as yet unknown illegal activity.
Several computer security firms said that although Conficker appeared to have been written from scratch, it had parallels to the work of a suspected Eastern European criminal gang that has profited by sending programs known as "scareware" to personal computers that seem to warn users of an infection and ask for credit card numbers to pay for bogus antivirus software that actually further infects their computer.
One intriguing clue left by the malware authors is that the first version of the program checked to see if the computer had a Ukrainian keyboard layout. If it found it had such a keyboard, it would not infect the machine, according to Phillip Porras, a security investigator at SRI International who has disassembled the program to determine how it functioned.
The worm has reignited a debate inside the computer security community over the possibility of eradicating the program before it is used by sending out instructions to the botnet that provide users with an alert that their machines have been infected.
"Yes, we are working on it, as are many others," said one botnet researcher who spoke on the grounds that he not be identified because of his plan. "Yes, it's illegal, but so was Rosa Parks sitting in the front of the bus."
This idea of stopping the program in its tracks before it has the ability to do damage was challenged by many in the computer security community.
"It's a really bad idea," said Michael Argast, a security analyst at Sophos, a British computer security firm. "The ethics of this haven't changed in 20 years, because the reality is that you can cause just as many problems as you solve."
http://www.nytimes.com/2009/01/23/technology/internet/23worm.html
Happy Birthday FlyingSnail
Wed, 28 Jan 1998 - Wed, 28 Jan 2009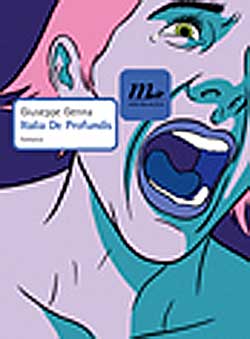 Giovedì 29 gennaio - Ore 21 Libreria ShaKe
Viale Bligny 42 - Milano presentazione
di Italia de profundis di Giuseppe Genna
Lo scrittore Alan D. Altieri presenterà con l'autore il "romanzo" Italia de profundis (edito da minimum fax). Letture dal libro dalla voce di Donata Feroldi (autrice di La chiave della porta rossa - Leggere Victor Hugo, edito da peQuod). Proiezione di installazioni videomusicali.
Il libro
Col suo Italia De Profundis Giuseppe Genna porta agli estremi l'operazione chirurgica su se stesso e il Paese in cui viviamo. Genna convoca i lettori in una sorta di Stonehenge fatta di storie. Si formano sotto i nostri occhi episodi di un'autobiografia impazzita, rivelazioni plausibilmente autentiche di quanto il personaggio "Giuseppe Genna" ha vissuto: il drammatico ritrovamento del cadavere del padre, in un'atmosfera lynchiana, una tardiva autoiniziazione all'eroina, l'esplosione dell'iracondia in una forma che guarda alla scrittura di Burroughs e l'intervento attivo e criminale nell'eutanasia di un caso simile a quello di Piergiorgio Welby. Fino all'avventura surreale in una estate solitaria presso un villaggio turistico in Sicilia, dove le tessere di questo racconto scomposto trovano una soluzione che è esilarante fino all'inabissamento finale.
Fiction reale o realtà finzionale, questo libro pretende e concede un atto d'amore assoluto, formulato come appello al lettore, affinché sia cancellato l'autore e si ascolti l'inquietante risata con cui Genna stesso e l'Italia vengono seppelliti.
L'autore
Giuseppe Genna è nato nel 1969 a Milano, dove vive e lavora. E' autore di 14 titoli, tra cui i thriller Nel nome di Ishmael e Grande Madre Rossa (Mondadori), l'autofiction Dies Irae (Rizzoli) e il romanzo Hitler (Mondadori). Ha fatto parte del pool del portale Clarence, è redattore di Carmilla e scrive per diversi magazine.
Chi presenta
Alan D. Altieri (Milano, 1952) è uno dei più celebrati scrittori di genere. La sua trilogia Magdeburg (L'eretico, La furia, Il demone, editi dal Corbaccio) ha ottenuto un vasto successo in Italia e all'estero. Lavora nella grande editoria. Fa parte della redazione di Carmilla.
info: vuvuvu shake.it
ShaKe Edizioni aderisce alla campagna di lotta 'Riprendiamoci Conchetta'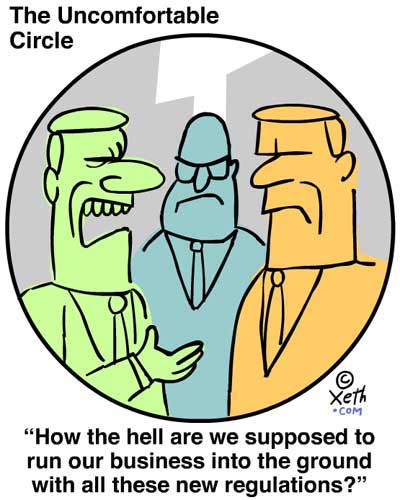 A Xeth Feinberg Cartoon - Visit Xeth's page at: http://www.xeth.com/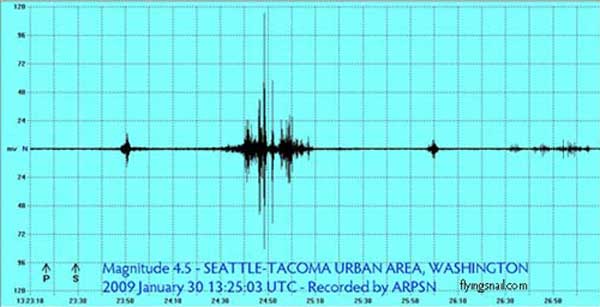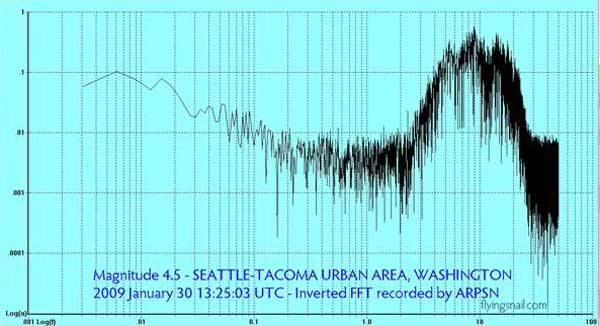 Magnitude 4.5 - SEATTLE-TACOMA URBAN AREA, WASHINGTON
2009 January 30 13:25:03 UTC (05:25:03 PST)
http://earthquake.usgs.gov/eqcenter/recenteqsww/Quakes/us2009clak.php
The First Fifteen Minutes of September 11th
Former Air Traffic Controller Robin Hordon speaks out
on 9/11, NORAD and what should have happened on 9/11.
By Jeremy Baker
Within three hours of the attacks on the World Trade Center and Pentagon, Robin Hordon knew it was an inside job. He had been an Air Traffic Controller (ATC) for eleven years before Reagan fired him and hundreds of his colleagues after they went on strike in the eighties. Having handled in-flight emergencies and two actual hijackings in his career, he is well qualified to comment on what NORAD should have been able to achieve in its response to the near simultaneous hijacking of four domestic passenger carriers on the morning of September 11th, 2001.
"There had to be something huge to explain why those aircraft weren't shot down out of the sky. We have fighters on the ready to handle these situations twenty-four-seven. We have NORAD (North American Aerospace Defense Command) monitors monitoring our skies twenty-four-seven. We have a lot of human beings, civilian and military, who care about doing their jobs."
I spoke to Mr. Hordon one afternoon at a coffee shop in Bremerton, Washington.
"You have to understand the emotions, the duty, the job of an ATC. We are paid to watch aircraft go across the country."
It's clear that Hordon is passionate about the subject. A lot of people are. The dark questions that the attacks have left lingering in the national psyche have been recorded. 49% of New Yorkers believe that the government had something to do with 9/11. Following an interview with Charlie Sheen, a CNN poll revealed that 82% of respondents believed that there was "a government cover-up of 9/11." Jay Leno asked Bill Maher on The Tonight Show about the fact that 37% of Americans (according to Scribbs-Howard) believe that the government was involved in some way with the attacks (Maher was definitely not one of them). [Contiinue Reading At]:
http://www.communitycurrency.org/robin.html
Note from Paul Krassner
Booksellers Celebrate Death of Federal Internet Censorship Law
ABFFE Press Release:
NEW YORK, NY, January 21, 2009 - Booksellers today joined civil libertarians throughout the country in celebrating the death of the Child Online Protection Act (COPA), an Internet censorship law that Congress passed in 1998. The American Booksellers Foundation for Free Expression, the bookseller's voice in the fight against censorship, Powell's Books, and A Different Light Bookstores were among the plaintiffs who challenged the constitutionality of the law in a case filed by the American Civil Liberties Union. On Tuesday, the U.S. Supreme Court announced that it would not review a decision by a federal court in Philadelphia striking down the law. "It was a long wait, but it was worth it," ABFFE President Chris Finan said. "The death of COPA means that Americans will continue to enjoy unfettered access to the Internet."
Congress has tried to censor the Internet twice. In 1996, it passed the Communications Decency Act (CDA), banning "patently offensive" depictions or descriptions of "sexual or excretory activities." When the Supreme Court struck down CDA, Congress passed COPA, which prohibited the display of material that is "harmful to minors" on commercial Web sites. The ACLU challenged the law on behalf of a broad coalition, including booksellers, writers, artists and health educators who use the Internet to communicate sexual material that is not legally obscene and is therefore protected for adults.
Booksellers feared that the display of sexual content on their Web sites, whether in the form of jacket art or book excerpts, could subject them to prosecution. Powell's Web site lists some books that contain sexually explicit material as well as books with sexually suggestive titles. A Different Light Bookstores, a gay and lesbian bookstore, expressed the concern that all of its Web content might be considered as "harmful to minors" in some communities.
The passage of COPA encouraged nine states to enact versions of the law. ABFFE joined members of the Media Coalition in challenging eight of them. ACLU challenged a ninth law, in Michigan, and participated in several of the Media Coalition cases as a plaintiff. All but two of the laws, in Ohio and Utah, were struck down. The Ohio and Utah laws have been enjoined and are unlikely to be upheld in light of the COPA decision.
For further information, contact: Chris Finan, American Booksellers Foundation for Free Expression, (917) 509-0340
Click for More information on Paul Krassner
Boptime - Saturday Morning
6 AM East -- 3 AM Pacific -- 1100 UTC
Click: Listen On-Line for Even Steven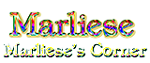 Underground Hour
Tuesdays - 7 to 8 pm
http://ksfs.sfsu.edu/
Music by MiKo
Tuesdays - 8 to 11 pm
Paper Mill Creek Saloon - Forest Knolls, CA - Free
Miko's Eclectic Nostalgia! - Saturdays - 6:30 - 9:30 pm
Taste of Rome, 1002 Court St - San Rafael, CA - Free
Featuring Brian "The Don" Fischer on drums, Rocky of "The Rocoons" on bass
Marliese's Corner - San Francisco Events



ASIFA-SF NEWSLETTER
Association International du Film d'Animation
(International Animated Film Association)
January 2009
by Karl Cohen
The Jan. 09 issue includes a long exclusive interview with the director of Waltz with Bashir director Ari Folman about pacifism, the message of his film, etc, - His feature opens nationally this month in the US and it is Israel's entry into the Oscar race.
DISNEY DIRECTOR ERIC GOLDBERG PRESENTED AN INSPIRING TWO HOUR PROGRAM AT THE CARTOON ART MUSEUM Eric said he was coming to San Francisco to sign copies of his new book Character Animation Crash Course! and to talk about the principles of animation, but his program c! overed a lot more than that and it was full of surprises. He told us that he is currently working on Disney's upcoming hand-drawn feature, The Princess and the Frog, on which he is the Supervising Animator of the character "Louis," a trumpet-playing alligator. If the public takes to it next holiday season, it will likely be the first of many hand-drawn features, not only from Disney, but also from other studios ready to launch projects if The Princess makes money. Studio administrators are beginning to realize that using hand-drawn animation could once more be profitable for them as the budgets will be a lot less than those of CGI features. [Continue Reading]
Testing

Testing
Seismic Data On Line
Amateur Radio Public Seismic Network
Information: Progress Log -- Heliplots -- Seismic Shed Re-Construction


Click above image for large picture of recent RAW seismic activity.
UTC and PDT time located lower left corner, which correspond to the weather picture below.
How's the Weather?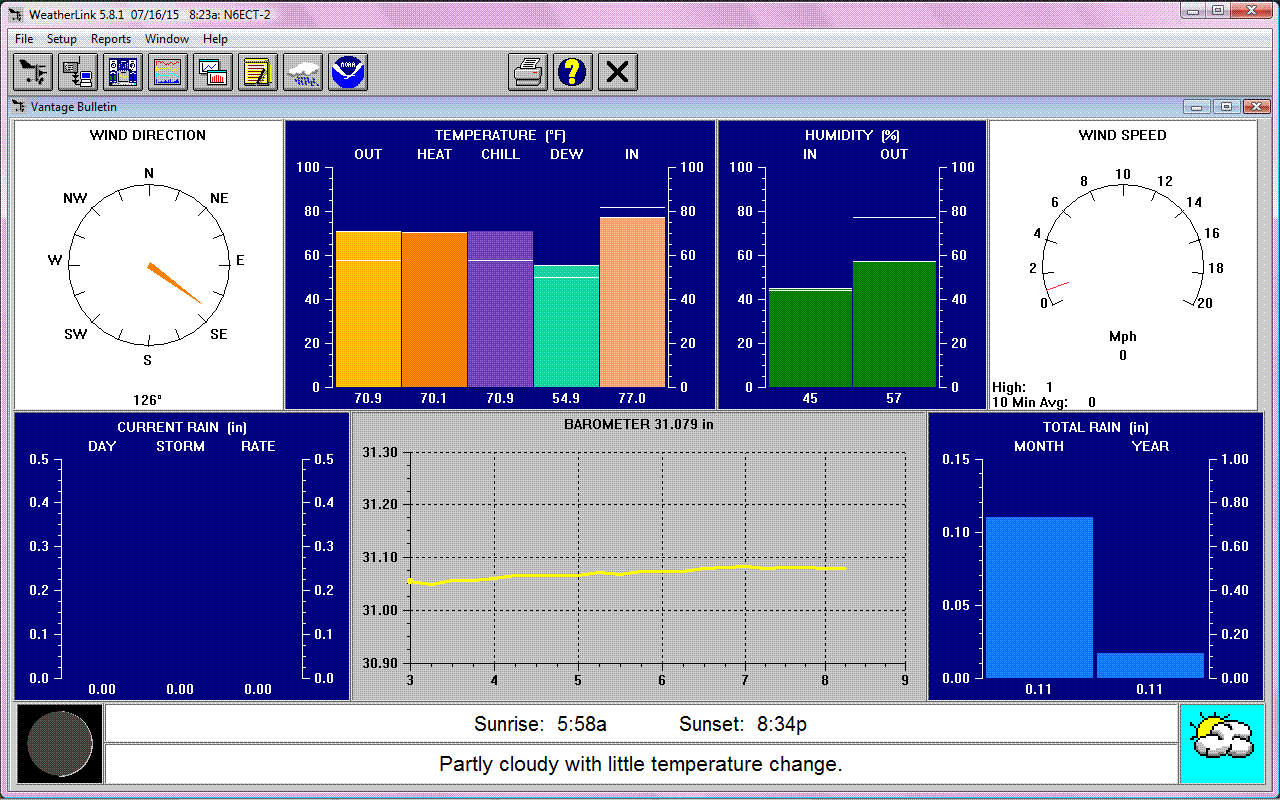 Click above image for large picture of Local Weather
Oh, I hope that I see you again I never even caught your name As you looked through my window pane -- So I'm writing this message today I'm thinking that you'll have a way Of hearing the notes in my tune -- Where are you going? Where have you been? I can imagine other worlds you have seen -- Beautiful faces and music so serene -- So I do hope I see you again My universal citizen You went as quickly as you came -- You know the power Your love is right You have good reason To stay out of sight -- But break our illusions and help us Be the light - "Message" by Michael Pinder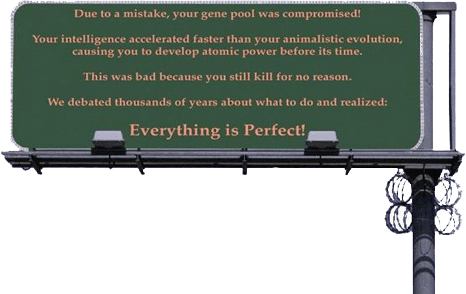 Link Text:
Gallery d'Ann - Blender Animation - Animation for the Appliance Challenged Gallery - Hackers - Missing BBS Files - Sprung - Harley-Davidson Springer Enthusiast - Flying Snail Studios Podcasts - Rubbermaid (Band) = Amateur Radio - Amateur Radio Public Seismic Network - ARPSN/Cobb Weather and Seismic Heliplots - United State Cafe - Haight/Ashbury - Apple/Mac Tech with a little GNU Linux - Brokedown Coffee - Hunger and Shame by Dr. Mary Howard and Dr. Ann V. Millard - Sailing on the Flying Snail - Emmy - ALERTS, Notes from ~@~ - Flying Snail Archive - Browsing Tips - Captain Crunch - John Draper - CASHCPR - Citizen's Against Second Hand Cellular Phone Radiation - NCast Dancing Frogs at YouTube - Disclaimer - Ira Cohen - Karl Cohen - Keith Lampe - Links - Marliese's Corner - Mike Wilhelm - Mobile page for Phones and Pods - NCast - Paul Krassner - Remnant of Paradise - Site Map: flyingsnail.com - Steven Leech - WVUD-FM Streaming Audio - THEY Have Returned - H.323 - Pacific Packet Radio Society - PPRS intorduced wireless digital communications to the United States - Nobody for President = Put NONE OF THE ABOVE on voter ballots
Previous Articles Moved To: ARCHIVE