#3 TELL-A-VISION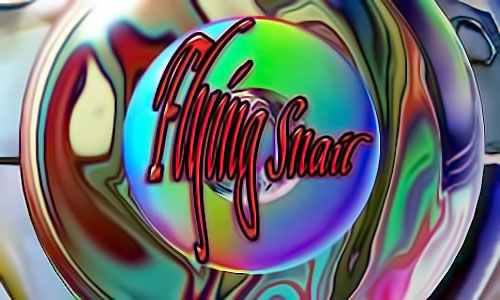 "The Lord of Misrule" - by David Normal - April 2008
David Normal's Animation and Painting
http://www.normal-design.com/
Seismic News
Knowledge Is the Key
The new and improved SeismicNews provides the latest Seismic, tsunamia, volcano news and some seismic plots. - http://seismicnews.com/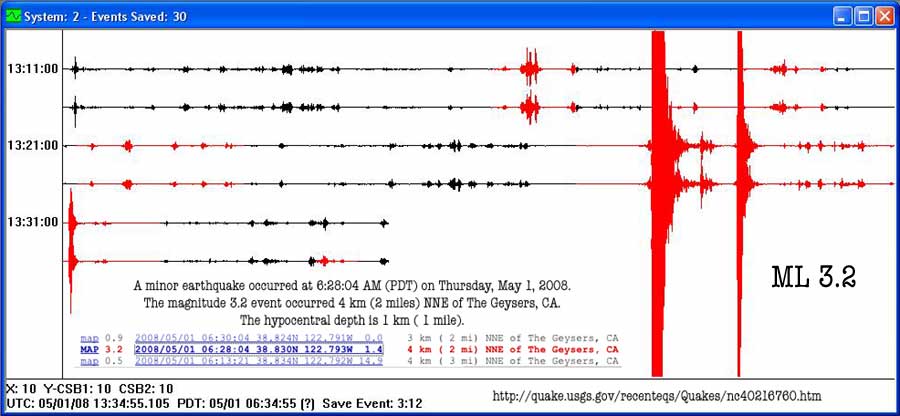 3.2 Local Earthquake - Click Image for Larger Picture
http://quake.usgs.gov/recenteqs/Quakes/nc40216760.htm
Reno on edge after strange series of quakes
By Ashley Powers and Thomas H. Maugh II, Los Angeles Times Staff Writers
May 1, 2008
The 'Mogul sequence' is especially shallow and is growing over time, defying patterns and predictions.
MOGUL, NEV. -- An unusually intense swarm of earthquakes -- more than 1,000 over the last two months -- has struck beneath a small suburb of Reno, leaving residents shaken and scientists puzzling over the cause.
More than 20 quakes of magnitude 2 or higher have hit on some days, and the intensity and frequency of the quakes have been increasing rather than following the normal pattern of tailing off.
Although Nevada is the second-most seismically active state in the continental United States, researchers say they have never seen anything quite like the "Mogul earthquake sequence," as they have named it.
"We don't know what is going to happen next," said geologist James Dolan of USC, who has been watching the unfolding seismic activity. But a swarm like this "makes you perk up your ears and start considering the possibility that you might be in a heightened period of hazard."
The swarm of quakes has unnerved the roughly 3,000 residents who live around Mogul, a sparse community of ranch homes about two miles west of Reno.
"I lie in bed at night and I can feel" the quakes, said 72-year-old retired pressman Howard Seeman as he sipped a glass of white wine at Moxie's, a neighborhood bar close to Mogul. "It's scary, and you never know what is coming next." [Continue Reading At]:
http://www.latimes.com/news/...

Statistical Auroral Oval - NOAA-13
This plot shows the current extent and position of the auroral oval in the northern hemisphere, extrapolated from measurements taken during the most recent polar pass of the NOAA POES satellite.
The red arrow in the plot, that looks like a clock hand, points toward the noon meridian.
The statistical pattern depicting the auroral oval is appropriate to the auroral activity level determined from the power flux observed during the most recent polar satellite pass. The power fluxes in the statistical pattern are color coded on a scale from 0 to 10 ergs .cm-2.sec-1 according to the color bar on the right. The pattern has been oriented with respect to the underlying geographic map using the current universal time, updated every ten minutes.
This presentation provides an estimate of the location, extent, and intensity of aurora on a global basis. For example, the presentation gives a guide to the possibility that the aurora is located near a given location in the northern hemisphere under the conditions that existed at the time of the most recent polar satellite pass.
Normalization factor (n)
A normalization factor of less than 2.0 indicates a reasonable level of confidence in the estimate of power. The more the value of n exceeds 2.0, the less confidence should be placed in the estimate of hemispheric power and the activity level.
The process to estimate the hemispheric power, and the level of auroral activity, involves using this normalization factor which takes into account how effective the satellite was in sampling the aurora during its transit over the polar region. A large (> 2.0) normalization factor indicates that the transit through the aurora was not very effective and the resulting estimate of auroral activity has a lower confidence. In order for users to assess the confidence in a given estimate of auroral power, we now report the numerical value of the normalization factor in our web pages.
http://www.swpc.noaa.gov/pmap/pmapN.html
Aurora (astronomy)
From Wikipedia, the free encyclopedia
3. Satellite images of the aurora from above show a "ring of fire" along the auroral oval, often widest at midnight. That is the "diffuse aurora", not distinct enough to be seen by the eye. It does not seem to be associated with acceleration by electric currents (although currents and their arcs may be embedded in it) but to be due to electrons leaking out of the magnetotail.
http://en.wikipedia.org/wiki/Aurora_Australis#Sources_and_types
Film/Video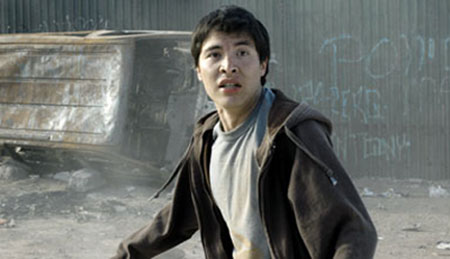 Sangre de mi Sangre
Visiting Filmmakers
Rising stars and acclaimed masters come to screen their films and talk with Wexner Center audiences.
Sangre de mi Sangre
Introduced by the director
(Christopher Zalla, 2007)
Tue, May 13, 2008 | 7:00PM
Film/Video Theater
Sangre de mi sangre follows the adventures of a young Mexican boy who smuggles himself to New York City in search of his father, only to have his belongings and identity appropriated by a con artist he encounters on the trip.
This first feature from Christopher Zalla won the Grand Jury Prize at the Sundance Film Festival and was included in MoMA's New Directors/New Films festival. Zalla graduated from Oberlin College, and his mother is a member of the faculty at Ohio Wesleyan University in Delaware. (110 mins., 35mm)
The Wexner Center is located on North High Street at the corner of 15th Avenue on the campus of The Ohio State University.
http://www.wexarts.org/fv/index.php?eventid=2961

Mountain Girl's e-mail on the passing of Dr. Hoffman
Dear dear man, a ball of energy, and so useful and kind to spirited people, and women, and all of us, sadly, he's gone.
I was fortunate that he lived long enough for me to meet him, he kindly invited me up to his house, just 4 weeks ago. March 24th. Life has some twists and I caught one. Sad, but good. At 102, yes.
I had given a speech at the World Psychedelic Forum in Basel, home of historic medieval alchemists, over the weekend, and was honored to be asked to meet the great wizard himself. It was a lovely ride up into the hills, going from Easter flowery spring, to howling winter in a few klicks. His house perches over a great fall of fields down to France on one side, and back to solid snowy Switzerland on the other. It's a a concrete flat-roofed modern home, not large, set with cherry trees and swaying alpine firs, pasted with ice.
His dear wife had just passed away around Christmas, after a long illness, and you could see how hard it had been for him, that he'd been through a terrible ordeal.
He was so sweet to me, chatted and joked about musicians and black market LSD, chocolate and cherry trees, instructed me very seriously about the importance of hanging upside down every day, to improve the blood flow to the brain.. The snow flying outside, I sat on the warm polished wood bench by the window and he sat in a small ornate chair, with an ornate brocaded footstool. We compared chocolates. His old friend Juri Styk brought along some little cakes which we split up but no one touched, as the German language flew past me for the most part. Dr, Hoffman kindly translated. They were discussing whether Sandoz would allow other chemical companies to make some LSD for the new studies being conducted in Europe. Important studies, on LSD and dying, cancer pain relief and spiritual psychological benefits of it's use for rebalancing people in crisis. Long overdue, they said.
I asked him about purification of LSD, wasn't it a long process? He denied it vigorously, saying " LSD is very easy to make, you just do the recipe and if it crystallizes, that is it, it's done and very pure. No need to do anything else. " And then launched in to a rapid exchange in German with his lovely daughter sitting on the couch, a petite elegant mother of two paying very close attention to her father. ( Juri later told me it was about Dr. Hofmanns eldest son, who had rejected LSD all his life till just recently, and then absolutely loved it and wanted more.!)
I wish my German had been better, I could have spoken to him more easily. His English was excellent, anyhow, and I told him a little about the Grateful Dead, and he lit up and said he had always been hearing about them, they played existential music, yes? And from small beginnings, it got large? With the help of LSD, the energy and telepathic melting together as they played... he understood that. He asked about Jerry. And Juri reminded him about the Acid Tests, and he lit up again and said "Oh yes, the Acid Tests. and the Grateful Dead played there long ago?, and you were there? " And I smiled, yes, and pulled out the Acid Test diploma I had made for him.
I presented it in the usual fashion, saying that he had proven beyond doubt that he had fulfilled all the requirements and had certainly passed the Acid Test, and had earned this Acid Test diploma!
He took it and tried to read the PaulFoster decorations, and then had me sign it, with both my names, and date it. He said it was no good unless I signed it. I took a picture of him holding it up. He was really delighted! Not just being polite, either, but actually giggling.
Dr. H. bragged proudly that he now had three women to look after him. And he hoped they wouldn't argue about him.
And then it was over, and we stood up, and Dr. Hofmann staggered , almost fell as he got to his feet, and I steadied him up. He must have weighed about 85 pounds, so small and light. And perfectly mannered, took my arm and walked me to the door. Juri took a final picture of him with my camera, and the doctor smiled and asked me to come back, and bring the sun please. The wind whipping the snow out of the trees as silent puffs of feathers. The walkway to the car was thick with ice. A few cat tracks showed the way. I didn't get to meet the cat, who sleeps on the doctor's bed since his wife passed away.
Now wheres the cat sleeping tonight?
I had been thinking hard yesterday and today, about getting this meeting all written down, as the conversation ran to many topics in my short hour or so with him. I wrote a couple of letters to friends today, about my visit with the great man, and didn't realize he was dying today. Chances sometimes only come once, and I'm so glad I took this one. I'm really sad, mostly for myself. Wanting more, not to be.
All my love to my dear, living friends, MG
It's Never A Good Idea to PMO
During the Early Morning Hour
(sarcastic)
Thanks for XP SP3 Microsoft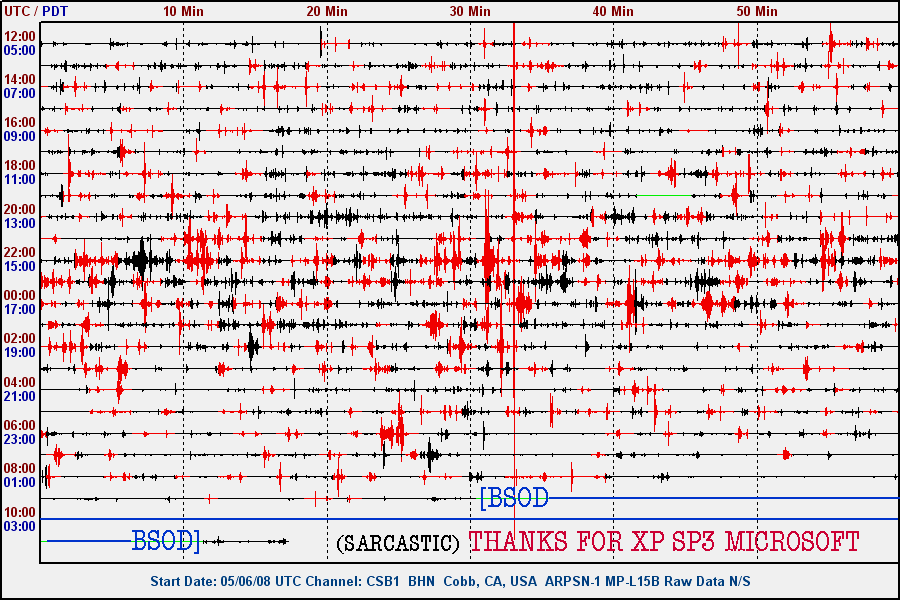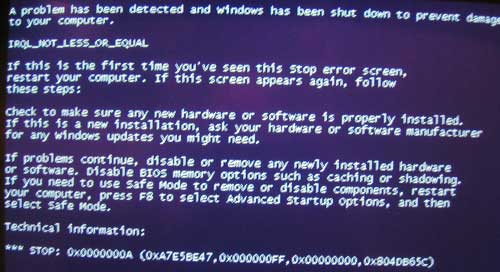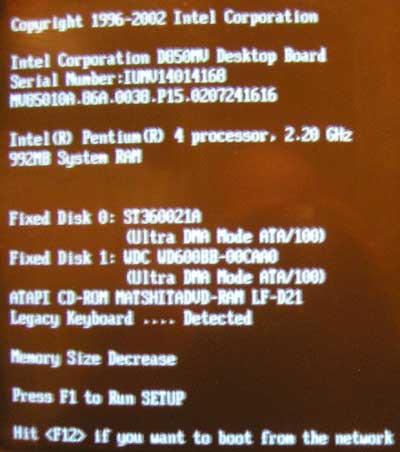 (fwiw) This program was running fine until Microsoft supplied XP SP3 and I have 'piles' of data that support my statement! - Thanks Microsoft ...and (btw) how's VISTA coming along? == P.S. Want to hear why I use a Mac? (/sarcastic)
NOTE: 11:30 AM PDT - IN ORDER TO BE FAIR, XP SP3 NOW APPEARS TO BE WORKING FINE AND THERE HAVE NOT BEEN ANY MORE BSODs.
MICROSOFT XP SP3 NOW APPEARS TO BE WORKING WITHOUT ERROR
Earlier this morning there were comments regarding Microsoft's XP SP3 update which have been moved to the May archive page. A more detailed comment is located at the bottom of the ARPSN progress log. Moral of story: It's not a good idea to PMO during the early morning hour (-;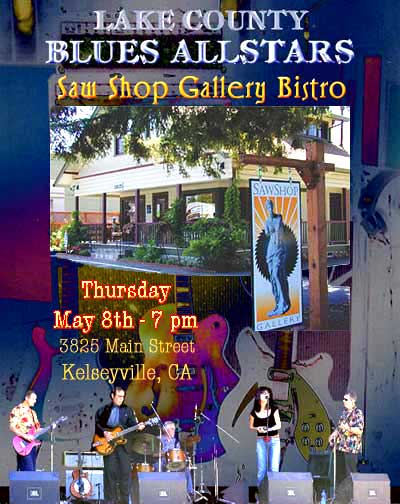 Lake County Blues Allstars
Saw Shop, Kelseyville, CA - 7 PM
I'm Jus' A Lil' Dizzy!--Dizzy Dayz:
Keeping Up With Our Spinning World


dizzy dayz
"Democracy is two wolves and a lamb voting on what to have for dinner. Liberty is a well-armed lamb, contesting the vote."
Dizzy Dezzi
Colorado Springs, Colorado, United States
I'm a 37 year old PHAT, eccentric, black woman, happily married mother of 3. By day, I am a proud Army wife and I home-school my two youngest children (ages 7 and 5). I recently graduated the oldest of my 3 kids, who is now 18. In my spare time, I host karaoke and DJ for public and private venues. In a past life I was heavily active in Libertarian politics (I ran for public office twice and served as the Media Director in Colorado Springs and statewide for a total of four years--I even helped run an organization for libertarian-leaning ladies called "Ladies of Liberty"--that organization is now defunct). Although I am no longer "active", I still consider myself a Libertarian. I am very opinionated and always have something to say. I enjoy making people laugh, but sometimes, I like to make them think.
Vist FlyingSnail's link page: http://www.flyingsnail.com/links.html
VFP May Day
Not One Pound of Freight Moved In or Out of W. Coast Ports May Day!
VFP Joins ILWU Work Stoppage for Peace
The effort to lead the ILWU in a May Day Stop Work Action was accomplished by Vietnam Veterans who are members of that union. The ILWU has long been in the lead of progressive unionism, especially in the Bay Area, home to Harry Bridges and countless other working class heros. On May Day, not one pound of freight moved in or out of the ports on the West Coast of the United States as ports were shut down from San Diego to Seattle! Slideshow at RainbowPuddle.com

truthaction.org

Steve Bell
Extraordinary Times, Intentional Collapse,
and Takedown of the USA - Part 1
by Richard C. Cook
Much has been written about whether a worldwide plan exists to control events and steer them in the direction profitable to an elite of the rich and powerful. Is this a "conspiracy theory"? While it is difficult to be specific about who exactly may be behind such a conspiracy, if it exists, it is at least clear that the privately-managed system of global financial capitalism gives ample opportunity for the world's richest people to combine for their mutual benefit. Further, global financial capitalism itself is based on the monopolization of money-creation by a world banking system that is largely privately owned, even while working through the central banks of the largest and most prosperous nations.
This article postulates the existence of a coordinated and longstanding matrix set up by the controllers of money to dominate the movements of history. The article focuses particularly on what seems to have been an attack that has been going on for over a century against the independence of the nations of Russia and the U.S. The article also suggests a series of monetary reforms whereby the U.S. , or any other nation, can regain its economic identity and preserve its political freedom. The article was written a short distance from the reconstructed colonial capitol building in Williamsburg , VA. On this site on May 15, 1776, the Fifth Virginia Convention voted unanimously to instruct its delegation at the Second Continental Congress in Philadelphia to enter a motion for independence. It may be time to do that again.
Russian philosopher P.D. Ouspensky (1878-1947) wrote, "It is a mistake to think the times we are living in are like any other. These are extraordinary times."
Ouspensky, with his mentor, G.I. Gurdjieff, escaped from Russia after the Bolshevik Revolution, during the Russian Civil War. Though academia has failed to acknowledge it, this epochal convulsion was financed in part through the monetary resources of the international financial elite operating out of London, Amsterdam, New York, Paris, Hamburg, and Frankfurt.
It was this elite, acting through Western banks, which appears to have surreptitiously provided the wherewithal for Lenin and Trotsky to destroy the Russian nation after the fall of the Tsarist regime at the end of World War I. Support by the Western financiers is discussed by Dr. Matthew Raphael Johnson in his revisionist history, The Third Rome: Holy Russia, Tsarism & Orthodoxy. (The Foundation for Economic Liberty , Washington , D.C., 2003)
The present analysis postulates that the takeover of Russia, whose backbone was the alliance among the House of Romanoff, the Orthodox Church, the land-owing nobility, and thousands of self-governing peasant communes, was one of two major projects which the financiers set out to accomplish early in the 20th century in a longer-range plan to dominate the globe. The other was the control and eventual destruction of the United States of America. That project may be reaching fruition through the ongoing and seemingly purposeful financial meltdown of 2008.
Why Russia and the U.S. ?
Events affecting nations have their roots in history, and people underestimate how what happens today is conditioned by the past. The respective fates of Russia and the U.S. have been linked for a long time.
The two countries had a close relationship during the American Civil War, when the Russian fleet anchored in New York and San Francisco harbors. In 1867, Russia sold the huge expanse of Alaska to the U.S. Later, the U.S. provided engineering support for Russian industrial development.
The two continental giants were, during the latter part of the 19th century, becoming the greatest land powers in the world. With Germany , Great Britain 's chief rival for economic might, added to the mix, the hegemony of the financiers' power base in Britain and northern Europe was threatened in a way not seen since Napoleon.
Both Russia and the U.S. were largely Christian nations, with a sizeable portion of the American population, especially recent immigrants, being members of the Roman Catholic faith. For centuries nothing had been a greater obstacle to the financial control of nations through war and finance than the Christian religion and its teachings against usury.
Plus neither the U.S. nor Russia had a central privately-owned bank. The U.S. had long since gotten rid of its own central banks, the First (1791-1811) and Second (1816-1836) Banks of the United States . The whole concept of commercial banking having control of a nation's economy was alien to the Russian and U.S. mindset.
Instead, wealth came from work. This was expressed by President Abraham Lincoln in a December 3, 1861, address to Congress when he said, "Labor is prior to, and independent of, capital. Capital is only the fruit of labor, and could never have existed if labor had not first existed. Labor is the superior of capital, and deserves much the higher consideration."
Lincoln could make such a statement because the U.S. economy, as was the Russian, was deeply rooted in the soil. The backbone of the two cultures was the Russian peasant and the American yeoman farmer, as Thomas Jefferson called him. The merchant and artisan economies of the towns and cities in both nations were founded upon the wealth of the countryside which was derived from human and animal labor and from working the land. Even when industrialization began to flourish in the latter part of the 19th century, it was fueled in both countries largely through savings and retained earnings, not bank credit created "out of thin air" through fractional reserve lending.
Banker Domination
By the early 20th century, the bankers of Europe had a mission before them. If Russia and the U.S. could be controlled, nothing would stand in the way of the rule of humanity by the materialistic pseudo-religion of power and wealth by which the financiers were obsessed. As Max Weber (1864-1920) wrote in The Protestant Ethic and the Spirit of Capitalism, the acquisition of wealth was viewed as a sign that a person was one of the "elect." The financiers' sphere of influence was centered in northern Europe , where the anti-usury doctrines both of the Roman Catholic Church and Martin Luther (1483-1546) had been undermined through the teachings of John Calvin (1509-1564).
As is well known, banking in Europe began in the medieval period with store-front gold merchants who invented fractional reserve banking by lending certificates against a gold reserve held for their customers on deposit. By the time of the Renaissance, banking was centered in Italy and Germany , then spread north and west to the Netherlands, France, and England .
By this time the Catholic prohibition against usury was well-developed. Pope Sixtus V (1585-90) said charging of interest was "detestable to God and man, damned by the sacred canons and contrary to Christian charity." Theological historian John Noonan wrote that "the doctrine [of usury] was enunciated by popes, expressed by three ecumenical councils, proclaimed by bishops, and taught unanimously by theologians." ("Development of Moral Doctrine," 54 Theological Studies, 662, 1993)
Lending of money at interest was often left to the European Jews, where statements in various scriptures, such as the Talmud, appeared to allow the practice when dealing with non-Jews. Some argue that the Vatican worked behind the scenes by using Jews as fronts for their own lending operations.
In England , the Tudor and Stuart monarchs made a stand against the rise of bankers as issuers of currency. As Susan Boskey writes in her book The Quality Life Plan: 7 Steps to Uncommon Financial Security, "the Mixt Moneys Case of 1604 in England determined money as a public measure to be regulated by the state." According to Alexander Del Mar, head of the U.S. Department of Weights and Measures in the late 19th century and author of the book, History of Money in America From the Earliest Times to the Establishment of the Constitution, the Mixt Moneys Case determined that "the state alone had the right to issue money."
Boskey continues: "For over half a century, this ruling alarmed the merchants of London who attempted to defeat the Mixt Moneys decision. The East India Company was the main instigator in the effort, because they were eager to turn a profit by shipping silver to India in exchange for gold. Success was achieved with the British Free Coinage Act of 1666, which, according to Del Mar, 'altered the monetary systems of the world.' He wrote: 'The specific effects of this law were to destroy the royal prerogative of coinage, nullify the decision in the Mixt Moneys case, and inaugurate a future series of commercial panics and disasters which to that time were totally unknown.' Moneylenders known as 'strong room keepers' began the practice of making interest-bearing loans that were not backed one-hundred percent by the gold reserves remaining in their strong room."
"The British Free Coinage Act of 1666," continues Boskey, "marked a turning point in the role of currency creation as a public measure to one dominated by moneylenders. No longer was the act of putting money into circulation directly connected to the actual, existing material riches of a nation."
About this time, Samuel Pepys (1633-1703) was writing his now-famous Diary. According to Canadian monetary expert Martin Hattersley, Pepys "was describing in surprised delight the new institution of banking, by which the smart investor, instead of paying the goldsmith for warehousing his valuables, opened an account, and was actually paid interest for having his money looked after!"
Pepys was captivated by the familiar but pernicious notion that, instead of working for a living, a person could have his money "work for him." Aristotle had spoken against this concept 2,000 years earlier: "The most hated sort of wealth getting and with the greatest reason, is usury, which makes a gain out of money itself and not from the natural object of it. For money was intended to be used in exchange but not to increase at interest. And this term interest, which means the birth of money from money is applied to the breeding of money because the offspring resembles the parent. Wherefore of all modes of getting wealth, this is the most unnatural." (1258b Politics)
Hattersley continues: "Who paid for Samuel Pepys' remarkable new service? Basically, the public did. Pepys, leaving his gold with the banker, enabled the latter to lend it out to a third party. Pepys had his 'money in the bank,' and the borrower took the gold. The borrower naturally paid interest on the loan. Pepys received interest on his deposit. The same money being (notionally) in the possession both of Pepys and of the borrower meant an increase in the monetary mass of the nation. All the holders of money in the nation, therefore, had the value of their holdings very slightly diluted. There was a profit to the banker on the 'spread' between borrowing and lending rates. There was a profit to Mr. Pepys, who at one and the same moment had both money in the bank and an interest bearing investment. Yet the borrower also profited. His loan would be at a lower interest rate than that on capital that had had to be saved up. 'Smart' bank financing put him ahead of conventionally financed competitors. All three parties gained, at the expense of the general public, the value of whose money was diluted through inflation of the monetary mass."

Finally, concludes Hattersley, "Skipping forward three centuries (past events such as the South Sea Bubble, tulip mania, the railway boom and the 1929 market crash) we find that the little spot of inflation that Mr. Pepys indulged in has become a universal way of life. The extensive capital development of Canada [and the U.S. ] in the post-World War II boom has been largely financed, not by personal savings and investment, but by the inflation of the money supply. This has left the thrifty who invested their little savings from the hard times of the Great Depression in mortgages, bonds, and life insurance deprived of most of the rewards of their thrift, and has caused the profits of inflation to benefit all who could borrow, build, and then repay their capital in deflated dollars later on."
Hattersley captures the essence of the modern usury-based economy. No longer is life based on honest human labor and the resources of nature, but on financial manipulation. This is why religious people have always viewed usury as a crime. Aristotle placed the usurer in the same category as others who "ply sordid trades," such as pimps.
Returning to the march of history, in 1688, James II, who had become a Catholic, fled the British throne. Through the "Glorious Revolution," he was replaced by the Protestants William and Mary of the Dutch House of Orange. The main instrument of power of the financiers who supported them was the Bank of England, founded in 1694.
The next two centuries saw the financiers' control of world commerce spread through the instrumentality of the British Empire . The bedrock of British policy was "free trade," which allowed British manufacturers who paid their workers a pittance to undersell their competitors elsewhere. This was aided by having the British pound become the world's trading currency.
With the First Zionist Congress of 1897, one of the financiers' geopolitical goals became to support the creation of the nation of Israel , at least partly to dominate the world's crossroads in the oil-rich Middle East . The oil was needed to fuel the British navy.
The nature and origins of Zionism have been hotly debated in recent years, as the role of Israel on the world stage has grown. One thing seems certain: The Jewish religion is by no means monolithic. But its followers, many of whom opposed the philosophy of Zionism, would now be drawn into the financiers' power game. From this point on, anyone who even questioned Zionism would be labeled "anti-Semitic."
As the 20th century advanced, the financier elite became heavily involved in getting rich off world war and the manufacture of the new weapons of mass destruction that modern technology made possible. Warfare and weaponry, combined with control of credit manufactured through the leveraging of industrial production, were to be the primary means of putting nations and their populations into debt. A materialistic slave society was being created, which books like 1984 warned against. Humanity was lured into compliance through the fantasy world brought about by the mass media by means of advertising, cinema, and television. Another enticement was the growing availability of mass-produced consumer goods.
How It Was Done
While World War I and the Russian Revolution still lay a few years in the future, the international financiers quietly took control of the U.S. economic system in 1913 through the Federal Reserve Act and the 16th Amendment to the Constitution which provided for the federal income tax. The purpose of this tax was to use citizens' earnings to pay the interest on the "funded" national debt. As with the debt owed by the British people to the Bank of England, this would be one so large the principle could never be paid off.
Russia was allied with Britain and France during World War I (1914-18). But the war against Germany and Austria-Hungary had reached a stalemate until the tide was turned by entry of the U.S. on the side of the Allies. Fighting on the eastern front between Germany and Russia was savage. By the end of the war the Russian Revolution broke out, and, after a terrible Civil War, the Soviet Union came into being.
It was the financier-controlled press which goaded President Woodrow Wilson into taking the nation into World War I on the side of England and France. But it was also part of the financiers' plan to shift the apparent focal point of their financial power from London to New York . This was done through the financing of the war by loans made to the European combatants by the New York banks.
It seemed to be in accord with a plan spelled out decades earlier by Cecil Rhodes, whereby the U.S. would not only be "recovered" for the British Empire, but would appear to become the senior partner in the enterprise. By the start of the 1920s, this objective had been accomplished. German, English, French, and other European taxpayers were all deeply in debt to the U.S. banks for the costs of the war.
Also during the war years the financiers had secured the issuance of the Balfour Declaration signaling British support for the establishment of a Zionist state in Palestine. The 1917 Declaration was made in a letter from Arthur James Balfour, British Foreign Secretary, to Walter Rothschild, Second Baron Rothschild, for transmission to the Zionist Federation.
During and after World War I, world financial power shifted to the New York banks through which, however, it would be the London-based elite exerting de facto control. It might also be said that starting with U.S. entry into World War I, once you look past the patriotic slogans, the U.S., its vast productivity, and the blood of its population have been used in making this country the worldwide military enforcer of international financier domination.
World War II became the means of consolidating financier control. Prior to that, during the years of the Great Depression, both Russia --aka the Soviet Union--and the U.S. were slipping away from the fold. Stalin had shown his "Bonapartist" tendencies by favoring "Socialism in one country," as well as by his deadly purges of the financier-controlled Trotskyite faction and his shocking rapprochement with Hitler in 1939 that seemed to foil the financiers' intent to play off Nazi Germany and the Soviets against each other.
In the U.S., President Franklin Roosevelt had taken steps during the Great Depression to rebuild the U.S. economy by exerting an unaccustomed degree of control over the Federal Reserve System and providing credit at low rates of interest to homeowners, farmers, and businessmen. This made Roosevelt seem to many wealthy Americans "a traitor to his class."
Roosevelt saw that a healthy and self-sustaining domestic economy is essential for the well-being of a sovereign nation. But instead of looking for ways to create a monetary system based on the productivity of the economy, as Lincoln had done with the Greenbacks during the Civil War, Roosevelt left intact the debt-based system overseen by the Federal Reserve. He added to this system the Keynesian idea of government deficit spending for public works to create employment. This was essentially a system whereby government would try to pay its debts by engendering inflation, a policy that has continued until today.
But World War II thwarted even these stirrings of nationalism in both countries. In both the Soviet Union and the U.S. , the financiers worked the levers of debt to build massive war machines. They were also working through the Western banks, including Brown Brothers Harriman in New York, to achieve the same ends in Nazi Germany. Eventually Hitler invaded the Soviet Union, and the U.S. entered the war. Both during and after the war, operatives from the international financial elite centered in London were the linchpins of a worldwide matrix of spying, assassination, terrorism, industrial espionage, psy ops, media manipulation, and monetary control. This included financing the founding of Israel as the Western bridgehead in the Middle East in 1948.
Despite the creation of an appearance of conflict between the West and the Soviet Union through the Cold War, the financiers continued to work both sides of the fence through their London-based operatives. In the U.S. they created the modern national security state with both the National Security Agency and the CIA firmly under their control. Then, after President John F. Kennedy moved to forestall the neocolonialist Vietnam conflict and replace the Federal Reserve with a U.S. system of silver-backed Treasury currency, he was shot dead in Dallas 's Dealey Plaza on November 22, 1963.
In charge of convincing the public that the Warren Commission was correct in concluding that Kennedy was killed by Lee Harvey Oswald, supposedly a lone deranged gunman, were figures associated with the financier elite from the New York Times, Washington Post, and Yale Law School . (See The Kennedy Assassination Cover-Up Revisited by Donald Gibson, 2005.) But in 1979, a report of the House Select Committee on Assassinations stated that Kennedy was killed by a "probable conspiracy."
It has been thoroughly documented that since World War II the Western intelligence agencies, all with close ties to the financial world, particularly the New York and London investment banks, have been responsible for engendering wars, revolutions, and mayhem in countries around the world, causing the deaths of millions of people in Asia, Africa, Latin America, and southeastern Europe.
Meanwhile, the worldwide arms industry, also under financier control, have produced the greatest arsenal of weapons of mass destruction ever seen. After Kennedy was killed, the U.S. moved to arm Israel as the leading military power of the region. Today nuclear weapons have proliferated, with Israel , Pakistan , and India becoming nuclear powers in addition to the U.S. , Russia , Britain , China , and France .
But warfare and weapons cost money, and by the late 1960s the Vietnam War was sinking the U.S. deeper into debt. The U.S. war machine was to be the main tool for financier enforcement of their worldwide plan of domination, but the nation was going broke. The problem was made worse by heavy federal expenditures for the poor and elderly through such programs as Medicare and Medicaid.
But President Richard Nixon's Secretary of State Henry Kissinger had a plan. The government worked out an arrangement whereby Saudi Arabia and the other OPEC nations would gradually increase the price of oil, with the profits to be used by the oil-producing nations to buy U.S. Treasury debt securities. By 1980 the cost of oil would be ratcheted up from about $3.50 a barrel to $39.50.
The drastic increase of the price of gasoline at the pump acted as a de facto tax on the U.S. economy. But the plan worked. The "petrodollar" and "dollar hegemony" were born, with the dollar becoming the world's reserve currency. Dollars could flood the world only because in 1971 the Nixon administration had abandoned the dollar's gold peg as a basis for international currency exchange. Now currencies floated freely in world markets with speculation and inflation rampant. The economies of the world were no longer based on production, but on financial manipulation. It was also the start of the era of monetarism, where the Federal Reserve thought it could regulate the economy by the raising and lowering of interest rates.
The Kissinger plan also made the U.S. dependent on Middle Eastern oil and turned it into the muscle behind the financiers' ambition for Israel to dominate the region. So now Americans, who had liberated Europe from the Nazis, had to fight and die for the financiers in the Middle East . The final conquest of Iraq , starting in 2003, and the planned war against Iran are the latest phases.
Meanwhile, through the financiers' control of the U.S. Federal Reserve System, the producing economy was shattered through the Fed-induced recession of 1979-83, where interest rates were raised to the highest in history to combat the inflation the financiers had themselves caused by the oil price shocks. By this time, as some allege, the controversial concept of "peak oil"--whether it really existed or not--was being used as a cover for financier manipulation of oil markets by limiting production in order to maintain prices.
By 1992, when Bill Clinton was elected president, the U.S. producing economy had been devastated by the shutdown of factories and the export of jobs. The work of wrecking the economy was completed by Clinton 's embrace of NAFTA, which has largely eliminated family farming in favor of financier-controlled agribusiness in the U.S. , Canada , and Mexico . Deregulation of the financial industry began in earnest during the Reagan years from 1981-89 and accelerated under Clinton .
By this time, the U.S. economy was being kept afloat only through financial bubbles that allowed the purchase of consumer goods to take place through more family and household debt. We had the merger-acquisition bubble of the 1980s, followed by the George H.W. Bush recession which led to Clinton 's election in 1992. During the 1990s we had the dot.com bubble fueled by foreign investment. Capital gains taxes on stock price inflation and counting trust funds like Social Security as budgetary assets allowed Clinton to balance the federal budget the last three years of his presidency.
But the dot.com bubble also burst with the loss of $7 trillion of wealth through the crash of 2000-2001. Next came the Bush bubbles--in housing, equity funds, commercial real estate, and hedge funds that have been deflating while threatening to destroy altogether the economic viability of what was once the world's greatest industrial democracy.
After this, the only bubble left for an economy that appears to be entering terminal depression may be the current fuel/food bubble that could result in the starvation of millions worldwide. Now the longstanding ambition of the financier elite for the destruction of the American republic may finally be realized--with a lot of help, of course, from their American friends.
Extraordinary Times, Intentional Collapse,
and Takedown of the USA - Part 2
"End Times"
Can it be that the last stage of the U.S. takedown is "The Project for the New American Century"? Is this ambitious plan for "global leadership" through military might that was seemingly invented by the "neocons"--many with dual U.S.-Israeli citizenship--a Trojan Horse?
It certainly appears that with 9/11 as a pretext, the neocons suckered the U.S. into the invasions of Afghanistan and Iraq as a means of military occupation of the Middle East . Certainly 9/11 and the Iraq invasion benefited Israel, as some Israeli politicians have frankly stated.
Were the neocons also acting on behalf of the financial controllers in London and elsewhere? And was one reason the neocons were so eager to engage in a "clash of civilizations" against the Islamic world the Koranic prohibition of usury which states, "Those who charge Usury are in the same position as those controlled by the devil's influence. This is because they claim that Usury is the same as commerce. However, God permits commerce, and prohibits Usury." (Koran, Al-Baqarah 2:275)
Prior to 9/11, the Bush administration got Congress to cut taxes for the highest income brackets, reversing Bill Clinton's budget surpluses. The tax cut remained in effect, even as the massive expenditures on the Middle Eastern wars mounted. The consequence has been to bring the federal government to the brink of bankruptcy.
The last official act of this phase could well be the ultimate insanity of a U.S. attack on Iran . If successful, this would complete the Western conquest of the Middle East but may start a larger conflict that could eventually force the U.S. to withdraw its forces once the money runs out. Israel would then be at liberty to sweep in to dominate a region that U.S. military power had devastated.
Whatever may happen overseas, the U.S. economy at home is on the verge of collapse. It if does, we will have to retreat to our own shores and face here the edifice of a ruined nation with no manufacturing base, a crumbling infrastructure, an aging population, insufficient food, poorly developed resources, and the collapse of the dollar. Of course the prophets of doom who claim that overpopulation must inevitably lead to Malthusian scarcity will take all this as justification of their prejudices. The rumored North American Union, with its currency the amero, could then follow, both under the control of the financiers.
Meanwhile in Russia, things took a surprising turn when the Russian people threw out their communist controllers in 1991 and established a Russian republic. The financiers immediately took over through the government of Boris Yeltsin and began to divide up the nation's resources through their local allies, the "oligarchs." But the Russian people refused to comply. Despite desperate poverty, they elected Vladimir Putin, a nationalist leader who moved quickly to establish a self-governing Russian state that the financiers and the Western press clearly intend to take down. Russia is now back on the world scene, and a revival of the Orthodox Church is taking place. The drama in that country has not been entirely played out it seems.
As far as the U.S. is concerned, the financiers will have used us for a century, then thrown us in the trash. The U.S. may well be replaced by China, which the financiers seem to be grooming as the world's next military enforcer. China has the advantage of an absolutist one-party system which has achieved remarkable success in terrorizing its huge population into obedience and passivity. The financiers would not hesitate to sacrifice hordes of Chinese to fight both Russia and what may remain of the U.S. By this time, the European Union will likely have its own unified nuclear deterrent to protect the financial centers. The time may come when there will be Chinese bases in the U.S. as occupiers/military police.
The wisest and safest course for U.S. foreign policy could be a new alliance with Russia that would rekindle our affinity with that nation from over a century ago. But how likely is this in a world ruled by the financiers where the destruction of the two nations is a long-term goal?
One of the tools of financier domination in the meantime will likely be worldwide famine engineered by artificial shortages. This has already started and may cause hundreds of millions of people to die and their resources to be seized. The smokescreens for this will not only be peak oil but also global warming as a means of dealing with the world's "surplus eaters." Numerous non-profits and NGOs are greasing the skids with their insistent lobbying against even responsible economic development.
Now in the U.S. we will likely see riots, panic, martial law, plagues, epidemics, and prison camps, much of which has already begun with police crackdowns, anti-terrorist exercises, declining public health, erosion of civil liberties, and the world's largest prison population.
It is likely that the "American Century" is over and that the "New American Century" will really be the "No American Century." Outside of select pockets of prosperity around financial centers, resorts, and military installations, the U.S. is being destroyed. As an example, the residents of once-prosperous towns in Michigan have turned to the illegal manufacture of meth-amphetamine now that the jobs are gone.
We have been used and abused, though often suckered into it by our own stupidity and greed. We have allowed ourselves to serve the will of an alien force--the world's financial elite. Our payback now appears to be a looming national catastrophe.
Economic Restructuring
Economically, what is left of America must be rebuilt from the ground up. The flaw is not in the productivity of nature, the availability of resources, our ingenuity, nor our ability to work. The flaw has been in the capitalist financial system.
We must now rebuild three things: American family farming, since a nation that cannot feed itself cannot long exist; then infrastructure and manufacturing, which will require energy conservation and redevelopment of our energy resources; then income security tied to productivity but not always to employment--a basic guaranteed income for all. The best available treatment of the history and benefits of a guaranteed income may be found in Steven Shafarman's new book, Peaceful, Positive Revolution, Tendril Press, 2008.
The concept of a guaranteed income as a benefit of a modern industrial economy has been around for a long time. But it is often confused with job-creation. As indicated earlier, during the 1930s, British economist John Maynard Keynes came up with the idea of using government deficits to try to out-run unemployment through government-controlled pump priming. But in the long run his methods were doomed to fail as debt-based economic growth eventually reached its limits due to inflation. This is where we are today, with President George W. Bush now the largest deficit spender in history.
The most successful attempt to define a rationale for an honest and democratic monetary system, one based on human labor and not financial chicanery, was the Social Credit movement founded by British engineer C.H. Douglas (1879-1952). He first set forth his ideas in his book Economic Democracy in 1918 and continued to teach his system for the next thirty years, attracting a considerable following in Great Britain , Canada , New Zealand , and Australia .
Douglas explained the dynamic whereby the incredible productivity of modern technology can readily be harnessed to provide the material sustenance for all members of society, but fails to do so because there is a chronic shortage of purchasing power from the cumulative societal income realized through wages, salaries, and dividends. The main reasons income cannot keep pace with prices is that the latter include retained earnings for savings and reinvestment, along with depreciation of capital--i.e., the tools and facilities of production.
But the "gap" between prices and earnings (what Keynes was to call "aggregate demand") was viewed by Douglas as a benefit of a modern industrial economy rather than the curse which in the Depression was causing farmers to dump their milk in the fields because consumers lacked the money to purchase it.
Douglas saw this gap as the natural appreciation of the potential producing economy to which everyone in society was entitled as monetized shares. He said this appreciation should manifest in regular payments of a National Dividend by government from a calculated credit account not dependent on taxation or government borrowing. The National Dividend could be paid by a combination of regular stipends to citizens and/or through a system of price subsidies. And it would be non-inflationary.
Douglas went further by explaining that in real life the price-income gap was in fact filled--nature abhors a vacuum--but by bank lending at usury. This was why the banks got richer, while everyone else struggled just to survive. Banks also use their credit creating ability to acquire securities, such as Treasury bonds, with the government paying interest that is compounded because the debt is constantly being re-financed. Interest on the U.S. national debt is expected to exceed $500 billion in fiscal year 2009. To pay it, many social programs will be cut.
The technical explanation is provided by Canadian Social Credit expert Wallace Klinck, "Expanding interest charges being paid on exponentially compounding debt accumulates due to an industrial cost accountancy error related to allocating capital charges in retail prices which do not distribute equal incomes within the same production cycle. The growing disparity between prices and incomes is progressively worsened by the replacement of human labor by capital (technology)."
Under the current system, the banks steal the fruits of economic wealth which properly belong to the public as a whole, both workers and non-workers, and while the financiers were well aware of Douglas 's system, they hated it. Word went out in the 1920s that his name was never to be mentioned in the British press. John Maynard Keyes was said to have developed his own deficit-spending theories as a means to counter Douglas 's influence. And when Douglas visited the U.S. in the late 1930s, he was told to his face that he would never be allowed to introduce his ideas in this country.
Next Steps
To accomplish a program of real reform will require a strong president but possibly a political revolution to get one. Congressman Ron Paul has made history as the first major presidential candidate to call for the abolishment of the Federal Reserve. He is right. The first thing a president worthy of the name should do is eliminate the Federal Reserve as a bank-of-issue, get rid of our debt-based monetary system, and depose the bankers and Wall Street financiers from the seats of power. Ron Paul is also right that the U.S. should withdraw its military from overseas and stop trying to control the world.
What Ron Paul's candidacy proves is that in the internet age, with financial crises jumping from the headlines every day, and authorities such as Ben Bernanke, chairman of the Federal Reserve, and Secretary of the Treasury Henry Paulson manifestly having no intention of making real changes, the public is ready to listen to new ideas. But even progressive analysts are so locked into outmoded concepts that they fail to realize an entirely new type of monetary system is needed.
The basic concept that must be understood, as expressed repeatedly by this author in past articles, is that credit is a power of nature that is part of the human "commons." Credit allows society to materialize value by drawing from future potential productivity into present actualized reality. Credit therefore should be treated legally as a public utility, like water or electricity.
Credit is not a mathematical abstraction that should be manipulated into building pyramids of debt. Such practices are suicidal for an economy. Rather credit is organic, deriving ultimately from human labor (including mental labor, as in the application of technology), along with the sun, the soil, natural resources, and the rain. Thus we have gone full circle to the beginning of this article, where Russia and the U.S. were cited as the two nations that best understood where real wealth comes from.
The management of credit may be licensed to responsible private parties who are accountable to public authority, but it should never be given away or "privatized" to individuals or corporations who manipulate it mainly for their own profit, as banks do today. It is the privatization of credit through the banking systems of the world which has loaded humanity with debt, rendered short-term profits the highest priority of all business endeavor, and made modern industrialization as much a curse as a blessing.
Note that credit differs in this discussion from the legitimate investment of capital derived from profits or savings whereby an individual risks a portion of his wealth through a contract with a producing entity. Capital markets that facilitate this type of investment fall under the category of commerce, not usury.
A national monetary system should reflect the treatment of credit as a public utility and thereby make possible responsible economic activity and the fair distribution of wealth. Some of the measures which should be implemented are contained in the American Monetary Institute's draft American Monetary Act. (www.monetary.org/) The resulting currency could be issued, not in the form of debt instruments like Federal Reserve Notes, but silver-backed Treasury certificates as in President Kennedy's program of 1963.
Features of a new monetary system could be as follows:
A guaranteed income, followed by a National Dividend, should be paid directly to citizens from a Treasury credit account without recourse to either taxation or government borrowing. (C.H. Douglas's theory of the National Dividend as the monetization of the net appreciation of the productivity of a modern industrial economy is set forth in this author's Global Research article entitled, "An Emergency Program of Monetary Reform for the United States ," April 26, 2007.) The National Dividend, currently estimated at over $12,000 per capita annually, could be distributed in a variety of ways, in addition to a subsistence stipend. This could include price subsidies for consumer purchases, taking over existing Social Security payments, universal health insurance, or payments to women with young children. Another way to issue a National Dividend would be to monetize food production, whereby anyone who delivers food products to wholesalers receives a government payment as a producer's subsidy, thereby discounting food at the consumer point-of-sale.
This would work in a similar fashion to farm parity pricing programs of bygone days. As explained by Wallace Klinck, "Social Credit policy is to compensate retail prices at the point-of-sale. It is not, however, to subsidize production which would be subject to consumer choice and fully supported by consumers having at all times financial income adequate to fully liquidate the costs of production. That is, production policy is to be determined essentially by consumers--this being the Social Credit concept of genuine economic democracy with maximum decentralization, or dispersion, of power over production policy. Price controls under the present financial cost-accountancy system, where continued economic activity is dependent upon an inflationary expansion of credit to meet rising costs arising consequent to flawed accountancy, is demonstrably impossible. Price regulation, however, would appear to be both necessary and realistic under a self-liquidating Social Credit system of finance. Although not generally recognized, prices are 'controlled,' (or manipulated) under the present system of finance in a most deleterious manner."
The government should also spend money directly into circulation, as it did with Greenbacks in the 19th century, both for operating expenses and for infrastructure projects at the federal, state, and local levels. A national infrastructure bank could be capitalized by state and local infrastructure bonds without any impact on the federal budget. Such spending would again be without recourse to borrowing or taxation. Infrastructure spending could be either through grants or low-interest loans. As with Congressman Dennis Kucinich's current proposed infrastructure bank legislation, the program could specify that a requisite proportion of funding be spent on American-made products such as steel.
We should reform banking by eliminating the catastrophic privately-controlled fractional reserve system. Instead, the government should lend money at a low rate of interest to banks, then use the proceeds to help pay for legitimate government expenditures in the areas of regulation or services. Use of the proceeds, combined with the new Greenbacks and savings from no longer having to pay interest on an unnecessary national debt, would eliminate the need for the federal income tax, allowing the 16th Amendment to be repealed. In fact, under a monetary system such as the one described herein, probably three-fourths or more of the current societal tax burden could be eliminated.
In order to clear the way for these reforms, bankruptcy reorganization of the entire $50 trillion of existing debt in the U.S. should be undertaken, with debt being restructured and paid down over time or simply written off. Bank lending for speculation, such as for mergers and acquisitions, equity and hedge fund speculation, and purchase of securities on margin has been explosively enabled through bankers' ability to move massive amounts of funds electronically. These leveraging practices should be outlawed, as they are abuses of the public interest. (According to the London Times, one John Paulson made $3.7 billion in hedge fund trading last year. "Mr. Paulson's firm, Paulson & Co, made a fortune from shorting America 's sub-prime mortgage markets.") A national fuel conservation program with real teeth should also be instituted. And at least half of the U.S. military budget should be eliminated, with half of the remainder devoted to energy R&D and domestic public works. Employees of the military-industrial complex will find many new career opportunities as the domestic economy revives.
As these measures are taken, the United States will no longer be dancing to the financiers' tune. We would be helping prepare a future where man's inhumanity to man as expressed through war and financial exploitation is no longer glorified. Such a future would be a milestone in the eventual enlightenment of the human race. But these are measures that must be implemented now, before it is too late.
While we await these epochal changes, more modest steps may be in order. The author is often asked for personal financial advice. His advice is to invest in yourself and in other people. Plant a robust home garden. Learn new skills. Start community food co-ops that buy local products. Establish local currencies and barter networks. Join or form a union. Raise bees. Put kids through school. Get out of debt. Pray and meditate. Become politically active. Demand change.
http://www.marketoracle.co.uk/Article4585.html
My name is Richard C. Cook, and I was the NASA analyst who testified before the Presidential Commission on the dangers of the solid rocket booster O-ring seals after the Challenger disaster of January 28, 1986. My new book, Challenger Revealed: An Insider's Account of How the Reagan Administration Caused the Greatest Tragedy of the Space Age, was published in January 2007 by Thunder's Mouth Press. I wrote the book as a first-person narrative based on my experiences at NASA. I retired recently from the federal government and am now a writer, speaker, and consultant on public policy issues, organizational change, and conflict resolution. Please explore my website and tell me what you think.
Look, up in the Sky. Is it a Bird? Is it a Plane? Is it Chemtrails of Death?
Nobody Knows, But, This Time, Somebody Cares!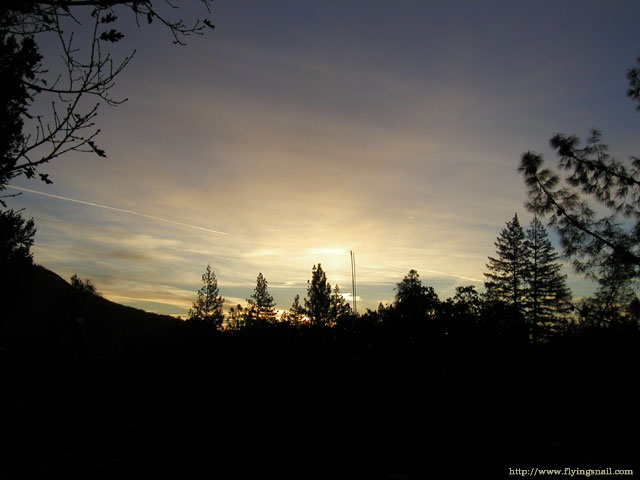 Note: Long Thin Chemtrails Hidden Within Clouds == Why does this happen every morning?
Questioning air quality
Written by Tom Slaight
Sunday, 11 May 2008
Regarding the recent article "Lake County gets top marks in the American Lung Association report":
"Who are you going to believe, me or your own eyes?" is a quote attributed to Chico Marx. I have a similar question. What am I going to believe, the crowing about Lake County's allegedly clean air, or my own eyes and my extensive video and photo documentation?
Lake County's once-clean clear air has, in recent years, become typically, in varying degrees, hazy white.
Since April 2002, I have been investigating and documenting with photos and video, conducting research and asking questions concerning conditions and phenomenon that contradict what we are told about Lake County having "clean air." A significant amount of my information comes from mainstream sources such as NASA and The National Academy of Science.
I question the quality and healthfulness of Lake County's air, based not only on my investigation, but also on the lack of research or evidence from Lake County Air Quality Management District to refute my research.
I have many questions. These are a few:
1. What is causing our once-clear air to be hazy white?
2. Is there any connection between the white haze and the apparently unmarked jet aircraft that leave lingering, expanding, white-haze-causing jet-trails over Lake County? I have a video record of these jets.
3. Why has the Lake County Air Quality Management District failed to supply any researched, documented, responses to my research and my questions?
4. Is what we are breathing harmful?
5. The mission statement of the Lake County Air Quality Management District is "... to maintain healthful ambient air for the residents and visitors of the Lake County air basin." How can they fulfill their mission if they cannot or will not answer the questions, especially concerning the white haze, with supporting research and documentation?
The Lake County Board of Supervisors, who also sit as the board of directors for the Lake County Air Quality Management District, must require that anyone representing the Lake County Air Quality Management District support all statements and assertions by defining their terms and by providing, specific time and location evidence. In the interest of accountability, this requirement must be retroactive.
There must be full disclosure from the Lake County Air Quality Management District and its board of directors. This will include knowledge or information that they may have or that has been provided to them that could possibly be of concern regarding the quality or healthfulness of Lake County air.
Tom Slaight lives in Cobb.
http://lakeconews.com/content/view/4166/772/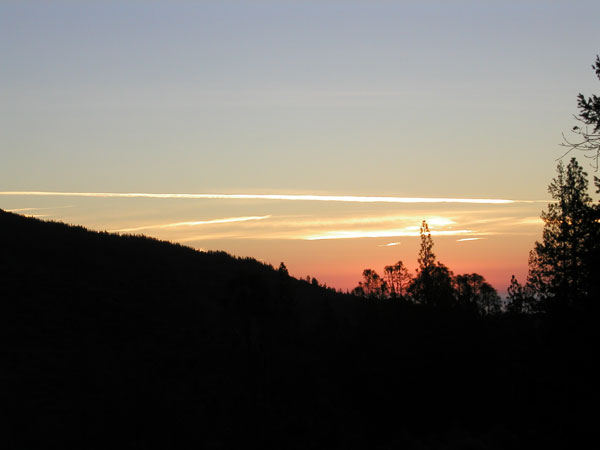 Chemtrail Photos: http://www.flyingsnail.com/chemtrail/index.htm
New Federal Report on Marijuana Use
is Misleading, Groups Say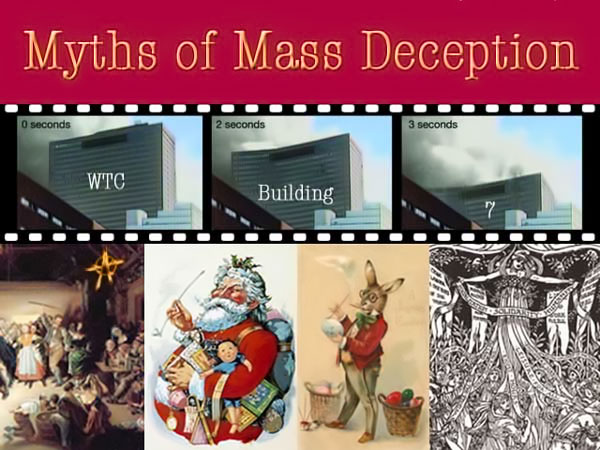 Is this a reaction to the beginning of the end of marijuana prohibition?
by Tim King Salem-News.com
Salem-News.com (May-10-2008 15:32)
(SALEM, Ore.) - A new federal government report on the ill effects of marijuana on teens may be a last ditch effort to demonize the medical weed before it sees its own day of emancipation. As it stands, even the most hardcore marijuana legalization advocates do not support children using anything that causes intoxication.
This new report uses scare tactics and seems to regard medical facts as a meaningless burden, and they are enlisting the help of celebrities with big money and big media ties to drive their message home. (see:TEEN "SELF MEDICATION" FOR DEPRESSION LEADS TO MORE SERIOUS MENTAL ILLNESS, NEW REPORT REVEALS)
http://www.whitehousedrugpolicy.gov/news/press08/050908.html
"Don't be fooled into thinking that pot is harmless," said Dr. Drew Pinksy, internist, addiction expert, and host of VH1's Celebrity Rehab. "Marijuana is an addictive drug. Teens who are already depressed and use marijuana may increase their odds of suffering from even more serious mental health problems."
But medical marijuana and pharmacology experts like Dr. Phil Leveque of Molalla, Oregon, who writes regularly for Salem-News.com, suggest that there is no truth to the statement and that most of those who ultimately suffer from mental illness already would have.
"One of the biggest claims from the federal government is that marijuana causes 'euphoria' and if anyone needs that explained to them, it means the opposite of depression," Leveque said.
He and most other advocates say kids should stay free and clear of marijuana use unless it is medically necessary, but it is a pussycat next to more deadly things like alcohol, prescription drugs, heroin and meth that potentially lead to death. Marijuana has no lethal quality; it can't kill a person. It seems like a waste of time to get people listening, and then only tell them the bad data on marijuana. It seems very irresponsible.
Marijuana is not "Different Today"
Marijuana is a natural herb that is cultivated to have better potency. The herb is the same that it has always been, and the ability of people to grow it well and to learn about the agricultural significance has improved. In the 1970's most marijuana was sold under the name "commercial" and it all came from Mexico. In that country the male and female plants are not separated, and the result is a below average grade of marijuana packed with seeds.
When the government tries to suggest that marijuana is "different today", they are suggesting that a human process has changed marijuana into something it didn't used to be. This is scientifically impossible. No doubt far more money is invested in other types of ag research and so far fruit is about the same as it used to be; except maybe for the addition of human added poisons to increase its marketability.
But this study, like others that benefit the pharmaceutical companies that don't want to compete with marijuana as a medical product, is more of the same, "The potency of smoked marijuana has risen consistently over the past decades and higher potency translates into serious health consequences for teens."
They also stated, "Some studies show that higher potency marijuana may be contributing to an increase in the number of American teens seeking treatment for marijuana dependence."
Marijuana dependence? This in and of itself is extremely debatable. For the most part, doctors agree that marijuana is only mildly addicting and that relates to a mental addiction, not a physical addiction. One interesting fact always deleted from the federal studies is that for many years, marijuana was considered the best substance for getting people off hard drugs. Heroin addicts given marijuana, can kick their deadly habit.
Of course funding all of those taxpayer funded, court ordered "marijuana addiction" programs is another concern of the federal government. They make money from marijuana being illegal, plain and simple. The notion of "marijuana addiction" is very unique to the groups and agencies and courts that profit directly from it.
The new federal report suggests that marijuana use can cause a small percentage of users to consider "suicide." Perhaps if this is true, it is more based on the stigma that the federal government, fully in bed with the pharmaceutical groups, gives to marijuana.
"Gateway Theory"
It is not very different from the so-called "Gateway Theory" that marijuana leads to harder drugs. Many believe that the seed is planted by the theory, and that kids feel compelled to "move to harder drugs" because that is what the government and the D.A.R.E. officer told them would happen. It is a simple notion called "programming" that has undeniable impact on a person's mode of thinking, their overall knowledge, and ultimately their actions.
Those willing to face the truth on a daily basis know that half of what is wrong with people in this country is a result of adverse and negative programming.
It happens when clergy sexually abuse children and tell them they will go to hell if they ever talk to their families or police. It is the conditioning applied to people in Communist nations that makes them believe Americans and western countries are all evil, and it is the same poison given to Islamic fundamentalist radicals whose lives are entirely based on fear. Our government needs to give it up and move into the light of truth.
Marijuana may not be "great" to anyone except a medical patient who directly benefits from it, but it is a plant and a flower that God placed on the earth and it is entirely vain and ironic of our society to place what is probably the single most useful plant on the planet in an illegal criminal category with heroin and meth. It reflects our own ignorance as a nation.
Real Studies
The nation's second largest association of doctors, the American College of Physicians, stated in a report that marijuana has been smoked for its medicinal properties for centuries, and preclinical, clinical, and anecdotal reports suggest numerous potential medical uses for marijuana. (see: American College of Physicians Position Takes Aim at Marijuana Laws)
http://www.salem-news.com/articles/february182008/acp_marijuana_2-18-08.php
They confirm that the use of medical marijuana in treating HIV wasting and chemotherapy-induced nausea and vomiting has been well documented, and they believe additional research is needed to clarify marijuana's therapeutic properties and determine standard and optimal doses and routes of delivery.
Reports like this new one from the federal government do not help doctors learn the real facts about medical marijuana.
In fact, the oldest continuously published pediatric journal in the country, a Journal of the American Medical Association called the "Archives of Pediatrics & Adolescent Medicine", released new information in November '07 (see: Study Shows Surprisingly Few Negative Impacts on Kids Who Use Marijuana) indicating that pot smoking teens tend to function at better levels than teens who also smoke tobacco, and better in some ways than kids who abstain from both.
http://www.salem-news.com/articles/november082007/pot_youth_11707.php
The study, completed in Switzerland, did not have an obligation to demonize marijuana on behalf of the pharmaceutical companies as the U.S. seem to. The report should actually make parents feel much better about teens and marijuana. The study compared students who smoked both pot and cigarettes, with kids who smoke marijuana only.
The study revealed that those who use only cannabis were more socially driven, and showed no more psychosocial problems than those who had never taken either of the substances.
As far as marijuana leading to harder drugs, the authors of the study say an accurate listing of the problems actually fall in a different order, and that cancer related illnesses suffered by cigarette smokers are the biggest risk of all.
The government report suggests that "Not only are adolescents at greater risk for drug abuse, but they may suffer more consequences," said Nora D. Volkow, M. D., Director of the National Institute on Drug Abuse. "There is also some evidence that in vulnerable teens-because of genetic factors-the abuse of marijuana can trigger a schizophreniform disorder."
Misleading Statements
Groups involved in marijuana laws and policy say the report is misleading. U.S. News and World Report quoted Bruce Mirken, director of communications at The Marijuana Policy Project, saying "We agree that kids shouldn't smoke marijuana, but we simply have to be honest to teens and parents. This report [is] deliberately confusing correlation with causation." (see: Teen Depression Worsened by Marijuana, Government Says)
The Washington-based group Mirken represents intends to remove criminal penalties for marijuana use and make medical marijuana available to seriously ill patients with doctor's approval.
"This very week the British government's official scientific advisors on illegal drugs issued a report saying they are 'unconvinced that there is a causal relationship between the use of cannabis and any affective disorder,' such as depression." Mirken also questions the lack of warning about alcohol's relationship to depression, which is completely left out of their new report.
"Data linking alcohol to depression is much stronger and alcohol use by teens is greater than marijuana use," he notes.
Barack Obama and Hillary Clinton have each been clear that they do not see marijuana as a problem in our society that requires federal money and intervention and incarceration. Perhaps this new federal report represents the death throes of a movement that began in the 1930's as an effort to remove hemp rope from the commercial marketplace.
Hemp, the industrial marijuana plant, provides the strongest natural fiber known to man. Dow Chemicals, Dupont and the Hearst Newspaper chain were the biggest foes of marijuana at the time. They funded the movie "Reefer Madness." Today the pharmaceutical companies that manufacture addictive "prescription drugs" are enlisting the federal government's help to produce more fiction presented as fact.
The list of marijuana opponents is different in this century, but the corporate spirit of greed that made it illegal in the first place is alive and well.
Salem-News.com - http://www.salem-news.com/articles/may102008/pot_truth_5-10-08.php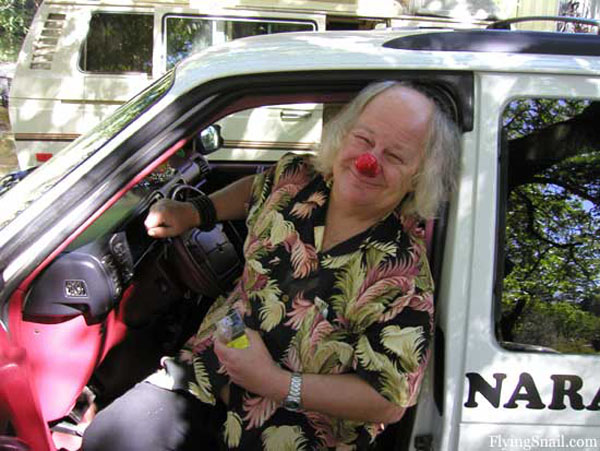 Happy Birthday Wavy Gravy
luv ~@~ and Friends (Photo Source)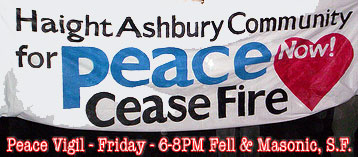 You are cordially invited to join the monthly Haight-Ashbury Peace Vigil, this Friday night, May 16th, from 6:00 to 8:00 p.m. We will be on Masonic, between Fell and Oak, San Francisco. We have a one-issue focus--end the war in Iraq. Although our purpose is serious, our crowd has been lively. We will have signs and candles for you, but you are welcome to bring your own. Pictures from our previous vigils can be seen here: http://www.flickr.com/photos/haightpeacevigil/


WVUD 91.3
Special Latin American Music Show
Saturday Afternoon 17 May 2008
4 pm East -- 1 pm Pacific -- 2000 UTC
Listen On-line at: http://www.wvud.org/listen_online.htm with Even Steven

Latest Earthquakes in the World - Past 7 days
http://earthquake.usgs.gov/eqcenter/recenteqsww/
The Madness of King George
I have always been a big fan of Shakespeare and as an undergraduate wrote an analysis of "King Lear" because I was fascinated with part of Act II where Lear feels he has been betrayed by Regan and says to the Court Jester, "O Fool, I shall go mad."
On hearing excellent reviews, I went to the opening of "The Madness of King George" (the movie), which immediately moved to my 'top five all time favorite movie' list, where "The Day the Earth Stood Still" (1951), remains number one.
From Wikipedia, the free encyclopedia
The Madness of King George is a 1994 film directed by Nicholas Hytner and adapted by Alan Bennett from his own play The Madness of George III. It tells the true story of George III's deteriorating mental health, and his equally declining relationship with his son, the Prince of Wales, particularly focusing on the period around the Regency Crisis of 1788. Modern medicine has suggested that the King's symptoms were the result of porphyria.
[Under the guise of "What goes around, comes around.", "Things don't change, people do." "Life is a stage.", and "What if?" == What if Prince of Wales was John and porphyria was Dry Drunk?]. (-;
http://en.wikipedia.org/wiki/The_Madness_of_King_George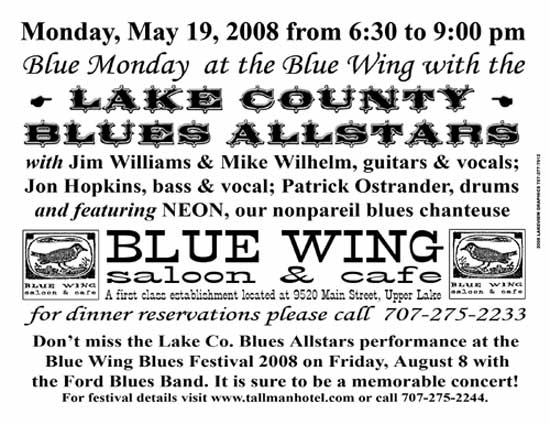 Lake County Blues Allstars
Blue Wing, Upper Lake, CA - Monday May 19th, 6:30 PM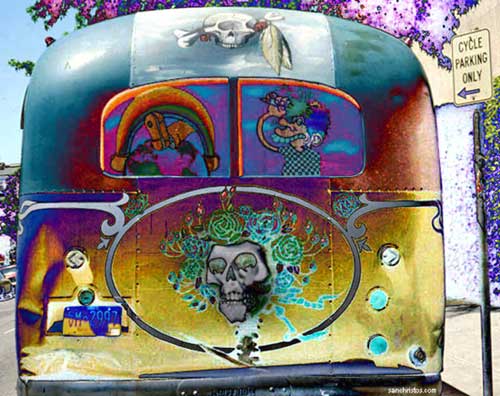 Grateful Dead ~ Greek Theatre
Berkeley, California - 13-15 May 1983
Slide Show ~ Photography: Chris W. Nelson ~ SanChristos.com
[Press the play tab at the lower left side of of the below page for Shakedown Street]:
http://www.sanchristos.com/GD_Greek_13-15_May_1983/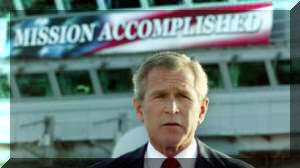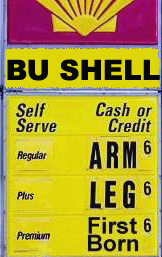 Fact or Conspiracy?
How the Bush Stole Summer Vacation
There's no denying that this is an oil administration, you can't talk about the career of any George Bush -- father or son -- without talking about oil. - Peter Eisner -- During times of universal deceit, telling the truth becomes a revolutionary act. - George Orwell -- Provided by Dahbud Mensch:
http://www.flyingsnail.com/Dahbud/dahgasprices.html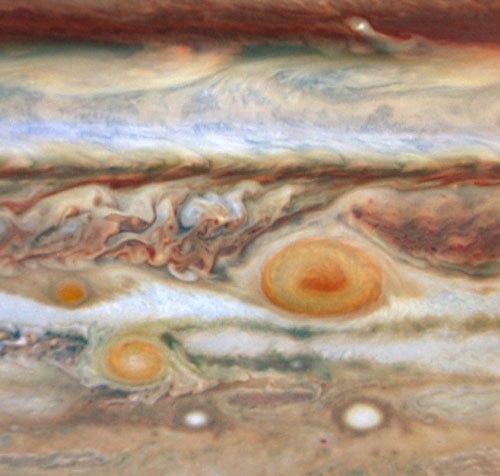 New Red Spot Appears on Jupiter
In what's beginning to look like a case of planetary measles, a third red spot has appeared alongside its cousins -- the Great Red Spot and Red Spot Jr. -- in the turbulent Jovian atmosphere.
This third red spot, which is a fraction of the size of the two other features, lies to the west of the Great Red Spot in the same latitude band of clouds.
The new red spot was previously a white oval-shaped storm. The change to a red color indicates its swirling storm clouds are rising to heights like the clouds of the Great Red Spot. One possible explanation is that the red storm is so powerful it dredges material from deep beneath Jupiter's cloud tops and lifts it to higher altitudes where solar ultraviolet radiation -- via some unknown chemical reaction -- produces the familiar brick color.
Detailed analysis of the visible-light images taken by Hubble's Wide Field Planetary Camera 2 on May 9 and 10, and near-infrared adaptive optics images taken by the W.M. Keck telescope on May 11, is revealing the relative altitudes of the cloud tops of the three red ovals. Because all three oval storms are bright in near-infrared light, they must be towering above the methane in Jupiter's atmosphere, which absorbs the Sun's infrared light and so looks dark in infrared images.
Turbulence and storms first observed on Jupiter more than two years ago are still raging, as revealed in the latest pictures. The Hubble and Keck images also reveal the change from a rather bland, quiescent band surrounding the Great Red Spot just over a year ago to one of incredible turbulence on both sides of the spot.
Red Spot Jr. appeared in spring of 2006. The Great Red Spot has persisted for as long as 200 to 350 years, based on early telescopic observations. If the new red spot and the Great Red Spot continue on their courses, they will encounter each other in August, and the small oval will either be absorbed or repelled from the Great Red Spot. Red Spot Jr. which lies between the two other spots, and is at a lower latitude, will pass the Great Red Spot in June.
The Hubble and Keck images may support the idea that Jupiter is in the midst of global climate change, as first proposed in 2004 by Phil Marcus, a professor of mechanical engineering at the University of California, Berkeley. The planet's temperatures may be changing by 15 to 20 degrees Fahrenheit. The giant planet is getting warmer near the equator and cooler near the South Pole. He predicted that large changes would start in the southern hemisphere around 2006, causing the jet streams to become unstable and spawn new vortices. [Continue Reading At]:
http://hubblesite.org/newscenter/archive/releases/2008/23/image/a/
China earthquake death toll rises to 60,560
BEIJING, May 24 (Xinhua) -- The death toll in China's major earthquake increased by 4,820 to 60,560 as of Saturday noon, according to the Information Office of the State Council.
And 352,290 people were injured and 26,221 missing in the 8.0-magnitude quake that jolted southwestern Sichuan Province on May 12.
A total of 45.5 million people have been affected by the quake, and nearly 14.4 million quake-affected people have been evacuated, according to the office.
As of Saturday noon, 178 aftershocks measuring above 4 on the Richter scale had been monitored in Sichuan and among them, 27 aftershocks measured above magnitude 5, and four above magnitude 6, said the office.
It also revealed that medics have treated nearly 290,000 quake victims. A total of 75,086 injured victims have been hospitalized after the quake. Among them, 40,644 have been discharged from hospitals, 23,864 are still in hospital and 4,274 were transferred to other hospitals out of Sichuan for treatment.
The Ministry of Health said that as of 10 a.m. Saturday, no major epidemic or emergent public health incidents have been reported, and disease prevention staff had covered 95 percent of all the townships in quake-hit areas.
The government has allocated 15.1 billion yuan (2.2 billion U.S. dollars) for quake relief operations as of 2 p.m. Saturday. Among them, 11.1 billion yuan had been allocated from the central budget and 4 billion yuan from local budgets, the information office revealed.
Domestic and foreign donations for earthquake survivors had reached 26.1 billion yuan in cash and goods, up 1.5 billion yuan from the previous day. Of the total, 3.68 billion yuan had been forwarded to the disaster area, the office said.
Meanwhile, 448,140 tents had been delivered, said Lu Guangjin, an official with the office.
Also, 35,458 makeshift houses, 2,419,347 quilts and 3,304,526 garments had been sent to the region, he said.
About 336,000 tons of fuel and 723,000 tons of coal were sent to the region as well, he noted.
The whole line of quake-damaged Baoji-Chengdu railway, a key north-south route in west China, which links Chengdu with Baoji city in neighboring Shaanxi Province, reopened to traffic Saturday after 283 hours of closure, allowing batch transport of disaster relief goods to Sichuan.
No. 977 train carrying urgently needed relief goods of tents and medicines passed through the railway's No. 109 tunnel at 9:53 a.m. Saturday, where a 40-car freight train derailed and was trapped, paralyzing the railway in the May 12 earthquake.
Electricity had been partially restored in 16 counties in Sichuan by Saturday noon, but two hard-hit counties (Beichuan and Lixian) were still blacked out.
Telecommunications services in all quake regions, except for Hongguang Town, Qingchuan, have resumed. Residents of Hongguang were evacuated because of concern about possible further geological disasters.
http://news.xinhuanet.com/english/2008-05/24/content_8243302.htm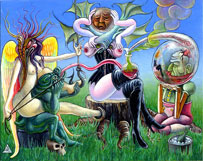 Cognitive Libertines by David Normal
"Cognitive Libertines", Oil on Panel, 20 x 25 cm, 2008.
The title is a riff on "Cognitive Liberty".
As long as there is a world to be known there are those who will never know when there is already too much to be known, and their unbridled perception, their wanton understanding, will debauch their consciousness, and brand them as profligates wandering in the splendor of their own hallucinations, or, to be more succinct, "Cognitive Libertines."
This title was, of course, an afterthought - I had nothing so grandiose in mind to begin with. Actually the painting is just embellished marginalia culled form old journals and cooked up as an exercise in oil painting. These days I am turning more attention to painting and so I am striving to refine my technique before endeavoring in larger and more ambitious works.
http://normal-design.com/cognitive-libertines.html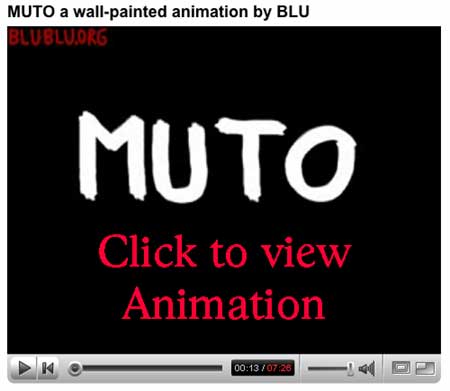 MUTO a wall-painted animation by BLU
Submitted by Karl Cohen
Two New Updated MP3 Tunes
Mike Wilhelm sent two new EMI 78 based updates for 'Suits" and "Ramblin'" [original description and mp3s' are located at the Podcast page].
These new additions will be available via iTunes by Sunday.
Ramblin'(EMI 78) - Written by Robert Johnson - mp33
Worn Out Suits (EMI 78) - Written by Dave Edmunds
In the late 60's, when asked to name his favorite guitarist on the San Francisco scene, Jerry Garcia replied, "Mike Wilhelm."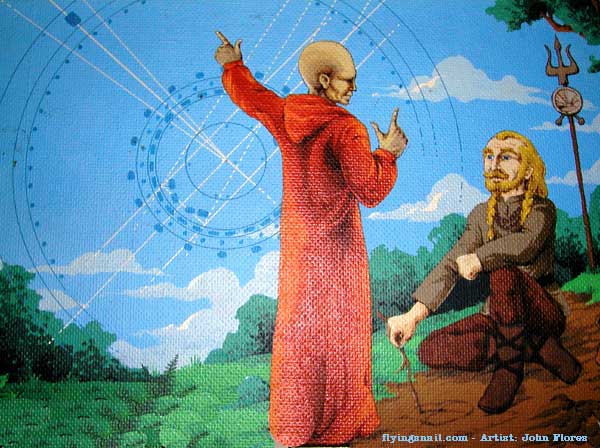 Texas UFO sightings are part of larger, deeper questions
By Steve Hammons
The sightings of unusual lights and a huge object or craft in the vicinity of Stephenville, Texas, seem to have helped improve the public discussion, news coverage and understanding about these kinds of situations.
The news media appeared to cover the story fairly responsibly with initial "hard news" coverage from reputable organizations such as the Associated Press. [Continue Reading At]:
http://www.americanchronicle.com/articles/49945
Vatican: It's OK to believe in aliens
By ARIEL DAVID, Associated Press Writer
Tue May 13, 4:07 PM ET
[Submitted by Karl Cohen]
VATICAN CITY - Believing that the universe may contain alien life does not contradict a faith in God, the Vatican's chief astronomer said in an interview published Tuesday.
The Rev. Jose Gabriel Funes, the Jesuit director of the Vatican Observatory, was quoted as saying the vastness of the universe means it is possible there could be other forms of life outside Earth, even intelligent ones.
"How can we rule out that life may have developed elsewhere?" Funes said. "Just as we consider earthly creatures as 'a brother,' and 'sister,' why should we not talk about an 'extraterrestrial brother'? It would still be part of creation."
In the interview by the Vatican newspaper L'Osservatore Romano, Funes said that such a notion "doesn't contradict our faith" because aliens would still be God's creatures. Ruling out the existence of aliens would be like "putting limits" on God's creative freedom, he said.
The interview, headlined "The extraterrestrial is my brother," covered a variety of topics including the relationship between the Roman Catholic Church and science, and the theological implications of the existence of alien life.
Funes said science, especially astronomy, does not contradict religion, touching on a theme of Pope Benedict XVI, who has made exploring the relationship between faith and reason a key aspect of his papacy.
The Bible "is not a science book," Funes said, adding that he believes the Big Bang theory is the most "reasonable" explanation for the creation of the universe. The theory says the universe began billions of years ago in the explosion of a single, super-dense point that contained all matter.
But he said he continues to believe that "God is the creator of the universe and that we are not the result of chance."
Funes urged the church and the scientific community to leave behind divisions caused by Galileo's persecution 400 years ago, saying the incident has "caused wounds."
In 1633 the astronomer was tried as a heretic and forced to recant his theory that the Earth revolved around the sun. Church teaching at the time placed Earth at the center of the universe.
"The church has somehow recognized its mistakes," he said. "Maybe it could have done it better, but now it's time to heal those wounds and this can be done through calm dialogue and collaboration."
Pope John Paul declared in 1992 that the ruling against Galileo was an error resulting from "tragic mutual incomprehension."
The Vatican Observatory has been at the forefront of efforts to bridge the gap between religion and science. Its scientist-clerics have generated top-notch research and its meteorite collection is considered one of the world's best.
The observatory, founded by Pope Leo XIII in 1891, is based in Castel Gandolfo, a lakeside town in the hills outside Rome where the pope has a summer residence. It also conducts research at an observatory at the University of Arizona, in Tucson.
http://news.yahoo.com/s/ap/20080513/ap_on_re_eu/vatican_aliens
I would move heaven and earth to protect my husb..
errr.. President Bush!

Martin Rowson
BEN-VENISTE: Isn't it a fact, Dr. Rice, that the August 6 PDB warned against possible attacks in this country? And I ask you whether you recall the title of that PDB?
RICE: I believe the title was,
Bin Laden Determined to Attack Inside
the United States [Using Planes]
A pressing issue of dinner-party etiquette is vexing Washington, according to a story now making the D.C. rounds: How should you react when your guest, in this case national-security adviser Condoleezza Rice, makes a poignant faux pas? At a recent dinner party hosted by New York Times D.C. bureau chief Philip Taubman and his wife, Times reporter Felicity Barringer, and attended by Arthur Sulzberger Jr., Maureen Dowd, Steven Weisman, and Elisabeth Bumiller, Rice was reportedly overheard saying, "As I was telling my husb—" and then stopping herself abruptly, before saying, "As I was telling President Bush."
http://nymetro.com/nymetro/news/people/columns/intelligencer/n_10245/
Ari Fleischer
(Neocon
Whiteyhouse Lying Bullsh*tist Piglet Number One
If he [Saddam] declares he has none, then we will know that Saddam Hussein is once again misleading the world.
Ari Fleischer - December 2, 2002
We know for a fact that there are weapons there [in Iraq].
Ari Fleischer - January 9, 2003
Well, there is no question that we have evidence and information that Iraq has weapons of mass destruction, biological and chemical particularly . . . all this will be made clear in the course of the operation, for whatever duration it takes.
Ari Fleisher - March 21, 2003
I think you have always heard, and you continue to hear from officials, a measure of high confidence that, indeed, the weapons of mass destruction will be found.
Ari Fleischer - April 10, 2003
Corporate Media PIG Threatens Internet
YouTube law fight 'threatens net'
A one billion dollar lawsuit against YouTube threatens internet freedom, according to its owner Google.
Google's claim follows Viacom's move to sue the video sharing service for its inability to keep copyrighted material off its site.
Viacom says it has identified 150,000 unauthorised clips on YouTube.
In court documents Google's lawyers say the action "threatens the way hundreds of millions of people legitimately exchange information" over the web.
The search giant's legal team also maintained that YouTube had been faithful to the requirements of the 1998 Digital Millennium Copyright Act and that they responded properly to claims of infringement.
In papers submitted to a Manhattan court, Google said it and YouTube "goes far beyond its legal obligations in assisting content owners to protect their works".
Viacom disagreed that either firm had lived up to that standard and said that they had done "little or nothing" to stop infringement.
Abuse
In a rewritten lawsuit filed last month, Viacom claimed YouTube consistently allowed unauthorised copies of popular television programming and movies to be posted on its website and viewed tens of thousands of times.
It said it had identified more than 150,000 such abuses which included clips from shows such as South Park, SpongeBob SquarePants and MTV Unplugged.
The company says the infringement also included the documentary An Inconvenient Truth which had been viewed "an astounding 1.5 billion times".
Viacom, which is asking for damages for the unauthorised viewing of its programming, said its tally represented only a fraction of the content on YouTube that violates its copyrights.
"The availability on the YouTube site of a vast library of the copyrighted works of plaintiffs and others is the cornerstone of defendants' business plan," Viacom said.
Viacom originally started legal action last year and filed an amended version last month. Earlier this month Viacom chairman Sumner Redstone told Dow Jones: "When we filed this lawsuit, we not only served our own interests, we served the interests of everyone who owns copyrights they want protected."
He added: "We cannot tolerate any form of piracy by anyone, including YouTube...they cannot get away with stealing our products."
For its part, Google said the only way the legal action would be resolved was in court.
Google's vice president of content partnerships David Eun has said: "We're going all the way to the Supreme Court. We've been very clear about it."
After the legal action was first started, YouTube launched an anti-piracy tool that checks uploaded videos against the original content in an effort to flag piracy.
http://news.bbc.co.uk/1/hi/technology/7420955.stm
VIACOM originally lied to San Francisco residents when they promised ten dollar a month cable television.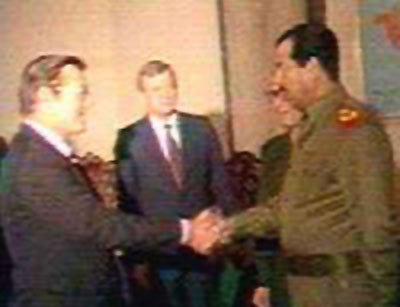 "Go massive ... Sweep it all up. Things related and not."
Sec. of Defense Donald Rumsfeld hours after 9/11 attack
http://www.cbsnews.com/stories/2002/09/04/september11/main520830.shtml
Over that summer of 2002, top Bush aides had outlined a strategy for carefully orchestrating the coming campaign to aggressively sell the war. . . . In the permanent campaign era, it was all about manipulating sources of public opinion to the president's advantage. What I do know is that war should only be waged when necessary, and the Iraq war was not necessary. - Scott McClellan, ex-White House bullsh*tist
Criminal Act

If a president is willing to lie about the most basic governmental and political facts, civic debate becomes impossible, and the public becomes incapable of informed judgment. Because of the great weight that any president's words have with the public, the president of the United States must not be a liar. - Tony (I wonder what I was smoking when I said that) Blankley
The Scooter Libby verdict is inextricably linked to Iraq: his lies were an attempt to cover up the disingenuous case for war. - Sidney Blumenthal
http://commentisfree.guardian.co.uk/sidney_blumenthal/2007/03/scooter_libby_1.html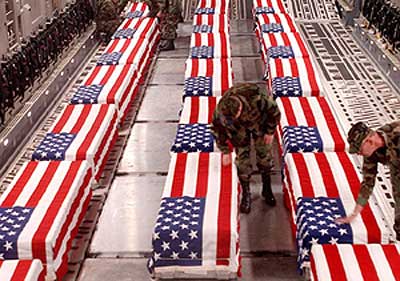 Why should we hear about body bags and deaths and how many, what day it's gonna happen? It's not relevant. So why should I waste my beautiful mind on something like that? - Barbara Bush, 3/18/2003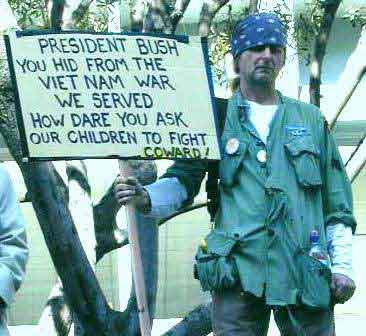 Mission Accomplished
Overlooked News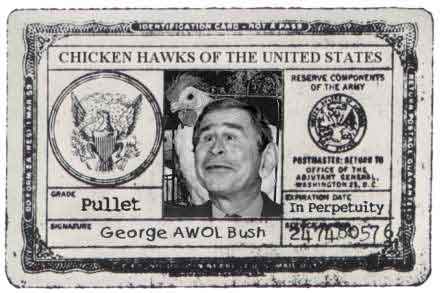 Congress Votes to Outsource Presidency
Washington, DC -- March 29, 2008
Congress today announced that the office of President of the United States of America will be outsourced to India as of April 1, 2008. The move is being made in order to save the President's $500,000 yearly salary, and also a record $521 billion in deficit expenditures and related overhead that his office has incurred during the last 7 years. It is anticipated that $231 billion can be saved to the end of the President's term. 'We believe this is a wise financial move. The cost savings are huge,' stated Congressman Thomas Reynolds (R-WA). 'We cannot remain competitive on the world stage with the current level of cash outlay,' Reynolds noted.
Mr. Bush was informed by email this morning of his termination. Ms Rice was present to explain the email to him.
Gurvinder Singh, a tele-technician for Indus Teleservices, Mumbai, India will assume the office of President as of June 1, 2008. Mr. Singh was born in the United States while his Indian parents were vacationing at Niagara Falls, NY. Thus making him eligible for the position. He will receive a salary of $320 a month, but no health coverage or other benefits.
It is believed that Mr. Singh will be able to handle his job responsibilities without a support staff. Due to the time difference between the US and India , he will be working primarily at night. 'Working nights will allow me to keep my day job at the Dell Computer call center,' stated Mr. Singh in an exclusive interview. 'I am excited about this position. I always hoped I would be President of something.'
A Congressional spokesperson noted that while Mr. Singh may not be fully aware of all the issues involved in the office of President, this should not be a problem as President Bush has never had a clue either.
Mr. Singh will rely upon a script tree that will enable him to respond effectively to most topics of concern. Using these canned responses, he can address common concerns without having to understand the underlying issue at all. 'We know these scripting tools work,' stated the spokesperson. 'President Bush has used them successfully for years, with the result that some people actually thought he knew what he was talking about.'
Mr. Bush may have difficulties in securing a new position due to a lack of any successful work experience during his lifetime.
WalMart has expressed interest in him as a greeter position. This position was suggested due to Bush's extensive experience at shaking hands, as well as his vacant smile.


WVUD 91.3
Boptime -Saturday Morning
6 am East -- 3 am Pacific -- 1000 UTC
DreamStreets - Wednesday Morning
11 am East -- 8 am Pacific -- 1500 UTC
Listen On-line at: http://www.wvud.org/listen_online.htm with Even Steven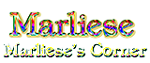 Underground Hour - Tuesdays 7 to 8 pm - http://ksfs.sfsu.edu/
Music by MiKo - Tuesdays 8 to 11 pm - Paper Mill Creek Saloon - Forest Knolls, CA
Marliese's Corner - San Francisco Events
Oh, I hope that I see you again I never even caught your name As you looked through my window pane -- So I'm writing this message today I'm thinking that you'll have a way Of hearing the notes in my tune -- Where are you going? Where have you been? I can imagine other worlds you have seen -- Beautiful faces and music so serene -- So I do hope I see you again My universal citizen You went as quickly as you came -- You know the power Your love is right You have good reason To stay out of sight -- But break our illusions and help us Be the light - Message by Michael Pinder
NCast - Dancing Frogs

Previous Articles Moved To ARCHIVE