#3 TELL-A-VISION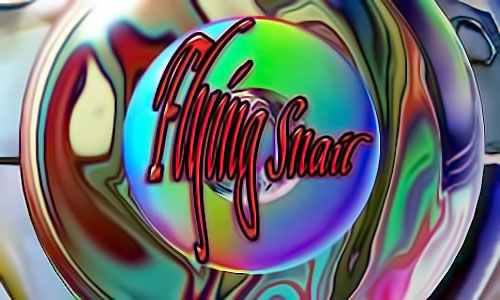 Lovers Come and Go
by ~@~
If you are an original reader of http://www.FlyingSnail.com you are aware these pages were dedicated to art and science (period) and avoided subjects having potential of divide and conquer; especially sex, politics, and religion.
That changed around 1998/1999, and it has been ten years and nothing has changed for the better. (otoh) Folks are finally beginning to understand how 'leading a horse to water, but not being able to make the horse drink' relates to public apathy.
One major concern is, NOBODY is asking Presidential Candidates: If THEY want War, where will THEY get the troops, and will THEY bring back the DRAFT?". (fwiw) If a Draft is reinstated, it will be too late to do anything about it.
We will return to regular programming shortly.
Oh, I hope that I see you again I never even caught your name As you looked through my window pane -- So I'm writing this message today I'm thinking that you'll have a way Of hearing the notes in my tune -- Where are you going? Where have you been? I can imagine other worlds you have seen -- Beautiful faces and music so serene -- So I do hope I see you again My universal citizen You went as quickly as you came -- You know the power Your love is right You have good reason To stay out of sight -- But break our illusions and help us Be the light - Message by Michael Pinder
You may say I'm a dreamer, but I'm not the only one. I hope some day you'll join us and the world will live as one: Reflections on the Spirit and Legacy of the Sixties by Fritjof Capra - December 1, 2002 - Continue Reading

Brokedown Palace - Grateful Dead
Fare you well, my honey, fare you well my only true one. - All the birds that were - singing are flown, except you alone. - Going to leave this brokedown palace, - On my hand and knees, I will roll, roll, roll. - Make myself a bed by the waterside, - In my time, I will roll, roll roll. - In a bed, in a bed, by the waterside I will lay my head. - Listen to the river sing sweet songs, to rock my soul. - River going to take me, sing sweet and sleepy, - sing me sweet and sleepy all the way back home. - It's a far gone lullaby, sung many years ago. - Mama, mama many worlds I've come since I first left home. - Goin' home, goin' home, by the riverside I will rest my bones, - Listen to the river sing sweet songs, to rock my soul. - Going to plant a weeping willow, On the bank's green edge it will grow, grow, grow. - Sing a lullaby beside the water, - Lovers come and go, the river roll, roll, roll.- Fare you well, fare you well, I love you more than words can tell, - Listen to the river sing sweet songs, to rock my soul.
A long-delayed welcome
by Elizabeth Larson
Sometimes it's the smallest gestures that, ultimately, give the most meaning to our lives, and have the greatest impact on the lives we touch.
One of those small gestures we too often dismiss is the simple act of saying "thank you." And, yet, for some people, hearing those words can make all the difference.
Today, March 30, is an important day to think about not just saying "thank you" but also "welcome home" to our Vietnam veterans. That's because this is the inaugural "Welcome Home Vietnam Veterans Day," approved by resolutions of both houses of Congress last year.
Thirty-five years ago on this date, the US finalized its pullout of combat troops from Vietnam, after more than a decade of US presence in that country, eight of those years engaged in combat that resulted in more than 58,000 deaths and 300,000 casualties among US Armed Forces members. More than 1,700 soldiers are still missing in action from that war.
Whether or not we'll ever have a truly accurate count of that war's walking wounded -- the men and women who came home with post traumatic stress disorder, other mental health issues and drug problems -- may never be known.
Believe it or not, many of the men and women who served in Vietnam have never had anyone thank them for their service, or felt really welcome home to the country they served.
I've talked to many veterans about what they encountered when they came home. It ranges from indifference from friends and family, to physical attacks and taunting by those who disagreed with the war.
I also have some personal interest in the subject. My own uncle, Darrel Gray, was a Green Beret in Vietnam, a winner of the Bronze Star for Valor, wounded or injured five times, and a victim of Agent Orange exposure, all in the space of one year, 1968.
The son of a World War II vet and great-grandson of a Confederate soldier, he had been in the Army for years by the time he landed in Vietnam.
Now in his early 60s, my uncle still suffers from the effects of post traumatic stress disorder, hearing loss, a body ravaged by the impacts of old wounds and the rigors of his service. Not only did he encounter a bad reception in the US, but an ongoing battle with the Veterans Administration, which didn't want to recognize Agent Orange exposure as a health issue.
Luckily, he had a family who loved and respected him to come home to when his service was up. Personally, I always looked on him with awe. He was my fun uncle, a man who never let on to how much he truly was suffering.
Between my uncle and Dean Gotham, I've learned a lot about the trials of Vietnam veterans.
Gotham is one person who I think should rightfully be called a local hero because of his efforts to reach out to fellow veterans and the community on the many issues Vietnam veterans still face -- besides just being an all-around good guy. Quite frankly, his whole chapter is filled with good guys, good gals and heroes.
He's president of Lake County's Vietnam Veterans of America Chapter 951, and he and chapter members worked over the weekend to bring attention to veterans issues and this new day of remembrance through the first-ever sales locally of Agent Orange and POW/MIA clovers.
It was tough duty, standing outside in cold weather, but Gotham joked that he'd had tougher perimeter watch while in Vietnam.
Gotham is an expert at spotting fellow Vietnam vets, many of whom still wear their service as a badge of shame.
As I stood talking to him outside of Bruno's Shop Smart on Friday, a man came up to make a donation and Gotham handed him clovers. Shaking the man's hand, Gotham asked him if he was a Vietnam vet and the man said, somewhat abashedly, that he was.
Gotham said he can recognize Vietnam vets because of the "faraway look" in their eyes.
The more cynical among us might suggest that a welcome home celebration today, so many years shamefully overdue, can't make a difference.
But, I disagree. I think it's a start.
Today should be a day of healing for our vets, and gratitude from the rest of us because they did the frightening work while we enjoyed life at home. They kept the watches through the night and guarded the perimeters to protect their country, even through they were thousands of miles away.
The fact that we're coming full circle, that today you find people who are opposed to the Iraq War yet who still are careful to pay respect to the soldiers who are doing their job, is -- I believe -- thanks to the lobbying over the last three decades by Vietnam veterans.
In fact, Vietnam Veterans of America have as their motto, "Never again will one generation of veterans abandon another." Many local vets affiliated with the local Vietnam Veterans of America have worked hard to look out for young vets coming home from Iraq and Afghanistan.
Welcome Home Vietnam Veterans Day day isn't yet a national holiday, but it should be. It's the least we can do in an effort to repair the hurt suffered by the men and women who have waited to be welcomed home all these years. Likewise, it's a reminder of the path we've traveled, and the course we shouldn't ever follow again.
Some moments in our national history will always be a source of pain and division. The Vietnam War is one of them. But the disagreement and pain of that division should no longer rest on the shoulders of the soldiers who went to serve. It's their time to rest.
To our veterans: Thank you for your service. Welcome home. What you did mattered and it won't be forgotten.
http://lakeconews.com/content/view/3696/748/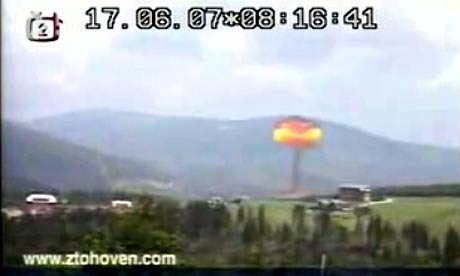 Czech artists cleared over atomic TV stunt
by Jemima Kiss, guardian.co.uk, Wednesday March 26 2008
Seven Czech artists who faked a nuclear explosion in a stunt broadcast live on national television were acquitted yesterday of spreading false information, escaping a potential prison term of up to three years.
The Ztohoven group of young artists admitted hacking into a live panoramic broadcast of the Krkonose Mountains in the north of the country on June 17 last year, after climbing a television tower to attach a computer.
Viewers watching the public broadcaster Czech Television saw a bright flash of light followed by an ominous mushroom cloud in the distance.
A county court in Trutnov ruled yesterday that the stunt "was not a criminal act", according to Czech news station CT24, although Czech television said it was "inadvisable and could have provoked panic among a wide group of people".
Some viewers phoned the broadcaster following the stunt concerned about impending war, while others asked if there had been a gas explosion.
Ztohoven, which recently won the NG333 award for young artists from Prague's National Gallery, said it does not have terrorist or political objectives and did not want to "intimidate or manipulate society".
Its Media Reality project aimed to encourage people to think about how our perception of reality is shaped and manipulated by the media, and question the material that is presented to them.
" It drew attention to the possibility of using images of the world created by the media in place of the existing, real world," said a statement by the Ztohoven group on its MySpace profile page.
" We believe that even the free space of a public service broadcaster is able to endure such action and such impeachment. We hope our action will become an appeal for the future and remind the media of their duty to bring out the truth."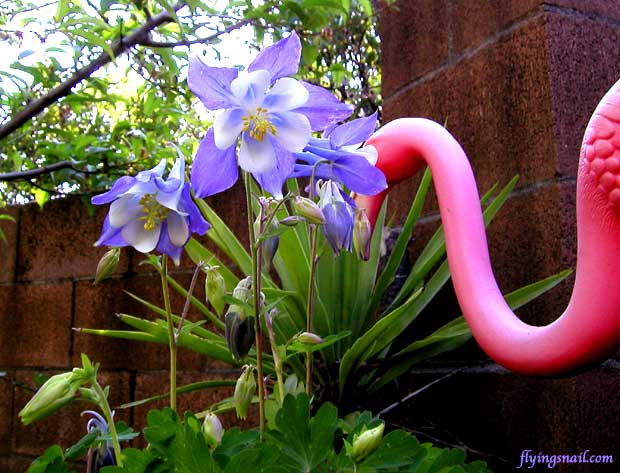 Congratulations Michael !!!
Winners of New Museum's Altoid Awards;
Creative Capital Receives TOBY Fund Gift
03.21.08 - The winners of the $25,000 Altoids Awards for American emerging artists have been announced. Ei Arakawa of New York City; Michael Patterson-Carver of Portland, Oregon; Lauren Kelley of Houston, Texas; and Michael Stickrod of New Haven, Connecticut were selected among forty-six nominees by a jury composed of artists Paul McCarthy, Cindy Sherman, and Rirkrit Tiravanija.
The prize is awarded biennially by the New Museum and Altoids to four artists nominated and selected by a panel comprised entirely of other artists. In addition to cash prizes, the 2008 award recipients will appear in a joint exhibition organized by Massimiliano Gioni, director of special exhibitions at the New Museum, on view from June 25 through October 12, offering these artists their earliest exposure to a broad, international museum audience.
"For so many of these artists, this is a life-changing opportunity, and that is exactly what we are here for--to champion emerging artists and to consistently offer our audiences the chance to experience new art and new ideas from a variety of perspectives," said Lisa Phillips, the Toby Devan Lewis director of the New Museum.

After the War
Michael Stickrod is a recent graduate of Yale University School of Art. In his eleven-minute video 'After the War', the artist travels to his parents' backyard to witness and record his father's experience during the Vietnam War. Once again, a 35-year-old story retold to a son resonates uncannily with today's world events. Stickrod's work is part of a group show entitled 'My Backyard' at Newman Popiashvili gallery in New York until 5 May.
http://www.saatchi-gallery.co.uk/blogon/mtvideoarchive.php?page=3
Who Murdered Sailors on the U.S.S. Liberty?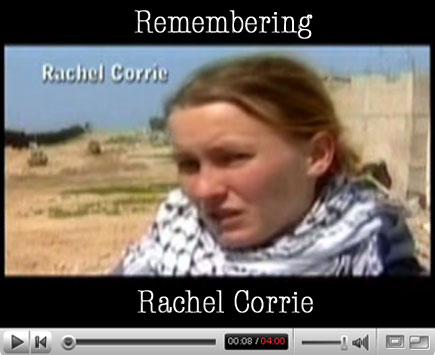 Remembering Peace Activist and U.S. Citizen, Rachel Corrie Murdered by an ISRAELI Army
4000
President justifies war to parents of dead
by RON HUTCHESON
WASHINGTON - President Bush defended the war in Iraq on the most personal level Saturday, telling grieving parents of U.S. soldiers who died there that their loss is the cost of keeping America safe.

Steve Bell
''It's essential that I explain this properly to the parents of those who lost their lives,'' Bush said in a rare television interview. ``Saddam Hussein was dangerous, and I'm not just going to leave him in power and trust a madman.'' [Click below to continue]
Source: http://www.flyingsnail.com/Dahbud/2deadday.html
For the Nay Sayers
US Army toyed with telepathic ray gun
12:00 21 March 2008
NewScientist.com news service
David Hambling
A recently declassified US Army report on the biological effects of non-lethal weapons reveals outlandish plans for "ray gun" devices, which would cause artificial fevers or beam voices into people's heads.
The report titled "Bioeffects Of Selected Nonlethal Weapons" was released under the US Freedom of Information Act and is available on this website (pdf). The DoD has confirmed to New Scientist that it released the documents, which detail five different "maturing non-lethal technologies" using microwaves, lasers and sound.
Released by US Army Intelligence and Security Command at Fort Meade, Maryland, US, the 1998 report gives an overview of what was then the state of the art in directed energy weapons for crowd control and other applications.
A word in your ear
Some of the technologies are conceptual, such as an electromagnetic pulse that causes a seizure like those experienced by people with epilepsy. Other ideas, like a microwave gun to "beam" words directly into people's ears, have been tested. It is claimed that the so-called "Frey Effect" – using close-range microwaves to produce audible sounds in a person's ears – has been used to project the spoken numbers 1 to 10 across a lab to volunteers'.
In 2004 the US Navy funded research into using the Frey effect to project sound that caused "discomfort" into the ears of crowds. [Link]
The report also discusses a microwave weapon able to produce a disabling "artificial fever" by heating a person's body. While tests of the idea are not mentioned, the report notes that the necessary equipment "is available today". It adds that while it would take at least fifteen minutes to achieve the desired "fever" effect, it could be used to incapacitate people for almost "any desired period consistent with safety."
Less exotic technologies discussed include laser dazzlers and a sound source loud enough to disturb the sense of balance. Both have been realised in the years since the report was written. The US army uses laser dazzlers in Iraq, while the Long Range Acoustic Device has military and civilian users, and has been used on one occasion to repel pirates off Somalia.
However, the report does not mention any trials of weapons for producing artificial fever or seizures, or beaming voices into people's heads.
Potentially torturous
Steve Wright, a security expert at Leeds Metropolitan University, UK, warns that the technologies described could be used for torture. In 1998 the European Parliament passed a motion banning potentially dangerous incapacitating technologies that interfere with the human brain.
"The epileptic seizure inducing device is grossly irresponsible and should never be fielded," says Steve Wright "We know from similar [chemically] artificially-induced fits that the victim subsequently remains "potentiated" and may spontaneously suffer epileptic fits again after the initial attack."
The acoustic energy device that affects the ear canals, disrupting the motion sense, may require dangerously loud sound levels to be effective, points out Juergen Altmann, a physicist at Dortmund University, Germany, who is interested in new military technologies.
"[There is] inconsistency between the part that says "interesting" effects occur at 130-155 dB and the Recovery/Safety section that says that 115 dB is to be avoided - without commenting on the difference."
Complete links and source: http://technology.newscientist.com/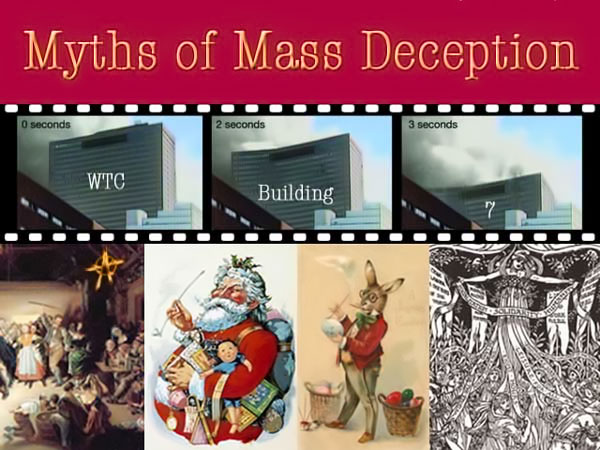 Steve Bell
Bush: The battle in Iraq is noble, it is necessary and it is just
March 20 2008: George Bush marks the fifth anniversary of the Full coverage of the fifth anniversary of the Iraq war invasion with uncompromising speech.
S.F. Activists Use Twitter,
Pirate Radio to Manage Anti-War Protesters
By Sarah Lai Stirland
San Francisco anti-war protesters marking the fifth anniversary of the invasion of Iraq are using the micro-blogging service Twitter to coordinate their movements throughout the day. [Great Pictures] [Continue Reading]
Blood for Oil - The Illegal Iraq Occupation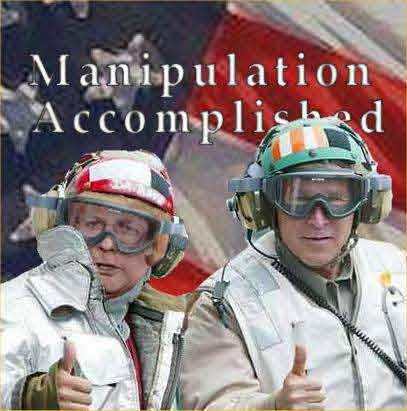 Miserable Failure Says: Mission Accomplished
2003, 2004, 2005, 2006, 2007, 2008 -> 2103
PIGS-R-U.S. CORPORATE MEDIA REPORT
WINTER SOLDIER BLACKOUT CONTINUES:
Look in the Mirror America!!!!!
By Kevin Stoda, Kuwait
As there are reports across the globe of a USA-wide blackout of major media news from the WINTER SOLDIERS presentations or soldiers' testimonies on the Iraq and Afghanistan War at the Labor College outside of Washington D.C. this week, it is time to recall that only one week earlier, George W. Bush told American soldiers in Afghanistan that if he was 20 or 30 years younger he'd love to join them. HOGWASH!
What a ludicrous claim, eh? The man did everything he could to stay out of Vietnam in the 1960s and 1970s--i.e. when the original WINTER SOLDIER hearings took place.
http://www.wintersoldierfilm.com/
Has George Orwell's predicted-world come fully into reality in the U.S.A. in 2008?
Only the independent media, like REAL NEWS NETWORK
http://therealnews.com/web/index.php, is doing its job.
Otherwise, only the Huffington News seems to have noticed this gaping absence, despite complaints appearing all over the web, like on YAHOO discussion lists.
http://www.huffingtonpost.com/jeff-cohen/iraq-winter-soldier-heari_b_91776.html
Even the BBC's coverage has not been as good as one would expect from a respected international news network.
http://dandelionsalad.wordpress.com/2008/03/16/bbc-coverage-of-winter-soldier/
This week's sad and truthful testimonies from Iraqi and Afghanistan during the 5th anniversary of George W. Bush's illegal pre-emptive attack on Iraq in 2003 should be on the evening news in America for ten minutes a day all this week--or all month till Bush is impeached and the boys and girls of America are called home.
The silence from America is deafening.
No corporate U.S. media was on hand in 1971 for the original WINTER SOLDIER in Michigan. But, why repeat that error?
Now the world's-most-expensive media conglomerates, like CNN, FOX, ABC, NBC, and CBS are missing the aircraft carrier of truth in our nation's harbor
Thank goodness for Democracy Now (which has added over 400 stations since this war on Iraq was revealed as planned by it's new reporters in August 2002)--and other independents, like Alternet
http://www.alternet.org/waroniraq/79789/
Well, America, I plead with you to spend at least one hour watching some of the hour-long recordings of those presentations.
Go on the web and get hooked on to the biggest news story of 2008 and the most important stories of the past decade--the real stories of our new heroes, WINTER SOLDIERS 2008.
Penny Coleman says, "If America listens to what they say, the war would be over tomorrow."
http://www.opednews.com/articles/opedne_alone_080317_winter_soldier_black.htm
WINTER SOLDIER INVESTIGATION
Washington, D.C. 13-16 March 2008
Slideshow from RainbowPuddle.com
http://www.rainbowpuddle.com/ - digg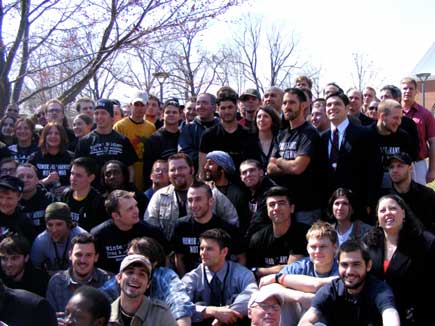 http://www.rainbowpuddle.com/WSSite/Winter_Soldier_Investigation.html
WINTER SOLDIER 2008 Video
from RainbowPuddle.com
Slideshow Movie: http://www.rainbowpuddle.com/WSIstills.mov
YouTube: http://www.youtube.com/watch?v=5zOlS58nTQI
Corporate Media Do Not Care About U.S. Military
or an Illegal Iraq War and Failed To Cover
Winter Soldier 2008

Iraq Veterans Against the War
http://ivaw.org/

Veterans for Peace
How to Listen/Watch - http://www.veteransforpeace.org/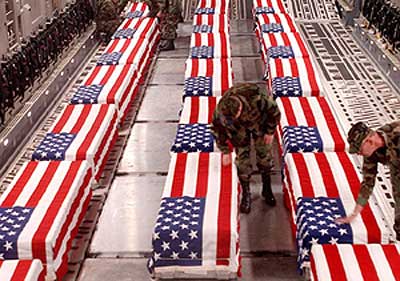 Why should we hear about body bags and deaths and how many, what day it's gonna happen? It's not relevant. So why should I waste my beautiful mind on something like that? - Barbara Bush, 3/18/2003

Martin Rowson
Rule of terror: Dalai Lama accuses China as dozens are reported dead
March 17 2008 - guardian.co.uk: Dalai Lama accuses China of a 'rule of terror' as violent unrest spreads to at least two neighbouring provinces

Steve Bell
Video: 'It will forever be the right decision'
March 14 2008: Almost five years after the invasion of Iraq, the US president, George Bush, defends his decision to go to war in a speech to religious broadcasters in Tennessee
Evil Republicans Richard Nixon and Ronald Raygun Invade Berkeley 1969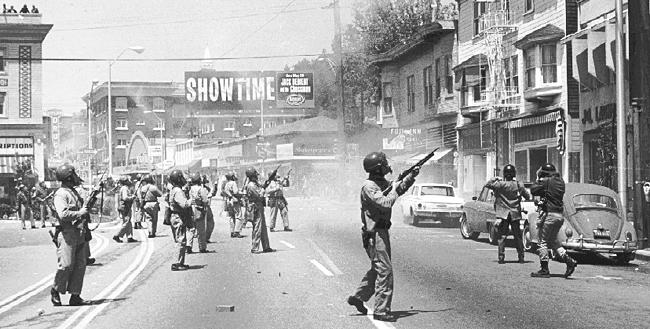 Photo: Ron Stinnett - Source: http://www.peoplespark.org/69gall6.html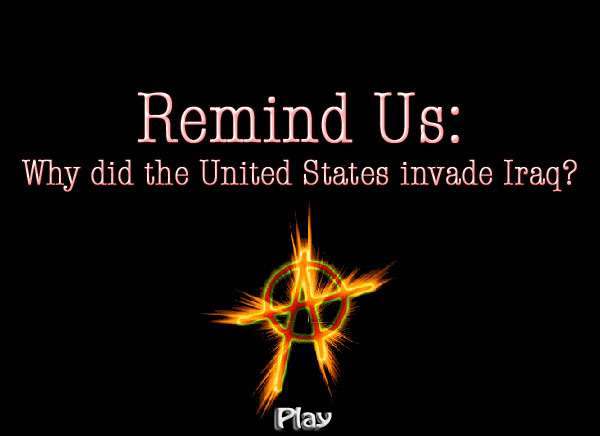 Remind Us: Why did the United States invade Iraq?
[Click for Flash Video] - [Hot Link]
If a president is willing to lie about the most basic governmental and political facts, civic debate becomes impossible, and the public becomes incapable of informed judgment. Because of the great weight that any president's words have with the public, the president of the United States must not be a liar. - Tony (I wonder what I was smoking when I said that) Blankley
The Scooter Libby verdict is inextricably linked to Iraq: his lies were an attempt to cover up the disingenuous case for war. - Sidney Blumenthal
http://commentisfree.guardian.co.uk/.../03/scooter_libby_1.html
Evil Republicans Richard Nixon and Ronald Raygun Invade Berkeley 1969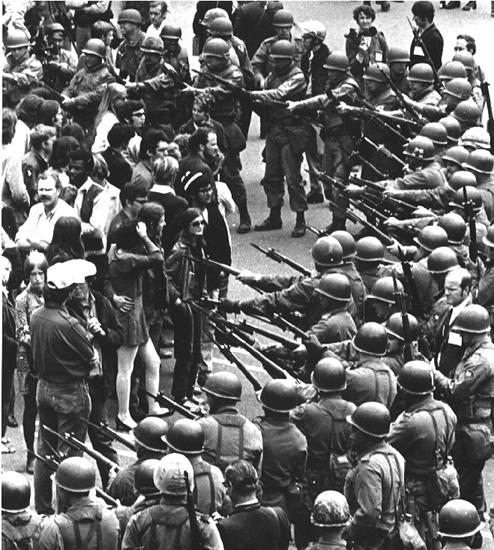 Photo: Dick Corten - Source: http://www.peoplespark.org/69gall8.html
Washington, D.C.
CODEPINK ACTION CALENDAR
Screening of Winter Soldier Testimonies
Saturday, March 15th 2008 4 pm
CODEPINK will host a viewing of Iraq Veterans Against the War Winter Soldier LIVE testimonies at the Pink House on Saturday afternoon at 4 pm. Tell your local news stations to broadcast these testimonies of veterans!
Orientation - Work Party
Sunday, March 16th 2008 Noon - until
Find out what's planned for the upcoming week of powerful actions and help with preparations followed by a networking opportunity at Busboys and Poets.
Peace Party at Busboys and Poets
Sunday, March 16th 2008 7 pm
Peace Party at Bus Boys and Poets. Come dance the night away with the Pink Ladies!
Take Back America March 17-19
Monday, March 17th 2008
Join CODEPINK at Take Back America 2008 to ensure that the Progressive Community hears our voices for peace.
Restore the Constitution
Tuesday, March 18th 2008 10am-1pm
Let us shed a "pink light" on the criminality, collusion and corruption within our government and recognize the assault on our nation's Constitution. March with us to resurrect the spirit of our founding mothers and fathers. From the National Archives, on to the Justice Department, and the IRS the pageantry of the morning will close with a ceremony of renewal, and recommitment to the Constitution at the West Lawn reflecting pool. "The most common way people give up their power is by thinking they don't have any." Alice Walker
Evening Event at Bus Boys with Reverend Billy and the Church of Stop Shopping
Tuesday, March 18th 2008 8:15 to 9:15 pm
Rev Billy comes to Washington on the anniversary of Shock and Awe, which has turned mostly to Sorrow and Anger, with his preacher message of "Peacealuyah! Congress, Stop Shopping for War!" Rev Billy is a phenomenon and this is a night you won't want to miss!
National Day of Civil Resistance - 5 Years Too Many!
Wednesday, March 19th 2008
We are organizing creative, nonviolent acts of civil disobedience to interrupt business as usual for those promoting and profiting from war and empire building.
VETERANS MARCH FOR PEACE
ESTABLISH FIELD HOSPITAL IN D.C.
March 19, 2008 - 9 a.m. - at 7th Street NW on the Mall
http://www.veteransforpeace.org/Veterans_march_for_peace_2008.vp.html
As many of you may be aware on March 19th, the fifth anniversary of the invasion of Iraq, VFP will be marching throughout Washington, DC. But what you may not realize is that we are also setting up a Field Hospital in McPherson Square. The purpose of this action is twofold. First all of the purpose is to bring attention to the problems of Veterans returning home and the lack of care from the VA. Secondly we hope to alert passersby to the reality of the horrors of war. Everyone is encouraged to join us!
I WANT YOU to end the war in Iraq, and to support and defend the Constitution and the country from all enemies, foreign and domestic. Join us in Washington D.C. and make history.
VETERANS WORKING TOGETHER FOR PEACE AND JUSTICE THROUGH NON-VIOLENCE.
Veterans For Peace, 216 S. Meramec, St. Louis, MO 63105, 314-725-6005
http://www.veteransforpeace.org/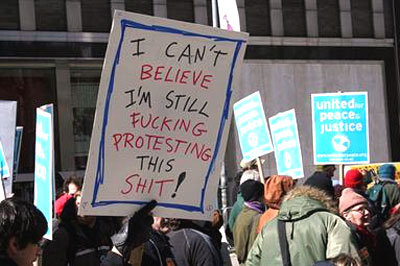 BORED? FATIGUED? DEPRESSED?
WHY NOT TRY
REVOLUTION!
Surveys show smashing the State and destroying Corporatism are good for your health and lots of fun, too! TRY IT! YOU'LL LIKE IT! == Remember:
The only solution is World Revolution!
(Issued as a public service by NOBODY)
'Chicago 10' recollects the radical '60s
The infamous Chicago 8 trial that took place in 1968 and 1969 remains one of the most memorable farces in the history of American justice. Abbie Hoffman, Jerry Rubin and six others were charged with conspriracy to organize a riot during the Democratic Convention in Chicago in 1968. Brett Morgan's doc, Chicago 10, traces the protests and police brutality that shook the nation and recreates the trial using animation and actors' voices to tell the riveting story.
It begins with the convergence of MOBE and the Yippies - two groups that opposed the Vietnam War and were determined to make a big splash outside the convention. Thousands of protesters arrived in Chicago that August with flowers in their hair and joints in their pockets. However, Chicago Mayor Richard J. Daley had plans of his own, dispatching helmeted goon squads with batons and bayonets wherever the peaceniks congregated - outside the Hilton hotel, inside Grant Park or during marches that paraded through the city.
The gruesome footage peaks with beatings and arrests. Many of the protestors were bloodied. It looks like the South during the Civil Rights protests.

http://www.celebstoner.com/images/stories/Chicago10.jpg
Several months later, Hoffman, Rubin, Dave Dellinger, Tom Hayden, Rennie Davis, Bobby Seale, John Froines and Lee Weiner were indicted. Like the protests they organized, the Chicago 8 defendents turned the trial into guerrilla theater with a touch of comedy that lightened the heavy nature of the charges. Judge Julius Hoffman (voiced by Roy Scheider) represents the out-of-touch establishment and attorneys William Kunstler and Leonard Weinglass do their best to unravel the government's case. Still, they were found guilty until the charges were overturned a year later.
One of key Yippie organizers who didn't get indicted, Paul Krassner, appears in the film in footage as well as in several animated sequences. He tells CelebStoner: "Stew Albert and I were among the unindicted co-conspirators, and Bill Kunstler told us it was because the prosecution was afraid we'd use a First Amendment defense."
Krassner and Albert were Yippie co-founders (Krassner is credited with coining the group's name). Krassner published The Realist at the time.
In his HuffPo column about Chicago 10, Krassner points out several scenes that were omitted from the movie. One is when he dosed during the trial: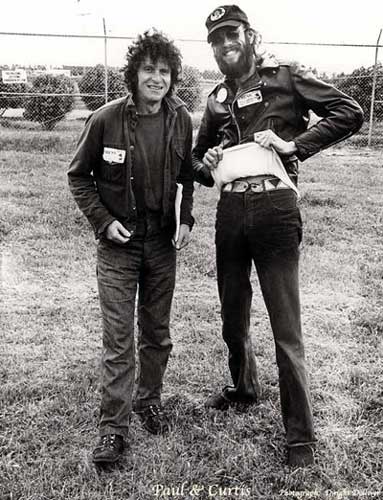 "I decide to take a tab of LSD at lunch before testifying. I've learned that if I drop acid with a big meal, it always makes me vomit. That way, I don't have to memorize all those dates and places. And it'll be my theatrical statement on the injustice of the trial. Abbie was furious...
"Although Brett 'loved, loved, loved' the scenes I wrote, the backers objected to the use of LSD, fearful of diverting attention from the main focus of the film. I was disappointed, if only for the sake of countercultural history. The CIA originally envisioned employing LSD as a means of control; instead, for millions of young people, acid served as a vehicle to explore their own inner space, deprogramming themselves from mainstream culture and living their alternative. The CIA's scenario had backfired. Anyway, my suggestion - instead of referring to it as acid, Abbie could yell, 'Hey, this is powerful fuckin' aspirin' - was rejected."
Chicago 10 is currently playing at 11 theaters in New York, Illinois, California and Massachusetts, and expands to nine more on March 14. Click here to see the theaters.
Note: There are several scenes depicting marijuana use in the movie.
http://www.celebstoner.com/reviews/movies-tv/...
Atlanta Protest Arrests

digg
An Honorable Man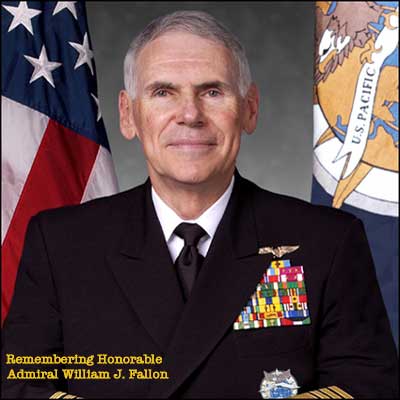 Admiral William J. Fallon
and The Lying Miserable Failure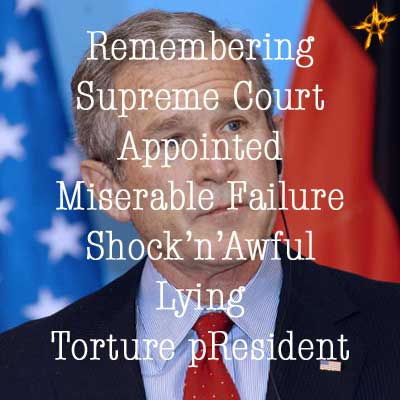 Supreme Court Appointed Torture pResident
Do Blondes Really Have More Fun?
An Irishman, a Mexican and a Blonde Guy were doing construction work on scaffolding on the 20th floor of a building.
They were eating lunch and the Irishman said,
"Corned beef and cabbage! If I get corned beef and cabbage one more time for lunch, I'm going to jump off this building."
The Mexican opened his lunch box and exclaimed,
"Burritos again! If I get Burritos one more time I'm going to jump off, too."
The blonde opened his lunch and said,
"Bologna again! If I get a bologna sandwich one more time, I'm jumping too."
The next day, the Irishman opened his lunch box, saw corned beef and cabbage, and jumped to his death.
The Mexican opened his lunch, saw a Burrito, and jumped, too.
The blonde guy opened his lunch, saw the bologna and jumped to his death as well.
At the funeral, the Irishman's wife was weeping.
She said, "If I'd known how really tired he was of corned beef and cabbage, I never would have given it to him again!"
The Mexican's wife also wept and said, and I could have given him tacos or enchiladas!
I didn't realize he hated Burritos so much."
Everyone turned and stared at the blonde's wife.
The blonde's wife said,
"Don't look at me. He makes his own lunch"
President Used Illegal Wiretap to Nail Gov. Pimp Bling?
March 11, 2008 - Intelligent people are questioning if Karl Rove or the Bush Administration used illegal AT&T wiretaps to spy on Democrat Governor Eliot Spitzer a.k.a. Governor Pimp Bling.
"We had a gut feeling Spitzer was linked to al Qaeda," said pResident, "so we spied on him using our favorite tool, warrantless wiretap." [Continue Reading]
Was Spitzer News A Cover-up for pRedisent's Miserable Failures?
Headlines, March 11, 2008
Eight US Soldiers Die in Iraq Attacks
Two Bombs Strike Pakistan, 25 People Dead
House sues administration for documents, testimony
[Harriet E. Miers and Joshua B. Bolten]
Afghanistan deaths reached 8,000 people and 1,500 were civilians
The $3 trillion war
China crushes protest by monks in Tibet
The End of the World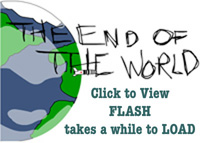 [Flash Video Contains Some Strong Language]
One Nation Under Perverted Government
Bush vetoes bill banning waterboarding
George W. Bush, Torture President Appointed by Supreme Court, Republican Party Becomes Torture Party, Limp Democrats Without Bullocks, or... Ministers of Satan?
Dwight D. Eisenhower, a REAL Republican President and Retired General once said, "Throughout America's adventure in free government, our basic purposes have been to keep the peace; to foster progress in human achievement, and to enhance liberty, dignity and integrity among people and among nations. To strive for less [Republican George W. Bush] would be unworthy of a free and religious people. Any failure traceable to arrogance, or our lack of comprehension or readiness to sacrifice would inflict upon us grievous hurt both at home and abroad." in The Military-Industrial Complex.
When Republicans Go Bad - It's Not the First Time - Ministers of Satan - Torture President - March Archive
Down In Florida, Where the green grass grows
There sat a Hill without any clothes.
Along comes Karl swinging a GOP chain,
He pulls down his zipper and out Harris came.
Three months later, all was well,
Six months later, Hill began to swell,
Nine months later RE-RUN.
Governor Porn Star To: Lay Off 107,000 Teachers?
Cutting 10 percent or $4.8 billion from public education funding would be equivalent to:
Laying off more than 107,000 teachers...
Or laying off 137,000 Education Support Professionals...
Or shutting down every school across the state for nearly a month...
Or increasing class size by 35 percent...
Or reducing per-student spending by more than $800...
Or cutting more than $24,000 per classroom!
http://www.cta.org/media/publications/educator/current/0208_tas_02.htm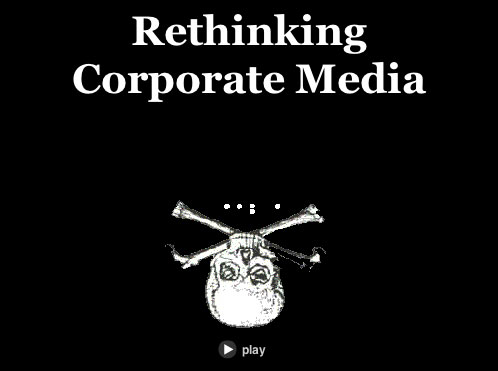 Rethinking Corporate Media
PermaLink: http://www.flyingsnail.com/Dahbud/images/rethinking_corp_media.html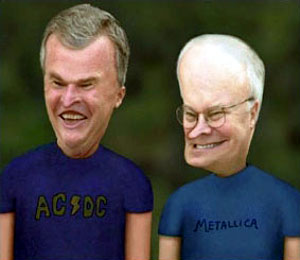 Town votes to indict president
By Susan Smallheer Herald Staff March 5, 2008
BRATTLEBORO — Residents in this iconoclastic town cast a symbolic protest vote Tuesday, directing town officials to draw up indictment papers against President George Bush and Vice President Dick Cheney for violating their oath of office.
The tally was 2,012 in favor to 1,795 against. It was the second southern Vermont town to adopt the anti-Bush resolution on Vermont's Town Meeting Day, as Marlboro voted earlier in the day 43-25 in favor, with three abstentions.
Organizer Kurt Daims of Brattleboro said he was disappointed at the relatively close margin of victory, which came during exceptionally heavy voter turnout during Vermont's presidential primary.
"It was a very difficult thing for the people of Brattleboro to do. I think it's brave for Brattleboro to do it. Brattleboro did just fine," Daims said.
"But I'm disappointed. I was really hoping and expecting a wider margin," he said.
Voters who were questioned after they voted said they recognized it as a protest vote, and a way of registering their frustration with the Bush administration and its controversial policies, most notably the invasion of Iraq.
But Daims and other organizers said they hoped the Brattleboro vote would set an example for other towns and communities across the country to say no to the Bush presidency.
Barry Aleshnik said the group had been contacted by towns across the country, and that a "Brattleboro template" was being drawn up to be distributed to interested communities.
"We got a letter from south Jersey, saying that 'Brattleboro will be setting an example, and that it could set off a ripple effect across this angry nation,'" Aleshnik read.
"We can be proud of Brattleboro for being a model of what needs to be done and what needs to be stated," Aleshnik said.
Select Board candidate Jesse Corum, who was a top vote-getter in Tuesday's election, said he opposed the issue on a variety of reasons, not the least of which was its divisiveness.
"It's creating a division, and we need to create unity," Corum said.
Former state Sen. Nancy Chard, D-Windham, said she voted for the resolution as a protest against the policies of the Bush administration, and out of great frustration with its actions.
"I think people are frustrated and there's no other way for them to express it," Chard said. Last year, Brattleboro town meeting members voted in favor of impeachment of Bush and Cheney, she noted, but nothing came of it.
"We just want to make a statement," she said.
In Marlboro, which has the reputation of being the bluest town in the bluest county in the state, Jonathan Morse brought the issue up on the floor of his town's meeting. It was adopted after a great discussion, he said.
"People took it very seriously, and we had an extended discussion, but there were only 75 voters left," said Morse, who said he had contacted Daims ahead of time to get the Brattleboro wording.
Morse said Marlboro adopted the issue as a symbolic gesture.
"We don't even have a policeman, we have a constable who does not have police powers," said Morse, referring to the wording in Brattleboro, which calls for Bush and Cheney's "arrest" if they ever step foot in town.
But Morse said people were particularly frustrated with the inaction by U.S. Rep. Peter Welch, D-Vt., who refuses to act on the impeachment issue, despite entreaties by many Vermonters to do so.
"We can't just sit back and let them destroy our constitution,'' said Morse, noting that under Bush several constitutional rights had been eroded: habeas corpus, the right to due process and the right to privacy in your affairs.
Brattleboro town officials didn't know what to expect, given the history and the reaction to the indictment resolution.
Town Clerk Annette Cappy said she had asked for more of a police presence at the polls, in case some of the people who wrote to the town last month protesting the issue showed up to lodge their unhappiness.
Brattleboro police took the unusual step of registering the media who appeared at the polls as well. The issue attracted a few out-of-state television stations.
The results drew a protest from Blair Latoff, a spokeswoman from the Republican National Committee, who had been following the issue.
"It appears that the left wing knows no bounds in their willingness to waste taxpayer dollars to make a futile counterproductive partisan political point. Town people would be much better served by elected officials who sought to solve problems rather than create them."
The Brattleboro Initiative, as its supporters called it, was the brainchild of Daims, who, along with other members of the Brattleboro Peace and Justice Group, were frustrated with the lack of action on the town's vote to impeach Bush and Cheney.
Daims, who gathered more than 700 signatures in January to put the issue on the town meeting ballot, said it was important for individuals to take a stand for what they believed in, regardless of the size of the town.
The indictment resolution would only go into effect once Bush and Cheney leave office in 2009, according to Daims, and only if the U.S. Congress fails to act to impeach the president and vice president.
Two years ago at town meeting, the town of Newfane became the first Vermont town to take up the issue of impeachment. It was passed overwhelmingly, and a handful of other Vermont towns also took up the matter under "other business" during their meetings.
In 2007, 40 towns passed resolutions asking Congress to bring impeachment action against Bush and Cheney, but to date Welch has refused to act on the town's recommendations.
The issue drew attention to the town and its supporters from all over the country, and a film crew from California came to Brattleboro over the weekend to interview people and film the action.
The documentary film crew is making a film with the working title "Mad As Hell," and is based on a book written by Vincent Bugliosi, who is known as the prosecuting attorney in the Charles Manson murder case.
The focus of the film is how people act when their government doesn't, according to film organizers.
And when the indictment resolution first was placed on the ballot and made the conservative Web site "The Drudge Report," the town was inundated with thousands of e-mails protesting the Vermont town's actions, with some claiming it was treasonous.

Steve Bell
US plotted to overthrow Hamas after election victory
March 4 2008: The Bush administration, caught out by the rise of Hamas, embarked on a secret project for the armed overthrow of the Islamist government in Gaza
http://www.guardian.co.uk/world/2008/mar/04/...
Giovedì 6 marzo ore 21:00, Circolo Arci "La Scighera"
(via Candiani 131, quartiere Bovisa, Milano)
" La luna sotto casa" di Martin e Moroni
Evento per la presentazione del libro "*LA LUNA SOTTO CASA*. *Milano tra rivolta esistenziale e movimenti politici*" di Primo Moroni e John Martin. Intervento di John Martin, con le esposizione di cartine topografiche sulla storia "alternativa" di Milano anni Cinquanta-Ottanta (bande di quartiere, bar e locali da ballo, sedi politiche, centri sociali) e la proiezione di un video, prodotto da Martin e Moroni. Intervengono, tra gli altri, Gomma & Raf Valvola. Contributi musicali dal vivo con DJ Marina.
If you could, would you vote for "none of the above" instead of the current Presidential candidates?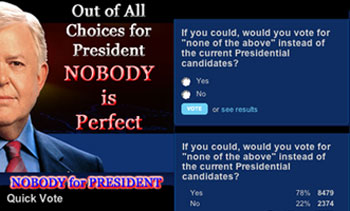 CLICK TO VOTE


25th Anniversary of The Mushroom Cultivator
First Published in April of 1983, pictured below are the authors Paul Stamets and Jeff Chilton, working on The Mushroom Cultivator, which was written with a word processor and electronically transferred to a typesetting computer.
And now 25 Years later mushroom cultivation offers sustainable solutions for our environment. Please see "How Mushrooms Can Save The World" Links and Pictures at San Christos:
http://www.sanchristos.com/2008-02-29_25th_Anniversary_of_TMC.html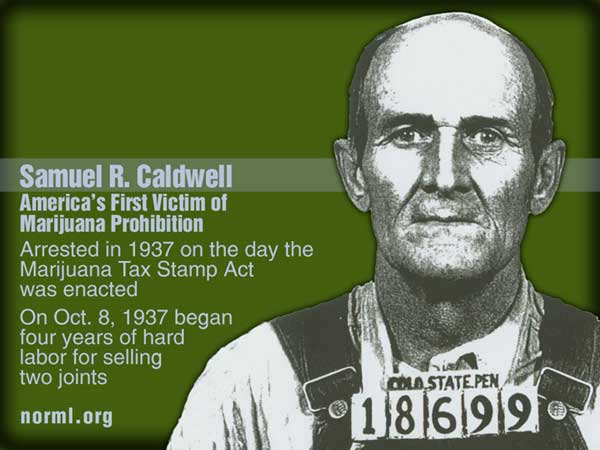 Anti-marijuana laws need relaxation
by Justin Fritscher
The time has come to relax our laws on marijuana use and possession.
Admitting one's past use of marijuana is trendy in modern America. It's even a little presidential.
Barack Obama smoked his fair share of cannabis. John Kennedy, Howard Dean and John Kerry all owned up to the dirty deed as well.
But it's more than just politicians. According to a recent article in The New Yorker, 40 million American adults have used pot. That's 40 percent of adults.
Pot use frequents coming-of-age stories, and it's cute as long as you don't get caught.
But what happens when you do? You might as well run someone over with your car because the penalties are so steep.
A first offense for possession in Louisiana yields a $500 fine and/or up to six months in prison. A third time lands an offender in jail for up to 20 years.
University students also lose their financial aid from the state, just like they do for DWI offenses.
LSU Police Department busted seven people for marijuana this past week, and a pair of Miller Hall residents even got creative with their "weed box."
Four of the seven arrested by LSUPD were University students, and now because of a mistake, they will most likely lose their financial aid.
I don't see a pressing need to legalize marijuana, but I think tailoring the laws to reflect the gravity of the offense is due.
It seems awfully harsh for a mistake and a common one, at that.
Former marijuana users include talented people like Obama. Is someone of his caliber worth punishing with such tough laws?
http://media.www.lsureveille.com/media/....3239642.shtml
Israeli minister warns of Holocaust for Gaza
if violence continues
by Rory McCarthy
in Jerusalem, The Guardian, Saturday March 1 2008
Israel's deputy defence minister yesterday warned his country was close to launching a huge military operation in Gaza and said Palestinians would bring on themselves a "bigger shoah," using the Hebrew word usually reserved for the Holocaust. [Continue Reading]:
How Ironic, the Above Sounds So NAZI like...
(TIC) Did You Check Krups For Used Equipment? (TIC)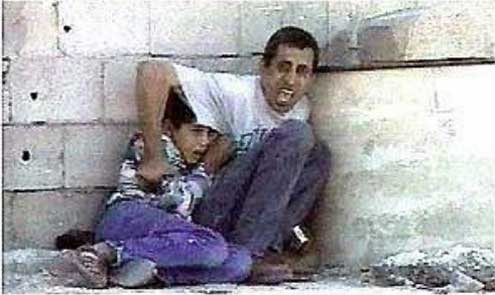 HOW CAN EHUD BARAK APPEAR IN THE BBC STUDIO JUST MINUTES AFTER THE FINAL [9/11] ATTACK WITH A PRE-PREPARED SPEECH ???
As if by magic, former Israeli Prime Minister Ehud Barak appeared from BBCs main office in London with a pre written/ pre prepared speech. He Spent 30 minutes speaking about how dangerous some "Islamic" countries and terrorists are. At the end of the interview, the news reporter stated that Mr. Barak joined him an hour before it was broadcasted, meaning Barak was there even an hour earlier. In real time of events this means he was there within minutes of the blast, with a pre-written interview. He knew beforehand that the attacks would take place. It was not difficult to see that Barak came with a pre written speech as he is quick to point out all of Israel's enemies which he calls "rogue states". The answers to the interview were carefully prepared to use public sentiments created by the blast, against enemies of Israel. These could not have been developed between the time of attacks and Barak appearing on BBC. Barak's presence in UK could also not have been co-incidental at that crucial time. 11 September 2001
http://www.11september.2itb.com/bbc_letter.htm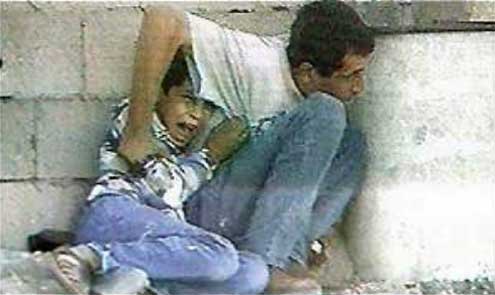 "After what happened in New York and Washington, the whole world must now embark upon a world war against the enemies of Israel." Ehud Barak - Le Monde diplomatique [Ed. Note: Barak says "enemies of Israel" NOT 'enemies of the world, United States, OR Terrorists.] - 13 September 2001 - http://mondediplo.com/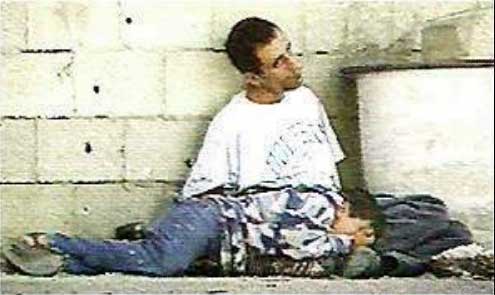 And the reason for DEATH was...?
And why would Ariel Sharon say this less than ONE MONTH after the 9/11 Mass Murders ??? :
"Every time we do something you tell me America will do this and will do that . . . I want to tell you something very clear: Don't worry about American pressure on Israel. We, the Jewish people, control America, and the Americans know it." - Israeli Prime Minister, Ariel Sharon, 3 October 2001.
http://www.mediamonitors.net/khodr49.html
http://www.fpp.co.uk/online/01/10/Sharon3.html
http://www.whatreallyhappened.com/mapstellstory.html
YouTube - BBC Ehud Barak 9/11 Video

http://www.youtube.com/watch?v=2hhiJanLm7g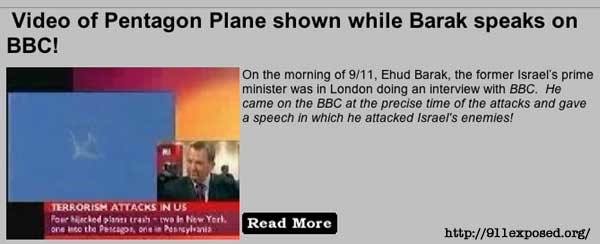 http://911exposed.org/BBC.htm Video http://911exposed.org/BBC_files/barak-bbc.mpeg
YouTube - BBC Ehud Barak 9/11 Video http://www.youtube.com/watch?v=2hhiJanLm7g
Rethinking 9/11 --- Every Time You Kill --- Balzac 200612.21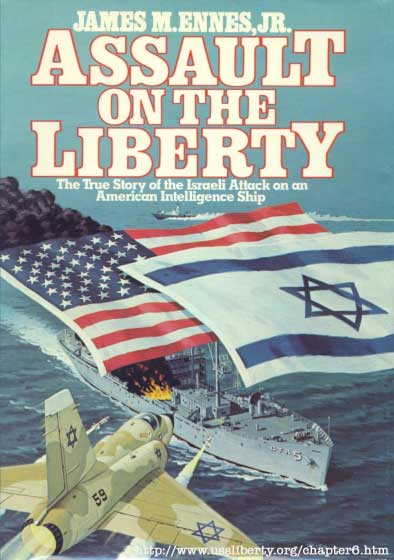 http://www.ussliberty.org/chapter6.htm


http://www.ussliberty.org/g/libmemorial.gif
Remember the U.S.S. Liberty
34 U.S. Military Dead, 171 Wounded
http://www.ussliberty.org/
Dark heart of the American dream
It's the most polluted state in the planet's most powerful country. Ed Vulliamy goes into George Bush's backyard to reveal how big oil got in bed with big politics and the price paid by the little people
Sunday June 16, 2002
The Observer
There is a perverse beauty to the landscape arraigned below the iron bridge where Highway 255 strides the Houston Ship Channel: great towers of light and fire as far as the eye can behold; sinewy steel piping, plumes of smoke and flame twinkling into a Texas twilight coloured by a shroud of pollution hanging from the sky. The awesome prepotency of this smokescape is no illusion, for this is an epicentre of power, oil capital of the Western world and the most industrialised corner of the United States. It is also the capital of a power machine perfected in Texas, elevated to rule the nation and now unchallenged across the planet. A machine that operates in perpetual motion - an equilibrium of interests - between industry and politics. LaNell Anderson, former Republican voter, businesswoman and real-estate broker who lived many years in this land of smokestacks and smog, calls it 'vending-machine politics: you puts your money in and you gets your product out'.
'We don't see ourselves as a dynasty,' said George Bush Sr as his son launched the election campaign that won him the current presidency, raiding father's Rolodex to do so. 'We don't feel entitled to anything.' And yet at no point in the past 50 years - the half-century since 1952 which defines the modern age - has there not been a Bush in a governor's mansion (in Texas or Florida), on Capitol Hill or in the White House - and usually more than one of those at a time. The 'vending machine' is a single family whose tango with the powers which illuminate this endless horizon of light and flame is a dance around every corner in the labyrinth of Texan and now national - indeed global - politics. 'Everything they learned when they started out in west Texas,' says Dr Neil Carman, once a regulator of pollution in the state, 'they applied to the governor's mansion, the nation and the world... Power in America is not so much about George W Bush, it's about the people from Texas who put him there.'
This is the dynasty's throne, the state whose highways are lined with the spirited advice 'Don't Mess With Texas' (originally the slogan of an anti-litter campaign). As if litter would make much difference: Texas counts the worst pollution record in the US, top in the belching of toxic chemicals and carcinogens into the air, top in chemical spills, top in ozone pollution, top in carbon-dioxide emissions, top for mercury emission, top in clean-water violations, top in the production of hazardous waste. Houston overtook Los Angeles for the coveted title of 'most polluted city' in the early 90s.
'You are looking at the biggest oil refinery in the world,' indicates LaNell Anderson. She refers to the edifice that is the 3,000-acre Exxon Mobil plant at Baytown, near Houston, producer of 507,800 barrels a day. Here begins a story of both dynasty and destiny, for it was on this spot in 1917 that the Bush family's oil connection was forged - where the Humble Oil company, which struck black gold in the Houston suburb of that name, took root, later to be- come the Exxon behemoth. Humble's founder, William Stamps Farish, went on to become president of Standard Oil. His daughter became a friend of George Bush Sr and his grandson William Jr was taken in 'almost like family' (said Barbara Bush) while campaigning for George Sr's entrée into Washington Senatorial politics in 1964. Farish Jr claims to have been the first man to whom Bush Sr confided his ambition to be president one day, and was last year named US Ambassador to London.
At first, Anderson welcomed the benefits to a community of the 200 oil-related industries relocated to the Houston area by the time she and her second husband set up home in a suburb wedged between Exxon and the Lyondell chemical plant. Neither she nor he had any history of disease in their families. But in 1985, her husband's daughter gave birth to a girl, Alyssa, with a rare liver disease - she died aged six months. In 1986, Anderson's mother became ill and died of bone cancer a year later. The following year, Anderson and her sister were diagnosed with rheumatoid arthritis, as was a granddaughter in 1992, and an older sister with Crohn's disease. In 1991, her father died from emphysema; a year later the mother of Alyssa gave birth to a son immediately diagnosed with severe asthma. Anderson connects the litany of disease with mishaps by her industrial neighbours. She paraphrases their attitude thus: 'If someone doesn't like it, they can sue us if they can - and since we have more money than God, we will win.'
A thumbnail sketch of politics and the environment in the United States today depicts oil as the lifeblood running through every vein of an administration forging ahead with its energy policy. The White House has just been forced to disclose (after being faced with a Congressional subpoena) that it drew up a national energy plan based on increased production without regard to the environment or conservation, having failed to consult with anyone other than its friends among the producers themselves, notably the disgraced Enron. This despite the fact that an energy crisis in California last summer caused most analysts to draw the opposite conclusion, stressing the need to curb a gas-guzzling America.
At the hub of this turning wheel of influence is Vice President Dick Cheney, fresh into office from his post as chief executive of Halliburton, the world's second-largest oil-drilling services company, where he netted a personal fortune of $36m in the year before leaving, with help from contacts accumulated while serving under George Bush Sr. Just last week, however, Halliburton joined Enron in coming under investigation by the Securities and Exchange Commission for the same system of publishing inflated revenues - 'aggressive accounting' - for which Enron has become a synonym for shame. These alleged misdeeds took place during Cheney's directorship. The company also faces a floodtide of civil lawsuits over asbestosis_ unless a model can be found (as has been established in Texas) to make such resort to the law nigh impossible for anyone without money.
The entwinement of the Bush dynasty with the energy barons of Texas has apparently humble beginnings, in the Lone Star State's wild west, on the plains around Midland and Odessa. This is barren land across which dust devils fly and trains rumble like iron snakes. This is where George Bush Sr was sent by his father, Senator Prescott Bush, to a trainee job with the International Derrick and Equipment Company, a subsidiary of Dresser Industries, controlled by the Bush family and selling more oil rigs than anyone in the world. (Dresser later became absorbed by Halliburton.)
The world first heard of Odessa on that fateful day in December 1998 when Bush Jr was governor of Texas and the sky turned black after an 'upset' at the Huntsman chemical plant literally on the wrong side of the railroad tracks it shares with poor housing, where Mexicans and blacks live. (An 'upset' is an unplanned accident releasing pollution, not part of the plant's normal running procedure, and which does not count in its regulatory tally.) Lucia Llanez, who lives in this tightly knit community of bungalows between plant and railroad, will never forget this one: 'It was dark all over; cars on the Interstate slowing down and putting their lights on because they couldn't see, though it was day. There was a rumbling like trains that rattled the windows, and people were going to hospital for watering eyes, allergies and problems breathing. The cloud stayed two weeks.'
The story of Huntsman goes back to the days of Bush Sr's arrival, when Odessa was a town of what retired fireman Don Dangerfield calls 'wildcatters'. In the 40s, the US Air Force bombed deep holes in the giant Permian oil basin in a search for oil which then attracted a stampede of speculators (including those from Humble) who would, recalls Dangerfield, 'spend the nights in a hotel, the End of the Golden West, and gamble their lots in rooms so thick with cigar smoke you could hardly see'. Among them was a man he remembers well: John Sam Shepherd, a former attorney general of Texas and member of the White Citizens Council - a political wing of the Ku Klux Klan - disgraced by a land scandal and come to seek his fortune out West by setting up the El Paso Products company, later Huntsman.
George Bush landed in this mayhem but quickly decamped 20 miles north to Midland, where new millionaires like him established a country club, a Harvard and a Yale club, met at the Petroleum Club and played golf on irrigated lawns. Midland was, recalls Gene Collins, a member of the National Association for the Advancement of Colored People in Odessam 'one of two towns in America with a Rolls-Royce dealership and more millionaires per head than anywhere'. This was where Bush Sr built his oil fortune, launched a political career on its shoulders and raised his son George W Bush in the art and language of power he now feigns not to speak. The story of how Bush Sr constructed his empire is well known, as is that of how his son George W was groomed to follow in his footsteps. Less widely broadcast, however, are the depths and intricacies of a system the Bush family built in bonding with the energy industry, as the dynastic machine elevated its methods from Odessa to the Senate, the governor's mansion in Austin, the oil centres of Houston and Dallas, the White House and thereafter the globe.
Neil Carman has a professorial air to him that belies the sharpness of the surgical blade with which he tries to operate on 'Toxic Texas'. Originally a plant biologist, he was an investigator for the Texas Natural Resources Conservation Commission (TNRCC), responsible for issuing permits for agreed levels of pollution and enforcing environmental law. In 1989, he took on the General Tire and Rubber Company for 'systematic violations'.
The firm hired a lobbyist, Larry Feldcamp, from the Baker Botts law firm whose senior partner, James Baker III, was secretary of state to then president George Bush Sr and who later, as an attorney, secured the delivery of the state of Florida for Bush Jr during last year's election recounts. Baker Botts advertises itself as a 'full service firm', counting Shell, Mobil, Union Carbide, Huntsman, Amoco on its books. The other law firm indivisible from the energy lobby and the Bush fiefdom is Vinson & Elkins, which acts for both Enron and the Alcoa aluminium giant, whose former chief executive Paul O'Neill is now US Treasury Secretary. Between these law firms and the regulatory body supposed to face them down, says Dr Carman, 'there's a revolving door. Feldcamp's place was taken recently by the most active attorney on the oil scene, Pamela Giblin - one of the TNRCC's first appointees.'
Carman resigned because 'all they had to do was hire people like Feldcamp and you were off the case. They did not deny permits - they must have issued 50,000 permits for air pollution during my time and refused only two, on occasions when the public raised hell. And they don't revoke them - it's not like drunk driving: if you get caught, they just keep reissuing. They used to refer to these places as "industrial areas", as if that meant they were outside the law. I called them "sacrifice zones".'
There is another problem, unique to Texas: the 'grandfathering' rule. Grandfathering dates back to the Texas Clean Air Act of 1971, exempting existing installations from compliance with new regulations. The idea was that they would be modernised or become obsolete and close. In the event, firms found that not being obliged to spend on pollution control gave them a competitive edge, and nearly three decades later, grandfathering accounted for more than 1,000 plants and 35 per cent of all pollution in Texas. Nevertheless, in the early 90s, the TNRCC began to toughen its stance in accordance with a more aggressive federal approach to pollution by the new Clinton administration. Then, in 1994, Texas went to the polls to elect a new governor - 'And when Bush took over,' says Carman, 'everything changed.'
Two groups based in Austin - Texans for Public Justice (TPJ) and Public Research Works (PRW) - crunched the statistics on the wave of money on which George W Bush sailed into the governor's mansion. It was what Andrew Wheat of the TPJ calls 'something unheard of in Texas or anywhere else: $42m on two campaigns'. Grandfathered polluters poured $10.2m into the campaign coffers between 1993 and 1998, led by what PRW calls the 'dirty 30', including Exxon, Shell, Amoco, Enron and the Alcoa aluminium giant. Bush himself received $1.5m from 55 grandfathered companies, led by Enron, with a handsome $348,500 top-up from the man he calls Kenny Boy - Kenneth Lay, the company's chief executive, currently under criminal investigation.
Wheat's analysis of the new governor's 'personal time' shows a revolving door for campaign donors and the energy industry. Andrew Barrett, Bush's in-house environmental policy advisor, began daily visits to the TNRCC in preparation for the appointment of new commissioners: Ralph Marquez, lobbyist for the Texas Chemical Council and former executive of the Monsanto chemical firm, and Barry McBee, attorney with the law firm Thompson & Knight, a major contributor to Bush funds with a host of oil-industry clients.
Legislation based on the notion of 'self-regulation' followed: a law enabling companies to audit their own pollution records provided they reported them, in exchange for which there would be absolute protection from public disclosure. Big oil was delighted, as a memo obtained by an environmentalist group, the Texas SEED Coalition, illustrated: a record of a gathering in June 1977 at Exxon in Houston by 40 representatives of the Texas oil and gas industries - written by one of their number - said 'the "insiders" from oil and gas believe that the governor's office will persuade the TNRCC to accept whatever program is developed between the industry group and the governor's office'.
It was not until Bush became president that, in its 2001 state legislature, Texas finally decided to rein in the 'grandfathered' plants. A bill gave them until 2007 to come into line with federal law or shut down. Even then, there was a legal challenge to the TNRCC's science from the Houston Business Partnership, recently entrusted with millions in federal money to clean up the Gulf coastline. The partnership is a high-octane chamber of commerce, throwing up a few familiar names: Exxon, Conoco, Enron, James Baker's law firm Baker Botts - and George Bush Sr.
Most important of all - and best hidden - was Bush's programme for Tort Reform. It was this that his father's advisor Karl Rove (dispatched to steer Bush's presidential campaign and now the White House itself) insisted the new governor make his hallmark, and this is potentially the dynasty's greatest gift to big oil. Put simply, Tort Reform means making it harder for citizens to sue corporations. TPJ calculated that business interests specifically isolating Tort Reform on their political agenda poured money into Bush's gubernatorial campaigns. Soon after being elected governor, says Andrew Wheat, Bush declared Tort Reform an 'emergency issue'.
This meant appointing a judge to the Texas supreme court whom President Bush is tipped to bring aboard the Supreme Court in Washington (to which, some say, he owes his presidency). Alberto Gonzalez wrote a decision soon after his appointment to the Texas court which made it all but impossible for citizens to bring class actions. 'The result,' says Shawn Isbell, a lawyer working on environmental cases, 'is that it will simply be too expensive to bring cases against the corporations.'
Another ruling, says Sandra McKenzie, the lawyer who fought a long and bitter battle against the Formosa Plastics firm, stipulates that 'anyone trying to prove a personal chemical injury had to show that other people in a similar situation had suffered the same reaction, according to a study in a published journal'. The new precedents, says McKenzie, 'changed the laws to establish a no-compromise, "take no prisoners" approach by the Bushes'.
In 1989, George Bush presented the Governor's Award for Environ mental Excellence to the Valero chemical refining company. Foremost in the minds of the proud executives at the ceremony in Austin's luxury Four Seasons Hotel was their 'refinery of the future' at Corpus Christi, on the Gulf, at the far end of the coastal strip that runs through Houston to the Louisiana border.
Alfred Williams gets a better view of the refinery of the future across the freeway from the garden of his mobile home than Governor Bush did from the Four Seasons. He can smell it better too - the inimitable stench on the muggy delta air that signifies the cooking up of cheap crude-oil 'feed stock' to produce its chemical by-product and treating the neighbourhood to a dose of sulphur dioxide.
When Williams, an ex-Vietnam Marine, moved here in 1972, 'this was all farmland'. He now delivers an impassioned requiem for his garden, with its peach trees dead or buckling over. The light of a quicksilver moon catches the plume of sulphur along what they call Refinery Row.
'I'm in my golden years,' he reflects. 'But I can't sell my house because no bank will give a loan without 40 per cent down. And they won't relocate me, as I'd do if they offered.
'It started with having to wipe residue from off of my car. Then the iron on my rooftop here started to get corroded, and the trees were dying. Sometimes I have to come inside because my eyes are burning.'
Williams filed a civil suit against Valero, steered by attorney Shawn Isbell. The court in Corpus denied Williams class action status in accordance with the zeitgeist, but Isbell managed to discover how the refinery of the future was so poorly crafted that Valero had (unsuccessfully) sued the companies which had built it. She also found out how the Texas system of overlooking 'upsets' works. Since 1994, Valero had suffered more than 480 'upsets', but the TNRCC records each set of emissions separately - for example, Valero's sulphur-dioxide emissions for 1977 show up on the commission's website as 166.4 tons, while the reality including 'upsets' is closer to 700 tons. Nevertheless, says Isbell, 'I've seen the TNRCC go harder after a pig farmer than I have after these kinds of companies.'
Williams keeps a notebook by his phone to record the 'upsets' over the road. He reports them to the TNRCC. But, he says, 'I call them rainbows: they are shut at night and on the weekend when the sulphur is released, and they only come when the storm has come and gone.'
Cornelius Harmon is a cab driver in Corpus, and takes a drive along Refinery Row, down a road he calls the 'buffer zone'. It divides a wasteland of former housing - where those relocated because of pollution by another plant, Koch, once lived - from the mostly black and Hispanic community of Hillcrest. 'Are you gonna tell me,' posits Harmon, 'that the hand of God Almighty drew a line down this road and He says: "Over yonder side is contaminated and this side is fit for folks to live ?" And what have we got here? Well, I'll be doggone if it's not a school, with children playing in the smell. The people who run these things, they give our kids a new pair of sneakers and go to church and think they're going to heaven. But at the pearly gates, they're going to find St Peter in his Afro saying: "Whassup cuz? Seems like you're trying to get into the wrong place."'
Time came for destiny to fulfil itself, for the son to stand for the high office in Washington which the Bush dynasty and its backers saw as having been usurped by Bill Clinton. The story of what carried George W Bush to the White House is well known: the most ruthlessly efficient campaigning machine ever assembled - by Karl Rove - with all the family's best connections filling a treasure chest that broke all records. As they returned to number-crunching in Austin, Texans for Public Justice and Public Research Works found little to surprise them save the machine's speed and efficacy. Within a month, Bush had raised hundreds of thousands of dollars, with Enron leading the field and two law firms giving $146,900 - most prominently Vinson and Elkins, attorneys to Enron and the Alcoa aluminium giant, and James Baker's company, lawyers to the oil industry.
When Bush came to pick his cabinet, almost all pivotal positions went to Bush Sr's inner sanctum, apart from the posts of commerce secretary (Don Evans, longtime buddy of Bush Jr's and a fellow Midland oil man) and treasury secretary (Paul O'Neill, currently touring the globe with Bono of U2, and former chief executive of Alcoa, the world's biggest producer of aluminium).
Alcoa held a stockholders meeting to send O'Neill off with a torrent of eulogies and an annual pay packet worth $36m, but three speakers spoiled the party. Two were trade unionists from O'Neill's troubled plant at Ciudad Acuna in Mexico, challenging the chief executive's claim that conditions at their factory were so good 'they can eat off the floor'. The third was the soft-spoken Texan Ron Giles, drawing attention to the biggest of the state's 'grandfathered' polluters - the Alcoa smelting plant at Rockdale. If the Rockdale plant were a single state, it would count 40th for pollution among the 50 in the union, belching more than 100,000 tons of toxins in 1997.
The smokestacks of the largest aluminium smelter in North America fit incongruously into the pastoral ranch land northeast of Austin. And they seem especially odd as backdrop to the 300-acre ranch where Wayne Brinkley's family has raised cattle since the late 1800s, but over which hangs a stench wafting across the moonscape of Alcoa's lignite mine.
Brinkley looks as much the Texan as President Bush in his boots and Stetson - 'Only difference is,' he says, 'I am one, and Bush is not.' In his office is a hog, stuffed and mounted, and an awesome collection of vintage knives and firearms. On his desk is a survey by the independent Research Analysis Consultations group showing that concentrations of magnesium, calcium and aluminium register 'very high' around Brinkley's barn, and sodium and titanium over his fields. 'My son had cancer when he was just a young kid,' he says in a voice like sandpaper. 'They tried to buy us out. They keep offering various deals saying I can't talk to anyone about this for 35 years, and then they changed it to forever. But why should I leave? My family's been here 100 years; they've been here 50. They should do it by the book, and keep it clean for the rest of us.'
Alcoa continues regardless, feted by Wall Street for 'dazzling' returns. But in the last light of a warm evening, quiet rebellion stirs in the community room of a little town called Elgin. A group of local people, Neighbors for Neighbors, have obtained records that show Alcoa to be cheating, making improvements to its production plant worth some $45m without parallel investments in pollution control. As a direct result of the Neighbors' exposé, the company was investigated by a TNRCC with no place to hide this time.
Neighbors for Neighbors, enjoying statewide coverage and acclaim for its pluck, is itself suing the company. Billie Woods, Neighbors' president, says that Alcoa has responded by pressing ahead with its plans for a new lignite mine that would carve up 15,000 acres of farmland. The company has also made court applications to enter and search the homes of Neighbors activists. The request was denied, but the matter moved the usually conservative Daily Texan newspaper to demand: 'Stop the Alcoa Gestapo!'
Yesterday Texas, today Washington, tomorrow the world. With Bush family business back home in the US presidency, it now moves, in the form of the father, to the apex of global finance. The Carlyle Group defines the next phase of power: a Washington-based private equity fund with a difference. It is headed by Frank Carlucci, former CIA director and defense secretary under Ronald Reagan and lifelong friend of George Bush Sr. Bush (also once director of the CIA) sits next to Carlucci on the board with a portfolio specialising in Asia and does not hesitate to communicate with his son on concerns of regional relevance to Carlyle such as Afghanistan or the Pacific Rim. Bush Jr was once chairman of a Carlyle subsidiary making in-flight food.
On Carlucci's other flank is the ubiquitous James Baker III. Chairman of Carlyle Europe is John Major. The group's new asset management is headed by Afsaneh Beschloss, former treasurer of the World Bank. Carlyle has grown quickly to be worth some $12bn, specialising in energy and defence, with particular attention to the oil-producing Gulf states. Among its most eager investors is Prince Bandar, Saudi ambassador to Washington and his father Prince Sultan, the kingdom's defence minister. The group's most spectacular recent coup was to reap $400m in a stock sale of its subsidiary United Defence Industries, maker of the Crusader artillery system which most military experts argued was redundant, but which won $470m in development money from the Pentagon and whose future in the US arsenal still hangs in the balance after a series of recent meetings between Carlucci and Defence Secretary Donald Rumsfeld. Within a month of 11 September last year, Carlucci was meeting with Rumsfeld and his deputy Paul Wolfowitz, and 10 days later offered an assessment which exactly predicted the endless-war scenario: 'We as Americans,' he said, 'have to recognise that terrorism is more or less a permanent situation.'
'What's the secret?' chided William Conway, a co-founder of the group. 'I don't think we have any secrets. We are a group of businessmen who have made a huge amount of money for our investors.' 'I never bought into this conspiracy theory about the Bush family, the energy companies or the Carlyle Group,' says Michael King, seasoned political editor of the Austin Chronicle , who has observed the phenomenon for decades. 'It is perfectly clear what they're aiming at from what they do in public: managing the global economy to their own advantage, and doing a pretty good job of it.'
On 11 September, while Al-Qaeda's planes slammed into the World Trade Center and the Pentagon, the Carlyle Group hosted a conference at a Washington hotel. Among the guests of honour was a valued investor: Shafig bin Laden, brother to Osama.
http://observer.guardian.co.uk/magazine/story/0,11913,738196,00.html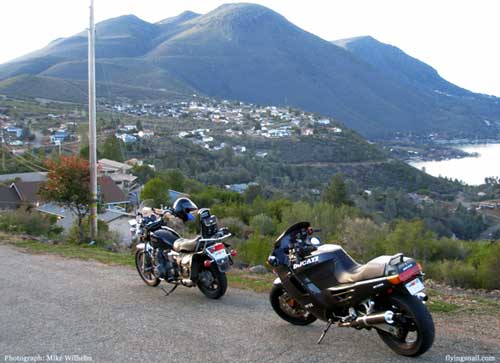 Legends of Mount Konocti
One of the most frequently-told legends of the creation of Mount Konocti is that of Chief Konocti, who forbid his beautiful daughter Lupiyoma to marry her suitor, the young chief Kah-bel. The two chiefs died in battle; the blood of Kah-bel colored the hills to the north, while Konocti's body formed the volcano which bears his name. The grieving Lupiyoma threw herself into the lake and her tears still spring forth at Soda Bay; for some years the lake was known as Lupiyoma Lake. Another legend tells of a konoc-htai (mountain woman) who, after quarreling with her husband, told him he would never see her alive again. She set off to climb the mountain, and climbed until she fell down exhausted and was crushed to death by a milk snake. Members of her tribe found her lifeless body and it is said that Mount Konocti thus received its name. Native peoples would journey to the heights of Konocti for the purpose of talking to the mountain and to gain better health. - topofkonocti.com -- wikipedia.org
NCast - Dancing Frogs

---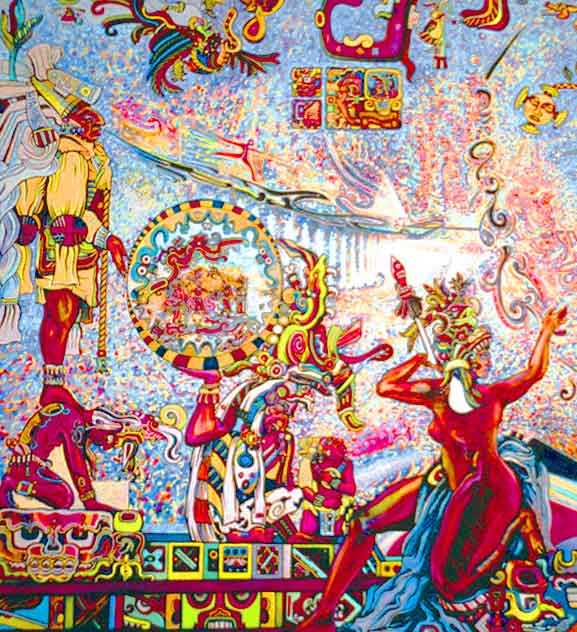 MAESTRO
JAMES REDO'S ART EXHIBIT
MARCH 14th, 15th & 16th
RECEPTION SAT. MARCH 15th 7p.m.
LIVE WORMS ART GALLERY
1345 GRANT STREET
BETWEEN VALLEJO & GREEN
NORTH BEACH, SAN FRANCISCO
Hora Vacuui Exhibit scheduled for Live Worms Gallery
Recent work by one of San Francisco's most prolific iconic artists, James Redo, will be on display March 14 thru 16 at Live Worm Gallery, at 1345 Grant Avenue, between Vallejo and Green.
Called Hora Vacuui, hich translates to "fear of space," the exhibition of four works is sponsored by the North Beach Arts Group. The exhibit will be launched with a reception, March 15, beginning at 7:00 pm.
Included in the exhibit will be Redo's Maya Vision, Ancient Ancestors and Fusion Frisco Dreaming , which express his penchant for rendering dense, muralistic representations of the vibrant life of distant cultures evoked in his Classic and Contemporary forms.
Best known for his thoughtful and emotive work as well as the volume of his output of drawings, paintings and sculptures in various media, Redo is also a published poet, whose universal themes in various media reflects his extensive travel and his fascination with ancient cultures.
Maya Vision honors both the end and beginning of time as interpreted by the Mayan calendar, as it anticipates momentous cosmic change in 2012. Fusion Frisco is a blended anthology of Redo's daily renderings incorporating a variety of monochromatic drawings that deal with both traditional and contemporary-technological themes.
The North Beach Arts Group has, as its mission, the celebration and promotion of the long tradition of creative expression associated with San Francisco's legendary district.
Subdivisions - Rush
http://www.youtube.com/watch?v=ggVy7QsTsPw
Sprawling on the fringes of the city - In geometric order - An insulated border - In between the bright lights - And the far unlit unknown
Growing up it all seems so one-sided - Opinions all provided - The future pre-decided - Detached and subdivided - In the mass production zone
Nowhere is the dreamer - Or the misfit so alone
Subdivisions --- In the high school halls - In the shopping malls - Conform or be cast out
Subdivisions --- In the basement bars - In the backs of cars - Be cool or be cast out - Any escape might help to smooth - The unattractive truth - But the suburbs have no charms to soothe - The restless dreams of youth
Drawn like moths we drift into the city - The timeless old attraction - Cruising for the action - Lit up like a firefly - Just to feel the living night
Some will sell their dreams for small desires - Or lose the race to rats - Get caught in ticking traps - And start to dream of somewhere - To relax their restless flight
Somewhere out of a memory - Of lighted streets on quiet nights.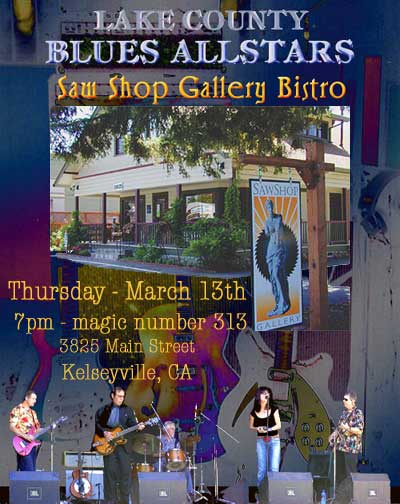 Lake County Blues Allstars
Kelseyville, CA - Thursday, March 13th, 7pm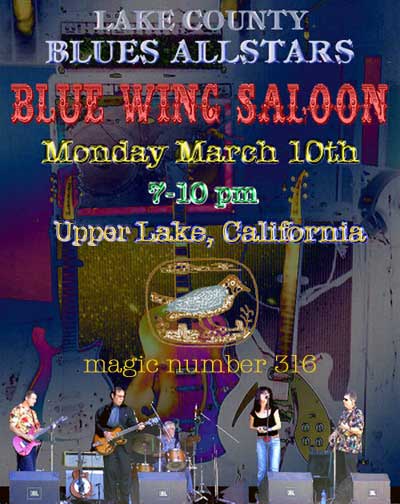 Lake County Blues Allstars
Monday, March 10th - 7-10 pm
Blue Wing Saloon, Upper Lake, California

Dreamstreets


WVUD 91.3 - Wednesday Morning - WVUD 91.3
11 am East -- 8 am Pacific -- 1500 utc
Listen On-line at: http://www.wvud.org/listen_online.htm with Even Steven

Boptime


WVUD 91.3 - Saturday Morning - WVUD 91.3
6 am East -- 3 am Pacific -- 1000 utc
Listen On-line at: http://www.wvud.org/listen_online.htm with Even Steven
The man whispered, "God, speak to me" and a meadowlark sang. But the man did not hear. So the man yelled "God, speak to me" and the thunder rolled across the sky. But the man did not listen. The man looked around and said, "God let me see you" and a star shined brightly. But the man did not notice. And the man shouted, "God show me a miracle" and a life was born. But the man did not know. So the man cried out in despair, "Touch me God, and let me know you are there" Whereupon God reached down and touched the man. But the man brushed the butterfly away and walked on.
Don't miss out on a blessing because it isn't packaged the way you expect.
Previous Articles Moved To ARCHIVE