GIs Petition Congress Over Iraq War
SUNDAY FEBRUARY 25, 2007
60 Minutes
To: "vfp-all"
"Veterans for Peace"
--------------------------------------------------------------------------
*GIs Petition Congress Over Iraq War
*Feb. 22, 2007*
------------------------------
*(CBS) *They say they are not disloyal. They say they are not shirking their duty and that they do not oppose war. But over 1,000 active-duty and reserve members of the U.S. military are against the war in Iraq and have said so in an unusually public way — by petitioning Congress last month.
Several of them appear to explain their actions to *correspondent Lara Logan * this Sunday, Feb. 25, at 7 p.m. ET/PT.
"I'm not anti-war. I'm not a pacifist. I'm not opposed to protecting our country and defending our principles," says Navy Petty Officer Jonathan Hutto, an Iraq war veteran who, along with another veteran, initiated the petition.
A 1995 law called the Military Whistleblower act enables military personnel to express their own opinions about Iraq in protected communication directly to Congress.
Hutto and others spoke with *60 Minutes* while off duty, off base and out of uniform as conscientious citizens. "But at the same time, as citizens, it's our obligation to have a questioning attitude … about policy," Hutto tells Logan.
Marine Sgt. Liam Madden, who helped Hutto to found the organization they call Appeal for Redress that has attracted 1,000 other military members, is more blunt.
"Just because we volunteered for the military doesn't mean we volunteered to put our lives in unnecessary harm and to carry out missions that are illogical and immoral," Madden says.
These GIs and others Logan spoke with expressed frustration with their efforts in Iraq and believe there is no end in sight to the war. Other Iraqi war veterans still on duty there believe Appeal for Redress misses a larger point.
"As an American soldier, I feel like we took an oath to obey the orders of our commander-in-chief and officers appointed over us," says Army Spec. James Smauldon.
Says another serviceman in Iraq, Army Capt. Lawrence Nunn, "I know what I'm here fighting for, to give the Iraqi people some democracy and hope, so I am 100 percent behind this mission. You don't sign up to pick which war you go to."
Another Appeal for Redress member, Staff Sgt. Matt Nuckolls, says, "Our leadership gets to choose the mission. Congress gets to choose the mission."
He says he's loyally committed to whatever Congress wants him to do but savors the right to question it.
"My Congressman is Lacy Clay," Nuckolls says. "I would like to tell him as a constituent of his, 'Is the mission in Iraq really what you want us to be doing?' And then (if) he responds, 'Yes,' OK, well, we go back to Iraq and keep doing what we're doing."
Produced By Peter Klein
(c) MMVII, CBS Interactive Inc. All Rights Reserved.
------------------------------
---------- Forwarded message ----------
From: gringo
Date: Feb 22, 2007 10:58 PM
Subject: [CorpusChristiPPC] Appeal for Redress - CBS 60 Minutes
To:
Well folks,
The big CBS 60 Minutes piece is set to air this Sunday February 25th. And after all this heart and gut wrenching agony of just waiting for it to air... I'm barely in it.
According to the producer:
"I had a comment from you in which you respond to what Tony Snow said at the White House briefing -- "How can they question our patriotism? That's a bunch of crap!" I took it out at the last minute since I felt it didn't reflect properly on the respectful tone of the group."
And I'm perfectly at ease with this as I feel the others' testimonies are far more weighty than my own.
Here's the link to the piece:
http://www.cbsnews.com/stories/2007/02/22/60minutes/main2505412.shtml
This Sunday, February 25th on CBS.
Warm Regards,
Brian Hill
www.AppealForRedress.org
(SSG/Army National Guard)
Mike Wilhelm: Dapper and dangerous as usual

The Flamin' Groovies, "Bust Out At Full Speed: The Sire Years"
http://www.flyingsnail.com/Scrapbook/Mike_Wilhelm.html
John Sinclair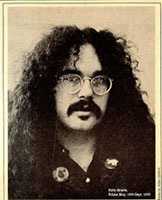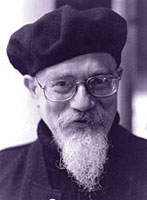 John Sinclair's Travel Blogs
Winter In America - Double Header
No Cure For American Dumbination

Steve Bell
Chimpanzees 'hunt using spears'
Chimpanzees in Senegal have been observed making and using wooden spears to hunt other primates, according to a study in the journal Current Biology.
Researchers documented 22 cases of chimps fashioning tools to jab at smaller primates sheltering in cavities of hollow branches or tree trunks.
The report's authors, Jill Pruetz and Paco Bertolani, said the finding could have implications for human evolution.
Chimps had not been previously observed hunting other animals with tools.
Pruetz and Bertolani made the discovery at their research site in Fongoli, Senegal, between March 2005 and July 2006.
"There were hints that this behavior might occur, but it was one time at a different site," said Jill Pruetz, assistant professor of anthropology at Iowa State University, US.
"While in Senegal for the spring semester, I saw about 13 different hunting bouts. So it really is habitual."

Steve Bell
Jabbing weapon
Chimpanzees were observed jabbing the spears into hollow trunks or branches, over and over again. After the chimp removed the tool, it would frequently smell or lick it.
In the vast majority of cases, the chimps used the tools in the manner of a spear, not as probes. The researchers say they were using enough force to injure an animal that may have been hiding inside.
However, they did not photograph the behaviour, or capture it on film.
In one case, Pruetz and Bertolani, , from the Leverhulme Centre for Human Evolutionary Studies in Cambridge, UK, witnessed a chimpanzee extract a bushbaby with a spear.
In most cases, the Fongoli chimpanzees carried out four or more steps to manufacture spears for hunting.
In all but one of the cases, chimps broke off a living branch to make their tool. They would then trim the side branches and leaves.
In a number of cases, chimps also trimmed the ends of the branch and stripped it of bark. Some chimps also sharpened the tip of the tool with their teeth.

Steve Bell
Female lead
Adult males have long been regarded as the hunters in chimp groups.
But the authors of the paper in Current Biology said females, particularly adolescent females, and young chimps in general were seen exhibiting this behaviour more frequently than adult males.
"It's classic in primates that when there is a new innovation, particularly in terms of tool use, the younger generations pick it up very quickly. The last ones to pick up are adults, mainly the males", said Dr Pruetz, who led the National Geographic-funded project.
This is because young chimps pick the skill up from their mothers, with whom they spend a lot of their time.
"It's a niche that males seem to ignore," Dr Pruetz told BBC News.
Many areas where chimpanzees live are also home to red colobus monkey, which the chimps hunt. However, the Senegal site is lacking in this species, so chimps may have needed to adopt a new hunting strategy to catch a different prey - bushbaby.
The authors conclude that their findings support a theory that females may have played a similarly important role in the evolution of tool technology among early humans.
http://news.bbc.co.uk/1/hi/sci/tech/6387611.stm

Martin Rowson
Flash - Jon Stewart on CNN - Flash
"You're Hurting US"
http://www.flyingsnail.com/Dahbud/images/stewfire/stewfire.html
Bush's Impending Watergate
May 23, 1991
By Harvey Wasserman
George Bush should be impeached. Whether he will be impeached depends on the intestinal fortitude of Congress. But the evidence is clearly sufficient to begin proceedings.
Continue reading at: http://www.flyingsnail.com/Dahbud/2deadday.html

Steve Bell
Throughout America's adventure in free government, our basic purposes have been to keep the peace; to foster progress in human achievement, and to enhance liberty, dignity and integrity among people and among nations. To strive for less [George W. Bush] would be unworthy of a free and religious people. Any failure traceable to arrogance, or our lack of comprehension or readiness to sacrifice would inflict upon us grievous hurt both at home and abroad.- Dwight D. Eisenhower, 34th [Republican] President of the United States, Respected General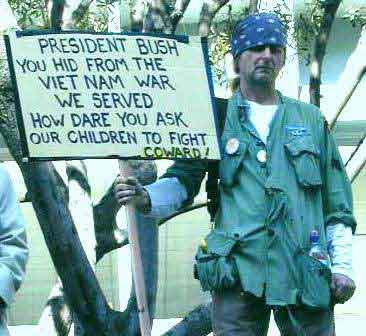 "The lie can be maintained only for such time as the State can shield the people from the political, economic and/or military consequences of the lie. It thus becomes vitally important for the State to use all of its powers to repress dissent, for the truth is the mortal enemy of the lie, and thus by extension, the truth becomes the greatest enemy of the State." Dr. Joseph M. Goebbels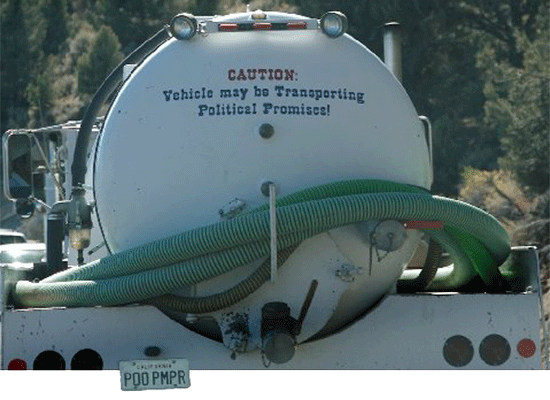 "Naturally the common people don't want war: Neither in Russia, nor in England, nor for that matter in Germany. That is understood. But, after all, it is the leaders of the country who determine the policy and it is always a simple matter to drag the people along, whether it is a democracy, or a fascist dictatorship, or a parliament, or a communist dictatorship. Voice or no voice, the people can always be brought to the bidding of the leaders. That is easy. All you have to do is tell them they are being attacked, and denounce the peacemakers for lack of patriotism and exposing the country to danger. It works the same in any country." Hermann Goering, President of the Reichstag, Nazi Party, Luftwaffe Commander in Chief
Keith Lampe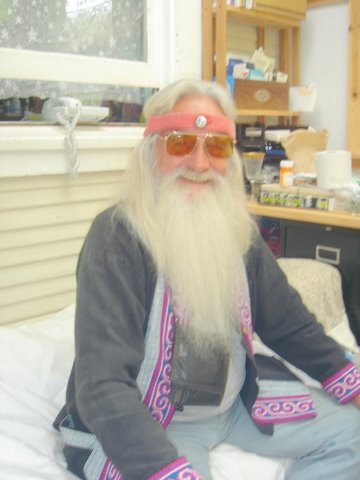 Currently I'm working on a Lost History of Hippie for all our dear high school students because they've been down so long it looks like up to them. That is, they've endured a merciless US police state for so many years now that they've forgotten anything better and thus can't imagine anything better. I'm so eager for them to become able to imagine something much much much better!!! Before continuing, I'll sketch a brief summary of that history.
http://www.flyingsnail.com/Scrapbook/Keith_Lampe.html
Happy 11th Web Birthday NobodyForPresident.org

Happy 11th Web Birthday Nobody for President
On February 17, 1996, twenty years after Nobody first ran for President:
http://www.NobodyForPresident.org/ Nobody's first page appeared on:
http://www.netvideo.com/ Here is one of Nobody's Songs:
http://www.nobodyforpresident.org/nobodysongs.html by Jim Maxwell & The Sundown Band:
Nobody for President http://www.nobodyforpresident.org/mp3/NobodyForPresident.mp3
Ralph Eno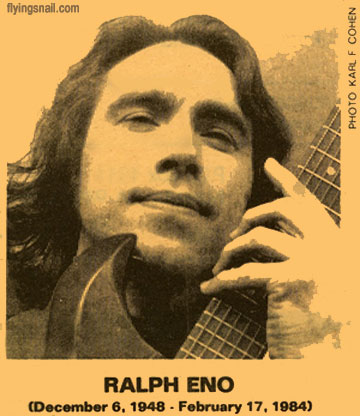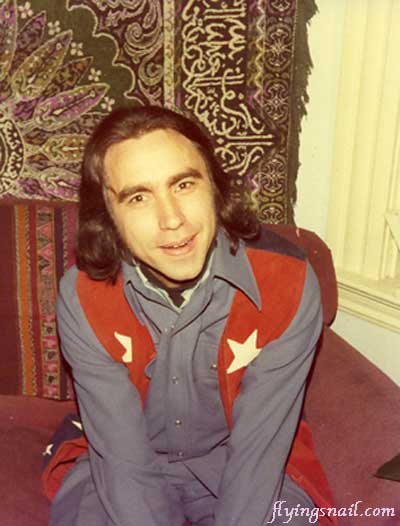 December 6, 1948 - February 17, 1984
On February 17, Ralph Eno, local performer, died of bums at S. F. General.
Ralph was definitely the bull goose loony of even such an already fringey scene as San Francisco's.
In the early '70s he was the only male member of the women's theatre group Les Nickelettes, doing comedy rock when the Tubes were still the Beans.
As "Freaky" Ralph, he founded his one-man "progressive surf music" movement, several years before something called "new wave" would hit the covers of the glossy magazines. When punk started becoming a household word, he was already moving into his modem romance phase as Ral Pheno and the Twitchers, presaging the new English invasion.
When the local comedy scene (which he helped found at Frank Kidder's coffee house in the Intersection) finally achieved some viability, he was right there at the open mikes, singing the same songs he'd been performing as "straight" in his previous incarnations.
Through it all he was a courageous, sincere, and passionate stage performer, a prolific songwriter, a terrible businessman (releasing four independently produced records), a fervent supporter of every aspect of the Bay Area performing community, a bottomless well of junior high jokes, and a tremendous inspiration to every one who knew him well.
Some audiences found him hysterical, some unbearable, and a few thought him a genius. No one could write him off casually, except maybe Ralph himself.
[Note: Ralph caused his death when he poured five gallons of gas on his body and set himself on fire. He was my friend, I still miss him, and have placed the following two MP3 songs (written and performed by Ralph Eno, Jeff Ross, and the Pointless Sisters) in honor of his memory (permalink on the Podcast page). ~@~]
WE'RE SNAPPING - http://www.flyingsnail.com/Podcast/WeAreSnapping.mp3
KISS-UP - http://www.flyingsnail.com/Podcast/Kiss_Up.mp3
Freaky Ralph, Jeff Ross, and the Pointless Sisters == United State Cafe Link
Text Messaging, BroadBand, & Wireless Internet Roots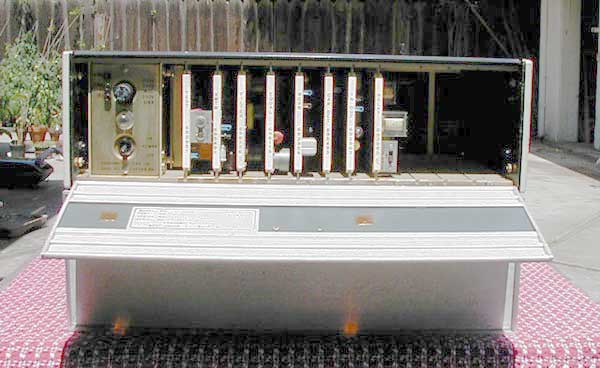 Pacific Packet Radio Society: http://www.pprs.org/
Helpful Caller ID Information
WHO CALLED US
http://whocalled.us/
Our Local Global Warming
How Global Warming Is Currently Affecting A Small California Ranch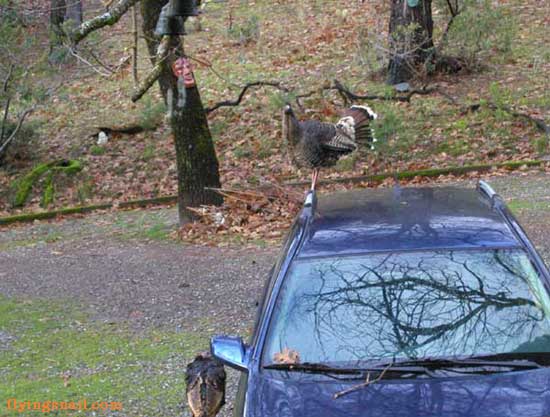 A short picture story with a few words.
http://www.flyingsnail.com/ourlocalglobalwarming.html
Secret Hacker/Cracker Weapons Released
Somebody Named Blair Is Spreading Lies About NOBODY
'Nobody planning' attack on Iran
Prime Minister Tony Blair says people are "increasingly alarmed" by Iran's strategy but said military action was not being planned against it.
He said no option was "off the table" but "nobody is talking about or planning military intervention".
Iran's nuclear programme and strategy "to create the maximum trouble for us" in the region was a "miscalculation", he told a committee of senior MPs.
Mr Blair also said Tehran was trying to prevent reconciliation in Iraq.
Treaty
He told MPs: "Their strategy is to create the maximum trouble for us and for the region and I think that is a miscalculation because in the end they are going to find that they assemble a very large coalition against them.
"Nobody's talking about military intervention in respect of Iran but people are increasingly alarmed and concerned at the strategy that they appear to be pursing."
He added that he was sure numerous "doors would open", if they showed some sign that they were prepared to change that strategy.
He said that the Iranian people were seeing a "squeeze" on their living standards as a result of the current situation.
Iran itself says its efforts to enrich uranium are an expression of its right to develop nuclear power under the Nuclear Non-Proliferation Treaty of which it is a member.
Under the treaty, non-nuclear weapons states area are allowed to acquire nuclear technology for civil purposes but commit themselves not to build a bomb.
http://news.bbc.co.uk/1/hi/uk_politics/6334853.stm
NOBODY KNOWS THE TRUTH ABOUT 9/11, NOBODY HAS BROUGHT PEACE TO OUR TIMES, NOBODY BAKES APPLE PIE BETTER THAN MOM, AND NOBODY OUTED TONY & GEORGE:
** MOVIE **
Back By Popular Demand: Tony & George, Together Again In:
READ MY LIPS
http://www.flyingsnail.com/Dahbud/images/readmylips_blush.mov
(4,588,755 bytes)
Mirrored from an old, currently, non working link: http://www.atmo.se/readmylips
NOBODY FOR PRESIDENT
http://www.nobodyforpresident.org/
NCast Dancing Frogs
Two New FREE Computer Backgrounds
640x480 & 1600x1200
http://www.flyingsnail.com/Blender/wallpaper/index.html
REPUBLICAN & DEMOCRAT COMPLICITY Murder Count - January 2007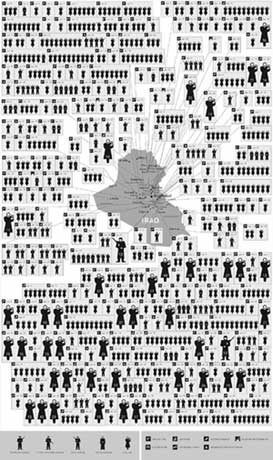 CLICK TO VIEW ORIGINAL, LARGE, 1500x2531 IMAGE
http://www.nytimes.com/imagepages/2007/02/03/opinion/04opart.html
The New York Times Op-Chart: 31 Days in Iraq By ADRIANA LINS de ALBUQUERQUE and ALICIA CHENG, Published: February 3, 2007, digg: January in Iraq - 1,900 Dead [Bypass NYT login, click following]:
http://digg.com/world_news/January_in_Iraq_1_900_Dead
WHITEY HOUSE BungHOLES Have What?
Enough Nukes to Blow Up Asia, the Middle East, and part of Europe.
"I shall give the propagandist cause for starting the war. Never mind if it is implausible or not." - Adolph Hitler
Currently, 31 percent of the Navy's 276 ships — all told, 85 ships, including 13 submarines — are deployed, according to the Navy.
http://www.navytimes.com/news/2007/01/ntfrigate070123/
In or headed to Persian Gulf according to Google News:
Aircraft Carrier - USS Reagan carrier strike group
Aircraft Carrier - USS Dwight D. Eisenhower
Aircraft Carrier - USS John C. Stennis Carrier Strike Group
Destroyer - USS Hamilton
Destroyer - USS Russell
Guided Missile Cruiser - USS Antietam
Guided Missile Destroyer - USS Preble
Guided Missile Destroyer - USS O'Kane
Guided Missile Destroyer - USS Paul Hamilton
Guided Missile Frigate - USS Rentz
Mine Sweeper - USS Gladiator (one of six)
Submarine - USS Newport News (four nuclear subs alleged)
Submarine - USS Key West
Supply Ship - USNS Bridge
[Note: Based on 'Aircraft Carrier' groups, it is obvious 'all deployed ' ships in/to the Persian Gulf are not listed. The only 'known alleged information' is the 31 percent deployment figure printed in the January 2007 Navy Times, linked above.]
Ballistic Missile Proliferation 2005 Map
http://www.carnegieendowment.org/images/npp/missile.jpg
World Nuclear Status 2005 Map
http://www.carnegieendowment.org/images/npp/nuke.jpg
Proliferation Status 2005
http://www.carnegieendowment.org/images/npp/prolif.jpg
Russian Admiral Says U.S. Navy Prepares Missile Strike on Iran
U.S. Navy nuclear submarines maintaining vigil off the coast of Iran indicate that the Pentagon's military plans include not only control over navigation in the Persian Gulf but also strikes against Iranian targets, a former commander of the Russian Black Sea Fleet, Admiral Eduard Baltin has told the Interfax news agency.
"The presence of U.S. nuclear submarines in the Persian Gulf region means that the Pentagon has not abandoned plans for surprise strikes against nuclear targets in Iran. With this aim a group of multi-purpose submarines ready to accomplish the task is located in the area," Admiral Baltin said.
He made the comments after reports that a U.S. submarine collided with a Japanese tanker in the Strait of Hormuz.
"American patience is not unlimited," he said. "The submarine commanders go up to the periscope depth and forget about navigation rules and safety measures," the admiral said.
Currently there is a group of up to four submarines in the Persian Gulf area, he said. So far they only control navigation in the Persian Gulf, the Gulf of Oman, and in the Arabian Sea, he said. They might receive different orders in future: to block off the Gulf of Oman, that is the Iranian coast, and, if need be, launch missile strikes against ground targets in Iran, he said.
http://www.mosnews.com/news/2007/01/15/admiral.shtml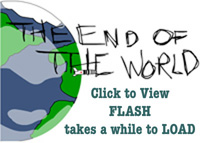 http://www.flyingsnail.com/Dahbud/endofworld.html
[Contains strong language]
"Only after the last tree has been cut down, Only after the last river has been poisoned, Only after the last fish has been caught, Only then will you find money cannot be eaten." - Cree Prophecy
Updated 200702.05:
Attacking Iran would be a disaster: report
By Paul Hughes
LONDON (Reuters) - Military action against Iran would have disastrous consequences, according to a report released on Monday by a coalition of British-based think-tanks, faith groups and others who urge a new diplomatic push to avert conflict.
The United States and Israel have stepped up their rhetoric against Tehran in recent weeks, prompting speculation they could be preparing for military attacks on the Islamic state.
Washington has sent a second aircraft carrier to the Gulf, a move seen as a warning to Iran, which the United States accuses of seeking atomic arms and fuelling instability in Iraq and elsewhere in the Middle East. Iran denies the charges.
The joint report by 17 organizations, including the Foreign Policy Center, Oxfam and the Muslim Council of Britain, said an attack on Iran would, strengthen Iran's atomic ambitions, severely undermine hopes for stability in Iraq and damage global economic growth through higher oil prices.
"Our message today is simple," said Alex Bingham, Iran analyst at the Foreign Policy Center. "Despite the belligerence, despite the tension, there is still time to talk to Iran."
European diplomats said on Monday Iran had installed 328 uranium enrichment centrifuges, in defiance of U.N. Security Council resolutions demanding it halt such work.
Iran says its nuclear program will only be for peaceful purposes, such as electricity generation, and not to make bombs.
THREAT "NOT IMMINENT"
The report received support from Sir Richard Dalton, Britain's ambassador to Tehran from 2002 to 2006, who said negotiation offered the best chance of ensuring Iran did not develop nuclear arms.
"Military action ... is not only unlikely to work but would be a disaster for Iran, the region and quite possibly the world," he said. "We're not in the position of facing a clear and imminent threat now."
Among the unintended consequences of an attack on Iran, the report said, would be to bolster the position of hardliners in Iran. It could also inspire terrorist attacks in Western countries.
The report's recommendations included removing or finding a compromise on preconditions to talks, such as the insistence Iran suspend uranium enrichment; seeking direct talks between Iran and the United States; and developing a "grand bargain" package of incentives made by major world powers to Iran last June in return for its suspension of sensitive nuclear work.
Dalton said there were signs that Iran's leadership was beginning to re-evaluate the costs and benefits of its confrontational stance against the West.
"The international community has leverage on Iran and should use it," he said, suggesting the European Union could contemplate imposing its own sanctions on Tehran.
"They are extremely difficult to negotiate with ... but it should be possible to put an offer to them which they find very difficult to refuse," he added.
Source/Links: http://news.yahoo.com/s/nm/20070205/ts_nm/iran_attack_dc
Steven Leech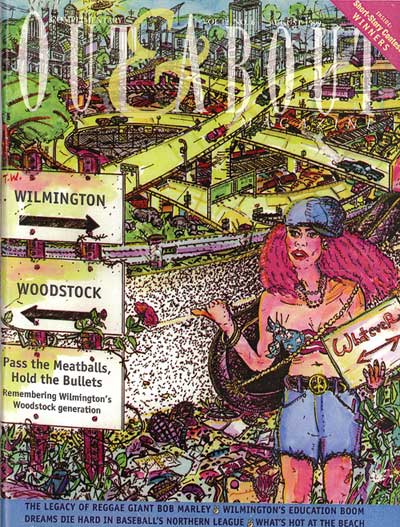 Pass the Meatballs, Hold the Bullets
by Steven Leech
According to artist R. Crumb in ZAP COMIX #0, the '60s really began in a dime store in Jersey City in 1959 when, during a fight with Mrs. Knish, Mrs. Yahootie got hit with a meatball from out of nowhere right after a voice suddenly heralded its impending arrival The event changed Mrs.Yahootie's life. But it wasn't until a machinist for Dempster Dumpmaster was awakened by a meatball from a nightmare about the H-bomb that the metaphor took off. All across the country, "getting hit with a meatball" became synonymous with consciousness-raising. [Continue reading at]:
http://www.flyingsnail.com/Scrapbook/Steven_Leech.html