Activity TV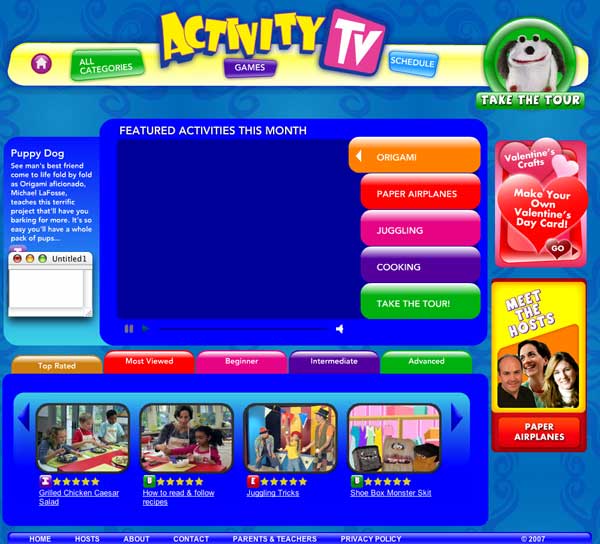 http://www.activitytv.tv/
Sundance Film Festival - January 18-28, 2007
Headed for Sundance? Make sure you see "The Future Is Unwritten" [We did 'the camera shoot' of Joe Strummer diving, guitar first, into the drums [The Drum Kit Crash] during The Clash's performance at Chet Helms and The Family Dog's Hey, Hey Monterey concert in Monterey, California.]
Make sure to also watch "Padre Nuestro", which is a fantastic film by new upcoming Filmmaker, Christopher Zalla. You will not be disappointed!
World Documentry Competition
JOE STRUMMER: THE FUTURE IS UNWRITTEN
Ireland/United Kingdom, 2006, 123 Minutes, color
Director: Julien Temple
Filmmaker Julien Temple chronicles the transformation of a self described "mouthy little git," born John Mellor, into an antiestablishment icon known to the world as Joe Strummer. In his latest documentary, Temple uncovers the myth behind the front man of the seminal punk band the Clash.
Through previously unearthed interviews with Strummer himself and recollections of those who knew him best, Temple reveals a complex man who used his music as a bullhorn for his conscience--as well as a means to educate others about the injustices of the world. The film includes live concert footage spanning Strummer's career and tapes of his BBC radio program, all of which provide a fitting soundtrack to his distinctive and storied existence.
The performance footage would be fascinating on its own, but Temple probes beyond Strummer's mystique to reveal a person with his own flaws who could sometimes be idealistic to a fault. Temple has created a thoughtful and poignant portrait of a man many think they knew. Joe Strummer: The Future Is Unwritten provides a rare glimpse into the man behind the legend of "punk rock warlord."— Rosie Wong
Executive Producer : Jeremy Thomas
Producers : Amanda Temple, Anna Campeau, Alan Moloney
Coproducers : Orlagh Collins, Susan Mullen, Stephan Mallmann
Cinematographer : Ben Cole
Editors : Mark Reynolds, Tobias Zaldua, Niven Howie
Archive Producer : Sam Dwyer
Screening Times
Saturday , Jan 20 9:00 PM Holiday Village Cinema IV STRUM204N
Sunday , Jan 21 9:00 PM Broadway Centre Cinemas IV, SLC STRUM21BN
Monday , Jan 22 9:15 AM Holiday Village Cinema III STRUM223M
Tuesday , Jan 23 1:00 PM Holiday Village Cinema IV STRUM234D

Director(s) Bios - Julien Temple
Julien Temple was the first to film the punk scene in London, making his feature debut with The Great Rock And Roll Swindle (1979), the anarchic story of the Sex Pistols. Temple also directed Absolute Beginners, Earth Girls Are Easy, and Vigo--Passion for Life before returning to the Sex Pistol theme in The Filth and the Fury, which screened at Sundance in 2000. Recent films include the historical drama Pandaemonium and the documentary feature Glastonbury, part of Sundance's World Cinema documentary competition in 2006.
http://festival.sundance.org/filmguide/popup.aspx?film=7399
Sundance 2007
Punk's political firebrand had a diplomatic side
by Richard Brooks
The Austrailian
January 22, 2007
HE made his name as the posterboy for disaffected British working-class youth.
But newly discovered home movies shot in British embassies around the world have revealed that Joe Strummer cast aside a privileged upbringing to become leader of punk band the Clash. The pictures from his childhood, as the son of a diplomat, portray a culture far removed from the venomous explosion in 1976 of the punk movement, with him and the Sex Pistols at the helm. Although Strummer was a complex character who was regarded as punk's political conscience, the images still surprise.
The footage, used in a new documentary, shows young Joe visiting his father, Ronald Mellor, who was posted in places such as Ankara, Mexico City, Berlin, Cairo and Tehran. Joe and brother David stand on the border of Iran and Iraq in one image.
The title of the band's most famous album, London Calling, came from a BBC World Service program the teenage Strummer heard on a visit to his diplomat father and mother Anne in Africa. The documentary also makes use of material from programs he later presented for the World Service.
Other images show Joe playing with his moustached father, resembling a dapper RAF pilot, in the garden at home with David, while other pictures and footage have him dressed as a cowboy and in his Scout uniform. There are also photographs of him at boarding school with his best friend and another listening to an old radiogram.
They appear in the documentary by Julien Temple, whose previous work includes The Great Rock'n'Roll Swindle, the story of the Sex Pistols. Joe Strummer: The Future Is Unwritten was premiered last night at the Sundance Festival in the US.
Strummer explains in the documentary that, despite his Establishment upbringing, his father was not a conventional diplomat and had "left-wing" views. He also wonders where his interest in music came from. "Neither of my parents was musical," he says.
Joe was born John Mellor in 1952 and was a boarder at the City of London Freemen's school in Ashtead, Surrey.
In his late teens, when his older brother committed suicide, he reinvented himself -- first at art college, where he was known as Woody, and then in the west London squat where he became Joe Strummer.
The documentary about Strummer, who died of an undiagnosed heart condition in 2002 at the age of 50, includes interviews with Bono, Martin Scorsese, Johnny Depp, Matt Dillon and Damien Hirst. They talk of the extraordinary impact of Strummer and his band. "There would have been no U2 without the Clash," says Bono.
Hirst, the one-time bad boy of Britart, says he wanted to be "the Joe Strummer of the art world".
"Joe, mainly because of his father being a diplomat, was always very open to different cultures," said Temple.
"He was politically of the Left but had no prejudices about others with different views."
Tory MP and journalist Boris Johnson was a friend and fan of Strummer, while Hugo Swire, the Tories' culture spokesman, was Strummer's brother-in-law.
The Sunday Times Source:
http://www.theaustralian.news.com.au/story/0,20867,21094679-2703,00.html
---
Dramatic Competition
PADRE NUESTRO
U.S.A., 2006, 105 Minutes, color
Director: Christopher Zalla
Screenwriter: Christopher Zalla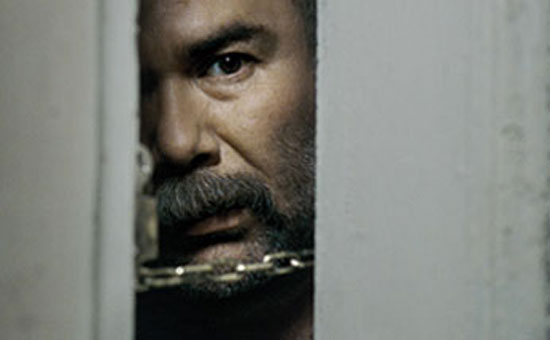 Fleeing a pack of henchman on the Mexican side of the border, Juan hops a truck transporting illegals from Mexico to New York City. En route he befriends Pedro, an innocent from central Mexico who is headed to New York to seek his rich restaurateur father, Diego. Pedro shows Juan a sealed letter that his mother, now dead, has given him--an introduction to the father he never knew. When the truck pulls into New York City, Pedro wakes to find both his belongings and his new friend gone without a trace. He is cast onto the street and stumbles around lost in an unknown city. Juan, meanwhile, shows up at Diego's door with the letter, claiming to be his long-lost son, Pedro.
Padre Nuestro, Christopher Zalla's smartly scripted first feature, is an exhilarating dog-eat-dog thriller brimming with style and exceptional performances. A provocative tale of stolen identity and fate, Padre Nuestro is also an insightful examination of the human longing to be loved. — Shari Frilot
Screenwriter : Christopher Zalla
Producers : Benjamin Odell, Per Melita
Cinematographer : Igor Martinovic
Editor : Aaron Yanes
Production Designer : Tommaso Ortino
Cast : Jesús Ochoa, Armando Hernández, Jorge Adrián Espíndola, Paola Mendoza
Screening Times
Monday , Jan 22 2:30 PM Racquet Club PADRE22RA
Tuesday , Jan 23 12:00 PM Eccles Theatre PADRE23CD
Wednesday , Jan 24 9:45 PM Broadway Centre Cinemas V, SLC PADRE24BN
Friday , Jan 26 5:30 PM Racquet Club PADRE26RE
Saturday , Jan 27 8:30 AM Racquet Club PADRE27RM

Director(s) Bios
Christopher Zalla
Born in Kisumu, Kenya, Christopher Zalla spent much of his youth overseas and worked for nine summers as a commercial salmon fisherman in Alaska's Bering Sea. Zalla received his MFA with honors in directing from Columbia University's Graduate Film Division, where he served as a teaching assistant and the faculty awarded him a full research assistant fellowship for merit as a top student. Prior to Padre Nuestro, he wrote "Marching Powder" for Brad Pitt's Plan B Entertainment. Zalla is fluent in Spanish and lives in New York City.
http://festival.sundance.org/filmguide/popup.aspx?film=4697
Sundance 2007
Panamax targets Latinos
Sundance entry aims for Hispanics
By ELIZABETH GUIDER
Every movie in competition at Sundance has a backstory -- but only one this year has it in Spanish.
"Padre Nuestro" is from a newish company that's trying to do for Hispanic moviegoers what Univision and Telemundo have done for Spanish-language TV viewers in this country: Create product which uniquely, though not exclusively, speaks to them.
Panamax, the company behind the pic, is wholly owned by Jim McNamara, a well-known bilingual exec whose experience ranges from high-level stints at New World Entertainment and Universal TV to the top job at Telemundo. "Padre Nuestro" is one of 16 pics in competition at the 10-day Park City fest.
McNamara ankled the No. 2 Hispanic broadcaster 18 months ago on a hunch that modestly budgeted but commercially appealing movies in Spanish could find a niche in the U.S. -- and also travel south of the border. He put up his own money, hired a couple of execs and did a deal with Lionsgate for domestic distribution.
One of the execs he scouted for his startup was Ben Odell, a gringo who had lived for years in South America and has various telenovela script credits to his name. He is the producer of "Padre Nuestro," a thriller set in Gotham and involving stolen identity. It was written and directed by Chris Zalla, another Yank who lived for some time in Bolivia.
Pic screens at Sundance on Monday and will be available for U.S. distribution. (It's not part of the deal with Lionsgate.)
"Just think about it," McNamara told Daily Variety. "The Hispanic community is the fastest growing in the country, 45 million strong, but while there are telenovelas galore, there really isn't any filmmaking going on to serve them."
The Mexican cinema in its long-ago heyday captivated a significant swathe of U.S. moviegoers but in the past two decades has turned out only a trickle of arty films that travel -- from "Like Water for Chocolate" (1992) to "Et tu mama tambien" (2003) -- and do only modest biz. Nor do most Hispanics flock to the movies of Spanish auteurs like Pedro Almodovar.
"My goal," McNamara added, is to create films that are "well made, satisfying commercially and not embarrassing."
In short order last year, Panamax turned out "El vacilon" (with Videocine) and "La mujer de mi hermano" (with Lionsgate), each of which cost a pittance (around $200,000) and grossed about $3 million.
While "Padre Nuestro" (which cost $3 million) is decidedly arty, Panamax is test-marketing its most commercial pic yet: "Ladron que roba a ladron," a heist film in the vein of "The Italian Job," but with a Latino twist. It was written by JoJo Hendricksen and directed by Joe Menendez.
The film boasts, McNamara said, one of the biggest casts ever for a Spanish-language movie and toplines some of the biggest Latino stars around, including Fernando Colunga and Gabriel Soto.
Lionsgate will release it on 200-300 screens in spring.
A fifth completed film marks a foray into the English-language urban action genre but targets young Latino males. "Rockaway" is the story of a special ops Latino stationed in the Mideast who learns his wife and child have been murdered back at home. He returns to clean up the neighborhood.
According to McNamara, pic features a number of hip young Latino actors, including Nick Gonzalez ("Resurrection Blvd.") and Ricardo Chavira ("Desperate Housewives") and the music of the Mexican hip-hop group Akwid.
There have been a couple of attempts to serve the Hispanic cinemagoing public in the past few years; Arenas and Latin Universe come to mind, but neither went far. McNamara boasts several advantages over would-be competitors.
For one thing, he's had no one to answer to so far with regard to his business and creative choices, since he's spent his own rather than other people's money.
"I have made mistakes, not realizing fully how different the film biz is from TV, but I've learned from them," he said.
For another, his relationships with Hollywood and Spanish-language execs and talent are deep -- so much so that he's been rumored as a potential CEO at Univision once the new ownership there starts sorting out the management. (Latest word, though, is that Univision is looking at high-profile Hispanic politicos to play a role at the broadcaster. McNamara wouldn't comment.)
As for his Hollywood connections, McNamara's longstanding relationship with Lionsgate topper Jon Feltheimer meant the two agreed to a distribution arrangement over a salad, no lawyers involved.
Beyond this first round of moviemaking, McNamara said he'd like to take Panamax to a new level.
That would mean finding outside investors to take stakes in the company and eventually expanding it into a full-fledged Spanish-language moviemaking studio in Miami, where he is based.
The name "Panamax" has several connotations, which McNamara hopes the company eventually lives up to: It conjures Miramax, it plays on Panama (where McNamara was born and raised) -- and it's a modern nautical term referring to the largest oceanliners that can fit through the Panama Canal.
http://www.variety.com/article/VR1117957626.html?categoryid=2470&cs=1
Sundance 2007
Park City '07 Interview | Christopher Zalla:
"I wanted the audience to feel like the movie could really go in any direction at any moment."
Park city coverage presented by Little Miss Sunshine for your consideration. by indieWIRE (January 21, 2007)
http://www.indiewire.com/people/2007/01/park_city_07_in_22.html
PADRE NUESTRO
by Zack Haddad
(2007-01-26)
2006, Un-rated, 105 minutes
2007 SUNDANCE DRAMATIC FEATURE COMPETITION! Illegal immigration has been a hot button issue over the past couple of years and "Padre Nuestro" capitalizes on this with a stylish, somewhat depressing film. New York can be quite a daunting place to someone who isn't used to it, so it stands to reason that an illegal alien will have an even harder time adapting to the big city.
Pedro and Juan meet in the back of a truck that is transporting illegal-aliens into New York City from Mexico. Juan only looks out for himself and it is apparent when the film opens with him stealing a large amount of money from some thugs in Mexico. Pedro is going to New York to find his father who he has never met. When they finally arrive in New York, Pedro discovers that all the contents he need to find his father, including a letter from his dead mother are missing. Alone and not knowing a word of English, Pedro is thrust upon the mean streets of the city. Juan was the one who stole Pedro's things and he find's Pedro's dad and claims he is Pedro. The film is interesting because it is both a Hispanic and an American film because it takes place in America obviously but the characters speak little English.
This is the first film from writer/director Christopher Zalla, and it is a well-crafted take on the seedy under-belly of America. I honestly can't say I know too much about the whole illegal immigration thing, but to see border patrolmen smuggle aliens into the country really floored me. It could be fictional but it makes me wonder if things like this actually do happen (and how often).
The film was shot quite well and the acting was great all across the board. The story involved a unique perspective / add-on to the mistaken identity genre which is to be respected. I did have issues with the pacing (it seemed like it took way too long for any of the bigger plot points to develop) however the ending (of the "not everything is sunshine and daisies" variety) wound up being satisfying and approproate, allowing the entire film to come together.
It will be interesting to watch the career of this director unfold, particularly because of his strong start. Let's just hope that he is able to tap into subject material as complex and complete as successfully next time.
http://www.filmthreat.com/index.php?section=reviews&Id=9690
Padre Nuestro Wins Top Sundance Honors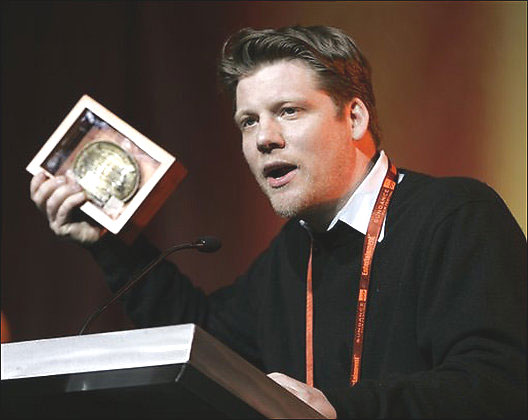 'Padre Nuestro' Wins Top Sundance Honors
By DAVID GERMAIN
The Associated Press
Sunday, January 28, 2007; 6:56 AM
PARK CITY, Utah -- Sundance Film Festival's grand-jury prize for best U.S. drama went to "Padre Nuestro," an immigrant saga about a Mexican teen's heartbreaking search for his father in America.
"Manda Bala (Send a Bullet)," another Latin American story recounting government corruption and kidnapping in Brazil, earned the grand-jury award Saturday in the U.S. documentary competition at the festival, the nation's top showcase for independent film.
"Grace Is Gone," a tear-jerker starring John Cusack as a father who takes his young daughters on a road trip to postpone breaking the news that their Army sergeant mother has been killed in Iraq, won the audience award for favorite U.S. drama as chosen by balloting among Sundance movie-goers.
Writer-director James C. Strouse won the Waldo Salt screenwriting award for "Grace Is Gone."
The U.S. audience award for documentaries went to Irene Taylor Brodsky's "Hear and Now," a portrait of her aging, deaf parents as they undergo risky surgery that could allow them to hear.
Writer-director Christopher Zalla's debut film "Padre Nuestro" is the story of a Mexican youth (Jorge Adrian Espindola) who sneaks into the United States to find the father (Jesus Ochoa) he never met, only to have his identity usurped by a conniving fellow illegal immigrant (Armando Hernandez) he meets along the way.
"Padre Nuestro" followed last year's "Quinceanera" as the second-straight Mexican-immigrant tale to win top dramatic honors at Sundance.
Jason Kohn's "Manda Bala" connects such disparate elements as a frog farm used as a front for money-laundering and a plastic surgeon who works on mutilated kidnap victims to capture the violence pervading life in Brazil.
"Manda Bala" also won the documentary cinematography prize for Heloisa Passos.
The jury prize for world cinema was awarded to the Israeli film "Sweet Mud," director Dror Shaul's narrative of a boy coping with his mother's mental illness on a kibbutz in the 1970s.
The Danish film "Enemies of Happiness," Eva Mulvad and Anja Al Erhayem's study of an Afghan woman who bucks patriarchal tradition and runs in her country's 2005 parliamentary election, won the documentary jury prize for world cinema.
The audience award winners for world cinema were given to John Carney's "Once," a drama about an Irish street musician who forges an unusual personal and musical kinship with a Czech woman, and David Sington's British documentary "In the Shadow of the Moon," a chronicle of the Apollo space program.
The U.S. dramatic jury, which included actress Sarah Polley and director Catherine Hardwicke, gave two special acting prizes to Jess Weixler "for a juicy and jaw-dropping performance" as a young woman equipped with a lethal genital mutation in the horror comedy "Teeth"; and Tamara Podemski "for a fully realized physical and emotional turn" as an American Indian whose carefree lifestyle leads her to the brink of tragedy in "Four Sheets to the Wind."
The U.S. documentary jury, which included filmmakers Alan Berliner and Carlos Sandoval, presented a special prize to director Charles Ferguson's "No End in Sight," a study of the Bush administration's handling of the Iraq war. The jury called it a "timely work that clearly illuminates the misguided policy decisions that have led to the catastrophic quagmire of the U.S. invasion and occupation of Iraq."
Among other Sundance honors:
_ Directing, U.S. drama: Jeffrey Blitz, "Rocket Science."
_ Directing, U.S. documentary: Sean Fine and Andrea Nix Fine, "War/Dance."
_ Cinematography, U.S. drama: Benoit Debie, "Joshua."
_ Editing, U.S. documentary: Hibah Sherif Frisina, Charlton McMillan and Michael Schweitzer, "Nanking."
_ Special jury prize for singularity of vision, U.S. drama: Chris Smith, director, "The Pool."
_ Special jury prize, world-cinema dramatic competition: "The Legacy," Gela Babluani and Temur Babluani, directors.
_ Special jury prize, world-cinema documentary competition: "Hot House," Shimon Dotan, director.
_ Alfred P. Sloan Prize for ideas and issues in science and technology: "Dark Matter," Chen Shi-Zheng, director.
_ Jury prize, U.S. short films: "Everything Will Be OK," Don Hertzfeldt, director.
_ Jury prize, international short films: "The Tube With a Hat," Radu Jude, director.
http://www.washingtonpost.com/
More Sundance Information:
http://www.flyingsnail.com/200701.html
---
Sundance 2007
Chicago 10 Gives Power to the People
I was still a twinkle in my mother's eye when 16,000 Yippies descended upon Chicago for a weeklong anti-war demonstration at the 1968 Democratic National Convention. And though the protests and the subsequent criminal trial of eight organizers arguably sparked a sea-change in both the attitudes and political awareness of America's youth, it was washed over in the history textbooks of my high-school days. Thus - and I'm sure I'm not alone here - Brett Morgen's documentary Chicago 10 was my first real experience of this seminal event. I left the screening last night shocked (did they really bind and gag Black Panther Bobby Seale during the court proceedings?), entertained (activist Abbie Hoffman spewed some seriously hilarious lines), and roused (eternal vigilance is the price of liberty afterall).
Like the movie's protagonists, Morgen's filmic style spurns the traditional and is yes, a wee bit anti-establishment. Sure, he uses archival footage to great effect (one scene depicts hundreds of protesters singing, 'This Land is Your Land' to rows of gun-toting pigs). And of course he logged the requisite hours of painful research (sifting through 23,000 pages of court documents and unearthing priceless radio transcripts between Hoffman and a WBAI announcer). But gone are the talking heads, the omniscient narrator, and the sleepy instrumental soundtrack (instead, say hello to Eminem and the Beasties). Chicago 10 screens like a dramatic feature hopped up on cartoons. My least favorite technique used in much doc film work is the 'reenactment' – those painful clips in which actors donned in period garb act out past events. In all but the deftest of hands, they come off staged, stiff, and cheesy. Morgen came up with a brilliant workaround that really captured the circus-like atmosphere of the proceedings. His reenactment of the court trial is animated. First he filmed actors (including Nick Nolte, Liev Schreiber, and Mark Ruffalo) with motion-capture cameras role-playing the events of the trial, then animated the live-action footage. It's the same technique used in Polar Express, but the result here is an absolutely exuberant rendition of the past. You're instantly engaged and never left thinking – that doesn't look like Abbie Hoffman. You give yourself over to the toon.
The first public screening of the film at the Eccles Theater (Sundance's largest venue) prompted a standing ovation. Bravo Brett – All Power to the People!
Source: http://blog.wired.com/tableofmalcontents/2007/01/sundance_2007_c.html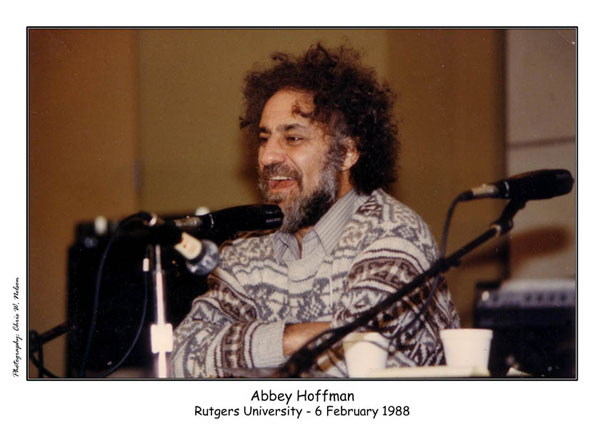 Photograph by Chris Nelson
The Parts Left Out of 'Chicago 10'
by Paul Krassner
In 1967, Abbie Hoffman, his wife Anita and I took a work-vacation in Florida, renting a little house on stilts in Ramrod Key. We had planned to see 'The Professionals.' 'That's my favorite movie,' Abbie said. 'Burt Lancaster and Lee Marvin develop this tight bond while they're both fighting in the Mexican revolution, then they drift apart.' But it was playing too far away, and a hurricane was brewing, so instead we saw the Dino Di Laurentiis version of 'The Bible.' Driving home in the rain and wind, we debated the implications of Abraham being prepared to slay his son because God told him to. I dismissed this as blind obedience. Abbie praised it as revolutionary trust.
This was the week before Christmas. We had bought a small tree and spray-painted it with canned snow. Now, we were tripping on LSD as the hurricane reached full force. 'Hey,' Abbie yelled over the roar, 'this is powerful [bleepin'] acid!' We watched Lyndon Johnson on a black-and-white TV set, although LBJ was purple-and-orange. His huge head was sculpted into Mount Rushmore. 'I am not going to be so pudding-headed as to stop our half of the war,' he was saying, and the heads of the other presidents were all snickering to themselves and covering their mouths with their hands so they wouldn't laugh out loud. This was the precise moment we acknowledged that we'd be going to the Democratic convention in August to protest the Vietnam war. I called Jerry Rubin in New York to arrange for a meeting.
On the afternoon of December 31, several activist friends gathered at the Hoffmans' Lower East Side apartment, smoking Colombian marijuana and planning for Chicago. Our fantasy was to counter the convention of death with a festival of life. While the Democrats would present politicians giving speeches at the convention center, we would present rock bands playing in the park. There would be booths with information about drugs and alternatives to the draft.
We sought to utilize the media as an organizing tool, but we needed a name so that journalists could have a 'who' for their 'who-what-when-where-and-why' lead paragraph. An appropriate word to signify the radicalization of hippies. I came up with Yippie as a label for a phenomenon that already existed, an organic coalition of psychedelic hippies and political activists. In the process of cross-fertilization at antiwar demonstrations, we had come to share an awareness that there was a linear connection between putting kids in prison for smoking pot in this country and burning them to death with napalm on the other side of the planet. It was the ultimate extension of dehumanization.
And so we held a press conference. A reporter asked me, 'What happens to the Yippies when the Vietnam war ends?' I replied, 'We'll do what the March of Dimes did when a cure for polio was discovered; we'll just switch to birth defects.' But our nefarious scheme worked. The headline in the Chicago Sun-Times read, 'Yipes! The Yippies Are Coming!' What would later happen at the convention led to the infamous trial for crossing state lines to foment riot. As an unindicted co-conspirator, I felt like a disc jockey who hadn't been offered payola.
Flash ahead to 2005. I got a call from director Brett Morgen, who was working on a documentary about the 1960s antiwar movement. It would have no narrator and no talking heads, only archival footage and animated re-enactments based on actual events and transcriptions of trial testimony. However, Allen Ginsberg levitating during meditation can be construed as cartoonic license. Brett invited me to write four specific animated scenes:
1. 'Birth of the Yippies': This would include the hurricane, the meeting and the press conference. Excerpt: '[The house is shaking mightily on its stilts. ABBIE, ANITA and PAUL are looking out the window through wildly waving curtains as the house feels like it will be swept away. Books are falling off the shelf. Newspapers are swirling around the room.] ABBIE [screaming]: This whole house is gonna blow straight out to Cuba! [lightning strikes] We're coming, Fidel! [sound of thunder] Sock it to us, God!'
2. 'Got Permit?': We meet with Chicago deputy mayor David Stahl, attempting to get a permit for the revolution...oops, I mean permits to sleep in the park, set up a sound system and march to the convention center. Excerpt: 'STAHL: C'mon, tell me, what do you guys REALLY plan to do in Chicago? PAUL: Did you ever see that movie, 'Wild in the Streets'? [A thought balloon shows the image of a group of teenagers dumping LSD into the water supply.] STAHL: 'Wild in the Streets'? We've seen 'Battle of Algiers.' [A thought balloon shows the image of a guerrilla woman, fully covered except for her eyes, planting a bomb in a cafe.]' What would occur in Chicago that summer, then, is a clash between *our* mythology and *their* mythology.
(The Chicago Tribune later reported that Bob Pierson--a police provocateur disguised as a biker and acting as Jerry's bodyguard--was 'in the group which lowered an American flag' in Grant Park, the incident which set off what 'The Walker Report: Rights in Conflict' would describe as 'a police riot.' Pierson wrote in Official Detective magazine, 'I joined in the chants and taunts against the police and provoked them into hitting me with their clubs. They didn't know who I was, but they did know that I had called them names and struck them with one or more weapons.')
3. 'Acid Testimony': I decide to take a tab of LSD at lunch before testifying--call me a sentimental fool--but why? 'PAUL: To enhance the experience. No, actually, because I wanna throw up in court. I've learned that if I drop acid with a big meal, it always makes me vomit. That way, I don't have to memorize all those dates and places. And it'll be my theatrical statement on the injustice of the trial.' Abbie was furious and stopped speaking to me. Ten months later, I mailed him a movie ad for 'The Professionals,' which resulted in a reconciliation.
4. 'Women's Liberation': The purpose of this scene, taking place at the feminist protest of the Miss America Pageant in Atlantic City, is summed up by former Yippie Robin Morgan: 'ROBIN: And so we say goodbye to the male-dominated peace movement. Women will no longer serve as their second-class comrades. No more working hard behind the scenes while the male superstars do all the grandstanding and get all the credit and achieve all the notoriety. No more playing a critical role in building a movement but then being denied access to the policy-making process.'
Although Brett 'loved, loved, loved' the scenes I wrote, the backers objected to the use of LSD, fearful of diverting attention from the main focus of the film. I was disappointed, if only for the sake of countercultural history. The CIA originally envisioned employing LSD as a means of control; instead, for millions of young people, LSD served as a vehicle to explore their own inner space, deprogramming themselves from mainstream culture and living their alternative. The CIA's scenario had backfired. Anyway, my suggestion--instead of referring to it as acid, Abbie could yell, 'Hey, this is powerful [bleepin'] aspirin'--was rejected.
Thus, the hurricane, which was originally going to open the film, has been omitted from the film, but of course it'll be on the DVD. My 'threat' in the 'Got Permit?' scene that the Yippies would pour LSD into the reservoir, and the entire 'Acid Testimony' scene, are also out. Unfortunately, the 'Women's Liberation' scene isn't included because of time restraints. Ironically, I was supposed to do the voice for my own animated character, but Abbie's son, Andrew, had auditioned to do his father's voice, and though he sounds eerily like him, he couldn't act, so it was decided to hire actors to do *all* the voices.
In an interview during the trial, Abbie said, 'We don't wanna be martyrs. We wanna live to see the overthrow of the government. Be a great [bleepin'] movie.' Brett's goal isn't that ambitious, but when he called to tell me that 'Chicago 10' had been selected to open the Sundance Film Festival, he said, 'Wouldn't it be great if Abbie's legacy turns out to be that he helped to end the war in Iraq?'
I hadn't seen any of the rough cuts and didn't know what to expect at the festival screening. Well, I loved, loved, loved it. Brett got a standing ovation. Although he was born two months after the protests in Chicago, he has managed--with the determination of a salmon swimming upstream to spawn, aided by 180 hours of film, 50 hours of video, 500 hours of audio and 23,000 pages of trial transcripts--to reveal in this unique neodoc, the horror and the humor, the rhetoric and the reality, of those events and their aftermath, in a style and rhythm calculated to resonate with--and inspire--contemporary youth.
Yippie organizer Jim Fouratt said it 'excites the imagination.' Nick Nolte, who does the voice of prosecutor Thomas Foran, asked defendant Tom Hayden for his reaction. 'I think that Brett authentically and brilliantly captured the experiences and the feelings of what we were going through,' Hayden replied. Then, turning to Brett, he added, 'So thank you for the next generation from our generation.'
Structurally, the film alternates between the action in the streets and the progress of the trial, with the utterly shocking imagery of defendant Bobby Seale, national chairman of the Black Panther Party, being bound, gagged and shackled to his courtroom chair for insisting on his constitutional right to represent himself after being turned down by the Elmer-Fudd-like Judge Julius Hoffman.
I would've liked to see Dick Gregory's fervent recitation of the preamble to the Declaration of Independence at an unbirthday party for LBJ, but I'm grateful for the inclusion of defendant David Dellinger saying 'The power of the people is our permit' at the start of the march from the bandstand to the Amphitheater. And I would've liked to hear Phil Ochs' song, 'I Ain't Marchin' Anymore,' as the background music for that march, but I appreciate the use of Eminem's rap, 'Mosh,' as accompaniment instead.
In fact, Brett had wanted to call the film 'Mosh,' but 'Chicago 10' encompasses the eight defendants plus attorneys William Kunstler and Leonard Weinglass. Whatever the title, though Sundance may be a long way from Ramrod Key, the spirit of Yippie lingers on.
-------------
Paul Krassner is the author of 'One Hand Jerking: Reports From an Investigative Satirist' and publisher of the Disneyland Memorial Orgy poster.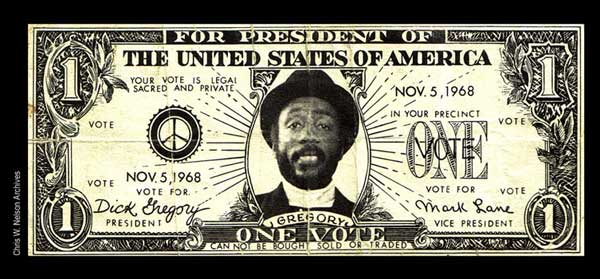 Photograph by Chris Nelson
Sundance 2007
Redford demands apology over Iraq
Hollywood legend Robert Redford has called on US leaders to apologise for the war in Iraq.
The actor was speaking at the start of the Sundance Film Festival in Utah, where the opening movie recalled protests over the Vietnam war in 1968.
Redford said he, like many others, had shown a "spirit of unity" with the US government after 11 September 2001.
"We put all our concerns on hold to let the leaders lead," he said. "I think we're owed a big, massive apology."
The actor, whose Sundance Institute for independent film runs the annual festival, usually steers clear of political messages in his opening speech.
Festival opener Chicago 10 recounts the demonstrations surrounding 1968's Democratic National Convention, which saw protestors clash with the National Guard.
Using a cutting-edge blend of historical footage and animation, director Brett Morgen's film examines the trial of the famed "Chicago Seven," who were convicted of inciting riots.
Morgen, who took the stage to a standing ovation after the screening, said one of his goals in making the film was to "mobilise the youth in the country to get out and stop this war".
His film is one of many referencing the Iraq conflict at this year's Sundance festival.
Ghosts of Abu Ghraib deals with the abuses that occurred in an Iraqi prison in 2003, while No End In Sight is an examination of the Bush administration's conduct in the country.
Taboos broken
The programme for the festival has attracted controversy with the inclusion of films that include shocking sexual content.
A documentary called Zoo deals with the practice of bestiality.
And the dark drama Hounddog portrays the rape of a young girl, played by 12-year-old actress Dakota Fanning.
"Those are issues that are on the table, whether you want to face them or not," said Redford.
"If you don't expose these things, if you don't put the light on them, then they could get worse."
But the event also features many films with a more uplifting feel.
The Good Life, from writer and director Steve Berra, tells of a young man running an old cinema in a small town.
Padre Nuestro is about a young man who meets up with a group of illegal immigrants heading from Mexico to New York after he chooses to flee his criminal past.
More than 120 films will be screened throughout the 10-day festival, which ends on 28 January.
http://news.bbc.co.uk/1/hi/entertainment/6278127.stm
View of US's global role 'worse'
The view of the US's role in the world has deteriorated both internationally and domestically, a BBC poll suggests. [Continue Reading Complete Article at]:
http://news.bbc.co.uk/1/hi/world/americas/6286755.stm
Track this article at Tailrank:
http://tailrank.com/1132641/View-of-US-s-global-role-worse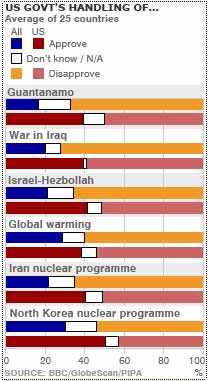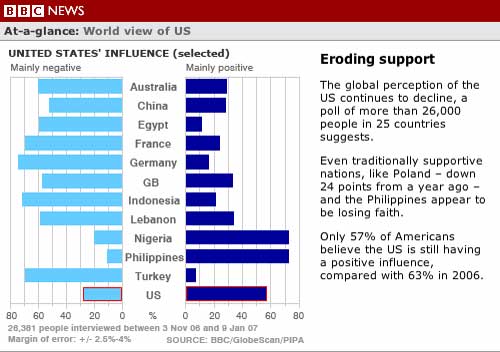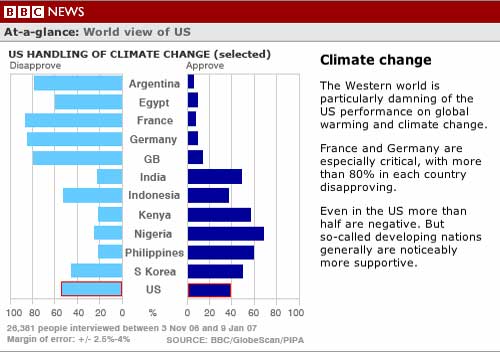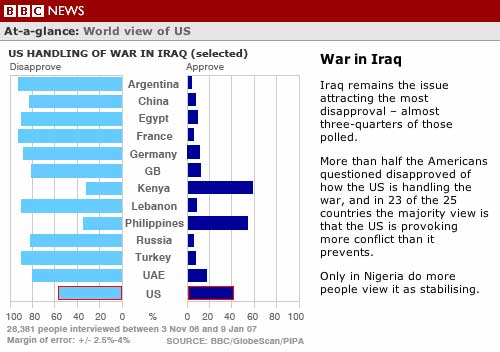 GOP Debate - February 16, 2000
Trusting the Man ?
A John McCain and George Bush News Flashback
I used to admire John McCain because I served honorably in the military, but now I am not sure I trust him.
What started doubts were brutal attacks launched by the GOP on Mr. McCain and his family during the 2000 Presidential election.
If someone attacked my family, like the GOP attacked McCain, I would never trust them and would have switched to Independent to 'carry on';that is, unless my ego was so big that I would do anything to become "Commander In Chief"; including licking the boots of Chickenhawks.
We live in very dangerous times and I believe re-reading the words of the following debate to be worthwhile. Posted by: ~@~ 20070121 12:30:00 EST
PBS Online NewsHour
LARRY KING: We'll start with governor Bush. What area of American international policy would you change immediately as president?
GOV. GEORGE W. BUSH: Our relationship with china. The current President has called the relationship with china "strategic partnership." I believe our relationship needs to be redefined as one of competitor. Competitors can find areas of agreement, but we must make it clear to the Chinese that we don't appreciate any attempt to spread weapons of mass destruction around the world, and we don't appreciate any threats to our friends and allies in the far east. This President is one who went to China, and ignored our friends and allies in Tokyo and Seoul. He sent a chilling signal about the definition of friendship. When I become the president, I am going to strengthen our alliances in the Far East. I am going to work with the Russians to get rid of the Anti-Ballistic Missile treaty so that we can bring certainty into an uncertain part of the world, and that's the far east, as well. We must say to people in that part of the world, "don't threaten our friends, don't threaten our allies." So I am going to change the relationship.
LARRY KING: And you're going to let them know?
GOV. GEORGE W. BUSH: Of course I'm going to let them know. That's what a president does, a president lets them know.
LARRY KING: Ambassador Keyes, what would you change?
ALAN KEYES: I think the first thing I'd want to do is restore respect for the national sovereignty of this country...
LARRY KING: By?
ALAN KEYES: I was very much in disagreement with our entry into the world trade organization. I think we gave away a portion of our sovereignty that we should never have surrendered to an unrepresentative body that can make decisions, according to that treaty, that would have direct effect on the lives of Americans. It violates the fundamental principle of our way of life: No legislation without representation, representative government. I want to see us withdraw from the world trade organization and put our approach to trade back on a footing that maximizes the results that we get for the American people.
LARRY KING: Senator?
SEN. JOHN McCAIN: China is obviously a place where this... One of the signal failures of this administration, although there are certainly many failures throughout the world. But I would also look very... Revise our policies concerning these rogue states-- Iraq, Libya, North Korea-- those countries that continue to try to acquire weapons of mass destruction and the means to deliver them.
LARRY KING: And you'd do what?
SEN. JOHN McCAIN: As long... I'd institute a policy that I call "rogue state rollback." I would arm, train, equip, both from without and from within, forces that would eventually overthrow the governments and install free and democratically- elected governments. As long as Saddam Hussein is in power, I am convinced that he will pose a threat to our security.
LARRY KING: Governor...
GOV. GEORGE W. BUSH: Yes.
LARRY KING: ...In what occasion could you describe where you would use arms?
GOV. GEORGE W. BUSH: When it's in our national strategic interests. Europe is in our national strategic interest. The Far East is in our national strategic interest. Our own hemisphere is in our national strategic interests. The Middle East, protecting Israel is in our national security interest. I'll give you one clear example in our own hemisphere. If, for whatever reason, somebody tries to block passage to the Panama Canal, as President of the United States, I will make sure the Panama Canal remains open for trade and our interest is to have a hemisphere that is peaceful and open to trade.
LARRY KING: What if it wasn't. What if it was a moral question? Senator?
SEN. JOHN McCAIN: Actually, it's not that simple because we are driven by principles. There are times when our principles and our values are so offended that we have to do what we can to resolve a terrible situation. If Rwanda again became a scene of horrible genocide, if there was a way that the United States could stop that and beneficially affect the situation... By the way, we couldn't in Haiti. We sent 20,000 troops and spent $2 billion, and Haiti is arguably worse off. Obviously, it's the last resort. But we can never say that a nation driven by Judeo-Christian principles will only intervene where our interests are threatened, because we also have values, and those values are very important. I'm not interrupting you, Alan. So I think that it's important that we always have some complex challenges as to where we must intervene, because sometimes we find that if genocide is allowed, the consequences of inaction later on in history are far more severe.
ALAN KEYES: I think basically we have to send a message to the rest of world that we will not be stepping in to intervene into the affairs of other countries on any kind of routine basis unless the level of atrocity is so clear that it justifies violating that principle of non-aggression for the sake of which we have sacrificed tens of thousands of lives. And I think it would be irresponsible to do what Clinton, in fact, has done, and take us on a road of interventionism that sets that threshold so low that I think it's a threat to peace.
GOV. GEORGE W. BUSH: Yeah, I think there needs to be a clear statement of when and if we'll commit troops. I worry about Rwanda. I didn't like what went on in Rwanda, but I don't think we should commit troops to Rwanda, nor do I think we ought to try to be the peace-keepers all around the world. I intend to tell our allies that America will help make the peace, but you get the troops on the ground to keep warring parties apart. One of the reasons we have such low morale in the military today is because we're over deployed and under trained.
LARRY KING: Move to another area. Sort of a man on the sidelines. We'll ask you. Do you think this has been a dirty campaign, Alan?
ALAN KEYES: Well, in fact, I haven't given their campaign a thought. (Laughter) I will confess, I spend too much time thinking about the moral crisis of this country, the priorities this nation needs to address, moving back...
LARRY KING: So you have no opinion?
ALAN KEYES: ...To its basic moral principles. I have a positive message of my own. I concentrate on that message, because I think it's of vital importance to this country. I frankly believe that you spend all this time beating up on somebody else because you don't have that much to say yourself. I have too much to say of a positive nature about the future of this country to worry about beating up on my opponents, except when specific issues require that we call attention to differences.
LARRY KING: All right, Governor, what do you make of all these past two weeks, the charges and counter- charges? You go, and then the Senator.
GOV. GEORGE W. BUSH: Well, it's kind of politics, and John and I shook hands and we said we weren't going to run ads, and I kind of smiled my way through the early primaries and got defined. I'm not going to let it happen again. And we shook hands, and unfortunately he ran an ad that equated me to Bill Clinton. He questioned my trustworthiness.
LARRY KING: Are you saying he broke the agreement with you?
GOV. GEORGE W. BUSH: No, I'm just saying you can disagree on issues... We'll debate issues. But whatever you do, don't equate my integrity and trustworthiness to Bill Clinton. That's about as low a blow as you can give in a Republican primary. (Applause)
LARRY KING: That's what got you mad to sort of fight back?
GOV. GEORGE W. BUSH: Well, I stand by my ads.
LARRY KING: Senator McCain, did you break a promise?
SEN. JOHN McCAIN: Well, let me tell you what happened. There was an ad run against me. We ran a counter-ad in New Hampshire. Governor Bush took the ad down. But let me tell you what really went over the line. Governor Bush had an event and he paid for it, and stood next to a spokesman for a fringe veterans group. That fringe veteran said that John McCain had abandoned the veterans. Now, I don't know how, if you can understand this, George, but that really hurts.
GOV. GEORGE W. BUSH: Yeah.
SEN. JOHN McCAIN: That really hurts. And so five United States Senators, Vietnam veterans, heroes, some of them really incredible heroes, wrote George a letter and said, "apologize."
GOV. GEORGE W. BUSH: Let me...
SEN. JOHN McCAIN: You should be ashamed.
GOV. GEORGE W. BUSH: Yeah, let me speak to that.
SEN. JOHN McCAIN: You should be ashamed. Now, if you want to hear...
LARRY KING: Is he responsible for what someone else says?
SEN. JOHN McCAIN: Well, this same man... He stood next to him, it was his event... This same man had attacked his father viciously.
GOV. GEORGE W. BUSH: John, I believe that you served our country nobly, and I've said it over and over again. That man wasn't speaking for me. He may have a dispute with you...
SEN. JOHN McCAIN: He was at your event.
GOV. GEORGE W. BUSH: Let me finish, please. Please.
SEN. JOHN McCAIN: He's listed as your--
GOV. GEORGE W. BUSH: let me finish. Let me finish. (Laughter)
LARRY KING: Let him finish.
GOV. GEORGE W. BUSH: The man was not speaking for me. If you want to know my opinion about you, John, you served our country admirably and strongly, and I am proud of your record just like you are. And I don't appreciate what he said about my dad either.
SEN. JOHN McCAIN: You paid for an event... (Applause) ...You paid for an event and stood next to a person. And when you were asked if you would repudiate him, you said, "no."
GOV. GEORGE W. BUSH: No, John, what I said... What I said... Let me say what I said...
SEN. JOHN McCAIN: Let me tell you what happened after that...
LARRY KING: But I want Alan to give me one thing. If you have a surrogate making a speech for you today, are you responsible for what he says?
ALAN KEYES: I... I really am sitting here wondering, because I said we were going out to 202 countries. And is this kind of pointless squabbling really what we want them to see? (Applause) We're talking about electing the President of the United States; it seems to me, we could let their ad people get in the back room and fight it out and let the American people hear what they've got...
SEN. JOHN McCAIN: Let me just finish up, okay?
GOV. GEORGE W. BUSH: Let me say one thing about all this business, John.
SEN. JOHN McCAIN: I told you, I pulled them all down.
GOV. GEORGE W. BUSH: You didn't pull this ad.
SEN. JOHN McCAIN: Yes I did.
GOV. GEORGE W. BUSH: This, that ended up in a man's windshield yesterday. It questions my... This is an attack piece.
SEN. JOHN McCAIN: That is not by my campaign.
GOV. GEORGE W. BUSH: Well, it says paid for by John McCain. (Laughter)
SEN. JOHN McCAIN: that is not by my campaign.
GOV. GEORGE W. BUSH: Well then, somebody's putting stuff out -
SEN. JOHN McCAIN: I called that off.
GOV. GEORGE W. BUSH: I agree with you.
SEN. JOHN McCAIN: ..But you're putting out stuff that is unbelievable, George, and it's got to stop. And your answer's got to stop.
LARRY KING: Well, let me put... Il end it now. Are you going to pull anything?
GOV. GEORGE W. BUSH: I'm going to see about what I'm putting on TV. And what I put on TV was looking in that camera and saying, "you can disagree with me on issues, John, but do not question... do not question my trustworthiness, and do not compare me to Bill Clinton." .
LARRY KING: We want to thank Senator McCain, Ambassador Keyes and Governor Bush. Thank you very much for joining us. Good night.
Listen to the above using realaudio:
http://media.pbs.org/ramgen/newshour/2000/02/16/gop_debate.rm?altplay=gop_debate.rm
Source: http://www.pbs.org/newshour/bb/politics/jan-june00/sc_debate_2-16.html
Bloggers Who Criticize Government May Face Prison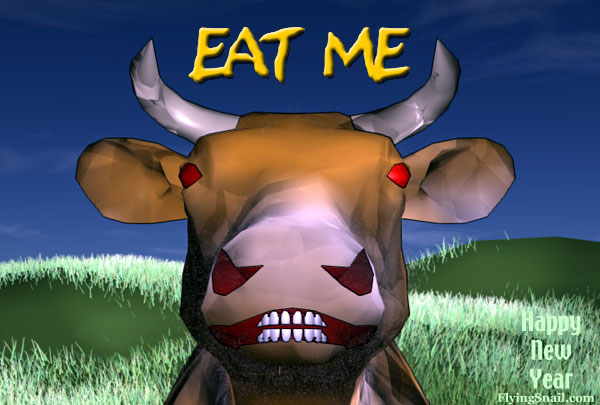 Bill would allow rounding up and imprisoning of non-registered political writers
Steve Watson
Infowars.net
Thursday, January 18, 2007
You'd be forgiven for thinking that it was some new restriction on free speech in Communist China. But it isn't. The U.S. Government wants to force bloggers and online grassroots activists to register and regularly report their activities to Congress in the latest astounding attack on the internet and the First Amendment.
Richard A. Viguerie, Chairman of GrassrootsFreedom.com, a website dedicated to fighting efforts to silence grassroots movements, states:
"Section 220 of S. 1, the lobbying reform bill currently before the Senate, would require grassroots causes, even bloggers, who communicate to 500 or more members of the public on policy matters, to register and report quarterly to Congress the same as the big K Street lobbyists. Section 220 would amend existing lobbying reporting law by creating the most expansive intrusion on First Amendment rights ever. For the first time in history, critics of Congress will need to register and report with Congress itself."
In other words Nancy Pelosi and the Democrats may redefine the meaning of lobbying in order that political communications to and even between citizens falls under the same legislation.
Under current law any 'lobbyist" who 'knowingly and willingly fails to file or report." quarterly to the government faces criminal charges including a possible jail term of up to one year.
The amendment is currently on hold.
This latest attack on bloggers comes hot on the heels of Republican Senator John McCain's proposal to introduce legislation that would fine blogs up to $300,000 for offensive statements, photos and videos posted by visitors on comment boards.
McCain's proposal is presented under the banner of saving children from sexual predators and encourages informants to shop website owners to the National Center for Missing and Exploited Children, who then pass the information on to the relevant police authorities.
Despite a total lack of any evidence that children are being victimized en mass by bloggers or people who leave comments on blog sites, it seems likely that the proposal will become legislation in some form. It is well known that McCain has a distaste for his blogosphere critics, causing a definite conflict of interest where any proposal to restrict blogs on his part is concerned.
In recent months, a chorus of propaganda intended to demonize the Internet and further lead it down a path of strict control has spewed forth from numerous establishment organs:
During an appearance with his wife Barbara on Fox News last November, George Bush senior slammed Internet bloggers for creating an "adversarial and ugly climate."
- The White House's own recently de-classified strategy for "winning the war on terror" targets Internet conspiracy theories as a recruiting ground for terrorists and threatens to "diminish" their influence.
- The Pentagon recently announced its effort to infiltrate the Internet and propagandize for the war on terror.
- In a speech last month, Homeland Security director Michael Chertoff identified the web as a "terror training camp," through which "disaffected people living in the United States" are developing "radical ideologies and potentially violent skills." Chertoff pledged to dispatch Homeland Security agents to local police departments in order to aid in the apprehension of domestic terrorists who use the Internet as a political tool.
- A landmark legal case on behalf of the Recording Industry Association of America and other global trade organizations seeks to criminalize all Internet file sharing of any kind as copyright infringement, effectively shutting down the world wide web - and their argument is supported by the U.S. government.
- A landmark legal ruling in Sydney goes further than ever before in setting the trap door for the destruction of the Internet as we know it and the end of alternative news websites and blogs by creating the precedent that simply linking to other websites is breach of copyright and piracy.
- The European Union, led by former Stalinist and potential future British Prime Minister John Reid, has also vowed to shut down "terrorists" who use the Internet to spread propaganda.
- The EU also recently proposed legislation that would prevent users from uploading any form of video without a license.
- We have also previously exposed how moves are afoot to clamp down on internet neutrality and even to designate a highly restricted new form of the internet known as Internet 2.
Make no mistake, the internet, one of the greatest outposts of free speech ever created is under constant attack by powerful people who cannot operate within a society where information flows freely and unhindered. All these moves mimic stories we hear every week out of State Controlled Communist China, where the internet is strictly regulated and virtually exists as its own entity away from the rest of the web.
The phrases "Chinese government" and "Mao Zedong" have even been censored on China's official Web sites because they are "Sensitive phrases". Are we to allow our supposedly Democratic governments to implement the same type of restrictive policies here?
Under section 220 of the lobbying reform bill, Infowars.net could be required to seek a license in order to bring this information to you. IF we were granted a license we would then have to report our activities to the government four times per year in order to bring you this information. Does that sound more like free speech or more like totalitarianism?
Take action:
As well as calling the Senate you should go to GrassrootsFreedom.com which has a petition that you can sign against Section 220 of S. 1, the lobbying reform bill.
Paul Joseph Watson contributed to this report.
Source, Pictures, Links:
http://www.infowars.net/articles/january2007/180107Bloggers_Prison.htm
Flight ban for anti-Bush T-shirt
The Opinion Police Are Watching You
A passenger barred from a Qantas airlines flight for wearing a T-shirt depicting US President George Bush as a terrorist has threatened legal action.
Allen Jasson said he was sticking up for the principle of free speech by challenging the decision by the Australian flag carrier.
Mr Jasson was stopped as he was about to board the flight from Melbourne to London last Friday.
Qantas said the T-shirt had potential to offend other passengers.
The T-shift features an image of President George W Bush, along with the slogan "World's Number One Terrorist".
'Principle'
The 55-year-old computer specialist, who lives in London, had encountered difficulties with the same T-shirt on an earlier Qantas flight in December.
After clearing the international security checks at Melbourne Airport, he reportedly approached the gate manager to congratulate him on the company's new-found open-mindedness.
At that point, Mr Jasson was ordered to remove the T-shirt after being told it was a security threat and an item which might cause offence to other passengers.
He was offered the chance to board the flight wearing different clothing, but refused.
"I am not prepared to go without the t-shirt. I might forfeit the fare, but I have made up my mind that I would rather stand up for the principle of free speech," he told Australian media.
A Qantas spokesman defended the airline's decision, saying: "Whether made verbally or on a T-shirt, comments with the potential to offend other customers or threaten the security of a Qantas group aircraft will not be tolerated".
http://news.bbc.co.uk/2/hi/asia-pacific/6285971.stm
Track this story at Tailrank:
http://tailrank.com/1128383/Flight-ban-for-anti-Bush-T-shirt
Evil Cookies Lurking - Be Aware !
On a weekly basis I perform a number of computer maintenance tasks and this morning (200612.31), discovered a COOKIE I did not like.
Rather than get into 'what the cookie does', I will share with you, HOW TO LOCATE and ELIMINATE IT .
For years I have used Macromedia's (imo) excellent Flash Cookie Detector that goes beyond what is provided to remove cookies within Browser Preferences; however, it would appear very few know about it, so here is my New Year present for YOU: Macromedia Website Privacy Settings panel (fwiw) Macromedia is now owned by Adobe, of PhotoShop, etc. fame. [click on the following link]:
http://www.macromedia.com/support/documentation/en/flashplayer/help/settings_manager06.html
When the page comes up (Dial-up will require a few moments.) the following will appear along with an explanation, which may be confusing to some. I have provided 'what I do' instructions below.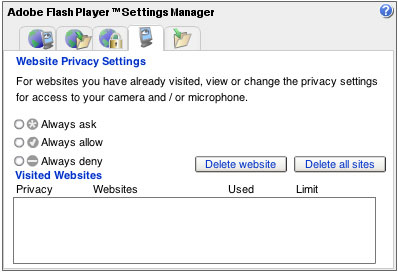 If there are COOKIES present they will appear in the [above] empty box at the bottom of the "Settings Manager."
(imo) Selecting "Delete all sites" is the best choice.
I would suggest that Anybody reading this, bookmark the above link, and use it often; especially if one visits Video based sites.
Use your Browser Preferences to remove all other COOKIES.
This cookie eliminator will work with most browsers and operating systems. ~@~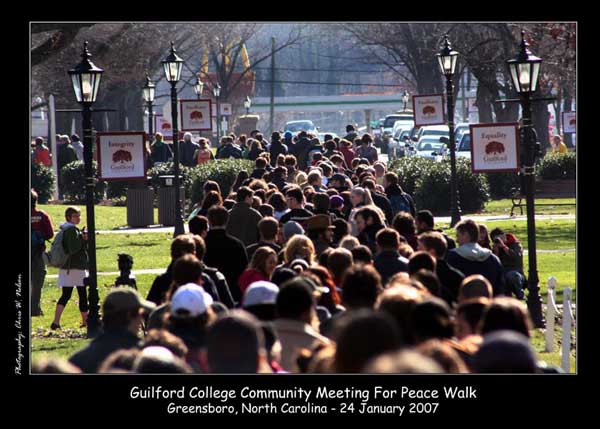 Photograph by Chris Nelson
Nobel Prize genius Crick was high on LSD
when he discovered the secret of life
Copyright 2004 Associated Newspapers Ltd. Mail on Sunday (London)
August 8, 2004
BY ALUN REES
FRANCIS CRICK, the Nobel Prize-winning father of modern genetics, was under the influence of LSD when he first deduced thedouble-helix structure of DNA nearly 50 years ago.
The abrasive and unorthodox Crick and his brilliant American co-researcher James Watson famously celebrated their eureka moment in March 1953 by running from the now legendary Cavendish Laboratory in Cambridge to the nearby Eagle pub, where they announced over pints of bitter that they had discovered the secret of life.
Crick, who died ten days ago, aged 88, later told a fellow scientist that he often used small doses of LSD then an experimental drug used in psychotherapy to boost his powers of thought. He said it was LSD, not the Eagle's warm beer, that helped him to unravel the structure of DNA, the discovery that won him the Nobel Prize.
Despite his Establishment image, Crick was a devotee of novelist Aldous Huxley, whose accounts of his experiments with LSD and another hallucinogen, mescaline, in the short stories The Doors Of Perception and Heaven And Hell became cult texts for the hippies of the Sixties and Seventies. In the late Sixties, Crick was a founder member of Soma, a legalise-cannabis group named after the drug in Huxley's novel Brave New World. He even put his name to a famous letter to The Times in 1967 calling for a reform in the drugs laws.
It was through his membership of Soma that Crick inadvertently became the inspiration for the biggest LSD manufacturing conspiracy-the world has ever seen the multimillion-pound drug factory in a remote farmhouse in Wales that was smashed by the Operation Julie raids of the late Seventies.
Crick's involvement with the gang was fleeting but crucial. The revered scientist had been invited to the Cambridge home of freewheeling American writer David Solomon a friend of hippie LSD guru Timothy Leary who had come to Britain in 1967 on a quest to discover a method for manufacturing pure THC, the active ingredient of cannabis.
It was Crick's presence in Solomon's social circle that attracted a brilliant young biochemist, Richard Kemp, who soon became a convert to the attractions of both cannabis and LSD. Kemp was recruited to the THC project in 1968, but soon afterwards devised the world's first foolproof method of producing cheap, pure LSD. Solomon and Kemp went into business, manufacturing acid in a succession of rented houses before setting up their laboratory in a cottage on a hillside near Tregaron, Carmarthenshire, in 1973. It is estimated that Kemp manufactured drugs worth Pounds 2.5 million an astonishing amount in the Seventies before police stormed the building in 1977 and seized enough pure LSD and its constituent chemicals to make two million LSD 'tabs'.
The arrest and conviction of Solomon, Kemp and a string of co-conspirators dominated the headlines for months. I was covering the case as a reporter at the time and it was then that I met Kemp's close friend, Garrod Harker, whose home had been raided by police but who had not been arrest ed. Harker told me that Kemp and his girlfriend Christine Bott by then in jail were hippie idealists who were completely uninterested in the money they were making.
They gave away thousands to pet causes such as the Glastonbury pop festival and the drugs charity Release.
'They have a philosophy,' Harker told me at the time. 'They believe industrial society will collapse when the oil runs out and that the answer is to change people's mindsets using acid. They believe LSD can help people to see that a return to a natural society based on self-sufficiency is the only way to save themselves.
'Dick Kemp told me he met Francis Crick at Cambridge. Crick had told him that some Cambridge academics used LSD in tiny amounts as a thinking tool, to liberate them from preconceptions and let their genius wander freely to new ideas. Crick told him he had perceived the double-helix shape while on LSD.
'It was clear that Dick Kemp was highly impressed and probably bowled over by what Crick had told him. He told me that if a man like Crick, who had gone to the heart of human existence, had used LSD, then it was worth using. Crick was certainly Dick Kemp's inspiration.' Shortly afterwards I visited Crick at his home, Golden Helix, in Cambridge.
He listened with rapt, amused attention to what I told him about the role of LSD in his Nobel Prize-winning discovery. He gave no intimation of surprise. When I had finished, he said: 'Print a word of it and I'll sue.'
http://www.maps.org/pipermail/maps_forum/2005-June/006690.html
http://www.mayanmajix.com/art1699.html
To attack Iran
A unilateral American military attack on Iran would cause incalculable harm to the United States. It would leave the U.S. isolated among the world's nations, it would expose American troops to far greater violence, and it would lay the groundwork for a severe constitutional crisis between the executive branch and an aroused Congress.
Any sensible person can see that, yet the Bush administration seems intent on provoking Iran, with hostile rhetoric, the assignment of an aircraft carrier group to the waters near Iran, and - as reported Friday by The Washington Post - a new policy of killing Iranian agents found to be aiding militias in Iraq. All this, we hope, is only a bit of saber-rattling, but even if that's the case, and the White House has no plans for an attack, it vastly increases the chances that the U.S. and Iran could accidentally stumble into a war.
There are two issues with Iran: its nuclear program and its apparent support for some Shiite factions in Iraq. It would, in theory, be easier to justify an attack on Iran based on evidence it is playing an active role in fighting against Americans, as this might conceivably lie within the bounds of the 2002 congressional resolution giving the president authority to use force in Iraq. It would be comparable to President Richard Nixon's expansion of the Vietnam War into Cambodia. And it would allow for action at any time, as opposed to the years that must elapse before the nuclear threat could materialize.
But Republicans and Democrats in Congress have warned President Bush that they will not stand by and allow such a reckless expansion of the war. We take them at their word. We hope the White House does, too; an invasion or bombardment of Iran would look to all the world like a desperate attempt to salvage the botched war in Iraq, and it would be the height of folly.
http://digg.com/politics/To_attack_Iran
Military aims to cut back on 'stop loss'
By PAULINE JELINEK, Associated Press Writer
WASHINGTON - In an action branded a backdoor draft by some critics, the military over the past several years has held tens of thousands of soldiers, sailors, airmen and Marines on the job and in war zones beyond their retirement dates or enlistment length.
It is a widely disliked practice that the Pentagon, under new Defense Secretary Robert Gates, is trying to figure out how to cut back on.
Gates has ordered that the practice — known as "stop loss" — must "be minimized." At the same time, he is looking for ways to decrease the hardship for troops and their families, recruit more people for a larger military and reassess how the active duty and reserves are used.
"It's long overdue," said Jules Lobel, vice president of the Center for Constitutional Rights and lawyer for some in the military who have challenged the policy in court.
"It has created terrible problems of morale," Lobel said last week. "It has in some cases made soldiers feel that they were duped or deceived in how they were recruited."
Gates has asked the chief of each service branch for a plan by the end of February on how they would rely less on stop loss.
The authority has been used off and on for years and was revived by all services to some extent after the attacks of Sept. 11, 2001.
As an example, the Army revived it in early 2002 to keep people with some skills or specialties deemed critical to the fight against terrorism and later used it to retain whole units, according to an Army chronology of the policy.
Pentagon officials provided no figures on how many people the policy has affected. Yet just in the Army, it is in the tens of thousands.
The Army Times newspaper reported in September that 10,000 soldiers were being held in the service at the time. That compared with 25,000 at one point in 2003, according to the account.
The Navy stopped a few hundred sailors from leaving in the year after the terrorist attacks and used the policy again after the U.S.-led invasion of Iraq in 2003.
The Marine Corps used it from January through August of 2003 and at the high point had some 3,400 active duty troops and 440 reservists held in service under the authority, said 1st Lt. Blanca E. Binstock, a spokeswoman.
The Air Force did not have statistics immediately available.
The Defense Department says the main reason for the policy is to keep units whole for deployments, regardless of whether service time is up for some individuals in the unit.
"It's based on unit cohesion," former Defense Secretary Donald H. Rumsfeld once said when a soldier questioned him about the policy during Rumsfeld's visit to the staging area in Kuwait that is used for troops going into Iraq.
"The principle is that — in the event there is something that requires a unit to be involved in, and people are in a personal situation where their time was ending — they put a stop-loss on it so cohesion is maintained," Rumsfeld said.
Rumsfeld said the policy was "something you prefer not to have to use in a perfect world." He said it was basically a sound principle and well understood among soldiers.
A half-dozen lawsuits have unsuccessfully challenged the policy. Courts have agreed that the Pentagon involuntarily can extend deployments if the president believes the practice is essential to national security.
Though families dislike the policy and some troops oppose it, others accept it as a fact of life in wartime.
Others, including lawmakers who have pushed for years for a larger military, have criticized the policy as a method for increasing the size of the force through back channels at the detriment of those who volunteered.
Reversing previous administration thinking, President Bush said last month that the military should be larger.
One of Gates' first major decisions upon replacing Rumsfeld in December was to recommend that the Army's troop strength be increased by 65,000 soldiers, to a total of 547,000 worldwide and that the Marines grow by 27,000 to 202,000.
Gates' effort to stop keeping troops in the service after their commitment expires is part of a wider effort — laid out in a Jan. 19 memo — that also ordered new incentives for those who deploy early or often or are extended.
The more widely noticed parts of that memo said Gates wants to limit involuntary mobilization for reserve forces to a year at any one time and make it a goal to limit active forces to a year deployed and two years at home base in between deployments. Most only get a year at home base now.
Source: http://news.yahoo.com/s/ap/20070129/ap_on_go_ca_st_pe/gates_troops__tours
Jan. 29, 1964: Duck and Cover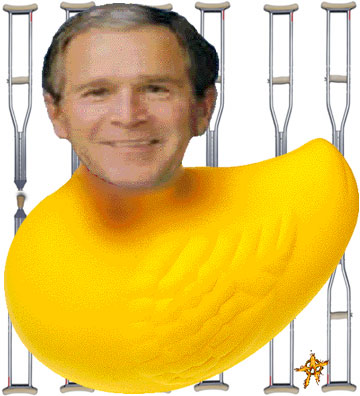 200701.29 6:07 EST
Let the Disinformation Begin CNN:
Your broadcast was propaganda and if you need an example:
Substitute N for Q and Iran for Saddam in this following:
FLASH Animation
by Haik Hoisington
http://www.BlackMustache.com/lies.html
By Tony Long
1964: Dr. Strangelove or: How I Learned to Stop Worrying and Love the Bomb makes its U.S. premiere.
Stanley Kubrick's black comedy played upon the real fears of a world terrified by the prospect of nuclear annihilation. Screenwriter Terry Southern concocted his story, loosely based on the Cold War thriller Red Alert, around the doctrine of mutual assured destruction, which guided the policymaking of the day.
[Mutual assured destruction - http://en.wikipedia.org/wiki/Mutual_assured_destruction]
In Southern's story, the off-his-rocker Gen. Jack D. Ripper, convinced that the Russians are about to unleash their "doomsday device" on the West, decides to launch an unauthorized, preemptive nuclear strike against the Soviet Union.
The bulk of Dr. Strangelove, in which Peter Sellers plays three roles, concerns the Americans' frantic efforts to recall or destroy the B-52s dispatched by the deranged Ripper. All but one are.
[Dr. Strangelove - http://www.indelibleinc.com/kubrick/films/strangelove/
A number of phrases -- "Gentlemen! You can't fight in here! This is the war room!" "... the international Communist conspiracy to sap and impurify all of our precious bodily fluids" and "Mein Fuhrer! I can walk!" -- have entered the pop culture lexicon.
The film is listed at No. 26 on the American Film Institute's "100 Years, 100 Movies."
Source: http://www.wired.com/news/technology/0,72504-0.html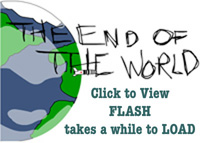 http://www.flyingsnail.com/Dahbud/endofworld.html
---
American Pie - [1972]
Don McLean
http://www.don-mclean.com/
A long, long time ago... I can still remember How that music used to make me smile. And I knew if I had my chance That I could make those people dance And, maybe, they'd be happy for a while.

But February made me shiver With every paper I'd deliver. Bad news on the doorstep; I couldn't take one more step.

I can't remember if I cried When I read about his widowed bride, But something touched me deep inside The day the music died.

So bye-bye, miss american pie. Drove my chevy to the levee, But the levee was dry. And them good old boys were drinkin' whiskey and rye Singin', "this'll be the day that I die. "this'll be the day that I die."

Did you write the book of love, And do you have faith in God above, If the Bible tells you so? Do you believe in rock 'n roll, Can music save your mortal soul, And can you teach me how to dance real slow?

Well, I know that you're in love with him `cause I saw you dancin' in the gym. You both kicked off your shoes. Man, I dig those rhythm and blues.

I was a lonely teenage broncin' buck With a pink carnation and a pickup truck, But I knew I was out of luck The day the music died.

I started singin', "bye-bye, miss american pie." Drove my chevy to the levee, But the levee was dry. Them good old boys were drinkin' whiskey and rye And singin', "this'll be the day that I die. "this'll be the day that I die."

Now for ten years we've been on our own And moss grows fat on a rollin' stone, But that's not how it used to be. When the jester sang for the king and queen, In a coat he borrowed from james dean And a voice that came from you and me,

Oh, and while the king was looking down, The jester stole his thorny crown. The courtroom was adjourned; No verdict was returned. And while lennon read a book of marx, The quartet practiced in the park, And we sang dirges in the dark The day the music died.

We were singing, "bye-bye, miss american pie." Drove my chevy to the levee, But the levee was dry. Them good old boys were drinkin' whiskey and rye And singin', "this'll be the day that I die. "this'll be the day that I die."

Helter skelter in a summer swelter. The birds flew off with a fallout shelter, Eight miles high and falling fast. It landed foul on the grass. The players tried for a forward pass, With the jester on the sidelines in a cast.

Now the half-time air was sweet perfume While the sergeants played a marching tune. We all got up to dance, Oh, but we never got the chance! `cause the players tried to take the field; The marching band refused to yield. Do you recall what was revealed The day the music died?

We started singing, "bye-bye, miss american pie." Drove my chevy to the levee, But the levee was dry. Them good old boys were drinkin' whiskey and rye And singin', "this'll be the day that I die. This'll be the day that I die."

Oh, and there we were all in one place, A generation lost in space With no time left to start again. So come on: jack be nimble, jack be quick! Jack flash sat on a candlestick Cause fire is the devil's only friend.

Oh, and as I watched him on the stage My hands were clenched in fists of rage. No angel born in hell Could break that satan's spell. And as the flames climbed high into the night To light the sacrificial rite, I saw satan laughing with delight The day the music died

He was singing, "bye-bye, miss american pie." Drove my chevy to the levee, But the levee was dry. Them good old boys were drinkin' whiskey and rye And singin', "this'll be the day that I die. "this'll be the day that I die."

I met a girl who sang the blues And I asked her for some happy news, But she just smiled and turned away. I went down to the sacred store Where I'd heard the music years before, But the man there said the music wouldn't play.

And in the streets: the children screamed, The lovers cried, and the poets dreamed. But not a word was spoken; The church bells all were broken. And the three men I admire most: The father, son, and the holy ghost, They caught the last train for the coast The day the music died.

And they were singing, "bye-bye, miss american pie." Drove my chevy to the levee, But the levee was dry. And them good old boys were drinkin' whiskey and rye Singin', "this'll be the day that I die. "this'll be the day that I die."

They were singing, "bye-bye, miss american pie." Drove my chevy to the levee, But the levee was dry. Them good old boys were drinkin' whiskey and rye Singin', "this'll be the day that I die."
With God on Our Side by Bob Dylan
Oh my name it is nothin' My age it means less The country I come from Is called the Midwest I's taught and brought up there The laws to abide And that land that I live in Has God on its side.
Oh the history books tell it They tell it so well The cavalries charged The Indians fell The cavalries charged The Indians died Oh the country was young With God on its side.
Oh the Spanish-American War had its day And the Civil War too Was soon laid away And the names of the heroes I's made to memorize With guns in their hands And God on their side.
Oh the First World War, boys It closed out its fate The reason for fighting I never got straight But I learned to accept it Accept it with pride For you don't count the dead When God's on your side.
When the Second World War Came to an end We forgave the Germans And we were friends Though they murdered six million In the ovens they fried The Germans now too Have God on their side.
I've learned to hate Russians All through my whole life If another war starts It's them we must fight To hate them and fear them To run and to hide And accept it all bravely With God on my side.
But now we got weapons Of the chemical dust If fire them we're forced to Then fire them we must One push of the button And a shot the world wide And you never ask questions When God's on your side.
In a many dark hour I've been thinkin' about this That Jesus Christ Was betrayed by a kiss But I can't think for you You'll have to decide Whether Judas Iscariot Had God on his side.
So now as I'm leavin' I'm weary as Hell The confusion I'm feelin' Ain't no tongue can tell The words fill my head And fall to the floor If God's on our side He'll stop the next war.
http://www.bobdylan.com/songs/withgod.html