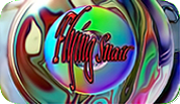 During times of universal deceit, telling the truth becomes a revolutionary act. ~ George Orwell
Sometimes people don't want to hear the truth because they don't want their illusions destroyed. ~ Nietzsche
Time for a Science (sic) Faction Review of where politicians have probably taken
U.S. and why None of the Above should be a valid choice on voter ballots ???

Robin Trower - Bridge of Sighs - BBC 1974 HD via Klaus
Throughout America's adventure in free government, our basic purposes have been to keep the peace; to foster progress in human achievement, and to enhance liberty, dignity and integrity among people and among nations. To strive for less would be unworthy of a free and religious people. Any failure traceable to arrogance, or our lack of comprehension or readiness to sacrifice would inflict upon us grievous hurt both at home and abroad. ~ Dwight D. Eisenhower

Rage Against The Machine, Beautiful World via MXJ files / Marijana X Jakelic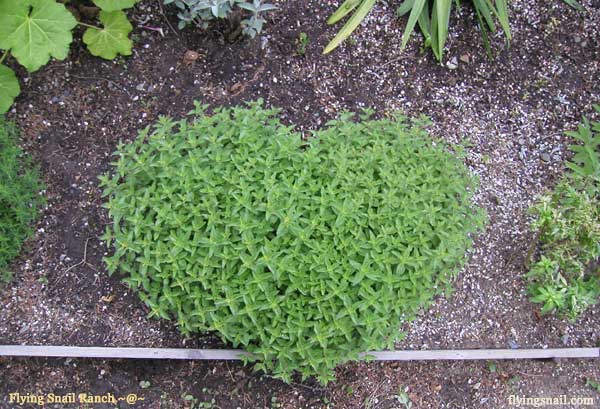 Why Not Try Love Again? by Jumpin' Jupiter
Happy Valentine's Day

Simon Hurley Quartet, My Funny Valentine via Nadir Khan
Tainted News:
The lie can be maintained only for such time as the State can shield the people from the political, economic and/or military consequences of the lie. It thus becomes vitally important for the State to use all of its powers to repress dissent, for the truth is the mortal enemy of the lie, and thus by extension, the truth becomes the greatest enemy of the State. ~ Joseph Goebbels
Tomi Lahren should fight addiction and not have to step on heroin needles to get high?

Saluting the Heroes of the Coronavirus Pandumbic The Daily Show w/Trevor Noah via Joey deVilla

Murdered by Political Incompetence?
February 27, 2020: One day it's like a miracle, it will disappear. ~ impotus
500,000
1 HALF MILLION DEAD 202102
begging the question: WAS TAINTED NEWS ACCESSORY TO MURDER ???

March 6, 2020: I like this stuff. I really get it. People are surprised that I understand it… Every one of these doctors said, 'How do you know so much about this?' Maybe I have a natural ability. Maybe I should have done that instead of running for president. ~ impotus
Forget the politicians. They are irrelevant. The politicians are put there to give you the idea that you have freedom of choice. You don't. You have no choice! You have OWNERS! They own you! They own everything. They own all the important land. They own and control the corporations. They've long since bought, and paid for the Senate, the Congress, the state houses, the city halls, they got the judges in their back pockets and they own all the big media companies, so they control just about all of the news and information you get to hear. ~ George Carlin


Eliminate voting for lesser of evils,
None of the Above should be a choice on voter ballots?
Whenever any Form of Government becomes destructive of these ends, it is the Right of the People to alter or to abolish it, and to institute new Government, laying its foundation on such principles and organizing its powers in such form, as to them shall seem most likely to effect their Safety and Happiness. ~ Declaration of Independence
Boptime ~ Saturday Mornings ~ w/Even Steven Leech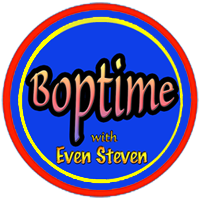 We begin with a couple of hours of oldies back to back to back beginning at 6am (EST) on Saturday's Boptime. This week's Boptime is the program that was supposed to be broadcast on February 6th but got switched. At 8am (EST) on the Heart & Soul of Delaware Rock & Roll you'll hear tunes from two premier 1970s Delaware bands: Snakegrinder and the Shredded Field Mice, and the Neon Boys that later became Television when they broke into the punk rock scene at CBGB's in New York City. After the Morrie Sims Show at around 8:30am (EST), at 9am (EST) on the Club Baby Grand we present original compositions from Clifford Brown and Lem Winchester, in most cases recorded by them as well.  ~ Steve
BOPTIME: Saturday, 6 AM Eastern, 3 AM Pacific time
Go To: http://www.wvud.org/?page_id=24
Click on a listening link below the WVUD logo:


Boptime available locally in DE on WVUD-FM 91.3, Shoutcast [Search: WVUD], and TuneIn
Karl Cohen
~ Association International du Film d'Animation, SF Newsletter
ASIFA-SF February 2021 Newsletter [PDF Format]
Boptime ~ Saturday Mornings ~ w/Even Steven Leech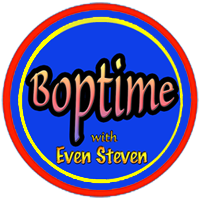 We begin with a couple of hours of oldies back to back to back beginning at 6am (EST) on Saturday's Boptime. Michael Ace is on assignment for Rockabilly Ridge at 8am (EST), leaving us all alone with many of the gals who sang rockabilly. There'll be a few familiar names, but some rockin' obscurities as well. At 9am (EST) we bop back to 1955, a Sunday, which will give us the opportunity to read a couple funnies from the Sunday morning newspaper, as well as check out the movies playing in local theaters, and of course play the hottest tunes of the day. ~ Steve
BOPTIME: Saturday, 6 AM Eastern, 3 AM Pacific time
Go To: http://www.wvud.org/?page_id=24
Click on a listening link below the WVUD logo:


Boptime available locally in DE on WVUD-FM 91.3, Shoutcast [Search: WVUD], and TuneIn
Alerts
~ Remembering Ralph Eno
"Freaky Ralph" Eno
December 6, 1948 ~ February 17, 1984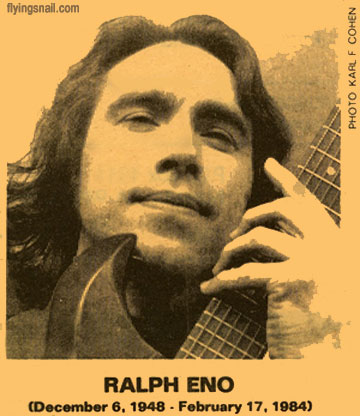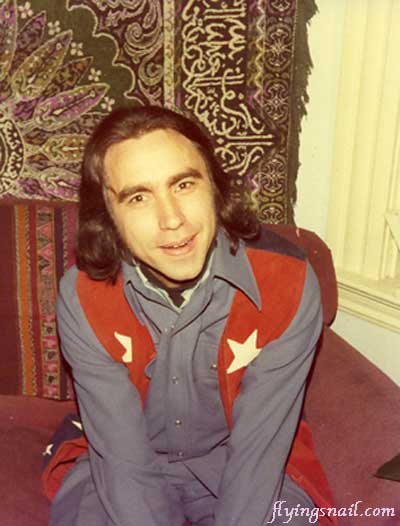 On February 17, 1984, Ralph Eno, local performer, died of burns at S. F. General.
Ralph was definitely the bull goose loony of even such an already fringy scene as San Francisco's.
In the early '70s he was the only male member of the women's theatre group Les Nickelettes, doing comedy rock when The Tubes were still the Beans.
As "Freaky" Ralph, he founded his one-man "progressive surf music" movement, several years before something called "new wave" would hit the covers of the glossy magazines. When punk started becoming a household word, he was already moving into his modem romance phase as Ral Pheno and the Twitchers, presaging the new English invasion.
When the local comedy scene (which he helped found at Frank Kidder's coffee house in the Intersection) finally achieved some viability, he was right there at the open mikes, singing the same songs he'd been performing as "straight" in his previous incarnations.
Through it all he was a courageous, sincere, and passionate stage performer, a prolific songwriter, a terrible businessman (releasing four independently produced records), a fervent supporter of every aspect of the Bay Area performing community, a bottomless well of junior high jokes, and a tremendous inspiration to every one who knew him well.
Some audiences found him hysterical, some unbearable, and a few thought him a genius. No one could write him off casually, except maybe Ralph himself.
Below are two MP3 songs written by Ralph Eno, with Jeff Ross and the Pointless Sisters that have been placed here in honor of his memory ~@~
WE'RE SNAPPING ~ http://www.flyingsnail.com/Podcast/WeAreSnapping.mp3
KISS-UP ~ http://www.flyingsnail.com/Podcast/Kiss_Up.mp3
[Note: Ralph was a very dear long time friend who I would drive, w/equipment, to his performances. I sincerely miss him and think of him often. (sigh/fwiw) Ralph poured five gallons of gas on his body, near where he worked his day job, set himself on fire, spent two (2) weeks in intensive care covered with very painful first degree burns, and died. Many prayers for you Ralph! ~@~ United State Cafe Link ~ Podcasts]
Nobody for President

~

Happy 25th Web Birthday NobodyForPresident.org

On February 17, 1996, twenty years after Nobody first ran for President:
http://www.NobodyForPresident.org/
Nobody's first page appeared at:
http://www.netvideo.com/nobody
Nobody's Songs:
http://www.nobodyforpresident.org/nobodysongs.html 
Nobody for President by Country Joe McDonald
http://www.nobodyforpresident.org/mp3/NfPcountryjoe.mp3
Nobody for President by Jim Maxwell & The Sundown Band:
http://www.nobodyforpresident.org/mp3/NobodyForPresident.mp3
Out of all choices for president, Nobody is perfect!
5. It is true. As we go through life thinking heavy thoughts, thought particles tend to get caught between the ears, causing a condition called truth decay. So be sure to use mental floss twice a day. And when you're tempted to practice tantrum yoga, remember what we teach in Swami's Absurdiveness Training class: *Don't get even, get odd.

Beethoven's 5 Secrets, OneRepublic ( Cello Cover), ThePianoGuys via mzeyimateos
Boptime ~ Saturday Mornings ~ w/Even Steven Leech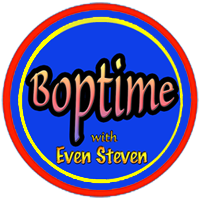 We begin with a couple of hours of oldies back to back to back beginning at 6am (EST) on Saturday's Boptime. At 8am (EST) on the Legends of Wilmington Jazz, music from Gerald Price, Wilby Fletcher, Ernie Watts, Matthew Shipp,, and the Boysie Lowery Big Band. At 9am (EST) on Clifford's Corner, Venti and Shirley from the Continettes join Larry, Kitty and yours truly with some local R&B recordings from the 1960s along with other rare and choice tunes from the same era. ~ Steve
BOPTIME: Saturday, 6 AM Eastern, 3 AM Pacific time
Go To: http://www.wvud.org/?page_id=24
Click on a listening link below the WVUD logo:


Boptime available locally in DE on WVUD-FM 91.3, Shoutcast [Search: WVUD], and TuneIn
8. There's no need to change the world. All we have to do is toilet train the world, and we'll never have to change it again.

A Love Supreme, John Coltrane via Jean CECE
Ira Cohen ~ Poet, Artist, Film Maker
Remembering Ira Cohen
February 3, 1935 ~ April 25, 2011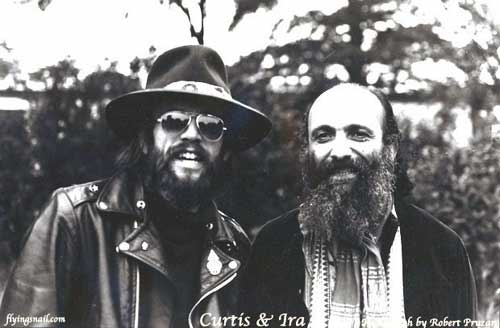 Curtis Spangler & Ira Cohen, Golden Gate Park, San Francisco, Ca ~ Photo: Robert Pruzan
Thinking About Petra Vogt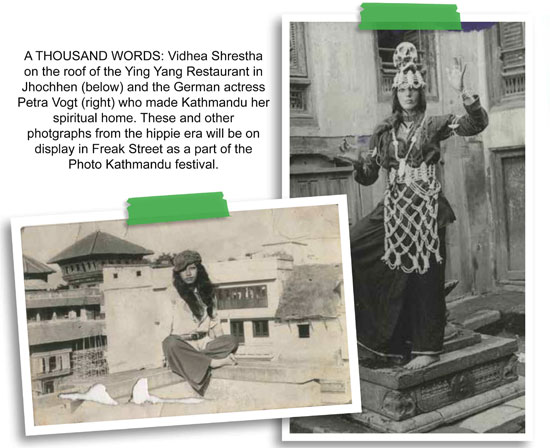 Hippinis
Lucia de Vries, October 12, 2018
https://www.nepalitimes.com/here-now/hippinis/
How two female flower children joined East and West in the streets of Kathmandu 50 years ago.
In the early 1970s, two women from very different backgrounds met in Kathmandu and became intimate friends. Both were 'hippinis' whose unique stories will be part of the Photo Kathmandu festival next four weeks. 
Petra Vogt was a German actress, model and muse, a member of the experimental Living Theater and partner of American beatnik poet and photographer Ira Cohen. Petra and Ira traveled overland to Nepal during the hippie era and settled in Kathmandu. Together with former Velvet Underground drummer Angus MacLise they published books and magazines on rice paper under the name Bardo Matrix Starstreams.
Petra acted as a model for Ira's hallucination photography, using Kathmandu of 50 years ago as the backdrop. She experimented with different art forms and created notebooks filled with visionary drawings and writings, inspiring Nepali hippies like Jimmy Thapa and Trilochan Shrestha and had a special interest in the aghori baba cult, skulls and cremation grounds. 
Ira and Petra's home in Yatkha became the hangout for itinerant bohemians to share their passions. Petra, nicknamed Cleopetra, used to organise the occasional 'Be-In' — gatherings of hippies for 'goat head soup parties' which she did not attend herself. 
Petra's friends William Forbes and Susan Burns, who still lives in Nepal, remembers her as dressed mostly in black and purple, never leaving the home without her dramatic outfits and make up.
She was a foreboding person who lived in a small world of which she was the queen," Burns remembers. 
But Petra had a softer side too, which is evident from her correspondence with friends. Among her close acquaintances was Vidhea Shrestha, a rare Nepali hippini. At various times Vidhea lived with Ira and Petra, and modelled for Ira. 
Vidhea was born into a well-to-do family in eastern Nepal and was educated in Darjeeling. With her sister, she ran a boutique in New Road catering to foreigners.
Through Petra and Ira, Vidhea met countless other artists, participating in wide-ranging discussions on every imaginable subject. 'They opened up this whole world for me,' she said in an interview with Mark Liechty, author of Far Out, Countercultural Seekers and the Tourist Encounter in Nepal. Vidhea credits Petra and Ira with showing her a world of possibilities 'that I could have never gotten from my own family or society.' 
Wearing short skirts, drinking, smoking and spending time with hippies, Vidhea broke every norm, and paid a price. 
In the late 1970s, Petra moved to India to spend time with aghori babas, and is now believed to be a nun with the Brahmakumari in Europe. Vidhea became a semi-professional jazz singer and died of cancer in 2010. Her son Yanik is a well known RJ in Kathmandu.
Petra Vogt, IMDb
In company with former Living Theatre member Petra Vogt, [3] Cohen went to the Himalayas in the 1970s where he started the Starstream poetry series under the Bardo Matrix imprint in Kathmandu, publishing the work of Charles Henri Ford, Gregory Corso, Paul Bowles and Angus Maclise. Here he developed bookmaking art, working with native craftsmen. In 1972 he spent a year in San Francisco reading and performing, and then returned to New York to mount photographic shows.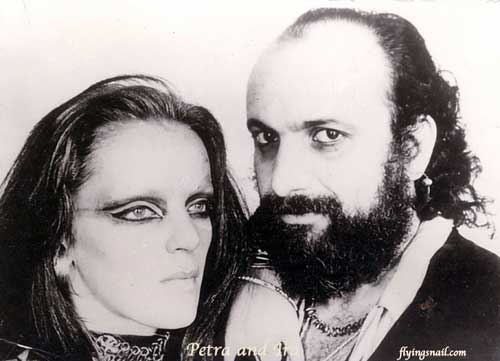 Petra Voght (Living Theater) & Ira Cohen (Wikipedia) ~ Photo: Ira Cohen
3. The most powerful tool on the planet today is Tell-A-Vision. That is where I tell a vision to you, and you tell a vision to me. That way, if we don't like the programming we're getting, we can simply change the channel.

Distant Relatives [Patience] via nabil elderkin
4. Life is like photography. You use the negative to develop.

Leningrad Cowboys, Happy Being Miserable via Leningrad Cowboys Official
6. If we want world peace, we must let go of our attachments and truly live like nomads. That's where I no mad at you, you no mad at me. That way, there'll surely be nomadness on the planet. And peace begins with each of us. A little peace here, a little peace there, pretty soon all the peaces will fit together to make one big peace everywhere.

Nothing else matters, Metallica arr. Karianne Brouwer violin, Maaike Schoenmaker cello
Boptime ~ Saturday Mornings ~ w/Even Steven Leech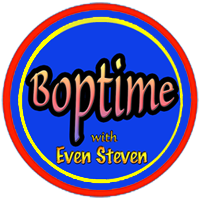 We begin with a couple of hours of oldies back to back to back beginning at 6am (EST) on Saturday's Boptime. At 8am (EST) on the Heart & Soul of Delaware Rock & Roll we'll hear from two of the premier Delaware bands of the 1970's, Snakegrinder and the Shredded Field Mice, and the Neon Boys which morphed into the punk rock band Television. The Morrie Sims Show follows at around 8:30am (EST), and then at 9am (EST) on the Club Baby Grand, we present original jazz selections composed and performed by Clifford Brown and Lem Winchester. ~ Steve
BOPTIME: Saturday, 6 AM Eastern, 3 AM Pacific time
Go To: http://www.wvud.org/?page_id=24
Click on a listening link below the WVUD logo:


Boptime available locally in DE on WVUD-FM 91.3, Shoutcast [Search: WVUD], and TuneIn
Notes from ~@~
Freedom of expression and freedom of speech aren't really important unless they're heard...It's hard for me to stay silent when I keep hearing that peace is only attainable through war. And there's nothing more scary than watching ignorance in action. So I dedicated this Emmy to all the people who feel compelled to speak out and not afraid to speak to power and won't shut up and refuse to be silenced.~ Tom Smothers

Carlin Step, DJ Steve Porter & Eli Wilkie via Roland Kardeby

The Great Bell Chant (The End of Suffering) via R Smittenaar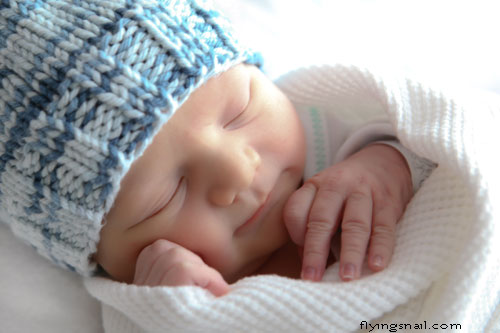 One Day, Matisyahu via ShalomLearning

Unsung Hero via Rattakarn Srithavatchai "Garn"

On the Bus, Carolyn Mountain Girl Garcia via vimeo
The Sacred Clowns ~ Heyókȟa
The Heyókȟa symbolize and portray many aspects of the sacred, the Wakȟáŋ. Their satire presents important questions by fooling around. They ask difficult questions, and say things others are too afraid to say. By reading between the lines, the audience is able to think about things not usually thought about, or to look at things in a different way.
Principally, the Heyókȟa functions both as a mirror and a teacher, using extreme behaviors to mirror others, thereby forcing them to examine their own doubts, fears, hatreds, and weaknesses. Heyókȟas also have the power to heal emotional pain; such power comes from the experience of shame--they sing of shameful events in their lives, beg for food, and live as clowns. They provoke laughter in distressing situations of despair and provoke fear and chaos when people feel complacent and overly secure, to keep them from taking themselves too seriously or believing they are more powerful than they are.
In addition, sacred clowns serve an important role in shaping tribal codes. Heyókȟa's don't seem to care about taboos, rules, regulations, social norms, or boundaries. Paradoxically, however, it is by violating these norms and taboos that they help to define the accepted boundaries, rules, and societal guidelines for ethical and moral behavior. This is because they are the only ones who can ask "Why?" about sensitive topics and employ satire to question the specialists and carriers of sacred knowledge or those in positions of power and authority. In doing so, they demonstrate concretely the theories of balance and imbalance. Their role is to penetrate deception, turn over rocks, and create a deeper awareness.
Develop Your Mind, Not Sacred Sites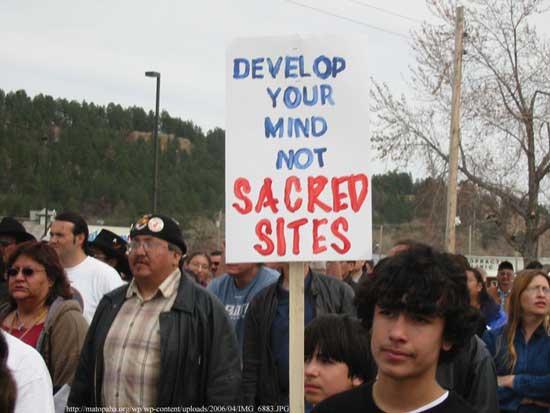 Cree Prophecy
Only after the last tree has been cut down,
Only after the last river has been poisoned,
Only after the last fish has been caught,
Only then will you find money cannot be eaten.
Nobody for President 2020 ~ NONE of the ABOVE should be a choice on voter ballots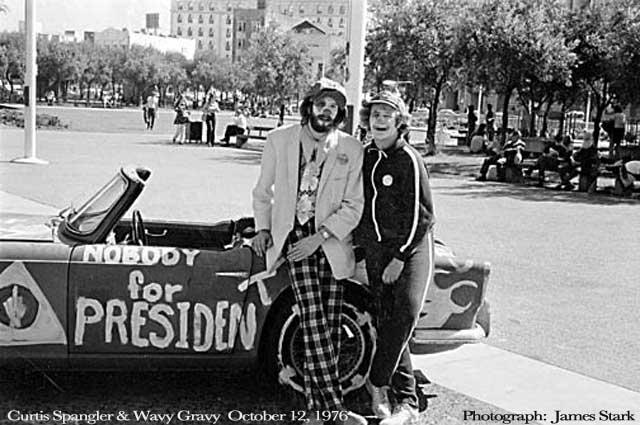 Curtis Spangler & Wavy Gravy, Nobody for President, 197610.12 ~ Photo: James Stark

American Dream, George Carlin via Ishtar [Not Work Safe] Nobody should have that much power
NOBODY should have that much power!
Message
via
Mike Pinder
Oh, I hope that I see you again I never even caught your name As you looked through my window pane ~ So I'm writing this message today I'm thinking that you'll have a way Of hearing the notes in my tune ~ Where are you going? Where have you been? I can imagine other worlds you have seen ~ Beautiful faces and music so serene ~ So I do hope I see you again My universal citizen You went as quickly as you came ~ You know the power Your love is right You have good reason To stay out of sight ~~ But break our illusions and help us Be the light ~ by Mike Pinder

Why I Think This World Should End, Prince EA via Prince EA
Without love in the dream, it will never come true. ~ Jerry Garcia/Robert Hunter
And in the end, the love you take is equal to the love you make. ~ John Lennon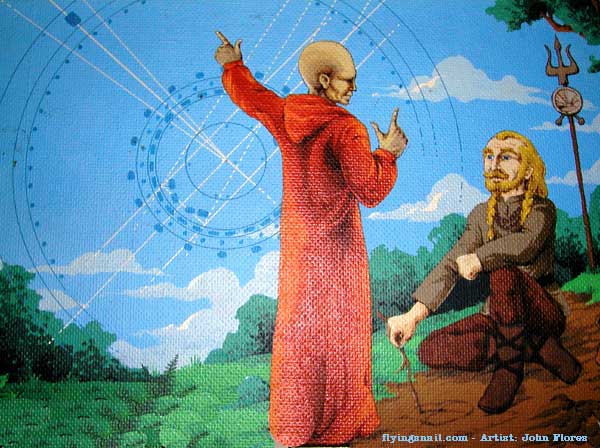 ---
---
The man whispered, "God, speak to me" and a meadowlark sang. But the man did not hear. So the man yelled "God, speak to me" and the thunder rolled across the sky. But the man did not listen. The man looked around and said, "God let me see you" and a star shined brightly. But the man did not notice. And the man shouted, "God show me a miracle" and a life was born. But the man did not know. So the man cried out in despair, "Touch me God, and let me know you are there" Whereupon God reached down and touched the man, But the man brushed the butterfly away and walked on.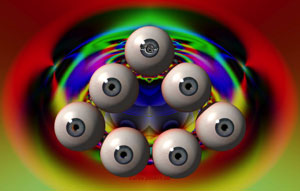 Don't miss out on a blessing because
it isn't packaged the way you expect!
---
---

DuckDuckGo ~ The search engine that doesn't track you
{ ͡ʘ ͜ʖ ͡ʘ} Is Daylight Saving Time Dangerous? { ͡ʘ ͜ʖ ͡ʘ}