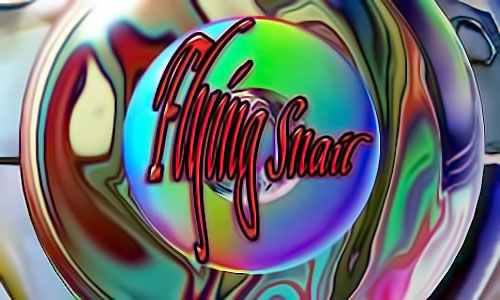 Tell-A-Vision = Why Not Try Love Again?
In Memory of Ira Cohen, Incredible Human & Close Friend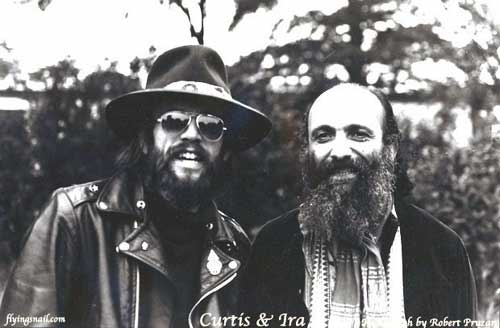 Curtis and Ira Cohen - Photograph: Robert Pruzan
Ira Cohen, an Artist and a Touchstone, Dies at 76
By DOUGLAS MARTIN, Published: May 1, 2011, Source: New York Times
Ira Cohen made phantasmagorical films that became cult classics. He developed a way of taking photographs in mesmerizing, twisting colors, including a famous one of Jimi Hendrix. He published works by authors like William Burroughs and the poet Gregory Corso. He wrote thousands of poems himself. He wrote "The Hashish Cookbook" under the name Panama Rose. He called himself "the conscience of Planet Earth."
But his most amazing work of art was inarguably Mr. Cohen himself. NY Arts magazine in 2008 called his life "a sort of white magic produced by an alchemist who turned his back on the establishment in order to find God, art and poetry."
He died of renal failure in Manhattan on April 25 at the age of 76, his family said.
Mr. Cohen made his Lower East Side loft an artists' salon, then left to spend many years on pilgrimages to Marrakesh, Katmandu and the banks of the Ganges. He hung with Beats but rejected being called one. He was an entrepreneur of the arts who didn't care about money.
Clayton Patterson, a photographer and historian of the Downtown scene, suggested that if Mr. Cohen couldn't be easily summed up, that was pretty much the whole idea: "On the one hand he was part of everything, but on the other he was an outsider to everything," Mr. Patterson said in an interview.
In certain artistic and literary circles, Mr. Cohen was a touchstone. "Ira was a major figure in the international underground and avant-garde," Michael Rothenberg, the editor of Big Bridge magazine, an Internet publication, said in an interview. "In order to understand American art and poetry post-World War II, you have to understand Ira Cohen."
Mr. Cohen was born in the Bronx on Feb. 3, 1935. Both his parents were deaf, as were most of their friends, and he learned early to communicate with signs. "I grew up constantly surrounded by these wonderful, loving people with strange voices like doves cooing in the eaves of a country house," he said.
He graduated from the Horace Mann School at 16 and attended Cornell, where he took a class taught by Vladimir Nabokov. He smoked marijuana and imagined how wonderful certain great writers might have been had they had the opportunity. He dropped out of Cornell, then enrolled at the School of General Studies of Columbia University but did not graduate.
He married Arlene Bond, a Barnard student, in 1957, and they had two children. By the early 1960s they were divorced, and he had taken the same Yugoslavian freighter to Morocco that Jack Kerouac had jumped a year earlier. In Tangiers, he lived and worked with Mr. Burroughs and Paul Bowles, the composer and author. He started a literary magazine called Gnaoua, ostensibly dedicated to exorcism. A copy can be seen on the mantelpiece on the cover of Bob Dylan's 1965 album "Bringing It All Back Home."
In the late 1960s, he returned to his loft and perfected his technique of photographing reflections on the surface of a polyester film with the trade name Mylar. Jimi Hendrix, of whom Mr. Cohen made a famous picture, likened the effect to "looking through butterfly wings."
In 1968, Mr. Cohen made a 20-minute film using the Mylar technique, "The Invasion of Thunderbolt Pagoda," which has steadily risen in popularity. The original drummer of the Velvet Underground, Angus MacLise, improvised the score, a smorgasbord of Tibetan, Moroccan and Druidic trance music. A Village Voice reviewer said one left the film "perched full-lotus on a cloud of incense, chatting with a white rabbit and smoking a banana."
Also in 1968, Mr. Cohen's name popped up in newspaper articles when he was arrested and fined $10 for obstructing a police officer trying to shut down a performance of the avant-garde Living Theater company for obscenity. Mr. Cohen's production company, Universal Mutant, soon produced a movie of the questioned play, "Paradise Now."
In the 1970s Mr. Cohen went to Katmandu, Nepal, where he started a hand-operated press to publish manuscripts, some on black rice paper with red ink flecked with gold powder. Mr. Corso had left a poem in Katmandu, and Mr. Cohen published it.
He returned to New York in 1981 and moved in with his mother in an Upper West Side apartment. In 1982 he married Carolina Gosselin; they divorced seven years later. After his mother died in 1993, he remained in the apartment until his own death.
Mr. Cohen wrote countless poems; had photographic exhibitions around the world; did poetry readings; helped edit small literary magazines; released a movie about a Hindu religious festival; and became the president of a nonprofit corporation dedicated to preserving "the hidden meaning of the hidden meaning."
He is survived by a son and daughter from his first marriage, David Schleifer and Rafiqa el Shenawi; a daughter from his second, Lakshmi Cohen; a son from his relationship with Jhil McEntyre, Raphael Cohen; a sister, Janice Honig; and several grandchildren.
A self-described multimedia shaman, Mr. Cohen compared writing to "pushing a peanut with my nose." But a postscript to one of his poems marveled at the beauty that could inexplicably blossom: "Sometimes when I pick up my pen," he wrote, "it leaks gold all over the tablecloth."
A version of this article appeared in print on May 2, 2011, on page A24 of the New York edition with the headline: Ira Cohen Is Dead at 76; An Artist and a Touchstone.
Lower East Side Artist, Ira Cohen: 1935-2011
By TheFreeAdviceMan / April 28, 2011, Source: Jewcy

Photo of Ira Cohen by Gerard Malanga
This past Monday a most thought-provoking and remarkable poet and visual artist, one of the last few greats of the Lower East Side Avant-Garde 60s Beatnik scene, quietly sneaked out–by the back door–of the great theater of life.
Ira Cohen, raised in the Bronx by his deaf parents, was 26 when he did a very daring thing; he boarded a Yugoslavian freighter heading for Tangier, Morocco in 1961. At the time Tangier had become the ultimate place for non-conformist writers, including many American Beat Generation writers, poets and artists. It was where William S. Burroughs was inspired to write his "Naked Lunch"; a book even more controversial than "Catcher in The Rye". Cohen was eager to get inspired and spent the next four years there, where he published the exorcism magazine GNAOUA, which featured Beat Generation Poetry, introducing such greats as William S. Burroughs, Brion Gysin, Harold Norse, Jack Smith, Irving Rosenthal, among others. And he produced a recording of Dervish trance music, recorded by Paul Bowles, titled Jilala. He also published under the alter-ego pen-name Panama Rose.
Before returning to New York City in the mid-1960s he lived in the Costa del Sol, Spain and went on to spend some time in Paris and London.
Back home he began to evolve a new form of visual art which he created using what he called "mylar images" using bendable mylar mirrors, billing himself as a "mythographer". These involved creating a somewhat psychedelic translucent-like colour-filtered alterations of the photographic images of people, including Jazz musician John McLaughlin, his friend William S. Burroughs, and the legendary Jimi Hendrix. Ira's works reflected his own shamanistic, spiritual and tantric explorations.
In 1968 he directed an Avant-Garde film titled Invasion of Thunderbolt Pagoda, inspired by the works of Sergei Parajarov and Kenneth Anger. He also produced a film on the experimental theatre Living Theatre's historic tour of America: Paradise Now.
In the 1970s he left his 'Mylar Chamber' in New York and headed off to The Himalayas, and after many months travel, stopping over in Morocco, Tunisia, Afghanistan and India, accompanied by Petra Vogt, the two arrived in Kathmandu (Nepal), where he began to write his "Starstream" poetry series and publish these and the works of other poets, such as Charles Henri Ford, Paul Bowles and Gregory Corso. Not only were the poems great, but so was the way Ira printed these books, using traditional rice paper and wood block printing, Tibetan and Indian style, techniques taught to him by the local craftsmen.
In 1972 he spent almost a whole year reading his poetry and doing improvisational performances in the wilder venues of San Francisco. After that he returned to New York for a series of exhibitions of his photography and photographic art-works.
By the 1980s he was on his way to Ethiopia, Japan and India. And it was then that he documented in video the Kumbh Mela Festival, a Hindu tradition dating back millennia, which is not only the largest gathering of spiritual Yogis, Shamans and Fakirs in the World, but the largest cyclical gathering of people on Earth, bar none.
During the 1990s and 2000s Ira not only had his poems published, but he became a contributing editor for Third Rail Magazine, a prestigious international arts and ligature review based in Los Angeles, California. In 1994 Sub Rosa Records released his first CD titled The Majoon Traveller, readings of his poems, edited by Cheb I Sabbah with assorted musical bits by Lights In A Fat City trio, Kenneth Newby, Eddy Sayer and Stephen Kent, Angus MacLise and The Tribal Orchestra quatro with Angus MacLise, Loren Standlee, Hetty MacLise, Raja Samyanna, as well as Ziska Baum, Don Cherry, Ed Blackwell, Ornette Coleman, Robert Palmer and The Master Musicians of Jajouka.
He was a staunch critic of Reactionary politics, and spoke out against War and Socio-Economic exploitation. He was a most eccentric individual who will be missed by quite a few of the world's most creative people!
And I only met knew him briefly; when he was my guest at my apartment in Budapest in the Winter of 1998. Two eccentric Philosopher-Poets and a couple of mice!
If you would like to read a Poem I wrote in Tribute to Ira, you may do so by going to my website. The poem will be put to music and visual art here.
Ira Cohen - From Wikipedia, the free encyclopedia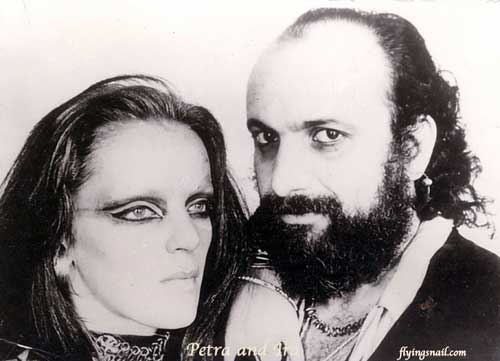 Petra Voght and Ira Cohen - Photograph: Ira Cohen
http://www.iracohen.org/

Majority Can Be Wrong - Phillip Deere via Amestizo

Meter Fire via Mike
TIME FOR A CORPORATE DEATH PENALTY!
The Anonymous statement in full
Anonymous hacker collective responds to Sony's claim that it was involved in the breaches of the PlayStation Network
guardian.co.uk, Thursday 5 May 2011 14.09 BST, Article history, Article Source

Last month, an unknown party managed to break into Sony's servers and acquired millions of customer records including credit card numbers. Insomuch as that this incident occurred in the midst of Anonymous' OpSony, by which participants engaged in several of our standard information war procedures against the corporation and its executives, Sony and other parties have come to blame Anonymous for the heist. Today, in a letter directed to members of Congress involved in an inquiry into the situation, Sony claimed to have discovered a file on its servers, presumably left by the thieves in question, entitled "Anonymous" and containing a fragment of our slogan, "We are Legion". In response, we would like to raise the following points:
1. Anonymous has never been known to have engaged in credit card theft.
2. Many of our corporate and governmental adversaries, on the other hand, have been known to have lied to the public about Anonymous and about their own activities. HBGary, for instance, was caught lying a number of times to the press, to the public, and to Anonymous itself (in this phone call, for instance), CEO Aaron Barr makes a number of untrue statements regarding the intent of his "research", claiming for instance that he never tried to sell the information to the FBI when emails acquired soon showed that he had been set to do just that; executive Karen Burke was also caught lying to Bloomberg about having not seen an incriminating email that she had in fact replied to just a few days before]. The US Chamber of Commerce lied about not having seen the criminal proposal created by them for Team Themis; Palantir lied about not having any idea what their employees were up to; Berico publicly denounced a plan that they had actively engaged in creating; etc. There is no corporation in existence will choose the truth when lies are more convenient.
3. To the contrary, Anonymous is an ironically transparent movement that allows reporters in to our operating channels to observe us at work and which has been extraordinarily candid with the press when commenting on our own activities, which is why reporters prefer no talk to us for truthful accounts of the situation rather than fallacious public relations departments of our targets.
4. In the realm of criminal investigation, there is an important aspect of investigations that should never be overlooked. The "modus operandi" of a criminal rarely changes. Whoever did perform the credit card theft did so contrary to the "modus operandi" and intentions of Anonymous. Public support is not gained by stealing credit card info and personal identities, we are trying to fight criminal activities by corporations and governments, not steal credit cards.
5. It should be remembered that several federal contractors such as HBGary and Palantir have been caught planning a variety of unethical and potentially criminal conspiracies by which to discredit the enemies of their clients. This is not a theory - this is a fact that has been reported at great length by dozens of journalists with major publications. Insomuch as that our enemies have either engaged in or planned to engage in false flag efforts, it should not be surprising that mangy of the journalists who have covered us, who know who we are and what motives us - and who have alternatively seen the monstrous behavior of those large and "respectable" firms that are all too happy to throw aside common decency at the behest of such clients as Bank of America and the US Chamber of Commerce - also have their suspicious that some capable party performed this operation as a means by which to do great damage to Anonymous in the public eye. Those who consider such a prospect to be somehow unlikely are advised to read about what was proposed by Team Themis in their efforts to destroy Wikileaks, and should otherwise take a few minutes to learn about COINTELPRO and other admitted practices by the US intelligence community. The fact is that Anontymous has brought a great deal of discomfort to powerful entities such as Booz Allen Hamilton, Palantir, and much of the federal government; the Justice Department in particular is likely happy that our efforts revealed that it was they themselves who recommended the now-discredited "law firm" Hunton & Williams to Bank of America in order that the latter might better be able to fight back against Wikileaks. Al of this is now public record, and those or other entities may have again engaged in unsavory tactics that they are known to have engaged in in the past.

If a legitimate and honest investigation into the credit card is conducted, Anonymous will not be found liable. While we are a distributed and decentralized group, our "leadership" does not condone credit card theft. We are concerned with erosion of privacy and fair use, the spread of corporate feudalism, the abuse of power and the justifications of executives and leaders who believe themselves immune personally and financially for the actions they undertake in the name of corporations and public office.
Anunymous will continue its work in support of transparency and individual liberty; our adversaries will continue their work in support of secrecy and control. The FBI will continue to investigate us for crimes of civil disobedience while continuing to ignore the crimes planned by major corporations which use their services.
We do not forgive, even if others forgive our enemies for those things for which we are attacked.
We do not forget, even if others fail to remember.
We are legion, and will remain so no matter how many of our participants are raided by armed agents of a broken system.
We are Anonymous.
Expect us.
GUILTY Unless Proven INNOCENT by TORTURE ???
YOU ARE LOOKING AT A US GOVERNMENT LIE
On Friday 14 December 2001 a videotape of Osama bin Laden "confessing" to the 9/11 attacks was released. The tape was supposedly found in a house in Qandahar, Afghanistan. The recording was of very poor audio and visual quality and the authenticity of the tape was questioned.
This annoyed President Bush who said "[It is] preposterous to think this tape was doctored."
Okay, since Bush Republicans lied about Iraq & WMD, let's have a look:



Here's 5 Osama's - which is the odd one out?

The Bin Laden Tape Is A Fake [short version]
George W. Bush Lied About Finding Osama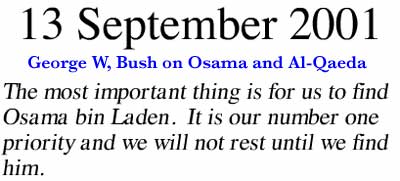 The most important thing is for us to find Osama bin Laden. It is
our number one priority and we will not rest until we find him.
September 13, 2001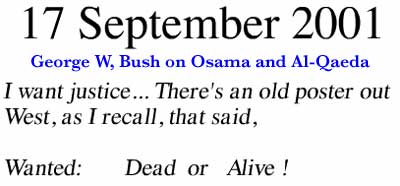 I want justice. There's an old poster out West, as I recall, that said,
Wanted: Dead or Alive !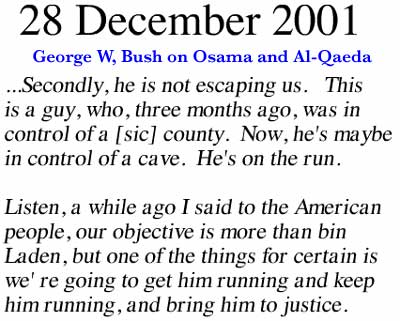 Secondly, he is not escaping us. This is a guy, who, three months ago,
was in control of a [sic] county. Now, he's maybe in control of a cave.
He's on the run. Listen, a while ago I said to the American people our
objective is more than bin Laden, but one of the things for certain is we're
going to get him running and keep him running, and bring him to justice.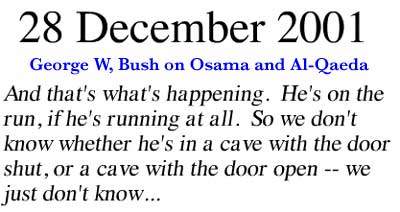 And that's what's happening. He's on the run, if he's running at all.
So we don't know whether he's in a cave with the door shut, or a
cave with the door open -- we just don't know ...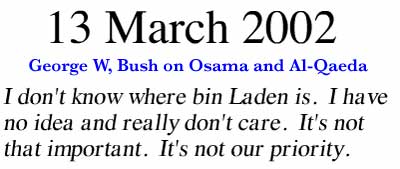 I don't know where bin Laden is.
I have no idea and really don't care.
It's not that important.
It's not our priority.
March 13, 2002



I am truly not that concerned about him.
April 8, 2002
The Above Is In Flash Video Format:
http://www.flyingsnail.com/Dahbud/BOQ.html
BUSH AND BIN LADEN FAMILIES ARE FRIENDS
Attacking Iraq Was Cold Blooded Murder
Initiated by Republicans and Supported by Democrats
a.k.a. Civilian Baby & Mommy Killers
Arrest Arnold Schwarzenegger
Project Censored:
TOP 25 CENSORED STORIES FOR 2005:
13. Schwarzenegger Met with Enron's Ken Lay Before the California Recall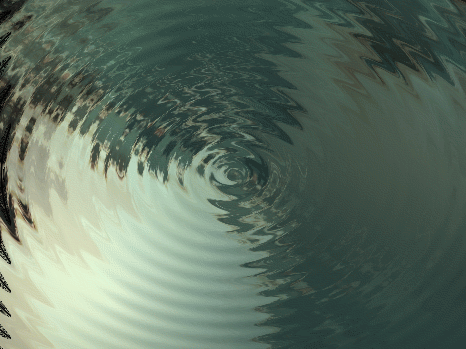 Cheney's Energy Pirates
Behind Schwarzenegger Recall Hoax
by Jeffrey Steinberg
This article appears in the September 5, 2003 issue of Executive Intelligence Review.
The very same Dick Cheney-Enron energy pirates who ripped off the people of California during the 2000-01 so-called energy crisis, are now out to loot the state once again—under the guise of the "recall Davis" referendum, and the candidacy of the man Lyndon LaRouche refers to as the "overpriced geek act," Arnold Schwarzenegger.
While the rationale behind the drive to recall Gov. Gray Davis is that he drove the state into a $38 billion deficit, EIR has systematically exposed (see chronology, below) that California was robbed blind by Enron, Reliant, Williams Energy, and the whole crowd of energy pirates, who criminally conspired and profiteered off energy deregulation, while virtually destroying the U.S. electric power grid.
The same people who brought Californians 1,000% increases in energy prices and resulting massive deficits, corporate bankruptcies, and job losses, were responsible for the Northeast energy blackout in August, which crippled many U.S. and Canadian cities, and left 50 million in the dark.
And now, they want to overturn the 2002 California gubernatorial elections by a GOP-bankrolled recall drive, aimed at installing a Milton Friedman-loving Hollywood geek act whose greatest claim to fame is that he pumped himself with enough steroids, and puffed enough marijuana, to win some bodybuilding contests, and parlayed that into Hollywood hits and a multimillion-dollar portfolio managed by some of Wall Street's most notorious speculators. On his own website, "The Terminator" boasts of his business acumen, which he learned from his "mentors," underground economy-promoter Milton "legalize drugs" Friedman, casino magnate Donald Trump, real estate wheeler-dealer Leslie Wexner, and mega-speculator Warren Buffett.
As LaRouche comments, we already had one bad experience, in Germany, when they installed a right-wing Austrian strongman in power. California does not have to go through that again.
Cheney to California: Go to Hell
The looting of California by the energy pirates, led by Enron, Dynegy, Reliant, and Williams, was already under way when George W. Bush and Dick Cheney were sworn in as President and Vice President in January 2001. But that was nothing, compared to the White House-sanctioned looting once they were in office. In 2000-01, California's annual energy bill went from $7 billion to $28 billion, as a result of deregulation and the unbridled price manipulations brought on by California's passage of energy deregulation in 1996 to take effect in 2000.
In December 2000, Governor Davis held emergency meetings in Washington with President Bill Clinton, Treasury Secretary Lawrence Summers, and Federal Reserve Chairman Alan Greenspan, to head off the imminent bankruptcy of California's two major public energy utilities, Pacific Gas & Electric (PG&E) and Southern California Edison—the fruits of year one of dereg. The utilities were caught in a bind, because there were regulatory caps on the rates they could charge customers, but no ceiling on what the private energy suppliers could charge them. By January 2001, the utilities faced $11 billion in unpayable debts.
As soon as Bush-Cheney took office, they delivered a message to Californians: Go to Hell! President Bush announced a one-time-only, two-week extension of Clinton's emergency order forcing power-merchant companies to sell power to the near-bankrupt California utilities.
Vice President Cheney, appointed to head up the Administration's energy task force on day eight of the Bush Presidency, candidly told reporters the emergency order would not be renewed, and the Bush Administration would not lift a finger to help California to counter the energy pirates. "I'm a believer in markets," he babbled. "I think the notion of deregulation is basically sound. What happened in California, it was poorly executed."
Never mind Cheney's own lucrative career as CEO of the energy firm Halliburton; never mind that Enron was the largest corporate contributor to the Bush-Cheney campaign, and the other energy pirates were right behind Enron in bidding for Administration favor.
Shut off from any help from the Federal government, California was compelled, on Jan. 31, 2001 to legislate $10 billion in new state bonds—just to buy electrical power. And it would take a Feb. 21 Federal court order to force Reliant, Williams, AES, and Dynegy to even keep selling to California.
By March 2001, the piracy by the energy companies had reached the point that the Federal Energy Regulatory Commission (FERC), although dominated by dereg backers, had to launch a confidential probe into price manipulations by Williams Energy and Reliant. Eventually both firms would be fined tens of millions of dollars for shutting down California power generators in order to drive up prices. In the Williams case, the shutdowns were carried out in 2000, before Bush-Cheney, during the opening phase of the looting, but were kept secret by FERC until after the Cheney task force report was issued fully embracing deregulation.
The fines were a slap on the wrist, as Williams' profits soared by 172% in the first quarter of 2001, and Reliant's jumped by 104%—largely due to the scalping of California.
All told, from the 2000-01 crisis to the present, California has been robbed of a sum greater than the current $38 billion state deficit!
Dick, Arnie, and Ken Conspire
The Cheney energy task force was a rubber stamp for Enron and the other energy pirates, who virtually wrote the text of the group's report, which was rushed to release on May 16, 2001 (a new General Accounting Office report assails Cheney for keeping the entire effort secret—see accompanying article). While the Cheney report peddled energy cartel looting on the homefront, it also targetted Iraq and other oil-rich countries for imperial conquest and energy grab.
The Cheney report made scant mention of the California crisis. Cheney also spat on California in a PBS "Frontline" interview after the report was unveiled, coldly denying that the energy giants were functioning as a cartel. "The problem you had in California," Cheney lied, "was caused by a combination of things—an unwise regulatory scheme, because they didn't really deregulate. Now they're trapped, from unwise regulatory schemes, plus not having addressed the supply side of the issue. They've obviously created major problems for themselves and bankrupted PG&E in the process."
In April 2001, Cheney had met with Enron's chief executive, Kenneth Lay, a member of the Pioneers group of Bush campaign mega-contributors, who presented the Vice President with a memo laying out eight proposals. Seven of the eight, all promoting radical deregulation, were adopted almost verbatim in the Cheney report. Lay reportedly also pressured Cheney to ensure that his report made little mention of California. Cheney obliged.
Lay was running a simultaneous campaign in California, to focus the blame for the energy crisis on Governor Davis, and to dodge state and Federal prosecutors for Enron's predatory actions. Former Dow Jones California bureau chief Jason Leopold recently revealed that on May 24, 2001—one week after the Cheney report's release—Lay held a secret meeting at the Peninsula Hotel in Beverly Hills, to organize a group of GOP bigshots and Hollywood celebs to join his propaganda push against Davis, and peddle Enron's schemes for accelerated looting of the state through even more drastic deregulation.
Among the attendees: former Los Angeles Mayor Richard Riordan, infamous Drexel Burnham junk bond felon Michael Milken—and Arnold Schwarzenegger! The attendees were given a proposal titled "Comprehensive Solution for California." One key feature was that all state and Federal probes into Enron's role in the California energy crisis should immediately be shut down.
Lay knew Enron was dying, despite robbing California blind—the firm would file for bankruptcy Dec. 2, 2001—when he made the pitch to end the probes and give Enron one last chance to loot its way out of bankruptcy court.
A Leopold source at the meeting revealed that Schwarzenegger and Riordan had been asked to the session as likely GOP gubernatorial candidates against Davis in 2002.
Just before that meeting, on April 15, 2001, the New York Times reported on a meeting between "Bush political advisors" and the Terminator, to discuss a gubernatorial run. White House chief political advisor Karl Rove was quoted saying that a Schwarzenegger run "would be nice. That would be really, really nice. That would be really, really, really nice." In fact, Arnie had been at the White House, meeting with Rove, on April 12.
Lord Jacob's Dark Age Soiré
While Schwarzenegger declined to run against Davis in 2002, he was being groomed by a much bigger group of financier pirates for some political slot. On Sept. 23, 2002, amid the Washington-London mobilization for war against Iraq, Arnold accompanied speculator Warren Buffett to a gathering at the Waddesdon Manor estate of Lord Jacob Rothschild in Britain. London Times correspondent Anatole Kaletsky, a guest at the European Economic Roundtable conference, co-sponsored by Buffett and Rothschild, wrote about the "dark age" gathering in a column on Sept. 26.
By Kaletsky's account, the meeting aimed at giving the elite financiers a preview of the hell to come, as Cheney and British Prime Minister Tony Blair steered their governments into a string of perpetual wars, starting in the Mideast, but soon to engulf Eurasia. "The apocalyptic tone was set by a hair-raising discussion of the Middle East," Kaletsky wrote. "After hearing presentations from two well-placed Washington officials, it became clear not only that war now was inevitable—and in a matter of weeks, not months. Far more alarming, was that the war would not stop with the removal of President Saddam Hussein, still less with a UN-sponsored campaign to eliminate Iraq's weapons of mass destruction.... After dealing with Iraq, the pressure for 'regime change' would shift to Iran, then Saudi Arabia, Syria and Pakistan... As if an ever-expanding war were not bad enough, the economic outlook presented to the gathered plutocrats was even grimmer, since it was not overlaid with the blustering confidence of the Washington war party.... The economic experts—including James Wolfensohn, president of the World Bank, Paul Volcker, the former chairman of the Federal Reserve Board, and, of course Buffett himself—all emphasized the impotence of monetary and fiscal policy after the collapse of one of the greatest speculative bubbles of all time. To make matters worse, the assembled company generally agreed that America and Britain would soon be threatened by new bubbles in the property market."
Since the September 2002 session, Lord Jacob Rothschild has emerged as the "white knight" designated to save Russian oligarch Mikhail Khodorkovsky, should President Vladimir Putin move against Khodorkovsky's Yukos oil empire. The same Khodorkovsky was recently a guest of Buffett et al. at the Sun Valley, Idaho ranch of Meyer Lansky's favorite broker, Herbert Allen, Jr., at the annual gathering of telecommunications executives and Wall Street speculators. According to one Russian source, Khodorkovsky capped his U.S. visit with a secret meeting with Vice President Cheney.
In July 2000, a somewhat less elite collection of financiers, technocrats, and politicians than those assembled by Lord Jacob at his British manor, had gathered at the Council on Foreign Relations in New York City, to anoint George W. Bush and Al Gore as Wall Street/London-vetted Presidential candidates, because both men would hand financial crisis management to the Federal Reserve and the banks.
According to accounts by Reuters and the Scotsman, the Waddesdon Manor event similarly vetted the Terminator as the man for this season of wars and financial catastrophes.
Enter George Shultz
To make clear that Schwarzenegger is out to rape California in the tradition of Dick Cheney's Enron: On the opening day of his quest for the governor's mansion, Schwarzenegger showed up with his new chief campaign economic advisor, George Shultz, the man who installed Paul Wolfowitz and Richard Perle as top campaign policy wonks for George W. Bush, and who in 1971 was the official who convinced President Nixon to end the Bretton Woods system, thus triggering more than 30 years of global speculative looting and physical economic breakdown.
In recent years, Shultz, while retaining his status as director of the Bechtel Corp. (a key benefactor, along with Halliburton, of the Bush-Cheney Iraq War), has become a celebrity in his own right—by peddling the legalization of drugs and the total deregulation of the global financial system. Not even the International Monetary Fund would survive Shultz's axe. He proposes a totally Darwinian global financial system, in which only the fittest would survive. Perhaps Shultz should take a second look at his new protégé, since many years of steroid abuse have turned his Mr. Universe legendary pectorals into flabby feminine breasts.
http://www.larouchepub.com/other/2003/3034cheney_calif.html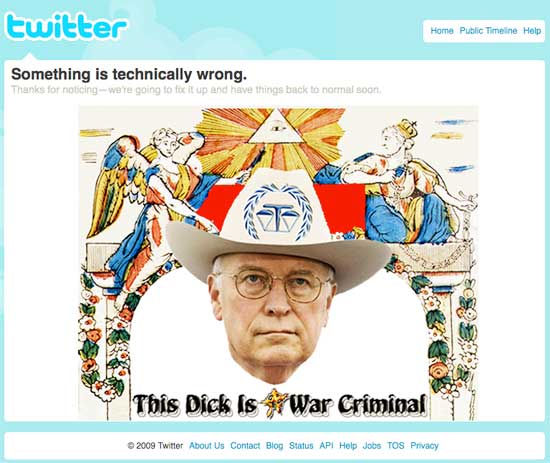 Document Says: Oil Chiefs Met With Cheney Task Force
By Dana Milbank and Justin Blum
Washington Post Staff Writers
Wednesday, November 16, 2005; Page A01
A White House document shows that executives from big oil companies met with Vice President Cheney's energy task force in 2001 -- something long suspected by environmentalists but denied as recently as last week by industry officials testifying before Congress. [Continue Reading At]:
http://www.washingtonpost.com/wp-dyn/content/article/2005/11/15/AR2005111501842.html
Schwarzenegger Accused of Involvement in
$9B California Swindle with Enron's Ken Lay
Investigative reporter Greg Palast reveals how Republican gubernatorial candidate Arnold Schwarzenegger is part of a larger scheme to help Enron and other power companies avoid paying back $9 billion in illicit profits by replacing Gov. Gray Davis.
AMY GOODMAN: Greg Palast is on the line with us, investigative reporter; author of "the best democracy money can buy" works; with the BBC.
Welcome Greg.
GREG PALAST: Morning, Amy.
AMY GOODMAN: Can you explain this memo and why Schwarzenegger two years ago, not a politician at the time, would be meeting with Lay?
GREG PALAST: I think Arnold has to explain this meeting. I'm not so concerned with what he does with women behind closed doors in hotel rooms, but I am concerned with what he does with Ken Lay there.
There was a secret meeting in the Peninsula hotel in Beverly Hills, California; keep in mind this is still at the height of California's so-called power crisis in which the prices Californians pay is a 1000% above normal, which we now know has to do with manipulation of the power market by Enron and about a half-dozen other power companies.
This meeting occurs one month after Cruz Bustamante, lieutenant governor and also of course the leading candidate contender against Schwarzenegger, should Davis be recalled.
Cruz Bustamante filed a lawsuit in California court to get back the $9 billion in over-charges, it's pretty clear that it's at least 9 billion. It has been carefully calculated by the Independent System Operators there.
This suit looks like a winner and is a real crisis for Enron, still in business at the time in fact still in business today in the post bankruptcy mode. According to memos, all together 34 pages uncovered by the L.A. based Foundation for Tax Payer and Consumer Rights. The whole scheme was to undercut Davis and his administration in their plans to recoup the funds.
So the idea is to come up with some type of settlement scheme that would undercut Cruz Bustamante's lawsuit, and Davis's plan demands to get money back from the federal government. What's happening right now is that the federal government, the Federal Energy Regulatory commission, which is supposed to be like electricity cops of America, they're faced with stone cold evidence of manipulation of the market by Enron. Every game, get shorty, death star, kilowatt laundering, fake reporting, you name it, the evidence is piled up to the ceiling smoking guns stacked up one on top of the other.
The feds response, keep in mind the head of this agency appointed by George Bush was recommended personally by Ken Lay. So what is he going to do for his political mentor? The agency comes up with the idea of settling these charges for like a penny on the dollar.
Well if the state goes along with that, that means Arnold Schwarzenegger, if he becomes governor this week if the state doesn't subject to those deals then Cruz Bustamante's suit is dead on arrival because no judge is going to let a case go forward where the governor doesn't object to a settlement.
It's a perfect little scheme, Arnold has to explain himself, and in his only response on Friday evening when I broke the report, one woman did confront Arnold in Bakersfield in front of a supermarket and said, "are you in bed with Ken Lay?"
Arnold's response was, "I certainly wasn't in bed with you." So that's all we've gotten back from the Governator so far.
AMY GOODMAN: While many people know about your uncovering the purged voter roles in Florida; doing reports in Britain well before they were allowed here in the United States about many African Americans and others being scrubbed from the voter roles in 2000 you see a connection between people being disenfranchised in Florida and this recall election which basically redoes the election of Gray Davis.
GREG PALAST: Or undoes the election. You have to understand what's happening here. If the polls are correct Schwarzenegger becomes governor this week, even though it look like Davis may get say 45% or 46% of the vote saying he should be governor, Schwarzenegger in the weird mathematics of the recall looks like he might get about 35% of the vote. Yet somehow he becomes governor. So Davis gets 45, Arnold gets 35, and Arnold becomes governor under the strange procedure of the recall.
It's kind of a coup d'etat by the power companies, in other words, they're the ones who are really on the line here. The state is in the hole this year for $8 billion; they're owed $9 billion by the power companies. The obvious solution is staring the state in the face; the success of the actions by Davis and his lieutenant governor, which are virtually unknown and not covered by the press.
There is a question in my mind as to why Davis and Bustamante don't try to make clear what they're doing, nevertheless, this is why the core corporate powers are arrayed against both Bustamante and Davis.
I've been in this litigation, people may know me as investigative reporter for BBC, but my other little job has been as one of the main investigators of corruption and racketeering by power companies in America.
I was just working with the California Power Association, trying to unravel this business just last week. What people don't realize is that this suit is heading for courted, heading for almost certain success if it gets in front of a jury, and the only thing that can stop it is like yanking the governor out of the governor's mansion,. That's really what is at stake here.
Arnold simply will not explain what he was doing getting himself involved in the scheme by Enron to save itself from… basically, from justice.
AMY GOODMAN: Greg Palast, thank you for being with us, author of The Best Democracy Money Can Buy, investigative reporter with the BBC. [Democracy Now Complete Source]
While We Are On the Subject of Trust, Did You Know:
TRUTH Has As Many Letters As TRUST ?

Lies, Lies, Lies - BlackMustache.com
Simply stated, there is no doubt that Saddam Hussein now has weapons of mass destruction. - Dick Cheney - August 26, 2002
Every day Saddam remains in power with chemical weapons, biological weapons, and the development of nuclear weapons is a day of danger for the United States. - Sen. Joseph Lieberman, D-CT - September 4, 2002
If we wait for the danger to become clear, it could be too late. - Sen. Joseph Biden D-Del. - September 4, 2002
Right now, Iraq is expanding and improving facilities that were used for the production of biological weapons. - George W. Bush - September 12, 2002
If he declares he has none, then we will know that Saddam Hussein is once again misleading the world. - Ari Fleischer - December 2, 2002
We know for a fact that there are weapons there. - Ari Fleischer - January 9, 2003
Our intelligence officials estimate that Saddam Hussein had the materials to produce as much as 500 tons of sarin, mustard and VX nerve agent. - George W. Bush - January 28, 2003
We know that Saddam Hussein is determined to keep his weapons of mass destruction, is determined to make more. - Colin Powell - February 5, 2003
Iraq both poses a continuing threat to the national security of the United States and international peace and security in the Persian Gulf region and remains in material and unacceptable breach of its international obligations by, among other things, continuing to possess and develop a significant chemical and biological weapons capability, actively seeking a nuclear weapons capability, and supporting and harboring terrorist organizations. - Sen. Hillary Clinton, D-NY - February 5, 2003
We have sources that tell us that Saddam Hussein recently authorized Iraqi field commanders to use chemical weapons -- the very weapons the dictator tells us he does not have. - George Bush - February 8, 2003
So has the strategic decision been made to disarm Iraq of its weapons of mass destruction by the leadership in Baghdad? I think our judgment has to be clearly not. - Colin Powell - March 8, 2003
Intelligence gathered by this and other governments leaves no doubt that the Iraq regime continues to possess and conceal some of the most lethal weapons ever devised. - George Bush - March 18, 2003
We are asked to accept Saddam decided to destroy those weapons. I say that such a claim is palpably absurd. - Tony Blair, Prime Minister - March 18, 2003
Well, there is no question that we have evidence and information that Iraq has weapons of mass destruction, biological and chemical particularly . . . all this will be made clear in the course of the operation, for whatever duration it takes. - Ari Fleischer - March 21, 2003
There is no doubt that the regime of Saddam Hussein possesses weapons of mass destruction. As this operation continues, those weapons will be identified, found, along with the people who have produced them and who guard them. - Gen. Tommy Franks - March 22, 2003
One of our top objectives is to find and destroy the WMD. There are a number of sites. - Pentagon Spokeswoman Victoria Clark - March 22, 2003
I have no doubt we're going to find big stores of weapons of mass destruction. - Kenneth Adelman, Defense Policy Board - March 23, 2003
We know where they are. They are in the area around Tikrit and Baghdad. - Donald Rumsfeld - March 30, 2003
Saddam's removal is necessary to eradicate the threat from his weapons of mass destruction - Jack Straw, Foreign Secretary - April 2, 2003
Obviously the administration intends to publicize all the weapons of mass destruction U.S. forces find -- and there will be plenty. - Neocon scholar Robert Kagan - April 9, 2003
I think you have always heard, and you continue to hear from officials, a measure of high confidence that, indeed, the weapons of mass destruction will be found. - Ari Fleischer - April 10, 2003
We are learning more as we interrogate or have discussions with Iraqi scientists and people within the Iraqi structure, that perhaps he destroyed some, perhaps he dispersed some. And so we will find them. - George Bush - April 24, 2003
There are people who in large measure have information that we need . . . so that we can track down the weapons of mass destruction in that country. - Donald Rumsfeld - April 25, 2003
Before people crow about the absence of weapons of mass destruction, I suggest they wait a bit. - Tony Blair - April 28, 2003
We'll find them. It'll be a matter of time to do so. - George Bush - May 3, 2003
I am confident that we will find evidence that makes it clear he had weapons of mass destruction. - Colin Powell - May 4, 2003
I never believed that we'd just tumble over weapons of mass destruction in that country. - Donald Rumsfeld - May 4, 2003
I'm not surprised if we begin to uncover the weapons program of Saddam Hussein -- because he had a weapons program. - George W. Bush - May 6, 2003
U.S. officials never expected that "we were going to open garages and find" weapons of mass destruction. - Condoleezza Rice - May 12, 2003
I just don't know whether it was all destroyed years ago -- I mean, there's no question that there were chemical weapons years ago -- whether they were destroyed right before the war, (or) whether they're still hidden. - Maj. Gen. David Petraeus, Commander 101st Airborne - May 13, 2003
Before the war, there's no doubt in my mind that Saddam Hussein had weapons of mass destruction, biological and chemical. I expected them to be found. I still expect them to be found. - Gen. Michael Hagee, Commandant of the Marine Corps - May 21, 2003
Given time, given the number of prisoners now that we're interrogating, I'm confident that we're going to find weapons of mass destruction. - Gen. Richard Myers, Chairman Joint Chiefs of Staff - May 26, 2003
They may have had time to destroy them, and I don't know the answer. - Donald Rumsfeld - May 27, 2003
For bureaucratic reasons, we settled on one issue, weapons of mass destruction (as justification for invading Iraq) because it was the one reason everyone could agree on. - Paul Wolfowitz - May 28, 2003 - [Admitting Premeditated Murder & Maiming of Women, Children, Civilians and U.S. Military ? ] - Permmalink Source
Want to Scare THE HELL OUT OF Congress?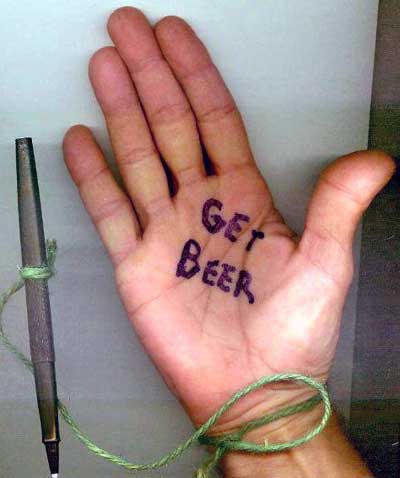 Senate & Congress Go High Tech With Palm Pilot
Right, Middle, & Left Activists, Listen Up:
Initiative Work Proposal!
Put: None of the Above On Voter Ballots Permmalink
US ECO-MOVEMENT'S 41st ANNIVERSARY
by keith lampe [Listen While You Read? = MP3 = Why Not Try Love Again?]
Dear Friends and Colleagues,
Today's installment from my issue number two of Earth Read-Out (ERO) at the end of May '69 gives us an opportunity to understand how much more confidence people had in themselves then than now. For example, do AFT locals talk now the way they talked then? Or do high-ranking U-C officials talk now the way Robert Greenway (all honor to his name) talked then? Or does the despicable Washington Post ever play a positive role at rallies as it did at this one?
And this information is critically important today--especially for our last hope, the campus generation. It helps all of us grok that in fact we've been enormously dumbed-down and intimidated.
Given the intense uncompromising integrity of this teach-in, it's quite easy to understand why the MIAC (Military-Industrial-Academic Complex) thought it necessary a year later to murder four peaceful students at Kent State, then make a point of not punishing the murderers. They needed strong writing on the wall:
We'll kill you whenever we wish and nobody's gonna stop us.
Please note that you can learn hardly anything about this immensely important stuff in the twerpy-hustler Limited Hangout "alternate" histories of Howard Zinn and Carolyn Baker.
I must confess that I hadn't read my material for many years and--though I expected to find it quite significant for our current times--I am blown by just how significant it in fact is. I almost wish I'd let Herder & Herder publish it back in '70. But as you can see from the spirit of the times--so many people (mainly hippies and hardly any leftists) gallantly taking-it-to-the-limit over and over again!--my role as a socalled environmental leader (ERO quickly became the central info vehicle for the movement and remained so till autumn '70) was to try to force the sleazy corporate publishing world to start being transparent about their various immensely negative eco impacts. Today it is even more important that they start doing so.
Now that you understand how much was happening environmentally in the late '60s aren't you at least a bit exasperated when the pimps and whores of CNN, etc, act like they invented TEC (True Environmental Concern) a few years ago? Or when Bill McKibben acts like he invented it twenty years ago?
Yours for waking to the quantum ether,
Keith Lampe aka Pondo
Volunteer and Complete Unknown
EARTH READ-OUT
(#002:29V69)
May 29, 1969
by keith lampe
About 2000 persons attended--off and on--a six-hour teach-in on "Ecology and Politics in America" May 28 on the U-C Berkeley campus.
Idea was to relate the People's Park issue to broader questions of planetary survival.
A lot of language under a hot sun--but hopefully the thing will get made into a book to help people past the old politics and into a root politics of ecology.
Sponsors were American Federation of Teachers locals 1474 and 1795. Their leaflet for the occasion put it succinctly where it's at:
"The battle for a people's park in Berkeley has raised questions that go far beyond the immediate objects of public attention. They are questions about the quality of our lives, about the deterioration of the environment and about the propriety and legitimacy of the uses to which we put our land. The questions raised by this issue reach into two worlds at once: the world of power, politics and the institutional shape of American society on the one hand, and the world of ecology, conservation and the biological shape of our environment on the other.

"The People's Park is a mirror in which our society may see itself. A country which destroys Vietnam in order to liberate it sees no paradox in building fences around parks so that people may enjoy them. It is not at all ironic that officers of the law uproot shrubbery in order to preserve the peace. It is the way of the world! Trees are anarchic; concrete and asphalt are orderly and tractable. Defoliation is Civilization!

"Our cities are increasingly unlivable. The ghettos are anathema to any form of human existence. Our back country is no retreat; today's forest is tomorrow's Disneyland. Our rivers are industrial sewers; our lakes are all future resorts; our wildlife are commercial resources.

"The history of America is a history of hostility and conquest. We have constituted ourselves socially and politically to conquer and transform nature. We measure 'progress' in casualties, human and environmental, in bodies of men or board-feet of lumber.

"Ecology and politics are no longer separate or separable issues. . ."
Biggest mindblow of the day came from Robert Greenway, vice president for academic planning at U-C Santa Cruz. Greenway's contract isn't to be renewed because he's acting up--and the U-C regents got a court order forbidding him to make speeches because he's "inflammmatory".
Greenway told his audience "we have to go down to People's Park Friday with our women, children and neighbors and we have to say we're going to pull up the fence--gently--and then say to the National Guard 'Go ahead and shoot'".
Greenway said the fight for People's Park is part of a larger fight for physical and psychic space: "We must take every shred of university land that's not already built and make it a park."
He invited everybody down to Santa Cruz "where we have 3000 acres for dancing and singing and holding each other--and it would take them a year to fence it".
Prof. Sim van der Ryn, a member of the U-C Berkeley Chancellor's Committee on Environment, explained why we often have heavily polluted air in the Bay Area even during early morning hours: the air-pollution surveillance bureaucrats do only a 9-to-5 thing, so most of the biggest industries release their poisons after dark or in early morning.
Van der Ryn reminded everybody that DDT is killing enormous numbers of crabs on the West Coast, that high concentrations of DDT have been found even in High Sierra lakes--and that lots of people get busted for LSD, but nobody for DDT.
Dr. Tom Bodenheimer warned that DDT may get banned but be replaced by something even worse--that there are certain pesticides in use now (e.g., Parathion) which originally were developed as nerve gases. He said pesticides are the direct cause of about 150 deaths annually in the U.S. He said the nerve-gas leak which killed 6000 sheep in Utah last year might well have wiped out much of Salt Lake City also if it hadn't been for a shift in the wind.
Bodenheimer said the concentrations of CS gas on the Berkeley campus are probably still so great that "next time it rains it'll be like a gas attack." [Ed. Note: he refers here to the spraying of gaseous toxins onto innocent students by the infamous U.S. military.] He said the regime possibly soon may try to control demonstrations entirely from the air. He said the regime considers students, like insects, to be pests.
Cliff Humphrey of (Berkeley) Ecology Action said he plans to turn his auto into a piece of sculpture so it can't continue poisoning the air. "My Rambler is a pig," Humphrey said. "There are all kinds of pigs."
Dennis Maynis, a mountain climber, told the audience he's been watching Yosemite being destroyed. "They've paved trails, ripped out trees and flowers--but we're watched by telescope to make sure we don't break any rules."
Barry Weisberg, of the Bay Area institute, said 95% of all fresh water on the planet is being used faster than it's being replaced. He said Amerika constitutes only 7% of the world's population--but is presently consuming about 70% of the world's resources.
Landscape architect Lawrence Halprin, who was busted several weeks ago trying to stop Army engineers from wrecking Tamalpais Creek in the name of flood control, equated the creek with People's Park: 'each little blade of grass is important."
Wolf von Eckhart, architectural critic of the Washington Post, sent a wire saying "the city belongs to the people".
Folk singer Malvina Reynolds sang "God Bless the Grass."
Paul Goodman sent a wire from New York expressing outrage at "the vandalism committed by the authorities".
Jane Jacobs sent a wire from New York saying universities traditionally have used parks as a cover-story for land grabs in order to "lull lazy liberals". To those battling for People's Park she said "be brave but be careful: against armor and sadism your weapon must be ingenuity".
Among many other speakers was Stanley Smart, a Paiute who recently was busted for--dig--hunting without a license. "We don't believe in the white man's law," he said.
Forester Don Harkins urged street people to spend some time in the wilderness. He said he knew that some street people thought the wilderness was counterrevolutionary--"but they'll pull a lot of power into themselves by getting out there." He offered to teach street people how to move through snow and storms in mountains.
Poet Gary Snyder said we must "recover gut knowledge of our relationship to nature" through which "nature becomes the supernatural". He called for establishment of an "Earth People's Park because nations and corporations are not going to do anything because it calls for renunciation instead of profit and growth".
He said the Soviet Union, China, Amerika and Europe all are equally culpable.
Of the Amerikan scene he said "the materialistic, exploitative, white-western mentality swept across the continent east to west, destroying the passenger pigeon, the bison, the indian and the topsoil till finally it came right up to the Pacific and polluted the offshore waters there.
"Now it is time for us symbolically to become indians--people of this land--and take Amerika back from west to east. People's Park is the first little piece of liberated territory in Amerika and I hope we keep going and take the whole thing."
Poet Lew Welch said: "My goddess is Mt. Tamalpais and I sit on the rocks of her slopes and ask her questions and she gives me answers. . . the last cliff on the continent. . . This is the Last Place. . . There is Nowhere Else to Go. . . There is Nowhere Else We Need to Go."
The Real Reason for Four Dollar Plus Gas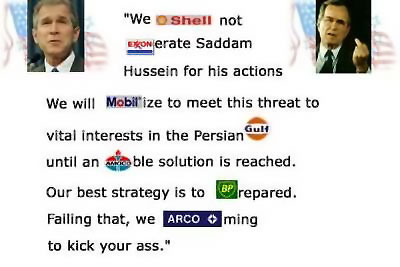 We SHELL not EXXONerate Saddam Hussein for his actions. We will MOBIL'ize to meet this threat to vital interests in the Persian GULF until an AMMICOble solution is reached. Our best strategy is BPrepared. Failing that, we ARCOming to kick your ass. == Blood for Oil?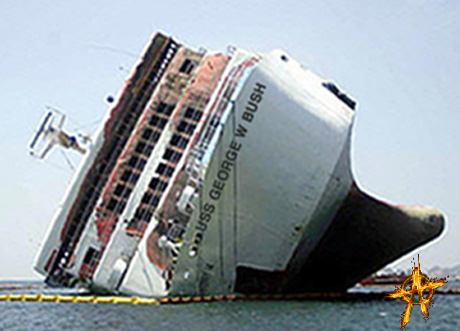 FEDS GONE WILD PART I
The Department of Interior Oil and Gas Royalty Scandal and Its Wyoming Roots
By Laton McCartney and Rone Tempest, WyoFile, Guest Writer, 9-03-09
[snip] Minerals Management Service is, to the few people outside the energy industry who've ever heard of it, an obscure Interior Department agency. Yet it has an enormously important mission: leasing out onshore and offshore sites for exploitation by oil and gas companies, and collecting tens of billions of dollars in royalties from those companies. In fiscal 2008, those revenues came to a whopping $23.4 billion. Royalty payments are this country's second largest source of income (the largest, of course, being taxes). And not incidentally, Wyoming, which gets 49 percent i of the federal royalties collected in the state, ii is the largest recipient of these revenues. In fiscal 2008, the Cowboy State received $1.27 billion dollars in federal oil, gas and coal royalties, almost twice as much as any other state.
The Lakewood branch of Minerals Management operated differently from its parent in Washington, D.C. Following the Bush administration's oft-expressed desire to run government like a business, the Lakewood office functioned like a quasi-business, collecting royalty payments not in cash, but in "kind," that is, in actual oil and gas. The Lakewood office then sold this oil or gas on the open market, competing with private sector traders.
Lakewood's operations were unique in another way. The office had become a rogue enterprise, a feds-gone-wild hotbed of sex, payola, cocaine and corruption. iii Which was why Salazar's visit was no ordinary meet-and-greet. Eight days after taking office, Salazar and his colleagues had come to Colorado to lay down the law.
"We are no longer doing business as usual," the Stetson-wearing secretary told reporters. "There's a new sheriff in town."
"The President has made it clear that the type of ethical transgressions, blatant conflicts of interest, wastes and abuses that we have seen over the past eight years will no longer be tolerated," Salazar warned Lakewood employees. He vowed to re-open a two-year-old investigation into alleged corruption and mismanagement that critics—and former Interior Department employees—claim had cost Americans billions of dollars in lost revenue.
When you read Inspector General Devaney's 2008 report on the office, the word "tawdry" leaps to mind, astonishment not so much that Minerals Management personnel were corrupt, but how cheap they were. Devaney's report doggedly details hundreds of industry gifts to federal Royalty-in-Kind employees: golf games, tacky little sight-seeing tours, luggage, golf bags, silver-plated trays, dip bowls, boozy Christmas parties, visits to bars, ski lift tickets, snowboarding lessons, hotel rooms, country music concerts, tailgating parties, paintball outings, drunken dinners etc., etc. Sure, it all adds up to tens of thousands of dollars, but come on!
The contempt in which the oilmen held the government officials shines up off the pages: references to Minerals Management marketers as the "MMS chicks;" e-mails damp with sexual innuendo, such as the Shell Pipeline Company official inviting the marketing specialist "girls" to "meet at my place at 6 a.m. for bubble baths and final prep. Just kidding…"
Yet the report also has its moments of pathos, as when Minerals Management marketing specialist Stacy Leyshon tells Devaney that, yes, she did sleep with a Shell Oil guy, but she didn't have an improper "personal relationship" with him because a "one-night stand" isn't personal. iv And what about the hurtful revelation to Minerals Management marketing specialist Crystal Edler? She thought she was dating a man from Hess Corporation, but Devaney found that the guy was putting her down on his expense account when they went out—he was working.
And then there was Greg Smith, the Lakewood office boss of the Royalty-in-Kind program. Devaney's report observes, almost as an aside, that Smith used illegal drugs and had sex with his subordinates "in consort with industry," which brings to mind a fairly unlovely picture. The statement that government was in bed with the oil and gas industry was not, in this case, metaphorical. [snip] - Continue reading:
http://www.newwest.net/topic/article/the_department_of_interior_oil_and_gas_royalty_scandal_and_its_wyoming_root/C35/L35/
FEDS GONE WILD PART II
How the 'Royalty in Kind' Scandal Went From Wyoming to the National Stage
The second of a two-part investigative series from WyoFile detailing the Wyoming roots of a national Department of Interior scandal.
By Laton McCartney and Rone Tempest, WyoFile, Guest Writer, 9-03-09
[snip] "The Department of the Interior is institutionally unwilling to aggressively collect the money owed to the American people by the oil industry," stated Maloney's report, titled A Wink and A Nod:
How the Oil Industry and the Department of Interior are Cheating the American Public and California Schoolchildren.
The report said that "for decades" Interior had given "loyal and devoted service to the petroleum industry" and had a record "replete with mismanagement, duplicity, evasions, and outright lies."
[snip] Bush's transition to power was conducted by his vice-president, Dick Cheney. Cheney had left his $25-million-a-year job as CEO of Halliburton, the oil-field services and construction giant co-headquartered in Dubai and Houston, to run for office in 2000. Cheney was an active executive. In an unheard-of xiii move, he "seized the initiative" to staff much of Bush's Cabinet during the hiatus provided by the Florida recount. Cheney, not Bush, announced the appointment of several key transition team officialsxiv.
He selected David J. Gribbin III, a faithful friend from their days together in high school in Casper and at the University of Wyoming, to be the transitional liaison with Congress. To follow his mentor back into politics, xv Gribbin left his job as chief lobbyist for Halliburton. With Gribbin in place, Cheney took charge of negotiations with lawmakers about the legislative agenda.
Cheney chose Thomas Sansonetti, the Cheyenne lawyer xvi and GOP activist, to head the inner-circle team choosing top personnel for the Interior Department.
Sansonetti, who has never held elected office, xvii is a well-known quantity in the Wyoming party and preceded Diemer True as the state's Republican organizational powerbroker: he was Republican National Committeeman, 1996-2001 (True took over in 2002) and chairman of the state Republican Party from 1983-87 (True was chair 1992-96). When Craig Thomas won the 1989 special election to replace Cheney, who had left his seat to become George H.W. Bush's defense secretary, Sansonetti became Thomas' aide. A member of the Federalist Society xviii, Sansonetti was also a lobbyist for the coal industry.
Although the energy industry was represented at all important levels within the incoming administration, industry lobbyists continued their own efforts. According to Newsweek, oil and gas lobbyists met at the American Petroleum Institute offices nine days before the Inauguration to draw up a "wish list" for a Bush energy plan. The list was sent over to the Bush Energy Department transition team. The expansion of the royalty-in-kind program was near the top of the list.
Membership on the Energy Department team was a political plum, and the incoming administration rewarded generous supporters with seats at the table. Men who had given the Bush campaign more than $100,000, like Tom Kuhn, head of the Edison Electric Institute, or more than $200,000, like Enron's Kenneth Lay, became Energy transition team players. Some transitional heavyweights were not among the largest contributors, but were important in themselves, as high-level industry lobbyists. Diemer True, at this time chairman of the Independent Petroleum Producers Association, was a team member in Energy, although he and his family had given only $125,000 to state and national Republican parties and candidates in recent election cycles.
The Bush transition team, prevented from occupying the customary federal transition team quarters by the long dispute over who had won the election, had raised its own transition office money and rented a 20,000-square-foot office in a southern Virginia suburb. There it began the work of accepting résumés for 6,125 federal jobs within the new Republican administration's gift.
To head the critical Department of the Interior, Sansonetti's team chose Denver oil-and-gas lawyer Gale Norton, a protégée of Reagan's first Interior Secretary, James G. Watt. Sansonetti had worked with Norton in Watt's Interior in the '80s. Like Watt, Norton was a Mountain States Legal Foundation attorney, and like Sansonetti, she was a member of the Federalist Society. Norton was confirmed almost immediately after Bush's inauguration.
But her department was not fully staffed for months.xix The expansion of the royalty-in-kind program, near the top of the energy industry's wish list, was going to have to take place in Interior's Minerals Management Service, which lacked a new leader for some time. Thomas R. Kitso, who had replaced Cynthia Quarterman in February 1999 and stayed on after January 2001, resigned that November. Deputy secretary of Interior J. Steven Grilesxx announced that Lucy Querques Denettxxi of the Minerals Revenue Management division would be Acting Director until "further notice." [snip] - continue reading:
http://www.newwest.net/topic/article/how_the_royalty_in_kind_went_from_wyoming_to_the_national_stage/C37/L37/
May 15, 2001
Halliburton & KMNF [Azerbaijan] Ink 12 Year Contract
"Halliburton International Inc. and KASPMORNEFTELOT (KMNF), the marine division of the State Oil Company of Azerbaijan Republic (SOCAR), have entered into a 12-year contract for a marine base and associated services to support Halliburton Sub sea offshore construction activity in the Caspian region. Halliburton Sub sea is a business unit of Halliburton Company's Energy Services Group. "The base, with a 6,000-square metre lay down area, is located at KMNF's Southern Basin adjacent to Caspian Shipyard. It will be primarily utilized to support Halliburton Sub sea's catamaran crane vessel Qurban Abbasov (previously known as the Titan 4) during the restoration and upgrade of the vessel and during the forthcoming offshore construction, pipe lay and sub sea activities. The site will also be developed to provide warehouse, office and training facilities that will include advanced diver and life support technician training, utilizing the company's 16-man modular saturation system. "The Qurban Abbasov is operated by Halliburton Sub sea in an alliance agreement with SOCAR for a period of 12 years. It will provide an advanced, stable, dynamically positioned construction platform for saturation and remote vehicle diving; flexible and bundle pipeline installation with trenching; emergency pipeline repair, subsurface well intervention with wire line; and coiled tubing. It also will be used in flotel configuration for hook-up and commissioning work. "'The acquisition of the marine base is a further indication of our commitment to the Caspian region and to the success of the partnership arrangements with SOCAR,' says Edgar Ortiz, President and Chief Executive Officer, Halliburton's Energy Services Group." --Aylward, Marine Publishers and Halliburton Press Release, May 15, 2001.
[Ed. NOTE: The original documents are currently missing and here were their link addresses: http://www.aylward.co.uk/story1.htm - and - http://www.halliburton.com/ESG/ESGNWS/ESGNWS_051501.asp . Another interesting point is this contract runs out in 2013 and perhaps why Iran is of interest. - Source plus Rice Oil]
October 4, 2001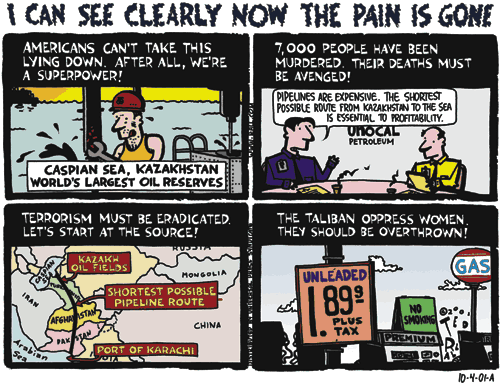 Ted Rall cartoon October 4, 2001 This cartoon was done less than a month after 9/11 and shows a rectangle divided into four smaller rectangles. At the top it says: I CAN SEE CLEARLY NOW THE PAIN IS GONE
The upper section (of each smaller rectangle) has a black background, with white print, and below them there is a cartoon.
1st small rectangle shows a cartoon of an oil man with a wrench working on an offshore oil rig.
The top caption says: AMERICANS CAN'T TAKE THIS LYING DOWN. AFTER ALL, WE'RE A SUPERPOWER!
Below, in the cartoon, it says: CASPIAN SEA, KAZAKHSTAN WORLDS LARGET OIL RESERVES.
2nd rectangle, next to the one above, shows a cartoon of two oil executives talking in a room with UNOCAL Petroleum on the wall.
The top caption says: 7,000 PEOPLE HAVE BEEN MURDERED. THEIR DEATHS MUST BE AVENGED!
Below, in the cartoon, it says: PIPELINES ARE EXPENSIVE. THE SHORTEST POSSIBLE ROUTE FROM KAZAKHSTAN TO THE SEA IS ESSENTIAL TO PROFITABILITY.
3rd rectangle, bottom left, shows a cartoon map with a pipeline running from the Caspian Sea to the Port of Karachi, across several countries the U.S. is currently fighting in.
The top caption says: TERRORISM MUST BE ERADICATED. LET'S START AT THE SOURCE!
Below, in the cartoon, it shows the: SHORTEST POSSIBLE PIPELINE ROUTE
4th rectangle, next to the one above, shows a cartoon of a gas station with a gas price sign.
The top caption says: THE TALIBAN OPPRESS WOMEN. THEY SHOULD BE OVERTHROWN!
In the above cartoon, the gas price sign says: UNLEADED 1.89 9/10 PLUS TAX - Source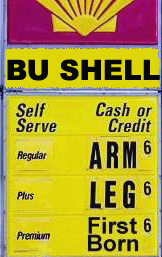 Wavy Gravy's 75th Birthday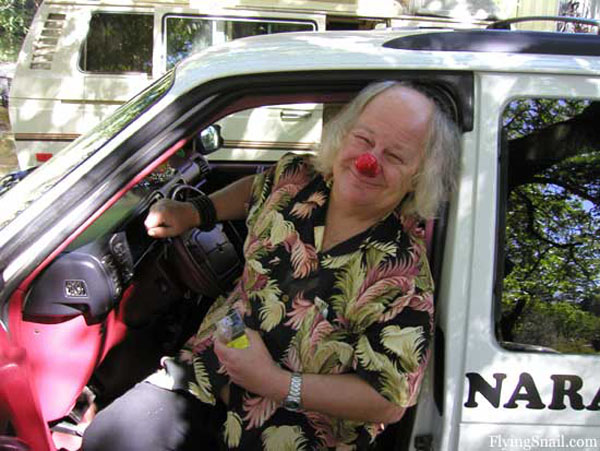 Wavy Gravy - Photograph by Curtis
The 75th birthday of '60s hippie-icon Wavy Gravy will be celebrated by two parties, the first of which will be held in Richmond, California on May 14th and will feature Bob Weir (a very busy hippie) and drummer Mickey Hart. The second shindig will be held in New York at the Beacon Theatre with musicians Jackson Browne, Dr. John, Ani DiFranco, Bruce Hornsby and Buffy Sainte-Marie headlining the event. The parties will be a benefit for Gravy's foundation, Seva, which provides eyesight-restoring surgeries in developing nations. - Article Source
At 75, it's been a long, strange trip for Berkeley's Wavy Gravy
By Martin Snapp, Correspondent, MercuryNews.com, Article Source, [Notes (in Blue) by Curtis]
Wavy Gravy, the raspy-voiced 1960s icon who famously announced to the crowd at Woodstock, "What we have in mind is breakfast in bed for 400,000," will turn 75 on Sunday [May 15th].
And what a long, strange trip it's been.
Wavy, whom satirist Paul Krassner compared to a cross between Harpo Marx and Mother Teresa, will celebrate with a public "Birthday Boogie" on Saturday night at the Craneway Pavilion in Richmond. It will feature a Who's Who of the Bay Area music scene including Bob Weir and Mickey Hart of the Grateful Dead, Barry Melton of Country Joe and the Fish, Henry Kaiser, Ace of Cups, and Narada Michael Walden.
It's a fundraiser for Wavy's favorite charity, the Seva (a Sanskrit word for "service to humankind") Foundation, which Wavy cofounded in 1978 with spiritual leader Ram Dass and public health expert Larry Brilliant to fight preventable and curable blindness in Asia and Africa.
Wavy, who describes himself as "an activist clown and former frozen dessert" -- a reference to Ben & Jerry's naming a flavor after him -- was born Hugh Romney on May 15, 1936, in East Greenbush, N.Y. Soon afterward his family moved to Princeton, N.J., where one of his neighbors was a kindly old man named Albert Einstein, who took him on daily walks around the block.
"I was only 5, but I still remember that shock of white hair that predated Don King by half a century, the twinkle in his eye, his sneakers with no logo, and, especially, the way he smelled.
"I've never smelled anything like it since; but if I ever do, I'm going to walk up to the guy and say, 'Hey man, you smell like Albert Einstein!'"
Flash forward 20 years to Greenwich Village in the early 1960s, where he found a job as poetry director at the Gaslight Cafe [I remember Wavy being Stage Announcer, Comic, Poet, and doing incredible, poetic, monologues.].
He shared a room above the cafe with a fledgling songwriter from Minnesota named Bob Dylan, who wrote the first draft of "A Hard Rain's A-Gonna Fall" on an old manual typewriter in that room [I remember Wavy sharing a small apartment above the Gaslight Cafe with Tom Paxton. Bob Dylan was a constant visitor at the apartment and the typewriter was an old black Royal. Other visitors included Phil Ochs, Eric Andersen, Dave Van Ronk, Mississippi John Hurt, and many of the other 'Folkies' of that time.].
One of the cafe's steady customers was Marlene Dietrich, who gave him a book of poems by Ranier Maria Rilke.
"I still have the book, but I still haven't read the poems," he confesses.
At about this time he embarked on a career as a monologuist, opening shows for John Coltrane, Thelonious Monk, and Peter, Paul & Mary.
His manager was stand-up comic Lenny Bruce, who gave him a new stage name: Al Dente. Bruce also gave him a yarmulke sewn inside a cowboy hat that once belonged to silent movie star Tom Mix "so I could say, 'Howdy, Goyim!'"
Next, he formed a musical review with Tiny Tim and Moondog at a dubious venue called the Fat Black Pussycat.
"We got front page in the Village Voice and a rave review in the New York Times," he recalls. "The next day the sheriff came and padlocked the joint for back taxes."
So he headed out to San Francisco, where he did a stint with The Committee, then moved to Los Angeles, where he taught improvisational techniques to Hollywood actors by day and neurologically handicapped kids by night.
In 1965, when he and his wife, Jahanara (then called Bonnie Jean), were living in a one-room cabin outside Los Angeles with about 40 friends, including fellow ice cream flavor and Grateful Dead guitarist Jerry Garcia, they all posed for a Life magazine cover photo.
"The landlord freaked out and evicted us, but the next day a neighbor came by and said, 'Old Saul up on the mountain had a stroke, and they need somebody to slop them hogs!' So we were given the mountain top rent-free if we would take care of about 60 hogs the size of Davenports."
And so the Hog Farm was born. Eventually, the Hog Farm moved north to Black Oak Ranch in Laytonville, which boasts a lake -- Lake Veronica -- with a raft named George and a 350-foot water slide from Marine World.
In 1969 the Hog Farmers were hired by the promoters of the Woodstock Music Festival to build fire trails around the festival grounds.
"But we convinced them to let us set up a free kitchen, too. When we got to JFK airport a bunch of reporters were there to meet us, and they told us we had been chosen to provide the security, too. I said, 'My God! They made us the cops?'"
By the time the festival was over, Wavy -- or as he was still known, Hugh Romney -- had become the MC.
A few weeks later, he was performing similar tasks at the Texas Pop Festival, where the great bluesman B.B. King dubbed him "Wavy Gravy." And Wavy Gravy he has remained ever since -- except in the pages of the New York Times, which refers to him as "Mr. Gravy."
The Hog Farmers later took the free kitchen concept international working in Pakistan, Nepal and Tibet amid floods and war. With a $10,000 donation from rock promoter Bill Graham they founded the Seva Foundation, which fought blindness in the Third World and now works to prevent health problems in Native American communities.
These days, Wavy splits his time between the Hog Farm and his home in Berkeley, a communal house that he calls the Hippie Hyannis Port. Every nook is filled with books, beads, Buddhas, incense, windup teeth, moose antlers, and Mickey Mouse and Goofy figurines. Dominating the scene is an enormous, larger-than-life portrait of Wavy.
"David Crosby bought it at a flea market. He held on to it for two years, then he mailed it to me. He said he couldn't stand me staring at him any more."
So what's next for Wavy Gravy?
"I don't know. As Tiny Tim always used to say to me, 'Time will tell.'"
[Wavy Gravy as Nobody's Fool for Nobody for President]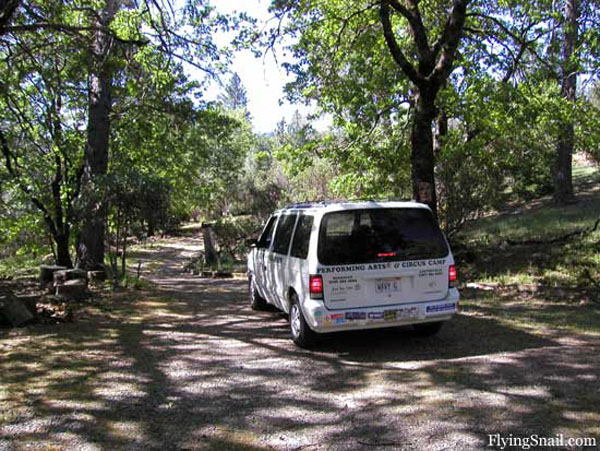 One of Wavy Gravy's Early Clownmobiles leaving Flying Snail Ranch - Photograph by Curtis
Birthday boy Wavy Gravy looks to raise funds, fun
by Sam Whiting, Chronicle Staff Writer, Article Source
Happy Birthday Wavy
---
With exception of getting exposed to Berkeley during 1964, Cody's Books, Mario Savio, Free Speech Movement, Sexual Freedom League, KPFA, etc., and later attending a few demonstrations Veterans took part in against U.S. involvement in Vietnam, I ended up into Peace & Love.
I am a Veteran, with honorable discharge and recommendation, who volunteered to serve our country during war [or what we were led to believe was war] and ended up becoming more of a Hippy because I was over-educated, liked history, knew none of what was tried in the past worked, without people getting hurt, and realized progress was directed in reviewing alternatives to 'History Repeating Itself'.
Leading up to the following picture story it is very important to remember:
I was not an activist or in anyway involved with activism (period).
May 15, 1969 - Bloody Thursday
Republicans Authorize Murder of Students:
Orders issued by Richard M. Nixon and Ronald W. Reagan
Democrats, As Usual, Did Nothing To Stop the Carnage, Until Their Elders Were Gassed
[digg] - You have probably seen the above title posted here, over the years, and here is why. Early on Thursday morning May 15, 1969, after returning from an 'Angel's of Light' party with Allen Ginsburg, who was into his "home, home, home" harmonium Blake phase, a friend and I drank what we thought was a half bottle of orange juice someone had left in the refrigerator.
Just as we were 'downing' the last gulp of juice, the boyfriend of one of the women at the house came into the kitchen and said, "Where did you get that juice from?"
As it turned out, the orange juice contained a quarter ounce of mescaline sulfate and we were on our way to being thoroughly dosed.
Seeing it was going to be one of those 'sunshine daydream' mornings, we headed down Telegraph Ave. to UC Berkeley, where we would take a right at the clock tower, and walk up to Tilden Park to hang out at the lake for the day.
About one half block from the campus we heard, what sounded like, gun shots and saw a large group of screaming people running toward us. Not knowing what to do, we began running South, with the crowd.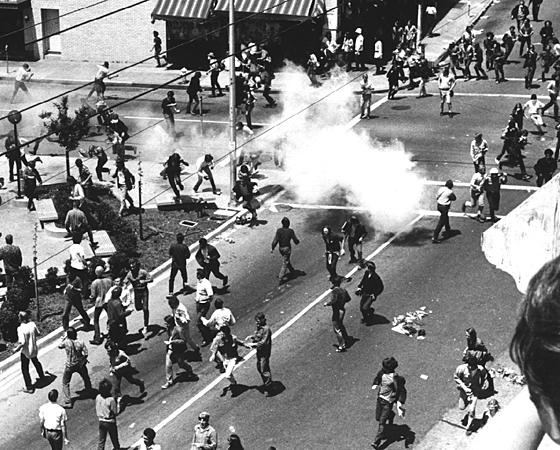 Photo: Kathryn Bigelow
Source: http://www.peoplespark.org/69gall4.html
Needless to say, we were not involved with these politics, this experience was horrible, and all we wanted to do was 'get out of there'. We ran back down Telegraph Avenue, towards Dwight Way, and as we are in front of a little bookstore called "Ma's Revolution", the police started shooting ..and I hear a woman screaming from the roof, "You've killed him!" This is when James Rector died and Alan Blanchard lost his sight.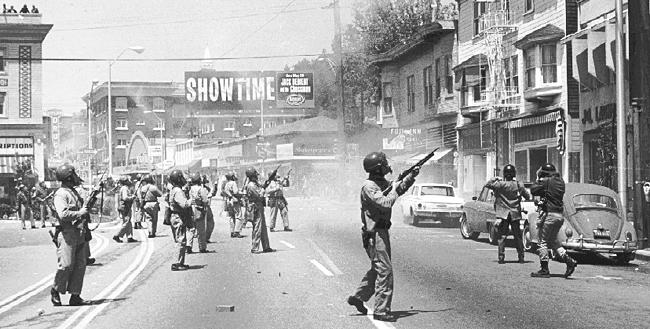 Photo: Ron Stinnett
Source: http://www.peoplespark.org/69gall6.html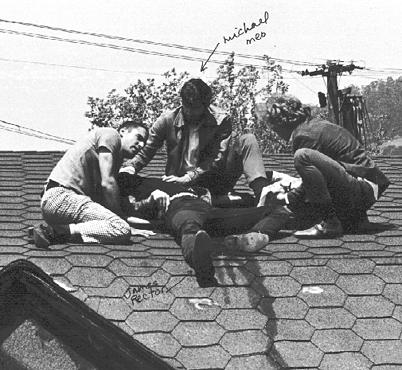 Photo: Kathryn Bigelow,
"about two minutes after James Rector was shot"
Source: http://www.peoplespark.org/69gall6.html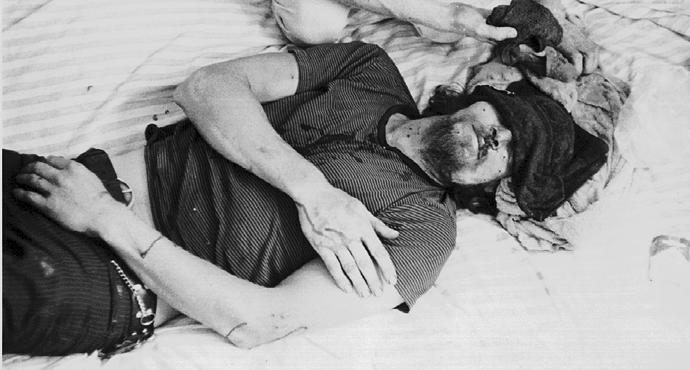 Photo: Kathryn Bigelow.
About 20 minutes after Alan Blanchard was shot.
Source: http://www.peoplespark.org/69gall6.html
We continued running south and stopped a little past Dwight Way in front of a 'finish it yourself' furniture store to collect our thoughts. As we stood there, we saw the police setting up what looked like a big gun on a tripod, which turned out to be a pepper gas cannon. As the police were starting to point it at the crowd, something happened, causing the cannon to trigger and fire some sort of explosive.
Whatever it fired, it hit a car about 10 feet away from us, in the back window and exploded, causing the car to burst into flames.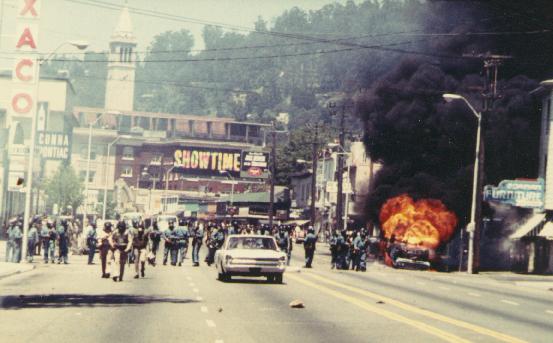 Photo: Ed Krishner
Source: http://www.peoplespark.org/69gall4.html
We ran around the corner on Dwight Way and headed East, but no matter which way we headed, the police forced us back to Telegraph Avenue.
As we were running south on Telegraph Avenue, again, we passed a used car lot and I remembered there were stairs in the back of the lot that led to the next street.
We ran up the steps and along side of the large apartment building (below picture). When we got to the street, we saw more police headed our way, so we ducked into the garage of that large apartment building, went to the back, and hid underneath a large panel truck.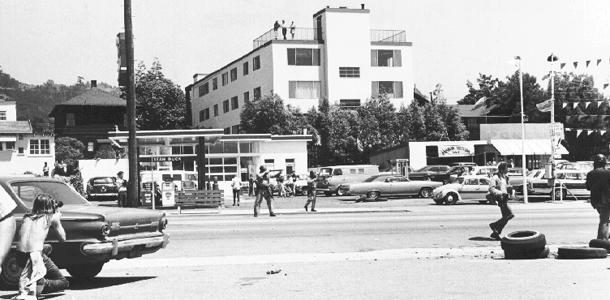 Photo: Ron Stinnet
Source: http://www.peoplespark.org/69gall5.html
We lay on the cement floor, for hours, waiting for the darkness of night and the effects of the 'orange juice' to wear off.
When it got dark, we snuck through backyards, back to the house from where we had started, and I will never forget my 'imposed' May 15, 1969 People's Park experience; it caused me to become "active".
For those who know me, it should be easy to locate me in this picture, taken on May 19, 1969... "By this time THEY had pissed me off and I put my body on the line!"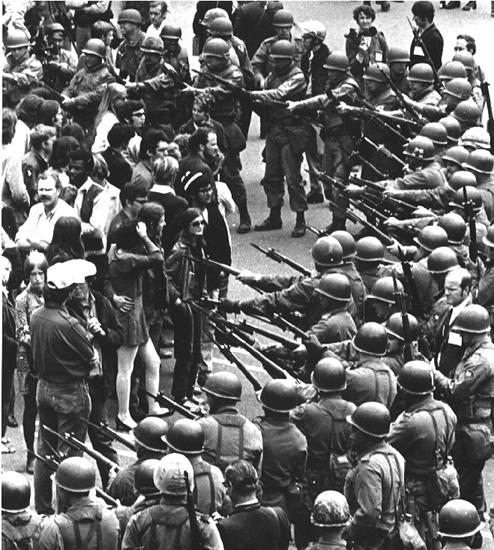 Photo: Dick Corten
Source: http://www.peoplespark.org/69gall8.html
Clicking here will take you to the beginning of the pictorial history of "People's Park" starting with, "Making the Park - May 1969".
Reference: Welcome to a Celebration of People's Park Source: http://www.peoplespark.org/ [click to visit].
History Page: http://www.peoplespark.org/history.html [click here].
During 1970 the murders at Jackson State [click to read] & Kent State [click to view picture story] occurred.
In my opinion, the People's Park, Jackson State, and Kent State student murders, by Republicans supported by Democrats, were what caused "War Babies" to retreat to the safety of their middle class, parental, Victorian, upbringing.. the same ones who later evolved into a 'Prozac Nation'. [Continue]
Peace On War
by dahbud mensch
Throughout America's adventure in free government, our basic purposes have been to keep the peace; to foster progress in human achievement, and to enhance liberty, dignity and integrity among people and among nations. To strive for less would be unworthy of a free and religious people. Any failure traceable to arrogance, or our lack of comprehension or readiness to sacrifice would inflict upon us grievous hurt both at home and abroad. - Dwight D. Eisenhower - The Military-Industrial Complex
The kids dance and shake their bones - while the politicians are throwing stones - it's too clear we're on our own - singing ashes ashes all fall down - Grateful Dead
How THEY Silenced the Counterculture
Permalink: http://www.flyingsnail.com/Dahbud/mensch001.html
When we were children during the '50s,

No one who saw it could forget it, a foul and awesome display. - Kenneth Bainbridge, physicist
We were the first group of teenagers
to become mass educated and,
THEY
portrayed US as Terrorists & killers
[Notice use of 'Bush Neocon/Federalist Speak words: TERROR & KILLERS]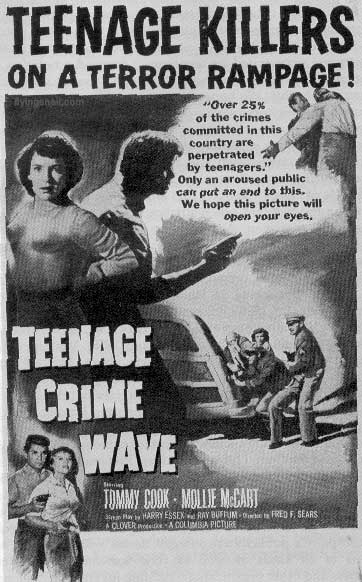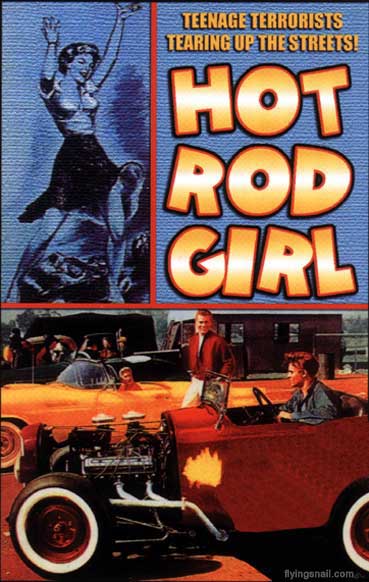 and tried to take our music away.
When we asked about civil rights,
THEY responded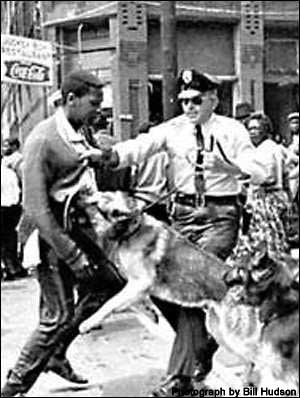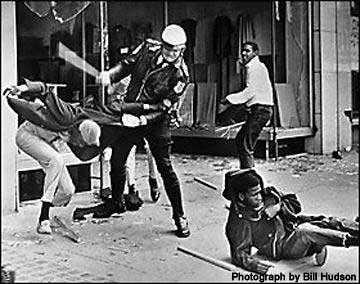 When we asked about war,
THEY Killed Us on the Campus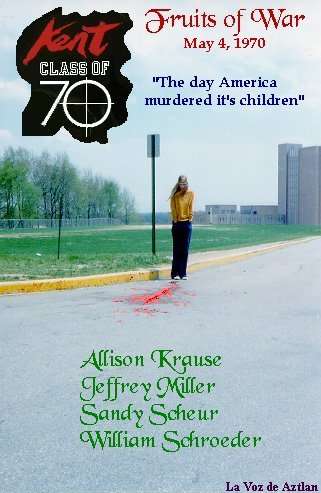 Picture Tour
THEY Killed Us on the Streets
THEY Killed Us in Vietnam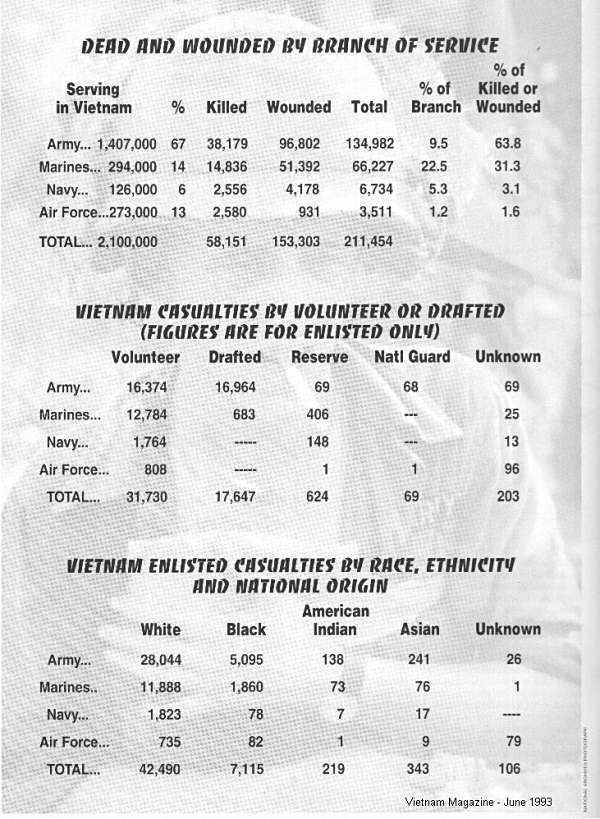 When we got older and raised families,
we went in debt and became a
In case you haven't noticed,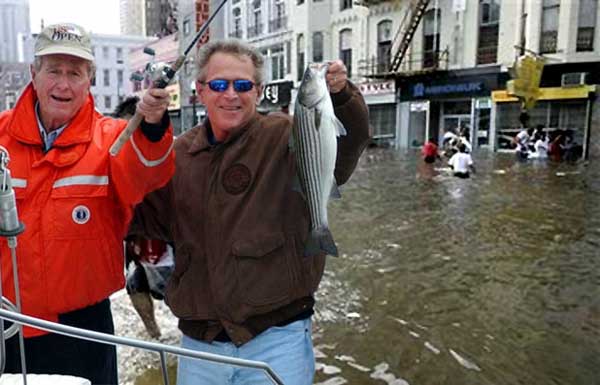 THEY RETURNED
THEY Took Your Jobs
THEY Took Your Homes
THEY Took Your Money
THEY Started Illegal Wars
THEY Destroyed the Economy
THEY Put Martha Stewart & Tommy Chong In Jail
and... THEY
Held the Teachers Accountable!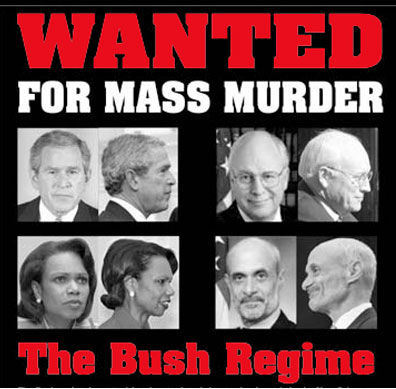 This EVIL
good ol' boy network
Brought Disgrace to the United States
with Republican/Democrat
Senate/Congress Approval,
AND WALK FREE TODAY.

George Carlin - The Owners of America


Nobody Brought Peace To Our Times
"None of the Above" Should Be On Voter Ballots
Japan detects radiation up to 700 milliserverts at Fukushima nuke plant
Anti-nuclear rally in Tokyo attended by 1,000 people
Free Radiation Treatment: Stand On An United States West Coast Beach?

Toxic Chemicals Lobby: Exclusive Leaked Footage
Will gas prices boost bicycle use?
Bicycle advocates say there are lots of reasons to ride instead of drive
By PHILIP RILEY, ARGUS-COURIER STAFF
BIKE TO WORK DAY 2011 EVENTS

Bike to Work day is Thursday, May 12, and the Sonoma County Bicycle Coalition is planning events and promotions throughout Petaluma. Five "Energizer Stations" will offer snacks and giveaways all day at: CamelBak's offices on South McDowell Boulevard, Casa Grande High School, downtown at the corner of East Washington Street and Petaluma Boulevard North, Walnut Park and the Redwood Business Park. A "Bike Home Celebration" with food and entertainment will be held from 5 to 8 p.m. at Petaluma Valley Athletic Club. Participants in the "Team Bike Challenge" can sign up now at www.youcanbikethere.com/tbc
Bernie Album first started riding his bike to work during the 1970s oil crisis, when he saw cars lined up for blocks to get gas or simply couldn't get it at all. But the one-time bike ride turned into a habit, and for nearly 30 years, Album rode the nine miles to his job a few times per week when he could.
Now Album, who has for years been involved in making Petaluma more bikeable, said that "any increase in biking will be due in part to the increase in the price of gas."
Organizers of Bike to Work Day on May 12 expect many to follow a similar path as Album this year, and in a time of high gas prices, they are emphasizing that habits can be formed easily after taking the often-intimidating first step.
"I hear a lot of people say that 'I'm afraid to ride on the roads,'" said Sandra Lupien, outreach director for the nonprofit Sonoma County Bicycle Coalition. "Bike to Work Day is a super-effective way to get people to try bike commuting and keep committing to it," she added.
Organizers are putting together a number of events to help riders face the challenge of hitting the streets together. A "team bike challenge" as well as "energizer stations" and a "bike home celebration" are planned on May 12 throughout the county and in Petaluma. Much of the emphasis is on biking with others, since "it's kind of intimidating when you do it on your own," said Gary Helfrich, Bicycle Coalition's newly-named director.
"Part of it is just recognizing that you can get around moderate distances without a car," said Helfrich. Owning a car is often seen as a requirement to getting to work, especially in Sonoma County, he said. But there are more options for transportation than many people think.
"That is really our goal. It should be a choice whether or not you drive to work," Helfrich said. [Click to Continue Reading]
Saturday, May 21, 2011
Posted to prevent 'loose ends' (Ministers of Satan) from doing things they should not do.
Matthew 7:15 "Beware of false prophets. They come to you disguised as sheep, but in their hearts they are vicious wolves."

May 21 2011 Warning

The Rapture: May 21 2011

Harold Camping's Heresies Exposed
False Flag Operations
From Wikipedia, the free encyclopedia
False flag operations are covert operations designed to deceive the public in such a way that the operations appear as though they are being carried out by other entities. The name is derived from the military concept of flying false colors; that is, flying the flag of a country other than one's own. False flag operations are not limited to war and counter-insurgency operations, and can be used in peace-time.
Political or religious ideologies will sometimes use false flag tactics. This can be done to discredit or implicate rival groups, create the appearance of enemies when none exist, or create the illusion of organized and directed opposition when in truth, the ideology is simply unpopular with society.
Are recent natural disasters evidence we are in "end times?"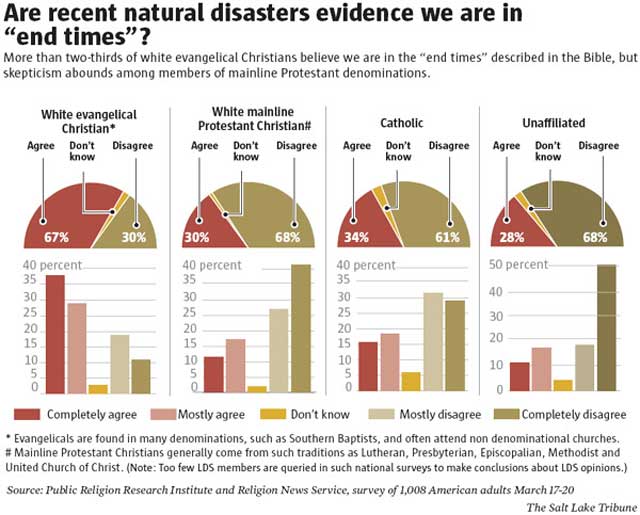 Public Religion Research Institute and Religion News Service Survey March 17-20, 2011 - The Salt Lake Tribune
Mathew 24:35-36 "Heaven and earth will pass away, but My words shall not pass away. But of that day and hour no one knows, not even the angels of heaven, nor the Son, but the Father alone." - Read & View Entire May 21, 2011 Post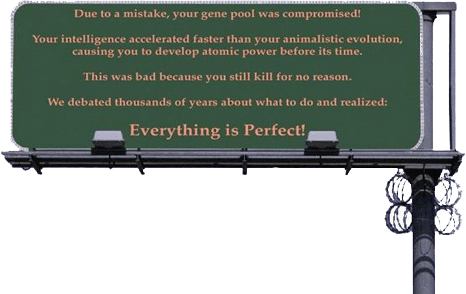 Do Not Allow Minister of Satan Extremists to Turn
May 21, 2011 into another 9/11?
Matthew 8:26, You of little faith, why are you so afraid?
"2012" and Electromagnetic Effects on Consciousness
The following is excerpted from Revolution 2012 by Dieter Broers (First English language edition 2010 ©2010 Scorpio Verlag GmbH & Co. KG, Berlin • Munich Translation by Robert Nusbaum) First published in German as a hardcover edition © 2009 Scorpio Verlag GmbH & Co. KG, Berlin.
I am convinced that we are currently in the midst of a process involving the restructuring of our neuronal networks, and that the catalyst of this process is the high solar-geomagnetic activity whose consequences are feared by so many people today. However, all facts and findings add up to the undeniable conclusion that this evolution will for the first time in human history enable us human beings to use the enormous potential of our brains.
David Samuels from Israel's Weizmann Institute has estimated that the brain's basic range of activities is driven by between 100,000 and 1 billion different chemical reactions every minute. The average human brain contains a minimum of 10 billion individual neurons or nerve cells -- a figure that is even more astounding when you stop to think that each neuron can interact with many other neurons. In 1974 neurophysiologists discovered that some 10800 (10 to the 800th) interconnections come into play in this regard. The magnitude of this capacity is comparable with the following cosmic facts and figures: inasmuch as the atom is the smallest unit in the universe and the universe itself the largest, it is estimated that the universe contains a total of 1080 (10 to the 80th) atoms. In other words, the number of interactions in the human brain far exceeds the number of atoms in the universe.
Moscow University physicist Pyotra Anokin feels that the aforementioned estimate of possible interactions in the human brain is unduly low. According to his calculations, the potential number of structures that the human brain can create is so large that writing them out as a figure would translate into a line approximately 6.5 million miles long. So clearly we have not even begun to tap into the amazing potential of our brains -- a situation that can be likened to using an area the size of a dust particle in a 500 room mansion.
The question then arises as to whether using our brains more efficiently will enable us to find an adequate response to the events of 2012. First of all, we need to realize that the brain and the mind are two different things. The mind can influence brain activity and vegetative processes by means of highly unusual suggestions, the most striking example being Buddhist masters whose ability to meditate enables them to put their brains in a tranquil state that palliates pain and that can even stop the beating of the heart.
Apart from this, what matters here is that our brains are always active whether we're awake, asleep, calm or agitated, and are always seeking intensity, new experiences, and long term connections. When the human brain is exposed to new impressions, as well as mental and emotional stimuli, new synapses (interfaces between neurons) are created.
In other words, the human brain floats in a kind of rapturous harmony as long as it receives the right kind of stimuli. This is in keeping with the attendant electrochemical principle of all or nothing, which forms the basis for electrochemical communication between neurons -- and in our context for interaction between the heretofore unused regions of the brain. If this weren't the case, it would make no sense for us human beings to be endowed with a brain whose potential is never fully exploited. Indeed, it almost seems as though this miraculous organ were waiting for 2012 to finally prove what it's capable of.
Apart from electrochemical information processing, our brain engages in other processes as well -- processes that form the basis for our subconscious. According to the American physicist Evan Harris Walker, the human mind and human consciousness are not empirically measurable quantities. Walker believed that consciousness is not a chemical process or the like, but is instead attributable to a quantum mechanical tunnel process -- a theory that is consistent with the views of a growing number of quantum physicists and brain scientists. Walker also persuasively showed that the brain's synapses exhibit quantum mechanical phenomena, for which models have been posited by David Bohm and Basil Hilely. These authors report astonishing similarities between quantum potential and neurological connections in the brain.
These connections are far from being well ordered for in fact, chaos is the mainstay of the brain's processes. This chaos, which comprises a veritable maelstrom of diffuse stimuli processing activities, is the precursor of a coherent equilibrium at higher levels. Creativity researchers have observed a similar phenomenon in which the creative mind initially processes totally chaotic and even contradictory concepts that ultimately translate into the beginnings of order and stability in the latter stages of the creative process. Hence, contrary to the law of entropy (order), evolution is moving toward negentropy (instability), a process that is at once feasible, useful and logical since it enables evolution to unfold in an "open system" so as to allow the brain to absorb new information and adapt in highly complex ways.
This prompted Ilya Prigogine to observe that each organized system dynamically shifts between a state of entropy and negentropy, i.e. between order and chaos. Moreover, Prigogine says, the greater the system's potential instability, the more readily it adapts and changes. This principle fits the brain like a glove.
But where, then, is the seat of the mind, this mysterious locus of self awareness that amalgamates intuition, common sense, emotions and the intellect? For the moment I will leave it to neurologists to figure this out -- although I will have more to say about this issue later on. First, though, I'd like to discuss the mental and psychological process of self discovery. The mind-brain system evolved out of a series of successive matrices. The first higher order matrix within which we move is undoubtedly the source of all life. According to Prigogine, for the infant brain a transition to a new harmonic matrix entails constant exposure to new resources that allow for the development of potential, self assurance, and skills.
These matrices, which are extremely concrete at the outset, become ever more abstract over time by dint of their exposure to perceptible reality, ultimately evolving into the matrix of pure creative thinking. Each transition to a new matrix is associated with unknown and unforeseeable experience that forms the basis for an increase in intelligence. According to Timothy Leary, each of us inherits a precoded draft of future organisms that differs considerably from the current human race and from most forms of human existence. And in the same vein, Michael Hutchison prophesied that the brain has learned more about itself over the past decade than during its entire history, and that henceforth human intelligence will evolve in quantum leaps.
Although I have already made the essential points regarding the effects of natural and artificial force fields on the brain, it should be noted here that phenomena such as the body's rhythms that are controlled by the pituitary gland can be affected by electromagnetic fields, which can have a significant impact on moods, activity patterns and the circadian rhythm. So a great deal remains to be discovered in this domain.
Some years ago I was part of a research team that measured the brain waves of test subjects at regular intervals via EEG. We found that specific electromagnetic fields sporadically acted on the test subjects' brains, without their being aware of this phenomenon. One of our most striking findings was that the test subjects' brain waves could be altered via exposure of the brain to electromagnetic waves; and as if this weren't astonishing enough, we also found that we could even control the test subjects' brain waves using these fields. For example, the EEG frequency of a test subject with a predominant baseline frequency of 10 hertz could be increased to 12 hertz each time we exposed the subject to an exogenous 10 hertz electromagnetic field that was then increased to 12 hertz. We concluded from this that endogenous rhythms are governed by their exogenous counterparts.
These experiments convinced me beyond a shadow of a doubt that human cells and electromagnetic fields do in fact interact; and this may in fact be one of the primary reasons why I decided to write this book. These findings also opened my eyes to processes that were of fundamental importance for my own research in that I now had incontrovertible, empirical proof that electromagnetic fields have a direct impact on brain activity.
A short time later I stumbled upon another phenomenon that I couldn't get out of my mind: specific force fields and force field intensity levels induce perceptions that could otherwise only be induced by the administration of psychoactive substances. A normal geomagnetic field allows us to maintain a normal state of alert consciousness, including our sense of time; whereas a severely abnormal geomagnetic field or the absence of a geomagnetic field provokes abnormal mental states and a derangement of our sense of time. In other words the effect of geomagnetic disturbances is very similar to that of taking hallucinogenic drugs.
Strange though this may sound, I can assure you that it's anything but. Altered mental states are provoked by neurochemical processes and the production of psychoactive substances, i.e. endogenous hallucinogens. The mental anomalies experienced by the test subjects in the aforementioned experiments were induced by "surplus" production of such substances secondary to withdrawal of, or exposure to very weak geomagnetic fields. Thus, under certain conditions the brain has the capacity to produce so called illegal substances. In other words, a phenomenon that under "normal" circumstances could only be induced through the practice of meditation or the like can also be catalyzed by exogenous electromagnetic fields.
This raises the following questions: What exactly happens during such an event? Is this phenomenon beneficial, or can it be harmful or even addictive? The fact is that the brain has the capacity to produce a chemical for every emotion we experience -- a phenomenon that forms the subject of Molecules of Emotion: The Science Behind Mind-Body Medicine by Dr. Candace Pert, Professor of Biochemistry at John Hopkins University whose observations in this regard can be summarized as follows: expansions of consciousness are provoked by a specific family of molecules. The basic difference between our daytime and nocturnal state of consciousness lies in the level of consciousness. While we are asleep, we are unaware of our existence and have no memory of our waking life, whereas the reverse situation prevails when we are awake. In other words, being asleep falls within the sphere of unconsciousness whereas being awake belongs to the domain of consciousness. Apart from this dichotomy, there is another level of consciousness known as enlightenment or satori, which I discuss at length below. Specific substances known as neurotransmitters are responsible for all three of these phases.
One of the key neurotransmitters is serotonin, which keeps us in an awake state and is therefore also responsible for our sense of time. When we are under the influence of serotonin -- an effect that can be heightened even by just a small embrace -- we feel relaxed and happy. Acute serotonin deficiency can provoke negative effects ranging from extreme melancholy to manic depression. However, a substantially elevated serotonin level induces emotions ranging from euphoria to ecstasy.
Thus serotonin controls our moods. There is scarcely any difference between the chemical structure of serotonin and the hallucinogen "psilocybin", which occurs in a mushroom that the peoples of some cultures used to take during certain rituals. For example the Mayans referred to psilocybin as the "Mayan mushroom," and the Dervishes called it the "Sufi mushroom." The plant was described by some as being the fruit of the knowledge of good and evil -- an appellation not unlike the reference in Genesis to the fruit of the tree of knowledge.
LSD -- the synthesized form of psilocybin -- is a psychoactive substance that was first produced by the chemist Albert Hofmann in 1938 while he was doing research on ergot, which is the (toxic) dried sclerotium of the eponymous rye plant. Hofmann stumbled on the hallucinogenic effects of LSD when he inadvertently absorbed the substance through his skin. He then repeated this experience by taking 250 micrograms of LSD, which he felt was the smallest possible effective dose for a hallucinogen compared to mescaline, which was the strongest hallucinogen then known. However, Hofmann discovered that 250 micrograms of LSD was the equivalent of five times the normal effective dose of mescaline.
In addition to the aforementioned sleeping state (which correlates with unconsciousness) and the waking state (which correlates with consciousness), there is also the state of enlightenment or hyper-consciousness.
Neurochemical substances known as tryptamines are responsible for all three of these states. The human brain has the capacity to convert any of these tryptamines into another tryptamine. Just as serotonin transitions us between a waking and sleeping state, there is also an additional neurotransmitter known as melatonin (mentioned earlier in connection with the pituitary gland) that is responsible for our state of "consciousness" while asleep. Serotonin is converted into melatonin in direct proportion to how drowsy we are, until we actually fall asleep. The findings of sleep, consciousness, and neurochemistry research have shown that an additional neurotransmitter known as dimethyltryptamine (DMT) is produced in the brain during both deep sleep and hyper-conscious (enlightened) states, thus making DMT one of the most powerful psychoactive drugs of all.
Unfortunately we literally sleep through the heady albeit completely legal drug high constituted by the hyper-conscious (enlightened) state, and are thus completely unaware of its occurrence. In other words, though we experience this state, we are unconscious of it and thus have no memory of it either. Both psilocybin and the neurotransmitter DMT are members of the same chemical family. If we could directly experience this heightened state of consciousness, we would be able to perceive its actual consciousness expanding properties. But unfortunately this is beyond the realm of possibility for ordinary mortals, and is achievable only by spiritual masters when they reach a state of enlightenment.
Only a mental state in which we feel that we are "in harmony" with all things will enable us to ascend to this level of pure being. In this state, the unduly self important ego retreats into the cosmic realm, where it becomes one with all things. While asleep, we are disassociated from our ego and have no memory of its daily manifestations in our consciousness. This is also why, during deep sleep phases, we are able to reach an enlightenment-like state, one that is unencumbered by the ego or the excess narcissistic baggage that weighs us down during our waking hours.
It has been scientifically proven that on certain days while we are in a waking state, solar-geomagnetic disturbances cause our brain to produce psychoactive, consciousness expanding substances, provoking hallucinations whose incidence is higher during periods where specific geomagnetic conditions prevail. The medical definition of a hallucination is a deceptive sense perception that occurs in the absence of an external stimulus. This can involve experiences such as seeing objects that do not in fact exist or hearing voices in the absence of a speaker.
The salient feature of hallucinations (which can affect any of the senses) is that the hallucination is totally real for the person experiencing it, who cannot distinguish the hallucination from reality -- thus making this experience altogether different from that of a daydream.
The events the cosmos has in store for us in 2012 can be compared to the effect of being handed a glass of juice into which someone has slipped some LSD without our knowledge. Such unanticipated altered states of consciousness have certainly occurred at other junctures in human history. For example, sudden outbreaks of hysteria provoked by hallucinations occurred regularly during the Middle Ages. Those affected were unaware that the bread they were eating contained ergot, whose active ingredient Albert Hofmann used to make LSD many years later. Inasmuch as the hallucinogenic effects of bread containing ergot were unknown at the time, those affected could only conclude that their altered mental state was a serious illness.
The analogy with this historical evolution and what awaits us in or around 2012 -- with the predicted arrival of a massive solar storm -- is clear, I think. For in that year force field disturbances are very likely to provoke not only disconcerting mental states, but also extremely pleasant ones. Even if you have your doubts about the term "enlightenment," you should nonetheless begin meditating as soon as possible so that you will be receptive to these states. These changes within us are in the pipeline -- of that there can be no doubt -- so you'll get an extremely useful head start if you begin instituting these changes now.
These mental states, which can be regarded as cosmic interventions, will directly impact our lives in various ways. Time will appear to move more slowly. Increased solar-geomagnetic activity will be associated with an increased incidence of altered mental states. We will experience nervousness, aggressiveness, depression and euphoria in turn. It would seem that the process that enables us to find the path to knowledge is currently occurring via a kind of cosmically induced correction. We will experience phenomena that affect geomagnetic fields and the like as an expansion of our consciousness that is tied to our personal history and current mental state.
Between 1983 and 2002, the cognitive neuroscience researcher Michael Persinger published the results of 240 investigations nearly all of which concerned consciousness expanding perceptions induced by magnetic fields.
These investigations were conducted as follows: A series of test subjects seated on a chair in a dark, acoustically insulated room was asked to put on a motorcycle helmet retrofitted with electromagnetic field-emitting solenoids that emitted very weak electromagnetic fields into the test subject's brain that were the equivalent of roughly 1/20 of the geomagnetic field.
Dr. Persinger, who also conducted research for NASA, said in an interview that these experiments allowed him to use the brain as its own amplifier and play back brain wave patterns previously recorded via EEG.80 These fields exerted an extremely unusual effect. According to the German newspaper Die Zeit, "many of the test subjects felt a strange 'presence' while wearing Dr. Persinger's motorcycle helmet, as if there was someone else in the room with them."81 Moreover, some test subjects were absolutely convinced that they had sensed angel-like beings or a God-like presence, whereas others fled the room in terror and were overwhelmed by negative feelings.
Apart from the aforementioned proven effects of magnetic fields, these results show that whether a person remains stuck in their old ways of thinking or is receptive to new ways of seeing things is determined by their predispositions or energy field. One person might flee an unexplained presence in their field of perception; another might regard such a presence as part of their consciousness; and yet another might initiate a dialogue with the mysterious presence and be inspired thereby.
Studies conducted by Professor Andrew Newberg shed invaluable light on intra-meditation brain activity via investigations of eight Tibetan Buddhist monks and eight Franciscan nuns during meditation. The test subjects were asked to adhere to their normal meditation practices as much as possible during the experiments. To this end and in the interest of preventing the test subjects from being distracted from their meditation process per se, when a test subject felt they had reached a meditative state, they signaled this by tugging on a rope, whereupon a radioactive substance was intravenously injected into their bloodstream. This was done because radioactive particles gravitate to the most heavily perfused brain cells. Thus at the end of each meditation session, the test subjects underwent a SPECT (Single Photon Emission Computed Tomography ) scan, which allows for the visualization of radioactive particles. The measurement results during meditation demonstrated elevated perfusion in specific regions of the brain.
The region of the brain that is directly tied to meditation is the orientation- associated center in the parietal lobes, which thanks to the steady flow of information from the sense organs creates a clearly defined boundary between the body and its environment, and also creates a sense of time. Experiments conducted at Ludwig Maximilians University in Munich have shown that this region is susceptible to the effects of geomagnetic fields.
In the meditation experiments, Newberg reasoned that "shutting down" this region of the brain may allow the test subjects to achieve a sense of oneness with the world while meditating, since the boundaries between space and time were no longer perceptible. Buddhists term this nirvana, i.e. a dissolution into nothingness. The nuns, on the other hand, referred to it as the experience of becoming one with God. Thus it seems this state is characterized by a consciously perceived melding with hyperspace, which is a higher dimension whose existence was demonstrated by none other than Max Planck.
In any case, when the test subjects were in a meditative state the boundaries between the self and the world were dissolved - a phenomenon that is oftentimes (somewhat fuzzily) described as "being one with everything that exists." According to Professor Newberg, when a person goes far enough the self disappears completely and the person experiences a sense of oneness, of infinite boundlessness. In other words, he feels that mystical experience is a biological reality that is scientifically perceptible, and that human beings are by their very nature mystical beings with an inborn capacity for effortless self transcendence.
Unfortunately Newberg uses his results to reduce religion to its mystical aspects, namely meditation and prayer. But surely for most religions people, their religion is more than just the promise or belief that a higher power determines their destiny. This view on the part of Newberg has come in for considerable criticism -- for example from the philosopher and cognitive neuroscientist Detlef Linke, who in his book Religion als Risiko. Geist, Glaube und Gehirn ("Religion as a Risk. Mind, Faith and Brain") took neurotheologists to task in these words: "Although neurotheologists are able to reconcile science and religion after many years of enmity between these two entities and in the coming years will undoubtedly shed even greater light on the biological processes of belief, their findings do not explain the phenomenon of religion. Even if it is true that men are animals who would rather embrace religious beliefs than think rationally and logically, one thing is certain: neurotheologists will never be able to prove the existence of God, since if God does exist, He is everywhere and not just in the brain." Nonetheless, neurologist Vilayanur Ramachandran, Director of the Center for Brain and Cognition and Professor of Psychology in the Neuroscience Department at the University of California, San Diego, has identified a region of the brain he refers to as the God module, which he feels is closely tied to spiritual thoughts.
Perhaps this digression has changed your thinking somewhat as regards the meaning of the term instability. It is certainly true that solar-geomagnetic activity can induce instability in biological systems, and particularly in the human brain which is highly susceptible to electromagnetic and magnetic fields. But this doesn't mean that we should be afraid of instability. We need to bear in mind that an existing element in an unstable situation must be used before it can give rise to something new.
Moreover, so-called hopeless patients have been successfully treated using the effects of solar-geomagnetic fields on the mind, perception and consciousness. This megawave therapy, as it is called, consists in the administration of electromagnetic fields that are identical to those found in nature. This therapy has achieved exceptionally high cure rates by virtue of the fact that for the first time the patients understand the cause of their disorder. Hence this therapy is closely bound up with a catalyzed process of consciousness, and does not at all involve a crude mechanistic procedure.
As with the motorcycle helmet experiments, the electromagnetic field stimulus is administered directly to the patient's head so as to allow the electromagnetic waves to penetrate deep into the brain. Conversely, it has been observed that exogenous electromagnetic fields provoke psychosomatic symptoms.
On the other hand, healthy subjects that are exposed to these same therapeutic frequencies always report having experienced an altered state of consciousness, and in so doing indicate that they suddenly, inexplicably and joyfully saw the "things of this world" in a larger context. You might of course wonder whether such experiences might be attributable to dizziness or mere illusions - in other words, subjective pseudo-experiences that are provoked by electromagnetic fields.
The answer to these questions can be found in the objectivity of experiences that are induced by external phenomena. When these questions are considered in light of the therapeutic success that was achieved with these extremely ill patients, it is fair to say that the end justifies the means in such cases, which are in any case difficult to assess. Nonetheless, we can certainly regard force field-enhanced expansions of consciousness as good training for all of the mental states that await us in 2012 -- and for which no test classifications of any kind are available.
These reflections also serve as a reminder that we will be communicating with cosmic phenomena in the near future. What will this entail from a biological standpoint?
For some three decades now I have been studying the effects of electromagnetic fields on biological systems. My initial investigations, which date back to 1980, led me to posit a theory that I later confirmed -- namely that our cells communicate with each other via endogenous electromagnetic fields that regulate these absolutely essential cell dialogues. My research at the time on simple cell systems clearly revealed that administering specific electromagnetic fields to cells in a Petri dish had a regulating and controlling effect on these cells.
My research also demonstrated that stable cell systems that are deliberately desynchronized can be returned to their baseline state by administering the relevant electromagnetic fields. I repeated these experiments a number of times and validated them via statistical analysis. It should be noted, however, that this type of effect did not fall within the scope of the "state of the art" back then; in other words it was not included in college syllabuses. The genuinely astonishing nature of these findings prompted me to apply for a German patent for this therapeutic process in 1982 and a European patent in the following year, which I was awarded in 1986.
For me, these patents validated the fact that my discovery represented a genuine scientific breakthrough, which is primarily attributable to my unusual life's path as a visionary, scientist, and specialist in the field of frequency research. These activities provided me with direct access to the academic institutions that were leaders in this field. Moreover, during my stint as manager of a research project for Germany's Ministry of Research and Technology, I had the opportunity to establish an interdisciplinary team.
Our research results, which were presented at international symposiums and conferences, solidified my grasp of the subject matter that forms the basis for the present book. The most important results from my standpoint were those we obtained in our experiments with completely asymptomatic (i.e. healthy) test subjects. In these experiments we discovered that the electromagnetic fields to which we subjected the test subjects were consistent with human DNA and terrestrial resonance frequencies. The specific frequencies that came into play were a 150 MHz basic carrier frequency -- which is the equivalent of a 6.5 foot long wave -- with an 8 Hz frequency modulated on it.
It was discovered in 2002 that this is also the length of an uncoiled human DNA molecule. Our tests yielded the aforementioned effect only when this 150 MHz DNA resonance frequency was used and when other frequencies were modulated on this carrier frequency, which we found also occurs in nature. However, when human beings are exposed to unnatural electromagnetic fields the results are appalling. My exhaustive patent search unearthed at least a few patented inventions that are intended for an application quite different from the foregoing -- namely involving specific electromagnetic frequencies that are used as weapons. This search also led me to the conclusion that certain force fields provoke panic and anxiety in human beings.
If you feel that I am advancing some kind of conspiracy theory here, an incident that was reported in the media may give you food for thought. What happened was that homeless people in London's financial district reported feeling tightness in the chest and anxiety when exposed to certain electromagnetic fields. These effects were so severe that the homeless people were forced to flee their usual haunts.
I mention this sad tale so as to avoid creating the impression that electromagnetic fields are inherently beneficial. The nature of the effects of such fields is determined solely by their frequency and intensity.
All of the brain wave (EEG) measurements of the test subjects in the aforementioned experiments were realized with the subjects in a relaxed state, lying on their backs, with their eyes closed. Antennas concealed under a pillow that emitted precisely defined electromagnetic fields were positioned near the subject's head. Brain wave sensors (EEGs) recorded all test subject brain waves during all of the experiments. As soon as the antennas began emitting electromagnetic fields, the electrodes attached to the subject's head transmitted signals to the recording source in such a way that the test subject's brain (i.e. neurons) emitted signals induced by electromagnetic fields that would not have been emitted in the absence of these fields.
Our test subjects exhibited field-induced alpha wave activity exceeding the norm by several hundred percent, which amazed both us and our subjects, since alpha waves normally indicate a semi-somnolent state. For example, alpha waves predominate when, in falling asleep, we transition to a sleep state, and conversely upon awakening from sleep. Natural healers induce an alpha state in their patients before beginning the treatment per se - but of course without the use of exogenous force fields. Genuine healers have the ability to induce such fields and heal their patients through force of will and conviction alone.
My invention allows an alpha state, which is regarded as the threshold between consciousness and unconsciousness, to be used for therapeutic purposes. Electromagnetic fields in the alpha range (as well as DNA resonance frequencies) are administered to the patient in such a way as to put him in an expanded state of self awareness. This in turn produces a therapeutic effect that chiefly stems from the fact that the patient is able to recognize the cause of his illness, which he had previously internalized as a trauma. This recognition process is undoubtedly strengthened by the fact that the patient remains in an alpha state so long as the effect of the electromagnetic fields remains constant.
At the juncture where the conscious and unconscious mind work in concert, a phenomenon known as "spontaneous healing" or "miracle healing" occurs. In this alpha state, where the patient is completely free of anxiety and obsessive thoughts, he has at his disposal all of his self healing powers -- which however are only mobilized once he has recognized the actual cause of his illness.
In one experiment, a terminal patient suffering from an incurable disease was exposed to a simulated natural magnetic field, whereupon the patient saw extremely traumatic images in his mind's eye. The patient initially refused to deal with these images, but after further treatment he confronted the images and realized how his life's path had provoked his illness. This realization triggered the healing process in this patient.
Needless to say, these findings also apply to the situation the world is currently facing. By regarding the current global crises as a symptom of a disease and looking deep within ourselves, we will be able to identify the actual cause of this disease. That this cause is closely bound up with our navel gazing tendencies and endemic egotism will come as no surprise to anyone. So long as our efforts to save ourselves center around the symptoms of our condition, a long lasting cure will elude us. We can only save our planet if we first recognize the true cause of its illness. This kind of awareness can be obtained through the use of induced electromagnetic fields.
For example, if every human being on Earth were exposed to electromagnetic fields as was done in the therapy described above, a collective awareness on the part of all human beings would take hold, unlikely though this may sound. And what if these electromagnetic fields were already exerting their effect on the human race? If people were unaware of these field effects, their first reaction would be to doubt their sanity, which might prompt them to check into a psychiatric hospital on account of their "abnormal" mental state.
Such individuals would genuinely believe they had lost their mind and would be full of anxiety - which unfortunately bars all access to our higher consciousness. But if, on the other hand, we give ourselves over to a state of calm and tranquility -- in other words, if we transition to our alpha state -- we will readily perceive the overarching connections and feel liberated by them.
Many will not immediately recognize the cosmically induced changes in perception, and will at first glance dismiss them as the products of their own imagination. However, I know from my professional experience that a person's willingness to open themselves to intuitive perceptions -- a criterion referred to by psychologists as "mindset and setting" -- is a precondition for success. Unless we are armed with the information we need, we may suffer rather than benefiting from the untoward effects of geomagnetic "anomalies."
In the run-up to 2012, knowledge is and will be the gateway to positive experience. Many people realize that some of their best and most unusual ideas have come to them on days with particularly high solar-geomagnetic activity. This phenomenon has also been scientifically proven by NASA scientists. The cognitive neuroscience researcher Michael Persinger was the first to discover that test subjects exposed to specific magnetic fields suddenly gained extremely spiritual insights. These results are all the more amazing in that even hardened atheists reported experiencing deep religious feelings on being exposed to magnetic fields.
In view of the fact that electromagnetic fields can help a patient identify the cause of their illness, it is well within the realm of possibility that cosmic force fields could enable the entire human race to come to an analogous realization about our planet. We need to bear in mind here that the physical conditions are already in place that would enable each of us to enter and explore our inner worlds so that we can identify the mental baggage we tote around with us and determine what we need to do in order to rid ourselves of it. In short, the conditions for an expansion of consciousness are already in place.
Dieter Broers is a biophysicist who studies the use of electromagnetism for healing. He has a number of patented inventions.
http://www.realitysandwich.com/2012_and_electromagnetic_effects_consciousness via Amestizo
Be Aware: The Nexus Approaches!
Posted on October 10, 2010 by mayasoma
10-10-10 Star Gate Portal
The human race is headed towards a great change, many spirits will return to the stars and something magnificent is going to happen!" Astral Walker
Can you feel it? The race is on, the diaspora has begun and souls are scrambling to make sense of the intensifying energies on Planet Earth. If only our history books had documented the truth of the astrological cycles as the Maya, and many other indigenous tribes, have long done for their own people, then there would not be so much uncertainty and fear. Unfortunately, that is not how this part of our homo-sapien history is to be played out. At present, the 3D world is going crazy and the only way to manuever these times is to understand the facts. And so, without further ado, here is some of our history…
26,000 years ago, the galactic center of the Milky Way emitted an enormous energetic wave better known as the Nexus. It does this every 26,000 years, as they say, there is nothing new under the sun. This emissions are what have caused the tumultuous transitions from each of our previous world eras. If you are not familiar with these facts, simply research indigenous tribes and their 1st, 2nd, 3rd, 4th, and soon to be 5th worlds.
What was released all that time ago will soon reach our earth in full strength. The Nexus has its own personal rhythm and does take some time to cross the galaxies and skies. I believe its arrival correlates to the Mayan Long Count End Date of December 2012. Afterall, the center of the Milky Way is where the Maya believe their Creator Hunab Ku resides. Our Creator has sent out an energy impulse, this Supreme Being is blowing us/creation a kiss. Unfortunately, our consciousness resides too far away from our original empowered selves to simply receive that kiss in bliss.
That incoming energy is meant to completely change our world, in other words, to wake us all up to who we are: infinite Gods and Goddesses with incredible abilities and powers. This incoming beam of bluish-white light will alter and restore our DNA from its current state which only uses 3% of its capacities to a renewed state of 100% remembrance. Translated: 97% of what scientist call junk DNA will be reactivated. WoW…a jolt of electricity that courses through our veins, awakening our souls and minds. No one is going to escape this phenomena. Thank you Hunab Ku!
Our main problem lies then with the Dark Lords who currently control the 3D world. They are also fully aware of the approaching Nexus and have set out a program to depopulate the Earth as much as possible. Why would they do that? Who are these Dark Lords? It's an old story, again, much of our missing history, but the short and long version of it is there is an inter-galalctic battle on right now, a war that is being waged for souls. If the Dark Lords, negative Et's, have their way, the coming earth catastrophes will take people into fear and fear is a place where they can trap one's soul, one's consciousness, forevermore. On a distant planet, in a distant place, maybe somewhere that looks exactly like our Earth, a new slave race can be created with the trapped souls. The Dark Lords know, full well, that their "time" on Planet Earth is over. A new era has cometh… the age of peace and enlightenment…and they must flee. They intend to flee with as many captives as possible. Sound like a bad sci-fi movie? I wish it were, but these are our current events and the facts are unknown to almost everyone. How frightening! Wake up, please, before you are whisked away to another dimension without personal agreement to do so.
"Right now the realm of darkness is not interested in this (peace). They are organized to block it. They seek to unbalance the Earth and its environment so we will be unready for the alignment in 2012." Carlos Barrios, Mayan Datekeeper
Take a look around…. ecological disasters leading to worldwide famines and extinction, environmental catastrophes that destroy the lives of millions, economical collapses that create a fearful, dependent race and threats of terrorism and world wars loom over our existence. Is this the four horsemen spoken of in the Book of Revelations? It clearly is the workings of the Dark Lords and its about to get more intense, after all, these are their death throes.
"From that 1987 date until now, Mr. Barrios says, we have been in a time when the right arm of the materialistic world is disappearing, slowly but inexorably. We are at the cusp of the era when peace begins, and people live in harmony with Mother Earth. We are no longer in the World of the Fourth Sun, but we are not yet in the World of the Fifth Sun. This is the time in-between, the time of transition.
As we pass through transition there is a colossal, global convergence of environmental destruction, social chaos, war, and ongoing Earth changes. All this, Mr. Barrios says, was foreseen via the simple, spiral mathematics of the Mayan calendars. It will change, Mr. Barrios observes. Everything will change. He said Mayan Daykeepers view the Dec. 21, 2012 date as a rebirth, the start of the World of the Fifth Sun. It will be the start of a new era resulting from — and signified by — the solar meridian crossing the galactic equator, and the earth aligning itself with the center of the galaxy." Carlos Barrios, Mayan Datekeeper
Meanwhile, the Family of Light is exerting every effort for a mass awakening, for gathering, for consciously uniting as we know on some level that everything is dependent on us to do so. We are supposed to be creating an astral force field around the planet and ourselves in the shape of the Flower of Life (see Drunvalo Melchizedek's work on this matter for more information). This symbol can and will prepare us for the enormity of the approaching Nexus. We are supposed to be clearing our fields as much as possible of debris, creating no new karma, so that we are a crystal clear channel for receiving the Nexus energy. We must give praise and thanks as we have received, and will continue to receive, so much help from the Galactic Federation of positive Et's.
I ask myself though, have enough souls awoken to make this transition happen with ease? Can geological earth disasters be diminished? The Dark Lords are earnestly working hard to create as many earth catastrophes as possible in these last days in order to capture their slave race of unaware humans. Many will succumb to this fate due to fear, many will go to the stars as their earth contracts are complete, and a handful of ascended beings will remain on the New Earth.
If you happened to be a person who was to die in shock and fear, your consciousness would be lost and confused on the astral plane for a moment. It is in those crucial moments that the negative Et's can and will capture your essence in a containment vehicle if you are not aware. As quickly as you come into consciousness, get to the benevolent blue light. I have been warned not to be drawn down any tunnels or caves, nor gravitate to any bright yellow-red lights and by no means go with any beckoning ET's.
The benevolent ET's, the light ones, are calling us home and their bioluminescent blue-white light is the signal. You can feel this with your heart. They have said Operation Victory is at hand. They have stated that the Dark Lords cannot succeed and all disasters will be minimized (let's hope so as some seriously dangerous threats are presenting themselves on the earth right now). They have also said the Dark Lords are at their most dangerous as they face defeat, so it is crucial to be fully present! Be aware! Vaccines? Genetically modified foods? Chemical spraying? Understand, these are some of their tools for mind control and keeping the masses asleep. Whatever cometh, wherever you find yourself in these last days where we count days, simply remember, you have only one thing to do: get to the bluish-white light, reach out for the Nexus. If you do, your full consciousness will be re-instated and you will be safe and empowered.
Let us recall the last sign in the Hopi prophecy which states that a blue planet from the Heavens will crash into Earth causing earth destruction, this last sign is what all elders are awaiting as our entry into the 5th world. Possibly, it is not a planet, but an energy wave: the Nexus?
Lightwalkers, we are going home now. We have felt the Nexus approaching for years, even if we could or could not put words to it. Our Creator desires our remembrance and this collective shift to magnificence is welcome. Stay in your heart and the Dark Lords will lose power. It is promised and all is well!
Navajo, awaiting portal 11-11-11 and 12-12-12 to the Nexus!
http://www.flyingsnail.com/201010.html - reposted
THE REVOLUTION HAS BEGUN

Worldwide rallies cry for peace and gather in solidarity. Western media ignores these peaceful gatherings and if they report, they focus on a few who act out (negatively). They don't show you the thousands of videos taken by real people around the world chanting for peace and freedom. Search YouTube today and you will find the streets around the world filled with people, standing up against tyranny, oppression, and NWO control. They are begging Americans to wake up too!!
Now is the time to choose......LOVE or FEAR?? If you choose Love, then stand up without Fear. We can't win war with war. We can only win peace on earth with Love. Don't sit by idle and do nothing as your show of peace. Stand up against bullies of the world with TRUTH, LOVE and PEACEFUL PROTEST.
YouTube rejected this upload 4 times, so I had to keep cutting it in order to upload for your viewing rights. A short version of this video is here. via Amestizo
The Constitution was Murdered by Bush Republicans and Is Dead

Tyranny In the Heartland via Amestizo
Flashback March 2010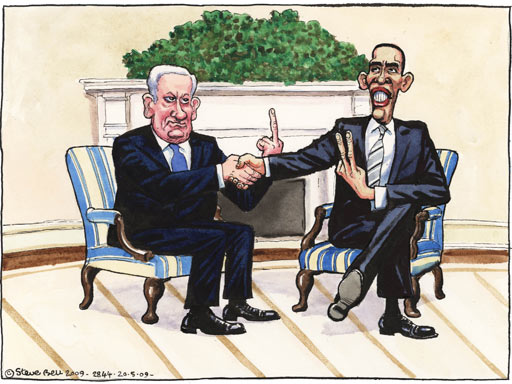 Obama and Netanyahu: up close and personal - Steve Bell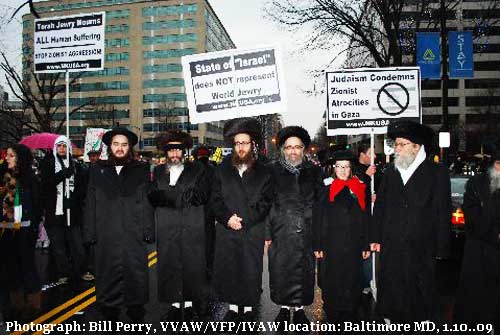 Photograph: Bill Perry, VVAW/VFP/IVAW location: Baltimore MD, 1.10.09
Peace Can Be Universal!
May 21 Judgment Day Party
Livestream Location With Live Chat
The May 21 Judgment Day Party is based on Harold Camping and Family Radio's prophecy that Jesus is coming back and the end of the world begins! Our party celebrates this historic day. via Karl
Fake Rapture
World Seismic Activity
Earthquakes Magnitude 5.0 & Above
[NOTE: Old maps and event pages replaced by USGS]
MAG
UTC DATE-TIME
y/m/d h:m:s
LAT
deg
LON
deg
DEPTH
km
Region
MAP
5.8
2011/05/21 22:06:27
35.592
140.728
34.5
NEAR THE EAST COAST OF HONSHU, JAPAN
MAP
5.0
2011/05/21 21:37:11
-5.821
129.406
255.0
BANDA SEA
MAP
6.1
2011/05/21 21:17:01
-30.775
-178.133
19.8
KERMADEC ISLANDS, NEW ZEALAND
MAP
5.0
2011/05/21 16:30:31
31.259
-41.003
9.9
NORTHERN MID-ATLANTIC RIDGE
MAP
5.3
2011/05/21 13:08:06
17.257
121.755
45.1
LUZON, PHILIPPINES
MAP
5.0
2011/05/21 09:53:55
-7.265
147.003
42.6
EASTERN NEW GUINEA REG, PAPUA NEW GUINEA
MAP
5.2
2011/05/21 08:33:21
65.369
-166.891
19.2
NORTHERN ALASKA
MAP
5.1
2011/05/21 00:41:37
-55.997
-27.195
40.7
SOUTH SANDWICH ISLANDS REGION
MAP
5.9
2011/05/21 00:16:27
-56.066
-27.165
64.8
SOUTH SANDWICH ISLANDS REGION
Apocalypse now? Christian Rapture fiction and the end of the world

HI! I'M GEORGE [BUSH] HEAR GOD TALK THROUGH ME! - Steve Bell
As a US broadcaster predicts Earth's imminent demise, this SF-influenced genre has long been warning us what to expect
David Barnett, guardian.co.uk, Friday 20 May 2011 12.37 BST, Article history, Article Source
Tomorrow is the end of the world as we know it, folks – or at least it is according to US Christian broadcaster Harold Camping, who has calculated that 21 May is Judgment Day. Camping, who runs the Family Radio network in the US, has offered several "infallible proofs" that the Rapture – when God will welcome all good and just souls into the kingdom of heaven – will occur tomorrow.
Good Christians have known for a long time what to expect, of course. The New Testament's 1 Thessalonians 4:15-17 lays it out pretty neatly: "... and the dead in Christ shall rise first: Then we which are alive and remain shall be caught up together with them in the clouds, to meet the Lord in the air: and so shall we ever be with the Lord". Stirring stuff, but it's not the only Judgment Day guide. Modern, literary primers are in plentiful supply – and chief among them is the Left Behind series of books by Tim LaHaye and Jerry B Jenkins.
LaHaye's own website describes him as "a noted author, minister, and nationally recognised speaker on Bible prophecy". He and Jenkins are also, one imagines, not short of a bob or two – Jenkins's site says the series has sold 70m copies worldwide. So presumably, camels and eyes of needles being what they are, the non-believers are not all that'll be left behind by 22 May.
There have been 16 Left Behind novels, most of which have made their mark on the New York Times bestseller list. The first – and, I must confess, the only one I've read – is subtitled A Novel of the Earth's Last Days and was published in 1995. The series was concluded in 2007. This is one long-drawn-out apocalypse.
I read the first one because I took it for science fiction, rather than a guidebook to changing my ways. It certainly has all the trappings of the dystopian stories that are currently enjoying a resurgence, especially in the young adult category. And Left Behind is thrilling enough – millions of people just disappear and there are big explosions, new factions rising to replace those who have gone off to heaven, rumblings of war and the rising of a charismatic antichrist. But the series follows the plan laid out by the Bible pretty – ahem – religiously, with the second coming of Christ giving those left behind one last chance to get their act together before the final showdown between God and the devil.
I've followed its progress from a distance, reading reviews with a slightly horrified fascination but never picking up subsequent volumes. Reading the first, I felt like I did as a child when I accepted a luridly illustrated magazine about the end of the world from a Jehovah's Witness because I thought it was a comic.
The Left Behind series isn't the only Rapture fiction on the market, of course – 70m sales is one market share any publisher would like a slice of. But many mainstream houses have been reluctant to publish, even under science fiction imprints. Writing for the excellent online magazine Strange Horizons nine years ago, Tom Doyle offers a great comparative analysis of Rapture lit and SF and asks: "Does Christian apocalyptic fiction belong anywhere near the science fiction shelves, or are there important distinctions between these genres? The Christian apocalyptic genre is generally poorly written, but that doesn't mean much; as Sturgeon's Law tells us, 90% of everything is crap. The authors of Christian apocalyptic fiction have a strong and definite religious viewpoint, but again, so do many science fiction authors." Doyle offers some fine examples of the genre, including The Omega Trilogy by the Morris family, the Rift in Time books by Michael Phillips and We All Fall Down by Brian Caldwell.
But it is Left Behind that continues to dominate the field, spawning spin-off products including – mind-bogglingly – a "kids' series" that has run to more volumes than the original saga, as well as books looking at the Rapture from the military point of view and even video games.
From what I understand about the final volume, Kingdom Come, it takes place a thousand years after the events of the first book, there's a big fight between Jesus and the Beast in Jerusalem, and the good guys win. Sorry if I've spoiled it for you, but let's face it: if Judgment Day really is tomorrow, you probably won't have a chance to get through the series.
See you on the flip side …

Protesters poke fun at 'end of world' church - Stacy Samuels of Interstellar Propeller on Banjo
Protesters mock 'end of world' church
Sceptics gather outside Harold Camping's Family Radio Network headquarters in Oakland, California to poke fun at the evangelical broadcaster's claim that the world would come to an end on May 21st, 2011.
The 89-year-old Californian preacher and radio host had prophesied that the Rapture would begin at 6pm May 21st in each of the world's time zones, with non-believers wiped out by rolling earthquakes, as the saved ascended into heaven.
Mr Camping, a retired engineer, spread his message of doom via Family Radio, which has a network of 66 radio stations and online broadcasts.
Outside the Family Radio network headquarters protesters celebrated as the world's end failed to materialise. One group, who call themselves the Family Church of Laughs, filled human-shaped balloons shaped with helium and let them go to simulate souls being lifted to heaven.
Ed Holmes, leader of the satirical group, said: "It's important to mock the prophets. It's important to mock those that think they know what they are talking about." - Article Source
No money back guarantee with Camping's fake Rapture?
Sue them in court for false advertisement!

Paul Krasser receives Lifetime Achievement PEN Award. 12/11/10 - YouTube Upload by bsarles
Hollywood shuns intelligent entertainment. The games industry doesn't.
Guess who's winning?
LA Noire and Portal 2 are video games that challenge the mind instead of the thumbs
Charlie Brooker, The Guardian, Monday 23 May 201, Article history, Article Source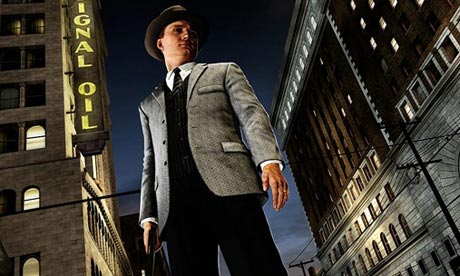 LA Noire . . . thrillingly different
Do you remember the days when you used to be able to head out to the cinema safe in the knowledge that even if the film you wanted to see had sold out, there'd be something else worth watching? I'm talking about 10,000 years ago, obviously, because here's what's on at your local multiplex.
Screen one: a 3D CGI cartoon about a wisecracking badger with attitude you'd quite happily reverse a six-tonne tractor over. Screen two: a 3D superhero theme park ride that thinks it's King Lear. Screen three: a rom-com so formulaic you suspect it was created from a template on Moonpig.com. Screen four: The Very Hungry Caterpillar 3D. Screen five: all of the above, randomly intercut with one another because no one's paying attention anyway. Screen six: a lightshow for cattle. And so on.
About once a month there's a film actually worth bothering with: either something with a quirky sensibility and a modest budget, or the occasional decent blockbuster the studios have made by mistake. There seems to be something missing from cinema: big budget dramas with panache, aimed at an adult audience. Where are they? They migrated to television. And – don't snort with derision here – to video games.
Consider two of the biggest video games of 2011 thus far. The first is Portal 2, a darkly humorous science fiction . . . what? Story? Puzzle? Game? "Experience" seems like the best word to use, even though typing that makes me feel like shoving my fist in my mouth to punch my brain from an unexpected angle. The game mechanics of Portal 2 are almost impossible to describe without diagrams, but I'll try: you wander around a 3D environment trying to escape a series of rooms by firing magic holes on to the walls or floor; holes you can walk or fall through. So if I fire a hole on to the ceiling, and another on to the ground, I can jump through the ground and re-appear falling through the ceiling. This simple dynamic provides the basis for a series of fiendishly clever puzzles you find yourself working through – all of it tied into a humorous narrative that unfolds with more confidence, charm and sophistication than was strictly necessary. And before you whine about the solitary nature of games, it also includes a cooperative two-player mode in which you and a friend play through a parallel game together. The whole thing is stunningly clever and immensely enjoyable.
And then there's LA Noire, the James Ellroy-inspired crime drama, which has caused a stir, and rightly so, with its firm focus on narrative and staggering new facial animation technology. I'm a massive dweeb who keeps up with the latest gaming developments, and even I was astounded at what they've pulled off here. You're watching actors give genuine performances – within something that is still defiantly and unapologetically a video game. The lead character is played by Aaron Staton, AKA Ken Cosgrove from Mad Men – and is instantly recognisable, not just from his likeness, but also his facial mannerisms. Amusingly, plenty of his fellow Mad Men cast members also show up throughout the game (as well as faces familiar from shows such as Heroes and Fringe), reinforcing the overall feel of the game – which is like working your way through a hard-nosed HBO police procedural miniseries set in Los Angeles in the 1940s. If you've never played a game, or you think you hate them – but my description sounds vaguely appealing, give it a spin. Just watch someone else play it for a while if you like. I guarantee you'll be surprised.
And what really made me excited, thinking about both of these games, is that behind the state-of-the-art technology they both make use of (which has a level of sophistication that might come as a blinding shock to anyone who hasn't played a game since 1996), they're both old-fashioned video games at heart – not old-fashioned in the finger-twitching, reaction-testing Space Invaders sense, but something richer, something often overlooked by the population at large: old-fashioned video games that challenge the mind instead of the thumbs.
Portal 2 is essentially a demented series of puzzles – like being stuck inside a physics-based logic problem designed by the Python team; LA Noire is a trad adventure game. Adventure games used to be as close as gaming got to fiction. They started out as interactive text-based shaggy dog stories (a prime example being Douglas Adams's fantastic Hitchhiker's Guide Infocom adventure), transformed into point-and-click comedies (such as Monkey Island), and then largely went away for a while, as the gaming industry focused on gung-ho shooters aimed at teenage boys. The size, scope, and sheer self-assurance of LA Noire marks a major comeback for adventure games – for interactive fiction – and, potentially, a huge leap forward for wider acceptance of the medium as a whole.
And both these games – both of these entirely different, utterly unique creations – are a huge commercial success. In cinematic terms, it's the equivalent of films of the intelligence and quality of 2001: A Space Odyssey and The Maltese Falcon not just being released to great fanfare in 2011, but actually going on to smash box office records. Somehow Portal 2 and LA Noire manage to be more cinematic than a great deal of contemporary cinema – while being something entirely different, something with the phrase "I LOVE VIDEO GAMES" embedded in their DNA like a cheerful slogan through a stick of rock. These are not replacements for films, but something thrillingly different. Gaming's ongoing push into the mainstream consciousness has entered a bold new phase – by appealing to the players' intelligence and imagination, it's starting to make Hollywood look embarrassing.
Republicans and Democrats are Lying Hypocrites
Who Support Selective Terrorism Against U.S. Military
Assault on U.S.S. Liberty
Covered Up Since June 8, 1967


Remember the U.S.S. Liberty
34 U.S. Military Dead [Murdered], 171 Wounded
"Every time we do something you tell me America will do this and will do that . . . I want to tell you something very clear: Don't worry about American pressure on Israel. We, the Jewish people, control America, and the Americans know it."
3 October 2001 - Israel Prime Minister, Ariel Sharon, Less than a month after 9/11 - Sharon & Netanyahu are Zionists
Even today I am willing to volunteer to do the dirty work for Israel, to kill as many Arabs as necessary, to deport them, to expel and burn them, to have everyone hate us, to pull the rug from underneath the feet of the Diaspora Jews, so that they will be forced to run to us crying. Even if it means blowing up one or two synagogues here and there [? 9/11 ?], I don't care. And I don't mind if after the job is done you put me in front of a Nuremberg Trial and then jail me for life. Hang me if you want, as a war criminal… What you lot don't understand is that the dirty work of Zionism is not finished yet, far from it. - Ariel Sharon 1982
Paul Krassner writes, "Tonight, on NBC, Late Night with Jimmy Fallon, guests include Wavy Gravy, David Crosby and Graham Nash."
Late Night - The Blog
Posted by Emmy Blotnick 05/25/2011
Tonight on the show we've got the man, the legend, the Ben & Jerry's inspiration: Wavy Gravy! The hippie icon has appeared in a boat load of documentaries about the '60s, '70s, peace, love and rock & roll and you know he's got a million amazing stories. Grab a pint of Wavy Gravy, put on the ol' tie-dye T-shirt and watch him in action tonight!
The documentary's last stand
They win awards and critical acclaim – but are in-depth documentaries under threat? Mark Lawson talks to film-makers about risk-taking, total immersion and the cult of celebrity
Mark Lawson, guardian.co.uk, Wednesday 25 May 2011 21.30 BST, Article history, Article Source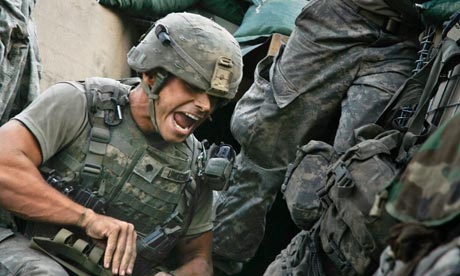 Restrepo . . . a year in the life of US troops in Afghanistan. Photograph: Tim Hetherington/Panos
Is this a good time for factual film-making? It depends on your definitions of fact and film. There are executives and directors who complain that there are too few documentaries on television these days; and yet programmes from Brian Cox's The Wonders of the Universe to My Big Fat Gypsy Wedding have large and enthusiastic audiences. The problem is that what traditionalists mean by documentary (Adam Curtis's new series) is quite different from the star vehicles and "constructed reality" shows (Made in Chelsea, The Only Way is Essex) that are currently popular.
The past decade has also seen a big increase in the number of documentaries made for cinema. The success of Michael Moore's Bowling for Columbine (2002) and Morgan Spurlock's Super Size Me (2004) began a phenomenon in which a format (the reporter-director) and subject matter (gun control, fast food) that would once have been restricted to television played in multiplexes. Banksy's Exit Through the Gift Shop, Man on Wire and Restrepo, following the military in Afghanistan, co-directed by the late Tim Hetherington, have all been Oscar-nominated (Man on Wire won in 2009).
Does this mean documentary is now on an equal footing with mainstream, "feature" cinema? Or, given its largely indifferent box-office performance, is it simply flourishing in a soon-to-be-closed bolthole – a genre for which TV no longer has the time or money?
This summer, a number of events will focus on this debate. The BFI has just released the first of three volumes of a DVD boxset that will add up to a near-complete retrospective of the work of Molly Dineen, whose influential observational films include Home from the Hill (1987) and The Lie of the Land (2007). In April, Kevin Macdonald, who won an Oscar for his account of the Munich Olympics massacre, One Day in September (1999), gave a BBC-sponsored lecture in which he challenged the view that the current digital free-for-all, in which anyone with a mobile phone and web access can shoot and distribute a film, reduces the need for traditional documentarians.
Dineen's work and Macdonald's thesis are among the subjects to be discussed at next month's International Documentary festival in Sheffield. At last year's festival, the key themes were "access, consent and editorial policy", and these are likely to recur.
Are we on the cusp of a golden age of democratic documentary-making? Macdonald is sceptical. "It's very interesting that, although the technology is out there now for us all to make a film, there aren't more great films," he says.The director's next project, Life in a Day, is based on hundreds of thousands of pieces of volunteer footage, shot around the world on 24 July last year. "There was some wonderful film-making in there," he acknowledges, "but a very tiny percentage. And I think it took a film-maker, a director, like me to find the story in there."
Another topic is likely to be the blurring of distinctions between documentary and drama. This began with the popularity of the docu-soap, in which real people played out situations that were cut and shaped like plays – a form pioneered by Driving School and Wife Swap, and which evolved into mock-doc comedy such as The Office. An ever-greater number of dramas are based on actual events (Hillsborough, Mo), or shot to look as if they were (Dominic Savage's Love + Hate, and Freefall). In what could be seen as a symbolic move, several leading documentary-makers have switched sides from fact to fiction, among them Peter Kosminsky (The Promise) and Paul Greengrass (The Bourne Ultimatum).
Asked if she regards the spread of documentary style into comedy, drama and even advertising as a tribute, Dineen, when I spoke to her for Radio 4's Front Row, was dubious: "Is it a popular style because it feels more edgy and exciting, which is slightly ironic at a time when people find it less and less justifiable to fund pure documentary? Or is it because it is cheaper?"
The most subtle and invidious blurring between drama and documentary is the belief that the storyline should be settled before shooting starts. Both Dineen and Macdonald comment on the current tendency of executives to demand, in effect, a script. Macdonald told me: "Commissioners want documentaries where they know what happens in advance. They say: 'I need to know more about how the story develops.' And I say: 'But I don't know yet. There's a risk inherent.' And people are increasingly risk-averse. And, if you don't take those risks, you won't have great films."
Dineen worked for two and a half years on The Ark, her 1993 Bafta-winning series about London Zoo, arriving at 6am and often working until midnight. While making The Lie of the Land, her multi-layered portrait of a rural community in the West Country, she filmed for months before discovering what the film might be. Increasingly, both commissioners and finance directors lack the patience for such long, blind searches.
While supervising the digital transfers of her work for the boxset, Dineen was struck by another now radical, but then standard, aspect. Heart of the Angel, her 1989 film about a London Underground station for 40 Minutes, "has no commentary at all: [it] just builds up through images. You wouldn't get away with that these days. We have far too much commentary. Audiences are very sophisticated: they know what they're looking at." If a documentary about a Tube station were made now, networks would demand a wry commentary spoken by a recent Doctor Who; or, more likely, that a celebrity should "own" the topic – Stephen Fry's Favourite Tube Stations, say. Film-makers report that commissioners will often baldly ask: "Who will be the viewer's friend?", as if the audience nervously waits for a kindly parental figure to lead them through the thickets of information.
'People have a right to see them'
This bias is well demonstrated by the new arts policy of ITV1. Having cancelled The South Bank Show, the network has now filled some of the vacant slots with Perspectives, in which celebrities share their enthusiasm for a cultural subject: Sir Ian McKellen on LS Lowry, Lord Lloyd-Webber discussing his Pre-Raphaelite paintings. Both men are intelligent and informed; but the South Bank Show was always able to profile the lesser-known.
What most concerns older generations of film-makers and viewers is an apparent softening or simplification of content: series rather than one-offs, metaphor-heavy commentary, obtrusive background music (The Wonders of the Universe had all these, plus a celebrity scientist-presenter). Ominously, the cinema docs that have done best at the box office have tended to have frontmen – whether Michael Moore, Morgan Spurlock or Al Gore, in his Oscar winner, An Inconvenient Truth (2006).
Traditional observational or historical documentaries still exist, among them the recent behind-the-courts story Justice, The Agony and the Ecstasy: A Year in the Life of English National Ballet, and Tony Palmer's splendid Holst: In The Bleak Midwinter. But these projects, which would once have been on BBC2, or even ITV, were all on BBC4, a retreat from the mainstream.
Dineen is planning a documentary on the educational system, hoping to film in an academy school, but fears that the kind of film she wants to make is being marginalised. "Why it matters, when everything else starts to look like documentaries, is that I think people have a right to watch documentaries. That sounds terribly pompous. But there is an increasing lack of room for real people with real stories that ought to be told. But you've got to want to spend the time and the money to tell them."
• The Molly Dineen Collection: Volume One is released by the BFI.
Wavy Gravy on Late Night via Hulu
Barack O'Boosh & the We Say So Party

Following in the footsteps of the criminal Bush Administration, Barack O'Boosh & the Republican/Democrat We Say So Party, once again, stick it to U.S. Citizens!
The PATRIOT ACT excretes on the fourth amendment. Simply, anyone doing anything "criminal" can be treated as a "terrorist"
Sounds innocuous until you realize that speeding on the highway, on your way to work, is considered to be "criminal."

THE PATRIOT ACT
Brought to you by Republicans, Supported by Democrats,
& Nobody Read It
The Patriot Act Is Not About Terrorism,
It Is About Control of United States Citizens.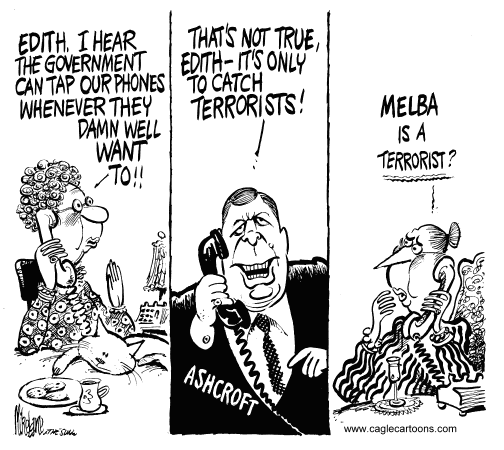 Click to See All Patriot Act Cartoons
Patriot Act surveillance provisions extended in nick of time
US anti-terror renewal bill raced through Congress and signed with 'auto pen' by Barack Obama from Europe to meet deadline
http://www.guardian.co.uk/world/2011/may/27/patriot-act-surveillance-provisions-extended
Nucking Futz:
Italy earthquake experts charged with manslaughter
Risks commission members to face trial over failure to give sufficient warning about L'Aquila earthquake in 2009
by David Batty and agencies, The Guardian, Thursday 26 May 2011, Article history, Article Source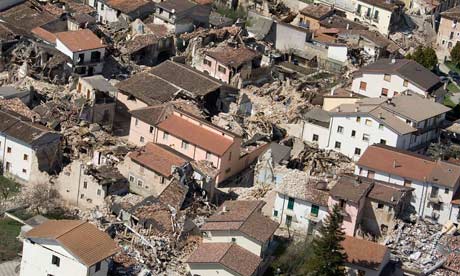 Destroyed houses in Onna near L'Aquila - 300 people died in the earthquake. Photograph: Max Rossi/Reuters
Seven experts responsible for evaluating the threat of natural disasters in Italy have been charged with manslaughter for allegedly failing to give sufficient warning about the devastating L'Aquila earthquake in 2009.
Judge Giuseppe Romano Gargarella ordered the members of the Great Risks commission to go on trial in L'Aquila on 20 September.
The judge said the defendants "gave inexact, incomplete and contradictory information" about whether smaller tremors in L'Aquila six months before the 6.3 magnitude quake on 6 April, which killed more than 300 people, should have been viewed as warning signs of the subsequent disaster.
Defence lawyers condemned the charges, arguing that it was impossible to predict earthquakes. Prosecutors point to a memo issued after a commission meeting on 31 March 2009, which was called because of mounting concerns about the seismic activity in the Abruzzo region, in central Italy.
The memo stated that it was "improbable" there would be a major quake, but the threat could not be discounted.
Commission members also told the local media that it was impossible to predict quakes, adding that six months of low-magnitude tremors was not unusual in the highly seismic region and did not mean a major quake would follow.
An interview with commission member Bernardo De Bernardis, of the national civil protection department, in which he rejects suggestions that the public should worry, is cited in the prosecutor's case.
Asked whether residents should just sit back and relax with a glass of wine, he said, "Absolutely, a Montepulciano doc [a Tuscan red wine]. This seems important."
The charges filed by the prosecution contends that this assessment "persuaded the victims to stay at home", La Repubblica newspaper reported.
The earthquake killed 308 people in and around L'Aquila, which was largely reduced to rubble. Thousands of survivors lived in tent camps or temporary housing for months.
Defence lawyers contend that since quakes cannot be predicted, the accusations that the commission's scientists and civil protection experts should have warned that a major quake was imminent make no sense.
"As we all know, quakes aren't predictable," said Marcello Melandri, defence lawyer for defendant Enzo Boschi, a scientist who heads the National Institute of Geophysics and Volcanology.
Melandri added that the panel "never said, 'stay calm, there is no risk'".
Manslaughter charges for natural disasters are not unusual in Italy, but they have previously concerned breaches of building codes in areas at risk of quakes.
Fukfreespeech Pimp/Whore Says What?
Twitter unmasks anonymous British user in landmark legal battle
California court forces site to reveal personal details of user accused of libelling local authority in north-east England
Nigel Green and Josh Halliday, guardian.co.uk, Sunday 29 May 2011 13.17 BST, Article history, Article Source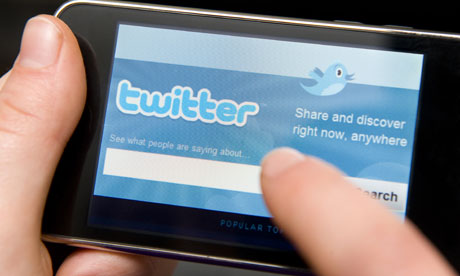 Twitter's actions have prompted concerns over free speech on the internet. Photograph: Jonathan Hordle / Rex Features
Twitter has been forced [Did Condoleezza Rice torture Twitter Executives?] to hand over the personal details of a British user in a libel battle that could have huge implications for free speech on the web.
The social network has passed the name, email address and telephone number of a south Tyneside councillor accused of libelling the local authority via a series of anonymous Twitter accounts. South Tyneside council took the legal fight to the superior court of California, which ordered Twitter, based in San Francisco, to hand over the user's private details.
It is believed to be the first time Twitter has bowed to legal pressure to identify anonymous users and comes amid a huge row over privacy and free speech online.
Ryan Giggs, the Manchester United footballer named as being the plaintiff in a gagging order preventing reporting of an alleged affair with a reality TV model, is separately attempting to unmask Twitter users accused of revealing details of the privacy injunction.
However, Giggs brought the lawsuit at the high court in London and the move to use California courts is likely to be seen as a landmark moment in the internet privacy battle.
Ahmed Khan, the south Tyneside councillor accused of being the author of the pseudonymous Twitter accounts, described the council's move as "Orwellian". Khan received an email from Twitter earlier this month informing him that the site had handed over his personal information. He denies being the author of the allegedly defamatory material.
"It is like something out of 1984," Khan told the Guardian. "If a council can take this kind of action against one of its own councillors simply because they don't like what I say, what hope is there for freedom of speech or privacy?"
Khan said the information Twitter handed over was "just a great long list of numbers". The subpeona ordered Twitter to hand over 30 pieces of information relating to several Twitter accounts, including @fatcouncillor and @ahmedkhan01.
"I don't fully understand it but it all relates to my Twitter account and it not only breaches my human rights, but it potentially breaches the human rights of anyone who has ever sent me a message on Twitter.
"A number of whistleblowers have sent me private messages, exposing any wrongdoing in the council, and the authority knows this."
He added: "I was never even told they were taking this case to court in California. The first I heard was when Twitter contacted me. I had just 14 days to defend the case and I was expected to fly 6,000 miles and hire my own lawyer – all at my expense.
"Even if they unmask this blogger, what does the council hope to achieve ? The person or persons concerned is simply likely to declare bankruptcy and the council won't recover any money it has spent."
A spokesman for south Tyneside council said the legal action was brought by the authority's previous chief executive, but has "continued with the full support" of the current head.
He added: "The council has a duty of care to protect its employees and as this blog contains damaging claims about council officers, legal action is being taken to identify those responsible."
Twitter had not returned a request to comment at time of publication.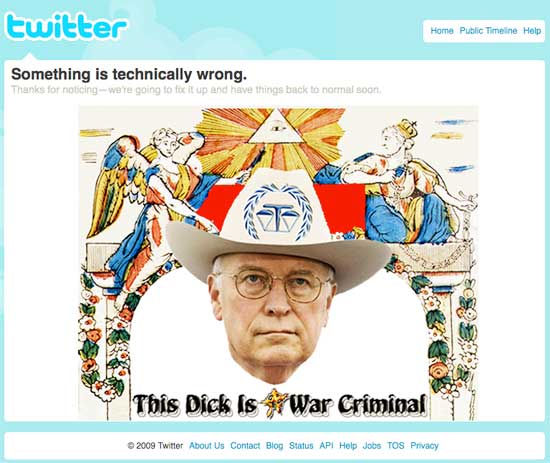 Lockheed Martin Defense Hacked
Why do Corporate News Crackers Always, Intentionally, Point Finger at Unassuming Hackers?
Corporate News Crackers Use Wrong Word, Look It Up: Cracker // Hacker
New Twitter user publishes claims over privacy injunctions
Claims about 14 gagging orders follow UK and US court battles to unmask anonymous tweeters
Josh Halliday, guardian.co.uk, Tuesday 31 May 2011 11.52 BST, Article history, Article Source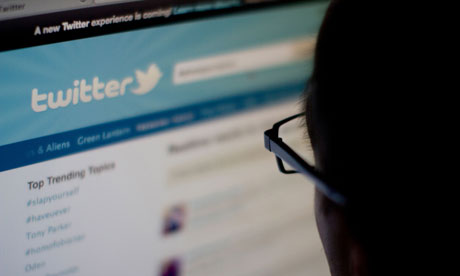 A Twitter user has published claims about 14 privacy injunctions. Photograph: Chris Batson/Alamy
Another Twitter user has published claims about 14 privacy injunctions allegedly obtained by high-profile performers, sportsmen and politicians.
The new Twitter account launched on Monday and has almost 800 followers at the time of publication.
On Monday evening, the anonymous user began posting a series of hitherto unpublished claims about the alleged gagging orders, including links to news articles and court documents.
Earlier this month, a Twitter user amplified pressure to reveal the identities of celebrities said to have taken out privacy injunctions with a string of claims about the alleged indiscretions of six prominent personalities. The account quickly gained more than 100,000 followers, with many more forwarding the claims across the internet.
Ryan Giggs, the Manchester United footballer named by an MP in the Commons as being behind a gagging order preventing reporting of an alleged affair with a reality TV star, is attempting to unmask Twitter users accused of revealing details of the privacy injunction.
Giggs brought the lawsuit at the high court in London and Twitter is understood to have successfully resisted handing over the users' private information.
However, Twitter was forced to hand over the personal details of a British user earlier this month in a separate case involving south Tyneside council. The local authority brought the legal challenge in a Californian court – a move which could spark a change of tack for UK authorities attempting to unmask anonymous Twitter users.
The original Twitter claims – some of which were rejected as false by their subjects – prompted the lord chief justice, Lord Judge, to describe modern technology as being completely out of control following the publication of Lord Neuberger's report on privacy injunctions.
Judge said: "I'm not giving up on the possibility that people who peddle lies about others through using technology may one day be brought under control, maybe through damages, very substantial damages, maybe even injunctions to stop them peddling lies. It will take quite an effort for parliament to get a grip on this."
Twitter says it removes "illegal tweets and spam" but that it "strive[s] not to remove tweets on the basis of their content".
• To contact the MediaGuardian news desk email editor@mediaguardian.co.uk or phone 020 3353 3857. For all other inquiries please call the main Guardian switchboard on 020 3353 2000. If you are writing a comment for publication, please mark clearly "for publication".
• To get the latest media news to your desktop or mobile, follow MediaGuardian on Twitter and Facebook

Freedom of expression and freedom of speech aren't really important unless they're heard...It's hard for me to stay silent when I keep hearing that peace is only attainable through war. And there's nothing more scary than watching ignorance in action. So I dedicated this Emmy to all the people who feel compelled to speak out and not afraid to speak to power and won't shut up and refuse to be silenced. - Tommy Smothers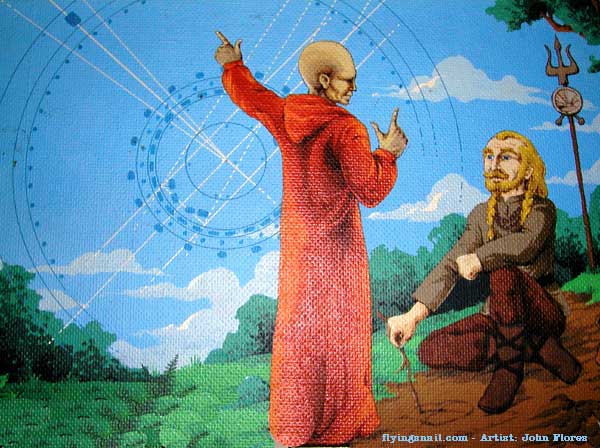 The man whispered, "God, speak to me" and a meadowlark sang. But the man did not hear. So the man yelled "God, speak to me" and the thunder rolled across the sky. But the man did not listen. The man looked around and said, "God let me see you" and a star shined brightly. But the man did not notice. And the man shouted, "God show me a miracle" and a life was born. But the man did not know. So the man cried out in despair, "Touch me God, and let me know you are there" Whereupon God reached down and touched the man. But the man brushed the butterfly away and walked on.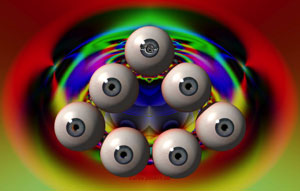 Don't miss out on a blessing because it isn't packaged the way you expect.