#3 TELL-A-VISION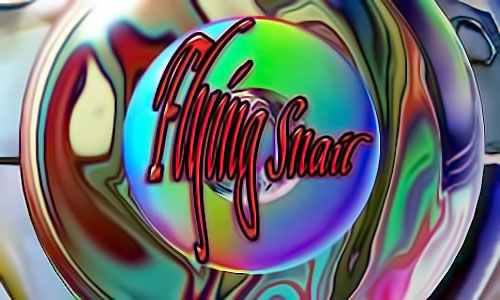 I R L P
Internet Radio Linking Project
Link: http://www.irlp.net/
Tags: IRLP, Internet, Linux, Amateur Radio
The aim of this project is to reliably and inexpensively link amateur radio systems without the use of RF links, leased lines, or satellites.
The IRLP uses Voice-Over-IP (VoIP) custom software and hardware. Coupled with the power of the Internet, IRLP will link your repeater site or simplex station to the world in a simple and cost effective way.
IRLP operates a worldwide network of dedicated servers and nodes offering very stable worldwide voice communications between hundreds of towns and cities. All this with unsurpassed uptimes and the full dynamic range of telephone quality audio.
Click Here for a list of IRLP systems featuring live streaming audio.
WIN SYSTEM
Link: http://www.winsystem.org/
Tags: Win System, IRLP, Internet, Amateur Radio, Repeaters
The WIN SYSTEM is a series of linked, or Intertied, UHF (440 MHz, or 70 cm) repeaters that cover a great deal of California and with the IRLP, around the world. The WIN SYSTEM is owned and operated by Shorty, K6JSI, with a lot of help from the WI SYSTEM membership and WINSYSTEM Affiliates.
There are a lot of fine groups out there, and we appreciate your interest in the WINSYSTEM.
The WIN SYSTEM is not a Closed or a Private system, but rather a member supported open repeater system. We encourage all hams to stop in and get acquainted. Membership is open to any licensed amateur radio operator who wants to get involved with a growing, vibrant group, on the leading edge of technology.
Amateur Radio for the Pacific Northwest
http://www.nwham.com
Western Intertie Network
Link: 36 Repeaters Currently Listed
Tags: Repeater, IRLP, Internet, Amateur Radio, AK, AZ, CA, WA
Oh, I hope that I see you again I never even caught your name As you looked through my window pane -- So I'm writing this message today I'm thinking that you'll have a way Of hearing the notes in my tune -- Where are you going? Where have you been? I can imagine other worlds you have seen -- Beautiful faces and music so serene -- So I do hope I see you again My universal citizen You went as quickly as you came -- You know the power Your love is right You have good reason To stay out of sight -- But break our illusions and help us Be the light - Message by Michael Pinder
You may say I'm a dreamer, but I'm not the only one. I hope some day you'll join us and the world will live as one: Reflections on the Spirit and Legacy of the Sixties by Fritjof Capra - December 1, 2002 - Continue Reading
Redwood City Public Seismic Network
http://psn.quake.net/


Image updated every 5 minutes - More Local and World Wide Heliplots
Amateur Radio Public Seismic Network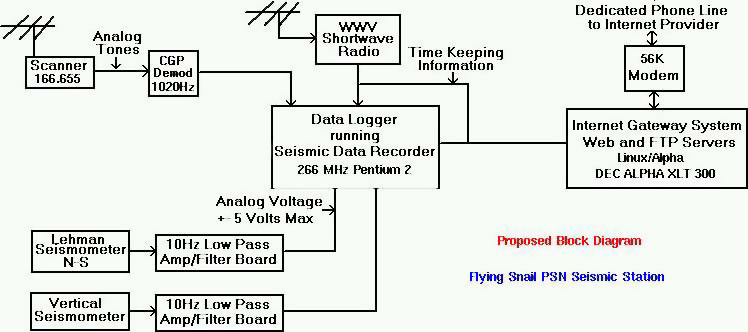 1997 Proposed Block Diagram for Flying Snail PSN Seismic Station
ARPSN
Introduction
During 1997 I started to construct a PSN seismic station and got as far as building a 'seismic shed' with a large poured concrete block as a base and collecting some of the equipment, before I was diverted.
This will be my second attempt to complete this project, with hopes of adding some current technology and creating an Amateur Radio Public Seismic Network.
White Paper being prepared.
ARPSN is dedicated to Larry Cochrane for his contribution to Public Seismic Network (PSN) and Dr. Hank Magnuski, KA6M, for his contribution to amateur packet radio and Pacific Packet Radio Society PPRS. [Continue Reading] - http://www.flyingsnail.com/AmateurRadio/ARPSN.html
ARPSN Progress Log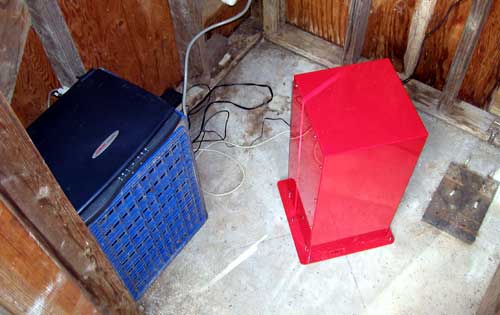 ARPSN # 1 Operational 04 April 2008 2200 UTC
http://www.flyingsnail.com/AmateurRadio/progresslog.html
Update time = Mon Apr 7 5:08:12 PDT 2008
MAG - DATE - LOCAL TIME - LAT ----- LON ----- DEPTH -------------- LOCATION
------- y/m/d --- h:m:s ------ deg ----- deg ------- km

1.6 2008/04/07 05:06:30 38.815N 122.826W 2.4 2 km ( 2 mi) NW of The Geysers, CA
1.4 2008/04/07 04:58:02 36.468N 121.047W 5.9 11 km ( 7 mi) SE of Pinnacles, CA
1.0 2008/04/07 04:57:25 38.818N 122.768W 0.0 4 km ( 2 mi) ENE of The Geysers, CA
0.3 2008/04/07 04:33:35 35.980N 120.557W 4.0 14 km ( 9 mi) NW of Parkfield, CA
1.4 2008/04/07 04:08:10 37.466N 118.544W 7.4 7 km ( 5 mi) NE of Round Valley, CA
2.3 2008/04/07 04:01:34 36.659N 121.287W 8.8 15 km ( 9 mi) S of Tres Pinos, CA
0.9 2008/04/07 03:49:14 38.874N 122.819W 2.8 8 km ( 5 mi) N of The Geysers, CA
0.5 2008/04/07 03:34:46 38.833N 122.809W 2.2 4 km ( 2 mi) N of The Geysers, CA
0.9 2008/04/07 03:32:12 38.819N 122.823W 3.5 3 km ( 2 mi) NNW of The Geysers, CA
0.9 2008/04/07 03:02:38 38.827N 122.832W 2.0 4 km ( 2 mi) NW of The Geysers, CA
2.3 2008/04/07 02:51:45 37.626N 119.023W 4.7 4 km ( 3 mi) WSW of Mammoth Lakes, CA
1.3 2008/04/07 02:51:37 35.950N 117.714W 7.6 24 km (15 mi) ESE of Coso Junction, CA
0.8 2008/04/07 02:47:49 38.821N 122.816W 4.5 3 km ( 2 mi) NNW of The Geysers, CA
2.0 2008/04/07 02:40:34 39.529N 119.938W 0.0 2 km ( 1 mi) NE of Verdi-Mogul, NV
1.0 2008/04/07 02:18:33 33.498N 116.496W 15.0 17 km (11 mi) ESE of Anza, CA
0.8 2008/04/07 02:07:56 38.778N 122.725W 2.5 3 km ( 2 mi) W of Anderson Springs, CA
1.7 2008/04/07 01:42:18 34.175N 116.889W 11.4 8 km ( 5 mi) SSE of town of Big Bear Lake, CA
1.4 2008/04/07 01:19:21 35.477N 118.432W 0.0 18 km (11 mi) S of town of Lake Isabella, CA
1.4 2008/04/07 01:01:48 33.658N 116.701W 18.1 10 km ( 6 mi) S of Idyllwild, CA
1.2 2008/04/07 00:45:24 38.848N 122.792W 4.7 6 km ( 4 mi) NNE of The Geysers, CA
1.5 2008/04/07 00:21:57 41.202N 114.780W 8.0 19 km (12 mi) ENE of Wells, NV
1.4 2008/04/07 00:01:55 34.353N 116.475W 2.2 26 km (16 mi) NNW of Yucca Valley, CA
0.9 2008/04/06 23:57:16 38.814N 122.797W 3.1 2 km ( 1 mi) NNE of The Geysers, CA
http://quake.usgs.gov/recenteqs/Quakes/quakes0_fault.htm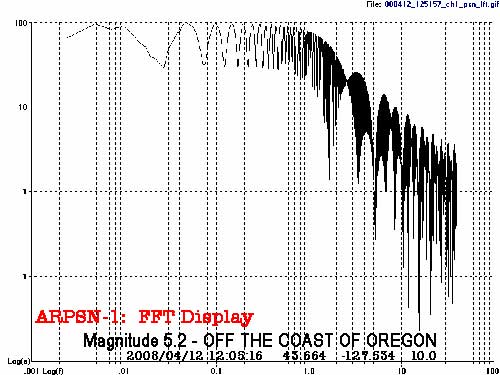 ARPSN # 1 Operational 04 April 2008 2200 UTC
http://www.flyingsnail.com/AmateurRadio/progresslog.html
Happy 76th Birthday Paul!
Much Love from Flying Snail and Friends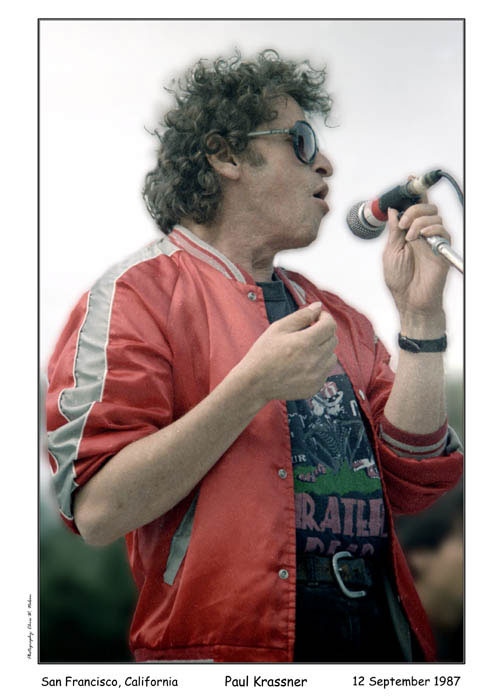 Photograph by Chris Nelson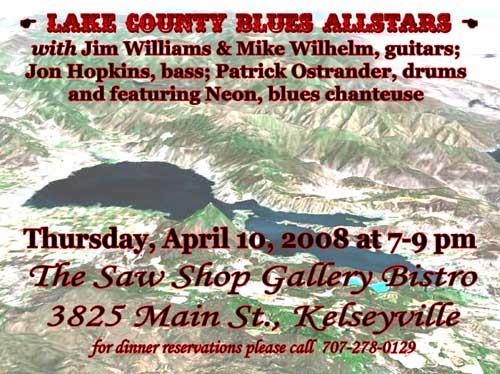 Lake County Blues Allstars
Thursday, April 1oth, 7 pm
New MP3 Tunes by Mike Wilhelm
http://www.flyingsnail.com/Scrapbook/Mike_Wilhelm.html
Worn Out Suits - Lyrics: Dave Edmunds - MP3
Ramblin' - Lyrics: Robert Johnson - MP3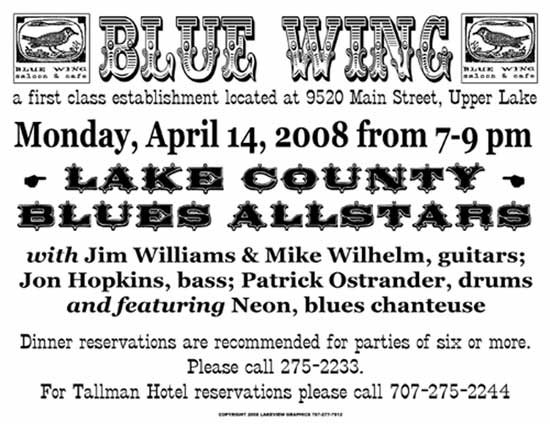 Lake County Blues Allstars
TONIGHT: Monday, April 14th, 7 pm

Dedication of Monument
to Veterans of the Abraham Lincoln Brigade
The artist must take sides. He must elect to fight for freedom or for slavery. I have made my choice. I had no alternative. - Paul Robeson
http://www.rainbowpuddle.com/ABLDedication/ABL_.html
SeisMac 2.0


http://www.suitable.com/images/seismac2Screen.jpg
SeisMac is a Mac OS X application that turns your MacBook or MacBook Pro into a seismograph. It access your laptop's Sudden Motion Sensor in order to display real-time, three-axis acceleration graphs. Version 2.0's enhancements make SeisMac an even more valuable tool for classroom demonstrations of seismic concepts and techniques.
The resizable, real-time scrolling display shows an enormous amount of acceleration information. Place your laptop on a table and see the seismic waves from tapping your toe on the floor. Lay your laptop on your chest and see your heartbeat. And of course, if there is a real earthquake, SeisMac will be displaying full seismic information while you drop, cover and hold-on.
Version 2.0 of SeisMac includes many new features:
Pause the display to study an event
Scroll back in time to see older data
Time labels tell exactly when an event occurred
Enlarge or contract the graph, both vertically and horizontally
Copy, print or save the screen
Adjust the sample rate from 10 to 500 samples per second
Smooth the acceleration data
"Out of Range" arrow appears when the graph goes off the screen
Runs on non-SMS machines using test data
When running on the MacBook or MacBook Pro, SeisMac has a range of plus or minus two gravities of acceleration, displaying 256 values per gravity, sampled up to five hundred times per second for each axis. SeisMac is also compatible with older Sudden Motion Sensor-equipped iBooks and PowerBooks.
For better accuracy, you can use SeisMaCalibrate to calibrate your laptop's Sudden Motion Sensors.
SeisMac is based on SMSLib, my open-source Sudden Motion Sensor access library.
SeisMac is freeware. You can download version 2.0 here (Mac OS X 10.4 or later). You can also view SeisMac's help files here.
If you'd like to be notified about future versions of SeisMac, sign up for our mailing list here.
SeisMac 2.0 was created with support from the National Science Foundation through the Incorporated Research Institutions for Seismology - Daniel Griscom
Source: http://www.suitable.com/tools/seismac.html
GeoTool Seismic (PC) Telemetry
Monitor Computer Program
Monitor Analog Telemetry Stations with Scanner
Rick - WA6JKH
Not just another seismograph program! It is a complete demodulator for monitoring tone modulated seismic telemetry stations! Using your scanner radio and the 16-bit sound card on your computer, GeoSeis is capable of 15 to 16 bit resolution with a good signal and quality receiver.
This exciting new computer program uses any good quality scanner radio to demodulate standard and non-standard telemetry frequencies. The sound card in your computer converts the telemetry tone to digital information. The program runs under Windows 98, and is anticipated to provide 12 to 16 bit data from the telemetry signal. We are truly excited about the breakthrough sound card programming technology provided by Silicon Pixels. The program not only yields excellent accuracy, but also true Digital Signal Processing noise reduction for those weak signals.
'GSP-Seis' is a new Seismic Telemetry Aquisition System for monitoring USGS seismic telemetry stations using audio from almost any scanner radio and antenna system. The program uses your computer's Sound Card as a 16-bit Analog-to-Digital converter. State of the art Digital Signal Processing (DSP) programming uses the processing power of your computer to pull weak signals out of the noise and provide usable data. Separates single tones from multi-tone systems such as those being used by the University of Washington at Mt. St. Helens. (Note that you must have a telemetry station within range of your monitoring point for the system to work. See below for information on how to find the location of seismic telemetry transmitters.)
Telemetry Transmitter Frequencies - http://www.geotool.com/TelmFreq.txt
Source: - http://www.geotool.com/geoseis.htm
How to Build an Inexpensive Seismometer.
http://www.infiltec.com/seismo/

Marla Ruzicka
To have a job where you can make things better for people? That's a blessing. Why would I do anything else?
Marla Ruzicka (December 31, 1976 -- April 16, 2005) was an activist-turned-aid worker. She believed that combatant governments had a legal and moral responsibility to compensate the families of civilians killed or injured in military conflicts. She and her Iraqi translator, Faiz Ali Salim, were killed by a suicide car bombing on Airport Road in Baghdad on April 16, 2005.
In 2003, Ruzicka founded the Campaign for Innocent Victims in Conflict (CIVIC), an organization that counted civilian casualties and assisted Iraqi victims of the 2003 US invasion of Iraq.
Born in Lakeport, California, Ruzicka attended Long Island University's Friends World Program, and spent four years traveling throughout Costa Rica, Kenya, Cuba, Israel/Palestine, and Zimbabwe. After graduating in 1999, Ruzicka volunteered for the San Francisco-based organizations Rainforest Action Network and Global Exchange. [Continue Reading]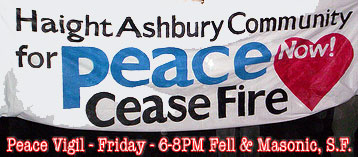 You are cordially invited to join the monthly Haight-Ashbury Peace Vigil, this Friday night, April 18, from 6:00 to 8:00 p.m. We will be on Masonic, between Fell and Oak, San Francisco. We have a one-issue focus--end the war in Iraq. Although our purpose is serious, our crowd has been lively. We will have signs and candles for you, but you are welcome to bring your own. Pictures from our previous vigils can be seen here: http://www.flickr.com/photos/haightpeacevigil/

http://earthquake.usgs.gov/eqcenter/recenteqsww/Maps/10/270_40.php
5.2 earthquake rocks Illinois
Friday, April 18, 2008 | 8:11 AM
Also felt in Ohio and Indiana
WEST SALEM, Ill. (WLS) -- An earthquake centered in southern Illinois rocked people awake across the Midwest early Friday, surprising residents unaccustomed to such seismic activity.
The quake just before 4:37 a.m. was centered six miles from West Salem, Ill., and 66 miles west of Evansville, Ind.
Initially pegged as a 5.4 earthquake, the U.S. Geological Survey revised its estimate to give it a value of 5.2.
West Salem is in Edwards County, and dispatcher Lucas Griswold says the sheriff's department received several calls about the earthquake but only reports of minor damage and no injuries. [Continue Reading At]:
http://abclocal.go.com/wls/story?section=news/local&id=6088574
1895 New Madrid & 1994 Northridge Earthquakes


The Mississippi Valley-"Whole Lotta Shakin' Goin' On"
In the winter of 1811-12, the central Mississippi Valley was struck by three of the most powerful earthquakes in U.S. history. Even today, this region has more earthquakes than any other part of the United States east of the Rocky Mountains. Government agencies, universities, and private organizations are working to increase awareness of the earthquake threat and to reduce loss of life and property in future shocks.
The 400 terrified residents in the town of New Madrid (Missouri) were abruptly awakened by violent shaking and a tremendous roar. It was December 16, 1811, and a powerful earthquake had just struck. This was the first of three magnitude-8 earthquakes and thousands of aftershocks to rock the region that winter. [Continue Reading At]:
http://quake.usgs.gov/prepare/factsheets/NewMadrid/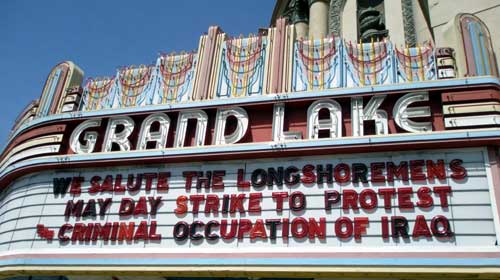 Photograph courtesy of RainbowPuddle
Change is inevitable, except from a vending machine
Courtesy of Joe Connell
The next time you are washing your hands and complain because the water temperature isn't just how you like it, think about how things used to be.
Here are some facts about the 1500s:
Most people got married in June because they took their yearly bath in May, and still smelled pretty good by June. However, they were starting to smell, so brides carried a bouquet of flowers to hide the body odor. Hence the custom today of carrying a bouquet when getting married.
Baths consisted of a big tub filled with hot water. The man of the house had the privilege of the nice clean water, then all the other sons and men, then the women and finally the children.. Last of all the babies. By then the water was so dirty you could actually lose someone in it. Hence the saying, Don't throw the baby out with the Bath water..
Houses had thatched roofs-thick straw-piled high, with no wood underneath. It was the only place for animals to get warm, so all the cats and other small animals (mice, bugs) lived in the roof.
When it rained it became slippery and sometimes the animals would slip and fall off the roof. Hence the saying . It's raining cats and dogs.
There was nothing to stop things from falling into the house.. This posed a real problem in the bedroom where bugs and other droppings could mess up your nice clean bed. Hence, a bed with big posts and a sheet hung over the top afforded some protection. That's how canopy beds came into existence.
The floor was dirt. Only the wealthy had something other than dirt. Hence the saying, Dirt poor. The wealthy had slate floors that would get slippery in the winter when wet, so they spread thresh (straw) on floor to help keep their foot ing. As the winter wore on, they added more thresh until, when you opened the door, it would all start slipping outside. A piece of wood was placed in the entranceway. Hence the saying a thresh hold.
In those old days, they cooked in the kitchen with a big kettle that always hung over the fire. Every day they lit the fire and added things to the pot. They ate mostly vegetables and! did not get much meat. They would eat the stew for dinner, leaving leftovers in the pot to get cold overnight and then start over the next day.
Sometimes stew had food in it that had bee n there for quite a while. Hence the rhyme, Peas porridge hot, peas porridge cold, peas porridge in the pot nine days old..
Sometimes they could obtain pork, which made them feel quite special. When visitors came over, they would hang up their bacon to show off. It was a sign of wealth that a man could, bring home the bacon. They would cut off a little to share with guests and would all sit around and chew the fat..
Those with money had plates made of pewter. Food with high acid content caused some of the lead to leach onto the food, causing lead poisoning death. This happened most often with tomatoes, so for the next 400 years or so, tomatoes were considered poisonous.
Bread was divided according to status. Workers got the burnt bottom of the loaf, the family got the middle, and guests got the top, or the upper crust.
Lead cups were used to drink ale or whisky. The combination would sometimes knock the imbibers out for a couple of days. Someone walking along the road would take them for dead and prepare them for burial. They were laid out on the kitchen table for a couple of days and the family would gather around and eat and drink and wait and see if they would wake up. Hence the custom of holding a wake.
England is old and small and the local folks started running out of places to bury people. So they would dig up coffins and would take the bones to a bone-house, and reuse the grave. When reopening these coffins, 1 out of 25 coffins were found to have scratch marks on the inside and they realized they had been burying people alive. So they would tie a string on the wrist of the corpse, lead it through the coffin and up through the ground and tie it to a bell. Someone would have to sit out in the graveyard all night (the graveyard shift) to listen for the bell; thus, someone could be, saved by the bell or was considered a .dead ringer..
And that's the truth... Now, whoever said History was boring? [Ed Note: Snopes calls the above an Urban Ledgend and I don't care.]
New Page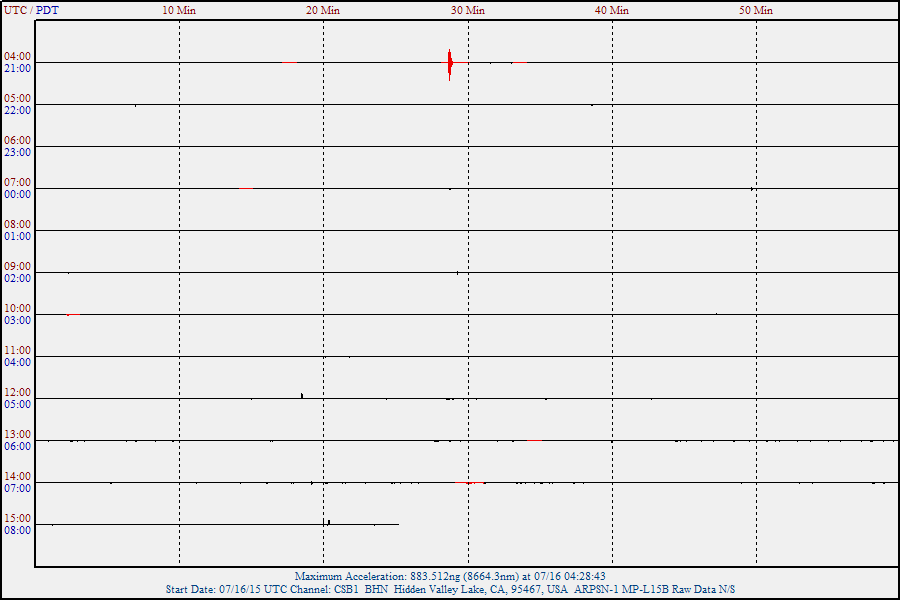 Mark Products 4.5Hz L15B Sensor East/West Acceleration - SPS: 50
USGS: All Earthquakes in California-Nevada Map Area
http://quake.usgs.gov/recenteqs/Quakes/quakes0_fault.htm
Reno urged to prepare for worse as earthquakes continue
(04-26) 18:33 PDT Reno, Nev. (AP) --
Scientists urged residents of northern Nevada's largest city to prepare for a bigger event as the area continued rumbling Saturday after the largest earthquake in a two-month-long series of temblors.
More than 100 aftershocks were recorded on the western edge of the city after a magnitude 4.7 quake hit Friday night, the strongest quake around Reno since one measuring 5.2 in 1953, said researchers at the seismological laboratory at the University of Nevada, Reno.
The latest quake swept store shelves clean, cracked walls in homes and dislodged rocks on hillsides, but there were no reports of injuries or widespread major damage.
Seismologists said the recent activity is unusual because the quakes started out small and continue to build in strength. The normal pattern is for a main quake followed by smaller aftershocks.
"A magnitude 6 quake wouldn't be a scientific surprise," John Anderson, director of the seismological lab, said Saturday. "We certainly hope residents are taking the threat seriously after last night."
But Anderson stressed there was no way to predict what would happen, and said the sequence of quakes also could end without a major one.
Reno's last major quake measured 6.1 on April 24, 1914, and was felt as far away as Berkeley, Calif., said Craig dePolo, research geologist with the Nevada Bureau of Mines and Geology.
A rockslide triggered by Friday night's quake was blamed for causing a 125-foot breach in a wooden flume that carries water to one of two water treatment plants in Reno, a city of about 210,000.
A backup pump was used to divert water to the plant, and the breach was not expected to cause any water shortages, said Aaron Kenneston, Washoe County emergency management officer.
The U.S. Geological Survey said Friday night's quake was centered around Mogul, just west of Reno. The area of upscale homes along the eastern Sierra was rattled by more than 100 quakes the day before, the strongest a magnitude 4.2 that caused high-rise casinos to sway in downtown Reno.
The strongest aftershock measured 3.7 and was recorded early Saturday.
Mike Lentini of Reno said Friday night's quake felt "like a big truck hit the building" and awakened his family.
"It's the unknown. It's shaking, and when's it going to stop?" he said Saturday. "And when stuff starts falling off the shelves it's a whole other ballgame."
Jars of mayonnaise and bottles of ketchup and shampoo fell from shelves at a Wal-Mart store in northwest Reno. Overhead televisions swayed at a sports bar in neighboring Sparks, 11 miles east, where bartender Shawn Jones said the rumble was significantly stronger than Thursday's event.
"The bottles were shaking, so I sent everybody outside," he said.
Hundreds of mostly minor quakes have occurred along one or possibly more faults since the sequence began Feb. 28, said Ken Smith, a seismologist at the Reno laboratory. The quakes have occurred along an area about 2 miles long and a half-mile wide.
"We can't put a number on it, but the probability of a major earthquake has increased with this sequence," Smith said Saturday. "People need to prepare for ground shaking because there's no way to say how this will play out."
Among other things, scientists urged residents to stock up on water and food, to learn how to turn off water and gas, and to strap down bookshelves, televisions and computers.
"It's getting a little bit frightening," Daryl DiBitonto of Reno told the Reno Gazette-Journal. "I'm very concerned about this increase in not only activity, but also in magnitude."
The quakes around Reno began a week after a magnitude 6 temblor in the northern Nevada town of Wells, near the Utah border. The Feb. 21 quake caused an estimated $778,000 in damage to homes, schools and historic downtown buildings, dePolo said.
Scientists said they're unsure whether the seismic activity at opposite sides of Nevada is related.
Nevada is the third most seismically active state in the U.S. behind California and Alaska. The Wells quake was the 15th of at least magnitude 6 in the state's 143-year history.
A magnitude-7.4 quake south of Winnemucca in 1915 is the most powerful in state history.
Associated Press writer Scott Sonner in Reno contributed to this report.
On the Net:
U.S. Geological Survey: www.usgs.gov
University of Nevada, Reno, seismology lab: www.seismo.unr.educ
Source: http://www.sfgate.com/cgi-bin/article.cgi?f=/n/a/2008/04/26/national/a025023D41.DTL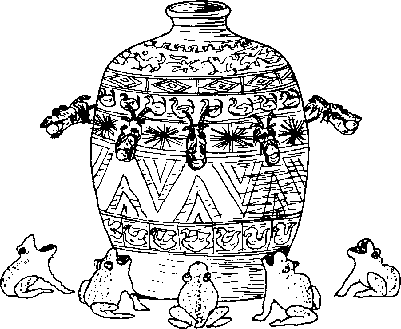 ARPSN
NOTE from ~@~
I am extremely busy right now, do not have time to do daily updates for 'those involved, have listed (above) events that happen daily/weekly, ...and 'poster events', like Lake County Blues Allstars, etc. will be posted here, as they happen. Thank you for visiting.

Ariane, Albert Hoffman, Goa Gil
Albert Hofmann, father of drug LSD, dies in Switzerland
[He was 102 years, young. - RIP Dr. Al !]
(04-30) 04:52 PDT GENEVA, Switzerland (AP) --
By FRANK JORDANS, Associated Press Writer
Wednesday, April 30, 2008
Albert Hofmann, the father of the mind-altering drug LSD whose medical discovery inspired -- and arguably corrupted -- millions in the 1960s hippie generation, has died. He was 102.
Hofmann died Tuesday at his home in Burg im Leimental, said Doris Stuker, a municipal clerk in the village near Basel where Hofmann moved following his retirement in 1971.
For decades after LSD was banned in the late 1960s, Hofmann defended his invention.
"I produced the substance as a medicine. ... It's not my fault if people abused it," he once said.
The Swiss chemist discovered lysergic acid diethylamide-25 in 1938 while studying the medicinal uses of a fungus found on wheat and other grains at the Sandoz pharmaceuticals firm in Basel.
He became the first human guinea pig of the drug when a tiny amount of the substance seeped onto his finger during a laboratory experiment on April 16, 1943.
" I had to leave work for home because I was suddenly hit by a sudden feeling of unease and mild dizziness," he subsequently wrote in a memo to company bosses.
" Everything I saw was distorted as in a warped mirror," he said, describing his bicycle ride home. "I had the impression I was rooted to the spot. But my assistant told me we were actually going very fast."
Upon reaching home, Hofmann began experiencing what he called "wonderful visions."
Three days later, Hofmann experimented with a larger dose. The result was the world's first scientifically documented bad trip.
"The substance which I wanted to experiment with took over me. I was filled with an overwhelming fear that I would go crazy. I was transported to a different world, a different time," Hofmann wrote.
Hofmann and his scientific colleagues hoped that LSD would make an important contribution to psychiatric research. The drug exaggerated inner problems and conflicts and thus it was hoped that it might be used to recognize and treat mental illnesses like schizophrenia.
For a time, Sandoz sold LSD 25 under the name Delysid, encouraging doctors to try it themselves. It was one of the strongest drugs in medicine -- with just one gram enough to drug an estimated 10,000 to 20,000 people for 12 hours.
LSD was elevated to international fame in the late 1950s and 1960s thanks to Harvard professor Timothy Leary who embraced the drug under the slogan "turn on, tune in, drop out."
But away from the psychedelic trips, horror stories emerged about people going on murder sprees or jumping out of windows while hallucinating. Heavy users suffered permanent psychological damage.
The U.S. government banned LSD in 1966 and other countries followed suit.
Hofmann maintained this was unfair, arguing that the drug was not addictive. He repeatedly argued for the ban to be lifted to allow LSD to be used in medical research.
Last December, Swiss authorities decided to allow LSD for psychotherapy in exceptional cases.
"For me, this is a very big wish come true. I always wanted to see LSD get its proper place in medicine," he told Swiss TV at the time.
Hofmann himself took the drug -- purportedly on an occasional basis and out of scientific interest -- for several decades.
"LSD can help open your eyes," he once said. "But there are other ways -- meditation, dance, music, fasting."
Even so, the self described "father" of LSD readily agreed that the drug was dangerous if in the wrong hands. This was reflected by the title of his 1979 book: "LSD - my problem child."
In it he wrote that, "The history of LSD to date amply demonstrates the catastrophic consequences that can ensue when its profound effect is misjudged and the substance is mistaken for a pleasure drug."
Hofmann retired from Sandoz in 1971 and devoted his time to travel, writing and lectures.
"This is really a high point in my advanced age," Hofmann said at a ceremony in Basel honoring him on his 100th birthday. "You could say it is a consciousness-raising experience without LSD."
Funeral arrangements were not immediately available.
Associated Press writers Balz Bruppacher in Bern, Eliane Engeler in Geneva and Clare Nullis contributed to this report.
http://www.sfgate.com/cgi-bin/article.cgi?f=/n/a/2008/04/29/state/n193020D35.DTL&tsp=1
NCast - Dancing Frogs


Dreamstreets


WVUD 91.3 - Wednesday Morning - WVUD 91.3
11 am East -- 8 am Pacific -- 1500 utc
Listen On-line at: http://www.wvud.org/listen_online.htm with Even Steven

Boptime


WVUD 91.3 - Saturday Morning - WVUD 91.3
6 am East -- 3 am Pacific -- 1000 utc
Listen On-line at: http://www.wvud.org/listen_online.htm with Even Steven
The man whispered, "God, speak to me" and a meadowlark sang. But the man did not hear. So the man yelled "God, speak to me" and the thunder rolled across the sky. But the man did not listen. The man looked around and said, "God let me see you" and a star shined brightly. But the man did not notice. And the man shouted, "God show me a miracle" and a life was born. But the man did not know. So the man cried out in despair, "Touch me God, and let me know you are there" Whereupon God reached down and touched the man. But the man brushed the butterfly away and walked on.
Don't miss out on a blessing because it isn't packaged the way you expect.
Previous Articles Moved To ARCHIVE