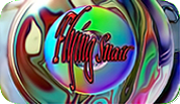 During times of universal deceit, telling the truth becomes a revolutionary act. ~ George Orwell



Keb' Mo', The Medicine Man ~ Old Crow Medicine Show via Keb' Mo' ~ Not available on Vimeo.
Throughout America's adventure in free government, our basic purposes have been to keep the peace; to foster progress in human achievement, and to enhance liberty, dignity and integrity among people and among nations. To strive for less would be unworthy of a free and religious people. Any failure traceable to arrogance, or our lack of comprehension or readiness to sacrifice would inflict upon us grievous hurt both at home and abroad. ~ Dwight D. Eisenhower

Dead Ringer For Love via Robert Goldstein

Creator Massive, We Know via DJ.Wreckless.NYC
1961 POLITICS,
or TODAY'S POLITICS?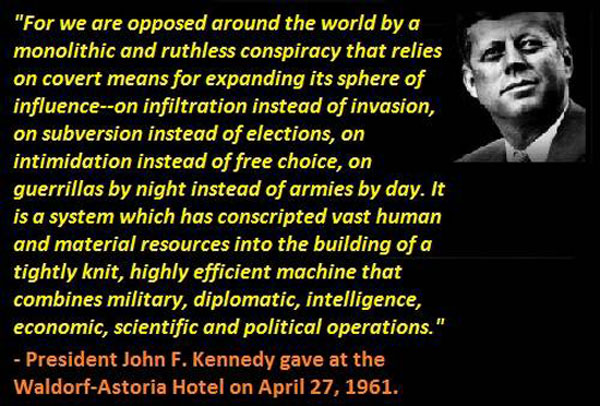 For we are opposed around the world by a monolithic and ruthless conspiracy that relies on covert means for expanding its sphere of influence--on infiltration instead of invasion, on subversion instead of elections, on intimidation instead of free choice, on guerrillas by night instead of armies by day. It is a system which has conscripted vast human and material resources into the building of a tightly knit, highly efficient machine that combines military, diplomatic, intelligence, economic, scientific and political operations. ~ President John F. Kennedy, Waldorf-Astoria Hotel, April 27, 1961
NONE of the ABOVE should be a choice on voter ballots!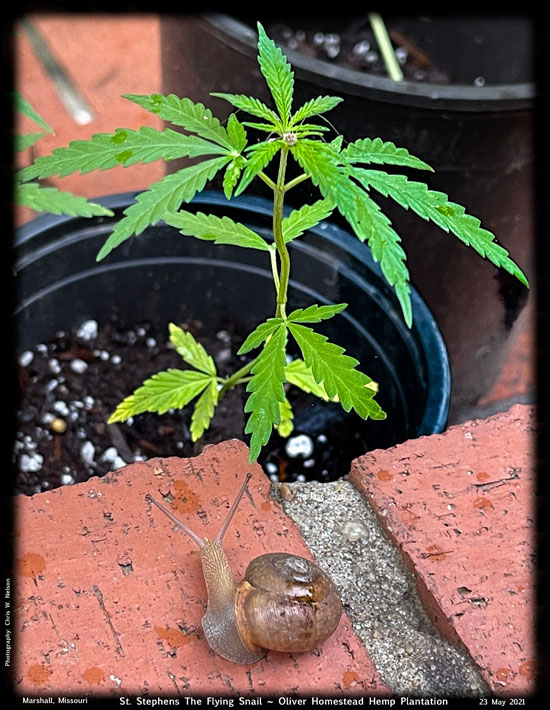 In and Out of The Garden He Goes! ~ St Stephens The Flying Snail
Oliver Homestead Hemp Plantation, 23 May 2021 by Chris Nelson

Terrapin Station, Bombay Bicycle Club via Bombay Bicycle Club [Currently not available on Vimeo]
Source via Will Lavin, w/special thanks to Mark [over the pond] ~ Stream or Download this song

Turtles All the Way Down, Sturgill Simpson via SturgillSimpson + tnx2 Tom [Not shared on Vimeo]
Ed. Note: Erb will be a guest contributor here. Please, no email! We belong to the
same club, I'm outranked, have no control over content & am obligated to do this.
Boptime ~ w/Even Steven Leech
~ Saturday Mornings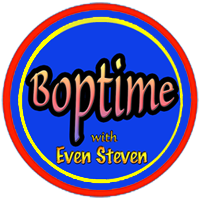 We begin with a couple of hours of oldies back to back to back beginning at 6am (EDT) on Saturday's Boptime. At 8am (EDT) Michael Ace plays some good time rock n' roll. At 9am (EDT) on Beatlemania!!! we not only go back to the early 1960s, almost before the onset of Beatlemania when the Fab Four's new drummer was Ringo Starr, but we'll hear from other Brit bands in what made for a new wave of rock across England. ~ Steve
BOPTIME: Saturday, 6 AM Eastern, 3 AM Pacific time
Go To: http://www.wvud.org/?page_id=24
Click on a listening link below the WVUD logo:


Boptime available locally in DE on WVUD-FM 91.3, Shoutcast [Search: WVUD], and TuneIn
Dahbud Mensch
~ Dear Citizens of the World
~ One More Time...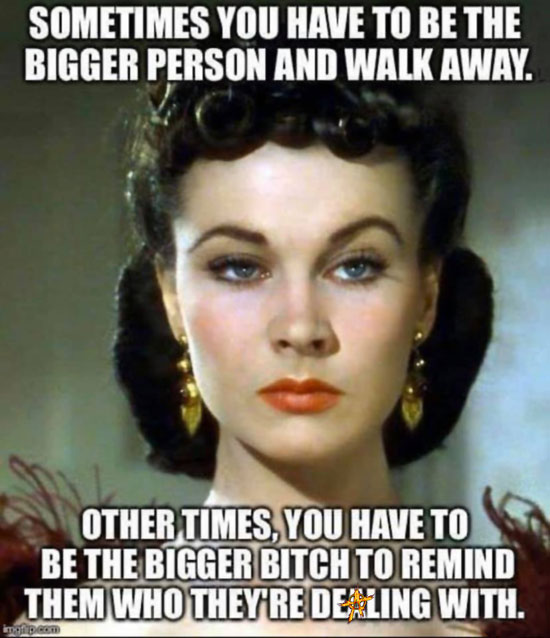 I believe the time has come to reveal to you some of the perplexities you have faced in recent decades.
It is important to understand some of these things, so that you might know how to behave in the New World Order now taking shape on this planet you call Earth. We want you to be able to become fully involved and integrated into our new society. After all, doing this is for your best interest.
First of all, it is best if you understand some of our purposes so that you may more fully cooperate. I cannot tell you the hard times you will face if you resist us.
We have ways of dealing with resisters and you are being told this now, since it is much too late to turn things around. The days of putting a stop to us have long since past.
We have full control of the earth and it's finances, along with control of major corporate media propaganda, and there is simply no way any nation or power can defeat us.
We have eyes in every level of government in every nation of the world. We know what is being planned, for our ears and eyes are ever present. State secrets are fully known to us.
U.S. corporate media are constantly accused of lying for their government by everyone; including foreign governments.
Oh, you silly people, of course we lie. In this way we can keep the people unbalanced and always facing controversy, which is very helpful to us. Have you not seen the talk show spectacles on FOX?
Some of you believe we are the liberals and the good people are the conservatives. In reality, both serve our purposes. Each camp merely serves with the stamp of our approval, but they are not allowed to present real issues.
For example, consider BP's Oil Spill. By creating controversy on all levels, no one knows what to do. So, in all of this confusion, we go ahead and accomplish what we want with no hindrance. If fact, we teach this within a fraternity in one of your nation's older universities.
Consider ImImPOTUS of the United States. Even though he regularly broke every known check on his power, no one could stop him, and he went ahead, and did whatever we wanted him to do.
Congress and 'The People' had no power to stop him. He did what we wanted, since he knew, if he did not, because of his rather dark character, we could have him removed in an instant. I'd say it was, "Rather brilliant strategy on our part?"
You cannot take us to court because you can't see us and the courts are our servants as well. We run everything and you do not know who to attack. I must say this invisible hand is wonderfully devised without any known historical precedent on this scale. We rule the world and the world cannot even find out who is ruling them.
This is truly a wonderful thing. In our corporate media, we present before you exactly what it is we want you to do. Then, as if in a flash you, our little servants, obey!
We can send American or European troops to wherever we like, whenever we like, and for whatever purpose we like, and you dutifully go about our business and don't even look up to see the poisons we are spraying on you in the form of chemtrails. How much more evidence do you need?
We can make you desire to leave your homes and family and go to war merely at our command. We only need to present some nonsense to you from the president's desk, or on the evening news, and we can get you all fired up to do whatever we like. You can do nothing but what we put before you.
Your Vain Resistance
When any of you seek to resist us, we have ways of making you look ridiculous with corporate media, as we have done with all your movements to show the world how impotent any resistance is.
Look at what we did near Waco. Did the Davidian's little store of weapons help them?
We have generously taxed you and used that money to make such sophisticated weapons you can in no way compete. Your own money has served to forge the chains we bind you with; especially, since we are in control of all money.
Some of you think you may escape by buying some land in the country and growing a garden. Let me remind you that you still pay us ground rent. Oh, you may call it property taxes, but it still goes to us.
You see, you need money no matter what you do. If you fail to pay your ground rent to us, we will take your land and sell it to someone who will pay us. Do you think we cannot do this? And with your ground rent we pay for the indoctrination of your children in the public schools we have set up.
We want them to grow up well trained into the system of our thinking. Your children will learn what we want them to learn, when we want them to learn it, and you pay for it through your ground rent.
Those funds are also used for other projects we have in mind, like drilling for oil in the Gulf, and our contractors are paid handsomely for their work.
You may doubt that we own your children, or have such control, but you will find that we do. We can declare that you abuse your children, when you spank them, and have them confiscated. If they do not show up for school indoctrination, we can accuse you of neglect, thereby, giving them to us.
Your children are not yours. They are ours. You must inoculate them, you must bring them to our hospitals, if we decree, or we will take them from you. You know this and we know this.
Through our electronic commerce and iDevices we are able to see where you are, what you are buying, and how much you have to buy things with. Where do you suppose we come up with our monthly financial statistics?
Through the Internet, Telecoms, and other sources we can even know how you think and what you say. It is not especially important to us what you believe as long as you do what we say.
Your beliefs are nonsense anyway. But if you think you have a following, and we perceive that you might be somewhat dangerous to our agenda, we have ways to deal with you. Do you remember how we used Telecoms to spy for us?
We have a Pandora's box of mischief with which to snare you. We can have you in court so long, you will never get out. We can easily drain away all your assets over one pretext or another. We have an inexhaustible fund with which to draw from to pay our lawyers.
These lawyers are paid by you in the form of taxes. You do not have this vast supply of wealth. We know how to divide and conquer. Have we not brought down rulers of countries through our devices?
Do you think your tiny self will be any match for us?
Your Vain Organizations
Let us consider your religions, tea parties, and "moral majority."
The "moral majority" is neither moral nor is it in the majority. We have delighted to use this wet noodle of a movement to make ridiculous the Christian faith.
The silly men who run that organization always end up with egg on their faces. We have always put them in defense of themselves, as we have so successfully done with the NRA.
We can make it seem, by our corporate media propaganda, that the National Rifle Association is actually the new Al Qaeda.
Have we not turned the American conservative movement on its ear? If it serves our purposes we can use the conservatives to turn the liberals on their ear.
It makes no difference to us but it serves to make you believe there are two sides struggling for their particular position. This helps to make things seem fair and free, since everyone has a voice.
Actually, there is only one side now with all kinds of masks on, but you are unable to penetrate our purposes.
You see, we can do whatever we like and you can do nothing about it.
Does it not seem reasonable that you should simply obey and serve us? Otherwise, you get eaten up in the resistance you suppose that will liberate you.
You cannot be liberated ... Try to Imagine how you can.
We supply fuel for your cars and we can turn it off whenever we like, claiming there is some sort of fuel shortage. What if your car breaks down? You cannot get parts for it without us.
We supply all money you use and at any whim of our desire, we can stop the money supply, or ... cause a complete crash all together.
We can then order the president to declare all money worthless and that we will have to have new money. All of your stashes of cash will go up in smoke in an instant.
Don't you need food?
If necessary, we can cause a trucker's strike which would stop deliveries of food to your local store. We can starve you whenever we like. You only have food because we have provided it for you from our 'supermarket to the world' table.
During the great depression we controlled food and heaped mountains of it behind fences, to let it rot.
The hungry were then made to work in our labor camps, even though there was enough, and more, to feed them. Do you really think you can beat us?
You say you will hoard gold coins so you will still have money in the time of the crash. We can simply pass a law which outlaws the possession of gold as we have done in the past.
If we find gold in your possession, we would simply confiscate it, and put you in prison for breaking the law.
While in prison, or at one of our recently reconstructed FEMA camps, you would be required to work for one of our prison industries. We have so formed a picture of the labor camps in our prisons, these days, that no one seems to object to them.
We tell people that murderers should pay for their own keep.
No one seems to consider that we have the power to put tomato growers in prison.
We can pass laws that prohibit gardens, and then make up some scientific reason why you may only buy food from our sources.
If someone sees you growing tomatoes, they will report you to us, and then we will have you in our fields, working for us.
Oh, silly, stoned out of your minds, people, there is no escape for you, for since long before you were born, we were planning your capture.
Your teachers and ministers have been forming your thoughts for us, for generations now. You have been tricked into taking corporate drugs that were intended for short term usage, which have turned you into a nation of controlled mood zombies, and you have no idea how to pull out of our influence, short of suicide. Go ahead and commit suicide, it will only help us to deal with excessive population.
You cannot hurt us, find us, or even imagine what we are up to. I am throwing you these few crumbs only so that you may, if you have a little good sense, obey and follow our orders.
Your Controlled Mind
We run Hollywood. The movies such as Terminator and Armageddon, along with a great host of others, were simply created to get you thinking according to our directions.
You have been made to delight in violence, so that when we send you off to kill some bad man, we have put before you, you move without a whimper.
We have placed violent arcade games in your malls to prepare your young children's minds in the art of battle.
We have made you view our armies and police as the good forces, which cause you to submit to things that were unthinkable a few decades ago.
We totally orchestrated 9/11 and blamed it on somebody else using our corporate media and Congress, who we bought through our lobbies.
Think about it ... Congress spent about 60 million (60,000,000) of your income tax dollars, to discover if Monica swallowed (a little pre-reality show we dreamed up) and a little over 3 million dollars on the 9/11 Commission because we did not want an investigation of secret energy meetings or 9/11 to surface. See how easy it is to trick you?
Our artful programs are all designed to help you to submit and help the New World Order. Star Trek, and other such creations, have taught you to simply: obey orders from new international rulers.
Oh, silly people, you thought you were being entertained, while you were actually being educated. Dare I use the words, "brainwashed" or "mind control?" By the way, have you ever seen Star Wars?
What a masterpiece of mental manipulation. Humans confer with nondescript beasts of all shapes and sizes, and they confer in English.
I wonder where those space beasts learned English. Oh, the simple-ness of the mind of the citizen, for sh-he never considers sh-he is being taken into fairyland.
We placed advertisements for Star Wars everywhere you go. They were in WalMart, K-Mart, Taco Bell and a host of our institutions of corporate commerce.
There is something we want you to learn from Star Wars. Or, perhaps it could be said, there is something we do not want you to learn. Either way, we will have what we want in the whole affair.
Of course, to keep you off guard, we have instructed our elected officials to appear to be correcting the evil of our violence. Presidents often speak against violence in Hollywood movies.
This will not solve the problem, but it will make the people believe the problem is being worked on.
Sex and violence are the very best powers to use, to help us gain our advantage. How the people loathe to give up their sex and violence, so we place all they want before them. In this way, we keep them so occupied they do not have the integrity or brain-power to deal with the really important matters which are left entirely in our hands.
TalksWithGod Shock&Awe and ImImPOTUS were very helpful to us. We knew of what character they were before we placed them as president.
Exposing them was very helpful in adjusting the moral habits of youth downward and this is too, our advantage.
Even more agreeable to us were the vain efforts of those who thought they could remove them against our will. They were useful to us and we control who is removed or not removed.
Excuse me if I seem to be mocking your system of beliefs, but they are rather outdated. Have you no eyes to see your vain liberties and your righteous pontifications are nothing before us? You can only do what we say you can do.
We remove presidents when we are ready and the leader we set up will be there until it serves us to have another. At that time we place our purposed politicians before you, and you vote for what we want.
In that way we give you the vain voting exercise in the belief you had something to do with placing your politicians in office.
Our Unfathomable Mysteries
Our recent war in Iraq had many purposes to it, but we do not speak of these things openly. We let the talk show hosts blather all sorts of nonsense, but none of it touches the core.
First of all, there is a wealth of natural resources on the planet we must have complete control of.
Iraq has large supplies of oil in its soil and oil is very helpful to our regime. Also, it suits us to keep this oil out of the hands of potential enemies.
For those who have not been helpful in getting these resources into our hands, we simply make things difficult until submission. Does anyone recall the word "sanction?"
We can reduce any proud nation to the level of humility we require from all people. For example if Zionist Israel does not sufficiently humble itself, we will take them to the world court, and have them charged with "war crimes." We made up that term; rather ingenious, don't you think?
How could there be such a thing as a war crime? The very nature of war is that the rules are off. It is so entertaining to watch the nations try to fight war according to the laws we have placed before them.
The only war crime there really is, involves the crime of being against us.
Anyone against us is violating our law and, as you have seen, when someone is for us, we do not care what they do. Was not Ariel Sharon a self professed murdering terrorist who tortured and horribly killed many of his enemies women and children? We made a hero of him. And what about the ImImPOTUS GOP Republican administration? Are any of them in jail? No, they are still working for us and on your televisions, getting paid big salaries.
We observe no laws when it comes to war. We do what we want, when we want, and where we want.
We can starve nations to death, ruin civilizations, and commit other horrors for which we take our enemies to court. Look at one of our examples.
We bomb Iraq out of its wits. We can bomb rock throwing Palestinians out of their homes, poison their rivers and streams, turn off their electricity, making a grand crisis, and then we masterfully make it appear it is the fault of Islam.
It is the same way we made our inferno at Waco look like Mr. Koresh's fault. Then there was our chief villain, Saddam with all of his non existent weapons of mass destruction.
Bad men are a dime a dozen, we can conjure one up whenever it suits us, and ultimately, this is really quite funny when you think of it.
I am not one who is usually given to 'this sort' of humor, but I do catch myself laughing sometimes at the absolute absurdity of the notions we place before you, that you readily accept.
Do you wonder that the leaders of the world tremble at our presence? They know they have no power except the power we give them.
We have no fear of Russia or China, for we are already in full control of their system of things.
China knows we can freeze any number of their corporations in America and all of its capitol at the stroke of a pen. We use nations for what we want to use them for. Everyone knows that they must yield to us or die.
Fortunately, we have had a few resisters, such as Saddam, that have been helpful in showing world leaders what we will do to them if they do not submit.
There is only glory in following our purposes and doing what we say. If one does not, there will be a sad and tragic result.
I would have spared you of such an end, but, then, again, if you are not spared, it is of no consequence to us. We will use you to alleviate some of the overpopulation problem.
Your Silly Rebellions Against Us
Some of you have thought you could stop us by placing a bomb in one of our abortion clinics or in a government building.
Silly souls! How can that hurt us? All that does is give us an example to use so that we might place more controls, and heavy burdens, on the population.
We love it when you rebel and blow something up. You are our reason for making more laws against all those things, which might contribute to your freedom from us.
If someone did not blow something up on occasion, we would have no justification in placing more laws on you. Can't you see how impossible it is for you to resist us? The more you wiggle, the more we squeeze.
It is said our kingdom is the kingdom of money, but I must confess we are rulers of a kingdom of non-money.
You must see the humor in that statement. We have given you a piece of paper or some numbers on a computer screen that we have termed money.
It is backed up by nothing and proven by nothing, but what we say it is. We create it from nothing, we print it, we loan it, we give it its value, we take its value away. All things that have to do with money are in our hands.
Think of it, what is it that you can do against us without money? If you try to resist, we can cancel your credit or freeze your accounts. Your cash is easily confiscated.
We have made so many rules in the realm of living that you cannot live without money.
Camp on government land and you must move in two weeks. You cannot grow much of a garden in two weeks.
Many of our wilderness trails are entered by permit only.
We have passed laws that do not allow you to live in trailers over a certain period without moving to another location.
Have you not thought it ridiculous that we will allow a man to live in a box, full time, but we will not allow a man to live in a RV, full time, unless he is in a taxpaying campground? We want you to be in the system.
When you are buying a house, we not only receive the tax revenue to use for our purposes, but we gain large increases from the interest on the loan. You may pay for your house two or three times over from the interest alone. The interest is also taxed which is again placed for use in those sectors of influence we choose.
We do not want you to escape free and that is why we have made it as we have.
You are our property. We will not permit you to buy or sell unless you submit to our mark of authority.
If you go to court against us, we will wear you out, and in the end you will lose.
If you use violence, we will end up having you in one of our labor camps; more specifically called, prison industries.
You need our money, our entertainments, our fuel, and our utilities to function and if you don't have them, you feel deprived. By this, you are made to yield to our will.
You don't even know how to think anymore since we have thoroughly emasculated your religions and your faith in God. Now, you only have yourself ... and we have gotten 'that self' pretty well chasing its tail these days.
I hope this little note is sufficient to inform you what the new millennium is all about.
The 21st century is our century. You may stay if you do as you are told.
We have no intention of playing around with your so-called human rights or your so-called Constitution. These things were only used for our purposes, for a time. Your Constitution is a joke to us, and we can do with it what we please.
It probably never occurred to you, that years ago, your Constitution was used to refuse abortions. When we decided to have abortions legalized, we used the same Constitution to justify it.
Your human rights are what we say they are and your Constitution is what we say it is.
We have only used this phrase of "human rights" to keep things sufficiently in turmoil. The more things are unsettled, the better we like them, until we have everything in complete servitude.
This little letter may offend some of you, because it is presented so plainly, but that truly is no concern of ours.
In simple terms, they want you divided & conquered ...and to show you how politicians actually feel about you, here's a quote from another one of our politicians twenty plus years ago, "Go F**k Yourself!".
Have a nice day... Permmalink ~ Cartoon Version ~ Patriot Act ~ Telecom Crimes ~ Denialist ~ Drop Dead ~ Voted4War ~ Science (sic) Faction presentation (MP3)

5FDP vs. Billy Idol ~ Rebel Yell Over It, DJ Schmolli via SrvTech
5. It is true. As we go through life thinking heavy thoughts, thought particles tend to get caught between the ears, causing a condition called truth decay. So be sure to use mental floss twice a day. And when you're tempted to practice tantrum yoga, remember what we teach in Swami's Absurdiveness Training class: *Don't get even, get odd.*

Beethoven's 5 Secrets, OneRepublic (Cello Cover), ThePianoGuys via mzeyimateos
Dahbud Mensch ~ Stuck in the middle with WHO ?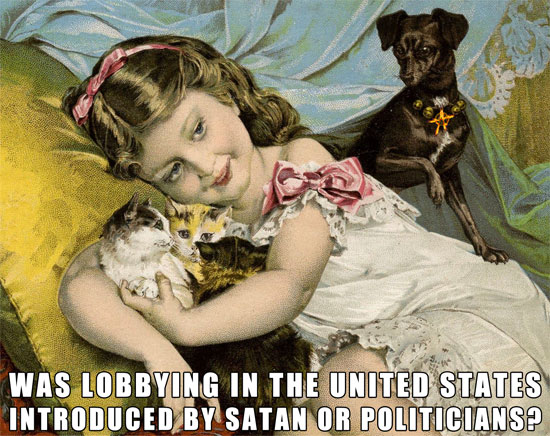 Lobbying in the United States describes paid activity in which special interests hire well-connected professional advocates, often lawyers, to argue for specific legislation in decision-making bodies such as the United States Congress. It is a highly controversial phenomenon, often seen in a negative light by journalists and the American public, with some critics describing it as a legal form of bribery or extortion. While lobbying is subject to extensive and often complex rules which, if not followed, can lead to penalties including jail, the activity of lobbying has been interpreted by court rulings as constitutionally protected free speech and a way to petition the government for the redress of grievances, two of the freedoms protected by the First Amendment of the Constitution. Since the 1970s, lobbying activity has grown immensely in the United States in terms of the numbers of lobbyists and the size of lobbying budgets, and has become the focus of much criticism of American governance. [Continue reading at Wikipedia, the free encyclopedia]
Question: What's the difference between a
politician and lying big tobacco executive?

Big Tobacco executive "Nicotine Is Not Addictive" via joe
Answer: The word politician!
Closing Argument
Alan Shore: When the weapons of mass destruction thing turned out to be not true, I expected the American people to rise up. Ha! They didn't.
Then, when the Abu Ghraib torture thing surfaced and it was revealed that our government participated in rendition, a practice where we kidnap people and turn them over to regimes who specialize in torture, I was sure then the American people would be heard from. We stood mute.
Then came the news that we jailed thousands of so-called terrorists suspects, locked them up without the right to a trial or even the right to confront their accusers. Certainly, we would never stand for that. We did.
And now, it's been discovered the executive branch has been conducting massive, illegal, domestic surveillance on its own citizens. You and me. And I at least consoled myself that finally, finally the American people will have had enough. Evidentially, we haven't.
In fact, if the people of this country have spoken, the message is we're okay with it all. Torture, warrantless search and seizure, illegal wiretapping's, prison without a fair trial - or any trial, war on false pretenses. We, as a citizenry, are apparently not offended.
There are no demonstrations on college campuses. In fact, there's no clear indication that young people seem to notice.
Well, Melissa Hughes noticed. Now, you might think, instead of withholding her taxes, she could have protested the old fashioned way. Made a placard and demonstrated at a Presidential or Vice-Presidential appearance, but we've lost the right to that as well. The Secret Service can now declare free speech zones to contain, control and, in effect, criminalize protest. Stop for a second and try to fathom that.
At a presidential rally, parade or appearance, if you have on a supportive t-shirt, you can be there. If you are wearing or carrying something in protest, you can be removed.
This, in the United States of America. This in the United States of America. Is Melissa Hughes the only one embarrassed?
*Alan sits down abruptly in the witness chair next to the judge*
Judge Robert Sanders: Mr. Shore. That's a chair for witnesses only.
Alan: Really long speeches make me so tired sometimes.
Judge Robert Sanders: Please get out of the chair.
Alan: Actually, I'm sick and tired.
Judge Robert Sanders: Get out of the chair!
Alan: And what I'm most sick and tired of is how every time somebody disagrees with how the government is running things, he or she is labeled un American.
U.S. Attorney Jonathan Shapiro: Evidentially, it's speech time.
Alan: And speech in this country is free, you hack! Free for me, free for you. Free for Melissa Hughes to stand up to her government and say "Stick it"!
U.S. Attorney Jonathan Shapiro: Objection!
Alan: I object to government abusing its power to squash the constitutional freedoms of its citizenry. And, God forbid, anybody challenge it. They're smeared as being a heretic. Melissa Hughes is an American. Melissa Hughes is an American. Melissa Hughes is an American!
Judge Robert Sanders: Mr. Shore. Unless you have anything new and fresh to say, please sit down. You've breached the decorum of my courtroom with all this hooting.
Alan: Last night, I went to bed with a book. Not as much fun as a 29 year old, but the book contained a speech by Adlai Stevenson. The year was 1952. He said, "The tragedy of our day is the climate of fear in which we live and fear breeds repression. Too often, sinister threats to the Bill of Rights, to freedom of the mind are concealed under the patriotic cloak of anti-Communism."
Today, it's the cloak of anti-terrorism. Stevenson also remarked, "It's far easier to fight for principles than to live up to them."
I know we are all afraid, but the Bill of Rights ~ we have to live up to that. We simply must. That's all Melissa Hughes was trying to say. She was speaking for you. I would ask you now to go back to that room and speak for her.
Boston Legal ~ Stick It ~ Season 2 ~ Episode 19 [Video at link] Written by David E. Kelley & Janet Leahy ~ Directed by Adam Arkin

Stormy Weather via Jeff Reiter
Nobody tells the truth all the time & should be President!
Alerts ~ Remembering Missed, departed, folks
Remembering Our Dear Friend
Jeanni,We Miss You!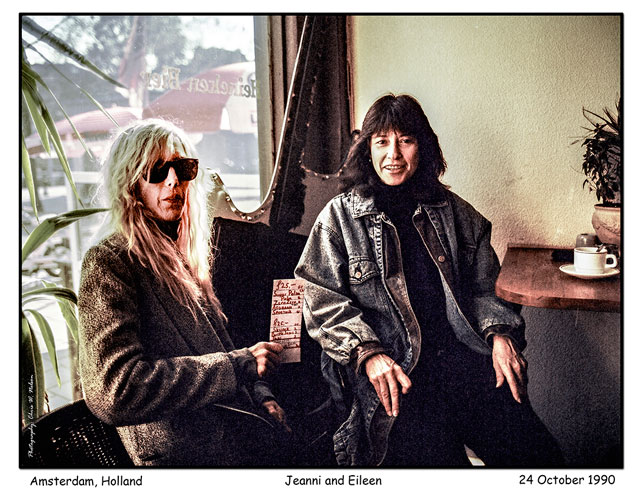 Jeanni and Eileen, Grateful Dead Europe Tour, Amsterdam, 199010.24 ~ Photo: Chris W Nelson

California Girls, Beach Boys via Alejandro Cayo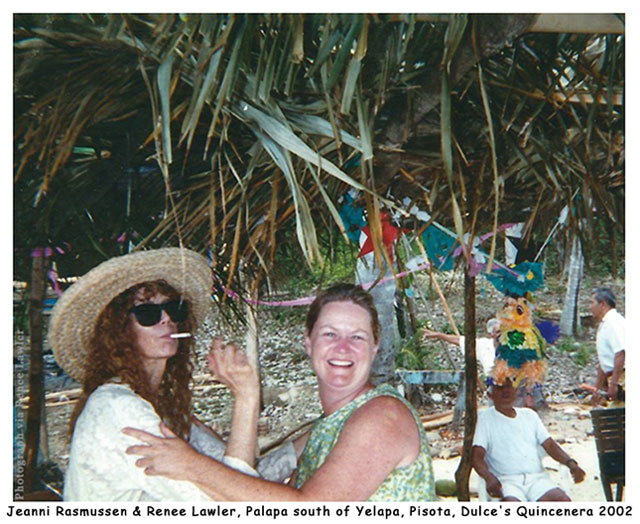 Jeanni Rasmussen & Renee Lawler, Palapa south of Yelapa, Pisota, Dulce's Quincenera 2002
3. The most powerful tool on the planet today is Tell-A-Vision. That is where I tell a vision to you, and you tell a vision to me. That way, if we don't like the programming we're getting, we can simply change the channel.

Distant Relatives [Patience] via nabil elderkin
Tainted News:
The lie can be maintained only for such time as the State can shield the people from the political, economic and/or military consequences of the lie. It thus becomes vitally important for the State to use all of its powers to repress dissent, for the truth is the mortal enemy of the lie, and thus by extension, the truth becomes the greatest enemy of the State. ~ Joseph Goebbels
Tomi Lahren should fight addiction and not have to step on "used heroin needles" to get high?

Saluting the Heroes of the Coronavirus Pandumbic The Daily Show w/Trevor Noah via Joey deVilla
600,000+
HUMANS DEAD
Murdered by Political Incompetence?
begging the question: WAS TAINTED NEWS ACCESSORY TO MURDER ?
Forget the politicians. They are irrelevant. The politicians are put there to give you the idea that you have freedom of choice. You don't. You have no choice! You have OWNERS! They own you! They own everything. They own all the important land. They own and control the corporations. They've long since bought, and paid for the Senate, the Congress, the state houses, the city halls, they got the judges in their back pockets and they own all the big media companies, so they control just about all of the news and information you get to hear. ~ George Carlin


Eliminate voting for lesser of evils,
None of the Above should be a choice on voter ballots?
Whenever any Form of Government becomes destructive of these ends, it is the Right of the People to alter or to abolish it, and to institute new Government, laying its foundation on such principles and organizing its powers in such form, as to them shall seem most likely to effect their Safety and Happiness. ~ Declaration of Independence
Boptime ~ w/Even Steven Leech
~ Saturday Mornings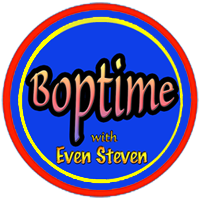 We begin with a couple of hours of oldies back to back to back beginning at 6am (EDT) on Saturday's Boptime. At 8am (EDT) Michael Ace offers up some proto punk rock selections 1950s style. At 9am (EDT) we head back to this time in 1953 when the new President was Dwight D. Eisenhower, the Korean War was coming to an end, and Lucille Ball and Groucho Marx were serving up the laughs on television. We'll have the #1 songs, what was playing in local movie houses and drive-ins, and more. ~ Steve
BOPTIME: Saturday, 6 AM Eastern, 3 AM Pacific time
Go To: http://www.wvud.org/?page_id=24
Click on a listening link below the WVUD logo:


Boptime available locally in DE on WVUD-FM 91.3, Shoutcast [Search: WVUD], and TuneIn
Patchworks Films
~ Los Hermanos / The Brothers;
An Award Winning Film
Patchworks Films presents
Los Hermanos
The Brothers
by Marcia Jarmel & Ken Schneider
"The compelling tale of a family disrupted by geopolitics."
~Peter Keough, The Boston Globe
"An Oscar caliber film for the family and one not to be missed."
~Jeffrey Lyons, WCBS Radio
"Expertly crafted and beautifully paced, like a great piece of music."
~Joshua Bell, violinist
NOW PLAYING
NATIONWIDE
In Theaters at the Miami Tower Theater, the LA Laemmle Monica, and the Albuquerque Guild Cinema. Screening virtually across the US, in support of local arthouse theaters. To find out where you can watch, etc., click here or below graphic: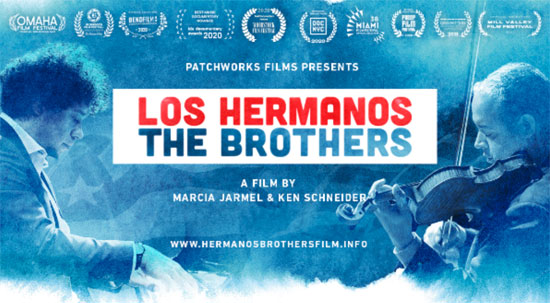 www.hermanosbrothersfilm.info
@hermanosbrothersfilm on Facebook and Instagram | @hermanosbrofilm on Twitter
Patchworks Films
Contact: info@patchworksfilms.net
Wavy Gravy
~ Clown & Art
~ Notes from ~@~
Happy 85
th

Birthday
Wavy Gravy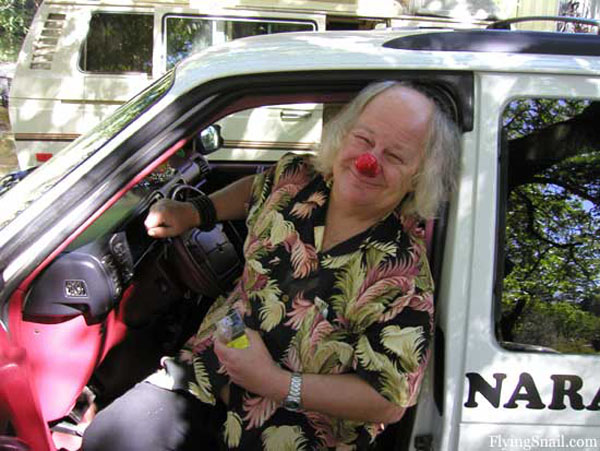 Wavy Gravy @ Flying Snail Ranch ~ Photograph: C. Spangler ~ Before Fire
(May 15th) Love FlyingSnail & Friends
Wavy Gravy (born May 15, 1936) is an American entertainer and activist for peace, best known for his hippie appearance, personality and counter cultural beliefs. His moniker (the name he uses day to day) was given to him by B.B. King at the Texas International Pop Festival in 1969. "It's worked pretty well through my life," he says, "except with telephone operators – I have to say 'Gravy, first initial W. ++ Nobody for President ~ None of the Above should be a Valid Choice on Voter Ballots!
Patchworks Films
~ Los Hermanos / The Brothers;
An Award Winning Film
Patchworks Films presents
Los Hermanos
The Brothers
by Marcia Jarmel & Ken Schneider
NATIONWIDE RELEASE
MAY 14, 2021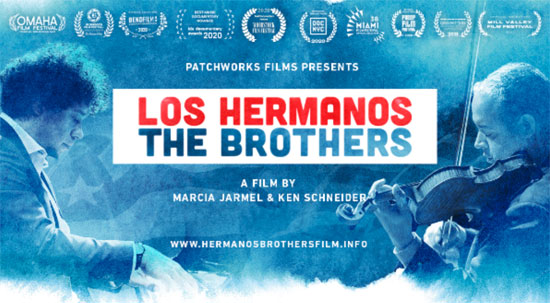 www.hermanosbrothersfilm.info
@hermanosbrothersfilm on Facebook and Instagram | @hermanosbrofilm on Twitter
Tickets for Miami & L.A. Theaters On Sale Now
+++ Coming Soon, Virtual Tickets Nationwide +++
"The compelling tale of a family disrupted by geopolitics."
Peter Keough, The Boston Globe
"An Oscar caliber film for the family and one not to be missed."
Jeffrey Lyons, WCBS Radio
"Expertly crafted and beautifully paced, like a great piece of music."
Joshua Bell, violinist
Patchworks Films
Contact: info@patchworksfilms.net
Boptime ~ w/Even Steven Leech
~ Saturday Mornings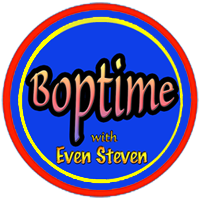 We begin with a couple of hours of oldies back to back to back beginning at 6am (EDT) on Saturday's Boptime. At 8am (EDT) Michael Ace plays the Blues on Rockabilly Ridge, then at 9am (EDT) we head back to this time in 1962. John F. Kennedy was President, John Glenn was the first U.S. astronaut to orbit the earth, things were heating up in Vietnam, and Bob Dylan had just released his first LP. We'll have the #1 tunes, what was playing at the movies locally and more trivia tidbits.. ~ Steve
BOPTIME: Saturday, 6 AM Eastern, 3 AM Pacific time
Go To: http://www.wvud.org/?page_id=24
Click on a listening link below the WVUD logo:


Boptime available locally in DE on WVUD-FM 91.3, Shoutcast [Search: WVUD], and TuneIn
ASIFA-SF, Karl Cohen
~ Association International du Film d'Animation, SF Newsletter
ASIFA-SF May 2021 Newsletter [PDF Format]
Boptime ~ w/Even Steven Leech
~ Saturday Mornings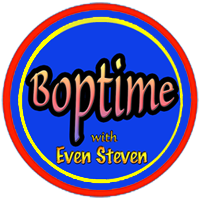 We begin with a couple of hours of oldies back to back to back beginning at 6am (EDT) on Saturday's Boptime. After an episode of the Secret City of Jazz at 8am (EDT) it's Clifford's Corner at 9am (EDT). On this previously recorded segment with co-hosts Larry, Kitty and yours truly, our special guest is local jazz trumpeter Tony Smith, who very recently received the 2021 Clifford Brown Legacy Award from the City of Wilmington. ~ Steve
BOPTIME: Saturday, 6 AM Eastern, 3 AM Pacific time
Go To: http://www.wvud.org/?page_id=24
Click on a listening link below the WVUD logo:


Boptime available locally in DE on WVUD-FM 91.3, Shoutcast [Search: WVUD], and TuneIn
On May 4, 1970
POLITICIANS
Authorize Murder
of Peaceful Students!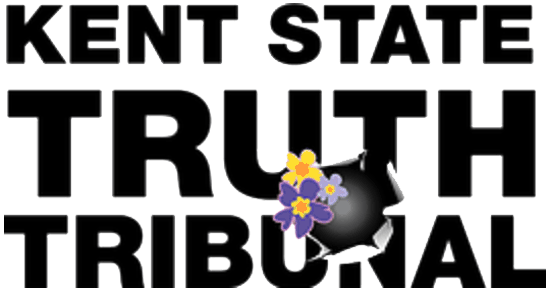 Kent State Truth Tribunal
Seeking Truth & Justice at Kent State
The Day that Changed America
On May 4, 1970 the Ohio National Guard opened fire on unarmed students protesting America´s invasion of Cambodia. Four students were killed and nine were wounded. The incident triggered national outrage in a country already divided over the Vietnam War. In the days that followed more than four million students rose up in dissent across 900 campuses, generating the only nationwide student protest in U.S. history.
The Kent State shootings have never been thoroughly examined and no person or group has been held accountable for wrongdoing. Forty years later, family members of those killed have initiated the Kent State Truth Tribunal to preserve and honor the stories of those whose lives have been touched by this tragedy. Taking inspiration from British Prime Minister David Cameron´s apology for the Bloody Sunday killings on June 15, 2010, the KSTT seeks official acknowledgment of the 1970 Kent State shootings. ~ http://www.truthtribunal.org/
Paul Krassner
~ The Realist, Investigative Satirist
Kent State
Anniversary Blues
In my book, Magic Mushrooms and Other Highs: From Toad Slime to Ecstasy, Freddy Berthoff described his mescaline trip at a Crosby, Stills, Nash and Young concert in the summer of 1970 when he was 15. "Earlier that spring," he wrote, "the helmeted, rifle-toting National Guard came up over the rise during a peace-in-Vietnam rally at Kent State University. And opened fire on the crowd. I always suspected it was a contrived event, as if someone deep in the executive branch had said, 'We've got to teach those commie punks a lesson.'" Actually, President Nixon had called antiwar protesters "bums" two days before the shootings. While Freddy was peaking on mescaline, CSNY sang a new song about the massacre:
Tin soldiers and Nixon coming
We're finally on our own
This summer I hear the drumming
Four dead in O-hi-o…
Plus nine wounded. Sixty-seven shots – dum-dum bullets that exploded upon impact -- had been fired in 13 seconds. This incident on May 4, 1970 resulted in the first general student strike in U.S. history, encompassing over 400 campuses.
Arthur Krause, father of one of the dead students, Allison, got a call from John Ehrlichman, Assistant to the President for Domestic Affairs, who said, "There will be a complete investigation." Krause responded, "Are you sure about that?" And the reply: "Mr. Krause, I promise you, there will be no whitewash."
But NBC News correspondent James Polk discovered a memo marked "Eyes Only" from Ehrlichman to Attorney General John Mitchell ordering that there be no federal grand jury investigation of the killings, because Nixon adamantly opposed such action.
Polk reported that, "In 1973, under a new Attorney General, Elliot Richardson, the Justice Department reversed itself and did send the Kent State case to a federal grand jury. When that was announced, Richardson said to an aide he got a call from the White House. He was told that Richard Nixon was so upset, they had to scrape the president off the walls with a spatula."
Last year, Allison Krause's younger sister, Laurel, was relaxing on the front deck of her home in California when she saw the County Sheriff's Deputy coming toward her, followed by nearly two dozen men. "Then, before my eyes," she recalls, "the officers morphed into a platoon of Ohio National Guardsmen marching onto my land. They were here because I was cultivating medical marijuana. I realized the persecution I was living through was similar to what many Americans and global citizens experience daily. This harassment even had parallels to Allison's experience before she was murdered."
What if you knew her
And found her dead on the ground
How can you run when you know?
Now, 40 years later, Laurel, her mother and other Kent State activists have been organizing the "2010 Kent State Truth Tribunal" (see http://bit.ly/8AD8TQ) scheduled for May 1-4 on the campus where the slaughter of unarmed demonstrators originally occurred. The invitation to participate in sharing their personal narratives has been extended to 1970 protesters, witnesses, National Guardsmen, Ohio and federal government officials, university administrators and educators, local residents, families of the victims. The purpose is to uncover the truth.
Laurel was 0nly 15 when the Kent State shootings took place. "Like any 15-year-old, my coping mechanisms were undeveloped at best. Every evening, I remember spending hours in my bedroom practicing calligraphy to Neil Young's 'After the Goldrush,' artistically copying phrases of his music, smoking marijuana to calm and numb my pain." When she was arrested for legally growing marijuana, "They cuffed me and read my rights as I sobbed hysterically. This was the first time I flashed back and revisited the utter shock, raw devastation and feeling of total loss since Allison died. I believed they were going to shoot and kill me, just like Allison. How ironic, I thought. The medicine that kept me safe from experiencing post-traumatic stress disorder now led me to relive that horrible experience as the cops marched onto my property."
She began to see the interconnectedness of those events. The dehumanization of Allison was the logical, ultimate extension of the dehumanization of Laurel. Legally, two felonies were reduced to misdemeanors, and she was sentenced to 25 hours of community service. But a therapist, one of Allison's friends from Kent State, suggested to Laurel that the best way to deal with the pain of PTSD was to make something good come out of the remembrance, the suffering and the pain. "That's when I decided to transform the arrest into something good for me," she says, "good for all. It was my only choice, the only solution to cure this memorable, generational, personal angst. My mantra became, 'This is the best thing that ever happened to me.' And it has been." That's why she's fighting so hard for the truth to burst through cement like blades of grass.
Kent State shootings
From Wikipedia, the free encyclopedia
Ohio (Crosby, Stills, Nash & Young song)
From Wikipedia, the free encyclopedia

Ohio ~ Crosby, Stills, Nash & Young from Mr. Gibbons

Murder In 13 Seconds: Kent State Story from Joel Baker
How the Kent State massacre marked
the start of America's polarization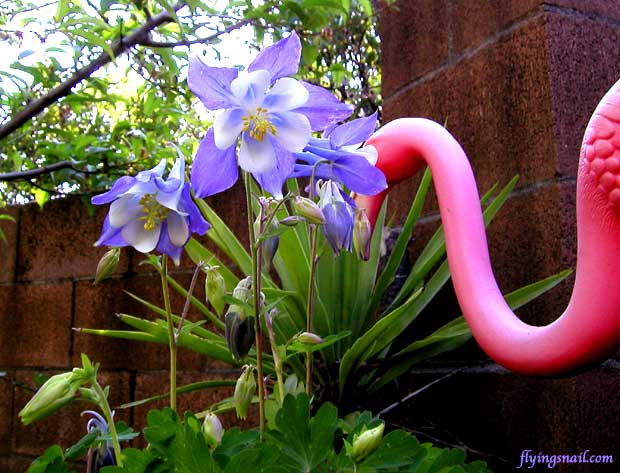 Where Have All the Flowers Gone?
Dahbud Mensch
~ Look at the date == May 10, 2018
May 10, 2018
Stephen Schwartz 'suggests'
POLITICIANS
have created a situation where Nobody, in their
'right mind', could now respond to a Pandemic;
effectively authorizing Murder of The People?
"When the next pandemic occurs (& make no mistake, it will)
& the federal government is unable to respond in a coordinated
& effective fashion to protect the lives of U.S. citizens & others,
this decision by John Bolton and Donald Trump will be why.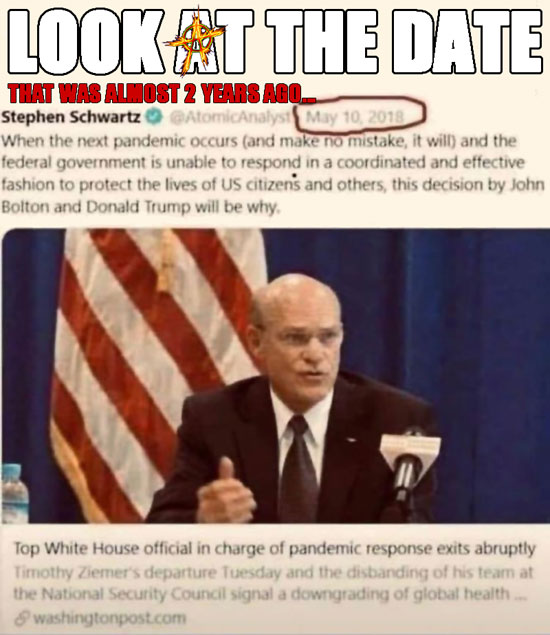 "One day it's like a miracle, it will disappear."
Another Lying Politician, February 27, 2020
Did Experts and Officials Warn in 2018 U.S.
Couldn't Respond Effectively to a Pandemic?
via Bethania Palma : https://www.snopes.com/fact-check/experts-officials-pandemic-2018/
YES!!!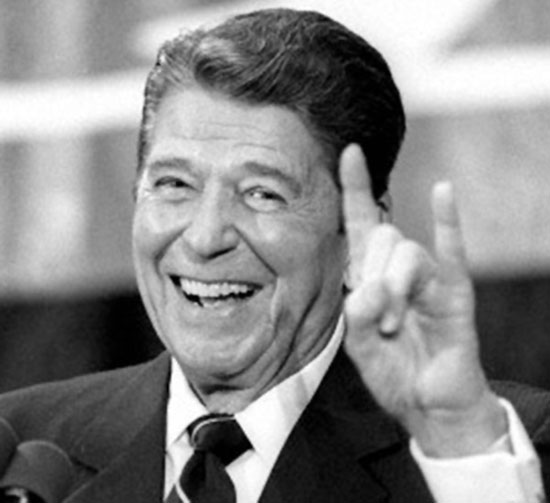 Origin of 'The Plan'?
When President Ronald Reagan was shot and laying on the operating table, General Alexander Haig said, "I am in control here", giving the impression a military coup of the United States had occurred. ~ [Continue Reading]
"It is a big idea: a new world order... only the United States has both the moral standing and means to back it up." says Former Lying Politician at his January 29, 1991 Sate of Union address.
The above guy is also father of this Lying Politician who joked about his WMD lie after he and his supporters murdered/maimed millions of innocent people; including women and children.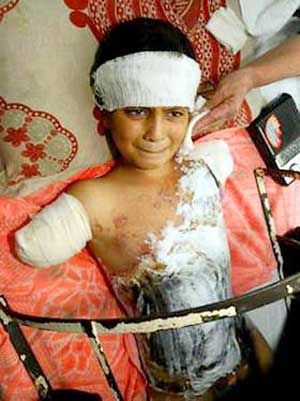 It was widely known before the Iraq war that over 50% of the Iraqi population were children under the age of 15, and war began with this ungodly act of sheer cowardice by politicians. Millions of women, children, civilians, military personnel, etc. were murdered in order to eliminate one (1) man, based on an outright lie [WMD] sent to another Lying Politician on January 26, 1998?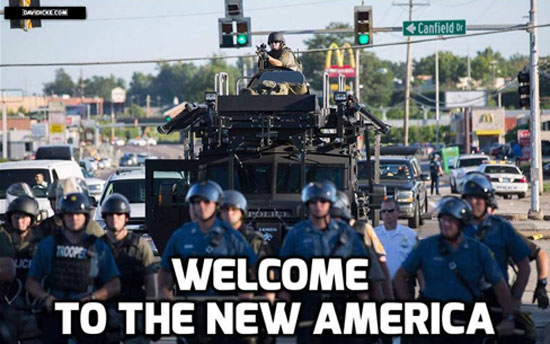 Have Politicians & their lobbyists turned Capitalism into a personal Death Cult ???
Politicians who advocate murder of U.S. Citizens
should also be charged with this federal felony ?

Herman Munster y la Democracia via La Patilla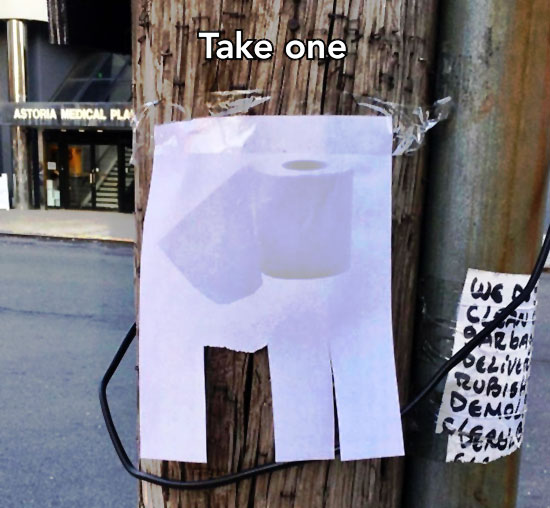 Don't fall for the rhetoric! Everyone in government was
briefed multiple times about coronavirus and chose
not to act; similar to their Katrina and 9/11 lies?


Re-thinking 9/11
WTC-7 wasn't hit by anything?
NONE of the ABOVE should be a choice on voter ballots!
Dahbud Mensch ~ Jackson State,
May 14/15, 1970
On May 14, 1970
POLITICIANS
Authorize Murder
of Peaceful Students!
Jackson State

Long Live the Spirit of Kent and Jackson State ~ May 4th Coalition
Students Killed at
Jackson State University
On this date in 1970, two Black students at Jackson State University were killed and many others injured by Jackson police. These killings were never as publicized as the Kent State shootings of four white students that had occurred only a few days earlier. It was a time of turmoil in campus communities across the country that were characterized by protests and demonstrations.
No college or university was left untouched by confrontations and continuous calls for change. At Jackson State College in Jackson, MS, there was the added issue of historical racial intimidation and harassment by white motorists traveling Lynch Street, a major thoroughfare that divided the campus and linked West Jackson to downtown. On May 14-15, 1970, Jackson State students were protesting these issues as well as the May 4, 1970 tragedy at Kent State University in Ohio.
The riot began around 9:30 p.m., May 14, when rumors were spread that Fayette, MS Mayor Charles Evers (brother of slain Civil Rights activist Medgar Evers) and his wife had been shot and killed. Upon hearing this rumor, a small group of students rioted. That night, several white motorists had called the Jackson Police Department to complain that a group of Blacks threw rocks at them as they passed along the stretch of Lynch Street that bisected the campus. The rioting students set several fires and overturned a dump truck that had been left on campus overnight.
Jackson firefighters dispatched to the blaze met a hostile crowd that harangued them as they worked to contain the fire. Fearing for their safety, the firemen requested police backup. The police blocked off the campus. National Guardsmen, still on alert from rioting the previous night, mounted Armored Personnel Carriers, The guardsmen had been issued weapons, but no ammunition. Seventy-five city policemen and Mississippi State Police officers, all armed, responded to the call. Their combined armaments staved off the crowd long enough for the firemen to extinguish the blaze and leave.
After the firemen left, the police and state troopers marched toward a campus women's residence, weapons at the ready. At this point, the crowd numbered 75 to 100 people. Several students allegedly shouted "obscene catcalls" while others chanted and tossed bricks at the officers, who had closed to within 100 feet of the group. The officers deployed into a line facing the students. Accounts disagree as to what happened next. Some students said the police advanced in a line, warned them, and then opened fire. Others said the police abruptly opened fire on the crowd and the dormitory. Other witnesses reported that the students were under the control of a campus security officer when the police opened fire.
Police claimed they spotted a powder flare and opened fire in self-defense on the dormitory only. The students scattered, some running for the trees in front of the library, but most scrambling for the Alexander Hall west end door. There were screaming and cries of terror and pain mingled with the noise of sustained gunfire as the students struggled to get through glass double doors. A few students were trampled. Others, struck by buckshot pellets or bullets, fell only to be dragged inside or left moaning in the grass.
When the order to cease fire was given, Phillip Lafayette Gibbs, 21, a junior pre-law major and father of an 18 month-old son, lay dead. Across the street, behind the line of police and highway patrolmen, James Earl Green, 17, was sprawled dead. Green, a senior at Jim Hill High School in Jackson, was walking home from work at a local grocery store when he stopped to watch the action. Twelve other Jackson State students were struck by gunfire. The five-story dormitory was riddled by gunfire. FBI investigators estimated that more than 460 rounds struck the building, shattering every window facing the street on each floor. Investigators counted at least 160 bullet holes in the outer walls of the stairwell alone bullet holes that can still be seen today.
The injured students, many of whom lay bleeding on the ground outside the dormitory, were transported to University Hospital within 20 minutes of the shooting. But the ambulances were not called until after the officers picked up their shell casings, a U. S. Senate probe conducted by Senators Walter Mondale and Birch Bayh later revealed. The police and state troopers left the campus shortly after the shooting and were replaced by National Guardsmen. After the incident, Jackson authorities denied that city police took part.
Reference: http://aaregistry.org/historic_events/view/killings-jackson-state-university
The biographical dictionary of Black Americans by Rachel Krantz and Elizabeth A.Ryan
Copyright 1992, Facts on File, New York, NY ~ ISBN 0-8160-2324-7
Jackson State killings

From Wikipedia, the free encyclopedia
The Jackson State killings occurred on Friday May 15, 1970, at Jackson State College (now Jackson State University) in Jackson, Mississippi. On May 14, 1970, a group were confronted by city and state police. Shortly after midnight, the police opened fire, killing two students and injuring twelve. The event happened only 11 days after National Guardsmen killed four students at Kent State in Ohio, which had first captured national attention. ~ [Click to continue reading]
Bloody Thursday
~ May 15, 1969 ~ Berkeley, California,
as told by ~@~
On May 15, 1969
POLITICIANS
Authorize Murder
of Peaceful Students!
Bloody
Thursday
Orders issued by Lying GOP Politicians: Ronald W.
Reagan & Richard M. Nixon w/(sic)Democrap support?

Peoples Park 1969 from mel zimmer
You have probably seen the above title posted here over the years and here is why.
Early on Thursday morning May 15, 1969, after returning from an "Angels of Light" party with Allen Ginsberg, who was into his "Home, Home, Home," harmonium, Blake phase, a friend and I drank what we thought was a half bottle of orange juice someone had left in the refrigerator.
Just as we were 'downing' the last gulp of juice, a boyfriend of one of the women at the house came into the kitchen and said, "Where did you get that juice from?"
As it turned out, the orange juice contained a quarter ounce of mescaline sulfate and we were on our way to being thoroughly dosed.
Seeing it was going to be one of those 'sunshine daydream' mornings, we headed down Telegraph Ave. toward UC Berkeley, where we would take a right at the clock tower, walk up to Tilden Park, and hang out at the lake for the day.
About one half block from the campus we heard, what sounded like, gun shots and saw a large group of screaming people running toward us. Not knowing what to do, we began running South with the crowd.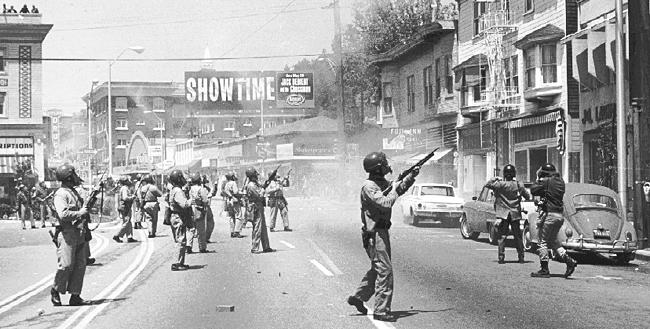 People's Park Photo: Ron Stinnett ~ Source: http://www.peoplespark.org/69gall4.html
Activism
With exception of getting exposed to Berkeley, Cody's Books, Mario Savio, Free Speech Movement, Sexual Freedom League, KPFA during 1964, and later attending a few demonstrations Veterans took part in against U.S. involvement in Vietnam, I ended up into Peace & Love.
I am a Vietnam Veteran, with honorable discharge and recommendations, who volunteered to serve our country during war [or what we were led to believe was war] and ended up becoming more of a Hippy because I was over-educated, liked history, knew none of what was tried in the past worked without people getting hurt, and realized progress was directed in reviewing alternatives to "History Repeating Itself!" (period)
---
Leading up to this picture story, it is important to remember:
I WAS NOT AN ACTIVIST
or involved with activism in any way!
;-) I was too busy having Hippie fun and writing some of the first
major computer systems used on an IBM 360/20 (period). (-;
---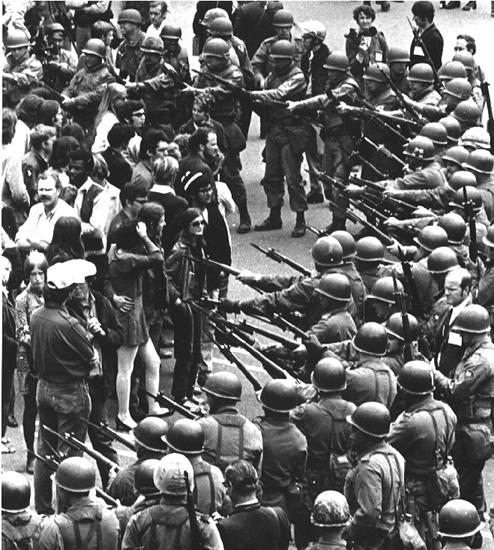 People's Park Photo: Dick Corten ~ Source: http://www.peoplespark.org/69gall8.html
Following video contains "Sunshine Daydream" reference:

Sugar Magnolia, Grateful Dead via Dru Korab
Click Bloody Thursday to continue reading
People's Park May 15, 1969 ~ Photo Story
POLITICIANS NEED TO STOP
MURDERING 'THE PEOPLE' ...and
NONE of the ABOVE should be a choice on voter ballots!
Boptime ~ w/Even Steven Leech
~ Saturday Mornings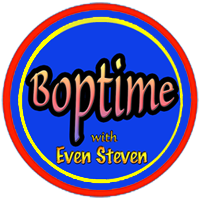 We begin with a couple of hours of oldies back to back to back beginning at 6am (EDT) on Saturday's Boptime. At 8am (EDT) on the Heart & Soul of Delaware
Rock & Roll we'll hear some sides from the somewhat mysterious A-B-S label from Wilmington. At 9am (EDT) on the Club Baby Grand, we'll hear Wilmington jazz vibraphonist Lem Winchester's 1960 performance at the Birmingham Michigan Jazz Festival, then Kirk Lightsey with Marcus Belgrave and a tune composed by Wilmington jazz artist Dean Jenkins. We'll wind it up with a live performance in Wilmington from Roosevelt Wardell. ~ Steve
BOPTIME: Saturday, 6 AM Eastern, 3 AM Pacific time
Go To: http://www.wvud.org/?page_id=24
Click on a listening link below the WVUD logo:


Boptime available locally in DE on WVUD-FM 91.3, Shoutcast [Search: WVUD], and TuneIn

On the Bus, Carolyn Mountain Girl Garcia via vimeo

Since 1977, the Dreamstreets project has showcased progressive artists, photographers, and writers of the Delaware Valley. Conceived by John Hickey and a cohort of visionaries in 1977 and carried forward under the executive editorship of Steven Leech, Dreamstreets has appeared almost continuously in print, radio, and television, its largest hiatus being 2006 to 2015. We now publish regularly in the spring and in the fall, with an occasional special issue. We accept submissions from resident and diaspora Delawareans during the months of December and June. [Continue reading at: www.dreamstreetsarchive.com]

Dreamstreets #67 is now available.
Karl Cohen
~ Association International du Film d'Animation, SF Newsletter
ASIFA-SF April 2021 Newsletter [PDF Format]
Notes from ~@~
Freedom of expression and freedom of speech aren't really important unless they're heard...It's hard for me to stay silent when I keep hearing that peace is only attainable through war. And there's nothing more scary than watching ignorance in action. So I dedicated this Emmy to all the people who feel compelled to speak out and not afraid to speak to power and won't shut up and refuse to be silenced.~ Tom Smothers

Carlin Step, DJ Steve Porter & Eli Wilkie via Roland Kardeby

The Great Bell Chant (The End of Suffering) via R Smittenaar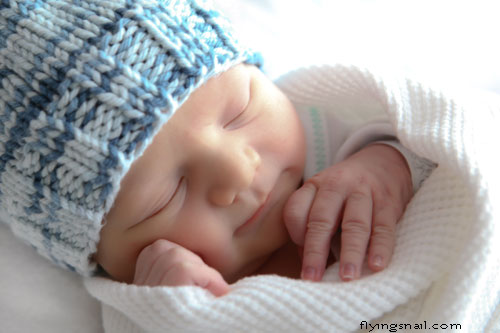 One Day, Matisyahu via ShalomLearning

Unsung Hero via Rattakarn Srithavatchai "Garn"
The Sacred Clowns ~ Heyókȟa
The Heyókȟa symbolize and portray many aspects of the sacred, the Wakȟáŋ. Their satire presents important questions by fooling around. They ask difficult questions, and say things others are too afraid to say. By reading between the lines, the audience is able to think about things not usually thought about, or to look at things in a different way.
Principally, the Heyókȟa functions both as a mirror and a teacher, using extreme behaviors to mirror others, thereby forcing them to examine their own doubts, fears, hatreds, and weaknesses. Heyókȟas also have the power to heal emotional pain; such power comes from the experience of shame--they sing of shameful events in their lives, beg for food, and live as clowns. They provoke laughter in distressing situations of despair and provoke fear and chaos when people feel complacent and overly secure, to keep them from taking themselves too seriously or believing they are more powerful than they are.
In addition, sacred clowns serve an important role in shaping tribal codes. Heyókȟa's don't seem to care about taboos, rules, regulations, social norms, or boundaries. Paradoxically, however, it is by violating these norms and taboos that they help to define the accepted boundaries, rules, and societal guidelines for ethical and moral behavior. This is because they are the only ones who can ask "Why?" about sensitive topics and employ satire to question the specialists and carriers of sacred knowledge or those in positions of power and authority. In doing so, they demonstrate concretely the theories of balance and imbalance. Their role is to penetrate deception, turn over rocks, and create a deeper awareness.
Develop Your Mind, Not Sacred Sites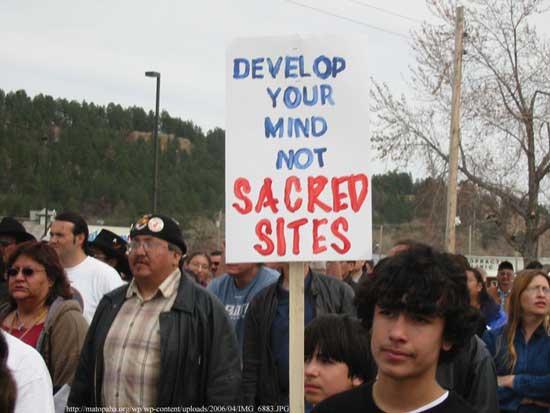 Cree Prophecy
Only after the last tree has been cut down,
Only after the last river has been poisoned,
Only after the last fish has been caught,
Only then will you find money cannot be eaten.
Nobody for President ~ NONE of the ABOVE should be a choice on voter ballots!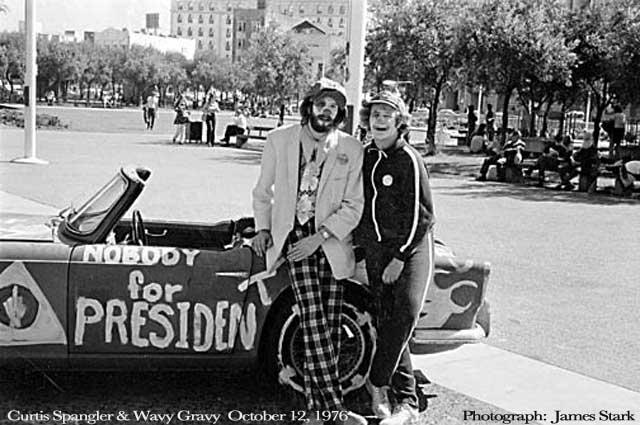 Curtis Spangler & Wavy Gravy, Nobody for President, 197610.12 ~ Photo: James Stark

American Dream, George Carlin via Ishtar [Not Work Safe] Nobody should have that much power
NOBODY should have that much power!
6. If we want world peace, we must let go of our attachments and truly live like nomads. That's where I no mad at you, you no mad at me. That way, there'll surely be nomadness on the planet. And peace begins with each of us. A little peace here, a little peace there, pretty soon all the peaces will fit together to make one big peace everywhere.

Nothing else matters, Metallica arr. Karianne Brouwer violin, Maaike Schoenmaker cello
Message
via
Mike Pinder
Oh, I hope that I see you again I never even caught your name As you looked through my window pane ~ So I'm writing this message today I'm thinking that you'll have a way Of hearing the notes in my tune ~ Where are you going? Where have you been? I can imagine other worlds you have seen ~ Beautiful faces and music so serene ~ So I do hope I see you again My universal citizen You went as quickly as you came ~ You know the power Your love is right You have good reason To stay out of sight ~~ But break our illusions and help us Be the light ~ by Mike Pinder

Why I Think This World Should End, Prince EA via Prince EA
Without love in the dream, it will never come true. ~ Jerry Garcia/Robert Hunter
And in the end, the love you take is equal to the love you make. ~ John Lennon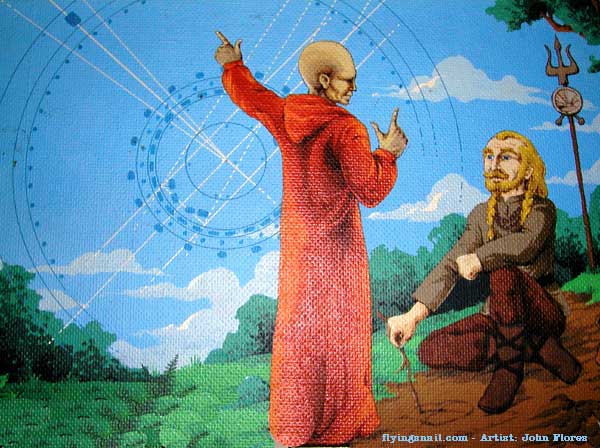 ---
---
The man whispered, "God, speak to me" and a meadowlark sang. But the man did not hear. So the man yelled "God, speak to me" and the thunder rolled across the sky. But the man did not listen. The man looked around and said, "God let me see you" and a star shined brightly. But the man did not notice. And the man shouted, "God show me a miracle" and a life was born. But the man did not know. So the man cried out in despair, "Touch me God, and let me know you are there" Whereupon God reached down and touched the man, But the man brushed the butterfly away and walked on.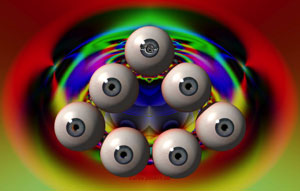 Don't miss out on a blessing because
it isn't packaged the way you expect!
---
---

DuckDuckGo ~ The search engine that doesn't track you
{ ͡ʘ ͜ʖ ͡ʘ} Is Daylight Saving Time Dangerous? { ͡ʘ ͜ʖ ͡ʘ}