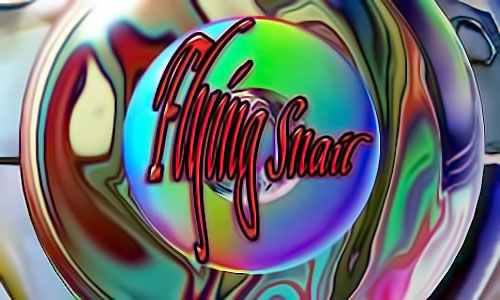 Tell~A~Vision = Why Not Try Love Again?
---
---
Begin your FlyingSnail adventure by:
Clicking Here _or_

_or_ Archive
---

NONE OF THE ABOVE
should be a choice on Voter Ballots!

---

---

Binyamin Netanyahu 'chickenshit',
say US officials in explosive interview

Quotes from senior Obama administration figures damn Israeli prime minister over stance on settlements and Palestinian peace


Binyamin Netanyahu is condemned by Obama administration officials
in an interview for the Atlantic. Photograph: Amir Cohen/Reuters

Peter Beaumont in Jerusalem, theguardian, Wednesday 29 October 2014 02.50 EDT, Aricle Source

US relations with Israel have plunged to new depths of bitterness and hostility as senior officials in the Obama administration decried Binyamin Netanyahu as a "chickenshit prime minister", "coward" and a man more interested in his own political survival than peace.

The furious assessment delivered in anonymous but no-holds barred comments in an interview with the American journalist Jeffrey Goldberg in the Atlantic underline a state of anger with Netanyahu that is characterised as "red hot".

The remarks are particularly telling in having been made to Goldberg, a Washington insider who has interviewed both Obama and Netanyahu, and who warned US-Israeli relations were in a "full-blown crisis" that could only get worse after the midterm elections.

Speaking to the Israeli parliament – the Knesset – a few hours after the comments were revealed, Netanyahu angrily insisted he was "under attack simply for defending Israel", adding that he "cherished" Israel's relationship with the US.

"When there are pressures on Israel to concede its security, the easiest thing to do is to concede," he said. "You get a round of applause, ceremonies on grassy knolls, and then come the missiles and the tunnels."

The Obama officials' comments underline the dismal state of relations between the Obama administration and the Netanyahu after a series of damaging announcements by Israel – including again this week – regarding its determination to push ahead with settlement building in occupied East Jerusalem and the West Bank.

The temperature of relations plunged again last week when Israel's defence minister, Moshe Yaalon, was pointedly snubbed by senior administration officials during a visit last week to Washington, which itself followed a public warning from the White House that Israel risked alienating its "closest allies".

Despite the deepening frustration in Washington, Netanyahu continued to hit back over the latest settlement announcement, saying US criticism was "detached from reality", even on the eve of the publication of the latest remarks.

"The thing about Bibi is, he's a chickenshit," said one official quoted in the Atlantic. "The good thing about Netanyahu is that he's scared to launch wars. The bad thing about him is that he won't do anything to reach an accommodation with the Palestinians or with the Sunni Arab states.

"The only thing he's interested in is protecting himself from political defeat. He's not [Yitzhak] Rabin, he's not [Ariel] Sharon, he's certainly no [Menachem] Begin. He's got no guts."

In a more diplomatic and public statement on the recent settlement announcements, the US National Security Council spokesman Alistair Baskey insisted the US would continue to criticise Israel.

"There are times when we disagree with actions of the Israeli government and we must raise our concerns, such as our concerns about Israel's settlement policy," he said. "We raise these concerns as a partner who is deeply concerned about Israel's future and wants to see Israel living side by side in peace and security with its neighbours."

In comments designed to further sting Netanyahu, who has expended huge diplomatic effort on attempting to derail any deal with Iran over its nuclear programme, another official suggested the White House no longer believed Netanyahu would launch a pre-emptive strike on Iran to prevent it obtaining nuclear weapons.

"It's too late for him to do anything," the official said. "Two, three years ago, this was a possibility. But ultimately he couldn't bring himself to pull the trigger. It was a combination of our pressure and his own unwillingness to do anything dramatic. Now it's too late."

The comments are the latest in a series of high-profile spats between Washington and Netanyahu's government. Relations began their sharp decline when defence minister Yaalon accused the US secretary of state, John Kerry, of being "obsessive and messianic" in his pursuit of a peace deal between Israelis and Palestinians. Later, in off-the-record remarks, Kerry warned that Israeli risked becoming "an apartheid state".

On Friday Netanyahu told the Knesset: "I am not prepared to make concessions that will endanger our state. Understand, our national interests, topped by security and the unity of Jerusalem, are not what top the interests of those anonymous forces attacking us, and me personally. I am under attack simply because I am defending the State of Israel. If I didn't stand firm on our national interests, I would not be under attack.

"I respect and cherish the deep connection with the United States. Since the establishment of the state, we've had our arguments and then some. We have seen time after time, year and year, support rising among the American public. The strategic alliance between the stances is continuing and will continue."

Responding to the remarks in the Atlantic late on Tuesday night, Israel's far-right economics minister, Naftali Bennett, used his Facebook page to call for Washington to renounce the comments: "If what was written [in The Atlantic] is true, then it appears the current administration plans to throw Israel under the bus.

"The prime minister is not a private person but the leader of the Jewish state and the whole Jewish world. Such severe insults towards the prime minister of Israel are hurtful to millions of Israeli citizens and Jews all over the world.

"Instead of attacking Israel and forcing it to accept suicidal terms, it should be strengthened. I call on the US administration to renounce these coarse comments and to reject them outright."


Obama and Netanyahu: up close and personal - Steve Bell

Sarkozy and Obama's Netanyahu
gaffe broadcast via microphones

French president called Israeli PM a liar in exchange with US president inadvertently shared with journalists


The 9/11 cOMMISSION's Amazing, Never
Touched by Anything, WTC-7 Building,
Nobody Wants to Investigate

---

---

---

BOPTIME with Even Steven,
SATURDAYS 6 am East ~ 3 am West, Listen
---

---

Farbenkarussell ~ DJ Schmolli / Video: DVJ Sam ~ http://vimeo.com/108384087
---
---
Dahbud Mensch ~ is SANITY the PLAYGROUND of the unIMAGINATIVE ?
Call for Arrest,
Conviction, and


Public Execution

of:


PG&E and CPUC Executives

For the murder of 8 and injury of 58 people

Click to view related PG&E Murder links
and ask yourself is it:
Time for a Corporate Death Penalty?


2010 San Bruno pipeline explosion ~ Click to read at Wikipedia

California orders Pacific Gas to pay
$1.4bn penalty for 2010 explosion

Regulatory judges decide the state's largest utility, PG&E, must pay for a pipeline explosion that killed eight near San Francisco

Associated Press, theguardian.com, 2 September 2014, Article Source


A crater filled with water marks the site of an explosion that caused a fire the massive
fire burning in a residential neighborhood September 9, 2010 in a San Bruno, California.
Photograph: Max Whittaker/Getty Images

California regulatory judges have issued a $1.4bn penalty against the state's largest utility for a 2010 gas pipeline explosion that engulfed a suburban San Francisco neighborhood in fire, killing eight people and prompting national alerts about ageing pipelines.

The California public utilities commission on Tuesday announced the figure reached by two administrative law judges against Pacific Gas & Electric Co, saying it would be the largest safety-related penalty it had ever imposed.

PG&E can appeal the fine
[Or charge their customers using CPUC approved rate increases?]

The commission previously ordered PG&E to pay $635m for pipeline modernization in the wake of the September 9, 2010, blast in the suburban San Francisco community of San Bruno.

It was California's deadliest utility disaster in decades.

PG&E and the PUC oust several key
officials in wake of email flap

By George Avalos, San Jose Mercury News, Article Source

SAN BRUNO -- PG&E and the state Public Utilities Commission announced the ouster of several top officials as a result of controversial email exchanges that critics charge indicated a troublingly close relationship between the two.

In addition, PUC President Michael Peevey, whose email to utility officials also drew scrutiny, recused himself from two key cases related to PG&E's natural gas operations, including a decision on potential fines for PG&E regarding the deadly 2010 natural gas pipeline explosion in San Bruno.

The latest flap underscores what critics have called a lax culture of regulatory oversight at the PUC. The concerns have heightened at a time when the company is struggling to upgrade its natural gas pipeline system, avoid a repeat of the San Bruno disaster and operate a safe and efficient electricity system.

San Francisco-based PG&E announced it has dismissed Senior Vice President of Regulatory Affairs Tom Bottroff, Vice President of Regulatory Relations Brian Cherry and Vice President of Regulatory Proceedings and Rates Trina Horner. In addition, Peevey's chief of staff, Carol Brown, has agreed to resign, effective immediately, the PUC announced.

The utility also disclosed in a regulatory filing that it may have violated PUC rules with emails it sent the agency as recently as January 2014. The emails this year were related to a gas transmission rate case and the administrative law judges who would be assigned to that case. The specific contents of the emails were not disclosed, nor were the individuals involved in the exchange.

The PUC described the email exchanges, between key executives at PG&E and top officials at the PUC, as "inappropriate."

"I feel that my voluntary recusal should ensure the public's confidence in the credibility and objectivity of the CPUC's decisions," Peevey, the PUC president and commissioner, said in a prepared release.

The PUC on Monday also ordered its executive director to conduct a review of the agency's internal procedures to ensure inappropriate communications don't occur in the future. The PUC will use an outside expert to assist in the review.

"I want to assure those practicing before us, the many stakeholders to our proceedings and the public that this will not happen again," PUC Commissioner Michael Florio said in a prepared release.

In one email exchange regarding state Sen. Jerry Hill, whose district includes San Bruno, PG&E executives indicated they were irked with Hill, then a member of the state Assembly. In 2011 and 2012, Hill raised safety concerns about PG&E increasing pressure on multiple gas pipelines and criticized Peevey's role in the matter.

"Just wanted to give you some notice that we'd be replying to Hill," the PUC's top staff member, Executive Director Paul Clanon, wrote to PG&E regulatory executive Cherry. Cherry later wrote to Clanon: "Let's just say I have no respect left for Mr. Hill."

PG&E apologized this year about Cherry's comments

"As a company, we must be committed to complying with both the letter and the spirit of the law and PG&E's own code of conduct at all times. No excuses." PG&E Chief Executive Officer Anthony Earley wrote in an open letter to the company's employees on Monday. "That is, and must be, the standard for our behavior, individually and as a company."

PG&E said it has hired Ken Salazar as a special counsel. Salazar, a former U.S. senator and cabinet secretary, will help the utility improve its regulatory compliance efforts. The utility also appointed Steve Malnight as senior vice president of regulatory relations. In addition, the company is creating a new position of chief regulatory compliance officer to handle the requirements that govern PG&E's interactions with the PUC.

In an April 2013 email, Brown wrote to PG&E executive Laura Doll and offered advice about how to handle one of the proceedings related to the San Bruno explosion. In the email, Brown said she had talked to one of the PUC administrative law judges about the matter.

"Send back a sweet note" to the PUC about the matter "and then wait for them to throw a fit" was part of Brown's advice. Brown also said she was "happy to chat" about the matter with PG&E to help guide company officials through the PUC process.

Doll replied to Brown, "Love you. Thanks." Doll remains on staff at PG&E, the company said.

Hill praised PG&E's actions but suggested the PUC still isn't ready to reform itself and only took the actions under pressure from the city of San Bruno, whose officials had demanded the email records.

"PG&E is doing the right thing, but the PUC wouldn't have made any changes if it hadn't been caught," Hill said. "PG&E is learning its lessons. Tony Earley wants to do the right thing. These terminations and house cleaning are a step in the right direction to creating a new culture at PG&E."


Remains of a portion of the natural gas pipeline after the explosion from Wikipedia

Do You Really Trust Anything
PG&E and CPUC Executives Say?
Say No to Smart Meters and the imposed
PG&E/CPUC fee to keep them away from you!


Click to visit:
http://turn.org/ ~ http://stopsmartmeters.org/
---
---
NBA vs. NFL


via Cousin Bruce


The Government is Asleep
Quick, Post Pictures of Freedom

3 have done time for assault

7 have been arrested for fraud

8 have been arrested for shoplifting

36 have been accused of spousal abuse

21 are currently defendants in lawsuits

19 have been accused of writing bad checks

71 cannot get a credit card due to bad credit

14 have been arrested on drug-related charges

84 have been arrested for drunk driving in the last year

117 have directly or indirectly bankrupted at least 2 businesses

Can you guess which organization this is? Is it the NBA Or NFL?

Neither !!!

It is the 535 members
of the United States Congress
who have a a lower approval rating than the amount of rat feces tolerated in U.S. food!

The same group of Republican and Democrat Idiots American people keep voting for that crank out hundreds of new laws each year designed to keep the rest of us in line; for example, click on any of the below:

Patriot Act ~ Telecom Crimes ~ Denialist
FEMA Camps ~ Drop Dead


Republicans are Red, Democrats are Blue,
Neither One of Them Gives A Fuck About You ~ imgur

and why None of the Above
should be a choice on Voter Ballots!
---
---
Columbus Day Is A
Celebration of Holocaust


WANTED: CHRISTOPHER COLUMBUS

Grand Theft, Genocide, Racism, Initiating the Destruction of a Culture, Rape, Torture, and Maiming of Indigenous People and Instigator of the Big Lie.

500 YEARS OF TOURISM

Go ahead steal this poster, you've already stolen everything else.


Indigenous Elders Share Ancient Teachings ~ http://vimeo.com/27572771


Native Americans Have Been Fighting Terrorism Since 1492


Elemotho ~ A Dose of Reality, featuring, John Trudell ~ http://vimeo.com/74573491


NO MORE GENOCIDE ~ ABOLISH COLUMBUS DAY


John Trudell ~ Perceptions of Reality ~ http://vimeo.com/8022177


United Native America
---
Paul Krassner ~ The Realist, Writer, Comic, Investigative Satirist
Hey, Curtis --
I'd like to send you my new little book -- "Patty Hearst and the Twinkie Murders: A Tale of Two Trials."
Happy Autumn,
paul
Patty Hearst and the Twinkie Murders:
A Tale of Two Trials

by Paul Krassner

Paul Krassner covered both of those controversial trials. He concluded: "Patty Hearst had been kidnapped, kept hostage and brainwashed, yet she was held responsible and was tried for a bank robbery -- in which she was forced to participate -- and she was sentenced to 35 years. Dan White had not been kidnapped, kept hostage and brainwashed, yet he was not really held responsible and was tried for assassinating Mayor George Moscone and Supervisor Harvey Milk -- voluntarily, after blatant premeditation -- and he was sentenced to 7 years."

Also available on e-books.

Click to Visit Paul Krassner's Home Page
for more information and books.
---
---
Keith Lampe ~ Co-Founder of YIPPIE and Progressive Activist Groups
Dear Friends and Colleagues,

The underlying reason for the recent collapse of Occidental Civilization is that the nature of its logic didn't correspond with the logic of nature.

No significant Phoenix activities will emerge from its ashes until Occidentals first find a way to feel good enough often enough to care enough about their futures.

At this point they'll become post-Occidentals and become able to open to various indigenous wisdoms and to the wisdoms of post-Occidental science--for example, free (over-unity) energies like zero point and cold fusion.

But free energy should become defined more broadly--not just physically but psychophysically and neurophysically.

In this spirit I wish to offer directly below a simple way to use your vocal muscles to massage the inside of your body in order to generate a thermal energy which relaxes you and thus gradually but steadily allows you to improve your average mood.

You'll feel elated gradually more often.

At first, merely imitate what you hear in these two links below. An accurate imitation of the vibrational frequency is more important than an accurate imitation of the "melody".

Concentrate also on sending the sonic vibrations down into your body rather than outward as when speaking or singing.

This neurosonic exercise originated in the Himalayas two or three millenia ago. Gradually through the centuries a markedly sophisticated--thus rigorous--vibrational frequency was attained.

Evidently the best posture for it is sitting cross-legged on a cushion. But sitting in a chair is nearly as efficient.

Once you feel you're on top of it, start experimenting a bit with the melody to see if you can make it more interesting to you so you can do it more often without feeling it's a chore.

During the past couple decades I've used the label Vocal Energy Science for the workshops or individual sessions I've provided in Bolivia, Ecuador, England, India, Indonesia, Japan, Nepal, Thailand and the US.

Now, though, I'm going to use the label Vocal Energy Health (VEH) in order to emphasize its benefits rather than its rigor.

The energy generated by this exercise is a thermal one called tummo in Tibetan. Probably the best English translation for this is charge. As you reach higher levels of it, there'll be a corresponding increase in your sense of well-being.

In recent times Himalayan monks and nuns have held friendly competitions to see who could generate the most tummo and thus melt snow farther from their bodies than the others could.

But since it's especially important now in the immediate aftermath of Occidental Civilization to remove ourselves as far as possible from mercenary behavior, I hope you'll help totally as a volunteer so VEH really does reach folks as free energy.

It's only slightly simplistic to say that the Occident was brought down by too much mercenary behavior and too much fame-seeking behavior.

A helpful perspective in this regard is one provided by Allen Van Newkirk back in '69: "What we really seek to do Is to recreate an environment that works so well we can run wild in it". Yes, like a rolling stone, a complete unknown. This is ultimately the most effective way to undermine any central control system.

Vocal Energy Health

Keith Lampe (Ponderosa Pine), Vocals
Doug Adamz, Tibetan Bell

Part One: http://www.flyingsnail.com/Podcast/pinevesone.mp3

Part Two: http://www.flyingsnail.com/Podcast/pinevestwo.mp3

With VEH (Vocal Energy Health), after a few sessions of imitating these sounds, one can start doing them alone or--even better--with others; creating an effective practice that requires no gear.

Yours for an abundant planet again,
Keith Lampe aka Pondo
Volunteer
---
---
Hank Magnuski ~ Scientist, Provider of Nobody's Original Home, Internet Pioneer
Curtis,
Check out the California Report on NPR (the "California Foodways" series) running several times around 4:30 ~ 5:00pm this coming Friday, October 3rd. Also available as an mp3. It's about my Sonora Pass Cafe "popup coffeehouse" that I do each June to surprise and feed thru hikers on the Pacific Crest Trail.
Hank
Sonora Pass Cafe
"popup coffeehouse"

Updated 201410.03
Listen to Audio at below link

Pacific Crest Trail Hikers Find
Refuge at the Sonora Pass Cafe

Right now, backpackers are crossing into Canada after five months of hiking the Pacific Crest Trail. These "thru-hikers" started the trail in Mexico, and have traversed 2,650 miles. It can be grueling for hikers. Their toenails fall off, and their feet can swell whole shoe sizes. They say the only thing they talk about more than their feet is food. For our ongoing series "California Foodways," we visit a makeshift cafe on the Sonora Pass section of the trail, where hikers indulge in the first fresh fruit and sweet treats they've had in weeks. Reporter: Lisa Morehouse

---

Friday, October 3, 2014,
Around 4:30 to 5:00 pm

Listen to California Report on NPR

At: http://www.californiareport.org/

Lisa Morehouse (the reporter) also has these sites:

https://www.facebook.com/californiafoodways

http://www.californiafoodways.com/

---

Click for Ways to Listen to NPR

---

Patches Thru
hiking adventures on the AT, PCT,
and beyond!

Are you homeless refugees from Campo?
(PCT Days 71-76) Article Source

Hungry… I'd gotten to the point where I was just hungry all the time. If I wasn't walking or sleeping, I was eating… While I hiked I'd think about food, and since I still hadn't gotten new earbuds for MP3 player, I'd make up new lyrics for whatever song was stuck in my head (to the tune of the Beastie Boys Song 'Girls'):

*** Food… All I really want is food. Food to fill my belly. Food to fill my tent. Food I'll keep on eating, Food until I'm spent. Yeah, food. All I really want is food. ***

I was definitely looking forward to getting to the store and restaurant at Kennedy Meadows north where I could get more food… However, between me and the imagined delights of fresh food at Kennedy Meadows Resort there were two major milestones: the 1000 mile mark and Sonora Pass.

Though I was done with the high passes of the Sierra, I'd been warned that Sonora Pass was a hard climb and that there was still plenty of snow up there. I can't say that I was really looking forward to the snow, I'd already done enough postholing for one lifetime, but at least it would cut down on the mosquitoes. The pass would get me up and out of the meadows, which I'd learned were really just mosquito swamps (the mosquitoes between Tuolomme Meadows and Dorothy Lake Pass were impressively tenacious and seemed to be undeterred by clothing or even 100% DEET).

The hike up Sonora Pass went over 10,000 feet and I definitely needed to use my inhaler, but the snow wasn't too bad and the trail was graded really nicely… It went much better than I'd anticipated. Hiking along the ridge was spectacularly gorgeous and I was having a very good day. The hard part of the day's hike was over and there were only three miles of trail left between me and the road to Kennedy Meadows Resort!!! Sure I was going to have to hitch a ride the 10 miles to the resort, but I was almost there!

As I rounded the corner and prepared for the final descent my heart dropped… This is where the plenty of snow was hidden… There were ice chutes and snow fields galore… I'd been lured into a false sense of security… This was the hard part, the part where I was going to have to pay close attention to every step… I should have known better, I did know better, the north side of a mountain… Above 10,000 feet… There was going to be snow.

As I slowly made my way through the snow I got crankier and crankier… The trail seemed to go out of its way to make sure that we crossed every snow chute not once, not twice, but at least three times as the trail meandered it's way towards the road. I kept looking for a shorter, more direct route to the road, perhaps a glissade? But it didn't quite look like it connected up and it wasn't terrain that I was familiar with so I kept plodding along the PCT… No shortcuts for me.

At one point I slipped and fell on the snow in one of the chutes… I almost started to cry… Clearly I was even more tired and hungry than I thought. I picked myself up, got to solid ground and sat down for a snack. I only had a mile left to go to the road, but it felt like it was going to take me forever…

"Good luck catching a ride down there," said one of the thru-hikers (rather smugly) as he passed me. He already waiting for him at the road. I almost decked him. As if worrying about the snow wasn't enough, I was going to have to figure out a ride and hitch-hike by myself. Not my favorite thing to do.

When I finally made it to the road I discovered that I wasn't going to hitch by myself… There were four people already down there trying to hitch… The bad news was that there were now five of us (a hard number to hitch with) and they'd already been out there for an hour.

"Are you homeless refugees from Campo?" After trying to hitch for 30 minutes a car finally had pulled over and this was the question he put to us.

"Yes," we replied hopefully. He was smiling at us even though his affect seemed a little flat… I was willing to bet that he was a New Englander with a dry sense of humor. He clearly knew that we were PCT thru-hikers.

"I'm here to do trail magic!" He cheerfully explained. "Come on up to the picnic area and I'll meet you up there." Trail magic can encompass a large range of things, was it worth giving up on hitching and going to check it out?

To be honest, I wasn't 100% sure. I was still tired, hungry, and cranky. The tired and the cranky were probably both related to the hungry. As I thought about food, my decision was clear. I was going to walk up to the picnic area to check out the trail magic. It might just be a soda or an apple, but it was probably going to be food and I was hungry… Soo hungry… I just couldn't carry enough food with me.

I took one last glance back at the road, and headed up the hill towards the picnic area. "Besides," I told myself, "we hadn't been having much luck hitching anyway." I'd figure out how to get to Kennedy Meadows resort later.

By the time we got up to the picnic area he'd put out a tablecloth and was starting to unload things from his car. "Would you like a beer or a coke?" He asked as he pulled a cold beverage out of the cooler for each of us and invited us to sit down. He then brought out a whole grocery stores worth of fresh fruit: strawberries, cherries, plums, and nectarines… They looked absolutely delicious!!!! (Fresh fruit is a rare treat for thru-hikers).

He then added 2 dozen cookies and whipped cream to the table. Whipped cream!!!! Whipped cream!!! I hadn't had whipped cream since sometime before I got on the trail… Mmmmm… Whipped cream.

"Welcome to the Sonora Pass Cafe!!" He exclaimed as he put whipped cream on a chocolate chip cookie, topped it with a cherry, and handed it to me. "Wow, just wow," I said as I hungrily took the cookie and gobbled it down. "The cafe is just open 2 or 3 days a year and it doesn't make much money, but it does make lots of people happy. Enjoy and take as much as you'd like.

Somehow I'd managed to get the inaugural cookie at the 2014 Sonora Pass Cafe, my day was definitely looking up. As we chatted with our trail angel I had another whipped cream and cherry covered cookie… It was sooo good! Each year for the last 10 years he's come up to Sonora Pass to do trail magic for the thru-hikers.

As we sat there marveling at the Sonora Pass Cafe, he brought out another surprise, an enormous chocolate cake! He cut a giant slice of cake for each of us and covered it with whipped cream! It seemed to good to be true, a mirage perhaps? But no, it was yet another person out there making magic happen for the thru-hikers! It was completely unexpected and awesome! Not only that, as I sat there, belly full for the first time in a long time, a car pulled up and asked me if I needed a ride… I'd hit the trail angel jackpot!
---
---
Karl Cohen ~ Association International du Film d'Animation-SF Newsletter
THE NATIONAL FILM BOARD OF CANADA
IN COLLABORATION WITH ASIFA-SF AND
THE DISNEY FAMILY MUSEUM PRESENT:

AN IN-PERSON EVENING WITH
TWO REMARKABLE FILMMAKERS
OF THE NATIONAL FILM BOARD OF CANADA

TORILL KOV
DIRECTOR OF THE ACADEMY AWARD® WINNING SHORT FILM THE DANISH POET

NICOLA LEMAY
DIRECTOR OF NO FISH WHERE TO GO WINNER OF FIPRESCI PRIZE @ ANNECY 2014

FRIDAY, OCT. 3, 7 PM
AT THE WALT DISNEY FAMILY MUSEUM,
FREE FOR ASIFA-SF MEMBERS AND ONE GUEST

PLEASE RSVP by NOON, WEDNESDAY, OCT. 1st to: Karl Cohen

RSVPs will be confirmed. If the list is full there will be a waiting list. If you RSVP and can't come, please tell us, so someone on the waiting list can have your seat. THIS IS OUR INTERNATIONAL ANIMATION DAY EVENT

TORILL KOVE will show her witty semi-autobiographical trilogy for the NFB. My Grandmother Ironed the King's Shirts (2001) was nominated for an Academy Award® and The Danish Poet (2006) won the Oscar® for Best Animated Short. Her latest NFB film, Me and My Moulton, recounts memories of growing up in a creative and unconventional family in 1960s Norway. In addition to screening the three films, Torill will discuss the creative process of writing, storyboarding and animating shorts, using clips, sketches and storyboard panels from her past and current works.

NICOLA LEMAY has been an acclaimed collaborator with the NFB since 1999 as an animator, designer and director. Following his one-minute episode of NFB's innovative Science Please! TV series, Nicola will show his new film No Fish Where to Go, co-directed with Janice Nadeau and winner of the FIPRESCI Prize at this year's Annecy International Animation Festival. His presentation will address the challenges of adapting a renowned illustrated literary work into a powerful animated short.

The program will also include three new NFB animations, including Michèle Cournoyer's Soif, a depiction of alcoholism in the bold, metamorphic graphic style of The Hat, her acclaimed study of sexual abuse; Marie-Josée Saint-Pierre's Jutra, an animated short documentary about Claude Jutra, the celebrated French-Canadian director of live-action features, who committed suicide after! becoming afflicted with Alzheimer's disease; and Tali's Bus Story, winner of the Best Short Film award from the Annecy 2014 Junior Jury.
---
---
Wavy Gravy ~ Clown, Comic, Artist
Curtis,
I have 2 one man shows coming up at the marsh in Berkeley and a big gig at the City Winery in the cement Apple (NYC) on October 20th, with an added night if the 20th show is sold out. Please post.
Wavy G.
Hippy Icon, Flower Geezer, &
Temple of Accumulated Error

Stories by Wavy Gravy


Wavy Gravy at Flying Snail Ranch, photograph by C. Spangler

at the marsh:
October 4, 2014 5:00 PM, October 5, 2014 2:00 PM
the marsh is located at 2120 Allston Way, Berkeley, CA
$15~$35~$50. (415) 282-3055

Wavy Gravy performs at NYC's City Winery on October 20. What better way to get ready than to perform for Marsh Audiences for four shows only. In Hippy Icon, Flower Geezer & Temple of Accumulated Error, Wavy Gravy recounts his legendary life and times, spilling proverbial beans. Among many other things, you may possibly hear about Albert Einstein walking five-year-old Wavy around the block or maybe about the time Tom Paxton shared a room with Wavy over the Gaslight in Greenwich Village and Bob Dylan wrote "A Hard Rain's A-Gonna Fall" on Wavy's typewriter or, yet again, just maybe, about Wavy at Woodstock. All performances will benefit Seva Foundation and Camp Winnarainbow.

Artist Biography

He may be best known to millions as a cosmic cut-up and the inspiration for a Ben & Jerry's ice cream flavor – "I am an activist clown and former frozen dessert," he says – but it is because of his good work on behalf of the planet and its least fortunate residents that Wavy Gravy has achieved his own brand of sainthood. His friend and satirist Paul Krassner has called him "the illegitimate son of Harpo Marx and Mother Teresa." Wavy says, "Some people tell me I'm a saint, I tell them I'm Saint Misbehavin'," which is also the name of Michelle Estrick's critically acclaimed documentary on Wavy.

Hugh Romney, much better known as Wavy Gravy, already well into his official geezerhood', is more active and more effective in the world then he was decades ago. Back then when still known as Hugh Romney he stood on the stage of the original Woodstock concert and announced…." What we have in mind is breakfast in bed for 400,000!" He was at Woodstock as a member of an entertainment/activist commune known as the Hog Farm. Today, the Hog Farm still exists, collectively owning and operating the 700-acre Black Oak Ranch and hosting the annual Pig-Nic. And Wavy lives 8 months of the year in a Berkeley Hog Farm urban outpost, a big communal house he refers to as "hippie Hyannisport" But Mr. Gravy has expanded his activities over the past three & a half decades to include codirectorship of Camp Winnarainbow, a performing arts camp for children which takes over the Hog Farm for 10 weeks every summer, and the organization of all-star rock concerts to raise money for a variety of environmental, progressive, political, and charitable causes, most notably Seva, a foundation he cofounded in 1978, initially to combat preventable and curable blindness in the Third World.

When you spend any stretch of time with Wavy Gravy, strolling around the Hog Farm during the Pig-Nic, hanging out with him at his "hippie Hyannisport" in Berkeley, observing him in action at a public function – you quickly discover that the man with the rubbery face and ever-changing costume is a walking public service announcement for positive social change and compassion.

According to Wavy, his commitment to the kind of work he does was indeed a product of the '60s. "That's when I knew this thing was real," he says, "that it was the only game in town and I wanted to go to work for it, whatever it was. Once you realize the interconnectedness of all stuff, there's no going back. I have an old Gravy line, 'We are all the same person trying to shake hands with our self.' Remember that the next time you say, 'pass the gravy.'"
---
---
Notes from ~@~

Carlin Step ~ DJ Steve Porter & Eli Wilkie ~ http://vimeo.com/21162532

The Great Bell Chant (The End of Suffering) ~ http://vimeo.com/6518109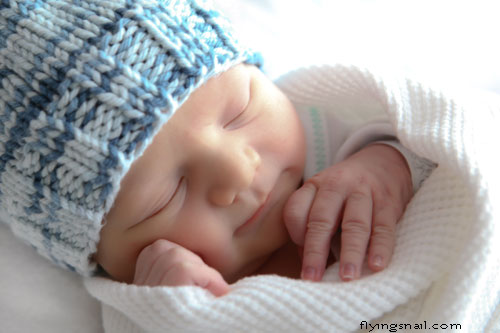 One Day ~ Matisyahu ~ http://vimeo.com/11520225

Unsung Hero ~ Still Anonymous ~ http://vimeo.com/90853494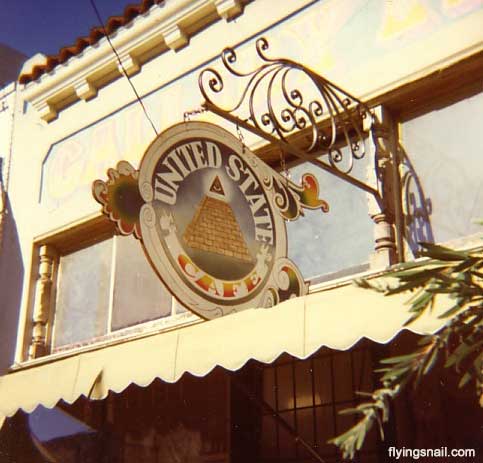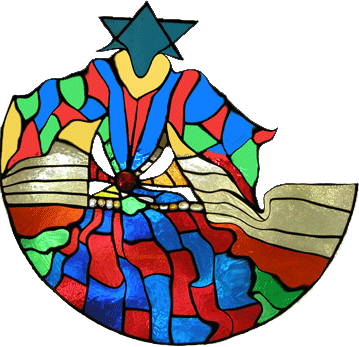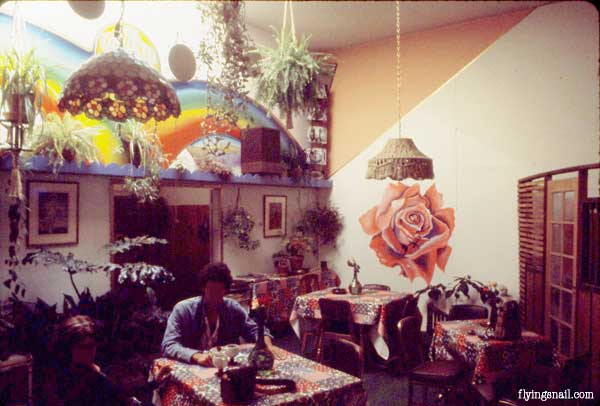 Remembering the United State Cafe

Rock Of Ages ~ DJ Schmolli / Video: Panost ~ http://vimeo.com/44298418
End of Age Scenario for Couth Kith

Those Without Personal Experience
Will Not Understand

by C. Spangler

LORD IF THERE IS A HARDER WAY
PLEASE SHOW IT TO ME
BECAUSE IT MUST BE BLISSFUL

One perspective shows that in this place reality is simple, only exists in duality, and (as presented by the Einstein~Podolsky~Rosen Paradox) is telepathic.

Duality separated from the proverbial You can be observed like sunrise and sunset and is nothing more than an age old struggle of darkness vs. light or negative vs. positive and can be viewed as a "there's that one again" scenario; allowing one to obtain 'observer' mode, which I highly approve of ... as opposed to a 'caught up in' mode.

The upcoming aeon transition (begins during 2050 and aligns 2150 by my calculation) was known far in advance; however, here is where a problem lies. There is no previous experience recorded (currently known) that one can call on for guidance. In other words, everything is new for all facets of this conversion, where light overpowers darkness, people finally get along, and there is no more war.

In the past, here is how I have attempted to described what is to occur when this aeon change happens.

If one looks at a Yin/Yang symbol (above graphic), ... on one side there is a vast amount of dark with a little light spot and on the other side there is a vast amount of light with a little dark spot.

When the 2050 conversion occurs, those in the smaller dot of light will move to the larger side of light and those currently in the larger side of darkness will move to the small dark spot, where they will be constantly observed and kept in check. There is an obscure old saying that relates to this, "You have made your bed, now sleep in it."

Because this is duality there are specific rules that grant powers to the dark side allowing THEM to obtain souls for their new realm, and in order to do this, they will exert massive amounts of negativity in order to create fear; thus obtaining slaves for their new reign in their small dot of darkness. This is nothing new because it has always been like this and is, proverbially, the 'same old, same old' ... stuff.

In realms of astral and casual realities; remembering one definition of Hiranyaloka is a subtle astral heaven where souls of the astral and casual planes are able to converse, it is noted "things do not change, people do" ... meaning, ... until the recording called life plays through perfectly, without incident, this cycle will constantly repeat itself, no matter where this scenario is experienced or played out. For example, Jesus said, "In my father's house there are many mansions" suggesting Earth is not our only home.

Without being aware of it, the general population attempts to achieve liberation; which is, 'freedom from the cycle, of birth and death'.

Most folks I know are in a state of devotional liberation; having achieved freedom from this cycle, and return to the carnal world to help those seeking liberation as an act of Seva or selfless service.

Needless to say, negative aspects of this dualism scenario are well aware of this conversion and make a tremendous amount of noise in order to divert attention from those souls attempting to obtain liberation.

There is no set guide or path to achieve this state of awareness other than one's personal experience; however, here is where selfless service or meditation enter the picture as a calming and growing aid.

Although not specific to what is presented above, and as a temporary conclusion for now, here is a related story as told by someone else on a similar path, and in my opinion food for thought for preparing for this aeon change.

Be Aware: The Nexus Approaches!

Posted on October 10, 2010 by mayasoma

10-10-10 Star Gate Portal

"The human race is headed towards a great change, many spirits will return to the stars and something magnificent is going to happen!" Astral Walker

Can you feel it? The race is on, the diaspora has begun and souls are scrambling to make sense of the intensifying energies on Planet Earth. If only our history books had documented the truth of the astrological cycles as the Maya, and many other indigenous tribes, have long done for their own people, then there would not be so much uncertainty and fear. Unfortunately, that is not how this part of our homo-sapien history is to be played out. At present, the 3D world is going crazy and the only way to manuever these times is to understand the facts. And so, without further ado, here is some of our history…

26,000 years ago, the galactic center of the Milky Way emitted an enormous energetic wave better known as the Nexus. It does this every 26,000 years, as they say, there is nothing new under the sun. This emissions are what have caused the tumultuous transitions from each of our previous world eras. If you are not familiar with these facts, simply research indigenous tribes and their 1st, 2nd, 3rd, 4th, and soon to be 5th worlds.

What was released all that time ago will soon reach our earth in full strength. The Nexus has its own personal rhythm and does take some time to cross the galaxies and skies. I believe its arrival correlates to the Mayan Long Count End Date of December 2012. Afterall, the center of the Milky Way is where the Maya believe their Creator Hunab Ku resides. Our Creator has sent out an energy impulse, this Supreme Being is blowing us/creation a kiss. Unfortunately, our consciousness resides too far away from our original empowered selves to simply receive that kiss in bliss.

That incoming energy is meant to completely change our world, in other words, to wake us all up to who we are: infinite Gods and Goddesses with incredible abilities and powers. This incoming beam of bluish-white light will alter and restore our DNA from its current state which only uses 3% of its capacities to a renewed state of 100% remembrance. Translated: 97% of what scientist call junk DNA will be reactivated. WoW…a jolt of electricity that courses through our veins, awakening our souls and minds. No one is going to escape this phenomena. Thank you Hunab Ku!

Our main problem lies then with the Dark Lords who currently control the 3D world. They are also fully aware of the approaching Nexus and have set out a program to depopulate the Earth as much as possible. Why would they do that? Who are these Dark Lords? It's an old story, again, much of our missing history, but the short and long version of it is there is an inter-galalctic battle on right now, a war that is being waged for souls. If the Dark Lords, negative Et's, have their way, the coming earth catastrophes will take people into fear and fear is a place where they can trap one's soul, one's consciousness, forevermore. On a distant planet, in a distant place, maybe somewhere that looks exactly like our Earth, a new slave race can be created with the trapped souls. The Dark Lords know, full well, that their "time" on Planet Earth is over. A new era has cometh… the age of peace and enlightenment…and they must flee. They intend to flee with as many captives as possible. Sound like a bad sci-fi movie? I wish it were, but these are our current events and the facts are unknown to almost everyone. How frightening! Wake up, please, before you are whisked away to another dimension without personal agreement to do so.

"Right now the realm of darkness is not interested in this (peace). They are organized to block it. They seek to unbalance the Earth and its environment so we will be unready for the alignment in 2012." Carlos Barrios, Mayan Datekeeper

Take a look around…. ecological disasters leading to worldwide famines and extinction, environmental catastrophes that destroy the lives of millions, economical collapses that create a fearful, dependent race and threats of terrorism and world wars loom over our existence. Is this the four horsemen spoken of in the Book of Revelations? It clearly is the workings of the Dark Lords and its about to get more intense, after all, these are their death throes.

"From that 1987 date until now, Mr. Barrios says, we have been in a time when the right arm of the materialistic world is disappearing, slowly but inexorably. We are at the cusp of the era when peace begins, and people live in harmony with Mother Earth. We are no longer in the World of the Fourth Sun, but we are not yet in the World of the Fifth Sun. This is the time in-between, the time of transition.

As we pass through transition there is a colossal, global convergence of environmental destruction, social chaos, war, and ongoing Earth changes. All this, Mr. Barrios says, was foreseen via the simple, spiral mathematics of the Mayan calendars. It will change, Mr. Barrios observes. Everything will change. He said Mayan Daykeepers view the Dec. 21, 2012 date as a rebirth, the start of the World of the Fifth Sun. It will be the start of a new era resulting from ~ and signified by ~ the solar meridian crossing the galactic equator, and the earth aligning itself with the center of the galaxy." Carlos Barrios, Mayan Datekeeper

Meanwhile, the Family of Light is exerting every effort for a mass awakening, for gathering, for consciously uniting as we know on some level that everything is dependent on us to do so. We are supposed to be creating an astral force field around the planet and ourselves in the shape of the Flower of Life (see Drunvalo Melchizedek's work on this matter for more information). This symbol can and will prepare us for the enormity of the approaching Nexus. We are supposed to be clearing our fields as much as possible of debris, creating no new karma, so that we are a crystal clear channel for receiving the Nexus energy. We must give praise and thanks as we have received, and will continue to receive, so much help from the Galactic Federation of positive Et's.

I ask myself though, have enough souls awoken to make this transition happen with ease? Can geological earth disasters be diminished? The Dark Lords are earnestly working hard to create as many earth catastrophes as possible in these last days in order to capture their slave race of unaware humans. Many will succumb to this fate due to fear, many will go to the stars as their earth contracts are complete, and a handful of ascended beings will remain on the New Earth.

If you happened to be a person who was to die in shock and fear, your consciousness would be lost and confused on the astral plane for a moment. It is in those crucial moments that the negative Et's can and will capture your essence in a containment vehicle if you are not aware. As quickly as you come into consciousness, get to the benevolent blue light. I have been warned not to be drawn down any tunnels or caves, nor gravitate to any bright yellow-red lights and by no means go with any beckoning ET's.

The benevolent ET's, the light ones, are calling us home and their bioluminescent blue-white light is the signal. You can feel this with your heart. They have said Operation Victory is at hand. They have stated that the Dark Lords cannot succeed and all disasters will be minimized (let's hope so as some seriously dangerous threats are presenting themselves on the earth right now). They have also said the Dark Lords are at their most dangerous as they face defeat, so it is crucial to be fully present! Be aware! Vaccines? Genetically modified foods? Chemical spraying? Understand, these are some of their tools for mind control and keeping the masses asleep. Whatever cometh, wherever you find yourself in these last days where we count days, simply remember, you have only one thing to do: get to the bluish-white light, reach out for the Nexus. If you do, your full consciousness will be re-instated and you will be safe and empowered.

Let us recall the last sign in the Hopi prophecy which states that a blue planet from the Heavens will crash into Earth causing earth destruction, this last sign is what all elders are awaiting as our entry into the 5th world. Possibly, it is not a planet, but an energy wave: the Nexus?

Lightwalkers, we are going home now. We have felt the Nexus approaching for years, even if we could or could not put words to it. Our Creator desires our remembrance and this collective shift to magnificence is welcome. Stay in your heart and the Dark Lords will lose power. It is promised and all is well!

Navajo, awaiting portal 11-11-11 and 12-12-12 to the Nexus!

http://mayasoma.wordpress.com/2010/10/10/be-aware-the-nexus-approaches/
---
John Flores ~ Graphic Artist
Yeah Yeah Yeah ~ My favorite Beatles songs




Paintings & Illustrations by

Giancarlo John Flores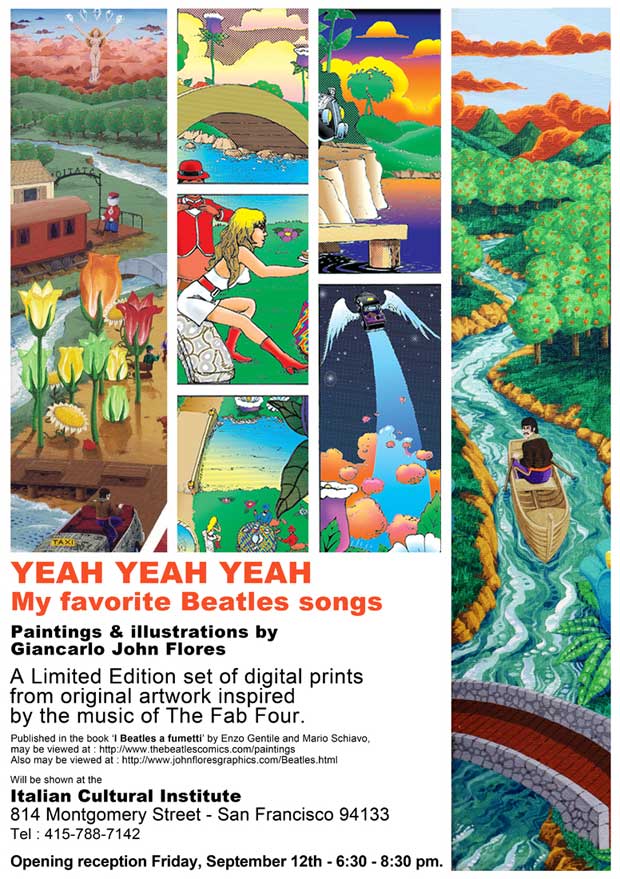 Italian Cultural Institute
814 Montgomery Street, San Francisco, CA 94133 ~ (415) 788-7142
Friday, September 12, ~ Friday, October 31, 2014
Click to Visit John Flores Beatle Gallery
---
---
Freedom of expression and freedom of speech aren't really important unless they're heard...It's hard for me to stay silent when I keep hearing that peace is only attainable through war. And there's nothing more scary than watching ignorance in action. So I dedicated this Emmy to all the people who feel compelled to speak out and not afraid to speak to power and won't shut up and refuse to be silenced. ~ Tom Smothers
---
---

Dorothy says to Scarecrow,
"How can you talk if you haven't got a brain?"
Scarecrow says,
"Some people without brains do an awful lot of talking."
Below them is a picture of Congress
None of the Above
should be a choice on Voter Ballots!
---
---
Cree Prophecy
Only after the last tree has been cut down,
Only after the last river has been poisoned,
Only after the last fish has been caught,
Only then will you find
money cannot be eaten.
---
Dahbud Mensch ~ is SANITY the PLAYGROUND of the unIMAGINATIVE ?
Republicons and Democraps
Have Sold Out 'The People' &
Country, and Nobody Cares !

For the Apathetic Inclined

Although it has been said before, here is a final attempt to show why things are, the way they are today, using recorded history.

In my opinion this whole pissing match called government started a very long time ago, but ignited when Democrat President Harry S. Truman fired Republican supporter General Douglas MacArthur for breaking protocol.

There is a tradition in American government that the military is subordinate to the civilian leaders. Generals do not make statements about policy without first clearing them with their superiors. But MacArthur, used to ruling in Japan, ignored the chain of command, and began writing letters about what the United States should do in Korea. He sent a letter to the Veterans of Foreign Wars saying that Formosa would be a fine place to launch an aggressive campaign against China. After the Chinese entered the war -- something MacArthur had assured Truman would never happen -- MacArthur wrote to Speaker of the House Joe Martin saying the United States could only win by an all-out war, and this meant bombing the Manchurian bases. So Harry Truman fired him, and evoked a firestorm of criticism from conservatives who believed Truman to be soft on communism. But there is no question that Truman was absolutely correct. Whether his overall policy was right or wrong, the American Constitution commits control of foreign policy to the president and not to the military. As Truman explained, avoidance of World War III while containing aggression was a difficult line to walk, but that was the policy the United States had decided upon. No soldier, not even a five-star general, could unilaterally challenge that policy without disturbing an essential element of democratic government. [This quote was originally located at ~ http:// usinfo. state. gov /usa /infousa /facts /democrac /58.htm ~ and has been removed]

On 11 April 1951, U.S. President Harry S. Truman relieved General of the Army Douglas MacArthur of his commands for making public statements that contradicted the administration's policies. MacArthur was a popular hero of World War II who was then the commander of United Nations forces fighting in the Korean War, and his relief remains a controversial topic in the field of civil-military relations. [Click to Continue Reading at Wikipedia]

I became interested in the above background when General Alexander Haig said, "I am in control here" [of the United States] after President Ronald Reagan had been shot and was laying on the operating table; "indicating that, while President Reagan had not "transfer[red] the helm", Haig was in fact directing White House Crisis Management, "giving the impression a military coup of the United States had occurred! [Click to Continue Reading at Wikipedia]

Every 'Brass' has their 'pretty boy' and staff. MacArthur's pretty boy was 2nd Lieutenant Alexander M. Haig.

As a young officer, Haig served on the staff of General Douglas MacArthur in Japan. In the early days of the Korean War, Haig was responsible for maintaining General MacArthur's situation map and briefing MacArthur each evening on the day's battlefield events. Haig later served (1950–51) with the X Corps, as aide to MacArthur's Chief of Staff [Click to Continue Reading at Wikipedia]

Since then, I have been trying to figure out what really happened and here is what I come up with, so far.

General MacArthur hated Truman and had many Republican friends in 'high places'.

As the [Korean War] crisis intensified and public backing for the war eroded, MacArthur stepped up his private and public criticisms of the administration. Predicting catastrophe unless dramatic action was taken, MacArthur recommended full-scale military action against the People's Republic of China, including a coastal blockade of the Chinese mainland, intensive bombing of industrial centers in Manchuria and northern China, and the unleashing of at least 50,000 of Chiang's Nationalist troops on the Korean peninsula. He also suggested using atomic weapons against China, although he put forth no precise plan for deployment. By the spring of 1951 he advocated a second major offensive north of the thirty-eighth parallel to unify the two Koreas. His pronouncements found an especially receptive audience among conservative Republicans--including House Minority leader Joe Martinof Massachusetts, California Representative Richard M. Nixon, and Wisconsin Senator Joseph McCarthy--who had vigorously attacked Truman for over committing U.S. power to Europe and giving short shrift to Asia. MacArthur had established a political power base with these Republicans and had never hid his own presidential ambitions. [This quote was originally located at ~ http:// www. lexisnexis. com /academic /2upa /Aph /truman_docs /guide_intros /tru20.htm ~ and has been removed]

There is another person in this group that MacArthur, Martin, Nixon, and McCarthy were friendly with who can be associated with dirty tricks due to his Secret 'Enemies' List; sometimes referred to as the "D List," and that is J. Edgar Hoover, who was known in some circles as Lil' Queenie.

Late in life and after his death Hoover became a controversial figure, as evidence of his secretive actions became known. His critics have accused him of exceeding the jurisdiction of the FBI. He used the FBI to harass political dissenters and activists, to amass secret files on political leaders, and to collect evidence using illegal methods. Hoover consequently amassed a great deal of power and was in a position to intimidate and threaten sitting Presidents.

According to President Harry S. Truman, Hoover transformed the FBI into his private secret police force; Truman stated that "we want no Gestapo or secret police. The FBI is tending in that direction. They are dabbling in sex-life scandals and plain blackmail. J. Edgar Hoover would give his right eye to take over, and all congressmen and senators are afraid of him". [Click to Continue Reading at Wikipedia]

Even before he became director of the FBI, Hoover was conducting secret intelligence operations against U.S. citizens he suspected were anarchists, radical leftists or communists.

On Jan. 1, 1920, Hoover sent out the arrest orders, and at least 6,000 people were arrested and detained throughout the country. "When the dust cleared, maybe 1 in 10 was found guilty of a deportable offense."

"Hoover is the inventor of the modern American national security state."

"When it came down to bugging bedrooms, you had to be careful not to get caught, but there wasn't anything to stop him. He decided up to a point ... where the boundaries of the law [were] when it came to black bag jobs, break-ins, bugging, surveillance, the constitutionality of gathering secret intelligence on America's enemies — both real and imagined." [Click to Continue Reading at NPR]

The scariest person listed above, besides President (I AM NOT A CROOK) Dick and J. Edgar, was Senator Joseph McCarthy.

The hunt for subversives started during the war itself, and was furthered by congressional committees that often abused their powers of investigation to harass people with whom they differed politically. Then in February 1950, an undistinguished, first-term Republican senator from Wisconsin, Joseph McCarthy, burst into national prominence when, in a speech in Wheeling, West Virginia, he held up a piece of paper that he claimed was a list of 205 known communists currently working in the State Department. McCarthy never produced documentation for a single one of his charges, but for the next four years he exploited an issue that he realized had touched a nerve in the American public. Resolved, That the Senator from Wisconsin, Mr. McCarthy, failed to cooperate with the Subcommittee on Privileges and Elections of the Senate Committee on Rules and Administration in clearing up matters referred to that subcommittee which concerned his conduct as a Senator and affected the honor of the Senate and, instead, repeatedly abused the subcommittee and its members who were trying to carry out assigned duties, thereby obstructing the constitutional processes of the Senate, and that this conduct of the Senator from Wisconsin, Mr. McCarthy, is contrary to senatorial traditions and is hereby condemned. [This quote was originally located at ~ http:// exchanges. state. gov /education /engteaching /pubs /AmLnC /br60.htm ~ and has been removed]

Joseph Raymond "Joe" McCarthy (November 14, 1908 – May 2, 1957) was an American politician who served as a Republican U.S. Senator from the state of Wisconsin from 1947 until his death in 1957. Beginning in 1950, McCarthy became the most visible public face of a period in which Cold War tensions fueled fears of widespread Communist subversion. He was noted for making claims that there were large numbers of Communists and Soviet spies and sympathizers inside the United States federal government and elsewhere. Ultimately, his tactics and inability to substantiate his claims led him to be censured by the United States Senate.

The term McCarthyism, coined in 1950 in reference to McCarthy's practices, was soon applied to similar anti-communist activities. Today the term is used more generally in reference to demagogic, reckless, and unsubstantiated accusations, as well as public attacks on the character or patriotism of political opponents. [Click to Continue Reading at Wikipedia]

Enter Republican President Ike [Click to Read Wikipedia page on President Dwight D. Eisenhower]

[Ed. Note: I liked Ike ~ Click to Read my favorite Ike quote ~ Dahbud Mensch]

During World War I, Eisenhower (nicknamed "Ike" as a boy) served at several military training camps, establishing himself as a first-rate organizer and trainer of men. He spent two years as executive officer to Gen. Fox Conner, military commander at Camp Gaillard in the Panama Canal Zone. With Conner's help, Eisenhower was admitted to the Command and General Staff School at Fort Leavenworth, Kansas. In 1926, he graduated first in his class of 275, going on to attend the Army War College in Washington, D.C. He advanced in his career, holding various posts, including aide to General Douglas MacArthur, then Chief of Staff of the United States Army. Going with MacArthur when the General was named military adviser to the Commonwealth of the Philippines in 1935, Eisenhower helped establish the Philippine Air Force and the Philippine Military Academy. He obtained a pilot's license at age 47. [This quote was originally located at ~ http:// wondersmith .com /clipart /presidents /Dwight _D _ Eisenhower .htm ~ and has been removed]

IKE'S TOP 5 DISLIKED CONTEMPORARIES

1. Senator Joseph McCarthy, 2. Harry S. Truman, 3. Field Marshal Bernard Montgomery, 4. John F. Kennedy, 5. General Douglas MacArthur, and special mention Lyndon B. Johnson. [This quote was originally located at ~ http:// www .nps .gov /eise /5accomp4 .htm ~ and has been removed]

Enter Republican President (I'm not a crook) Nixon

Nixon blamed the country's economic and other problems on Democratic President Truman's administration and argued that things were much improved under the outgoing Republican administration of Eisenhower. [Click to Continue Reading at CNN]

Then there was the "Cold War" and the "Bay of Pigs"

There are some who believe the "Bay of Pigs" was the beginning of a Coup of the United States Government and part of the reason for Democrat President John Kennedy's assassination.

Quick review:

Democratic President Truman totally angers Republican General Douglas MacArthur.

Republican President Eisenhower warns of "The Military Industrial Complex," is quickly shuffled out of media limelight, and ends up playing golf for the remainder of his term.

Kennedy becomes President, defeating Nixon and totally angers the 'Intelligence Community'. (Most 'Intelligence personnel' have a military background and some of them belong to organizations / orders / societies they entered as students.)

At this point, you have to ask yourself what made a difference during these times and the answer is, 'Military controlled' atomic bomb; which annihilated the "Right to Bear Arms" and made things historically 'one sided'; in that, the wealthy 1% of the population that controlled the remaining 99% lost control to their 'Royal Guard'.

The "Cold War" link above could be used as an outline.

Enter Republican President Ronald Wilson Reagan a.k.a. 666, because each of his three names contained six letters.

I put a UFO link for Reagan because when he started talking about UFOs it was about the same time one stopped seeing him in public and on corporate media.

There was a story floating around about Reagan when he was president with no historical reference:

Apparently, because Reagan was a 'favorite son' of military, the Brass decided to show him contents of a secret location and it, using a Hippie term, "blew his mind," to the point where he could not stop talking about it (see above UFO link for speeches).

More interesting during these times was one hardly saw Vice President George H. W. Bush; except for Vice Presidential functions, during the entire Reagan era. What was he doing, running the country from behind the curtain?

Enter Republican President George H. W. Bush

The powerful men of Skull & Bones genuinely believe that they have a strategic and moral "right" to control world affairs. Consequently, they take upon themselves the authority to crush any frivolous threat to U.S. imperial leadership, whether by current allies, such as Japan, Germany or Great Britain, or by Cold War adversaries, like the Soviet Union. The members of the Order, due to their narrow WASP upbringing, view with particular suspicion the maneuverings of Zionist Israel and its affluent, influential lobby in the United States.

Bush, his fellow Bonesmen and their like-thinking elitist allies in the American Establishment see themselves as New World Order warriors, an American samurai caste of sorts, whose mission is restoring American greatness. They intend to utilize the institutional networks of the U.S. government and key private agencies, such as the New York Council on Foreign Relations, to advance their purpose.

The fulcrum for the policy of constructive chaos is, at present, the Middle East situation. Although U.S. military action in the region has for the time being subsided, America's military power will remain a critical determinant in the future of that vital zone of conflict. American military power is aimed at securing undisputed control over the vast reservoir of oil -- not at necessarily fostering any permanent alignment of local states or combinations of regional interests. [This quote was originally located at ~ http:// davidicke .www .50megs .com /icke /magazine /vol10 /articles /skullboneswp .html ~ and has been removed]

Skull and Bones is an undergraduate senior secret society at Yale University, New Haven, Connecticut. It is the oldest senior class landed society at Yale. The society's alumni organization, the Russell Trust Association, owns the society's real estate and oversees the organization. The society is known informally as "Bones", and members are known as "Bonesmen".

The group Skull and Bones is featured in conspiracy theories, which claim that the society plays a role in a globalist / corporatist conspiracy for world control. Theorists such as Alexandra Robbins suggest that Skull and Bones is a branch of the Illuminati, or that Skull and Bones itself controls the Central Intelligence Agency. [Click to Continue Reading at Wikipedia]

The SPEAKER pro tempore. Under a previous order of the House, the gentleman from Texas [Mr. Gonzalez] is recognized for 60 minutes.

Mr. GONZALEZ. Mr. Speaker, last week I showed that this administration, President Bush's administration, deliberately and not inadvertently helped to arm Iraq by allowing United States technology to be shipped to the Iraqi military and to the Iraqi weapons factories. Throughout the course of the Bush administration, United States and foreign firms were granted export licenses to ship United States technology directly to Iraqi weapons facilities, despite ample evidence showing that these factories were producing weapons.

I also showed how the President misled the Congress and the public about the role United States firms played in arming Iraq.

Today I will show that the highest levels of the Bush administration, including the President himself, had specific knowledge of Iraq's military industrialization plans, and despite that knowledge, the President mandated the policy of coddling Saddam Hussein as spelled out in National Security Directive 26 (NSD-26) issued in October 1989. This policy was not changed until after the Iraqi invasion of Kuwait, by which time the Bush administration had sent Saddam Hussein billions of dollars in United States financial assistance, technology and useful military intelligence information.

I will also show how the President's policy of appeasing Saddam Hussein was at odds with those in the administration who saw Iraq as a major proliferation threat. [Click to Continue Reading Congressional Record]

Bush's Impending Watergate By Harvey Wasserman May 23, 1991

George Bush should be impeached. Whether he will be impeached depends on the intestinal fortitude of Congress. But the evidence is clearly sufficient to begin proceedings.

The idea that Ronald Reagan and George Bush could have conspired to prolong the torment of U.S. hostages dwarfs the miasma that was Watergate on both a moral and political scale. Ultimately its impact will depend on the willingness of Congress to investigate the facts and act on what it finds. It is time for Congress to once again assume its role in the balance of powers. Impeachment means bringing to trial. The evidence is clearly sufficient to begin the process. [Click to Continue Reading]

Bush Administration Uses CIA To Stonewall Iraqgate Investigation by Jack Colhoun (Early 1990s)

In House floor speeches, Rep. Henry Gonzalez has documented how pre-Gulf War U.S. policy helped Iraq develop weapons of mass destruction. But President George Bush, taking a page from one of the darkest chapters of the Nixon presidency, has enlisted the CIA as part of his campaign to derail the Texas Democrat's Iraqgate investigation. The CIA is investigating Gonzalez for revealing allegedly secret intelligence information, which it claims has harmed U.S. national security interests. [Click to Continue Reading] ~ [This quote was originally located at ~ http:// mediafilter .org /MFF /BushCIAstonewall .html ~ and has been removed]

About two of every seven licenses for the export of "dual use" technology items approved between 1985 and 1990 by the U.S. Department of Commerce "went either directly to the Iraqi armed forces, to Iraqi end-users engaged in weapons production, or to Iraqi enterprises suspected of diverting technology" to weapons of mass destruction, according to an investigation by House Banking Committee Chairman Henry B. Gonzalez. Confidential Commerce Department files also reveal that the Reagan and Bush administrations approved at least 80 direct exports to the Iraqi military. These included computers, communications equipment, aircraft navigation and radar equipment

[A more refined search will show the Reagan and Bush Administration also provided biological and chemical weapons to Iraq]

He cautioned that the DIA "would have never accepted the use of chemical weapons against civilians, but the use against military objectives was seen as inevitable in the Iraqi struggle for survival." The Reagan administration did not stop aiding Iraq after receiving reports affirming the use of poison gas on Kurdish civilian.

Joost R. Hiltermann says that when the Iraqi military turned its chemical weapons on the Kurds during the war, killing approximately 5,000 people in the town of Halabja and injuring thousands more, the Reagan administration actually sought to obscure Iraqi leadership culpability by suggesting, inaccurately, that the Iranians may have carried out the attack. [Click to Continue Reading at Wikipedia]

When contemplating war, beware of babies in incubators by Tom Regan

[The Lie] "I saw the Iraqi soldiers come into the hospital with guns, and go into the room where 15 babies were in incubators. They took the babies out of the incubators, took the incubators and left the babies on the cold floor to die." [Click to Continue Reading at The Christian Science Monitor]

At this point, we will take a short break due to current short attention span and continue in a few days with the 'meat of this article', when this line disappears; however, here is another link one can read showing a number of U.S. Presidents who should have been placed in jail; but then again, THEY are politicians.

List of federal political scandals in the United States and if one wants to see one perspective of how and why, take the time to read this.
---
---
Violation of the Fourth Amendment to the Constitution

Violation of the First Amendment to the Constitution

Unlawful electronic surveillance or disclosure or use of information obtained by electronic surveillance in violation of 50 U.S.C. §1809.

Unlawful interception, use or disclosure of Class communications in violation of 18 U.S.C. § 2511

Unlawful solicitation and obtained disclosure of the contents of communications in violation of 18 U.S.C. § 2702(a)(1) or (a)(2)

Unlawful solicitation and obtained disclosure of non-content records or other information in violation of 18 U.S.C. § 2702(a)(3)

Violation of the Administrative Procedures Act

Violation of the constitutional principle of separation of powers


EDITH, I HEAR THE GOVERNMENT CAN TAP OUR PHONES
WHENEVER THEY DAMN WELL WANT TO!!
ASHCROFT: THAT'S NOT TRUE, EDITH ~ IT'S ONLY TO CATCH TERRORISTS!
MELBA IS A TERRORIST ?

The Patriot Act
Initiated by Republicons, Supported by Democraps
ISIS Posts Photo of Their Members
Chilling With Senator John McCain

[Click Here for complete article]


Senator McCain "chillin'" with ISIS Leaders in Syria

Why do Congress, Senate, & Politicians like John "Hot-dog" McCain Continue To Support Israel's Murder and Maiming of United States Naval Personnel?

---

The Warren Buffet Rule




via Cousin Mike

Salary of retired US Presidents = $180,000 FOR LIFE

Salary of House/Senate members = $174,000 FOR LIFE

Salary of Speaker of the House = $223,500 FOR LIFE

Salary of Majority/Minority Leaders = $193,400 FOR LIFE

Average Salary of a teacher = $40,065

Average Salary of a deployed Soldier = $38,000

I think we found where the cuts should be made!

THIS IS HOW YOU FIX CONGRESS!!!!!


View Illegal Patriot Act Established by Republicans and Democrats

Warren Buffett, in a recent interview with CNBC, offers one of the best quotes about the debt ceiling: "I could end the deficit in 5 minutes," he told CNBC. "You just pass a law that says that anytime there is a deficit of more than 3% of GDP, all sitting members of Congress are ineligible for re-election.

The 26th amendment (granting the right to vote for 18 year-olds) took only 3 months & 8 days to be ratified! Why? Simple! The people demanded it. That was in 1971...before computers, e-mail, cellphones, etc.

Of the 27 amendments to the Constitution, seven (7) took 1 year or less to become the law of the land...all because of public pressure.

Warren Buffet is asking each addressee to forward this email to a minimum of twenty people on their address list; in turn ask each of those to do likewise.

In three days, most people in The United States of America will have the message. This is one idea that really should be passed around.

*Congressional Reform Act of 2011*

1. No Tenure / No Pension. A Congressman collects a salary while in office and receives no pay when they are out of office.

2. Congress (past, present & future) participates in Social Security.

All funds in the Congressional retirement fund move to the Social Security system immediately. All future funds flow into the Social Security system, and Congress participates with the American people. It may not be used for any other purpose.

3. Congress can purchase their own retirement plan, just as all Americans do.

4. Congress will no longer vote themselves a pay raise. Congressional pay will rise by the lower of CPI or 3%.

5. Congress loses their current health care system and participates in the same health care system as the American people.

6. Congress must equally abide by all laws they impose on the American people.

7. All contracts with past and present Congressmen are void effective 1/1/12. The American people did not make this contract with Congressmen. Congressmen made all these contracts for themselves.

Serving in Congress is an honor, not a career. The Founding Fathers envisioned citizen legislators, so ours should serve their term(s), then go home and back to work.

If each person contacts a minimum of twenty people then it will only take three days for most people (in the U.S.) to receive the above message.

None of the Above
should be a choice on Voter Ballots!

---

---


A Question Of Honour ~ Sarah Brightman ~ http://vimeo.com/20989311
Closing Argument

Alan Shore: When the weapons of mass destruction thing turned out to be not true, I expected the American people to rise up. Ha! They didn't.

Then, when the Abu Ghraib torture thing surfaced and it was revealed that our government participated in rendition, a practice where we kidnap people and turn them over to regimes who specialize in torture, I was sure then the American people would be heard from. We stood mute.

Then came the news that we jailed thousands of so-called terrorists suspects, locked them up without the right to a trial or even the right to confront their accusers. Certainly, we would never stand for that. We did.

And now, it's been discovered the executive branch has been conducting massive, illegal, domestic surveillance on its own citizens. You and me. And I at least consoled myself that finally, finally the American people will have had enough. Evidentially, we haven't.

In fact, if the people of this country have spoken, the message is we're okay with it all. Torture, warrantless search and seizure, illegal wiretapping's, prison without a fair trial - or any trial, war on false pretenses. We, as a citizenry, are apparently not offended.

There are no demonstrations on college campuses. In fact, there's no clear indication that young people seem to notice.

Well, Melissa Hughes noticed. Now, you might think, instead of withholding her taxes, she could have protested the old fashioned way. Made a placard and demonstrated at a Presidential or Vice-Presidential appearance, but we've lost the right to that as well. The Secret Service can now declare free speech zones to contain, control and, in effect, criminalize protest.

Stop for a second and try to fathom that.

At a presidential rally, parade or appearance, if you have on a supportive t-shirt, you can be there. If you are wearing or carrying something in protest, you can be removed.

This, in the United States of America. This in the United States of America. Is Melissa Hughes the only one embarrassed?

*Alan sits down abruptly in the witness chair next to the judge*

Judge Robert Sanders: Mr. Shore. That's a chair for witnesses only.

Alan: Really long speeches make me so tired sometimes.

Judge Robert Sanders: Please get out of the chair.

Alan: Actually, I'm sick and tired.

Judge Robert Sanders: Get out of the chair!

Alan: And what I'm most sick and tired of is how every time somebody disagrees with how the government is running things, he or she is labeled un American.

U.S. Attorney Jonathan Shapiro: Evidentially, it's speech time.

Alan: And speech in this country is free, you hack! Free for me, free for you. Free for Melissa Hughes to stand up to her government and say "Stick it"!

U.S. Attorney Jonathan Shapiro: Objection!

Alan: I object to government abusing its power to squash the constitutional freedoms of its citizenry. And, God forbid, anybody challenge it. They're smeared as being a heretic. Melissa Hughes is an American. Melissa Hughes is an American. Melissa Hughes is an American!

Judge Robert Sanders: Mr. Shore. Unless you have anything new and fresh to say, please sit down. You've breached the decorum of my courtroom with all this hooting.

Alan: Last night, I went to bed with a book. Not as much fun as a 29 year old, but the book contained a speech by Adlai Stevenson. The year was 1952. He said, "The tragedy of our day is the climate of fear in which we live and fear breeds repression. Too often, sinister threats to the Bill of Rights, to freedom of the mind are concealed under the patriotic cloak of anti-Communism."

Today, it's the cloak of anti-terrorism. Stevenson also remarked, "It's far easier to fight for principles than to live up to them."

I know we are all afraid, but the Bill of Rights - we have to live up to that. We simply must. That's all Melissa Hughes was trying to say. She was speaking for you. I would ask you now to go back to that room and speak for her.

Boston Legal ~ Stick It, Season 2, Episode 19 [Video at link] Written by David E. Kelley & Janet Leahy ~ Directed by Adam Arkin.

---

Until there is a solution for this, Nobody will continue to bring Peace to Our Times, feed the hungry, care for the sick, bake apple pie better than Mom, and believes:

None of the Above
should be a choice on Voter Ballots


American Dream ~ George Carlin/L.I.L.T ~ http://vimeo.com/72719973

Nobody should have that much power
---
---
Oh, I hope that I see you again I never even caught your name As you looked through my window pane ~ So I'm writing this message today I'm thinking that you'll have a way Of hearing the notes in my tune ~ Where are you going? Where have you been? I can imagine other worlds you have seen ~ Beautiful faces and music so serene ~ So I do hope I see you again My universal citizen You went as quickly as you came ~ You know the power Your love is right You have good reason To stay out of sight ~~ But break our illusions and help us Be the light ~ The Promise by Mike Pinder
Without love in the dream, it will never come true. ~ Jerry Garcia/Robert Hunter
And in the end, the love you take is equal to the love you make. ~ John Lennon
---
---
---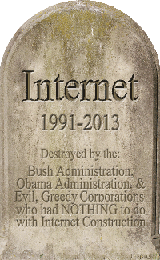 Turn It Off, Tune It Out, Re-learn to Go Outside & Play.
Internet (1991~2013): A virus forced into prostitution by
greedy corporations & used as a tool to Divide & Conquer.
---
---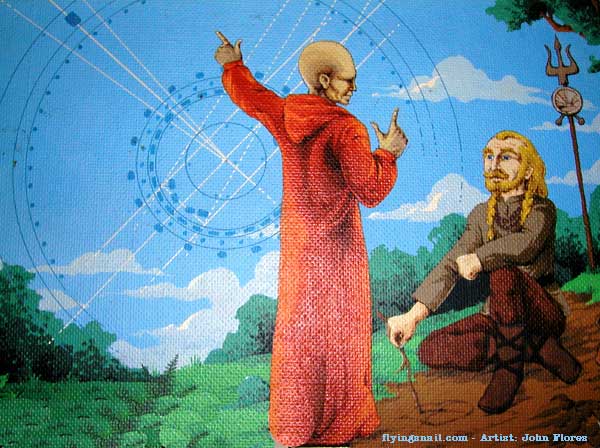 ---
---
The man whispered, "God, speak to me" and a meadowlark sang. But the man did not hear.

So the man yelled "God, speak to me" and the thunder rolled across the sky. But the man did not listen.

The man looked around and said, "God let me see you" and a star shined brightly. But the man did not notice.

And the man shouted, "God show me a miracle" and a life was born. But the man did not know.

So the man cried out in despair, "Touch me God, and let me know you are there"

Whereupon God reached down and touched the man. But the man brushed the butterfly away and walked on.


Don't miss out on a blessing because it isn't packaged the way you expect.
---
---