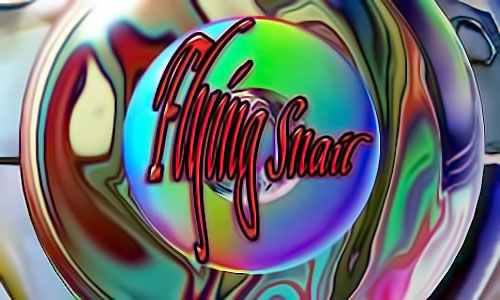 Tell-A-Vision = Why Not Try Love Again?

Be the change you want to see in the world
Mahatma Ghandi
Grande serata hardcore
Serata hardcore punk con Indigesti Osservati dall'inganno e il film sugli Youth Brigade. Un evento unico in Italia sulla storia dell'hardcore punk a livello mondiale.
Giovedì 2 dicembre 2010 - Spazio Pubblico Shake - Libreria Interno 4 - viale Bligny 42, Milano (MM2/MM3, tram 9)
PROGRAMMA
ore 20:00 (puntuali) Prima italiana del documentario Let Them Know: The Story of Youth Brigade and BYO Records
Sarà presente Shawn Stern degli Youth Brigade
ore 21:30 presentazione della ristampa speciale di Osservati dall'inganno (ShaKe 2010).
Intervengono i componenti degli Indigesti: Silvio Bernelli, Enrico Giordano, Massimo Corradino, con proiezione di foto e video.
Nella sala la mostra "AHC Flyers. La street art della scena hardcore punk americana"
Serata hardcore punk con Indigesti Osservati dall'inganno e il film sugli Youth Brigade. Un evento unico in Italia sulla storia dell'hardcore punk a livello mondiale
ore 20:00 (puntuali) Prima italiana del documentario Let Them Know: The Story of Youth Brigade and BYO Records
Un omaggio ai 25 anni della BYO, agli Youth Brigade e allo spirito DIY: l'esplosiva scena punk di Los Angeles dagli anni '80 fino ai giorni nostri. Rivolte, provocazioni da parte delle autorità, gruppi musicali che hanno fatto la storia, ma soprattutto il desiderio spontaneo di poter cambiare il mondo attraverso il punk. La BYO records nasce con l'intento di poter dare sostegno alla scena musicale punk americana, organizzando concerti, pubblicando e distribuendo dischi e sostenendo al 100% la creatività e lo spirito del DIY. Interviste con Ian MacKaye (Fugazi, Minor Threat), Fat Mike (NOFX), Steve Soto (Adolescents), 7 Seconds e di tanti altri. Sarà presente Shawn Stern degli Youth Brigade
ore 21:30 presentazione della ristampa speciale di Osservati dall'inganno (ShaKe 2010)
Suono potente. Ritmi mozzafiato. Testi introspettivi. Questa è la formula degli Indigesti. La prima, vera leggenda dell'hardcore punk italiano. Un pugno di ragazzi cresciuti sull'asse Vercelli-Biella-Torino che colpisce la scena indipendente italiana dei primi anni Ottanta con musica senza compromessi e live act infuocati. Motore di quella sensazionale avventura, il primo disco della band, nonché primo capolavoro dell'hardcore punk italiano. Un disco che da anni è entrato nella classifica dei migliori lavori hardcore punk a livello mondiale, nonché tra i migliori cento dischi del rock italiano. Intervengono i componenti degli Indigesti: Silvio Bernelli, Enrico Giordano, Massimo Corradino, con proiezione di foto e video.
Mostra AHC Flyers. La street art della scena hardcore punk americana
Una vera e propria chicca sulla street-art, ispirata al libro American Punk Hardcore di Steven Blush (ShaKe), subito diventato un best-seller con centinaia di recensioni, da cui è stato tratto il documentario omonimo per la regia di Paul Rachman (in finale ai Festival di Toronto e Sundance). La mostra, che sarà visitabile fino al 9 dicembre, presenta i volantini dei concerti di Black Flag (realizzati dal mitico Raymond Pettibon), DOA, Dead Kennedys, Minor Threat, MDC, Agent Orange e decine di altri gruppi, per ripercorrere la storia della scena musicale e culturale punk hardcore.
http://www.shake.it/ - Event Source - Translate
Frack No !!!
Pittsburgh Bans Natural Gas Drilling
A historic new ordinance bans natural gas drilling while elevating community decision making and the rights of nature over the "rights" associated with corporate personhood.
by Mari Margil, Ben Price
In a historic vote, the City of Pittsburgh today adopted a first-in-the-nation ordinance banning corporations from natural gas drilling in the city.
Faced with the potential for drilling--and the controversial new practice known as "fracking" or hydraulic fracturing--within city limits, the Pittsburgh City Council unanimously said "no." Fracking means injecting water laced with sand and toxic chemicals underground to create deep ground explosions that release the gas. It's a technique first tried in Texas, and which is now being used in Pennsylvania, where the Marcellus Shale geological formation, a source of natural gas, is buried over a mile down. The Marcellus Shale stretches from New York, through Pennsylvania, into Ohio and West Virginia.
Fracking has been demonstrated to be a threat to surface and groundwater, and has been blamed for fatal explosions, the contamination of drinking water, rivers, and streams. Because it disturbs rock that's laced not only with methane, but with carcinogens like benzene and radioactive ores like uranium, forcing the mix to the surface adds to the dangers.
Pittsburgh sits atop the Marcellus Shale and corporations have already purchased leases to drill there, including under area parks and cemeteries.
"With this vote we are asserting the right of the city to make critical decisions to protect our health, safety, and welfare." - Councilman Doug Shields
The ordinance sponsor, Pittsburgh Councilman Doug Shields, led the charge to ban drilling, and was later joined by five co-sponsors. During the months leading up to today's vote, Shields passionately advocated for the ordinance, saying that the city is "not a colony of the state and will not sit quietly by as our city gets drilled." He sees this fight as about far more than drilling, saying "It's about our authority as a community to decide, not corporations deciding for us."
Drafted by the Community Environmental Legal Defense Fund (CELDF), Pittsburgh's ordinance elevates the rights of people, the community, and nature over corporate "rights" and challenges the authority of the state to pre-empt community decision-making.
As natural gas drilling expands across Pennsylvania, there's been a debate among opponents of fracking over the best course to take. Some are arguing for "responsible drilling" and severance taxes; others want to "zone out" drilling from residential areas or around schools.
Advocates and communities are finding, however, that calling on corporations to be more accountable, without changing the powers and authorities corporations have been given by state and federal government, means asking them to take voluntary steps. Even communities that adopt zoning restrictions requiring drilling pads to be located away from homes or schools find that because the drilling is horizontal, its impact still reaches into those places they are trying to protect.
Meanwhile, hopes that the state--either the legislature or the Pennsylvania Department of Environmental Protection--will help, have been similarly dashed. The state was recently found to be paying thousands of dollars to a private contractor to investigate citizens advocating against drilling. Meanwhile, hundreds of thousands of industry dollars went to candidates in the recent elections. Those monies helped elect candidates who will ensure that drilling proceeds without interference from citizens across the region. Further, the state continues to issue permits to corporations to drill despite growing community opposition.
Corporations, empowered with constitutional privileges conferred upon them by the courts, have long worked hand-in-hand with elected officials and government agencies at the state and federal level to pave the way for drilling. They've been successful in exempting natural gas drilling and fracking from federal regulations and they've put in place state laws pre-empting municipalities from taking any steps to reign in the industry.
Provisions in the ordinance eliminate corporate "personhood" rights for corporations seeking to drill within the city, and remove the ability of corporations to override community decision-making.
Communities like Pittsburgh are coming to the conclusion that it's up to them to stop practices they disagree with. Their efforts are not just about stopping the drilling, but about who gets to make decisions for the community--corporations empowered by the state, or people and their communities.
As Councilman Shields stated after the vote, "This ordinance recognizes and secures expanded civil rights for the people of Pittsburgh, and it prohibits activities which would violate those rights. It protects the authority of the people of Pittsburgh to pass this ordinance by undoing corporate privileges that place the rights of the people of Pittsburgh at the mercy of gas corporations."
Real People vs. Corporate People: The Fight is On
Provisions in the ordinance eliminate corporate "personhood" rights within the city for corporations seeking to drill, and remove the ability of corporations to wield the Commerce and Contracts Clauses of the U.S. Constitution to override community decision-making.
In addition, with adoption of the ordinance, Pittsburgh became the first city in the U.S. to recognize legally binding rights of nature.
By recognizing the rights of nature, Pittsburgh is effectively protecting ecosystems and natural communities within the city from efforts by corporations to drill there--and by other levels of government to authorize that drilling. Residents of Pittsburgh are empowered by the ordinance to enforce those rights on behalf of threatened ecosystems.
The ordinance now goes to Mayor Luke Ravenstahl for signature. Representatives of drilling companies have indicated they may challenge the ban in court.
The Pittsburgh City Council is now reaching out to other communities facing drilling, encouraging them to take similar steps including adoption of local laws that challenge state and corporate disregard for the consent of the governed, and join in the fight for community rights.
---
Mari Margil and Ben Price wrote this article for YES! Magazine, a national, nonprofit media organization that fuses powerful ideas with practical actions. Mari is the associate director and Ben is projects director of the Community Environmental Legal Defense Fund, a nonprofit, public interest law firm providing legal services to communities facing threats to their local environment, agriculture, economy, and quality of life.
Interested?
Video: Drafting Nature's Constitution: Simply regulating pollution will never really stop it. Mari Margil of the Community Environmental Legal Defense Fund discusses why we need a fundamental change in the way we use law to protect nature.

After the Campaign Cash, the Backlash: The 2010 midterm elections--the first since Citizens United opened the floodgates to corporate campaign cash--were the most expensive in history. So what happens next?

Citizens Take Power: Communities across the country are declaring citizens' right and duty to protect their water, land, local economy, and way of life, even if it means taking on the enormous power of corporations. Here are some of the peaceful revolutionaries who have stepped up.

Source: http://www.yesmagazine.org/people-power/pittsburg-bans-natural-gas-drilling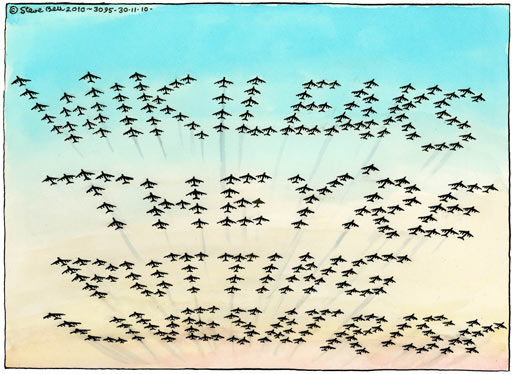 Steve Bell - [Flying, Nuclear, Bomber, Airplanes spell]: WikiLeaks They're Putting Lives At Risk
Bush's Bitches Deny Freedom of Internet
Brokeback Government - Don't Ask Don't Tell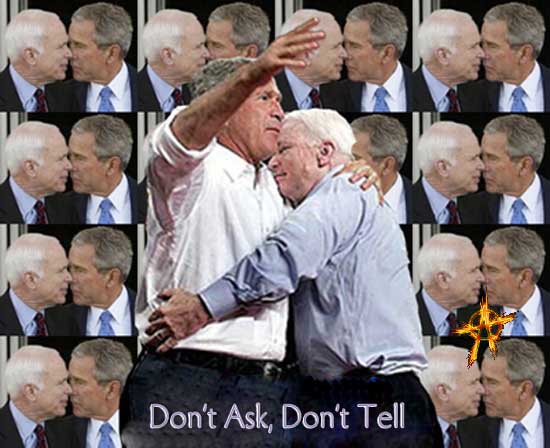 http://www.colbertnation.com/the-colbert-report-videos/71736/july-13-2006/the-word---inquisition
George W Bush Made This [divided] Country What It Is Today
Arrest Congress and Jail Republican War Criminals



Congress Is the Real Criminal =
Patriot Act - Spying on US Citizens - Selective Terrorism Against US Military
along with Independent Joe [no dreidel 4u!] Lieberman & the TSA:
In her bra, panties & wheelchair, woman passes through OKC airport screening
http://www.newsok.com/in-her-bra-panties-and-wheelchair-woman-passes-through-okc-airport-screening/multimedia/video/694556599001 - via Joe Watch on YouTube
HELP YOU MAKE IT TO YOUR FLIGHT - Buck Howdy

Congress Caught In Another Lie = Osama bin Laden Is Not On the FBI Most Wanted List for 9/11!
WikiLeaks US embassy cables: live updates
Even Steven writes: This Saturday on Boptime (December 4, 2010) we'll have The Legends of Wilmington Jazz at 8am, and at 9am on The Club Baby Grand we'll feature music from Lem Winchester, from Lem's former bandmate Papa Dee Allen -- who was born in Wilmington -- from a selection when he was in the rock/fusion band WAR, and a selection from the Boysie Lowery Big Band . . . and of course, Uncle Richard.
Corporate Piggyism:
Republican Senators demand
Big business must be able to track people
By Nick Farrell, Fri Dec 03 2010, 10:12
US REPUBLICANS have demanded that big businesses must be able to track the lives of Americans so that they can be bombed with advertising.
The US Federal Trade Commission (FTC) has proposed that web browsers should have a 'do not track' button.
But according to Reuters, the Republicans who will control the US House of Representatives starting in January do not like the idea.
Their argument is that if advertisers do not have access to consumers' web browsing habits that will, er, slow innovation.
Yep, if you turn your cookies off, the chances of Americans having another bright idea are limited. Doing that is 'unamerican' and prevents the development of the country if you do not hand over all your data to marketing companies.
Representative Ed Whitfield, the ranking Republican on the House consumer protection subcommittee, expressed concern that the free services now financed by advertising would be hurt, and that consumers would lose access to ads they want to see.
Yes, the Republicans believe that people want to see advertising. It is a daft belief that is one of the reasons why spam emails are still considered acceptable.
"We need to be mindful not to enact legislation that would hurt a recovering economy," he said. So, in other words, handing over your data to advertising companies will save the economy. Sheesh.
David Vladeck, director of the FTC's Consumer Protection Bureau, argued that there is strong public support for allowing people to block tracking and that the idea is technically feasible.
The Commerce Department's Daniel Weitzner pointed out to Reuters that it is untrue that giving Internet users control over data collection will be the death knell for online advertising.
He said that Internet users have been given more and more control and advertiser revenue has not gone down. It's a mistake to assume that giving people more control over data collection means a reduction in advertising revenue.
http://www.theinquirer.net/inquirer/news/1929917/business-able-track-people

The Most Terrifying Video You'll Ever See 2 via Rainbow Puddle
VOLUNTEER UNIVERSITY
Transferring Prime Human Attention from Objects to States of Mind
And Helping "Left" and "Right" Come Together Within Solution Energies
Via <prez usa-exile.org>
December 3, 2010
An Open Letter to Chris Hedges - 2
Dear Chris Hedges,
I'd already been thinking of you as my analog in the middle generation because we'd both been theology students and also foreign correspondents for US pimp/whore corporate media outlets.
Now your step into civil disobedience--especially in association with veterans--much strengthens this impression.
I'd been an army officer (artillery forward observer) in the Korean war and in late '65 was one of maybe twenty founders in NYC of Veterans and Reservists to End the War in Vietnam. For a year or two we were the cutting-edge of the much broader anti-war movement because the pimp/whore corporate media had so glamorized veterans that--for a while, anyway--they were compelled to take our voices relatively seriously.
Early in '66 we burned our discharge papers, medals and campaign ribbons and our action was displayed prominently on all the evening TV news shows. My first bust was later that year at the NYC offices of Dow protesting its obscene manufacture of napalm. My other Manhattan busts in '67-'68 were on a destroyer in the Hudson River as we tried to prevent it from departing to Vietnam, then twice during Stop the Draft Week and once at the induction center.
I used to quip that DC was a nice place to get busted but I wooden wanna live there. In September of '67 I was busted with several others dropping leaflets from the US Senate gallery onto the ignominiously bribed politicians below. The leaflet's contents were reproduced en toto twice in next day's pimp/whore NY Times--once as a news story and once in somebody's column.
We got the banner headline in the evening DC pimp/whore daily: WAR PROTESTERS DISRUPT SENATE. Gradually over the years this has assumed an interesting ambiguity for me: had we scored a major publicity triumph or were we being used to frighten people into financing even more enormous police budgets the following year?
My second DC bust was about six weeks later with a few hundred others--for example, Daniel Berrigan, Noam Chomsky, Norman Mailer, Terry Southern--at the Pentagon. Then in '87 I was busted at the World Bank protesting mainly its financing of highways into the already decimated Amazon. Finally, in '00 I was busted at the Rotunda with the late great Granny D, the notorious Bill McKibben (devious climate agent of the Rockefellers) and thirty others--in the ever-more-cogent matter of campaign finance reform.
The thirty- or forty-page NYC police report on me to the Chicago police just prior to the '68 "Democratic" convention there said I was "an especially dangerous leader" because I told people to do whatever they wanted--which in my circles, the authors explained, was called do your own thing.
The same sinister players within the US Government who murdered JFK in '63 (global research reference) and who would go on to murder nearly 3000 others at the World Trade Center in '01 had decided to do a major Theater-of-Fear event in Chicago--cf., David Lewis Stein's LIVING THE REVOLUTION: The Yippies in Chicago. It was the first of a one-two punch culminating with the US military murders of four peaceful students at Kent State in '70.
Since no one ever was prosecuted for these murders, their message was clear: we'll kill you whenever we want and there ain't nothing you can do about it. Thus except for the first few years of Earth First!, US activism has been feeble ever since.
At the end of '68 my (then) wife Judy, my daughter Issa and I moved from Manhattan to Berkeley where a few months later I was busted with several others for blocking a truck carrying redwood corpses from a nearby tree-slaughter site. This in fact was the start of the US environmental movement.
Between then and the early 90s I was busted several other times on behalf of trees.
In San Francisco in '91 during the bombing of Baghdad I founded the US Pro-Democracy Movement. (At about that same time I was paid to dance for a wedding to the music of my own vocal muscles.)
I've been following climate change intently ever since '67 when my friend Allen Ginsberg (whom I'd met in Kolkata in '62) returned from the Dialectics of Liberation conference in London with Gregory Bateson's warning of melting polar caps and subsequent inundation of continents.
My activism had begun back in '64 when somewhere in Scandinavia during my third around-the-world trip I learned of the murders of Goodman, Chaney and Schwerner in Mississippi. So when I got back to NYC I went to the group they'd been working for--SNCC--and volunteered for the job they'd been doing--voter registration.
My education had begun back in '50 at age 18 when the Detroit police commissioner gave me a press card saying I was 22 so I could drink alcohol illegally.
I type all this up for you, Chris, so you'll know that my current sense of hope is at least quite a seasoned one.
My current sense of hope is that those of you so earnestly gathered at the White House December 16 will compare notes and conclude that the action is majorly flawed because it's
(1)--pre-announced rather than occurring as a surprise,

(2)--located where there's no power rather than where there's a lot--for example, one or more of the Rockefeller Brothers' residences and

(3)--enacted out of sequence in that there's no sense trying to stop wars until we first outlaw all private financial contributions to electoral candidates.
Anyone familiar with your writings would have to say pretty much the same thing. You've repeatedly pointed out that the US is not a democracy, which thus renders pre-announced actions futile. Between ten and fifteen million people took to the streets in pre-announced actions all around the planet shortly before the 2003 US-led invasion of Iraq--and they didn't alter anyone's foreign policy even slightly.
And you've also pointed out that US foreign policy is controlled by those who've paid the campaign expenses for the incumbent US prez.
To stop wars we must level the playing field that's so steeply tilted now in favor of transnational corporations. Perhaps outlawing all private political-campaign contributions will be adequate. But probably we'll have to go farther and shift from centralized currencies into local ones, replace network radio with neighborhood broadcasters plus reduce use of TV sets to DVDs and videocassettes.
Possibly we'll even have to free ourselves from centralized electric grid systems so our newly-won energy independence--our homes and vehicles now powered with hand-held devices--will increase our self-respect to the point where finally we care enough about our futures to be willing to go through the lifestyle changes necessary now to have those futures at all.
Yours for all our relations,
Keith Lampe, Ro-Non-So-Te, Ponderosa Pine
Volunteer
PS: I'll paste at bottom my earlier open missive to you for any readers who haven't seen it.
---
http://www.informationclearinghouse.info/article26943.htm
Hope, Real Hope, Is About Doing Something
By Chris Hedges
November 29, 2010 "TruthDig" --On Dec. 16 I will join Daniel Ellsberg, Medea Benjamin, Ray McGovern and several military veteran activists outside the White House to protest the futile and endless wars in Iraq and Afghanistan. Many of us will, after our rally in Lafayette Park, attempt to chain ourselves to the fence outside the White House. It is a pretty good bet we will all spend a night in jail. Hope, from now on, will look like this.
Hope is not trusting in the ultimate goodness of Barack Obama, who, like Herod of old, sold out his people. It is not having a positive attitude or pretending that happy thoughts and false optimism will make the world better. Hope is not about chanting packaged campaign slogans or trusting in the better nature of the Democratic Party. Hope does not mean that our protests will suddenly awaken the dead consciences, the atrophied souls, of the plutocrats running Halliburton, Goldman Sachs, ExxonMobil or the government.
Hope does not mean we will halt the firing in Afghanistan of the next Hellfire missile, whose explosive blast sucks the oxygen out of the air and leaves the dead, including children, scattered like limp rag dolls on the ground. Hope does not mean we will reform Wall Street swindlers and speculators, or halt the pillaging of our economy as we print $600 billion in new money with the desperation of all collapsing states. Hope does not mean that the nation's ministers and rabbis, who know the words of the great Hebrew prophets, will leave their houses of worship to practice the religious beliefs they preach. Most clerics like fine, abstract words about justice and full collection plates, but know little of real hope.
Hope knows that unless we physically defy government control we are complicit in the violence of the state. All who resist keep hope alive. All who succumb to fear, despair and apathy become enemies of hope. They become, in their passivity, agents of injustice. If the enemies of hope are finally victorious, the poison of violence will become not only the language of power but the language of opposition. And those who resist with nonviolence are in times like these the thin line of defense between a civil society and its disintegration.
Hope has a cost. Hope is not comfortable or easy. Hope requires personal risk. Hope does not come with the right attitude. Hope is not about peace of mind. Hope is an action. Hope is doing something. The more futile, the more useless, the more irrelevant and incomprehensible an act of rebellion is, the vaster and the more potent hope becomes. Hope never makes sense. Hope is weak, unorganized and absurd. Hope, which is always nonviolent, exposes in its powerlessness the lies, fraud and coercion employed by the state. Hope does not believe in force. Hope knows that an injustice visited on our neighbor is an injustice visited on us all. Hope posits that people are drawn to the good by the good. This is the secret of hope's power and it is why it can never finally be defeated. Hope demands for others what we demand for ourselves. Hope does not separate us from them. Hope sees in our enemy our own face.
Hope is not for the practical and the sophisticated, the cynics and the complacent, the defeated and the fearful. Hope is what the corporate state, which saturates our airwaves with lies, seeks to obliterate. Hope is what our corporate overlords are determined to crush. Be afraid, they tell us. Surrender your liberties to us so we can make the world safe from terror. Don't resist. Embrace the alienation of our cheerful conformity. Buy our products. Without them you are worthless. Become our brands. Do not look up from your electronic hallucinations to think. No. Above all do not think. Obey.
W.H. Auden wrote:
Faces along the bar
Cling to their average day:
The lights must never go out,
The music must always play,
All the conventions conspire
To make this fort assume
The furniture of home;
Lest we should see where we are,
Lost in a haunted wood,
Children afraid of the night
Who have never been happy or good.
The powerful do not understand hope. Hope is not part of their vocabulary. They speak in the cold, dead words of national security, global markets, electoral strategy, staying on message, image and money. The powerful protect their own. They divide the world into the damned and the blessed, the patriots and the enemy, the rich and the poor. They insist that extinguishing lives in foreign wars or in our prison complexes is a form of human progress. They cannot see that the suffering of a child in Gaza or a child in the blighted pockets of Washington, D.C., diminishes and impoverishes us all. They are deaf, dumb and blind to hope. Those addicted to power, blinded by self-exaltation, cannot decipher the words of hope any more than most of us can decipher hieroglyphics. Hope to Wall Street bankers and politicians, to the masters of war and commerce, is not practical. It is gibberish. It means nothing.
I cannot promise you fine weather or an easy time. I cannot assure you that thousands will converge on Lafayette Park in solidarity. I cannot pretend that being handcuffed is pleasant. I cannot say that anyone in Congress or the White House, anyone in the boardrooms of the corporations that cannibalize our nation, will be moved by pity to act for the common good. I cannot tell you these wars will end or the hungry will be fed. I cannot say that justice will roll down like a mighty wave and restore our nation to sanity. But I can say this: If we resist and carry out acts, no matter how small, of open defiance, hope will not be extinguished. If all we accomplish is to assure a grieving mother in Baghdad or Afghanistan, a young man or woman crippled physically and emotionally by the hammer blows of war, that he or she is not alone, our resistance will be successful. Hope cannot be sustained if it cannot be seen.
Any act of rebellion, any physical defiance of those who make war, of those who perpetuate corporate greed and are responsible for state crimes, anything that seeks to draw the good to the good, nourishes our souls and holds out the possibility that we can touch and transform the souls of others. Hope affirms that which we must affirm. And every act that imparts hope is a victory in itself.
Also from Auden:
Defenseless under the night
Our world in stupor lies;
Yet, dotted everywhere,
Ironic points of light
Flash out wherever the Just
Exchange their messages:
May I, composed like them
Of Eros and of dust,
Beleaguered by the same
Negation and despair,
Show an affirming flame.
---
Appeal to Youth
+ It's Up to You +
Via <prez usa-exile.org>
March 31, 2010
An Open Letter to Chris Hedges
Dear Chris Hedges,
Maybe I read your stuff so intently because almost certainly you and I are the only two former US corporate-media "foreign" correspondents who also were grad students of theology.
In any case, what I find most appealing below is your total disdain for "Democrats and their liberal apologists". Yeah! I would, however, broaden this disdain to include not just liberals but also progressives, greens and leftists.
In fact, your reference here to "the boutique activism of political correctness" should be broadened to include, say, Danny Schechter's slick anti-Wall-Street boutique activism. His definition of Wall Street's plunder is such a slender slice of its total that his effect is that of a gatekeeper (or Limited Hangout) for all the felonious financiers.
Most folks within the four-ply left/liberal/green/progressive community discern significant differences between each label and the three others--but actually all four sets of their goals are so culturebound as to be hugely inadequate to a nearly equal degree. Meanwhile, the eco-clock keeps ticking, so each year the distance widens between their sets of goals and what's minimally necessary--and at an increasing pace.
Thus we should begin somewhere else--and so I suggest we start with youth rather than with leftists or liberals or progressives or greens or libertarians or conservatives. I think this is also the best place for Cynthia McKinney to start in her effort to overcome the phony left/right distinction. Much more on this later--but now I wanna get back to your piece here rather than just trip out on it. (Meanwhile, though, I'd be pleased to email you what I've done so far in a new series called "A US Youth Resurgence?".)
Yes, it certainly appears that Americans are "yearning for fascism" and certainly some of them are. But I suspect that most of them merely appear to be while actually what's defining them is an average mood too low for them to care much whether fascism arrives or not.
So we must first enhance their average mood to the point where they start abhorring the possibility of fascism because it would bum them back down to where they'd just risen from.
For millenia controllers have been aware of the need to keep their captive populations relatively bummed out so they don't have enough confidence to rebel.
After just a few Christian centuries, the widespread belief in reincarnation was outlawed in favor of reducing confidence by inducing fear via the notion of a single all-or-nothing incarnation wherein there's always a major risk of a maximally fearful outcome: eternal damnation in fire.
But of course sexual repression is the main vehicle for controlling mood. Vatican attitudes are a good example: sex is dirty, so don't be guilty of experiencing it--except when the focus is strictly procreational.
Approximately a millenium ago a sexual yoga quite beneficial to the nervous system was practiced in parts of northern India in both Hindu and Buddhist circles. Today one finds only trace elements of these practices there, which can only mean that they were stomped out in order to secure a control system.
The contemporary control system in the US and many other places outlaws marijuana use because it isn't followed by a hangover and thus provides a net mood enhancement. Alcohol is legal because it is followed by a hangover frequently enough to prevent any sustained mood gains.
I learned of a monumentally outrageous practice of mood control when living in a rather remote Bolivian village four years ago. I was told by a quite seasoned observer there that "when you tell a story to a four-year-old in this village he or she will understand it, but when you tell the same story to a twelve-year-old he or she won't understand it". She said this was because the Vatican is not content to meddle merely on a verbal level with superstition and related propaganda in its school system (so tightly controlled that it can even get away with referring to its schools as "public")--but in fact goes deeper to sabotage the students' ability to concentrate so the resulting low level of self-esteem will prevent any rebellion against their control system there.
But today the main vehicle for mood control is television. So the best way to reduce the chances of fascism is to reduce the use of television sets to those DVDs (and videocassettes) which don't contain ads. No more live shows! This way, the playing field finally is leveled between the controllers' centralized corporate network TV fake news and the resisters' local independent truthful news.
Have you noticed that the controllers' TV feed never depicts people who are elated? That's because their market researchers tell them that people who are usually in very good moods consume much less than those in merely fair-to-middling moods who'll buy lots of stuff in their chase for the very good mood. Thus the controllers don't want you to know that sustaining a very good mood is even possible--and thus it's nearly impossible to find yoga courses on TV.
This also explains why they peddle competition so obsessively. In competitions there are at least as many bummed losers as elated winners--but in cooperative activities everybody wins.
Another way to get a significant and sustained mood improvement is to pull off at an anthropological level a "transfer of prime human attention from objects to states of mind". This notion was offered by Gary Snyder back in '69 as a field theory for dealing with climate destabilization. It would lead to a more mature planet in other ways too.
And a shift from households with only two adults to ones with at least four would greatly help average mood. In today's collapsed economic circumstances the nuclear family is usually bummed out because of all the pressures on it. And it's nonfunctional because it's so pinned down with short-term concerns like groceries and lodging that it can't represent its long-term concern of sustaining climate patterns supportive of outdoor agriculture. But with four or more adults (plus whatever dear children, of course) the household becomes viable enough to support one of them as a full-time volunteer activist on behalf of its favorite cause.
Inadequate mood levels also explain a phenomenon which might be seen as a yearning for ecocide/omnicide/biocide/oblivion/entropy. At least this is how we've behaved during these first four decades of the climate emergency.
If as activists we switch our principal efforts to mood enhancement, we increase the importance to us of musicians and yoga instructors. Fortunately, there are simple daily practices available free of charge which enhance mood in a manner more reminiscent of Occidental science than Oriental religion. Some of these involve using the vocal muscles nonverbally to massage the nervous system by concentrating sound inside the body at certain specific frequencies.
Yours for waking to the quantum ether,
Keith Lampe aka Pondo
Volunteer
---
http://www.informationclearinghouse.info/article25100.htm
Is America 'Yearning for Fascism?'
By Chris Hedges
March 29, 2010 "TruthDig" -- The language of violence always presages violence. I watched it in war after war from Latin America to the Balkans. The impoverishment of a working class and the snuffing out of hope and opportunity always produce angry mobs ready to kill and be killed. A bankrupt, liberal elite, which proves ineffectual against the rich and the criminal, always gets swept aside, in times of economic collapse, before thugs and demagogues emerge to play to the passions of the crowd. I have seen this drama. I know each act. I know how it ends. I have heard it in other tongues in other lands. I recognize the same stock characters, the buffoons, charlatans and fools, the same confused crowds and the same impotent and despised liberal class that deserves the hatred it engenders.
"We are ruled not by two parties but one party," Cynthia McKinney, who ran for president on the Green Party ticket, told me. "It is the party of money and war. Our country has been hijacked. And we have to take the country away from those who have hijacked it. The only question now is whose revolution gets funded."
The Democrats and their liberal apologists are so oblivious to the profound personal and economic despair sweeping through this country that they think offering unemployed people the right to keep their unemployed children on their nonexistent health care policies is a step forward. They think that passing a jobs bill that will give tax credits to corporations is a rational response to an unemployment rate that is, in real terms, close to 20 percent. They think that making ordinary Americans, one in eight of whom depends on food stamps to eat, fork over trillions in taxpayer dollars to pay for the crimes of Wall Street and war is acceptable. They think that the refusal to save the estimated 2.4 million people who will be forced out of their homes by foreclosure this year is justified by the bloodless language of fiscal austerity. The message is clear. Laws do not apply to the power elite. Our government does not work. And the longer we stand by and do nothing, the longer we refuse to embrace and recognize the legitimate rage of the working class, the faster we will see our anemic democracy die.
The unraveling of America mirrors the unraveling of Yugoslavia. The Balkan war was not caused by ancient ethnic hatreds. It was caused by the economic collapse of Yugoslavia. The petty criminals and goons who took power harnessed the anger and despair of the unemployed and the desperate. They singled out convenient scapegoats from ethnic Croats to Muslims to Albanians to Gypsies. They set in motion movements that unleashed a feeding frenzy leading to war and self-immolation. There is little difference between the ludicrous would-be poet Radovan Karadzic, who was a figure of ridicule in Sarajevo before the war, and the moronic Glenn Beck or Sarah Palin. There is little difference between the Oath Keepers and the Serbian militias. We can laugh at these people, but they are not the fools. We are.
The longer we appeal to the Democrats, who are servants of corporate interests, the more stupid and ineffectual we become. Sixty-one percent of Americans believe the country is in decline, according to a recent NBC News/Wall Street Journal poll, and they are right. Only 25 percent of those polled said the government can be trusted to protect the interests of the American people. If we do not embrace this outrage and distrust as our own it will be expressed through a terrifying right-wing backlash.
"It is time for us to stop talking about right and left," McKinney told me. "The old political paradigm that serves the interests of the people who put us in this predicament will not be the paradigm that gets us out of this. I am a child of the South. Janet Napolitano tells me I need to be afraid of people who are labeled white supremacists but I was raised around white supremacists. I am not afraid of white supremacists. I am concerned about my own government. The Patriot Act did not come from the white supremacists, it came from the White House and Congress. Citizens United did not come from white supremacists, it came from the Supreme Court. Our problem is a problem of governance. I am willing to reach across traditional barriers that have been skillfully constructed by people who benefit from the way the system is organized."
We are bound to a party that has betrayed every principle we claim to espouse, from universal health care to an end to our permanent war economy, to a demand for quality and affordable public education, to a concern for the jobs of the working class. And the hatred expressed within right-wing movements for the college-educated elite, who created or at least did nothing to halt the financial debacle, is not misplaced. Our educated elite, wallowing in self-righteousness, wasted its time in the boutique activism of political correctness as tens of millions of workers lost their jobs. The shouting of racist and bigoted words at black and gay members of Congress, the spitting on a black member of the House, the tossing of bricks through the windows of legislators' offices, are part of the language of rebellion. It is as much a revolt against the educated elite as it is against the government. The blame lies with us. We created the monster.
When someone like Palin posts a map with cross hairs on the districts of Democrats, when she says "Don't Retreat, Instead-RELOAD!" there are desperate people cleaning their weapons who listen. When Christian fascists stand in the pulpits of megachurches and denounce Barack Obama as the Antichrist, there are messianic believers who listen. When a Republican lawmaker shouts "baby killer" at Michigan Democrat Bart Stupak, there are violent extremists who see the mission of saving the unborn as a sacred duty. They have little left to lose. We made sure of that. And the violence they inflict is an expression of the violence they endure.
These movements are not yet full-blown fascist movements. They do not openly call for the extermination of ethnic or religious groups. They do not openly advocate violence. But, as I was told by Fritz Stern, a scholar of fascism who has written about the origins of Nazism, "In Germany there was a yearning for fascism before fascism was invented." It is the yearning that we now see, and it is dangerous. If we do not immediately reincorporate the unemployed and the poor back into the economy, giving them jobs and relief from crippling debt, then the nascent racism and violence that are leaping up around the edges of American society will become a full-blown conflagration.
Left unchecked, the hatred for radical Islam will transform itself into a hatred for Muslims. The hatred for undocumented workers will become a hatred for Mexicans and Central Americans. The hatred for those not defined by this largely white movement as American patriots will become a hatred for African-Americans. The hatred for liberals will morph into a hatred for all democratic institutions, from universities to government agencies to the press. Our continued impotence and cowardice, our refusal to articulate this anger and stand up in open defiance to the Democrats and the Republicans, will see us swept aside for an age of terror and blood.
---
Julian Assange answers your questions
The founder of WikiLeaks, Julian Assange, answers readers' questions about the release of more than 250,000 US diplomatic cables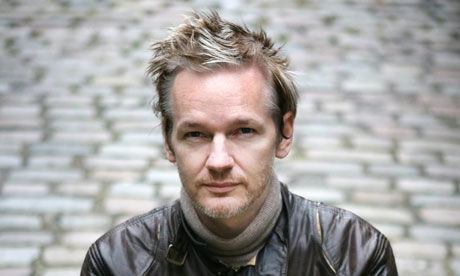 Julian Assange, WikiLeaks founder. Photograph: Carmen Valino for the Guardian
Fwoggie
I'll start the ball rolling with a question. You're an Australian passport holder - would you want return to your own country or is this now out of the question due to potentially being arrested on arrival for releasing cables relating to Australian diplomats and polices?

Julian Assange:
I am an Australian citizen and I miss my country a great deal. However, during the last weeks the Australian prime minister, Julia Gillard, and the attorney general, Robert McClelland, have made it clear that not only is my return is impossible but that they are actively working to assist the United States government in its attacks on myself and our people. This brings into question what does it mean to be an Australian citizen - does that mean anything at all? Or are we all to be treated like David Hicks at the first possible opportunity merely so that Australian politicians and diplomats can be invited to the best US embassy cocktail parties.
girish89
How do you think you have changed world affairs?
And if you call all the attention you've been given-credit ... shouldn't the mole or source receive a word of praise from you?

Julian Assange:
For the past four years one of our goals has been to lionise the source who take the real risks in nearly every journalistic disclosure and without whose efforts, journalists would be nothing. If indeed it is the case, as alleged by the Pentagon, that the young soldier - Bradley Manning - is behind some of our recent disclosures, then he is without doubt an unparalleled hero.
Daithi
Have you released, or will you release, cables (either in the last few days or with the Afghan and Iraq war logs) with the names of Afghan informants or anything else like so?
Are you willing to censor (sorry for using the term) any names that you feel might land people in danger from reprisals??
By the way, I think history will absolve you. Well done!!!

Julian Assange:
WikiLeaks has a four-year publishing history. During that time there has been no credible allegation, even by organisations like the Pentagon that even a single person has come to harm as a result of our activities. This is despite much-attempted manipulation and spin trying to lead people to a counter-factual conclusion. We do not expect any change in this regard.
distrot
The State Dept is mulling over the issue of whether you are a journalist or not. Are you a journalist? As far as delivering information that someone [anyone] does not want seen is concerned, does it matter if you are a 'journalist' or not?

Julian Assange:
I coauthored my first nonfiction book by the time I was 25. I have been involved in nonfiction documentaries, newspapers, TV and internet since that time. However, it is not necessary to debate whether I am a journalist, or how our people mysteriously are alleged to cease to be journalists when they start writing for our organisaiton. Although I still write, research and investigate my role is primarily that of a publisher and editor-in-chief who organises and directs other journalists.
achanth
Mr Assange,
have there ever been documents forwarded to you which deal with the topic of UFOs or extraterrestrials?

Julian Assange:
Many weirdos email us about UFOs or how they discovered that they were the anti-christ whilst talking with their ex-wife at a garden party over a pot-plant. However, as yet they have not satisfied two of our publishing rules.
1) that the documents not be self-authored;
2) that they be original.
However, it is worth noting that in yet-to-be-published parts of the cablegate archive there are indeed references to UFOs.
gnosticheresy
What happened to all the other documents that were on Wikileaks prior to these series of "megaleaks"? Will you put them back online at some stage ("technical difficulties" permitting)?

Julian Assange:
Many of these are still available at mirror.wikileaks.info and the rest will be returning as soon as we can find a moment to do address the engineering complexities. Since April of this year our timetable has not been our own, rather it has been one that has centred on the moves of abusive elements of the United States government against us. But rest assured I am deeply unhappy that the three-and-a-half years of my work and others is not easily available or searchable by the general public.
CrisShutlar
Have you expected this level of impact all over the world? Do you fear for your security?

Julian Assange:
I always believed that WikiLeaks as a concept would perform a global role and to some degree it was clear that is was doing that as far back as 2007 when it changed the result of the Kenyan general election. I thought it would take two years instead of four to be recognised by others as having this important role, so we are still a little behind schedule and have much more work to do. The threats against our lives are a matter of public record, however, we are taking the appropriate precautions to the degree that we are able when dealing with a super power.
JAnthony
Julian.
I am a former British diplomat. In the course of my former duties I helped to coordinate multilateral action against a brutal regime in the Balkans, impose sanctions on a renegade state threatening ethnic cleansing, and negotiate a debt relief programme for an impoverished nation. None of this would have been possible without the security and secrecy of diplomatic correspondence, and the protection of that correspondence from publication under the laws of the UK and many other liberal and democratic states. An embassy which cannot securely offer advice or pass messages back to London is an embassy which cannot operate. Diplomacy cannot operate without discretion and the
protection of sources. This applies to the UK and the UN as much as the US.
In publishing this massive volume of correspondence, Wikileaks is not highlighting specific cases of wrongdoing but undermining the entire process of diplomacy. If you can publish US cables then you can publish UK telegrams and UN emails.
My question to you is: why should we not hold you personally responsible when next an international crisis goes unresolved because diplomats cannot function.

Julian Assange:
If you trim the vast editorial letter to the singular question actually asked, I would be happy to give it my attention.
cargun
Mr Assange,
Can you explain the censorship of identities as XXXXX's in the revealed cables? Some critical identities are left as is, whereas some are XXXXX'd. Some cables are partially revealed. Who can make such critical decisons, but the US gov't? As far as we know your request for such help was rejected by the State department. Also is there an order in the release of cable or are they randomly selected?
Thank you.

Julian Assange:
The cables we have release correspond to stories released by our main stream media partners and ourselves. They have been redacted by the journalists working on the stories, as these people must know the material well in order to write about it. The redactions are then reviewed by at least one other journalist or editor, and we review samples supplied by the other organisations to make sure the process is working.
rszopa
Annoying as it may be, the DDoS seems to be good publicity (if anything, it adds to your credibility). So is getting kicked out of AWS. Do you agree with this statement? Were you planning for it?
Thank you for doing what you are doing.

Julian Assange:
Since 2007 we have been deliberately placing some of our servers in jurisdictions that we suspected suffered a free speech deficit inorder to separate rhetoric from reality. Amazon was one of these cases.
abbeherrera
You started something that nobody can stop. The Beginning of a New World. Remember, that community is behind you and support you (from Slovakia).
Do you have leaks on ACTA?

Julian Assange:
Yes, we have leaks on the Anti-Counterfeiting Trade Agreement, a trojan horse trade agreement designed from the very beginning to satisfy big players in the US copyright and patent industries. In fact, it was WikiLeaks that first drew ACTA to the public's attention - with a leak.
people1st
Tom Flanagan, a [former] senior adviser to Canadian Prime Minister recently stated "I think Assange should be assassinated ... I think Obama should put out a contract ... I wouldn't feel unhappy if Assange does disappear." How do you feel about this?

Julian Assange:
It is correct that Mr. Flanagan and the others seriously making these statements should be charged with incitement to commit murder.
Isopod
Julian, why do you think it was necessary to "give Wikileaks a face"? Don't you think it would be better if the organization was anonymous?
This whole debate has become very personal and reduced on you - "Julian Assange leaked documents", "Julian Assange is a terrorist", "Julian Assange alledgedly raped a woman", "Julian Assange should be assassinated", "Live Q&A qith Julian Assange" etc. Nobody talks about Wikileaks as an organization anymore. Many people don't even realize that there are other people behind Wikileaks, too.
And this, in my opinion, makes Wikileaks vulnerable because this enables your opponents to argue ad hominem. If they convince the public that you're an evil, woman-raping terrorist, then Wikileaks' credibility will be gone. Also, with due respect for all that you've done, I think it's unfair to all the other brave, hard working people behind Wikileaks, that you get so much credit.

Julian Assange:
This is an interesting question. I originally tried hard for the organisation to have no face, because I wanted egos to play no part in our activities. This followed the tradition of the French anonymous pure mathematians, who wrote under the collective allonym, "The Bourbaki". However this quickly led to tremendous distracting curiosity about who and random individuals claiming to represent us. In the end, someone must be responsible to the public and only a leadership that is willing to be publicly courageous can genuinely suggest that sources take risks for the greater good. In that process, I have become the lightening rod. I get undue attacks on every aspect of my life, but then I also get undue credit as some kind of balancing force.
tburgi
Western governments lay claim to moral authority in part from having legal guarantees for a free press.
Threats of legal sanction against Wikileaks and yourself seem to weaken this claim.
(What press needs to be protected except that which is unpopular to the State? If being state-sanctioned is the test for being a media organization, and therefore able to claim rights to press freedom, the situation appears to be the same in authoritarian regimes and the west.)
Do you agree that western governments risk losing moral authority by
attacking Wikileaks?
Do you believe western goverments have any moral authority to begin with?
Thanks,
Tim Burgi
Vancouver, Canada

Julian Assange:
The west has fiscalised its basic power relationships through a web of contracts, loans, shareholdings, bank holdings and so on. In such an environment it is easy for speech to be "free" because a change in political will rarely leads to any change in these basic instruments. Western speech, as something that rarely has any effect on power, is, like badgers and birds, free. In states like China, there is pervasive censorship, because speech still has power and power is scared of it. We should always look at censorship as an economic signal that reveals the potential power of speech in that jurisdiction. The attacks against us by the US point to a great hope, speech powerful enough to break the fiscal blockade.
rajiv1857
Hi,
Is the game that you are caught up in winnable? Technically, can you keep playing hide and seek with the powers that be when services and service providers are directly or indirectly under government control or vulnerable to pressure - like Amazon?
Also, if you get "taken out" - and that could be technical, not necessarily physical - what are the alternatives for your cache of material?
Is there a 'second line' of activists in place that would continue the campaign?
Is your material 'dispersed' so that taking out one cache would not necessarily mean the end of the game?

Julian Assange:
The Cable Gate archive has been spread, along with significant material from the US and other countries to over 100,000 people in encrypted form. If something happens to us, the key parts will be released automatically. Further, the Cable Gate archives is in the hands of multiple news organisations. History will win. The world will be elevated to a better place. Will we survive? That depends on you.

That's it every one, thanks for all your questions and comments. Julian Assange is sorry that he can't answer every question but he has tried to cover as much territory as possible. Thanks for your patience with our earlier technical difficulties.
Source: http://www.guardian.co.uk/world/blog/2010/dec/03/julian-assange-wikileaks

visit chickenfoot.us for more info
Chickenfoot (Joe Satriani, Chad Smith, Michael Anthony, Sammy Hagar) Provide A special holiday treat - "Foxy Lady" live! - This was a great year and we were just feeling thankful for all of you fans and thought we'd share this as a holiday gift. It's an outtake from the Live In Cabo webcast and is a really smoking version of this tune! Have a great holiday season and we'll see you from the studio in the 2011 ! via David Gross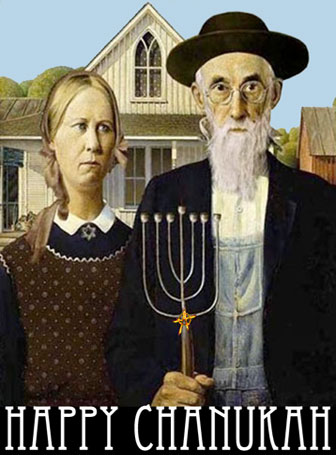 Happy Chanukah via Karl Cohen
An Important Announcement from:
Wasteboro Baptist Church of the Antichrist:
2nd Coming Cancelled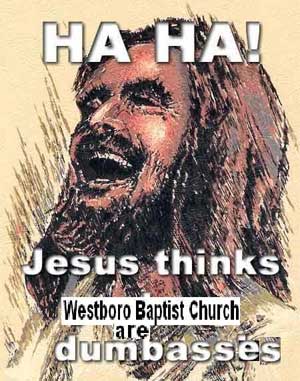 Minister of Satan Phelps Will Publicly Masturbate During National Anthem
as Baptists Swear Jesus said, "Hate One Another and Kill Your EFFn Enemy!"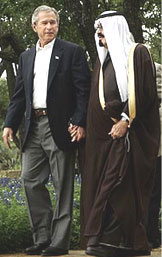 Clinton: Saudi Arabia is cash machine for terror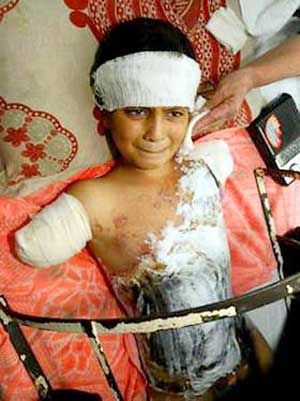 U.S. Congress Liberated Iraqi Boy - Honest People Yell, Atrocity! Atrocity!
'Anyone who harms children is a terrorist.' - GW Bush, War Criminal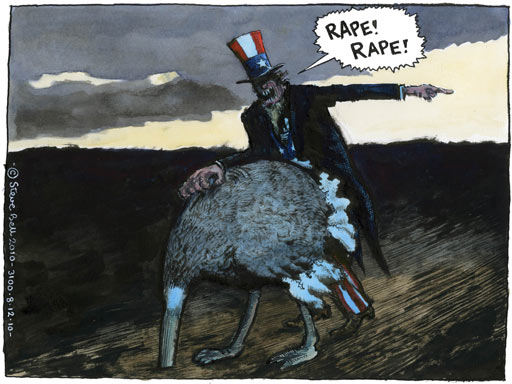 Steve Bell - [WikiLeaks] Uncle Sam, Appearing to Mount An Ostrich, Yells, Rape! Rape!
Live with the WikiLeakable world or shut down the net. It's your choice
Western political elites obfuscate, lie and bluster – and when the veil of secrecy is lifted, they try to kill the messenger
John Naughton, guardian.co.uk, Monday 6 December 2010 20.59 GMT, Article history
'Never waste a good crisis" used to be the catchphrase of the Obama team in the runup to the presidential election. In that spirit, let us see what we can learn from official reactions to the WikiLeaks revelations.
The most obvious lesson is that it represents the first really sustained confrontation between the established order and the culture of the internet. There have been skirmishes before, but this is the real thing.
And as the backlash unfolds – first with deniable attacks on internet service providers hosting WikiLeaks, later with companies like Amazon and eBay and PayPal suddenly "discovering" that their terms and conditions preclude them from offering services to WikiLeaks, and then with the US government attempting to intimidate Columbia students posting updates about WikiLeaks on Facebook – the intolerance of the old order is emerging from the rosy mist in which it has hitherto been obscured. The response has been vicious, co-ordinated and potentially comprehensive, and it contains hard lessons for everyone who cares about democracy and about the future of the net.
There is a delicious irony in the fact that it is now the so-called liberal democracies that are clamouring to shut WikiLeaks down.
Consider, for instance, how the views of the US administration have changed in just a year. On 21 January, secretary of state Hillary Clinton made a landmark speech about internet freedom, in Washington DC, which many people welcomed and most interpreted as a rebuke to China for its alleged cyberattack on Google. "Information has never been so free," declared Clinton. "Even in authoritarian countries, information networks are helping people discover new facts and making governments more accountable."
She went on to relate how, during his visit to China in November 2009, Barack Obama had "defended the right of people to freely access information, and said that the more freely information flows the stronger societies become. He spoke about how access to information helps citizens to hold their governments accountable, generates new ideas, and encourages creativity." Given what we now know, that Clinton speech reads like a satirical masterpiece.
One thing that might explain the official hysteria about the revelations is the way they expose how political elites in western democracies have been deceiving their electorates.
The leaks make it abundantly clear not just that the US-Anglo-European adventure in Afghanistan is doomed but, more important, that the American, British and other Nato governments privately admit that too.
The problem is that they cannot face their electorates – who also happen to be the taxpayers funding this folly – and tell them this. The leaked dispatches from the US ambassador to Afghanistan provide vivid confirmation that the Karzai regime is as corrupt and incompetent as the South Vietnamese regime in Saigon was when the US was propping it up in the 1970s. And they also make it clear that the US is as much a captive of that regime as it was in Vietnam.
The WikiLeaks revelations expose the extent to which the US and its allies see no real prospect of turning Afghanistan into a viable state, let alone a functioning democracy. They show that there is no light at the end of this tunnel. But the political establishments in Washington, London and Brussels cannot bring themselves to admit this.
Afghanistan is, in that sense, a quagmire in the same way that Vietnam was. The only differences are that the war is now being fought by non-conscripted troops and we are not carpet-bombing civilians.
The attack of WikiLeaks also ought to be a wake-up call for anyone who has rosy fantasies about whose side cloud computing providers are on. These are firms like Google, Flickr, Facebook, Myspace and Amazon which host your blog or store your data on their servers somewhere on the internet, or which enable you to rent "virtual" computers – again located somewhere on the net. The terms and conditions under which they provide both "free" and paid-for services will always give them grounds for dropping your content if they deem it in their interests to do so. The moral is that you should not put your faith in cloud computing – one day it will rain on your parade.
Look at the case of Amazon, which dropped WikiLeaks from its Elastic Compute Cloud the moment the going got rough. It seems that Joe Lieberman, a US senator who suffers from a terminal case of hubris, harassed the company over the matter. Later Lieberman declared grandly that he would be "asking Amazon about the extent of its relationship with WikiLeaks and what it and other web service providers will do in the future to ensure that their services are not used to distribute stolen, classified information". This led the New Yorker's Amy Davidson to ask whether "Lieberman feels that he, or any senator, can call in the company running the New Yorker's printing presses when we are preparing a story that includes leaked classified material, and tell it to stop us".
What WikiLeaks is really exposing is the extent to which the western democratic system has been hollowed out. In the last decade its political elites have been shown to be incompetent (Ireland, the US and UK in not regulating banks); corrupt (all governments in relation to the arms trade); or recklessly militaristic (the US and UK in Iraq). And yet nowhere have they been called to account in any effective way. Instead they have obfuscated, lied or blustered their way through. And when, finally, the veil of secrecy is lifted, their reflex reaction is to kill the messenger.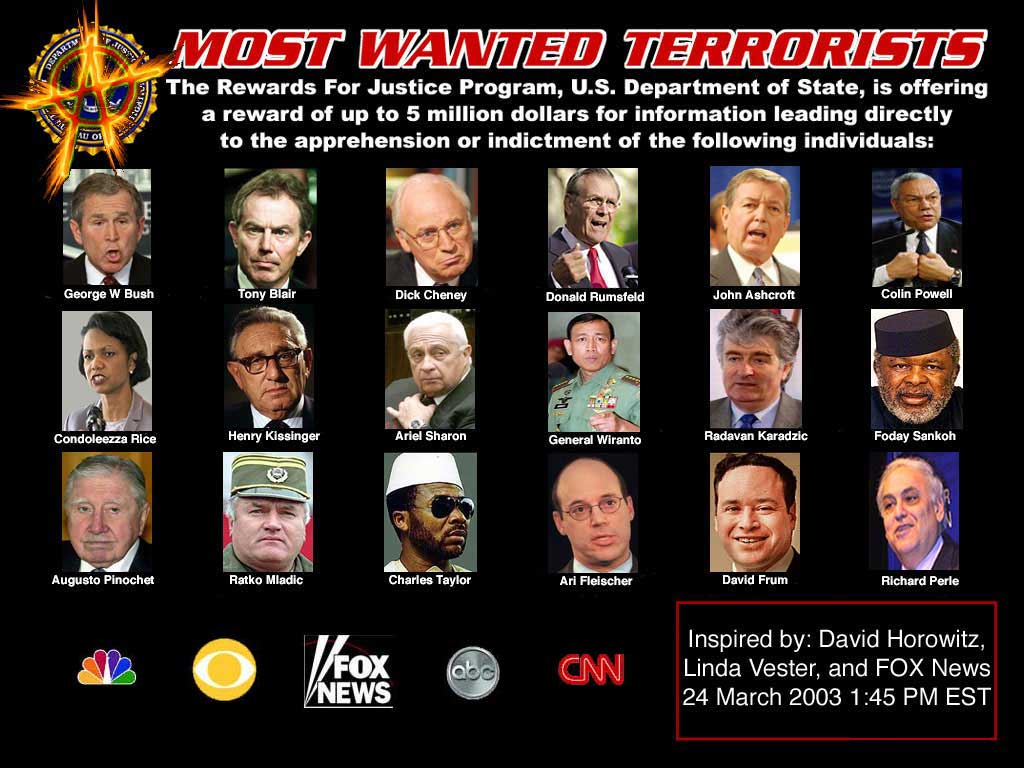 As Simon Jenkins put it recently in the Guardian, "Disclosure is messy and tests moral and legal boundaries. It is often irresponsible and usually embarrassing. But it is all that is left when regulation does nothing, politicians are cowed, lawyers fall silent and audit is polluted. Accountability can only default to disclosure." What we are hearing from the enraged officialdom of our democracies is mostly the petulant screaming of emperors whose clothes have been shredded by the net.
Which brings us back to the larger significance of this controversy. The political elites of western democracies have discovered that the internet can be a thorn not just in the side of authoritarian regimes, but in their sides too. It has been comical watching them and their agencies stomp about the net like maddened, half-blind giants trying to whack a mole. It has been deeply worrying to watch terrified internet companies – with the exception of Twitter, so far – bending to their will.
But politicians now face an agonising dilemma. The old, mole-whacking approach won't work. WikiLeaks does not depend only on web technology. Thousands of copies of those secret cables – and probably of much else besides – are out there, distributed by peer-to-peer technologies like BitTorrent. Our rulers have a choice to make: either they learn to live in a WikiLeakable world, with all that implies in terms of their future behaviour; or they shut down the internet. Over to them.
http://www.guardian.co.uk/commentisfree/cifamerica/2010/dec/06/western-democracies-must-live-with-leaks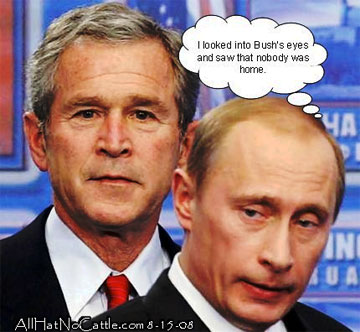 US 'lobbied Russia on behalf of Visa and MasterCard' -- Image Source
MasterCard site partially frozen by hackers in WikiLeaks 'revenge'
Operation: Payback hacks into MasterCard site over payment network's decision to cease taking donations to WikiLeaks
Esther Addley, guardian.co.uk, Wednesday 8 December 2010 12.02 GMT, Article history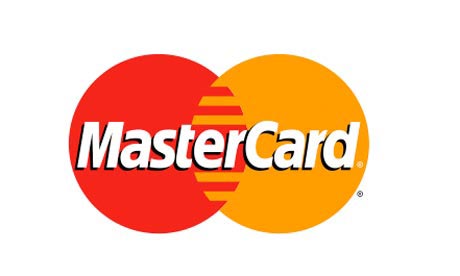 Mastercard was partially frozen by hackers in WikiLeaks 'revenge'. Photograph: Mastercard
The website of MasterCard, the international credit card, has been hacked and partially paralysed by hackers, in apparent revenge for the payment network's decision to cease taking donations to WikiLeaks.
A group of online activists calling themselves Anonymous appear to have orchestrated a DDOS ("distributed denial of service") attack on the site, bringing its service at www.mastercard.com to a halt for many users.
"Operation: Payback" is the latest salvo in the increasingly febrile technological war over WikiLeaks. MasterCard announced on Monday that it would no longer process donations to the whistleblowing site, claiming it was engaged in illegal activity.
The group, which has been linked to the influential internet messageboard 4Chan, has been targeting commercial sites which have cut their ties with WikiLeaks. The Swiss bank PostFinance has already been targeted by Anonymous after it froze payments to WikiLeaks, and the group has vowed to target Paypal, which has also ceased processing payments to the site. Other possible targets are EveryDNS.net, which suspended dealings on 3 December, Amazon, which removed WikiLeaks content from its EC2 cloud on 1 December, and Visa, which suspended its own dealings yesterday.
The action was confirmed on Twitter at 9.39am by user @Anon_Operation, who later tweeted: "WE ARE GLAD TO TELL YOU THAT http://www.mastercard.com/ is DOWN AND IT'S CONFIRMED! #ddos #wikileaks Operation:Payback(is a bitch!) #PAYBACK"
No one from MasterCard could be reached for immediate comment, but a spokesman, Chris Monteiro, has said the site suspended dealings with WikiLeaks because "MasterCard rules prohibit customers from directly or indirectly engaging in or facilitating any action that is illegal".
DDOS attacks, which often involve flooding the target with requests so that it cannot cope with legitimate communication, are illegal.
http://www.guardian.co.uk/media/2010/dec/08/mastercard-hackers-wikileaks-revenge
The Antichrist will refer to war as peace

, death as a solution for justice

, and serving the wealthy as a means of helping the poor

.

Imagine - Chet Atkins & Mark Knopfler (1987)
Wireless Digital Communications Was Started in the United States
by Dr. Hank Magnuski, Co-founder of the Pacific Packet Radio Society,
December 10, 1980



Pacific Packet Radio Society gateway | history | photos | papers | links | packet audio | video
Pacific Packet Radio Society
30th Anniversary - Today
Historic KA6M Digital Packet Radio Repeater
First United States Wireless Data Communications
August 11th, 1981
Dear Packet Radio Enthusiast,
Thanks very much for the letter of inquiry which you sent me. The response I've received to the initial publicity about the packet repeater has been very enthusiastic, and I have been deluged with requests from hams, both locally and from various points around the country, for more information about the repeater, for schematics, for listings, specifications, modems, proms, SDLC chips, Vancouver boards, and for talks at clubs. Needless to say, all this activity, plus continuing development on the packet hardware and software has kept me very busy, and I apologize for the long delay in responding to your letter. Let me bring you up to date on what has happened, or is happening, since the initial announcement of the repeater, which went on the air in December of 1980.
In the early months of this year, the packet repeater was operating out of my residence, and was still an experimental machine. Since then, we have installed a couple of upgrades to the control software, we have used a better CPU card, increased the power level, moved the repeater to 700 feet elevation, and integrated its operation to be 100% compatible with the protocol used by the Vancouver Digital Communications Group (VADCG). The repeater has changed from being a laboratory curiosity to a major Bay Area repeater heard from Berkeley to south San Jose, and the user community has grown from a couple of stations to a network of some 30 users. The packet system here now has a mailbox on-line 24 hours a day, several on-line personal computers, and network links (courtesy of a commercial packet network) to the other active packet radio centers in Vancouver and Ottawa. We have also just installed an HF port on 20 Meters, and are beginning some experiments aimed at establishing connection with AMRAD in Washington and with equipment located at W1AW.
Most of the original packet radio experiments were done in Canada (in part due to the Canadians' pioneering communications spirit, and in part due to less restrictive regulations up there), and three main centers were at work: Montreal, Ottawa and Vancouver. The technology employed by each of these groups differed, and each approach has its own merits. My thinking and ideas very closely paralleled the work started by Doug Lockhart, VE7APU, and I can best report on what is happening with groups which have adopted HDLC (High-level Data Link Control) framing as the basis of their protocol. The HDLC/ SDLC frame is a new, universally accepted standard in the data communications industry, and Doug and I feel it offers a good starting point on which to build a packet radio network. As it turns out, groups in Washington D.C., Los Angeles, El Paso, Denver, Sacramento, and Hamilton have also taken up this technology, and it is likely that we already have a sufficient number of people using this technique that it will become the defacto standard in the amateur radio community.
It would be impossible for me to completely describe the protocol and equipment being used in this letter, so I will briefly cover some of the topics and give you some pointers on where to find additional information. As you might guess, this is a new area for amateur radio, and tutorial material and handbooks simply do not yet exist. Many issues and problems remain to be discussed, and there is opportunity to make substantial contributions to the state of the art. [Snip] [Continue Reading]
Thanks again for your interest. See you on the net. Best regards, Hank Magnuski, KA6M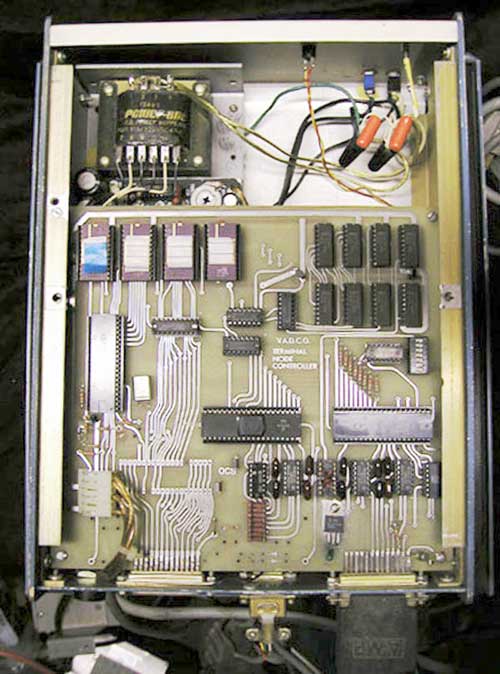 VADCG TNC built by ~@~ PPRS photos
More Papers and History: http://www.pprs.org/pprspapers.html


Speaking in Tongues a film by Marcia Jarmel and Ken Schneider
Speaking in Tongues and Dreaming in Chinese
by Patrick Cox, September 17, 2010
A new PBS documentary, Speaking in Tongues, follows four students and their families at dual immersion schools in San Francisco. The film offers evidence that the study of math, science and other subjects in more than one language gives students an edge, despite what some disapproving relatives might think.
I heard about this film many months ago. What really intrigued me about it was that the filmmakers -- Marcia Jarmel and her husband Ken Schneider -- have a big stake in this subject themselves. Ten years ago, they enrolled their older son into a Chinese immersion elementary school. A few years later, they did the same with their other son. It seemed to me that the best way to do a story about the film was to do a story about the Jarmel-Schneider family. So I interviewed them all at their house in the Richmond District of San Francisco (where many local stores are owned by Chinese speakers).
Of the four school students profiled in Speaking in Tongues, one is close in circumstance and motivation to the two Jarmel-Schneider boys. Julian Ennis is a high school sophomore, whose white middle class American parents have no obvious link to China or the Chinese language. Yet their son is taking the highest level of Chinese offered in San Francisco schools. He -- and they -- are in it for cultural exposure, as global citizens.
Among the the others profiled, Durell Laury is attending a Chinese immersion elementary school. He is the only kid from his housing project going to that school. He mother says learning Chinese is "a way in and a way out." There's also Jason Patiño, attending Spanish immersion school. His Mexican parents -- who didn't attend a day of school themselves -- listen to other Spanish speaking parents at the school, as they demand more English be spoken. But without the Spanish Jason is learning in class, chances are he'd forget the language of his parents.
Finally there's Kelly Wong, whose Chinese-American parents speak virtually no Chinese. Kelly is learning both Mandarin and Cantonese. This allows her, among other things, to have a meaningful relationship with her Cantonese-speaking grandmother. There's one extraordinary scene at a family banquet, at which her great aunt objects to her learning Chinese, while another family member defends the decision to send her to Chinese immersion school. That scene feels like it could one day be America writ large, as migration and globalization bring the world to America, and the idea of bilingualism takes hold -- and not just in polyglot places like San Francisco.
Local listings for Speaking in Tongues are here.
Also, I talk with linguist Deborah Fallows on living in China and learning Chinese. In Chinese, she says, rude is polite, and brusque is intimate. This comes out in all kinds of disorienting (no pun intended) ways, but the bottom line is, if people feel close to you in China, they will use a language of intimacy. That's another way of saying they will dispense with please, thank you and other niceties. Their language is likely to seem harsh and abrupt. Just remember: it's a compliment! Check out other interviews Fallows did with Time and NPR. Better yet, listen to my interview with her, which is longer, weirder and funnier: we do Chinese names for foreigners, English names for Chinese people, and what happened to the language during the Sichuan earthquake. Here's her book in the United States and the UK.
http://www.theworld.org/2010/09/17/speaking-in-tongues-and-dreaming-in-chinese/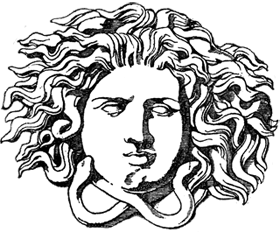 Steve Bell - On U.S. Torture
One Anonymous hacker said: "I've rambled on and on about the 'oncoming internet war' for years. I'm not saying I know how to win. But I am saying the war is on."
Toxic Chemicals Lobby: Exclusive Leaked Footage

This Is Your Brain On Hard Drugs:

Clandestine Republican Leader, Convicted Serial Hard Drug LULZr?
There's nothing good about drug use. We know it. It destroys individuals. It destroys families. Drug use destroys societies. Drug use, some might say, is destroying this country. And we have laws against selling drugs, pushing drugs, using drugs, importing drugs. And the laws are good because we know what happens to people in societies and neighborhoods, which become consumed by them. And so if people are violating the law by doing drugs, they ought to be accused and they ought to be convicted and they ought to be sent up.
What this says to me is that too many whites are getting away with drug use. Too many whites are getting away with drug sales. Too many whites are getting away with trafficking in this stuff. The answer to this disparity is not to start letting people out of jail because we're not putting others in jail who are breaking the law. The answer is to go out and find the ones who are getting away with it, convict them and send them up the river, too. - Rush Limbaugh - Convicted Republican Hard Drug Hypocrite
Backdoors Are One Thing,
Murdering John O'Neill Is Another ???
PEN Oakland Awards Announced; Ceremony at Rockridge Branch Library
Saturday December 11, 2010, 2 – 5 p.m.
Rockridge Branch Library, 5366 College Ave.
(Oakland) – The 20th Annual PEN Oakland– Josephine Miles National Literary Awards have been announced for books released in 2009. The awards ceremony at Rockridge Branch Library, followed by a reception and book signings, is free and open to the public. Former state Senate President Pro Tem Don Perata will be the keynote speaker.
PEN Oakland, dubbed "the blue collar PEN" by the New York Times, is a chapter of PEN International. PEN Oakland annually sponsors the PEN Oakland– Josephine Miles Book Awards, named for the late poet and faculty member of U.C. Berkeley's English Department.
The 2010 PEN Oakland- Josephine Miles Literary Award winners are (for books published in 2009):
Clifton Ross . Translations from Silence: New and Selected Poems. Freedom Voices. (poetry)
Elizabeth Nunez . Anna In-Between. Akashic Press. (fiction)
Etel Adnan . Master of the Eclipse. Interlink Publishing Group. (fiction)
Manuel Ruben Delgado . The Last Chicano. Authorhouse Publications. (memoir)
Andrena Zawinski . Something About. Blue Light Press/First World Publishing. (poetry)
Maria Espinosa . Dying Unfinished. Wings Press. (fiction/memoir)
Mitch Horowitz . Occult America: The Secret History of How Mysticism Shaped Our Nation. Bantam. (non-fiction)
Ivan J. Houston . Black Warriors: The Buffalo Soldiers of World War II: Memories of the Only Negro Infantry Division to Fight in Europe. iUniverse. (non-fiction)
Journalist Richard Prince is the winner of the 2010 Censorship Award.
Satirist Paul Krassner and the late author and publisher Vance Bourjaily will each receive Lifetime Achievement Award.
Source: http://www.oaklandlibrary.org/PR/pr120210pen.htm
Back Room Wines welcomes author Paul Krassner,
Sunday, Dec 12 4:00p
at Back Room Wines, Napa, CA
who will be at the wine shop on Sunday, December 12 at 4 pm to read from a new, expanded and updated edition of his autobiography, "Confessions of a Raving, Unconfined Nut: Misadventures in the Counterculture" with a Q & A session to follow.
Mr. Krassner's new book will be available for sale and his signing on the afternoon of the reading.
A selection of wines by the glass will be available for purchase during the reading.
Additional Information: Book reading, Q&A, and book signing by Paul Krassner at Back Room Wines is on Sunday, December 12 at 4 PM. No reservation necessary. We look forward to seeing you here.
Source: https://www.backroomwines.com/visit/event-details.aspx?id=105
Mike Wilhelm, on 12/06/2010, writes:
Found this track in my flash drive. From my Japan tour April/May '95. Don't remember exactly where or who the musicians are but I'm playing my Rickenbacker 450 12-string. Just a jam but I started singing Two Trains Runnin' so I guess that's the title.
http://www.flyingsnail.com/Podcast/TwoTrainsRunnin.mp3 - Mike's Home Page
On 12/09/2010 Mike writes: Here's a link to a rare Monica Dupont video [now embeded below].
La storia della musica reggae e ska con Lloyd Bradley @ ShaKe
Venerdì 17 dicembre dalle ore 21.30 @ Spazio Pubblico Shake - Libreria Interno 4 - viale Bligny 42, Milano (MM2/MM3, tram 9)
Incontro con uno dei padrini mondiali della storia della musica reggae e ska, da Londra: Lloyd Bradley, autore di "Bass culture" la più completa storia della musica giamaicana mai scritta. Già muscista in un sound system negli anni Sessanta, Lloyd scrive su NME, Black Music Magazine, The Guardian e Mojo.
Partecipa alla serata Franco Scarpellini, fondatore degli Arpioni uno dei gruppi ska italiani più longevi e famosi, che hanno lavorato con Laurel Aitken, Roy Paci e Tonino Carotone.
Con proiezioni di video, foto e musica roots!
Traduzione inglese/italiano simultanea, ingresso gratis
http://www.shake.it/ - Google Translate
The Beatles Comics featuring John Flores
http://www.thebeatlescomics.com/paintings - John Flores #1 - #2 - #3 - #4
THE DIGITAL STORY OF NATIVITY - ( or Christmas 2.0 )
via Hank
Batelco - INFINITY
via Hal
COURAGE TO RESIST, SF BAY AREA ACTION ALERT
via Cat
STAND UP FOR PEACE!
STOP THESE WARS!
Thursday, December 16 - 12 Noon to 2 PM
New Federal Building, 7th & Mission Streets, San Francisco
U.S. Military Veterans to lead Civil Resistance in San Francisco In Solidarity with the Veterans for Peace at the White House ... Join Courage to Resist in holding the "Free Bradley Manning" banner!
Coinciding with the December 16 national rally and civil resistance of veterans and supporters at the White House demanding an end to the ongoing U.S. wars and occupations – in San Francisco at the Federal Building, there will be a veterans-led civil resistance. Among the local speakers will be Congressional Medal of Honor awardee Charlie Liteky. The Civil Resistance will include a Die In at the Federal Building representing all those who have died in these wars – American and NATO soldiers and the people of Iraq, Afghanistan and Pakistan.
Contact: Vets for Peace: 415-255-7331 or Richard Sanderell: 415-642-8395
RALLY TO SUPPORT WIKILEAKS
FREE BRADLEY MANNING
Thursday, December 16 - 4 PM to 6 PM
Market St at Sutter and Sansome
(near British Consulate at 1 Sansome St)
Defend Online Expression! Free Julian Assange! Free Bradley Manning!
Speakers include Rainey Reitman, Electronic Frontier Foundation staff activist, and Jeff Paterson, Courage to Resist project director.
This will be a flashmob protest to demand the freedom and release of Julian Assange, the founder of Wikileaks, who is being detained unrightfully on false charges that are being attached to him only to censor him and the revolutionary website which exposes corruption and truth behind so many political agendas. This protest is to demonstrate that the censorship and cover-ups are NOT going un-noticed here in the Bay Area, and that in this day and age we will no longer accept censorship and corruption to this level, especially when it is so blatant. Let's defend our rights as citizens of this world, and lets demand an end to censorship, oppression and control by our governments...and of course FREEDOM OF SPEECH AND PRESS! Madrid held a powerful and revealing protest the other day, let's do the same in the city by the bay. This is of global importance and we cannot watch while lies and deceit are being exercised right in front of our faces!
On 12/14/2010 at 1:14 UTC - Salon's Glenn Greenwald Tweeted: A major story brewing is the cruel, inhumane treatment - torture - to which Bradley Manning is being subjected. - Current Articles at Salon
Ayin Tachat Ayin, 7 Dead In San Bruno
Call For Public Stoning of 6 PG&E and 1 CPUC Executives
Starting from the Top: PG&E: Christopher (Chris) P. Johns, John (Jack) S. Keenan, Desmond (Des) A. Bell, Thomas (Tom) E. Bottorff, Helen A. Burt, John T. Conway, - CPUC: Paul Clanon. They got away with murder, again, and God will provide the dope!
Criminal Congress, Fat With Lobby Money,
Attempt to Stifle Truth & Freedom of Press

Martin Rowson
Even Steven, on 201012.16, writes: This Saturday's Boptime will be devoted to this time in 1952 with music from Broadway, plus Latin music, jazz, pop and R&B.
Palin/Huckabee: Assassinate Traitors?
Rupert's Butt Boys Speak:

Martin Rowson
Congress is concerned about bringing WikiLeaks to trial because it was pointed out, by an official at the 12/16/10 hearing, a 'Vice President had authorized the Plame Outing (a real crime), and that in defense of WikiLeaks, this Espionage act, could be entered into evidence'. - PairOfDucks
Homeland Security nominee - criminal **Bernard Kerik**
HOMELAND SECURITY

Who Is Bernard Kerik?

Over the last several years, former NYC police commissioner Bernard B. Kerik, President Bush's nominee to be the next Secretary of Homeland Security, has become "a multimillionaire as a result of a lucrative partnership with former Mayor Rudolph W. Giuliani." Indeed, the New York Daily News suggests, Kerik's selection was less based on merit than it was on Giuliani's "pull within the White House" and "Kerik's work on the campaign trail" for Bush. Kerik's record, however, raises serious question about his motives, ethics and ability to defend America. Kerik abruptly quit a critical job in Iraq, mismanaged rescue efforts in the aftermath of 9/11, used his official posts for personal enrichment and has been plagued by serious scandals. Here is a detailed look behind the mustache:

KERIK ABANDONS CRITICAL POST IN IRAQ TO TAKE A VACATION: The Washington Post reports that Kerik's track record on issues of national security is "spotty." Appointed by President Bush to train a new Iraqi police force in 2003, "Kerik came under criticism for inadequate screening of recruits as U.S. authorities rushed to deploy the force. It has been plagued by desertions and by allegations that insurgents have infiltrated the ranks." Worse, Kerik "quit four months into his six-month tenure in Iraq, telling New York reporters later that he needed a vacation."

KERIK CRITICIZED BY CONSERVATIVES FOR POST-9/11 OPERATIONS: A prominent Republican member of the Sept. 11 commission, former Navy secretary John F. Lehman, sharply criticized Kerik "for failures of leadership during the terrorist attacks" of 9/11. Lehman said that Kerik allowed turf battles with the Fire Department to "hamper rescue efforts" and called Kerik's leadership at the time "not worthy of the Boy Scouts."

KERIK SENT COPS OUT OF NYC TO RESEARCH HIS PERSONAL MEMOIRS: As police commissioner of NYC, Kerik used city police officers – who could have been protecting the people of New York – to help him write a book he would sell for personal profit. The Washington Post reports that the New York City Conflicts of Interest Board fined Kerik $2,500 for "sending two police officers to Ohio to help research his best-selling 2001 memoir, 'The Lost Son.'"

KERIK'S STUNNING CONFLICT OF INTEREST: Kerik has made $6.2 million dollars in profits from his relationship "with Taser International, a Scottsdale, Ariz., manufacturer of stun guns." Kerik was appointed as a director of the company immediately after he had the NYPD purchase the guns as police chief. Since 2002, Kerik has hawked Taser's products to police departments around the country. Recently the company has made an "aggressive push to enter markets either regulated or controlled by the federal government, most notably the Department of Homeland Security." Thomas Smith, the company president, said the company would "continue to go after that business" at the Department of Homeland Security should Kerik be confirmed.

KERIK'S DIRTY DOOR DEAL: Failing to follow proper bidding procedures, Kerik spent $50,000 on four security doors for the NYC police headquarters. The doors were all too heavy for the floors of the police headquarters and three are now in storage. Shortly after leaving his post as commissioner, "Kerik became an adviser to a company distributing the doors." He later renounced the post after "the door-maker's president was indicted for defrauding the city."

KERIK SHILLS FOR THE DRUG INDUSTRY: In April, the Washington Post reported that Kerik opened a high-priced consulting firm to sell his New York City police credentials to wealthy corporate bidders. The firm was promptly hired by the pharmaceutical industry's chief lobbying group to build opposition to letting American seniors purchase lower-priced, FDA-approved medicines from Canada. Without any evidence, Kerik claimed reimportation could "invite terrorists to launch a biological attack under the guise of a legal purchase."

KERIK ACCUSED OF FORCING GUARDS TO DO POLITICAL WORK: Newsweek reports that in 1999, Kerik "was named in a civil lawsuit as the architect of a system to force prison guards to work for Republicans in their off-hours." The suit, brought by a warden, claimed that Kerik would "hunt down" anyone deemed "disloyal." The suit was settled, with the warden winning $300,000 and a promotion, while Kerik's protégé was indicted in connection the scandal.
http://demopedia.democraticunderground.com/discuss/duboard.php?az=view_all&address=389x2032747
NYC: Emergency Demonstration, Fri, Dec. 17
SUPPORT GEORGIA PRISONERS STRIKE
5 to 6pm - CNN HQ in NYC - 59th St & 10 Columbus Circle - (Subways A, B, C, D, 1)
Tell CNN: "Cover the prisoners' demands of the largest prison strike in U.S. history."
http://www.iacenter.org/prisoners/prisoner-strike121610/
Captain Beefheart, who has died aged 69, was provocative and unpredictable
The influence of Don Van Vliet, aka Captain Beefheart, stretched from the Grateful Dead to the Sex Pistols and beyond
Ewen MacAskill in Washington, The Guardian, Saturday 18 December 2010, Article History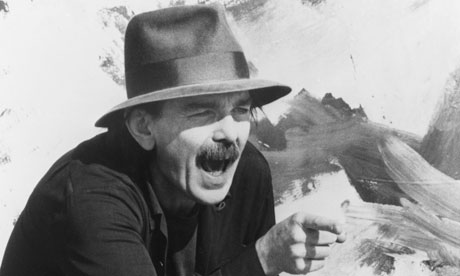 Captain Beefheart changed his name from Don Van Vliet at the suggestion of Frank Zappa. Photograph: EMI publishing
Don Van Vliet, better-known as Captain Beefheart, one of the most influential American musicians of the 1960s and 1970s and avant garde frontman of the Magic Band, has died in California, aged 69. A representative of the Michael Werner Gallery, in New York, which hosted several of his art exhibitions, confirmed his death from complications from multiple sclerosis in a statement yesterday.
With a mixture of Chicago blues, jazz, rock and his own experimental music his reach and influence stretched from the Grateful Dead and Jefferson Airplane in America to Jethro Tull, Hawkwind and Roxy Music in the UK. His biggest legacy may have been his influence on the punk movement, cited by several key figures as an influence, including Johnny Rotten.
Beefheart was a close friend of the late Frank Zappa, who played in the same group with him as teenagers and although they had a love-hate relationship they would play together later in life. Zappa often supported him – sometimes financially – at various key points in his life, and gave him a recording contract when other labels would not touch him.
As children they would listen to old rhythm and blues records, dreaming of projects that mostly came to nothing. One was to make a film called Captain Beefheart meets the Grunt People, which never happened but introduced the name by which he would later become known.
Born Don Glen Vliet, he later changed his name to Don Van Vliet, before changing it on the suggestion of Zappa to the stage name Captain Beefheart.
Singing and writing songs and playing harmonica and saxophone, he was backed by the Magic Band, a succession of musicians with as unlikely names as his own – Winged Eel Fingerling, Zoot Horn Rollo, the Mascara Snake and Rockette Morton – with whom he played between 1965 and 1982. They completed a dozen albums, of which the best-remembered is 1969's Trout Mask Replica, placed at number 58 on Rolling Stone's list of the 500 Greatest Albums of All Time.
Although his style was rhythm and blues based he introduced a completely unorthodox approach to structure, rhythm and key. The band wore a mixture of cloaks and second hand outfits, and the Captain wore a hat, usually a topper, which became his trademark.
He was a provocative and unpredictable figure, given to primal screams into the microphone or even grunts and was outspoken and candid about the music industry and the people in it.
He disbanded his group – or they abandoned him – in the 1980s, with some complaining he ran a regime that was little short of tyrannical. He concentrated instead on painting and became reclusive.
Tom Waits, another musician who was influenced by Beefheart, said of him: "Once you've heard Beefheart, it's hard to wash him out of your clothes. It stains, like coffee or blood."
He stubbornly refused to conform and that was perhaps one of the main reasons that commercial success eluded him as a musician, although he was fond of the lifestyle that success brought.
He loved fast cars and owned variously a Hudson, a Corvette and a Jaguar. However it was his art that brought him more commercial success: despite having no formal training he drew and painted throughout his recording career.
His first exhibition was in Liverpool at the Bluecoat Gallery in April 1972, while he was touring in England. In 1982, on the advice of New York art dealer Michael Werner that he would never be taken seriously as a painter unless he gave up music, Beefheart turned seriously to art.
In the past few years he gained a reasonable reputation as an artist, mainly doing large abstracts in oils, and was able to demand high prices for his work.
The Michael Werner Gallery, in a statement carried by Rolling Stone magazine, said: "Don Van Vliet was a complex and influential figure in the visual and performing arts." It described him as one of the most original recording artists. "
"After two decades in the spotlight as an avant-garde composer and performer, Van Vliet retired from performing to devote himself wholeheartedly to painting and drawing. Like his music, Van Vliet's lush paintings are the product of a truly rare and unique vision."
He leaves behind his wife of more than 40 years, Jan.
http://www.guardian.co.uk/music/2010/dec/18/captain-beefheart-died-provocative-unpredictable
Boot Fedora 14 on compaq nc6000 using external USB hard drive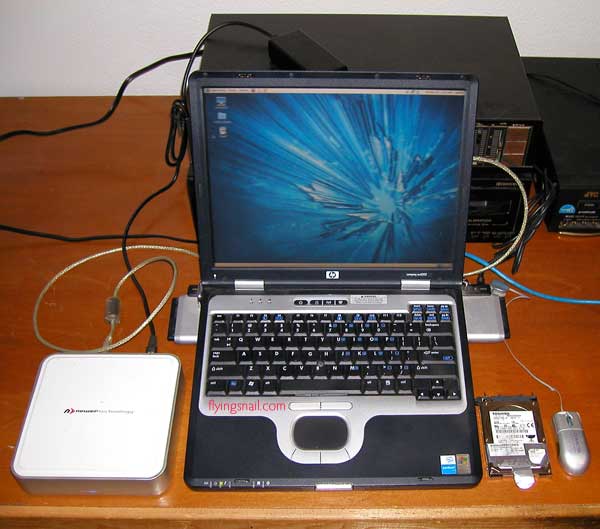 Plus: A little Mac file and folder recovery from a 'spiked USB drive'
Keywords: boot, USB Drive, hp, compaq, nc6000, Fedora 14, success
http://www.flyingsnail.com/Mac/hp_compaq_nc6000_usb_fedora14.html
Xeth writes: New Holiday Cartoon - A musical extravaganza soon to become a beloved classic(?): "(I'm Gonna) Hang Myself By Christmas" - Enjoy and Season's Greetings!:
My Brother Amestizo Shares A Vision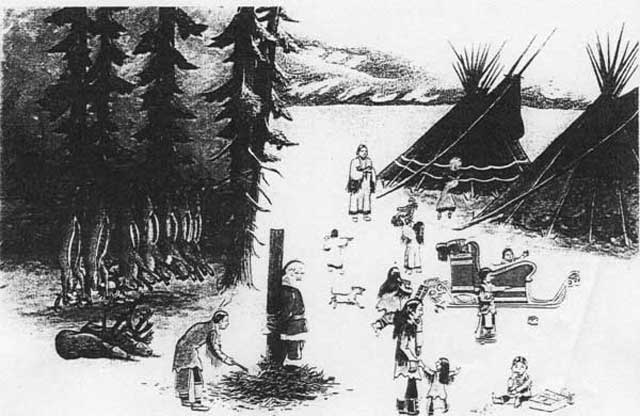 UN Declaration Sets New Agenda for US-Indian Relations
Op Ed by Robert T. Coulter
Today, the United States government at last officially endorsed the UN Declaration on the Rights of Indigenous Peoples and joined the international community in recognizing that American Indians and other indigenous peoples have a permanent right to exist as peoples, nations, cultures, and societies.
The United States is the last of the four countries that voted against the UN Declaration in the UN to reverse its position. This endorsement reflects the worldwide acceptance of indigenous peoples and our governments as a permanent part of the world community and the countries where we live. The Declaration on the Rights of Indigenous Peoples is the most significant development in international human rights law in decades. International human rights law now recognizes the rights of indigenous peoples as peoples, including rights of self-determination, property, and culture.
For me, the United States' endorsement of the UN Declaration marks the culmination of over three decades of hard work by indigenous peoples and other members of the international human rights community. In 1976, when the Six Nations and I began the work of drafting and proposing a declaration to be adopted by the United Nations, we did not know that our idea would one day be universally accepted and supported first by indigenous peoples and eventually by the countries of the world. We knew of the terrible inadequacy of legal regimes and the gross violations of indigenous peoples' human rights in most countries. We turned to international law primarily because of the need to overcome and improve national laws and practices and because of the desire to regain a place for indigenous peoples in the international community.
Our work to ensure justice for Indian nations in this country begins in earnest with the United States' endorsement of the UN Declaration. To see the promise of the Declaration become a reality, we must continue to fight for laws, policies and relationships that take into account the permanent presence of Indian nations in this country, and throughout the world.
The Declaration sets an agenda for the United States and Indian nations to design a reasonable approach to a progressive realization of the duties and responsibilities in it. It serves as a guide for consultations among Indian and Alaska Native nations and U.S. governmental departments and agencies to improve the government-to-government relationship among Indian and Alaska Native nations and the United States.
In our work for Indian rights, we can and should use the UN Declaration on the Rights of Indigenous Peoples as a powerful affirmation of our rights. Only through continued use will its provisions become our reality. We can use the Declaration to evaluate laws that are now on the books and for laws that may be proposed. Does the law measure up to the standards of the Declaration? Does the law or bill satisfy the requirements of the Declaration? It should. And if it does not, then it should be changed or discarded.
The Declaration can also be used as a guide for procedures and processes in dealing with indigenous peoples. Some of the most important rights in the Declaration are the right to participate in the decision-making process and the right to be consulted on important matters relating to indigenous peoples. The rights proclaimed in the Declaration can also be used to defend against proposals and actions that violate Indian rights. The Declaration can be used in this way by all people: Indian leaders, public officials, educators, and others.
The Declaration can also be used to support and advocate for positive legislation and positive government action relating to Indian peoples. In particular, the Declaration can be used as a basis for making demands that the federal government fulfill its responsibilities to tribes and carry out its obligations to promote and respect the human rights of Indian nations and tribes. Congress needs to hold hearings to examine the United States' human rights obligations to Indians and to assess whether existing laws and policies adequately respect the rights established in international law.
Continuing to work in this way to ensure justice for Indian peoples is the best way to celebrate and honor the United States' endorsement of the UN Declaration on the Rights of Indigenous Peoples. This is a very important first step in the process. We thank all of the advocates, leaders and government officials who have made this vision of freedom and equality a reality.
Chi Megwetch
http://turtletalk.wordpress.com/2010/12/16/un-declaration-sets-new-agenda-for-us-indian-relations/
The myth of a Christian nation
Written by James BlueWolf, Friday, 03 December 2010
I've decided to write a few essays about current events. This is not a diatribe against Christianity, it is an attempt to set the historical record straight.

The first current event of importance is the mobilization of American Christian fundamentalism against a "foreign" religion; in this case Islam.

This is as traditionally American as apple pie. Numerous modern presidents have sought to sustain the myth that the United States was founded as a Christian nation for their own political reasons and, in today's divided America, it is again a useful tool in getting angry, disenchanted Americans to renew their discontent at having a black president with apparently liberal leanings trying to direct the course of the Nation.

One of the 14 recently identified pillars of fascism is when religion is consistently mentioned and utilized by a government's leadership or opposition, to bolster its support and justify its actions.

Numerous examples of this type of social bigotry can be found in our checkered past but the most recent is the attempt by many of today's conservative fundamentalists to try to depict the Founding Fathers as pious Christians who wanted the United States to be a Christian nation, with laws that favored Christians and Christianity.

An example of this is an excerpt from the Web sit of Barbara Martin. "According to the Preamble to the Constitution for the United States of America (1787) the founders were 'We the People.' 'We the People' were all free, white and of the original stock of Europe … They were Christians, recognizing, acknowledging and accepting Jesus Christ as their Lord, the one and only God and their only Sovereign, and the Nation they ordained and established is a Christian Nation."

This is patently untrue.

Having escaped from the state-established religions of Europe, only seven out of every 100 people in the 13 colonies belonged to a church when the Declaration of Independence was signed.

It was not that the Founding Fathers were hostile to religion; they simply did not believe that religion was a pillar of liberty. The early presidents and patriots were generally Deists or Unitarians, believing in some form of impersonal Providence but rejecting the divinity of Jesus and what they viewed as the absurdities of the Old and New Testaments.

It is important to note that the first Constitutional Conventions opened without prayer and both Jefferson and Madison refused to utilize public prayer even when pressured to do so.

Here is what some of the Founding Fathers wrote about Bible-based Christianity.

Thomas Jefferson: "I have examined all the known superstitions of the world, and I do not find in our particular superstition of Christianity one redeeming feature. They are all alike, founded on fables and mythology. Millions of innocent men, women and children, since the introduction of Christianity, have been burnt, tortured, fined, and imprisoned. What has been the effect of this coercion? To make one half the world fools and the other half hypocrites; to support roguery and error all over the earth."

Jefferson also wrote, "Christianity … (has become) the most perverted system that ever shone on man. … Rogueries, absurdities and untruths were perpetrated upon the teachings of Jesus by a large band of dupes and importers led by Paul, the first great corrupter of the teaching of Jesus."

Jefferson referred to the Bible as a "dunghill." "The day will come when the mystical generation of Jesus by the supreme being as his father in the womb of a virgin, will be classed with the fable of the generation of Minerva in the brain of Jupiter."

John Adams: "Twenty times in the course of my late reading, have I been upon the point of breaking out, "This would be the best of all possible worlds, if there were no religion in it!"

"Where do we find a precept in the Bible for Creeds, Confessions, Doctrines and Oaths, and whole carloads of other trumpery that we find religion encumbered with in these days?" Adams wrote.

Also attributed to him: "The doctrine of the divinity of Jesus is made a convenient cover for absurdity."

Adams signed the Treaty of Tripoli, passed by the U.S. Senate in 1797. The treaty was written during the Washington administration, and sent to the Senate during the Adams administration. It was read aloud to the Senate, and each senator received a printed copy.

At that time it was only the third occasion a vote was unanimous and there is no record of public outcry or complaint in subsequent editions of the papers. Article 11 states: "The Government of the United States is not in any sense founded on the Christian religion."

Thomas Paine: "Among the most detestable villains in history, you could not find one worse than Moses ... I would not dare so dishonor my Creator's name by (attaching) it to this filthy book (the Bible)."

"It is the duty of every true Deist to vindicate the moral justice of God against the evils of the Bible," Paine wrote.

He also wrote, "I do not believe in the creed professed by the Jewish church, by the Roman church, by the Greek church, by the Turkish church, by the Protestant church, nor by any church that I know of … Each of those churches accuse the other of unbelief; and for my own part, I disbelieve them all."

James Madison: "Religion and government will both exist in greater purity, the less they are mixed together," and "Religious bondage shackles and debilitates the mind and unfits it for every noble enterprise."

Another of Madison's writings: "During almost fifteen centuries has the legal establishment of Christianity been on trial. What have been its fruits? More or less in all places, pride and indolence in the Clergy, ignorance and servility in the laity, in both, superstition, bigotry and persecution."

"What influence, in fact, have Christian ecclesiastical establishments had on civil society?" Madison asked. "In many instances, they have been upholding the thrones of political tyranny. In no instance have they been seen as the guardians of the liberties of the people. Rulers who wished to subvert the public liberty have found in the clergy convenient auxiliaries. A just government, instituted to secure and perpetuate liberty, does not need the clergy."

George Washington: The first president of the United States, never declared himself a Christian and championed the cause of freedom from religious intolerance and compulsion.

When John Murray (a Universalist who denied the existence of hell) was invited to become an army chaplain, the other chaplains petitioned Washington for his dismissal. Instead, Washington gave him the appointment.

On his deathbed, Washington uttered no words of a religious nature and did not call for a clergyman to attend.

Ethan Allen: "That Jesus Christ was not God is evidence from his own words."

Allen noted that he was generally "denominated a Deist, the reality of which I never disputed, being conscious that I am no Christian."

When Allen married Fanny Buchanan, he stopped his own wedding ceremony when the judge asked him if he promised, "to live with Fanny Buchanan agreeable to the laws of God." Allen refused to answer until the judge agreed that the God referred to was the God of Nature, and the laws those "written in the great book of nature."

Benjamin Franklin: "As to Jesus of Nazareth, my Opinion of whom you particularly desire, I think the System of Morals and his Religion … has received various corrupting Changes, and I have, with most of the present dissenters in England, some doubts as to his Divinity; tho' it is a question I do not dogmatize upon, having never studied it, and think it needless to busy myself with it now, when I expect soon an opportunity of knowing the Truth with less trouble."

No one categorically disputes the faith of the Founding Fathers. To speak of inalienable Rights being endowed by a Creator certainly shows sensitivity to our spiritual selves.

What is surprising is that fundamentalist Christians think the Founding Fathers' faith had anything to do with the Bible.
Without exception, the faith of our Founding Fathers was deist, not theist. It was best expressed earlier in the Declaration of Independence, when they spoke of "the Laws of Nature" and of "Nature's God."

To be sure, Islam and Christianity share a contentious past, but to insist that the Country favor one religion over another is at odds with the Constitution.

On the other hand, it is very much in keeping with the dissatisfaction of those who imagined themselves superior to all – racially, morally, socially, politically. How far the once mighty have fallen; brought down by arrogance and greed, they churn and stir the seeds of insurrection rather than join their brothers and sisters in perfecting one Nation.
http://lakeconews.com/content/view/17242/925/
END OF NET NEUTRALITY!!!
BREAKING: Minutes ago, the FCC passed new rules -- written by corporations -- that will end Net Neutrality. For the first time in history, the U.S. government approved corporate censorship of the Internet, putting the future of online free speech at risk. Unbelievably, the person leading the charge was Obama appointee Julius Genachowski.
This violates President Obama's campaign promise to protect Net Neutrality, but some media are reporting the corporate spin that this is a "Net Neutrality compromise." It's not -- there's no such thing as half a First Amendment. We need to set the record straight.
If you're on Twitter, please click to share this: NEWS: @FCC breaks Obama promise, allows corporate censorship - no Net Neutrality rules. 3 things to know: bit.ly/eVKyWH @WhiteHouse:
http://act.boldprogressives.org/go/2750?akid=3035.409078.jEDutG&t=1
If you're on Facebook, click here to spread the word:
http://act.boldprogressives.org/go/2742?akid=3035.409078.jEDutG&t=2
By sharing, you can help us spread the top 3 reasons the rules passed today are a giveaway to big corporations and break Obama's promise:
1. They enshrine different rules for wired and wireless Internet -- allowing big corporations to censor on your mobile phone

2. They allow corporations to set up tollbooths online, stifling new innovators like the next YouTube who can't pay the fees the old, crusty corporations can pay

3. For the first time, they embrace a "public Internet" for regular people vs. a "private Internet" with all the new innovations for corporations who pay more -- ending the Internet as we know it
A more detailed explanation is here:
http://act.boldprogressives.org/go/2751?akid=3035.409078.jEDutG&t=3
Please pass this email to your friends so they know not to believe the corporate spin.
And click here to share on Twitter:
http://act.boldprogressives.org/go/2750?akid=3035.409078.jEDutG&t=4
and here to share on Facebook:
http://act.boldprogressives.org/go/2742?akid=3035.409078.jEDutG&t=5
Thanks for being a bold progressive,
Jason Rosenbaum, Adam Green, Stephanie Taylor, and the PCCC team - via prez usa-exxile
Steven Leech has just completed a 3rd edition of The Wedgehorn Manifesto. This publication, which is a short survey of Delaware's cultural history and legacy, covers visual art, music, literature, and the Black and Alternative press from that portion of Delaware directly beneath the "wedge" and the "horn." It may provide a good perspective for those wanting to get a better understanding of our current cultural environment. Because Leech feels that The Wedgehorn Manifesto could be an important contribution to that understanding, we are making it available as a pdf file to anyone wanting a copy. The file is just over 400kb. All we need is the email address for any person or site to which to send it. Write us at publisher@brokenturtlebooks.com - Blog
GORDON DUFF: GOV. JESSE VENTURA PROVES 9/11 COVER-UP, WILL AMERICA'S GOVERNMENT FALL?
December 18, 2010 posted by Gordon Duff - 826 Comments - Veterans Today
FORMER VICE PRESIDENT CHENEY ACCUSED OF ENGINEERING PENTAGON ATTACK
DONALD RUMSFELD CITED AS POSSIBLE ACCOMPLICE
By Gordon Duff STAFF WRITER/Senior Editor
Confirmed sources in the Nigerian government tell us, in order to keep former Vice President Cheney out of prison for crimes involving Nigeria, $500,000,000 in bribes have been promised, negotiated by former President George H.W. Bush. Now, only a day later, Cheney faces possible charges, so many charges they can only be imagined, for planning the Pentagon attack on 9/11.
TV host, Jesse Ventura, former Navy Seal, former Governor of Minnesota, on a one hour documentary on prime-time American television, makes an open and shut criminal case tying Cheney, Rumsfeld and officials throughout the US government with complicity in the planning, execution and subsequent cover-up of the 9/11 attack on the Pentagon.
According to experts on 9/11, engineers, pilots, intelligence officers and members of our military, Jesse Ventura "hit the nail on the head." Ventura, using evidence developed over 9 years by hundreds of individuals, outlines the utter impossibility of the government's cover story on 9/11 and systematically debunks it using testimony and scientific evidence.
Ventura cites, in an interview with a 9/11 commissioner, a possible motive for the Pentagon attack being included with the attacks on the World Trade Center. $2,300,000,000,000, yes 2.3 trillion US dollars had disappeared, cited only the day before in a televised statement by Secretary Rumsfeld, money "gone missing" from the Pentagon's accounting. The area of the Pentagon hit by a missile or destroyed by explosives or both contained all records of this missing money.
NO PLANE, NO WAY, NOT EVEN CLOSE
Ventura proves, beyond any doubt that no airplane every hit the Pentagon. As the video shows, not even a highly trained airline pilot was capable of the maneuvers claimed. Long before, it had been proven that the 757 was incapable of the task, either the maneuvers or the speed and trajectory. The plane would have come apart, there is no disagreement with this and hasn't been for some time, yet nothing had been done. Why?
It is also clearly shown that there is absolutely no evidence of any kind showing a plane hit the Pentagon, no wreckage, no bodies, no luggage. Items claimed to have been taken to Dover Air Force Base, bodies, plane parts, were never at the Pentagon as both video and testimony prove.
There is also proof that the government threatened witnesses, telling them to support the "aircraft scenario."
NO MUSLIMS, NO HIJACKERS, NO BOX CUTTERS, ALL PROVEN LIES FINALLY
The basis for the conspiracy theory regarding Muslim hijackers with box cutters was based on supposed phone calls made by Barbara Olson, wife of Bush Solicitor General. Solicitor General Olson claimed he talked to his wife on a cell phone, spoke with her at length, while she described the hijackings as now dramatized by Hollywood. When it was proven that a cell phone is incapable of making such calls, Olson claimed it was a "seat back phone." When it was proven that there were no seat back phones on American Airlines 757 aircraft, nothing further was asked.
Then investigations shows he received one call, lasting "0" seconds. Ventura questions as to whether Olson was duped or complicit? Should he be arrested too? Was his wife, Barbara, ever really on the plane?
Then Ventura looks into the flight itself. Not only was the flight recorder "dead" but during the flight itself, the transponder was turned off. Even more suspicious, the plane disappeared from radar for 28 minutes.
There is no discussion of this 28 minutes, but speculation, perhaps no longer speculation, has long been that the flight landed. As to what happened then, we cannot guess, or can we. One of my friends, a former Pentagon official, had a friend on that aircraft. Not long ago, he asked me.
"Gordon, what do you think happened to him, do you think he was executed? Bullet in the brain as they stepped off the plane or something even worse?"
Ventura didn't go there. None of us want to. It requires visualizing a scene out of Auschwitz.
Can Americans be so brutal, so devious, so traitorous? It isn't just Jesse Ventura that is willing to risk his life to bring it out, Fox News journalist Geraldo Rivera, several weeks ago, debunked the Building 7 collapse at the World Trade Center as "controlled demolition."
9/11 COMMISSION DUPED, ADMITS THERE WAS NO REAL INVESTIGATION AT ALL
Commission video's redacted to remove testimony by the Secretary of Transportation, transcripts altered, witnesses blocked, evidence, tons of evidence of government conspiracy withheld, this is the case against the government. Threats, intimidation, going on for years, this is proven. Were there more than threats, murders, "heart attacks" or threats against families? Ventura proves the Pentagon was a government conspiracy, he "names names." Geraldo makes any other explanation for Building 7 other than "controlled demolition" pure insanity.
IGNORING EVIDENCE, PROOF OF DICTATORSHIP OR ARE ARRESTS PLANNED?
It isn't as though the evidence presented by Governor Ventura and Geraldo Rivera or even the other stories, Judge Napolitano's revelations of knowledge of the attacks as early as 1999, was new. All has been know, all highly credible and all systematically ignored, attacked by the press, suppressed by courts, officials at every level.
9/11 and the recent revelations aren't proof of a conspiracy by 2 men, or Israel. It is proof that there never was an Al Qaeda and that the deaths, two wars, the 9/11 deaths and the carnage across the world wrought by the United States was part of a criminal conspiracy, one that could only be perpetrated by a dictatorship under the guise of representative democracy.
Everything we have seen, and millions around the world have watched, nobody can ignore it anymore, it all says that what has happened is something no American would allow, not if this still were America. Jesse Ventura proved something startling to most, suspected by some. He proved that, at some point in our past, 10 years, more, we don't know, our government was overthrown.
MORE WIKILEAKS, MORE ASSANGE, MORE 9/11 COVER-UP
The strongest and most vocal opponent of a new 9/11 investigation is Julian Assange of Wikleaks. If any individual outside the US government were to be named as most complicit in a 9/11 cover-up, it would be Julian Assange.
Everything since then, certainly 9/11 and now, the news about Iran and, especially Wikileaks, all subterfuge. When former National Security Advisor Zbigniew Brzezinsky cited Wikileaks on a PBS interview, televised nationally, that Wikileaks was the word of an intelligence agency, Israel never reported it or responded. Instead, they attributed Brzezinski's quote to me:
"Speaking to Haaretz, Duff added that 'it sticks out like a sore thumb that WikiLeaks is obviously concocted by an intelligence agency.'"
This is what Brzezinski told Judy Woodruff of PBS:
ZBIGNIEW BRZEZINSKI: But I think the most serious issues are not those which are getting the headlines right now. Who cares if Berlusconi is described as a clown. Most Italians agree with that. Who cares if Putin is described as an alpha dog? He probably is flattered by it.

The real issue is, who is feeding Wikipedia on this issue — Wiki — Wiki — WikiLeaks on this issue? They're getting a lot of information which seems trivial, inconsequential, but some of it seems surprisingly pointed. …The very pointed references to Arab leaders could have as their objective undermining their political credibility at home, because this kind of public identification of their hostility towards Iran could actually play against them at home.

It's, rather, a question of whether WikiLeaks are being manipulated by interested parties that want to either complicate our relationship with other governments or want to undermine some governments, because some of these items that are being emphasized and have surfaced are very pointed.

And I wonder whether, in fact, there aren't some operations internationally, intelligence services, that are feeding stuff to WikiLeaks, because it is a unique opportunity to embarrass us, to embarrass our position, but also to undermine our relations with particular governments.
BUSH, OBAMA, CONTINUING DICTATORSHIP, CONTINUING COVER-UP, CONTINUING WAR
Barak Obama ran for president on a platform based on justice, ending the wars and bringing accountability to government after 8 years of scandals, deceit and what can only be called "hooliganism and piracy." Instead, he has done nothing, the wars continue, drugs are flowing from Afghanistan even faster than before, 9/11 evidence, now overwhelming and impossible to ignore is still ignored.
Americans looking for reform wonder if Bush left at all. Those complicit are, though few admit it, disturbed by seeing America led by an African American. The visible public face on the very well financed attacks on President Obama are all very much based on race hatred. This has long been the most effective tool for keeping Americans divided and compliant. How else could a major political movement be successful supporting the least popular and least successful policies in American history?
Who would want a return to policies enacted by the least successful president in American history, George W. Bush, who left office with an approval record listed at 22%. Many would find a number lower, even half, more credible. President Clinton, after surviving impeachment for lying about sexual misconduct left office with 68% approval. Thus, we connect the dots and wake up one morning, informed, enraged and utterly powerless.
Even through the assaults on President Obama, many financed by the Koch brothers, tied to ultra-nationalists in Israel, whether there was a real change of government is not clear. As Jesse Ventura pointed out, while Vice President Dick Cheney was getting reports of a plane approaching the Pentagon, seemingly even orchestrating the attack himself, President Bush was in Florida reading to school children. Two years of Obama have been similar, too similar.
What can we assume from this? Is, in fact, the President of the United States no longer Commander in Chief? Did our government hand itself over to "shadow" rule with Bush or did it happen earlier, after President Reagan's dementia made him unable to manage the cabal that surrounded him? How long have we been operating under no Constitution at all?
The headline on today's New York Times:
SENATE BLOCKS BILL FOR ILLEGAL IMMIGRANT STUDENTS
The headline on today's Washington Post:
TOP US SPY REMOVED AFTER THREATS
What is "their" message? Certainly not "never again." In fact we know that "again" is just around the corner, an Iran war with or without a new 9/11, planned and executed by the same folks, older, not wiser and certainly more pathologically insane and murderous.
..and we continue to allow it.

Grateful Dead & Etta James - Hard To Handle 12-31-1982
Mike Wilhelm writes: Here's a link to a video of my friend Erik Frandsen, one of the best guitarists in the world, peforming his original song Christmas In Brooklyn which is about a real life NYPD officer who is very proud of the fact that he's never fired his gun despite being a patrolman on the mean streets of Brooklyn. Christmas In Brooklyn.

Calling Occupants Of Interplanetary Craft - Klaatu
Political allegiances linked to brain structure, study finds
Experiment reveals 'strong correlation' between thickness in two brain regions, the amygdala and the anterior cingulate, and political viewpoint
Press Association - guardian.co.uk, Tuesday 28 December 2010 20.06 GMT - Article history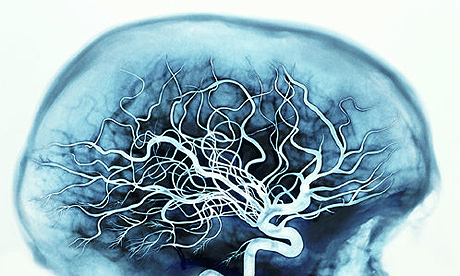 A study has shown a linke between brain structure and political allegiances. Photograph: Gandee Vasan/Getty
An experiment has found differences between the brains of progressives and conservatives.
Head scans of students at University College London, conducted by neuroscientist Geraint Rees, showed a "strong correlation" between thickness in two regions, the amygdala and the anterior cingulate, and political viewpoint.
Rees said he was "very surprised" by the finding because the experiment was a lighthearted item commissioned by Colin Firth for his guest-editing slot on BBC Radio 4's Today programme.
The actor has said he no longer supports the Lib Dems, and joked about Nick Clegg: "I think we should have him scanned."
http://www.guardian.co.uk/politics/2010/dec/28/political-allegiances-brain-structure-study

Sub-Rosa Subway - Klaatu
Attention CW Operators get your pencil out!

Four Minutes - Roger Waters
Attention CW Operators get your pencil out!

The Tide Is Turning - Roger Waters
Attention CW Operators get your pencil out!
New Years Eve party with Mike Wilhelm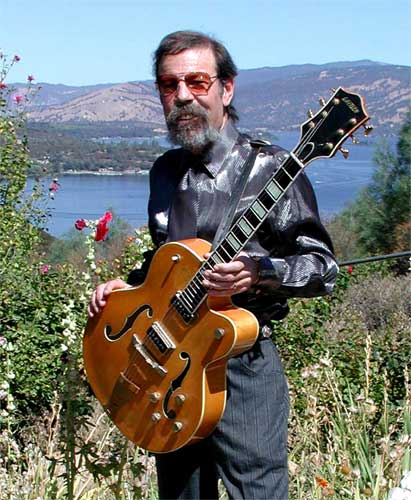 http://mike-wilhelm.com/
Something Is Happening and You Don't Know What It Is?
3.8 2010/12/30 12:55:22 40.427 -85.888 4.9 INDIANA
3.6 2010/12/30 09:17:46 45.131 -120.929 16.5 OREGON
2.5 2010/12/29 05:10:30 35.291 -92.335 5.2 ARKANSAS
3.1 2010/12/29 00:12:58 38.795 -122.758 2.5 N. CALIFORNIA
David Normal wrties: This is my latest painting: "Conception." Happy Holidays! May 2011 bring good fortune to all!! [For more information about this painting visit: http://normal.bz/]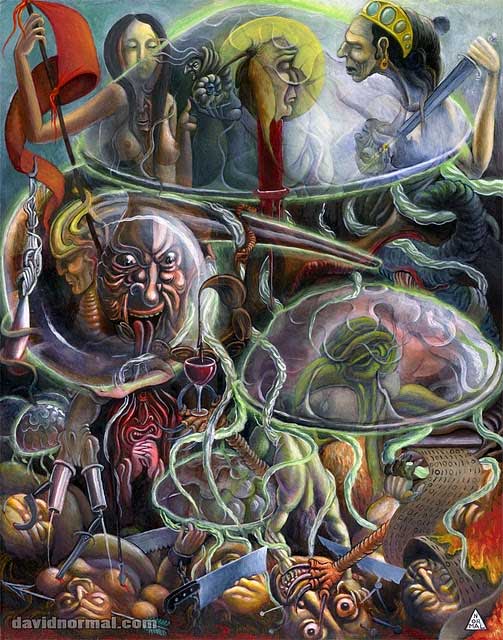 Research links rise in Falluja birth defects and cancers to US assault
• Defects in newborns 11 times higher than normal
• 'War contaminants' from 2004 attack could be cause
Martin Chulov, guardian.co.uk, Thursday 30 December 2010 21.34 GMT - Article history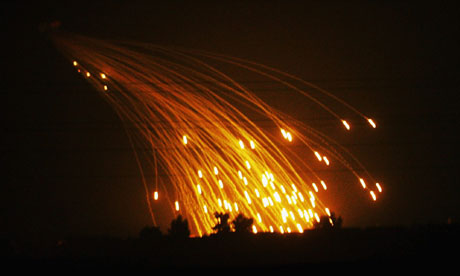 White phosphorous smoke screens are fired by the US army as part of an early morning patrol in November 2004 on the outskirts of Falluja, Iraq, in preparation for an offensive against insurgents. Photograph: Scott Nelson/Getty Images
A study examining the causes of a dramatic spike in birth defects in the Iraqi city of Falluja has for the first time concluded that genetic damage could have been caused by weaponry used in US assaults that took place six years ago.
The research, which will be published next week, confirms earlier estimates revealed by the Guardian of a major, unexplained rise in cancers and chronic neural-tube, cardiac and skeletal defects in newborns. The authors found that malformations are close to 11 times higher than normal rates, and rose to unprecedented levels in the first half of this year – a period that had not been surveyed in earlier reports.
The findings, which will be published in the International Journal of Environmental Research and Public Health, come prior to a much-anticipated World Health Organisation study of Falluja's genetic health. They follow two alarming earlier studies, one of which found a distortion in the sex ratio of newborns since the invasion of Iraq in 2003 – a 15% drop in births of boys.
"We suspect that the population is chronically exposed to an environmental agent," said one of the report's authors, environmental toxicologist Mozhgan Savabieasfahani. "We don't know what that environmental factor is, but we are doing more tests to find out."
The report identifies metals as potential contaminating agents afflicting the city – especially among pregnant mothers. "Metals are involved in regulating genome stability," it says. "As environmental effectors, metals are potentially good candidates to cause birth defects.
The findings are likely to prompt further speculation that the defects were caused by depleted uranium rounds, which were heavily used in two large battles in the city in April and November 2004. The rounds, which contain ionising radiation, are a core component of the armouries of numerous militaries and militias.
Their effects have long been called into question, with some scientists claiming they leave behind a toxic residue, caused when the round – either from an assault rifle or artillery piece – bursts through its target. However, no evidence has yet been established that proves this, and some researchers instead claim that depleted uranium has been demonstrably proven not to be a contaminant.
The report acknowledges that other battlefield residues may also be responsible for the defects. "Many known war contaminants have the potential to interfere with normal embryonic and foetal development," the report says. "The devastating effect of dioxins on the reproductive health of the Vietnamese people is well-known."
The latest Falluja study surveyed 55 families with seriously deformed newborns between May and August. It was conducted by Dr Samira Abdul Ghani, a paediatrician at Falluja general hospital. In May, 15% of the 547 babies born had serious birth defects. In the same period, 11% of babies were born at less than 30 weeks and 14% of foetuses spontaneously aborted.
The researchers believe that the figures understate what they describe as an epidemic of abnormalities, because a large number of babies in Falluja are born at home with parents reluctant to seek help from authorities.
One case documented in the report is of a mother and her daughter who after the 2004 battles both gave birth to babies with severe malformations. The second wife of one of the fathers also had a severely deformed baby in 2009.
"It is important to understand that under normal conditions, the chances of such occurrences is virtually zero," said Savabieasfahani.
Iraq's government has built a new hospital in Fallujah, but the city's obstetricians have complained that they are still overwhelmed by the sheer number of serious defects. The US military has long denied that it is responsible for any contaminant left behind in the city, or elsewhere in Iraq, as it continues its steady departure from the country it has occupied for almost eight years.
It has said that Iraqis who want to file a complaint are welcome to do so. Several families interviewed by the Guardian in November 2009 said they had filed complaints but had not received replies.
The World Health Organisation is due to begin its research sometime next year. However, there are fears that an extensive survey may not be possible in the still volatile city that still experiences assassinations and bombings most weeks.
"An epidemic of birth defects is unfolding in Fallujah, Iraq," said Savabieasfahani. "This is a serious public health crisis that needs global attention. We need independent and unbiased research into the possible causes of this epidemic.
We invite scientists and organisations to get in touch with us so that we may gain the strength to address this large global public health issue."
City's spike in deformity rates
Birth-defect rates in Falluja have become increasingly alarming over the past two years. In the first half of 2010, the number of monthly cases of serious abnormalities rose to unprecedented levels. In Falluja general hospital, 15% of the 547 babies born in May had a chronic deformity, such as a neural tune defect – which affects the brain and lower limbs – cardiac, or skeletal abnormalities, or cancers.
No other city in Iraq has anywhere near the same levels of reported abnormalities. Falluja sees at least 11 times as many major defects in newborns than world averages, the research has shown.
The latest report, which will be published next week in the International Journal of Environmental Research and Public Health, says Falluja has been infected by a chronic environmental contaminant. It focuses on depleted uranium, used in weaponry during two US assaults in 2004 as a possible cause of the contaminant. Scientific studies have so far established no link between the rounds, which contain ionising radiation to burst through armour and are commonly used on the battlefield.
The study focuses on metals as a potential conduit for the contaminant. It suggests a bodily accumulation of toxins is causing serious and potentially irreversible damage to the city's population base, and calls for an urgent examination of metals in Falluja as well as a comprehensive examination of the city's recent reproductive history.
http://www.guardian.co.uk/world/2010/dec/30/faulluja-birth-defects-iraq
Israeli activist imprisoned for protest against Gaza blockade
Jonathan Pollak handed three-month term after taking part in Tel Aviv protest cycle ride in January 2008
Ana Carbajosa in Jerusalem, guardian.co.uk, Monday 27 December 2010 17.08 GMT, Article history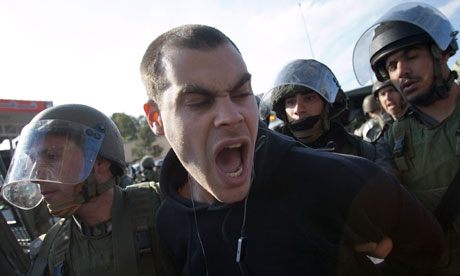 Israeli activist Jonathan Pollak has been sentenced to three months in prison by a Tel Aviv court for taking part in a bicycle demonstration against the blockade of Gaza. Photograph: Bernat Armangue/AP
The prominent Israeli activist Jonathan Pollak was today sentenced to three months in prison by a Tel Aviv court for taking part in a bicycle demonstration against the blockade of Gaza almost three years ago.
Human rights activists condemned the prison term, saying it was an unusually harsh punishment for a charge that usually results in a non-custodial sentence.
Pollak, 28, is one of the founders of a leftwing Israeli group called Anarchists against the Wall, which demonstrates with Palestinian activists in the occupied territories.
In January 2008, he participated, along with 30 others, in a "critical mass bicycle ride" through Tel Aviv. During the demonstration, police arrested Pollak but allowed the rest of the activists to continue with the protest, his lawyer said.
Pollak remained defiant after sentencing. "I have no doubt that what we did was right and, if anything, not sufficient considering what is being done in our name," he said in a telephone interview. "If I have to go to prison to resist the occupation, I will do it gladly."
Pollak described his sentence as "part of the general deterioration in the right to dissent from the general Israeli discourse regarding the occupation".
His lawyer, Gaby Lasky, who defends many activists arrested while protesting against Israeli policies in Gaza and the West Bank, said the sentence was unusual.
"It is not common that someone found guilty of illegal assembly will be sent to prison," said Lasky, who has worked in this field for eight years.
"We are in the midst of a high wave of detentions of activists," she added. "The criminalisation of leftwing demonstrations is a policy these days".
An official at the court of first instance in Tel Aviv, who asked to remain anonymous, said it was extremely rare for judges to hand down a jail sentence in an illegal assembly case.
The official pointed out, however, that Pollak had three previous convictions, including one for "distraction of order and vandalism", and a three-month suspended sentence for demonstrating against the West Bank separation barrier.
The Israeli police and the ministry of justice declined to comment.
The Association for Civil Rights in Israel criticised the sentence. "Placing Pollak behind bars because of his participation in the critical mass bike ride is an extreme punishment and an unusually harsh measurement," Dan Yakir, the organisation's chief legal adviser, said in a statement.
"The entire affair raises suspicion that Pollak was personally targeted because of his views in an attempt to silence him and prevent him from partaking in various acts of protest."
http://www.guardian.co.uk/world/2010/dec/27/israeli-activist-imprisoned-demonstration-gaza

Leningrad Cowboys - Rockin In The Free World
Merry Saturnalia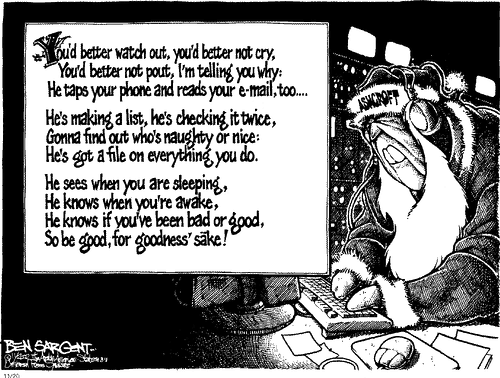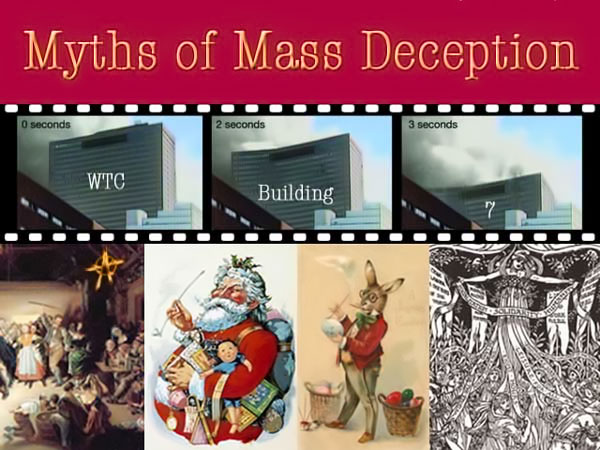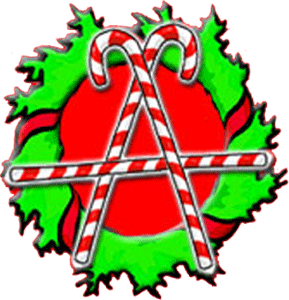 Santarchy & Santacon
"No force on earth can stop one hundred Santas!"
Every December Cacophonous Santas have been visiting cities around the world, engaging in a bit of Santarchy as part of the annual Santacon events.
It all started back in 1994 when several dozen Cheap Suit Santas paid a visit to downtown San Francisco for a night of Kringle Kaos. Things have reached Critical Xmas and Santarchy is now a global phenomenon.
You'd better watch out! Santa's coming to town! - http://santarchy.com/
YOU ARE A PAGAN IF:
YOU BUY A CHRISTMAS TREE AND DECORATE IT
The evergreen tree is a symbol of the green to come at the re-birth of Mother Earth. In ancient Egypt they laid gifts under Palm Trees during the winter celebration. In ancient Rome they used the fir tree (called the Baal Berith) as a testimony to the Pagan messiah, Baal Tamar.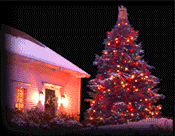 YOU EXCHANGE PRESENTS DURING DECEMBER
The Babylonians celebrated the birth of the God Tammuz on the Winter Solstice and God Nimrod would visit the evergreen trees of the people and leave gifts upon them.
The early Christian Church frowned upon the exchange of gifts because of its Pagan origins. People refused to give up the customs of their old Pagan religions, though. Ultimately, around 700 years ago, the Christian Church decided to attribute the gift exchange to symbolize the gifts given to Jesus by the three Wise Men. It took the Church over 1,300 years to finally "borrow" the Pagan ritual of gift exchanging and call it their own.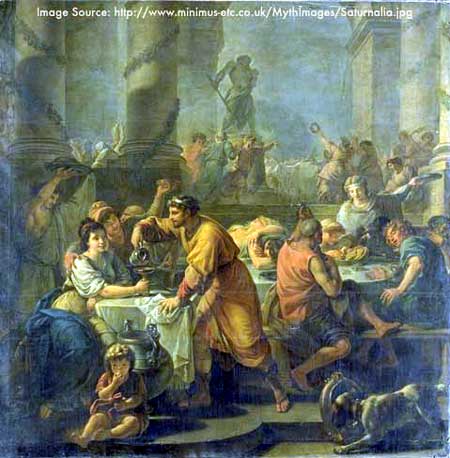 YOU KISS SOMEONE UNDER MISTLETOE
The Romans and Saturnalia celebrations are even credited with the tradition of kissing under the mistletoe. Mistletoe was used as a means to get a pretty girl to kiss you during the celebration and ultimately instigate an orgy. The Druids in Scotland and Ireland also believed that mistletoe was a symbol of fertility; a husband and wife desiring a child would hang the mistletoe around their bed during intercourse.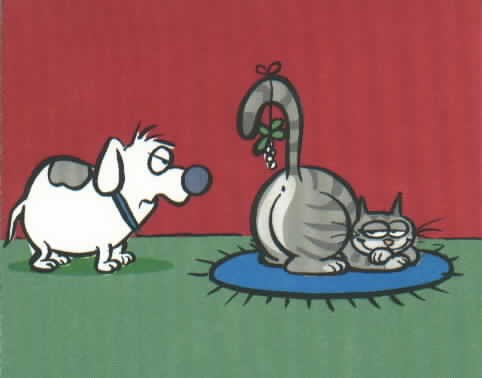 YOU BURN A YULE LOG
The Yule log and Yule Day have Babylonian origins. Yule is the Chaldee name for an infant or little child. December 25th was called Yule Day by Pagan Anglo-Saxon ancestors. The night preceding Yule Day was known as Mother's Night.

Saturnalia or Brumalia - A Winter Solstice Ritual
by Apollonius Sophistes
YOU CELEBRATE DECEMBER 25th
The Bible does not tell Christians to celebrate the birth of Jesus. The Bible doesn't even tell us when Jesus was born. Of course we can look for "clues" within the gospels to when Jesus might have been born, and people have done that. The assumption of course is that these "clues" are authentic and not stolen from other Pagan mythology.
When the angels appear to the shepherds of Bethlehem to advise them of the birth of Jesus, the shepherds are feeding their flocks at night in the open fields. From late October to early March in Palestine one will encounter bitterly cold weather, icy rain, and sometimes even snow. Tending the flocks, much less tending them at night, is not what one finds Shepherds doing in Palestine (Bethlehem) in the middle of winter. The climate of Palestine dictates that flocks are in the field at night no later than late-October or mid-November and no sooner than early to mid-March. If we base the birth of Jesus on that clue alone, then Jesus would have been born sometime between March and late October.
It is also interesting to note that the Qur'an in Surah 19 talks about the birth of the prophet Jesus. The mother Maryam shakes the trunk of a palm tree (Qur'an 19:25) so that ripe dates fall upon her. Dates ripen in Palestine in the summer.
The Watchtower in December of 1991 stated, "The date of December 25 does not correspond to Christ's birth but to the feast of the Natalis Solis Invicti, the Roman sun festival at the solstice."
The celebration of Jesus' birth on December 25th did not start until 354 CE when Pope Gregory proclaimed the date as that of The Nativity.. Prior to 354 the Church had even guessed Jesus' birth to be in April. After the Church changed the date to December, there were Christians that refused to worship Jesus' birth in December and continued celebrating it in April. They became known as "April's fools."
Why did the Christian Church change the date to December 25th? They changed it because they were having a difficult time converting Pagans that did not want to give up their celebrations of Saturnalia, Natalis Solis Invicti, and Mithraism (among other winter solstice celebrations). Basically the change was made so Christians could say, "Hey look! We have a party, too!"
Another reason for the change to December 25th was not just to coincide with the five-day Pagan festival but also with Hanukkah. Hanukkah occurs on the 25th day of the Hebrew month of Kislev, which occurs usually in December. So by creating a Christian holiday around the same times as Hanukkah and the winter solstice, the early Christian Church was able to convert Pagans and Jews with the lure of a "grand party" to replace the one that the Pagans and Jews already celebrated.
Did you know Puritans banned Christmas in England during 1552? You did read the disclaimer didn't you (-;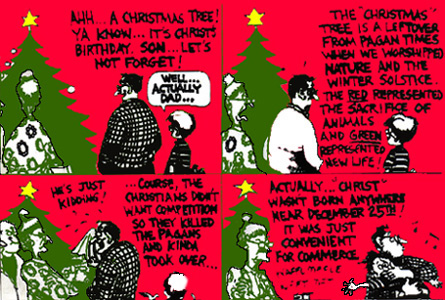 Merry Saturnalia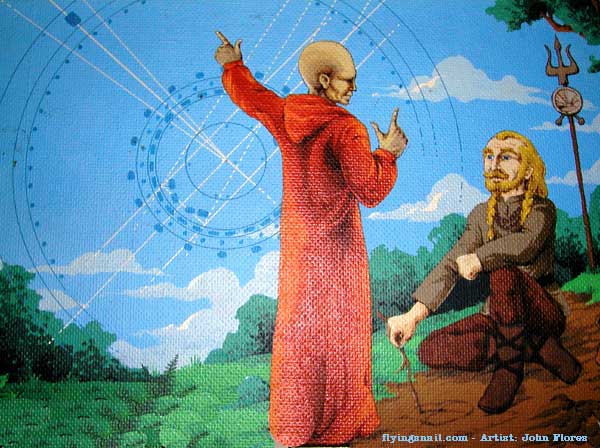 The man whispered, "God, speak to me" and a meadowlark sang. But the man did not hear. So the man yelled "God, speak to me" and the thunder rolled across the sky. But the man did not listen. The man looked around and said, "God let me see you" and a star shined brightly. But the man did not notice. And the man shouted, "God show me a miracle" and a life was born. But the man did not know. So the man cried out in despair, "Touch me God, and let me know you are there" Whereupon God reached down and touched the man. But the man brushed the butterfly away and walked on.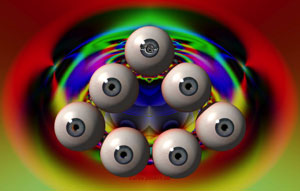 Don't miss out on a blessing because it isn't packaged the way you expect.