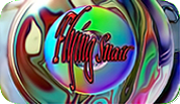 During times of universal deceit, telling the truth becomes a revolutionary act. ~ George Orwell

Beethoven's 5 Secrets ~ OneRepublic ( Cello Cover) ~ ThePianoGuys via mzeyimateos
Throughout America's adventure in free government, our basic purposes have been to keep the peace; to foster progress in human achievement, and to enhance liberty, dignity and integrity among people and among nations. To strive for less would be unworthy of a free and religious people. Any failure traceable to arrogance, or our lack of comprehension or readiness to sacrifice would inflict upon us grievous hurt both at home and abroad. ~ Dwight D. Eisenhower
Created by GOP, supported by DNC, and designed to screw over you & me:
Telecom Crime ~ Patriot Act ~ They/Them ~ Where Have All the Flowers Gone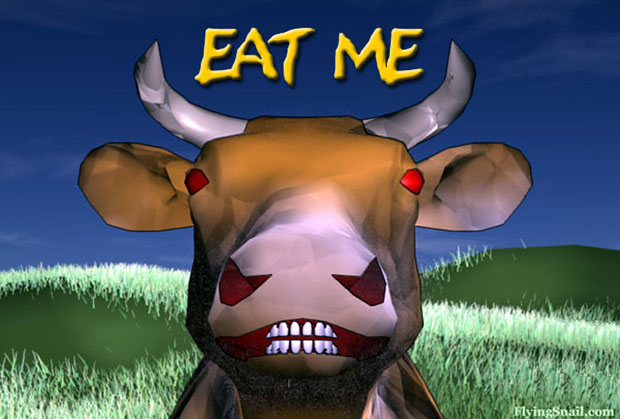 Stop bickering: None of the Above should be a valid choice on voter ballots!
Dahbud Mensch
~ Matt Bevin and the flight of criminals & baby rapists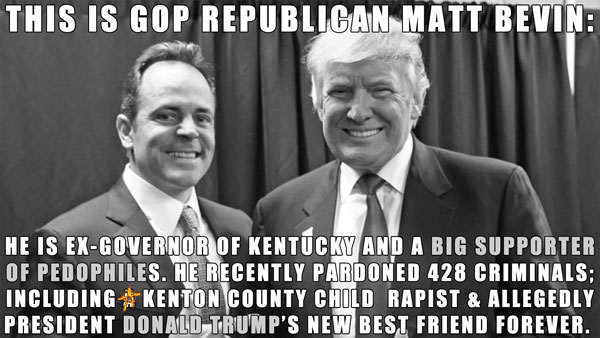 The above person, on your left, is GOP Republican Matt Bevin. He is ex-governor of Kentucky and big supporter of pedophiles & criminals.
He recently pardoned 428 criminals; including a Kenton County child rapist, and is, allegedly, Melania's husband's new BFF (Best Friend Forever)?
There is a growing distrust of perverted GOP Republican Family Values, how being rich can keep one out of jail, and even more disgusting: real court evidence, which seems to be ignored those who smell their own butt first?
Raise your hand if you want to see a TV re-run of the Clinton Impeachment; where GOP Republicans spent 55 to 70 million dollars to discover if someone swallowed and 3 to 6 million dollars on the 9/11 cOmmission ???

WTC 7 explosion via ham der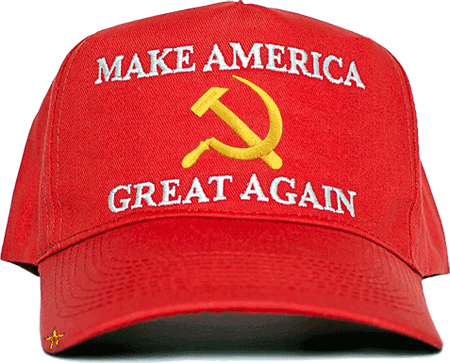 The term cult usually refers to a social group defined by its religious, spiritual, or philosophical beliefs, or its common interest in a particular personality, object or goal. The term itself is controversial and it has divergent definitions in both popular culture and academia and it also has been an ongoing source of contention among scholars across several fields of study.[1][2] In the sociological classifications of religious movements, a cult is a social group with socially deviant or novel beliefs and practices,[3] although this is often unclear.[4][5][6] Other researchers present a less-organized picture of cults saying that they arise spontaneously around novel beliefs and practices.[7] Groups said to be cults range in size from local groups with a few members to international organizations with millions.[8]
Beginning in the 1930s, cults became the object of sociological study in the context of the study of religious behavior.[9] From the 1940s the Christian countercult movement has opposed some sects and new religious movements, and it labelled them as cults for their "un-Christian" unorthodox beliefs. The secular anti-cult movement began in the 1970s and it opposed certain groups, often charging them with mind control and partly motivated in reaction to acts of violence committed by some of their members. Some of the claims and actions of the anti-cult movement have been disputed by scholars and by the news media, leading to further public controversy.
The term "new religious movement" refers to religions which have appeared since the mid-1800s. Many, but not all of them, have been considered to be cults. Sub-categories of cults include: Doomsday cults, personality cults, political cults, destructive cults, racist cults, polygamist cults, and terrorist cults. Various national governments have reacted to cult-related issues in different ways, and this has sometimes led to controversy. [Continue Reading]
SDR Radio
~ NOAA 15, 18, or 19
++ Date at top of graphic & images are not archived: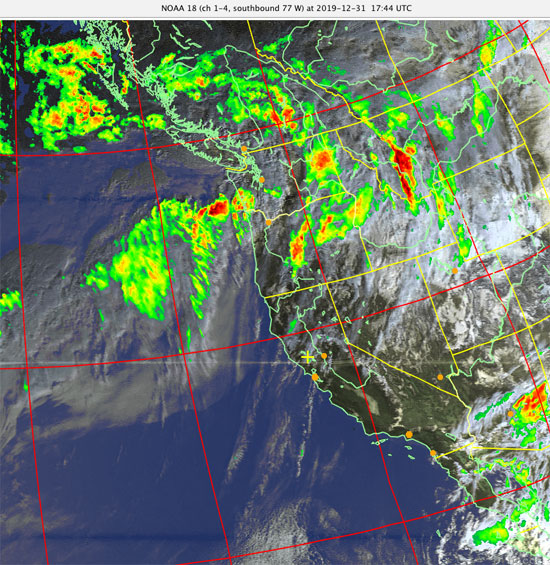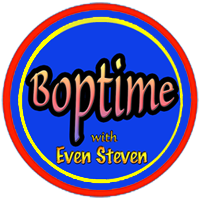 Boptime begins at 6am (EST) Saturday morning with a batch of oldies back to back to back. After an installment of The Legends of Wilmington Jazz Legends of Wilmington Jazz at 7am (EST), Larry and Kitty join us on Clifford's Corner at 8am (EST). We'll be playing some jazz and choice R&B just right for the Yuletide season. ~ Steve
BOPTIME: Saturday, 6 AM Eastern time, 3 AM Pacific time
Go To: http://www.wvud.org/?page_id=24
Click on a listening link below the WVUD logo:


Available locally in DE on WVUD-FM 91.3, Shoutcast [Search: WVUD], and TuneIn
Paul Krassner ~ Investigative Satirist
~ Paul Krassner commemorative @ Truth Seeker
Paul Krassner commemorative issue (video also at source)
September -- December 2019, Truth Seeker magazine

Paul Krassner commemorative, September -- December 2019, The Truth Seeker via Roderick Bradford
Undone Lullaby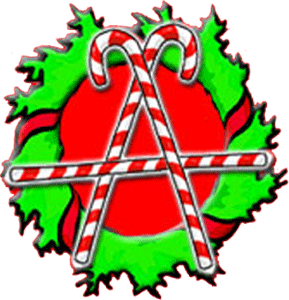 Undone Lullaby, dj schmolli via Dave
Dahbud Mensch
~ None of the Above should be a choice on voter ballots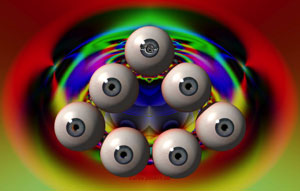 Someone is looking at whatever you do, so always present your most charming you!
When fascism comes to America it will be wrapped in the flag and carrying a cross, Anonymous.
Fascism's Last Weapon:
The Rebirth of Evil
Satan's demons take on the image of God
similar to that done in Eden ~ II Corinthians, 11:14
(How else do they take control of earth?)
Antichrist is variously understood as being a consummately evil system of government or leader.
Antichrist will be a leader who deceives many people.
Antichrist will divide the world and create war without end.
Antichrist will declare that things which are evil to be good.
Antichrist will refer to war as peace, death as a solution for justice, & serving the wealthy as a means of helping the poor.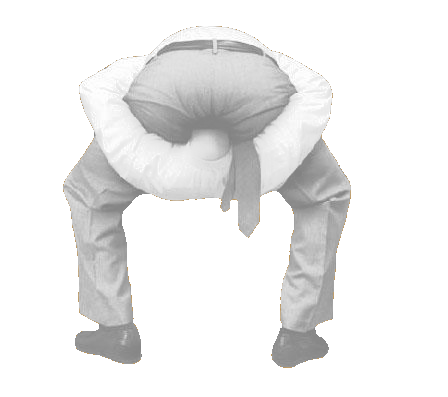 Many nations will recognize that he is evil, but his
own people will be inclined to believe his deceptions.

Boney M ~ Rivers of Babylon (바빌론 강가에서_한글자막번역) via 고대진
Dahbud Mensch
~ None of the Above should be a choice on voter ballots
& Speaking of Impeachment...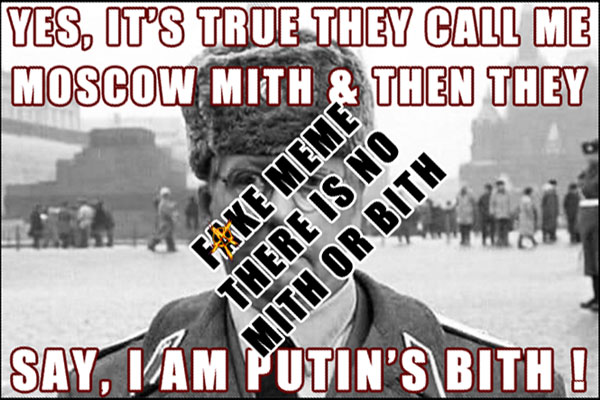 Telecom Crime & Punishment ~ Patriot Act ~ They/They ~ Where Have All the Flowers Gone
Republicans spent 55 to 70 million dollars on the Clinton Impeachment [to discover if someone swallowed?] and 3 to 6 million dollars on the 9/11 cOmmission?

WTC 7 explosion via ham der
In George Orwell's Animal Farm, a pig tries to whitewash history by deleting a few characters from the minds of the other animals and it is sad this is the extent politicians will defend a reality show.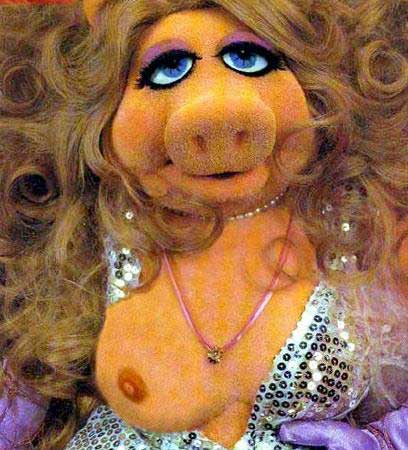 Why has Lying become
A Prerequisite of Politics?
Simply stated, there is no doubt that Saddam Hussein now has weapons of mass destruction. - Dick Cheney - August 26, 2002
Every day Saddam remains in power with chemical weapons, biological weapons, and the development of nuclear weapons is a day of danger for the United States. - Sen. Joseph Lieberman, D-CT - September 4, 2002
If we wait for the danger to become clear, it could be too late. - Sen. Joseph Biden D-Del. - September 4, 2002
Right now, Iraq is expanding and improving facilities that were used for the production of biological weapons. - George W. Bush - September 12, 2002
If he declares he has none, then we will know that Saddam Hussein is once again misleading the world. - Ari Fleischer - December 2, 2002
We know for a fact that there are weapons there. - Ari Fleischer - January 9, 2003
Our intelligence officials estimate that Saddam Hussein had the materials to produce as much as 500 tons of sarin, mustard and VX nerve agent. - George W. Bush - January 28, 2003
We know that Saddam Hussein is determined to keep his weapons of mass destruction, is determined to make more. - Colin Powell - February 5, 2003
Iraq both poses a continuing threat to the national security of the United States and international peace and security in the Persian Gulf region and remains in material and unacceptable breach of its international obligations by, among other things, continuing to possess and develop a significant chemical and biological weapons capability, actively seeking a nuclear weapons capability, and supporting and harboring terrorist organizations. - Sen. Hillary Clinton, D-NY - February 5, 2003
We have sources that tell us that Saddam Hussein recently authorized Iraqi field commanders to use chemical weapons -- the very weapons the dictator tells us he does not have. - George Bush - February 8, 2003
So has the strategic decision been made to disarm Iraq of its weapons of mass destruction by the leadership in Baghdad? I think our judgment has to be clearly not. - Colin Powell - March 8, 2003
Intelligence gathered by this and other governments leaves no doubt that the Iraq regime continues to possess and conceal some of the most lethal weapons ever devised. - George Bush - March 18, 2003
We are asked to accept Saddam decided to destroy those weapons. I say that such a claim is palpably absurd. - Tony Blair, Prime Minister - March 18, 2003
Well, there is no question that we have evidence and information that Iraq has weapons of mass destruction, biological and chemical particularly . . . all this will be made clear in the course of the operation, for whatever duration it takes. - Ari Fleischer - March 21, 2003
There is no doubt that the regime of Saddam Hussein possesses weapons of mass destruction. As this operation continues, those weapons will be identified, found, along with the people who have produced them and who guard them. - Gen. Tommy Franks - March 22, 2003
One of our top objectives is to find and destroy the WMD. There are a number of sites. - Pentagon Spokeswoman Victoria Clark - March 22, 2003
I have no doubt we're going to find big stores of weapons of mass destruction. - Kenneth Adelman, Defense Policy Board - March 23, 2003
We know where they are. They are in the area around Tikrit and Baghdad. - Donald Rumsfeld - March 30, 2003
Saddam's removal is necessary to eradicate the threat from his weapons of mass destruction - Jack Straw, Foreign Secretary - April 2, 2003
Obviously the administration intends to publicize all the weapons of mass destruction U.S. forces find -- and there will be plenty. - Neocon scholar Robert Kagan - April 9, 2003
I think you have always heard, and you continue to hear from officials, a measure of high confidence that, indeed, the weapons of mass destruction will be found. - Ari Fleischer - April 10, 2003
We are learning more as we interrogate or have discussions with Iraqi scientists and people within the Iraqi structure, that perhaps he destroyed some, perhaps he dispersed some. And so we will find them. - George Bush - April 24, 2003
There are people who in large measure have information that we need . . . so that we can track down the weapons of mass destruction in that country. - Donald Rumsfeld - April 25, 2003
Before people crow about the absence of weapons of mass destruction, I suggest they wait a bit. - Tony Blair - April 28, 2003
We'll find them. It'll be a matter of time to do so. - George Bush - May 3, 2003
I am confident that we will find evidence that makes it clear he had weapons of mass destruction. - Colin Powell - May 4, 2003
I never believed that we'd just tumble over weapons of mass destruction in that country. - Donald Rumsfeld - May 4, 2003
I'm not surprised if we begin to uncover the weapons program of Saddam Hussein -- because he had a weapons program. - George W. Bush - May 6, 2003
U.S. officials never expected that "we were going to open garages and find" weapons of mass destruction. - Condoleezza Rice - May 12, 2003
I just don't know whether it was all destroyed years ago -- I mean, there's no question that there were chemical weapons years ago -- whether they were destroyed right before the war, (or) whether they're still hidden. - Maj. Gen. David Petraeus, Commander 101st Airborne - May 13, 2003
Before the war, there's no doubt in my mind that Saddam Hussein had weapons of mass destruction, biological and chemical. I expected them to be found. I still expect them to be found. - Gen. Michael Hagee, Commandant of the Marine Corps - May 21, 2003
Given time, given the number of prisoners now that we're interrogating, I'm confident that we're going to find weapons of mass destruction. - Gen. Richard Myers, Chairman Joint Chiefs of Staff - May 26, 2003
They may have had time to destroy them, and I don't know the answer. - Donald Rumsfeld - May 27, 2003
For bureaucratic reasons, we settled on one issue, weapons of mass destruction (as justification for invading Iraq) because it was the one reason everyone could agree on. - Paul Wolfowitz - May 28, 2003

Distant Relatives [Patience] via nabil elderkin
Closing Argument
Alan Shore: When the weapons of mass destruction thing turned out to be not true, I expected the American people to rise up. Ha! They didn't.
Then, when the Abu Ghraib torture thing surfaced and it was revealed that our government participated in rendition, a practice where we kidnap people and turn them over to regimes who specialize in torture, I was sure then the American people would be heard from. We stood mute.
Then came the news that we jailed thousands of so-called terrorists suspects, locked them up without the right to a trial or even the right to confront their accusers. Certainly, we would never stand for that. We did.
And now, it's been discovered the executive branch has been conducting massive, illegal, domestic surveillance on its own citizens. You and me. And I at least consoled myself that finally, finally the American people will have had enough. Evidentially, we haven't.
In fact, if the people of this country have spoken, the message is we're okay with it all. Torture, warrantless search and seizure, illegal wiretapping's, prison without a fair trial - or any trial, war on false pretenses. We, as a citizenry, are apparently not offended.
There are no demonstrations on college campuses. In fact, there's no clear indication that young people seem to notice.
Well, Melissa Hughes noticed. Now, you might think, instead of withholding her taxes, she could have protested the old fashioned way. Made a placard and demonstrated at a Presidential or Vice-Presidential appearance, but we've lost the right to that as well. The Secret Service can now declare free speech zones to contain, control and, in effect, criminalize protest.
Stop for a second and try to fathom that.
At a presidential rally, parade or appearance, if you have on a supportive t-shirt, you can be there. If you are wearing or carrying something in protest, you can be removed.
This, in the United States of America. This in the United States of America. Is Melissa Hughes the only one embarrassed?
*Alan sits down abruptly in the witness chair next to the judge*
Judge Robert Sanders: Mr. Shore. That's a chair for witnesses only.
Alan: Really long speeches make me so tired sometimes.
Judge Robert Sanders: Please get out of the chair.
Alan: Actually, I'm sick and tired.
Judge Robert Sanders: Get out of the chair!
Alan: And what I'm most sick and tired of is how every time somebody disagrees with how the government is running things, he or she is labeled un American.
U.S. Attorney Jonathan Shapiro: Evidentially, it's speech time.
Alan: And speech in this country is free, you hack! Free for me, free for you. Free for Melissa Hughes to stand up to her government and say "Stick it"!
U.S. Attorney Jonathan Shapiro: Objection!
Alan: I object to government abusing its power to squash the constitutional freedoms of its citizenry. And, God forbid, anybody challenge it. They're smeared as being a heretic. Melissa Hughes is an American. Melissa Hughes is an American. Melissa Hughes is an American!
Judge Robert Sanders: Mr. Shore. Unless you have anything new and fresh to say, please sit down. You've breached the decorum of my courtroom with all this hooting.
Alan: Last night, I went to bed with a book. Not as much fun as a 29 year old, but the book contained a speech by Adlai Stevenson. The year was 1952. He said, "The tragedy of our day is the climate of fear in which we live and fear breeds repression. Too often, sinister threats to the Bill of Rights, to freedom of the mind are concealed under the patriotic cloak of anti-Communism."
Today, it's the cloak of anti-terrorism. Stevenson also remarked, "It's far easier to fight for principles than to live up to them."
I know we are all afraid, but the Bill of Rights ~ we have to live up to that. We simply must. That's all Melissa Hughes was trying to say. She was speaking for you. I would ask you now to go back to that room and speak for her.
Boston Legal ~ Stick It ~ Season 2 ~ Episode 19 [Video at link] Written by David E. Kelley & Janet Leahy ~ Directed by Adam Arkin
SDR Radio
~ NOAA 18, 201912.06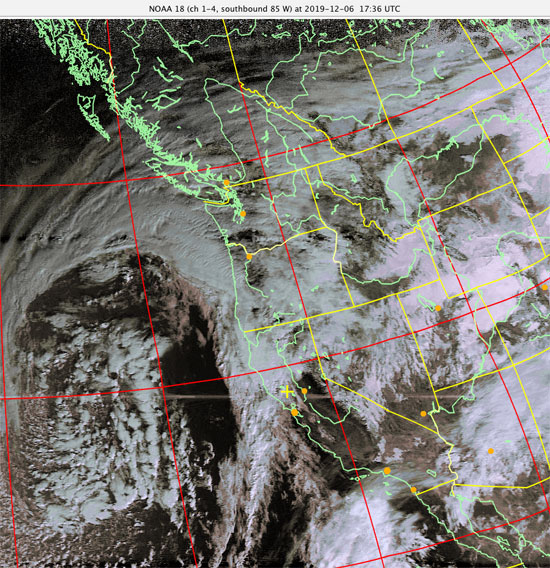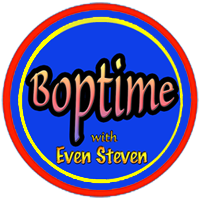 Boptime begins at 6am (EST) Saturday morning with a batch of oldies back to back to back. At 7am (EST) we're gonna really rock out on Rockabilly Ridge with Michael Ace. At 8am (EST) we're giving our regular fare a break. We'll hear again an episode of My World, going back to December 1963, followed by by Uncle Richard's Neighborhood. We'll round out the hour by playing some British rock from December 1963. At 9am ((EST)) on the Club Baby Grand, we cool out with some standards from the American musical canon, performed by Clifford Brown, Gerald Price, Lem Winchester and others. ~ Steve
BOPTIME: Saturday, 6 AM Eastern time, 3 AM Pacific time
Go To: http://www.wvud.org/?page_id=24
Click on a listening link below the WVUD logo:


Available locally in DE on WVUD-FM 91.3, Shoutcast [Search: WVUD], and TuneIn
PPRS ~ Pacific Packet Radio Society Historic, 1st U.S. Wireless Digital Communication
Pacific Packet Radio Society
39

th

Anniversary
Wireless Digital Communication was introduced (in the United States) by Dr. Hank Magnuski (Co-founder PPRS), when his historic KA6M-1 Digital Packet Radio Repeater began operation on December 10, 1980.


Pacific Packet Radio Society gateway | history | photos | papers | links | packet audio | video
Dear Packet Radio Enthusiast,
Thanks very much for the letter of inquiry which you sent me. The response I've received to the initial publicity about the packet repeater has been very enthusiastic, and I have been deluged with requests from hams, both locally and from various points around the country, for more information about the repeater, for schematics, for listings, specifications, modems, proms, SDLC chips, Vancouver boards, and for talks at clubs. Needless to say, all this activity, plus continuing development on the packet hardware and software has kept me very busy, and I apologize for the long delay in responding to your letter. Let me bring you up to date on what has happened, or is happening, since the initial announcement of the repeater, which went on the air in December of 1980.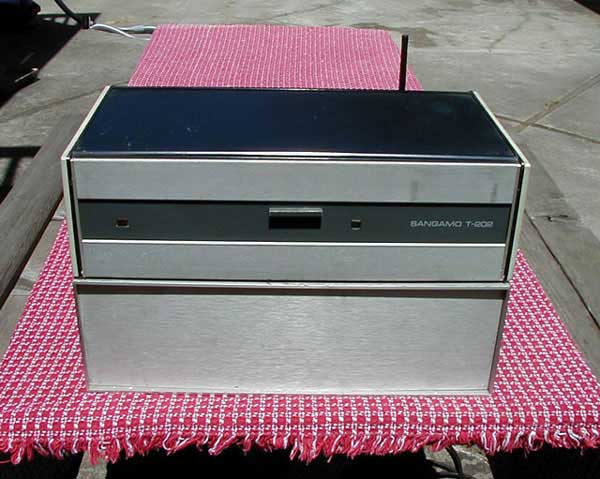 World's First Digital Repeater for Wireless Data Communications
KA6M/R - Packet Radio Repeater. 1980 ~ Front View ~ PPRS photos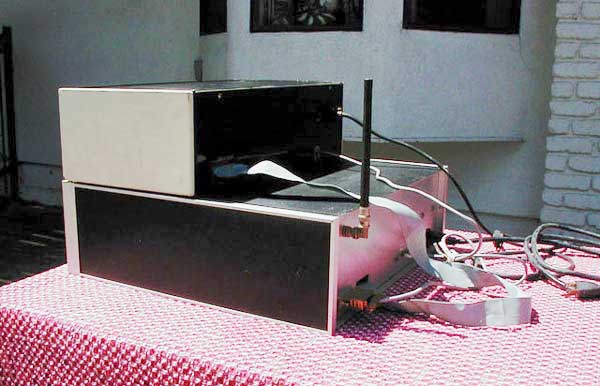 World's First Digital Repeater for Wireless Data Communications
KA6M/R - Packet Radio Repeater, 1980 ~ Back View ~ PPRS photos
In the early months of this year, the packet repeater was operating out of my residence, and was still an experimental machine. Since then, we have installed a couple of upgrades to the control software, we have used a better CPU card, increased the power level, moved the repeater to 700 feet elevation, and integrated its operation to be 100% compatible with the protocol used by the Vancouver Digital Communications Group (VADCG). The repeater has changed from being a laboratory curiosity to a major Bay Area repeater heard from Berkeley to south San Jose, and the user community has grown from a couple of stations to a network of some 30 users. The packet system here now has a mailbox on-line 24 hours a day, several on-line personal computers, and network links (courtesy of a commercial packet network) to the other active packet radio centers in Vancouver and Ottawa. We have also just installed an HF port on 20 Meters, and are beginning some experiments aimed at establishing connection with AMRAD in Washington and with equipment located at W1AW.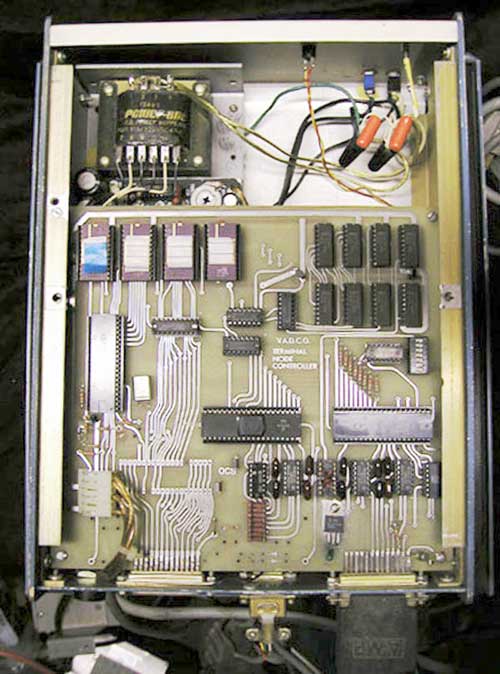 VADCG TNC built by C. Spangler, N6ECT ~ PPRS photos
Most of the original packet radio experiments were done in Canada (in part due to the Canadians' pioneering communications spirit, and in part due to less restrictive regulations up there), and three main centers were at work: Montreal, Ottawa and Vancouver. The technology employed by each of these groups differed, and each approach has its own merits. My thinking and ideas very closely paralleled the work started by Doug Lockhart, VE7APU, and I can best report on what is happening with groups which have adopted HDLC (High-level Data Link Control) framing as the basis of their protocol. The HDLC/ SDLC frame is a new, universally accepted standard in the data communications industry, and Doug and I feel it offers a good starting point on which to build a packet radio network. As it turns out, groups in Washington D.C., Los Angeles, El Paso, Denver, Sacramento, and Hamilton have also taken up this technology, and it is likely that we already have a sufficient number of people using this technique that it will become the defacto standard in the amateur radio community.
It would be impossible for me to completely describe the protocol and equipment being used in this letter, so I will briefly cover some of the topics and give you some pointers on where to find additional information. As you might guess, this is a new area for amateur radio, and tutorial material and handbooks simply do not yet exist. Many issues and problems remain to be discussed, and there is opportunity to make substantial contributions to the state of the art. [Snip] [Continue Reading] - Thanks again for your interest. See you on the net. Best regards, Hank Magnuski, KA6M - [More Papers and History]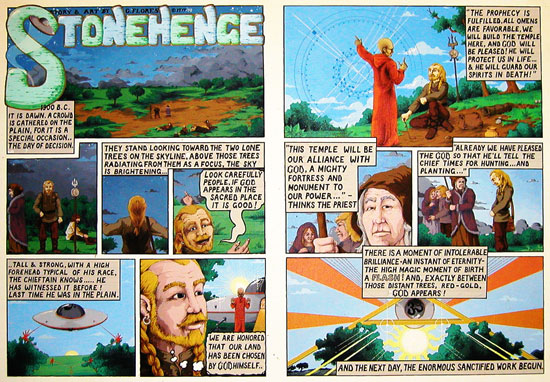 Stonehenge by John Flores ~ Click to visit: John Flores Graphics pages
SDR Radio
~ NOAA~15, 18, or 19
~ Last Image (for a while)
Raspberry Pi used as AWSA [Automated Weather Satellite Viewer], this image piped through HDMI: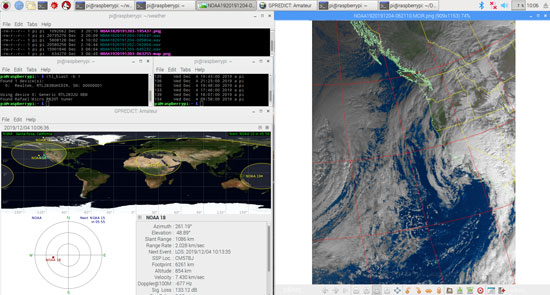 Click for Full: 1817 x 975 screen shot ~ Complete details at (local) Source
Dahbud Mensch

~ Stuck in the middle with WHO?
~ State Department Communists

They're Coming to Take US Them Away, Collab with GlaceonShine via JohnnyDeppsGirl4life
"The State Department is
infested with communists.
I have here in my hand a list of 205—a list of names that were made known to the Secretary of State as being members of the Communist Party and who nevertheless are still working and shaping policy in the State Department." via Joseph McCarthy, Republican Senator
Has orange become
the new Red?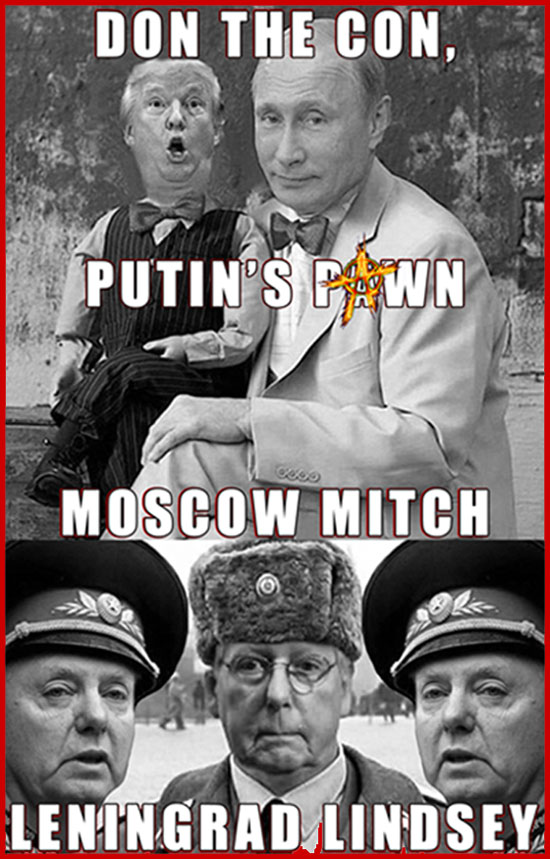 Ride the Fence, The Coup via Rip & Roy <not work safe>
SDR Radio
~ NOAA~
15, 18, or 19 Daily (for a while)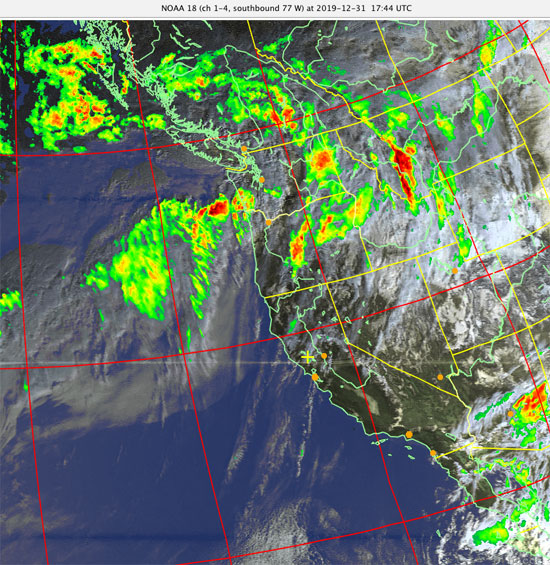 Images posted daily (morning) & not archived. Information at top of graphic
December 03, 2019 ~ local Source
Moved entire 'manual' process of NOAA operation to automated process using Raspberry Pi, RTL-SDR v3, LNAU-0137-648 LNA, WXSAT Quadrifilar Helix Antenna; with modification of some scripts, found in comments here.

In order to turn on bias-t for LNAU-0137-648, +20 dB Low Noise Amplifier and Filter I use rtl_biast -b 1 mentioned in RTL-SDR BLOG V.3. DONGLES USER GUIDE; Feature 2: Software Selectable Bias Tee.

I used sudo make install (at end of compile), allowing rtl_biast to be run from anywhere. [All above underlined links at local Source]


Raspberry Pi, showing weather pic and results of atq command [small sd card for size reference]


Anker 4 slot USB, RTL-SDR v3 to LNAU to WXSAT Quadrifilar Helix Antenna & mouse, keyboard

Results:

Below is a MSA (multispectral analysis) of NOAA-18 [from above image, upper left corner], 201912.03@10:09:55. Actual size of received images is 909x1115:
Dahbud Mensch

~ Stuck in the middle with WHO?
~
TRE45ON?
Telecom Crime & Punishment ~ Patriot Act ~ They/Them ~ Where Have All the Flowers Gone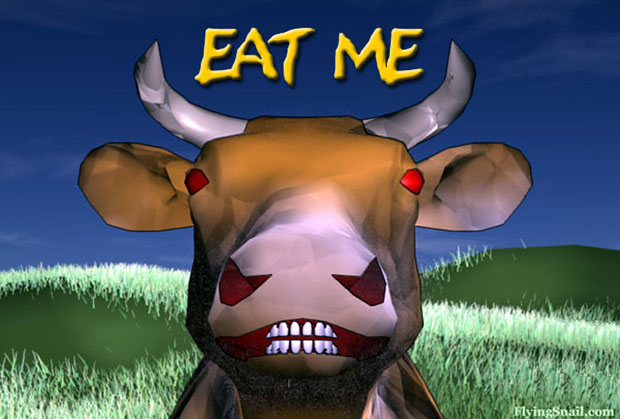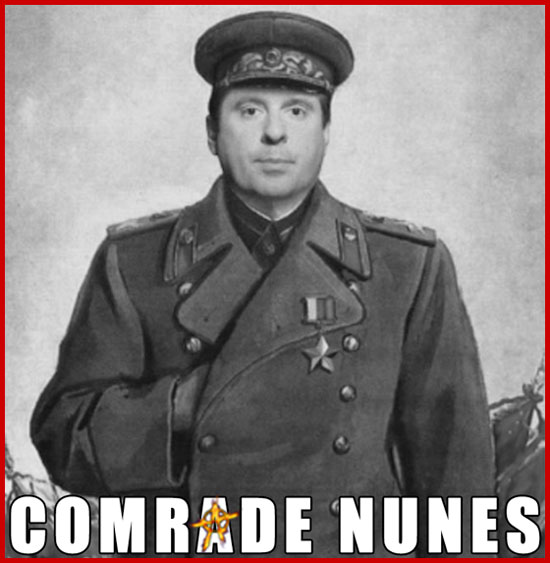 I'm Your Cowboy via Tatiana Stolpovskaya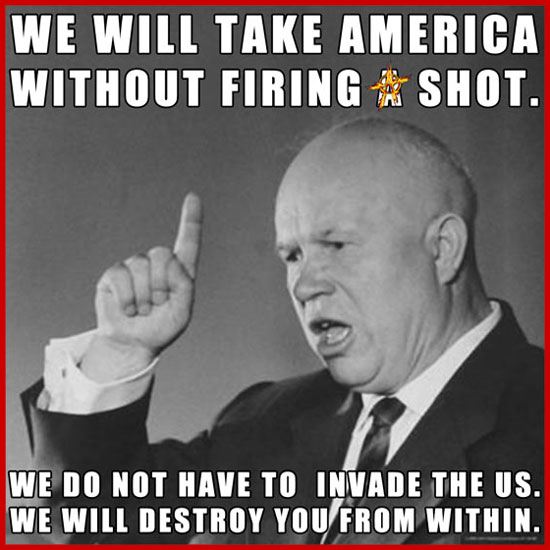 The Original Complete List Of The
45 Declared Goals
For The Communist Takeover Of America
1. U.S. acceptance of coexistence as the only alternative to atomic war.
2. U.S. willingness to capitulate in preference to engaging in atomic war.
3. Develop the illusion that total disarmament [by] the United States would be a demonstration of moral strength.
4. Permit free trade between all nations regardless of Communist affiliation and regardless of whether or not items could be used for war.
5. Extension of long-term loans to Russia and Soviet satellites.
6. Provide American aid to all nations regardless of Communist domination.
7. Grant recognition of Red China. Admission of Red China to the U.N.
8. Set up East and West Germany as separate states in spite of Khrushchev's promise in 1955 to settle the German question by free elections under supervision of the U.N.
9. Prolong the conferences to ban atomic tests because the United States has agreed to suspend tests as long as negotiations are in progress.
10. Allow all Soviet satellites individual representation in the U.N.
11. Promote the U.N. as the only hope for mankind. If its charter is rewritten, demand that it be set up as a one-world government with its own independent armed forces. (Some Communist leaders believe the world can be taken over as easily by the U.N. as by Moscow. Sometimes these two centers compete with each other as they are now doing in the Congo.)
12. Resist any attempt to outlaw the Communist Party.
13. Do away with all loyalty oaths.
14. Continue giving Russia access to the U.S. Patent Office.
15. Capture one or both of the political parties in the United States.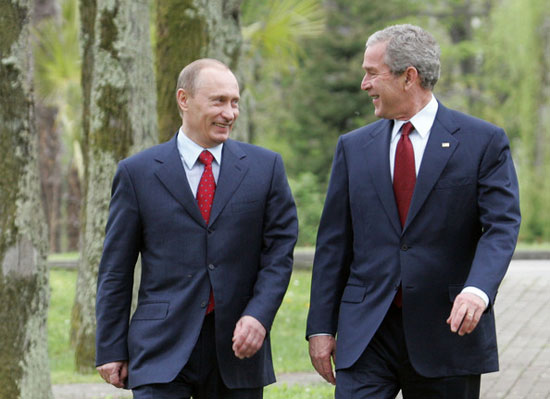 16. Use technical decisions of the courts to weaken basic American institutions by claiming their activities violate civil rights.
17. Get control of the schools. Use them as transmission belts for socialism and current Communist propaganda. Soften the curriculum. Get control of teachers' associations. Put the party line in textbooks.
18. Gain control of all student newspapers.
19. Use student riots to foment public protests against programs or organizations which are under Communist attack.
20. Infiltrate the press. Get control of book-review assignments, editorial writing, policy-making positions.
21. Gain control of key positions in radio, TV, and motion pictures.
22. Continue discrediting American culture by degrading all forms of artistic expression. An American Communist cell was told to "eliminate all good sculpture from parks and buildings, substitute shapeless, awkward and meaningless forms."
23. Control art critics and directors of art museums. "Our plan is to promote ugliness, repulsive, meaningless art."
24. Eliminate all laws governing obscenity by calling them "censorship" and a violation of free speech and free press.
25. Break down cultural standards of morality by promoting pornography and obscenity in books, magazines, motion pictures, radio, and TV.
26. Present homosexuality, degeneracy and promiscuity as "normal, natural, healthy."
27. Infiltrate the churches and replace revealed religion with "social" religion. Discredit the Bible and emphasize the need for intellectual maturity, which does not need a "religious crutch."
28. Eliminate prayer or any phase of religious expression in the schools on the ground that it violates the principle of "separation of church and state."
29. Discredit the American Constitution by calling it inadequate, old-fashioned, out of step with modern needs, a hindrance to cooperation between nations on a worldwide basis.
30. Discredit the American Founding Fathers. Present them as selfish aristocrats who had no concern for the "common man."
31. Belittle all forms of American culture and discourage the teaching of American history on the ground that it was only a minor part of the "big picture." Give more emphasis to Russian history since the Communists took over.
32. Support any socialist movement to give centralized control over any part of the culture--education, social agencies, welfare programs, mental health clinics, etc.
33. Eliminate all laws or procedures which interfere with the operation of the Communist apparatus.
34. Eliminate the House Committee on Un-American Activities.
35. Discredit and eventually dismantle the FBI.
36. Infiltrate and gain control of more unions.
37. Infiltrate and gain control of big business.
38. Transfer some of the powers of arrest from the police to social agencies. Treat all behavioral problems as psychiatric disorders which no one but psychiatrists can understand [or treat].
39. Dominate the psychiatric profession and use mental health laws as a means of gaining coercive control over those who oppose Communist goals.
40. Discredit the family as an institution. Encourage promiscuity and easy divorce.
41. Emphasize the need to raise children away from the negative influence of parents. Attribute prejudices, mental blocks and retarding of children to suppressive influence of parents.
42. Create the impression that violence and insurrection are legitimate aspects of the American tradition; that students and special-interest groups should rise up and use ["]united force["] to solve economic, political or social problems.
43. Overthrow all colonial governments before native populations are ready for self-government.
44. Internationalize the Panama Canal.
45. Repeal the Connally reservation so the United States cannot prevent the World Court from seizing jurisdiction [over domestic problems. Give the World Court jurisdiction] over nations and individuals alike.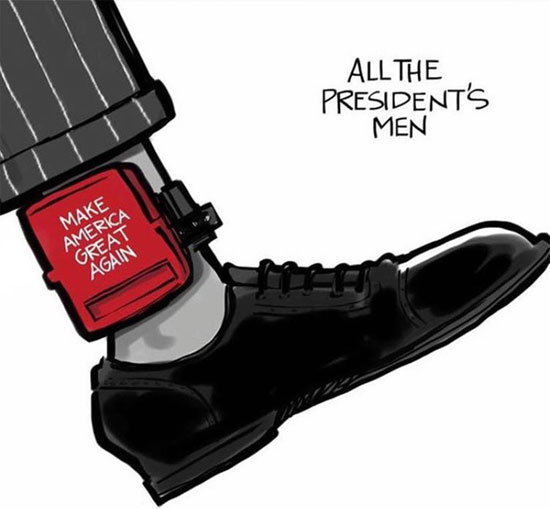 Corruption is Legal in America via Doku Mentor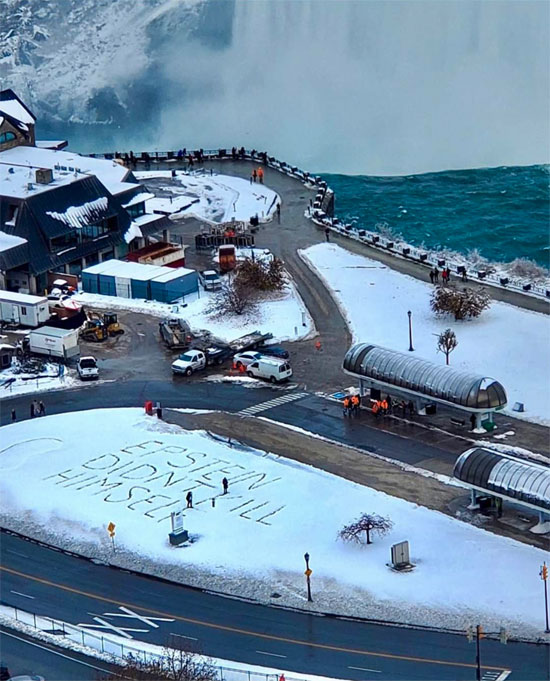 Affidavits regarding brutal rape of minor:
https://www.scribd.com/doc/316341058/Donald-Trump-Jeffrey-Epstein-Rape-Lawsuit-and-Affidavits
Review of these documents:
https://www.snopes.com/news/2016/06/23/donald-trump-rape-lawsuit/
Video of testimony:
https://www.vox.com/policy-and-politics/2016/11/3/13501364/trump-rape-13-year-old-lawsuit-katie-johnson-allegation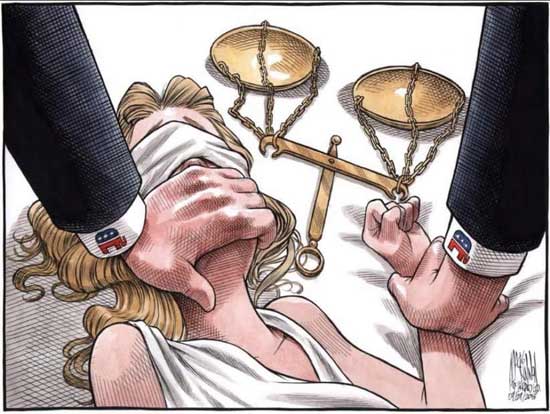 4. Life is like photography. You use the negative to develop.

Leningrad Cowboys, Happy Being Miserable via Leningrad Cowboys Official
6. If we want world peace, we must let go of our attachments and truly live like nomads. That's where I no mad at you, you no mad at me. That way, there'll surely be nomadness on the planet. And peace begins with each of us. A little peace here, a little peace there, pretty soon all the peaces will fit together to make one big peace everywhere.

Nothing else matters, Metallica arr. Karianne Brouwer violin, Maaike Schoenmaker cello
Notes from ~@~
Freedom of expression and freedom of speech aren't really important unless they're heard...It's hard for me to stay silent when I keep hearing that peace is only attainable through war. And there's nothing more scary than watching ignorance in action. So I dedicated this Emmy to all the people who feel compelled to speak out and not afraid to speak to power and won't shut up and refuse to be silenced.~ Tom Smothers

Carlin Step, DJ Steve Porter & Eli Wilkie from Roland Kardeby

The Great Bell Chant (The End of Suffering) from R Smittenaar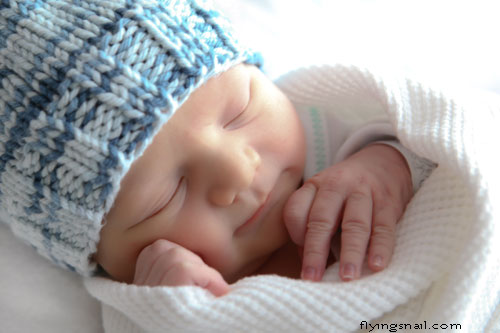 One Day, Matisyahu via ShalomLearning

Unsung Hero from Rattakarn Srithavatchai "Garn"
The Sacred Clowns ~ Heyókȟa
The Heyókȟa symbolize and portray many aspects of the sacred, the Wakȟáŋ. Their satire presents important questions by fooling around. They ask difficult questions, and say things others are too afraid to say. By reading between the lines, the audience is able to think about things not usually thought about, or to look at things in a different way.
Principally, the Heyókȟa functions both as a mirror and a teacher, using extreme behaviors to mirror others, thereby forcing them to examine their own doubts, fears, hatreds, and weaknesses. Heyókȟas also have the power to heal emotional pain; such power comes from the experience of shame--they sing of shameful events in their lives, beg for food, and live as clowns. They provoke laughter in distressing situations of despair and provoke fear and chaos when people feel complacent and overly secure, to keep them from taking themselves too seriously or believing they are more powerful than they are.
In addition, sacred clowns serve an important role in shaping tribal codes. Heyókȟa's don't seem to care about taboos, rules, regulations, social norms, or boundaries. Paradoxically, however, it is by violating these norms and taboos that they help to define the accepted boundaries, rules, and societal guidelines for ethical and moral behavior. This is because they are the only ones who can ask "Why?" about sensitive topics and employ satire to question the specialists and carriers of sacred knowledge or those in positions of power and authority. In doing so, they demonstrate concretely the theories of balance and imbalance. Their role is to penetrate deception, turn over rocks, and create a deeper awareness.
Develop Your Mind, Not Sacred Sites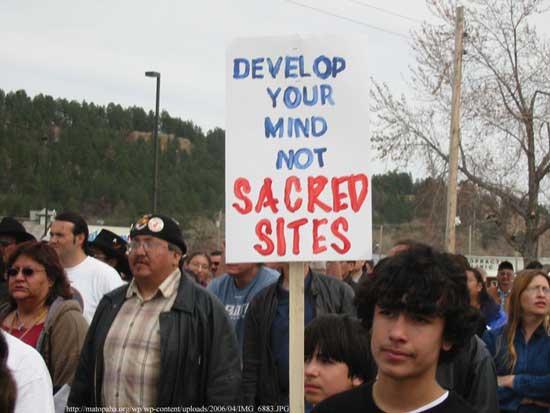 Cree Prophecy
Only after the last tree has been cut down,
Only after the last river has been poisoned,
Only after the last fish has been caught,
Only then will you find money cannot be eaten.
Nobody for President ~ NONE of the ABOVE should be a choice on voter ballots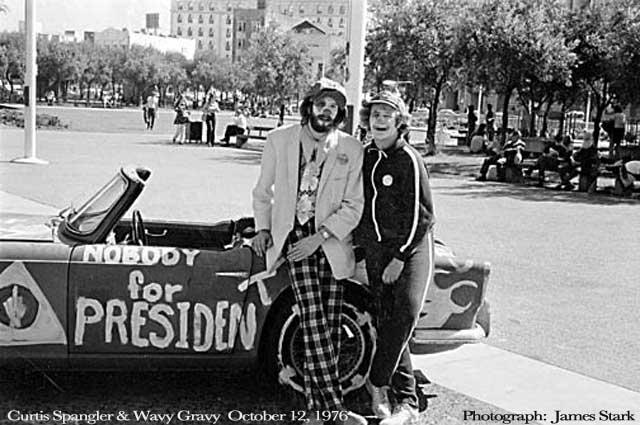 C. Spangler & Wavy Gravy, Nobody for President, 197610.12 ~ Photo: James Stark

American Dream, George Carlin via Ishtar [Not Work Safe] Nobody should have that much power


Message
via
Mike Pinder
Oh, I hope that I see you again I never even caught your name As you looked through my window pane ~ So I'm writing this message today I'm thinking that you'll have a way Of hearing the notes in my tune ~ Where are you going? Where have you been? I can imagine other worlds you have seen ~ Beautiful faces and music so serene ~ So I do hope I see you again My universal citizen You went as quickly as you came ~ You know the power Your love is right You have good reason To stay out of sight ~~ But break our illusions and help us Be the light ~ by Mike Pinder

Why I Think This World Should End, Prince EA via Prince EA
Without love in the dream, it will never come true. ~ Jerry Garcia/Robert Hunter
And in the end, the love you take is equal to the love you make. ~ John Lennon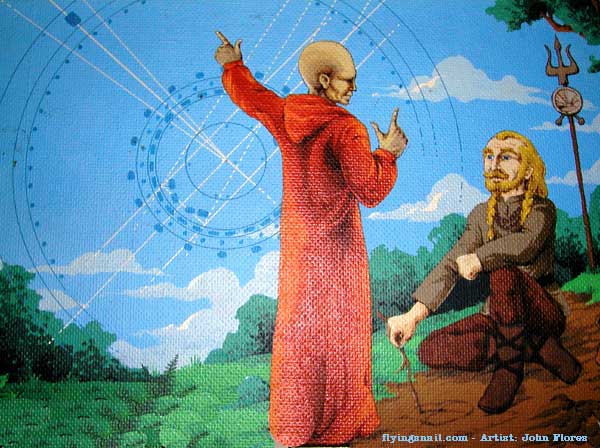 ---
---
The man whispered, "God, speak to me" and a meadowlark sang. But the man did not hear. So the man yelled "God, speak to me" and the thunder rolled across the sky. But the man did not listen. The man looked around and said, "God let me see you" and a star shined brightly. But the man did not notice. And the man shouted, "God show me a miracle" and a life was born. But the man did not know. So the man cried out in despair, "Touch me God, and let me know you are there" Whereupon God reached down and touched the man, But the man brushed the butterfly away and walked on.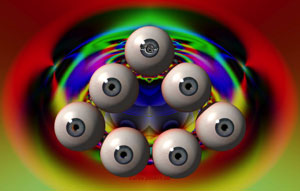 Don't miss out on a blessing because
it isn't packaged the way you expect!
---
---

DuckDuckGo ~ The search engine that doesn't track you
{ ͡ʘ ͜ʖ ͡ʘ} Is Daylight Saving Time Dangerous? { ͡ʘ ͜ʖ ͡ʘ}