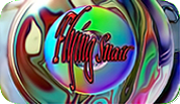 During times of universal deceit, telling the truth becomes a revolutionary act. ~ George Orwel
Narcissists will never accept that they are the problem!
None of the Above should be a Valid Choice on Voter Ballots!
How Politicians feel about The People: Birds of a Feather?

How Friendly Are You? ~ 1952 Coronet Instructional Films via Jeff Quitney
Throughout America's adventure in free government, our basic purposes have been to keep the peace; to foster progress in human achievement, and to enhance liberty, dignity and integrity among people and among nations. To strive for less would be unworthy of a free and religious people. Any failure traceable to arrogance, or our lack of comprehension or readiness to sacrifice would inflict upon us grievous hurt both at home and abroad. ~ Dwight D. Eisenhower
Feetlines
~ Area 51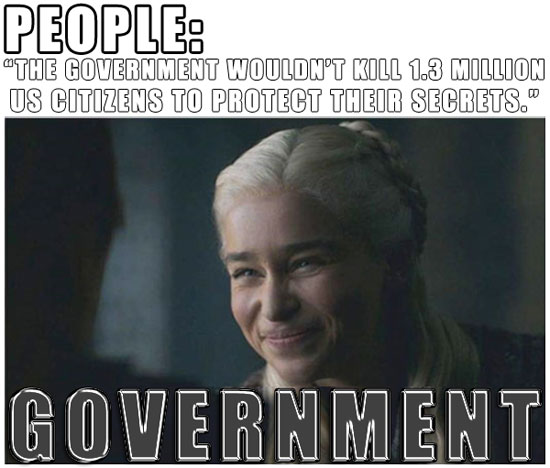 via lifonaut, imgur source ~ Daenerys Targaryen ~ Westeros' greatest serial killer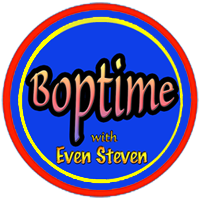 Boptime begins at 6am (EDT) with an hour of oldies back to back to back. At 7am (EDT) Rockabilly Ridge returns with Michael Ace who'll play a slew of rare and vintage R&B from the late 1940s and early 50s. At 8am (EDT) we bop back to this day with music from 1950, when we were sending forces to the Korean peninsula to conduct a "police action" only a month after the beginning of the Korean War while Republican Senator Joe McCarthy was beginning to get noticed. At 9am (EDT) we head back to this day in 1955 when rock n' roll broke on through the mainstream music world in a big way. ~ Steve
BOPTIME: Saturday, 6 AM Eastern time, 3 AM Pacific time
Go To: http://www.wvud.org/?page_id=24
Click on a listening link below the WVUD logo:


Available locally in DE on WVUD-FM 91.3, Shoutcast [Search: WVUD], and TuneIn

Burrard Inlet Prayer Ceremony ~ Sundance Chief Rueben George via Zack Embree + Sacred Trust
Feetlines July 14, 2019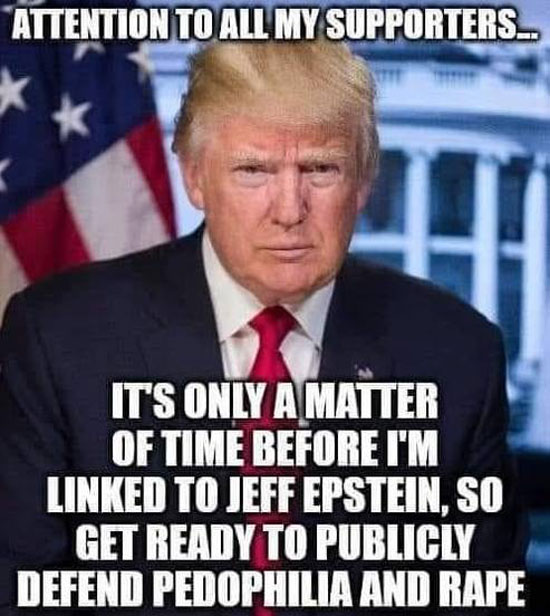 Attention to all my supporters... It's only a matter of time before I'm linked to Jeff Epstein,
so get ready to publically defend pedophilia and rape. via depreseedinparis ~ Source
[Most] politicians are Cold Blooded, Baby, Child, Women,
Civilian, & Military Killers who never seem to go to jail?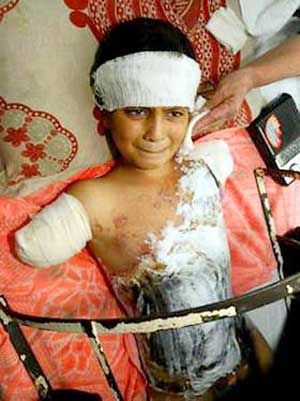 WHO VOTED FOR OR AGAINST AN ILLEGAL IRAQ WAR
It was widely known before the Iraq war over 50% of the Iraqi population
were children under the age of 15, & the war began with this act of sheer
cowardice by a Republican Administration, with Democrat Support.
---
None of the Above should be a Valid Choice on Voter Ballots!
Notes from ~@~

Our email stopped working Monday, July 8, 2019, started restoration Friday, July 12, 2019, and continues.
I received 2087 unread email messages that date from Sept. 16, 2018 to April 30, 2019 and a scattered second group dated from March 3, 2010 to June 3, 2017.
I have never seen or read any of this email and a lot of it has attachments.
I would also like to mention, again, that over the years, due to an industry that likes to get product out and deal with problems later, I have had numerous computer crashes and have lost a lot of email addresses; despite having backups.
If you did not hear from me, it wasn't because of ignoring you!
I have close to 6000 emails to read, will eventually go through everything, and if anyone gets replies from old email, this is why. ~@~

The Wallflowers ~ Reboot The Mission via Off Camera
Dahbud Mensch ~ Stuck in the middle with Who?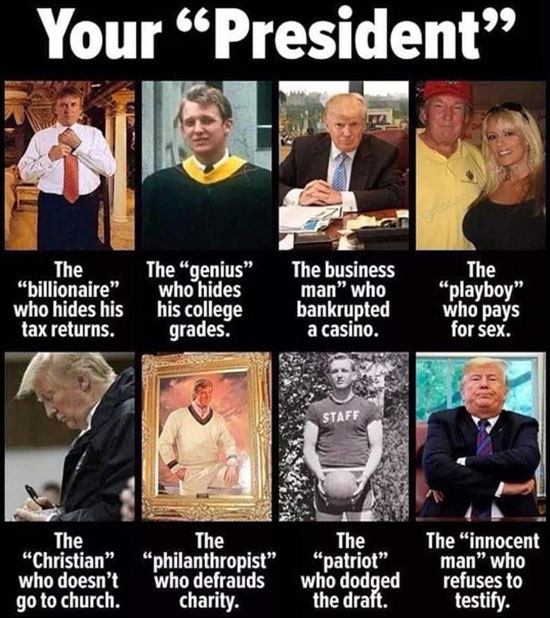 Your President via ausernameitis ~ Reddit Source
Democrats Are Failing the Country
by Letting Trump Off the Hook
Democrats have essentially been shouting, "Do whatever you want, Mr. Trump! We are terrified of our own shadow and will let you get away with anything!"
by Ryan Cooper, Common Dreams Source, Published on Thursday, July 11, 2019 by The Week
The political media has been glued to the Jeffrey Epstein scandal of late. Federal officials arrested him in New Jersey Monday, and raided his New York home where they found a veritable cornucopia of incriminating evidence, allegedly including lots of child porn. Then on Wednesday another accuser came forward, saying that Epstein had raped her when she was 15 years old.
The Trump administration, naturally, is up to its elbows in the Epstein story. Trump himself was friends with the guy for years, but Secretary of Labor Alexander Acosta personally arranged an outrageous sweetheart plea bargain with Epstein in 2008 when Acosta was a U.S. Attorney in Florida.
So what is the opposition party going to do about it? Nothing of substance. Speaker of the House Nancy Pelosi called for Acosta to resign, but also immediately ruled out impeaching him. "It's up to the president, it's his cabinet. We have a great deal of work to do here for the good of the American people and we have to focus on that," she said. (Trump, of course, will do no such thing.) Senate Democrats who voted for Acosta and are still in office didn't even call for him to step down.
This failure to use their power to confront Trump and his administration is making Democrats an accessory to his crimes. [Continue Reading]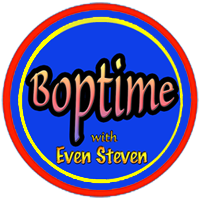 Boptime begins at 6am (EDT) with an hour of oldies back to back to back. At 7am (EDT) we present the second part of The Secret City of Jazz. Beginning at 8am (EDT) we meet on Clifford's Corner with Larry and Kitty with lively chatter, choice nuggets of inside info, and plenty of rare jazz sides and R&B selections, and maybe even a surprise or two. ~ Steve
BOPTIME: Saturday, 6 AM Eastern time, 3 AM Pacific time
Go To: http://www.wvud.org/?page_id=24
Click on a listening link below the WVUD logo:


Available locally in DE on WVUD-FM 91.3, Shoutcast [Search: WVUD], and TuneIn
Dahbud Mensch ~ Stuck in the middle with Who?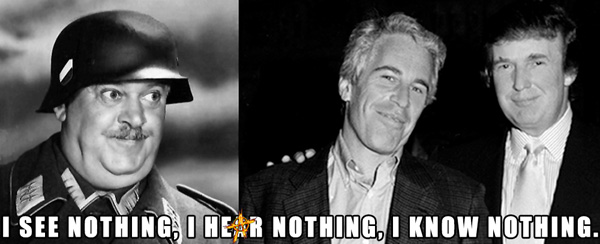 I hope Jeffrey Epstein sings like a bird.
And if some Democrats go down, so be it
Holding people accountable for abusing girls should be nonpartisan. Sadly, in the Trump era of lowered expectations, we can't count on that
by Jill Filipovic/@JillFilipovic, Tue 9 Jul 2019 11.53 EDT, the Guardian Source
I hope Jeffrey Epstein sings like a bird.
The wealthy and well-connected financier and registered sex offender was arrested this week in New York on accusations of child sex trafficking. He just may bring a lot of bad men – and a few bad women – down with him.
Epstein allegedly groomed and recruited dozens of underage girls, many of them vulnerable runaways, for sex with him and his friends. Despite being caught by authorities, Epstein has largely evaded serious punishment. Thanks to heroic reporting by Julie K Brown at the Miami Herald, Americans learned that back in 2008, Epstein was given an exceptionally favorable plea deal by then-prosecutor Alex Acosta – now Trump's secretary of labor. The deal was shamefully hidden from Epstein's victims, and while it forced Epstein to register as a sex offender, it allowed him near-total freedom for the 13 months he was technically in jail – he was allowed to leave the facility to work in his luxurious private office instead of serving life in prison.
It's unclear why Epstein was given such favorable treatment. But given who his friends are, speculation has run rampant that his powerful connections (and the potential wrongdoings of other powerful men) may have had a hand in keeping him in relative freedom.
Epstein's friends and contacts include President Donald Trump, President Bill Clinton, Prince Andrew, and high-powered attorney Alan Dershowitz, among many others. In 2002, Trump characterized Epstein as a "terrific guy" who enjoyed the company of girls "on the younger side."
In the immediate aftermath of Epstein's arrest, Twitter exploded with political gotchas. On the right, it's near-gospel that President Bill Clinton and Epstein are jet-setting pals, and that Clinton is at best complicit and at worst a participant in Epstein's sex crimes. (We know Clinton used Epstein's private jet for work related to the Clinton Foundation; according to Clinton, they were always accompanied by Secret Service agents or Clinton Foundation staff.)
On the left, Trump opponents wonder if the president was ever a participant in Epstein's sexual crimes. Trump was at one point accused by a young woman of raping her at Epstein's New York home when she was 13; the lawsuit in which those accusations were made was withdrawn by the accuser. We also know that Trump and Epstein socialized, that Trump's various phone numbers were written in Epstein's notorious little black book, and that Epstein was once asked whether he had ever been around Trump and underage girls – and he invoked his Fifth Amendment right against self-incrimination.
This is not a story in which anyone should find satisfaction. Dozens of vulnerable girls were allegedly sexually exploited and abused by Jeffrey Epstein. A great many adults, who should have done the right thing and stood up for these children, chose to look the other way. A few may have even participated in exploitation and rape.
The only way forward is to demand accountability from Epstein, his co-conspirators, and his enablers, without exception and without excuse. Who knew what was going on? Who participated? How, exactly, did Epstein get such a sweet plea deal in Florida?
Wherever these questions lead prosecutors and reporters must follow. And the public must demand real accountability, no matter the answers. [Continue Reading]

Another Brick via Montana Skies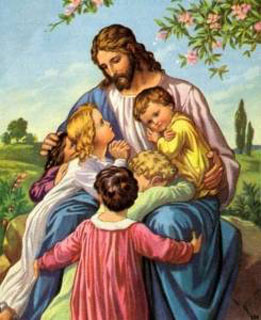 2 Peter 2: 1, 2, 3
None of the Above should be a Valid Choice on Voter Ballots!
Dahbud Mensch ~ Stuck in the middle with Who?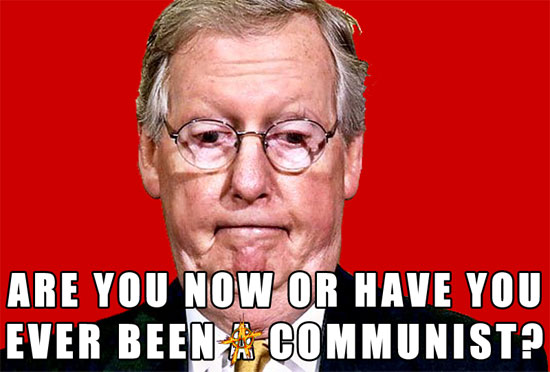 Are you now or have you ever been a Communist? ~ Answer for question: Why this?
Karl Cohen
~ Association International du Film d'Animation SF Newsletter
ASIFA-SF July 2019 Newsletter [PDF Format]
Dahbud Mensch ~ Stuck in the middle with Who?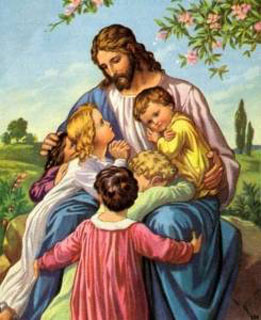 2 Peter 2:1,2,3
via TokingMessiah
Hijacking this thread to repost this, which I've been spreading for years:
Donald Trump on Jeffrey Epstein:
"I've known Jeff for fifteen years. Terrific guy,'' Trump booms from a speakerphone. "He's a lot of fun to be with. It is even said that he likes beautiful women as much as I do, and many of them are on the younger side. No doubt about it -- Jeffrey enjoys his social life."
Epstein's phone directory from his computer contains 14 phone numbers for Donald Trump, including emergency numbers, car numbers, and numbers to Trump's security guard and houseman," the affidavit reportedly claims.
And just in case anyone thought that was exclusive to Trump's opinions 20 years ago:
Now, Trump is on the witness list in a Florida court battle over how federal prosecutors handled allegations that Epstein, 64, sexually abused more than 40 minor girls, most of them between the ages of 13 and 17. The lawsuit questions why Trump's nominee for labor secretary, former Miami U.S. attorney Alexander Acosta, whose Senate confirmation hearing began Wednesday morning, cut a non-prosecution deal with Epstein a decade ago rather than pursuing a federal indictment that Acosta's staff had advocated.
That's right: the prosecutor that refused to charge Epstein for raping little girls was appointed to Secretary of Labor, by none other than Donald Trump.
In November, the Miami Herald reported that when Labor Secretary Alexander Acosta was a US attorney in Florida, he gave Epstein the "deal of a lifetime." In a sweeping review of the politically connected billionaire's case, the Herald explained how Acosta had made an agreement with Epstein to avoid major repercussions for the hedge fund manager, even though a federal investigation had identified 36 underage victims.
That's the same Trump that was accused, along with Epstein, of raping a 13 year old girl in 1994.
Here are some excerpts from the lawsuit; warning that the following content is graphic:
Plaintiff was subject to acts of rape, sexual misconduct, criminal sexual acts, sexual abuse, forcible touching, assault, battery, intentional and reckless infliction of emotional distress, duress, false imprisonment, and threats of death and/or serious bodily injury by the Defendants that took place at several parties during the summer months of 1994.

Plaintiff was enticed by promises of money and a modeling career to attend a series of parties, with other similarly situated minor females, held at a New York City residence that was being used by Defendant Jeffrey Epstein. At least four of the parties were attended by Defendant Trump. On information and belief, by this time in 1994, Defendant Trump had known Defendant Epstein for seven years and knew that Plaintiff was then just 13 years old. 

On the fourth and final sexual encounter with Defendant Trump, Defendant Trump tied Plaintiff to a bed, exposed himself to Plaintiff, and then proceeded to forcibly rape Plaintiff. During the course of this savage sexual attack, Plaintiff loudly pleaded with Defendant Trump to stop but with no effect. Defendant Trump responded to Plaintiff's pleas by violently striking Plaintiff in the face with his open hand and screaming that he would do whatever he wanted.

Immediately following this rape, Defendant Trump threatened Plaintiff that, were she ever to reveal any of the details of the sexual and physical abuse of her by Defendant Trump, Plaintiff and her family would be physically harmed if not killed. 

Defendant Epstein had sexual contact with Plaintiff at two of the parties. The second sexual encounter with Defendant Epstein took place after Plaintiff had been raped by Defendant Trump.Defendant Epstein forced himself upon Plaintiff and proceeded to rape her anally and vaginally despite her loud pleas to stop. Defendant Epstein then attempted to strike Plaintiff about the head with his closed fists while he angrily screamed at Plaintiff that he, Defendant Epstein, rather than Defendant Trump, should have been the one who took Plaintiff's virginity, before Plaintiff finally managed to break away from Defendant Epstein.
via grubas: EVERYONE is connected to Epstein. He's got Prince Andrew, Bill Clinton, Donald Trump, all sorts of people. The difference is Trump is one of the few who talks about it. But if Epstein decided to squeal or gets caught up in heavy investigations he's gone.
via disposable_me_0001: I think dirt on Trump is pretty much useless at this point. We could have evidence that he raped baby jesus, and Congress would just shrug.
via Cadet-Bone-Spurs
"Jane Doe" alleges Donald Trump sexually assaulted her on four separate occasions, culminating in a rape when she was just 13 at Jeffrey Epstein's mansion. 
Her evidence? Three sworn declarations – from her, a friend she confided in at the time, AND one of Epstein's recruiters.
This case was filed in New York federal court in 2016. You can read her pleading here The case was NOT dismissed. Jane withdrew her complaint on November 4, 2016, saying she was "afraid to show her face" due to "numerous threats" against her.
Jane came to New York in June 1994 "in the hope of starting a modeling career." She soon met "Tiffany," who offered to bring her to parties where she could meet folks in the business - hosted by Epstein.
This is eerily similar to tales of recruiters in MiamiHerald's reporting.
Jane claims Trump had "sexual contact" with her at four parties she attended that summer. She understood both Trump and Epstein "knew that [she] was 13 years old."
The fourth time, she says "Trump tied me to a bed, exposed himself to me, and then proceeded to forcibly rape me."
Jane claims a 12-year-old named Maria was forced to be involved in the third encounter. She never saw Maria again after that.
Following the rape, Jane says Trump threatened to hurt her and her family if she ever told anyone. He suggested he could make her "disappear like Maria."
Jane is not the only witness offered in this filing. A woman using the pseudonym "Joan Doe" attests that she is willing to testify that Jane told her about the sexual encounters with Trump and Epstein "in the 1994-95 school year."
Here is her sworn declaration
Jane also filed a sworn declaration from Tiffany, who says Epstein employed her starting in 1991 "to get attractive adolescent women to attend these parties." Tiffany corroborates Jane's story and claims to have "personally witnessed" the four encounters between Jane and Trump. 
Tiffany also claims she personally witnessed the "one occasion where Mr. Trump forced [Jane] and a 12-year-old female named Maria [to] perform oral sex" on him. She also claims to have witnessed Trump's later threats against Jane. 
Tiffany says she worked for Epstein until 2000.
Trump admits to a close friendship with Epstein. He told New York magazine in 2002: 
"I've known Jeff for fifteen years. Terrific guy...it is even said that he likes beautiful women as much as I do, and many of them are on the younger side."
MotherJones' description of Trump's modeling agency is eerily similar to parts of Epstein's scheme as well.
Though there is less reporting on this, Trump seems to have illegally brought girls as young as 14 to the U.S. to work uncompensated. Sounds a lot like trafficking, no? 
Flash forward to 2007. Epstein is being prosecuted for "assembling a large, cult-like network of underage girls – with the help of young female recruiters."
The prosecutor? Future Trump Labor Secretary, Alex Acosta. 
Epstein's attorney? Future Trump mouthpiece, Alan Dershowitz.
According to the MiamiHerald report this week, Acosta worked with Dershowitz to give Epstein a sweetheart deal - just 13 months in county jail.
Perhaps more egregious, Acosta "granted immunity to 'any potential co-conspirators'" in these crimes.
This unusual move not only exempts Trump from criminal prosecution for raping Jane Doe. It also protects Dershowitz.
Virginia Roberts claims Alan had sex with her "six times...the first time was when I was about 16, early on in my servitude to Epstein.''
Ten years after Acosta coddled Epstein and gave immunity to his co-conspirators, Trump appointed Acosta Secretary of Labor. 
If you recall, Acosta replaced Andrew Puzder, who was charged with serious domestic abuse.
Abusive behavior is not the exception here. It is the rule. 
I have no way of verifying Jane's claims. But three sworn declarations filed in federal court ARE evidence. Congruence with details in the MiamiHerald and multiple ties to Trumps' inner circle add credibility. 
At the very least, Jane must be heard. We all deserve the truth.
Here is more on Epstein that matches details in the MiamiHerald reports: being forced to give him massages, Epstein forcing digital penetration, his irritation at her protests, etc.
Listen to her voice. Listen to her story.
Here she recounts her first encounter with Trump when she was 13. Her description matches his known idiosyncrasies and germophobia:
He required her to touch him with a glove.
"He seemed to take a liking to me because I was so young...he kind of liked things to be his first."
"Donald Trump specifically asked about me because I remind him of his daughter, and she said, 'Well, she's 13 as well.'"
I know we avoid seriously discussing this because it is disturbing beyond comprehension. But we all know what Trump has said about Ivanka.
This. Adds. Up.
You can watch her full recorded testimony here It is dated February 11, 2016.
Based on all of the details we now know, her story is very credible. It is past time we confront this as a nation.
Affidavits regarding
brutal rape of minor:
https://www.scribd.com/doc/316341058/Donald-Trump-Jeffrey-Epstein-Rape-Lawsuit-and-Affidavits
Review of these documents:
https://www.snopes.com/news/2016/06/23/donald-trump-rape-lawsuit/
Video of testimony:
https://www.vox.com/policy-and-politics/2016/11/3/13501364/trump-rape-13-year-old-lawsuit-katie-johnson-allegation
Edit via Piggy-Bank @ Source: Feel free to repost this knowing that,
1. The most common responses will refer to Bill Clinton, who hasn't been charged with rape.
2. Spamming this where it's not relevant will get the post removed, and likely banned from the sub you posted it.
3. "How far the left has fallen" will be something you can use to instantly identify a comment with an agenda.
4. These charges were NOT dismissed. The girl received threats, went into hiding, and has likely been compensated for her future silence.
5. There is an army of posters who seem to be dispatched whenever these links are posted.
6. For each popular repost, at least 10,000 new eyes will see this.
With Jeffrey Epstein locked up,
these are nervous times for his friends, enablers
BY JULIE K. BROWN JULY 07, 2019 05:59 PM, UPDATED 43 MINUTES AGO
https://www.miamiherald.com/news/state/florida/article232385422.html
[snip] Monday's first appearance is expected to be brief, with the actual indictment revealing little of substance. More crucial will be a bond hearing later in the week to decide whether Epstein can go free while awaiting trial.
The Epstein case drew scrutiny following an investigation published in November by the Miami Herald, called Perversion of Justice, that examined the ways in which the U.S. attorney for the Southern District of Florida, Alexander Acosta, worked in conjunction with Epstein's lawyers to engineer the non-prosecution agreement — and keep it secret from Epstein's victims so they could not object. Acosta is now President Trump's secretary of labor. [snip] ~ [Continue reading @ Miami Herald]
via TheBigPhilbowski
Hey, Republicans. Your guy is a fucking stupid dipshit moron traitor asshole.
No Trump in America has ever served in the military; this spans 5 generations, and every branch of the family tree. In fact, the reason his grandfather immigrated to America was to avoid military service
More Trump highlights:
✓ Makes the U.S. Navy Blue Angles violate ethics rules by having them fly at his July 4th political campaign (July 4, 2019)
✓ Demands US military chiefs stand next to him at 4th of July parade (reported July 2, 2019)
✓ Uses his D-Day interview at cemetery commemorating fallen US soldiers to attack a Vietnam veteran (June 6, 2019)
✓ Starts his D-Day commemoration speech by attacking a private citizen (Bette Midler, of all people) (reported on June 4th, 2019)
✓ Made 2nd wife, Marla Maples, sign a prenup that would have cut off all child support if Tiffany joined the military (reported on June 4th, 2019)
✓ Turns away US military from his Memorial Day speech because they were from the destroyer USS John S. McCain (May 27, 2019)
✓ Orders the USS John McCain out of sight during his visit to Japan (May 15, 2019). The ship's name was subsequently covered. (May 27, 2019)
✓ Pardons war criminals (May, 2019)
✓ Purges 200,000 veterans healthcare applications (due to known administrative errors within VA's enrollment process and enrollment system) (reported on May 13, 2019)
✓ Deports spouse of fallen Army soldier killed in Afghanistan, leaving their daughter parentless (April 16, 2019)
✓ Complains a deceased war hero didn't thank him for his funeral (March 20, 2019)
✓ Diverts military housing funds to pay for border wall (Feb 15, 2019)
✓ refuses to sign his party's funding bill, which shuts down the government, and forces a branch of the military to go without pay (but his appointees got a $10,000 pay raise). This branch of military is forced to work without pay, otherwise they are AWOL (Dec 22, 2018 – Jan 25, 2019)
✓ doesn't pay the Coast Guard, forcing service members to rely on food pantries (Jan 23, 2019)
✓ bans service members from serving based on gender identity (Jan 22, 2019)
✓ denies female troops access to birth control to limit sexual activity (on-going. Published Jan 18, 2019)
✓ tries to deport a marine vet who is a U.S.-born citizen (Jan 16, 2019)
✓ when a man was caught swindling veterans pensions for high-interest "cash advances," Trump's Consumer Financial Protection Bureau fined him $1. As a reminder, the Trump administration's goal was to dismantle the CFPB, installing Mick Mulvaney as the director, who publicly stated the bureau should be disbanded. (Jan 26, 2019)
✓ calls a retired general a 'dog' with a 'big, dumb mouth' (Jan 1, 2019)
✓ increases privatization of the VA, leading to longer waits and higher taxpayer cost (2018)
✓ finally visited troops 2 years after taking office, but only after 154 vacation days at his properties (Dec 26, 2018)
✓ reveals covert Seal Team 5 deployment, including names and faces, on Twitter during visit to Iraq (Dec 26, 2018)
✓ lies to deployed troops that he gave them a 10% raise. He didn't give them a 10% raise (Dec 26, 2018)
✓ fires service members living with HIV just before the 2018 holidays (Dec 19, 2018-present)
✓ gets three Mar-a-Lago guests to run the VA (unknown start - present, made well-known in 2018)
✓ calls troops on Thanksgiving and tells them he's most thankful for himself (Thanksgiving, 2018)
✓ urges Florida to not count deployed military votes (Nov 12, 2018)
✓ cancels Arlington Cemetery visit on Veterans Day due to the rain (Nov 12, 2018)
✓ doesn't visit US cemetery marking the end of WWI due to the rain (but other world leaders go anyway) (Nov 10, 2018)
✓ stops using troops as a political prop immediately after the election. However, troops remain in muddy camps on the border (Nov 7, 2018)
✓ uses troops as a political prop and sends troops on a phantom mission to the border and makes them miss Thanksgiving with their families (Oct-Dec, 2018)
✓ doesn't pay veterans' VA benefits (made public Oct 2018)
✓ doubled the rejection rate for veterans requesting family deportation protections (July 5, 2018)
✓ deports active-duty spouses (11,800 military families face this problem as of April 2018)
✓ forgets a fallen soldier's name (below) during a call to his pregnant widow, then attacks her the next day (Oct 23-24, 2017)
✓ sends commandos into an ambush due to a lack of intel, and sends contractors to pick them up, resulting in a commando being left behind, tortured, and executed. (Trump approved the mission because Bannon told him Obama didn't have the guts to do it) (Oct 4, 2017)
✓ blocks a veteran group on Twitter (June 2017)
✓ discharges active-duty immigrant troops with good records (2017-present)
✓ deports veterans (2017-present)
✓ says he knows more about ISIS than American generals (Oct 2016)
✓ says vets get PTSD because they aren't strong (Oct 3, 2016) (note: yes, he said it's 'because they aren't strong.' He didn't say it's 'because they're weak.' This distinction is important because of Snopes)
✓ accepts a Purple Heart from a fan at one of his rallies and says: "I always wanted to get the Purple Heart. This was much easier." (Aug 2, 2016)
✓ attacks Gold Star families (2016-present. Myeshia Johnson--gold star widow, Khan family--gold star parents, etc)
✓ sends funds raised from a January 2016 veterans benefit to the Donald J Trump Foundation instead of veterans charities (the foundation has since been ordered shut because of fraud) (Jan, 2016)
✓ says he doesn't consider POWs heroes because they were caught (July 18, 2015)
✓ says having unprotected sex was like Vietnam (1998)
✓ for a decade, sought to kick veterans off of Fifth Avenue because he found them unsightly nuisances outside of Trump Tower. "While disabled veterans should be given every opportunity to earn a living, is it fair to do so to the detriment of the city as a whole or its tax paying citizens and businesses?" - 1991
✓ dodges the draft 5 times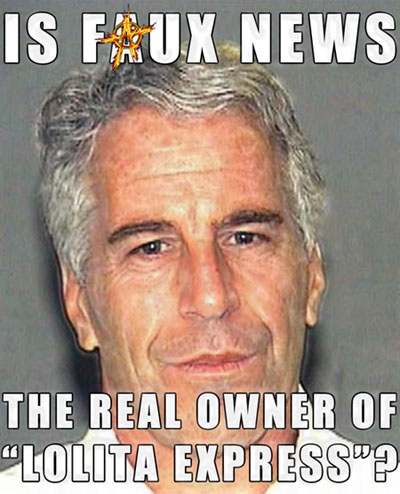 None of the Above should be a Valid Choice on Voter Ballots!
Dahbud Mensch ~ Stuck in the middle with Who?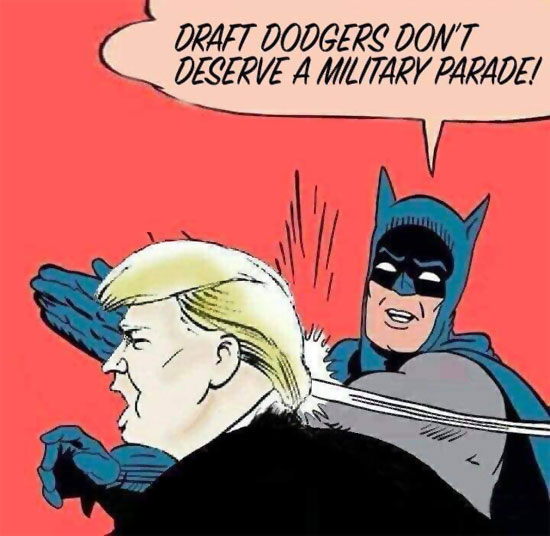 Draft Dodgers don't deserve a military parade ++ One if by Land, Two if by Sea ++ Exotosis Award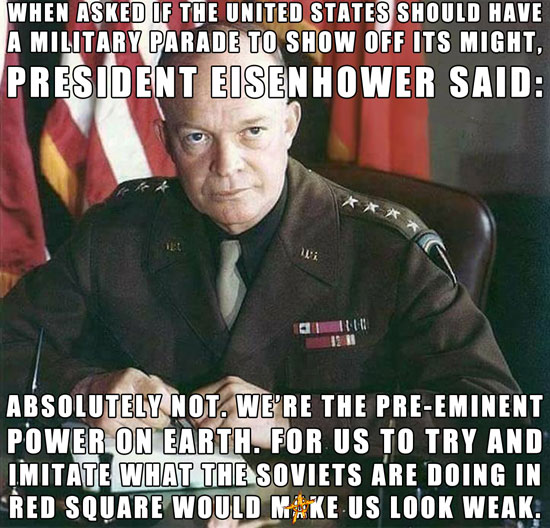 Corruption is Legal in America via Doku Mentor

Summertime, Charlie Parker via Shangrila Club
...July 4th

The Rolling Stones | Doom and Gloom via Trunk Animation
In order to have a Happy 4th of July:
turn your

A Night at the Garden by Marshall Curry + Brown Shirts + Night of the Long Knives
TV off!

Ride the Fence, The Coup, Directed & Animated by Haik Hoisington, via Rip & Roy <not work safe>
Click for video of what another Rich GOP Republican president
said about the American People; remembering... God told him
to attack Iraq; a country that had nothing to do with 9/11!!!
HOW MUCH DID THE NEOCON WMD LIE COST THE AVERAGE AMERICAN TAXPAYER?
None of the Above should be a Valid Choice on Voter Ballots!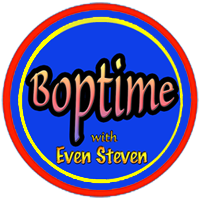 Boptime begins at 6am (EDT) with an hour of oldies back to back to back. At 7am (EDT) we get put into the penitentiary on Rockabilly Ridge with Michael Ace. At 8am (EDT) it's the Morrie Sims Show followed by the Delaware Rock & Roll Hall of Fame when we'll hear some tunes from Mort Marker, who was the lead guitarist for Jimmy Stayton's Rocka-Bye band. We'll also play some early recordings by 2019 inductee Johnny Neel when he was living in Wilmington in the 1960s. At 9am (EDT) on the Club Baby Grand we'll hear a selection from 2019 Delaware Rock n' Roll inductees Alfie Moss & Dexter Koonce, followed by selections from Fostina Dixon, The Jenkins Project with Dennis Fortune, Mathew Shipp with John Medeski, and Don Glanden with Ernie Watts. We'll wind up the segment with music from Lem Winchester and Sam Wooding. ~ Steve
BOPTIME: Saturday, 6 AM Eastern time, 3 AM Pacific time
Go To: http://www.wvud.org/?page_id=24
Click on a listening link below the WVUD logo:


Available locally in DE on WVUD-FM 91.3, Shoutcast [Search: WVUD], and TuneIn
Mike Wilhelm
~ Charlatans, Flamin' Groovies, Loose Gravel, ...
[Ed. Note: For those interested, Michael's 49th day of Bardo is Tuesday, July 2nd]
Have An Incredible Journey Michael!

Terry Dolan Tribute / Mike Wilhelm ~ "High Coin" via Jesse Block
Mike Wilhelm, first psychedelic rock guitarist, March 18, 1942 ~ May 14, 2019
Happy 4th of July

via 2DeadMoose @ Reddit Source [large image] ~ doing the science (from above)
Things to consider:
WCexit
Pronounced 'wex_it' == West Coast Exit
Secession in the United States
So you want to secede from the U.S.: A four-step guide
6 maps show what U.S. would look like if West Coast seceded
What would happen if California, Oregon, and Washington seceded from from the US?
Cascadia (independence movement)
State Of Jefferson - Southern Oregon & Northern California Secede From The Union!
Nation of Pacifica
Drive for California secession gets bump from Trump election
A Northern California County Voted To Secede From The Rest Of The State
The likelihood of California, Oregon and Washington seceding
None of the Above should be a Valid Choice on Voter Ballots!
Keith Lampe ~ Co-Founder of YIPPIE
& Progressive Activist Groups
Appeal to Youth + It's Up to You +

Pondo Mantra, Keith Lampe, November 2012 + YouTube Video Channel
An Open Letter to Chris Hedges
Dear Chris Hedges, [Ed. Note: Written March 31, 2010]
Maybe I read your stuff so intently because almost certainly you and I are the only two former US corporate-media "foreign" correspondents who also were grad students of theology.
In any case, what I find most appealing below is your total disdain for "Democrats and their liberal apologists". Yeah! I would, however, broaden this disdain to include not just liberals but also progressives, greens and leftists.
In fact, your reference here to "the boutique activism of political correctness" should be broadened to include, say, Danny Schechter's slick anti-Wall-Street boutique activism. His definition of Wall Street's plunder is such a slender slice of its total that his effect is that of a gatekeeper (or Limited Hangout) for all the felonious financiers.
Most folks within the four-ply left / liberal / green / progressive community discern significant differences between each label and the three others--but actually all four sets of their goals are so culturebound as to be hugely inadequate to a nearly equal degree. Meanwhile, the eco-clock keeps ticking, so each year the distance widens between their sets of goals and what's minimally necessary--and at an increasing pace.
Thus we should begin somewhere else--and so I suggest we start with youth rather than with leftists or liberals or progressives or greens or libertarians or conservatives. I think this is also the best place for Cynthia McKinney to start in her effort to overcome the phony left / right distinction. Much more on this later--but now I wanna get back to your piece here rather than just trip out on it. (Meanwhile, though, I'd be pleased to email you what I've done so far in a new series called "A US Youth Resurgence?".)
Yes, it certainly appears that Americans are "yearning for fascism" and certainly some of them are. But I suspect that most of them merely appear to be while actually what's defining them is an average mood too low for them to care much whether fascism arrives or not.
So we must first enhance their average mood to the point where they start abhorring the possibility of fascism because it would bum them back down to where they'd just risen from. 
For millenia controllers have been aware of the need to keep their captive populations relatively bummed out so they don't have enough confidence to rebel. 
After just a few Christian centuries, the widespread belief in reincarnation was outlawed in favor of reducing confidence by inducing fear via the notion of a single all-or-nothing incarnation wherein there's always a major risk of a maximally fearful outcome: eternal damnation in fire.
But of course sexual repression is the main vehicle for controlling mood. Vatican attitudes are a good example: sex is dirty, so don't be guilty of experiencing it--except when the focus is strictly procreational.
Approximately a millenium ago a sexual yoga quite beneficial to the nervous system was practiced in parts of northern India in both Hindu and Buddhist circles. Today one finds only trace elements of these practices there, which can only mean that they were stomped out in order to secure a control system.
The contemporary control system in the US and many other places outlaws marijuana use because it isn't followed by a hangover and thus provides a net mood enhancement. Alcohol is legal because it is followed by a hangover frequently enough to prevent any sustained mood gains.
I learned of a monumentally outrageous practice of mood control when living in a rather remote Bolivian village four years ago. I was told by a quite seasoned observer there that "when you tell a story to a four-year-old in this village he or she will understand it, but when you tell the same story to a twelve-year-old he or she won't understand it". She said this was because the Vatican is not content to meddle merely on a verbal level with superstition and related propaganda in its school system (so tightly controlled that it can even get away with referring to its schools as "public")--but in fact goes deeper to sabotage the students' ability to concentrate so the resulting low level of self-esteem will prevent any rebellion against their control system there.
But today the main vehicle for mood control is television. So the best way to reduce the chances of fascism is to reduce the use of television sets to those DVDs (and videocassettes) which don't contain ads. No more live shows! This way, the playing field finally is leveled between the controllers' centralized corporate network TV fake news and the resisters' local independent truthful news.
Have you noticed that the controllers' TV feed never depicts people who are elated? That's because their market researchers tell them that people who are usually in very good moods consume much less than those in merely fair-to-middling moods who'll buy lots of stuff in their chase for the very good mood. Thus the controllers don't want you to know that sustaining a very good mood is even possible--and thus it's nearly impossible to find yoga courses on TV.
This also explains why they peddle competition so obsessively. In competitions there are at least as many bummed losers as elated winners--but in cooperative activities everybody wins.
Another way to get a significant and sustained mood improvement is to pull off at an anthropological level a "transfer of prime human attention from objects to states of mind". This notion was offered by Gary Snyder back in '69 as a field theory for dealing with climate destabilization. It would lead to a more mature planet in other ways too.
And a shift from households with only two adults to ones with at least four would greatly help average mood. In today's collapsed economic circumstances the nuclear family is usually bummed out because of all the pressures on it. And it's nonfunctional because it's so pinned down with short-term concerns like groceries and lodging that it can't represent its long-term concern of sustaining climate patterns supportive of outdoor agriculture. But with four or more adults (plus whatever dear children, of course) the household becomes viable enough to support one of them as a full-time volunteer activist on behalf of its favorite cause. 
Inadequate mood levels also explain a phenomenon which might be seen as a yearning for ecocide / omnicide / biocide / oblivion / entropy. At least this is how we've behaved during these first four decades of the climate emergency. 
If as activists we switch our principal efforts to mood enhancement, we increase the importance to us of musicians and yoga instructors. Fortunately, there are simple daily practices available free of charge which enhance mood in a manner more reminiscent of Occidental science than Oriental religion. Some of these involve using the vocal muscles nonverbally to massage the nervous system by concentrating sound inside the body at certain specific frequencies.
Yours for waking to the quantum ether, Keith Lampe, aka Pondo, Volunteer, March 31, 2010 [Continue Reading]
Is America 'Yearning for Fascism?'
By Chris Hedges
March 29, 2010 "TruthDig" -- The language of violence always presages violence. I watched it in war after war from Latin America to the Balkans. The impoverishment of a working class and the snuffing out of hope and opportunity always produce angry mobs ready to kill and be killed. A bankrupt, liberal elite, which proves ineffectual against the rich and the criminal, always gets swept aside, in times of economic collapse, before thugs and demagogues emerge to play to the passions of the crowd. I have seen this drama. I know each act. I know how it ends. I have heard it in other tongues in other lands. I recognize the same stock characters, the buffoons, charlatans and fools, the same confused crowds and the same impotent and despised liberal class that deserves the hatred it engenders.
"We are ruled not by two parties but one party," Cynthia McKinney, who ran for president on the Green Party ticket, told me. "It is the party of money and war. Our country has been hijacked. And we have to take the country away from those who have hijacked it. The only question now is whose revolution gets funded."
The Democrats and their liberal apologists are so oblivious to the profound personal and economic despair sweeping through this country that they think offering unemployed people the right to keep their unemployed children on their nonexistent health care policies is a step forward. They think that passing a jobs bill that will give tax credits to corporations is a rational response to an unemployment rate that is, in real terms, close to 20 percent. They think that making ordinary Americans, one in eight of whom depends on food stamps to eat, fork over trillions in taxpayer dollars to pay for the crimes of Wall Street and war is acceptable. They think that the refusal to save the estimated 2.4 million people who will be forced out of their homes by foreclosure this year is justified by the bloodless language of fiscal austerity. The message is clear. Laws do not apply to the power elite. Our government does not work. And the longer we stand by and do nothing, the longer we refuse to embrace and recognize the legitimate rage of the working class, the faster we will see our anemic democracy die. 
The unraveling of America mirrors the unraveling of Yugoslavia. The Balkan war was not caused by ancient ethnic hatreds. It was caused by the economic collapse of Yugoslavia. The petty criminals and goons who took power harnessed the anger and despair of the unemployed and the desperate. They singled out convenient scapegoats from ethnic Croats to Muslims to Albanians to Gypsies. They set in motion movements that unleashed a feeding frenzy leading to war and self-immolation. There is little difference between the ludicrous would-be poet Radovan Karadzic, who was a figure of ridicule in Sarajevo before the war, and the moronic Glenn Beck or Sarah Palin. There is little difference between the Oath Keepers and the Serbian militias. We can laugh at these people, but they are not the fools. We are.
The longer we appeal to the Democrats, who are servants of corporate interests, the more stupid and ineffectual we become. Sixty-one percent of Americans believe the country is in decline, according to a recent NBC News / Wall Street Journal poll, and they are right. Only 25 percent of those polled said the government can be trusted to protect the interests of the American people. If we do not embrace this outrage and distrust as our own it will be expressed through a terrifying right-wing backlash.
"It is time for us to stop talking about right and left," McKinney told me. "The old political paradigm that serves the interests of the people who put us in this predicament will not be the paradigm that gets us out of this. I am a child of the South. Janet Napolitano tells me I need to be afraid of people who are labeled white supremacists but I was raised around white supremacists. I am not afraid of white supremacists. I am concerned about my own government. The Patriot Act did not come from the white supremacists, it came from the White House and Congress. Citizens United did not come from white supremacists, it came from the Supreme Court. Our problem is a problem of governance. I am willing to reach across traditional barriers that have been skillfully constructed by people who benefit from the way the system is organized."
We are bound to a party that has betrayed every principle we claim to espouse, from universal health care to an end to our permanent war economy, to a demand for quality and affordable public education, to a concern for the jobs of the working class. And the hatred expressed within right-wing movements for the college-educated elite, who created or at least did nothing to halt the financial debacle, is not misplaced. Our educated elite, wallowing in self-righteousness, wasted its time in the boutique activism of political correctness as tens of millions of workers lost their jobs. The shouting of racist and bigoted words at black and gay members of Congress, the spitting on a black member of the House, the tossing of bricks through the windows of legislators' offices, are part of the language of rebellion. It is as much a revolt against the educated elite as it is against the government. The blame lies with us. We created the monster.
When someone like Palin posts a map with cross hairs on the districts of Democrats, when she says "Don't Retreat, Instead-RELOAD!" there are desperate people cleaning their weapons who listen. When Christian fascists stand in the pulpits of megachurches and denounce Barack Obama as the Antichrist, there are messianic believers who listen. When a Republican lawmaker shouts "baby killer" at Michigan Democrat Bart Stupak, there are violent extremists who see the mission of saving the unborn as a sacred duty. They have little left to lose. We made sure of that. And the violence they inflict is an expression of the violence they endure.
These movements are not yet full-blown fascist movements. They do not openly call for the extermination of ethnic or religious groups. They do not openly advocate violence. But, as I was told by Fritz Stern, a scholar of fascism who has written about the origins of Nazism, "In Germany there was a yearning for fascism before fascism was invented." It is the yearning that we now see, and it is dangerous. If we do not immediately reincorporate the unemployed and the poor back into the economy, giving them jobs and relief from crippling debt, then the nascent racism and violence that are leaping up around the edges of American society will become a full-blown conflagration.
Left unchecked, the hatred for radical Islam will transform itself into a hatred for Muslims. The hatred for undocumented workers will become a hatred for Mexicans and Central Americans. The hatred for those not defined by this largely white movement as American patriots will become a hatred for African-Americans. The hatred for liberals will morph into a hatred for all democratic institutions, from universities to government agencies to the press. Our continued impotence and cowardice, our refusal to articulate this anger and stand up in open defiance to the Democrats and the Republicans, will see us swept aside for an age of terror and blood. ~ [TruthDig] [Ed. Note: Written March 29, 2010]
Fascism & Fascism

and

ideology

~ The sky is falling!
Are United States citizens willing to
be governed by
something similar

to:
Fascism
From Wikipedia, the free encyclopedia, Source
Fascism (/ˈfæʃɪzəm/) is a form of radical, right-wing, authoritarian ultranationalism,[1][2][3][4] characterized by dictatorial power, forcible suppression of opposition, and strong regimentation of society and of the economy,[5] which came to prominence in early 20th-century Europe.[6] The first fascist movements emerged in Italy during World War I before it spread to other European countries.[6] Opposed to liberalism, Marxism, and anarchism, fascism is placed on the far-right within the traditional left–right spectrum.[6][7][8][9][10][11]
Fascists saw World War I as a revolution that brought massive changes to the nature of war, society, the state, and technology. The advent of total war and the total mass mobilization of society had broken down the distinction between civilians and combatants. A "military citizenship" arose in which all citizens were involved with the military in some manner during the war.[12][13] The war had resulted in the rise of a powerful state capable of mobilizing millions of people to serve on the front lines and providing economic production and logistics to support them, as well as having unprecedented authority to intervene in the lives of citizens.[12][13]
Fascists believe that liberal democracy is obsolete and regard the complete mobilization of society under a totalitarian one-party state as necessary to prepare a nation for armed conflict and to respond effectively to economic difficulties.[14] Such a state is led by a strong leader—such as a dictator and a martial government composed of the members of the governing fascist party—to forge national unity and maintain a stable and orderly society.[14] Fascism rejects assertions that violence is automatically negative in nature and views political violence, war, and imperialism as means that can achieve national rejuvenation.[15][16][17][18] Fascists advocate a mixed economy, with the principal goal of achieving autarky (national economic self-sufficiency) through protectionist and interventionist economic policies.[19]
Since the end of World War II in 1945, few parties have openly described themselves as fascist, and the term is instead now usually used pejoratively by political opponents. The descriptions neo-fascist or post-fascist are sometimes applied more formally to describe parties of the far-right with ideologies similar to, or rooted in, 20th-century fascist movements.[6][20] ~ [Continue reading at Wikipedia]
Fascism and ideology
From Wikipedia, the free encyclopedia, Source
The history of Fascist ideology is long and involves many sources. Fascists took inspiration from sources as ancient as the Spartans for their focus on racial purity and their emphasis on rule by an elite minority. Fascism has also been connected to the ideals of Plato, though there are key differences between the two. Fascism styled itself as the ideological successor to Rome, particularly the Roman Empire. The Enlightenment-era concept of a "high and noble" Aryan culture [dubious – discuss] as opposed to a "parasitic" Semitic culture was core to Nazi racial views. From the same era, Georg Wilhelm Friedrich Hegel's view on the absolute authority of the state also strongly influenced Fascist thinking. The French Revolution was a major influence insofar as the Nazis saw themselves as fighting back against many of the ideas which it brought to prominence, especially liberalism, liberal democracy and racial equality, whereas on the other hand Fascism drew heavily on the revolutionary ideal of nationalism. Common themes among fascist movements include; nationalism (including racial nationalism), hierarchy and elitism, militarism, quasi-religion, masculinity and voluntarism. Other aspects of fascism such as its "myth of decadence", anti‐egalitarianism and totalitarianism can be seen to originate from these ideas. These fundamental aspects however, can be attributed to a concept known as "Palingenetic ultranationalism", a theory proposed by Roger Griffin, that fascism is essentially populist ultranationalism sacralized through the myth of national rebirth and regeneration. 
Its relationship with other ideologies of its day was complex, often at once adversarial and focused on co-opting their more popular aspects. Fascists supported limited, nominally private property rights and the profit motive of capitalism, but sought to eliminate the autonomy of large-scale capitalism by consolidating power with the state. They shared many of the goals of the conservatives of their day and often allied themselves with them by drawing recruits from disaffected conservative ranks, but presented themselves as holding a more modern ideology, with less focus on things like traditional religion. Fascism opposed the egalitarian (Völkisch equality) and international character of mainstream socialism, but sometimes sought to establish itself as an alternative "national" socialism. It strongly opposed liberalism, classical liberalism, communism, anarchism, and democratic socialism. [Continue reading at Wikipedia]
???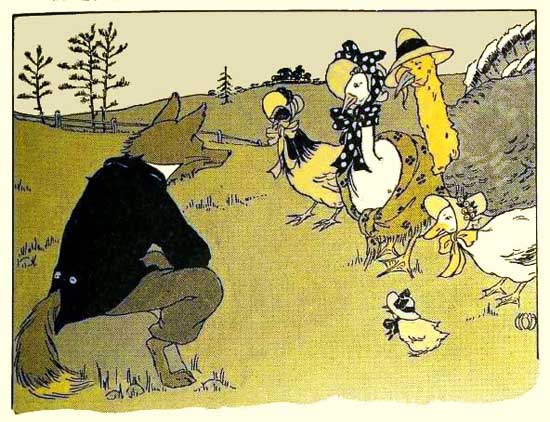 An illustration in New Barnes Reader vol.1, New York, 1916 ~ from the story "Chicken Little".
APATHY SUCKS! None of the Above should be a Valid Choice on Voter Ballots and NOBODY should be President!
Sanders is right:
Republican tax cuts cost more than forgiving student debt
Alexandria Ocasio-Cortez has joined the Democratic presidential candidate in making a contrast with the 2017 law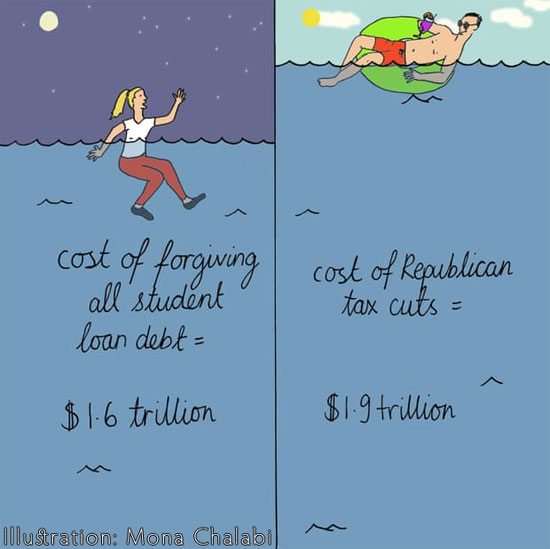 Mona Chalabi in New York ~ The Guardian Source ~ Illustration: Mona Chalabi
A 2016 plan for free college tuition didn't go far enough for Bernie Sanders. In this election cycle, the candidate for the Democratic presidential nomination is promising to forgive all outstanding student loan debt.
Although Congress has the legal power to write off such debts, voters might be skeptical about the government's financial power to do so.
In 2006, total student loan debt stood at $481bn. Since then, total student loan debt has more than tripled, now standing at $1.6tn.
A counter-argument put forward by politicians like Sanders and the New York representative Alexandria Ocasio-Cortez is that Republican tax cuts have cost the government more money than would student loan forgiveness.
These claims are correct.
Estimates of the cost of the Republican Tax Cuts and Jobs Act of 2017 vary. But the most recent and reliable numbers come from the Congressional Budget Office (CBO), which is the federal agency whose job it is to provide budget information to Congress.
This year, the CBO estimated that the new tax law would add $2.3tn to national debt by 2028. Those losses would partly be offset by economic growth of about $461bn meaning that overall, the tax cuts would cost the country $1.9tn.
Without policy change, the US student loan debt crisis is projected to keep growing. Each minute, approximately $157,000 of student loan debt is repaid. But in the same minute, according to data from the Federal Reserve, $191,000 of new debt is borrowed. [Source]
Dahbud Mensch ~ Stuck in the middle with Who?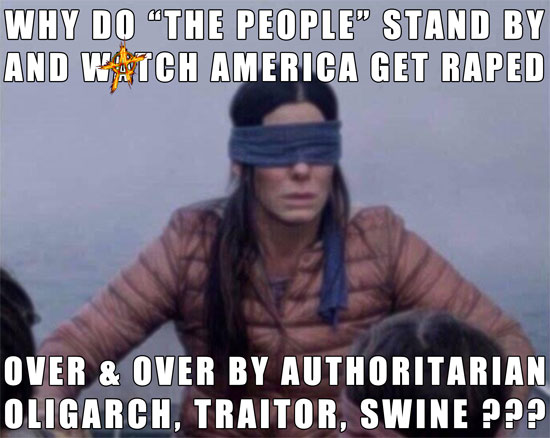 Rethinking 9/11
BEN-VENISTE: Isn't it a fact, Dr. Rice, that the August 6 PDB [8/11] warned against possible attacks in this country? And I ask you whether you recall the title of that PDB?
RICE: I believe the title was,
"Bin Laden Determined to Attack
Inside the United States."
---

Martin Rowson
"Not all Republicans oppose this, but everyone who has opposed it is a Republican. It's unacceptable" by Ryan Bort @ Rolling Stone [Continue Reading]


McConnell Wonders Why Jon Stewart Is 'All Bent Out of Shape' Over 9/11 Victim Compensation Fund
Republicans spent 55+/- million tax dollars  to discover if Monica swallowed in order to impeach a president over lying about sex with an intern.
Republicans spent *3 million tax dollars on the 9/11 cOMMISSION and 3000+/- people murdered in New York [* which was raised later, after public outcry].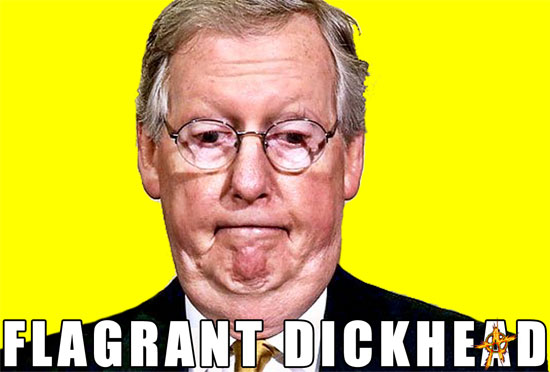 Harvard Law Professor Calls Senator Mitch McConnell a 'Flagrant Dickhead'
While the United States was UNDER AIRCRAFT ATTACK a NOT-CONCERNED President Bush continued reading a children's book for eighteen (18) minutes. How many extra United States lives were lost during this 'reading time', WHO ORDERED THE AIR FORCE TO STAND DOWN, and WHY ?

"We know where your kids live!" ~ Neocon John Bolton
Ethan Miller/Getty Images via Business Insider
The Project for the New American Century (PNAC) was a neoconservative think tank based in Washington, D.C. that focused on United States foreign policy. ~ Wikipedia
January 26, 1998
The Honorable William J. Clinton
President of the United States
Washington, DC

Dear Mr. President:

We are writing you because we are convinced that current American policy toward Iraq is not succeeding, and that we may soon face a threat in the Middle East more serious than any we have known since the end of the Cold War. In your upcoming State of the Union Address, you have an opportunity to chart a clear and determined course for meeting this threat. We urge you to seize that opportunity, and to enunciate a new strategy that would secure the interests of the U.S. and our friends and allies around the world. That strategy should aim, above all, at the removal of Saddam Hussein's regime from power. We stand ready to offer our full support in this difficult but necessary endeavor.

The policy of "containment" of Saddam Hussein has been steadily eroding over the past several months. As recent events have demonstrated, we can no longer depend on our partners in the Gulf War coalition to continue to uphold the sanctions or to punish Saddam when he blocks or evades UN inspections. Our ability to ensure that Saddam Hussein is not producing weapons of mass destruction, therefore, has substantially diminished. Even if full inspections were eventually to resume, which now seems highly unlikely, experience has shown that it is difficult if not impossible to monitor Iraq's chemical and biological weapons production. The lengthy period during which the inspectors will have been unable to enter many Iraqi facilities has made it even less likely that they will be able to uncover all of Saddam's secrets. As a result, in the not-too-distant future we will be unable to determine with any reasonable level of confidence whether Iraq does or does not possess such weapons.
Such uncertainty will, by itself, have a seriously destabilizing effect on the entire Middle East. It hardly needs to be added that if Saddam does acquire the capability to deliver weapons of mass destruction, as he is almost certain to do if we continue along the present course, the safety of American troops in the region, of our friends and allies like Israel and the moderate Arab states, and a significant portion of the world's supply of oil will all be put at hazard. As you have rightly declared, Mr. President, the security of the world in the first part of the 21st century will be determined largely by how we handle this threat.
Given the magnitude of the threat, the current policy, which depends for its success upon the steadfastness of our coalition partners and upon the cooperation of Saddam Hussein, is dangerously inadequate. The only acceptable strategy is one that eliminates the possibility that Iraq will be able to use or threaten to use weapons of mass destruction. In the near term, this means a willingness to undertake military action as diplomacy is clearly failing. In the long term, it means removing Saddam Hussein and his regime from power. That now needs to become the aim of American foreign policy.
We urge you to articulate this aim, and to turn your Administration's attention to implementing a strategy for removing Saddam's regime from power. This will require a full complement of diplomatic, political and military efforts. Although we are fully aware of the dangers and difficulties in implementing this policy, we believe the dangers of failing to do so are far greater. We believe the U.S. has the authority under existing UN resolutions to take the necessary steps, including military steps, to protect our vital interests in the Gulf. In any case, American policy cannot continue to be crippled by a misguided insistence on unanimity in the UN Security Council.
We urge you to act decisively. If you act now to end the threat of weapons of mass destruction against the U.S. or its allies, you will be acting in the most fundamental national security interests of the country. If we accept a course of weakness and drift, we put our interests and our future at risk.
Sincerely, PNAC [Continue Reading]
None of the Above should be a Valid Choice on Voter Ballots!
Dahbud Mensch ~ Stuck in the middle with Who?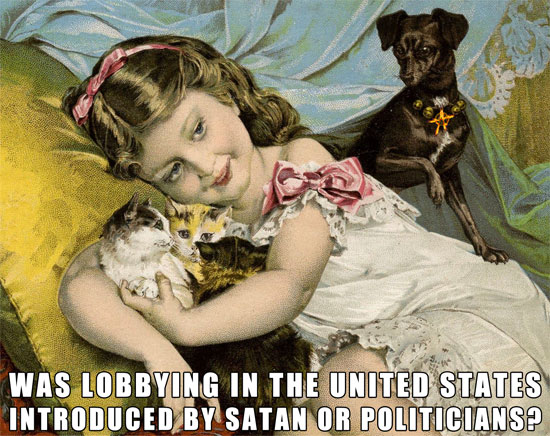 Lobbying in the United States describes paid activity in which special interests hire well-connected professional advocates, often lawyers, to argue for specific legislation in decision-making bodies such as the United States Congress. It is a highly controversial phenomenon, often seen in a negative light by journalists and the American public, with some critics describing it as a legal form of bribery or extortion. While lobbying is subject to extensive and often complex rules which, if not followed, can lead to penalties including jail, the activity of lobbying has been interpreted by court rulings as constitutionally protected free speech and a way to petition the government for the redress of grievances, two of the freedoms protected by the First Amendment of the Constitution. Since the 1970s, lobbying activity has grown immensely in the United States in terms of the numbers of lobbyists and the size of lobbying budgets, and has become the focus of much criticism of American governance. [Continue reading at Wikipedia, the free encyclopedia]
None of the Above should be a Valid Choice on Voter Ballots!
Dahbud Mensch ~ Stuck in the middle with Who?

The Staple Singers ~ Respect Yourself (from Soul Train) via Domo
The GOD of Christians, Muslims, and Jews said,
Thou Shalt Not Kill, Steal, Commit Adultery, Covet Thy Neighbors Wife, Bear False Witness Against Thy Neighbor, amongst other things, and...
Jesus extended this concept when he said...
Christians are to no longer execute sinners, so they should not wage carnal war, but spiritual warfare ~ (John 18:36; 2 Corinthians 10:1-6; Ephesians 6:10-18; 1 Timothy 1:18-20; 6:11-14; 2 Timothy 2:3-5; 4:6-8)
Christians must be peacemakers forgiving those who do them harm treating their enemies with love and not seeking revenge ~ (Matthew 5:9, Romans 14:19), (Ephesians 4:29-32; Colossians 3:12-14; Matthew 6:9-15; Mark 11:25-26), (Luke 6:27-36) (Romans 12:17-21; 1 Peter 3:8-12)
Hatred, which is the same as murder, is unforgiving, vengeful and hostile towards one's enemies ~ (1 John 3:15)
but y'all seem hell-bent on creating a עֵגֶּל הַזָהָב,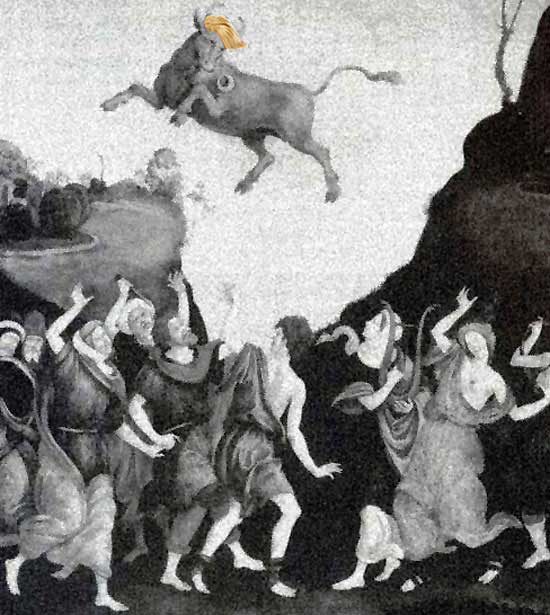 He required everyone to have an ID card. Nobody could buy groceries or anything
without a GOP/DNC Repubcrat ID! ~ Worship of the Golden Calf by Filippino Lippi
...begging the question, "WTF is wrong with you?"
2 PETER 2:1 ~ But there were false prophets also among the people, even as there shall be false teachers among you, who privily shall bring in damnable heresies, even denying the Lord that bought them, and bring upon themselves swift destruction.
2 PETER 2:2 ~ And many shall follow their pernicious ways; by reason of whom the way of truth shall be evil spoken of.
2 PETER 2:3 ~ And through covetousness shall they with feigned words make merchandise of you: whose judgment now of a long time lingereth not, and their damnation slumbereth not.
Satan's demons take on the image of God similar to that done in Eden ~ 2 Corinthians, 11:14 (How else do they take control of earth?)
Antichrist is variously understood as being a consummately evil system of government or leader.
Antichrist will be a leader who deceives many people.
Antichrist will divide the world and create war without end.
Antichrist will declare that things which are evil to be good.
Antichrist will refer to war as peace, death as a solution for justice, & serving the wealthy as a means of helping the poor.
Many nations will recognize that he is evil, but his own people will be inclined to believe his deceptions.

Somebody's Fool, Spo-Dee-O-Dee ~ Rhythm Bomb/ Sleazy Records via Bopflix Films, Vimeo
Don't miss out on a blessing because it isn't packaged the way you expect!
4. Life is like photography. You use the negative to develop.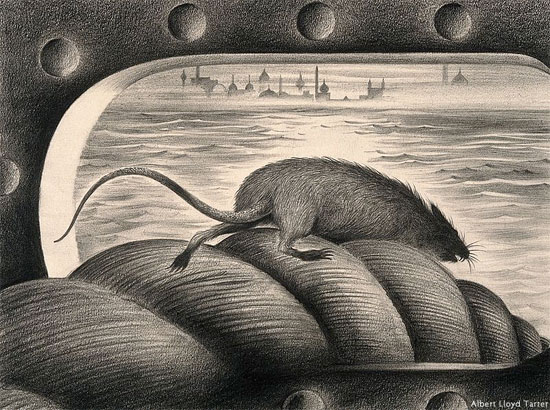 What In Tarnation?

Leningrad Cowboys, Happy Being Miserable via Leningrad Cowboys Official
6. If we want world peace, we must let go of our attachments and truly live like nomads. That's where I no mad at you, you no mad at me. That way, there'll surely be nomadness on the planet. And peace begins with each of us. A little peace here, a little peace there, pretty soon all the peaces will fit together to make one big peace everywhere.

Nothing else matters, Metallica arr. Karianne Brouwer violin, Maaike Schoenmaker cello
Notes from ~@~
Freedom of expression and freedom of speech aren't really important unless they're heard...It's hard for me to stay silent when I keep hearing that peace is only attainable through war. And there's nothing more scary than watching ignorance in action. So I dedicated this Emmy to all the people who feel compelled to speak out and not afraid to speak to power and won't shut up and refuse to be silenced.~ Tom Smothers

Carlin Step, DJ Steve Porter & Eli Wilkie from Roland Kardeby

The Great Bell Chant (The End of Suffering) from R Smittenaar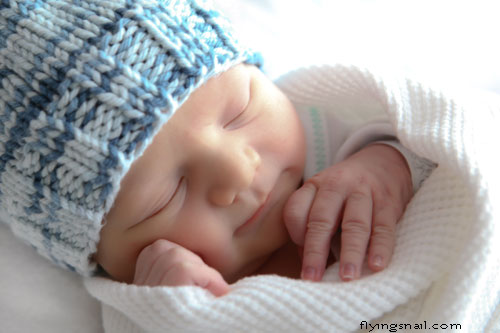 One Day, Matisyahu via ShalomLearning

Unsung Hero from Rattakarn Srithavatchai "Garn"

Bruce Springsteen & Tom Morello ~ The ghost of Tom Joad via Guitar Music
Nobody for President via Tom Morello~ Tom's Home Page ~ Nobody will love you forever!
The Sacred Clowns ~ Heyókȟa
The Heyókȟa symbolize and portray many aspects of the sacred, the Wakȟáŋ. Their satire presents important questions by fooling around. They ask difficult questions, and say things others are too afraid to say. By reading between the lines, the audience is able to think about things not usually thought about, or to look at things in a different way.
Principally, the Heyókȟa functions both as a mirror and a teacher, using extreme behaviors to mirror others, thereby forcing them to examine their own doubts, fears, hatreds, and weaknesses. Heyókȟas also have the power to heal emotional pain; such power comes from the experience of shame--they sing of shameful events in their lives, beg for food, and live as clowns. They provoke laughter in distressing situations of despair and provoke fear and chaos when people feel complacent and overly secure, to keep them from taking themselves too seriously or believing they are more powerful than they are.
In addition, sacred clowns serve an important role in shaping tribal codes. Heyókȟa's don't seem to care about taboos, rules, regulations, social norms, or boundaries. Paradoxically, however, it is by violating these norms and taboos that they help to define the accepted boundaries, rules, and societal guidelines for ethical and moral behavior. This is because they are the only ones who can ask "Why?" about sensitive topics and employ satire to question the specialists and carriers of sacred knowledge or those in positions of power and authority. In doing so, they demonstrate concretely the theories of balance and imbalance. Their role is to penetrate deception, turn over rocks, and create a deeper awareness.
Develop Your Mind, Not Sacred Sites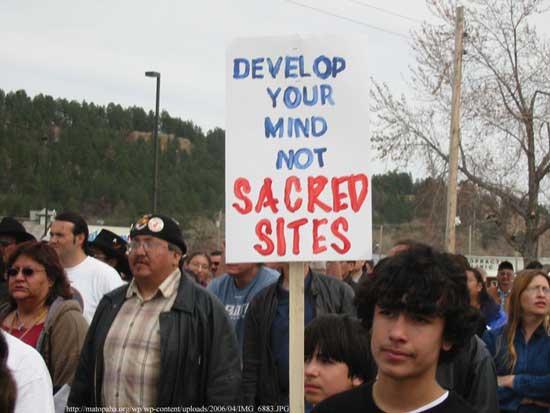 Cree Prophecy
Only after the last tree has been cut down,
Only after the last river has been poisoned,
Only after the last fish has been caught,
Only then will you find money cannot be eaten.
Nobody for President ~ NONE of the ABOVE should be a choice on voter ballots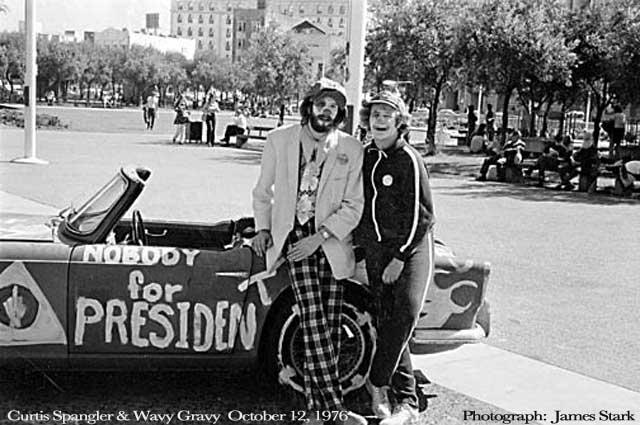 C. Spangler & Wavy Gravy, Nobody for President, 197610.12 ~ Photo: James Stark

American Dream, George Carlin via Ishtar [Not Work Safe] Nobody should have that much power


Message
via
Mike Pinder
Oh, I hope that I see you again I never even caught your name As you looked through my window pane ~ So I'm writing this message today I'm thinking that you'll have a way Of hearing the notes in my tune ~ Where are you going? Where have you been? I can imagine other worlds you have seen ~ Beautiful faces and music so serene ~ So I do hope I see you again My universal citizen You went as quickly as you came ~ You know the power Your love is right You have good reason To stay out of sight ~~ But break our illusions and help us Be the light ~ by Mike Pinder

Why I Think This World Should End, Prince EA via Prince EA
Without love in the dream, it will never come true. ~ Jerry Garcia/Robert Hunter
And in the end, the love you take is equal to the love you make. ~ John Lennon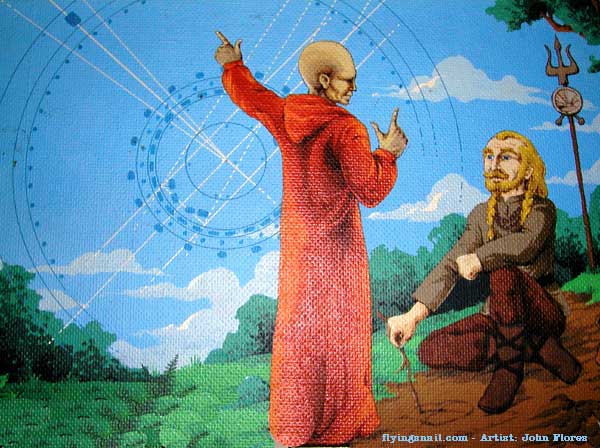 ---
---
The man whispered, "God, speak to me" and a meadowlark sang. But the man did not hear. So the man yelled "God, speak to me" and the thunder rolled across the sky. But the man did not listen. The man looked around and said, "God let me see you" and a star shined brightly. But the man did not notice. And the man shouted, "God show me a miracle" and a life was born. But the man did not know. So the man cried out in despair, "Touch me God, and let me know you are there" Whereupon God reached down and touched the man, But the man brushed the butterfly away and walked on.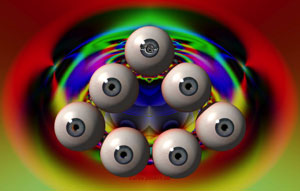 Don't miss out on a blessing because
it isn't packaged the way you expect!
---
---

DuckDuckGo ~ The search engine that doesn't track you
{ ͡ʘ ͜ʖ ͡ʘ} Is Daylight Saving Time Dangerous? { ͡ʘ ͜ʖ ͡ʘ}