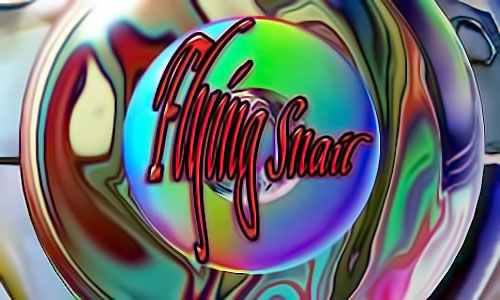 Tell-A-Vision = Why Not Try Love Again?
Be the change you want to see in the world
Mahatma Ghandi
Erik Moll - All I Can Think About Is You


7.0 2011/01/01 09:56:59 -26.758 -63.103 583.6 SANTIAGO DEL ESTERO, ARGENTINA
[Dated link- 201101.01: Note Southern California seismic activity before and after 7.0m Argentina shaker.]
7.0 Magniitude Earthquake Santiago Del Estero, Argentina
Poor Boy Blues - Chet Atkins & Mark Knopfler
Groovie Movie (1944) Funny jitterbug instructional video.
Super Warrior Program -- MK-ULTRA 1 of 19
Detroit in ruins
Yves Marchand and Romain Meffre's extraordinary photographsdocumenting the dramatic decline of a major American city - The Observer, Sunday 2 January 2011
Click to view gallery: http://www.guardian.co.uk/artanddesign/gallery/2011/jan/02/photography-detroit
Congress' Job Approval Rating Worst in Gallup History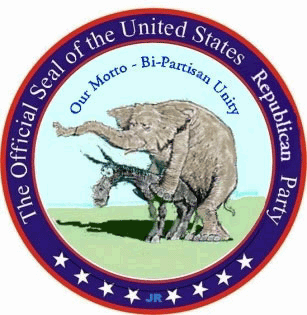 What? You've never seen Animal Planet?
Thirteen percent approve of the way Congress is handling its job by Jeffrey M. Jones
PRINCETON, NJ -- Americans' assessment of Congress has hit a new low, with 13% saying they approve of the way Congress is handling its job. The 83% disapproval rating is also the worst Gallup has measured in more than 30 years of tracking congressional job performance.
http://www.gallup.com/poll/145238/congress-job-approval-rating-worst-gallup-history.aspx
GOP legislators pledge to cut and investigate


Criminal Congress and the Patriot Act
New GOP oversight chairman calls administration 'corrupt'


Criminal Congress and Telecom Crime & Punishment
Schwarzenegger commutes Esteban Núñez's sentence


Schwarzenegger Met with Enron's Ken Lay Before the California Recall
A Fox Taught Me to Be Fair and Balanced Mr. Biden
Present
Julian Assange like a hi-tech terrorist, says Joe Biden
US vice-president makes strongest remarks by any White House official over WikiLeaks founder and diplomatic cables
Ewen MacAskill in Washington, guardian.co.uk, Sunday 19 December 2010 18.20 GMT
The US vice-president, Joe Biden, today likened the WikiLeaks founder, Julian Assange, to a "hi-tech terrorist", the strongest criticism yet from the Obama administration.
Biden claimed that by leaking diplomatic cables Assange had put lives at risk and made it more difficult for the US to conduct its business around the world.
His description of Assange shows a level of irritation that contrasts with more sanguine comments from other senior figures in the White House, who said the leak had not done serious damage. [snip]
http://www.guardian.co.uk/media/2010/dec/19/assange-high-tech-terrorist-biden
Past
These Bills Could Be Used To CLOSE Any Future Motorcycle Event
[Ed. Note: The following is NOT an advocacy for drugs !!! It is a rant on loosely worded laws that can be misused against The People; in this case, the motorcycle community.]
Congress Threatens Live Music and Dancing
Congress is considering two pieces of legislation that could effectively ban live music and dancing, while throwing innocent people like you in jail. If enacted, either bill could prevent you from hearing your favorite band or artist live. Every musical style would be affected, including rock and roll, Hip Hop, country, and electronic music. Both bills would allow overzealous prosecutors to send innocent people to jail for the crimes of others. The two bills are the RAVE Act (H.R. 718) and the CLEAN-UP Act (H.R. 834). Both could be passed this year without your help. [snip]
Too Late !!!
April, 2003 - Sen Joe Biden (D-Del.) 'snuck' it into the AMBER Act two days before vote. [snip]
http://www.flyingsnail.com/Sprung/sprungalert.html
Your glow stick could land you in jail
The latest incarnation of the RAVE Act punishes drug users and bystanders alike -- and tramples civil liberties.
By Janelle Brown
Apr 16, 2003 | Last Thursday, the House and Senate almost unanimously passed the National AMBER Alert Network Act of 2003, a popular bill that will soon create a nationwide kidnapping alert system. Coming in the wake of a year of high-profile child abductions -- from Elizabeth Smart (whose parents supported the bill) to Samantha Runnion -- the bill was a no-brainer, destined to pass quickly and smoothly through Congress.
Surely Sen. Joe Biden (D-Del.) knew this, which explains why he cannily sneaked his own, completely unrelated legislation into the AMBER Act just two days before the vote. Piggybacked onto the act was the Illicit Drug Anti-Proliferation Act, a thinly veiled rewrite of legislation that was controversial in 2002 and failed to make it to a vote on the Senate floor. Now, club owners and partyers alike are being subjected to a loosely worded and heavy-handed law that authorities will be able to indiscriminately use to shut down music events at any time they please, assuming they find evidence of drug use. Thanks to Biden's surreptitious efforts, a few glow sticks and a customer or two on Ecstasy could be all it takes to throw a party promoter in jail for 20 years.
The passing of the Illicit Drug Anti-Proliferation Act was sudden but not entirely out of the blue. Last year, the Illicit Drug Anti-Proliferation Act was known as the RAVE Act (the leadenly acronymed "Reducing Americans' Vulnerability to Ecstasy Act"), a piece of legislation designed by Biden in early 2002 to put rave promoters out of business. An expansion of the crack-house statute of 1986 -- which made crack-den proprietors liable for what took place in their homes, even if they didn't deal drugs themselves -- the RAVE Act threatened those who "knowingly and intentionally rent, lease, profit from, or make available for use, with or without compensation, [a] place for the purpose of unlawfully manufacturing, storing, distributing, or using a controlled substance" with 20 years in jail and $250,000 in fines.
In English, this meant that anyone who intentionally let people do drugs at their events could be held liable. It also expanded the crack-house statute in two significant ways: Now the law could be applied to one-night events -- concerts, raves, parties, festivals -- as well as permanent locales like nightclubs, and it added civil penalties for violations, lowering the burden of proof from "beyond reasonable doubt" to a "preponderance of evidence."
So what "preponderance of evidence" would authorities use to determine that the people who threw these parties "knowingly" let their customers and guests use drugs? The RAVE Act offered a handy list of "findings" that authorities could use as proof -- including the presence of "overpriced bottles of water" and chill rooms, and the sale of glow sticks, massage oils and pacifiers (all of which are sometimes used to enhance the effects of Ecstasy). Never mind that all of the above can also be found at everything from 'N Sync concerts to an Earth Day festival; in the eyes of Biden and other like-minded officials and law enforcement officers (of which there are many), these are sinister drug paraphernalia that can only point to one thing.
Civil liberties groups and grass-roots activists from the electronic music community went on the defense. Infuriated ravers flooded Congress with letters, complaining that they were being singled out because of their lifestyle choices. The ACLU and the reform-minded Drug Policy Alliance convinced co-sponsoring Sens. Patrick Leahy, D-Vt., and Dick Durbin, D-Ill., that the vaguely written law could be used to limit freedom of expression and that businesses would unconstitutionally be held liable for their customers' actions. The two senators withdrew their support, and the RAVE Act finally died in committee last fall.
But Biden was not deterred, and he reintroduced the bill in early 2003. This time, in order to nominally appease detractors, he changed the name of his bill to the less inflammatory "Illicit Drug Anti-Proliferation Act" and struck the "findings" section of the legislation. Then he swiftly tacked it on to the AMBER Act, where, without any kind of hearing and before the ACLU and grass-roots organizations could raise a stink, it finally passed.
The bill's opponents worry that the new law (which will probably be signed by President Bush in the next few weeks) will effectively quash the electronic music community. Most ravers don't object to the targeting of unprincipled rave promoters who do sell drugs to kids, but the law is so loosely worded that it could be used against anyone who throws parties that are unpopular with local authorities. After all, according to the new law, you don't actually need to be directly involved in providing drugs to customers to be found guilty; all you have to do is knowingly allow drug use to take place.
The police are no doubt delighted to have a new weapon to use in their skirmishes with clubs and late-night revelers (a feud that goes all the way back to the days of Prohibition). Do the local authorities have issues with your nightclub or party? All they would need to do is find a few drug users at your event and "prove" that you endorsed this activity by pointing at, say, your overpriced bottled water or the ambulances that you keep on standby in case of emergencies (a common practice at concerts and nightclubs alike), and they could shut you down, throw you in jail, and empty your bank account. [snip] Continue reading at:
http://dir.salon.com/story/mwt/feature/2003/04/16/rave/index.html
Women need a chance to lead
Written by Raphael Montoliu, Lake County News, Monday, 03 January 2011
People do not always understand the importance of certain ideas when these ideas have been so internalized as to have become as second nature to them, when they have been thoroughly conditioned by them.
They then tend to consider the analysis of such ideas irrelevant, and prefer to think in terms of what they now define to be human nature, such as they perceive it.
They risk no longer understanding that their every thoughts and actions are rooted in concepts and beliefs that originate in a chosen worldview, and that to change the world, one needs to become conscious of and to change his worldview, to shift her focus and consciousness.
One such urgently needed transformation would nudge humanity to abandon the habit of fierce competition, which has historically been proven to lead to patriarchal forms of religions and governments, and to embrace the more natural and spiritually relevant model of cooperation, which found expression in matriarchal cultures and societies before they were brutally crushed by patriarchies centuries ago.
It is indeed not a coincidence that women have been oppressed for many centuries by patriarchal drives for dominant power and control, and are to this day in too many nations.
Such unhealthy obsession with power is not generated by hormones however, it arises from fear. Unnatural ideas lead to fear, which is an unnatural condition when sustained over a long period of time, and fear inspires the creation of the types of dogmas, ideologies, beliefs that ultimately appear to validate this fear and all it requires, such as greed, control, authority, might, aggression, war, and the subjugation and ruthless exploitation of those who are deemed weak because vulnerable to predation and coercion.
History proves that humanity is capable of temporarily or permanently legitimizing all acts of murders committed by the state or by religious authorities, all genocides, slavery, persecution, torture and war in the name of specific ideas and beliefs. Not so long ago, millions died because they were considered subhuman by those who claimed to be the master race.
Today the air, the water, the land are dying, polluted to the extreme and throughout the world by the highly toxic chemical and industrial by-products of a "master" civilization, because within the context of such a now global civilization power is deemed more important than life itself.
Consequently, anyone who stands for the earth is said to stand against progress, as were said to be the Native people of this continent in the 18th and 19th centuries, and as are still said to be all remaining indigenous populations today.
Indeed those who would rather love than rape and abuse the earth have seemingly no place and are not welcome in a world made into a battleground by the deluded and fearful patriarchal mind, the mind that is so desperately attached to the obsolete and grotesque idea of dominion as to be willing to sacrifice all for power.
That mind also fantasizes that the solution to the central problem of civilization, to the destruction of the natural order by greed, power and insensitive technologies will be found in the second coming of science or religion, in a migration of the human race to another planet or in a rapture.
Our human world will no survive this ongoing assault against nature, against what is called the environment, much longer, and can only be saved if women reclaim their power worldwide, not the power to blindly compete and overcome as men have been taught and conditioned to think and act, but the power to be, the power to live intelligently in cooperation and through communication rather than in opposition and through conflict.
Why should women save the world, why must they take on this responsibility?
Because it seems that, when it comes to killing and dying, men are by far the experts and always willing, but when it comes to nurturing life and living, women are so much more experienced and qualified.
If we are to choose to live on as a species, we then have to collectively choose to place our fate in the hand of the more skilled gender that, let's be honest, has not yet been given a real chance under centuries of obtuse global patriarchal rule.
Raphael Montoliu lives in Lakeport, Calif. - http://lakeconews.com/content/view/17655/925/
QUADRANTID METEOR ALERT
Earth is passing through a narrow stream of debris from shattered comet 2003 EH1, source of the annual Quadrantid meteor shower. "Peaking in the wee morning hours of Tuesday, Jan. 4, the Quads have a maximum rate of about 100 per hour," says Bill Cooke of NASA's Meteoroid Environment Office. "What makes this year so special is that the Moon is New on the night of the peak, so there will be no interference from moonlight." Got clouds? No problem. You can stay inside and listen to the Quadrantids. Tune into SpaceWeather Radio for live meteor echoes from the US Air Force Space Surveillance Radar in Texas.

Muse reveal plans for gig in space on Virgin Galactic suborbital spaceship
Ever Wake Up In the Morning With A Boner?


To pull a boner


Get to Know John Boehner (Not Boner)


The Daily Take: John Boehner


President George W. Bush Wanted for Murder! - Part 1


PokerFace Calling For a Revolution music video


via Prez at usa-exile.org
Dr. Brian O'Leary writes:

Meredith and I are happily celebrating this holiday season among friends here in southern Ecuador, where the weather's beautiful. Our health is good after quite an active and challenging year. My year end log is now posted on drbrianoleary.wordpress.com giving details about some new perspectives I've gained on life and culture during this past year of entry into septuagenarianhood.

We hope your season is going well too in the face of extraordinary chaos in the world and that 2011 proves to be one in which we can all move forward with clarity and compassion for the human condition and nature.

We still have openings for our Consciousness, Energy and the Matrix of Personal and Global Reality workshop with Jay Schumacher, Caroline Willcock, Meredith and myself January 16-21. Space is also still available at Montesueños for accommodations for what will be a memorable and transformative occasion. We're especially happy that the cooking for this affair will be done by master chef Yasu from New York and now in Vilcabamba. Let us know if you'd like to attend. More information and the registration procedure are posted on

With best wishes, Brian

P.S. On New Years Eve at 3 pm PST (6pm EST), there's a fascinating discussion about science, consciousness and free energy among David Gibbons, John Perkins, Bill Tiller, Nassim Haramein and myself. It will air over the Internet on this link:

http://www.davidgibbons.org/id253.htm and be archived thereafter on
http://www.crossingoverthebridge.org/index.html

AC/DC - It's A Long Way to the Top
Pilot's spilled coffee triggers hijacking alert
Communications equipment sent out distress signals and plane diverted to Canada
AP, Toronto, guardian.co.uk, Wednesday 5 January 2011 19.32 GMT, Article history
A pilot's spilled coffee accidentally triggered a hijacking alert and caused a United Airlines flight from Chicago to Frankfurt to make an unscheduled stop in Canada. A Transport Canada report said United Flight 940 was diverted to Toronto late on Monday.
The coffee interfered with communications equipment, which sent out distress signals including code 7500, which means hijacking or unlawful interference.
The report says Canada's defense department was notified, but that with the help of United dispatch staff the flight crew confirmed it to be a communication issue and not a hijacking.
The report on Transport Canada's website said the US Federal Aviation Administration reported that United's corporate office had indicated that the pilot "had inadvertently squawked a 7500 code after spilling coffee on the aircraft's radio equipment, which interfered with the communications equipment."
United spokesman Rahsaan Johnson said yesterday that the pilot elected to divert the flight rather than cross the Atlantic Ocean while experiencing a communications problem. United did not immediately return a call today to comment on the reported coffee mishap.
The Boeing 777 was carrying 241 passengers and 14 crew members. Johnson said United flew them back to Chicago on another plane and put them up in hotel rooms overnight. They resumed their flight to Germany yesterday.
http://www.guardian.co.uk/world/2011/jan/05/coffee-spill-hijacking-alert

Love And Rockets - Kundalini Express live Lollapalooza 2008

Love And Rockets - Ball Of Confusion
How the US let al-Qaida get its hands on an Iraqi weapons factory
[Criminal Republican Cover-Up Disclosed]
In an exclusive extract from his new book, A History of the World since 9/11, Dominic Streatfeild explains how despite expert warnings, the US [Republicans with Democrat Support] let al-Qaida buy an arsenal of deadly weapons – then tried to cover it up
Dominic Streatfeild, The Guardian, Friday 7 January 2011, Article history
[snip] Bush administration cover-up
With the presidential election just eight days away, it now became crucial for the White House to neutralise the story. If voters suspected that American GIs were dead because of sheer official incompetence, they might be tempted to vote the wrong way. Evangelistic certainty and moral clarity were one thing; US soldiers dying needlessly in the sand in a faraway country was quite another. [snip] - Read complete article at:
http://www.guardian.co.uk/world/2011/jan/07/iraq-weapons-factory-al-qaida-us-failure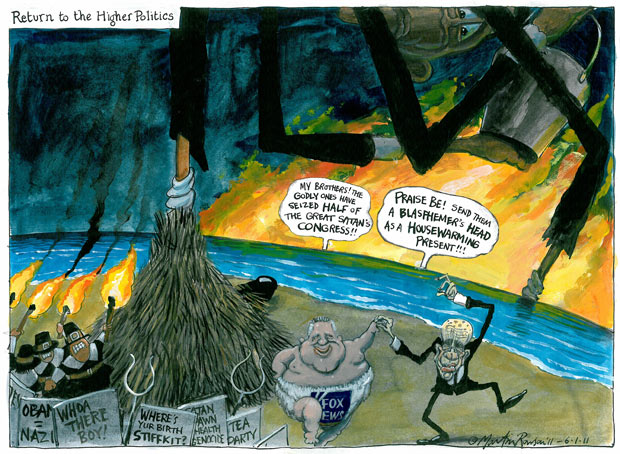 Martin Rowson on Fox News - Glenn Beck and Rupert Murdoch dance a jig of delight
Change Your Passwords, It's Time For A Corporate Death Penalty
Apathy sucks and saying, "it's my job" doesn't 'cut it' anymore. Everybody will be held accountable for their actions thanks to the Patriot Act, and there is no hiding anymore.
A Republican Bush Administration and Congress, with Democrat support, are premeditated, cold blooded, murderers who broke U.S. & World laws, and got away with it. They murdered and maimed U.S. Military, women, children, and civilians during an illegal Iraq War (Bush's War) based on lies and Nobody cares.

Lies, Lies, Lies - BlackMustache.com
In fact, Nobody understands why U.S. military have not arrested these criminals; but then again, Rumsfeld stole over two trillion dollars from the Pentagon, and it would appear our once proud military has been usurped by politicians taking orders from corporate lobbyists. Who else would be stupid enough to pass a Patriot Act, which was never read by Congress? It is no wonder why Congress has an approval rating slightly lower than an acceptable amount of rat feces tolerated in the human food supply chain!
Then there were TELECOMS who spied on U.S. Citizens. Here are the laws they broke: Violation of the Fourth Amendment to the Constitution, Violation of the First Amendment to the Constitution, Unlawful electronic surveillance or disclosure or use of information obtained by electronic surveillance in violation of 50 U.S.C. §1809, Unlawful interception, use or disclosure of Class communications in violation of 18 U.S.C. § 2511, Unlawful solicitation and obtained disclosure of the contents of communications in violation of 18 U.S.C. § 2702(a)(1) or (a)(2), Unlawful solicitation and obtained disclosure of non-content records or other information in violation of 18 U.S.C. § 2702(a)(3), Violation of the Administrative Procedures Act, Violation of the constitutional principle of separation of powers and NO TELECOM EXECUTIVE went to jail. Congress voted to protect Telecoms for breaking the law where a normal citizen would be in jail for violating a lesser offense.
As absurd as it may seem, one could be arrested for urinating in the local lake; however, British Petroleum destroys the Gulf of Mexico and Nobody goes to jail.
The Supreme Court appointed Bush president and Nobody went to jail.
PG&E consistently kills people, not one PG&E or CPUC official is charged, and Nobody goes to jail.
Union Carbide in Bhopal murdered 3,000 people instantly, and thousands died later from the aftereffects of their toxic gas, and Nobody corporate went to jail.
Donald Rumsfeld trained Saddam Hussein to gas the Kurds and Nobody is in jail.
John Ashcroft and Alberto Gonzales blatantly subverted U.S. law and Nobody is in jail.
A plane never hit the Pentagon during 9/11, the FBI is withholding evidence, and Nobody is in jail.
The list goes on and perhaps it is time for a Corporate Death Penalty because Nobody cares and should be president:


None of the Above Should Be On Voter Ballots
Finally, perform this procedure weekly because Evil Cookies are, once again, lurking.
Socnets: Congress Spies On U.S. Citizens
US tells Twitter to hand over WikiLeaks supporter's messages
Icelandic MP to fight attempts by the US department of justice to access her private information
Dominic Rushe in New York, The Guardian, Saturday 8 January 2011, Article history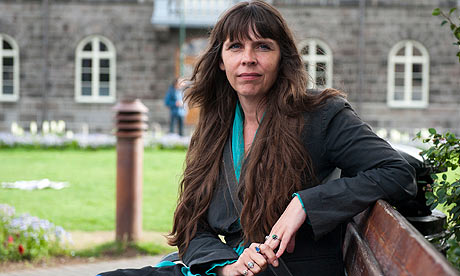 Birgitta Jonsdottir, the Icelandic MP and former WikiLeaks volunteer, who is now fighting a US justice department attempt to get hold of her private messages on Twitter Photograph: Halldor Kolbeins/AFP/Getty Images
A member of parliament in Iceland who is also a former WikiLeaks volunteer says the US justice department has ordered Twitter to hand over her private messages.
Birgitta Jonsdottir, an MP for the Movement in Iceland, said last night on Twitter that the "USA government wants to know about all my tweets and more since november 1st 2009. Do they realize I am a member of parliament in Iceland?"
She said she was starting a legal fight to stop the US getting hold of her messages, after being told by Twitter that a subpoena had been issued. She wrote: "department of justice are requesting twitter to provide the info – I got 10 days to stop it via legal process before twitter hands it over."
She said the justice department was "just sending a message and of course they are asking for a lot more than just my tweets."
Jonsdottir said she was demanding a meeting with the US ambassador to Iceland. "The justice department has gone completely over the top." She added that the US authorities had requested personal information from Twitter as well as her private messages and that she was now assessing her legal position.
"It's not just about my information. It's a warning for anyone who had anything to do with WikiLeaks. It is completely unacceptable for the US justice department to flex its muscles like this. I am lucky, I'm a representative in parliament. But what of other people? It's my duty to do whatever I can to stop this abuse."
Twitter would not comment on the case. In a statement, the company said: "We're not going to comment on specific requests, but, to help users protect their rights, it's our policy to notify users about law enforcement and governmental requests for their information, unless we are prevented by law from doing so."
Most of Twitter's messages are public, but users can also send private messages on the service.
Marc Rotenberg, president of the online watchdog the Electronic Privacy Information Centre (EPIC) in Washington, said it appeared the US justice department was looking at building a case against WikiLeaks and its founder, Julian Assange, over its publication of secret US documents.
EPIC has already requested that the US authorities hand over information about their investigations into people who have donated to WikiLeaks via Mastercard, Visa or PayPal.
"The government has the right to get information, but that has to be done in a lawful way. Is there a lawful prosecution that could be brought against WikiLeaks? It seems unlikely to me. But it's a huge question here in the US," said Rotenberg.
Jonsdottir was involved in WikiLeaks' release last year of a video which showed a US military helicopter shooting two Reuters reporters in Iraq. US authorities believe the video was leaked by Private Bradley Manning.
Adrian Lamo, the hacker who reported Manning to the authorities, indicated that Manning first contacted WikiLeaks in late November 2009 – a period covered by the request for Jonsdottir's tweet history.
In 2009 Jonsdottir invited Assange to a party at the US embassy in Reykjavik where he chatted with the ambassador to Iceland. WikiLeaks had recently published a secret report on the collapse of the country's banks.
"I said it would be a bit of a prank to take him and see if they knew who he was. I don't think they had any idea," Jonsdottir said last year.
The MP has distanced herself from Assange and WikiLeaks, saying he should take a step back to deal with an investigation in Sweden. The 39-year-old is fighting extradition to the country, where two women have accused him of sexual misconduct. He denies the allegations.
In Iceland she has championed the Icelandic Modern Media Initiative which is aimed at creating legislation to make Iceland a legal haven for journalists and media outlets.
She is not the first WikiLeaks associate to be targeted by US officials. Last July Jacob Appelbaum, one of Assange's closest colleagues, was interrogated for three hours and had his phones confiscated upon entering the country at Newark airport. Customs officials photocopied receipts and searched his laptop.
The justice department did not returns calls seeking comment last night.
http://www.guardian.co.uk/media/2011/jan/08/us-twitter-hand-icelandic-wikileaks-messages
Sarah Palin's Targeted List Qualifies Tea Party As Terrorist Cell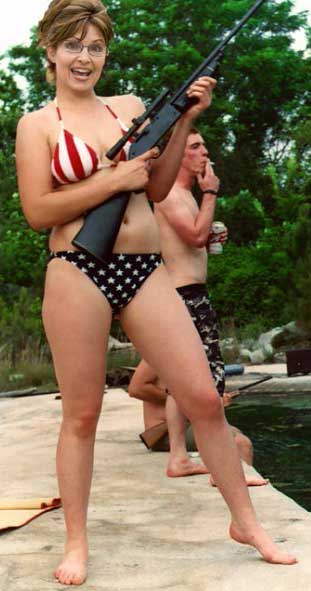 Republican Stiffy Boner says: We'll Kill You For Voting Yes On Health Care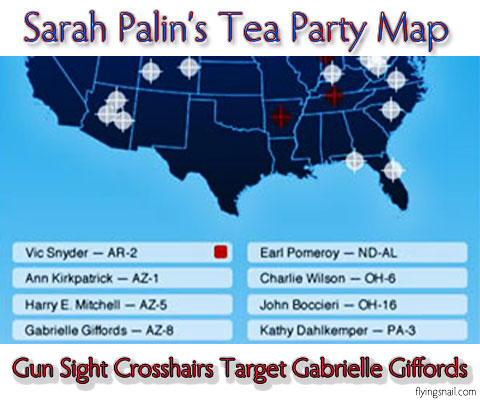 Gabrielle Giffords remains in critical condition
after Arizona shooting
US congresswoman shot in head and six others, including nine-year-old girl, killed as gunman attacks public meeting in Tucson
Ben Quinn, Paul Gallagher, Alexandra Topping and agencies, guardian.co.uk, Sunday 9 January 2011, Article history
The US congresswoman Gabrielle Giffords today remained in a critical condition in hospital after being shot at point-blank range at a public meeting outside a supermarket in Arizona yesterday.
Six other people, including a nine-year-old girl, a federal judge and a member of Giffords's staff, were killed when a gunman opened fire outside a supermarket in Tucsonwhere Giffords was meeting with constituents, shooting 18 people.
Giffords, a 40-year-old Democratic member of the House of Representatives, was in a critical condition at the University Medical Centre in Tucson, where she was operated on by a team of neurosurgeons.
Dr Peter Rhee, the medical director of the hospital's trauma and critical care unit, said a bullet had passed directly through her brain.
She had been shot once in the head "through and through", he said at a news conference.
Rhee said he believed Gifford would recover, but added that doctors could not speculate on what her long-term condition might be.
"I can tell you at this time I am very optimistic about her recovery," he added. "We cannot tell what kind of recovery, but I'm as optimistic as it can get in this kind of situation."
The nine-year-old girl who was killed has been named as Christina Taylor Greene. Born on September 11 2001, her parents described her as the "best daughter in the world".
She was featured in a book called Faces of Hope: Babies Born on 9/11. Her uncle, Her uncle Greg Segalini told the Arizona Republic that a neighbour was going to the event and invited her along.
She had a keen interest in politics, was on her school government, and had wanted to go to the Giffords event to learn more about the political process.
The Pima County sheriff's office has released the identities of the other people killed in the shooting. They are John Roll, 63, a federal district court judge, Gabriel Zimmerman, Giffords' 30-year-old director of community outreach, Dorwin Stoddard, 76, a pastor, Dorothy Murray, 76, and 79-year-old Phyllis Scheck.
Giffords was shot at point-blank range by a 22-year-old army reject identified by investigators as Jared Lee Loughner, who was arrested at the scene and was refusing to cooperate with officers, according to police.
He was described by a doctor who treated some of the victims at the scene as a young white man wearing dark clothing, with a "determined look on his face".
At a press conference following the attack, the Pima County Sheriff, Clarence Dupnik, blamed political vitriol for fuelling the attack.
"People tend to pooh-pooh this business that we hear about all the vitriol we hear inflaming the American public by people who make a living doing that," he said. "That may be free speech – but there are consequences."
He said Arizona had become "a Mecca for prejudice and bigotry" and that "people who are unbalanced are especially susceptible to vitriol".
Describing the shooting as "an unspeakable tragedy", the US president, Barack Obama, asked people to pray for "a friend of mine" who was battling for her life.
"While we are continuing to receive information, we know that some have passed away, and that Representative Giffords is gravely wounded," he said.
"Gaby is not only an extraordinary public servant, but also someone who is warm and kind, who was liked by her colleagues and her constituents."
As Obama ordered the FBI director, Robert Mueller, to Tucson to oversee the investigation, Dupnik said police had a photo of a second man they are searching for, who they believe was also involved in the attack.
The shooting happened shortly after 10am local time outside a Safeway store. Loughner ran up and opened fire on Giffords while she was talking to a couple at an event called Congress on Your Corner, designed to allow members of Giffords's 8th Congressional district to meet her face to face.
Giffords had used Twitter shortly before the shooting, saying: "My first Congress on Your Corner starts now. Please stop by to let me know what is on your mind or tweet me later."
Witnesses said the gunman ran into a "crowded area" and began "firing indiscriminately".
Andrea Gooden, who was working across the road from the scene, said: "I heard about 15 shots. Then there were people racing across the parking lot."
Another witness, Steven Rayle, who helped restrain Loughner, said: "The event was very informal. Giffords had set up a table outside the Safeway and about 20 or 30 people were gathered to talk to her.
"The gunman, who may have come from inside the Safeway, walked up and shot Giffords in the head first."
Jason Pekau, an employee at a shop close to the shooting, said two bodies were covered on the pavement after emergency services had arrived at the scene.
After shooting Giffords, Lougher used an automatic weapon to fire at up to 30 people, leaving 13 people wounded, many of whom were airlifted to hospital.
Loughner only attempted to flee when he ran out of ammunition. One of Giffords's aides tackled the assailant and helped to pin him down until police arrived.
More details emerged today as it was revealed that Loughner had shown increasingly strange behaviour in recent months.
He had made internet postings – at least one showing a gun – and a series of videos in which he made disjointed statements on topics like the gold standard and mind control, according to the New York Times.
Pima Community College said he had been suspended for conduct violations. He left the college in October after five instances of classroom or library disruptions that involved the campus police.
The shooting has sparked fierce critics of the toxic political climate both in Arizona and the US as a whole. In recent months, Giffords, a supporter of the healthcare reforms, had received death threats, and her offices had been shot at.
While the motive for the shooting was not immediately clear, Giffords is one of 10 Democrat members of Congress who were the subject of harassment over their support for Obama's healthcare overhaul.
Her Tucson constituency office was vandalised in March after she voted in favour of the controversial health bill, which was bitterly opposed by the US right.
Giffords was named as a political campaign target for conservatives in last November's mid-term elections by the former Alaska governor Sarah Palin.
Palin had published a "target map" on her website using images of gunsights to identify 20 House Democrats, including Giffords, backing the new healthcare law. Gifford won by a narrow margin, seeing off opposition from a Tea Party-backed Republican candidate.
In an interview after the office vandalism, Giffords referred to the animosity against her. "We're on Sarah Palin's targeted list," she said, "but the thing is, the way that she has it depicted has the crosshairs of a gun sight over our district.
"When people do that, they have to realise that there are consequences to that action."
Palin faceed huge criticism for her campaign, and issued a statement via her Facebook page offering her "sincere condolences" to Giffords and her family.
Giffords was also the target of a campaign event advert for her opponent, Jesse Kelly, which invited supporters to fire a gun with the candidate. It read: "Get on Target for Victory in November. Help remove Gabrielle Giffords from office. Shoot a fully automatic M16 with Jesse Kelly".
Giffords, who was born in Tucson and has two children, took office in January 2007, supporting immigration control, embryonic stem-cell research and the right to abortion.
Representative Jerrold Nadler, a New York Democrat, told CNN that Giffordshad received death threats in the past.
At another event in 2009, similar to the one Giffords was holding when she was shot, a man was removed by police when his pistol fell to the supermarket floor.
Although a Democrat, Giffords was a strong supporter of the right to bear arms and was re-elected to her third term last November, edging out Tea Party favourite Kelly.
She is married to the space shuttle astronaut Mark Kelly, and is the first Jewish woman elected to Congress from Arizona and the third female ever to be elected for that state. She has been building up a prominent public profile, with frequent appearances in the national media.
The US Capitolpolice force said it was advising Congress representatives and their aides to "take reasonable and prudent precautions" about their own security in the wake of the shooting.
http://www.guardian.co.uk/world/2011/jan/09/gabrielle-giffords-critical-condition-shooting-arizona

McCain says Palin's "reload" tweet is "fine"

'The View' Condemns Palin's Political Target Map;
Behar Cracks: 'Looks Like Al-Qaida Christmas Card'
Westboro Baptist Church To Picket Funerals
Of Arizona Shooting Victims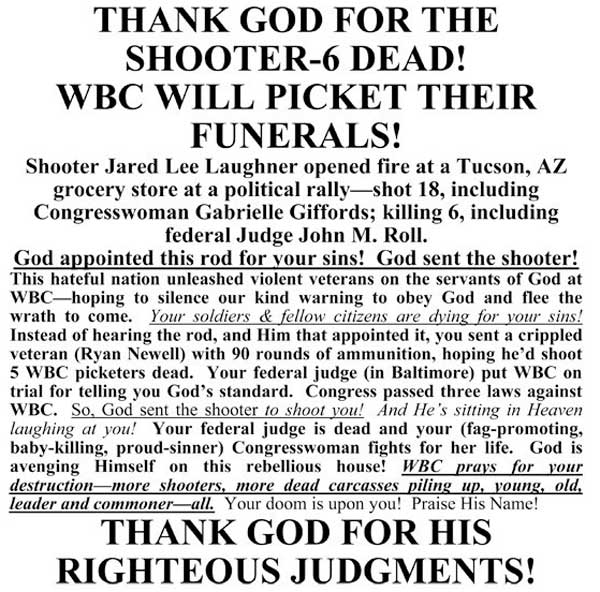 http://www.huffingtonpost.com/2011/01/09/westboro-baptist-church-arizona_n_806319.html

Westboro Baptist neutralized by the Patriot Guard Riders
PG&E/CPUC/FCC & Corporate Fascism

Scenes from a Shut Down
Remember San Bruno
PG&E Executives Are Murderers Who Never Go to Jail
Smart Meters Are Not Safe & Will Increase Your Electricity Bill
Smart Meter Resistance On YouTube
PG&E Smart Meter Boycott Update
PG&E Smart Meters: A Dumb Idea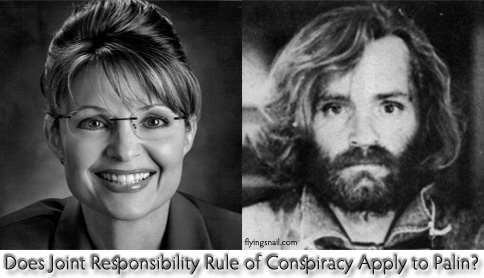 Charles Manson was convicted of murder through the joint-responsibility rule, which makes each member of a conspiracy guilty of crimes hir fellow conspirators commit in furtherance of the conspiracy's object. If the Tea Party is a Terrorist Cell, does a Joint-Responsibility Rule of Conspiracy apply to Sarah Palin?

Congresswoman Gabrielle Giffords Talks Palin Cross Hairs

Sarah Palin - RELOAD


Sarah Palin scraps reality show to run for prez?
Former Governor of Alaska Sarah Palin is not returning for a second series of her reality show, fuelling speculation that she is set to make a 2012 Presidential bid.

Roger Waters - "Home"
[Ed Note: We were willing to back off this topic yesterday but Ms. Palin's antisemitic "Blood Libel" comment brought it back; proving again, "Nobody believes silence is golden!"]

Leningrad Cowboys - Rockin In The Free World
There Is An O In Country & "Blood Libel" Is Antisemitic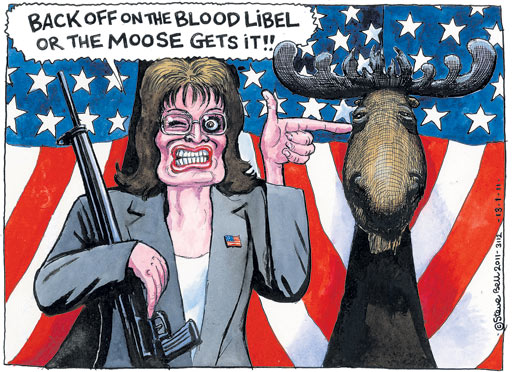 Steve Bell - Back Off On the Blood Libel Or the Moose Gets It!!
Blood libel – what does it mean?
Sarah Palin borrows phrase from a notorious passage in the Bible to condemn the Arizona shootings
Stephen Bates, guardian.co.uk, Wednesday 12 January 2011 16.52 GMT, Article history
Sarah Palin's use of the phrase "blood libel" could scarcely be more incendiary, especially in a religious country like the US.
The blood libel refers specifically to perhaps the most notorious verse in the Bible: Matthew 27:25, which has been used by some Christians to persecute Jews for nearly 2,000 years. That it should be used by an avowedly Christian politician about a Jewish one just takes crassness and insensitivity to a new level.
One can only hope that Palin, or her advisers, did not appreciate the context, or the history. The verse in Matthew refers to the scene during Christ's trial before Pontius Pilate, before his execution, where the Roman governor, not being able to find fault with the accused man, publicly washed his hands of his fate, saying the crowd bore responsibility for his death.
The Gospel says the crowd shouted back: "His blood be on us and on our children," a phrase taken by Christians for centuries to indicate that the Jewish people as a whole and for perpetuity bore direct responsibility for the crucifixion and were therefore fair game for persecution and extermination.
It has been used to justify pogroms, expulsions and discrimination and has fed Christian myths, such as those circulating in the middle ages, that Jews kidnapped and sacrificed Christian children to use their blood during Passover commemorations.
It took until the post-Holocaust period for organisations such as the Roman Catholic church to acknowledge the sensitivity of the phrase. Only in recent years has the famous Oberammergau passion play in southern Germany cut the words.
In 2004, Mel Gibson claimed he had excised the line from his gory film, The Passion of the Christ, owing to Jewish sensitivities, though scholars noted he actually retained it – in Aramaic.
http://www.guardian.co.uk/world/2011/jan/12/blood-libel-sarah-palin-arizona?intcmp=239

Native American Blessing, American Tragedy Mourned via Amestizo

Arc Angels - Shape I'm In
CRAP - THE INTERNET IS NO LONGER SAFE! - GO OUTSIDE AND PLAY !!!
by I Was There Way Before Gore, 201101.14
No, it's not April 1st, and this may ??? be my last entry because of something currently 'floating around', which was verified, relates to net usage, email, a bias algorithm, etc. I also personally believe any attempt to explain it would open a flood of lawsuits and mud slinging by corporatists having politicians 'in their pocket' (Has Anybody read the Patriot Act and follow-up legislation?). ... Besides Nobody paid attention before and Nobody pays attention now. Oh, and don't bother asking, because there will be no answer. (fwiw) The Evil Cookie info on the Mac page is still good advice, but not an end solution; things change. == Still pondering, remembering Blank Is Beautiful, ~@~
On January 11, 2011 Mike writes:

Hi Curtis,

I'm now mixing and sequencing the tracks for a new CD. I'll send you a couple of mp3s when I get a little farther along.

Yours truly, Mike Wilhelm - http://www.mike-wilhelm.com/
'Angels,' bikers help protect girl's funeral
SYMPATHIZERS LINE SHANNON ROAD, READY TO BLOCK HATE GROUP
Tom Beal and Doug Kreutz Arizona Daily Star | Posted: Friday, January 14, 2011 12:00 am
Mourners at the funeral of Christina-Taylor Green were greeted by more than a thousand sympathizers who lined North Shannon Road for a quarter-mile south of St. Elizabeth Ann Seton Church.
Many wore white, and many had responded to an Internet call to counter the possible appearance of an out-of-state hate group.
They arrived on nearly 200 motorcycles, on foot and on shuttle buses from area parking lots, some prompted into action by the anticipated presence of a group from Kansas that protests funerals of veterans and gay people. The group ended up not showing.
Many of the sympathizers who showed up wore white and stood quietly on either side of Shannon Road. Among them were 18 "angels" with giant wings made from plastic pipe and bedsheets, who stood side by side in silence less than a block from the church for an hour and a half.
Behind them, graffiti on a subdivision's block wall read: "Christina" and "Stop the Hate."
In the church parking lot, several firefighters and soldiers stood between two fire-ladder trucks, to hoist the 9/11 Flag at the church. The flag weighs 45 pounds.
The "New York Says Thank You Foundation" flew the flag to Tucson Wednesday to honor Christina-Taylor, 9, who was among six killed in Saturday's shooting at a northwest-side Safeway. She was born on Sept. 11, 2001.
The flag was flying at 90 West Street in New York when the twin towers went down. It is the same tattered flag seen in the iconic photo of ground zero.
Pieces of retired flags from all 50 states have been used to repair the flag, which is on tour this year until the 10th anniversary of 9/11.
The flag was to be flown to Atlanta Thursday, so it will not be in Tucson today for the funeral of U.S. District Judge John M. Roll, at the same northwest-side church.
On Thursday, families holding hands, cowboy types in boots and hats, bikers in Hells Angels and Huns jackets, teens, seniors and others were there - most for the same reason: to support the Green family.
"She was such a shining little star," Tucsonan Jean Semington said of Christina-Taylor. "It's tragic. . . . I've lost a son. I know a little of the pain."
Ten-year-old Lindsey Lummus wore white angel wings and a halo as she stood beside the street with her family.
"I came to support them," said Lindsey, a fifth-grader at Quail Run Elementary School.
Jeanne Davis traveled from Scottsdale and carried a large sign reading: "Our thoughts & prayers are with the Green family."
"This was such a big negative experience for Arizona," Davis said. "We've got to stand together now."
Casey Trapp and Katie Maine held white roses they said were distributed by an "unknown gentleman."
"We wanted to be here," Maine said. "There's power in these numbers."
Dennis Bennett journeyed from Phoenix with 55 fellow members of the Phoenix Motorcycle Riders Group.
"We just want to show our support," Bennett said. "And if dummies show up, we want to stand in front of them."
Angel Project organizer Wayne Belger said the Angels are trained to resist provocation by the hate group. Some are veterans of non-violent protest, and all were trained for this deployment in a role-playing session Wednesday night. The Angels surround the hate group with their wings so that funeral-goers do not have to see the signs being carried - usually stating that the deaths are God's punishment for homosexuality.
One of the angels, Ralph Alter, said: "I had to do something, and this seemed like a good way to take positive action."
Alter, who said he has a transgender son and many gay friends, said it was also "something I can do for them, too."
Another Angel organizer, Christin Gilmer, was dressed in white but did not don angel wings. The group discourages people with personal connections to a funeral from doing so, she said.
"I knew Gabe (Zimmerman, a victim). We were very involved in similar causes."
Gilmer also worked on Rep. Gabrielle Giffords' campaigns and knew shooting victim Dorwan Stoddard through volunteer activities. "He was very sweet," she said.
After the funeral began, the 18 angels turned and walked north, wings outstretched, along a dirt path next to the road.
They were headed to a nearby home where a resident told them they could store their wings until today's funeral at the same church for Judge Roll.
http://azstarnet.com/news/local/article_f6572541-3612-5abf-9bf5-8535641529be.html
Call for Fox News to drop Glenn Beck
Ten thousand sign petition for rightwing talkshow host to be removed amid accusations that he has whipped up hatred in the wake of the Arizona shooting
Ed Pilkington in New York, guardian.co.uk, Thursday 13 January 2011 21.13 GMT, Article history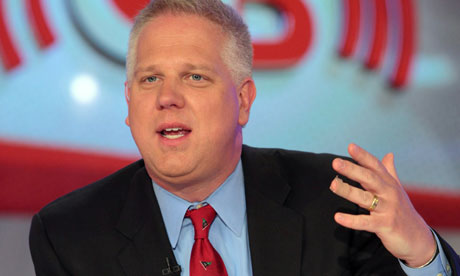 Glenn Beck has had to defend his record. Photograph: Nicholas Roberts/New York Times/Redux/Eyevine
A protest was staged against rightwing talkshow host Glenn Beck today, calling for his immediate removal from Fox News.
The organisers, Jewish Funds for Justice (JFSJ), a charity that campaigns for social change, delivered a petition with 10,000 signatures.
In the wake of the Tucson shooting, the TV and radio personality has had to defend his record against accusations that he has whipped up hatred within the public discourse.
For a media figure who has been variously lambasted as a liar, buffoon, clown, bigot and racist Beck is no stranger to the vitriol that currently passes in America as public debate. In fact, he's built a multimillion dollar empire out of it.
So the protest rally that was staged outside the News Corporation headquarters in New York today probably troubled him as much as water flowing off a duck's back.
The petition was part of a groundswell of opinion that when it comes to Beck, arguably the most extreme of America's multitude of rightwing talk hosts, enough is now enough.
Amid the billowing criticism, Beck has defended himself by claiming he has "softened" the tone of his monologues over the past couple of years. "Nobody wants to recognise this. Why? Because it hurts their dialogue."
But the evidence belies his claim of moderation. The JFSJ accompanied the petition with a list of 10 of Beck's most egregious comments in 2010 (see below).
They include Beck's radio comment on the financier and philanthropist, George Soros, that "here's a Jewish boy helping send the Jews to the death camps". The remark was made in reference to Soros as a 13-year-old teenager in Hungary, who survived the Holocaust because his father hid their Jewish identity through elaborate forged documents.
The comment was made as part of a three-part Beck "exposé" of Soros on Fox News last November called the "Puppet Master". Beck's portrayal of Soros was so mendacious and malicious that he was accused by the New Yorker of broadcasting tropes that corresponded "uncannily to those of classical antisemitism". The Daily Beast noted that "nothing like it has ever been on American television before".
Simon Greer, JFSJ's president, said that following last Saturday's Tucson shootings, in which a Congresswoman was shot and six people died, it was time for action. "We are not accusing Glenn Beck or Roger Ailes or Rupert Murdoch of pulling the trigger in Tucson, only one man did that. But we are accusing them of playing to the worst in all of us."
He said that over the past 18 months Beck had referred to Hitler and Nazi Germany more than 400 times in his show.
There is no love lost between Soros and the Fox News stable. A month after the Puppet Master was aired, Soros hit back that the combination of Fox News, Beck and the Tea Party movement was a threat to America that might lead "this open society to be on the verge of some dictatorial democracy".
The billionaire has donated $1m to the liberal media research body, Media Matters. The organisation's founder, David Brock, this week wrote to Murdoch calling on him to do something about Beck and Sarah Palin, who also appears on Fox News.
"In the wake of the [Arizona] killings, your network must make a stand," Brock wrote. "You have the power to order them to stop using violent rhetoric. If they fail to do so, it is incumbent on you to fire them or be responsible for the climate they create."
Glenn Beck soundbites
• Beck likens himself to Israeli Nazi hunters: "To the day I die, I am going to be a progressive hunter." 20 January 2010
• Social justice is a "perversion of the Gospel, not what Jesus was saying". 11 March 2010
• "Charles Darwin is the father of the Holocaust." 20 August 2010
• "We have been sold a lie … that the poor in America are suffering." November 20 2010
• Beck mocks President Obama's daughter Malia and questions her "level of education". He later apologises. 28 May 2010
• Uncle Sam is a "child molester" who is "raping our wallets … and destroying our families". 16 April 2010
• Beck said the prime goal of his coverage of the midterm elections was to "make George Soros cry" which was hard to do as Soros "saw people into gas chambers". 2 November 2010
• "Women are psychos". 20 January 2010
• Putting the "common good" first is the kind of thing that "leads to death camps". 28 May 2010
• "God will wash this nation with blood if he has to." 25 August 2010
(As selected by the Jewish Funds For Justice)
http://www.guardian.co.uk/media/2011/jan/13/glenn-beck-petition-fox

CPMP
Earth must prepare for close encounter with aliens, say scientists
UN should co-ordinate plans for dealing with extraterrestrials - and we can't guarantee that aliens will be friendly
Alok Jha, science correspondent, guardian.co.uk, Monday 10 January 2011 07.00 GMT, Article history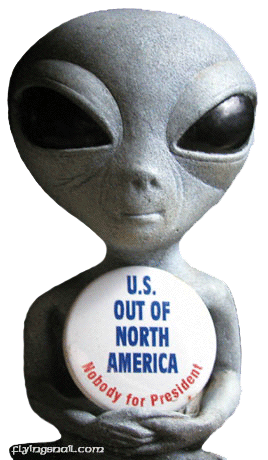 World governments should prepare a co-ordinated action plan in case Earth is contacted by aliens, according to scientists.
They argue that a branch of the UN must be given responsibility for "supra-Earth affairs" and formulate a plan for how to deal with extraterrestrials, should they appear.
The comments are part of an extraterrestrial-themed edition of the Philosophical Transactions of the Royal Society A published today. In it, scientists examine all aspects of the search for extraterrestrial life, from astronomy and biology to the political and religious fallout that would result from alien contact.
"Will a suitable process based on expert advice from proper and responsible scientists arise at all, or will interests of power and opportunism more probably set the scene?" asked Professor John Zarnecki of the Open University and Dr Martin Dominik of the University of St Andrews in the introductory paper. "A lack of co-ordination can be avoided by creating an overarching framework in a truly global effort governed by an international politically legitimated body." The pair argue that the UN has a ready-made mechanism for such a forum in its Committee on the Peaceful Uses of Outer Space (Copuos).
Member states of Copuos should put "supra-Earth affairs" on their agenda, say the scientists, and establish structures similar to those proposed for dealing with threats from near-Earth objects, such as asteroids, that might be on a collision course with our planet.
According to Simon Conway Morris, a professor of evolutionary palaeobiology at Cambridge University, anyone planning for alien contact should prepare for the worst.
Evolution on alien worlds, he said, is likely to be Darwinian in nature. Morris argues that life anywhere else in the universe will therefore probably have important similarities with life on Earth – especially if it comes from Earth-like worlds that have similar biological molecules to ours. That means ET might resemble us, warts and all, with our tendencies towards violence and exploitation.
"Why should we 'prepare for the worst'? First, if intelligent aliens exist, they will look just like us, and given our far from glorious history, this should give us pause for thought," wrote Morris in the journal's special issue.
Ted Peters, a professor of systematic theology at the Pacific Lutheran Theological Seminary in California, considered what might happen to the world's religions in the event of ET making contact. Conventional wisdom suggests that terrestrial religion would collapse if the existence of extraterrestrial intelligence (ETI) were confirmed, he wrote.
"Because our religious traditions formulated their key beliefs within an ancient world view now out of date, would shocking new knowledge dislodge our pre-modern dogmas? Are religious believers Earth-centric, so that contact with ET would de-centre and marginalise our sense of self-importance? Do our traditional religions rank us human beings on top of life's hierarchy, so if we meet ETI who are smarter than us will we lose our superior rank? If we are created in God's image, as the biblical traditions teach, will we have to share that divine image with our new neighbours?"
His conclusion, however, is that faith in Earth's major religions would survive intact. "Theologians will not find themselves out of a job. In fact, theologians might relish the new challenges to reformulate classical religious commitments in light of the new and wider vision of God's creation."
"Traditional theologians must then become astrotheologians ... What I forecast is this: contact with extraterrestrial intelligence will expand the existing religious vision that all of creation – including the 13.7bn-year history of the universe replete with all of God's creatures – is the gift of a loving and gracious God," he speculated.
http://www.guardian.co.uk/science/2011/jan/10/earth-close-encounter-aliens-extraterrestrials

Mike Pinder - You'll Make It Through

Far East Family Band - Tenkujin [Western translation: God of the Skies.]
One of [Arizona] victims is arrested at TV town hall
By David Nakamura Washington Post Staff Writer Sunday, January 16, 2011
TUCSON - Arizona shooting victim James Eric Fuller was arrested Saturday and taken for a psychiatric evaluation after allegedly photographing a local tea party leader at a forum organized by ABC and yelling: "You're dead."
According to news reports, Fuller became upset when Trent Humphries, an audience member at an event, suggested that conversations about gun control be delayed until those killed in the shooting are buried.
An officer tried to escort Fuller out, and deputies decided he needed to be examined by a psychiatrist. Fuller was involuntarily committed for a minimum of 72 hours. He is expected to be charged with misdemeanor disorderly conduct and threatening.
The forum - taped for a special edition of "This Week" with Christiane Amanpour - reunited victims, witnesses and emergency responders to discuss the shooting.
Fuller, 63, was shot twice in the attack that critically wounded Rep. Gabrielle Giffords (D-Ariz.).
http://www.washingtonpost.com/wp-dyn/content/article/2011/01/15/AR2011011504551.html

George Carlin - The Owners of America
What has changed since King's day?
Written by Nelson Strasser, Lake County News, Sunday, 16 January 2011
Monday is the birthday of Dr. Martin Luther King and a national holiday. And yet, the FBI, in the 1960s, called him "The most dangerous negro in America," and Time magazine called him a "demagogue." How ironic it is that he was vilified in his lifetime and yet today has a national holiday in his honor.
How can that be? He was always hated by racists, but he became an enemy of the government when he turned against the war in Vietnam. That is why his speech from the Riverside Church condemning the war is rarely played on the media or in history classes. His image has been sanitized. This is a slander on his memory.
Here is a sample of his words, as profound and fitting today as they were in the 1960s:
"A true revolution of values will lay hand on the world order and say of war, 'This way of settling differences is not just.' This business of burning human beings with napalm, of filling our nation's homes with orphans and widows, of injecting poisonous drugs of hate into the veins of peoples normally humane, of sending men home from dark and bloody battlefields physically handicapped and psychologically deranged, cannot be reconciled with wisdom, justice, and love. A nation that continues year after year to spend more money on military defense than on programs of social uplift is approaching spiritual death."
What has changed? We are still spending 57 cents of every dollar on the Pentagon. We are shooting third world peoples as if they were objects in a computer game, young men are coming back damaged physically and mentally, and we are coming closer to spiritual death.
Nelson Strasser lives in Kelseyville, Calif. - http://lakeconews.com/content/view/17829/927/
"

The Blanks

" Max Headroom

(TV Series)
Video no longer available

Max Headroom (1987–1988) is a short-lived but ground-breaking British-produced science fiction television series by Chrysalis/Lakeside Productions made for American TV. The series was based on the Channel 4 British TV pilot Max Headroom: 20 Minutes into the Future.
"The Blanks," Season 1: Episode 6: 1987
A group of Blanks, anarchists who removed themselves from the government's central databanks, threaten to use a powerful virus program to wipe out the city's entire computer network and everything connected to it, including Max.
Impact on society
Max Headroom was the first cyberpunk series to run in the United States on one of the main broadcast networks in prime time, although it was not tagged with that label until some time after its cancellation. Like other science fiction, the series introduced the general public to new ideas in the form of cyberpunk themes and social issues. The series portrayed the Blanks, a counter-culture group of people who lived without any official numbers or documentation for the sake of privacy. Various episodes delved into issues like literacy and the lack thereof in a TV-dominated culture (for example, in the episode "Body Banks", Blank Reg says: "It's a book. It's a non-volatile storage medium. It's very rare. You should 'ave one." This statement also anticipates the mid-2000s controversy over the replacement of print by online and e-book sources.)
Of Max Headroom himself, actor Matt Frewer told Rolling Stone Magazine that "The cool thing about playing Max is that you can say virtually anything because theoretically the guy's not real, right? Can't sue a computer!"
The Max Headroom broadcast signal intrusion incident, involved someone dressed as Max Headroom interrupting the signals of Chicago television stations WGN and WTTW. The person or persons responsible were never identified.
DVD release
The original British version of the movie was released to the Japanese DVD rental market on September 2, 2005.
Shout! Factory released Max Headroom: The Complete Series on DVD in the United States and Canada on August 10, 2010. The set includes a roundtable discussion with most of the major cast members, and interviews with the writers and producers. Notably absent from these featurettes, however, is Matt Frewer. - DVD Vendors
Blank Is Beautiful

Dire Wolf - The Grateful Dead-Summer Solstice-Shoreline Amphitheatre 06/21/1989
CFL: Please Don't Murder Me
Words For the Wise: Evil Corporatists don't want you To Know About:
Watt The CFL…Walmart's Trying To Kill Me!
Fluorescent Lighting Safety – Why LED Lights Are the Better Choice
Commercial Electric 23 Watt SPIRAL CFL model EDXO-23 with a potential safety hazard
Can companies that make products that kill be socially responsible?
Time for a Corporate Death Penalty?
Michael Welch writes:
Playing a short set of music at Rancho Nicasio as part of Lauralee's Singer Songwriter Series
Thursday, 1-20, 7 PM Free
Rancho Nicasio
Show starts 7, I'll come on about 8
Come down for libations; they got good food too.
Thought for the day: Always remember that you're unique. Just like everyone else.
Happy Trails, MAiKö
Censorship and self-censorship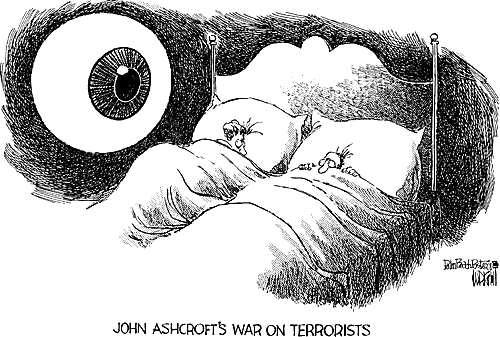 Concerns about the overreach of Washington's electronic surveillance have been bubbling away in the US since late last year, when it was revealed that the government was secretly wiretapping thousands of US citizens.
American writer HL Mencken earned himself a place in the reporter's hall of fame with his comment that
the proper relationship between a journalist and a politician should be akin to that between a dog and a lamp-post.
But the lamp-post has a nasty habit of pissing back, as it did yesterday when President Bush savaged the US media for its "disgraceful" disclosure of a CIA programme that monitors millions of international banking transactions to track down the sources of terrorist funding.
Bush argued that the report harmed Washington's war on terrorism by giving the game away about what it was trying to do in secret:
We're at war with a bunch of people who want to hurt the United States of America, and for people to leak that program, and for a newspaper to publish it, does great harm to the United States of America.
This emotive rhetoric has played well among conservative writers, but where the media has solid information about something, it should be up to them to decide whether security needs really do outweigh the public's right to know. If the government wants to persuade an editor not to publish, it should be able to provide convincing evidence of why publication would be harmful.
The right-to-know issue was clearly significant here. There was enough disquiet about the surveillance programme in Washington for nearly 20 officials, many of them apparently quite senior, to speak to the New York Times for the article that broke the story.
And concerns about the overreach of Washington's electronic surveillance have been bubbling away in the US since late last year, when it was revealed that the government was secretly wiretapping thousands of US citizens and monitoring huge volumes of internet traffic.
As for whether the article disrupted intelligence-gathering operations, the New York Times' executive editor Bill Keller offers a robust defence of his decision:
The central argument we heard from officials at senior levels was that international bankers would stop cooperating, would resist, if this program saw the light of day. We don't know what the banking consortium will do, but we found this argument puzzling. First, the bankers provide this information under the authority of a subpoena, which imposes a legal obligation. Second, if, as the Administration says, the program is legal, highly effective, and well protected against invasion of privacy, the bankers should have little trouble defending it.
Such a spirited defence of freedom of the press would be welcome in Britain, where the DA-Notice committee draws the line between security and right to know in a murky, gentlemanly way that has been condemned by the United Nations.
The British media has sailed close to the wind on occasions but still tolerates some restrictions that would be considered extraordinary in other countries.
At least neither country's media has to put up with the sort of censorship reportedly being demanded of Afghanistan's journalists.
http://www.guardian.co.uk/news/blog/2006/jun/27/censorshipand?INTCMP=SRCH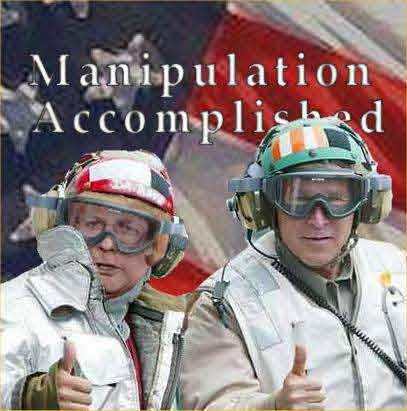 9/11: George Bush's day
An Absolute Atrocity special by Armando Iannucci and Chris Morris
Armando Iannucci and Chris Morris, The Observer, Sunday 17 March 2002, Article history
O846... At a school in Florida, President George W. Bush is informed of first World Trade Centre crash and quips: 'Nice to see folks so keen to get to work early.'
O905... Bush is informed of second WTC crash and this time chuckles: 'Phone New York air traffic control and tell them - three strikes and you're out!' This comment fails to capture public mood.
O906... Emergency conference in school office as aides explain appalling gravity of situation. Through closed doors President is heard screaming: 'Phone Al Gore and tell him he won.'
0907... He then orders 60 kilos of cocaine and shoots a White House dog for no reason.
O943... Pentagon attacked.
O944... White House officials attempt to preserve national control and command structure by slicing off Dick Cheney's head and putting it in a bag of ice cubes.
Over the next few hours the President is helicoptered to Orlando then airdropped into Vermont. Seizing a jet pack, he blasts himself into the sea off Newfoundland where he is collected by speedboat, hammered unconscious, miniaturised and injected into Laura Bush's foot.
1323-1412... The nation is unaware that it is being governed by a man who is now smaller than an E.Coli and tumbling around in his wife's aorta.
1542... President retrieved by mosquito from Laura Bush's thigh and allowed to regain size under morphine during return flight to Washington.
1612... A cleaner enters White House basement to find the President and George Bush Snr both naked in barrels of crude oil. They are deep in conversation.
1641...Fortified by constant telephone contact with Larry Hagman, a much calmer Bush chairs war cabinet in Delaware.
2030...Wearing a lucky Iraqi foot given to him by his father on his lapel, Bush addresses the nation, extends sympathy to the victims and solemnly vows that he will make no distinction between the terrorists who committed the attacks and Arabs.
http://www.guardian.co.uk/world/2002/mar/17/september11.terrorism1?INTCMP=SRCH
How Bush Republicans Caused Your Children To Be Left Behind

Changing Education Paradigms - RSA Animate
War Criminals In Cahoots
Blair Propels Bush Administration Lie
One Needs To Remember:
Iraq Had Nothing To Do With 9/11
Read My Lips - Permmalink
Tony Blair at Chilcot Iraq inquiry -- live
• Tony Blair denies offering George Bush a "blank cheque"
• Former PM defends decision to keep notes to Bush private
• 'Entitled to ignore warning war illegal without 2nd resolution'
• He suggested military leader should rule Iraq post-Saddam
Live Video Feed Has Ended, Visit below link for information:
http://www.guardian.co.uk/politics/blog/2011/jan/21/tony-blair-chilcot-iraq-inquiry-live
He Said It - Permmalink
Whitehall chief blocks release of Blair's notes to Bush on Iraq
Sir Gus O'Donnell stops publication of documents Chilcot inquiry says are crucial to understanding how invasion happened
http://www.guardian.co.uk/uk/2011/jan/18/iraq-war-inquiry-tonyblair
Chilcot inquiry has already told us everything we need to know
http://www.guardian.co.uk/uk/2011/jan/21/chilcot-iraq-inquiry-told-everything
Sarah Palin jibe no joke to Fox News as Joan Rivers interview is cancelled
Joan Rivers told TMZ Palin was 'stupid and a threat' and blamed her for Arizona shootings
Chris McGreal in Washington, guardian.co.uk, Thursday 20 January 2011 18.56 GMT, Article history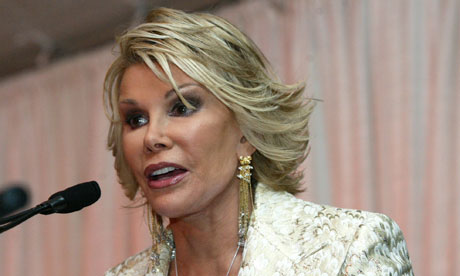 Joan Rivers said Sarah Palin should 'go to another planet and get out of our face'. Photograph: Diane Bondareff/AP
Fox News has cancelled an interview with the comedian Joan Rivers after she described Sarah Palin as "stupid and a threat" and blamed her for the recent attack on an Arizona congresswoman that left six people dead.
The move will reinforce the growing perception that Fox News sees its role as not only to promote Palin but shield her from criticism after the politician – who is also a Fox presenter – was accused of contributing to the extreme political rhetoric that provided the backdrop to the shootings in Tucson.
Rivers made her comments in an interview with TMZ in which she was asked whether Palin should be US president.
"I think Sarah Palin is an amazing woman. I think she represents everything strong a woman can be, and I think she should go someplace – to another planet – to show them, and get out of our face," she said.
Rivers was then asked whether Palin should be blamed for the attack in Tucson.
"They're right to blame Sarah for the shootings. Go look at her website. This woman is encouraging sandbaggers to reload ... this woman is just stupid and a threat," she said.
The comedian said that shortly after the TMZ interview, her agent received a call cancelling her appearance on Fox and Friends.
"We got called," Rivers told CNN. "So now we call it Fox and Former Friends. They said to our PR lady it was because of what we said about Miss Palin."
Rivers also tweeted about the incident, saying: "Outcome: DON'T PISS OFF SARAH PALIN. She's apparently 'very powerful', and is obviously still smarting from the end of her reality show."
Fox disputed Rivers' account, claiming that "the volume of news topics" meant there was no room for her on the show.
The topics included a segment on National Penguin Awareness Day, and an assessment of the Aerosmith frontman Steven Tyler's performance as a judge on American Idol.
Fox said Rivers should have been rescheduled but was mistakenly cancelled.
http://www.guardian.co.uk/world/2011/jan/20/sarah-palin-fox-joan-rivers
The War On Net Stupidity [In Pictures]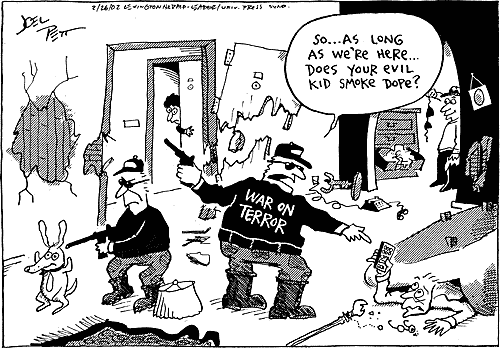 Brought to you by Bush Republican's Illegal Patriot Act & Supported by Democrats
Down in the meadow, where the green grass grows, there sat Google without any clothes. Along came NSA swinging a chain, they pulled down their zipper and out it came. Three months later, all was well. Six months later, began to swell. Nine months later:
US Citizens Have, Once Again, Been Sold Out by Corporate America
April 11, 1989
Date: Tue, 11 Apr 89 08:12:04 PDT
From: cas@toad.com (Curtis Spangler)
Subject: NSA and Not Secure Agencies
San Francisco Chronicle, Chronicle Wire Services, April 11, 1989:
"Computer Group Wary of Security Agency
A public interest group said yesterday that the National Security Agency, the nation's biggest intelligence agency, could exert excessive control over a program to strengthen the security of computer systems throughout the federal government.
The group, Computer Professionals for Social Responsibility - based in Palo Alto - urged key members of Congress to focus "particularly close scrutiny" on the agency's role in helping to implement legislation aimed at safeguarding sensitive but unclassified information in federal computers.
"There is a constant risk that the federal agencies, under the guise of enhancing computer security, may find their programs - to the extent that they rely upon computer systems - increasingly under the supervision of the largest and most secretive intelligence organization in the country," it said."
20 Years Later
SELinux Background
Researchers in the National Information Assurance Research Laboratory of the National Security Agency (NSA) worked with Secure Computing Corporation (SCC) to develop a strong, flexible mandatory access control architecture based on Type Enforcement, a mechanism first developed for the LOCK system. The NSA and SCC developed two Mach-based prototypes of the architecture: DTMach and DTOS. The NSA and SCC then worked with the University of Utah's Flux research group to transfer the architecture to the Fluke research operating system. During this transfer, the architecture was enhanced to provide better support for dynamic security policies. This enhanced architecture was named Flask. The NSA integrated the Flask architecture into the Linux® operating system to transfer the technology to a larger developer and user community. The architecture has been subsequently mainstreamed into Linux and ported to several other systems, including the Solaris™ operating system, the FreeBSD® operating system, and the Darwin kernel, spawning a wide range of related work.
http://www.nsa.gov/research/selinux/background.shtml
The Pictures


Google Comes Under Fire for 'Secret' Relationship with NSA


We have mutated into a surveillance society - and must share the blame


Why Google is working in cahoots with America's spooks


Google teams up with National Security Agency to tackle cyber attacks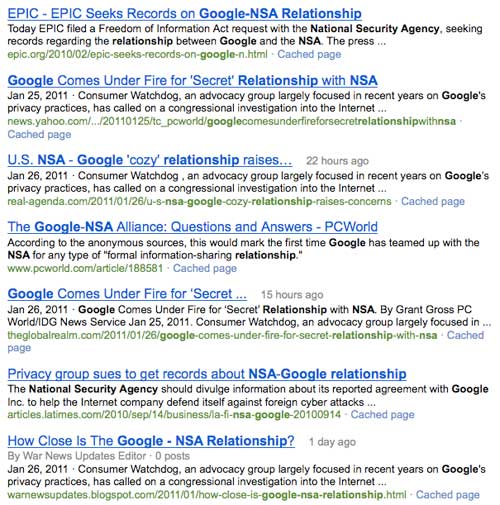 Google / NSA Relationship via Bing
Social business
From Wikipedia, the free encyclopedia
http://en.wikipedia.org/wiki/Social_business
A social business is a non-loss, non-dividend company designed to address a social objective. The profits are used to expand the company's reach and improve the product/service. This model has grown from the work of Muhammad Yunus and others.
Social business is a cause-driven business. In a social business, the investors/owners can gradually recoup the money invested, but cannot take any dividend beyond that point. Purpose of the investment is purely to achieve one or more social objectives through the operation of the company, no personal monetary gain is desired by the investors. The company must cover all costs and make revenue, at the same time achieve the social objective, such as, healthcare for the poor, housing for the poor, financial services for the poor, nutrition for malnourished children, providing safe drinking water, introducing renewable energy, etc. in a business way.
The impact of the business on people or environment, rather than the amount of profit made in a given period measures the success of social business. Sustainability of the company indicates that it is running as a business. The objective of the company is to achieve social goals.
The wrong kind of sharing: Mark Zuckerberg's Facebook page hacked
The founder of the biggest social network has his personal page broken into - and used to spread a message suggesting 'social investment' rather than from bankers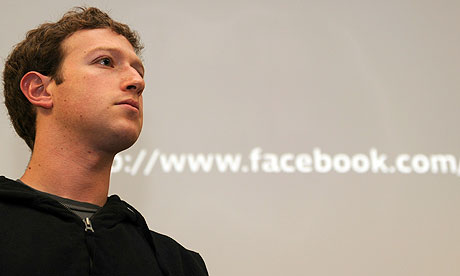 Mark Zuckerberg's Facebook page was hacked. Photograph: Gabriel Bouys/AFP
Posted by Charles Arthur Wednesday 26 January 2011 10.37 GMT guardian.co.uk
Mark Zuckerberg's Facebook page has been hacked by an unknown person who posted a status update suggesting that the site should let people invest in it rather than going to the banks.
The page belonging to the 26-year-old Zuckerberg, the Facebook founder who was named Time's Man of the Year in 2010, was hacked some time on Tuesday.
The message left by the hacker read: "Let the hacking begin: If facebook needs money, instead of going to the banks, why doesn't Facebook let its users invest in Facebook in a social way? Why not transform Facebook into a 'social business' the way Nobel Prize winner Muhammad Yunus described it? What do you think? #hackercup2011".


A wall post on Mark Zuckerberg's hacked Facebook page. The link leads to a Wikipedia page on 'social business'.
That seems to be a reference to reports that Facebook has been valued at around $50bn following investments made by Goldman Sachs and a Russian venture capital firm. There have been rumours that the company is either preparing for a stock market flotation or that the shares purchased by Goldman Sachs would be sold on to rich investors who want to benefit from the company's burgeoning success.
Embarrassingly for Facebook, more than 1800 people "liked" the update before the company took down its chief executive's page. Facebook has made no public statement about how the hack occurred.
It is not clear how the break-in occurred, said Graham Cluley, senior technology consultant at the security company Sophos. "Mark Zuckerberg might be wanting to take a close look at his privacy and security settings after this embarrassing breach," he noted. "It's not clear if he was careless with his password, was phished, or sat down in a Starbucks and got sidejacked [had his login details stolen over the air] while using an unencrypted wireless network. But however it happened, it's left egg on his face just when Facebook wants to reassure users that it takes security and privacy seriously. Maybe Mr Zuckerberg would be wise to get a refresher on computer security best practice."
More likely though is that Zuckerberg's page is handled by a number of people, and that one of them might have had their access details stolen or guessed, which would give an attacker the same access to the page.
The only clue left by the hacker was a link embedded in the status update to a specific revision of a Wikipedia page about "social business", which differs from the current page in one prominent link, and another link to a photo for Facebook's "Hacker Cup" - described as "an annual worldwide programming competition where hackers compete against each other for fame, fortune, glory and a shot at the coveted Hacker Cup" - whose final rounds will be held at Facebook's own headquarters on 11 March.
Facebook had not responded to requests for comment when this story was filed.
The hack comes just days after the Facebook account belonging to the French president Nicolas Sarkozy was also hacked to suggest that he was resigning; on regaining control of the account, Sarkozy pointed out that he plans to run for president again next year.
http://www.guardian.co.uk/technology/blog/2011/jan/26/mark-zuckerberg-facebook-page-hacked
NASA NANO-Sail Found by Hams!

NanoSail-D2 satellite (HD)
All is well with the Nano-sail spacecraft, and hams apparently helped find it:
"This is tremendous news and the first time NASA has deployed a solar sail in low-Earth orbit," said Dean Alhorn, NanoSail-D principal investigator. "To get to this point is an incredible accomplishment for our small team and I can't thank the amateur ham operator community enough for their help in tracking NanoSail-D. Their assistance was invaluable. In particular, the Marshall Amateur Radio Club was the very first to hear the radio beacon. It was exciting!"
The Marshall Amateur Radio Club confirmed deployment of NanoSail-D late Wednesay EST with reception of the 1200bps AX.25 FM beacon on 437.275MHz +/-10kHz Doppler. News Release: 19 January 2011 Huntsville, AL USA The Marshall Amateur Radio Club (@ MSFC) - WA4NZD late Wednesday afternoon confirmed ejection of the NanoSail-D sub-satellite. This loaf-of-bread sized spacecraft was carried to orbit late last year on an Air Force rocket as part of NASA's FastSat project. This is the first successful deployment of a satellite, launched from a satellite already in orbit .!. The only communication from the NanoSail-D vehicle is via ham radio with 1200 baud FM AX25 beacon packets. The WA4NZD team of N4PMF and WB5RMG, was listening on 437.275 MHz FM with the NanoSail-D Principal Investigator Dean Alhorn at the club station when the beacon was heard and susbequently decoded onto the screen.
Please visit wa4nzd at Wordpress for pictures and more links to the NanoSail-D project. They are asking for telemetry reception reports from all over the world to help fill in gaps. The battery is expected to last for only three days.
Marshall Amateur Radio Club http://wa4nzd.wordpress.com/
NanoSail-D Dashboard http://nanosaild.engr.scu.edu/dashboard.htm
NanoSail-D on Twitter http://twitter.com/NanoSailD
SolderSmoke Source: http://soldersmoke.blogspot.com/2011/01/nasa-nano-sail-found-by-hams.html
Stone tools discovered in Arabia force archaeologists to rethink human history
The tools found in southern Arabia date from 125,000 years ago - 55,000 years before humans were thought to have left Africa
Ian Sample, science correspondent, guardian.co.uk, Thursday 27 January 2011 19.49 GMT, Article history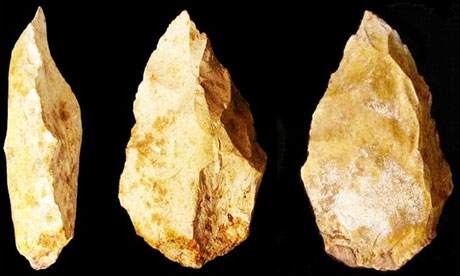 Stone hand axes belonging to humans who lived in Arabia more than 100,000 years ago. Photograph: AAAS/Science/PA
A spectacular haul of stone tools discovered beneath a collapsed rock shelter in southern Arabia has forced a major rethink of the story of human migration out of Africa. The collection of hand axes and other tools shaped to cut, pierce and scrape bear the hallmarks of early human workmanship, but date from 125,000 years ago, around 55,000 years before our ancestors were thought to have left the continent.
The artefacts, uncovered in the United Arab Emirates, point to a much earlier dispersal of ancient humans, who probably cut across from the Horn of Africa to the Arabian peninsula via a shallow channel in the Red Sea that became passable at the end of an ice age. Once established, these early pioneers may have pushed on across the Persian Gulf, perhaps reaching as far as India, Indonesia and eventually Australia.
Michael Petraglia, an archaeologist at Oxford University who was not involved in the work, told the Science journal: "This is really quite spectacular. It breaks the back of the current consensus view."
Anatomically modern humans – those that resemble people alive today – evolved in Africa about 200,000 years ago. Until now, most archaeological evidence has supported an exodus from Africa, or several waves of migration, along the Mediterranean coast or the Arabian shoreline between 80,000 and 60,000 years ago.
A team led by Hans-Peter Uerpmann at the University of Tübingen in Germany uncovered the latest stone tools while excavating sediments at the base of a collapsed overhang set in a limestone mountain called Jebel Faya, about 35 miles (55km) from the Persian Gulf coast. Previous excavations at the site have found artefacts from the iron, bronze and neolithic periods, evidence that the rocky formation has provided millennia of natural shelter for humans.
The array of tools include small hand axes and two-sided blades that are remarkably similar to those fashioned by early humans in east Africa. The researchers tentatively ruled out the possibility of other hominins having made the tools, such as the Neanderthals that already occupied Europe and north Asia, as they were not in Arabia at the time.
The stones, a form of silica-rich rock called chert, were dated by Simon Armitage, a researcher at Royal Holloway, University of London, using a technique that measured how long sand grains around the artefacts had been buried. Another strand of the archaeologists' work, described in Science, focused on climate change records and historical sea levels in the area. They show that between 200,000 and 130,000 years ago, a global ice age caused sea levels to fall by up to 100 metres, while the Saharan and Arabian deserts expanded into vast, inhospitable wastelands.
But as the climate warmed at the end of the ice age, fresh rains fell on Arabia, opening up the region to human occupation. "The previously arid interior of Arabia would have been transformed into a landscape covered largely in savannah grasses, with extensive lakes and river systems," said Adrian Parker, a researcher at Oxford Brookes University and co-author of the paper.
The revival of Arabia coincided with record lows in sea level, which left only a shallow stretch of water about three miles wide at the Bab al Mandab Straits separating east Africa and the Arabian peninsula. Uerpmann said early humans may have walked or waded across, but added: "They could have used rafts or boats, which they certainly could make at that time."
The new arrivals would have found good hunting grounds at the end of their journey, with plentiful wild asses, gazelles and mountain ibex, Uerpmann said.
The discovery has sparked debate among archaeologists, some of whom say much stronger evidence is needed to back up the researchers' claims. "I'm totally unpersuaded," Paul Mellars, an archaeologist at Cambridge University, told Science. "There's not a scrap of evidence here that these were made by modern humans, nor that they came from Africa."
Chris Stringer, a palaeontologist at the Natural History Museum in London, said: "The region of Arabia has been terra incognita in trying to map the dispersal of modern humans from Africa during the last 120,000 years, leading to much theorising in the face of few data.
"Despite the confounding lack of diagnostic fossil evidence, this archaeological work provides important clues that early modern humans might have dispersed from Africa across Arabia, as far as the Straits of Hormuz, by 120,000 years ago."
http://www.guardian.co.uk/science/2011/jan/27/stone-tools-human-migration-africa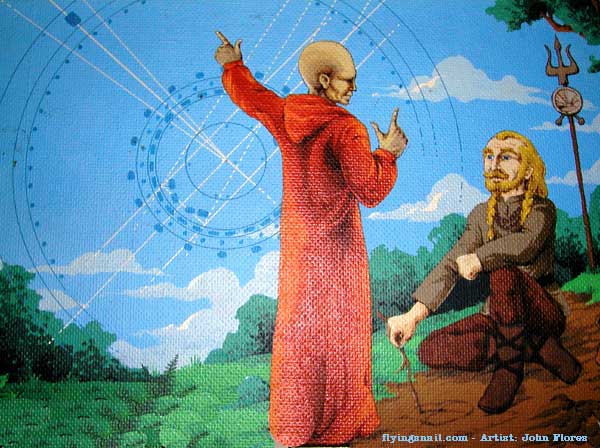 The man whispered, "God, speak to me" and a meadowlark sang. But the man did not hear. So the man yelled "God, speak to me" and the thunder rolled across the sky. But the man did not listen. The man looked around and said, "God let me see you" and a star shined brightly. But the man did not notice. And the man shouted, "God show me a miracle" and a life was born. But the man did not know. So the man cried out in despair, "Touch me God, and let me know you are there" Whereupon God reached down and touched the man. But the man brushed the butterfly away and walked on.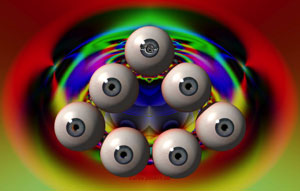 Don't miss out on a blessing because it isn't packaged the way you expect.