Is Twitter For Bullies?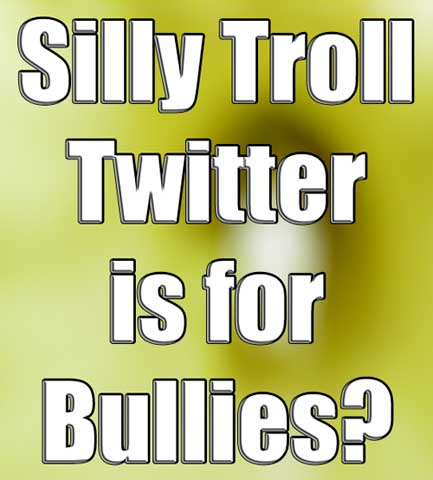 Cyberbullying
From Wikipedia, the free encyclopedia ~ Click to Read ~ Cyberbullying is the use of Information Technology to harm or harass other people in a deliberate, repeated, and hostile manner. According to U.S. Legal Definitions, Cyber-bullying could be limited to posting rumors or gossips about a person in the internet bringing about hatred in other's minds; or it may go to the extent of personally identifying victims and publishing materials severely defaming and humiliating them. With the increase in use of these technologies, cyberbullying has become increasingly common, especially among teenagers. Awareness has also risen, due in part to high profile cases like the Suicide of Tyler Clementi.
Elise Christie 'heartbroken' after third disqualification at Winter Olympics
British speed skater fails to progress in semi-finals of 1,000m in Sochi after torrid fortnight including vicious online abuse ~ Article by Owen Gibson in Sochi, The Guardian, Friday 21 February 2014 19.44 GMT ~ Click to Read
Bullying On Twitter:
Researchers Find 15,000 Bully-Related Tweets Sent Daily (STUDY)
The Huffington Post | By Britney Fitzgerald Posted: 08/02/2012 12:23 pm ~ Click to Read
Is Someone Bullying You On Twitter?
So what do you to with twitter bullies? by Aaron ~ Click to Read
Twitter Bully
by Roger T. Whitson, Ph.D
I think we, as a community, need to firmly take a stand against bullying. We cannot just rely on the institution (who, let's face it, has allowed this kind of bullying to happen, but behind closed doors) for a long, long time. If we, as a community of connected academics, don't stand up for Tressie and stand against this kind of behavior online, it will keep happening. Too many academics from traditionally unrepresented demographics have been silenced (through fear and intimidation) in the institution, and we cannot let the institution re-create that environment online. ~ Click to Read
Bully Gets Visit From Boxer He Harassed On Twitter
Twitter trolls give the microblogging platform a bad name. By Mary C. Long on March 13, 2013 6:30 PM ~ Click to Read
Are People Being Bullied on Twitter?
It seems that the bullying, harassment and abuse that occurs on the social networking platform Twitter, one of the most popular social networking platforms in the world that's meant to bring people together, has sadly become a common occurrence – it's expected. As bad as the abuse has been over the past several years, it also seems that it's escalating these days with racism, bomb threats, sexual and violent threats against women, etc. ~ Click to Read
"Bully" Asks Twitter Users To Tweet To Stop Bullying
Declares it "Twitter Tuesday" after announcing the unrated release yesterday Subscribe Free By Josh Wolford, March 27, 2012 ~ Click to Read
Redboxvintage: Stop a Twitter bully.
I was bullied online by her when I opened a PayPal dispute over an eBay transaction. eBay shut down her account but she found me on Facebook and Twitter. She is a classless troll. Good luck in your endeavor. I will share this. ~ Click to Read
Twitter and Cyber-Bullying
Recently, someone on Twitter decided to inform me they would like to see what I looked like on the end of their bayonet. ~ Click to Read
Tweeting leads to arrest of 12-year-old
Arkansas, like many states, has criminalized bullying online. Cyberbullying is a misdemeanor punishable by up to 90 days in jail and/or a $500 fine. School districts have included cyberbullying in their policies with some allowing discipline when students harass someone online from an off-campus location. ~ Click to Read
Cyber bullying on Twitter
SUWANEE, Ga. -- Cyber bullying takes on many forms, but a new trend among teenagers has police trying to find creative ways to make arrests before they get out of hand. ~ Click to Read
Next Top Model Judge Hospitalized after
Twitter Bullying Leads to Suicide Attempt
Today in horrible, depressing news of how terrible people can be: Australia's Next Top Model judge, anti-bullying campaigner, television presenter, and former model Charlotte Dawson has been hospitalized in Sydney following an apparent suicide attempt that came after weeks of vicious bullying on Twitter. ~ Click to Read
Mom Demands Twitter Reveal Author of Bully Accounts
Pre-suit discovery requests Twitter reveal the identities behind @dreadfulFATchic, @dreadfullyLARGE or face a lawsuit Tuesday, Nov 12, 2013 ~ Click to Read
Twitter Bullying Must End
I could probably write a book about this subject. Who knows, maybe I will. I've decided to keep this public so people realize the dangers of putting your private information on the internet. Don't do it or you could become of victim of stalkers/bullies. ~ Click to Read
Twitter bullies must learn that with a voice comes responsibility
The internet gives a priceless voice to the marginalised – but the Caroline Criado-Perez abuse case shows that freedom of expression does not mean freedom from consequences by Claire Hardaker, The Guardian, Wednesday 8 January 2014 18.42 GMT ~ Click to Read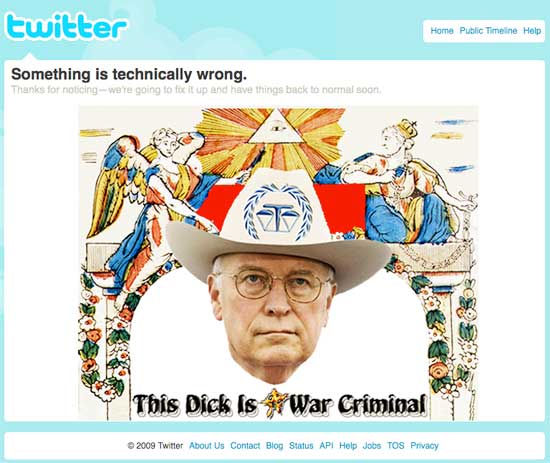 Facebook, Myspace and Twitter:
Evil to Teens
World of Psychology By John M. Grohol, Psy.D. ~ Click to Read
and then there is this:
How evil is Facebook?
Think of it as your life going down the drain while you spend hours casually stalking other people's lives. ~ How evil is Facebook?
---