ASIFA-SF NEWSLETTER
Association International du Film d'Animation
(International Animated Film Association)
January 2009
by Karl Cohen
The Jan. 09 issue includes a long exclusive interview with the director of Waltz with Bashir director Ari Folman about pacifism, the message of his film, etc, - His feature opens nationally this month in the US and it is Israel's entry into the Oscar race.
DISNEY DIRECTOR ERIC GOLDBERG PRESENTED AN INSPIRING TWO HOUR PROGRAM AT THE CARTOON ART MUSEUM Eric said he was coming to San Francisco to sign copies of his new book Character Animation Crash Course! and to talk about the principles of animation, but his program c! overed a lot more than that and it was full of surprises. He told us that he is currently working on Disney's upcoming hand-drawn feature, The Princess and the Frog, on which he is the Supervising Animator of the character "Louis," a trumpet-playing alligator. If the public takes to it next holiday season, it will likely be the first of many hand-drawn features, not only from Disney, but also from other studios ready to launch projects if The Princess makes money. Studio administrators are beginning to realize that using hand-drawn animation could once more be profitable for them as the budgets will be a lot less than those of CGI features.
Eric began by amazing us with flipbooks he did as a kid. He showed a video of his best books and his line drawings were fresher and more exciting to see than the best graduation reels from many well-known colleges. He admitted that when most guys his age were doing normal boy type things he was already working hard to learn to be a fine animator. When he entered the Kodak Teenage Movie Awards he won top prizes more than once. He even won their grand prize, a 4-week course of study at the Univ! ersity of Southern California's film school.
Much to Eric's surprise, Carl Willat was in the packed hall. Carl, who runs Carl's Fine Films, a local animation studio doing high-end commercials and other fine products, asked Eric a question at this point. Carl, who also won a Kodak prize the same year as Eric, asked questions from time to time resulting in Eric sharing with us a lot more information than he normally would have shared with a group. For example we learned that he likes to draw using soft lead pencils as that lets the image emerge from the drawing, allowing for more creative freedom, and that another precocious teenage animator they shared the stage with was David Silverman (The Simpsons).
After college Eric's first job was working for Richard Williams on the production of Raggedy Ann and Andy. He showed rare clips of his work on the feature and then told us that after the production ended Williams hired him to direct commercials in his London studio. On his first day there he was given a major assignment, to direct an ad in 3-weeks for a major client and if it wasn't completed on time and to the client's satisfaction, the studio would be sued and possibly be forced to go bankrupt. Who said animation was a laid back business? The pressure was on, but he rose to the occasion and remai! ned there for several years.
Eric delighted us with beautiful prints of exceptional ads done for Williams and he told a few stories about working with some of the old masters there including Art Babbitt (Disney, UPA), Ken Harris (Warner Bros.) and Grim Natwick (Fleischer, Disney). Eric also said Williams was an innovative studio head who liked to experiment with new techniques. He would try painting and inking cels with anything that would stick to them. One innovation was drawing animation directly onto cels with grease pencils. The advantage is that these pencils are so opaque they didn't need to be inked later.
When he returned to the US he met his future wife Susan and worked on several more projects before returning to London where he became a partner in Pizazz Pictures. Eric showed us some of the studio's innovative award-winning work (lots of pizazz of course).
He introduced his next career move by saying that by 1990 animation was finally flourishing again in the US thanks to the success of Who Framed Roger Rabbit? That year Disney invited him to join, he accepted, and his first big job was working with voice actor Robin Williams on the Genie in Aladdin.
I was surprised to learn that all the voice-work with Williams was recorded in just four four-hour sessions. Some lines only needed to be read once, while others were done several times using several voices. Williams might do the first take as Groucho Marx, then one in the style of W. C. Fields, etc. What a way to start what would become a ten-year long career at Disney. He shared with us more delightful clips; this time they were from Aladdin, Pocahontas, Hercules and Fantasia/2000. He said an add! ed bonus was being able to work with his wife Susan (who art directed the Fantasia pieces) on several of these projects. When they met she was doing backgrounds at Zander's Animation Parlor in NY.
When Disney, under the leadership of Michael Eisner, decided to go entirely digital and terminate traditional artists on the staff, Eric quickly adjusted to freelance work as a director and designer at Warner Bros. and other studios. He showed us some wonderful CGI scenes he directed that starred Bugs and Daffy along with test footage from projects that were never produced. He also mentioned that he met along the way an executive or two with no understanding of animation. One asked the serious question, "Do we really have to have Bugs say 'What's Up, Doc?'"
As a director Eric had written lots of "how to" notes to his animators at Pizazz in the 1980s. He was continuing a tradition he learned at Richard Williams' studio, to pass on tips about how to improve your work. Now his collected animation notes are rewritten, redrawn and available in Character Animation Crash Course! His book is a lot more than what Eric learned from Richard Williams and his team of old masters. Working at Disney for a decade and other experiences also influenced its content. Today students of animation and professionals who want to improve their skills have a wealth of knowledge available to them. Experts tell me that Goldberg's book is an important "must study" text right up there with The Illusion of Life and The Animator's Survival Kit.
Eric showed us a few of the elements in his book that make it unique. They include a disc that features animated examples of his illustrations. You can play them at real time or step through them one frame at time. The example he showed was how an animator can be creative by changing the passing position to give the action a different quality while keeping the extreme positions and timing the same. His clip included 6 different passing positions in between the same extremes.
Eric's Q and A session was full of great advice and comments. Some of it concerned his adjusting to the world of computers. He feels 3-D CGI works best on projects that approach a photo-realistic look, while hand-drawn work is the best solution for cartoons. When designing 3-D characters he draws them with soft lead pencils and lets the CG artist figure out the best way to render them.
This was an exciting program for me and I hope this comes through in my comments. Eric is a wonderful humble animator who isn't beating his chest like some directors I've met. His talents showed on the screen rather than in a series of boasts about himself. He was charming, witty and his vocal imitations of various people he has worked with added to the day's enjoyment.
If you are interested in buying a copy of Character Animation Crash Course! Amazon sells it for $23.95. You can pick up a copy locally at the Cartoon Art Museum's bookstore at the retail price of $35 (they sold out the day Eric spoke, but have reordered them). Signed copies with a profile drawing of the Genie are available for $35 from Stuart Ng Books (310) 539-4648 (10am-10pm PST)., www.stuartngbooks.com
VISIT OUR WEBSITE & BLOG AT - WWW.ASIFA-SF.ORG
ASIFA-SF NEEDS A PLACE TO HONOR THE CREATORS OF THE 5 FILMS NOMINATED FOR BEST-ANIMATED SHORT On Fri. February 13 we will have a members' only screening of their work (no guests due to the limited number of seats in Dolby's state-of-the art 35mm screening room). Ron! Diamond asked if we can host a reception for them afterwards. Where? Know a restaurant or bar with private rooms or enough space on a Friday night or an animation studio that might be interested. Somebody must know a nice space we can use. If not, no party. Contact Karl ASAP karlcohen@earthlink.net

We also need a reliable volunteer who likes to party and can help organize our receptions and social events in the future. Nancy Denney-Phelps, who now lives in Belgium, did a great job of it. We try to hold 3 or 4 social events each year.
SCOTT KRAVITZ'S WORK IS UP FOR AN ANNIE AWARD In the Best Animated Television Commercial there are 5 nominated ads: "Giant Monster" and "Long Legs Mr. Hyde" from Curious Pictures, "Rotofugi: The Collectors" from Screen Novelties, "Sarah" from Z Animation and United Airlines "Heart" from Duck Studios. He and Eileen Kolhep, who lives in NY, animated "Heart." Jamie Caliri was the director.
SOMETHING SPECIAL TO GET YOU OUT OF THE HOLIDAY MOOD Beware, this contains first rate animated violence and stuff like that. Not approved by any TV network.
http://happytreefriends.atomfilms.com/watch_episodes/index.html?episode=xmas_smoochie
GENE HAMM'S COMMENTS ABOUT MOTION CAPTURE "I liked your article on rotoscoping and motion Kcapture. My feeling about motion capture is that it makes characters very earthbound. You can't do anything cartooney. If you were to use motion capture with the Road Runner, you would have to get a poor actor to dress in a Wile E. Coyote suit and actually hurl him off a cliff. Great trick, but as Daffy Duck said, 'You can only do it once'." www.hammination.com
FRED LEWIS HAS TWO NEW REELS His design reel using 2D and 3D computer graphics highlights his work for documentaries, commercials and several corporate events. His VFX reel shows both his work as a Lighting TD and a Comper. Included are a Glade Air Freshener commercial ("Gingerbread Man") done at The Orphanage. He was the comper using Nuke and the lighting TD using Maya/Mental Ray. He says he also worked recently as a TD on the movie You Don't Mess With the Zohan and prior to that he worked on the movie The Last Mimzy. He is presently working on computer graphics for an ecology documentary.
http://www.savingthebay.org/
You can see his show reels at: http://www.movingmedia.com
His company is Moving Media, 350 Townsend St., Ste 421, San Francisco, CA 94107 (415) 777-1759
NINA PALEY HAS BEEN NOMINATED FOR A SPIRIT AWARD The official announcement reads, "The winner of the Acura Someone to Watch Award is given to a filmmaker who has not yet received appropriate recognition." This year the 3 nominations are directors Barry Jenkins for Medicine for Melancholy, Nina Paley for Sita Sings the Blues and Lynn Shelton for My Effortless Brilliance.
SAD NEWS FOR ABOUT 10% OF ELECTRONIC ART'S STAFF The billion dollar a year company is "restructuring." They plan to reducie the work force by 10%. They aim to reduce their annual costs by approximately $120 million.
OH NO, GENE DEITCH IS BEING OUTSPOKEN AGAIN Gene had a wonderful visit to our city with lots of attention paid to what he had to say. According to Elisabeth Bartlett he told his audience at the SF International Animation Festival, "Animation comes down to the story. With computers, unfortunately a lot of the characters look like plastic...and the computer is shutting out hand drawn animation, unfortunately erroneously called 2D..." Zdenka, his wife and producer, added the "computer has no heart. I ! prefer hand drawn animation because it has heart...The animator gives a life, a feeling to it..."
(http://www.filmfestivals.com/htm/people.shtml)
At his talk at SF State he kept his audience fascinated with one story after another about some of the strange, unfortunate experiences he has had in his long career. He explained why his long friendship with Jules Feiffer ended when Gene wanted to use an appropriate child's voice to narrate an adaptation of a story Jules wrote. Jules wanted to use his daughter, already a grown up, as the voice actress, but Gene felt her voice was much too mature sounding. The story was obviously being told by a little girl.
Gene showed us other examples where his original idea for a soundtrack was changed to something less innovative and interesting. Possibly his best known children's film, Where the Wild Things Are, originally had a jazz and effects track that he slowed down and sped up to give the film a disturbing, dreamlike feel. Several years later his distributor replaced it with a more traditional music track. KC
LOCAL EVENTS
Saturday, January 3, ASIFA-SF'S THIRD ANNUAL TWELFTH NIGHT PARTY AND GIFT EXCHANGE Fun starts at 7:30. See flyer for details about the "Santa's Gift Exchange" and historic 16mm animated films made in San Francisco. At Odd Ball Cinema&nb! sp; See flyer for details.

WEDNESDAY, JANUARY 14 AT 7:15 PM, ASIFA'S OPEN SCREENING FOR PROFESSIONAL ANIMATORS, INDEPENDENTS AND ANIMATION COMPANIES At the Exploratorium's McBean Theatre, free, public invited, anyone is welcome to bring professional or independent animated work (16mm, DVD, VHS can b! e shown). See flyer for details.
Saturday, Jan. 17 BRAINWASHED!!! CARTOONS THAT TELL US WHAT TO THINK, at Odd Ball Cinema, a 16mm program introduced and Q & A with Karl Cohen This is a program similar to one Cohen organized for Otttawa 08 (extra WWII propaganda cartoons have been added) Program includes Winsor McCay's Sinking of the Lusitania, Porky Pig on a bad tobacco trip, Bu! gs Bunny pitching Kool Aid with pre-teen gogo dancers, Brotherhood of Man, Suunshine Makers, Peace on Earth, etc. Oddball Films, 275 Capp St. between 17th and 18th Street. Capp between Mission and Van Ness near the 16th St. Bart Station and Victoria Theatre. 3rd floor. Tickets $10, reservations (415) 558-8117. info@oddballfilm.com
Saturday, January 31, CARTOON DUMP, the unholy alliance of noted author, producer and cartoon scholar Jerry Beck and writer/ producer/ comedian Frank Conniff from Mystery Science Theater in a show they present once a month in Hollywood (for over a year now) that combines vintage cartoons curated by Jerry that are screened between live comedy sketches. Jerry calls it, "A parody of a live children's show with a cast of misfit characters. Through story and song, Co! mpost Brite (Erica Doering) & Moodsy the clinically depressed owl (Frank Conniff) teach the audience about love, friendship and self-mutilation. It takes place in a garbage dump, a filthy, disease-ridden stink-hole where whimsy, imagination and a child-like sense of fun are as common as the used heroin needles that litter the ground like magical four-leaf clovers. At the Eureka Theatre. It is part of The 8th Annual San Francisco Sketchfest (January 14th through February 1st). For more info
http://www.sfsketchfest.com and http://www.cartoondump.com/
NATIONAL NEWS
THE "NEW YORK TIMES" RAN A FEATURE "CARTOONS WITHOUT COMPUTERS? SILLY ANIMATORS!" (Nov. 26). THEY RAN IT IN THEIR INTERNATIONAL EDITION AS "MAVERICK ANIMATORS DRAW FOR ADULTS" (Dec. 1, International Herald Tribune) The article featured a lot of information about Bill Plympton including five colored photos of his work plus nice mentions of Signe Baumane, Don Hertzfeldt, Henry Selick, Andy and Carolyn London, the features Waltz With Bashir, Persepolis and The Triplets of Belleville. It was great to see an article honoring non-Hollywood work including Bill's recent shorts and Idiots and Angels and Signe's somewhat controversial Teat Beat for Sex.
DREAMWORKS' "KUNG FU PANDA" LEADS THE PACK IN THE ANNIE COMPETITION WITH 16 NOMINATIONS The studio also received additional nominations for other productions including the Panda's video game. In the Best Animated Feature category the nominations went to Kung Fu Panda, Bolt, Waltz with Bashir, Wall-E and $9.99. The panda was also nominated for character animation, character design, effects, direction, music, production design, storyboarding, voice acting and writing. Wall-E received only seven nominations (plus one more for the video game) and both Bolt and Horton Hears A Who received five. Waltz with Bashir received four nominations and Madagascar 2 got one nomination (for effects work). The Annies are a project of ASIFA-Hollywood.
The only category independent animators can compete in is Best Animated Short Subject. The nominated films are Glago's Guest (Walt Disney Animation Studios), Hot Dog (Bill Plympton), Presto (Pixar), Sebastian's Voodoo (Joaquin Baldwin) and Wallace & Gromit: A Matter of Loaf and Death (Aardman Animations).
Mike Judge, John Lasseter and Nick Park will receive Winsor McCay honorary awards, a lifetime achievement award. Bill Turner will be recognized with the June Foray Award for significant and benevolent or charitable impact on the art and industry of animation; and Amir Avini, Mike Fontanelli, Kathy Turner and Alex Vassilev will receive certificates of merit. There are also awards given in several television categories. The Annie Awards will be presented on Jan. 30 at UCLA's Royce Hall.
www.annieawards.org
CELEBRATING ALMOST 100 YEARS OF ANIMATION FROM NEW YORK J.J. Sedelmaier and Howard Beckerman are assembling rare materials for a forthcoming series of animation exhibits showcasing the legacy of New York area animation. In preparation for the display, Beckerman is digging out rarely seen pencil animation sequences from his archive, and J.J. is refilming them, adding inbetweens where necessary. CartoonBrew.com posted one of them, a Popeye sequence, probably an outake from Famous Studios' Lumberjack and Jill (1949).
(www.cartoonbrew.com, Dec. 7, 2008)
The main exhibit, It All Started Here!, featuring vintage art, photos, equipment, film programs and panels, will be at the Westchester Arts Council Gallery in White Plains, NY (January 17th to February 28th) .J. J. tells me it will include, "Preston Blair's Moviola and Picturol projector, an actual Tron workstation computer used by Chris Wedge (with a vintage snapshot to prove it), original Winsor McCay art, an original foot operated paper punch from the Bray Studios (he invented/patented the peg registration system in 1914), and that's NOT all folks!
Along with the exhibit there will be a series of screenings at two locations, The Jacob Burns Center and The Pelham Picture House. The shows will cover silent cartoons, cartoons made for kids, a J. J. Sedelmaier Productions tribute, work from Blue Sky Studios, TV commercials done by NY studios and programs on independent animators. Howard and J.J. are also doing a presentation on the history of New York animation at the NY Comic Con (Feb 6-8) and there will be a Zoetrope workshop for kids, plus lectures and panels. What a wonderful celebration. To find out more about it visit
www.jjsedelmaier.com
While you are there you can join the J.J. Sedelmaier Productions, Inc. Facebook Group. He expects there to be periodic updates.
GOLDEN GLOBES NOMINATION The nominated films for Best Animated Feature are Bolt, Kung Fu Panda and Wall-E. For Best Foreign Feature one of the 3 nominated films is Waltz With Bashir.
THE ACADEMY IS CONSIDERING 15 VISUAL EFFECT FILMS FOR THAT OSCAR Among them are three films ILM worked on, Iron Man, Indiana Jones IV, and Spiderwick Chronicles (along with Tippett).. Other contenders are The Dark Knight (Double Negative, Framestote), Benjamin Button (Digital Domain and 3 others) and The Day the Earth Stood Still (Weta Cinesite). Also being considered are Australia, Chronicles on Narnia: Prince Caspian, Hellboy II, Journey to the Center of the Earth, Mummy 3, Hancock! , The Incredible Hulk and Quantum Of Solace.
LAIKA LAYS OFF 65, PULLS "JACK AND BEN" The Portland-based company owned by Phil Knight has laid off 65 people and shelved its second CG feature project according to The Oregonian. Their first feature Henry Selick's 3-D stop-motion feature Coraline, opens on February 6.
SEVERAL NEW "VISUAL MUSIC" DVDS ARE NOW AVAILABLE FROM THE CENTER FOR VISUAL MUSIC'S ONLINE STORE They range from digital lumina DVDs to a series called "Visual Music for Babies" (designed for 3 and under). For details
www.centerforvisualmusic.org
ANIMATION IS ALIVE AND WELL IN INDIA AND ASIFA INDIA IS DOING AN AMAZING JOB Bill Dennis reports that ASIFA India is doing a fantastic job. They had nearly 9,000 people from 13 cities around the country participate in International Animation Day this year. "That's a staggering number," he says. It is. A full report is posted on the international ASIFA website www.asifa.net, click on news.
India's animation business is booming. It is not only doing lots of projects for foreign companies, it is now producing animated features and TV shows for domestic consumption. I just read that Manikantan, the first feature from the company India Tales, will premiere in April (pictured above) The film was animated by three studios using eight different styles of animation (cel, 3D CGI, stop-motion, etc.) and the budget was close to $10 million (US). The target audience is kids 4 – 12.
A studio called Toon Geeks is working on three animated features. The first, Chandarani, a Dream to Reality, will be ready in February.
Another interesting theatrical project is the feature Friends Forever that combines live action with a CGI character. Animation Express reports, "The story is about how a toy gifted to a daughter by the father, becomes a friend. The film will specially attract kids as the characters are endearing." The film was produced by Celluloid Dreams (founded 2005) and will open in India in late January. The producer is currently working on two other live action/animation projects, Raju, the Joker and Mermaid, A Love Story.
SIGGRAPH ASIA 2008 is taking place in Singapore as this is being written. The news from it is quite interesting from robots that are lighter than air (inside large helium ballons) to Lucasfilm Animation Singapore is on a hiring spree. Rhythm & Hues is setting up a studio in Malaysia and Double Negative is setting up in Singapore. I was also interested in reading about a group in Singapore that is developing "spontaneous real time animation for live shows and performances."
MUSICAL TRIVIA Carter Tomassi writes, "Ever listen closely to the drummer on Dylan's "Blood on the Tracks?" My attention is constantly pulled from the lyrics to the beat. To me, it is amazing someone could play that well on such a fast beat. Anyway, doing a little research tonight I found that half the album was re-recorded in Minneapolis after Dylan's brother heard the original, un-released NY takes. The Minneapolis drummer was Bill Berg who also worked as a Disney animator."
MOVIES ARE AGAIN TURNING OUT TO BE A RECESSION PROOF BUSINESS "We're approximately two-thirds of the way through the quarter, and we are having a very good fourth quarter this year compared to last year as an industry," according to Regal Entertainment Group's CEO Mike Campbell (Reuters news story in early December). Movie theaters are seeing double-digit growth in box office revenue thanks to films like Twilight, Madagascar: Escape 2 Africa, and Bolt. Regal owns 549 theaters (6,754 screens). "Movies are still the most affordable out of! home entertainment option," according to Campbell. Movies did well during the depression of the 1930s.
OR ARE THEY? Lakia and Electronic Arts are reducing the size of the their staffs, the conversion of theaters to digital projection is slowing trade papers report it is harder to find financing for features, budgets of new productions are being reduced, etc.
"MR. REAPER'S REALLY BAD MORNING" HAS AN INTERESTING WEBSITE We showed this fine film from Canada a few years ago. Carol Beecher recently sent me a note that they produced a new limited edition DVD of the film and a website where you can see stills of the unusual looking art from the film, information about the production and some merchandise that might be a great gift for a Goth friend.
www.mrgeorgereaper.com 15lbpink@shawlink.ca
OBITUARIES
PAT RAINE WEBB, PRESIDENT OF ASIFA-UK by Karl Cohen Pat was president of ASIFA-UK and was John Halas' executive assistant when his studio Halas and Batchelor was in business. In recent years she has been a contributor to AWN.com, Animatoon, an excellent Korean magazine and to other publications. She served on several festival juries, was a freelance researcher and film programmer. She had a heart attack on a London bus. Margot Grimwood, Pat's lifelong companion and soul mate was with her, but still, it was a rotten way to go.
I knew her for almost 30-years from e-mails and before that through the use of old- fashioned mail written on paper. She wrote ASIFA-UK's newsletter and we sometimes exchanged news items. She had dedicated much of her adult life to animation including helping ASIFA grow. Since we had never met I wrote John Halas' daughter and searched the web to find out what people who really knew her were saying:
Vivien Halas wrote me, "Pat joined Halas & Batchelor in 1977 as my father's assistant and for the next 15 years she helped him with work on productions such as The Wilhelm Busch Album and A Memory of Moholy Nagy. More importantly she organized and dealt with the running of ASIFA while John was president (1976 to 1985) and later honorary president. In 1988 he sent her off to Zagreb to represent him. As far as I know this was her introduction to the world of Animation festivals, a world that she savored. Pat shared her knowledge of both films and filmmakers in the many articles she wrote sharing with us her experience and views. Often just by reading her reports I felt as if I'd been there, met the people, seen the films ! and eaten in the best bistro.
Pat knew so much about animation, was so supportive of the art and so encouraging to young animators that she will leave a black hole for the hundreds of filmmakers all over the world who knew and loved her. Her skill in choosing the best films and putting together great festivals was fantastic matched only by her 'joie de vivre.'
Seeing Pat and Margot at festivals had an iconic feel to it. If you saw their blond and red hair then they were there and you just knew that you would be in for a good time!"
Richard Williams said, "Pat was a remarkable person -- the most wonderful, warm-hearted and wise spirited woman. And we are stunned to think she will no longer be there to so generously cheer us along. We shall all miss her very much."
Joanna Quinn wrote, "Pat was a very special person and had friends all over the world. The last time I saw her she was dancing away with all the students at this year's Bradford Animation festival -- full of life and laughing. It's hard to imagine we won't see her face at festivals anymore. I loved her very much and she'll be hugely missed. My thoughts are with Margot -- I can only imagine how she must be feeling."
Barry Purves said, "Pat and Margot were a gloriously colourful double act at every animation event, supporting both us animators who'd been around the block, and encouraging and welcoming those new to this strange world. There was little Pat did not know about animation, and there were few people she did not know, and was happy to arrange introductions. A fantastic, lovely lady, a true friend, and a genuine original. She was very much the personal side of this industry."
Paul Glabicki wrote, "Ever since I met Pat Webb as a fellow juror at Hiroshima 92, we became instant friends. We communicated often, and her enthusiasm for the art of animation was constant and inspiring. Her kind spirit, intelligence, and sense of humor will be fondly remembered and impossible to replace."
Ray Kosarin (ASIFA-East) called her, "Smart as can be, principled, refreshingly plainspoken, and a true ASIFA-ite. She held dear the best of our animation's and ASIFA's heritage, and held the future no less dear. Her energy and resourcefulness were a real gift."
Helene Tanguay who recently retired as marketing manager of the National Film Board of Canada's English Animation Studio and was Honorary President of the Ottawa Festival in 2007, writes, "I still can't believe she is no longer there. I have known Pat since Zagreb 88. We worked together for ASIFA for so many years. We met every year in Annecy at the Ibis Hotel where she stayed for the last 20 years. Annecy without Pat and Margot seems impossible to imagine. She was a real trooper, ready to help everybody. She was passionate and devoted. I have lost such a good friend. The animation community has lost one of its most outstanding contributors.
Vivien Halas later told me, "Pat's funeral was very moving but also a celebration thanks to Brian Sibley who conducted the humanist tribute to her. We all landed up in the pub, a small gathering of old, but good friends. I think Pat would have enjoyed it too… Hopefully there will be a larger tribute to Pat later next year."
Condolences can be sent to Margot Grimwood at her London home: 94 Norton Gardens, Norbury, London SW16 4TA UK
NANCY DENNEY PHELPS' REMEMBERS PAT WEBB The following is from
www.sprockets.animationblogspot.com
where you can read a longer tribute. She wrote:
Although Pat was not a household name to film-goers, for any member of the animation community she and Margot were important figures in the international animation world. Pat was president of ASIFA-UK and for many years she and Margot kept the chapter alive almost single handedly in the UK. They wrote, edited, and mailed Dope Sheet, the chapter's newsletter. As a member of the ASIFA International Board, Pat worked tirelessly to support established animators and spread the gospel of animation around the world. Perhaps her opinions and observations have been of great value to her fellow board members.
Pat and Margot were festival regulars and wherever you found this dynamic duo, fun would not be far behind. Her critical appraisals of films were always eagerly awaited and her fun loving presence always assured a good time. Anyone who had the pleasure of spending time with Pat and Margot at festivals will remember them laughing, dancing and singing the night away.
I will never forget the look of horror and then amusement as Margot and I burst into a duet of the song Sisters from the film White Christmas at the 2006 Zagreb Festival picnic. In 2007 I was delighted to be on the jury with both Pat and Margot at the BAF International Animation Festival held at the British Media Museum in Bradford, England. We had such a grand time together watching film and giggling like three girls.
Besides her passion for animation, Pat was an accomplished poet, with over 1,000 works to her name. She also loved rabbits.
Over the years Pat, Margot and I have become dear friends. I'll miss her wit and wisdom but even more I will miss her almost daily e-mails about what the ladies had eaten and drunk at their favorite Italian restaurant or sharing a funny thought that had made one or the other of us laugh.her greatest contribution was the support and encouragement that she gave to young animators. As a senior board member
FORREST J. ACKERMAN, 1916 – 2008 He lived to 92. Ackerman was a legendary figure in the science fiction/monster world. I knew of him as the owner of a fabulous collection of memorabilia including costumes and jewelry once worn on the screen by Count Dracula (Bela of course). His professional life included his working as an actor, literary agent, magazine editor and full-time bon vivant who discovered author Ray Bradbury. He also has been credited as creating the term "sci-fi" and was the founding editor of Famous Monsters of Filmland.
REMEMBERING FREUDE BARTLETT, A GREAT FRIEND OF INDEPENDENT ANIMATORS Freude Bartlett, was a wild and crazy student at SF State in the late 1960s, living in an abandoned South of Market hotel called the Reno that was known for wild parties (yes, sex, drugs and rock and roll). It is just as well that I can't remember the stories I was told about what happened upstairs. The Reno was an independent filmmaker enclave, and she was living there with her then-husband filmmaker Scott Bartlett. The Reno wasn't your ordinary hippie pad. Its "grand" stairway was somewhat unsafe, having been partly demolished. There was no banister or handrail.
Freude (she never used her last name) became the cinema department's office manager while David Hilberman was there. Then in 1972 she founded Serious Business to distribute independent films, ultimately establishing a catalogue of about 100 artists and over 250 titles. Much of the collection was animated work. The artists she represented included Scott Bartlett, Mary Beams, Adam Beckett, Robert Breer, James Broughton, Shirley Clarke, Vince Collins, Bruce Conner, Sally Cruikshank, Johanna Demetrakas, Tom DeWitt, Ed Emshwiller, George Griffin, Barbara Hammer, Larry Jordan, John Knoop, George Kuchar, Suzan Pitt Kraning, Stan Lawder, Kathleen Laughlin, Curt McDowell, Gunvor Nelson, Robert Nelson, Pat O'Neill, Denis Pies (aka Sky-David), Kathy Rose, Carolee Schneemann, Penelope Spheeris, Chick Strand, John Teton and Stan Vanderbeek..
Freude was helping create and nurture the avant-garde and feminist film movements. I recall being asked to organize a screening of feminist films for a church run coffee house in Oakland in the late 1970s. I rented films from Freude, set up the projector and screen and then had to leave and have my wife project them. The coffee house was afraid that having a male projectionist would be inappropriate!
In a 1986 interview in Jump Cut, Freude reflected on the 1960s renaissance of avant-garde, or "underground," film. "This film movement, from Warhol to Brakhage, reflected the social tensions of the decade — the search for alternative values and ways of seeing and defining ourselves. These same aims were reflected in the early '70s in films by women, which provided new perceptions of women's capabilities and value… At the time, no major commercial distributor specialized in avant-garde films or women's film."
She promoted his work along with other West Coast women filmmakers on the WCBS television show "Camera Three." She described her own film, Folly, in which she is seen sweeping the beach, as "a private joke on the nature of the human condition."
When the film business began to die Freude had to close Serious Business and reinvented herself. After earning a master's in information sciences at UC Berkeley in 1986 she founded Metropolis Media, a communications firm that specialized in designing distinctive marketing campaigns for the early personal computing industry. Her clients included PC World and Intel, as well as non-profits whose goals she supported.
"You had to take a leap of faith to work with Freude, because she was anything but conventional," recalled David Bunnell, early tech media entrepreneur and founder of PC World, Macworld, and Macworld Expo. "But those of us who took that leap were rewarded handsomely, as she always delivered more than she promised — and it was usually something totally unexpected, mind-bending but effective. I loved working with her."
Metropolis Media published corporate annual reports in the guise of children's readers, turned training manuals into CD pinball games, and designed direct mail campaigns that appeared to be fly fishing tutorials, all treading a narrow path between commerce and art. Her marketing solutions were notable for their liberal use of literate quotes from sources as diverse as Thucydides, Kafka, and Satchel Paige.
Freude, who was known for her big laugh, big heart and big red hair made an instant impression when I first met her. We met on a trail in Bolinas in 1971 or '72 with her late husband Scott Bartlett, a well-known visionary filmmaker whom I knew. I was charmed by her and fascinated by her giant red Afro-like hair.
Freude is survived by her daughter Stevias Solomon, and her son Elon Bartlett. Donations in Freude's memory may be made to her goddaughter, Israel "Nikki" Nikodimos, c/o Sheila O'Donnell, Trustee for Israel "Nikki" Nikodimos, P. O. Box 333, Stinson Beach, CA 94970. She died on November 19 at her home in Oakland, of liver failure according to O'Donnell
SALLY "QUASI AT THE QUACKADERO" CRUICKSHANK REMEMBERS FREUDE Freude Bartlett was a very important person in the animation world of the 1970's. When independent animation was popping up randomly all over the country, Freude put together Serious Business Company in Berkeley to distribute these films. I hope her significance will be appreciated
All this was the decade before VCRs, a period when public libraries were especially well funded. Libraries were buying 16mm prints of odd films like mine for prices of $150 and up, sometimes multiple prints. There were library magazines that reviewed the available short films. Because of library screenings and art museum programs, an audience developed for independent animation, concurrently with numerous people bursting on the scene unaware of one another.
The picture above was taken by her husband Scott Bartlett. Off On by Scott, Tom de Witt and others was a ground breaking independent short film. Freude's hair was flaming, flaming red. She had a wonderful voice and laugh. It's just how I remember her looking. I think Freude means joy in German.
Freude encouraged many independent filmmakers, and would try to organize dinners when visitors came to town, some of which I went to. I never felt at ease with Freude, but I admired her. Her hair was a little scary, and I don't think she liked my work as much as some of her other filmmakers. I don't know. You'd think since we both lived in Berkeley we would have gotten to know each other better.
Eventually her company went bankrupt. Libraries were using their funds to buy VHS copies of Star Wars instead of 16mm prints of my Fun on Mars. I never saw Freude again, after I left Berkeley.
Another distributor who deserves credit for distribution of these films in the early days is Ron Epple, who passed on quite a few years ago. His company, in Champaign, Illinois, was called Picture Start. Without distribution, these 70's animations would never have been seen. Even though it seemed like small revenue at the time, it was a largess compared to Internet animation, where no cash changes hands. Sally's website is
http://funonmars.blogspot.com
See more of her work at http://www.youtube.com/user/laughingsal
NEXT MONTH SKY-DAVID REMEMBERS FREUDE
SPEAK OUT AGAINST WAR! AN INTERVIEW WITH ARI FOLMAN, DIRECTOR OF "WALTZ WITH BASHIR" by Karl Cohen Waltz With Bashir by Ari Folman is a remarkable intense animated war documentary for adults with none of the elements you expect to see. There is no evil enemy, no cool heroes and no exciting action scenes. Instead war is shown as it really is for a common soldier, extremely scary, without glamour and pointless. This deeply compelling film also confronts the director's blocked out memories of his experiences during Israel's invasion into South Lebanon in 1982. By interviewing others who took part in the invas! ion he discovers and shares with us glimpses into the world of repressed memories and minds dealing with post-traumatic stress syndrome. The film has already won 15 major festival prizes and is Israel's entry into the Oscar race for Best Foreign Feature. This powerful film experience opens in January in the Bay Area.
Folman Speaks Out
My first question for Folman was about his intent. He had said in a published interview, "Maybe I am doing all this for my sons. When they grow up and watch this film, it might help them make the right decisions, meaning not to take part in any war, whatsoever." I began by asking if he hoped the film might influence people's thoughts about war.
He replied, "Unfortunately I don't think films can change the world, but it can help. It can open people's minds; it can make them think. I don't know if many Americans know much about the Lebanon War or the Sabra and Shatila massacres, but even if a few of them want to see a film just because it is an animated film for adults and they will know nothing about the subject, they will go home and Google Sabra and Shatila and they will read about the massacres. I've done my job."
"As an anti-war statement, this is the most important thing for me. I hope because it is animated it will reach young audiences that still have options to decide about going into the army. By showing war in this manner, no glory, no glamour, maybe it will help them realize it is only pure bad things, nothing really tempting. This is unlike a lot of American movies that are anti-war movies, but you do want to be the guy in the movie."
A film reviewer in England wrote that he thought Waltz should be required viewing by teens before they decide about joining the military. I asked could that happen?
Ari answered, "Unfortunately it is just a nice idea. In Israel we couldn't attract young audiences to the film because film critics called the film a hardcore, extreme art house movie. So it attracted mostly art house movie fans, middle aged people. I realized at the very beginning of the release there that there is no young audience out there. Very sad."
We talked about the film's success in France, Korea, Japan and other countries, so I asked if it has been shown in Lebanon.
"It hasn't been shown in Lebanon, but we are trying to show it there. There will be problems. We hope that very soon there will be a private screening there for art house film fans. With Hezbollah and Christians there is a problem screening this kind of film. We did screen it in Ramallah (in the West Bank). We had 3 screenings. I wasn't in attendance. They were good screenings, but I know they had problems with the film, as Israel isn't shown taking enough responsibility and blame for the massacres."
The film focuses on massacres that were carried out by the Lebanese Christian "Phalangist" militia over a 3-day period after the newly elected president of Lebanon, Bashir Gemayel, a Christian, was killed in an explosion. Who is responsible for his murder remains unsolved (possibly pro-Syrians), but it set off retaliation massacres in two Palestinian refugee camps. The Israeli Army was outside the camps and was supposedly unaware of the slaughter of an estimated 700 to 3000 people.
I mentioned to Folman an article that said the film has renewed the debate in Israel about their role in the massacres. I asked if they might reopen the inquest on what happened.
Folman replied, "There is no news in the film. There was an investigation that found Defense Minister Ariel Sharon and top generals guilty of not doing enough to stop the massacre earlier when they became aware of what was going on. They were banned from their offices, but Sharon came back as Prime Minister. Nothing new is happening because of the film."
The film contains several surreal sequences. I asked about a long one showing soldiers shooting at bushes and fields with machine guns as they drive down the road.
Folman said, "A lot of people have commented on this specific scene where the soldiers ride this armored vehicle and they shoot at nothing. For them it symbolizes everything they went through at war. They don't know where they are going, you're frightened to death, you shoot because you are frightened."
Another powerful moment is a former soldier talking about a reoccurring nightmare involving dogs. Folman held off animating this sequence until he knew his artists were capable of making it as dramatic as possible. He told me, "The dogs, I waited 18 months because I knew it had to be a stunning scene. I wanted them to be really ready for that."
Can film teach tolerance and peace?
"That was my intention. But I think it will take time. It's a cliché, but I consider myself a real pacifist. I'm against violence of any kind."
Were you a pacifist when you went to war?
"No, I wasn't a pacifist for I wouldn't have joined the army if I were. I was raised in a very good family. I was the youngest child, spoiled. I never saw anything really bad, never experienced any violence. We lived in a very good neighborhood."
"I joined a very good army unit. I now consider the first 2 years of my army service a strange game, shooting guns at paper targets. It's like kids today playing video games."
"Then the war started and I was shocked by what I saw. Within 12 hours I saw so many casualties, so many people died including friends of mine. There was so much destruction and it was totally for nothing. It didn't take me much time to realize that war is a useless idea. So from then on my life changed in many ways."
Is there going to be peace in Israel?
"Yes, one day. It's all a matter of leadership. Once we have the right leader they can make the change."
Production Notes
We briefly discussed several other aspects of the making of Bashir. It was Folman's second production using animation. The first was The Material that Love is Made Of, a live action TV drama and documentary. Each episode opened with a three-minute animated segment. "It followed eight love stories for four years. I had scientists talking about the scientific aspects of love. We used their real voices and they were then animated in Flash. It worked so well that I knew a feature length documentary would eventually work"
"For Bashir I used Flash again because of budget. We didn't have much money. It was very, very complicated to fund this film. I think the film establishment is in many places very narrow minded and not open towards new dimensions of filmmaking."
The project began with Folman interviewing dozens of people about their memories of the war. He outlined his screenplay and then shot and edited a live action version that would serve as a guide for the animators. Working with his animation director the video was broken down and storyboarded. Then the boards were used to create an animatic. All of these elements proved useful in creating the animation.
"The film was in production for four years with 2 ½ years for the in animation. We used eight animators and four illustrators. There were no major script changes. We pretty much followed the script, but we redid all the beginning when we finished the film because when we finished the team was so much advanced. They made so much progress that what we did at the beginning of the production wasn't quite good enough."
I asked if he had ever considered using rotoscope?
"No. I don't believe in rotoscope and I think there is a big problem in regards to the audience getting emotionally attached to the characters. Because the technique of rotoscope is so much out there, you can see that it is drawn over the image. It just doesn't work for me."
Was reference footage used?
"Yes, but not the characters. The characters were drawn from scratch. We had some backgrounds, but it's not movement."
Today animation is proving to be an ideal medium for many forms of adult films. Among them are Marjane Satrapi's auto-biography Persepolis, Bill Plympton's fictional drama Idiots and Angels, Nina Paley's musical tragic-comedy Sita Sings the Blues and now Ari Folman's deadly serious anti-war documentary.
LIPPY SAYS, "Saw Waltz With Bashir and I was in a trance for a L O N G time afterwards. I can't remember a more powerful animated film – ever."
Folman summed up his approach to his film in an interview for Film and Video. He said, "War is like a very bad acid trip, if you've ever experienced it. I wanted the audience to go through the experience in a dimension that you don't know. It's completely different from everyday life. The design of the animation is intended to produce this effect. From the very opening, when you see the dogs running through the streets of Tel Aviv, you're in ! this very unpleasant hallucination. Then it goes deeper and deeper until it reaches the documentary footage of the massacure."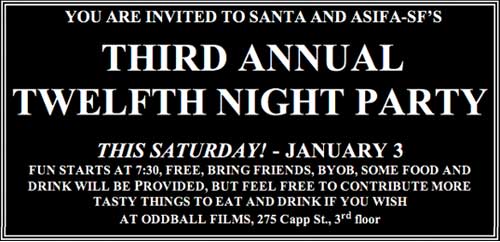 YOU ARE INVITED TO SANTA AND ASIFA-SF
THIRD ANNUAL TWELFTH NIGHT PARTY
THIS SATURDAY! - JANUARY 3
FUN STARTS AT 7:30, FREE, BRING FRIENDS, BYOB, SOME FOOD AND DRINK WILL BE PROVIDED, BUT FEEL FREE TO CONTRIBUTE MORE TASTY THINGS TO EAT AND DRINK IF YOU WISH
at ODDBALL FILMS, 275 Capp St., 3rd floor
TAKE PART IN "SANTA'S GIFT EXCHANGE FOR PINK ELEPHANTS"
Nancy Phelps says 12TH Night parties with pink elephant gift exchanges are an old European tradition. We will pick a Santa for the event and then have him or her redistribute the worst present of 2008 that was given to you. Bring whatever it is you want to get rid of nicely wrapped. Put a tag on it so Santa will kn! ow whom to give it to (a male or female, the size if it is clothing, etc.). You can try to swap gifts after Santa leaves the room.
16mm classic animation made in San Francisco
Karl will bring rare 16mm films to screen. He has an hour program recently shown by a festival in Melbourne Australia of CLASSIC FILMS ANIMATED IN SAN FRANCISCO! Willis O'Brian's Prehistoric Poultry, Vince Collins' Malice in Wonderland, Sally Cruickshank's Quasi at the Quackadero. Seth Olitzky! 's Ballet Frenetic, Jay Ward and Alex Anderson's Crusader Rabbit and Jeff Hale and John Magnuson's Thank You Mask Man
Oddball Films is located at 275 Capp St. between 17th and 18th Street. Capp runs parallel to and between Mission and Van Ness. The warehouse is near the 16th St. Bart Station and the Victoria Theatre. It is a giant 3rd floor warehouse loft full of rare 16mm films. Stephen Parr provides historic footage to filmmakers and runs a great underg! round film series in this space.
Want to volunteer to help? Just show up a few minutes early or stay till the end to help clean up.
****************************************
ASIFA-SF PRESENTS OUR ANNUAL
OPEN SCREENING FOR PROFESSIONAL AND INDEPENDENT ANIMATORS AND STUDIOS
(Our open screening for student films will be held in May)
Wednesday, January 14, 7:15 PM
at the Exploratorium's McBean Theatre, free, public invited
Once again this looks like a great evening of new work by local artists and friends feom around the globe. Anyone is welcome to bring animated/special effects work unannounced the night of the show (DVD and 16 mm) and we will show it.
* Michael Langan, who amazed us in 2008 with Doxology and ads for Upper Playground, has a surprise or two for us.plus Intelligent Life, his PSA about the dangers of global warming.
* Fred Lewis has new design and visual effects reels that shows off his abilities doing 2D and 3D computer graphics for documentaries, commercials and corporate events. He works both as a Lighting TD and a Comper. Among his clips are segments of national ads for Nike and Glade Air Frenisher done at The Orphanage.
* David Chai has a new short, Life on a Limb. The first festival to show it will be the Heart of Gold International Film Festival in Queensland, Australia, March 25-29.
* Gene Hamm is coming up from LA to show us excerpts of the commercial project he has been part of for the last seven months.
* Wachtenheim/Marianetti Inc.in Scarsdale, New York has sent us something outrageous they created for Saturday Night Live
* Alex Budovsky from NYC has sent us Lost Time at Clerkenwell, with music by Stephen Coates.
* Michal and Uri Kranot from Israel sent their award winning short The Heart of Amos Klein
* Alexei Alexeev, Studio Baestart, Hungary, gave us a copy of his show reel in Oct. that includes KJFG #5 (stars a musical bear, fox and rabbit), a second delightful short and other commercial work for TV.
* A new short by Tony Claar
********************************************
Saturday, Jan. 17
BRAINWASHED!!!
CARTOONS THAT TELL US WHAT TO THINK,
at Oddball Films, a 16mm program introduced and Q & A with Karl Cohen
This is a program similar to one Cohen organized for Otttawa 08 (with extra hard-hitting WWII propa! ganda cartoons added) Program includes Winsor McCay's Sinking of the Lusitania, Felix the Cat finds life in Russia after the revolution awful, Porky Pig on a bad tobacco trip, Bugs Bunny pitching Kool Aid with pre-teen gogo dancers, Brotherhood of Man (positive race relations film made while the US was still segregated), Suunshine Makers, Peace on Earth, etc. Oddball Films, 275 Capp St. between 17th and 18th Street. Capp between Mission and Van Ness near the 16th St. Bart Station and Victoria Theatre. 3rd floor. Tickets $10, reservations (415) 558-8117. info@oddballfilm.com
************************************************************
Saturday, January 31, CARTOON DUMP, the unholy alliance of noted author, producer and cartoon scholar Jerry Beck and writer/ producer/ comedian Frank Conniff from Mystery Science Theater in a show they present once a month in Hollywood (for over a year now) that combines vintage cartoons curated by Jerry that are screened between live c! omedy sketches. Jerry calls it, "A parody of a live children's show with a cast of misfit characters. Through story and song, Compost Brite (Erica Doering) & Moodsy the clinically depressed owl (Frank Conniff) teach the audience about love, friendship and self-mutilation. It takes place in a garbage dump, a filthy, disease-ridden stink-hole where whimsy, imagination and a child-like sense of fun are as common as the used heroin needles that litter the ground like magical four-leaf clovers." At the Eureka Theatre. It is part of The 8th Annual San Francisco Sketchfest (January 14th through February 1st). For more info http://www.sfsketchfest.com and http://www.cartoondump.com/
*************************************
Can it be? The Cartoon Network showing great vintage cartoons? Maybe there's hope after all as we tiptoe into the new year.. Leonard
NEW YEAR'S DAY LOONEY TUNES MARATHON (TV-G)
Thursday, Jan. 1, 6 a.m.-8p.m. (ET, PT)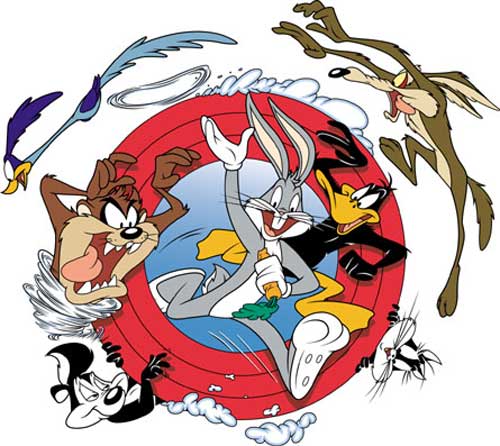 Join Cartoon Network to kick off 2009 with a full day of Looney Tunes spanning more than two decades of cartoon classics from the 1930's to the 1950's. A total of 95 shorts will showcase favorite Looney Tunes celebrities such as Bugs Bunny and Daffy Duck, as well as "one-hit wonders" like Owl Jolson from the 1936 short "I Love to Singa."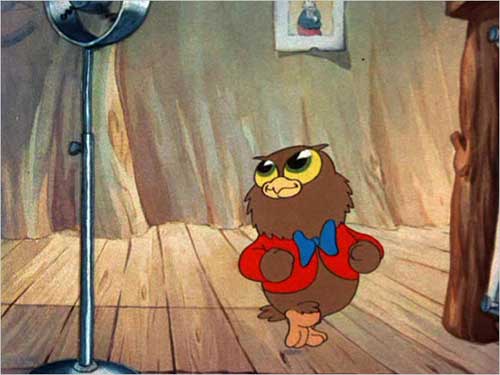 6am
The Wabbit Who Came to Supper (Bugs)
You Ought to be in Pictures (Daffy & Porky)
Daffy Duck in Hollywood (Daffy)
Tortoise Beats Hare (Bugs)
I love to Singa
Fresh Hare (Bugs)
7am
Wackiki Wabbit (Bugs)
A Corny Concerto (Bugs, Porky & Elmer)
Porky in Wackyland (Porky)
Bugs Bunny & The Three Bears (Bugs)
Falling Hare (Bugs)
The Mouse-Merized Cat
Gee Whiz-z-z
8am
Tom, Turk and Daffy (Daffy & Porky)
Buckaroo Bugs (Bugs)
Tweetie Pie (Tweetie)
Case of the Missing Hare (Bugs)
An Itch in Time (Elmer)
Hare Tonic (Elmer)
9am
Bugs Bunny Gets the Boid (Bugs)
Crowing Pains (Foghorn)
Hare Force (Bugs)
Trap Happy Porky (Porky)
Odor-Able Kitty (Pepe Le Pew)
Baby Bottleneck (Porky & Daffy)
Baseball Bugs (Bugs)
10am
The Old Grey Hare (Bugs & Elmer)
Draftee Daffy (Daffy Duck)
Gorilla My Dreams (Bugs)
Porky's Pig Feat (Daffy & Porky)
Sniffles Bells The Cat (Sniffles)
Going! Going! Gosh! (Road Runner)
Bunny Hugged (Bugs)
11am
Racketeer Rabbit (Bugs)
Tick Tock Tuckered (Daffy & Porky)
What's Cookin Doc (Bugs)
Bye, Bye Bluebeard (Porky)
Home Tweet Home (Tweety)
Super Rabbit (Bugs)
12pm
Stage Door Cartoon (Bugs & Elmer)
A Pest in the House (Daffy & Elmer)
Walky Talky Hawky (Foghorn)
Canary Row (Tweety)
Swooner Crooner (Porky)
Nasty Quacks (Daffy)
Hyde and Hare (Bugs)
1pm
Bugs Bunny Rides Again (Bugs)
Back Alley Oproar (Elmer & Sylvester)
Book Revue (Daffy)
For Sentimental Reasons (Pepe Le Pew)
Zipping Along (Road Runner)
Sandy Claws (Tweety)
Little Red Riding Rabbit (Bugs)
2pm
Hair-Raising Hare (Bugs)
Hen House Henery (Foghorn)
The Big Snooze (Bugs & Elmer)
Daffy Duck Slept Hare (Daffy & Porky)
From A to Z-Z-Z-Z (Ralph Phillips)
A Hare Grows in Manhattan (Bugs)
The Honey-Mousers
3pm
Slick Hare (Bugs)
The Great Piggy Bank Robbery (Daffy)
Fast and Furry-ous (Road Runner)
Past Perfumance (Pepe Le Pew)
Feed The Kitty
Scaredy Cat (Porky & Sylvester)
Rabbit Seasoning (Bugs, Daffy & Elmer)
4pm
High Diving Hare (Bugs)
Dog Pounded (Tweety & Sylvester)
Speedy Gonzales
Rabbit Hood (Bugs)
Long-Haired Hare (Bugs)
Birds Anonymous (Tweety & Sylvester)
Bugs & Thugs (Bugs)
5pm
Broomstick Bunny (Bugs)
The Wearing of the Grin (Porky)
Ready, Set Zoom (Road Runner)
Buccaneer Bunny (Bugs & Yosemite Sam)
Lourve Come Back to Me (Pepe Le Pew)
Devil May Hare (Bugs & Taz)
Operation Rabbit (Bugs & Wile E. Coyote)
6pm
Baby Buggy Bunny (Bugs)
Hyde and Go Tweet (Tweety & Sylvester)
Show Biz Bugs (Bugs & Daffy)
Satan's Waitin' (Tweety & Sylvester)
Ali Baba Bunny (Bugs & Daffy)
Drip Along Daffy (Daffy & Porky)
Bully For Bugs (Bugs)
7pm
One Froggy Evening ( Michigan J. Frog)
Duck Amuck (Daffy & Bugs)
Rhapsody Rabbit (Bugs)
What's Opera Doc (Bugs & Elmer)
Rabbit of Seville (Bugs)
Hardevil Hare (Bugs & Marvin the Martian)
Duck Dodgers in the 24 Century (Daffy & Marvin The Martian)
ASIFA-SF IS A VOLUNTEER RUN ASSOCIATION
Newsletter Editor: Karl Cohen
Contributors: Paul Naas, Gene Hamm, Nancy Denney-Phelps and other friends of ASIFA-SF.
Cover illustration by Ricci Carrasquillo
Proofreader: Pete Davis
Mailing Crew: Tara Beyhm, Shirley Smith, Denise McEvoy
Webmaster Joe the Calif. Kid Sikoryak, assisted by Ricci
Special thanks to: RICHARD WILLIAMS and his wife MO SUTTON for their generous gift to our chapter of two 2-hour programs at the Balboa in November. Thanks also to Gary Meyer of the Balboa for hosting the benefit for our chapter. It was a wonderful event and about 500 people got to enjoy learning a bit more about animation that day. Also thanks to Gene Deitch for his excellent program later in the month. Thanks also to Tara Beyhm our VP, to our treasurer Karen Lithgow, to The G Man for sending out our e-mail updates, to Nancy Denney-Phelps for representing our chapter on the international ASIFA board, to Patricia Satjawatcharapjong who posts excerpts from our newsletter on the International ASIFA website http://www.asifa.net
ASIFA-SF is a chapter of: Association Internationale du Film dAnimation with almost 40 chapters around the world.
Our website and blog is: http://www.asifa-sf.org
Mail can be sent to: karlcohen@earthlink.net or to: PO Box 14516, SF, CA 94114