Politicians

Yeah Yeah Yeahs ~ Sacrilege ~ http://www.youtube.com/embed/6_dw3TZNIGE?rel=0
Sometimes people don't want to hear the truth because they don't want their illusions destroyed. ~ Friedrich Nietzsche
Republicans Stole 2.3 Trillion Dollars
... or More ... From U.S. Tax Payers?
and Democrats Don't Shive A Git
Local Report ~ Yahoo Links ~ Bing Links
How convenient, the day before 9/11 Neocon, Republican, War Criminal Donald Rumsfeld admitted 2.3 Trillion U.S. Tax Dollars was missing and to the best of recollections over 9 Billion U.S. tax payer dollars spent on an illegal Iraq war are also missing, while
Republicans Hold U.S. Tax Payers Hostage
Over Budget sequestration
Is War Criminal Condoleezza Rice
A Pedophile Pervert?
Seymour Hersh says the US government has videotapes of boys being sodomized at Abu Ghraib prison in Iraq.
"The worst is the soundtrack of the boys shrieking," the reporter told an ACLU convention last week. Hersh says there was "a massive amount of criminal wrongdoing that was covered up at the highest command out there, and higher."

Martin Rowson
Sweet Condi & the Asspirate Neocon Band
According to a Senate Intelligence Committee Memo, George Bush's National Security Adviser, Condoleezza Rice, was the first person to verbally approve torture during July 2002 and then there was this:
BEN-VENISTE: Isn't it a fact, Dr. Rice, that the August 6 [2001] PDB warned against possible attacks in this country? And I ask you whether you recall the title of that PDB?
RICE: I believe the title was, "Bin Laden Determined to Attack Inside the United States [using planes]."
Local Report ~ Yahoo Links ~ Bing Links
Condoleezza Rice was the First to Authorize Torture
Children sodomized at Abu Ghraib
By Geraldine Sealey, Salon, Article Source
After Donald Rumsfeld testified on the Hill about Abu Ghraib in May, there was talk of more photos and video in the Pentagon's custody more horrific than anything made public so far. "If these are released to the public, obviously it's going to make matters worse," Rumsfeld said. Since then, the Washington Post has disclosed some new details and images of abuse at the prison. But if Seymour Hersh is right, it all gets much worse.
Hersh gave a speech last week to the ACLU making the charge that children were sodomized in front of women in the prison, and the Pentagon has tape of it. The speech was first reported in a New York Sun story last week, which was in turn posted on Jim Romenesko's media blog, and now EdCone.com and other blogs are linking to the video. We transcribed the critical section here (it starts at about 1:31:00 into the ACLU video.) At the start of the transcript here, you can see how Hersh was struggling over what he should say:
"Debating about it, ummm … Some of the worst things that happened you don't know about, okay? Videos, um, there are women there. Some of you may have read that they were passing letters out, communications out to their men. This is at Abu Ghraib … The women were passing messages out saying 'Please come and kill me, because of what's happened' and basically what happened is that those women who were arrested with young boys, children in cases that have been recorded. The boys were sodomized with the cameras rolling. And the worst above all of that is the soundtrack of the boys shrieking that your government has. They are in total terror. It's going to come out."
"It's impossible to say to yourself how did we get there? Who are we? Who are these people that sent us there? When I did My Lai I was very troubled like anybody in his right mind would be about what happened. I ended up in something I wrote saying in the end I said that the people who did the killing were as much victims as the people they killed because of the scars they had, I can tell you some of the personal stories by some of the people who were in these units witnessed this. I can also tell you written complaints were made to the highest officers and so we're dealing with a enormous massive amount of criminal wrongdoing that was covered up at the highest command out there and higher, and we have to get to it and we will. We will. You know there's enough out there, they can't (Applause). …. So it's going to be an interesting election year."
Notes from a similar speech Hersh gave in Chicago in June were posted on Brad DeLong's blog. Rick Pearlstein, who watched the speech, wrote: "[Hersh] said that after he broke Abu Ghraib people are coming out of the woodwork to tell him this stuff. He said he had seen all the Abu Ghraib pictures. He said, 'You haven't begun to see evil…' then trailed off. He said, 'horrible things done to children of women prisoners, as the cameras run.' He looked frightened."
So, there are several questions here: Has Hersh actually seen the video he described to the ACLU, and why hasn't he written about it yet? Will he be forced to elaborate in more public venues now that these two speeches are getting so much attention, at least in the blogosphere? And who else has seen the video, if it exists — will journalists see and report on it? did senators see these images when they had their closed-door sessions with the Abu Ghraib evidence? — and what is being done about it?
(Update: A reader brought to our attention that the rape of boys at Abu Ghraib has been mentioned in some news accounts of the prisoner abuse evidence. The Telegraph and other news organizations described "a videotape, apparently made by US personnel, is said to show Iraqi guards raping young boys." The Guardian reported "formal statements by inmates published yesterday describe horrific treatment at the hands of guards, including the rape of a teenage Iraqi boy by an army translator.")
Is Neocon Republican War Criminal
John Bolton In Prison, Yet?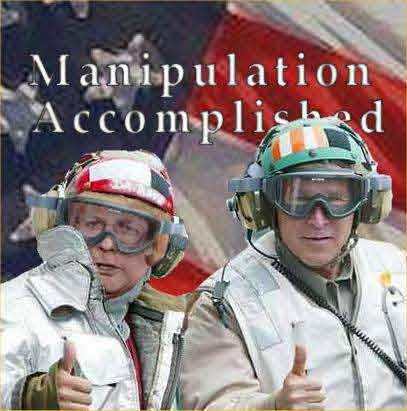 Manipulation Accomplished
Arrest of Pentagon Official May Help Unravel
Neo-Conservative Cabal
This article appears in the May 13, 2005 issue of Executive Intelligence Review.
by Jeffrey Steinberg, Executive Intelligence Review, Article Source
Pentagon Iran desk officer and neo-con patsy Larry Franklin was arrested on May 4, on charges that he passed classified information based upon secret Pentagon documents to two American Israel Public Affairs Committee (AIPAC) officials in June 2003, at a restaurant in Arlington, Va. The two AIPAC officials, who were not named in the complaint, were Steve Rosen and Keith Weissman, who were both fired by AIPAC in recent weeks.
A number of senior intelligence sources, reached for comment on the Franklin charges, all had the same essential reading: The FBI has a prima facie case against Franklin. In FBI raids on his home, Federal agents confiscated 83 classified documents, which he was not authorized to have there. The case is cut and dried, and a charge of mishandling classified documents carries a ten-year Federal jail sentence. Franklin is being squeezed to provide prosecutors with a complete picture on the AIPAC/Israel espionage operation, including Pentagon officials who were part of the effort. These include, but are not limited to: Doug Feith, William Luti, Harold Rhode, and Abram Shulsky.
In addition, one source emphasized the importance of Franklin's December 2001 trip to Rome, accompanied by Rhode and Michael Ledeen. The trip centered around a meeting with former Iran-Contra swindler Manucher Ghorbanifar, whom Ledeen sought to reactivate as a Pentagon channel to the Iranian government, and as a source on activities inside Iraq and Afghanistan. The Rome trip coincided with the surfacing of the forged Niger government documents, falsely charging that Saddam Hussein was seeking large quantities of yellow cake uranium from the African nation.
Franklin was arrested on a criminal complaint, even as a grand jury continues to consider his case. He is widely considered to be providing information to prosecutors. A closer look at his associations with the neo-con crowd shows that by targetting him, FBI officials might be able to unravel a whole skein of wrongdoing, which could help bring down the inner circle linked to Vice President Dick Cheney.
Preparing To Hit Iran?
The investigation of Franklin, and his dealings with the AIPAC officials, first was made public in August 2004, in the immediate wake of a major propaganda barrage promoting pre-emptive military action against Iran. As head of the Iran desk at the Pentagon, Franklin had access to classified documents related to that area; according to the criminal complaint, he allegedly disclosed Top Secret information related to potential attacks upon U.S. forces in Iraq, to the two individuals, neither of whom had the security clearance to receive that information. At the time, Lyndon LaRouche estimated that patriotic sections of the U.S. intelligence community were acting to defuse a potential Israeli "breakaway ally" hit against Iran.
It was not only AIPAC officials with whom Franklin was in touch. He is reported to have also had meetings with Naor Gilan, until recently an Iran specialist at the Israeli Embassy in Washington. And, according to both the New York Times and Associated Press on May 5, FBI officials recently questioned a former senior Mossad official about his ties to Franklin. The official was Uzi Arad, a former senior official with the Israeli intelligence agency. Arad is reported to have told the FBI that he had met Franklin twice, and received an academic paper from him.
Arad is no garden variety Mossad agent. He held senior posts from 1975 to 1999, and served as the Foreign Policy Advisor to Prime Minister Benjamin Netanyahu. After the FBI probe of Franklin was announced Aug. 29, 2004, Azad was one of the Israelis who jumped to defend Israel against the allegations that Franklin had passed them classified documents, saying that at worst the analyst (Franklin) "crossed the line" by inappropriately disseminating sensitive material. "That is not espionage," he said.
Azad is also notable for the fact that, in a speech at the Jerusalem Institute for Contemporary Affairs on March 26, 2003 (five days into the Iraq War), he called on the United States and Israel to take military action against Iran as well. The luncheon meeting which Franklin had with the AIPAC officials, at which he allegedly passed them classified information, occurred on June 26, 2003.
Who Is Larry Franklin?
Sources in the military and intelligence community have provided this news service with a profile of the suspected Israeli mole: Larry Franklin is a Defense Intelligence Agency (DIA) analyst, who shifted from Cold War Soviet studies, to a specialty in Iran-Iraq. A protégé of DIA Sovietologist Winnifred Joshua, Franklin also studied at Johns Hopkins University's School of Advanced International Studies (SAIS), where he was reportedly picked up by Paul Wolfowitz, then-Deputy Secretary of Defense, and an individual who has been probed for passing U.S. secrets to Israel since 1978, according to a February 2004 study by Stephen Green, which catalogued long-standing espionage allegations against, and investigations into Wolfowitz, Feith, Michael Ledeen, Stephen Bryen, and Richard Perle.
In the Summer of 2001, Franklin was transferred from DIA to the Pentagon's policy office under Feith, where he took charge of the Iran desk in the Near East South Asia (NESA) section, and later worked for the Office of Special Plans (OSP), the Iraq war-planning unit under Feith and NESA head William Luti. Luti had been a military aide to former Speaker of the House Newt Gingrich, and had been in the Office of Vice President Cheney at the start of the "Bush 43" Administration. According to Lt. Col. Karen Kwiatkowski (USAF, ret.), who served in NESA from June 2002 to March 2003, Luti bragged at staff meetings, that he was reporting directly to "Scooter," which, she learned, was a reference to Cheney's chief of staff, I. Lewis "Scooter" Libby.
As an Air Force Reserve officer, Franklin had served several tours of duty at the U.S. Embassy in Tel Aviv, where, according to one military source, he had gotten in trouble for unauthorized contacts with Israeli intelligence officials. According to one news account, the current FBI probe into Franklin's activities was triggered by a June 2002 leak in the New York Times, which detailed American war plans against Iraq. While on the NESA Iran desk, Franklin was also reportedly the subject of a probe into his mishandling of classified documents; however, a serious probe into that incident was blocked by the intervention of Luti and Feith, according to a confidential Pentagon source.
Franklin, according to an eyewitness, was part of a neo-con inner circle that met frequently, behind closed doors, in the office of Doug Feith. The group included Feith, Luti, OSP official Abram Shulsky, Office of Net Assessment Mideast specialist Harold Rhode, former Defense Policy Board Chairman Richard Perle, David Wurmser, and Michael Maloof. As a group, they worked closely with Wolfowitz and with Libby, whose own ties to the Israeli Mafiya and Israeli intelligence run deep: Libby was the former attorney for Israeli "Mafia" boss Marc Rich.
Franklin, Rhode, and Ledeen
In the Summer of 2003, it was revealed that Larry Franklin had been part of a Pentagon team, composed also of Rhode and self-professed "universal fascist" Michael Ledeen, which had travelled to Rome, in December 2001, to open unauthorized channels to the Iranian government, through a widely discredited Iran-Contra figure, Manucher Ghorbanifar. According to one news account of the trip, the troika sabotaged talks then under way between the State Department and the Iranian government, involving the turning over to the United States of five top al-Qaeda figures, who were in custody in Iran.
Virtually every member of the neo-con grouping has been under investigation for espionage, fabrication of intelligence, and other treachery against the United States. Sources, for example, have identified Rhode, a longtime protégé of British intelligence's Dr. Bernard Lewis, and a close collaborator of Ledeen, as the target of a separate espionage probe, involving his passing of U.S. national security secrets to Israel, while he was in Baghdad as part of the Coalition Provisional Authority (CPA). While in Baghdad, Rhode practically lived out of the home and office of Iraqi National Congress (INC) head Ahmed Chalabi.
Ledeen is also, according to law enforcement sources, a target of inquiry, concerning his suspected role in passing forged Niger government documents to the Italian intelligence service, SISMI. The forged documents purported to "prove" that Iraq was seeking uranium from Niger, to build a nuclear bomb. Vice President Cheney and other Bush Administration officials used the threat of Iraq's alleged imminent possession of a nuclear bomb, as a bludgeon to force Congressional approval of the Iraq War. When President Bush cited alleged Iraqi efforts to obtain uranium "yellow cake" from an African state in his Jan. 28, 2003 State of the Union address, the whole issue blew up, leading to the ongoing Federal criminal probe.
Although both the State Department and CIA had cautioned that the Niger yellow cake story was dubious, Bush and Cheney went ahead with their shrill allegations. Then-International Atomic Energy Agency (IAEA) director Dr. Mohammed ElBaradei revealed in early March 2003, that the Niger documents were shoddy forgeries. According to several former U.S. intelligence officials, one prime suspect in the document forgeries scam was Chalabi's INC. Ledeen, a longtime Chalabi booster, has also long been a paid "consultant" to SISMI. A September 2004 Washington Monthly article reports that when Ledeen, Franklin, and Rhode met in December 2001 with Iranian government officials in Rome, the head of SISMI and Italy's Minister of Defense also attended the meetings.
A Bolton Angle?
While the issue of Pentagon illegal activity with Israel, in order to provoke a war against Iran, or Syria, is still a live one, so is the matter of the Niger "yellow cake" concoction, a story which has never been solved, and which is intimately connected with the still live investigation of what is known as the Plame leak.
It was December 2001, after the Ledeen, Franklin, Rhode trip to Rome, that fraudulent documents surfaced, alleging that Iraq was negotiating for yellow cake from Niger. In the Spring of 2002, reportedly on the recommendation of Vice President Cheney, former U.S. Ambassador Joe Wilson was sent to investigate the charges, and returned a report saying that the claim was false. In the Summer of 2003, Wilson was subjected to an attempt to discredit him in the media, including through the disclosure of the identity of his wife, covert CIA operative Valerie Plame. The disclosure of Plame's identity was a violation of Federal law, but, as yet, the Administration has not "solved" the case. A Federal Special Prosecutor is still pursuing the case of the leak, which many sources report to have originated from the vicinity of Cheney's office.
On the strength of Wilson's report, and other analysis, the CIA and the State Department removed the Niger report from their intelligence estimates of Iraq's pursuit of weapons of mass destruction. Yet, in December 2002, Under-Secretary of State for Arms Control and International Security Affairs John Bolton played a key role in putting this false information in a widely circulated State Department Fact Sheet on "Omissions From the Iraqi Declaration of the United Nations Security Council."
In a March 1, 2005 letter to the chairman of the National Security Subcommittee of the House Government Reform Committee, Rep. Henry Waxman (D-Calif.) asked for a committee investigation into State Department efforts to conceal the role of Bolton in the creation of the Fact Sheet, and in insisting that the Niger reference be kept in the Fact Sheet, despite objections from both State Department intelligence and CIA officials.
This inquiry has relevance not only to Bolton's potential connection to an espionage network, but to his persistent role in "fixing" intelligence which he and his neo-con friends did not like. It was this cooking of intelligence which provided the justification for pushing the United States into war against Iraq, in pursuit of WMD which were not there, and which the neo-con circles around Dick Cheney continue to carry out in pursuit of the new wars they have on their agenda.
+++ More on John Bolton Here and Here.
Why does Stanford University Continue to Protect Rice and Rumsfeld?
Why Supreme Court
Will Not Stand By U.S. Citizens?
List of United States Supreme Court Justices appointed by War Criminal Ronald Reagan
Antonin Scalia & Anthony Kennedy
List of United States Supreme Court Justices appointed by War Criminal George H. W. Bush
David Souter & Clarence Thomas
List of United States Supreme Court Justices appointed by War Criminal George W. Bush
John G. Roberts & Samuel Alito
Supreme Court to democracy: Drop dead
With a single rash, partisan act, the high court has tainted the Bush presidency, besmirched its own reputation and soiled our nation's proudest legacy.
By Gary Kamiya, Salon's executive editor
Dec. 14, 2000 | Tuesday, Dec. 12, is a day that will live in American infamy long after the tainted election of George W. Bush has faded from memory.With their rash, divisive decision to dispense with the risky and inconvenient workings of democracy and simply award the presidency to their fellow Republican, five right-wing justices dragged the Supreme Court down to perhaps its most ignominious point since the Dred Scott decision.
The court was the last American civic institution to have preserved an aura of impartiality, to be regarded as above the gutter of partisanship and self-interest. The reality, of course, is that no court, no judge, no human being, is completely free of those entanglements. Yet the court has generally acted wisely in avoiding judgments that would inevitably and utterly besmirch it. With one reckless and partisan ruling, it squandered its most precious possession: its reputation. It may take years, even decades, to repair the damage done by the Scalia-Rehnquist court's decision to cancel the election and crown the winner.
It's hard not to conclude, now that this whole sorry saga is over, that the fix was in from the beginning. Not the crude, "vast right-wing conspiracy" fix of Hillary Clinton's imagination, but a de facto fix. Why shouldn't one think the game was rigged, when five Republican-appointed justices -- one of whose son works for the law firm of the lawyer representing Bush, another of whose wife is recruiting staff for the Bush admininstration and two of whom have made clear their desire to retire under a Republican administration -- trashed their entire judicial philosophy to ram through, with only the most cramped of legal justifications, a last-second victory for a Republican who lost the national popular vote and, when the votes in Florida are actually counted, is likely to have lost the Florida one as well?
Perfect justice does not exist. But this was judicial folly, politically explosive and judicially threadbare. This was the court stepping in and awarding victory to one side before the game was over. Even those of us who don't often agree with the court's conservative majority expected better.
As Justice Stevens wrote in his savage dissent, "The position by the majority of this court can only lend credence to the most cynical appraisal of the work of judges throughout the land ... Although we may never know with complete certainty the identity of the winner of this year's election, the identity of the loser is perfectly clear. It is the nation's confidence in the judge as an impartial guardian of the rule of law." [Continue Reading]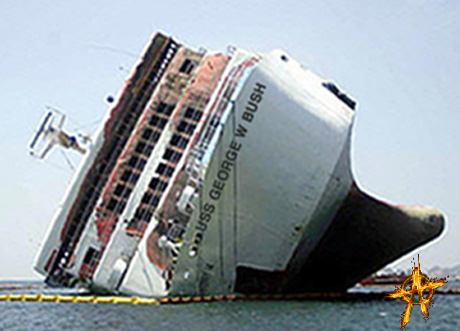 <
Call for: CONSTITUTIONAL CONVENTION
To Remove TRAITOR Politicians
Who Would Abolish United States Liberty and Freedoms
Closing Argument
Drop Dead ~ Telecom Crimes ~ Patriot Act ~ Denialist ~ He Said It ~ Rethinking 9/11 ~ Are you better off?
Alan Shore: When the weapons of mass destruction thing turned out to be not true, I expected the American people to rise up. Ha! They didn't.
Then, when the Abu Ghraib torture thing surfaced and it was revealed that our government participated in rendition, a practice where we kidnap people and turn them over to regimes who specialize in torture, I was sure then the American people would be heard from. We stood mute.
Then came the news that we jailed thousands of so-called terrorists suspects, locked them up without the right to a trial or even the right to confront their accusers. Certainly, we would never stand for that. We did.
And now, it's been discovered the executive branch has been conducting massive, illegal, domestic surveillance on its own citizens. You and me. And I at least consoled myself that finally, finally the American people will have had enough. Evidentially, we haven't.
In fact, if the people of this country have spoken, the message is we're okay with it all. Torture, warrantless search and seizure, illegal wiretapping's, prison without a fair trial - or any trial, war on false pretenses. We, as a citizenry, are apparently not offended.
There are no demonstrations on college campuses. In fact, there's no clear indication that young people seem to notice.
Well, Melissa Hughes noticed. Now, you might think, instead of withholding her taxes, she could have protested the old fashioned way. Made a placard and demonstrated at a Presidential or Vice-Presidential appearance, but we've lost the right to that as well. The Secret Service can now declare free speech zones to contain, control and, in effect, criminalize protest.
Stop for a second and try to fathom that.
At a presidential rally, parade or appearance, if you have on a supportive t-shirt, you can be there. If you are wearing or carrying something in protest, you can be removed.
This, in the United States of America. This in the United States of America. Is Melissa Hughes the only one embarrassed?
*Alan sits down abruptly in the witness chair next to the judge*
Judge Robert Sanders: Mr. Shore. That's a chair for witnesses only.
Alan: Really long speeches make me so tired sometimes.
Judge Robert Sanders: Please get out of the chair.
Alan: Actually, I'm sick and tired.
Judge Robert Sanders: Get out of the chair!
Alan: And what I'm most sick and tired of is how every time somebody disagrees with how the government is running things, he or she is labeled un American.
U.S. Attorney Jonathan Shapiro: Evidentially, it's speech time.
Alan: And speech in this country is free, you hack! Free for me, free for you. Free for Melissa Hughes to stand up to her government and say "Stick it"!
U.S. Attorney Jonathan Shapiro: Objection!
Alan: I object to government abusing its power to squash the constitutional freedoms of its citizenry. And, God forbid, anybody challenge it. They're smeared as being a heretic. Melissa Hughes is an American. Melissa Hughes is an American. Melissa Hughes is an American!
Judge Robert Sanders: Mr. Shore. Unless you have anything new and fresh to say, please sit down. You've breached the decorum of my courtroom with all this hooting.
Alan: Last night, I went to bed with a book. Not as much fun as a 29 year old, but the book contained a speech by Adlai Stevenson. The year was 1952. He said, "The tragedy of our day is the climate of fear in which we live and fear breeds repression. Too often, sinister threats to the Bill of Rights, to freedom of the mind are concealed under the patriotic cloak of anti-Communism."
Today, it's the cloak of anti-terrorism. Stevenson also remarked, "It's far easier to fight for principles than to live up to them."
I know we are all afraid, but the Bill of Rights - we have to live up to that. We simply must. That's all Melissa Hughes was trying to say. She was speaking for you. I would ask you now to go back to that room and speak for her. ~ Boston Legal ~ Stick It ~ Season 2 ~ Episode 19 ~ [Video at link] ~ Written by David E. Kelley & Janet Leahy ~ Directed by Adam Arkin.
One Can Lead A Horse To Water, But ....
Until there is a solution for this, where one solution has been provided, Nobody will bring Peace to Our Times, feed the hungry, care for the sick, and bake apple pie better than Mom. (otoh) If None of the Above was on voter ballots, it would be a huge step towards recovering U.S. political control, and Nobody gets it.

American Dream ~ George Carlin/L.I.L.T ~ http://vimeo.com/72719973


---