Ministers of Satan, Murdoch and FOX NEWS, Can Kiss My Ass!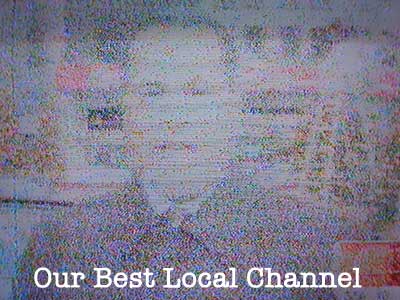 I am writing this to show the level of Prejudice exerted by Corporate Media, like FOX NEWS, against sparsely populated rural areas and provide another example of Rupert's disgusting "profits not people" attitude within the United States.
Out here in the country we know a Fox smells its 'own hole' first and that it stinks as bad as the feces one sees on Fox News!
DirecTV Goes After Distant Network DISH Subscribers
By Greg Tarr, STAFF
(TWICE) _ El Segundo, Calif. DirecTV launched a pre-emptive strike of sorts at competitor EchoStar's attempts to get Congressional relief from a pending injunction that will force it to end distant network TV service to some 900,000 DISH Network subscribers on Dec. 1.
DirecTV issued a statement Wednesday to help clarify for potentially impacted DISH Network subscribers the actions they face and the possible solutions to losing network TV programming they have available to them including signing up for DirecTV services.
EchoStar did not return phone calls for comment.
DirecTV is controlled by News Corp., which also controls the Fox Television Network. Fox has fought in court EchoStar's bid to continue offering distant network services in the alleged non-complying manner it claims DISH Network has employed.
The notice, called "five things every consumer should know about EchoStar's distant signal injunction," states that "very few customers will be affected," by the injunction, and that "EchoStar currently offers local ABC, NBC, CBS and Fox channels by satellite in 170 markets, serving more than 96 percent of the U.S. population. These local networks are not part of the court injunction, therefore the majority of its distant network customers will be able to watch their local network channels without interruption."
DirecTV points out that EchoStar said it will try to provide off-air antennas and other alternatives to those subscribers living in areas where no local-into-local broadcast channel services are available.
DirecTV continued that EchoStar lost its ability to offer distant network services because it "has been violating the law for years" and that a Federal Court found that "EchoStar disregarded the limitations of its statutory license and sought to avoid its obligations under the [law] at every tur.We have found no indication that EchoStar was ever interested in complying with the Act."
"Congress put rules in place to ensure fair and open competition," DirecTV said. "For nearly a decade, EchoStar violated the laws that its competitors were following. After a nine-year legal battle, copyright holders were finally able to enforce the law and level the playing field. In the end, fair and open competition is the best way to ensure that consumers everywhere get the kinds of innovation, choices and service they deserve."
Copyright The Associated Press 2006. All Rights Reserved
http://www.digitalanimators.com/articles/viewarticle.jsp?id=83430
Satellite Distant Network Channels Are Disappearing: Dispute Between Broadcast Networks and Satellite Companies Are Ongoing
By Leanna Teague
In the past the struggle for satellite customers to continue receiving distant network channels, defined as channels you cannot receive locally, has now become a losing battle. One satellite company, Dish Network, is calling for its customers to call their representative in Washington and voice their opinion about the injunction to remove distant network channels.
In this case the ones affected are subscribers to ABC, NBC, CBS, and FOX if you are viewing them from another area. An example would be if you live in Dallas Texas, but are receiving ABC, NBC, CBS, and Fox from Chicago Illinois this is considered distant network channels because you cannot view them locally.
November 13, 2006 Dish Network will have one last chance to fight for distant network channels when the courts convene. As of now all distant network channels must be removed by December 1, 2006.
The whole situation boils down to local broadcast networks demanding a higher pay increase from Dish Network. Dish Network doesn't't want to pay the higher pay increase and is trying to keep the same rate. Any pay increase would be passed to the customer, but at the same time if you receive local channels from Dish Network you will be charged a fee for them.
Broadcast networks have complained about local channels being offered because they don't receive any money. The money goes into the pockets of the satellite companies, which is why satellites for a long time didn't't offer them.
In the big picture all satellite companies are in jeopardy of losing distant network channels and cable companies aren't far behind. Any broadcast network that can be viewed free of charge by antenna may cause cable companies to lose valuable networks.
Fox network has already become a distant memory for many Dish Network customers from a previous duel of broadcast networks. Fox channel exists on cable or by antenna reception for these poor souls.
Cable is already being threatened by satellite quality, but the way satellite is going with rising prices and frequent channel loss cable is looking better all the time. Many satellite subscribers who want ABC, NBC, CBS, and Fox have to subscribe to both satellite and cable to get all their desired channels. Satellite remote controls are set up to switch back and forth between the two.
Satellite customers who originally could only get distant network channels of ABC, NBC, CBS, and Fox, who now have the option of receiving them locally, can only do this by getting a second satellite.
Second satellites are sometimes provided free of charge and in some cases they have to be bought. A service charge for installing the second satellite also might come into play. Who can say for sure when the first or second satellite will be obsolete and an additional satellite will be required to watch channels?
Over the years cable has always been more of a sure thing. You know what channels you get and they won't disappear overnight. Satellites are always at risk of damage by external factors such as storms, but now they are in danger by broadcast networks.
http://www.associatedcontent.com/article/85315/satellite_distant_network_channels.html
P.S. We do not believe DishNetwork did all it could do to protect our distant channels because the numbers would indicate there are less of US than THEM.
---