- ARPSN Recorded Earthquake Collection -






2008
There are some things that need seriously to be clarified concerning theory of seismometers, since there is so much confusion; not only among amateur seismologists, but also even many professional geoscientists.
Ultimately, the ONLY source of seismograph excitation (no matter the instrument design) is ENERGY. Additionally, the ONLY thing that delivers energy to the seismometer is Earth's ACCELERATION at the site of the instrument. This is true not only for the instrument's response to earthquake waves whose periods are shorter than about 300 s, but also for earth 'hum' in which the instrument responds mainly to tilt, when the periods are greater than about 300 to 1000 s. - Randall D. Peters, PhD - http://physics.mercer.edu/
Although there are many, constant, Seismic events; the following collection caught my 'amateur' attention, and are presented for observation & consideration:
Magnitude 4.4 - Petrolia, CA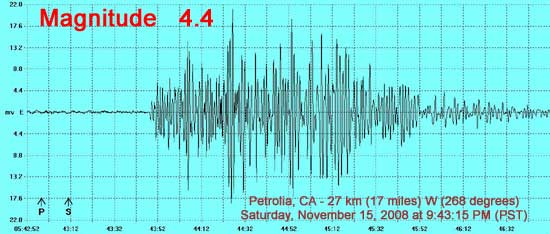 Above Image Recorded by: ARPSN-1 - Cobb, California
Time Saturday, November 15, 2008 at 9:43:15 PM (PST)
Sunday, November 16, 2008 at 5:43:15 (UTC)
Distance from Petrolia, CA - 27 km (17 miles) W (268 degrees)
Ferndale, CA - 41 km (26 miles) SW (225 degrees)
Rio Dell, CA - 47 km (29 miles) WSW (245 degrees)
Eureka, CA - 64 km (40 miles) SW (216 degrees)
Sacramento, CA - 333 km (207 miles) NW (307 degrees)
Coordinates 40 deg. 19.1 min. N (40.318N), 124 deg. 36.3 min. W (124.606W)
Depth 19.5 km (12.1 miles)
Location Quality Fair
Location Quality Parameters Nst= 29, Nph= 29, Dmin=26.6 km, Rmss=0.09 sec, Erho=0.9 km, Erzz=0.3 km, Gp=234 degrees
Event ID# nc51211307 - http://quake.usgs.gov/recenteqs/Quakes/nc51211307.htm
Magnitude 2.9 - Lakeport, Ca
recorded by ARPSN-1, Cobb, Ca.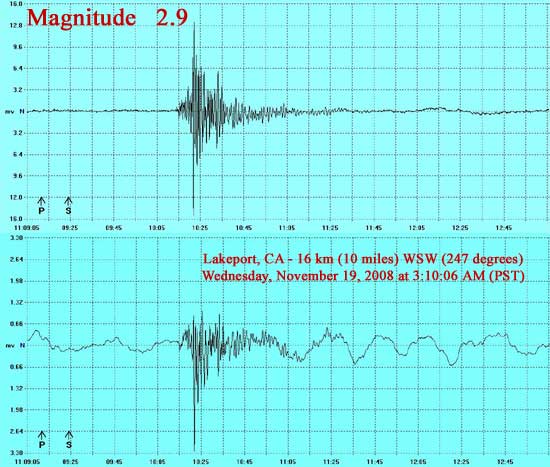 Magnitude 2.9 - duration magnitude (Md)
Time Wednesday, November 19, 2008 at 3:10:06 AM (PST)
Wednesday, November 19, 2008 at 11:10:06 (UTC)
Distance from Lakeport, CA - 16 km (10 miles) WSW (247 degrees)
Talmage, CA - 17 km (11 miles) SSE (156 degrees)
North Lakeport, CA - 18 km (11 miles) SW (235 degrees)
Ukiah, CA - 21 km (13 miles) SSE (149 degrees)
San Francisco City Hall, CA - 147 km (91 miles) NNW (337 degrees)
Coordinates 38 deg. 59.4 min. N (38.991N), 123 deg. 5.1 min. W (123.084W)
Depth 2.5 km (1.6 miles)
Location Quality Excellent
Location Quality Parameters Nst= 49, Nph= 49, Dmin=1 km, Rmss=0.05 sec, Erho=0.2 km, Erzz=0.4 km, Gp=32.4 degrees
Event ID# nc40226386 http://quake.usgs.gov/recenteqs/Quakes/nc40226386.htm
Magnitude 5.4 - OFF THE COAST OF NORTHERN CALIFORNIA
200811.28 05:42:19 AM at epicenter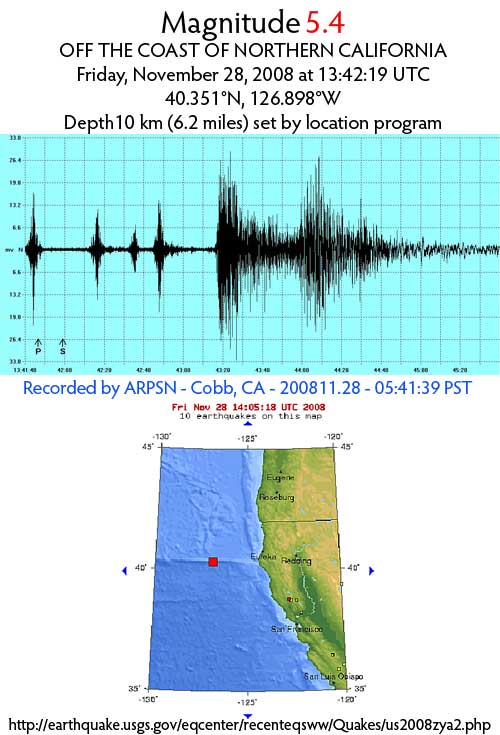 Magnitude 6.8 - KERMADEC ISLANDS REGION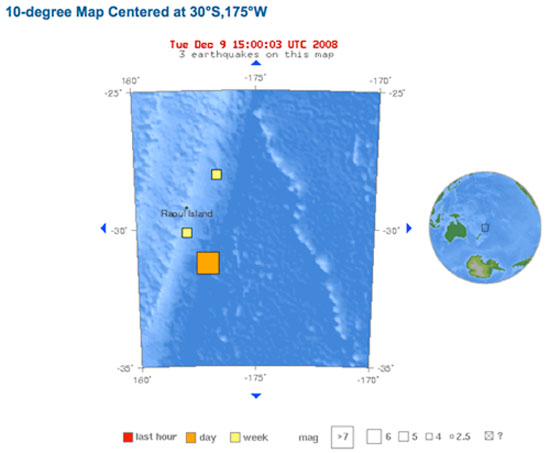 Tuesday, December 09, 2008 at 06:24:02 UTC
http://earthquake.usgs.gov/eqcenter/recenteqsww/Quakes/us2008ajap.php
Recorded by ARPSN/Flying Snail Seismic Sensors



Great Circle Distance 2765 Miles from ARPSN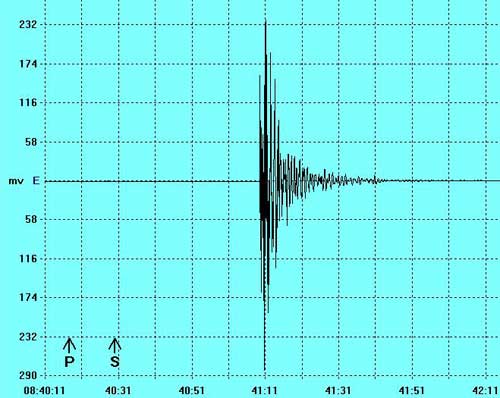 VolksMeter Sensor E/W Accelerated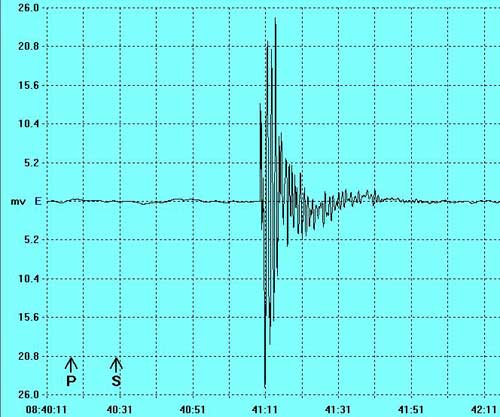 VolksMeter Sensor E/W Velocity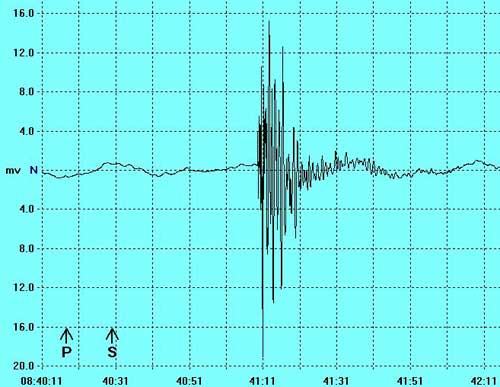 VolksMeter Sensor N/S Velocity



VolksMeter Sensor RAW View
Visit: 2009 Collection
---