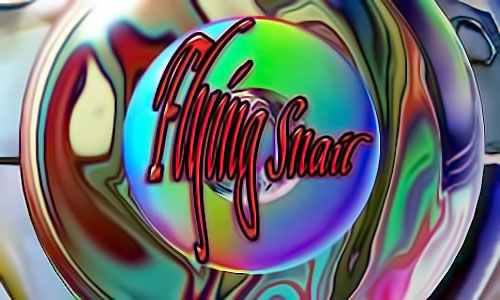 Tell-A-Vision = Why Not Try Love Again?
Russian punk band were doing devil's work, says leader of Orthodox church
Patriarch Kirill condemns calls for leniency after Pussy Riot performed unsanctioned show in Moscow's main cathedral
Howard Amos in Moscow, guardian.co.uk, Sunday 25 March 2012 12.40 EDT, Article history, Article Source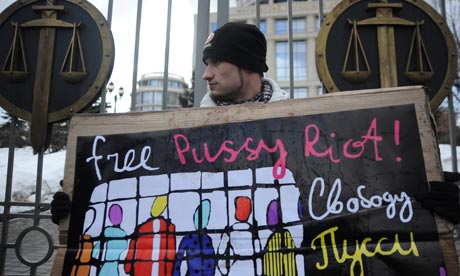 Outside a Moscow courthouse where three members of the group face charges of
hooliganism following a cathedral gig. Photograph: Andrey Smirnov/AFP/Getty
A feminist punk band who staged an unsanctioned performance in Moscow's principal cathedral were doing the work of the devil, according to the head of the Russian Orthodox church.
Patriarch Kirill said that "the devil laughed at us" when Pussy Riot performed their song Virgin Mary, Mother of God, Expel Putin! in the Cathedral of Christ the Saviour less than a fortnight before presidential elections.
Three alleged members of Pussy Riot, who wear colourful balaclavas to hide their identities, have been arrested since the "punk prayer." They remain in prison awaiting trial on hooliganism charges and deny taking part in the 21 February show. All face sentences of up to seven years.
Patriarch Kirill appeared annoyed by calls for leniency. There were people who sought to "justify and downplay this sacrilege", he said. "My heart breaks from bitterness that amongst these people there are those who call themselves Orthodox."
Some members of the Orthodox church initiated an open letter to the patriarch earlier this month, calling on him to "maintain a Christian attitude" and for all criminal charges against the accused to be dropped.
Two of the three imprisoned women, Maria Alyokhina and Nadezhda Tolokonnikova, have young children and were arrested the day before Vladimir Putin won a third term as president in a vote marred by fraud allegations.
While he avoided mentioning Pussy Riot by name, Patriarch Kiril said the group's members "believe in the strength of propaganda, in the strength of lies and slander, in the strength of the internet, in the strength of the media [and] in the strength of money and arms".
Other songs played publicly by the band, which is closely linked to Russia's opposition movement, have included "Putin Pissed Himself", "Death to Prison, Freedom to Protest", and "Fuck the Sexist, Fuck Putin's Henchman."
Vladimir Putin's press secretary has said that the president-in-waiting reacted "negatively" when told about Pussy Riot's cathedral performance.
Craton, Fracking, Earthquake, & Booms
Laurentia - North American craton
Laurentia (North American craton) is a large area of continental craton, which forms the ancient geological core of the North American continent. Many times in its past, Laurentia has been a separate continent as it is now in the form of North America, although originally it also included the cratonic areas of Greenland and also the northwestern part of Scotland, known as the Hebridean Terrane. During other times in its past, Laurentia has been part of larger continents and supercontinents. It is named after the Laurentian Shield, which in turn is named after the St. Lawrence River.
Laurentia owes its existence to a network of Early Proterozoic orogenic belts. Small microcontinents and oceanic islands collided with the ever-growing Laurentia, and together formed the stable Archean craton we see today.
Lower 48 States Shale Plays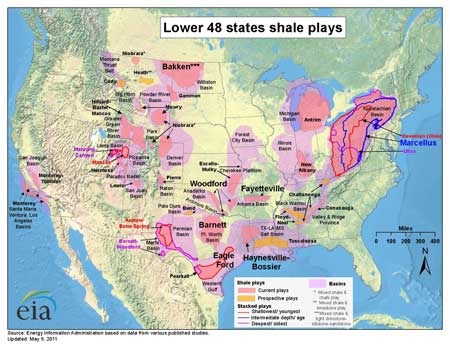 Large Image of above map - Related Maps
Hydraulic fracturing in the United States
Hydraulic fracturing or fracking, is the process of utilizing pressurized water, chemical additives, and physical proppants to fracture rock layers and release petroleum, natural gas, or other substances so that they can be extracted. Environmental safety and health concerns about this process have emerged and are being debated at the state and national levels. - Hydraulic Fracturing Environmental concerns
Environmental concerns with hydraulic fracturing include the potential contamination of ground water, risks to air quality, the potential migration of gases and hydraulic fracturing chemicals to the surface, the potential mishandling of waste, and the health effects of these, like cancer. Many cases of suspected groundwater contamination have been documented. Valerie Brown, a researcher and science writer, believes that with the explosive growth of natural gas wells in the US, public exposure to the many chemicals involved in hydraulic fracturing is increasing, with uncertain consequences.
A report in the UK concluded that fracking was the likely cause of some small earth tremors that happened during shale gas drilling. In addition, the United States Geological Survey (USGS) reports that, "Earthquakes induced by human activity have been documented in a few locations" in the United States, Japan, and Canada, "the cause [of which] was injection of fluids into deep wells for waste disposal and secondary recovery of oil, and the use of reservoirs for water supplies." The disposal and injection wells referenced are regulated under the Safe Drinking Water Act and UIC laws and are not wells where hydraulic fracturing is generally performed.
Several earthquakes--including a substantial, magnitude 4.0 one on New Year's Eve--that had hit Youngstown, Ohio, throughout 2011 are likely linked to a disposal well for injecting wastewater used in the hydraulic fracturing process, according to seismologists at Columbia University.
It has been noted an explosive sound precedes earthquakes created by manmade injection or during hydraulic fracturing.

Mysterious Booms Rattle Wisconsin City

Mystery Booms in Clintonville, Wisconsin

CNN: Mystery Booms Rock Clintonville, Wisconsin 3/21/2012
Expect A Bumpy Ride In the Future
Earth and the Human body both require lubricants, pores, and gas vents.
Earth's pores and vents are being closed or tapped, lubricants are constantly being depleted, and this is being done for profit without consideration or regard for consequence.
David Normal - Artist
This is my latest painting: "Saṃsāra"

For those of you in San Francisco, this painting, "Samsara" will debut on Friday evening at Trickster Salon's "Primal Masquerade". For this event, Trickster has teamed up with Aspect Gallery to present the event at 1000 Van Ness, a beautiful atrium ballroom on the ground floor of the AMC theater in San Francisco. It promises to be a lively soiree, and, having just passed my 42nd birthday on the 19th of this month, I will (informally) celebrate my bir! thday there. Please come!!

For more info about this piece (or any of my other work) please visit my blog, http://normal.bz - David Normal
Keith Lampe - Co-Founder of YIPPIE and Progressive Activist Groups

Mike Adams - Food security, local farms and FEMA
Amestizo - BLOG

The Known Universe, Primordial Sound, Vibration, and the Cosmos Visually

Vicious Cycles

Bo Diddley Medley - Mike Wilhelm
How Bob Dylan, music's great enigma first revealed his talent to the world 50 years ago
Released on 19 March 1962, Bob Dylan's debut remains a landmark of popular culture
Ed Vulliamy, The Observer, Saturday 17 March 2012, Article history, Article Source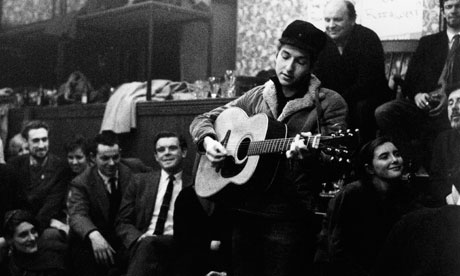 Bob Dylan in London in 1962. Photograph: Brian Shuel/Redferns
A rollicking rush on guitar is followed by the line, "I don't know why I love you like I do", sung with something between a hollow laugh and a stab of pain; and after one minute and 37 seconds it is over. Side one, track one, of the first album by Bob Dylan, the most elusive, talented and influential American performer and poet of the 20th century.
There follows a classic talkin' blues that sounds like the work of an old hand, but expresses the awe of a young man on arrival in New York – then the voice, more vehement, intensifies for a searing third track that strokes the listener's every exposed nerve that little too roughly – a spiritual called In My Time of Dyin', with the singer's girlfriend's lipstick tube used to try to imitate the slide guitar of blues wizard Robert Johnson.
The album – entitled Bob Dylan – was released half a century ago (19 March 1962) , by a 20-year-old from Minnesota who had arrived in Manhattan the previous year, aboard a freight train. It had taken him two months to get much further than Times Square, before trying his luck in places like "an unusual beer and wine place on 3rd Street… now called Cafe Bizarre", as Dylan would later recall. "The patrons were mostly workingmen who sat around laughing, cussing, eating red meat, talking pussy… Talent scouts," he wrote, "didn't come to those dens."
Dylan finally arrived in the creative ferment of Greenwich Village with burning ambition to match it – "impatient to be seen, to impress important people, to learn", as Robert Shelton, the music critic who became Dylan's biographer, puts it. In the city Dylan described as "mysterious" but "capital of the world", he pressed himself through the doors of the coffee houses and folk clubs: the Commons, the Wha', The Gaslight – and Gerde's Folk City.
"I was there to find the singers," Dylan would write, "the ones I'd heard on record – Dave Van Ronk, Peggy Seeger, Ed McCurdy, Sonny Terry and Brownie McGhee." Dylan's first album was released in the same year that the Beatles recorded Love Me Do; Jimi Hendrix was still serving in the 101st Airborne Division; Frank Sinatra cut an album with Count Basie; and Dmitri Shostakovich premiered his 13th Symphony, with two more to go and 13 years longer to live. "Although only 20 years old," read a review of Bob Dylan in the New York Times, "Dylan is one of the most distinctive stylists to play in a Manhattan cabaret in months."
Throughout the 50 years since then, Dylan has maintained his enigma, which is all the more remarkable for having written what is regarded as an intimate autobiography, Chronicles.
His girlfriend Suze Rotolo – photographed on Dylan's arm for the cover of his second album, The Freewheelin' Bob Dylan – wrote a memoir recounting the depths of Dylan's determination to stay mysterious at that time: he span her a yarn about having been abandoned as a child in New Mexico. Rotolo had suspicions about his "Welsh name" and prised his real one, Zimmerman, out of him at the apartment they would eventually share on West 4th Street (though she liked calling him Boo Radley after the couple went to see To Kill a Mockingbird).
But 2004's Chronicles does at least allow us to quote Dylan on himself after all the decades of elliptical responses and riddles with which he baffled interviewers. Most important, we can read his own account of coming to know the man who inspired this first album more than anyone: the hobo father and political conscience of American folk, Woody Guthrie. Nothing on the album is written by Guthrie, but the traditionals are sung as he might have performed them.
Dylan recalls buying Guthrie Raleigh cigarettes to smoke in hospital and singing Tom Joad to its author during long afternoons by his deathbed. Only two songs on the first album are written by Dylan: Talkin' New York and Song to Woody – the former adapts a Guthrie talkin' blues and the latter is a homage. Dylan's reasoning for this is disarmingly frank: "I can't say when it occurred to me to write my own songs. I couldn't have come up with anything comparable or halfway close to the folk song lyrics I was singing to define the way I felt about the world… Folk songs played in my head, folk songs are the underground story."
Playing at Folk City, Dylan won admirers and jealous adversaries. Joan Baez would recall: "He looked like an urban hillbilly… bouncing from foot to foot, he seemed dwarfed by the guitar… He spat out the words to his own songs. They were original and refreshing, if blunt and jagged. He was absurd, new and grubby beyond words… but captivating."
However, Dylan failed to turn his success in the cellars into a recording deal – he was rejected by Elektra, Folkways and Vanguard. Then he met John Hammond, at a rehearsal in an apartment rented by Baez's sister, Mimi Fariña, and her husband Richard.
Hammond was the genius who produced Dylan's first album, adding the young singer to the list of those he had nurtured, which included Billie Holiday, Charlie Christian, Bessie Smith and Count Basie.
By November 1961, Hammond was ready to move his new talent into Columbia's Studio A on Seventh Avenue. "I signed him on the spot," he once recalled. "We made our first album almost immediately. His guitar playing, let us say charitably, was rudimentary, and his harmonica was barely passable, but he had a good sound and a point of view and an idea. He was very disenchanted with the social system. I encouraged him to put all his hostility on tape, because I figured this was the way, really, to get to the true Bob Dylan."
Some of the songs were recorded in two takes, such was Dylan's germinal feel for the music, the folk, the blues. The only problems arose from Dylan popping his Ps, too close to the mike.
The immediately astonishing impact of the album, by any measure, is the contrast between the image of the unsmiling but fresh-faced lad in his cap and the depth of feeling and range in the singing between love, rage, sorrow and a fixation with death. The core of the album is Fixin' To Die, sung as though he were pleading for the life he is about to lose, such is Dylan's understanding of the intentions of its author, the great Delta blues master Booker T Washington – aka "Bukka" – White.
And so it continued: the lighter guitar touch on Baby Let Me Follow You Down, heralding the mighty ballads to come, a definitive claim on House of the Rising Sun and Elizabeth Cotten's Freight Train Blues – a choice worth noting not just for the lore of the American railroad and whistle of iron snakes winding through perpetuity, but also Dylan's own reflection that "I'd seen and heard trains from my earliest childhood days and the sight and sound of them always made me feel secure".
As ever, there is humour, too. Baez, Dylan's lover in the period immediately after the album, wrote that "his humour was dry, private, and splendid".
The estimable British writer on Dylan, Michael Gray, argues interestingly that the real value of the album is not only that it showed "more than a hint of a highly distinctive vision", but also "served as a fine corrective for Greenwich Village: it was the opposite of effete," he says, "in the context of what was happening at the time – American folk culture all but obliterated, and a stagnating 'folk' cult established as if in its place."
In Chronicles, we have Dylan's recollection of the books he devoured off other people's shelves during the time he made this record, which illuminate those to follow: Shelley, Poe, Faulkner, Gogol, The White Goddess by Robert Graves, whom he would later meet in London; "Balzac is hilarious," writes Dylan – and there is his "morbid fascination" with Von Clausewitz's writing on warfare. Books that can be said to play their part among the myriad influences on what was to follow – indeed, once Dylan had embarked along the creative road he would take from Bob Dylan onwards, it was a while before he returned to the album in his core performing repertoire.
"Sometimes you just want to do things your way, want to see for yourself what lies behind the misty curtain," he wrote. "You have to know and understand something, and then go past the vernacular."
Half a century ago though, the vernacular had a narrative and poetry of its own. But in his review for the New York Times, Shelton observed that, despite moments of "off-target melodrama", Dylan's "highly personalised approach towards folk song is still evolving".

Buckcherry - Official Dead Video
Karl Cohen - Association International du Film d'Animation-SF Newsletter
Friday the 13th cartoon classics that deal with bad luck, murder, trips to Hell, ghosts and other unwanted experiences

Event: April 13, 2012

Once again the Film Society has asked Karl Cohen, the famous animator and film historian to assemble an array of captivating shorts (2-7 mins each) to show at film night in Half Moon Bay.

The night starts with a couple of early black and white cartoons from the 1920s. In "The Pet", animation pioneer Winsor McCay envisions a nightmare featuring a mystery pet who keeps eating and growing until it threatens the whole city. Our three Fleisher Brothers shorts push against the boundary of reality as Betty Boop (depicted as a dog this early in her career), her partner Bimbo and her sidekick Koko the clown each star in ridiculous musical nightmares.

Our picks from the 1930s are less surrealistic but just as much fun. In "Mickey's Nightmare" the Disney star dreams of a life full of far too many misbehaving children. Otto Soglow's chubby Little King bathes and plays with his pooch while a dastardly villain plots his murder in "The Fatal Note". In "Wotta Nitemare" Popeye dreams of a picnic in the clouds.

Next we feature two 1940s shorts by legendary cartoon director Tex Avery. "Who killed Who" deals with a detective who has to solve a murder in a haunted house. "Bad Luck Blackie" introduces us to a cute white kitten tormented by a bulldog and saved by a bad luck black cat. It is widely acclaimed as one of the fastest paced and funniest cartoons ever made.

Karl's final three picks are famous mind bending shorts from the 60s and 70s. You can guess who will win in "Bambi Meets Godzilla". "Vicious Cycles" uses stop motion animation with live people to give us a motorcycle gang without motorcycles. It's part Tarentino, part Monty Python. Then its back to the surreal with "Make Me Psychic" in which Anita the duck buys a gizmo that gives her psychic powers and makes her the hit of a party in an alternate universe.

Don't miss this once in lifetime chance to share these classic cartoons with Karl. Stick around after the screening to ask Karl questions or get him to sign one of his books.

First 10 Minutes of THE FP - In theaters MARCH 16 - NOTE: Audio is not work safe.
Rolling Stones will not tour for 50th anniversary, says Keith Richards
Guitarist says concerts will have to wait until 2013, but the band plan to record new material as early as next month
Sean Michaels, guardian.co.uk, Thursday 15 March 2012 10.56 GMT, Article history, Article Source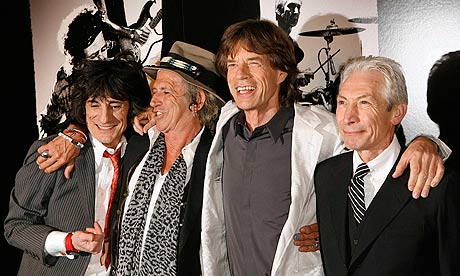 'We're just not ready' … Keith Richards on the Rolling Stones' 50th anniversary tour. Photograph: Lucas Jackson/Reuters
The Rolling Stones will not tour for their 50th anniversary, with Keith Richards and Mick Jagger saying concerts will have to wait until 2013.
"We're just not ready," Richards told Rolling Stone. But the magazine also claims "Stones insiders" are concerned about the guitarist's health: his performances allegedly "declined" after he underwent surgery in 2006 to remove a blood clot on his brain. "They don't want to do a full tour," added an unnamed source in the concert business. It's more likely that the band will do multi-night runs in major cities. "For example, they'd do 10 nights at [New York's] Madison Square Garden, 10 nights at [Los Angeles'] Staples, 10 nights at London's O2 arena," the source explained.
The good news is that after a few years apart, the Stones seem to be back together. They reconvened in London in December for a jam session that included former bassist Bill Wyman. "On the third day, Mick turned up, which was a real joy," Richards said. "I set it up really as a magnet, you know." Jagger even enjoyed himself: "It went very well," he said. "We played a lot of blues and outtakes of Some Girls and things like that."
Richards and Jagger are even talking about studio sessions, starting as early as next month. "I've got plenty in the locker here, but it's not on tape," Richards said. "We'll just get the boys back together again then and maybe cut a side." Richards and Jagger will both apparently be living in New York "for a while". "We're planning to get things going … again," the 68 year old said.
The Rolling Stones will also release a new documentary this autumn, looking back on their career. "[There] will be music never heard before, and I've conducted 50-plus hours of interviews so far," director Brett Morgen said. All this may set the stage for 2013 – which is the Stones' "real" golden jubilee, Richards said. "Charlie [Watts] didn't actually join until [1963]," he explained. "We look upon 2012 as sort of the year of conception, but the birth is next year."

Tree & Squirrel's Stupid Cartoon by Xeth
Doobie Brothers drummer Michael Hossack dies
TUESDAY, 13 MARCH 2012 02:37 LAKE COUNTY NEWS REPORTS
LAKE COUNTY, Calif. – A much-loved musician who for years was part of the famed rock act the Doobie Brothers has died.
Michael Hossack died Monday at his home in Dubois, Wyo., according to friends and family. He was 65 years old.
Hossack had battled cancer and finally succumbed to the disease with family by his side.
Known to friends as "Big Mike," Hossack had local connections, having lived for many years in Lake County, where his children attended school.
Hossack was born in Paterson, New Jersey, on Oct. 17, 1946, and began playing the drums at age 12, according to his biography on the Doobie Brothers Web page, www.doobiebrothers.net .
He would go on to serve in the U.S. Navy during the Vietnam era, and upon returning home to New Jersey in 1969 was set to pursue a law enforcement career when a friend convinced him to audition for Mourning Reign, a California-based band.
He got the job and would move to California with the band. Mourning Reign would fold but a new opportunity arose when in 1971 the Doobie Brothers invited Hossack to join them, drumming alongside founding drummer John Hartman.
His work can be heard on the Doobie Brothers classics like "Listen to The Music," "Rockin' Down The Highway," "Jesus Is Just Alright," "China Grove," "Long Train Runnin" and "Blackwater," the band's first No. 1 single.
Hossack left the band in 1973, drumming with other bands and becoming a partner of the North Hollywood recording studio Chateau Recorders.
He and the Doobie Brothers reunited in 1987 for a series of concerns benefiting Vietnam War veterans, which led eventually to the band reforming.
Due to his health, Hossack had been on leave from the group since 2010.
In July of that year, Hossack had posted a message to fans thanking them for their support and messages. "It certainly helps to keep my spirits up during my time away."
He had looked forward to returning to playing with the band. "It's been hard not touring with the band but I have incredible support from my family, the Doobie Brothers, and all my friends out there. I can't thank you enough for everything. All my best wishes to you all, and thanks for thinking of me."
In late January, the Doobie Brothers – which have kept up a busy touring schedule – released a statement on Hossack, saying he was improving slowly. "He sends his regards to all our fans."
A lover of the outdoors, motorcycle riding and hunting, Hossack had spent his final years based in Wyoming.
He leaves behind son Mike Jr., daughter Eric Rose Oliver, and friends and fans the world over.
See Hossack and the Doobie Brothers performing "Listen to the Music" at Wolf Trap in 2004 in the clip below (Hossack is on the drum set at the far right).
Amestizo - BLOG

Cedars-Sinai Denying Transplant to Medical Marijuana Patient with Inoperable Liver Cancer
Rainbow Puddle - Stellar Light Shows

SOLIPSIST by Andrew Huang
Pussy Riot vs Vladimir Putin: the feminist punk band jailed for cathedral protest
Supporters at anti-Putin rally in Moscow call for release of alleged members of band
Kevin O'Flynn, The Observer, Saturday 10 March 2012, Article history, Article Source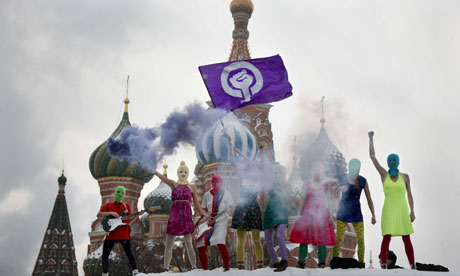 Pussy Riot protest at the Kremlin in Moscow. Photograph: Anna Artemeva/AFP/Getty Images
Russian feminist punk band Pussy Riot, two of whose alleged members face up to seven years in jail for a "punk prayer" they staged in Moscow's main cathedral, have received unexpected backing from a group of Orthodox Christians who say they are being too harshly punished.
The group's performances have seen them appear in masks in a range of unexpected places to sing anti-government songs.
Part of the growing protest movement against Vladimir Putin, who was elected to a third term last Sunday, the group sang an obscenity-strewn song in Christ the Cathedral Saviour last month, including an appeal to the "Holy Mother, Blessed Virgin," asking her to "chase Putin out".
The Russian Orthodox Church condemned the stunt and called for the group to be punished. Days after the performance the group's alleged members were arrested and two, Maria Alyokhina and Nadezhda Tolokonnikova, have been charged with hooliganism. The pair, both of whom have young daughters, have been refused bail. Neither has admitted being part of the group.

Pussy Riot Band Members In Russian Orthodox Church (Punk Invasion)
Lina Moniava, a charity worker and Orthodox Christian, sent a petition to the head of the church appealing for them to ask for the criminal case to be closed. What the group did was "intolerable" said the letter, but "what is more intolerable is the reaction to the events".
One of the anti-Putin movement's leaders, Alexei Navalny, also called for the women to be released, saying the act was "idiotic" but that they were not dangerous. Pussy Riot performed a concert on the roof of the detention centre where Navalny was held after the first large protest in December and Navalny, also an Orthodox Christian, held a one-person picket outside police headquarters in Moscow, where the women are being held, last week.
There was plenty of support for the jailed pair at yesterday's opposition rally in Moscow, which saw up to 15,000 gather in the city centre.
"Pussy vs Putin" said one sign in English at the demonstration while another called for "Pussy Riot for the Eurovision". One protester held up the female torso of a shop dummy with "Free Pussy Riot" written on the back. The two women were included in a list of political prisoners read out from the stage.

Tommi Avicolli Mecca March 2012 Radical Acoustic Music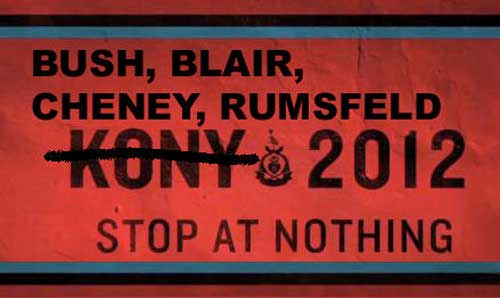 Rainbow Puddle - Stellar Light Shows

OAK-U-TRON 201X - [Ed. Note: Don't get even, get odd. (-;]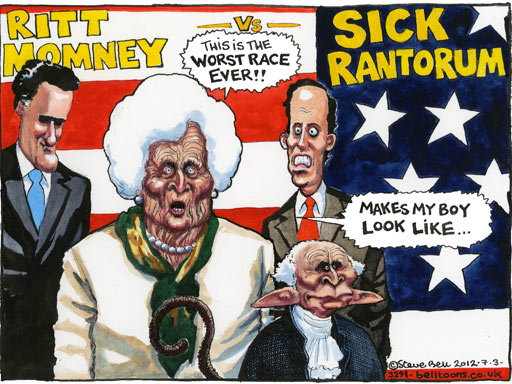 Steve Bell on the Republican Super Tuesday primaries – cartoon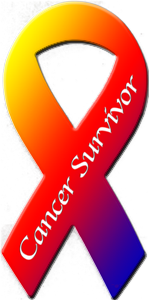 Amestizo - BLOG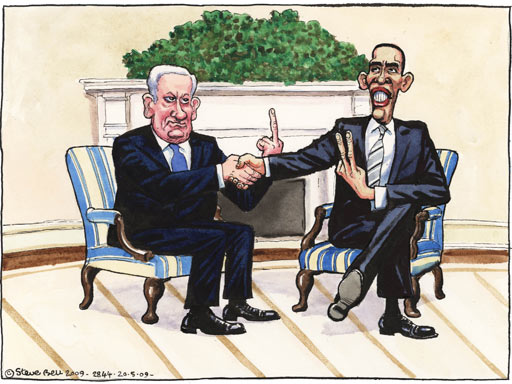 Obama and Netanyahu: up close and personal - Steve Bell
Thinking about sense-objects will attach you to sense-objects; grow attached, and you become addicted; thwart your addiction, it turns to anger; be angry, and you confuse your mind; confuse your mind, you forget the lesson of experience; forget experience, you lose discrimination; lose discrimination, and you miss life's only purpose. - Bhagavad Gita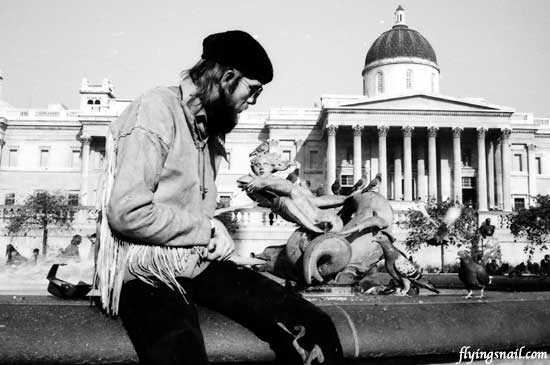 C. Spangler - Photograph: FlyingSnail
Curtis Spangler - The CommuniTree's First Fairwitness
Let's look at some of the earliest electronic virtual communities. This kinship chart shows the origins of the first computer bulletin boards (BBSs) that supported social interaction. Prior to this moment, BBSs messages were organized by alphabetical order, or by date. BBSs were metaphors for physical bulletin boards... objects for the exchange of simple messages, not conversations. Now, in 1978 a group of people in Northern California designed a BBS that used message attachment protocols that facilitated conversations. As a metaphor for this structure they used a tree, firstly because it was based on a principle of computer science called binary tree protocol, and secondly because Northern California near Silicon Valley was a land of hot tubs, Eastern mysticism, and computer hackers, and the organicity that the word "tree" suggested was important to those hackers' worldview.
The story of the life and death of the first CommuniTree tells us how and why the later virtual community systems were designed. The original CommuniTree was designed with the idea that the community it facilitated would be completely free. Anyone could enter any sort of message. In fact, censorship was completely prohibited at the level of the code, of the Tree's program. It worked this way: First, the system operator was prevented from reading messages as they arrived. Second, messages were hard to remove once they were entered. Third, anything could be entered into the system, including so-called control characters, which are not part of the standard alphanumeric set and which can be used to control the operation of the host computer. Lastly, to make sure that no system operator could tamper with the system, the code was written in language called Forth, and not documented. Now Forth is a religion unto itself, and if you know anything about Forth you recognize that this makes the system a total black box -- it's impossible to know anything about how the code works.
CommuniTree went online in 1978. The kinds of conversations they had in there were of a high intellectual and spiritual character. They talked about new philosophies and new religions for post-Enlightenment humanity, the first time such conversations had taken place online.
Now, at the same moment Apple Computer had reached an agreement with the U. S. Government that in return for a tax break, Apple put computers into primary and secondary schools in the U.S., and some of those computers had modems. This meant that quite suddenly a lot of kids could get online. At first both boys and girls had access, but the boys quickly elbowed the girls out of the way -- high tech was men's work. The boys quickly found out CommuniTree's phone number and logged on. They were clearly unimpressed with the high intellectual level of the discourse on CommuniTree, and they expressed their dissatisfaction in ways that were appropriate to their age and linguistic abilities. Now, the hardware of the Tree was the best that Apple had to offer in 1978, it had two floppy disk drives with a combined total of 300 kilobytes of storage. At the time, the folks who designed the Tree said "300K -- we can go on forever. We'll never fill this up." A common BBS today would have at least 100 megabytes of storage, many orders of magnitude greater than the Tree. So it didn't take long for the kids to fill every byte of disk space with every word they could think of that meant shitting or fucking, and then they'd add control characters on top of that, characters that could mess with the program or stop the floppy drives. The sysops couldn't see the messages arriving and couldn't remove them afterward. The Tree was doomed.
One of the participants in the Tree discourse said "Well, the barbarian hordes mowed us down." And the people who were on the Tree ran away, just like the population of a village during a sack. It was a kind of scattering of the tribes. Some of those people went off and designed BBSs of their own that had built into them the elements of control and surveillance that appeared to be necessary to ensure the BBS's survival in a real world that included roaming barbarians. That kind of surveillance and control continues to the present day, built right into the software; we don't think about it much any more. And that's how, back at the beginning of virtual time, the first virtual community left the Magic Garden and entered the "real" virtual world in which good had to find ways to coexist with evil.
Source: http://www.flyingsnail.com/missingbbs/CommuniTree.html
Bush/Cheney Republicans
Dump 9/11 Victims Remains In Landfill
Source 1 - Source 2 - Source 3
The United 93 Passenger Paradox
By Dean Hartwell, opednews.com, February 27, 2012 at 20:22:20, Article Source
Can you solve the riddle of United 93? Did they use their real names or not? How can their remains be at Shanksville if the plane was elsewhere at the time of the "crash"?
The boarding of United 93 on 9/11 presents a puzzle in its own right.
There is a manifest and there are boarding passes that show the names of passengers who took the flight. The flight went to the Midwest and was in the air after the alleged crash in Shanksville. Investigators found human remains in Shanksville and declared that the remains matched DNA samples given by the passengers' families.
Here are the possibilities:
1. Passengers boarded the planes using real names for tickets and boarding passes.

Result: They wind up in flying toward the Midwest with new identities.

Issues: Do relatives know what happened?

If yes, why would they accept it?

If no, how are they being deceived?

2. Passengers use fake names with tickets and boarding passes

Result: Passengers wind up flying toward the Midwest.

Issues: How do they get tickets/boarding passes?

How are the alleged calls from the plane accounted for?

Who monitors these people OR who kills them?

Who are the relatives?

3. No passengers board the plane

Result: No one has to be monitored (except for relatives) or killed.

Issues: Who puts the false names on the tickets/boarding passes?

How are the alleged calls from the plane accounted for?

Who are the relatives?
Can you choose the most reasonable scenario above or provide a new one? If your choice is the official theory, I will want to know how the passenger remains got to Shanksville and how the same plane that crashed there was flying over the Midwestern United States.
Who monitors these people OR who kills them?
Dean Hartwell's book, "Planes without Passengers: the Faked Hijackings of 9/11," reached the top of Amazon's charts for large print books on history. He has authored three others: "Facts Talk but the Guilty Walk:the 9/11 No Hijacker Theory and Its Indictment of Our Leaders," "Dead Men Talking: Consequences of Government Lies" and "Truth Matters: How the Voters Can Take Back Their Nation."
Dean has a law degree and works for a local public agency in Southern California.
http://deanhartwell.weebly.com/
Republicans Spent 55 Million of YOUR tax dollars to discover if Monica Swallowed and ONLY 3 Million of YOUR tax dollars to Investigate 9/11
Hey Washington; I'm still waiting for that $1/gallon gasoline
Republicans and Gas Price Lies
Laurence Lindsey, President Bush's senior economic advisor at the time — argued in 2002 that the [Illegal] Iraq war would increase oil supplies and lower prices. From the Washington Times, 9/19/02:
As for the impact of a war with Iraq, "It depends how the war goes." But he quickly adds that that "Under every plausible scenario, the negative effect will be quite small relative to the economic benefits that would come from a successful prosecution of the war."
"The key issue is oil, and a regime change in Iraq would facilitate an increase in world oil," which would drive down oil prices, giving the U.S. economy an added boost.
Of course this is from the same people that claimed the war would pay for itself, as in Paul Wolfowitz:
"There's a lot of money to pay for this. It doesn't have to be U.S. taxpayer money. We are dealing with a country that can really finance its own reconstruction, and relatively soon."
* Congressional Testimony, March 27, 2003 and Hey Washington; I'm still waiting for that $1/gallon gasoline
Thousands across state opt out of SmartMeter program; deadline is May 1
ELIZABETH LARSON, TUESDAY, 28 FEBRUARY 2012 01:01, Lake County News, Article Source
LAKE COUNTY, Calif. – Thousands of utility customers around California are asking not to have wireless SmartMeters, although so far the total number is far less than anticipated in an opt-out plan accepted earlier this month.
On Feb. 1 the California Public Utilities Commission approved a proposal allowing Pacific Gas & Electric Co. customers throughout California to opt out of having wireless SmartMeters, including being able to retain analog meters, as Lake County News has reported.
When that decision was made, PG&E had installed nine million of the wireless meters around the state, and had 900,000 meters yet to install.
At the same time, 31,000 of the 40,000 electric meters in Lake County had been replaced with SmartMeters, PG&E said.
The Lake County Board of Supervisors and the cities of Lakeport and Clearlake all passed temporary moratoriums on SmartMeter installations last year in response to public concerns.
PG&E spokesperson Brandi Ehlers told Lake County News that the company is tracking the number of customers who choose to opt out of the program.
As of this month, 4,400 customers systemwide had asked to opt out, said Ehlers.
Of that number, 150 customers in Lake County had opted out, she said.
That's far less than the 148,500 customers PG&E used as a basis to estimate the costs of running the opt-out program.
Based on that number of customers not taking part in the program, PG&E – in its filing with the CPUC – said it would cost $113.4 million for 2012 and 2013 to implement the opt-out program.
Customers wanting not to have the meters, however, must pay one-time and ongoing fees to participate in the program, based on the proposal the CPUC accepted.
For low-income customers, they must pay a one-time fee of $10 and $5 a month. Other customers must pay a one-time fee of $75, and monthly fees of $10, according to the opt-out plan parameters.
For customers who are on the installation delay list, PG&E is asking them to opt out by May 1.
For more information about the opt-out program, and to ask not to participate, visit Lake County News Source
An issue for us today as it was for Holden Caulfield in The Catcher in The Rye, is recognizing what is "phony" and what is not. The word "phony" is used many times by Holden. In fact, the book is full of this word usage which really touches upon a deeper meaning than is first seen. On one level, we see a young boy, Holden Caulfield, confused about life and cutting down things that exist around him. But on a deeper level we find that we are really reading a story about a boy's struggle with adolescence and his transition into adulthood. Holden is a very perceptive boy. He is almost beyond his years in his ability to recognize what he sees around him – but he is still just a boy. So his thoughts on life are simple. Either something is good or bad; true or false; real or "phony". When Holden uses the word "phony", he seems to be describing people that are prejudice, hypocrites or insincere. It seems to be a way for Holden to justify how the world is a bad place and to grow up and leave adolescents behind is a very bad thing. By the end of the book, however, Holden changes this view about growing up.
Phoniness exists in our society today just as it does in the book. When someone wears expensive clothes to school or drives a really fancy car they can be called phony. If a person talks with a made up accent, as Faith Cavendish did when Holden calls her on the phone once he arrives in New York, they can sound phony. We live today in a world of materialism and when someone tries to make this search for expensive things important they are acting superficial and "phony".
In the book Holden talked about Mr. Ossenburger who was the man that his dorm was named after. Holden says that this man "came up to school in this big goddam Cadillac, and we all had to stand up in the grandstand and give him a locomotive – that's a cheer." Holden calls him a "phony" because Ossenburger seems obsessed with making money by burying people with cheap funerals.
For Holden, phoniness seems to be a characteristic of mostly adults around him. In the beginning of the book, he refers to the headmaster of his school as being "phony". His brother who works in Hollywood is, to some degree, also considered "phony". Just as in the book, in real life Hollywood is a very pretentious place. It is the lack of sincerity in our society that Holden is sensitive to and this bothers him very much. Childhood seems to be pure but adulthood seems to be full of bad things such as insincerity, or phoniness.
Holden struggles with the passage from one stage of his life into another. In the middle of the book, his sister asks him what would make him happy. Holden says that he would want to be a catcher in the rye. He wants to stand in a rye field while the kids play and make sure that they do not run into trouble. Symbolically, Holden wants to keep kids from getting into the trouble that comes with growing up and exploring new things. But by the end of the book Holden begins to realize that he cannot be a catcher in the rye because life has to move forward. For example, when Holden shows two boys where the Egyptian section in the museum is located, he finds that he is walking down a dark hallway. The two boys are afraid and run back but Holden continues forward. This represents how Holden is moving forward from childhood into adulthood but the two little boys are not yet ready to make such a move.
When the transition for Holden is complete, when he realizes that he cannot hold onto adolescence forever, the use of the world "phony" is clearly gone. This is seen in the last chapter of the book. It is here that we realize that Holden has had a nervous breakdown but somehow now seems to be able to deal with his problems. This is because he is viewing the world with more substance that when he was using the word "phony". For example, in the last chapter, the woman with the English accent sounds "affected" but not "phony". This can be contrasted with Holden's view of Miss Cavendish earlier in the book. Holden is growing up and is viewing things in a different light. He knows that he cannot change the world in which he lives but it is possible for him to find his own place within it.
The world we live in is a mixed with all sorts of people: ones that we seem to identify with and others that we do not like. Depending upon how sensitive we are to phoniness determines how we choose our friends. It is not as easy for us to do what Holden does in the book and just paint one big bad picture of our society at large. We must search hard within our daily lives and find the good that exists as we grow as people. To be a catcher in the rye would only hurt the progression of youth into adulthood and this is not what life is all about. People are "phony", yes, but many are also good and the only way to find this is to explore living with each new day that tomorrow brings.
World Health Organization has classified Smart Meter Radiation
as "possibly carcinogenic to humans."

PG&E Smart Meters via prez @ usa-exile

Devo - Beautiful World

Bruce Springsteen & Tom Morello - The ghost of Tom Joad (Rock & Roll Hall of Fame, 2009)

George Carlin - The Owners of America


Nobody Brought Peace To Our Times
"None of the Above" Should Be On Voter Ballots
Oh, I hope that I see you again I never even caught your name As you looked through my window pane -- So I'm writing this message today I'm thinking that you'll have a way Of hearing the notes in my tune -- Where are you going? Where have you been? I can imagine other worlds you have seen -- Beautiful faces and music so serene -- So I do hope I see you again My universal citizen You went as quickly as you came -- You know the power Your love is right You have good reason To stay out of sight -- But break our illusions and help us Be the light -- Message by Michael Pinder

Freedom of expression and freedom of speech aren't really important unless they're heard...It's hard for me to stay silent when I keep hearing that peace is only attainable through war. And there's nothing more scary than watching ignorance in action. So I dedicated this Emmy to all the people who feel compelled to speak out and not afraid to speak to power and won't shut up and refuse to be silenced. - Tommy Smothers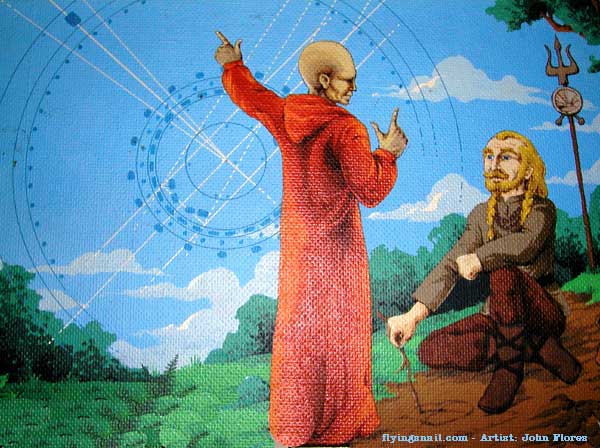 The man whispered, "God, speak to me" and a meadowlark sang. But the man did not hear. So the man yelled "God, speak to me" and the thunder rolled across the sky. But the man did not listen. The man looked around and said, "God let me see you" and a star shined brightly. But the man did not notice. And the man shouted, "God show me a miracle" and a life was born. But the man did not know. So the man cried out in despair, "Touch me God, and let me know you are there" Whereupon God reached down and touched the man. But the man brushed the butterfly away and walked on.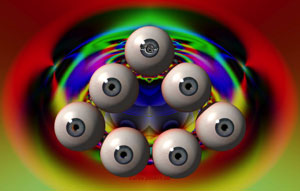 Don't miss out on a blessing because it isn't packaged the way you expect.