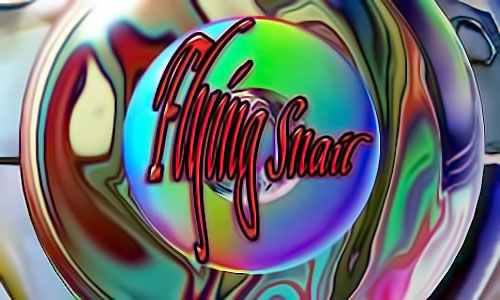 Tell-A-Vision = Why Not Try Love Again?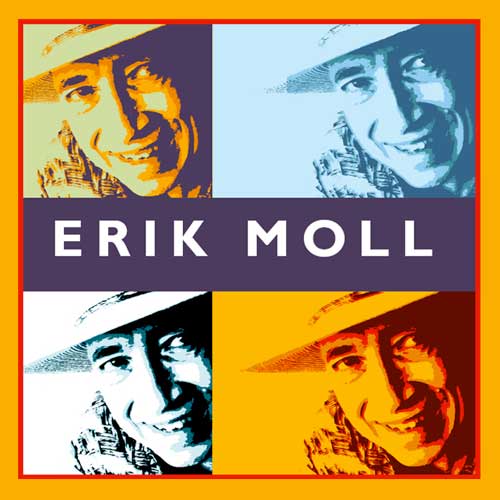 Erik Moll writes: Greetings from the fjords in Norway!
I had a wonderful 5 week US stint and have now been back in Norway since early April. Did 5 days of school concerts and a concert on an island near my cabin with my acoustic trio in May. We'll be playing a festival in Egersund further down the coast end of June and then I'll be vacationing in July when relatives congregate at the cabins. A couple of solo performances in August, one close by Bergen and one near Oslo.
I'm trying to hustle some Fall listening room gigs. Quite a challenge for a 62 year old non-celebrity folksinger with no management in this youth-oriented highly competetive and commercialized little viking market!
Easter is a long holiday here and I spent a week skiing with friends in the mountains as well as a few days with relatives at the cabins by the fjord.
I was recently part of a very musical surprise birthday party for a great doctor friend of mine who has played a lot with me down through the years and who was very instrumental in me kicking my cancer. 130 friends in a grand old hotel ballroom!
Yesterday evening I was a featured guest at Logen Bar in Bergen where the "Mature Gentlemens' Orchestra" does their regular Monday night extravaganza. Incredible musicianship is their trademark and they always have highly talented guest appearances. They were the core studio musicians on the Nowegian album I released last year and once again we tore it up and partied till the wee hours afterwards!
Y'all be good, Erik Moll, MySpace, Hole in the Wall-Norway

PatchWorks Films writes: Greetings!

Following its successful nationwide PBS broadcast last fall, "Speaking in Tongues" is now in its educational distribution phase. We've been delighted with the range of educational institutions that have acquired it, and with the praise they've sent back to us. From parent groups, K-12 schools and public libraries to colleges and universities around the world, we are making a big difference, and that is due in part to your help spreading the word about our film and the important issues it explores. Thank you!

We know there are many more educational institutions that need this film than have purchased it so far. In particular, we're hoping that more school districts and public library systems will acquire "Speaking in Tongues" for teachers, classrooms grade 5 and above, and parents. With language immersion programs ever more popular (and sometimes controversial) we want our film to be available to educators, school administrators, librarians, and parents everywhere.

This is where you come in! If you can, please:

Help connect us with media purchasing decision-makers at school districts and elsewhere, and those that advise and influence them.
Write about "Speaking in Tongues" on blogs, listservs, in newsletters, etc. Suggest it for review in publications you read.
Request that your local K-12 schools acquire "Speaking in Tongues" both to excite students about becoming bilingual and to contribute to the professional development of teachers and administrators.
Request that your local public library acquire "Speaking in Tongues".
Offer your local schools and public libraries a small gift to fund the purchase of a "Speaking in Tongues" professionally-licensed DVD for their collection.
Set up a strategic public screening event in your community or institution.
For more information, please visit www.speakingintonguesfilm.info.
With your help, we can ensure that more children have the option to become bilingual.

Thanks very much for your timely help---school is almost out!

Did Israel use "White Phosphorus" against Gaza? lets ask them..
Israel accused after Palestinian boys burned by mystery canister
Military experts say unidentified devices found in West Bank may have contained outlawed white phosphorus
Conal Urquhart in Buweib, The Guardian, Friday 3 June 2011, Article history, Article Source
Watch Video Below ... or at Source link above:
http://cdn.theguardian.tv/bc/281851582/281851582_973323440001_020611PalestinianBoy-16x9.mp4
The Israeli army has been accused of leaving dangerous munitions near Palestinian homes after two boys were seriously burnt when they picked up a mysterious silver canister which exuded toxic white fumes.
A second canister, discovered nearby less than a week later, was destroyed by the army in a controlled explosion
The army does not deny leaving the devices, but would not identify them and suggested they were left over after training exercises. But the area where they were found does not feature on an army map of designated training areas and the canisters appeared new and unweathered.
Eid Da'ajani, 15, found the canister on 20 February, around 100 metres from his home in the village of Buweib, south of Hebron. The device, around 20cm (7.9 ins) long and 5cm in diameter, was lying in a scrubland where the boys were watching the family's goats.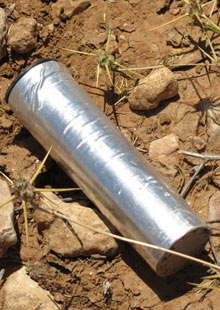 A metal canister found by Mohammed and Eid Da'ajani near their home. Photograph: Conal Urquhart for the Guardian
Eid showed it to his cousin, Mohammed, also 15, who said that it might be a bomb, but Eid picked at the tube's foil-like covering, causing it to emit dense white fumes. The boys ran away but the gas clung to them and burnt their clothes, melting their shoes and burning their skin.
"The moment the smoke came. I dropped it, but the smoke followed us. When we escaped that's when the pain started, " said Eid.
Military experts consulted by the Guardian said the effect of the smoke was similar to that caused by white phosphorous but could not speculate on the nature of the devices from photographs alone.
One suggested that it could be chaff – projectiles fired from an aircraft to decoy enemy missiles – which had not ignited.
The use of white phosphorous in civilian areas is banned by the Geneva conventions yet it is often used by armies for marking and creating smoke screens. Israel used white phosphorous in civilian areas during the Gaza war in 2008-2009 but stopped after international criticism.
Khalid Da'ajani, the boys' grandfather said that 10 people in the area had been killed by discarded army bombs. "We knew it was the army [which left the cannister] but we had never seen anything like this. The burns seemed to spread along their bodies and all we could do was pour water on them which didn't seem to help," he said.
Both boys were taken to the local hospital in Yatta, but when contacted by Eid's father the Israeli army showed little interest until told that there had been an explosion. Soldiers then questioned the boys and doctors eventually gave them an intravenous transfusion which eased their pain. The family's request to receive treatment in an Israeli hospital was denied, but two days later, the boys were taken to hospital in Hebron where a team of visiting Italian doctors spent three hours cleaning their wounds.
The hospital report states that boys suffered first to second degree burns to their faces, hands, ankles and legs due to "the explosion of a foreign body". They were then referred to a burns unit in Nablus, around 60 miles from their home, rather than to an Israeli hospital less than half the distance away.
But last week, Lo'ai, Mohammed's younger brother discovered an identical canister not far from where the first was found.
He ran away and his family contacted the army. After inspecting the device, troops piled rocks and explosives around it before blowing it up.
In a statement, a spokesman for the Israeli army said: "The area under discussion served in the past as a training field and is no longer in use. The young men were treated on site by a military medical team. Because their injuries were light, they did not require evacuation to an Israeli hospital, and they were evacuated by the Red Crescent."
Almost two weeks after the event the boys have stopped vomiting and suffering from headaches. Large parts of their skin remain bleached white and blistered. Both seem to be recovering but still find it hard to walk.
A spokesman for Physicians for Human Rights and Israeli non-governmental organisation said that the incident represented a violation of the Palestinians' right to the health by the Israeli army.
"Leaving bombs unattended on the lands of Palestinians where children and others spend most of their time is a violation of human rights. Worse, is the fact that the army denied these children a better treatment in Israeli hospitals despite the fact that they admitted it was a bomb they had left in the field," the spokesman said.
Physicians for Human Rights have said that they have written to ask the army for answers about the incident and will take legal action with the family if the army does not explain how two of these dangerous devices appeared in village lands that are regularly frequented by children, adults and animals.
Hackers attack another Sony network
LulzSec hackers said elementary attack was to highlight Sony's 'disgraceful' security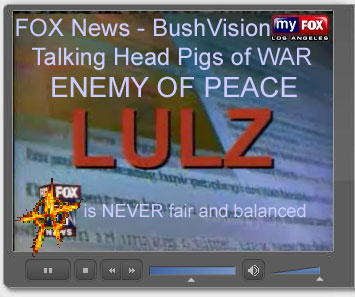 The hackers, who call themselves LulzSec, said they pulled off what they described as an elementary attack to highlight Sony's "disgraceful" security.
"Every bit of data we took wasn't encrypted. Sony stored over 1,000,000 passwords of its customers in plaintext, which means it's just a matter of taking it," LulzSec said in a statement. "They were asking for it."
Complete Article: http://www.guardian.co.uk/technology/2011/jun/03/sony-network-hackers-lulzec
Which One Is A Dick?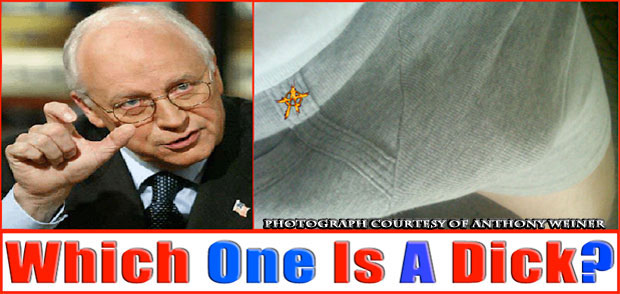 Arctic Monkeys - Suck It and See
Your chance to hear the fourth Arctic Monkeys album in full, a week ahead of release

Arctic Monkeys - Four tracks from Suck It and See (Live)
During a recent interview with the Observer's Barbara Ellen, Arctic Monkeys frontman Alex Turner mused over what it was that made his band so special. It was, he concluded, the fact that "whatever it is that makes us sound like us is built into the four of us. Josh [Homme] said it, too: 'Whatever happens, it will always sound like you guys.'"
Like the best bands, from the Beach Boys to the Smiths, Arctic Monkeys have a signature sound that's instantly recognisable whether they're playing their debut album's sticky dancefloor indie or third album Humbug's beefed-up desert rock. It should be no surprise to hear, then, that Suck It and See is a record that only Arctic Monkeys could have made. But is it any good?
Well, for those who thought the band had lost their way with the experimental Humbug, there are plenty of pop melodies to placate you here (often ones with a 60s feel to them). Opener She's Thunderstorms shows their nifty way of surprising the listener with an off-kilter chord change, while later on Turner can be found doing his best Richard Hawley impression: "She's been loop the looping, around my mi-i-i-i-nd." Elsewhere, Piledriver Waltz's pretty guitar lines dissolve into a chorus about having "breakfast at the heartbreak hotel".
The band are still determined to rock out, though, and their evolution into a beefier proposition hasn't stalled. Brick By Brick, the first track the band previewed from the album, came across as a sluggish, pub-rock affair, but the haywire riffing on Library Pictures unleashes a more agile, unpredictable noise.
We'll have a full review later in the week, but for now let us know what you think of Suck It and See in the comments section below [on linked page - original audio track also on linked page].

Rock and Roll - Lets twist again - Chubby Checker
Let's Twist again
Fifty years ago, a new dance craze swept the world and changed for ever the way people move. Richard Williams, up on his feet when it first hit the dancefloor, celebrates the birth of a revolution.
• Gallery: How to do the Twist
• Gallery: The craze that swept the world
Richard Williams, The Guardian, Saturday 4 June 2011, Article history, Article Source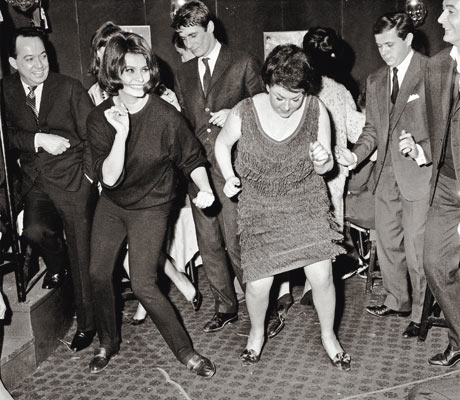 1962, the Italian actress Sophia Loren (left) demonstrating the Twist at the
Saint-Maurice studios with her teacher Regine. Photograph: Getty Images
The finger presses the plastic button. The little black disc drops down and the needle finds the groove. Within seconds the younger set of Mad Men characters, gathered after work in their three-button suits and twinsets to celebrate the acceptance of Peggy Olson's first stab at copywriting by her bosses at Sterling Cooper, are dancing on the floor of PJ Clarke's Third Avenue bar. Each dancer is facing a partner, moving on the spot, without touching. Their arms are going from side to side in time with the rhythm while their knees turn in the opposite direction, a contra-rotational movement involving a demure swivel of the pelvis. Their fresh faces are registering surprise and delight. This is something new. The voice coming from the jukebox is that of Chubby Checker, and the song is the Twist.
It's 1961, and a new era is dawning. On the dancefloor, the Twist – which had enjoyed a brief vogue among America's teens the previous summer – is enjoying a second coming that will sweep the world and change the way people move. No more waltz, quickstep or foxtrot. No more rumba or beguine, cha-cha or tango. No more jitterbug or jive. The Twist is a dance for different times.
The absence of body contact is significant. Rather than going through a set of predetermined steps, you are free to use dancing as a means of self-expression, of doing your own thing, though that phrase will not come into use until the 60s have become fully swinging. It is a narcissistic dance, but it also gives you the chance to watch your partner's moves, and read their intentions. And since you are not physically attached to your partner, there is nothing to stop you drifting away to dance with someone else who has caught your eye (of course, you can also have that humiliation visited upon you, and find yourself dancing alone). Finally, there is no leader: here is the first dance in which the genders are created equal.
Fifty years ago, this felt like a revolution. One evening in the late summer of 1961, I was invited to a teenage party at which a very pretty girl and I were the only ones who knew how to do the Twist. The others gathered round, watching eagerly and then trying for themselves this move that seemed to demolish not just the dance styles but the moral and social structures of the past. Their expressions were those of Mad Men's junior account executives and secretaries. For a while, the Twist was ours and ours alone. But not for long.
No one knows how the Twist began. The word was used in connection with dancing in a number of songs during the first half of the 20th century, but the song itself seems to have been written, in its first form, in 1957 by Brother Joseph Wallace of the Sensational Nightingales, a prominent gospel group. Its profoundly secular nature prevented him performing it himself, but when the Nightingales found themselves sharing a Florida hotel with the popular (and very secular) Hank Ballard and the Midnighters, Wallace offered them his song. Ballard modified the melody and chords to fit the conventional 12-bar blues structure, and the following year, at the Cincinnati studio of King Records, the group committed the result to tape.
King Records' boss was Syd Nathan, an archetypal cigar-chomping philistine who liked the Twist so little that it first saw the light of day, in January 1959, as the B-side of a ballad called Teardrops On Your Letter, which edged its way into the Top 100. As occasionally happened, however, disc jockeys decided they preferred the Twist and played it at teenage functions. It won particular favour in Baltimore, where the audience at a TV show for local teens made up a dance to go with it.
This was quickly spotted by Philadelphia-based disc jockey Dick Clark, who already had a national following for his own TV show, American Bandstand, which was broadcast in an early evening slot on weekdays. Barely into his 30s, the clean-cut Clark was building an empire, and his cultural impact and commercial power were already enormous. As the author of a book called Your Happiest Years, which included chapters entitled "Good Manners are Good Sense" and "Teenagers and Parents Can Be Friends", he had initial reservations about the propriety of the Twist's pelvic movements. But his sharp business instincts had led him to cultivate mutually profitable relationships inside the music business, and he was quick to suggest to his old friend Bernie Lowe, co-owner of Philadelphia's Cameo and Parkway labels, that it would be a good idea to record a cover version of this new song, to feature on his show.
Lowe selected one of his contracted artists, a cheerful, good-looking, puppy-fattish 19-year-old called Ernest Evans whose professional name, Chubby Checker, paid homage to Fats Domino, but whose previous recordings had provoked little response. The job of making the record was given to Dave Appell, a former dance-band guitarist who had become Cameo-Parkway's house arranger. Appell changed the underlying rhythm from the jazzy shuffle of Ballard's original to an even eight-to-the-bar feel derived from Latin music – a pattern that became identified as the Twist beat – and inserted a gritty tenor saxophone solo.
Chubby Checker and the Twist were duly given their first national exposure in August 1960 to the broader audience offered by Clark's Saturday night show, broadcast from New York. The singer gave the audience his famous advice on how to master the dance – "Just pretend you're wiping your bottom with a towel as you get out of the shower, while putting out a cigarette with both feet" – and a month later the record was No 1 in the national charts. By the end of the year, however, it had been forgotten. The Twist already seemed to have gone the way of its predecessors, in double-quick time.
As things turned out, it was only sleeping, and 1961 was destined to be the year of the Twist. At the start of the year Checker had a second No 1 with another dance-craze song, Pony Time, but his next record was a flop. He needed another hit, and in May he was back in Cameo-Parkway's studio to record a song called Let's Twist Again, composed by Dave Appell with Kal Mann, Bernie Lowe's business partner and a former comedy writer. According to Mann, it took all of five minutes to assemble a song clearly designed to do little more than squeeze out the last drop of juice from the original idea. More tuneful than the original, it reached the US Top 10. Elsewhere, meanwhile, events were conspiring to revive what had begun to look like a time-expired fad.
On West 45th Street in midtown Manhattan, a small nightclub called the Peppermint Lounge was setting aside its past as a sleazy leather bar. Owned by the Genovese crime family, and operated by one of its underbosses, Matty "The Horse" Ianniello, as part of a string of strip clubs and gay bars, it had acquired as resident band a young New Jersey group called Joey Dee and the Starliters. They were joined on stage by three teenage girls from Spanish Harlem who had turned up at the club one night in high bouffant hairdos, lavish mascara and matching frocks, with Kleenex stuffed in their bras, and were given a job as the world's first go-go dancers. Later they would become known as the Ronettes, but for now they merely gyrated while the Starliters' high-energy versions of current hits pulled in crowds of young dancers.
Since the club was licensed to hold no more than 178 people, those crowds could never be huge. What counted was not the size but the nature of the audience, for in the late summer of 1961 the Peppermint Lounge enlisted the services of Earl Blackwell, publisher of the Celebrity Register, to arrange visits by a couple of New York columnists: Igor Cassini, who contributed gossip items to the daily Journal-American under the byline "Cholly Knickerbocker", and Eugenia Sheppard, a fashion writer for the Herald Tribune. Both gave prominent mentions to the club, and to the sudden blossoming of the Twist fad, and the warmth of their approval encouraged a flock of celebrities to follow in their footsteps. Before long columnists were recording the presence of Marilyn Monroe, Truman Capote, Greta Garbo, Tennessee Williams, Elsa Maxwell, Noël Coward, Norman Mailer and the offspring of various European royal families. Doormen were being bribed to secure admission for celebrities emerging from Rolls-Royces. As the Cotton Club was to the 20s and Studio 54 would be to the 70s, so the Peppermint Lounge was to its brief era.
Suddenly the Twist was reborn, with a vigour that grew exponentially. Within weeks, Joey Dee and the Starliters were not only topping the charts with Peppermint Twist but entertaining Manhattan's social elite at a charity ball in the Plaza hotel and a party at the Museum of Modern Art. Jackie Kennedy, the epitome of the new carefree spirit of the post-Eisenhower era, did the Twist in a Capri nightspot. Anthropologists and psychologists were asked for their opinions, and the dance made the cover of Time magazine. Checker's The Twist topped the chart for a second time. Arthur Murray, the dance teacher, added it to his curriculum, setting an example followed with some reluctance by Fred Astaire's nationwide chain of academies. Suddenly almost every new record seemed to have Twist in the title, from future classics such as Sam Cooke's Twistin' The Night Away, Gary US Bonds' Twist, Twist Senora and the Isley Brothers' Twist And Shout, to countless examples of exploitative dross. And, inevitably, Hollywood started taking an interest.
Twist Around The Clock was launched on 30 December 1961, with the craze at its height. A barely disguised low-budget rewrite of Rock Around The Clock, it was advertised with the slogan "It's twist-errific!" and featured Checker, Dion DiMucci and the Marcels with such songs as Twist Along, Twistin' USA and The Twist Is Here To Stay. The following day a competing film, Hey, Let's Twist, hit the cinemas, centring on the Peppermint Lounge, with Joey Dee featured as an ambitious young singer and Joe Pesci, a sometime guitarist with the Starliters, making his uncredited screen debut as a dancer in the club scenes (the Ronettes were to have been given roles as the Starliters' girlfriends, until the film's producers clocked their skin pigment). In Britain, where Let's Twist Again reached No 2 in the charts, the film industry followed suit, recruiting Checker to sing something called The Lose Your Inhibitions Twist in Dick Lester's It's Trad, Dad!, which also featured Acker Bilk, Kenny Ball and Chris Barber.
Checker rerecorded Let's Twist Again in German, for an audience also dancing to Der Liszt Twist. In France there was Twist à Saint-Tropez, by Dick Rivers et Les Chats Sauvages, while Johnny Hallyday invited his followers to Viens Danser Le Twist. But by the time the Beatles brought their first album to a climax with their raucous, Hamburg-honed version of Twist And Shout at the beginning of 1963, the whole business had become the inevitable victim of overexposure. To its early adopters, it was history.
The Peppermint Lounge would lose first its celebrity clientele and then its liquor licence, but it could be credited with popularising the idea of the discotheque: a phenomenon that, with or without go-go girls, would be a great deal harder to eradicate than the dance that made its name. What the Twist had done, however, was create a powerful hunger among modernist youth for new dance crazes based on the template of dancing on the spot, with no contact. And so along came the Locomotion, the Fly, the Madison, the Hitch Hike, the Watusi, the Hully Gully, the Frug, the Stroll, the Monkey, the Dog, the Mashed Potato and countless others, including that nameless creation, beloved of mods, in which all movement was reduced to the merest twitch of one knee and a barely perceptible shrug of the shoulders: it was, as New Orleans R&B singer Chris Kenner would proclaim in 1962, the Land Of 1,000 Dances indeed.
And when I watch that Mad Men scene now, there's something in it I recognise from the teenage party of half a century ago: the faces, with their look of joy and discovery. It was only a dance, for heaven's sake, but it opened up a world.

Joey Dee & The Starliters - Peppermint Twist
Assault on U.S.S. Liberty
Covered Up 44 Years, Since June 8, 1967


Republicans and Democrats are Lying Hypocrites
Who Support Selective Terrorism Against U.S. Military


Remember the U.S.S. Liberty
34 U.S. Military Dead [Murdered], 171 Wounded
Cooper: US, Israel shove USS Liberty under rug
Posted: June 5, 2011 - 12:14am
Forty-four years ago this month, scores of American sailors were killed and wounded in an unprovoked attack on their vessel sailing in the eastern Mediterranean Sea.
But unlike a generation earlier, when President Franklin D. Roosevelt denounced the Japanese strike on Pearl Harbor on Dec. 7, 1941 as a "date, which will live in infamy," President Lyndon Johnson was largely silent about the June 8, 1967, attack on the USS Liberty.
Although the United States was the victim of sneak attacks on both days, there was a major difference. The Japanese were expanding the boundaries of their empire throughout Asia and there were indications their forces were going to attack American interests somewhere. But the sneak attack on the USS Liberty was not launched by a hostile power; it was carried out by Israel, the nation that is called America's closest ally in the Middle East and it claimed the lives of 34 U.S. sailors and left another 171 wounded.
The events of June 8, 1967 have never been the subject of a congressional investigation and a series of presidential administrations have continued to cover up the deliberate attack of a U.S. naval vessel operating in international waters. On the fourth day of the Middle East war, the Liberty, a highly sophisticated intelligence-gathering ship, was in international waters off the Gaza Strip. It had been rushed to the region to monitor the communications of Israel and its foes, Egypt, Syria and Jordan.
At the time of the attack, the Liberty was flying the U.S. flag. The day was sunny and clear, with unlimited visibility, and the ship had been seen by Israeli reconnaissance aircraft.
Then, Israeli fighter planes suddenly attacked the ship. The Liberty radioed for help and two U.S. aircraft carriers in the Mediterranean responded by launching fighters. But before U.S. warplanes could reach the area, they were recalled on orders from the White House.
Rear Adm. Lawrence Geis, then commanding the Sixth Fleet's carriers, called Washington for confirmation and was told by Defense Secretary Robert S. McNamara to recall the planes. President Johnson came on the line and said the planes were to be recalled because he would not have an ally embarrassed. Judging by his response, President Johnson wasn't as concerned that the ally killed and wounded U.S. sailors.
After their attacks, the Israeli aircraft left and Israeli torpedo boats came in to mop up, firing five torpedoes at the Liberty and racking the burning vessel with 20mm and 40mm shells. Israeli gunboats also circled the Liberty, firing at crewmen who were fighting the fires and at U.S. sailors who were trying to abandon ship.
Johnson later appeared on U.S. television and said 10 sailors were killed in an accidental attack. Members of the Liberty crew were ordered to remain silent about the events. The Israeli government would say the attack was a case of misidentification and that the Liberty wasn't flying the U.S. flag.
The Israelis stated it was thought the Liberty was an Egyptian ship El Qusier, although the Egyptian vessel was only about one-fourth the size of the Liberty. Years later, the Israeli government would reluctantly pay a pittance to the families of the dead sailors.
But the U.S. government has allowed the coverup of Israeli actions to be perpetuated. For 40 years, the U.S. government has remained silent about what took place on June 8, 1967, and the facts that have slowly trickled out have been despite our government, not because of it.
All of the facts about the attack on the USS Liberty need to be aired in public before a congressional panel. It is astounding that Congress has found time to conduct hearings into just about everything under the sun but our elected representatives have not been able to delve into the sneak attack on a U.S. naval vessel.
It is time for the voices of the Liberty's dead to be heard.
Don Cooper is a retired journalist and author. He lives near Shamrock.
Letter: Lest we forget
June 8 is the 44th anniversary of the attack on the USS Liberty during the 1967 Six-Day War. With bombs, napalm and torpedoes, 34 Americans were killed, 171 wounded and the lightly armed ship was damaged beyond repair.
The president of the U.S. forbade pursuit of the attackers. The survivors were prohibited from telling their stories then and have been able to talk about them only recently.
While the attackers gave only lame excuses, later Adm. Thomas Moorer, of the Joint Chiefs of Staff, charged that the attack "could not possibly have been a case of mistaken identity." To my knowledge, no apologies have been made.
Has any other nation, at any time in our history, attacked a U.S. Navy ship without suffering dire consequences? But since this was perpetrated by "our only ally in the Middle East," we are expected to overlook and forget Israel's deadly attack on the USS Liberty.
Wilbur Wood, Vancouver
The truth about the USS Liberty's location
By HILL KAPLAN - Special to The Telegraph
Robert Nowak in his May 29 letter about the USS Liberty, believes the ship was where it was supposed to be when attacked by Israel. James Ennes, author of "The USS Liberty," and a survivor of the attack, tells us that: The CIA reported that Israel would sink the Liberty (a communications spy ship) if it came near the war zone. American military leaders took the warning very seriously and immediately issued an order for the Liberty to move at least 100 miles from the embattled areas. The entire worldwide military communication system failed. The military communications fiasco that followed was described by a House Armed Services Investigating Subcommittee as "one of the most incredible failures of communications in the history of the Department of Defense."
As far as the USS Liberty was concerned, the entire worldwide military communication system, indeed the entire United States military command and control apparatus, failed. Because an American naval vessel was being threatened, officers in the Joint Chiefs of Staff War Room at the Pentagon did not rely exclusively upon the then-antiquated military communication system. Too much was at risk. Military communications in 1967 depended upon a worldwide series of manual relay stations. Every message was received as a ribbon of punched paper tape, typically from five to 20 feet long. Young operators, often with minimal training, were expected to "read" the punched tape, make duplicate copies when necessary, and insert the tape in the proper machine for transmission to the next relay point. The problem was that the system, designed for World War II, could not handle communications in the 1960s. In times of crisis, backlogged message tapes often covered the floor up to the operator's knees.
Instead of trusting the message system, a Maj. Breedlove in the Pentagon's Joint Reconnaissance Center placed a trans-Atlantic telephone call to U.S. Navy headquarters in London relaying the order from the Joint Chiefs of Staff to move the USS Liberty far away from the Israeli-Egyptian coast.
Because the order came by telephone and because it was not telephoned personally by a senior officer, the London headquarters chose to await a confirming message before taking action. The confirming message, unfortunately, went astray in the communications morass.The message to relocate went was sent, not to London, but to the Philippine Islands. Twice. Follow-up messages were lost. Still other messages were delayed by "more important" messages -- particularly by a lengthy transcript of a news conference given by Defense Secretary Robert McNamara.
It seems to me that the U.S. military did not want to expose the weaknesses of its communication system. They accepted Israel's apology based on the claim of mistaken identity.
Hill Kaplan is a resident of Macon.
Is Israel Really A Staunch Ally?
Allan Jefferys is a fine writer and I enjoy his columns. However, I disagree with his definition of Israel as "one of our staunchest allies." It is the other way around. The United States continues to offer unconditional support to Israel, including:
— An unaccountable $4.3 billion in annual aid ($500 for each Israeli, every year).
— Exclusive, up-front total aid payments within the first 30 days, instead of four quarterly payments, costing U.S. taxpayers an additional $60 million annually.
— Loan guarantees enabling Israel to borrow from commercial banks at lower rates (costing U.S. taxpayers hundreds of millions of dollars covering these guarantees).
— Guaranteeing Israel's oil needs by maintaining a "Supplementary Strategic Reserve" in America.
— Military aid enabling Israel to purchase the widest array of weaponry at lower prices, with delivery priority; participation in joint research and funding Israel's independent weapons research.
— Backing Israel diplomatically. (The U.S. has vetoed 42 United Nations security resolutions, to date, that were critical of Israel.)
And how has "our staunchest ally" responded to our unequivocal support?
— Israel refuses to sign the Nuclear and WMD Non-Proliferation Treaty.
— Israel continues to act against U.S./Middle East diplomatic interests.
— Israel sells U.S. military technologies to our potential enemies (e.g., China).
— Israel conducts espionage operations against the United States on U.S. soil.
— And, lest we forget, Israel's unprovoked June 8, 1967, attack, in neutral waters, on the USS Liberty by Israeli aircraft and torpedo boats, killing 34 U.S. sailors and extensively damaging our flag-flying ship.
With "staunch allies" like this, who needs enemies?
Barry Tompkins, Whispering Pines
Forty-Four Years Later, Liberty Attack Provokes Passions
Written by Arieh O'Sullivan - Published Monday, June 06, 2011
Some alleged Israeli attack on U.S. Navy vessel was no accident
The Six Day War in 1967 saw Israel vanquish its Arab enemies in a stunning defeat on land, sea and in the air. There is one event, however, that remains a blemish in Israel's victory – the attack on the U.S. Navy ship Liberty on June 8.
Israeli warplanes and navy ships strafed and torpedoed the USS Liberty, an American spy ship sailing off the Israeli shores in the Mediterranean Sea, on the fourth day of the war. Thirty-four crew were killed and 170 wounded in the attack. An official U.S. and Israeli investigation determined that the attack was an accident. Israel apologized and paid compensation to the families of the victims.
But even now, 44 years later, the attack remains the subject of theories purporting intrigue, conspiracies and cover-ups by those who believe the truth as yet to be told.
"The evidence is overwhelming that it was a tragic case of mistaken identity," Judge A. Jay Cristol, a former U.S. aviator, federal courts judge and author of The Liberty Incident, told The Media Line.
Interviewed on the eve of the publication of a revised edition of his 2002 book, Cristol asserts that newly declassified transcripts and histories prove equivocally that Israel thought it was attacking an Egyptian military supply ship when it ordered its jets and torpedo boats to attack.
The Miami judge has spent over two decades investigating the case. He has tracked down nearly every figure involved in it and fought court battles to win the release of secret tapes of the attack made by the U.S. National Security Agency (NSA).
"The bottom line of the book confirms what [U.S. President Lyndon] Johnson discovered, what the president's foreign advisory board concluded, the CIA, the National Security Agency, the State Department, the U.S. Navy's court of inquiry, and several congressional inquires all concluded," Cristol says.. "It was a tragic mistake."
But some survivors insist that there never was an official U.S. government investigation into the attack.
"I have contacted the historians of both the U.S. House of Representatives and the U.S. Senate. Both told me that they cannot find any reference in the documents available to them of any congressional investigation of the attack on our ship," says Joe Meadors, president of the Liberty Veterans Association, told The Media Line.
Meadors, who served on the ship at the time of the attack, says he remains "puzzled" by the repeated claims that the U.S. government had conducted an investigation of the attack "given how easy it is to refute by contacting the U.S. government."
Cristol's book, however, lists five congressional investigations since 1967. Asked what he suggested was left to uncover, Cristol says he can't imagine anything.
"I don't' think there is anything left to be investigated. It's all out there. I think the dissemination of the facts is of some value," he says. "Even Liberty crew members who read my book or became aware of the facts agreed that it was a tragic case of mistaken identity, while other Liberty crew members who have been more or less captured by the anti-Israel side of the issue have called their fellow crew members 'traitors,' which I think is very sad."
One of the most telling, and chilling, parts of the book is a transcript of the Israeli Air Force audiotapes of the radio transmissions made before, during and after the attack. This reporter also heard the tapes of the attack. There are a number of dramatic moments, including jockey calls by a pilot that it would be a "mitzvah" to sink the ship before the Navy arrived and another says it was "easier than MiGs," a reference to the main type of fighter jet used by the Egyptian Air Force at the time.
The pilots speak only before and after they act. There are full minutes of almost total silence as they stage the attack and racking up casualties.
The pilots of the four jets that attacked the Liberty remained anonymous for decades. One died in 1979 in an aviation accident, and in 2003, one of them agreed to give this reporter an exclusive interview of his impressions from that fateful day.
He is Yitfach Spector, a famous Israeli pilot who went on to become a triple ace, shooting down 15 enemy aircraft, and taking part in the infamous 1981 raid on the Iraqi nuclear reactor. He was finally dismissed from the Air Force in 2003 for signing a letter with other pilots protesting the policy of targeted killings of Palestinian terrorists.
Brig.-Gen. (ret.) Spector says in that interview that the Americans aboard the Liberty were "lucky" he wasn't carrying any iron bombs otherwise he would have sunk the ship.
"There was a mistake. Mistakes happen. As far as I know, the mistake was of the USS Liberty being there in the first place," says Spector, who at the time was deputy squadron commander of the 101st and used the code name "Kursa" during the attack.
"I was told on the radio that it was an Egyptian ship off the Gaza coast. Hit it. The luck of the ship was that I was armed only with light ammunition against aircraft. If I had had a bomb it would be sitting on the bottom today like the Titanic. I promise you," Spector says.
Cristol and Spector remain baffled about the persistence of the conspiracy theories that assert that Israel deliberately attacked the ship. Some theories suggest Israel hit the ship because it picked up communications that Israel was about to invade Syria, or was massacred prisoners of war. Cristol suggests it had to do with anti-Israel sentiments.
"There are people who are anti-Israel or who are on the other side of the Arab-Israeli conflict and because the United States-Israel relationship is so strong and so good they find very few ways to attack it. This is one of the focal points on which they like to aim when they are attempting to attack and destroy that relationship," Cristol says.
Cristol balks at speculation that perhaps the Israeli Air Force had let him listen to tapes that had been tampered with to cut out embarrassing or incriminating transmissions. He says the tapes jive too perfectly with the NSA recordings to be fake.
"It would have been rather difficult for the Israelis, not even knowing of the existence of these tapes, to have created these transmissions that they recorded that coincided with the transmissions which were on the U.S. tapes. It's pretty clear that the tapes are authentic," Cristol told The Media Line.
"When I started I was naive. I thought merely collecting the information and the data and putting it in one place and publishing it would resolve the problem. But I am sad to say that the anti-Israel people and the conspiracy people are not interested in the facts. They are only interested in attacking Israel. They're not concerned with truth and they don't hesitate to tell lies and make false statements for the purpose of achieving their goal which is attacking the U.S.-Israel relationship," Cristol says.
"I don't know if it will ever go away," he says.
Despite various inquiries one question has remained paramount on the minds of Joe Meadors and his fellow survivors: why were we ordered to be abandoned while still under attack and calling for help? Asked why he thought the Israelis would attack the Liberty, Meadors says: "I don't know and really don't care."
Flashback March 2010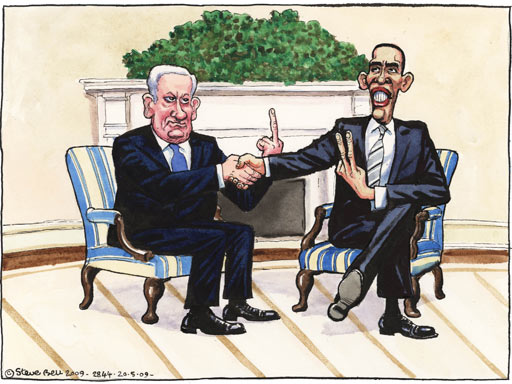 Obama and Netanyahu: up close and personal - Steve Bell
Zionists sank the U.S.S. Liberty. Sharon & Netanyahu are Zionists.
"Every time we do something you tell me America will do this and will do that . . . I want to tell you something very clear: Don't worry about American pressure on Israel. We, the Jewish people, control America, and the Americans know it."- 3 October 2001 - Israel Prime Minister, Ariel Sharon, Less than a month after 9/11
Even today I am willing to volunteer to do the dirty work for Israel, to kill as many Arabs as necessary, to deport them, to expel and burn them, to have everyone hate us, to pull the rug from underneath the feet of the Diaspora Jews, so that they will be forced to run to us crying. Even if it means blowing up one or two synagogues here and there [? 9/11 ?], I don't care. And I don't mind if after the job is done you put me in front of a Nuremberg Trial and then jail me for life. Hang me if you want, as a war criminal… What you lot don't understand is that the dirty work of Zionism is not finished yet, far from it. - Ariel Sharon 1982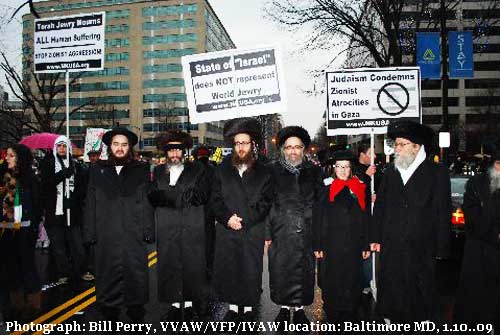 Photograph: Bill Perry, VVAW/VFP/IVAW location: Baltimore MD, 1.10.09
Peace Can Be Universal!
U.S.S. Liberty Cover-up on Google News

George Carlin - The Owners of America


Nobody Brought Peace To Our Times
"None of the Above" Should Be On Voter Ballots
iTunes store account hacked = The Word Is CRACKED Not "hacked"
California pipeline that blew had prior leak
By GARANCE BURKE, Associated Press via Yahoo - Wed Jun 8, 5:56 pm ET,
SAN BRUNO, Calif. – Nearly nine months after federal investigators began probing a deadly pipeline explosion near San Francisco, a California utility quietly revealed its ruptured line had sprung a leak in a spot a few miles away years before, a top safety official said Wednesday.
National Transportation Safety Board Chair Deborah Hersman called Pacific Gas & Electric Co.'s recent disclosure of the 1988 gas leak "troubling" before she announced three new safety recommendations at a news conference in San Bruno.
"If it took them months to realize they had a leak on the same line just nine miles south of the rupture site and only now we're hearing about it, that's very troubling," Hersman said. "They clearly weren't contemplating this information when they were assessing the risk on this line."
PG&E spokesman Brian Swanson said staff members recently found the documents revealing the prior gas leak and immediately notified federal investigators.
"We provided all the available documents we had to them, and we are still investigating and researching our records," Swanson said. "We've acknowledged several times since the tragedy that our operations and record-keeping practices aren't where they should be."
Learning about past problems so long after the investigation began hampers federal investigators' ability to quickly determine what caused the fatal blast last year, Hersman said.
She added that although the company replaced the portion of the pipe that was leaking, the recent disclosure shows that PG&E's record-keeping is inadequate.
U.S. Rep. Jackie Speier, D-San Mateo, said at the news conference that the recent revelation of the earlier leak raises new concerns about PG&E's records.
"I'm very dismayed to find that at this late date, PG&E is providing NTSB with what is critical information," she said. "There is a part of me that feels that this area that had the leak should be excavated."
The NTSB is still probing what caused the Sept. 9 blast that sparked a gigantic fireball that engulfed a San Bruno neighborhood and killed eight people, injured dozens and laid waste to 38 homes.
Hersman said one of the recommendations will press the company to set up new procedures so emergency responders are immediately and directly notified when a possible pipeline rupture occurs.
She also planned to ask the Pipeline and Hazardous Materials Safety Administration, which enforces federal rules for the safe operation of interstate pipelines, to urge pipeline operators nationwide to improve their emergency communications plans and share more information about their systems with first responders in local communities.
Hersman on Wednesday toured the neighborhood torched in the blast and met with families who lost relatives, along with local officials and PG&E executives.
TIME FOR A CORPORATE DEATH PENALTY!
In the wake of the accident, the California Public Utilities Commission directed all utilities in the state to pressure test any transmission lines for which they lack records to ensure they are running at safe levels.
PG&E is also under orders to review its records for weld defects on any its lines, and utility officials recently told state regulators they need another year and a half to provide the commission with all the documents.
The small methane leak detected in 1988 was the result of a defect in a double-seamed weld running lengthwise down the transmission pipeline, Swanson said Wednesday.
NTSB investigators also found weld defects in the section of the high-pressure transmission line nine miles north that blew up in September.
Swanson said he did not know whether the company ever reported the 1988 leak to the state utilities commission, and commission spokeswoman Terrie Prosper did not clarify whether the utility was required to do so.
Thanks to CPUC Executive WHORES,
PG&E Executive PIMPS Are Breaking Law & Getting Away With Murder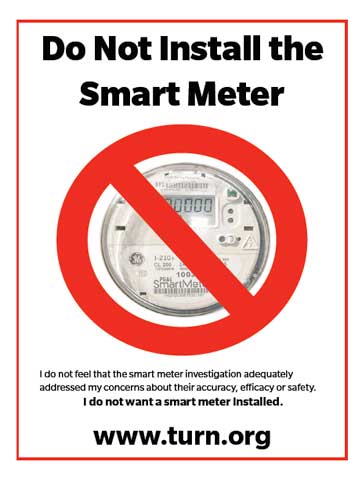 Click to Download a Do Not Install the Smart Meter sign - www.turn.org
TIME FOR A CORPORATE DEATH PENALTY!
Class-action lawsuit ties VA to plight of homeless veterans
By Steve Vogel, Published: June 8 - Article Source - via Joe
The alleged failure of the Department of Veterans Affairs to provide stable housing to veterans suffering from severe cases of post-traumatic stress disorder or other mental disorders leaves many of them facing homelessness, according to a class-action lawsuit filed Wednesday in U.S. District Court in California.
The lawsuit asks a federal judge to order the VA to use empty buildings on its sprawling West Los Angeles Medical Center campus to provide permanent supportive housing for a class of veterans who suffer from conditions that the plaintiffs argue require a stable home environment for successful treatment.
Attorneys for the plaintiffs, who include several Los Angeles-area homeless veterans and the group Vietnam Veterans of America, said the case, if successful, could have broad implications for veterans' care nationwide.
"This case could be brought anywhere in the country there's a homeless vet," said Mark D. Rosenbaum, an attorney with the American Civil Liberties Union Foundation of Southern California. "There should be no such thing as a homeless veteran in America."
The number of veterans estimated to be homeless on any given night has been reduced from 131,000 two years ago to 76,500, according to VA Secretary Eric K. Shinseki.
Addressing the National Coalition for Homeless Veterans on Monday, Shinseki reiterated a pledge made in 2009 of "ending the shame of veterans' homelessness." The 2012 budget proposal includes $939 million to prevent and reduce homelessness among veterans, an increase of 17.5 percent, or $140 million, from 2011.
"We intend to take this below 60,000 by June of 2012 and end veteran homelessness by 2015," VA spokesman Josh Taylor said. The department announced an initiative Wednesday to increase the number of transitional beds available to homeless veterans from 15,000 to 20,000.
According to the ACLU lawsuit, between 44,000 and 66,000 veterans are believed to be chronically homeless, meaning they have been without shelter for more than a year or on multiple occasions in recent years. Veterans are about 50 percent more likely to become homeless compared with all Americans, according to a 2009 report on homelessness by the VA and the Department of Housing and Urban Development.
Citing research in the field, the suit argues that the only way veterans suffering from severe cases of PTSD, brain trauma and other disorders can be effectively treated is when they live in permanent housing that allows access to appropriate services and support.
"Homelessness itself exposes veterans to further trauma that itself can both cause and aggravate PTSD and other disorders," the complaint states.
In a 2009 report to Congress, the VA acknowledged that "for the large percentage of veterans with disabilities, permanent supportive housing would be effective in helping them achieve long-term stability."
About 8 percent of the nation's homeless veterans live in the greater Los Angeles area, according to the suit. The 387-acre West Los Angeles Medical Center campus, five miles from the Pacific Ocean, includes many buildings that are vacant, closed or underused.
The land was given to the federal government in 1888 for the purpose of establishing and permanently maintaining a soldier's home for disabled war veterans. But after the Vietnam War, long-term housing facilities on the campus were closed, and nearly a third of the campus has been leased to private companies, according to the suit.
"If this campus can house rent-a-cars, it can house homeless vets," Rosenbaum said. Among the plaintiffs in the suit is Carolina Winston Barrie, a descendant of Arcadia B. de Baker, who was one of the land donors.
The VA provides no permanent housing to disabled veterans in Los Angeles with the exception of geriatric nursing beds, according to the suit.
The lead plaintiff in the case, Greg Valentini, served with the 101st Airborne Division on the assault on Tora Bora in Afghanistan in 2001 and the invasion of Iraq in 2003. After his discharge, he began experiencing symptoms later diagnosed as severe PTSD, including graphic nightmares, an inability to concentrate and suicidal thoughts.
He was briefly housed in a short-term treatment program. He has since slept on streets and in a tent near an airport and eaten out of garbage cans. "He has now been sporadically homeless for several years and requires a safe, secure, and stable residence in order to meaningfully access necessary treatment for his mental disabilities," the suit states.
The suit cites studies concluding that veterans of Iraq and Afghanistan are at higher risk of homelessness induced by mental illnesses than those from earlier conflicts. Reasons include the length and number of deployments on which service members are sent, as well as the nature of the conflict, with exposure to roadside bombs and other explosions that could cause traumatic brain injury.
More than 14,400 veterans of Iraq and Afghanistan have been identified by the VA as being homeless at some point in the past three years, with the number expected to grow as more service members leave the military.
Pharmageddon: how America got hooked on killer prescription drugs
White House declares prescription drug abuse in US 'alarming' as thousands flock to Florida – the home of oxycodone pill mills
Ed Pilkington in Palm Beach, guardian.co.uk, Thursday 9 June 2011 20.03 BST, Article history, Article Source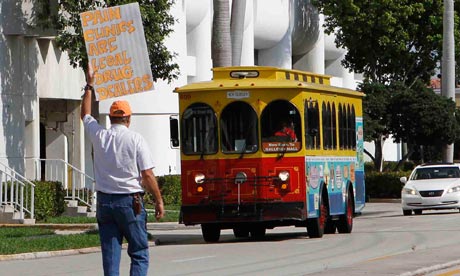 A man protests against pill mills in Fort Lauderdale. 98% of doctors who
prescribe oxycodone work in Florida, and Americans travel far to get the
drug – many arriving on the 'Oxycodone Express'. Photo: Alan Diaz/AP
The Kentucky number plate on Chad's pick-up truck, parked round the back of a doctor's clinic in Palm Beach, Florida, reveals that he has just driven a thousand miles, 16 hours overnight, to be here – and he's not come for the surfing.
"It's my back," he says, rubbing his lower vertebrae. "I'm a builder. I fell off the roof and hurt my back."
That's odd, as we have just watched him run out of the clinic and over to his truck without so much as a limp. He's clutching a prescription for 180 30mg doses of the painkiller oxycodone.
Chad is one of thousands of "pillbillies" who descend on Florida every year from across the south and east coasts of America. Some come in trucks bearing telltale number plates from Kentucky, Georgia, Tennessee, even far-away Ohio. Others come by the busload on the apocryphally named Oxycodone Express.
It's a lucrative trade. Chad tells us he has just paid $275 (£168) to the doctor inside the clinic, or pill mill, as it is pejoratively called. The doctor, who can see up to 100 people in a sitting, can make more than $25,000 in a day, cash in hand.
For Chad the profits are handsome too. He will spend $720 at a pharmacy on his 180 pills, giving him a total outlay of about $1,000. Back in Kentucky he can sell each pill for $30, giving them a street value of $5,400 and Chad a clear profit of more than $4,000. If he goes to 10 pill mills in Palm Beach on this one trip he could multiply that windfall tenfold. But then there's the other cost of the oxycodone trade, a cost that is less often talked about, certainly not by Chad or his accommodating doctor.
Every day in Florida seven people die having overdosed on prescription drugs – 2,531 died in 2009 alone. That statistic is replicated across the US, where almost 30,000 people died last year from abusing pharmaceutical pills.
It's an American catastrophe that has been dubbed pharmageddon, though it rarely pierces the public consciousness. Occasionally a celebrity overdose will attract attention – Anna Nicole Smith, Heath Ledger, Michael Jackson – but they are specks in a growing mountain of human mortality.
The White House last month said the abuse of prescription drugs had become the US's fastest-growing drug problem.
Declaring the trend an "alarming public health crisis", it pointed out that people were dying unintentionally from painkiller overdoses at rates that exceeded the crack cocaine epidemic of the 1980s and the black tar heroin epidemic of the 1970s combined.
At the heart of the disaster is the powerfully addictive painkiller oxycodone, which comes in various brands – OxyContin, Roxicodone and Percocet. It is a legitimate therapy for those in great pain but has spawned a generation of addicts and, in turn, attracted crooked doctors who massively expanded the prescription of the drugs in up to 200 pill mills, most in southern Florida.
The epidemic has affected people of all ages but is becoming more prominent among teenagers and young adults.
Ric Bradsaw, the sheriff in Palm Beach, said: "There's a culture that's taking hold among teenagers that because a doctor prescribes these pills they can't be bad. Kids don't have the fear of pharmaceuticals that they do of illegal drugs."
Eleanor Hernandez was introduced to "oxies" when she was 14. "I had no idea it was dangerous at all. Other people were taking it for pain, so why would I worry about it?"
Her mother had just died and Hernandez found that she felt care-free when she took a pill. "It took the pain away, of my mother's death, and physically too. It numbed you, made you feel like you were in a bubble."
By 15 Hernandez was selling oxycodone from the park across the street, making money to pay for her own habit. It was a downward spiral. She was in and out of rehabilitation clinics, in and out of custody. Then she overdosed twice and was resuscitated both times in hospital.
But Hernandez was one of the lucky ones. Now 20, she works in a treatment centre helping 14 to 17-year-olds beat addiction. "To this day I thank God that I found help because if I hadn't I probably wouldn't be here."
Rich Perry did not find help. He died aged 21 from a cocktail of oxycodone and other prescription and illegal drugs. He began taking prescription pills three years previously, in his last year at high school. He confided in his mother, Karen, that he had a drug problem and went into rehab.
He was clean for a year, but then, without his parents realising, he relapsed, obtaining oxycodone from three separate doctors. He overdosed once but carried on using the drug. The first Karen knew that her son had gone back to the pills was when two officers knocked at her door at 2am to tell her he was dead.
Now, like Hernandez, Perry seeks solace by helping others to avoid her son's fate. She runs the Florida group Narcotics Overdose Prevention and Education – Nope. Together with the American Society of Interventional Pain Physicians it is battling to persuade the state to introduce a monitoring database that would allow police and medical authorities to identify where the oxycodone is coming from, and in turn identify and shut down the pill mills. Though Florida is the epicentre of the oxycodone epidemic, with 98% of all the nation's doctors who handle the drug located here, astonishingly the state has no comprehensive database recording prescription histories.
Even more astonishingly its recently elected governor, the Tea Party favourite Rick Scott, has blocked the introduction of a database on grounds of cost.
That makes Perry see red. "Cost! For heaven's sake! What is the cost of a human life?"
The police are even more baffled. They point out that Florida's lack of regulation has allowed the pill mills to flourish.
Eric Coleman, a narcotics detective in Palm Beach, said the true cost of Florida's oxycodone disaster would surpass that of the database many times over if all costs related to the crisis – state subsidies for prescriptions, policing and incarceration of addicts, hospital visits for those who overdose, autopsies and paupers' burials for the dead – were added up.
The Palm Beach police force has many of the pill mills under surveillance and is steadily shutting them down. Over the past year 33 healthcare professionals have been arrested in Palm Beach alone and several have had their medical licences revoked.
Yet the police know that until a proper monitoring system is in place, the clampdown they are carrying out will only displace the problem. Pill mills are popping up in other parts of Florida, around Tampa and Orlando, as pill mill doctors move to new pastures.
"This crisis is going to get worse before it gets better," Coleman says. "It's heartbreaking to watch all the families ripped apart, the young lives ended, the damage these doctors – that honourable, esteemed profession that we trust to look after us – are leaving behind."
Related: Stoned Out of Their Minds
Apple Accused of Ripping Off Developer's Rejected Wi-Fi Sync App
Apple's iOS 5 includes a feature that is almost identical to an app a developer submitted in May 2010
Mark Kurlyandchik - June 10, 2011 8:44 AM - Article Source
It's no secret that Apple has been militant in suing competitors that employ technologies even remotely close to Apple's own [see: Samsung, Motorola, HTC]. But when it comes to stealing ideas for apps from developers, Apple's intentions are a bit more dubious.
The Register reports that Apple is being accused of stealing the idea of one UK-based college student and developer — Greg Hughes. In May 2010, Hughes submitted an app for consideration called Wi-Fi Sync, which allowed users to sync their iTunes libraries wirelessly.
Rather than receive the standard rejection email, Hughes reportedly got a call from an iPhone developer relations representative letting him know that his app was "admirable," but that some unspecified security concerns prevented it from being accepted. "They did say that the iPhone engineering team had looked at it and were impressed," Hughes told The Register. "They asked for my CV as well."
But rather than back down, Hughes simply submitted the app to the Cydia store, where it's sold more than 50,000 copies in a little more than a year. At $9.99 a pop, it's fair to say that Hughes made out quite nicely from his decision, though he declined to say how much he profited.
That didn't pad the surprise that Hughes received earlier in the week, when Apple unveiled a number of key features for its upcoming iOS 5. One key feature, aptly named Wi-Fi Sync, does exactly what Hughes' rejected version did. Furthermore, Apple's icon for the app bears a striking resemblance to Hughes original design (see photo).
"Obviously I was fairly shocked," Hughes told The Register. "I'd been selling my app with that name and icon for at least a year. Apple knew that, as I'd submitted it to them, so it was surprising to see that."
The Unofficial Apple Weblog has a list of other jailbreak developers that have been subject to similar "borrowing" by Apple.

2CELLOS (Sulic & Hauser) - Welcome To The Jungle

2CELLOS (Sulic & Hauser) - Smooth Criminal
Danger: hackers at work
Google, Sony, CitiBank and even the CIA …they've all been victims of increasingly audacious cyber attacks. So is it coincidence or part of a wider campaign?
Patrick Kingsley, guardian.co.uk, Thursday 16 June 2011 20.30 BST, Article history, Article Source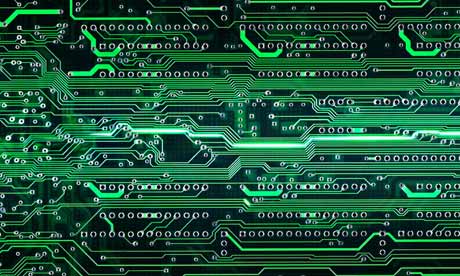 Hackers are using increasingly sophisticated means to access data, but for what ends?
Photograph: Roz Woodward/Getty Images
In late May, the US media group PBS ran a strange story on its website. "Prominent rapper Tupac has been found alive and well in a small resort in New Zealand," it reported. "The small town – unnamed due to security risks – allegedly housed Tupac and Biggie Smalls (another rapper) for several years."
For two reasons, this was a surprising piece of journalism. First, Tupac died in 1996. Second, the piece wasn't written by PBS. It had been planted on their site by a group called Lulz Security, a loose collective of anonymous hackers who wanted revenge for a recent PBS programme that criticised WikiLeaks. "Greetings, Internets," Lulz wrote on their own website, by way of explanation. "We just finished watching WikiSecrets and were less than impressed. We decided to sail our Lulz Boat over to the PBS servers for further . . . perusing." Above the message read the tagline: "Set sail for fail!"
It was an extraordinary episode, but by no means isolated. In March, hackers stole a database of email addresses from the marketing group Epsilon, in what one commentator called the largest email address heist in history. Then computer security firm RSA had their servers breached, an attack that may have led to the hacking of defence giant Lockheed Martin, an RSA client. In April, person unknown cracked Sony's PlayStation network, and stole 77 million users' data. And in the past month, the IMF, CitiBank, the Spanish police, Google, the Turkish and Malaysian governments, the US Senate, and, just two nights ago, the CIA have all been hacked in one form or other.
It is tempting to consider this a kind of hackers' high noon. But, says Richard Clayton, a prominent computer scientist at Cambridge University, conflating these different attacks is a "bit like treating knife crime as the same as burglary". In simple terms, there are three kinds of attack taking place. Hacktivism is the most prominent: raids by amateur groups such as Lulz (who took down sites belonging to the CIA, the Senate, and the Spanish police) or Anonymous (PayPal, PlayStation, MasterCard, and Visa), either for fun, "for the lulz" – or, increasingly, as an act of political protest. Then there's the criminal kind – professionals hunting for credit card details, or email address directories, with the aim of selling them on for profit. While the PlayStation systems were first hacked by hactivists, a second breach was made by cyber criminals who had more commercial ends. And finally, there's state-sponsored espionage, or even cyber-warfare. "Google, RSA, Lockheed Martin, IMF – the strong suspicion is that all those were state-sponsored, or state-approved," says Dave Clemente, a cyber security expert at Chatham House, the international affairs thinktank. "Whether it's Chinese, or Russian, or eastern European, a lot of these hacks seem to have been given a wink and a nod of tacit approval from states."
Are all three categories really on the rise? Well, possibly. "It's difficult to substantiate whether there's more going on or not," says Rik Ferguson, director of security research at computer protection firm, TrendMicro. "What's certainly true to say is that more attacks are being publicly disclosed. Victims are more willing to come forward and say 'something bad happened to us'." Disclosure laws obliging companies to come clean about data breaches have been in place in many parts of the US for several years. But the real turning point, says Ferguson, came only a year ago, when Google went public with the news that it had been hacked by Chinese sources. "That got the ball rolling," says Clemente. "It suddenly seemed more permissible to report a hack. Getting hacked doesn't seem to have the stigma that it did several years ago, and there's not a feeling now that you're on your own if you get hit."
But even if increased openness is in part to thank for the apparent hike in hacking, there has still been an exponential rise in the number of cyber threats. In 2008, security giant Symantec counted 120m malware variants; last year, that figure had risen to 286m. Symantec security strategist Sian John has also noted a large increase in what are known as "targeted attacks". A decade ago, a hacker would usually have intended a single virus to reach millions of people. Today, the average number of computers infected by an individual malware is just 15, and that is because hackers are using a new tackle called spear-phishing, which enables them to be more specific about who they target. "In the past, if you got a phish attack, it would be from a Nigerian offering you lots of money," says John. "Now it'll be from someone saying: 'Oh, we saw you at that conference last week. Here's some minutes of that conference.'" And contained within those minutes will be a virus.
This kind of targeted attack – known as spear-phishing – has become so dangerous because of the amount of information we divulge on the internet. "One of the first places a hacker will visit is LinkedIn," says Ferguson. "What do we do on there? We make our entire CV available for the world to see. You can see everywhere I've worked in the past. You can see all my connections, see everyone I've worked with, everyone I know. So a hacker can assume one of those people's identities and reference things that have happened in my professional life. And I'm far more likely to open an attachment from your email, because it's far more credible." Unsurprisingly, then, Ferguson's job involves not just infiltrating black-hat hacking communities online, but training office workers to be more aware of social engineering ruses such as these. (Security experts have also been known to test a company's defences by leaving infected USB sticks lying around and seeing whether anyone picks them up out of curiosity. In 2008, US military computers were breached in this way, according to rumour, after hackers scattered USBs across a car park at a US base in the Middle East.)
Targeted attacks are also popular because they enable cyber-criminals to go after individuals with access to large banks of information. "Criminals," says Ferguson, "have realised they can get more bang for their buck if they can penetrate a large aggregation of data in one single successful attack, rather than trying to compromise multiple individual PCs." Hence the hacking of Epsilon, which at a single stroke may have given hackers access to millions of email addresses.
The most audacious example of a targeted attack is thought to be an act of espionage rather than criminal activity. Last year's Stuxnet worm supposedly worked its way through the Iranian military computer system with a single goal: to damage the centrifuges that controlled the country's uranium enrichment programme. But while, according to John, "Stuxnet is the most sophisticated piece of malware we've ever seen", most hacking techniques have not necessarily changed much in recent years.
"They sound rather complicated," says David Whitelegg, who blogs at ITSecurityExpert.co.uk, "but really they are often no more sophisticated than they've ever been." The malware that led to the hacking of security giant RSA may have been a "zero-day attack" – ie, it had never been seen before – but the method of infection was nothing new. "At the end of the day, a user within that company opened an email. It went into his spam box, he opened it, and that launched the attack. And that's the way it's always been."
Distributed denial of service attacks (DDoS) – the method employed by Anonymous to take out PayPal, Mastercard and Visa by overloading them with hits – are also nothing new. "DDoS has been around for years," Whitelegg says. "There's nothing you can do about it."
But even if their methods are old, the arrival of groups such as Anonymous and its offshoot Lulz Sec does mark a changing of the guard. "Hactivism is definitely on the rise," says Ferguson. "Anonymous were previously quite a cliquey underground community. But as the WikiLeaks thing unfolded, and they gave their support to Julian Assange, and they began to attack organisations they felt were treating WikiLeaks unfairly, they have garnered a lot of coverage. They've associated themselves very cleverly to V for Vendetta, a popular film with a popular image and well-known taglines such as 'We are Legion'." New members have also realised how simple it is to join the group. "If they want to participate, it's very easy for them to download a tool that hands over your computer to Anonymous" – and which then allows them to take part in DDoS attacks.
Yet if their rise is partly down to greater exposure and clever associations, it is also undeniably linked to a growing political consciousness throughout the cyberspace community. The anarchist collective Deterritorial Support Group recently posted an essay entitled "Twenty Reasons Why it's Kicking Off in Cyberspace", which aimed to explain the recent rise of Anonymous and Lulz. "Make no mistake," they wrote, "this is not a minor struggle between state nerds and rogue geeks – this is the battlefield of the 21st century, with the terms and conditions of war being configured before our very eyes . . . At the heart of it is a newly politicised generation of hackers who have moved from a lulz-based psychic-economy to an engaged, socially aware and politically active attitude towards world events, primarily as a reaction to the way governments and multinationals dealt with the fallout of WikiLeaks."
Such political development engagement raises new moral questions. A Lulz attack on, say, the CIA, is primarily an act of protest – a web-based sit-in, if you like. "And if the police are wary of arresting people for taking part in a real-life sit-in," asks Ferguson, "then why are they so willing to arrest people for the digital equivalent?" In other circles, however, such actions are considered less protest, and more acts of war. "Cyberspace," read a Chatham House cyber security report from last year, "should be viewed as the 'fifth battlespace', alongside the more traditional arenas of land, air, sea and space". Significantly, the report also noted that "in cyberspace the boundaries are blurred between the military and the civilian, and between the physical and the virtual; and power can be exerted by states or non-state actors, or by proxy . . ."
It is tempting to think of this kind of debate as irrelevant to our everyday lives. Symantec says mobile phone technologies will be hacking's next target, and perhaps it is physical problems such as this that we should be more concerned about. But as we increasingly live more of our lives online, and as that boundary "between the physical and the virtual" is increasingly blurred, perhaps it is the conceptual questions posed by hacking that will ultimately prove more significant.
A hacking glossary: Know your malware from your DDoS
Anonymous Anarchic coalition of hackers who rose to prominence after committing DDoS attacks (see below) against MasterCard, Visa, and PayPal last year. Previous targets included the Church of Scientology and the government of Zimbabwe.
DDoS – distributed denial of service Bombardment of a website with internet traffic, until it stops being able to cope and crashes.
Hacking Commonly refers to those who attempt to breach computing systems, but is also a catch-all term for people who simply try to adapt or enhance computer programs.
Lulz Security Prolific new hacking collective whose targets have included the US Senate, the CIA, Sony and PBS. Their actions are characterised by humour: their name is a neologistic twist on the slang-term "lol", meaning "laugh out loud".
Malware Catch-all term applied to malicious forms of software that are created to disrupt operating systems.
Spear-phishing Emails that target specific individuals. They use social engineering techniques to get recipients to open infected attachments.
Rootkit Software that hides the fact that a computing system has been hacked.
Trojan horse Malware that masquerades as non-malicious software.
White-hat hacking Experts hired by companies to test their websites or email systems for vulnerabilities. Conversely, black-hat hackers hack for dishonest reasons; grey-hats hack systems illegally, but with the intention of notifying the system administrator of the flaws in their network.
Virus Software that can replicate itself and compromise a computer.
Zero-day attack Computer threats that prey on software weaknesses developers had not identified.
4Chan Notorious internet chatroom from where Anonymous supposedly originates. Famous for its /b/board, where users post random and often offensive images and comments – most incomprehensible to outsiders.
13 Crazy Earthquake Facts
LiveScience Staff Date: 09 March 2010 Time: 05:15 AM ET, Article Source

Ground view of collapsed building and burned area at Beach and Divisadero Streets in the Marina District
of San Francisco after the 1989 Loma Prieta earthquake. Photo Credit: C.E. Meyer, U.S. Geological Survey
1. Earth has been more seismologically active in the past 15 years or so, says Stephen S. Gao, a geophysicist at Missouri University of Science & Technology. Not all seismologist agree, however.
2. San Francisco is moving toward Los Angeles at the rate of about 2 inches per year - the same pace as the growth of your fingernails - as the two sides of the San Andreas fault slip past one another. The cities will meet in several million years. However, this north-south movement also means that despite fears, California won't fall into the sea.
3. March is not earthquake month, despite what some people believe. True, on March 28, 1964, Prince William Sound, Alaska, experienced a 9.2 magnitude event - one of the biggest ever. It killed 125 people and caused $311 million in property damages. And on March 9, 1957, the Andreanof Islands, Alaska, felt a 9.1 temblor. But the next three biggest U.S. earthquakes occurred in February, November, and December. The devastating major earthquake in Chile of 2010 struck on Feb. 27. And the huge 9.3 temblor that spawned the devastating Indian Ocean tsunami in 2004 occurred on Dec. 26.
4. There are about 500,000 earthquakes a year around the world, as detected by sensitive instruments. About 100,000 of those can be felt, and 100 or so cause damage each year. Each year the southern California area alone experiences about 10,000 earthquakes, most of them not felt by people.
5. The sun and moon cause tremors. It's long been known that they create tides in the planet's crust, very minor versions of ocean tides. Now researchers say the tug of the sun and moon on the San Andreas Fault stimulates tremors deep underground.
6. A city in Chile moved 10 feet in the massive 8.8 magnitude earthquake Feb. 27, 2010. The rip in Earth's crust shifted the city of Concepción that much to the west. The quake is also thought to have changed the planet's rotation slightly and shortened Earth's day.
7. There's no such thing as "earthquake weather." Statistically, there is an equal distribution of earthquakes in cold weather, hot weather, rainy weather, and so on, according to the U.S. Geological Survey. Scientists say there is no physical way that weather could affect the forces several miles beneath the surface of the earth where quakes originate. The changes in barometric pressure in the atmosphere are very small compared to the forces in the crust, and the effect of the barometric pressure does not reach beneath the soil.
8. Earth's bulge was trimmed a little by the 2004 Indonesian earthquake, the 9.0+ temblor that generated the deadly tsunami on Dec. 26 that year. Earth's midsection bulges in relation to the measurement from pole-to-pole, and the catastrophic land displacement caused a small reduction in the bulge, making the planet more round.
9. The Pacific Ring of Fire is the most geologically active region of Earth. It circles the Pacific Ocean, touching the coasts North and South America, Japan, China and Russia. It's where the majority of Earth's major quakes occur as major plate boundaries collide.
10. Oil extraction can cause minor earthquakes. These are not the quakes you read about. Rather, because oil generally is found in soft and squishy sediment, when oil is removed other rock moves in to fill the void, creating "mini-seismic events" that are not noticeable to humans.
11. The largest earthquake ever recorded was a magnitude 9.5 in Chile on May 22, 1960.
12. Quakes on one side of Earth can shake the other side. Seismologists studying the massive 2004 earthquake that triggered killer tsunamis throughout the Indian Ocean found that the quake had weakened at least a portion of California's famed San Andreas Fault. The Chilean quake of 1960 shook the entire Earth for many days, a phenomenon called oscillation that was measured by seismic stations around the planet.
13. The deadliest earthquake ever struck January 23, 1556 in Shansi, China. Some 830,000 are estimated to have died.

Whole Foods Parking Lot - Music Video [HD]
Michele Bachmann: homophobe-in-chief?
As she moves from Tea Party fringe to Republican presidential contender, her horrible anti-gay record deserves exposure
Paul Harris, guardian.co.uk, Wednesday 22 June 2011 13.00 BST, Article history, Article Source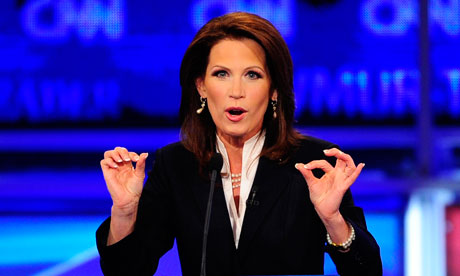 Congresswoman Michele Bachmann speaking during the first 2012 Republican presidential candidates' debate
in Manchester, New Hampshire, earlier this month. Photograph: Emmanuel Dunand/AFP/Getty Images
Given the explosive excitement surrounding congresswoman Michele Bachmann's White House bid, it was perhaps no surprise that organisers of a Minneapolis conservative bloggers' conference, Right Online, over the weekend chose to introduce her with the infuriatingly catchy Katy Perry song "Firework".
Bachmann is now a real rock star of the hardcore Republican right and the Tea Party faithful. But the song choice showed a profound misunderstanding of popular culture. For Firework – whatever one thinks of its musical merits – is a gay anthem. The video Perry filmed to go with it preaches a message of universal tolerance and includes a young man coming to happy terms with his sexuality and kissing another man. Which, to put it mildly, is ironic for Bachmann and her legion of supporters.
For Bachmann is surely one of the most anti-gay mainstream candidates to run for the White House in recent years. A glance at Bachmann's record on gay issues shows a good part of her political philosophy and personal beliefs are based on preaching prejudice against a vulnerable minority of the American people. (One member of that community made her protest by "glitter-bombing" Bachmann as she left Right Online.) America has come a long way since segregationist George Wallace first ran for president in 1964. But swap blacks for gays in some Bachmann comments and it becomes clear that some politicians have come less far than others.
Bachmann has spearheaded fights to get a constitutional amendment banning gay marriage in Minnesota. That, in itself, is not too unusual. But what is unusual is the fervency of Bachmann's anti-gay agenda. Her stance does not seem cynical politicking to her base. It seems rooted in her core beliefs and evangelical religious outlook. Bachmann, after all, once hid behind some bushes to keep an eye on a gay rally in Washington, DC. In another notorious incident, when two lesbians once approached Bachmann in a bathroom to talk about her anti-gay opinions, the congresswoman claimed she was being kidnapped and fled to police to try and press charges (the authorities took a dim view of the complaint and declined to pursue the matter). In 2004, she called being gay "part of Satan". In the same year, she also compared it to slavery, saying:
"If you're involved in the gay and lesbian lifestyle, it's bondage. It is personal bondage, personal despair and personal enslavement."
She's said teaching young children about gay people is akin to child abuse and has claimed that gays have a "sexual dysfunction". She believes gays specifically target children and has said repeatedly that she believes America is on a path that will eventually see young people forced to "try" being gay.
Of course, for Bachmann, this is close to home. Her husband Marcus Bachmann – who is a major influence in his wife's political career and beliefs – runs a Christian counselling business in Minnesota. He has referred to gays as "barbarians":
"We have to understand that barbarians need to be educated, need to be disciplined. And just because someone thinks (they're gay) or feels it doesn't mean we need to go down that road. That's what is called the sinful nature."
Marcus Bachmann has denied that he runs courses seeking to "cure" people of their homosexuality. But in 2005, he spoke at a conference and, according to a gay activist present, ended his presentation with testimony from three people who claimed to have been "cured" of their gayness and were now straight. His speech was called "The Truth About the Homosexual Agenda".
But what is really scary about Bachmann's anti-gay beliefs are how they have run roughshod over her own family life. Some high-profile conservatives, such as former Vice President Dick Cheney, have softened their stances or embraced gay rights because they have out and proud members of their own family. Just this week, New York Post columnist Andrea Peyser shed her normally strident conservatism to write a moving tribute to the lesbian marriage of a favourite niece. But Bachmann stays rigid even when her own family members are gay.
Bachmann's step-sister, Helen LeFave, is a lesbian. The two were close as they grew up together in their teens. Not surprisingly Bachmann's anti-gay comments have not gone down well with her, or several other relatives. They have written letters to newspapers opposing Bachmann's stance or appeared at political hearings on attempts to ban gay marriage. Yet, even in the face of having gay relatives in her own family, Bachmann is unwavering. No doubt, that is what many of her fans love about her.
She is a real conviction politician in an era where most presidential aspirants love their focus groups first and foremost. But what a shame one of Bachmann's core convictions is naked prejudice against some of her fellow citizens and a wish to deny them the basic rights afforded to everyone else.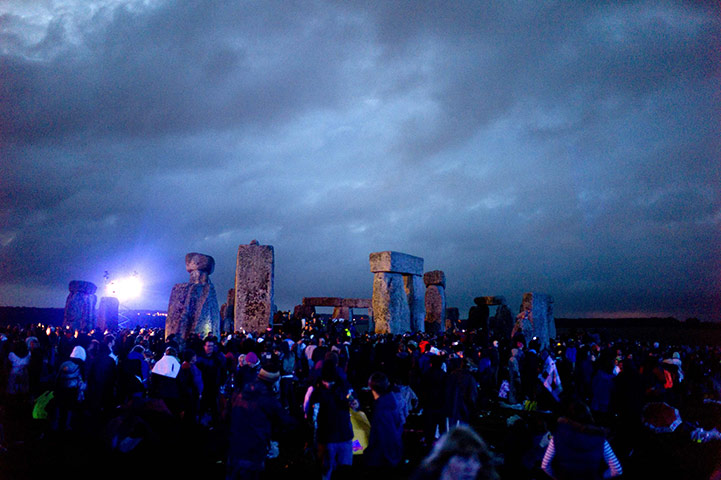 Summer solstice at Stonehenge - in pictures
Revellers celebrate summer solstice at Stonehenge. The festival, which dates back thousands of years, celebrates the longest day of the year when the sun is at its maximum elevation. Druids and crowds gather at the landmark site on 21 June to watch the sun rise on the first morning of summer
Class-action lawsuit ties VA to plight of homeless veterans
By Steve Vogel, Published: June 8, Article Source via Joe
The alleged failure of the Department of Veterans Affairs to provide stable housing to veterans suffering from severe cases of post-traumatic stress disorder or other mental disorders leaves many of them facing homelessness, according to a class-action lawsuit filed Wednesday in U.S. District Court in California.
The lawsuit asks a federal judge to order the VA to use empty buildings on its sprawling West Los Angeles Medical Center campus to provide permanent supportive housing for a class of veterans who suffer from conditions that the plaintiffs argue require a stable home environment for successful treatment.
Attorneys for the plaintiffs, who include several Los Angeles-area homeless veterans and the group Vietnam Veterans of America, said the case, if successful, could have broad implications for veterans' care nationwide.
"This case could be brought anywhere in the country there's a homeless vet," said Mark D. Rosenbaum, an attorney with the American Civil Liberties Union Foundation of Southern California. "There should be no such thing as a homeless veteran in America."
The number of veterans estimated to be homeless on any given night has been reduced from 131,000 two years ago to 76,500, according to VA Secretary Eric K. Shinseki.
Addressing the National Coalition for Homeless Veterans on Monday, Shinseki reiterated a pledge made in 2009 of "ending the shame of veterans' homelessness." The 2012 budget proposal includes $939 million to prevent and reduce homelessness among veterans, an increase of 17.5 percent, or $140 million, from 2011.
"We intend to take this below 60,000 by June of 2012 and end veteran homelessness by 2015," VA spokesman Josh Taylor said. The department announced an initiative Wednesday to increase the number of transitional beds available to homeless veterans from 15,000 to 20,000.
According to the ACLU lawsuit, between 44,000 and 66,000 veterans are believed to be chronically homeless, meaning they have been without shelter for more than a year or on multiple occasions in recent years. Veterans are about 50 percent more likely to become homeless compared with all Americans, according to a 2009 report on homelessness by the VA and the Department of Housing and Urban Development.
Citing research in the field, the suit argues that the only way veterans suffering from severe cases of PTSD, brain trauma and other disorders can be effectively treated is when they live in permanent housing that allows access to appropriate services and support.
"Homelessness itself exposes veterans to further trauma that itself can both cause and aggravate PTSD and other disorders," the complaint states.
In a 2009 report to Congress, the VA acknowledged that "for the large percentage of veterans with disabilities, permanent supportive housing would be effective in helping them achieve long-term stability."
About 8 percent of the nation's homeless veterans live in the greater Los Angeles area, according to the suit. The 387-acre West Los Angeles Medical Center campus, five miles from the Pacific Ocean, includes many buildings that are vacant, closed or underused.
The land was given to the federal government in 1888 for the purpose of establishing and permanently maintaining a soldier's home for disabled war veterans. But after the Vietnam War, long-term housing facilities on the campus were closed, and nearly a third of the campus has been leased to private companies, according to the suit.
"If this campus can house rent-a-cars, it can house homeless vets," Rosenbaum said. Among the plaintiffs in the suit is Carolina Winston Barrie, a descendant of Arcadia B. de Baker, who was one of the land donors.
The VA provides no permanent housing to disabled veterans in Los Angeles with the exception of geriatric nursing beds, according to the suit.
The lead plaintiff in the case, Greg Valentini, served with the 101st Airborne Division on the assault on Tora Bora in Afghanistan in 2001 and the invasion of Iraq in 2003. After his discharge, he began experiencing symptoms later diagnosed as severe PTSD, including graphic nightmares, an inability to concentrate and suicidal thoughts.
He was briefly housed in a short-term treatment program. He has since slept on streets and in a tent near an airport and eaten out of garbage cans. "He has now been sporadically homeless for several years and requires a safe, secure, and stable residence in order to meaningfully access necessary treatment for his mental disabilities," the suit states.
The suit cites studies concluding that veterans of Iraq and Afghanistan are at higher risk of homelessness induced by mental illnesses than those from earlier conflicts. Reasons include the length and number of deployments on which service members are sent, as well as the nature of the conflict, with exposure to roadside bombs and other explosions that could cause traumatic brain injury.
More than 14,400 veterans of Iraq and Afghanistan have been identified by the VA as being homeless at some point in the past three years, with the number expected to grow as more service members leave the military.
Breaking News:
GOP Will Run Nobody for President in 2012
by John Blumenthal, Article Source
WASHINGTON, D.C. In an unprecedented move, The RNC announced today that the Republican Party has decided to cancel its primaries and run nobody for president in 2012.

Speaking to reporters, RNC Chairman Reince Priebus explained the decision: "We think that running nobody will rally Republicans of all stripes and garner more votes than any of the other potential candidates."

He may be right. A recent nationwide poll of likely Republican voters revealed that, given a choice between all the other contenders and a blank space, 88% would vote for the blank space.

Priebus continued: "We strongly believe that the only candidate that has a chance of beating President Obama is nobody."

RNC Chairman Priebus making his announcement
Republican pollster Frank Luntz agreed, saying that the other GOP candidates simply have too many negatives. "Let's face it," he said, "Tim Pawlenty is the human equivalent of Ambien; Michele Bachmann will not appeal to voters who can tie their shoes without help; Romney? Who knows whether evangelists will vote for a Moron, er... I mean Mormon? "

Luntz continued: "Ron Paul knows a lot about the Constitution, which is a turn-off for many Republican voters; Newt Gingrich is unappealing because his first name is a type of salamander. Salamaders are amphibians. Republicans tend to vote for reptiles. And Mitch Daniels looks too much like Calvin Coolidge."

Mitch Daniels or Calvin Coolidge?
Support for nobody seems to be unanimous among Republican leaders.

Speaker of the House, John Boehner told reporters: "Compared to all the other potential candidates, the best choice is nobody. I'm totally behind nobody. Does anybody have a hanky?"

The new strategy has enlivened Republican donors "We intend to raise a billion dollars for the nobody campaign," the Koch brothers vowed. "Getting nobody elected will be our highest priority."

The Koch Brother$
Iowa Republican activist Don Flam was enthusiastic: "We all feel that this is a fabulous move. Our grassroots organizations can really get behind nobody. Nobody will really unite the party."
Senate Minority Mitch McConnell could barely contain himself when he heard the news. "Nobody's perfect," he said.
But perhaps House Minority Leader Eric Cantor summed it up best: "Just think how great it would be for Republicans if nobody was elected President." Photos courtesy: hapblog.com, explore theoldwest.com, veracitystew.com
Proposal Deadline Approaching:
Amateur Radio on the International Space Station Contact Opportunity
Article Source: spaceREF, Source: NASA Education Office, Posted Saturday, June 18, 2011
NASA is seeking U.S. formal and informal education institutions and organizations, individually or working together, to host an Amateur Radio on the International Space Station, or ARISS, contact between the dates of Jan. 15 and July 15, 2012. To maximize these radio contact opportunities, NASA is looking for organizations that will draw large numbers of participants and integrate the contact into a well-developed education plan. The deadline to submit a proposal is July 15, 2011.

During the first six months of 2012, crew members aboard the International Space Station will participate in amateur radio contacts. These radio contacts are approximately 10 minutes in length and allow students and educators to interact with the astronauts through a question-and-answer session. An ARISS contact is a voice-only communication opportunity via amateur radio between astronauts and cosmonauts aboard the space station and classrooms and communities. ARISS contacts afford education audiences the opportunity to learn firsthand from astronauts what it is like to live and work in space. Due to the nature of human spaceflight, organizations must demonstrate the flexibility to accommodate changes in contact dates and times.

Interested parties should contact Teaching From Space to obtain information related to expectations, content, format, audience, proposal guidelines and forms by sending an e-mail to JSC-TFS-ARISS@mail.nasa.gov or by calling 281-244-2320.

Additional information can be found: http://www.nasa.gov/audience/foreducators/teachingfromspace/students/ariss.html.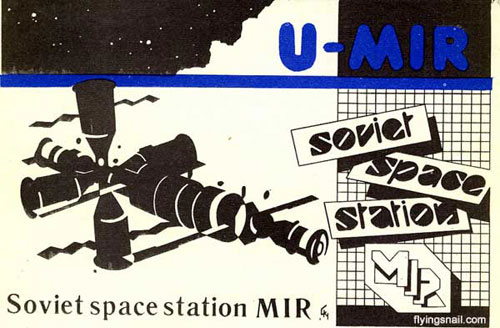 Smoke, fire, and Ponderosas
By Patricia H. Kushlis, Friday, 24 June 2011, Article Source
In early April 2010, I drove from Phoenix to Albuquerque via Route 60 through the area where Arizona's now largest fire on record blazes. I remember Springerville as a small green oasis with a river running through it in the middle of high arid desert - mile after mile of dry lands dotted only with sage bush. I don't remember much forest after leaving Show Lo 42 miles to the west – at least until I got to the New Mexico side - but clearly the Apache Forest with its stands of thick Ponderosa were there.
Once the smoke and flames are extinguished – and hopefully the human culprits who apparently started the inferno by leaving a camp fire unattended are found and brought to justice – we'll hear the all too familiar litany from forest industry organizations – claiming that the fire could have been prevented – or at least its damage lessened – had the forests been opened to the axes and saws of the timber companies.
We'll be told yet again that "virgin" forests burn hotter and are more damaging to the environment than if lumber companies had been given free rein to remove the "offending" combustible materials – aka the best quality timber available on the land. In fact, the hues and cries of their acolytes have already begun. If only, we're told, that these companies had been allowed to cut everything worth selling in sight, thereby helping the economy by putting lumber jacks and saw mill operators back to work and letting pigs, cows and horses graze in the former forest land. Then all would be right with the world.
The Forest Products Commissions – the lumber companies' representatives - have been tremendously successful at packaging and promulgating this questionable tale. Just look at their websites if you're the least bit skeptical. They may claim they support managed and controlled logging of our forests but at the same time they rail against any and all regulation in favor of letting the lumber companies do whatever they want. I've seen that happen – it's simply code for clear cutting – thereby denuding the land of all harvestable trees.
"The Healthy Forests Initiative"
This came to the fore with "The Healthy Forests Initiative," implemented on behalf of industry lobbyists by the George W. Bush Administration in 2002. That was nearly eight years ago. In reality, the Healthy Forests Initiative is an oxymoron designed to "change the dial" to convince the gullible that the "increase in forest fires in recent years is due to "a century of well-intentioned but misguided land management."
Eight years on where are those "healthier" forests? Where's the proof? Have you seen it? I haven't. What's this about accountability? Sadly this self-serving initiative which used the "change the dial" technique to reframe a message that foremost promotes the interests of the forest products industry to others' detriment has not delivered on its promise - at least as far as I can see.
Prohibiting industry from "saving" nature from itself
Those opposed to the lumber industry's mantra are tarred with the somehow negative monikers of "tree-hugging spotted owl lovers" and less colorfully as environmentalists standing in the way of progress. These retrogrades among us are charged with entangling American forests in massive bureaucratic red-tape through law suits and such that, well the companies can't do what should be done to save nature apparently from itself. California's environmentalists have been somewhat more successful than their northern neighbors in containing the rapacious demands of the industry. But that's not really saying much.
I saw what happened to the Ponderosa forests west of McCloud, California after big timber came in and bought out the family owned lumber mill which had provided the town its livelihood and sustenance since the early 1900s. First, International Paper sold off the company town, then it started clear cutting the Ponderosa that had lived and grown there for hundreds of years, then it closed the mill and trucked the logs to a huge saw mill 120 miles away because that was more profitable for the company.
A fire would have been far less destructive because, well, if you know anything about the Ponderosa, the bark of the older, healthier and bigger trees can withstand the high heat of fire. Furthermore, the trees' canopies are so high that they don't burn all that well either. The bark beetle, human carelessness, lumber companies and ranchers who graze their animals in the forests and disturb the flora and fauna on the forest floor are far greater foe than the flames in their different ways.
Nature's way of restoring equilibrium
In fact, there's good reason to think that forest fires are nature's way of thinning the undergrowth – the brush and the scrub – to keep the forest healthy. No way this happens as a result of logging. Quite the opposite – loggers remove the healthy trees and leave the forest to contend with the detritus that grows more rapidly in their absence. Remove too many and the faster growing "second growth" trees – suitable for plywood and paper products - take the place of the mighty Ponderosa.
Baby Ponderosa don't mature overnight
What the lumber companies, err forest products commissions, officials also don't tell us is that it takes a Ponderosa between 30 and 60 years to grow to maturity. The Ponderosa, or yellow pine, are huge, western trees that populate the Sierra Nevadas and the Rockies. They produce superior soft wood - but Ponderosa seedlings don't just sprout up again in a few days, or even reach maturity for decades.
Furthermore, it must take far more skilled lumberjacks – and likely higher paid ones too - to fell the big trees selectively - which if done properly doesn't play havoc with our forests - than simply to clear cut, the lumber companies preferred approach akin to slash-and-burn.
I saw lumberjacks fell giant trees and went to school with their kids. It is dangerous and bad accidents happen. A lumberjack's skill is honed over years so as to preserve the tree's wood while causing minimal damage to the surrounding forest - all the while avoiding injury or worse from a calimatous encounter with the enormous trunk as it crashes to the ground.
I've also witnessed the results of clear cutting from the 1920s and 30s, when people did not realize the long term consequences of their actions and thought the forests would last forever. Hills with stumps and scrub that thirty, forty even fifty years later had not regenerated into forests; other hills covered with second and faster growth timber – but with wood far inferior to the majestic Ponderosa that had grown there since well before the Europeans arrived.
So tell me please. How do we know that fires in today's environmentally "protected" forests are more devastating than those that happened years before. Higher temperatures? Oh, come on. Doubtful, but so what? Weren't all western forests virgin before the middle, if not the end of the 19th century when the loggers came in? Weren't there always years of drought and those of summer rains? Fires have broken out in "them thar' hills" for centuries - caused by lightening at the very least.
So what's the difference between then and now?
What's different is the greed of the lumber interests combined with encroaching civilization - developers building houses and other buildings deep in the forests themselves – houses far too close to the Ponderosa, cedar, lodge-pole, sugar pine and other evergreens not to mention the brush, needles and smaller plants that compose the forest floor and turn to kindling in dry years at the touch of a match – or a lightening bolt.
It's understandable, therefore, why a town in a cleared area like Springerville has been spared whereas a newer, tiny isolated forest retreat like Greer, 17 miles south and west wasn't so lucky. Building in the middle of the woods, my friends, is like playing with lighted matches while sitting in a tinder box.
But so too are the long term health hazards of the forest industry companies – among this country's worst polluters – hell bent on short term profit.
Despite their protestations, the financial clout of these industries used to their political advantage, regurgitated and broadcast by too much of the media to the unsuspecting whose knowledge of forests and their fires is deficient is also a hazard to this country's long term health – and not just to the trees coming under the ax and the buzz-saw.
But then, why should we expect differently in this day and age when the super-rich ultra-conservative Koch Brothers who – by the way - own Georgia-Pacific, a forest products conglomerate that operates 31 paper and plywood mills concentrated in the South and is a leading producer of formaldehyde, were able to keep this noxious product off the US government's list of known carcinogens through intensive lobbying until just last week. Who knows what else their billions and their minions have also been able to keep under wraps for years.
Related WV posts by Patricia Kushlis:
Route 60 and the Salt Water Canyon, (May 15, 2010)
Wintoon William Randolph Hearst's Secret Hideaway (October 11, 2oo9).
;-) Doomed Again? (-;

Trajectory of asteroid 2011 MD during its June 27, 2011 flyby from the general direction of the sun.
CREDIT: NASA

Trajectory of asteroid 2011 MD on June 27, 2011 projected onto the Earth's orbital plane.
Note from this viewing angle, the asteroid passes underneath the Earth. CREDIT: NASA
Asteroid to Pass Extremely Close By Earth On Monday
by Joe Rao, SPACE.com Skywatching ColumnistDate: 24 June 2011 Time: 05:35 PM ET
Here's something to dwell on as you head to work next week: A small asteroid the size of a tour bus will make an extremely close pass by the Earth on Monday, but it poses no threat to the planet
The asteroid will make its closest approach at 1:14 p.m. EDT (1714 GMT) on June 27 and will pass just over 7,500 miles (12,000 kilometers) above the Earth's surface, NASA officials say. At that particular moment, the asteroid — which scientists have named 2011 MD — will be sailing high off the coast of Antarctica, almost 2,000 miles (3,218 km) south-southwest of South Africa. - [Continue Reading]
Google curbs Web map exposing phone locations
by Declan McCullagh, JUNE 27, 2011 4:00 AM PDT, cnet Article Source

Some locations that Google associated with Wi-Fi devices, spotted in a San Francisco coffee shop. - cnet news
Google has taken steps to limit the disclosure of the locations of millions of iPhones, laptops, and other devices with Wi-Fi connections after a CNET article drew attention to privacy concerns.
The move by Google comes after the Mountain View, Calif.-based company was criticized for the way it made a database assembled by Android phones and Street View cars available to the public, even though it could link a geographical location with a unique hardware address of a Wi-Fi enabled device. The change means that Google now appears to be moving closer to the approach adopted by Apple and Microsoft, which never made their location databases public.
A source close to Google said some changes have been made to the way Google's location server processes location requests. A Google spokesman declined to comment.
Wi-Fi-enabled devices, including PCs, iPhones, iPads, and Android phones, transmit a unique hardware identifier, called a MAC address, to anyone within a radius of approximately 100 to 200 feet. Until CNET's June 15 article was published, if someone captured or already knew that unique address, Google's server could reveal a previous location where that device was located, including home or work addresses or even the addresses of restaurants frequented.
It wasn't immediately clear what changes Google made to provide more privacy protections, which could include not responding to some types of location requests or ones from certain geographical regions. The database is used to speed up geolocation fixes for mobile devices, and to provide the ability to determine location for PCs that don't have access to GPS-derived coordinates.
Out of approximately 3,000 MAC addresses that CNET tested over the last few days, not one delivered a location from Google's database. Before June 15, Google's database showed them as appearing in locations as varied as Satsuma, Ala., near Charing Cross station in London, Newport News, Va., outside of Beijing, China, and so on.
But Nick Doty, a lecturer at the University of California at Berkeley who co-teaches the Technology and Policy Lab, said Google's service appeared to be returning results when used in a browser instead of a Perl or Python script. "Maybe they're just trying to crack down on people using it for independent testing," said Doty, whose laptop had been linked in Google's database to his previous home in the Capitol Hill neighborhood in Seattle.
Approximately 10 percent of laptops and mobile phones using Wi-Fi appear to have previously been listed by Google as corresponding to street addresses. In an earlier statement, Google said: "We collect the publicly broadcast MAC addresses of Wi-Fi access points. If a user has enabled wireless tethering on a mobile device, that device becomes a Wi-Fi access point, so the MAC address of such an access point may also be included in the database. Wi-Fi access points that move frequently are not useful for our location database, and we take various steps to try to discard them."
A Google spokesman, however, declined to say that only access points appear in the company's location database. Alissa Cooper, chief computer scientist at the Center for Democracy and Technology and co-chair of an Internet Engineering Task Force on geolocation, says that her laptop was never used as a Wi-Fi access point. Her previous street address off of Connecticut Avenue in Washington, D.C., where she lived from 2007 to 2009, was nevertheless listed.
Getting a better handle on location-based data
Kim Cameron, Microsoft's chief identity architect until earlier this year, reached the same conclusion. In a June 2010 essay that analyzed an independent report (PDF) of Street View data collection, Cameron wrote that Google recorded the locations and MAC addresses of far more than just fixed Wi-Fi access points.
"There is no longer any question," he wrote. "The MAC addresses of all the Wi-Fi laptops and phones in the homes, businesses, enterprises and government buildings were recorded by the driveby mapping cars, as were the wireless access points, and this regardless of the use of encryption."
Google seems to be continuing to make changes to its location database. For an iPhone previously shown as being located in Brisbane, Australia, a Web interface to Google's location database created by hobbyist hacker Samy Kamkar recently returned a latitude of 0 and a longitude of 0 (west of Angloa in the Atlantic ocean). Last night, for the same Australian iPhone MAC address, the Web site yielded an error message instead.
Marc Rotenberg, head of the Electronic Privacy Information Center in Washington, D.C., compared Google's move to Apple's decision in April to fix what it called an iPhone "bug" that could record previous locations visited, which came as public interest in the topic began to rise.
"Even the companies don't fully understand how they're collecting location-based data," Rotenberg said. "That's one more reason why the emphasis in this area has to be on better practices, not better privacy policies."
Google's location database could previously be used, in a few cases, to track movements. One HTC device connecting to a San Francisco South of Market Wi-Fi hot spot moved from the BWI airport to a street address in an Atlanta suburb in one day. Another device that security researcher Ashkan Soltani spotted in a San Francisco coffeehouse moved from the engineering building of Ruhr-University in Bochum, Germany, across the main road to the university center.
An April 2010 statement (PDF) from Raphael Leiteritz, a Google product manager, says the location database is accessed by sending "a list of MAC addresses which are currently visible to the device." In response, Google compares those addresses "with its list of known MAC addresses," and then returns the "approximate location." Senate testimony (PDF) last month by Google public policy director Alan Davidson said: "A database of known network locations is required to determine a user's estimated location from either Wi-Fi access point or cell tower information."
To be sure, it's not always easy to learn a target's MAC address. It's generally not transmitted over the Internet. But anyone within Wi-Fi range can record it, and it's easy to narrow down which MAC addresses correspond to which manufacturer. Someone, such as a suspicious spouse, who can navigate to the About screen on an iPhone can obtain it that way too.
Disclosure: McCullagh is married to a Google employee not involved in this topic.

UFO Mothership & Fleet Over London UK 24th June 2011 (Credit alymc01) [HD]

UFOs Over London Friday 2011 - UFO fleet over Tower Bridge London 6/24/2011

UFO June 2011
UFOs seen in London skies: viral video spotlight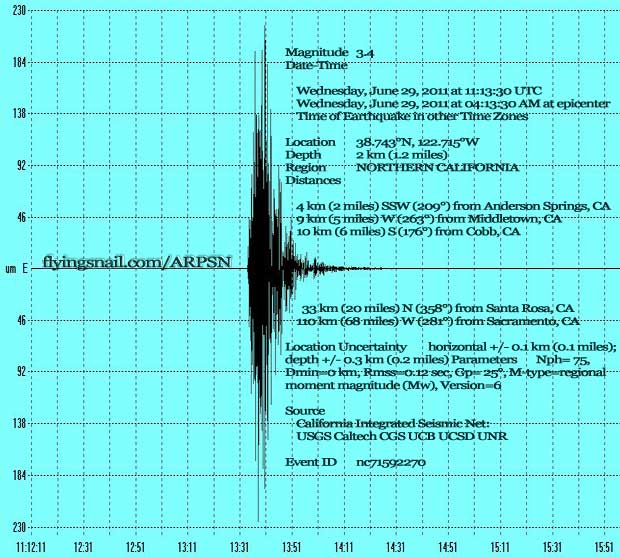 Magnitude: 3.4
Date-Time: Wednesday, June 29, 2011 at 11:13:30 UTC 04:13:30 AM at epicenter
Location: 38.743°N, 122.715°W
Depth: 2 km (1.2 miles)
Region: NORTHERN CALIFORNIA
Distances:
4 km (2 miles) SSW (209°) from Anderson Springs, CA
9 km (5 miles) W (263°) from Middletown, CA
10 km (6 miles) S (176°) from Cobb, CA
33 km (20 miles) N (358°) from Santa Rosa, CA
110 km (68 miles) W (281°) from Sacramento, CA
Location Uncertainty: horizontal +/- 0.1 km (0.1 mi); depth +/- 0.3 km (0.2 mi)
Parameters: Nph= 75, Dmin=0 km, Rmss=0.12 sec, Gp= 25°,
M-type=regional moment magnitude (Mw), Version=6
Source: California Integrated Seismic Net: USGS Caltech CGS UCB UCSD UNR
Event ID: nc71592270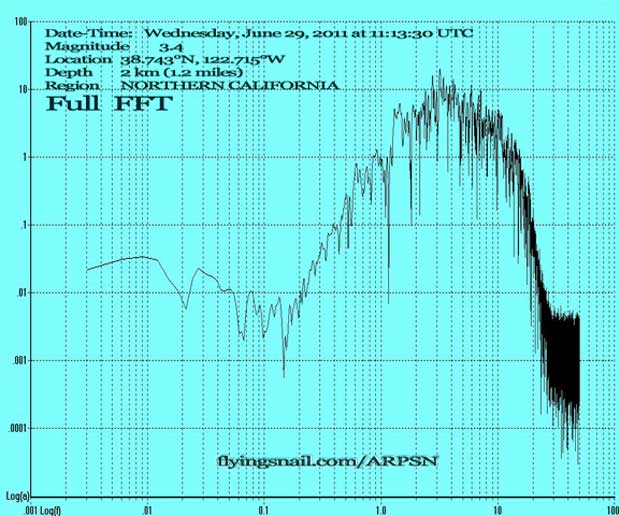 Neo-Liberal Fascism?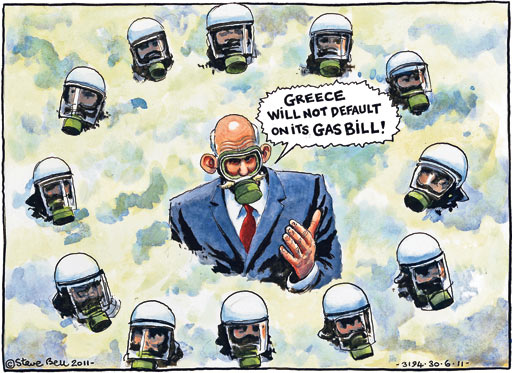 Steve Bell on the riots in Athens after the austerity bill was passed by a narrow margin in the Greek parliament

Freedom of expression and freedom of speech aren't really important unless they're heard...It's hard for me to stay silent when I keep hearing that peace is only attainable through war. And there's nothing more scary than watching ignorance in action. So I dedicated this Emmy to all the people who feel compelled to speak out and not afraid to speak to power and won't shut up and refuse to be silenced. - Tommy Smothers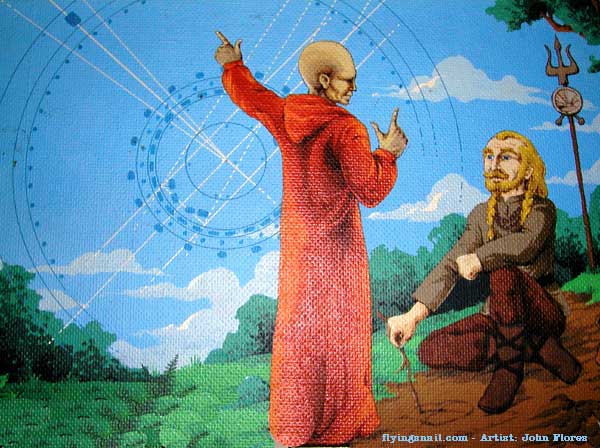 The man whispered, "God, speak to me" and a meadowlark sang. But the man did not hear. So the man yelled "God, speak to me" and the thunder rolled across the sky. But the man did not listen. The man looked around and said, "God let me see you" and a star shined brightly. But the man did not notice. And the man shouted, "God show me a miracle" and a life was born. But the man did not know. So the man cried out in despair, "Touch me God, and let me know you are there" Whereupon God reached down and touched the man. But the man brushed the butterfly away and walked on.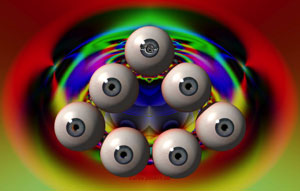 Don't miss out on a blessing because it isn't packaged the way you expect.