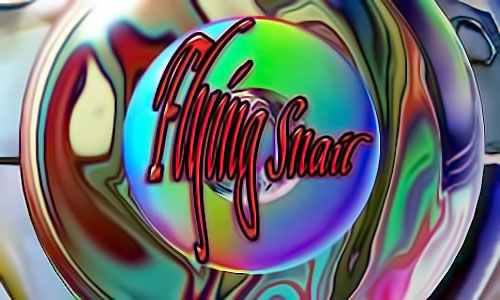 Tell-A-Vision = Why Not Try Love Again?
Give Peace a Chance
Wars happen when intolerance reaches epic proportions, when the reasons for war become greater than the sanctity of peace. Wars happen when we fail to realize the value of being alive. World leaders try to bring peace, but it is not an issue of institutions. It is human beings who start wars. Before a war begins outside, it starts inside.
The war on the inside is more dangerous because it is a fire that may never be put out. Wars are being fought because peace is not being found within, because it is not being allowed to unfold. We are all searching for something, we may call it success, peace, love, or tranquility. It is the same thing. What we are looking for has many names because we do not know what we need. To find what we need, we look around us. To know where to find what we are looking for, we first need to ask ourselves where we can find it. Have we considered looking within?
Living is not an easy task, especially if we want the best of it. We have to mine for it. Mining is not easy. We have to take out what we need and leave the rest. If we want to mine for peace, then we have to seek what is precious and discard what is not. The thing that we are searching for is not outside of us. It is within us. It always has been and always will be. Contentment feels good, and it is not an accident. It is not an accident that peace feels good. Peace is already here, and it resides in the hearts of all human beings.
Peace is something that has to be felt. One of the most incredible powers we have is that we can feel. When we place peace in front of that power to feel, we feel peace. We are here to be filled with gratitude, love and understanding. We carry a lamp within so bright that even in the darkest night, it can fill our world with light. This light is waiting to be found. Peace makes no distinctions. It does not care if we are rich, if we are poor, or what religion we belong to. It does not care which country we live in.
Peace is waiting to be found. Waiting to once again feel whole, not separated by all the issues that divide our lives. Peace is when the heart is no longer in duality, when the struggle within has been resolved. When peace comes to the heart, serenity follows. Love comes flooding in, uncontrolled. Joy cannot be held back. It bursts through because it is right. That is peace. Peace needs to be felt, love needs to be felt, truth needs to be felt. As long as we are alive, the yearning to feel good, to feel joy, will always be there, and as long as it is there, there will be a need for it to be discovered.
Life is a journey. We are passengers in a train called life, and we are alive in the moment called now. The journey of life is so beautiful that it needs no destination. On this journey, we have been given a compass. The compass is the thirst to be fulfilled. The true journey of life begins the day we begin to seek to quench our thirst. This quest is the most noble one. For many centuries, a voice has been calling out: "What you are looking for is within you. Your truth is within you, your peace is within you, your joy is within you." In our hearts, peace is like a seed waiting in the desert to grow, to blossom. When we allow this seed to blossom inside, then peace is possible outside. We have to give peace a chance.
Will we give peace a chance? - Prem Rawat, India Times, 2/25/2000
Be the change you want to see in the world - Mahatma Ghandi
For You Bear

The Byrds - Eight Miles High

Poor Boy Blues - Chet Atkins & Mark Knopfler

Erik Moll - All I Can Think About Is You


Well, Mr. & Ms. Criminal Politician, where have I heard,
"If you've done nothing wrong, you have nothing to worry about?"
CPUC chair directs PG&E to create SmartMeter opt-out proposal for customers
Written by Elizabeth Larson, Thursday, 10 March 2011, Lake County News - Article Source
LAKE COUNTY, Calif. – The chairman of the California Public Utilities Commission said Thursday he is directing Pacific Gas & Electric Co. to prepare a proposal to allow customers with concerns about wireless SmartMeters to opt out of the program.
Chairman Michael Peevey made the statement at the beginning of the CPUC's regular meeting Thursday morning in San Francisco.
The surprise announcement is the latest development in what has become a grassroots battle statewide and nationwide between consumers and utility companies moving to the wireless devices as part of the implementation of a "smart grid."
Peevey is asking the utility to return with the proposal within two weeks.
PG&E spokesman Paul Moreno said the company is "committed to working with our regulators to meet this deadline."
CPUC spokesman Andrew Kotch told Lake County News that as PG&E is coming up with the plan, installations will not be stopped.
"We are not calling any type of moratorium of any sort," he said.
Moreno confirmed that PG&E will continue moving forward with the installations while finalizing the opt-out proposal for the CPUC.
Mindy Spatt, media director for The Utility Reform Network (TURN), said of the CPUC's announcement, "The devil is in the details."
TURN has advocated against the meters primarily due to cost effectiveness, according to Spatt.
"We strongly support an opt-out, the question is, which customers will be allowed to opt out and how much will it cost?" she asked.
At the Thursday meeting, Peevey and the commission were once again confronted with numerous speakers who wanted to talk to the commission about SmartMeters and their concerns about the devices' wireless radio frequency emissions.
"I think what I have to say might calm some of the emotion around this issue," Peevey said.
He noted that virtually every speaker who has addressed the subject with the commission has been a PG&E customer. "We have not had complaints about radio frequency emissions or other concerns about smart meters from customers of other utilities in California," he said.
Customers in the Sacramento Municipal Utility District as well as customers of Southern California utilities have "not had any sort of customer complaints of the kind we've been hearing from PG&E customers," Peevey said.
Because of what Peevey called "the continued strong interest in this issue in parts of Northern California," he said he spoke directly to PG&E's president to ask that the company bring back to the commission "a proposal or a series of proposals that will allow customers with an aversion to wireless devices the option of being metered without the use of wireless technology."
He added, "In other words, I am directing PG&E to prepare a proposal for our consideration that will allow some form of opt-out for customers who object to these devices at reasonable cost, to be paid by the customers who choose to opt-out. I've asked to have it within two weeks."
Peevey said he couldn't predict either how the commission would evaluate such an option, or what PG&E might propose. "But I think it's clear the time has come for some kind of movement in the direction of customer opt-outs."
Kotch told Lake County News in a previous interview that only the commission holds the authority to impose SmartMeter moratoriums, not local governments.
Nevertheless, Lake County became the latest in a string of more than 30 local governments around the state to take action against the meters when, on Tuesday, the Board of Supervisors approved a temporary moratorium on the installations and directed county counsel to being exploring legal action to stop them.
County Counsel Anita Grant told Lake County News on Wednesday that her office was looking at filing a petition with the CPUC to ask for the installations to be stopped.
Moreno stated previously that PG&E didn't plan to honor Lake County's moratorium, referring to the CPUC's authority in the matter.
He said Thursday that PG&E has "been examining possible alternatives for the past few months in anticipation of such a filing."
Moreno said the company was expecting the need for such a proposal because of Assemblyman Jared Huffman's AB 37, a bill now in the California Legislature that, if passed, would give consumers an alternative to the wireless SmartMeters.
At its meeting this week the Board of Supervisors also approved sending the Legislature, the governor and local legislators a letter in support of AB 37.
Supervisor Rob Brown said Thursday that the CPUC's call for an opt-out proposal was good news.
Brown, who raised issues over the meters based on consumers' right to choose, told PG&E representatives at Tuesday's meeting that he felt they should have backed off on installations based on customers' concerns.
Opt-out proposal applies only to PG&E
Kotch said Peevey's request for the opt-out plan is directed only at PG&E, not other utilities using the wireless SmartMeter devices.
A CPUC fact sheet on the SmartMeter program said that the commission has authorized utilities across the state to install close about 15.9 million SmartMeter devices, with PG&E having the most – five million electric meters and 4.2 million natural gas meters.
PG&E officials told the Board of Supervisors on Tuesday that they have installed around eight million SmartMeters in California, beginning in 2006, and were required by the CPUC to complete the remaining installations by June 2012.
In Lake County, Moreno said the company has 40,000 analog meters to change over to SmartMeters, with 2,500 wireless meters – mostly in the Clearlake, Clearlake Oaks, Lower Lake and Hidden Valley Lake areas – having been installed since the local SmartMeter rollout began the last week of February.
PG&E's Wellington Energy contractors continued attempting to install meters on Wednesday and Thursday in Lake County, according to reports from area residents.
On Thursday, Brown said he was alerted to an installer in the Kelseyville area on Thursday morning, and he followed her on her route, stopping at the homes where she was attempting to make the installations to inform people of the moratorium.
He said several people asked the contractor to not install the meters, and she complied and left their property.
Kotch said the opt-out proposal likely won't be on the commission's March 24 agenda. He said a 30-day review period on the PG&E proposal would be required before the CPUC could consider approving it.
Some of the pushback PG&E is getting may be the result of not communicating the SmartMeter program in the beginning.
A report on the SmartMeter program conducted by the Structure Group, at the CPUC's direction, found that PG&E didn't do a good job of explaining the program to its customers, which PG&E officials have acknowledged was an issue.
Moreno said PG&E understands that its customers have concerns about radio frequencies emitted from SmartMeters, although he said the "great weight" in scientific evidence demonstrates that the devices are safe.
"We take our customers' concerns seriously," he said.
Because of those concerns, Moreno said the company is evaluating options that it hopes will alleviate the concerns "and still enable PG&E to upgrade all of its customers to SmartMeters."
LISTEN TO THE EARTHQUAKES OFF THE COAST OF JAPAN
http://www.dangerousminds.net/comments/listen_to_the_earthquakes_off_the_coast_of_japan/


West Coast, USA, Tsunami Alert
7:00 AM PST - 11 March 2011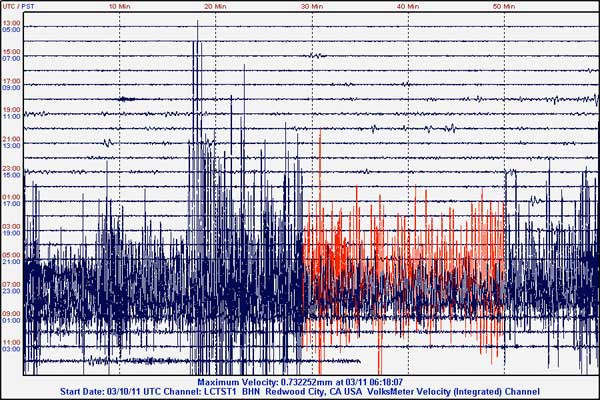 Japan 8.9 Earthquake - PSN (Public Seismic Network) Redwood City, CA
Jon Stewart Exposes The Lavish Lifestyle Of The American Public School Teacher
by Frances Martel | 11:53 pm, March 3rd, 2011 - Article Source

Richer And Poorer - Jon Stewart
With the Wisconsin union situation an ongoing, seemingly interminable mess, Jon Stewart took some time tonight during the opening of The Daily Show to analyze the protagonists of these protests: the teachers fighting for collective bargaining rights. Turns out many of them make a salary reaching all the way up to five figures! This, along with benefits, Stewart found to be "bordering on avarice."
Getting his audience up to speed with the latest out of Wisconsin, Stewart made a point of Governor Scott Walker's claim that everyone in the state had to sacrifice, and that couldn't exclude teachers. "Everyone must sacrifice," Stewart reiterated-- "teachers, teachers' assistants, student teachers, retired teachers... school janitors." He then took a look, mostly through clips from Fox Business, as to why those in public schools were particularly susceptible to these sacrifices. Simply put, $50,000 a year with medical and dental business is simply outrageous, especially to the unemployed, as one commentator put it. "You know what?" Stewart replied. "That does sound great to someone without a job."
Stewart then analyzed these same commentators' positions on other "fat cats," like bankers and those affected by the Bush tax cuts. Shockingly, opinions began to shift.
The clip via Comedy Central below:

Supervisors pass SmartMeter moratorium, direct staff to begin legal action to stop installations
Written by Elizabeth Larson, Wednesday, 09 March 2011, Lake County News - Article Source
LAKEPORT, Calif. – Before an audience of concerned citizens, the Board of Supervisors on Tuesday voted unanimously to take a three-pronged approach to challenging Pacific Gas & Electric's installation of SmartMeters in the county.
The three prongs include approving a letter to be sent to legislators, the governor and a variety of organizations that lobby for local governments in favor of AB 37, which requires the California Public Utilities Commission (CPUC) determine SmartMeter alternatives by January 2012 for customers who want to opt out.
The board also passed an urgency ordinance instituting a moratorium on the installations locally, which PG&E officials said began in late February. County Counsel Anita Grant said the moratorium she drafted was "substantially the same" as ordinances approved in Santa Cruz and Marin counties.
But perhaps the sharpest prong of all was the board's direction to county staff to move forward with legal action to seek an injunction against PG&E to give AB 37 time to get through the Legislature.
PG&E has told Lake County News that a total of 40,000 meters were to be installed throughout Lake County.
Supervisor Denise Rushing, who originally brought matter to board a month and a half ago, recused herself – as she did at a discussion on the AB 37 support letter last week – because she is involved in a small engineering consortium that bid on a small PG&E contract for which they have been short-listed.
PG&E representatives were on hand to address the board and answer questions. They included Justin Real, the PG&E government relations consultant for Lake and Napa counties, who said the company provided six SmartMeter answers centers in Lake County last month and were making available more brochures and explanatory materials at drop-off centers.
He said the SmartMeters already in place in the county helped PG&E in its response and communications with regard to storms late last month that knocked out power to thousands of residents around the county.
SmartMeters report outages automatically, while the old analog meters require a customer to call in and report an outage, Real said.
Supervisor Jim Comstock asked Real how the SmartMeters could report outages with no power, repeating the question several times in order to get a complete explanation. "Bottom line, the power is not out on the meter," Real said.
"That doesn't make any sense," said Comstock. "If the power's out, the power's out."
Another PG&E representative, Austin Sharp, said the meters have power and can continue to operate during outages, reporting when a meter drops off due to loss of power.
He said before PG&E goes into an area, they set up equipment that helps facilitate the meters' communication. The devices send out messages over the Verizon cell phone network.
"We had to go a long way around to get that answer," said Comstock.
Real said PG&E – which had given the board a presentation in January – could make more experts available but they needed more time to prepare than they had for Tuesday's meeting.
"But in the interim, the troops are marching," said Comstock, noting that he arrived home one day recently to find a new SmartMeter on his house and one in his field.
"We are mandated to finish the program by 2012," said Real. "We're just trying to keep ahead of schedule."
Supervisor Rob Brown replied, "This is part of the reason why we're here right now."
While PG&E can provide experts and information, "It's kind of a patronizing effort when the meters are going in prior to those questions being answered," said Brown, who received thunderous applause from the audience.
"I don't know who's mandating this, none of us are mandating it," he said, adding he can find no information about the meters needed to be out prior to the information being shared with residents.
Brown said the SmartMeters are being installed on short notice, which he suggested was a scramble to get ahead of the possible passage of AB 37. He said PG&E should hold off on pushing the installations, adding that he didn't like how quickly PG&E was proceeding.
"PG&E is worse than the government," because at least the government can be voted out, Brown said.
He said the company should have backed off on its own in response to consumer concerns, but that's not happened.
"I realize also that you're the sacrificial lamb sent up here," he told Real. "We need somebody to back off a little bit."
Real said he understood the concerns. Initially, many customers got information about the program through e-mail and other means, and that wasn't sufficient.
Brown wanted to know how many meters were installed while the answer centers were being held. Sharp said they conduct outreach, starting with letters sent out about a month before going into an area.
He said letters were sent out in Lake County around the start of February, and installations started the last week of that month.
Brown asked if they were installing meters now. Sharp said yes. They've so far installed eight million of the nine and a half million they must have in place by June 2012, based on a CPUC mandate passed in 2003. Sharp said they began SmartMeter installations in Kern County in 2006.
Comstock wanted to know what would happen if they didn't meet the mandate. Sharp suggested the CPUC could institute fines or other measures. "Every utility in the state has to go to a SmartMeter program," he said, with the goal being that utilities need to better understand usage.
He added that the SmartMeter program is optional but that everyone has to have a meter, which Comstock said didn't make sense. Sharp said consumers didn't have to sign up to take part in the online usage monitoring or purchase new appliances.
Sharp said residential customers could choose to take part in peak day pricing in order to see savings, but that businesses didn't have a choice. Peak day pricing only applies eight to 12 days a year.
Comstock said he didn't understand a word Sharp said. "Why are we doing this program?"
Sharp said the only way to incentivize customers to use energy better is through their wallets.
Supervisor Anthony Farrington, who said he found himself confused by PG&E's explanations, asked if they could implement the new pricing structure without SmartMeters. Sharp said no.
Sharp criticisms of SmartMeters
Farrington shared his research, explaining that on July 6, 2006, the CPUC approved a SmartMeter deployment plan. On Feb. 25, 2010, the CPUC then adopted new rate structures.
"The problem is, there's a disconnect," with the county not receiving that information, said Farrington.
He said it was not made available either by PG&E or the CPUC, the latter having "total disregard for local government," said Farrington, who hinted at conflicts of interest by noting that CPUC Chair Michael Peevey had formerly worked for Southern California Edison.
As a result, Farrington said the county finds itself in a reactive mode, ratepayers getting caught off guard. He said he realized PG&E would continue installing SmartMeters, "and there's a risk with that."
Farrington said he felt the legal option was the only one that would work, and it might get both PG&E's and the CPUC's attention. Lake County might be rural, but "we can make as much problems for the organization as anyone in the state of California."
In California ratepayers are paying the $1.7 billion for the SmartMeter program, said Farrington, with no environmental impact report or cumulative impact analysis required.
Farrington referenced efforts by Connecticut Attorney General George Jepsen, who asked regulators and utilities to put the brakes on SmartMeter installations. Jepsen referenced a pilot study of 10,000 SmartMeters, which was released on Feb. 25, 2010, which found no beneficial impact on usage. The small savings realized were absorbed by installation costs.
"To add more insult to injury, the SmartMeters only have a lifespan of about 20 years," which Farrington said would require they go through the process again in a relatively short period.
During public comment, the board heard from community members concerned about health impacts, interference with medical devices, pricing, privacy and their distrust of PG&E.
Comstock asked for a show of hands from those in the full chamber about who wanted them to take action. The majority raised their hands.
Community resident Mary Perkins asked them to take the most aggressive action possible, including having those meters already installed removed.
Clearlake resident Leslie Sheridan, who hosted a community meeting last Friday that explored health, privacy and other concerns related to SmartMeters, encouraged people to educate themselves on SmartMeters and their potential health impacts. She said there are ways to get them off your house.
Sheridan added that a former PG&E employee living in Lake County told her that rates would go up and privacy issues would result from the meters' use.
Farrington asked if SmartMeters were certified by Underwriters Laboratories. Sharp said no, because UL only certifies appliances for inside the home. Instead, the meters are American National Standards Institute-certified.
Clearlake City Council woman Jeri Spittler recounted growing up in an area outside of Lake County that was overshadowed by power transmission lines, noting that her parents and the parents of her childhood friends have all died of cancer.
"I am completely against these SmartMeters," she said. "They terrify me. I think there's bully tactics here. Why rush to the rural areas when the cities have already pushed them out?"
Lower Lake attorney Ron Green urged the board to take PG&E to court, pointing out that the company has ignored other counties that have tried to stop the installations. "The only way to get to 'em really is an injunctive action."
Kelseyville resident Lonnie Caldwell said a group of citizens are prepared to form blockages to prevent the installations.
Brown moved to send the newest draft of the letter supporting AB 37, which the board approved 4-0.
He then moved the adoption of the urgency ordinance implementing the temporary moratorium on SmartMeter installations, also approved 4-0.
Farrington moved to direct Grant and her staff to begin the process or pursuing injunctive relief to stop the installations. He said they will petition the CPUC and then prepare to petition the courts.
Brown said he wanted PG&E to report on how many SmartMeters are installed in spite of the action.
The motion to proceed with legal action was approved 4-0 as well.
"We'll move forward and see what we can do here," Comstock told the audience, which gave the board a round of applause for the actions.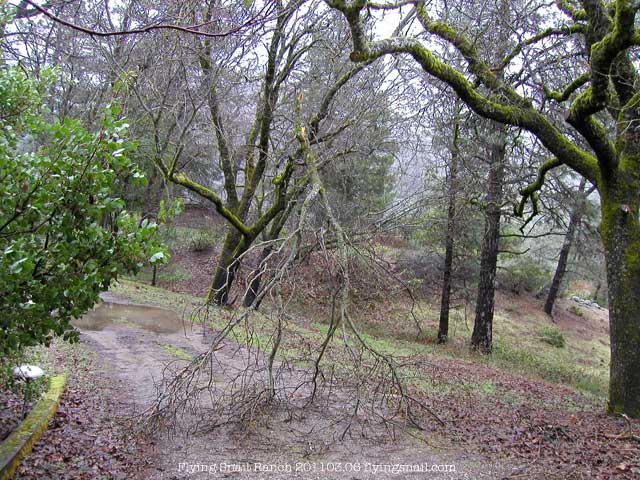 Fallen tree branch in driveway - March 6, 2011 - After two (2) feet of snow melted.
Christopher Hitchens jokes about joining 'cancer elite'
Beloved 'contrarian' tells 60 Minutes documentary that he's begun to look down on 'people with lesser cancers'
Richard Lea, guardian.co.uk, Monday 7 March 2011 12.52 GMT, Article history - Article Source

Christopher Hitchens on 60 Minutes
Christopher Hitchens has survived the latest intervention in his ongoing treatment for cancer, an examination by CBS's Steve Kroft on 60 Minutes, with the author joking that the severity of his illness has made him a "member of a cancer elite" who finds himself "looking down on people with lesser cancers".
The profile, filmed over a period of months following Hitchens's diagnosis with oesophogeal cancer in June 2010, furnishes an admiring overview of the great controversialist's life, as well as a fascinating portrait of the incomprehension and affection which result on both sides when mainstream America encounters the maverick Englishman.
Described by Kroft as a "provocateur" who consumes "staggering amounts of alcohol", Hitchens proceeds to gently run rings around his interviewer, wryly observing that his 5% chances of survival are "not the odds [he] would have picked", demanding more precision in Kroft's suggestion that the polemicist has sometimes gone "over the top", and then correcting Kroft's quotations from his demolition of Mother Theresa.
Hitchens admits that the diagnosis left him "petrified with fear", because he worried that it might stop him writing, which would diminish his "will to live".
"Being a writer is what I am, rather than what I do," he says.
Kroft despairs of summing up Hitchens's literary output, and seems astonished at Hitchens's library, averring that the writer has "read all of [his books] from cover to cover, and can still quote lengthy passages".
Hitchens meanwhile revels in his bad-boy reputation, affirming that he wrote about a tasteless joke concerning Princess Diana, despite Kroft's surprise that "it was printed", suggesting that he was "notorious" at Oxford instead of merely "infamous", and agreeing with Kroft's assessment of his career as proceeding by "picking on bigger and bigger targets".
"In a way, of course it has to end with the belief in the divine," says Hitchens, "because that is the origin of all dictatorship."
The latest footage, filmed in February, shows a bearded Hitchens speaking with a little more rasp in his voice, but still with the same sharp wit. According to Kroft, the author nearly died in January, and is taking a "cutting-edge drug" in an "experimental programme" which is "showing some promise".
Hitchens, who says he hates it when people ask about the expiry date on his credit card, remains undaunted.
"I make preparations both to live and to die every day," he says, "but with the emphasis on not dying, and on acting as if I was going to carry on living."
Why Trust PG&E SmartMeters, When PG&E Executives Get Away With Murder?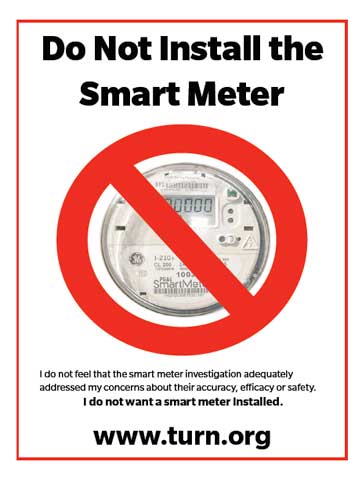 Click to Download a Do Not Install the Smart Meter Sign
SmartMeters – not so smart
Written by Anthony Farrington, Thursday, 03 March 2011, Lake County News - Article Source
On Tuesday, March 8, at 11 a.m. the Lake County Board of Supervisors will consider the possibility of taking legal action against Pacific Gas & Electric (PG&E) to stop the installation of SmartMeters.
Recently, PG&E representatives came before our board to present the positive aspects of SmartMeters. PG&E representatives stated that with SmartMeters our state will move toward a "Smart Grid," and that with SmartMeters residents "may" realize a 12- to 20-percent savings in their monthly bill.
The word "may" peaked my attention (pun intended).
PG&E told our board that they have installed over seven million SmartMeters.
During PG&E's presentation, I asked PG&E to provide my office statistical data that substantiated their claim of a 12- to 20-percent monthly savings.
So far, I have not received any information. In fact, I have had conversations with elected officials in other counties and I have received feedback from residents who have had a SmartMeter installed, and the overwhelming consensus is that their monthly bill has actually increased!
With SmartMeters, PG&E is able to use wireless technology that sends real-time information on a daily basis. With SmartMeters, PG&E is able to bill each customer or peak day usage versus total monthly usage with standard meters. This means an exponential increase in rates to our local residents, businesses and farmers.
On July 26, 2006, the California Public Utilities Commission (CPUC) approved SmartMeters for the customers of PG&E, and authorized PG&E to spend $1.7 billion to deploy SmartMeters.
On Feb. 25, 2010, the CPUC adopted the new rate structures for residential, commercial and agricultural customers that will allow PG&E to bill its customers a higher rate for use during the peak hours. The SmartMeter is necessary to implement this new billing structure.
CPUC members are appointed, and not elected. They are removed from local residents and, in my opinion, beholden to utility companies and special interest groups.
As decision makers, the CPUC can take only one of two sides: either the members stand "for people," or they stand "for profit." Unfortunately, time and time again, the CPUC continues to stand "for profit."
When this discussion came before our board, a number of local residents voiced their concerns about SmartMeters. At that time, I did not understand what all the fuss was about.
Many citizens voiced concerns about rate increases; health risks associated with SmartMeters due to the exposure of electromagnetic field (EMF) emissions; concerns about the loss of privacy due to the sharing and storage of real time information and data; and they voiced concerns about the firing of meter readers throughout the state.
In my research, I have found it true that there are positive aspects of SmartMeters, and the development of a Smart Grid.
With SmartMeters and a Smart Grid users will have to be more frugal with their use of electricity which will result in a decrease in the use of energy, which means a decrease in greenhouse gases.
In addition, people with Internet access will be able to go online and monitor their bill. While this may be a strong selling point, I do not believe that this is PG&E's motive.
I have also found the concerns about health risks and exposure to EMFs to be a valid concern.
Even though the CPUC looked at studies and concluded that the emissions from an individual SmartMeter "should" not pose a health risk, there are no studies that have looked at the "cumulative" health risks where SmartMeters are installed in dense neighborhoods.
Yes, it may be true that with SmartMeters customers will be able to go online and monitor their usage and attempt to decrease their demand in order to reduce their bills.
Unfortunately, a lot of my constituents do not have Internet access and they are not in a position to decrease their demand.
My constituents are business owners who need power to run their businesses; my constituents are farmers who need power during all hours to water, harvest and package their crops; and my constituents are seniors, and disabled people that have to stay cool in the summer and warm in the winter.
Unlike the CPUC, the choice for me is simple. I will continue to stand "for people."
Anthony Farrington represents District 4 on the Lake County Board of Supervisors. He lives in Lakeport, Calif.

Oakland Neighborhood Resisting Smart Meters
SMART METER UPDATE
Article Source: http://www.turn.org/article.php?id=1154
You can still refuse a smart meter and hold your energy company responsible for high smart meter bills
Hundreds of PG&E customers have contacted TURN to complain about Smart Meter installation. In response, TURN has been working to hold both PG&E and the California Public Utilities Commission (CPUC) accountable.
The CPUC investigation into PG&E's Smart Meters did not go far enough. It failed to answer many of the questions consumers continue to have about the accuracy, effectiveness and safety of these expensive new meters. TURN remains skeptical that Smart Meters are a smart investment for consumers. The meters have failed to provide customer benefits commensurate with their costs, which are $2.2 billion for P&GE customers alone.
While the investigation did not address the wealth of complaints TURN has seen about Smart Meters, we are in full agreement with the conclusion that PG&E's customer service, education and the overall handling of this project have been abysmal. While PG&E continues to install meters, TURN will continue to demand that PG&E improve customer service across the board.
Ultimately PG&E may be able to force these Smart Meters on everyone—whether you want them or not. But right now PG&E largely appears to be respecting the wishes of consumers who have asked not to have them installed, and some city and county governments have passed ordinances ordering PG&E to halt installations and have succeeded in delaying installations for the time being.
With your ongoing support, TURN's next steps will be to continue documenting consumer complaints about high bills, billing errors, poor customer service and other issues as well as organizing against future rate hikes and time-of-use pricing.
For now, here are some things you can do:
1. Contact PG&E and let them know that you don't want a Smart Meter and would like to be placed at the end of the installation schedule at the very least. They will most likely tell you that you have no choice. Remain firm but calm remind them that PG&E has stated publicly that consumers who boycott the meters will not be shut off.

PG&E's dedicated Smart Meter line is 1-866-743-0263

If PG&E threatens to shut off your power, file a complaint with the CPUC.

You can also download a sign below to place on your meter. At least once a month, take a picture of your meter reading and mark the date and time. It is quite possible that PG&E may send you an estimated bill. If they overestimate your bill you will have proof of your actual usage. If they underestimate your bill, be aware that PG&E could charge you for any "past usage" for an indefinite period of time. You should save up to pay for any underestimates and contact PG&E.

2. Unfortunately, once the meters have been installed it is extremely difficult to get them removed. If you already have a Smart Meter, monitor your bills closely, and if you see any suspicious increases, contact us and file a complaint with the CPUC. Your complaint will go on record and will assist us in fighting for stronger consumer protections in California.

3. Send letters to the CPUC, your local newspaper and your elected officials letting them know why you are disappointed with the CPUC's investigation of Smart Meters and urge the CPUC to just say no to further PG&E rate hikes.
No matter what happens with the Smart Meters, we at TURN will continue to do what we have always done: work to hold utility companies and the CPUC accountable.
We will be sending updates about our next steps as well as other actions you can take for lower bills and a livable planet.
The best way to support our efforts is to become an active member of TURN and to make a tax-deductible donation. Members receive priority when calling or emailing our consumer hotline for advice, assistance, and tips for saving money on your utility bills.
Contact Kori Chen, Community Organizer, at 1-800-355-8876 or kchen@turn.org for more info.
My two cents on Smart Meters
Written by Howard Glasser, Monday, 07 March 2011, Lake County News - Article Source
I've put in a lot of time investigating the Smart Meter issue as well as the industry behind the movement and my research turned up some curious and compelling research which I'm still piecing together.
The more I dig, the more I see that this story is so deep and so wide and its impact is so great that it's like a meteor. If this were just science fiction, it would still be scary but the truth is even stranger and scarier.
In light of the outpouring of heightened public interest and concern from Lake County and beyond, I think we can take heart in that so many good and decent people have come forward to be heard and that the people's voice is resonating and our representatives are listening. Industry should never underestimate the power of the people when they are motivated and come together as we are now seeing.
Flagrant disregard for public health and contempt for civil rights are not taken lightly by people who are outraged by the abuses and violations wrought by this deployment.
What exacerbates this even more is how arrogantly this technology army fearlessly marches over everything in its path as if it's too late for the citizens and voters of this state to speak up.
They police themselves and buy whatever science they need to justify their actions and treat us like paranoid hysterics who are simply afraid of something we don't understand.
They man their phones with people who shamelessly say to us that we have no choice; that it's just a matter of when.
They throw us a bone by putting us on a list to defer our deployment a few months hoping that by then we'll have forgotten about all this and calmed down.
It's clear that this industry has underestimated the collective intelligence and will of an organized people who in the face of tyranny, haven't forgotten to say no.
These are people who've been silently seething, caught up in a downwardly spiraling economy, jobs shipped overseas, tumbling home values, school closures, small and medium sized business failures, government bail outs, and a privileged few making more money than anyone ever thought possible against the backdrop of a vanishing middle class that once was the backbone of our proud country.
These are people who feel like America was stolen and they want their country returned to them. These are people that worked hard, did all the right things, played by the rules, paid their taxes, cast their votes, and who now sit back and shake their heads and ask, "What the hell happened?"
These are mothers and fathers and grandparents whose children are moving in with them because they can't afford to buy food or pay the rent.
This is a nation looking around and seeing other countries grow and develop while we sink beneath a crushing debt that we can't see the end of.
This is a people that stands up when the flag is raised and sings the national anthem but wonders if something's been lost.
If there is one thing we might thank the Smart Meter invasion for, is that it got people talking to each other again and united us like it hasn't in years behind a single cause. It's broken the spell of polarization that paralyzes an electorate and mobilized them.

That's my two cents on the subject and we DO have a choice. Give Pacific Gas & Electric, Wellington Energy, the California Public Utility Commission and our state's policymakers our two cents now or pay through the nose later with our health and wallet. You choose.

George Carlin - The Owners of America


Nobody Brought Peace To Our Times
"None of the Above" Should Be On Voter Ballots
TIME FOR A CORPORATE DEATH PENALTY!
Stop the Torture & Free Bradley Manning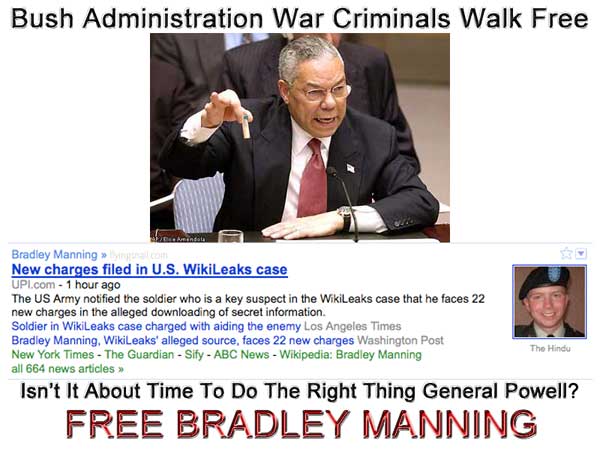 General Colin Powell Should Come Clean
About the Criminal Bush Administration and
Help Free Bradley Manning
Che Guevara's motorcycle companion, Alberto Granado, dies at 88
Man who made journey across Latin America, which was immortalised in The Motorcycle Diaries, has died
Cherry Wilson, guardian.co.uk, Saturday 5 March 2011 22.55 GMT, Article history - Article Source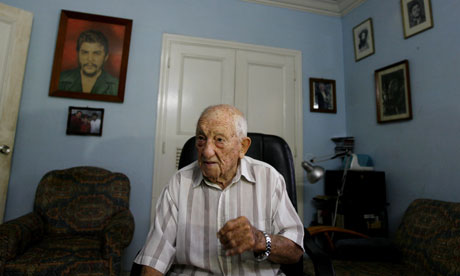 Alberto Granado, close friend of Che Guevara. Photograph: Javier Galeano/AP
Argentinian Alberto Granado, who travelled with Ernesto "Che" Guevara on a journey of discovery across Latin America that was immortalised on-screen in The Motorcycle Diaries, has died in Cuba aged 88.
Their road trip awoke in Guevara a social consciousness and political convictions that would turn him into one of the iconic revolutionaries of the 20th century.
The two travellers both kept diaries, which were used as background for the 2004 movie, produced by Robert Redford and directed by Walter Salles. Granado was born on 8 August 1922 in Córdoba, Argentina, and befriended Guevara as a child. As young medical students, they witnessed deep poverty across the continent, particularly Chile, Columbia, Peru and Venezuela, and their stay at a Peruvian leper colony left a lasting impression on the pair.
They parted ways in Venezuela, where Granado stayed on to work at a clinic treating leprosy patients. Guevara continued on to Miami, then returned to Buenos Aires to finish his studies.
Guevara would later join Fidel and Raul Castro in toppling the Cuban dictator Fulgencio Batista on New Year's Day in 1959.
Granado visited Cuba at Guevara's invitation in 1960 and moved to Havana the following year, teaching biochemistry at Havana University. He had lived in Cuba ever since.
In his biography of Guevara, Jon Lee Anderson wrote that Granado was "barely five feet tall and had a huge beaked nose, but he sported a barrel chest and a footballer's sturdy bowed legs; he also possessed a good sense of humor and a taste for wine, girls, literature and rugby".
According to Cuban television, Granado requested for his body to be cremated and his ashes spread in Cuba, Argentina and Venezuela. Funeral arrangements have not been announced.
Guevara was captured and killed by soldiers in Bolivia in 1967 as he tried to foment revolution in the Andean nation.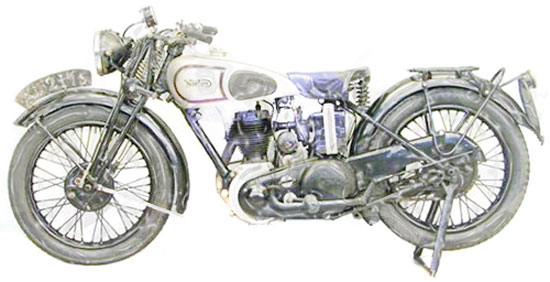 A unionized public employee, a member of the Tea Party, and a CEO
are sitting at a table.
In the middle of the table is a plate with a dozen cookies on it.
The CEO reaches across and takes 11 cookies, looks at the tea partier and says,
"Watch out for that union guy, he wants a piece of your cookie." via Hank
Next Season on Survivor:

So You Want To Be A Teacher

Have you heard about the next planned "Survivor" show?

Three businessmen and three businesswomen will be dropped in an elementary school classroom for 1 school year. Each business person will be provided with a copy of his/her school district's curriculum, and a class of 20-25 students.

Each class will have a minimum of five learning-disabled children, three with A.D.H.D., one gifted child, and two who speak limited English. Three students will be labeled with severe behavior problems.

Each business person must complete lesson plans at least 3 days in advance, with annotations for curriculum objectives and modify, organize, or create their materials accordingly. They will be required to teach students, handle misconduct, implement technology, document attendance, write referrals, correct homework, make bulletin boards, compute grades, complete report cards, document benchmarks, communicate with parents, and arrange parent conferences. They must also stand in their doorway between class changes to monitor the hallways.

In addition, they will complete fire drills, tornado drills, and [Code Red] drills for shooting attacks each month.

They must attend workshops, faculty meetings, and attend curriculum development meetings. They must also tutor students who are behind and strive to get their 2 non-English speaking children proficient enough to take the SOLS tests. If they are sick or having a bad day they must not let it show.

Each day they must incorporate reading, writing, math, science, and social studies into the program. They must maintain discipline and provide an educationally stimulating environment to motivate students at all times. If all students do not wish to cooperate, work, or learn, the teacher will be held responsible.

The business people will only have access to the public golf course on the weekends, but with their new salary, they will not be able to afford it. There will be no access to vendors who want to take them out to lunch, and lunch will be limited to thirty minutes, which is not counted as part of their work day. The business people will be permitted to use a student restroom, as long as another survival candidate can supervise their class.

If the copier is operable, they may make copies of necessary materials before, or after, school. However, they cannot surpass their monthly limit of copies. The business people must continually advance their education, at their expense, and on their own time.

The winner of this Season of Survivor will be allowed to return to their job.

Pass this to your friends who think teaching is easy, and to the ones that know it is hard. via Fred & Sue

Karl Cohen writes: There's Libya, there's Wisconsin, and then there's the important stuff...


Laurel & Hardy dance Santana
BP executives awarded bonuses despite Deepwater Horizon disaster
BP said the extra payments were justified because Byron Grote and Iain Conn had hit their divisional targets
Terry Macalister, guardian.co.uk, Thursday 3 March 2011 11.48 GMT, Article history - Article Source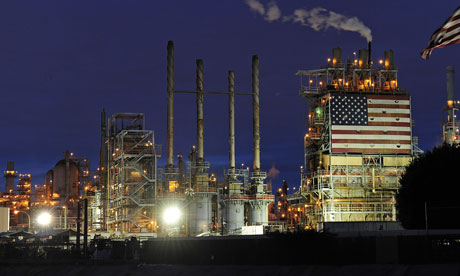 BP refinery in Carson, California. Two of the company's executives have been awarded bonuses Photograph: Robyn Beck/AFP/Getty Images
BP, the company at the centre of the worst oil spill in US history, has awarded bonuses to two of its senior directors, according to its annual report.
Byron Grote, the finance director, and Iain Conn, the head of refining, have both received payouts of more than £100,000 on top of their regular salaries although those bonuses are dramatically lower than in 2009.
The payments have been made even though the share price of the oil group has continued to suffer from the Deepwater Horizon accident, in which 11 rig workers died and beaches across the US southern states were polluted.
BP said the extra payments were justified because Grote and Conn had hit their divisional targets. The company pointed out that neither the current chief executive, Bob Dudley, nor his predecessor, Tony Hayward, received any discretionary awards – including shares under the long-term remuneration plan running between 2008 and 2010.
Hayward and production boss Andy Inglis have left the company since the blowout in the Gulf of Mexico last April. The company has been blamed for mistakes made during the handling of the Macondo well by its own investigation and a presidential probe, but its well contractor Halliburton and rig operator Transocean have also come in for criticism.
Salaries for board members at BP have not increased markedly from 2009 to 2010 but Dudley's basic pay went up to $1.175m from $750,000 in 2009 as he took on the top job.
The Coke Brothers Conspiracy
by Paul Krassner

I was fortunate enough to accompany Ken Kesey and his psychedelic Band of Merry Pranksters when the Grateful Dead played the Pyramids--and won--at a series of outdoor concerts in 1978. During that week, Kesey and I were dinner guests at the home of an Egyptian family in Cairo. Later, the men smoked hashish from a huge hookah. The women stayed in the kitchen, and I grumbled to Kesey about that gender gap.
"When in Rome," he responded, "do as the Egyptians do."
A shy six-year-old girl was peeking us through a beaded curtain, and I waved to her. She waved back, giggled and disappeared. But I have not the slightest doubt that now, at the age of 39, she was among the countless protestors celebrating in the streets those early tremors of freedom. Although 95% of Egyptian women had been victims of forced clitoral circumcision, suddenly they were no longer considered second-class citizens—except, of course, for gang rapes.
On the same Sunday in February 2011 that the revolution in Egypt was peaking, I found myself in Rancho Mirage, California, at a rally against David and Charles Koch—pronounced "coke"—and so I call them the Coke brothers. Many placards featured the Coca-Cola logo on a red background, with the slogan, "Everything goes better without Koch."
The multi-billionaire Coke brothers—funders and manipulators of the Tea Party; oil merchants who opposed reduction of air pollution, claiming that smog prevents skin cancer--were now hosting a secret meeting with 200 wealthy elitists at the Rancho Las Palmas Resort, heavily guarded by sixty Riverside County sheriff deputies in riot gear. (Incidentally, the sheriff is actually named Stan Sniff.)
The Coke brothers were beneficiaries of the 2009 Supreme Court decision that granted personhood to corporations, meaning that they could clandestinely support conservative politicians without any accountability, and in 2010 the Court ruling that corporations—and unions, which the Coke brothers are attempting to demolish--could spend unlimited sums on campaign advertising.
The anti-Coke demonstration was held in a parking lot across the street from the resort, an old friend, Jim Hightower--the author of There's Nothing in the Middle of the Road but Yellow Stripes and Dead Armadillos and Swim Against the Current: Even a Dead Fish Can Go With the Flow--was speaking. "These Justices are as confused as goats on astroturf," he told the audience of 1,000. "We need to pass a constitutional amendment that says a corporation does not have the rights of a person."
Weeks later, the mystery behind the Coke brothers conclave would be revealed, linking them to Wisconsin Governor Scott Walker. Koch Industries had been the largest corporate contributor to his campaign, so it's no surprise that Walker was busy sucking up to his puppeteers as he followed their wishes to destroy the American labor movement. In fact, a front group for the Coke brothers has launched a website which propagandizes against all collective bargaining.
While the protesters in Wisconsin were inspiring, the infamous political prank call to Governor Walker from fake David Koch inadvertently disclosed the mindset Walker shared with real David Koch. Fake David said, "We'll back you any way we can. But what we were thinking about the crowd was, uh, was planting some troublemakers." Walker replied, "We thought about that," but he was afraid the plan might backfire.
"I hate to be rude and intrude on a secret meeting," Jim Hightower had said at the Uncloak Koch rally, "but there comes a time when America's imperiled democracy requires ordinary grass root people to rebel, and to be rude enough to intrude on the people applauding corporate plutocrats who are so rude as to usurp our democratic rights.
"Listen, this billionaires' caucus thought that they could meet secretly, but you pulled back the curtain on them behind which they had been hiding—such front groups as Americans for Prosperity, the Heritage Foundation, the Manhattan Institute, the Cato Institute, the Federalist Society, Freedom Works, even the Tea Party themselves—we pulled back the curtain and there they are, Charles and David, the modern-day Wizards of Oz, only Ozier, don't you think?"
Later, I went backstage to chat with Hightower. He had flown in from Texas for the event and was energized by the spirit of this demonstration.
"It ain't Egypt, though," I observed.
"Not exactly," he chuckled.
The Egyptian people want to have regular elections just like we do in the United States, as epitomized by the sexist slogan, "One man, one vote." Unfortunately, when George Bush defeated Al Gore in a contentious bid for the presidency in 2000, that "one man" happened to be Supreme Court Justice Antonin Scalia.
Bank Official Intentionally Tries to Kill Dozens of Cyclists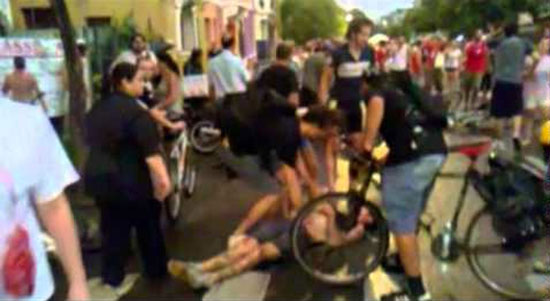 What can we learn from the murderous attack on cyclists in Porto Alegre on Friday?
Posted by Eric Britton, editor on 1 March 2011 - Article Source
Porto Alegre Brazil. 25 February 2011. At least forty people were injured when a mad driver slammed his car into a pack of more than 100 cyclists in the city of Porto Alegre in Brazil. The cyclists, mainly young people, were staging a peaceful demonstration calling for a reduction in the number of cars on the streets. The 47-year-old male driver fled the scene of the incident Friday evening and was later arrested after authorities found his abandoned car over the weekend.
Many of our readers will know about this, but for those who do not a quick click just below will put you in the picture. What happens when a mad (quite literally) motorist drives his car on a murderous attack through a group of young people on a slow bike ride through the streets of their own city? Is this just an odd story of one person, one day and one event? Or are there more profound, more universal lessons that we should be taking the time to try to learn and share.

Driver tries to kill cyclists in Critical Mass Porto Alegre, Brazil
We have some clues. And with then some questions to be asked. Perhaps we can in the coming days look at them together in this and other fora. It would be a pity to miss this opportunity to put our heads together and learn from this awful, stupid, inhuman, but somehow dreadfully familiar event.
The first is the sheer irony of the fact that these free citizens of the city were peacefully demonstrating to reduce the number of cars on their city streets.
The second is that they were young, sweet, happy and interested enough to take their bike and ride together for what they believed to be a good cause for their city.
The third is the sheer mad fury on the man at the wheel. Will it not be useful if we try to take the time to find out what exactly was going on in his head? He made the point to the police that the cyclists had threatened him and that he was frightened. Frightened enough to plow through a defenseless crowd? One wonders about his past and earlier examples of anti-social behaviour.
And then — naturally enough given the scenario — that he fled the scene and had to be sought out and arrested by the police. That too is pregnant with meaning.
I would guess that if we can come to understand his process of derangement and furious action, we will be wiser for it.
Should perhaps the city have accompanied the cyclists in the first place, as often happens in other places that have taken the measure of the potential dangers?
Is Porto Alegre a place in which acts such as this meet a certain level of public approval or at least connivance? Is it the only such place on the planet?
And if so — and it has to be the case in many other cities of all levels of economic and social variety when confronted with such anger as in such cases of road rage — what do we as intelligent, hopefully open-eyed proponents of sustainable mobility have to learn from all this — so that we can in the future seek and find ways to lower the temperature and bring reason into the debates and the behaviour of all involved?
And what about all those around the world that are shocked and wish to weigh in with their thoughts for those who were injured and so badly frightened? How can we send them our messages of love and support? Shouldn't we be sending them tens of thousands of messages of solidarity over Twitter and Facebook. We do not want them to feel alone or abandoned. And we all need to learn the lessons. So off we go. Tweet!!
Did National Geographic Just Recommend Small Nuclear War?

A nuclear bomb explodes in a test on the Mururoa atoll in French Polynesia in the early seventies. - Photograph from AP
Small Nuclear War Could Reverse Global Warming for Years
Regional war could spark "unprecedented climate change," experts predict.
Charles Q. Choi for National Geographic News, Published February 22, 2011 - Article Source
Even a regional nuclear war could spark "unprecedented" global cooling and reduce rainfall for years, according to U.S. government computer models.
Widespread famine and disease would likely follow, experts speculate.
During the Cold War a nuclear exchange between superpowers—such as the one feared for years between the United States and the former Soviet Union—was predicted to cause a "nuclear winter."
In that scenario hundreds of nuclear explosions spark huge fires, whose smoke, dust, and ash blot out the sun for weeks amid a backdrop of dangerous radiation levels. Much of humanity eventually dies of starvation and disease.
Today, with the United States the only standing superpower, nuclear winter is little more than a nightmare. But nuclear war remains a very real threat—for instance, between developing-world nuclear powers, such as India and Pakistan.
To see what climate effects such a regional nuclear conflict might have, scientists from NASA and other institutions modeled a war involving a hundred Hiroshima-level bombs, each packing the equivalent of 15,000 tons of TNT—just 0.03 percent of the world's current nuclear arsenal. (See a National Geographic magazine feature on weapons of mass destruction.)
The researchers predicted the resulting fires would kick up roughly five million metric tons of black carbon into the upper part of the troposphere, the lowest layer of the Earth's atmosphere.
In NASA climate models, this carbon then absorbed solar heat and, like a hot-air balloon, quickly lofted even higher, where the soot would take much longer to clear from the sky.
(Related: "'Nuclear Archaeologists' Find World War II Plutonium.")
Reversing Global Warming?
The global cooling caused by these high carbon clouds wouldn't be as catastrophic as a superpower-versus-superpower nuclear winter, but "the effects would still be regarded as leading to unprecedented climate change," research physical scientist Luke Oman said during a press briefing Friday at a meeting of the American Association for the Advancement of Science in Washington, D.C.
Earth is currently in a long-term warming trend. After a regional nuclear war, though, average global temperatures would drop by 2.25 degrees F (1.25 degrees C) for two to three years afterward, the models suggest.
At the extreme, the tropics, Europe, Asia, and Alaska would cool by 5.4 to 7.2 degrees F (3 to 4 degrees C), according to the models. Parts of the Arctic and Antarctic would actually warm a bit, due to shifted wind and ocean-circulation patterns, the researchers said.
After ten years, average global temperatures would still be 0.9 degree F (0.5 degree C) lower than before the nuclear war, the models predict.
(Pictures: "Red Hot" Nuclear-Waste Train Glows in Infrared.)
Years Without Summer
For a time Earth would likely be a colder, hungrier planet.
"Our results suggest that agriculture could be severely impacted, especially in areas that are susceptible to late-spring and early-fall frosts," said Oman, of NASA's Goddard Space Flight Center in Greenbelt, Maryland.
"Examples similar to the crop failures and famines experienced following the Mount Tambora eruption in 1815 could be widespread and last several years," he added. That Indonesian volcano ushered in "the year without summer," a time of famines and unrest. (See pictures of the Mount Tambora eruption.)
All these changes would also alter circulation patterns in the tropical atmosphere, reducing precipitation by 10 percent globally for one to four years, the scientists said. Even after seven years, global average precipitation would be 5 percent lower than it was before the conflict, according to the model.
In addition, researcher Michael Mills, of the National Center for Atmospheric Research in Colorado, found large decreases in the protective ozone layer, leading to much more ultraviolet radiation reaching Earth's surface and harming the environment and people.
"The main message from our work," NASA's Oman said, "would be that even a regional nuclear conflict would have global consequences."
BP fund lawyer to refuse 100,000 Gulf spill disaster claims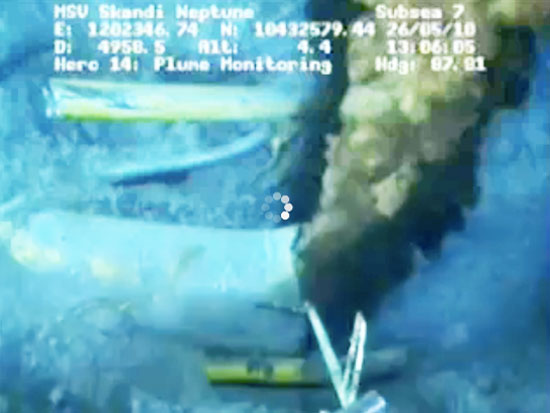 Vast majority of 130,000 unsettled claims do not have adequate documentation, says Ken Feinberg
Suzanne Goldenberg, US environment correspondent, The Guardian, Tuesday 1 March 2011, Article history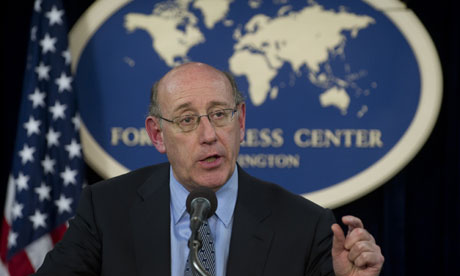 Ken Feinberg has come under pressure from the Obama administration and BP over his handling
of the oil spill compensation fund. Photograph: Saul Loeb/AFP/Getty Images
Upwards of 100,000 claims arising from the BP oil disaster in the Gulf of Mexico may never be paid, the beleaguered administrator of the oil company's compensation fund has acknowledged.
A defensive Ken Feinberg, under fire from the Obama administration, Gulf leaders and local business for the slow pace of payouts for losses due to the BP spill, said the vast majority of the 130,000 unsettled claims did not have adequate documentation.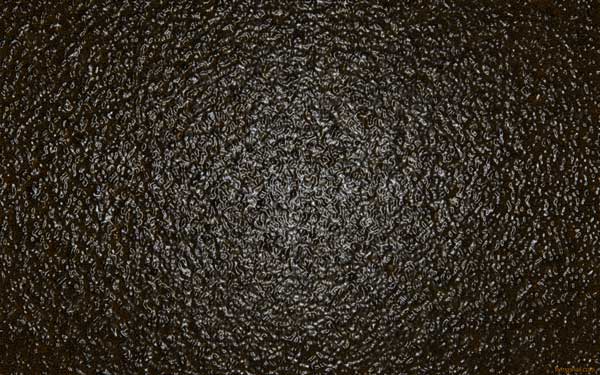 "Here is the problem that I continually have to address … roughly 80% of the claims that we now have in the queue lack proof," Feinberg told foreign reporters in Washington. "That is a huge number."
Feinberg did not rule out settling claims in the future, but he added: "The claims that were denied had woeful, inadequate or no documentation to speak of."
He indicated that BP is unlikely to pay out more than the initial $20bn (£12.3bn)agreed for the compensation fund in a meeting at the White House last summer. "I am cautiously optimistic that $20bn will be enough," he said.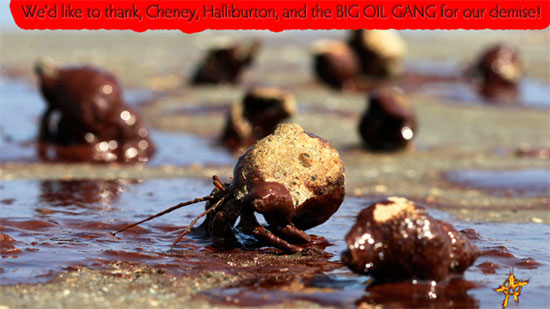 Any funds remaining from the $20bn would revert to BP under an agreement with the White House, Feinberg said: "My understanding is that if $20bn is sufficient and there is money left over it is retained by BP. That is not on my watch, that is not my responsibility."
The Obama administration, state governments, and local businesses have grown increasingly frustrated with Feinberg's handling of the claims process. Since August, Feinberg has paid out nearly $3.6bn to some 168,000 individuals and businesses in the Gulf.
The state governments of Louisiana, Mississippi, Alabama and Florida accuse Feinberg of stalling claims, causing hardship to local businesses. They also accuse Feinberg of under-estimating losses to local businesses. They have asked the courts to order emergency payments.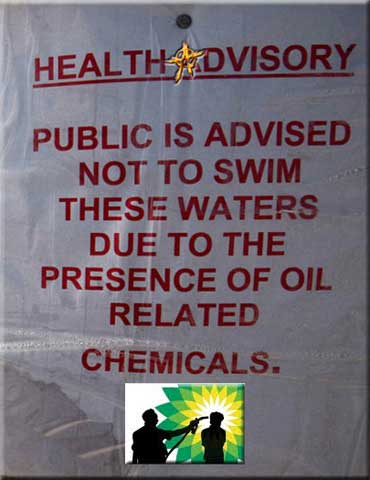 Earlier this month, a New Orleans judge ordered Feinberg to stop calling himself an independent operator, as BP pays his law firm $850,000 a month to oversee the compensation fund.
BP meanwhile said Feinberg has been overly generous. Feinberg, on the defensive, told reporters that most of his estimates were based on the assumption that the Gulf would make a full recovery by the end of next year .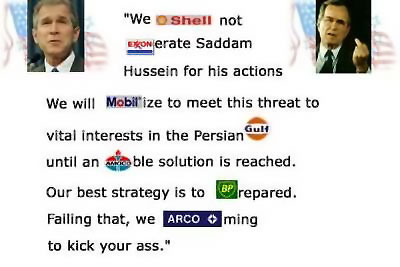 However, the fishing and tourist industries, which were badly damaged by the spill, claim it will take much longer to recover.
http://www.guardian.co.uk/environment/2011/mar/01/bp-lawyer-gulf-spill-disaster-claims

US approves first deep-water well in Gulf - March 1, 2011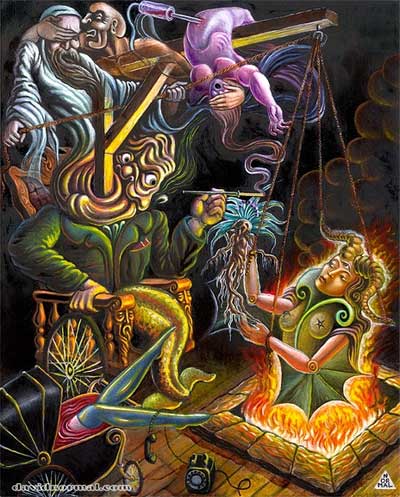 Hello Curtis! This is my latest painting: "Gallow's Humor" This painting, along with my other recent piece, "Conception", will be debuting in San Francisco at "Trickster Salon", a monthly salon of art, music, performance, and downright "trickery" that takes place at Mission Control. The forthcoming Trickster Salon, "Secrets in the Shadows", is the first of a two part series that explores the duality of dark and light. My "Illuminations" will be there glowing brightly, as I lurk in the shadows, but I will emerge from the gloom to meet you should you brave the darkness - and verily do I dare you to.
For more info about this piece (or any of my other work) please visit my blog, http://normal.bz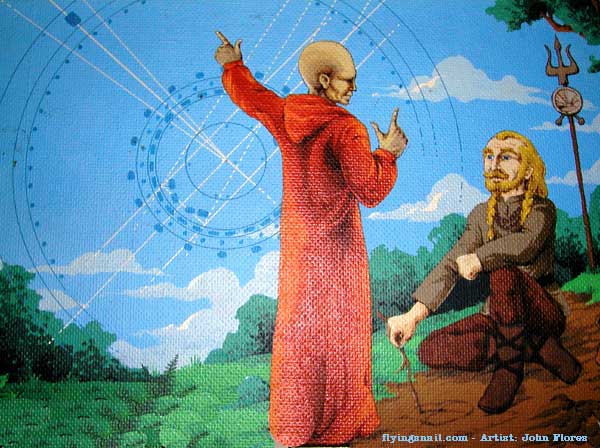 The man whispered, "God, speak to me" and a meadowlark sang. But the man did not hear. So the man yelled "God, speak to me" and the thunder rolled across the sky. But the man did not listen. The man looked around and said, "God let me see you" and a star shined brightly. But the man did not notice. And the man shouted, "God show me a miracle" and a life was born. But the man did not know. So the man cried out in despair, "Touch me God, and let me know you are there" Whereupon God reached down and touched the man. But the man brushed the butterfly away and walked on.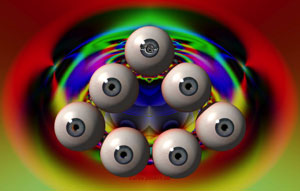 Don't miss out on a blessing because it isn't packaged the way you expect.