Freedom of expression and freedom of speech aren't really important unless they're heard...It's hard for me to stay silent when I keep hearing that peace is only attainable through war. And there's nothing more scary than watching ignorance in action. So I dedicated this Emmy to all the people who feel compelled to speak out and not afraid to speak to power and won't shut up and refuse to be silenced. - Tommy Smothers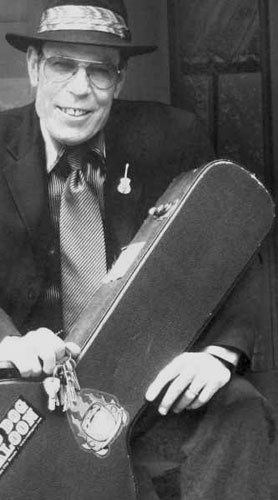 Mike Wilhelm photograph by H. C. Anderson
This is the audio [Hound Dog] from the video of our encore at the Blue Wing as shot by Cornelius. Eric Roach on guitar (second solo).
http://www.flyingsnail.com/Podcast/HoundDogBR.mp3 - Available via free subscription = iTunes RSS feed
Yours in music, Mike Wilhelm - "May the baby Jesus shut your mouth and open your mind." - Family Dog motto.
Mike Wilhelm Trio to play at 2 Goombas
Friday, February 12, 2010 from 5:30 PM to 8 PM
LOWER LAKE, CA - Popular local Trio, Mike Wilhelm (vocals & guitar), Neon Knepalm (vocals & percussion), and Milton "Woody" Brown (vocals & violin) will play at 2 Goombas, 16175 Main St., in Lower Lake's Tuscan Village, adjacent to the Post Office, on Friday, February 12, 2010 from 5:30 PM to 8 PM.
While Wilhelm's emphasis is on down home blues, audiences have come to expect the unexpected from the virtuoso delta slide guitarist, who also has a broad Americana repetoire ranging from western ballads, atmospheric instrumentals and ragtime hokum to blood curdling pirate songs. Local vocal sensation Neon has also garnered a loyal following of fans in Lake County.
Windows Patch Leaves XP Users With Blue Screen of Death
by Gregg Keizer, Computerworld, Feb 11, 2010 9:01 am
Tuesday's security updates from Microsoft have crippled Windows XP PCs with the notorious Blue Screen of Death (BSOD), users have reported on the company's support forum. [Click to Continue Reading]
Microsoft confirms 17-year-old Windows bug
Google engineer reveals ancient flaw in all 32-bit versions of Windows
By Gregg Keizer, January 21, 2010 07:00 AM ET
An attacker who successfully exploited this vulnerability could run arbitrary code in kernel mode," said the newest advisory. "An attacker could then install programs; view, change, or delete data; or create new accounts with full user rights. [Click to Continue Reading]
Cost, Crotchetiness Keep Broadband Out of 1/3 of U.S. Homes
By Ryan Singel, Wired, February 23, 2010, 6:25 pm, Categories: Broadband
More than a third of American adults don't have a fast internet connection at home, leaving some 80 million adults and 13 million children at a distinct disadvantage in a wired world, according to an FCC report released Tuesday.
The survey, conducted by phone last fall, comes less than a month before the FCC gives Congress the country's first comprehensive plan to make broadband ubiquitous and affordable. The survey, Broadband Adoption and Use in America (.pdf), was intended to help the agency figure out why broadband adoption is so low and what it can do to bring the wonders of Facebook, Twitter, online education and sophisticated time wasting to millions more.
Not surprisingly, more than a third of broadband laggards, 36 percent, cited the high cost of broadband and technology, even as entry-level computers and laptops have become very affordable. But survey users report they spend an average of $41 a month on broadband — which comes to nearly $500 annually.
Others say they lack the skills to get online (10 percent) or think it's too dangerous to either their financial security or their morals (also 10 percent).
Nearly 20 percent without broadband say they don't bother to subscribe, because there are 800 million web sites, but nothin's on — or if they have dial-up, that there's nothing worth getting faster.
The survey also found that most without broadband cited a number of concerns, so that a grumpy grandpa who says he doesn't need that there Twitter also said it was just too darn expensive.
While the causes vary, the good news is that 30 percent are "Near Converts" who'd like broadband but mostly stay away due to the cost. Digital Hopefuls, a category that leans heavily toward Hispanic and African Americans, think broadband would be good, but many lack the money and skills needed to get online.
And then there's the group that's just never going to go online — even if you gave them iPads for free — whom the FCC delicately describes as "Digitally Distant." They're mostly older people, many of whom are retirees.
The report also found divisions along income, education and race. For example, 52 percent of Americans in households with annual incomes of $50,000 or below have broadband at home, compared with 87 percent of those in households with incomes above that level.
The report will bolster telecom arguments that the nation's broadband plan should be mostly about educating users, promoting adoption and even subsidizing construction or broadband connections. While activist groups are strong supporters of the government closing the so-called digital divide, they see the best hope for that in larger structural changes to the market, like forcing carriers to rent their lines to competitors or making fiber a public utility rented out to ISPs.
Those ideas are anathema to the telecom industry, which told the FCC Monday that any moves to force them to rent out their wired infrastructure at fair rates would lead to stifling and drawn-out lawsuits.
The FCC's national broadband plan is due to Congress on March 17, though the feds are in the process of handing out more than $4 billion in stimulus funds already.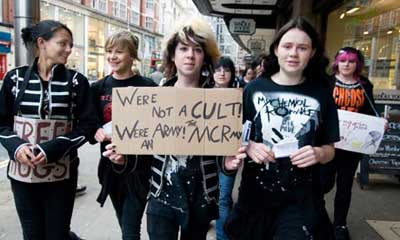 Tribal gathering... emo teens sticking together. Photograph: Jenny Matthews / Alamy/Alamy
From mod to emo: why pop tribes are still making a scene
Like-minded music fans have been herding together for half a century – but are die-hard pop tribes now a thing of the past? Do today's youth cults still have that gang mentality?
by Jude Rogers, guardian.co.uk, Thursday 25 February 2010 21.30 GM, Article history
Five great British pop tribes
Teddy boys
Golden years: 1953-58
Music: American rock'n'roll in the 1950s, and then rockabilly and glam when the teds returned in the 1970s.
The look: Edwardian drape jackets – whence the name; sculpted quiffs and "duck's arses" of hair at the neckline; crepe-soled "brothel creeper" shoes for jiving.
Deadly rivals: Everyone at first. By the late 1970s, punks often reported being attacked by gangs of Teds.
Public profile: Low, despite Teds being the first pop tribe – they pre-dated rock'n'roll, but soon became passionate fans of US music. In the 70s, there was a rock'n'roll revival big enough for a gig to be held in Wembley Stadium, followed by another, smaller revival in the early 80s. Now it's back underground.
Mods
Golden years: 1964-66
Music: US soul, UK groups such as the Who and the Small Faces.
The look: Tailormade three-button suits, parkas to protect them on scooters from mud and rain.
Deadly rivals: The greasy, unstylish rockers.
Public profile: Always bubbling away. The original Mods' habit of having bank-holiday rucks with rockers at seaside resorts made them a cause celebre in the 60s, and their profile has remained high thanks to periodic revivals of the music (in the late 1970s, and mid-1990s), and because mods are still regarded as the most stylish of all British cults.
New Romantics
Golden years: 1980-83
Music: Electronic synthpop, heavily inspired by the combination of David Bowie, punk and disco.
The look: Frilly blouses, heavy makeup on both sexes. Thanks to Spandau Ballet, it's hard to think of New Romatics without seeing kilts.
Deadly rivals: None, although rivalry within the scene was rife.
Public profile: The "Romo" movement of the mid-90s failed to spark public interest, but more recently the combination of Spandau Ballet's ­return and 80s-style synthpop becoming both fashionable and popular has changed that.
Grebos
Golden years: 1989-92
Music: Midlands rock bands such as Pop Will Eat Itself, the Wonder Stuff, Gaye Bikers On Acid and Crazyhead. PWEI are said to have popularised the word with their song Oh Grebo I Think I Love You.
The look: Hair shaved at the sides and long on top – somtimes dreadlocked, rarely clean. Big stripy jumpers, with baggy jeans or shorts.
Deadly rivals: None: most other youth cults considered them ­beneath contempt.
Public profile: Extinct. Greboes came and went, leaving little trace of their existence.
Junglists
Golden years: 1993-96
Music: Instrumental club music driven by high-tempo breakbeats and complex rhythms.
The look: Camouflage, Moschino jeans, Caterpillar boots
Deadly rivals: Not exactly deadly rivals, but fans of house music were held in contempt by some Junglists.
Public profile: Low in the UK these days – jungle music was a victim of the shifting sands of dance culture – but beginning to rise and mutate ­internationally. [Read Complete Article At]:
http://www.guardian.co.uk/music/2010/feb/25/emo-pop-tribes-mods-punks
Tsunami Warning/Watch/Advisory:
for US west coast, British Columbia, and Alaska
http://wcatwc.arh.noaa.gov/2010/02/27/725245/05/message725245-05.htm
To: U.S. West Coast, Alaska, and British Columbia coastal regions
From: NOAA/NWS/West Coast and Alaska Tsunami Warning Center
Subject: Tsunami Advisory #5 issued 02/27/2010 at 2:55AM PST

A Tsunami Advisory is in effect which includes the coastal areas of California from the California-Mexico border to the Oregon-California border.

A Tsunami Advisory is in effect which includes the coastal areas of Alaska from Kodiak, Alaska to Attu, Alaska.

This message is for Information Only for coastal areas of Oregon, Washington, British Columbia and Alaska from the Oregon-California border to Kodiak, Alaska.

A Tsunami Advisory means that a tsunami capable of producing strong currents or waves dangerous to persons in or very near the water is imminent or expected. Significant, widespread inundation is not expected for areas under an advisory. Currents may be hazardous to swimmers, boats, and coastal structures and may continue for several hours after the initial wave arrival.

At 10:34 PM Pacific Standard Time on February 26, an earthquake with preliminary magnitude 8.8 occurred near the coast of central Chile . (Refer to the United States Geological Survey for official earthquake parameters.) This earthquake has generated a tsunami which could cause damage to coastal regions in a warning or advisory. The waves are expected to first reach La Jolla, California at 0:02 PM PST on February 27. Estimated tsunami arrival times and maps along with safety rules and other information can be found on the WCATWC web site.

A tsunami has been observed at the following sites:
Location Lat. Lon. Time Amplitude
------------------------ ----- ------ ------- -----------
42min Antofagasta 23.3S 70.4W 0813UTC 0.46M/1.5 FT
40min Iquique Chil 20.2S 70.2W 0848UTC 0.30M/1.0 FT
28min Coquimbo Chi 29.9S 71.3W 0903UTC 1.27M/4.2 FT
40min Caldera Chil 27.1S 70.8W 0745UTC 0.52M/1.7 FT
47min Corral Chile 39.9S 73.4W 1013UTC 1.54M/5.1 FT
40min Talcahuano C 36.7S 73.1W 0659UTC 1.89M/6.3 FT
42min Valparaiso C 33.0S 71.4W 0859UTC 2.60M/8.7 FT
16min San Felix Ch 26.3S 80.1W 0808UTC 0.81M/2.7 FT
Time - Time of measurement.
Amp. - Tsunami amplitudes are measured relative to normal sea level. It is NOT crest-to-trough wave height. Values are given in both meters (M) and feet (FT).

Tsunamis can be dangerous waves that are not survivable. Wave heights are amplified by irregular shoreline and are difficult to forecast. Tsunamis often appear as a strong surge and may be preceded by a receding water level. Mariners in water deeper than 600 feet should not be affected by a tsunami. Wave heights will increase rapidly as water shallows. Tsunamis are a series of ocean waves which can be dangerous for several hours after the initial wave arrival. DO NOT return to evacuated areas until an all clear is given by local civil authorities.

The Pacific Tsunami Warning Center in Ewa Beach, Hawaii will issue messages for Hawaii and other areas of the Pacific outside the states and provinces listed above.

This message will be updated in 60 minutes or sooner if the situation warrants. The tsunami message will remain in effect until further notice. For further information stay tuned to NOAA Weather Radio, your local TV or radio stations, or see the WCATWC web site.

Link to Standard Warning Message
Link to Public Warning Message
Link to XML/CAP Message
Link to Printable Message
Michel Auder "Dinner is Served"
Opening TONIGHT Saturday, 27 February at 8 pm
27 February – 14 March 2010
Four Boxes Gallery - http://www.krabbesholm.dk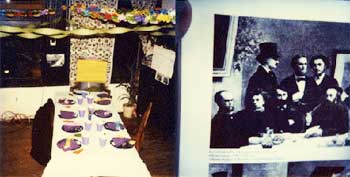 Michel Auder (b. 1954, Paris) Dinner is Served, 2010 70.2 x 110.7 cm, C-print © Michel Auder
Krabbesholm is delighted to host Michel Auder's first solo exhibition in Denmark at our new exhibition space Four Boxes Gallery. The exhibition will display new video and photo works by the artist, along with some of Auder's earlier works never before exhibited in Denmark.
Michel Auder, whose art practice spans over 40 years, was one of the first artists to use video as an artistic medium.
In Auder's work, the camera both witnesses and directs social exchange. It describes a highly subjective position, moving about his environment, recording its soundtrack, admitting incidental drama, autobiographical detail, and the real-time incursions of broadcast media. In the early 1970s, Auder adopted a continuous approach to filmmaking -- constant documentation of the people and scenarios he encountered. As a result, he amassed an extensive archive of video footage, which he uses and reuses in his works. His films collide with narratives in art history and popular memory, and involve artists, writers, and musicians whom he has met over the years.
In conjunction with the exhibition, Krabbesholm will publish a book edited by the exhibition's curator artist Michael Stickrod. The book will include texts by English writer/curator Michelle Cotton, French filmmaker Brigitte Cornand, and US artist Justin Liberman.
This is the beginning of a new series of Krabbesholm books, which will differ in format from those in the previous series. The book will be available online for a short period of time at http://www.krabbesholm.dk starting February 27, 2010.
Michel Auder will attend the opening, where he will discuss his work and thoughts about this exhibition.
Only after the last tree has been cut down, Only after the last river has been poisoned, Only after the last fish has been caught, Only then will you find money cannot be eaten. - Cree Prophecy
The man whispered, "God, speak to me" and a meadowlark sang. But the man did not hear. So the man yelled "God, speak to me" and the thunder rolled across the sky. But the man did not listen. The man looked around and said, "God let me see you" and a star shined brightly. But the man did not notice. And the man shouted, "God show me a miracle" and a life was born. But the man did not know. So the man cried out in despair, "Touch me God, and let me know you are there" Whereupon God reached down and touched the man. But the man brushed the butterfly away and walked on.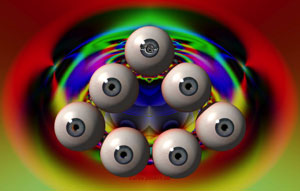 Don't miss out on a blessing because it isn't packaged the way you expect.