[NOTE: Posted partially unedited due to health problems ~ Curtis]
ASIFA-SF NEWSLETTER
Association International du Film d'Animation
(International Animated Film Association)
June 2013
This issue contains a reality check article: IS THE ANIMATION INDUSTRY IN INDIA IN TROUBLE? that contradicts the image that India & probably other countries are capable of creating features equal to Hollywood's. Also there are serious troubles in many of their animation education institutions that echo the troubles created by some of our for-profit schools.
There are festival reports: a link to one by Bill Dennis and a full report on Stuttgart by Nancy Denney-Phelps.
There is industry news about Disney being insensitive to various groups, lots of cool links to check out, a mention of Tom Sito's new book on the history of computer animation (an excellent book), a FASCINATING ANIMATION ONLINE section and much more.
Our June event is our 2nd annual Spring Animation Festival
Karl Cohen's Investigative Film Journalism Award, April 7, 2013
TIPS FOR PEOPLE WHO ARE SERIOUS ABOUT GETTING STARTED AND WANT TO SUCCEED IN AN ANIMATION CAREER - FROM PICKING A SCHOOL TO GETTING THAT FIRST JOB by Karl Cohen
LOCAL NEWS
CICADA PRINCESS" BY MAURICIO BAIOCCHI HAS BEEN QUITE SUCCESSFUL AT INTERNATIONAL FILM FESTIVALS The live action puppetry film was directed by Mauricio Baiocchi whose screen credits for effects work include major features produced at ILM, The Orphanage and other studios. The short is based on Mauricio's script about cicadas, an insect that lives underground for sixteen years. In the film they live out their lives above ground for only one day and a glorious night. They hope to find happiness and! maybe love in that brief time. They gather for the grand Cicada ball knowing that when the sun rises, their lives will come to an end. It was narrated by Stephen Fry. The film was made with lead puppet maker Robert Barnes and lots of local volunteers. www.cicadaprincess.com
The film premiered late last year in NYC at the 2nd Puppets on Film Festival, sponsored by the Jim Henson Foundation. Since then it has been in the SF International Film Festival, the Santa Barbara Film Fest,, the Chicago Film Critics Fest., SXSW (Austin, Texas -South by South West); Shorts Fest in Aspen, Colorado (it won a special jury prize); Cinequest in San Jose, Flatpack in Birmingham, England and by other events.
A SHORT FROM SAN JOSE STATE IS A FINALIST IN THE STUDENT ACADEMY AWARD COMPETITION! Couch and Potatoes, a stop-motion short directed by SJSU Animation/Illustration students Eunsoo Jeong and Christopher Lam, was selected as a National Finalist for the 40th Annual Student Academy Awards. The short won the Excellence in Humor award at ASIFA-SF's First Annual Spring Show in 2012.
The Student Academy Awards is a national competition conducted by the Academy of Motion Pictures Arts and Science. Each year over 500 college and university film students compete for awards and cash grants. The Academy will present Gold, Silver and Bronze Medal Awards to the winners at the awards ceremony on June 8, 2013.
WINNER OF THE SF INTERNATIONAL FILM FESTIVAL'S GOLDEN GATE AWARD FOR BEST ANIMATED SHORT WAS "KALI THE LITTLE VAMPIRE" We showed it with the director Regina Pessoa present at our October 2012 ASIFA-SF event at the Walt Disney Family Museum. This exceptional film was co-produced by the National Film Board of Canada and a French producer in 2012. It received a $2,000 cash prize.
Luminaris by Juan Pablo Zaramella from Argentina won the festival's Best Family Film award. It received a $1,500 cash prize. Ron Diamond showed this wonderful pixilated short here in his Animation Show of Shows.
CONGRATULATIONS TO MICHELLE IKEMOTO FROM SAN JOSE STATE Her film Tule Lake won the best student film at the 44th Annual ASIFA-East Animation Festival. It also tied for first prize in our 1st Annual Spring Festival last June.
NEW ANIMATION SHORTS BY BAY AREA ARTISTS ARE ON THE INTERNET
STOP-MOTION SPECIAL EFFECTS WIZARD WEBSTER COLCORD HAS POSTED A MAKING OF SHORT It shows him working on stop-motion sequences for Straight to Hell Returns, 2010, an Alex Cox production.
http://youtu.be/xFHVLOVM990
TONY CLAAR HAS A FUN 33 SECOND CARTOON ON YOUTUBE See Off and On at
http://youtu.be/OH8W_QzDkR0
LIPPY"* HAS ANIMATED "PRUNET FINGERS" FOR A TED ED ANIMATED TALK
http://ed.ted.com/lessons/pruney-fingers-a-gripping-story-mark-changizi#watch *Michael Lipman
CHECK OUT CARTOONLAND'S NEW WEBSITE Kevin Coffey. who has worked for Disney, Lucas, Cartoon Network and many others. He has over 50 animation clips on the site along with design work for national ad campaigns, comic strips, illustrations from 20+ books he has illustrated and much more.
http://cartoonlandanimation.com/
CLARISSA MATALONE PLAYS WITH LASERS FOR A LIVING After graduating from SF State in 2012 she was hired at Walt Disney Imagineering, the unit that designs and installs the Disney theme parks. She loves her job and will be overseeing the laser and projector installations at the theme park Disney is building in Shanghai. She was on ASIFA-SF's 2012 Careers in Animation panel and her soon to be husband Seth Podowitz has presented a program on voice acting to our members.

THE WALT DISNEY FAMILY MUSEUM IS GROWING IN POPULARITY The SF Chronicle interviewed their CEO Gabriella Calicchio (5/11/13) who told them the attendance is "awesome. In 2012 we increased attendance by 13%. The first quarter of 2013 is up by 71% over last year. Between January and March we had 32,600 visitors." She also said the annual budget is around $11 million and they have 2,124 members. "When I started we had 1,100."

JOHN HAYS HAS BECOME A MONK! John is now a director at The Monk Studios in Bangkok, Thailand. They are a boutique visual effects and animation studio and they worked on the animated sequences John directed for the feature Howl (about Allen Ginsberg, 2010). The studio also has also worked on Rango and more recently episodes of Detour for Lucasfilm. The Monk is currently in production on! 3 commercials that Hays is directing. John, who was a founder and president of WildBrain, will continue to live in SF and commute as needed. There's also talk about him opening a new SF satellite studio in the near future.

EA HAS SHUT DOWN ONCE SUCCESSFUL FACEBOOK GAMES The once highly promoted games SimsCity Social and The Sims Social are no longer online.

"LOOK! UP IN THE SKY! IT'S A BIRD! IT'S A PLANE! IT'S SUPERMAN!"AND HE IS HANGING OUT AT THE CARTOON ART MUSEUM The museum is celebrating the 75th anniversary of Superman, The Man of Steel with an exhibition exploring his long reign as The Last Son of Krypton. See his earliest incarnation when he launched the Golden Age of comics in the first issue of Action Comics (1938) through his bizarre adventures in the Silver Age of comics to the modern era, where he continues his never-ending battle for Truth, Justice, and the American Way.
The exhibit explores the rich history of Siegel and Shuster's creation through original artwork by several important artists including Fred Ray, Wayne Boring, Curt Swan (often cited as the character's definitive artist), Neal Adams, John Byrne, Jerry Ordway (he revitalized Superman in the 1980s), Jon Bogdanove, Brett Breeding, Tom Grummett, Jackson Guice, Dennis Janke, Dan Jurgens, Karl Kesel, and many others. Vintage movie posters, toys, and props are also included along with footage from Superman animated cartoons on a video screen. Programming for this exhibition will be announced throughout the summer. The Cartoon Art Museum is located at 655 Mission Street in SF.

NOW THAT DISNEY HAS ENDED LUCASARTS' PRODUCTION OF GAMES, THEY HAVE SIGNED A CONTRACT WITH ELECTRONIC ARTS (EA) TO HAVE THEM DEVELOP NEW STAR WARS PRODUCTS The advantage of this for Disney is they do not have to be responsible for the high development costs of creating new products and risking their money if a product fails to turn a profit.

EA WAS NAMED 'WORST COMPANY IN AMERICA' BY A "HUFFINGTON POST" CONSUMER POLL The poll published April 10, 2013 said this is the second year in a row EA beat out B of A, Carnival, Ticketmaster and Comcast for the dubious honor. The paper claims voters are angry because "the game maker is unapologetic about products that are substandard, over-priced and under-supported. One would hope the flames of consumer ire would have bigger fish to fry."
Note: A former EA employee tells me that in 2004-04 EA was voted one of the very best places to work!
ZYNGA TURNED A FIRST QUARTER PROFIT AFTER RESTRUCTURING ITSELF While the profit was small for a major games company, $421 million, it was a great improvement from last year's first quarter when they lost $65 million. Part of the profit came from the successful release of Farmville 2. They also ended the development of two games that they feel were not candidates for long term success.
In May Zynga killed the release of four poorly performing games: The Ville, Zynga City, Dream Zoo, and Empires and Allies. They are introducing new games including Draw Something 2 and Running with Friends. Zynga is building up their business on their own social network for mo! bile devices. Their business on Facebook is in decline.
Zynga is also working towards building a niche in the online gambling market. In April they began running casino games in the UK that are played with real money. They are partnering with a large publicly traded online gambling company based in Gibraltar. They also are reported to be planning something with gambling corporations in Nevada.
CORRIE FRANCIS PARKS' "A TANGLED TALE" IS BEING SHOWN IN ANNECY, PALM SPRINGS AND HAMBURG THIS MONTH! Her sand animation will be screened in four events, our ASIFA-SF Spring Festival, The Annecy International Animated Film Festival, the Hamburg Short Film Festival and the Palm Springs ShortFest. The film has already been screened at the Tricky Women Animation Festival in Vienna and the Tehran Int'l Animation Festival.
www.corriefrancis.com/

JERRY GERBER, WHO DOES MUSIC FOR ANIMATION SOUNDTRACKS, HAS A NEW CD OUT He is best known for his music for Art Clokey's Gumby series. He has just released Cosmic Consciousness. His new CD contains Five Pieces for Virtual Instruments and Symphony #8.
He says "it is my finest CD."
www.cdbaby.com/jerrygerber4
www.jerrygerber.com/cosmicconsciousness.htm
PLANS FOR GEORGE LUCAS' MUSEUM IN THE PRESIDIO ARE MOVING FORWARD It is one of three proposed projects that are finalists in the contest to obtain the lease on the former PX building. His museum would include storytelling art from great illustrators to George Lucas features and it would be heavily endowed. The park's conservancy group is also a finalist and they propose a space for temporary exhibits, performances, and "experiences" (what does that mean?). The third proposal is also vague, a space for a "sustainability institute." There will be a hearing on the three proposals June 17 and final hearings st! art on Sept. 16.

THE SF MUSEUM OF MODERN ART WILL HONOR GEORGE LUCAS WITH A LIFETIME ACHIEVEMENT AWARD AND DINNER The Oct. 24 event will raise money for the museums education programs. Tickets will be $400.

TOM SITO DELIGHTED OUR AUDIENCE WITH HIS ESOTERIC KNOWLEDGE ABOUT THE CREATION OF CG ANIMATION His talk in May at the Cartoon Art Museum was full of wonderful stories about how an odd assortment of characters created what grew into several billion dollar industries. He interviewed about 75 of the founders in the process of creating his book, the first comprehensive history of computer animation. The following book review gives a few good reasons why you might want to get a copy of this important book. I did and I too am enjoying discovering its contents.
MOVING INNOVATION, A HISTORY OF COMPUTER ANIMATION"
By TOM SITO, MIT Press
Reviewed by Nancy Denney-Phelps
It isn't often that I read a text book that is a real page turner, but Tom Sito's new book - MOVING INNOVATION, A History of Computer Animation is definitely a must-read. It covers over a century of innovation including the first motion capture experiments of Etienne-Jules Marey, (a contemporary of Eadweard Muybridge), the use of optical effects by Georges Melies in his magical films, the design and optic effects wizardry of John Oxberry's revolutionary contribution, the Oxberry camera, and on through the dawn and emergence of the Computer Graphics revolution, Moving Innovation follows the trail of historical developments of dreamers and inventors right up to the present. Even though such innovators as Elfriede and Oskar Fischinger, Mary Ellen Bute, and Norman McLaren never touched a computer, we are taken step by step through the groundwork they laid for present day CG. The book brings to life the colorful cast of math nerds, avant-garde artists, cold warriors, dope smoking hippies, video game enthusiasts and studio executives who were the strange bedfellows who brought about this new medium.
Tom delves into the work of engineers and inventors like John Whitney, Senior, who is considered the father of computer animation. After the war, visionaries like Whitney scavenged the then numerous army surplus stores for components such as Mark V and VII antiaircraft gun sights. They modified them to create things like the Analog Cam Machine, which eventually led Whitney to becoming the first IBM artist in residence. Another chapter is devoted to "Spook Work: the Government and the Military" and the seldom acknowledged major role that technologies developed for World War II had. They enabled innovations in the newly dreamed of area of computer animation.
Films such as Tron and Toy Story didn't just happen. Names such as Alexander Schure and Ivan Sutherland are hardly household words but they both made substantial contributions for present day animation to build on. Schure, an entrepreneur who won $10,000 on Jeopardy on the topic of animation, founded the New York Institute of Technology. His financing and support created the first research lab/studio to attempt computer animated features and commercial work. Sutherland, the creator of the first graphic interface program Sketchpad, is considered one of the fathers of computer graphics and started the computer graphics program at the University of Utah. This list of innovators and visionaries goes on and on right up to the present.
Chapters devoted to visual effects and motion capture take the reader step by step into how each new discovery has changed the art of animation. The story is far from over though, and the author will have plenty of new material for a sequel as CG continues to develop.
As an animator and Hollywood insider for more than 30 years, Tom Sito has experienced first-hand many of the innovations that he writes about, and is a masterful story teller. His impressive list of credits includes being one of the key players in Disney's 1980's and '90's animation revival. He has worked on such Disney classics as The Little Mermaid, Beauty and the Beast, and The Lion King. In 1995 he left Disney to help set up the DreamWorks animation unit. In addition he is also a professor of Cinema Practice in the School of Cinema! tic Arts at University of Southern California.
The 336 page book has hundreds of crisp black and white photographs as well as copious footnotes, a brief alphabetical description of the cast of characters, and a glossary of terms. The extensive bibliography steers the reader to other books, articles, and on line sources on related topics. Each and every paragraph is just crammed with many interesting facts, and as you read, each paragraph leaves you smiling (or outright laughing) and the narrative never seems boring or pedantic.
Whether you are involved in the animation or games industry or a lover of animation this book should be read and kept close for handy reference. For animation schools, Moving Innovation is an invaluable educational reference to not only teach students about their past but to guide them into the 3D revolution.
The book is $29.95 from MIT Press, hardcover, 362 pages, http://mitpress.mit.edu.
LOCAL EVENTS
COME ENJOY AND BE PART OF
ASIFA-SF 2nd ANNUAL SPRING SHOW

SUNDAY, JUNE 23, 1:30 PM, FREE

At the Randall Jr. Museums' Theatre
see flyer for details (at end of this issue)
Sunday June 23 at 1:45pm, GET ANIMATED! -- 15 ANIMATED SHORTS at the Roxie. They include: Beyoutiful by Hsin Pei Liu, USA/Taiwan; Seraph by Dash Shaw; Hawker by Coco Riot and Elisha Lim, Canada; Dating Sucks: A Genderqueer Misadventure by Sam Berliner; Jake Shears: A Gift by Jok Church; Love Your Glove...An Agenda by Jok Church; I Want Your Love by Dotan Moreno, Canada; Everytime You Go Away I Stab Myself A Little by Dotan Moreno; Insert Credit by David Nguyen, Canada; Villanelle For Daters by Buzz Slutzky; Moth by Mu Xi, China; Ordinary Town by Michael Wilde; Ink Deep by Constance Levesque, Canada; Benjamin's Flowers by Malin Erixon, Sweden and Shift by Juan Carlos Zaldivar and Anja Marais. Presented by the LGBT Film Festival, a 73 minute program.

Sunday June 23 at 10 AM, "HAPPY FEET" (2006) WITH "FAMILY RESTAURANT" (2012) at the Castro
NATIONAL/INTERNATIONAL NEWS
WARNER BROS. WILL RELEASE "TOM AND JERRY'S GIANT ADVENTURE" AS A HOME ENTERTAINMENT PRODUCT AUGUST 6 The press release says, "It's super-sized fun for the whole family with Tom and Jerry's Giant Adventure, as the tussling twosome star alongside famous characters from classic children's literature and legendary nursery rhymes in an exciting, animated re-telling of the beloved classic, Jack and the Beanstalk. Viewers will meet Peter Pumpkin Eater, Humpty Dumpty, the Three Little Pigs, Little Red Riding Hood, Little Bo Peep and many other! famous storybook characters as they mix and mingle with classic cartoon personalities including Droopy Dog, Barney Bear, Tuffy the Mouse, Screwy Squirrel, Spike and Tyke and others in a magical story that will delight both kids and adults." It is a Warner Bros. Home Video product.
AARDMAN ANIMATIONS ANNOUNCED AT CANNES THEY ARE CREATING A "SHAUN THE SHEEP" FEATURE Shaun the Sheep, a hit animated TV show, will become a claymation feature based on characters from Nick Park's Oscar-winning short A Close Shave. Aardman in the U.K. and France's StudioCanal are teaming up to co-produce the feature. Mark Burton, who co-wrote the screenplay with directors Park and Steve Box on Wallace & Gromit in the Curse of the Were-Rabbit (2005) will co-write and co-direct Shaun the Sheep with Richard Starzak.
The plot of the feature has Shaun and his sheepdog friend Bitzer forced to take their entire flock on an adventure to the big city to rescue the Farmer. Shaun the Sheep has already spawned a hit kids' stop-motion animated TV show and a spin off preschool program, Timmy Time. Both series have been sold to virtually every territory in the world.
THE DREAMWORKS EXPERIENCE IS PLAYING IN MACAO, CHINA The elaborate stage show is playing at the Sands China in Macao, a family-friendly resorts/theme parks. The resort features dining experiences with characters from Kung Fu Panda, How to Train Your Dragon, Shrek and Madagascar (can dragons use chop sticks?), themed areas where characters meet visitors, photo shoots with characters, parades, performances, a light and sound spectacular and later this year, a DreamWorks-themed Ice World.

DREAMWORKS ANIMATION IS ACQUIRING AWESOMENESSTV It is a thriving next-generation media company, which through its Multi-Channel Network on YouTube has already signed up over 55,000 channels, aggregating over 14 million subscribers and 800 million video views. In addition, the AwesomenessTV brand has recently extended beyond the mobile platform into television and film, signaling continued cross-platform expansion plans.

DREAMWORKS REPORTS HEALTHY QUARTER
DreamWorks Animation reported $134.6 million in revenue and $5.6 million in net income in the most recent quarter, with strong showings from both home video sales and The Croods box office. In the previous period DWA took an $87 million write-off for the under performance of Rise of the Guardians. Since the report came out the stock has risen in value. The Croods has become a blockbuster, taking in over $550 million worldwide (as of May 19, it cost about $135 million to make). Katzenberg has announced that a TV series starring The Croods is in the works. Home entertainment releases of Madagascar 3: Europe's Most Wanted made $22.8 million during the quarter, Rise of the Guardians $9.6 million and Puss in Boots $7.5 million. DreamWorks' How to Train Your Dragon 2 will be released June 20, 2014.
After the company's previous report they announced that 400 layoffs were coming as DWA attempts to "right-size the whole enterprise." In May Katzenberg said that some of the 400 workers are gone, others have been notified that they'd be laid off soon and that no further layoffs are expected.
The company has delayed the release of Mr. Peabody & Sherman, and Me & My Shadow has been yanked from the schedule indefinitely. DreamWorks now owns Classic Media, the company that owns the rights to The Lone Ranger character so they have received an advance payment from Disney for the new Johnny Depp feature. DWA will also participate on the backend and on merchandise revenue. Although Katzenberg was once pushed out of Disney, now he says, "We're rooting for them."
DISNEY IS WILLING TO MESS WITH THE SELF-IMAGE OF GIRLS, TEACHING THEM TO THINK THIN AND BE NON-AGGRESSIVE PRINCESSES When they redesigned Brave's feisty Merida into a thinner, sweet dressed up cute doll some people were outraged, child development experts were not amused and one friend suggested she looks like a high priced hooker. Disney responded to the controversy by removing Merida's new look from the official Princess website and on May 13 the original Merida was back. Last year they redesigned Minnie Mouse into an anorexic fashion model.

DISNEY OFFENDS HISPANICS BIG TIME About 20 years ago Lalo Alearaz (LA Weekly cartoonist) created "Migra Mouse," his depiction of Mickey as a border patrol cop. It was his reaction to Disney contributing money to Pete Wilson's reelection campaign for California Governor.
Recently the corporation tried to obtain a registered trademark on "Dia de los Muertos" (Day of the Dead), a sacred holiday in many parts of the world. It was also the working title of a Pixar feature project. The Latino community erupted when they found out Disney was trying to own their day of remembrance to sell crap.
Word spread in a matter of hours over the Internet, petitions were sent to Disney and they were smart enough to say they were ending their bid to obtain the trademark and would change the name of the feature.
The public's outrage is expressed in Aztlán creating "Muerto Mouse," a Mickey-like monster destroying civilization. When I wrote a friend about this she wrote back, "That is so far beyond disgusting - between Disney laying off animators and trying to trademark a cultural holiday they know absolutely no shame. Next they'll be coming after St. Nicholas - what a wholesome, family friendly company!"

DISNEY GIVES THE GREEN LIGHT TO "STAR WARS REBELS" FOR TV The Jedis will return in an animated TV series premiering Star Wars Rebels in fall 2014. The hour pilot, now in production at Lucasfilm, will premiere on the Disney Channel before debuting as a full series on Disney XD. The series will explore the 19 years between Episode II and Episode IV, "a time where the Empire is securing its grip on the galaxy and hunting down the last of the Jedi Knights as a fledgling rebellion against the Empire is taking shape."
In case you were wondering, over the span of the Star Wars' lifetime, so far more than $20 billion of licensed goods have been sold. The films have brought in $4.4 billion in ticket sales and $3.8 billion in home entertainment products.
DISNEY'S UPCOMING RELEASES INCLUDE A TOP SECRET PROJECT DisneyToon Studios will release Planes Aug. 7. It is set in the world of Cars, and gosh, the planes have big eyes on their windshields just like the cars have in Cars.
The next title from Disney Animation is Frozen, another in the long line of princess tales. A Disney website says Frozen stars Anna, a fearless optimist, Kristoff, an "extreme mountain man" and his sidekick reindeer Sven. They go on an epic journey where they encounter "mystical trolls, an amazing and comedic snowman named Olaf, Everest-like conditions and magic at every turn in a race to find Anna's sister Elsa, the Snow Queen, and save their kingdom from eternal winter." It comes out Nov. 27, 2013.
Pixar's Monsters University will be released June 21, 2013 and their The Good Dinosaur comes out May 30, 2014. For 2014 there has been talk of an untitled feature being directed by Don Hall and starring a Marvel Comics super team called the Big Hero 6. It may come out on Nov. 7, 2014. There is also talk of a new top-secret project that will be directed by Byron Howard, who directed Tangled. Jason Bateman is in talks to voice-star in it. An unofficial source leaked that it is an untitled animal comedy. Finally Star Wars 5 is slated for a summer 2015 release.
RAY HARRYHAUSEN, VISUAL EFFECTS PIONEER, DIED AT 92 He was highly revered for his remarkable cutting-edge effects work in the '50s and '60s on fantasy classics including The 7th Voyage of Sinbad, Jason an! d the Argonauts with the amazing skeleton swordfight and extra-terrestrials in Earth vs. the Flying Saucers.
He mastered the special effect technique of projecting footage from the front and rear, one frame at a time, a technique he learned while working with Willis O'Brian on Mighty Joe Young in 1949. He dubbed his technique "Dynamation."
He grew up in LA, attended Los Angeles City College and then USC where studied drama and art direction. After graduation from USC he worked on George Pal's animated PuppetTooons before entering the service during World War II.
After working with O'Brien he joined Warner Bros. in 1953 and was in charge of special effects for Beat from 20,000 Fathoms. Then he worked on three science fiction films at Columbia, including The 7th Voyage of Sinbad. His credits include creating spectacular havoc in disaster films -- The Best from 20,000 Fathoms and It Came from Beneath the Sea. He created dinosaurs in One Million Years B.C., Twenty Million Miles to Earth. Other films included Valley of the Gwangi, First Men in the Moon, Sinbad and the Eye of the Tiger, Mysterious Island, Animal World, The Valley - Time Forgot, Golden Voyage of Sinbad, Sinbad and the Eye of the Tiger and Clash of the Titans. In 1992, the Academy of Motion Pictures Arts and Sciences gave him! with an honorary Oscar for his technological contributions.

FOUR PROJECTION MAPPING VIDEOS including a high fashions costume exhibit that was at the DeYoung.
http://experientialdesigns.blogspot.com/2013/05/3d-projection-mapping.html
FASCINATING ANIMATION ONLINE
CAN A GIRAFFE FLY OR SWIM? Find out in a photo realistic short by Cube Creative made to celebrate their 10th anniversary in 2012. It may amaze you. See 5M80 at
www.wimp.com/highdiving/
To see more of their work visit
http://www.cube-creative.fr/selected-works/
A MOST UNUSUAL ANIMATED WORK FROM IBM IS "THE WORLD'S SMALLEST MOVIE" The work was made using atoms being animated under an electron microscope. It sort of tells a simple story. A "how to" film about how the scientists made the film short follows the feature attraction. IBM made it at a lab near San Jose. CA.
https://www.youtube.com/ibm?x=us-en_atomic_699_40
A BBC report explained, "Researchers at IBM have created the world's smallest movie by manipulating single atoms on a copper surface. The stop-motion animation uses a few dozen carbon atoms, moved around with the tiny tip of what is called a scanning tunnelling microscope (STM). It would take about 1,000 of the frames of the film laid side by side to span a single human hair. The extraordinary feat of atomic precision has been certified by the Guinness Book of World Records.
http://www.cbc.ca/news/technology/story/2013/05/01/tech-smallest-movie-ibm.html
and
www.bbc.co.uk/news/science-environment-22364761

"23 CARTOONISTS DEMAND ACTION NOW ON GUN VIOLENCE" The film is a reaction to the mass shooting and the senseless loss of innocent lives in Newton.
http://www.demandaction.org/cartoonists/
NINA PALEY IS ANIMATING ABSTRACT ARABIC TILE PATTERNS See her blog for lots of animated examples
www.ninapaley.com

"THE HISTORY OF TYPOGRAPHY" is a delightful educational 5 min. short by Ben Barrett-Forrest from Canada.
www.dezeen.com/2013/05/11/the-history-of-typography-by-ben-barrett-forrest/
DON'T MISS SEEING PAUL BERRY'S OSCAR NOMINATED "THE SANDMAN" (1991) Paul (1961-2001) died of a brain tumor when he was 40. He was a highly talented British animator who worked here on Nightmare Before Christmas. He was a unique character with a wild hair style and a personality to match. His stop-motion horror short is a brilliant work.
http://vimeo.com/23506050
CREATE ANIMATION FOR LEDS MOUNTED ON YOUR BIKE WHEELS -- MONKEY LIGHT PRO IS A WILD PRODUCT
http://www.cartoonbrew.com/crowdfund-fridays/monkey-light-pro-allows-bike-riders-to-screen-animation-on-their-wheels-83321.html
IS THE ANIMATION INDUSTRY IN INDIA IN TROUBLE? Animation Express, a newsletter from India, depicts a boom economy, good pay, great schools, etc. VFX Soldier on the Internet ran an article on May 20 that presents a totally different picture. It says that some big studios have laid off half of their staffs; the wages are too low making it very hard to justify the high cost of an animation education, etc. The author also ! says questionable schools are expensive and recruit students by claiming there are great high paying creative jobs waiting for you! Read "Animation Fraud in India"
http://vfxsoldier.wordpress.com/
After reading the VFX Soldier article a reliable source confirmed the VFX information as true. I was also told that some companies in India are guilty of serious labor abuses including having workers work up to seven days a week for low pay during periods of crunch time. Studios do provide food and cots, but on some occasions workers are not told in advance they are going to work crunch time so they arrive for work without bringing changes of clothing, etc. I was not told how widespread this situation is. (I suspect similar labor abuses can be found in other countries. Years ago I was told about similar conditions in one Bay Area game company. I also read a complaint once about low pay for women in animation in Japan.) KC
Another animation person with a low opinion of the industry in India wrote, "There is no government support, the work is substandard and there is no industry support or care for the workers. Businessmen cannot be trusted to provide truthful and accurate information about their capabilities. Most of the schools are total scams. It's terrible."
Bill Dennis of ASIFA India comments
Bill Dennis, Founder and President of ASIFA India and International Animation Consulting Group, sent us a frank, balanced comment. He says, "There are labor abuses in business all over the world. Animation is not an exception and India certainly is not an exception. However, because India has been in the animation limelight for the past several years, their business is getting greater scrutiny and abuses are getting more press coverage. Fair enough! But, the reporting needs balance."
"Every week we read about studios closing up shop. But, we don't read about the new studios that are opening up all the time. Just last week, a group of friends and former colleagues announced their plans to open a new studio in Mumbai. I've no doubt they will be successful because of the quality of the folks who will be running the studio."
"I know Indian animation studios pretty well and I spend a great deal of time in developing countries where I see and hear, firsthand, about these difficulties. I doubt that labor abuses in Indian studios are as bad or more frequent as animation studios in other developing nations."
"If there's an area in Indian animation where abuses are excessive, it's in the area of animation education. India is a very entrepreneurial country. Indians are quick to discover opportunities and jump in to fill the gaps (or take advantage of the situation). Animation schools and academies have sprung up all over the country. Some of these schools rank among the best in the world. But, unfortunately, far too many of these schools are complete rip-offs. Most of this activity began over a decade ago, when animation was first getting a foothold in the country."
"A dozen years ago, I opened an animation academy in Calcutta. The studio had curricula that measured up well to programs at Western animation schools. The facility was first class. Tuitions were fair and job placement was high. The academy was successful. One of the keys to its success was the involvement of the West Bengal government. They subsidized and provided operational oversight to the school."
"The rip-off academies/institutes offer programs that do not translate to the requirements of Indian studios. These schools are charging exorbitant fees, but offer only big promises. I don't think anyone is 'riding herd' over them. Perhaps the best way for all of this to get straightened out is for the Indian state governments to provide some sort of oversight so that abuses are minimized."
Ed "Acting for Animators" Hooks comments
Ed Hooks has taught his acting for animators courses in India. He says, "This is what happens when for-profit trade schools are not closely regulated. There are only a few animation schools that screen applicants adequately for artistic talent and career potential. Too many of the animation schools are teaching how to use software instead of how to tell stories with characters. India's government is hands-off when it comes to the animation schools, unless outright fraud is suspected. I have yet to see a graduate student showreel from India that is industry ready. A lot of the problem in India is that the animation students do not know what they do not know, and their culture teaches them to trust educators. What needs to happen in India is government investment in the animation industry along with oversight of the schools. Of course, we in the U.S. are not in the best position to be sounding alarms about unethical for-profit schools in India. We have our own culprits."
Karl Cohen sees another serious problem
I suspect this article about abuse and fraud is just the tip of a worldwide problem and we will read more about it in the coming years. At present many parts of the world are trying to cash in on creating commercial animation, but very little of what is being produced appears to be successful in the international marketplace or at major festivals. While lots of people are learning to use CG software and other techniques, learning to be creative, original thinkers do not seem to be taught or otherwise nurtured in animation schools and studios. While I don't know what the objectives of the Indian! animation industry are, China wants to have a million animation workers producing thousands of hours of material each year, but will any of that work be creative original content of interest to people in other countries?
In future newsletters I hope to explore learning to be a creative thinker, how can a society teach people to think outside the box and create original work that goes beyond what most people see on TV and the World Wide Web.
CEBRATING 20 YEARS OF THE TRICKFILM FESTIVAL
April 23 -- 28, Stuttgart, Germany
by Nancy Denny-Phelps
Each year I wait with great anticipation for the International Trickfilm Festival of Animation and the 2013 20th anniversary edition did not disappoint me. As befits a milestone 20th anniversary special guests abounded. The venerable British master of puppet animation, Barry Purves, presented 2 programs of his films, and a screenplay workshop he titled The Naked Animator. Alas, Barry did not appear in the altogether but he did bare the naked truth and some harsh realities about a life devoted to puppet animation. Barry is such an entertaining speaker that I would go out of my way anytime to listen to him read the telephone book which I am sure would be most eloquent with numerous funny asides so the opportunity to hear him talk about what still drives and inspires him to continue to create after 35 years in the land of puppets was a rare treat.
Barry's Gilbert and Sullivan is one of my favourite films and I was delighted to have the opportunity to see it on the big screen again. The only sad moments came when Barry lamented his prints are sadly beginning to show the deterioration of age. Barry's big wish was for someone very rich to come forward and pay to have his films restored before it is too late. I'm afraid that Barry's beautiful films share the same fate with so many of our great films from the past a! s the colors fade. Organisations such as ASIFA Hollywood and Serge Bromberg's Lobster Films in Paris are doing a great deal to restore and save classic films but sadly they can't save everything.
The tireless Mr. Purves also presented 2 programs of his favourite films. The programs Ball and Socket -- Flesh and Blood and Shadows and Light featured some classic puppet animation films such as Jiri Trnka's 1965 The Hand and the current festival super star Oh Willy.
Now that Serge Bromberg has stepped down as Artistic Director of the Annecy Animation Festival, he can devote his energy to film restoration and more time to a long standing love of his, performing live piano accompaniment to the extremely rare films which he has unearthed in cellars and attics. His latest edition of Music and Animation: Retour de Flamme includes such little know films as Symphonie Bizarre, Segundo de Chomon's 1909 French film and classic gem like Joie de vivre, the 1934 Hector Hoppin and Anthony Gross joyful romp through France. Unfortunately, the program took place several miles from Stuttgart in Ludwigsburg, so I had to miss it. The night of the performance was also Serge's Birthday and several of us threw a celebration for him when he returned to the festival café.
I have known Saschka Unseld since he was a student and now, working at Pixar, he has directed his first short, The Blue Umbrella. The film is very different from the usual Pixar fare due to its photo realistic look. The closest I can come to describing the film is that it is an animated version of The Umbrellas of Cherbourg from the umbrella's view point.
Following the screening, Saschka took us through the long process that takes place, from having the idea for story, to pitching it to John Lasseter and company, and finally through the production stage. He said that he got the idea for the film when he spotted a broken abandoned umbrella while walking down a rainy San Francisco street. The Blue Umbrella will be the opening short screened before Pixar's soon to be released Monsters University.
Bill Plympton's workshops are always packed to overflowing. His master class Cheatin', A Work in Progress gave his audience the rare opportunity to listen to Bill examine the process of making an independent animated feature film. Using his latest feature film Cheatin' as his example he took the audience through the pro! cess of conception, writing, design, and finally selling the completed film.
David Silverman is a sure crowd pleaser whether he is giving a Simpson's master class or playing his tuba. Through the week, you could never tell when and where David and my husband Nik would turn up playing together, but it was a pretty safe bet that they would serenade the audience at the Simpsons' special.
Besides the live concert David took us behind the scenes of America's favourite TV family which is celebrating its 26th year of production. He said that at the year's end the team will have produced 559 episodes, which is close to a staggering 191 hours of material. I have no doubt that somewhere in the world an episode of the Simpsons is on the TV 24 hours a day.
I always enjoy watching Russian animation and Natalia Lukinykh's tribute to the anniversaries of 3 Russian studios was a treat. "The Great History of Russian Animation: One Year -- Three Anniversaries" spotlighted the renowned puppet studio Soyuzmultfilm founded in 1953, Pilot Studio dating from 1988, and the school-studio SHAR which opened in 1993. Natalia's program gave an overview of the impressive body of work the 3 studios have created.
It was a rare treat to see two of my favourite films on the big screen. Mitten by Roman Kachanov (Soyuzmultfilm, 1967) is a sweet story of a little girl who desperately wants a puppy despite her mother's objections. Caution, the Doors Are Opening by Anastasia Zuravljeva made at School Studio SHAR in 2005 shows us 24 hours in the Moscow under! ground depicted with buttons, safety pins, and other sewing material. It is a delightfully clever film.
The 5 International Short Film Competition programs are the centrepiece of the festival. The 8 films that were shown during the opening night gala covered a broad spectrum of styles and stories which gave the official guests the opportunity to see that animation is much more than just entertainment for children.
Miniyamba and Because I Am a Girl both deal with poverty and oppression. Because I Am a Girl presents a vivid picture of the reality that 1 in 3 girls around the world are denied an education due to poverty, war, or cultural discrimination. British film makers Raj Yagnik, Shona Hamilton, and Mary Matheson used over 2000 still photographs of 15 children in a Malawian village that they took over a 2 week period to create their pixelated depiction of how education can give girls a chance to move from poverty to opportunities for a better life. Because I Am a Girl is also the name of an international organization that commissioned the work. They strive to provide education to every girl worldwide.
Raj, the producer/director told me that he is usually a documentary film maker and that this was his first venture into animation. Talking to Raj in the festival café it was chilling to realize that in a few days he would be leaving for Pakistan where he will be filming a documentary for the BBC in the same area where aid workers were recently killed.
French animator Luc Perez used charcoal drawings, tempera, sand and ceramics in Miniyamba (Walking Blues) to give a soft feeling to a very harsh reality. Thousands of people around the world leave their homeland every day to try to reach what they believe is a better life in Europe. The film follows Abdu, a young Malian, on his trek to reach "the promised land". When he finally reaches the barbed wire at the Niger River Abdu can see the lights of the West but must face the harsh reality that there is no place for him there.
The film is music driven and Miniyamba is the name of a mythical boa constrictor that encircles a village where people cannot leave. A woman manages to charm the snake by promising to return to tell him about the world. According to Perez this story in various forms has become a song that every West African knows and symbolizes a Europe that prefers to build gates and fences rather than embracing the world.
Sonntage 3 (Sunday 3) is the 3rd part of Jocken Kuhn's trilogy about Sunday outings. I saw the 2nd part a few years ago in Stuttgart and was intrigued by the animator's very individual style. A painter by training, most of his animations are painted directly under the camera and then animated after with the addition of manipulated photographs. In Sunday 3! the protagonist has a blind date with German Chancellor Andrea Merkel. I was so involved in the visual impact of the film that I really missed a lot of the story. I look forward to seeing the film again so I can get the tongue in cheek irony that I think that I missed.
Oh Willy is familiar to most of us but it was a perfect addition to this program. I have seen the film many times, but it is so visually rich that I discover new touches with each viewing. This time I was fascinated by the way the tree bark breathed with a life of its own which I had never noticed before.
Tram, Michaela Pavaltova's celebration of female sexuality was the perfect finale to the opening night program.
After such a strong opening I wondered if the next four programs could keep up the momentum. There was nothing to worry about. I will spotlight a few of my favorites new shorts.
A new Estonian film is always exciting for me and Priit Tender's Ussinuumaja (The Maggot Feeder) certainly met my expectations. The film is based on an ancient Chukchi folk tale in a book of native stories which have traditionally been passed down orally. The book has never been translated into any language except Estonian. The tale of a seal hunter who plans to throw his barren wife into a well he has built and filled with maggots is full of creepy animated creatures. ! My favourite is an eerie spider with a human face and multiple pairs of eyes up her high forehead.
As visually fascinating as the surreal imagery is, Priit's tale of his trek to visit the land of the Chukchi is even more bizarre. The Chukchi people are one of the largest indigenous native groups to come from the coastal region ranging from Siberia to the Bering Strait (Kruprik). Priit and a friend undertook an arduous overland trip, traveling much of the way over the snow in an old army tank because there are no roads anywhere near the village he went to. He told me that he plans to turn the live footage he shot into a documentary about his visit t! o this remote region and the people who inhabit it. His stories a -out the people, their culture and traditions which are dying out are sure to make a very interesting film.
A new film by Theodore Ushev is always something that I look forward to. His Gloria Victoria was a visual treat in stereoscopic 3-D. It is the 3rd part of Theodore's trilogy that began with Tower Bawher and Drux Flux. For Gloria Victoria he has edited individual drawings to form an almost overpowering deconstruction of good and evil to condemn wars against humanity, greed, and the metamorphosis of men into beasts. The entire visual effect is heightened by the music of Dmitri Shostakovich's Symphony # 7. Usually I find 3-D unnecessary and bothersome but I was so absorbed by the powerful images that I completely forgot about the 3-D until the very ending of the film when the images did leap out of the screen.
Thomas Stellmach's latest film Virtuos Virtuell is as different from his 1977 Academy Award winning short Quest as can be imagined. Thomas and visual artist Maja Oschmann used hand crafted ink images created by such diverse methods as drawing, dropping ink onto paper and into water. The abstract images, inspired by the overture to Louis Spohr's opera The Achymist, leaves viewers free ! to create their own story as they listen to the music. I've watched the film several times and I've discovered that what I see in the images changes as I listen to the opera overture depending entirely upon my mood.
The project was funded in part by the Louis Spohr Museum in Kassel, Germany. There, the storyboard drawings, layout images, original ink drawings and completed film sequences were exhibited from 30 May to 7 October 2012. Thomas told me that at the exhibition viewers could experience the wide range of emotions that music evokes in images by selecting various new compositions to listen to while looking at the images.
The incredibly massive LED screen sponsored by Mercedes-Benz was once again in the festival garden area. It was amazing to look at. Even in the brightest sunshine the films are as bright and crisp as if I were sitting in a dark theatre. The continuous free screenings of shorts all afternoon attracts festival participants and local residents who took a break in their busy day to relax on the grass and watch films.
After dark the big screen showed recent releases including Madagascar 3, Frankenweenie, and Pirates. The free screenings were designed as an outing for the entire family to picnic and enjoy a movie. They were packed on the warm Spring evenings. Even when the weather turned cool and rainy at the end of the week, people still braved the elements to watch the film from under their umbrellas.
Programs from Africa, Asia and the Arab world
The festival spotlighted programs of animation from India, Africa and the Arab world. Anand Gurnani, co-founder and managing editor of Animation Express.com from Mumbai, India curated two programs as well as sitting on the AniMovie Jury. The first program of short Indian animation gave us an overview of what independent animators throughout India are doing. The second screening was billed as Truly Desi Tadka -- A Blockbuster Spectrum of Indian Animation in a 3 Act Structure. Act 1 was a studio retrospective showing work from India's iconic ! studios Eeksaurus, Animagic, and Vaibhav. Act 2 gave the audience a look at TV series and feature film promos of released and upcoming projects. The 3rd Act showed Raju & I an animation about children's rights and the CGI/VFX film Mystic Evolution.
My friend Sekhar Mukherjee, head of the animation department at the National Institute of Design (NID) in Ahmedabad, India introduced a program of films by students at NID. The feature length Hey Krishna which traces the mythology of Krishna's childhood also received its German premiere as part of the spotlight on India. After the program there was a party with delicious Indian treats.
Solomon Maramba who lives and works in Zimbabwe was part of the Young Animation Jury. He also presented Across the Limpopo, a selection of shorts from animators across the Limpopo River that divides Zimbabwe and South Africa. Several very short pieces from South African animator Tim Mostert featured his popular TV character Speedy. The adventures of Speedy, his family, and his favourite football team are also read by over 6 million people a day in the South African newspaper Daily Sun. Most of Across the Limpopo content was for adult audiences.
The Jungle Beat program was a family friendly screening featuring 13 5-minute episodes of the CGI animated series Jungle Beat. The series focuses on a variety of animals and the rather bizarre things that they encounter in everyday life.
Mohamed Beyoud, artistic director of the International Festival of Animated Film Meknes (FICAM) screened current animated films from the Arab world. Animation in the Arab World spotlighted films from Morocco, Tunisia, Lebanon, and Palestine. Many of the films were explicitly political covering such topics as oppression, war, and violence in the region.
A panel discussion on Animation, Media, and Politics in the Arab World led to an intense discussion of how cultural changes brought about by the Arab Spring have affected work and production conditions of artists and filmmakers. The panel - Mohamed Beyoud, Fadi Abdelnour, director of the Arab Film Festival in Berlin, and Anja Turkan, an independent social media expert also tackled the difficult topic of how do activists use animation and the media as an instrument of political communication and how crisis and change are reflected in animation and media.
This year there were over 80 thousand visitors to the festival and many screenings were sold out. One of the things that I enjoy most about the Trickfilm Festival is the feeling it has of a small, intimate event where I can see all of the guests at the festival café sometime during the week and still watch first class programs. Even with the large number of visitors this year the festival still kept the intimate feeling for guests. Festival Managing Director Dittmar Lumpp told me that the festival has grown as large as they want it to be and they will not actively look to expand it more.
All too soon, it was time for the closing award ceremony. The most touching part of the evening was when the International Jury took to the stage to announce their decisions. The honor of announcing the Grand Prix winner was given to Barry Purves. He announced the winner by saying that the award goes to a film that is a masterpiece -- Oh Willy! This is high praise for the film from a man who is considered a master of puppet animation and has created several films that are considered classics. The closing night party was a joyous celebration of a wonderful week of film and friends.
This year the Trickfilm Festival has taken its place at the top of world class animation festivals and once again I can honestly say that if I could only attend one festival a year it would be the Trickfilm Festival. I am already looking forward to the 2014 edition.
Note: The newsletter report has been cut due to space limitations. Her online account is longer and includes information about the Crazy Horse 24 hour jam competition, activity tents for adults and kids (including one run by Aardman), a production conference, workshops, screenings for teens and kids including a program starring Shaun the Sheep, a fashion event and much more.
http://sprockets.animationblogspot.com/
READ ABOUT THE 4TH ANNUAL GOLDEN KUKER INTERNATIONAL ANIMATIONAL IN BULGARIA by Bill Dennis Bill was a judge at the festival and is a Founder and President of ASIFA India and International Animation Consulting Group. He writes:
"Hello from Sofia, Bulgaria. I'm here for the 4th Annual Golden Kuker International Animation Festival. More about the festival, shortly, but right now I want to tell you a bit about Bulgaria and its capital, Sofia. Bulgaria is a member of the European Union. It's located in the Mediterranean Region of Europe. It has beaches on the Black Sea and is a neighbor to Romania, Turkey, Greece and Serbia."
"Sofia is a great, vibrant city, one of the oldest in Europe. The streets of Sofia lie on the remains of a 7,000 year old civilization and the city itself was founded over 2,500 years ago. Throughout the city are sites with active architectural digs taking place, uncovering the imprints of Roman emperors, Alexander the Great, Constantine the Great, and Macedonian Kings. Modern day Sofia has an active night life, vibrant cultural scene and dozens of important museums. Great food! All in all, it's a terrific place to visit and would be reason enough to visit next year's Golden Kuker festival."
TO READ HIS FESTIVAL REVIEW, TO SEE HIS PHOTOS AND TO READ HIS PREVIOUS BLOG ENTRIES VISIT
www.awn.com
ASIFA-SF IS A VOLUNTEER RUN ASSOCIATION
Newsletter Editor: Karl Cohen
Contributors include Bill Dennis, Ed Hooks and Nancy Phelps
Cover illustration by Ricci Carrasquillo
Proofreader: Sarah Chin
Mailing Crew: Shirley Smith, Dan Steves, Denise McEvoy & Dot
Web Crew: Joe Sikoryak, Steve Segal, Randy Bravo-Chavez, Patty Hemenway and Dan Steves
Special thank to Nancy Denney-Phelps for representing our chapter on the international ASIFA board, to Dan Steves who keeps our mailing list up-to-date, to our treasurer Karen Lithgow and The G Man who sends out our e-mail updates.
ASIFA-SF is a chapter of: Association Internationale du Film d'Animation with almost 40 chapters around the world. Local membership is $26 a year or $42 for joint local & international membership.
Our website and blog is: www.asifa-sf.org
Mail can be sent to: karlcohen@earthlink.net or to PO Box 225263, SF CA 94122
COME ENJOY AND BE PART OF THE
ASIFA-SF 2nd ANNUAL SPRING SHOW

SUNDAY, JUNE 23, 1:30 PM

At the Randall Jr. Museums' Theatre free, public invited, lots of free parking

Tentative Program

Work by independent animators

The BAYCAT staff dares to show us their Inner Demons

Ben Ridgway, who teaches at SF State, will present the World Premiere of Cosmic Flower Unfolding

Corrie Francis Park's A Tangled Tale (sand animation)

David Chai, who teaches at San Jose State, A Knock on My Door

David Levy's Camp Story (excerpt), memories shared by his father

Greg Holgate's Cosmo with music by Nik Phelps

Gene Hamm will show The Dyslexic Magician and Doublecross, two gag cartoons

Gene will also show "a couple of things I did for hire"

Josey Gist is showing work from TUSC

Mark West and Barbara's The Little Red Hen

Michael Langan's Choros

Peter Parr's Summer Dream (exceptional drawings)

Tony Claars' Loco Motion

College student shorts

Edith and the Bear by Hillary Bradfield, San Jose State

Tamara by Jason Marino & Craig Kitzmann, San Jose State

La Pasion del Futbol, Palestine and Military Defense Playset by Martin Segobia, SF State

We also expect work from other schools

Animation by teens from the Baycat,

an after school program headed by Tim Harrington

Deathly Day by Rachel Purvis A Day in the Life of a Sidekick

Angry Birds Hospital by Arshad Muhammad, Ghost Inc. by Gwydion Brain

A Day in the Circus by Alex Lu, Gwydion Brain, Arshad Muhammad, Rachel Purvis,
Ridiculous Candidates by Jocelyn Alvarado

Undersea Dance Party, a 2 min. stop-motion short by 4th graders at Dianne Feinstein Elementary School

Late entries

It isn't too late to enter work. There are no forms to fill out and no entry fee. Just send us a DVD or bring it the day of the show. Please limit your entry to less than 10 minutes so all works submitted can be shown. All works must be on DVD. You do not have to be an ASIFA member to enter or live in Northern California, but you are invited to become a ! member (details at www.asifa-sf.org) and we hope you can be present to enjoy the applause.

Mail work in advance to: Karl Cohen, 478 Frederick, SF, CA 94117

karlcohen@earthlink.net

You can be a judge!

The audience's vote determines who will get the prizes:

A small cash grand prize and certificate awards will be given for best student film, best independent and best professional work plus second prizes, honorable mentions, etc. Certificates of appreciation will be given to pre-college animators. Last year we also presented jury awards for the funniest film, the best experimental work and the best educational work.

How to find the museum

The Randall Jr. Museum is at the top of Corona Heights, right in the geographic center of the city, but it is sometimes hard for newcomers to find; www.randallmuseum.org has a map and instructions on how to find it by car, Muni and on foot

If in doubt, call (415) 554-9600 for assistance. 199 Museum Way, San Francisco, CA 94114.

www.randallmuseum.org has a map and instructions on how to find it by car, Muni and on foot
---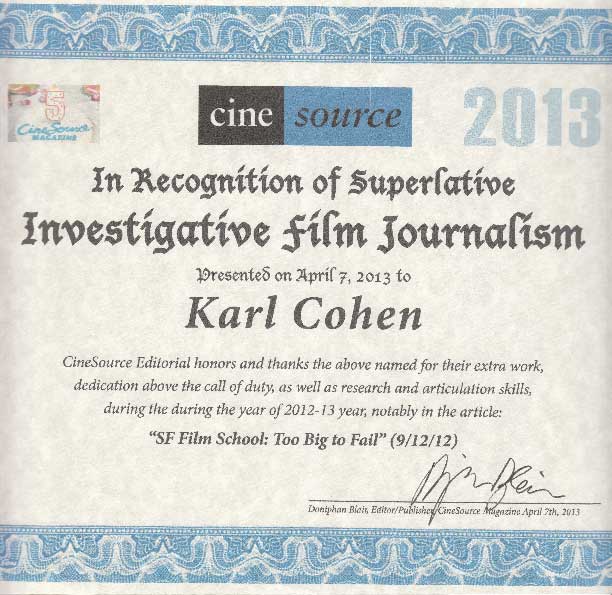 Karl Cohen's Investigative Film Journalism Award, April 7, 2013
---
TIPS FOR PEOPLE WHO ARE SERIOUS ABOUT GETTING STARTED AND WANT TO SUCCEED IN AN ANIMATION CAREER - FROM PICKING A SCHOOL TO GETTING THAT FIRST JOB
by Karl Cohen, President of ASIFA-SF, Article Source
The following is based on articles I have written recently for our newsletter and an overseas animation magazine. My thoughts have been compiled into this article with an awareness of the current industry difficulties in mind.
GETTING STARTED
If you are considering educational opportunities, what are your goals/objectives? Do you dream about being the next John Lasseter and hope to head a large studio someday, or do you simply want to focus on learning enough to get that first job? Do you see yourself opening a small studio with friends or seeking freelance work? Might you become an artist that creates personal, original, award winning work, or will you work in another media and only use animation should the need arise? Thinking about your objectives now may help you decide what school to go to and if you want to concentrate on one or two aspects of the animation process or learning as much as possible about the entire art form.
You have to be realistic about your budget and find out about any scholarships you can apply for. While there are excellent schools that you may dream about attending, some of the most famous may be prohibitively expensive and very selective as to whom they enroll. It may be wiser to do your undergraduate work at a less expensive state university and then do your graduate work at the more expensive prestigious institution. Some state universities have excellent reputations. Also, you need to be aware that the cost of living differs greatly in different parts of the US.
FINDING THE RIGHT SCHOOL FOR YOU
Different lists of outstanding animation programs are posted on the Internet. You have to be careful as some lists are biased towards for-profit schools that buy ads on their websites. Just because they advertise heavily in magazines, on TV and on the Internet doesn't mean they are great schools. Don't be mislead by biased information or paid advertising that looks like an informative article.
There is another way to discover which schools graduate outstanding animation students in the US. Each year the Academy of Motion Picture Arts and Sciences, the association that presents the annual Oscar ceremony, also presents the annual Student Academy Awards. In 2012 the 39th student competition had 569 entries with 51 of them coming from 29 foreign countries and 518 entries coming from the US (from 106 schools). The judges had a wide selection of works to choose from.
A visit to the Student Academy Awards website shows that in the past 16 years 46 animation awards were presented. Ten of those awards went to students from Ringling, 7 went to CAL Arts, 6 to UCLA, 5 to NYU (New York University, NYC), 4 to Brigham Young University (Provo, Utah) and 2 to University of the Arts (Philadelphia). The other 12 awards went to 12 different schools: Academy of Art (San Francisco), Art Center for Design (Pasadena, CA), Dartmouth College (Hanover, New Hampshire), Florida State (Tallahassee), Kansas City Art Institute, Pratt Institute (NYC), RISD (Rhode Island School of Design), RIT (Rochester Institute of Technology, Rochester), SVA (School of Visual Arts, New York City), UC San Diego, UC Santa Barbara and USC (University of Southern California, Los Angeles). While all probably offer excellent educations, the very best animation departments are most likely the six with multiple wins.
The Academy also awards one or more new media prizes for experimental or innovative work. These films may or may not incorporate animation in the process. Out of the 25 winners in recent years 9 awards went to students from NYU, 3 to SVA students, 2 to USC, 2 to Ball State (Muncie, Indiana), and 2 to Columbia University (NYC). The other 7 prizes went to 7 different schools: CAL Arts, CCNY (City College of NY), New School, Parsons School of Design (NYC), San Francisco State University, Savannah College of Art and Design (Georgia), and UCLA.
I suspect what sets the above schools apart from others is something in the animation program and environment inspires students to produce finer, creative work. All the schools teach similar technology, so what sets Ringling, CAL Arts, NYU, etc. apart? I plan to ask teachers from those schools that question soon. (KC)
There are websites run by Animation Magazine and AWN.COM that have good directories that seem impartial in what they say. Animation Career Review provides unbiased information on it including an international list of their top 100 schools for animation, gaming and design, but they also carry ads for some schools, so don't confuse a nice looking ad with their editorial material. Animation Career Review also provides lists of schools in each state and the approximate tuition costs (most of the tuition rates given are out of date). The geographic area where you would like to go to school might be important to you, so use directories to learn what animation programs are offered in that area.
www.payscale.com rates the best and worst colleges based on how much a typical graduate will spend to attend each school vs. how much their post-college income might be in their lifetime. Harvard, Stanford, Caltech and Princeton are among the top ten schools on their best ROI (return on investment) list. In 2012 Savannah College of Art and Design was in last place on the list and in 2013 that spot is occupied by another school that teaches animation, The Art Institute of Pittsburgh -- Online Division. Their campus in Pittsburgh is also on the 10 worst colleges list. The Art Institute is a chain of for-profit colleges. The website does not list the other 100+ campuses in the chain. (The corporate headquarters are in Pittsburgh so I assume the listing is for the entire chain. The business is owned by a large corporation and one of their major shareholders is a mammoth Wall Street stockbroker firm.)
COLLEGES, UNIVERSITIES AND SPECIALIZED SCHOOLS
There are three basic types of educational institutions in the US: non-profit, state run and for-profit schools. Student Oscar winners have attended all three categories. The non-profit institutions include both famous (USC, CAL Arts, Ringling, NYU, etc.) and lesser known ones. They generally are expensive to attend, but a lot of prestige goes with a degree from one of the better know universities. For example Brigham Young is highly respected as a pioneer and leader in computer animation while USC and CAL Arts have many distinguished instructors and alumni and NYU has John Canemaker, a recent Oscar winner in animation, heading their program. These schools are generally well endowed financially and are highly selective in whom they admit as students.
STATE RUN SCHOOLS
The state run schools are designed to provide a quality education at a reasonable price to people who live in that state. Since state taxes help support these institutions, out of state individuals pay higher tuition fees. Even at the higher rate these schools are less expensive than the other colleges in the US. In California UCLA has a fine animation program as do several other state universities (San Francisco, San Jose, Northridge, Fullerton, etc.). With state governments pressuring universities to increase revenues by accepting more non-residents it might be easier now for out-of-state and foreign students to get into them.
In California there are also several community college programs in animation including Canada College and De Anza in the Bay Area and College of the Canyons and Mt. San Antonio College (Mt. SAC) in the L.A. area. With lower per-unit costs and smaller classes than at a four-year state university, community colleges are a viable option for many.
As with any other school, faculty qualifications are important. For example at Canada College they have former Disney and Pixar employees on faculty as well as game industry veterans from companies like EA and Blizzard.
Some students who graduate from four-year schools get their start at community colleges. Others who have graduated from four-year schools later attend a community college to hone their skills further. Some community college students have gone into industry jobs at places like EA, Zynga, Realta, and DreamWorks.
FOR-PROFIT SCHOOLS
The for-profit schools include several that are highly respected including SVA in NYC, but there is one chain of animation schools that was investigated recently by the US Congress and they are presently under indictment for defrauding the US government of $11 billion. (To learn more search "art school chain, under indictment.")
There are many reasons to criticize some for-profit schools. They can get expensive and they put a lot of the tuition income into advertising and other non-academic uses. They generally underpay part-time instructors so the quality of the teaching isn't always as high as it should be. Recent Congressional hearings found some schools hire teachers who are unqualified to teach the subject they are assigned to.
Another problem is that some schools are not fully accredited. Accreditation is important if a student wants to transfer to a state or non-profit school. They might not be able to transfer any of their course credits to the next school if their school isn't fully accredited.
The US government has good reasons to be concerned about the way some for-profit schools are run. They found some will take anybody as a student regardless of their talent. The schools claim they are being democratic by allowing anyone the chance to become an animator, but the result is too many students dropping out (well over 50% at several schools). The schools make more money by not being selective in whom they admit.
The schools are very efficient at signing up new students for government student loans. Congress is concerned that if the student drops out or is a graduate who can not find a well paying job, they may default on the loan. That is not the school's problem so the US tax payer is stuck with the bill. While the student loan default rate is low for people who attended state and non-profit schools, it is much higher for people who went to a for-profit school. Some Congressmen believe the US could soon have a serious student loan crisis and that schools are committing fraud by accepting unqualified students who are likely to be bad loan risks. At present over a trillion dollars is tied up in student loans.
The open enrollment policy (taking anybody as a student) also means instructors have to deal with a lot of struggling students in introductory classes. On the other hand students that stick with it can get the education they want.
SCHOOLS WITH ACCELERATED TRAINING PROGRAMS
There are controversial accelerated computer animation programs that try to teach a 15 week semester's worth of material in 10 weeks. Teachers complain it is hard to present that much material quickly and that most students just can't absorb that much information in a short period of time. I'm told some students trying to keep up end up sleep deprived and became mental wrecks.
ONLINE EDUCATION
Friends who have taught online classes give them mixed reviews. It turns out it is a lot of work corresponding almost every day with your students and if you are too slow to get back to them they may complain. One student told me her online instructor assigned weekly exercises and he was slow to critique the rough sketches before the final art was due. After a few weeks of there not being enough time after she got the critique to get the final work in on time, the student dropped the class.
One for-profit school with an outstanding reputation is Animation Mentor. They mainly teach Maya and related technology. I went to their graduation ceremony once and was impressed that students flew in from many parts of the world and were extremely positive about their education. While the school is expensive, many of their students already had professional jobs and in some cases employers paid for their education to improve their skills. The student I went to see graduate received a special award for her outstanding progress, but despite having a fine demo reel, three years later she is still working at her old non-animation job. Meanwhile she has a student debt to pay off and has mixed feelings about her having gone through their training program without having a job waiting for her upon graduation.
RESEARCH A SCHOOL'S REPUTATION
There are websites that report both positive and negative comments about schools. If you enter the school's name and words like "student reviews" or "controversies" into your computer search system, you might just find out a great deal that isn't on the institution's official website. Also, search carefully for information about for profit schools. You might discover more than you expected to learn.
There are a few good places to start your research. Wikipedia provides general information and if there is negative material they sometimes have one or more paragraphs about the controversy towards the end of their article. If you search for student reviews, Yelp.com, studentsreview.com and collegeispower.com are among the sites you will find both positive and negative information. Don't just read the first one or two comments as you need to study lots of reviews to get a balanced idea of what the school is like.
DEVELOP A POSITIVE REPUTATION
As an undergraduate it pays to work hard and stay focused on your studies. There are a lot of distractions and while it is tempting to get lazy and goof off, if your teachers note your performance as a student was lackluster in a letter of recommendation, that may hurt your career. Such letters may be needed to get accepted for graduate school or for a job you are later applying for.
It is important to develop a distinguished reputation in college. I had a student who did a funny graduation film that was quite nice, but what distinguished her from the other students was her being both the president of the school's animation club and a team player that helped several students complete their graduation films while she was completing her own work. Her reputation helped her get a job with Disney a few months after graduation.
Michael Langan, who recently had 110 million people see his experimental stop-motion contribution to the 2013 Super Bowl broadcast, says, "Work hard. Not just at each job, but in school. Work your butt off! And take the time and care to lend production value to your work. That polish goes a long way in demonstrating that you can contribute seamlessly to a professional production. Nobody will know that you're capable of top-notch work unless you prove it to them first!"
Creating a distinguished film that gets into festivals and hopefully wins praise and prizes may be a great way to jumpstart your career. A guy I know from CAL Arts won two student Oscars (1979 and 1980) and was snapped up by Disney. You know the rest of John Lasseter's story. Shane Acker created the film "9" as a grad student at UCLA. It won a Student Academy Award (2005), was nominated for an Oscar and eventually it was developed into a feature. Pete Docter (CAL Arts grad, 1990) won a Student Academy Award, got hired by John Lasseter and so far he has received four Academy Award nominations and one Oscar. It may surprise you to know that Trey Parker, who went to the University of Colorado in Boulder, won a student Oscar (1993) before he teamed up with Matt Stone to create "South Park."
THE TRANSITION FROM SCHOOL TO AN ANIMATION INDUSTRY JOB -- INTERNSHIPS
Once upon a time the animation industry was expanding quickly and studios were hiring just about everyone who had some talent. Starting wages were impressive. But while that might have been true a few years ago, the reality of today's job market is quite different. It can take months or even longer before you get that first big break.
While you are still in college investigate internships. Your teachers may be able to help you find one. You may also hear about one from fellow students, graduates from your school's animation program or from people working in the industry. Check company websites and animation blogs for information. You may have to be creative to find one that is right for you.
Some teachers go out of their way to help students. Martha Gorzycki, who heads the animation program at SF State, recently told me about a local game company with over 100 employees that is growing and has openings for both interns and jobs. When she visited them at their new location with several of her students, they were given a tour by the studio's founder and president. She told me, "The space is impressive, consisting of state of the art facilities amid a highly artistic working environment. We were introduced to several artists and supervisors who warmly welcomed us and talked about their roles in the company. It is clear from the employees we met that they love their job and are ecstatic about the expansion of space. The SFSU animation students who attended were encouraged to apply for internships and were inspired by the talks and tour."
Why an internship? A good one will give you useful experiences and training and help you establish professional friendships that can prove useful in finding work later if you are well liked and respected as a good worker. You will be judged on your work and personality and hopefully the verdict will be that you were a good/valuable intern and team player. Hopefully they will want to contact you should they hear of a job opening.
Not all internships are equal. If you are asked to become an intern you should evaluate how you will benefit from it before you say yes. (Lots of information about internships is on the Internet.) The federal government estimates there are about a million internships offered to students each year and about half are unpaid. Some are of value to the intern and others are just free or low cost labor, doing dumb jobs staff members don't care to do.
The use of internships can be a controversial subject. If you are offered an unpaid internship determine if you will get valuable training or are being exploited as free labor. Some companies simply use interns as free labor and they rarely if ever hire former interns. The use of interns is a relatively new trend and there have been million dollar lawsuits won against major media companies that exploited unpaid workers.
FEDERAL LABOR LAW COVERS INTERSHIPS
(FROM WIKIPEDIA)
The U.S. Department of Labor allows an employer not to pay a trainee if all of the following are true:
> The training, even though it includes actual operation of the facilities of the employer, is similar to what would be given in a vocational school or academic educational instruction.
> The training is for the benefit of the trainees.
> The trainees do not displace regular employees, but work under their close observation.
> The employer that provides the training derives no immediate advantage from the activities of the trainees, and on occasion the employer's operations may actually be impeded.
> The trainees are not necessarily entitled to a job at the conclusion of the training period.
> The employer and the trainees understand that the trainees are not entitled to wages for the time spent in training.
> An exception is allowed for individuals who volunteer their time, freely and without anticipation of compensation for religious, charitable, civic, or humanitarian purposes to non-profit organizations. An exception is also allowed for work performed for a state or local government agency.
> The state of California requires an employer to pay its interns working in California unless the intern receives college credit for the labor.
NETWORKING: MEET PEOPLE BY JOINING LOCAL ORGINAZATIONS AND BEING PART OF INTERNET BLOGS AND CHAT GROUPS
As important as a great sample reel and resume are, meeting people can be just as important to landing a job. Knowing somebody at a prospective company that likes you may be the deciding factor as to who gets hired. That is part of the reason I was hired by two corporate media departments and by a few other clients I worked for.
So where do animation people network? In the Bay Area you can attend ASIFA-SF and SIGGRAPH events (both ASIFA and SIGGRAPH have chapters in many parts of the world). The Reel Directory has an annual party and Women in Film also holds events. Stop-motion director Justin Kohn hosts occasional free gatherings at a bar on 14th St. near Market and Church in SF for animation people. To find out about his fun events e-mail Justoldog@aol.com and show up with a portfolio of your best work. There may be other professional gatherings I'm not aware of. Years ago SF had an active Information Film Producers Association that showed my special effects reel, resulting in my getting work from that screening.
Attending major annual animation film festivals is a great place to meet old friends and to make new ones. Ottawa, Annecy, Stuttgart, Hiroshima, Zagreb, and others have educational sessions for students and professionals, parties, etc. where people network.
Online groups like the Creative Talent Network post biographies and websites like Cartoon Brew post new animated shorts they like. If you've done something newsworthy send a press release to Jerry Beck for his blog Animation Scoop at Indiewire.com. An area I'm aware of, but not part of, is blogs and chat rooms.
FINAL COMMENTS
At ASIFA-SF's most recent Careers in Animation event the all the panel members said there are jobs, but one panel member suggested you may need to adjust your plans to meet the needs of the current market. For example one seasoned veteran of the games industry needed to switch from being a laid off staff person to doing freelance work after not finding another staff opening right away. Now she is finding temp work. She goes from being swamped for a few weeks to periods where she has to look for more work. Another lives in the Bay Area, but he finds some of his freelance stop-motion jobs in the LA area. On the other hand one woman on the panel worked for several years as a freelance artist and editor until she was hired fulltime early this year by Pixar.
One bit of advice several panel members agreed upon was to focus on trying to find work with small studios rather than with the big companies. Trying to get your foot in the door at smaller studios is a realistic strategy. Animating at Pixar may be your dream job, but their files are already flooded with thousands of resumes. As for Tippett and DreamWorks, both are laying off people this year and LucasArts just closed their production department. On the other hand there are several small companies and startups that are expanding.
It was pointed out that the smaller companies offer their employees greater opportunities to work in different roles on a variety of projects while at big studios you may be asked to focus on just using one set of skills. Also the well established big companies work mainly on the same kinds of projects over and over while the experiences at the younger companies may be more varied, cutting edge or experimental. In other word jobs that are more interesting.
While you may want a job that best utilizes your special abilities, in the present market be willing to take whatever job a studio offers you so you are in a position to work your way up or into something more desirable. Once you are hired try to impress people with your work ethic and make friends. Hopefully your co-workers will help you move in the direction you want to go.
Chelsea Walton, who was on the panel and was recently hired by Pixar read the above and wrote back, "After graduation it's important to stay in touch with classmates, teachers, the animation community (ASIFA-SF). If possible find a solid mentor after graduating. Take them to coffee on a monthly basis to discuss career goals. A degree in animation will definitely provide a solid and practical foundation in the field, but degrees do not guarantee a job will be handed out with a diploma. Communication skills, talent, and hard work go a long way in finding a job in any discipline."
A friend suggested I tell students, "Follow your passion but don't expect immediate success in the form of a job when you graduate. I think too many schools capitalize on this questionable guarantee (graduate from our school and you will get a job when you graduate) to get students to sign up, but then the student endures disappointment and depression when it's not happening."
"While taking classes at the Animation Collaborative, every speaker I've listened to has said the same thing: there is no linear path into animation so keep going. If you keep going, people will drop off from the competition, leaving you to take the job someday. You need talent, but more importantly, you need persistence to beat out the more talented people who give up."
Another panel member at our careers event said you might want to find work outside of the animation field while you seek your dream. A friend suggested I tell people that if the number of jobs in the US shrinks a lot of work might go to boutique studios in Canada and Western Europe, places where studios have tax incentives to grow. Vancouver, Montreal and Toronto are centers of work for animators. "What it boils down to advice-wise is Think global. Keep your passport up to date."